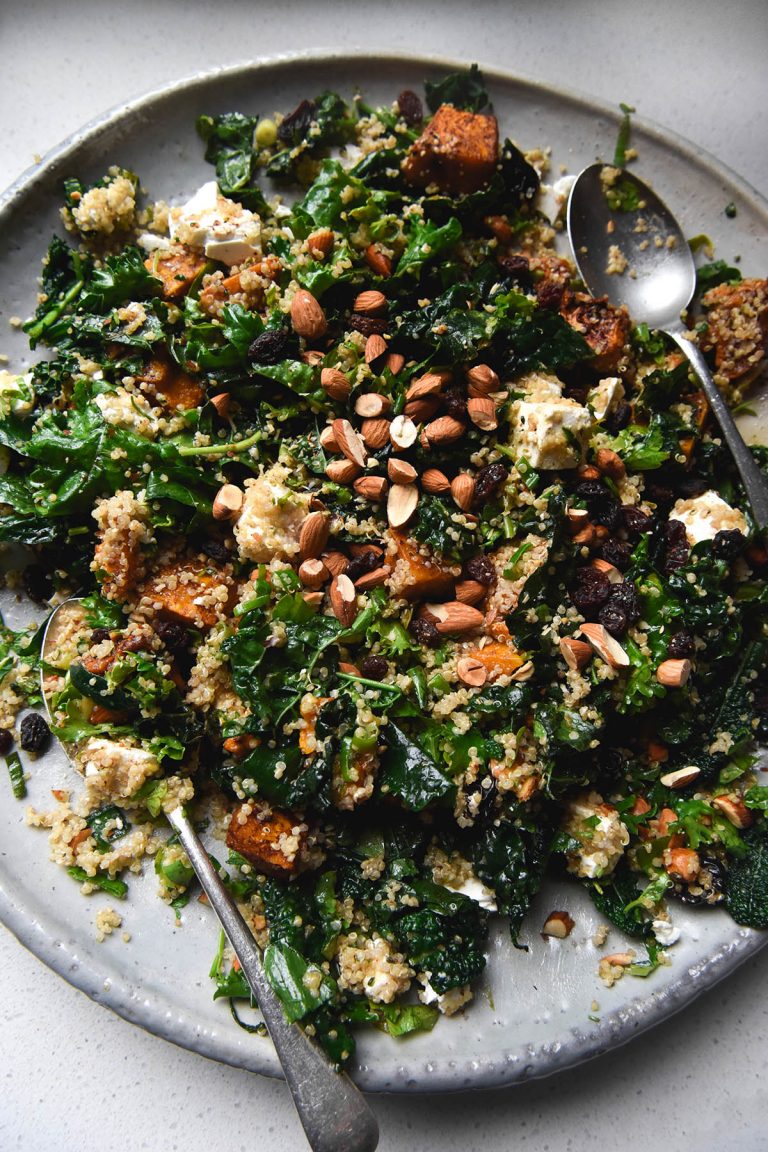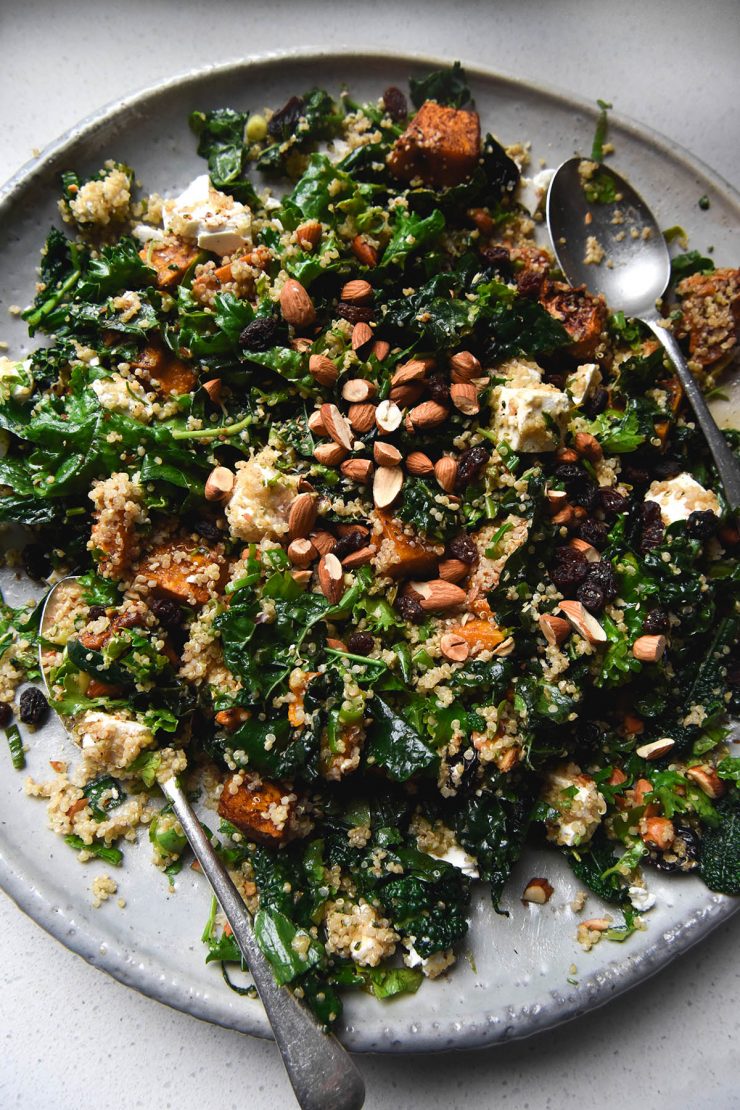 This roasted pumpkin quinoa salad is my legume free answer to my kale salad recipe. Although I am loving incorporated some canned legumes into my diet, I recognise not everyone can tolerate them. I wanted to create a salad that was equally as filling, but in a different sort of way. Enter: roasted pumpkin quinoa salad.
It uses the same dressing (with a bit of added pumpkin spice) and some familiar elements like kale, parsley, feta and raisins. It also uses spring onion greens for flavour, and almonds for crunch and texture. I like to include some hemp seeds for an extra little protein boost, but they're totally optional.
The salad is gluten free, FODMAP friendly and can be made nut free or vegan. We'll go into all the substitutes below.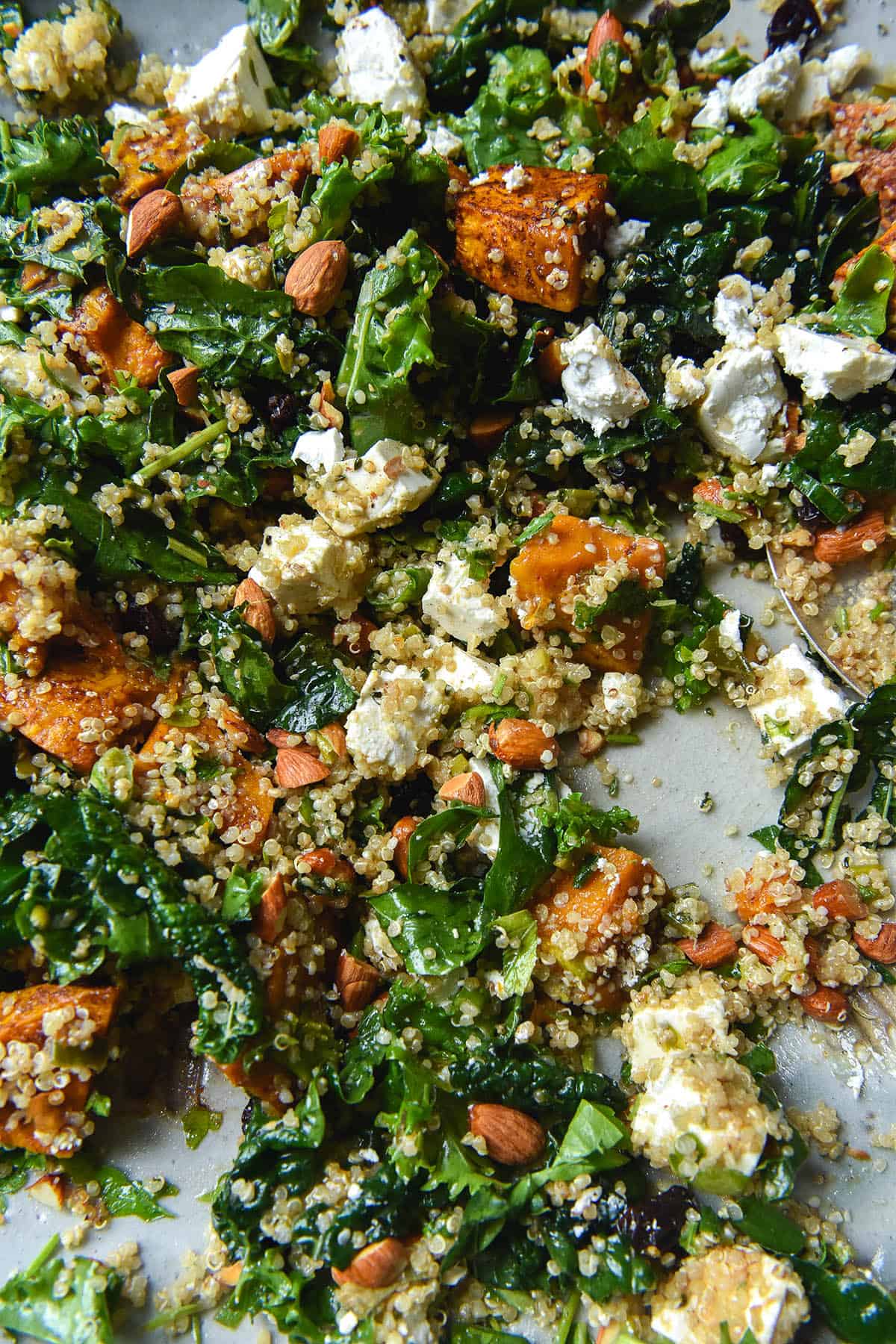 Roasted pumpkin quinoa salad notes
I used white quinoa for this recipe. I daresay any sort is fine, but I don't know too much about whether the other varieties of quinoa take longer to cook.
Both Danish and regular feta work here. You could also use a goat's cheese or even haloumi if that's what you prefer.
Any nut works here! I used almonds to switch it up from walnuts, but the choice is yours. If you need the salad to be nut free, you can also use pumpkin seeds.
Raisins are considered more FODMAP friendly than sultanas, which is why I use them (that said, I used up some old dried muscatels in some of the photos). See the FODMAP section for options.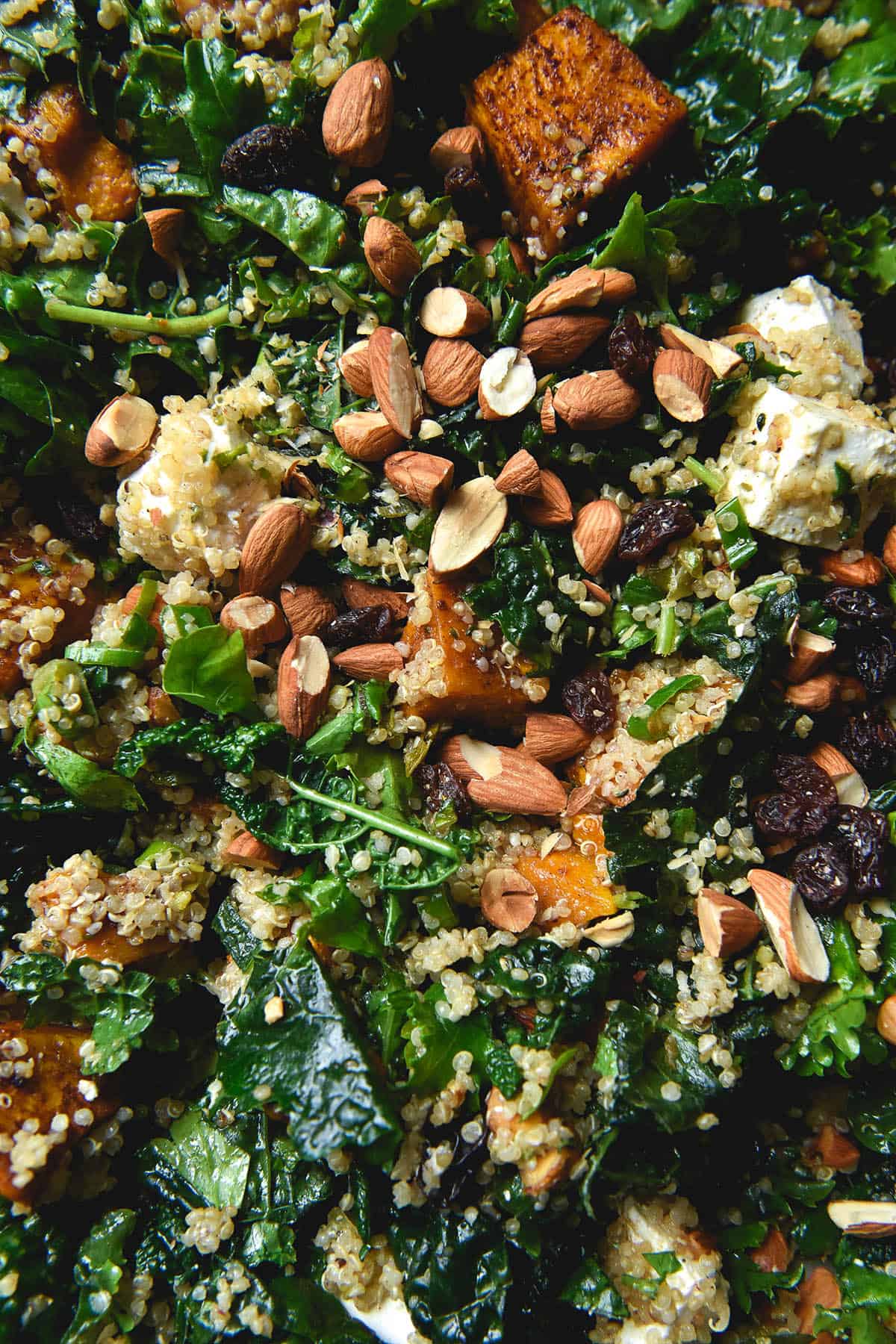 FODMAP notes
I am trying to cater to everyone and expanding out from just FODMAP these days. Dietary restrictions are hard, and I want to make sure everyone is covered, not just FODMAP. With that in mind, here are some notes on FODMAPs and things to be aware of with this salad.
Raisins are FODMAP friendly in 13g serves. Use just under 75g raisins to keep this salad (which serves 6) under the FODMAP limit.
Almonds are FODMAP friendly in 12g per serve. If you use almonds, use 70g. Walnuts are FODMAP friendly in 30g serves per person, so you could consider using those instead. That way, you can use 180g!
Quinoa has a high upper limit (870g) so there is no issue here. Kale has no upper limit, but is a brassica which can sometimes cause gas.
I use Kent or Japanese pumpkin in all my pumpkin recipes, as they have no upper limit. Butternut is high in GOS and moderate in mannitol in 75g servings.
Hemp seeds are moderate in GOS at 50g per person. To balance it all out, I would use less – 50g max for the whole salad.
Make sure the stock that you cook the quinoa in is FODMAP friendly, if you're using it. I used a Massell FODMAP friendly vegan beef stock cube.
If you're not FODMAP
A fun new segment I'm adding for people who don't have the same dietary restrictions.
You could roast a couple of cloves garlic with the pumpkin, then mash them up and add them to the salad dressing.
Another option is to cook about half an onion before adding the quinoa and stock. This in place of the spring onion I use in the recipe card. You could also roast the other half of the onion in chunks along with the pumpkin, then toss it through the salad to finish.
Needless to say, add as many nuts and raisins as you see fit.
Finally, the crispy chickpeas from the kale salad recipe would work a treat to further round out the salad.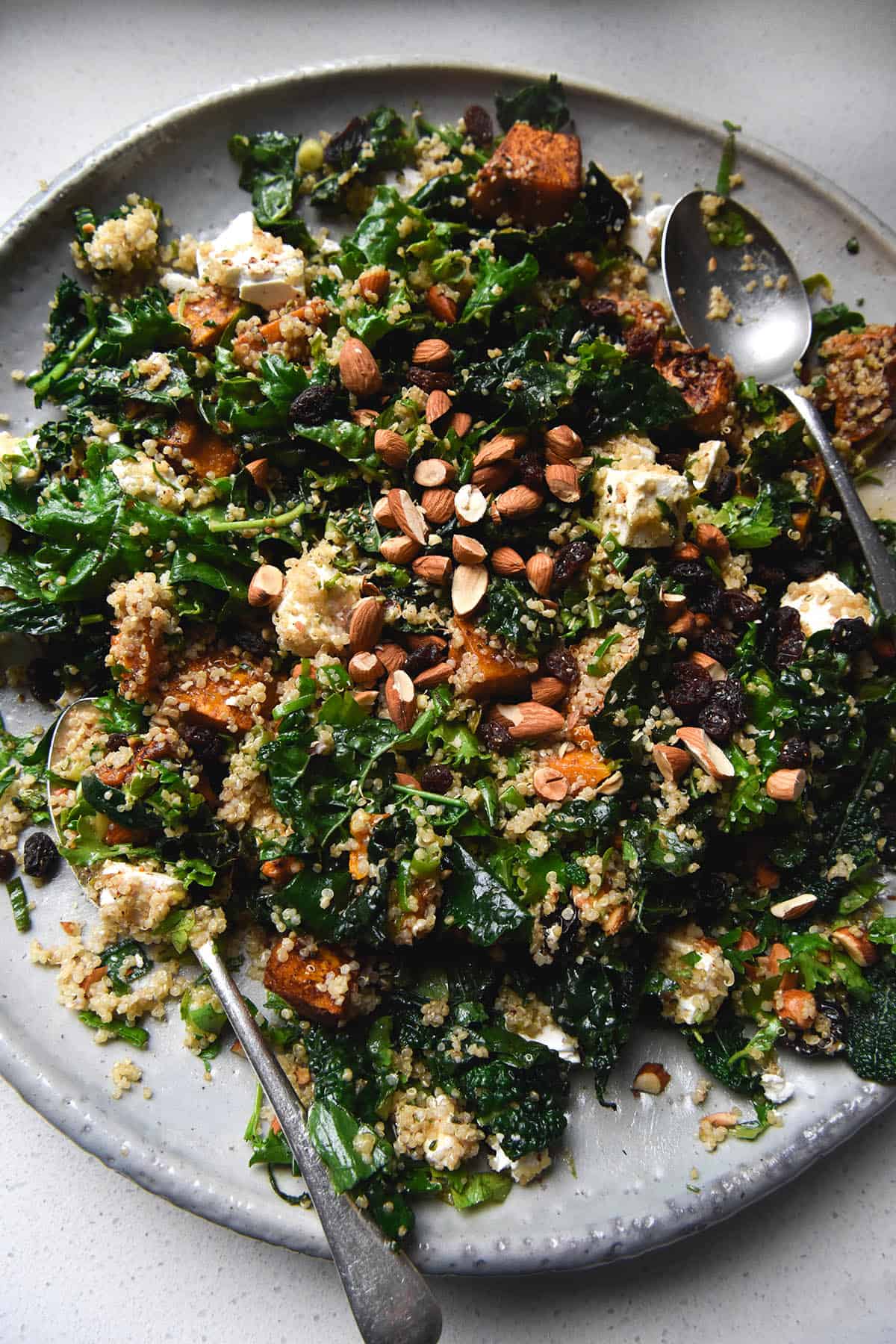 Tips and tricks for your roasted pumpkin quinoa salad
A few quick bits and bobs to ensure you get the most delicious salad possible.
Firstly, the generally accepted ratio of quinoa to liquid seems to be 1 part quinoa to 2 parts liquid – that is, double the amount of liquid. Personally, I quite like the security blanket of adding extra liquid – I have scrubbed burnt grains off saucepans more times than I can count. So! how much liquid you add is ultimately up to you. If you use extra and you find that the quinoa is cooked before the liquid absorbs, simply drain it off.
Onto the pumpkin: I recommend smaller, bite sized chunks here. I cut mine too big, and it doesn't incorporate into the salad as nicely. You do need to watch smaller pieces in the oven though, because they will cook a lot quicker. Ideally, you want the pumpkin to be cooked through while still being solid enough to withstand tossing in a salad. The smaller you chop your pumpkin, the less cooking time it will need.
Massaging kale and parsley is actually worth your time, I promise! It softens them right up and makes them delicious to eat.
Finally: because the quantities of ingredients can vary, extra lemon juice to finish the salad is essential. You can also make up some extra dressing if needed, but I like the freshness of a good final squeeze of lemon (and seasoning).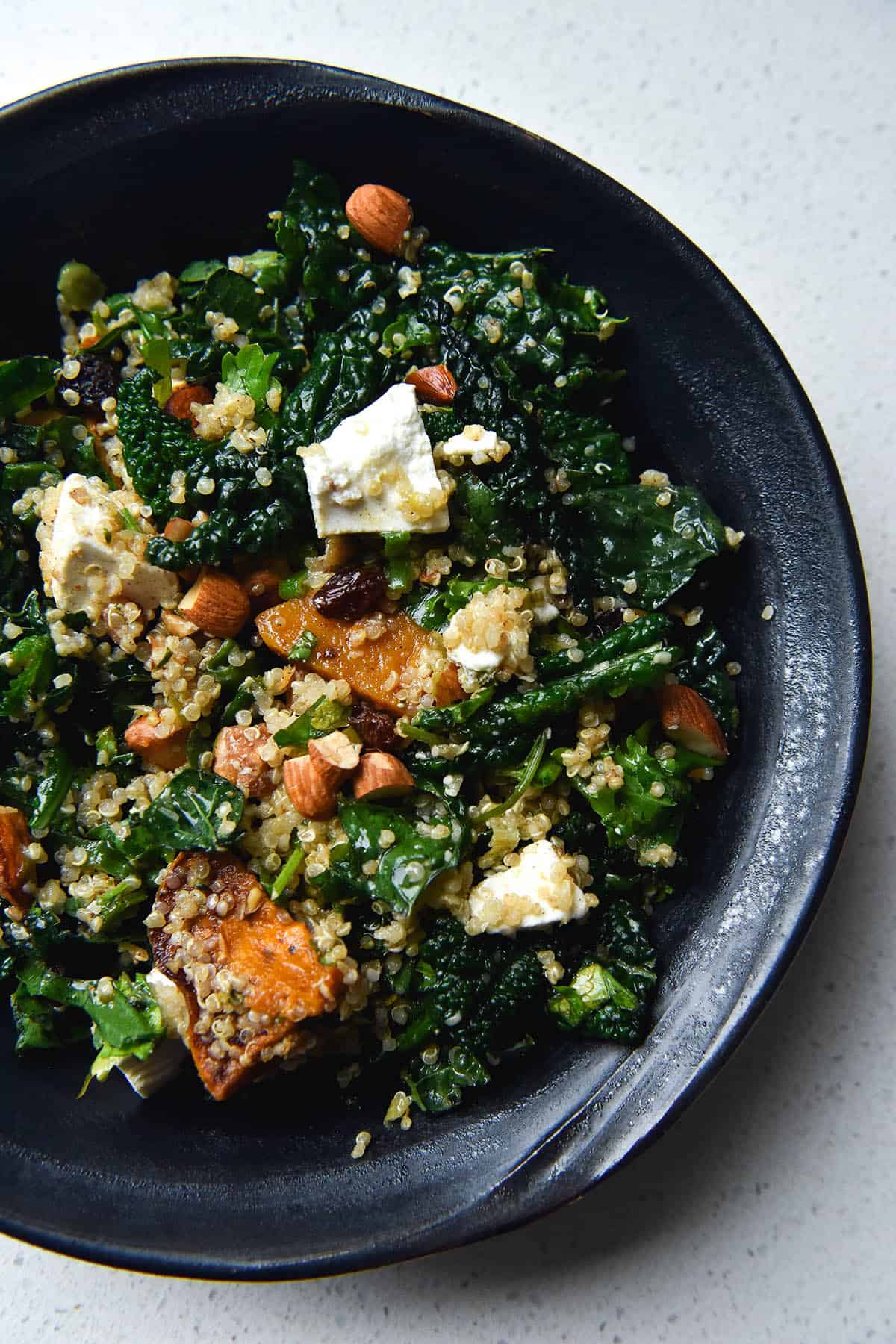 More salad recipes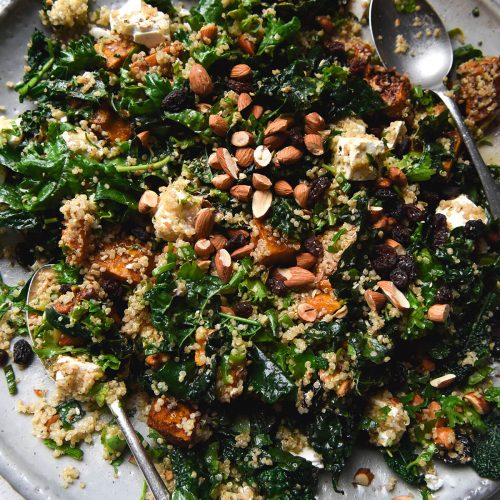 Roasted pumpkin, quinoa, kale and feta salad
Serves 4 as a main and 6 as a side
Ingredients
For the pumpkin:
500

g

Japanese or Kent pumpkin

chopped into bite sized pieces

1

tablespoon

(20ml) oil of choice

2

teaspoons

tajin (optional)

1-2

teaspoons

cinnamon

Seasoning

to taste (use less if you used tajin as it contains salt already)
For the quinoa:
1

tablespoon

(20ml) oil of choice

1/2

bunch of spring onion greens

chopped (remainder used in salad)

3/4

cup

(150g) quinoa

430- 500

ml

(1 3/4 – 2 cups) FODMAP friendly vegetable stock (you can also use water)
For the salad dressing:
3

tablespoons

(60ml) garlic infused oil

1 1/2 -2

tablespoons

(30-40ml) lemon juice

1 – 1 1/2

tablespoons

hot honey (see notes)

regular honey or maple syrup

1 – 1 1/2

tablespoons

Dijon mustard (see notes)

Seasoning

to taste

Extra lemon juice

to finish the salad
For the salad:
Remaining 1/2 bunch of spring onion greens

chopped

1

bunch of flat leaf parsley

washed and finely chopped

100

g

Tuscan kale

weighed after de-stemming 1/2 – 1 bunch

180-200

g

feta

crumbled (Danish or regular are fine)

75

g

almonds

use more if you don't need it to be FODMAP

75

g

raisins

use more if you don't need it to be FODMAP
Instructions
To bake the pumpkin:
Preheat the oven to 180C or 356F. Drain, rinse and thoroughly dry the canned chickpeas. Add the oil, tajin and cinnamon to a medium bowl and whisk to combine. Add the pumpkin and toss thoroughly to coat. Transfer the pumpkin to a baking tray and bake for 15-20 minutes until cooked through but still firm enough to withstand being tossed in a salad. The cooking time will depend on how small your cubes are, so keep an eye on it.
To cook the quinoa:
Add the oil to a medium pot over a medium heat. Once warmed, add the spring onion and cook for a minute or two until fragrant. Add the quinoa and toast it for a couple of minutes, stirring to prevent it burning or sticking. Add the stock (it will spit, so be careful) and stir to combine. Cook the quinoa for 7 or so minutes, or until the grains unfurl. Ideally, the liquid should all have evaporated and there should be small holes in the surface of the quinoa. That's OK if not – just drain off the excess liquid. Set quinoa aside and intermittently fluff with a fork.
To finish:
Combine the ingredients for the dressing in a clean jar and shake to emulsify. Taste and adjust according to your preferences and how sour your lemon is.

Add the spring onion greens, chopped parsley and kale to the base of a large serving plate (or a large mixing bowl). Pour over half the dressing and use your hands to massage the dressing into the greens. After a minute or two they will soften.

Add the remaining ingredients to the salad, finishing with the pumpkin (it's fragile!). Add the remaining dressing and gently toss to combine. Finish with lemon juice, salt and pepper to your tastes.

Keeps well in the fridge for a number of days.
Notes
See notes in the body of the post for FODMAP and non-FODMAP adjustments.
If you don't have tajin (a chilli and salt mix with citric acid for a limey like tang) then you can simply omit it. I highly recommend buying some though – it is delicious.
The amount of dressing you'll need varies. I generally make a lesser amount and then finish the salad with liberal lemon juice and seasoning, but the choice is yours. Start by using the lesser quantities of honey, lemon juice and dijon and adjust to your taste.
I have added 1/4 teaspoon cinnamon and nutmeg for a festively spiced dressing.