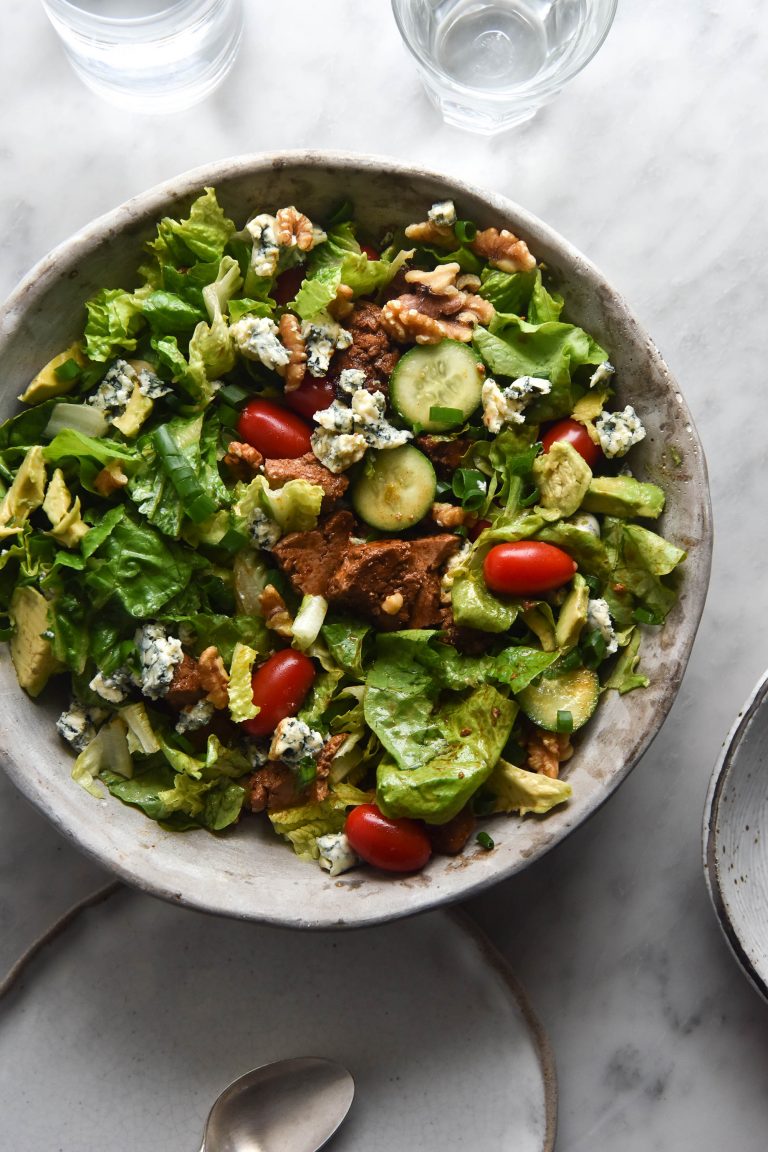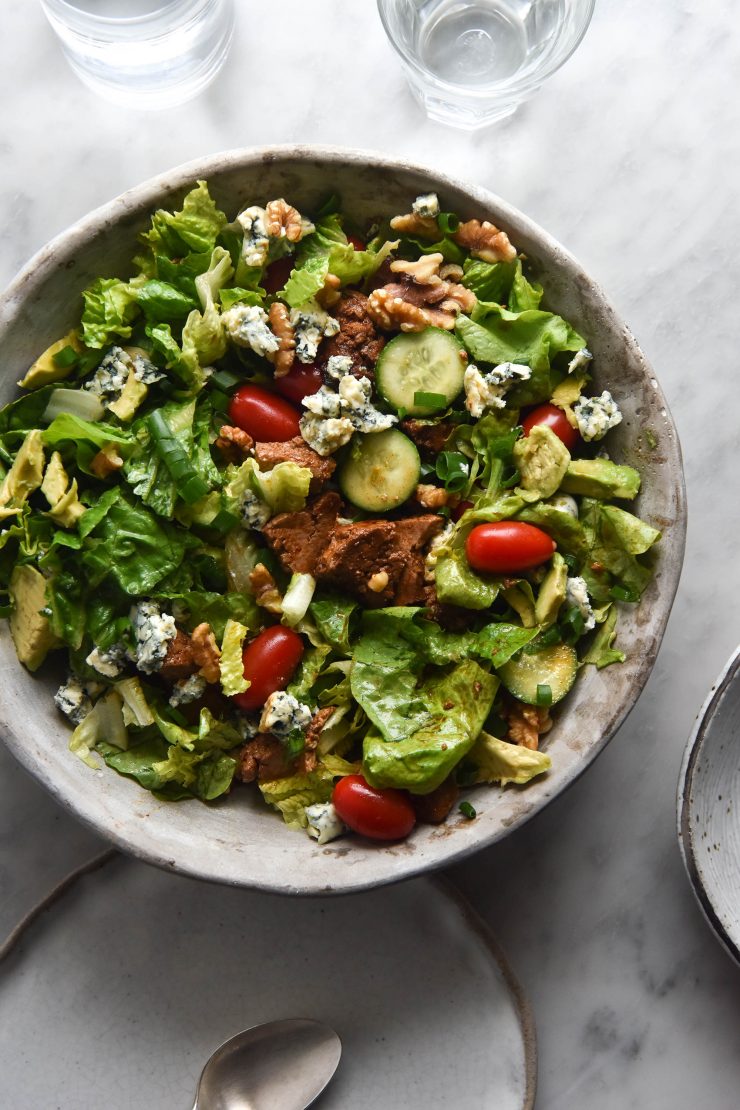 Recently I downloaded TikTok. I have no idea how to use it, but it's algorithm informed me that Jennifer Anniston's Cobb salad was trending. I've never had a Cobb Salad (they're not super common in Australia, I don't think?) so I was intrigued.
FODMAP friendly vegetarian Cobb salad
This vegetarian Cobb salad is what I imagine a Cobb salad might be, if you are lazy, vegetarian and don't like eggs much. The walnuts 'replace' bacon (vegetarian or regular) In that they provide textural interest. They don't taste like bacon, obviously, so don't come at me. If you wanted you could replace them with a vegetarian or vegan bacon, but I generally find they're either not gluten free or not FODMAP friendly. You could also add some flakes coconut to the tofu marinade and bake it separately, if you want that bacon-eque hit.
The tofu is made with a smoky marinade (to replace bacon and chicken). I chose not to top mine with eggs, nor to arrange it in neat lines. I know, I'm sorry! This is precisely why I chose to call it a kind of Cobb Salad. It's about 80% Cobb, 20% rogue. Either way, it is delicious.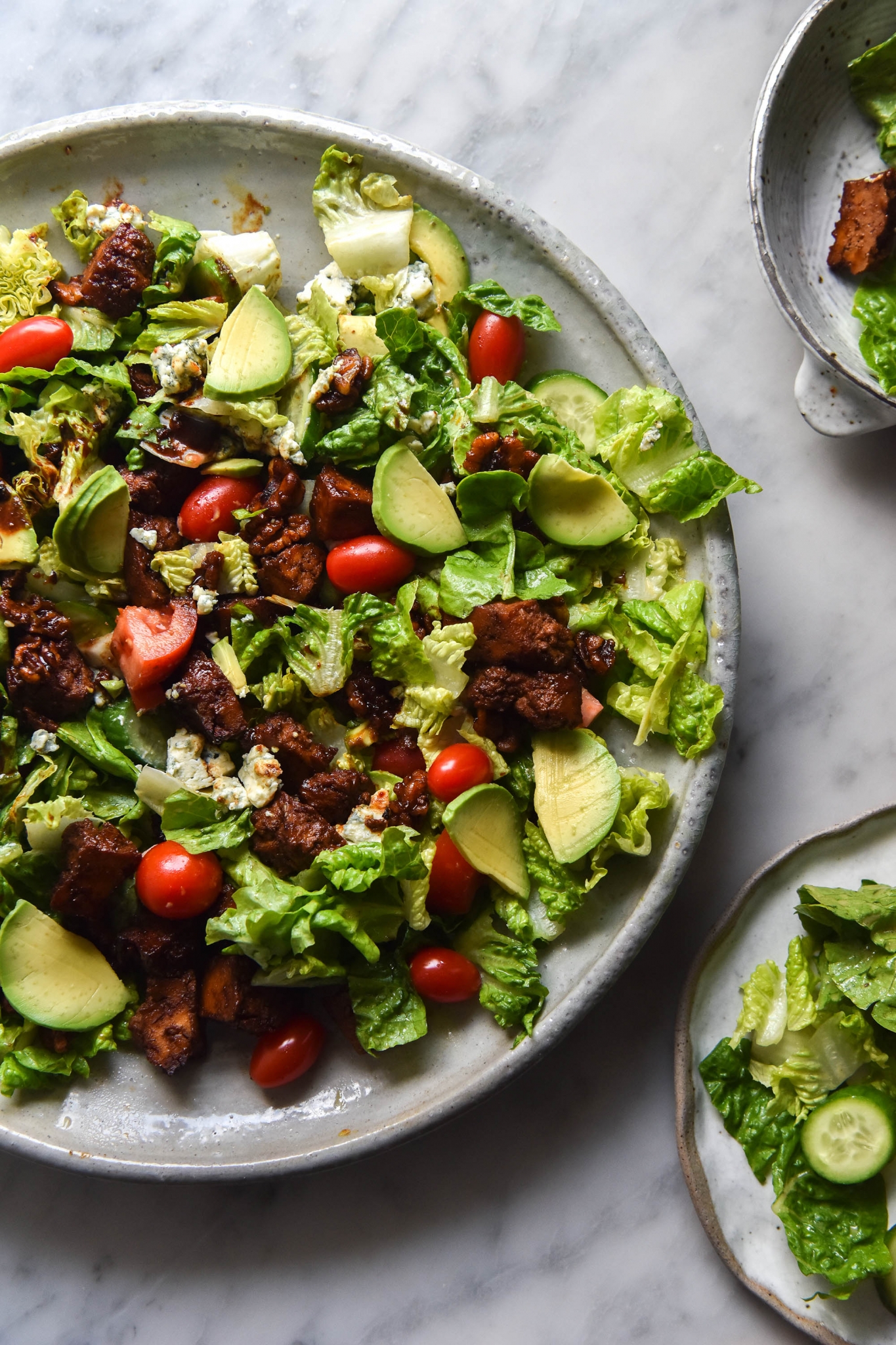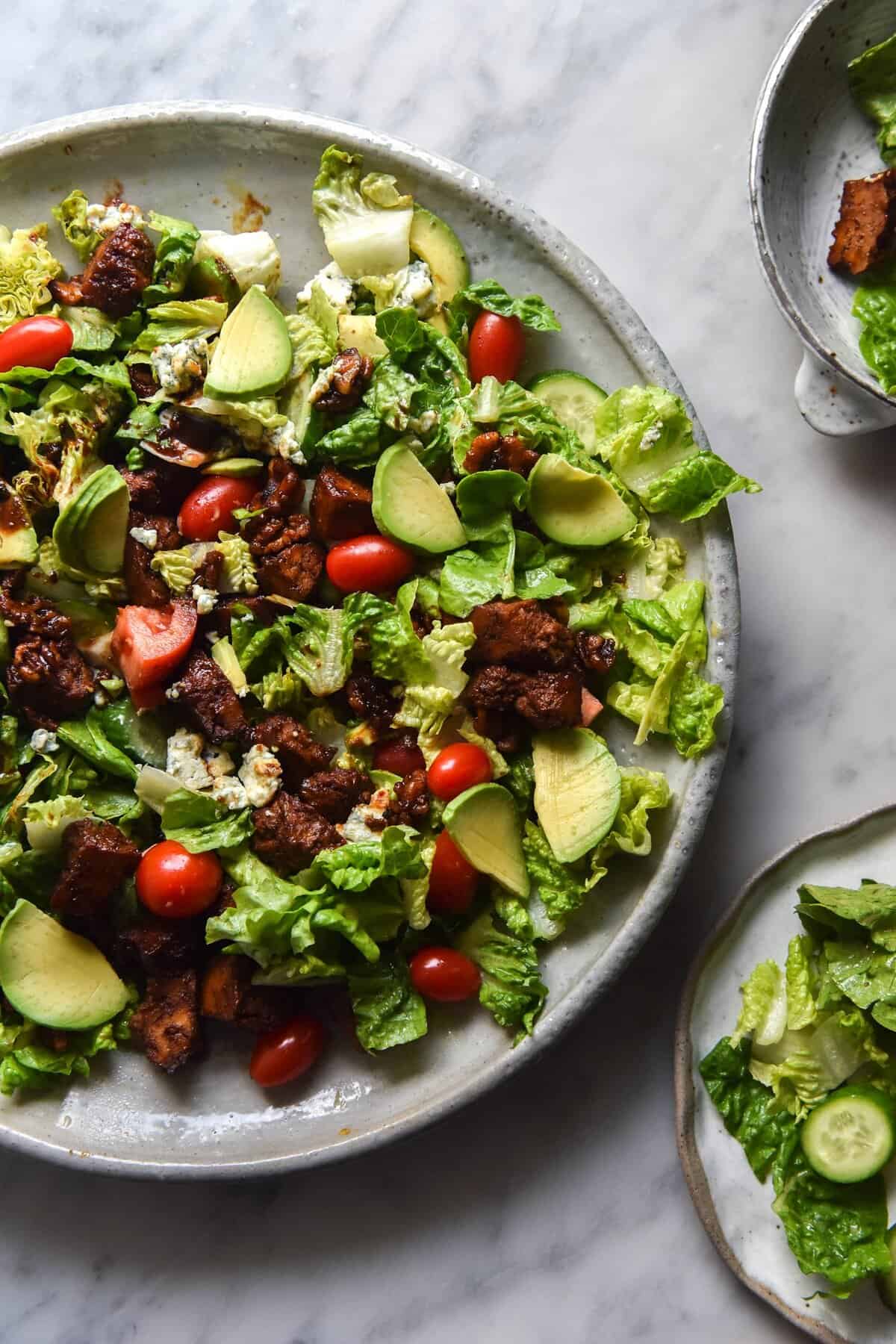 The tofu for your Vegetarian Cobb Salad
The tofu is marinated in a mixture of maple syrup, Tamari, liquid smoke and spices. Liquid smoke is what will make the tofu taste even remotely smoky. You can make it without, but I daresay it might be a bit boring or too sweet. I highly recommend sourcing some, if you can. It's handy for all sorts of vegetarian dishes. Perhaps consider dropping the maple syrup back to 1/4 cup (60ml) and adding more smoked paprika if you don't use liquid smoke.
One thing I have noticed is the disparity between recipes in the amount of liquid smoke they suggest. A lot of recipes, particularly American ones, suggested 1-2 tablespoons of liquid smoke. I'm not sure if the brand I have is exceptionally bitter, but a scant teaspoon was more than enough for me. All this to say: taste your and add more if necessary. I plan to buy a different brand to check and I will update the post when I do.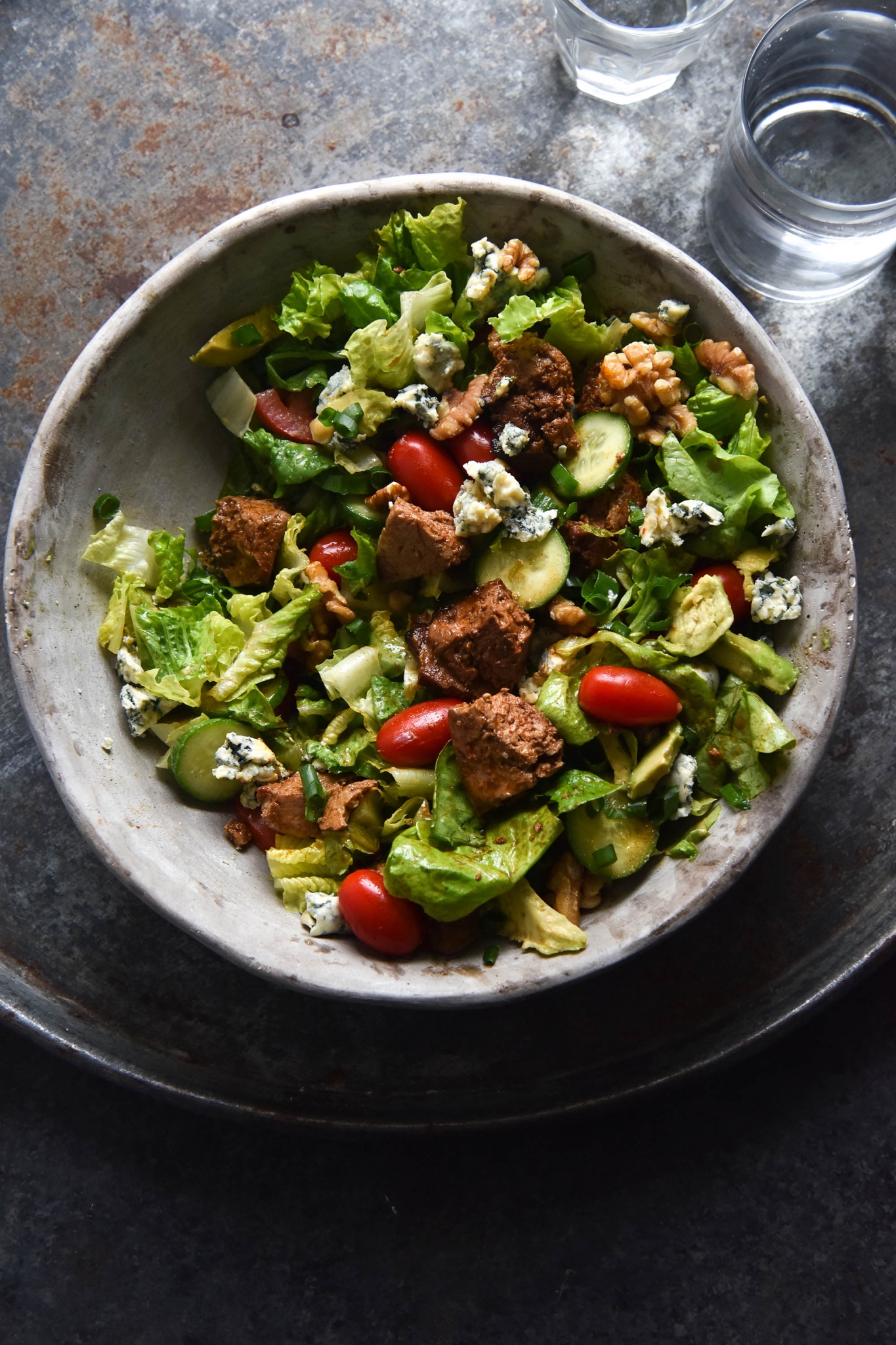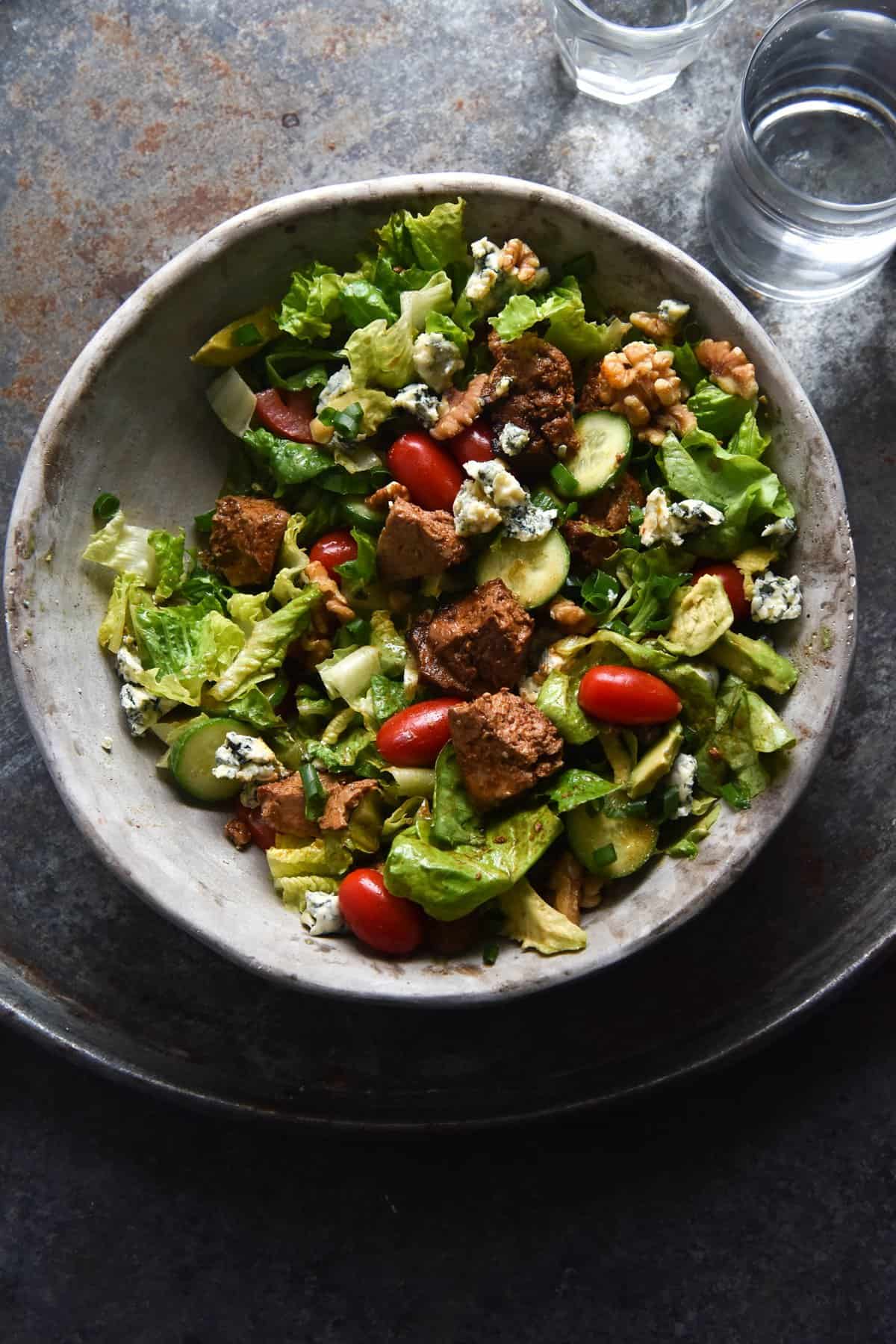 Notes on the FODMAP friendly salad dressing
I have tested both a Ranch dressing and a regular dressing with this vegetarian Cobb Salad. Personally, I preferred the regular dressing because it packed a punch but still left room to taste the blue cheese. My tester (mum) preferred the creamy dressing.
I made homemade ranch and I have to say: it tastes find of like a less creamy, more herby tartare sauce without the capers? Just my hot take. So, if you're in a rush, thoroughly untraditional and probably Australian, some dill mixed into tartare makes a delightful stand in. I like to thin mine out with milk to make it more of a dressing consistency.
I will definitely work on a FODMAP friendly Ranch dressing recipe, though, and a FODMAP friendly tartare recipe is in my first cookbook.
The regular dressing is the one I make for the radicchio and blue cheese salad. I am obsessed with it and use it on everything. The batch makes more than you'll need, but it keeps well in the fridge and honestly inspires me to eat salad. If it's ready in the fridge, I am a happy gal.
Can I make this salad vegan?
If you have used the regular dressing recipe, veganising this dish is as simple as subbing the blue cheese for a vegan alternative.
On the chance that you plan to use a creamy dressing, I would recommend adding herbs to a vegan mayo – perhaps with some dijon, lemon juice and maple syrup for an extra flavour boost.
The eggs are optional (obviously, given that I haven't included them).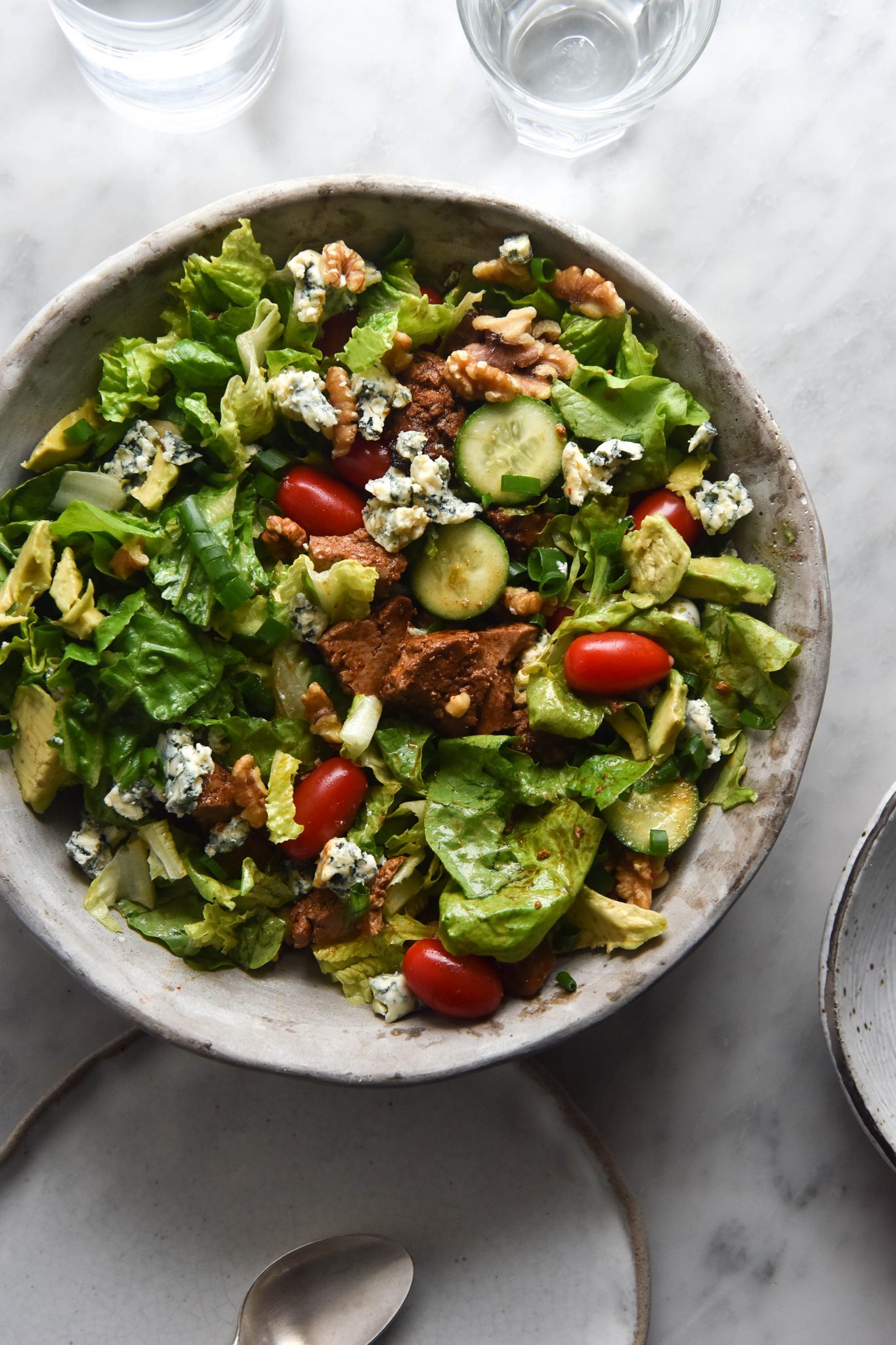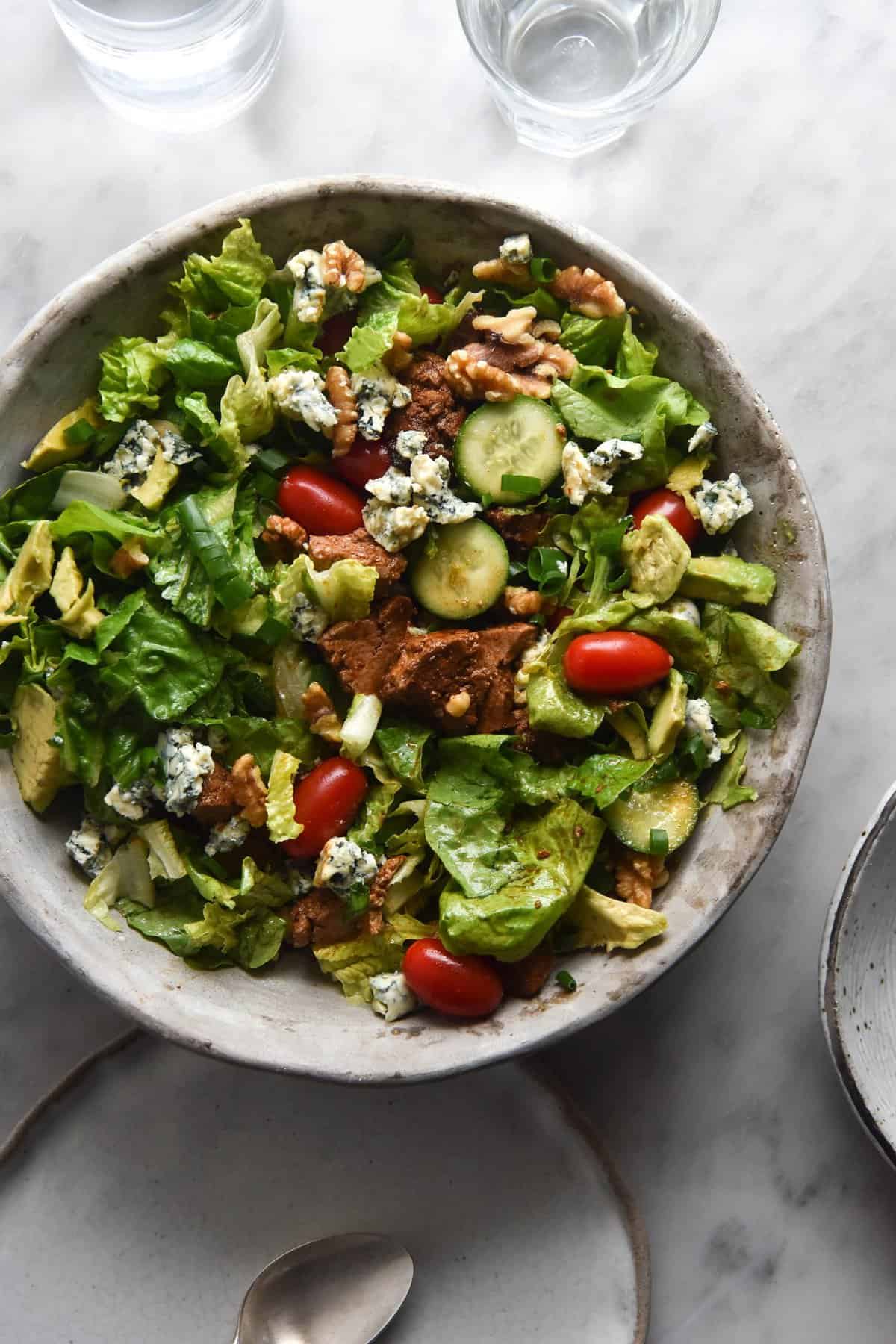 FODMAP notes for your Vegetarian Cobb Salad
Monash has recently updated the FODMAP friendly quantity of common tomatoes to 1/2 a tomato per serve if you have issues with fructose. Similarly, 3 cherry tomatoes is now a safe serving for one person. Please keep this in mind if you have previously reacted to tomatoes. If not, business as usual!
Firm tofu is FODMAP friendly in 160g servings.
More FODMAP friendly salad recipes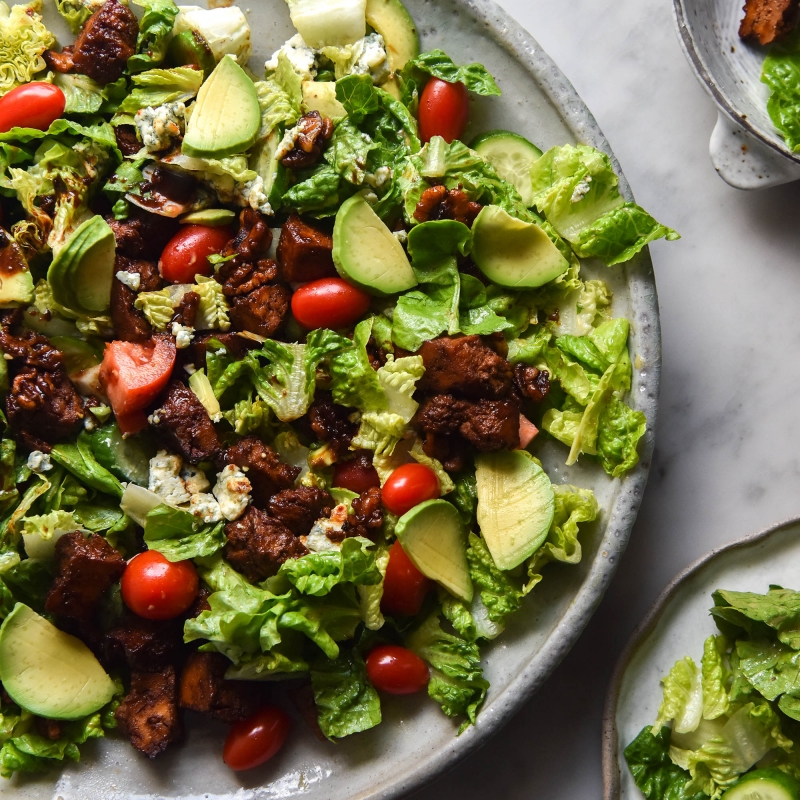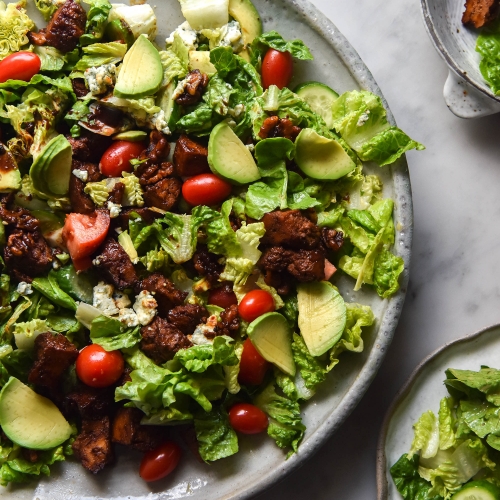 Vegetarian Cobb salad (FODMAP friendly)
Vegetarian, vegan option, FODMAP friendly, gluten free
Ingredients
For the smoky tofu:
1-4 – 1/3

cup (60-80ml)

pure maple syrup

1/4

cup (60ml)

gluten free dark soy or Tamari

1/4

cup (60ml)

water

1

teaspoon

liquid smoke

or to taste, see notes

1

teaspoon

dried sage powder

1

teaspoon

smoked paprika

1/2

tablespoon

oil of choice

500

g

firm tofu

torn into bite sized cubes
For the dressing:
2

tablespoons

(40ml) oil of choice

I used olive

1

tablespoon

(20ml) maple syrup or honey

1

tablespoon

(20ml) sherry or red wine vinegar

2-4

teaspoons

Dijon mustard

check it contains no garlic

Salt and pepper

to taste
To finish:
1-2

heads baby cos lettuce

2

common tomatoes

chopped

Handful of cherry tomatoes

2

medium – large Lebanese cucumbers

sliced and chopped into quarters

100

g

walnuts

optional

blue cheese

to your taste (I used about 150g)
Instructions
To make the tofu:
Whisk all the ingredients together (except for the tofu) in a medium sized mixing bowl. Taste and adjust according to your preferences.

Add the chunks of tofu and stir to coat them all in the liquid. Allow to marinate for as long as possible (up to overnight).

When you are ready, preheat the oven to 180C/350F. Place the tofu in a 30cm x 20cm, leaving the liquid behind (we will cook it down to form a glaze). Bake for 20-30 minutes or until the tofu has crunchy browned bits.
To make the dressing:
While you're waiting, combine all the ingredients in a clean jar and shake until emulsified. Taste and adjust for seasoning.

Place the leftover liquid from the tofu in a small saucepan over a low-medium heat. Cook for 5-10 minutes or until a syrupy glaze has formed and the liquid has reduced considerably.

When the tofu comes out of the oven, pour the glaze over the tofu pieces and stir to coat. You can add the walnuts to this mixture so they get a flavour boost, if you like.
To assemble:
Place the vegetables on your serving platter or in an extra-large bowl. Pour over the salad dressing and stir to coat the vegetables evenly.

Top the salad with the tofu, crumbled blue cheese and walnuts, if you didn't add them earlier.
Notes
Monash has recently updated the FODMAP friendly quantity of common tomatoes to 1/2 a tomato per serve if you have issues with fructose. Please keep this in mind if you have previously reacted to tomatoes. If not, business as usual!