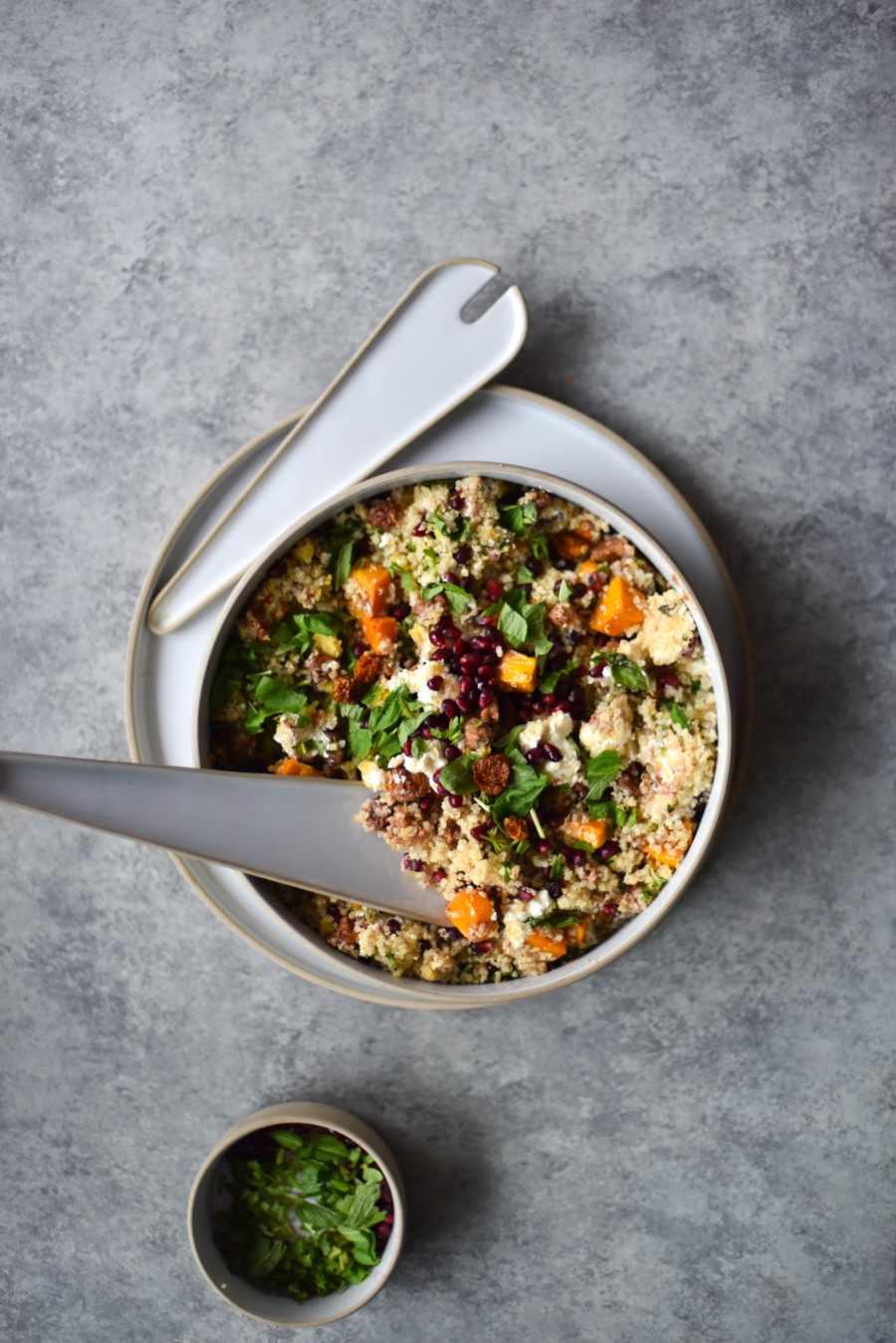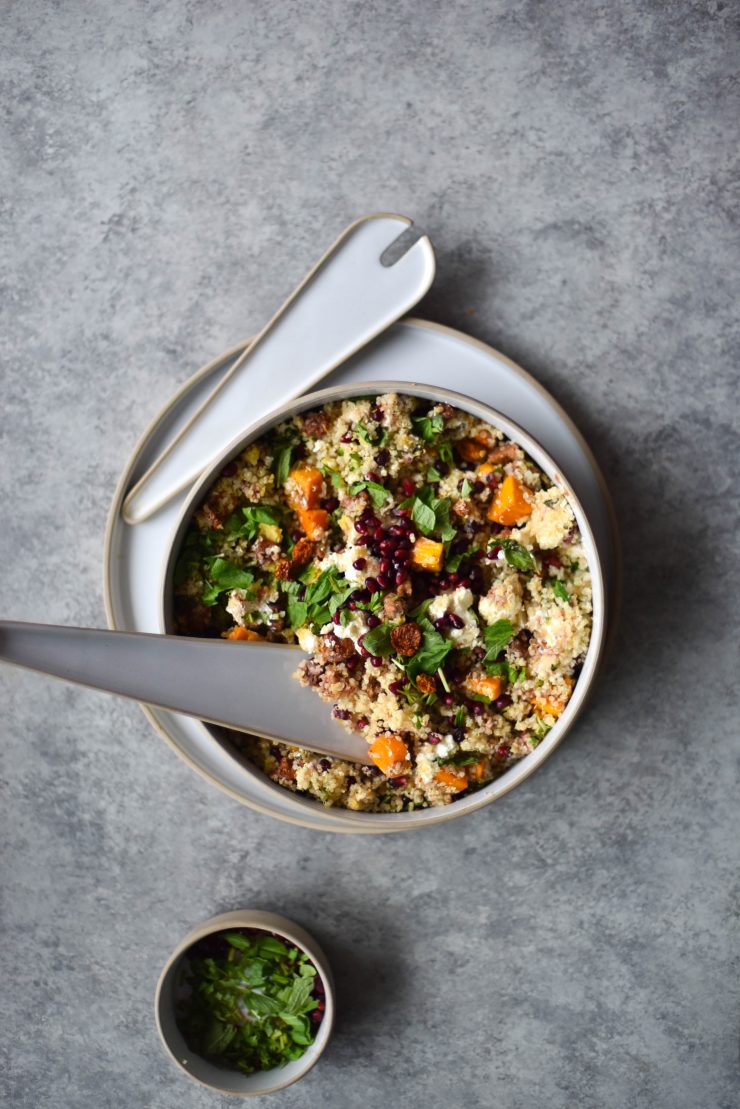 This might be an unpopular opinion, but I think the lead up to Spring is probably my favourite time of the year. It's still cold enough that I can (potentially) get away with wearing grey marle unscathed. The days are slowly getting longer. I'm slowly remembering what it's like not having to photograph my dinner at 3pm. Plus, I'm making progressively lighter meals, like this vegetarian quinoa salad with spiced lemon butter.
Melbourne's weather (while still retaining it's wholly unpredictable nature) has been peppered with a few sunny days lately. The sort of days that give you hope that there in fact light at the end of the wintery tunnel. The sort of days that remind you of eating salads without cursing yourself for not making something warming, like a curry.
I created this quinoa salad for Country Road, with the idea of making it a trans-seasonal affair. It's a dish that can be adapted to the weather of the particular day you make it. While it's hearty and wintery thanks to the quinoa and roasted pumpkin, it also has zingier, fresher elements. The mint and lemon pepper translate nicely into warmer weather scenarios, but the dish can be served hot or cold.
What's more? It's gluten free, vegetarian, FODMAP friendly and nut free.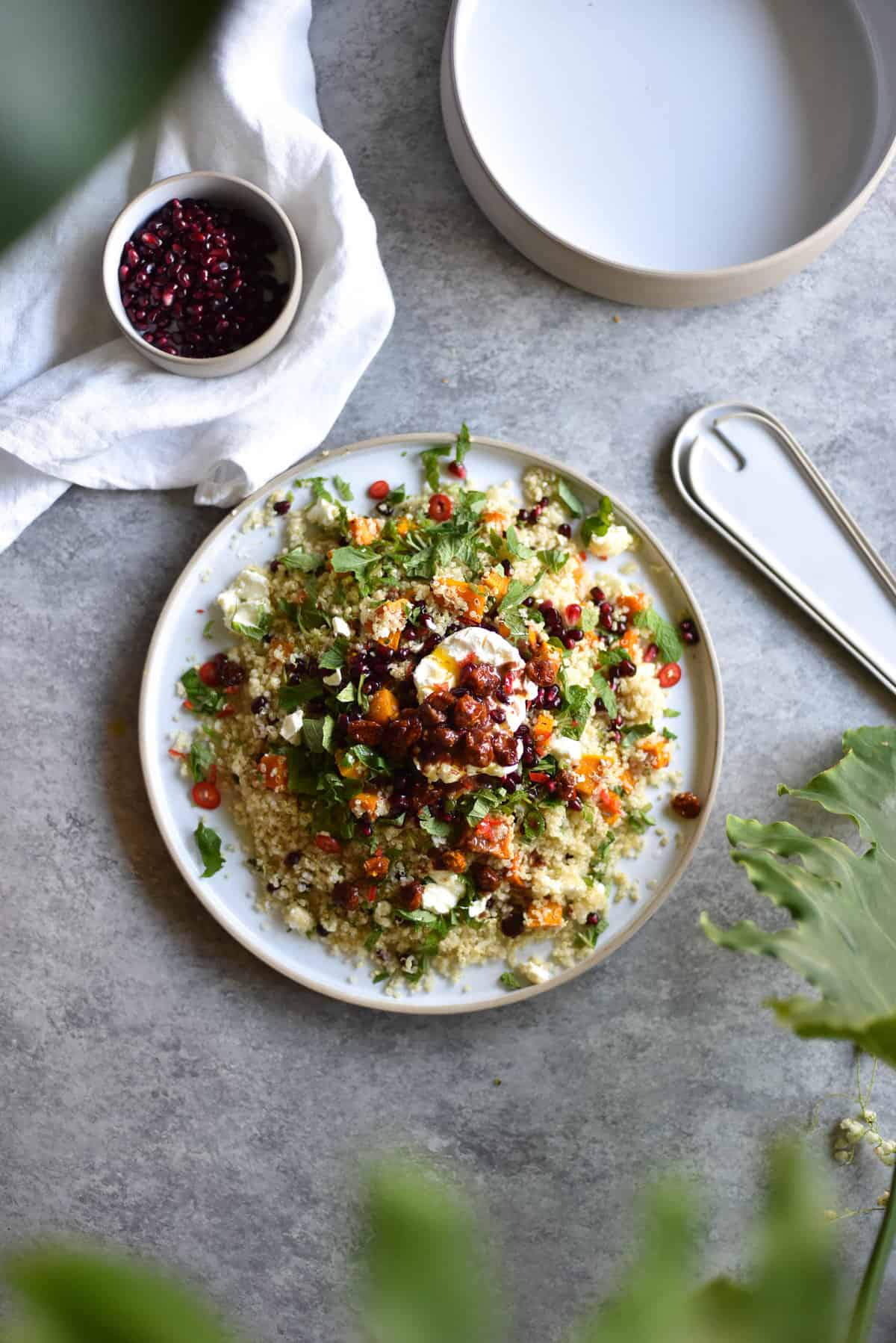 Recipe notes for the vegetarian quinoa salad
I highly recommend you find some if you're able to as they're a standout in the spiced butter (a lot of health and bulk food stores in Australia sell them) but if you really can't/don't want to find them, sultanas or dates would make a nice, albeit less tart, replacement. You could consider adding an extra squeeze of lemon juice if you go to sultana or date route.
The quinoa base and pumpkin can be cooked in advance and cooled, or the entire dish can be served warm. Inca berries are particularly tart and vibrant, almost like a sour lolly.
You could make this recipe vegan by using a vegan butter replacement, although I would add it to taste rather than by volume.
Any vegetable you fancy is a worthy addition to this recipe. If you'd like to add some leftover roast veg, go for it! You can really add whatever you like within the flavour profile.
In place of labne, you could use goats cheese or another soft, tangy cheese like feta.
FODMAP notes for the vegetarian quinoa salad
There are two main components of the salad worth discussing for the FODMAP adverse – inca berries and pomegranate arils. Monash FODMAP doesn't have a rating for Inca berries, given that they're a bit more niche. They are dried fruit, so that would suggest there might be a fructose content there.
In terms of pomegranates, Monash says a 45g serve per person is within acceptable limits. This works well for our purposes, because the whole salad contains 100g.
Kent or Japanese pumpkin are the best varieties to use if you'd like to keep the overall FODMAP levels down.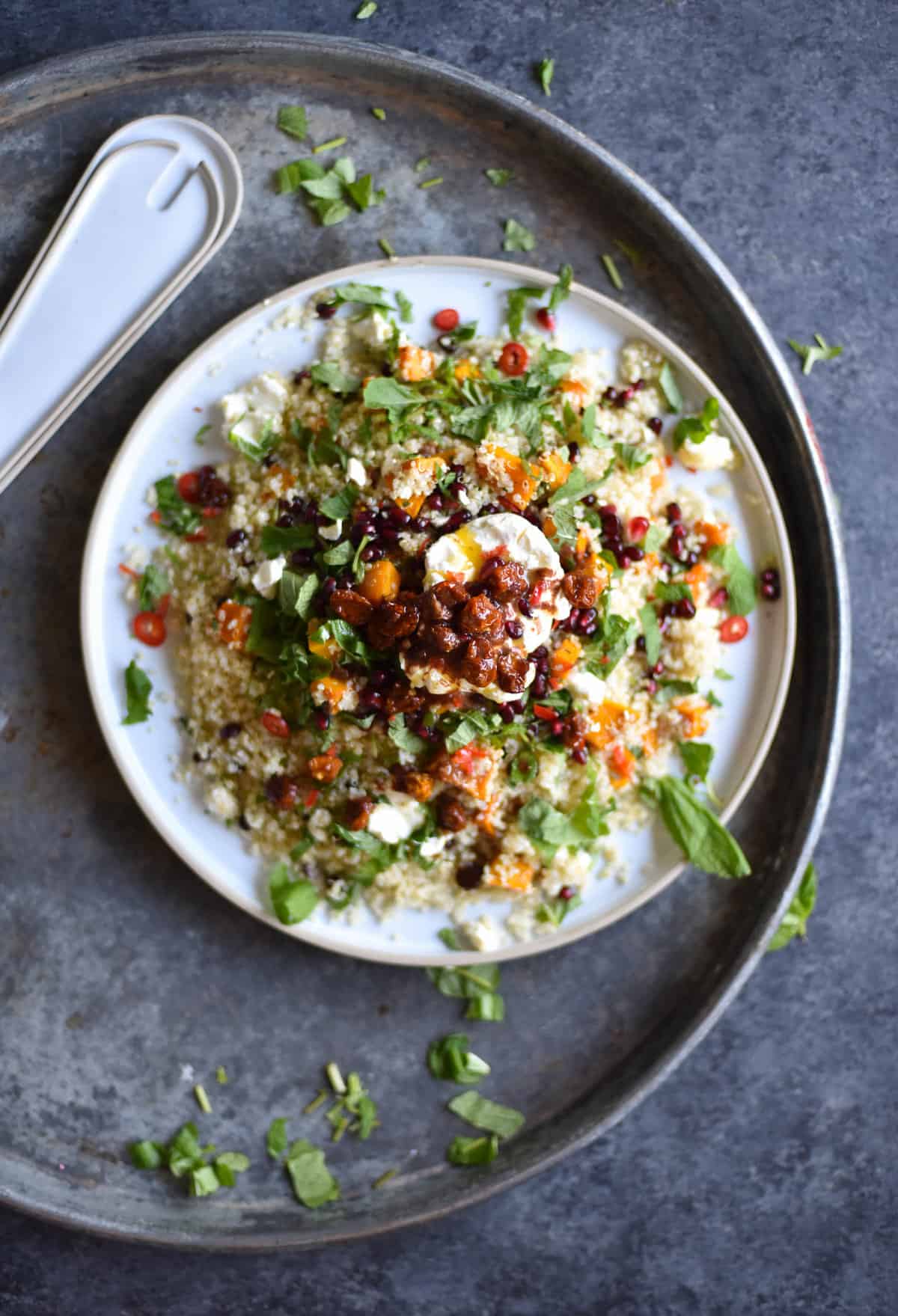 More salad recipes without onion or garlic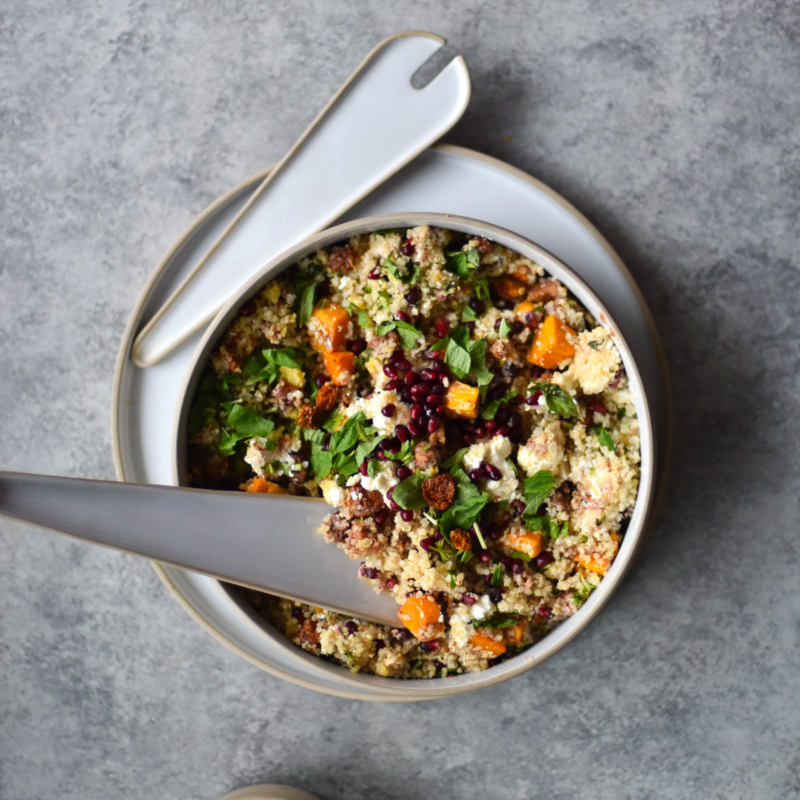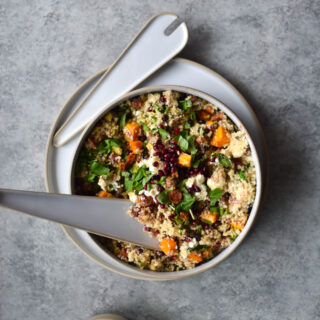 Quinoa salad with spiced lemon butter and roasted pumpkin
Ingredients
For the lemon butter:
100

g

butter

2

teaspoons

mixed spice

½

teaspoon

ground nutmeg

Juice of ½ a lemon

2

teaspoons

brown sugar

1

teaspoon

preserved lemon brine

¼

preserved lemon

75

g

inca berries

or sultanas/dates
For the quinoa salad:
1

cup

quinoa

500

g

pumpkin

I used Kent but any should be fine

Juice of ½ a lemon

Olive oil spray and sea salt
To serve:
1

bunch of mint

100

g

pomegranate seeds

150

g

labne
Instructions
Preheat your oven to 180C/356F. Cut your pumpkin into even cubes, and place on a baking tray covered with baking paper. Pour the juice of ½ a lemon over the top, and follow with some olive oil spray and sea salt. You could grate over the zest of a lemon if you fancy. Set the timer for 20 minutes.

Fill a large pot with water, and bring it to the boil. Add 1 cup of quinoa, and cook for 7-8 minutes, until the quinoa has unfurled and is soft to the touch. Remove from the heat and drain.

While these elements are cooking, melt your butter in a small pot, and add all the ingredients for the spiced butter. Once they are fully combined and melted, turn the heat to a low medium, and continue to cook for about 5-10 minutes. The inca berries should start to puff up a little, without the butter burning.

Once all your elements are cooked, combine the quinoa, pumpkin, mint and labne in a large bowl, reserving a small portion of each for aesthetically pleasing assembly. You can also add the spiced inca berry butter here, but I quite like pouring it over the top at the end. Ensure you've heated it just prior to using it so it doesn't solidify on impact.

Top with the reserved ingredients and serve, warm or cool.