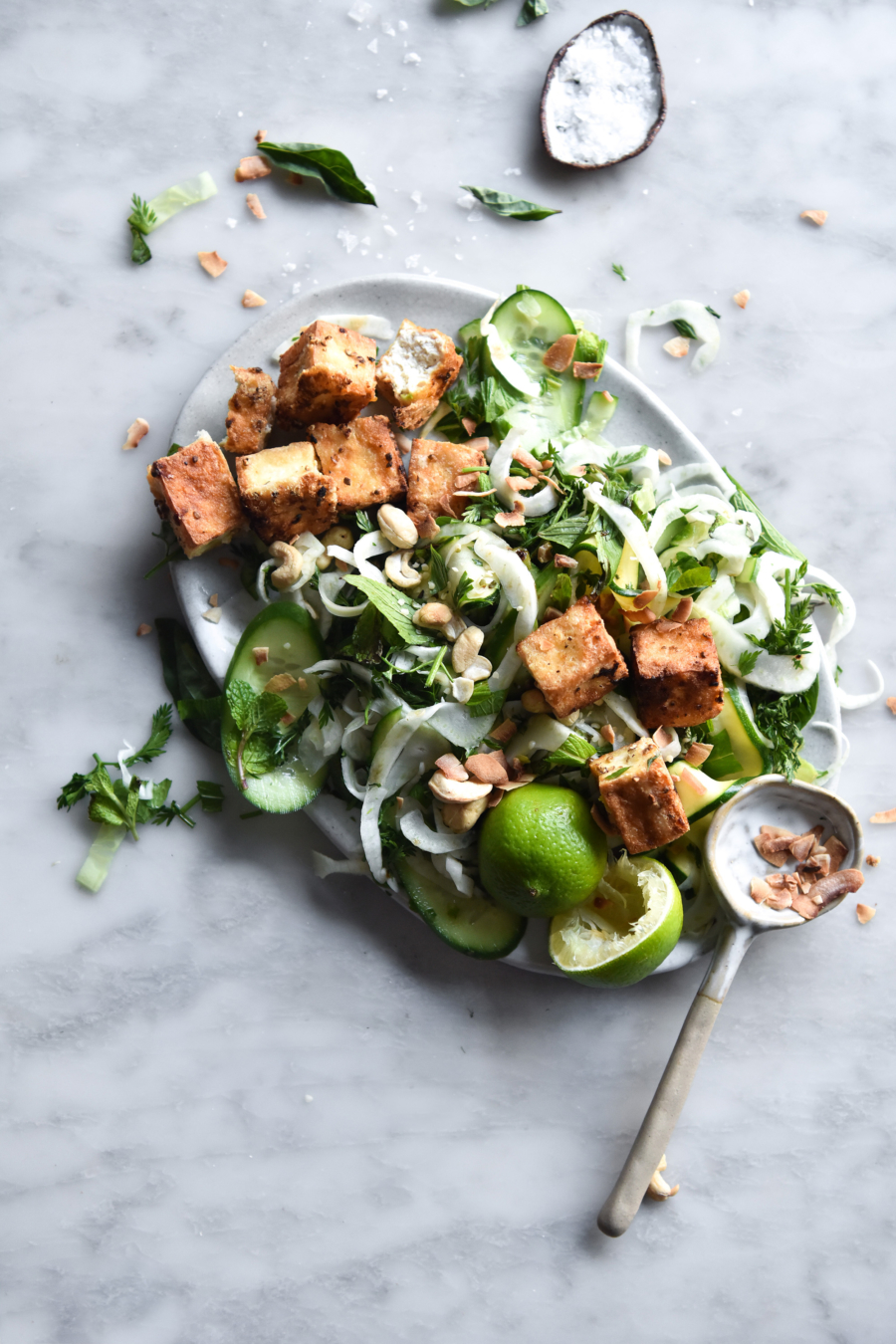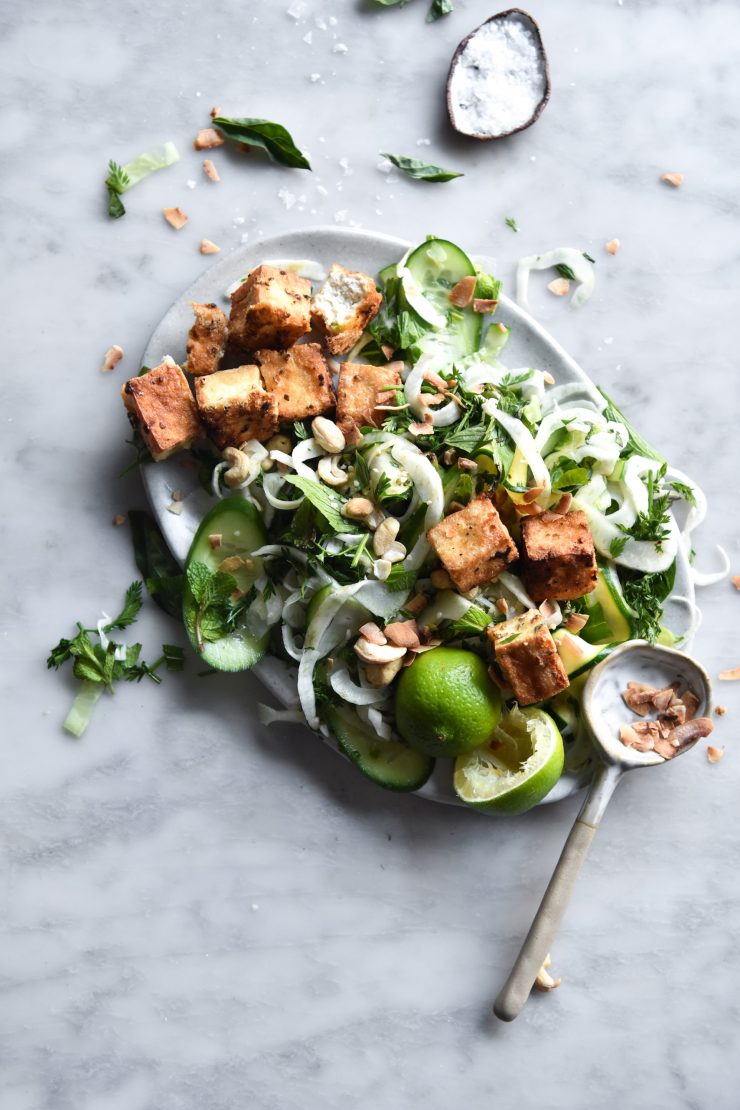 As you may or may not be aware, I've made it my life's mission (for the month) to discover the secret behind crispy tofu. Unsatisfied with my baked tofu experiences at home, yet in awe of the shatteringly crunchy salt and pepper tofu at restaurants, I knew I was missing something. While I haven't quite developed the ultimate, no going back recipe for a plain piece of life changing tofu, I have certainly come across one aspect: vodka.
Salt and pepper tofu salad
No, I'm not just peer pressuring you for the sake of it like in high school. Because vodka is more volatile and evaporates quicker than water, it creates a much crispier crust. Not only do a multitude of websites confirm it (hello Google) but my side my side comparison of the same recipe confirms it. Vodka may be your downfall on a Saturday night, but it's your salvation when it comes to crispy tofu.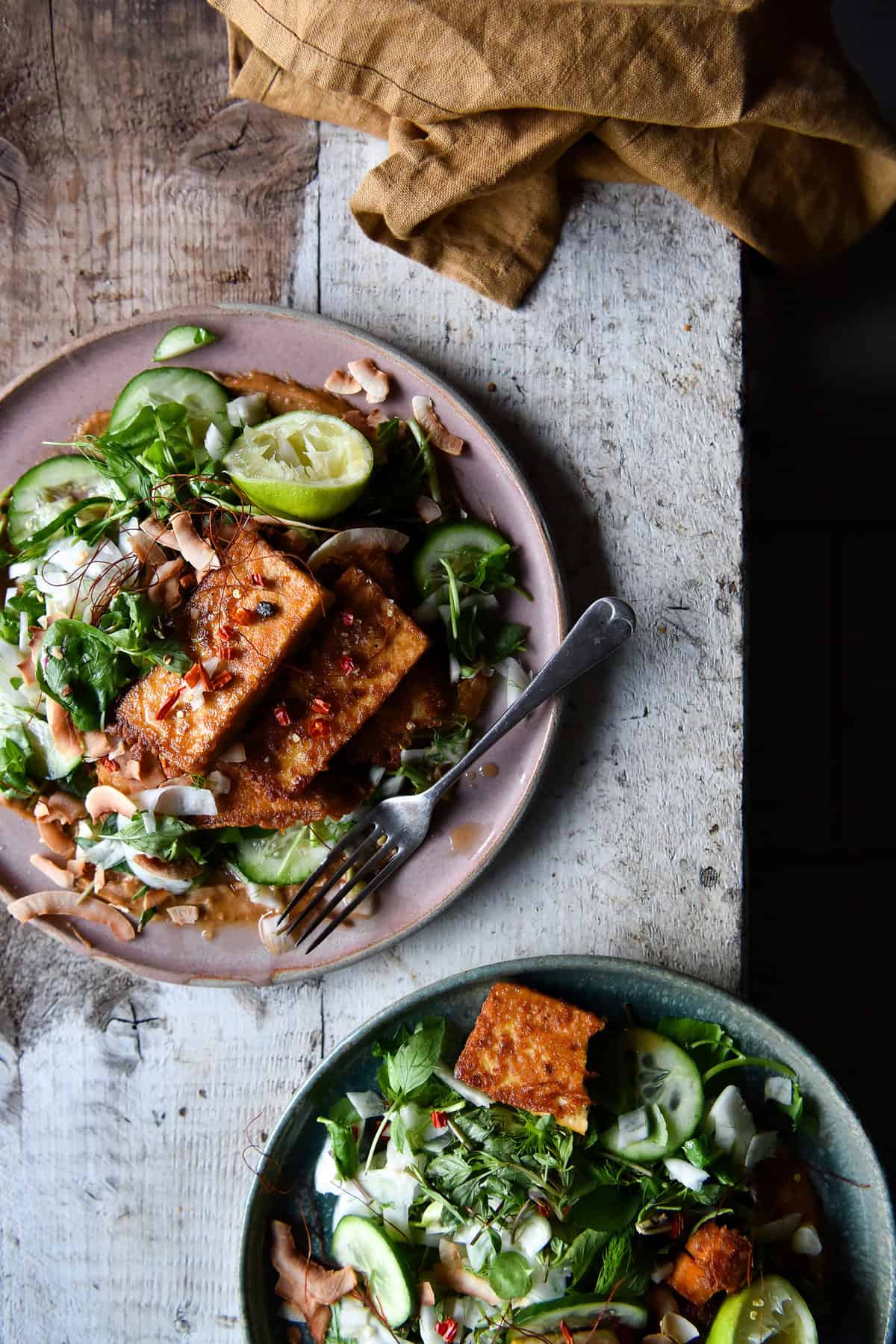 This salt and pepper tofu is gluten free, vegan, and FODMAP friendly. You could play around with an almond satay for any nut intolerances (although I haven't done that myself) and, if you're not ready to have your life changed, you can substitute the vodka with water. This salt and pepper tofu serves 4, and you'll have some satay leftover for dipping/spooning straight into your mouth. Here for the tofu? Try this furikake rice with crispy miso glazed tofu. Here for the fennel? Have these miso baked potatoes with cucumber fennel salad. Sensing two themes? Yeah so am I.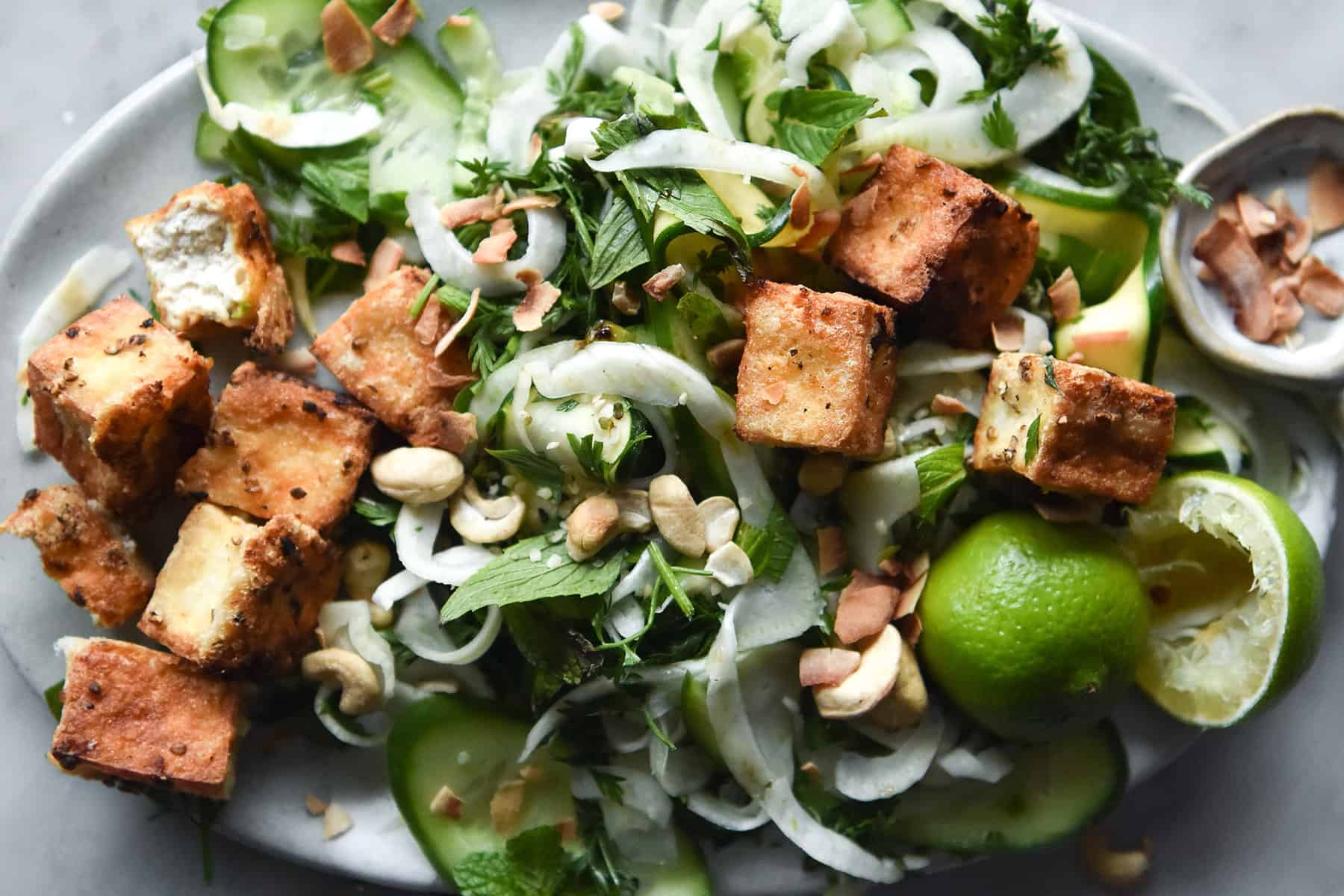 More tofu recipes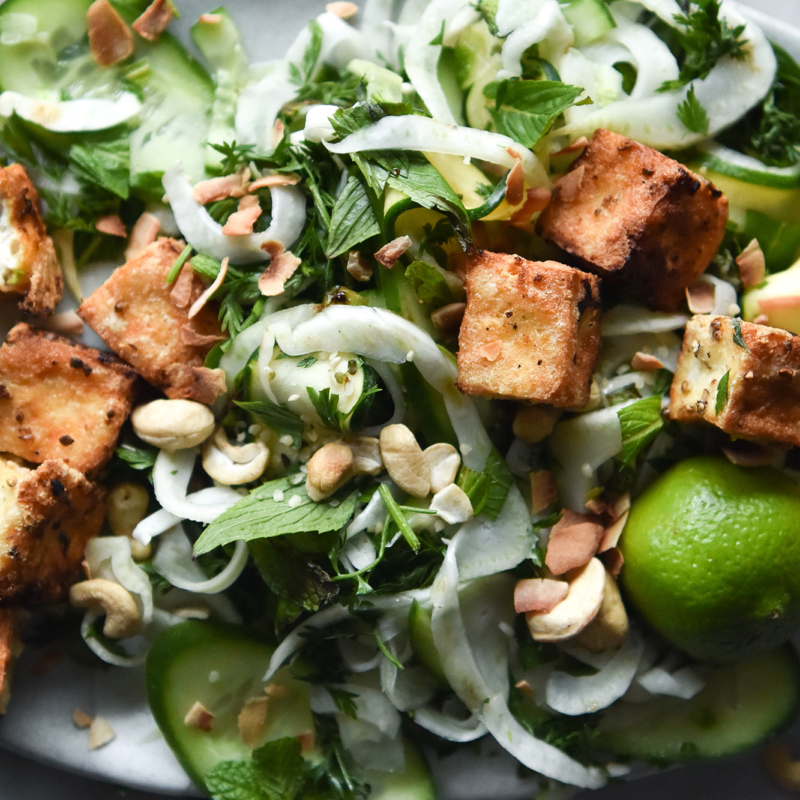 Salt and pepper tofu with ginger satay and green salad
Measurements are in Australian cups and tablespoons
Ingredients
For the salt and pepper tofu
500

g

firm tofu

2

tablespoons

(40ml) vodka

make sure it's gluten free if you're cooking for a coeliac

1

tablespoon

(20ml) water

plus extra if necessary

3

tablespoons

gluten free cornflour

2

teaspoons

sea salt flakes

2

teaspoons

freshly ground white pepper

I buy this in whole form from my Asian grocer but I think you can get it at the supermarket too
For the salad:
Juice of 1 lime

2

teaspoons

brown sugar

1

teaspoon

sea salt flakes

1

large fennel

mandolined or finely chopped

2

small lebanese cucumbers

mandolined or finely chopped

1

bunch of Thai Basil

Handful of greens of your choice
For the ginger satay
1

cup

natural peanut butter

1 1/2

cups

(375ml) boiling water

4

teaspoons

gluten free kecap manis

4

teaspoons

tamari

Generous micrograting of fresh ginger

Generous micrograting of makrut lime rind
Instructions
METHOD FOR THE TOFU:
Remove your tofu from the packet and slice it lengthways down the middle. Put down some paper towel (I normally do a folded couple of layers on the bottom and one on the top) and lay the tofu on top. It should take less time to drain now that it's halved. Lay the next piece of paper towel on top, and place something heavy on top of that. I use a big saucepan with cans in it. Allow this to drain for 30 odd minutes, remove the paper, and repeat. Once the tofu is dry, take the paper off and cut the tofu into bite sized chunks on a dry board.

To make the salad, mix the lime juice, sea salt and sugar in a large bowl, and add in the remaining ingredients. I like to do this before cooking the tofu to allow some of the firmer veg to soften with the lime juice.

Mix together the cornflour, sea salt and pepper in a large bowl. Mix and add the tofu chunks, tossing them evenly to coat. Gently shake individual pieces of tofu off and transfer them to a plate. Mix the vodka and water into the flour and salt mixture that is leftover, and stir thoroughly to combine. Sometimes a whisk helps with cornflour.

Heat a saucepan over a high heat with a high smoke point oil. Peanut oil is my preference.

Throw the tofu pieces back into the wet vodka flour mixture, gently and thoroughly coating each piece in the batter. Transfer each piece (I use my hands, it makes it easier to coat and transfer) gently into the hot oil. Make sure not to overcrowd the pan – batch cooking is your best m8 in the search for crispiness. I cook about 8 pieces at a time, but that will depend on your pan.

Adjusting the heat as you go, turn the tofu as you start the see the sides going golden at the bottom. This won't take long. I like to create a system where I turn them all the same way so I don't miss a side. It makes me feel very organised and very enamoured with tofu. Make sure all 4 sides of the tofu are cooked, before transferring them to a paper towel to blot dry.
METHOD FOR THE SATAY:
While the tofu is cooking, place the peanut butter in a pan over a low medium heat. Add the boiling water, and stir until the mixture becomes a saucy consistency (it will happen, I promise!) add the flavourings – kecap manis, tamari, ginger and kaffir (you can add in a bunch of kaffir lime leaves if that's all you can find, just make sure you fish them out before eating) and continue stirring over a low heat for a few minutes to let the flavours infuse. Set aside.
TO SERVE:
If it has taken you a while to cook the tofu, you can finish it off in the oven for a few minutes (legend has it that this also assists in crispiness, although I can't be sure yet) to serve warm when you are ready.

To serve, layer the bottom of the plate with satay (you'll have lots leftover for blobbing on top and for lunch tomorrow) and follow this with the salad and the crispy tofu.