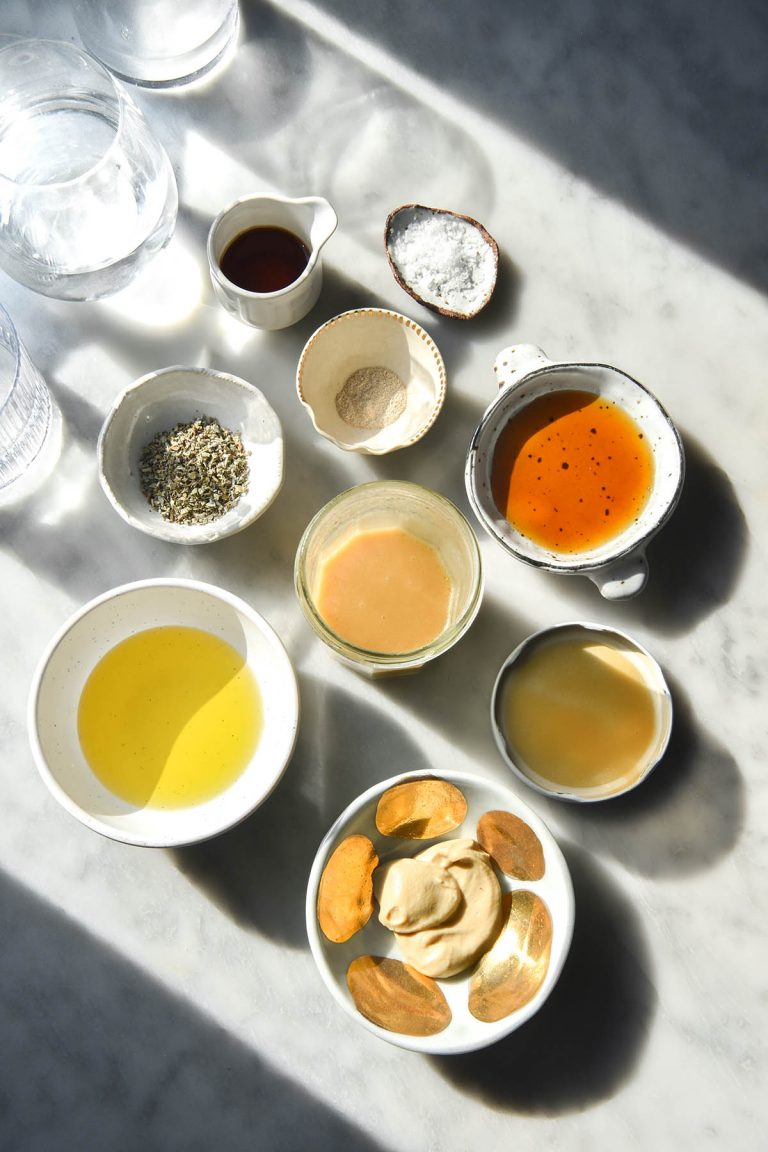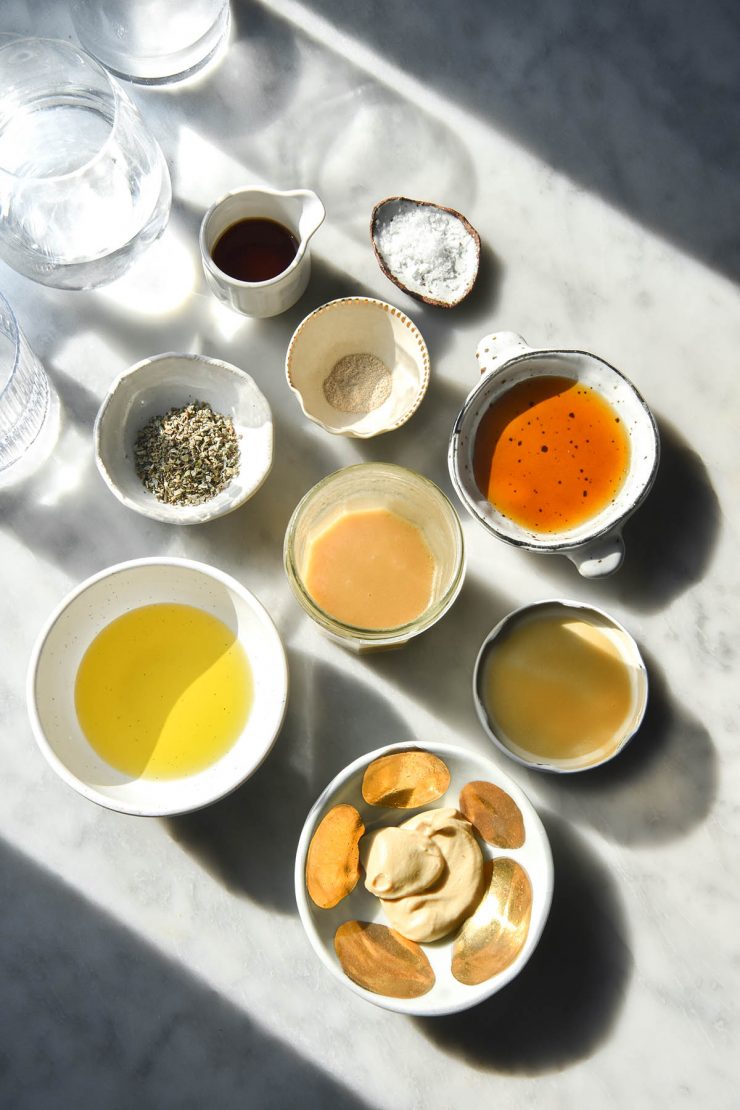 This low FODMAP salad dressing is so easy to make that I neglected to give it it's own recipe. I use it on basically every salad I make, and it adds a whole new dimension of flavour every time. It is an incredibly quick and easy recipe that can be scaled up or down.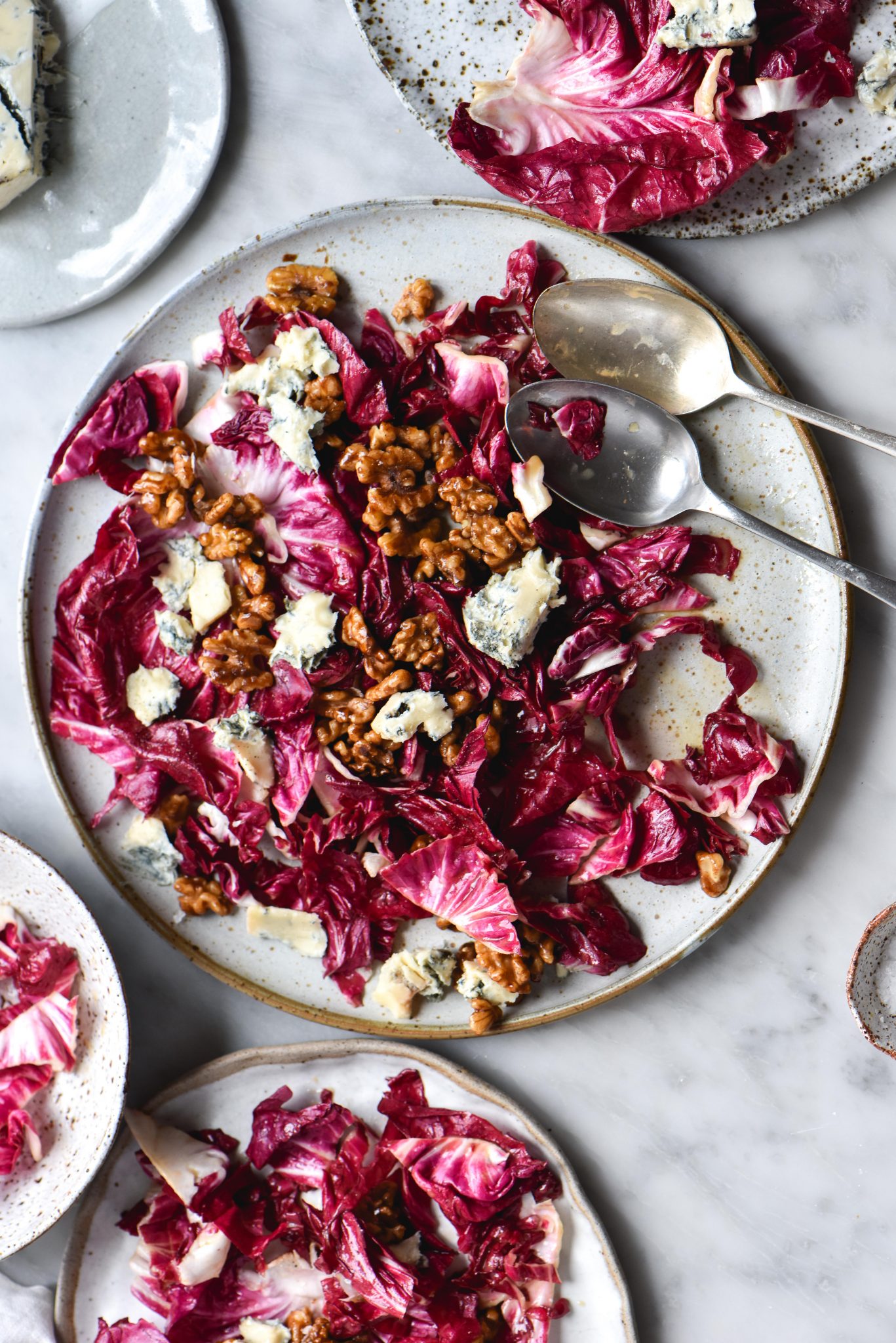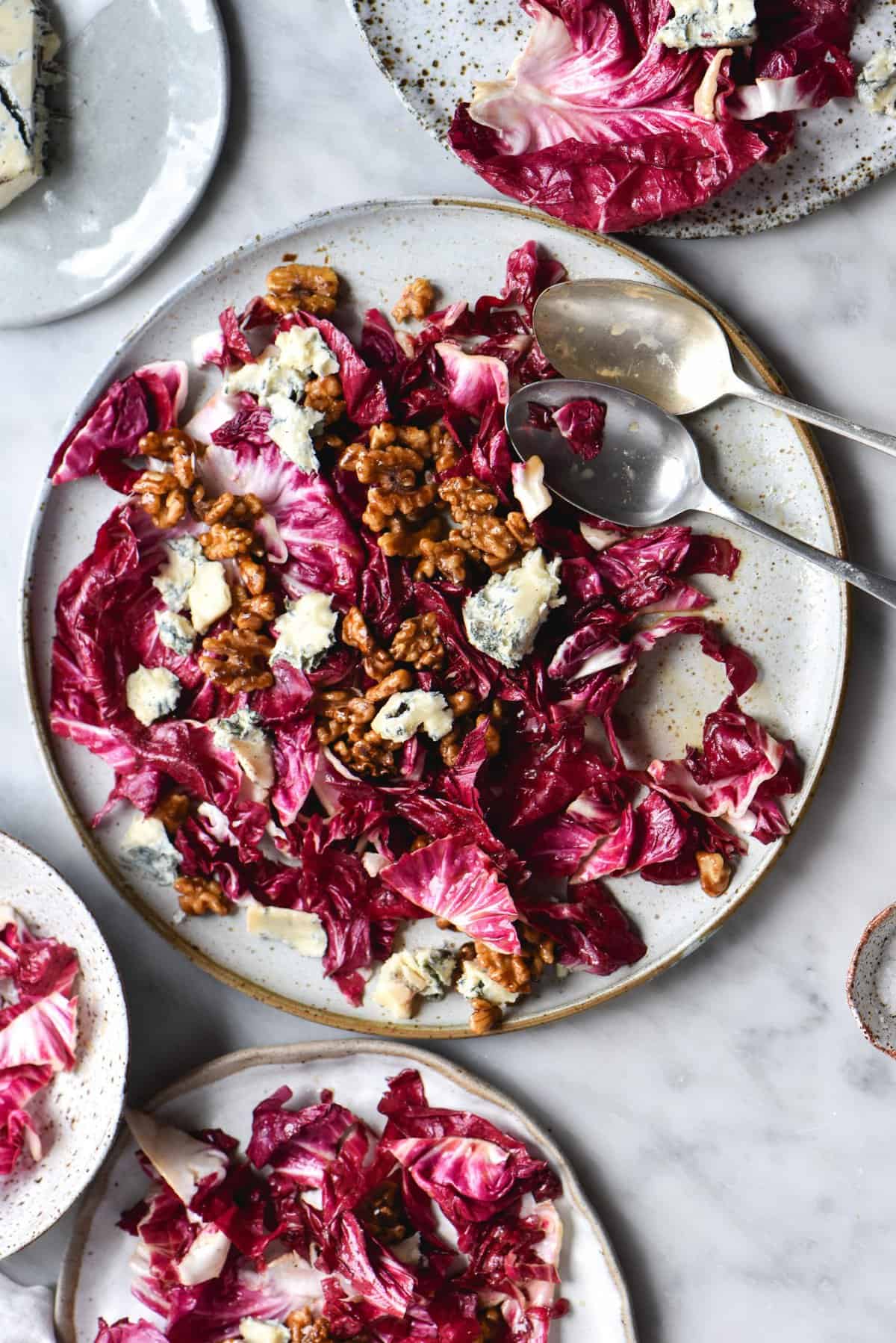 Low FODMAP salad dressing
This salad dressing is made from a simple mix of oil, vinegar, mustard, maple syrup and seasoning. I notice that a lot of American creators don't use any sweetener in their salad dressings on TikTok, but I find it adds so much to the dressing. Because this is an endlessly customisable salad dressing, you can use what you see fit.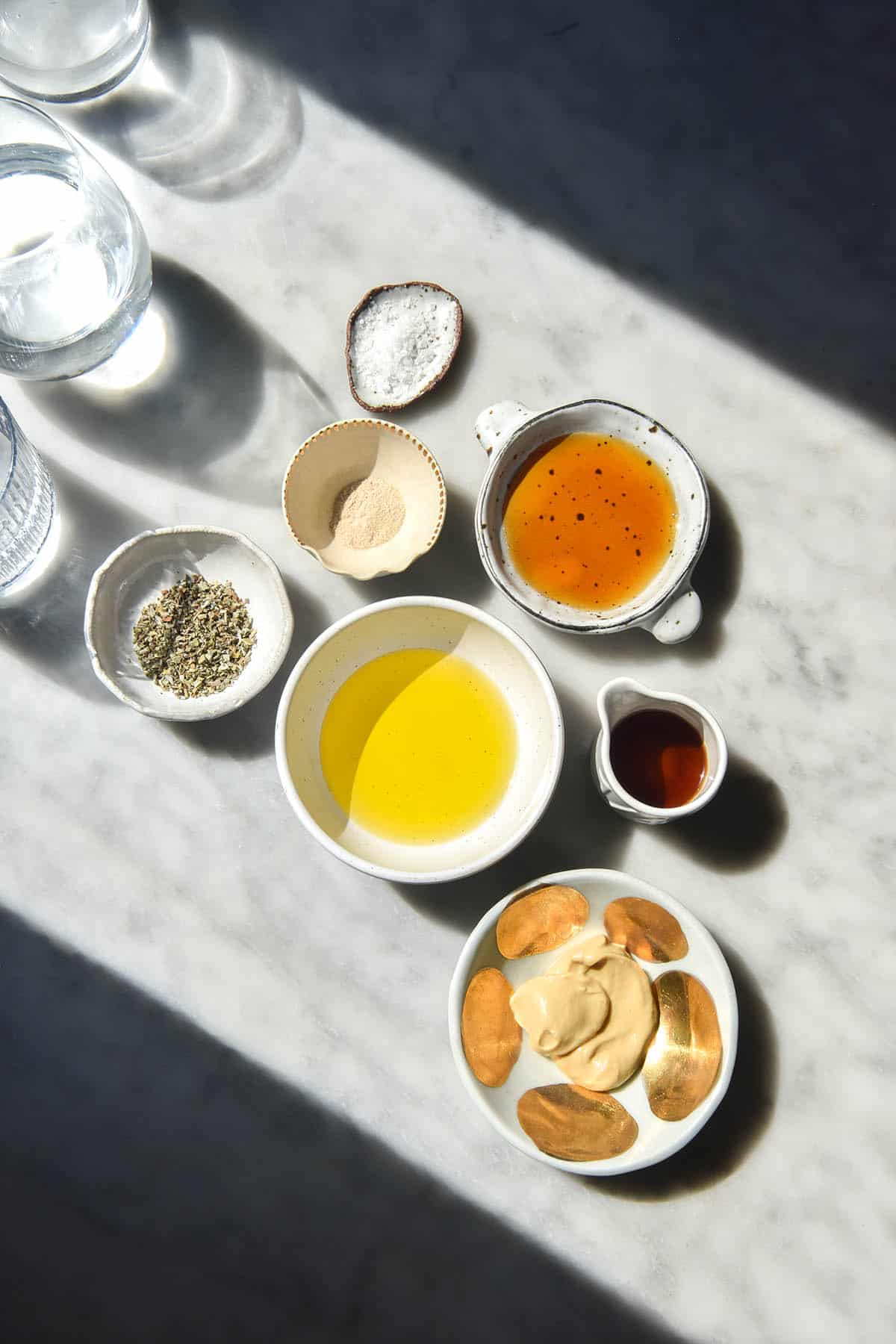 Oil
Any more neutral flavoured oil is appropriate for this low FODMAP salad dressing. I generally use olive, because it's what I have on hand most often. If you'd prefer to use something like avocado, that works brilliantly too.
Another option to add some extra flavour to your salad dressing is to use garlic infused olive oil. I love making my own, and I have a recipe here. I find the flavour of freshly made garlic oil is better than store bought. Another thing I have noticed is that garlic infused oil works best as a finishing oil, left uncooked (as in my low FODMAP spaghetti aglio e olio). That's why it works so well in this salad dressing.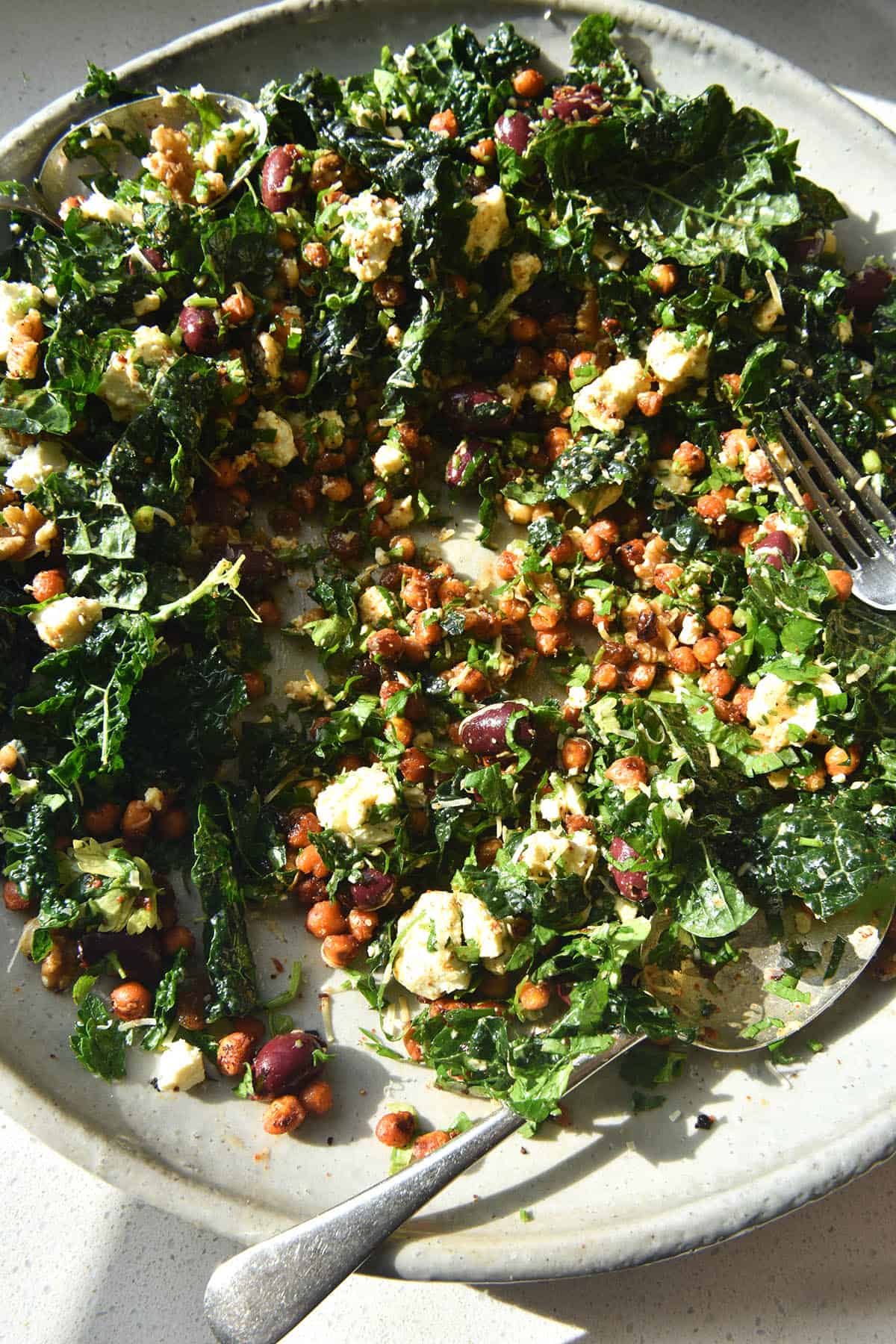 Vinegar
I love using sherry vinegar or red wine vinegar in this dressing. I find they both add a little flavour complexity and interest. Most varieties of vinegar are low FODMAP in 42g (2 tablespoon) serves, so you can choose whichever you prefer.
One exception to this rule is balsamic vinegar, which is only low FODMAP in 1 tablespoon (21g) serves. Given that the dressing uses 1 tablespoon of vinegar, this isn't an issue. It is worth noting though.
Another option is to use lemon or lime juice instead of the vinegar. I like to do this depending on the flavour profile of the salad I'm using, which we will go into below.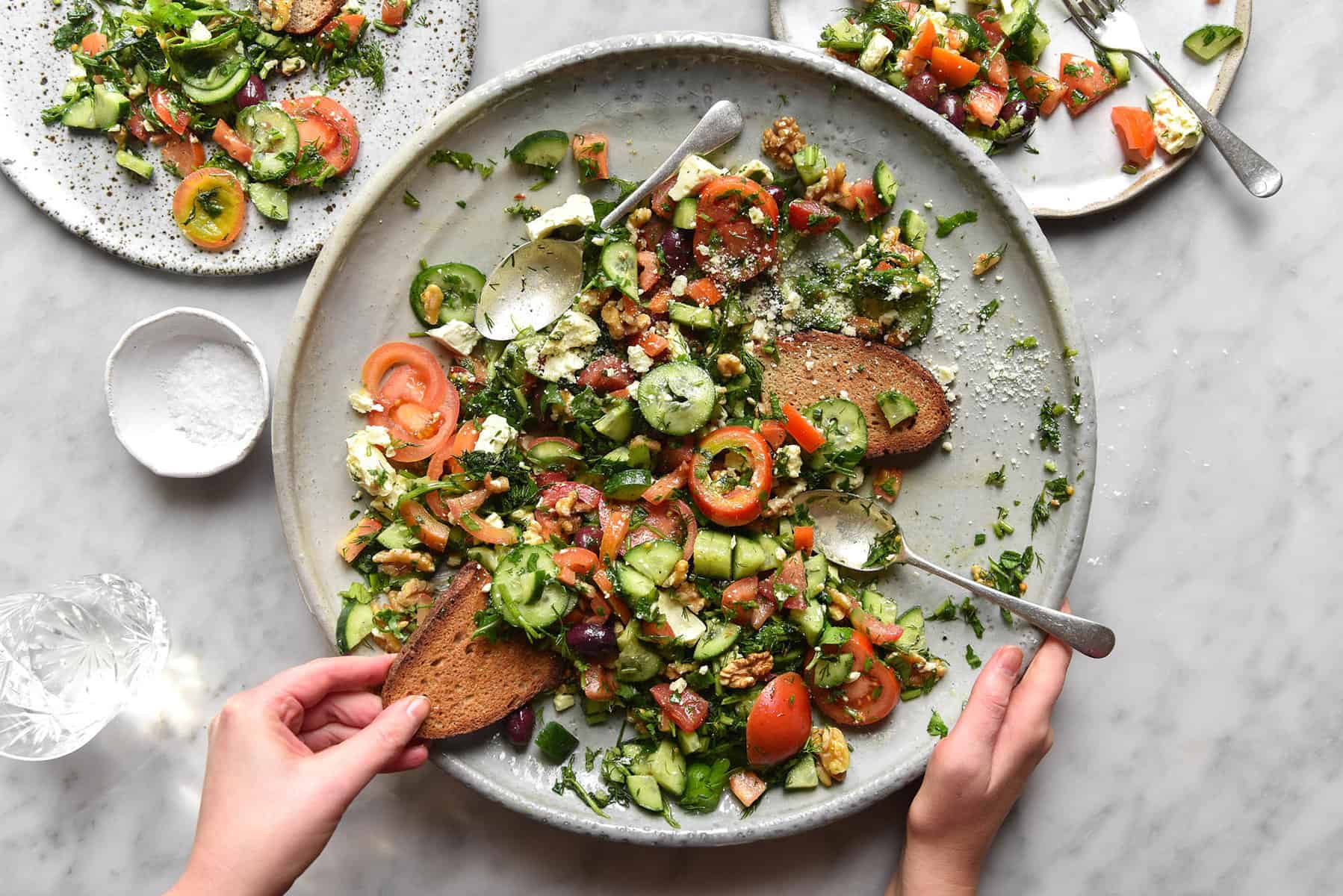 Mustard
Firstly, I'd just like to say: I am a Dijon girl through and through. I have only tested this recipe with dijon mustard because it's my favourite and I see no need to improve on perfection.
Secondly, mustards have various FODMAP contents, in just you plan to experiment. Dijon mustard is low FODMAP in 23g (1 tablespoon) serves per person. Wholegrain mustard is low FODMAP in 20g (1 tablespoon) serves. Mild German mustard is low FODMAP in 30g (2 tablespoon) serves. Regular mustard is low FODMAP in 11g (1 tablespoon) serves.
It's worth noting that some brands of mustard use garlic and/or onion powder. In Australia, I use Maille Dijon mustard.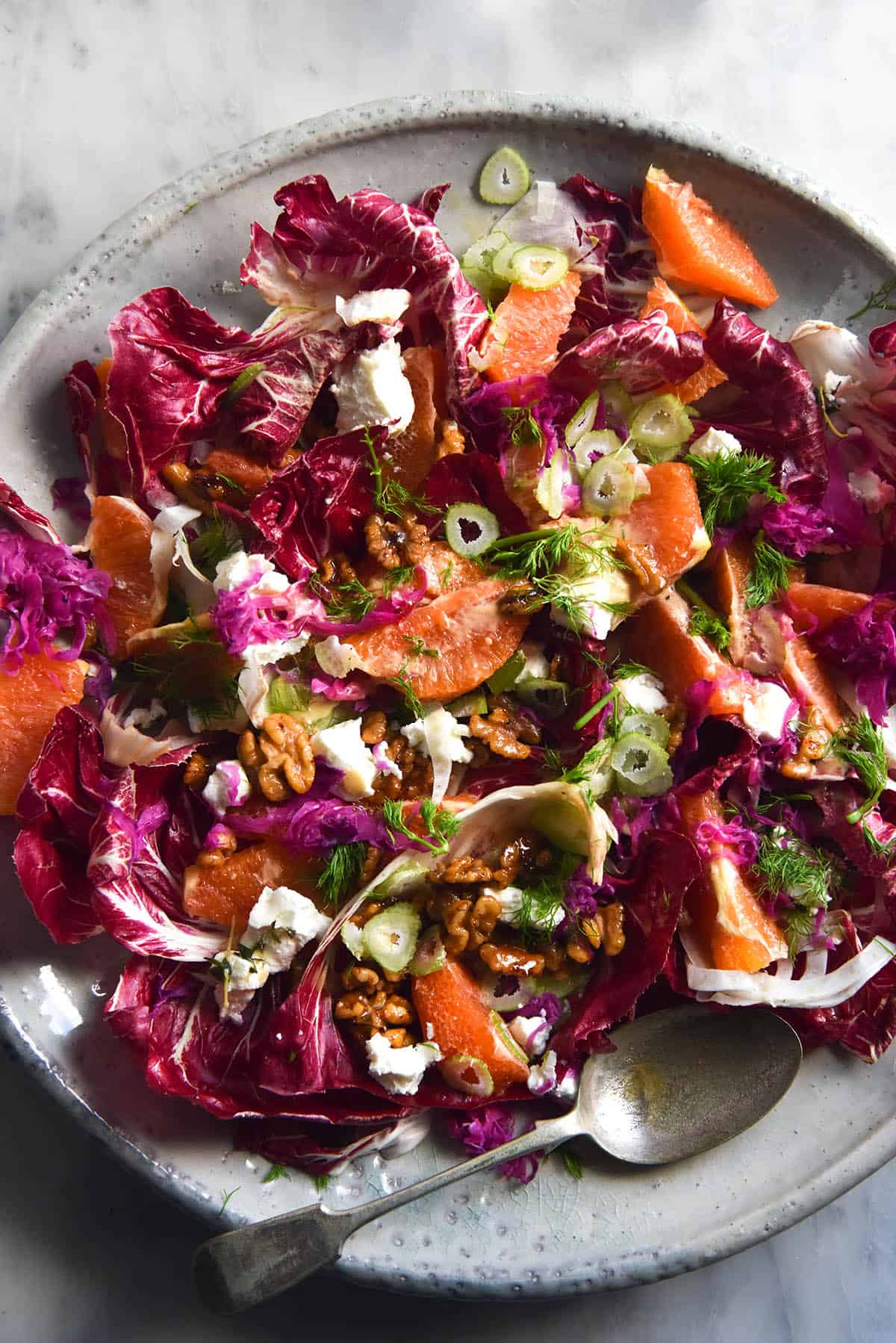 Maple syrup
Potentially the most controversial ingredient in my low FODMAP salad dressing is maple syrup. A salad dressing is not complete without a bit of sweetness, in my eyes. Just like a dessert is not complete without a bit of salt.
I like the sweetness to be present and obvious, but you might like a more scaled back level. You can add 1/2 tablespoon (10ml) instead of a whole tablespoon (20ml) if you prefer.
If you'd like to play around with different sweeteners, you can. I think the only easy substitute is honey, which is low FODMAP in 7g (1 teaspoon) serves. Provided this salad dressing serves 4, that should be no issue.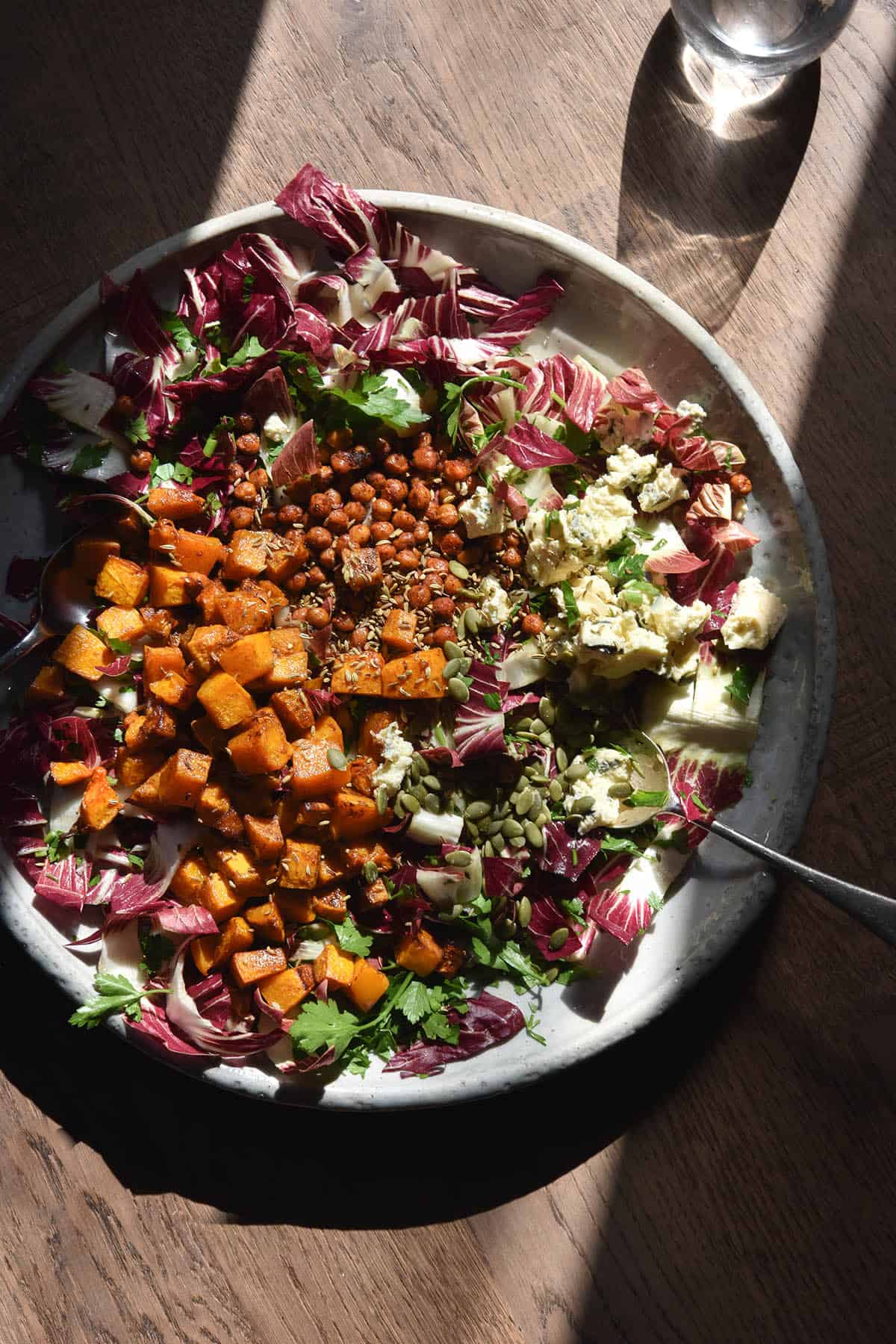 Seasoning
The final piece of our salad dressing is the seasoning. Salt and pepper are a given, of course, but there are plenty of other potential additions.
Firstly, a little bit of asafoetida adds that cooked onion and garlic flavour, without the FODMAP content. Asafoetida powder is made from a variety of wild fennel, and a tiny pinch goes a long way.
Secondly, any number of dried herbs and spices will add new dimensions to this salad dressing. It all depends on the flavour profile you'd like to achieve. If you're making an italian style salad, add some Italian seasoning (skip the extra salt if your blend includes it).
Thirdly, you can blend the salad dressing with some fresh herbs, or add some chopped herbs straight in.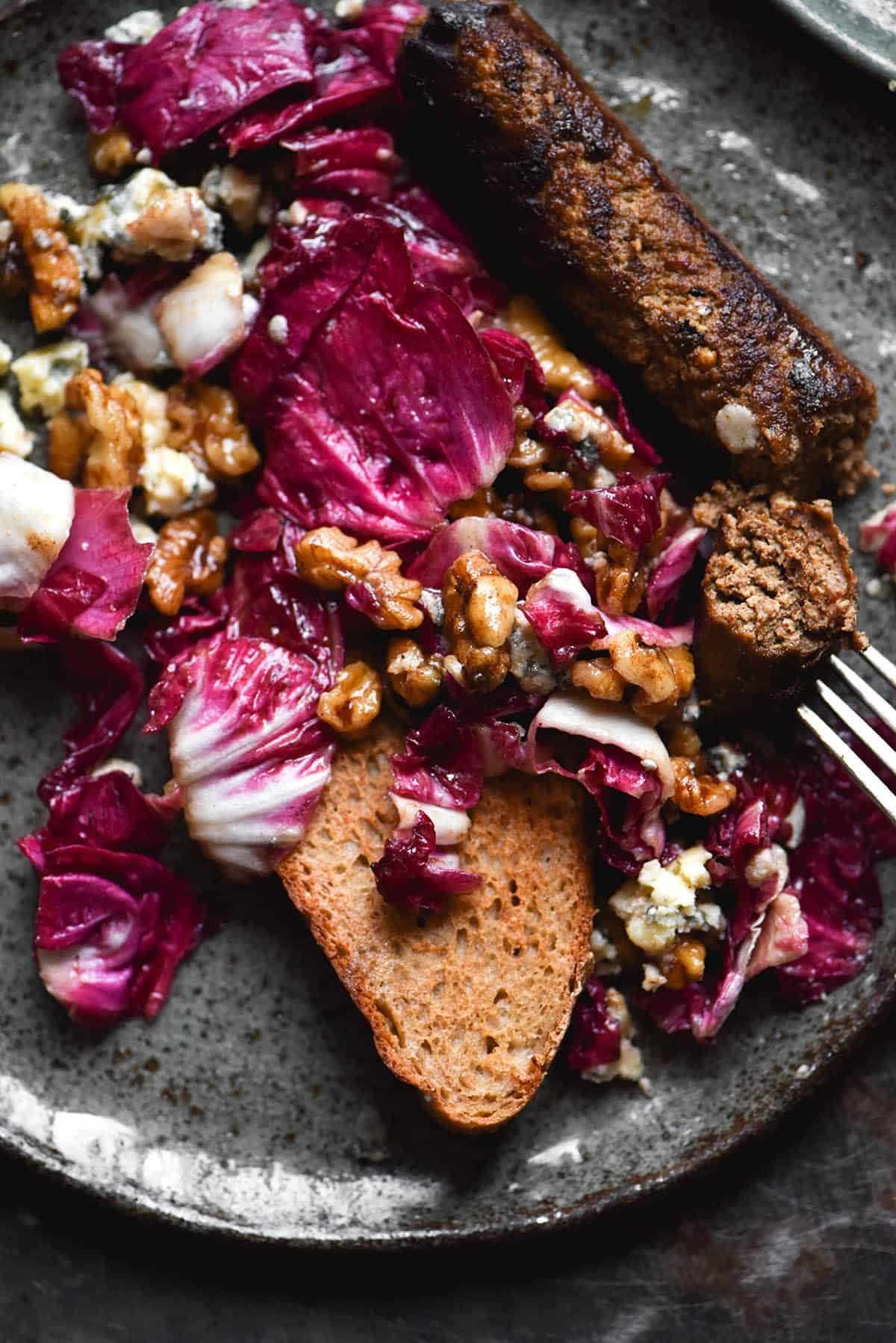 Different flavour profile suggestions
I use the recipe specified in the recipe card for a regular salad with already bold flavours
Use lime juice and rice wine vinegar for an Asian cuisine inspired salad
Add some makrut lime for a Thai or Vietnamese inspired salad
Use a teaspoon or two or peanut butter for a quick and easy vegan creamy salad dressing
A little bit of tahini adds a lovely creaminess and sesame flavour
Add Italian seasoning for a hearty Italian inspired salad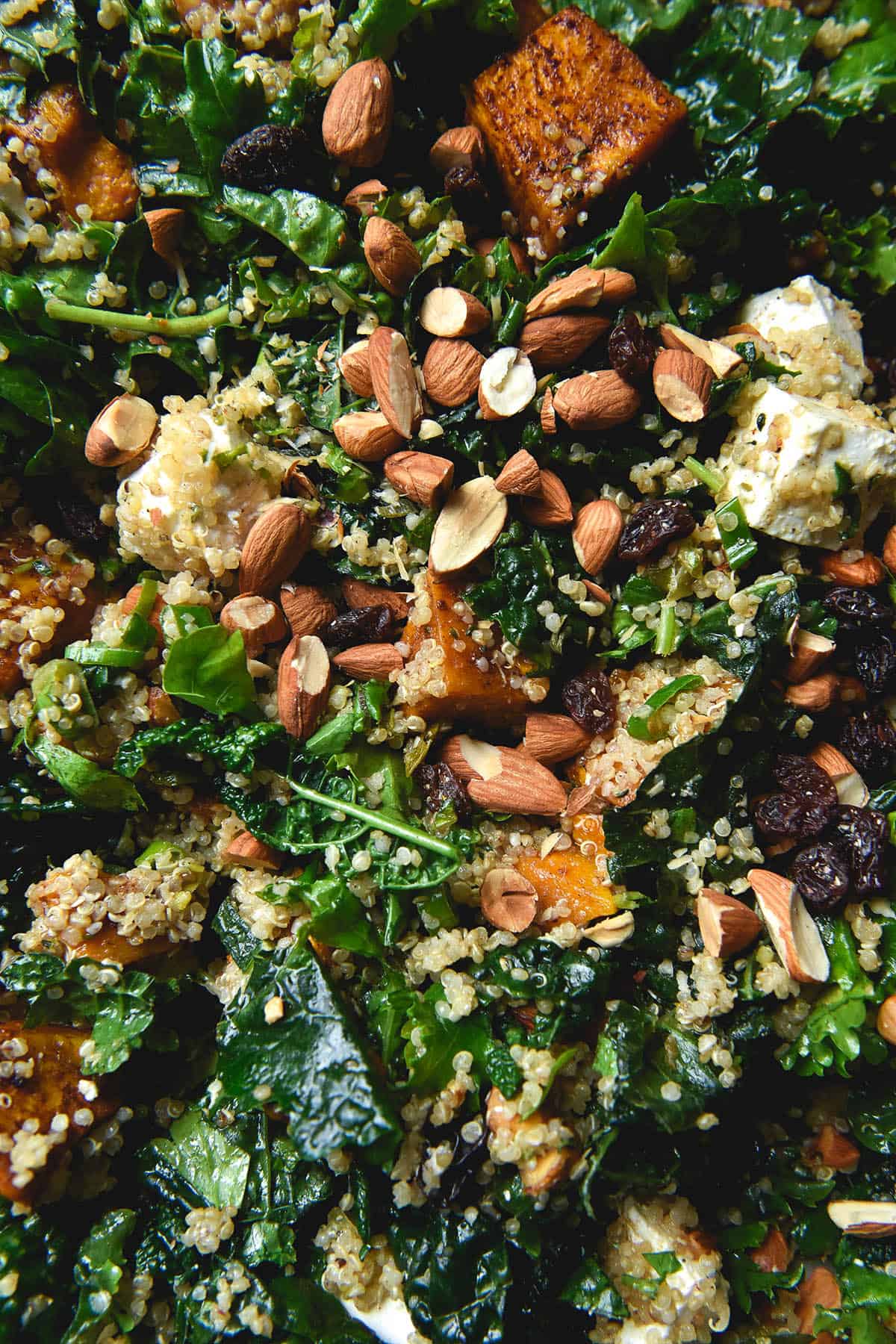 Low FODMAP salad recipes to use your low FODMAP salad dressing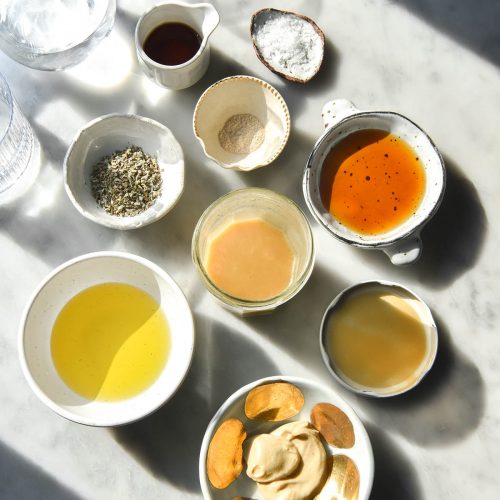 Low FODMAP salad dressing
Vegan, gluten free, nut free
Measures are in Australian tablespoons, see notes for international conversions
Scale up for large salads or to prep salad dressing for the week
Ingredients
1-3

tbsp

(20-60ml) oil or garlic infused oil

1

tbsp

(20ml) vinegar (red vine, sherry, apple cider) or lemon/lime juice

1/2 – 1

tbsp

(10-20ml) maple syrup or honey

1/2 – 1

tbsp

(10-20g) Dijon mustard

Seasoning, to taste

1-2

tbsp

water, if you like a thinner salad dressing
Instructions
Combine all ingredients in a small, clean glass jar with a secure lid. Shake until the dressing emulsifies (about 10 seconds). Taste and adjust for seasoning. Leftovers keep well in the fridge, but they may need to be shaken again before use (particularly if you thinned it out with water). Use within a couple of days.
Notes
The body of the post is entirely dedicated to different options for each ingredient. If you have any substitution questions, it will likely be covered in the body of the post. If not, let me know!
I prefer to thin my salad dressing out with water as opposed to oil. I don't love an overly oily salad dressing. 
1 Australian tablespoon = just under 4 American teaspoons
1 Australian tablespoon = 4 Canadian, New Zealand and British teaspoons