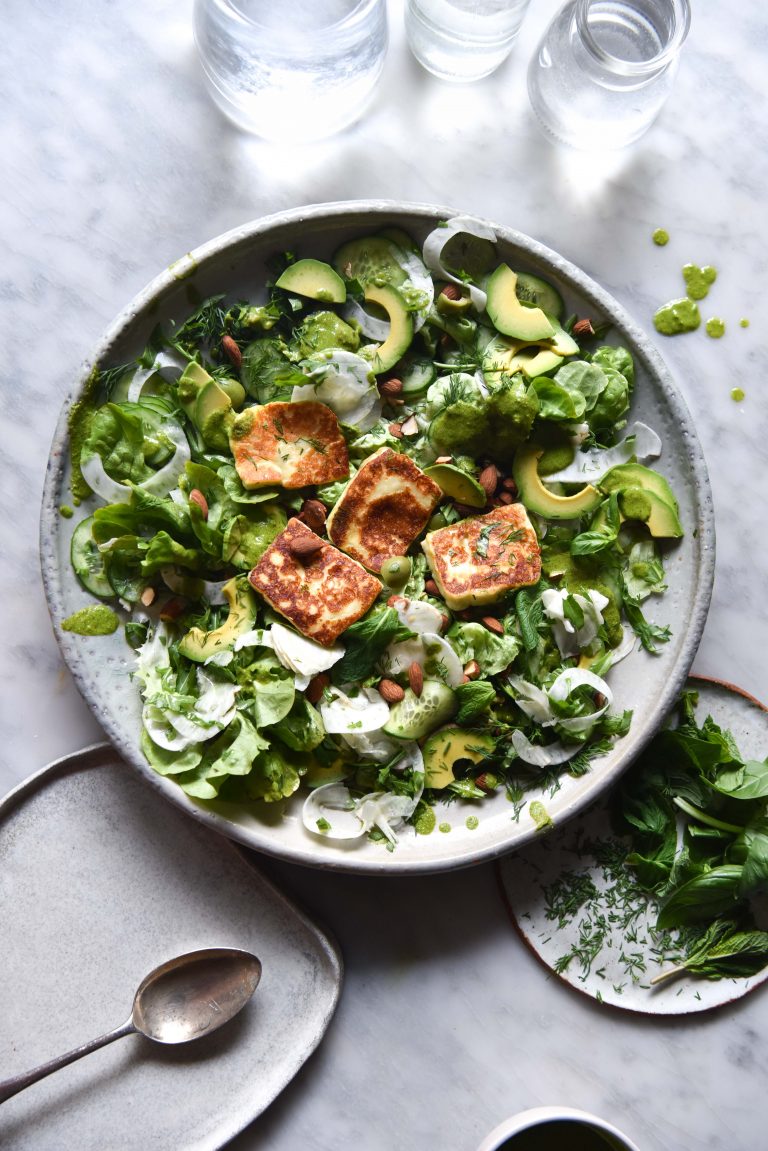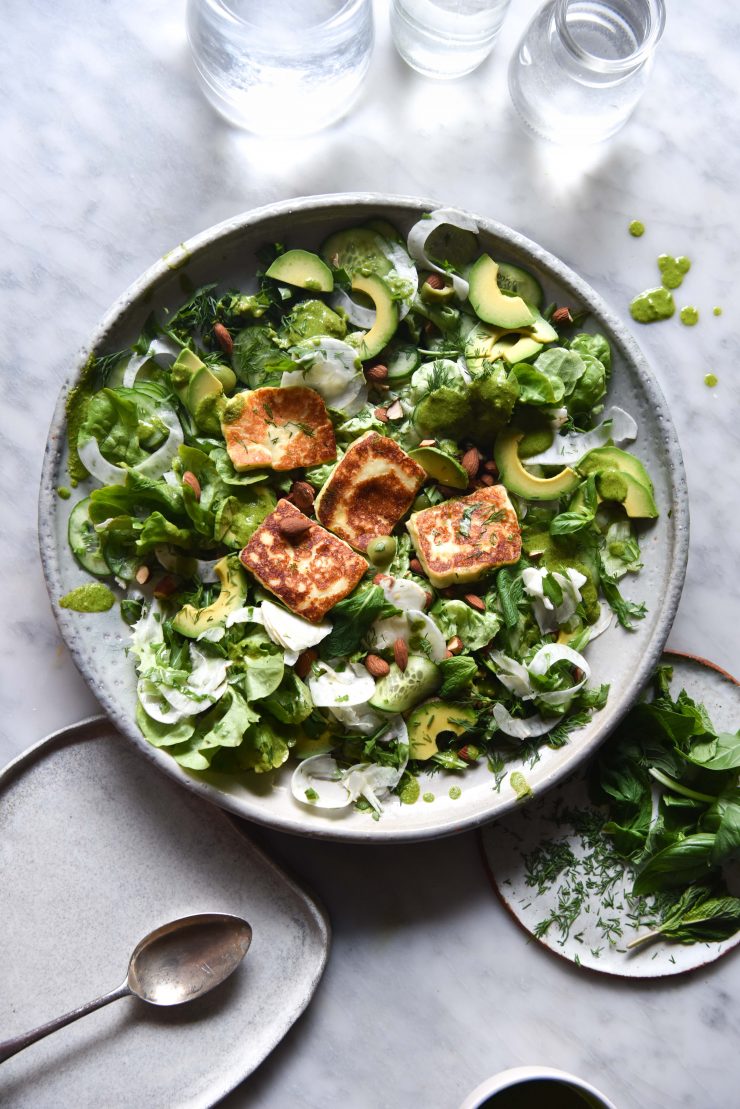 Given my penchant for haloumi, (exhibit A – this honey roasted carrot haloumi salad) this green haloumi salad was destined to happen. The salad combines the deliciousness of halloumi with the ease of a 10 minute throw together job that happens to be packed with FODMAP friendly vegetables.
Initially I had no intention of writing it up – the salad was just a fancy dinner for myself. However, when Feed Feed asked for the recipe (and photographed it so beautifully!) I figured it might well be worth sharing.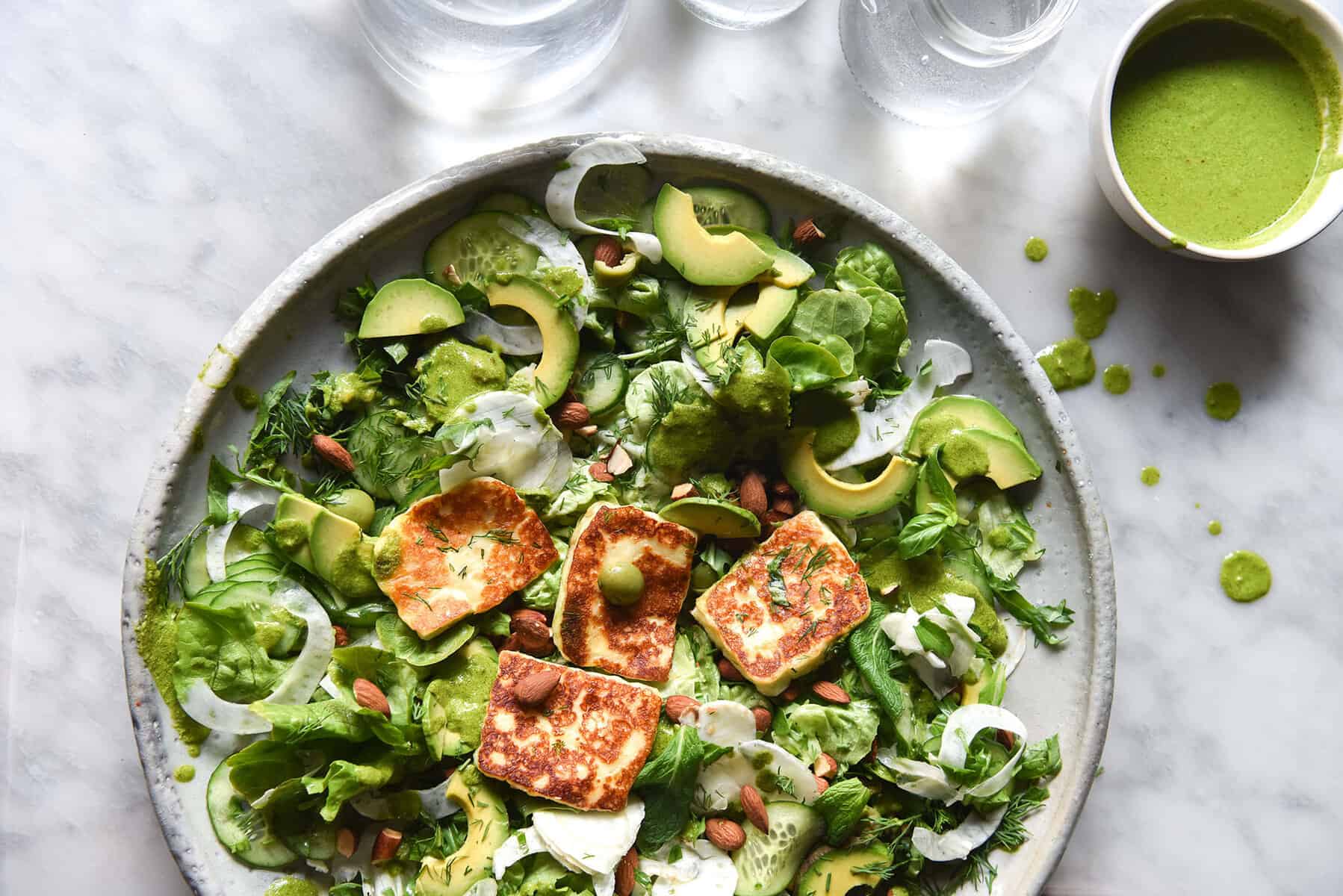 Green haloumi salad FODMAP notes
Monash says that haloumi is FODMAP friendly in serves of 40g (2 slices) per person. If lactose isn't an issue for you, even better!
Almonds are FODMAP friendly in serves of 10 nuts per person per serve. They aren't the friendliest nut ever but they are what I had on hand at the time. You can simply substitute pine nuts or walnuts for a friendlier option (both in the salad and pesto.)
Avocado is FODMAP friendly in 1/4 of an avocado servings. Using a small-medium avocado will ensure everyone stays under the consumption limit if necessary.
Fennel is a friendly ingredient in serves of 1/4 small bulb or less. You can omit it if you fancy.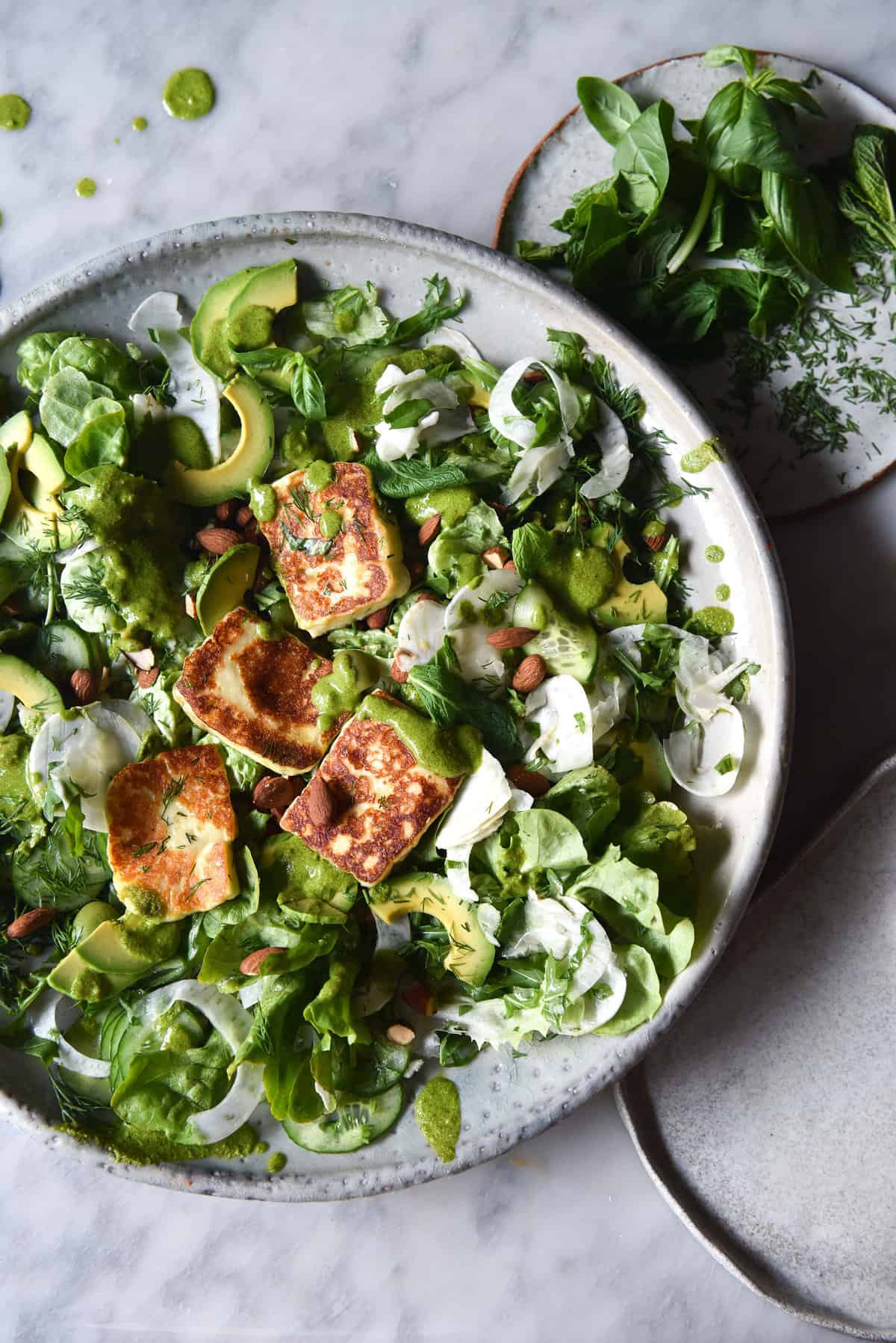 Recipe notes and substitutions
As previously mentioned, you can use pine nuts or walnuts in place of the almonds to keep the dish FODMAP friendlier. I had a lot of almonds to use up.
Any greens you like are suitable here – rocket, spinach, lettuce, even radicchio would be nice. In the same way, whichever herbs you have on hand (although nothing heavy or woody like sage or rosemary) would work.
If you don't like fennel, you could substitute with extra cucumber. Make sure you buy Lebanese cucumbers to save on unnecessary plastic.
To make the dish vegan, use a vegan haloumi. Hello Friends Food make one in Melbourne, and Miyoko also make one that I've seen available at Coles. It does contain gluten, however, if that effects you.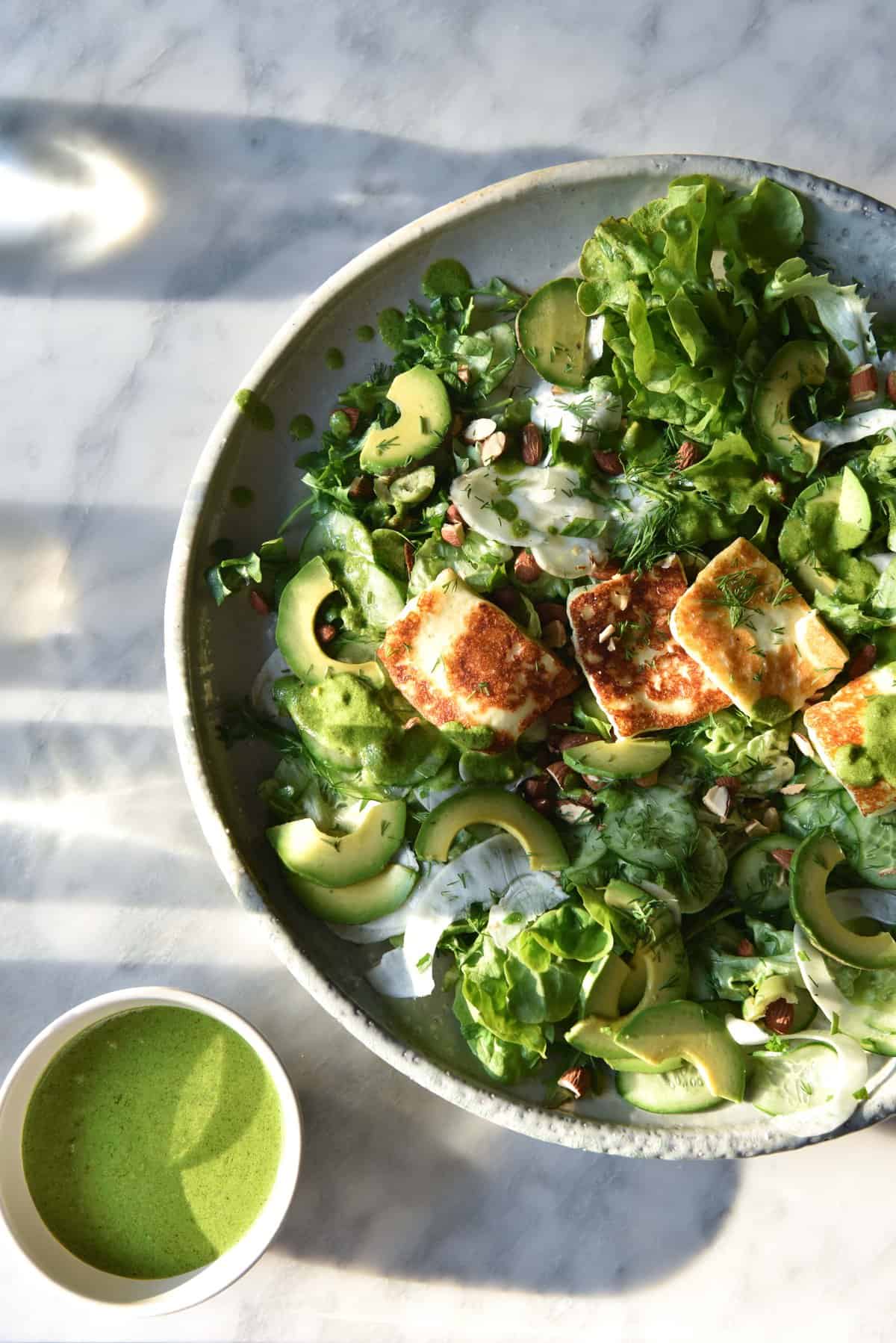 More salad recipes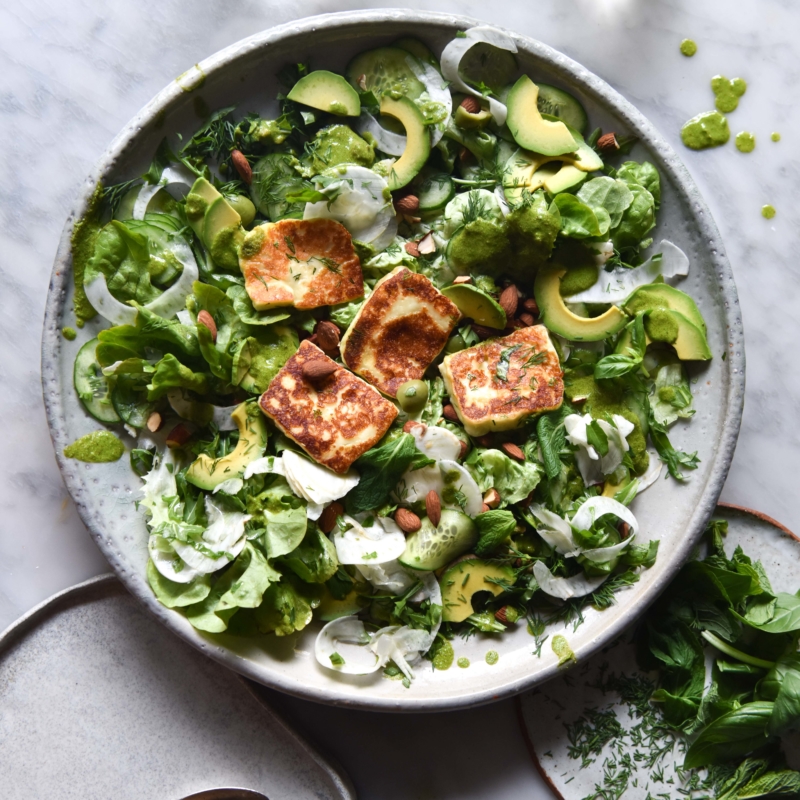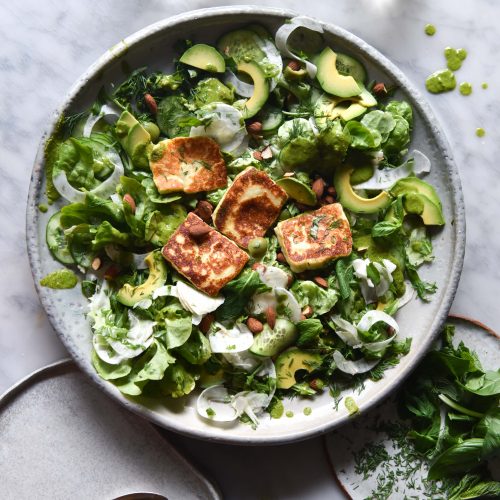 Green haloumi salad with vegan FODMAP friendly pesto
Gluten free, Grain free, FODMAP friendly, Vegetarian
Contains nuts
For a vegan version, simply substitute the haloumi for a vegan variety
Serves 4-6 people as a side
Ingredients
For the salad:
1-2

large heads of fancy lettuce

1/4

of a fennel bulb

mandolined or finely sliced

1-2

Lebanese cucumbers

mandolined or finely sliced

1

avocado

finely sliced

1

small handful of toasted almonds

1 X 225

g

packet of halloumi

each packet provides about 4 decent slices of halloumi, use 2 packs for a larger group

1-2

handfuls of herbs

whatever you have on hand (I used half basil and half dill)

Sea salt flakes

freshly cracked pepper, lemon juice and olive oil, to dress the salad

As much vegan pesto as you see fit

pitted olives (optional, I used Sicilian)
For the vegan 'pesto': (you could halve these quantities for the salad, but I like to keep extra pesto on hand)
100

g

rocket

arugula

Juice of 1 lemon

1

cup

of walnuts

1

cup

of olive oil
Instructions
Blend the ingredients for the pesto together in a high speed food processor until smooth. Adjust for salt, pepper and lemon juice and set aside.

Toss and assemble the vegetables and herbs for the salad on a large serving platter. Reserve the pesto, dressing elements, and a couple of herbs for garnish.

Heat a nonstick pan over a high heat. Once it is sizzling hot, place the halloumi flat side down in the pan. Give it a minute or two before flipping – there should be a lovely caramelised crunchy surface to the halloumi. Adjust the heat as necessary (halloumi cooks well with residual pan heat so you may like to take it off momentarily) and repeat until all the halloumi is cooked.

Arrange the halloumi on the plate and finish with the pesto, dressing and herbs for garnish. Serve while the halloumi is warm.