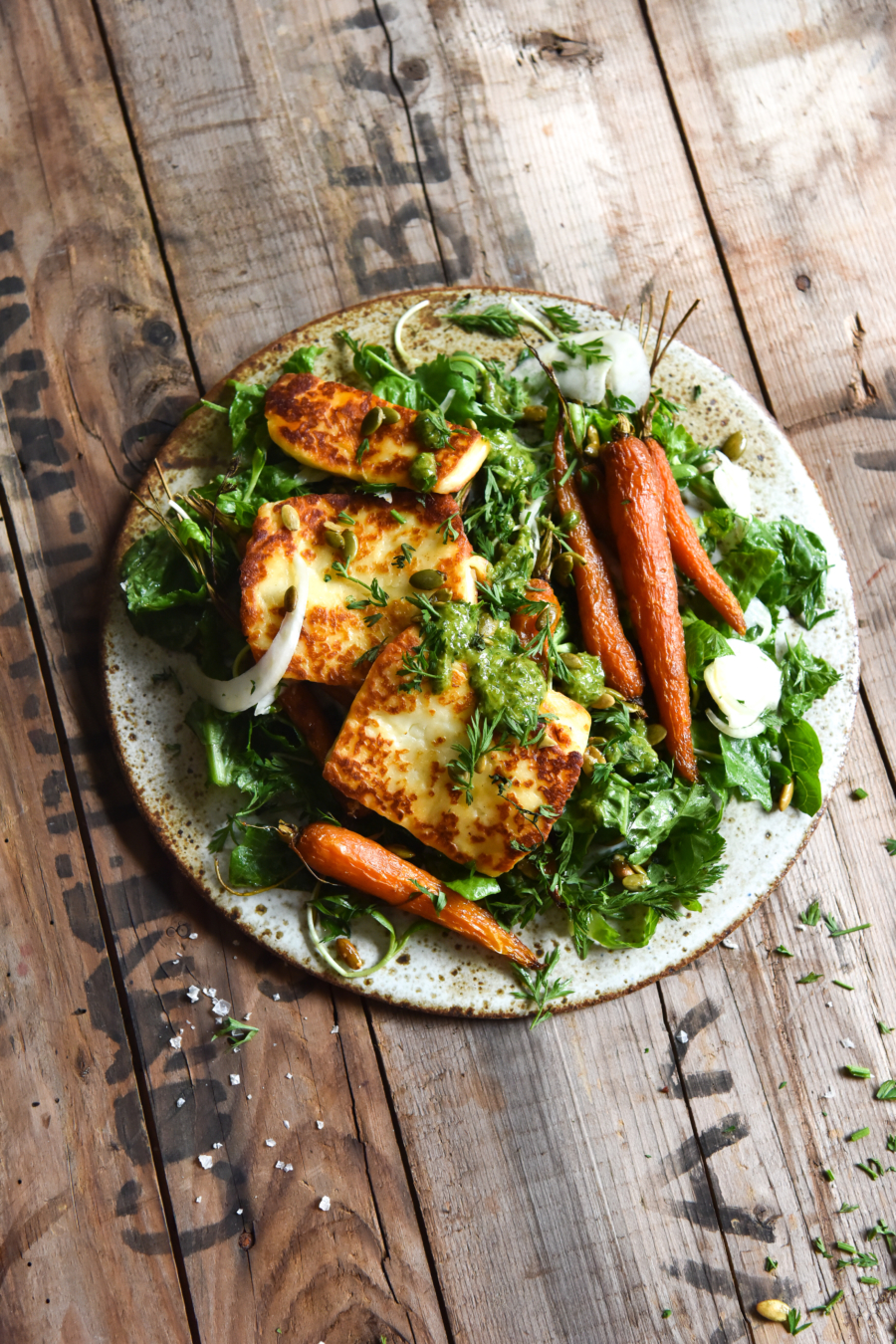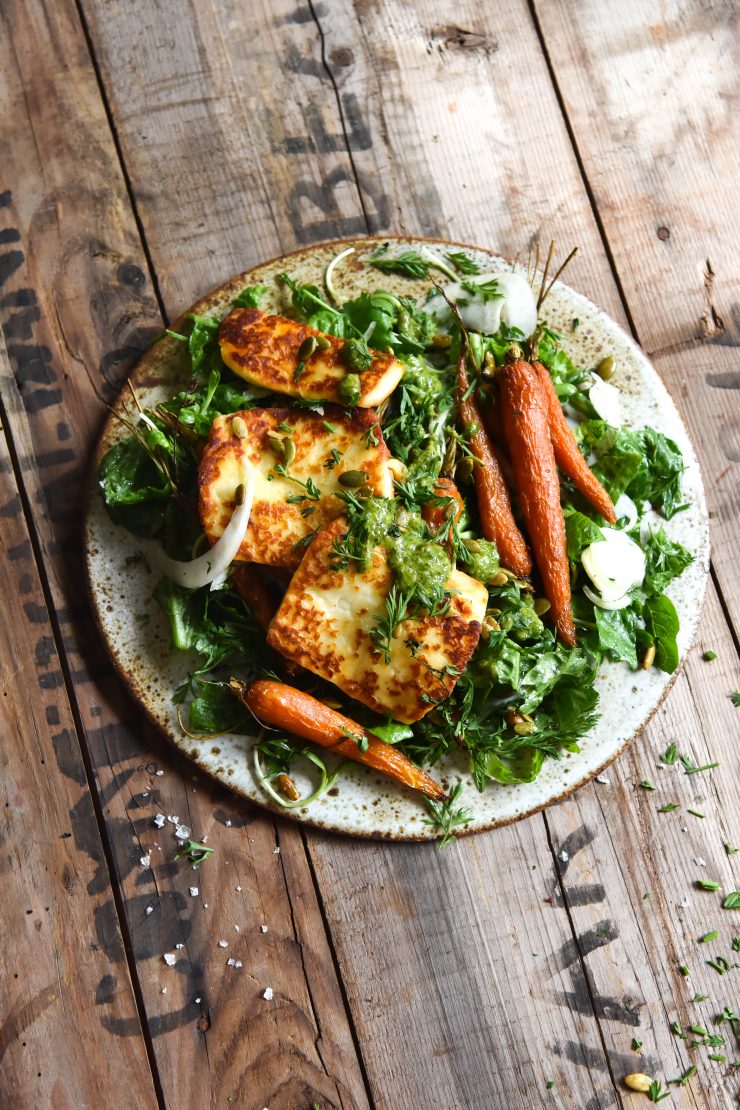 Honey and butter roasted vegetables. A trick (can we call it a trick?) I've discovered when entertaining guests and realising, last minute, that I'm short on things for them to eat. Honey, butter and sea salt are literally all it takes to transform an otherwise side dish, into the main event. I can't tell you how many times this trick not trick has come to my rescue in the past few years. Enter, this honey roasted halloumi salad.
Because honey isn't particularly FODMAP friendly, and I don't really need to eat more butter than I already do, I keep the honey and butter roasted vegetables to a minimum when I'm cooking for one. However, when I found myself one afternoon with some increasingly wilting baby carrots, I figured I ought to give them the sendoff they deserved, and gave them the royal treatment. I'm pretty glad I did – this just might be my favourite salad to date. It's got crunch, salt and sweetness from the pepitas (which I make in bulk and eat as a snack) it's got richness and warmth from the roasted carrots, lightness and #fitspo from the greens, and an insanely beautiful amount of zestiness from the herb and preserved lemon dressing.
Speaking of the dressing, it makes more than you need for this salad. Fret not – think of it as a FODMAP friendly chimichurri or gremolata – you can use it on tofu, fish or meat, on roasted vegetables, as a salad dressing, or probably even on pasta. The possibilities are endless.
A bit of dietary requirement housekeeping: this recipe is gluten free, FODMAP friendly, grain free and vegetarian. If you're a FODMAPper and are really against using even a teaspoon of honey, feel free to substitute it with maple syrup or rice malt syrup.

ROASTED CARROT HALLOUMI SALAD – FODMAP NOTES
Halloumi is FODMAP friendly in 2 slice per person servings
Honey is FODMAP friendly in 1 teaspoon servings per person. This makes this salad well under the limit, but you can substitute maple syrup or rice malt if you like.
Fennel is FODMAP friendly in 1/2 cup or 40g servings per person per serve.
Honey and butter roasted carrot, halloumi, greens, and preserved lemon herb sauce salad with sea salt pepitas
Gluten free, vegetarian, FODMAP friendly
Ingredients
FOR THE HONEY BUTTER CARROT SALAD:
250

g

Dutch baby carrots

carrot top leafy bits removed (and kept! They make a great salad sprucer - they have a slightly bitter taste, somewhat similar to rocket, and add a bunch of punch to salads)

5-10

g

butter

if you use 10, you can drizzle the remaining honey and butter mixture over the salad at the end, heyo

1

teaspoon

honey

2

large handfuls greens of choice

I've used all sorts of sprouts, carrot tops, lettuce, rocket (or arugula for my international readership micro greens and everything else, all to success

1

fennel

sliced very finely or mandolined

1

tablespoon

olive oil

Lemon juice

to taste

1

packet of haloumi

these vary in weight, but just buy the bigger one amirite
FOR THE SEA SALT AND MAPLE TOASTED PEPITAS:
1/2

cup

pepitas

2

teaspoons

maple syrup or honey

1

teaspoon

sea salt
FOR THE HERB AND LEMON DRESSING:
1

large bunch of mint

leaving a few for a garnish if you fancy

1

large bunch of coriander

same as above

1/2

cup

good quality olive oil

30

g

preserved lemon

about 2 small pieces, make sure you throw the whole thing in, not just the flesh

Juice of 1 juicy lemon

Good pinch of sea salt
Instructions
METHOD
Preheat the oven to 180 degrees Celsius. Place the washed and trimmed carrots on a sheet of baking paper. Dot around small pieces of butter (I use my hands) and 1 teaspoon of honey (I do not use my hands).

Place the carrots into the oven for anywhere between 30 minutes to 1 hour. This depends on the thickness of your carrots and how 'done' you like them. I cook mine for close to an hour, because I like them well cooked and I like the honey caramelised.

In your food processor, combine all the ingredients for the herb and lemon dressing, and whizz up until a smooth(ish, if your blender is like mine) sauce forms. Set aside.

In a large bowl, use your hands to massage the olive oil and lemon juice into the thinly sliced fennel. Sprinkle with sea salt and allow to sit.

When the carrots have about 10 minutes left, pop the pepitas into the oven on a lined baking tray. Don't make my mistake, make sure you line it. Bake for around 10 minutes, or until browned, and then pour over the maple syrup and salt, mixing well. The maple will solidify and create addictive, crunchy pepitas.

Pull the carrots out of the oven, and assemble the salad on a serving plate of your choice.

Finally, cook the haloumi over a high heat in a nonstick saucepan (I like to grease mine ever so slightly beforehand) - watch it carefully and cook until soft and golden on both sides. Pop on top of the salad and serve.