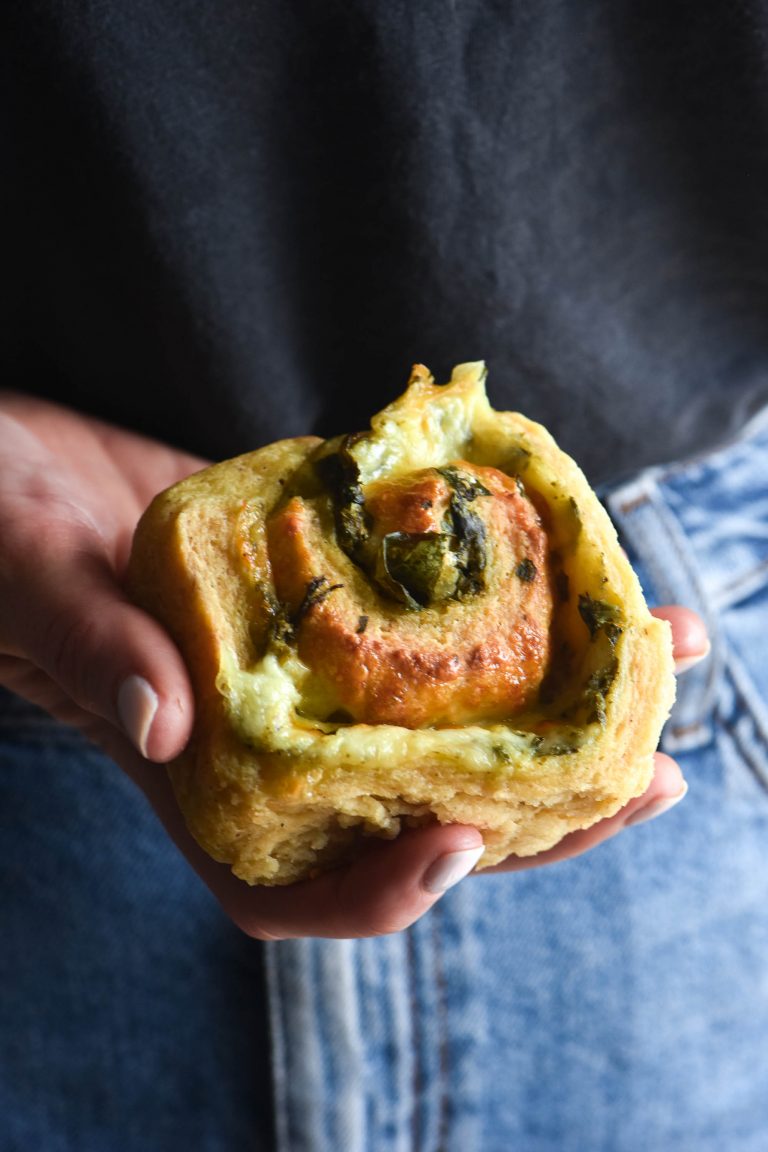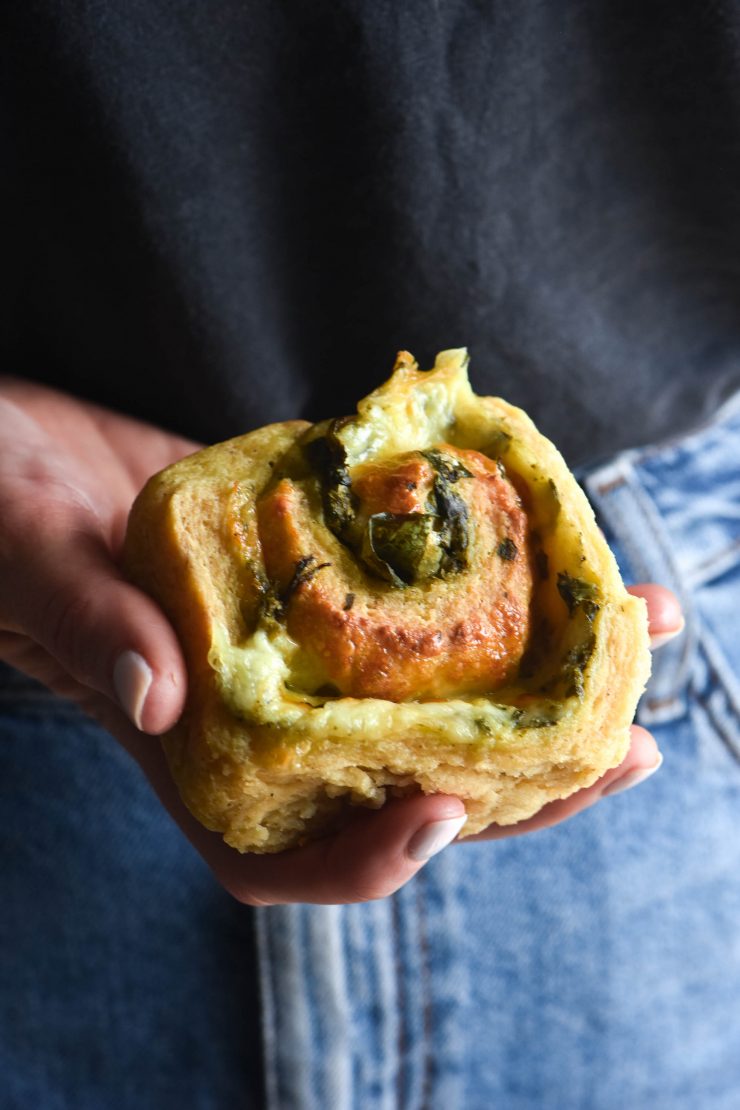 Sacla recently asked me to develop a recipe using their Free From vegan pesto. First and foremost, I was incredibly excited to find a store bought pesto with no garlic, which is particularly rare. Secondly, given that we're living in an eternal picnic reason right now, I knew I had to develop some gluten free pesto scrolls.
These pesto scrolls are onion and garlic free, gluten and gum free. They can be made without dairy, and be jazzed up to your heart's content (more on that later). Finally, of course, they are very picnic season appropriate.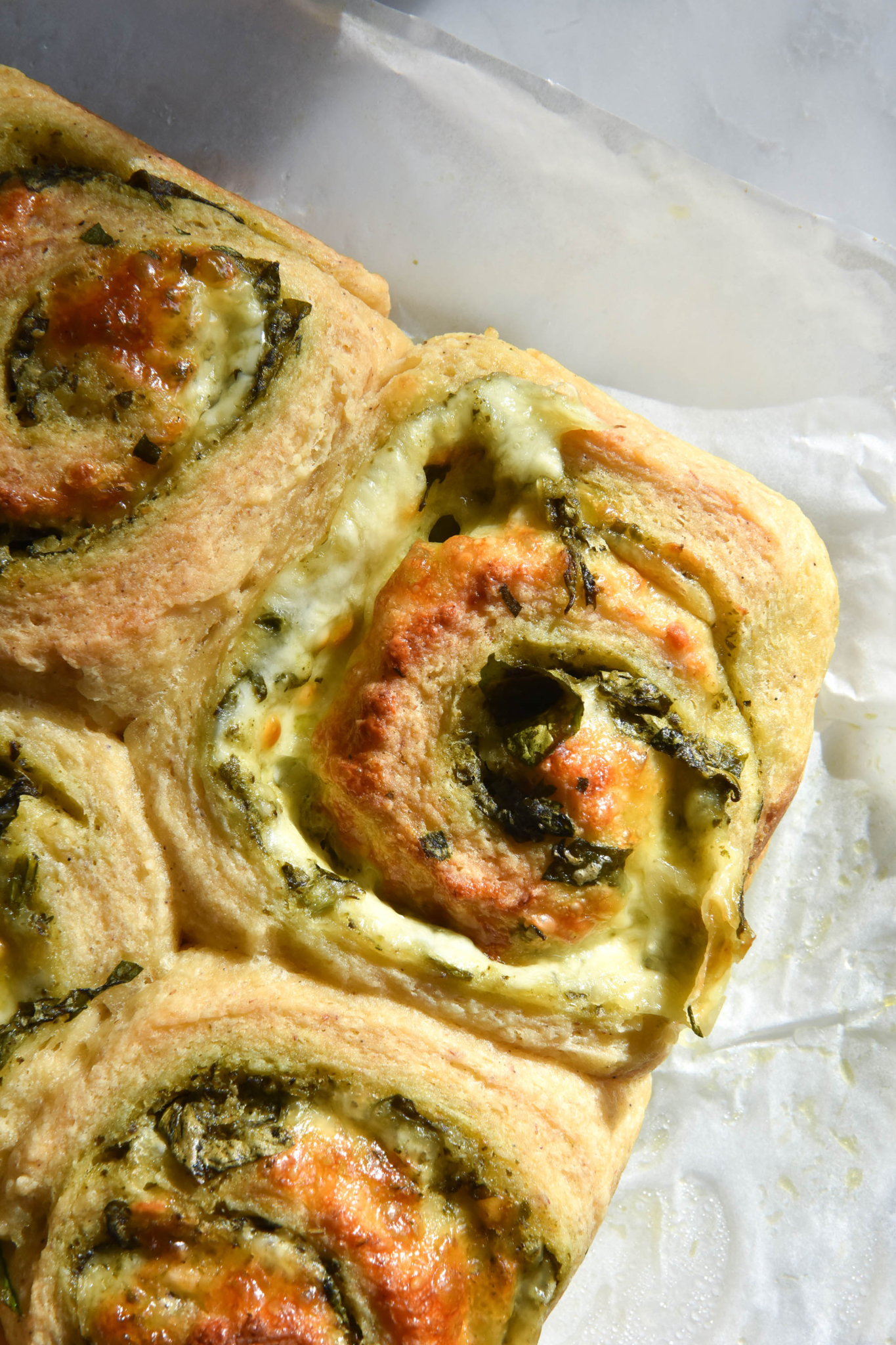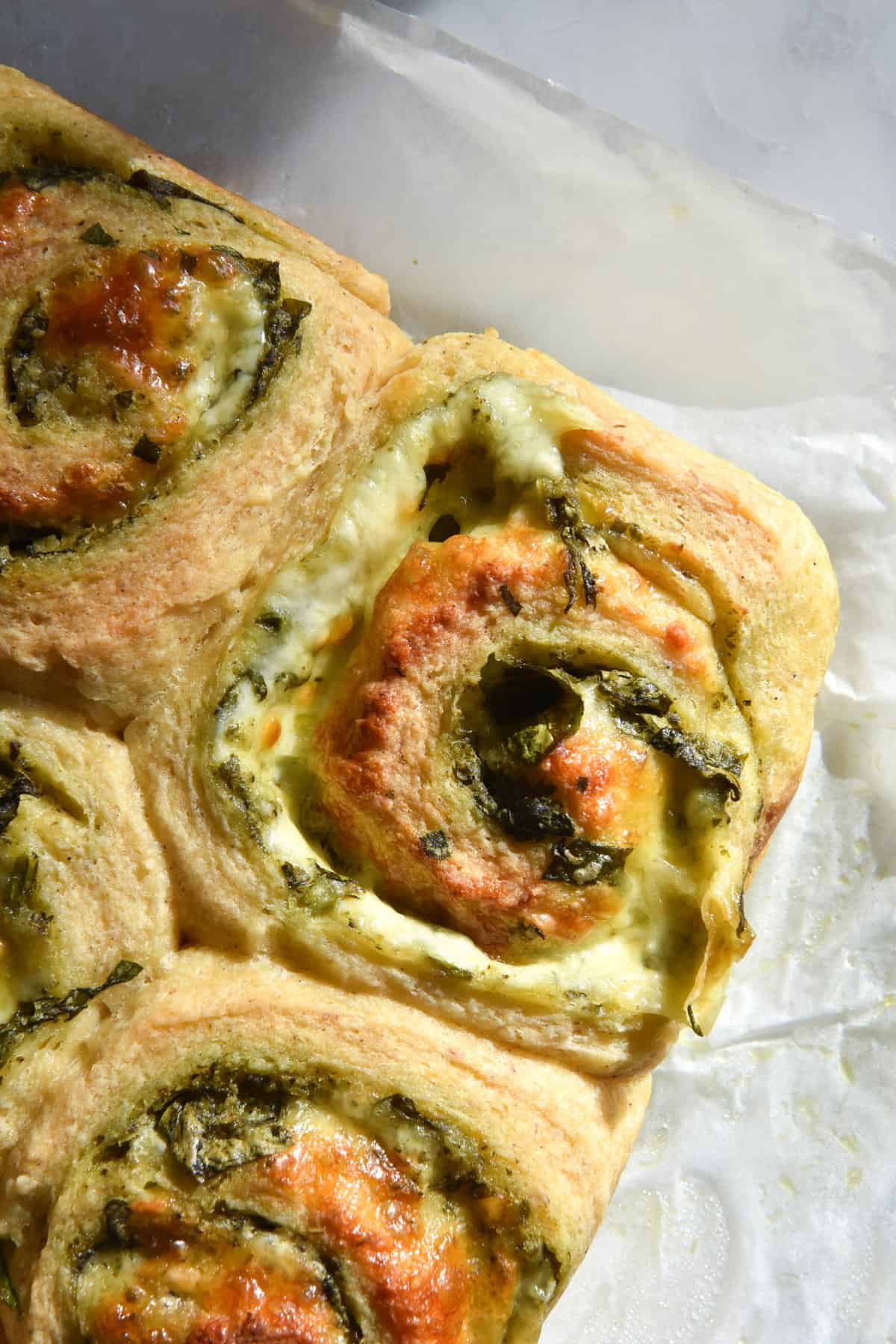 Gluten free pesto scrolls without xanthan gum
These pesto scrolls are gluten free, xanthan gum free and nut free. They also use a pesto that is made without garlic.
So, a quick chat about Sacla Free From Pesto. It is made with tofu, cashew nuts and pine kernels. Cashews are not necessarily FODMAP friendly, but the pesto contains less than 5% cashew, which should put it within a FODMAP friendly range. If fructans/GOS don't bother you, even better. The pesto is also dairy free, vegan and contains no garlic.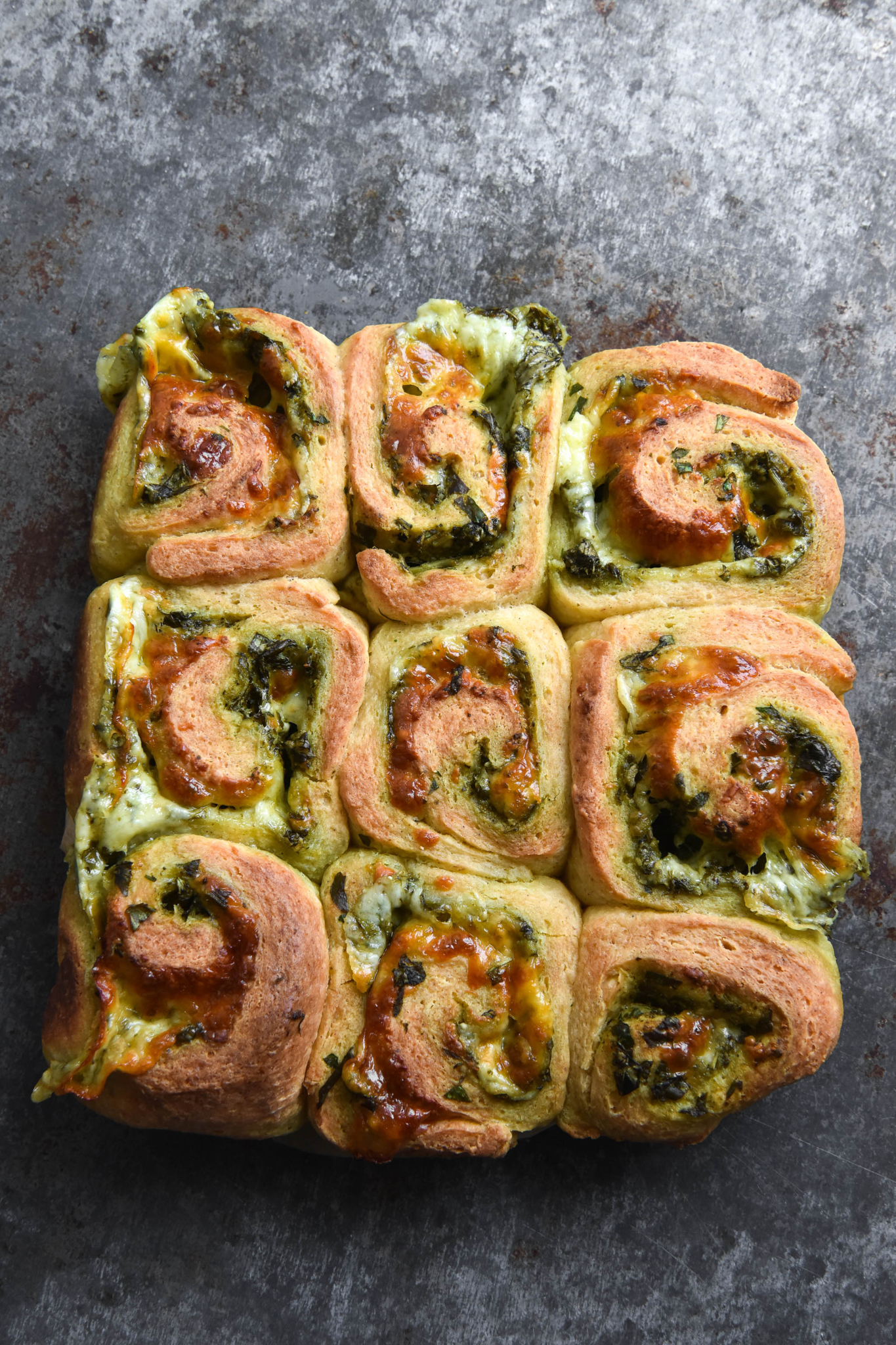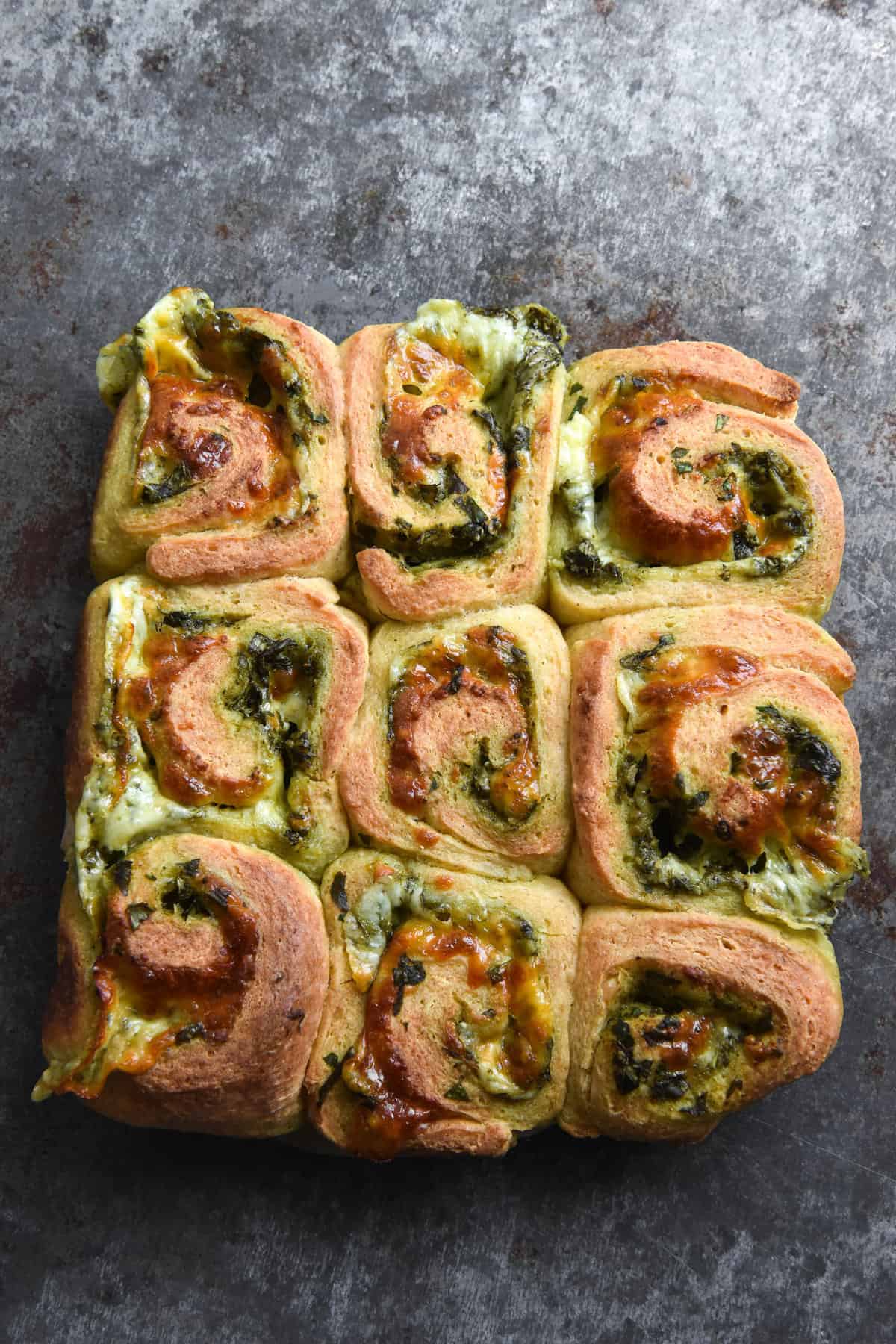 The dough for the gluten free pesto scrolls
This recipe uses a combination of two gluten free flours – fine white rice flour and glutinous rice flour. White rice flour forms the sturdy backbone of the dough. Glutinous rice flour adds lightness in texture, elasticity and chew.
Glutinous rice flour is easily purchased in Australia in the Asian section of both major supermarkets. It is sold under the brand Erawan. It is generally kept down the bottom of the shelves, which I suspect is because the bags always leak flour. I digress, though; it is excellent stuff and super affordable. If you can, buy their tapioca flour too. It's SO MUCH cheaper than other brands, and you get 500g so you use less packaging. A win win.
Psyllium husk powder is a necessity for adding elasticity and also binding the liquid into the dough. There is no substitution for this. I really absolutely recommend the powder here, and I have not tried it with the husks.
Sorry, the eggs are necessary here. I would love to develop a vegan version of this recipe and I will continue to work on that. In the interim, though, the eggs are not optional. Make sure you use extra large eggs (they are the 700g minimum package weight variety here in Australia).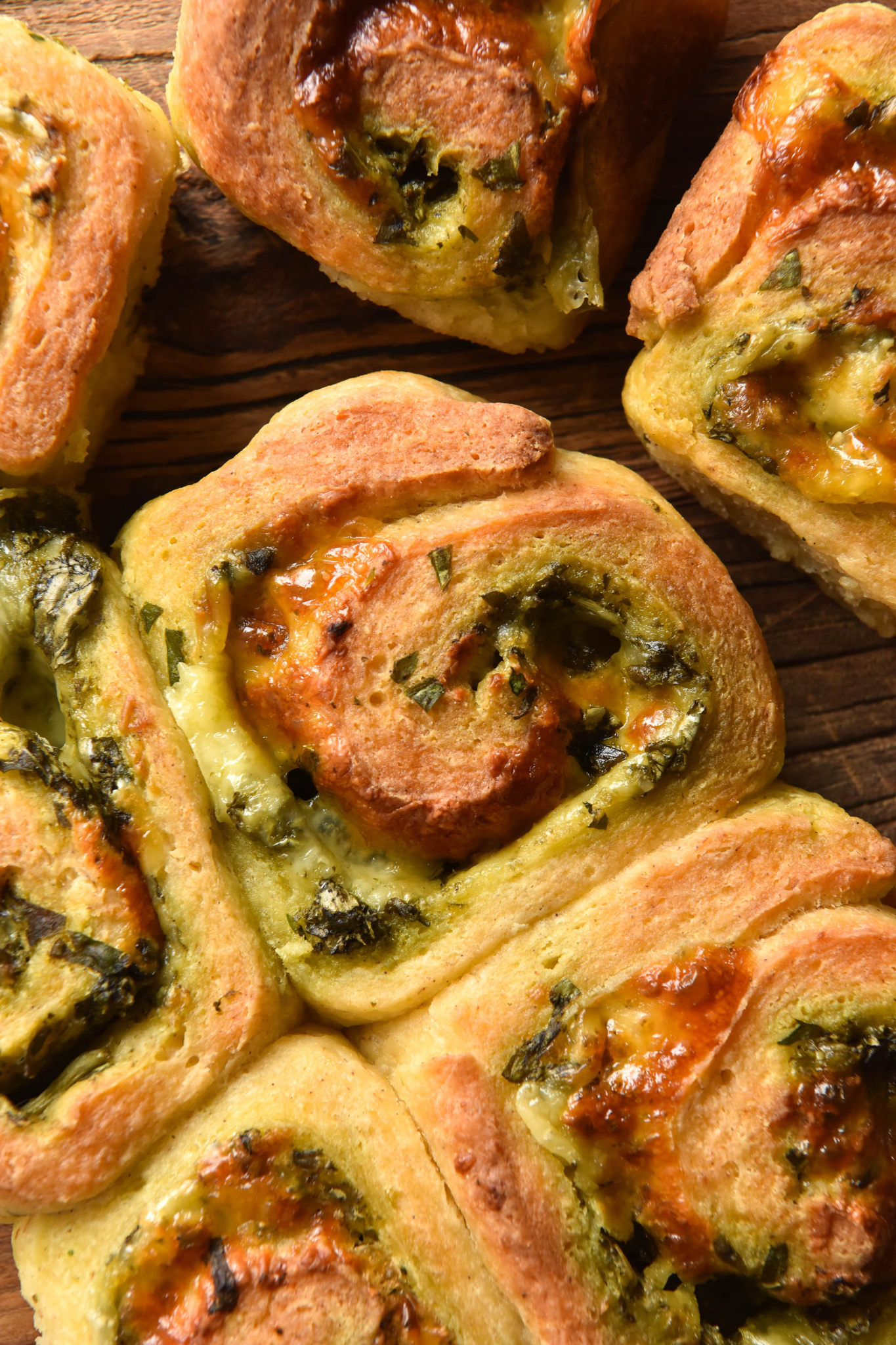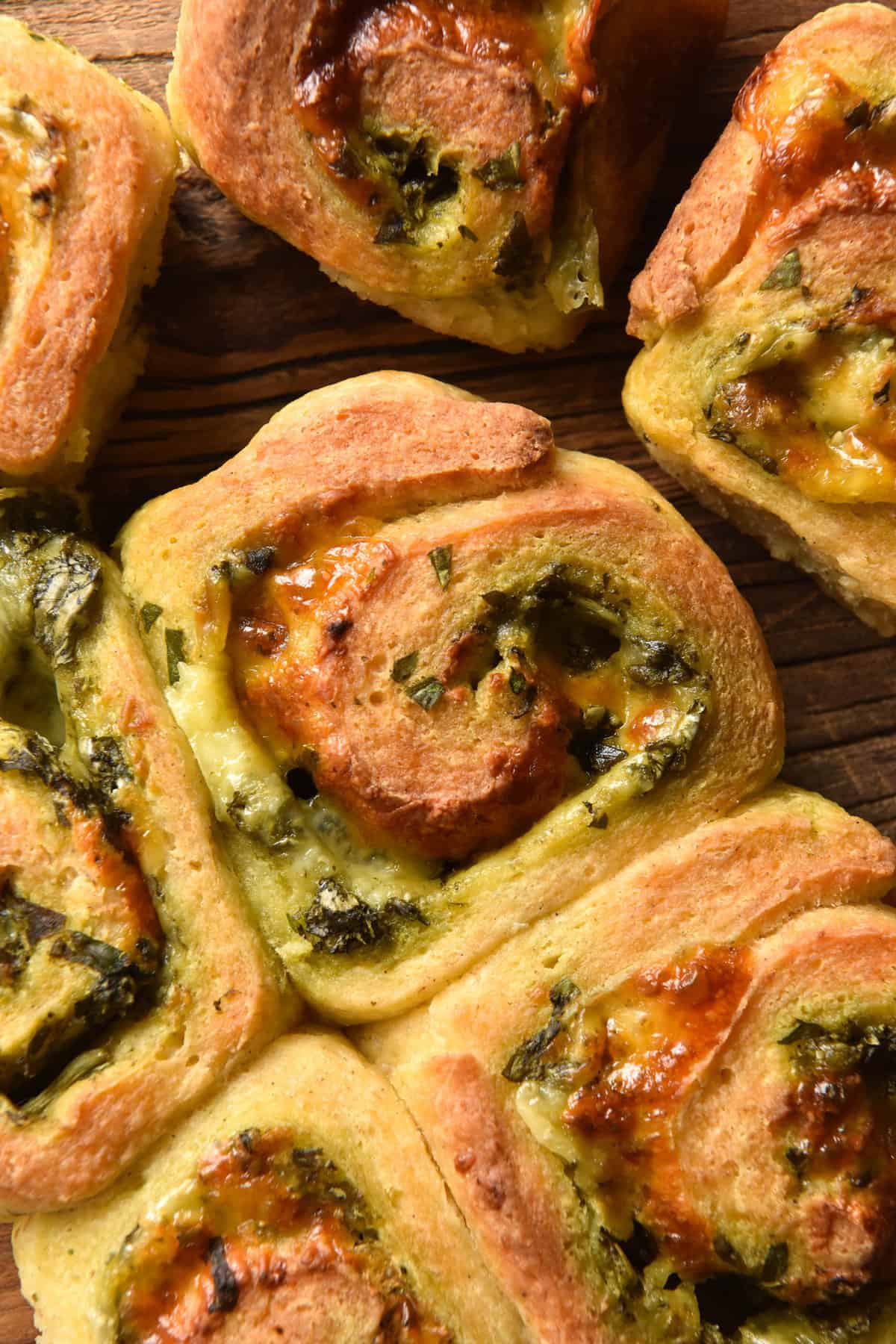 Substitution notes
I have no substitution for the psyllium husk powder or the eggs.
Although I haven't tried it, you should be able to use a good quality plant based butter along with a plant based, gluten free milk to make these dairy free. Obviously you will need to use a plant based cheese for the filling as well.
I like to use a handful of spinach and basil in these scrolls to give them some colour and extra greenery. You could use all spinach or all basil if you prefer (or even rocket/arugula if that's your thing).
I have made these scrolls using tapioca flour instead of glutinous rice flour. They do work, but they require less liquid. Use 1/4 – 1/3 cup LESS milk than the recipe suggests. If the dough is still too thin to roll, you will need to put it in the fridge for 2-3 hours until it is sufficiently firm.
On the chance you don't need the pesto to be garlic free, you can use Sacla's regular pesto, or any pesto you like. Choose one that isn't too oily or your scrolls will be oily and dense on the bottom.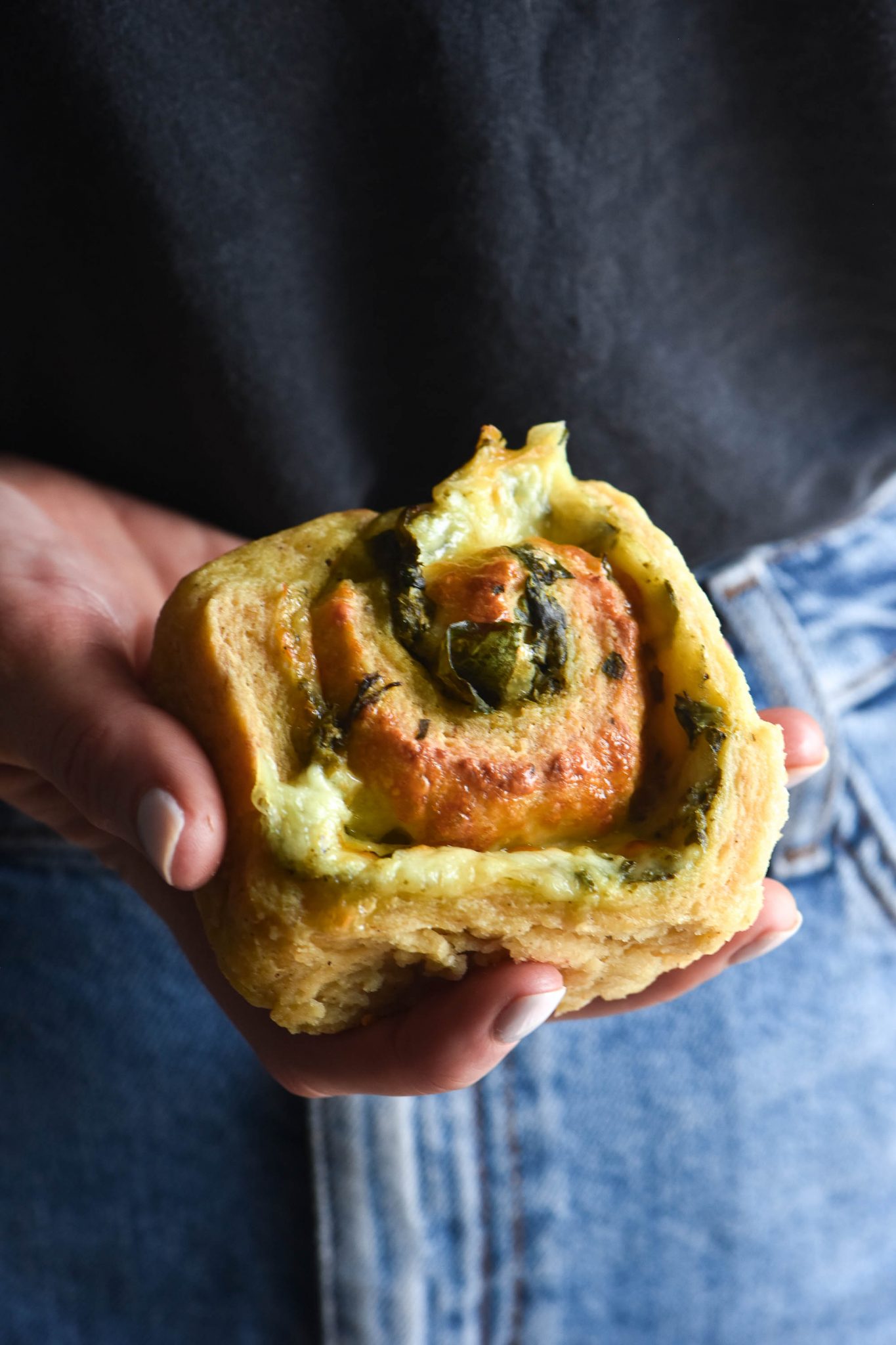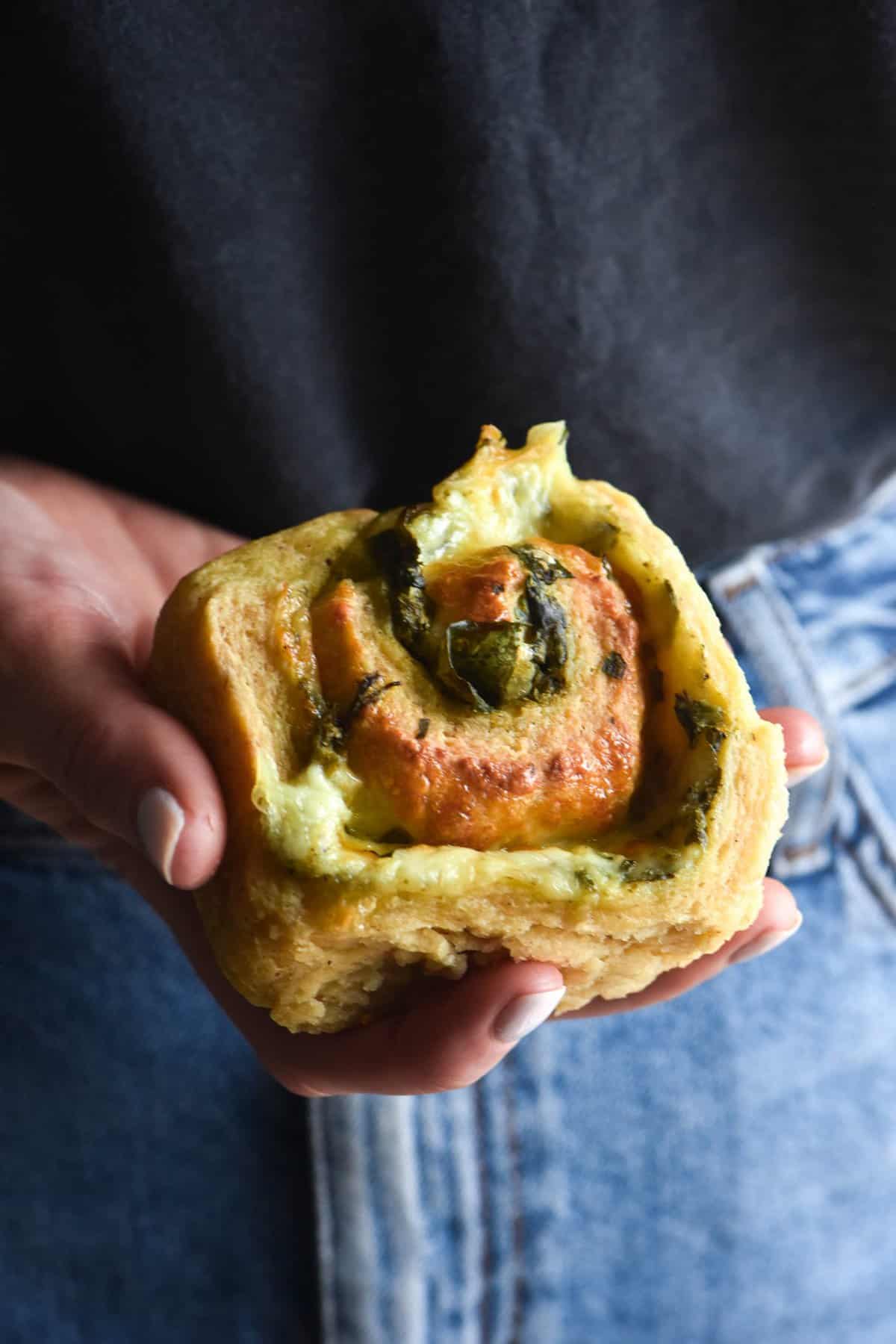 To make your gluten free pesto scrolls into a star
Making a pesto star is easier than it looks, I promise. This dough is incredibly workable for that purpose. The easiest way to make a star bread is to watch a YouTube video – here is a Food 52 one. After you've seen it done, you can easily made these gluten free pesto scrolls into a star bread. The ratios of dough and ingredients stay exactly the same!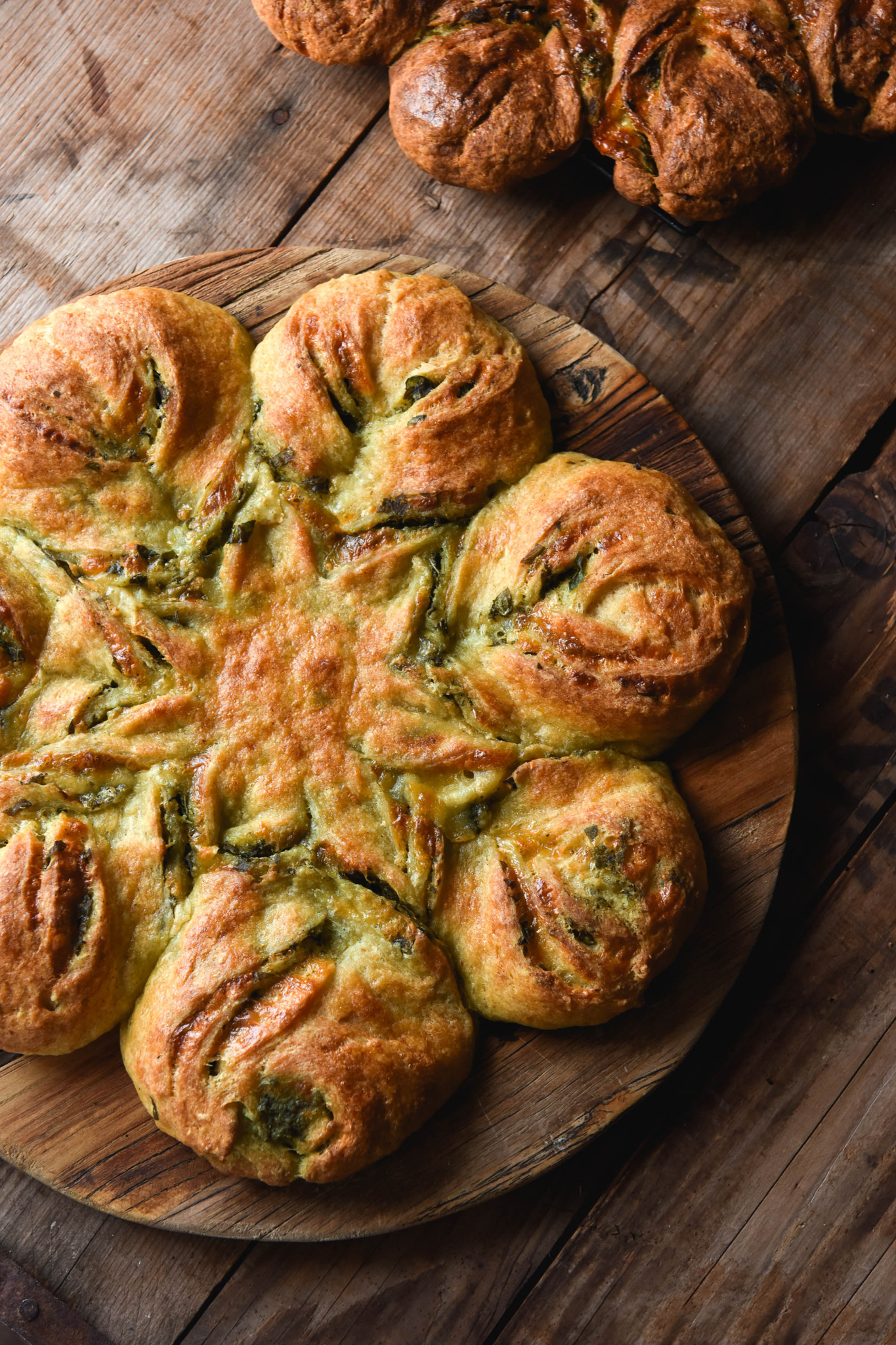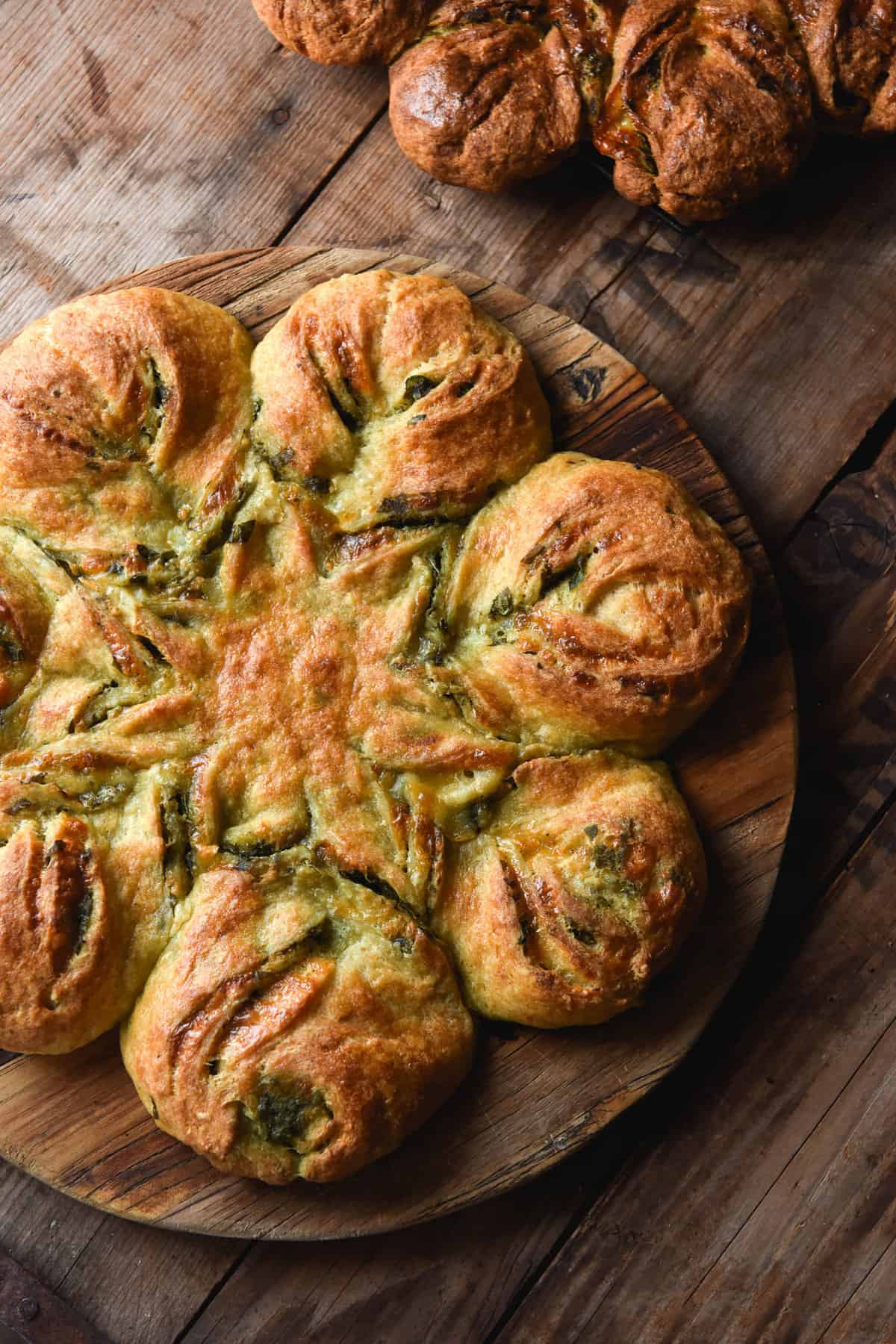 More gluten free bread recipes without xanthan gum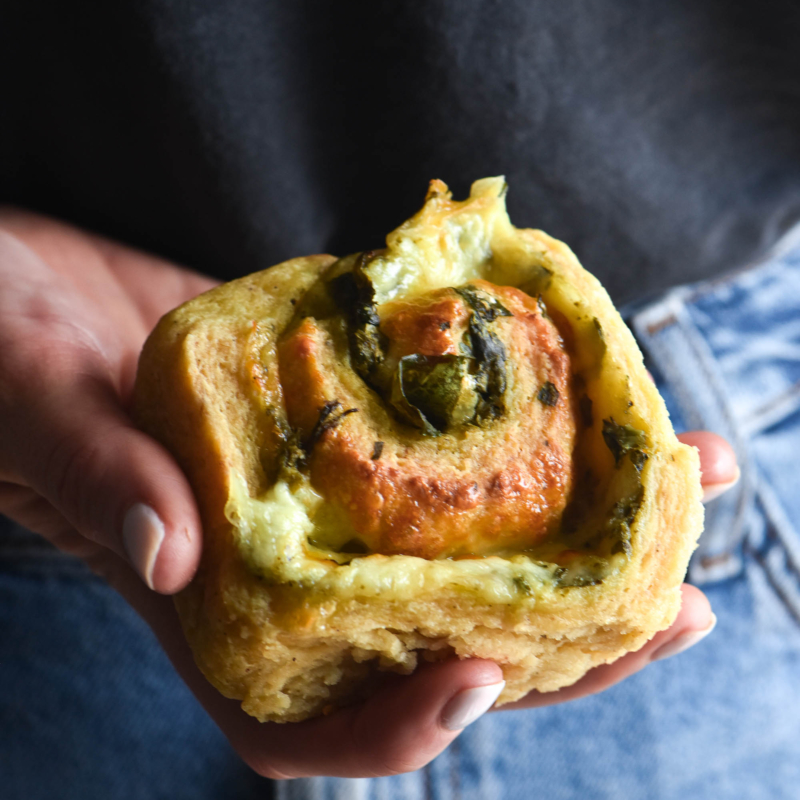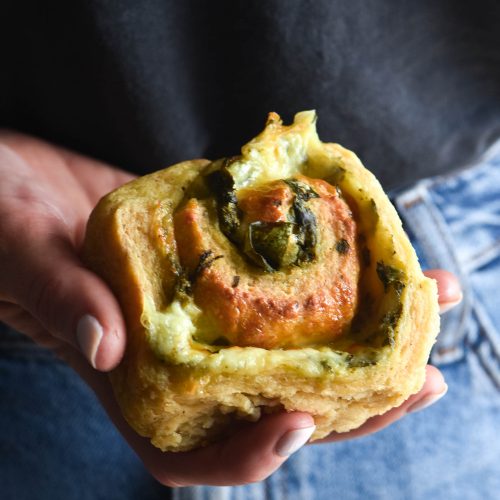 Gluten free pesto scrolls
Gluten free, gum free
Ingredients
For the binder:
20

g

psyllium husk powder

1 1/2

cups

(375ml) milk of your choice

(I used full cream lactose free)

100

g

butter

3

extra large eggs
For the dough:
240

g

(1 1/2 cups) white rice flour

120

g

(1 cup) glutinous rice flour

2

teaspoons

baking powder

1 X

7.5g

sachet instant yeast

1

teaspoon

fine salt

2

teaspoons

caster sugar
To finish:
Handful of spinach

finely chopped

Handful of basil

finely chopped

2-3

tablespoons

Sacla Free From pesto

Good squeeze of lemon juice

Seasoning

to taste

Freshly grated cheese of your choice in the amount of your choice

I used half mozzarella and half parmesan for melt and flavour, but a good vintage cheddar is a FOMDAP friendlier option – I used about 150g
Instructions
To make the binder:
Place the psyllium husk powder in a medium mixing bowl. Heat the butter and milk together in the microwave or on the stove until the butter is melted and the milk is warm. Grab your whisk and pour the warm milk and butter over the the psyllium husk powder. Whisk until the psyllium husk is completely combined and there are no lumps.

If the mixture is particularly hot, allow it to cool a little before whisking in the eggs (otherwise they will scramble). Whisk in the oil and allow the binder to sit and firm up for 15 minutes.
To make the dough:
While you are waiting for the binder, combine all the dry ingredients for the dough in a bowl or the bowl of your stand mixer.

When the binder is ready, decant it into your flour bowl. Use a spoon or the paddle attachment to combine the binder and the flours completely. If you're working by hand, you'll need to get your hands in there to finish combing the dough. Continue until all the flour has been incorporated and you have a ropey but moist dough.
To make the pesto scrolls:
Take a large piece of baking paper and oil it with about 1/2 tablespoon of neutral flavoured oil. Distribute it evenly and thoroughly using your hands. Turn the sheet of paper so a long side is facing you. Place the dough onto the centre of the paper and oil your rolling pin. Gently roll the dough out to the size of the sheet of baking paper. Patch up any holes and even out the sides as necessary.

Use the back of your spoon to spread the pesto evenly across the dough. Don't use too much or it will leak out the bottom and leave the dough soggy – just enough for a relatively thin pesto covering. Sprinkle the grated cheese over the top, leaving a 1cm border on the long sides of the dough. Finish with some freshly cracked pepper and a little salt.

Beginning on the long side, use your fingers to fold the 1cm border of the dough up onto itself. You want to create a tight roll, so try and make this first notch as small as possible. Continue folding the dough up until you can begin to use the baking paper to roll the dough onto itself. Take it about 80% of the way, then take the far side of the dough and bring it up over the log. You should have a log of dough with the seam facing upwards.

Grease or line your 20-24cm baking vessel. Take your piece of thread and thread it under the log of dough. Gently thread your piece of string underneath the log. Eyeball about one eighth of the dough log and think of the string as your knife. Holding one end of the string in each hand, pull in opposing directions to slice through one-eighth of the dough. Gently flip that first pesto scroll upright and use your hands to gently cup and mould it. Press it down a little so that it has a solid base, then place it into the prepared baking dish. Repeat with the remaining dough and scrolls.

Place the pesto scrolls in a jumbo ziplock bag or jumbo airtight container. Proof for one hour or until they feel fluffy and have risen a little (it won't be double). About 20 minutes before they finish proofing, preheat your oven to 180C/356F. Place a baking dish filled with boiling water at the bottom of the oven to create a steamy environment. This will help keep them nice and moist during baking.

After 1 hour, the pesto scrolls should have spread a little in the baking dish and feel puffy to the touch. Place them in the steamy oven (stand back as you open it) and bake for 30 minutes. They should feel firm to the touch and be lightly golden on top. Eat warm or cool. Leftover scrolls keep well in an airtight container in the fridge for 2-3 days.