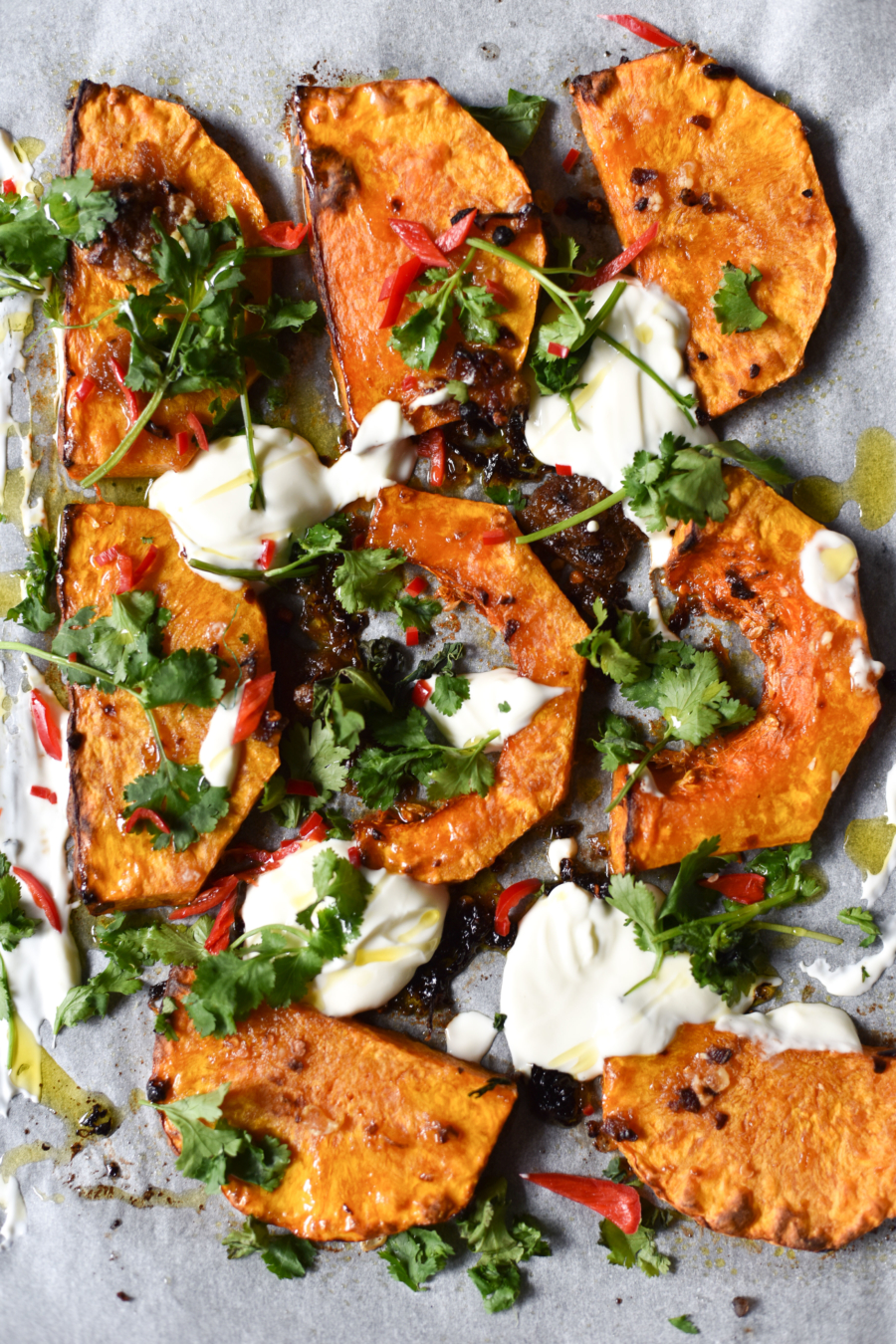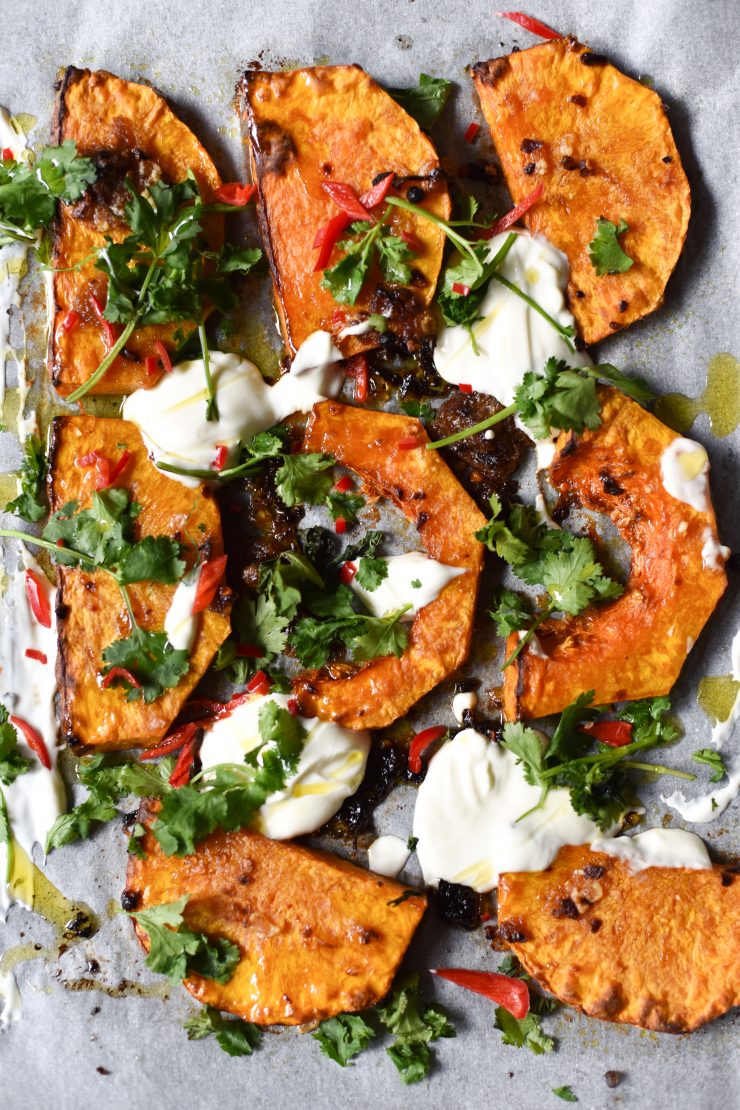 Preserved lemon: is there anything it can't do? Since becoming increasingly intolerant to everything under the sun, I've had to try and get a bit more creative with how I flavour things. Garlic and onion, the pinnacles of flavour, remain out of the question. So today I figured I'd detail my heavy reliance on preserved lemons with this preserved lemon roasted pumpkin number.
The dish is FODMAP friendly, gluten free and nut free. It can also be SIBO bi-phasic friendly, if you use homemade 24 hour yoghurt.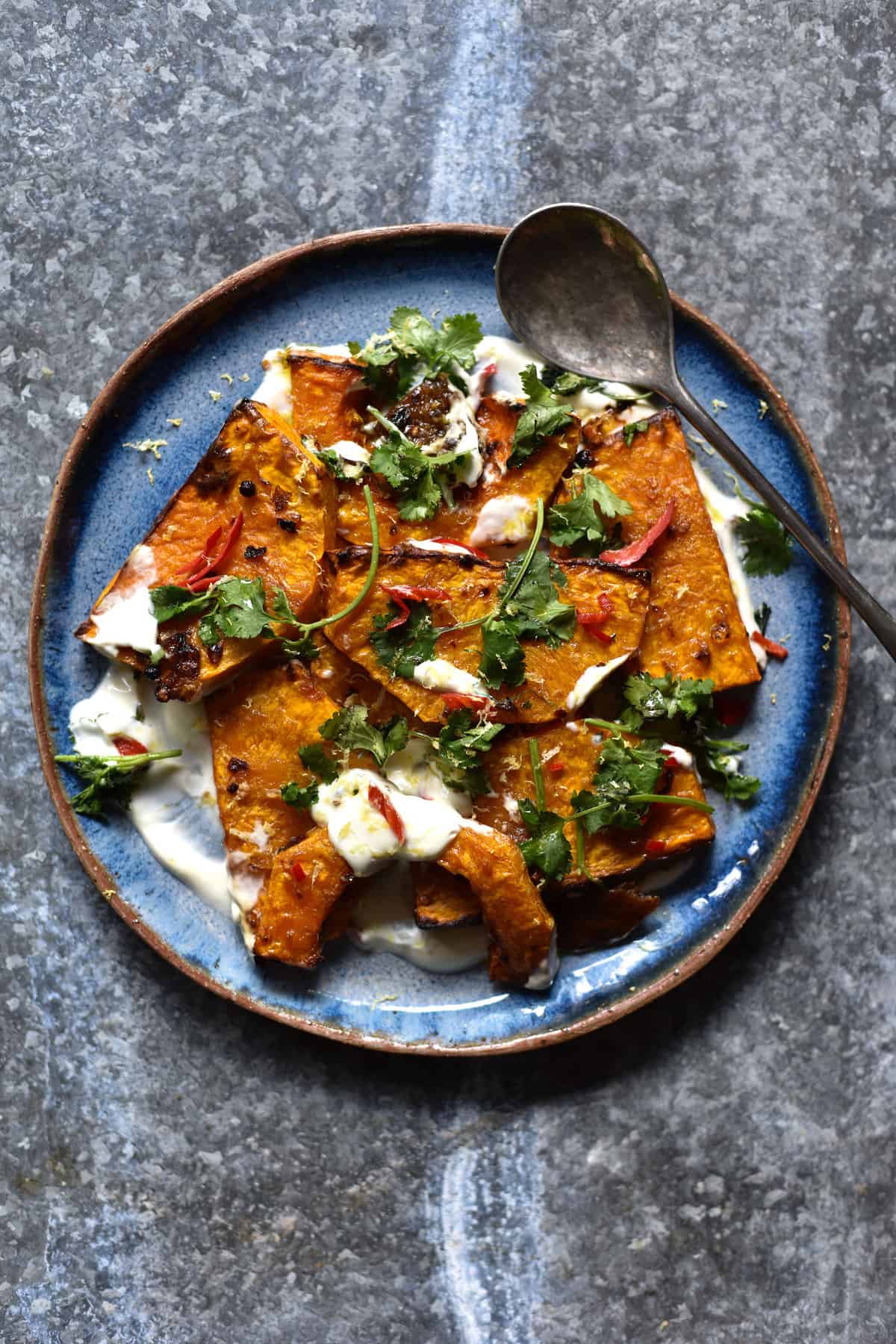 Preserved lemon roasted pumpkin
As you might have guessed, the flavour burst in this dish comes from the preserved lemons. Made simply with lemon salt and time, the flavour of preserved lemons is like nothing else. Bold, sweet and full bodied, it can liven up anything in a way that the lemon itself can't.
Preserved lemon has a tendency to be a little bit expensive in the shops. I attribute this to the time it takes for it to preserve – a month or so. The process of making them and the ingredients themselves are very straightforward. The time component, however, can be a little prohibitive to the average person.
However you choose to get your hands on preserved lemons, they really are critical to the dish.
FODMAP and SIBO notes
I use Japanese or Kent pumpkin to keep the FODMAP content down for this dish.
If you're catering to a vegan diet, simply swap the dairy yoghurt for a plant based one. Lactose intolerant? Use a lactose free yoghurt. If you're on the SIBO diet, make sure you use 24 hour homemade yoghurt.
You could use half pumpkin and half another vegetable to remain SIBO compliant. Just make sure you cook them in order of hardiness.
If you're making the nutty kind of grain free tabbouleh, make sure you keep the nuts per serve under the recommended quantities.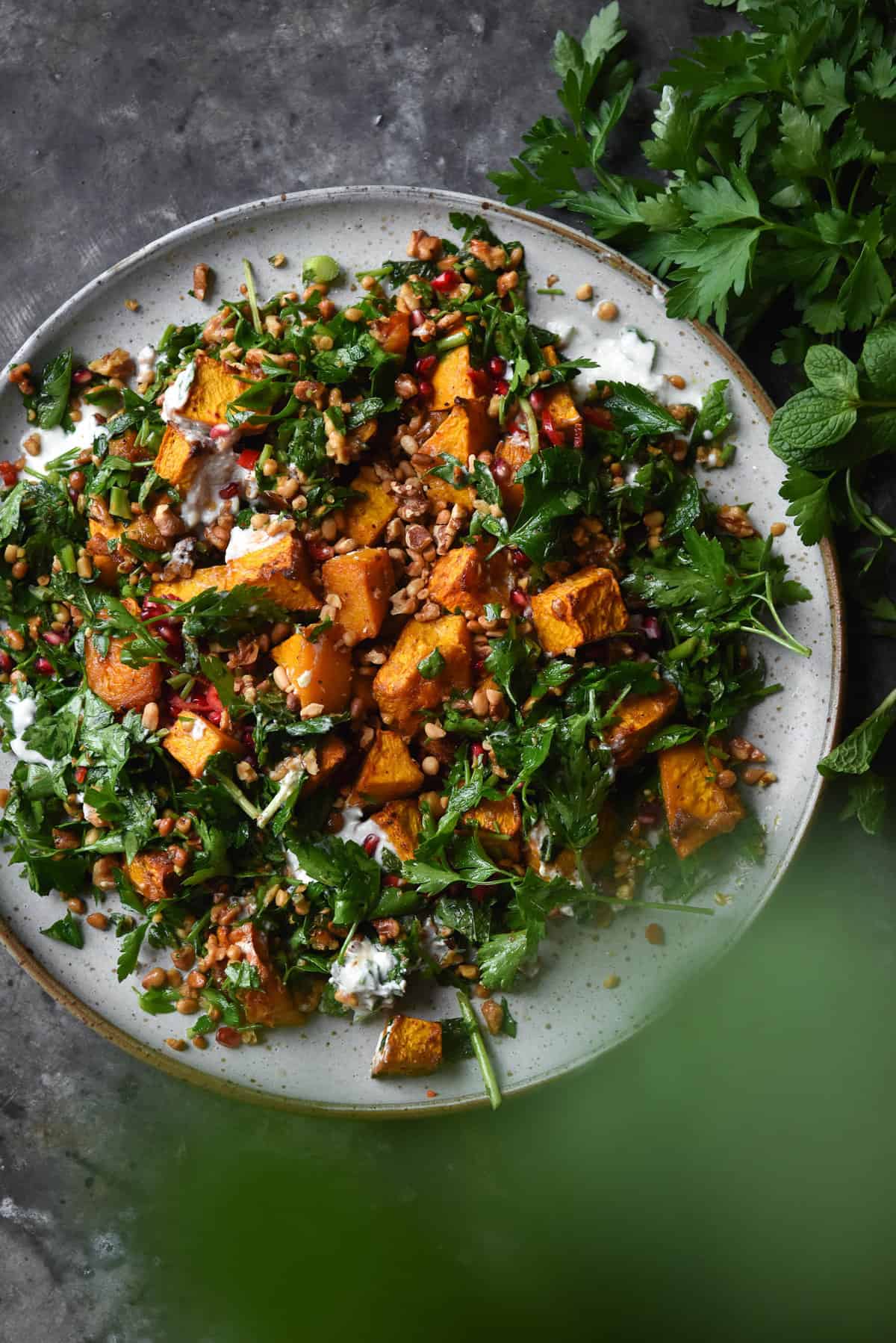 Addition suggestions for your preserved lemon roasted pumpkin
As I've mentioned elsewhere, this would be great with some pomegranate arils or even a drizzle of pomegranate molasses.
Toasted pine nuts would go down a treat too, or even toasted walnuts. See notes on the optional salad below.
A little chilli oil (I like Aleppo chilli oil because it's smokey and mild) would make for the perfect drizzle.
To bulk it out, you could serve the preserved lemon roasted pumpkin on a bed of spiced quinoa. I have a recipe here.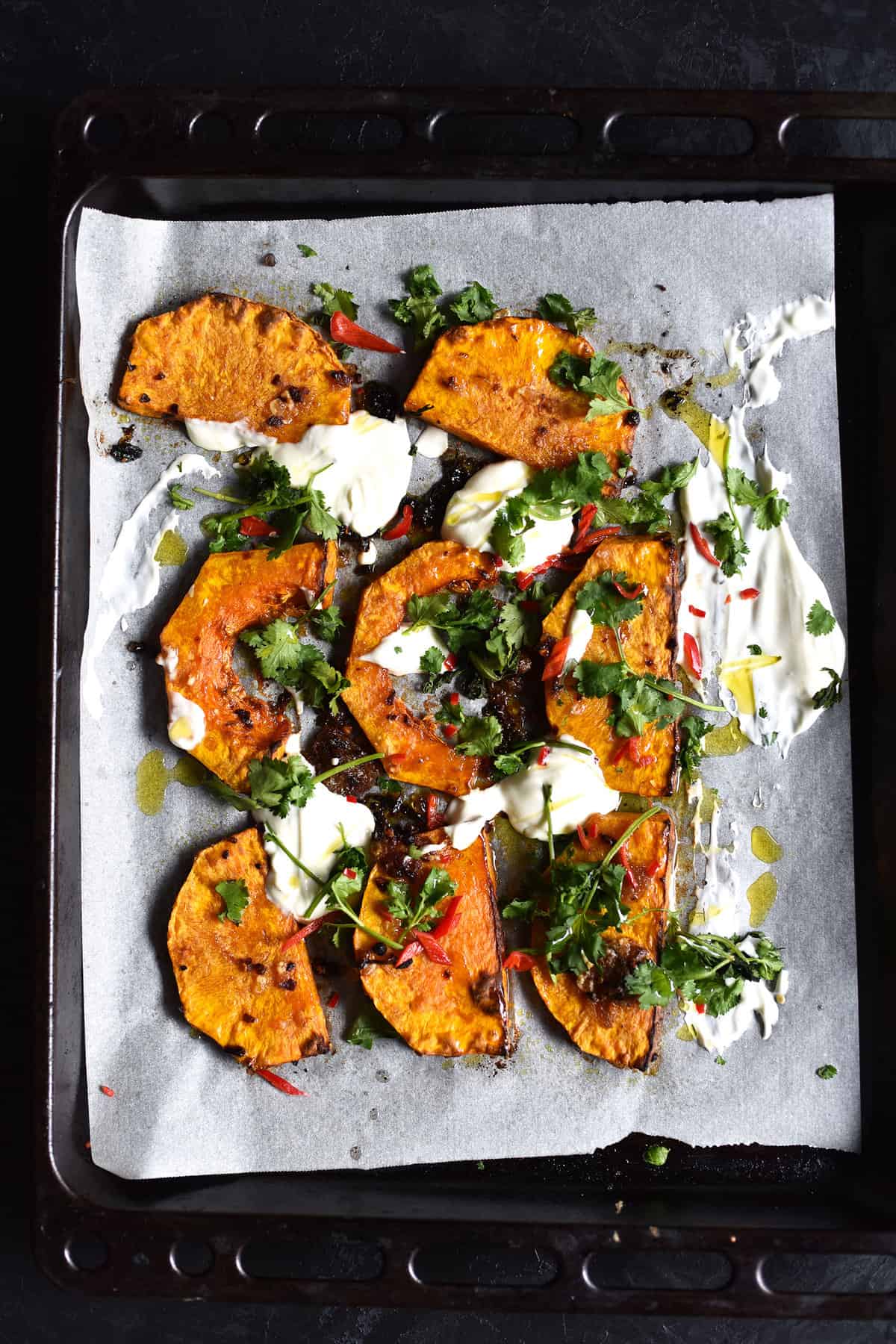 To make a nut and herb salsa to bulk up the pumpkin
Remaking this recipe some four years later, I decided that I wanted to bulk it out a little. I'm currently on an elimination diet that prohibits grains, so I made a toasted nut and herb 'salad' for a bit of padding. If you'd like to do the same:
Toast 1/2 – 1 cup of walnuts and 1/4 – 1/2 cups of pine nuts (this depends on how much you like/can tolerate nuts). Once toasted to your liking, chop them into reasonably small pieces.
Finely chopped 2 bunches of herbs, or one bunch of herbs and a handful of spinach or rocket. I used continential parsley and mint.
Drizzle the herbs with a good glug of olive oil, lemon juice, a bit of white vinegar and a bit of honey. Season well.
Stir through 3/4 of the nuts, reserving some for garnish.
When the pumpkin is ready, serve it up with this nutty number. 
More pumpkin recipes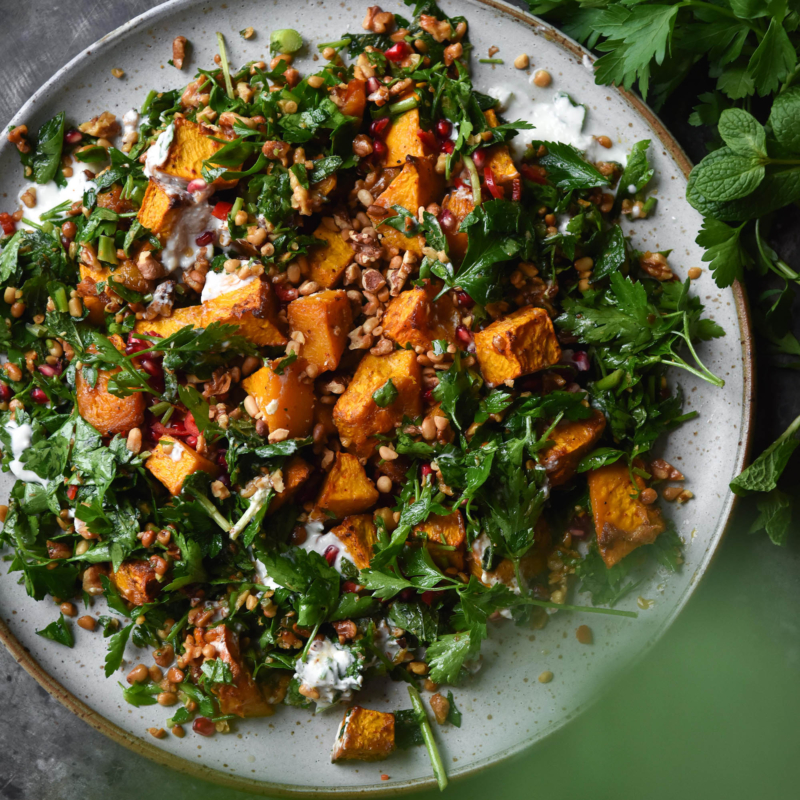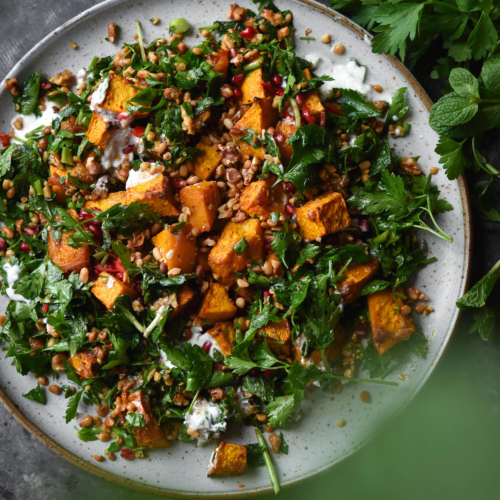 Preserved lemon roasted pumpkin with Greek yoghurt and chilli
Ingredients
For the preserved lemon roasted pumpkin
700-800

g

pumpkin

I used Kent because it has a low FODMAP content

1-2

tablespoons

preserved lemon juice

the more the merrier

2 ¼

pieces

of preserved lemon

chopped

Drizzle of honey or maple syrup

(1/2 tablespoon or so)

2

tablespoons

olive oil

Salt and pepper
To finish
1

chilli

chopped (chilli flakes are a good substitute if you forgot a chilli)

Greek yoghurt (as much as you fancy)

1

handful coriander

chopped

Pomegranate

optional
Optional toasted nut and herb 'salad'
2

bunches herbs of choice (or 1 bunch herbs and 1 handful spinach or rocket/arugula

(I used mint and continential parsley)

Drizzle of olive oil

Juice of 1/2 lemon

Drizzle of honey

Seasoning, to taste

Dash of white vinegar, if it needs it

1/2 – 1

cup

walnuts, toasted

1/4 – 1/2

cup

pinenuts, toasted
Instructions
METHOD
Preheat the oven to 180 degrees Celsius. In a large bowl, combine the olive oil, lemon zest, preserved lemon pieces and juice, chilli, and seasoning. Once combined, rub the mixture into each slice of pumpkin. You can allow it to sit and marinate if you have the time.

Line a large baking tray with baking paper, and spread the pumpkin slices out evenly, covering them in the leftover sauce. Place into the oven and cook for anywhere between 20-40 minutes – this will depend on how thickly you slice your pumpkin.

To assemble, spread the yoghurt over your assembly vessel of choice, followed by the pumpkin and coriander. I like to top it with a second chilli, and a bit of salt and pepper. I also really like it with some pomegranate arils, which is a word I have enjoyed ever since learning it (although keep in mind that they are not particularly FODMAP friendly, if that's your thing)

If you're making the herb and toasted nut addition, mix the herbs with all the ingredients except the nuts. Adjust for seasoning before adding in 3/4 of the nuts. Use the remaining nuts to top the pumpkin dish at the end.