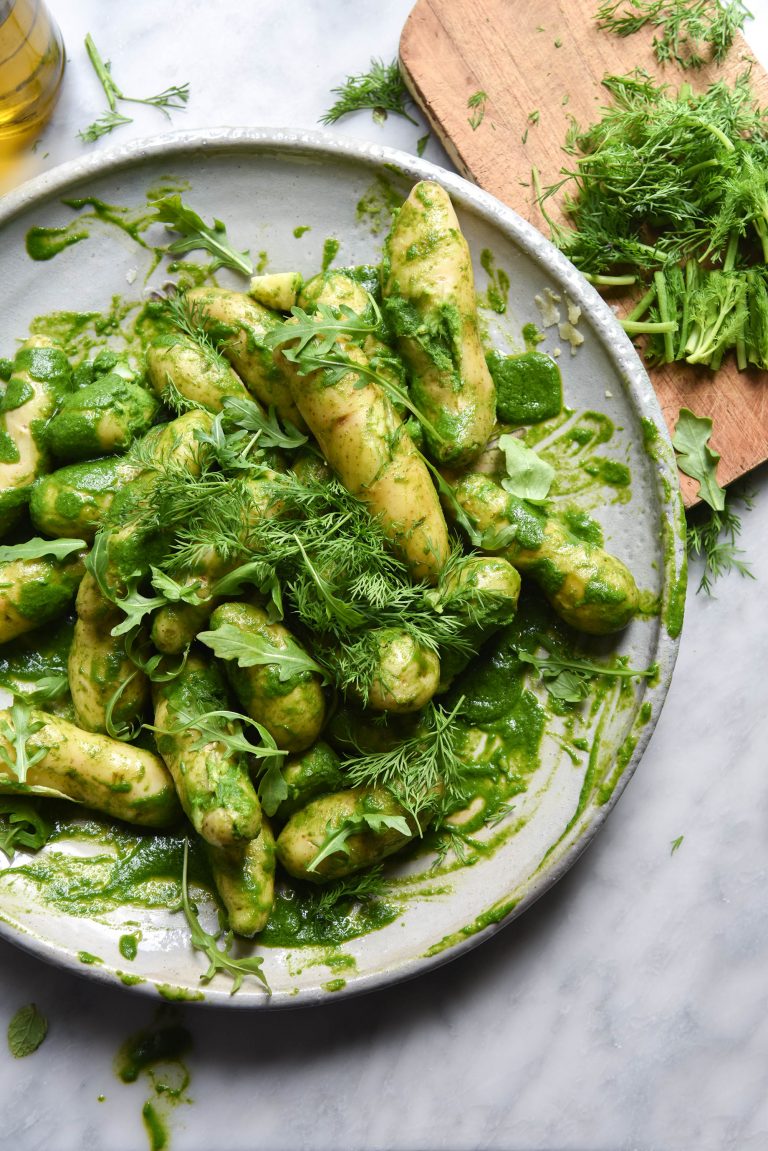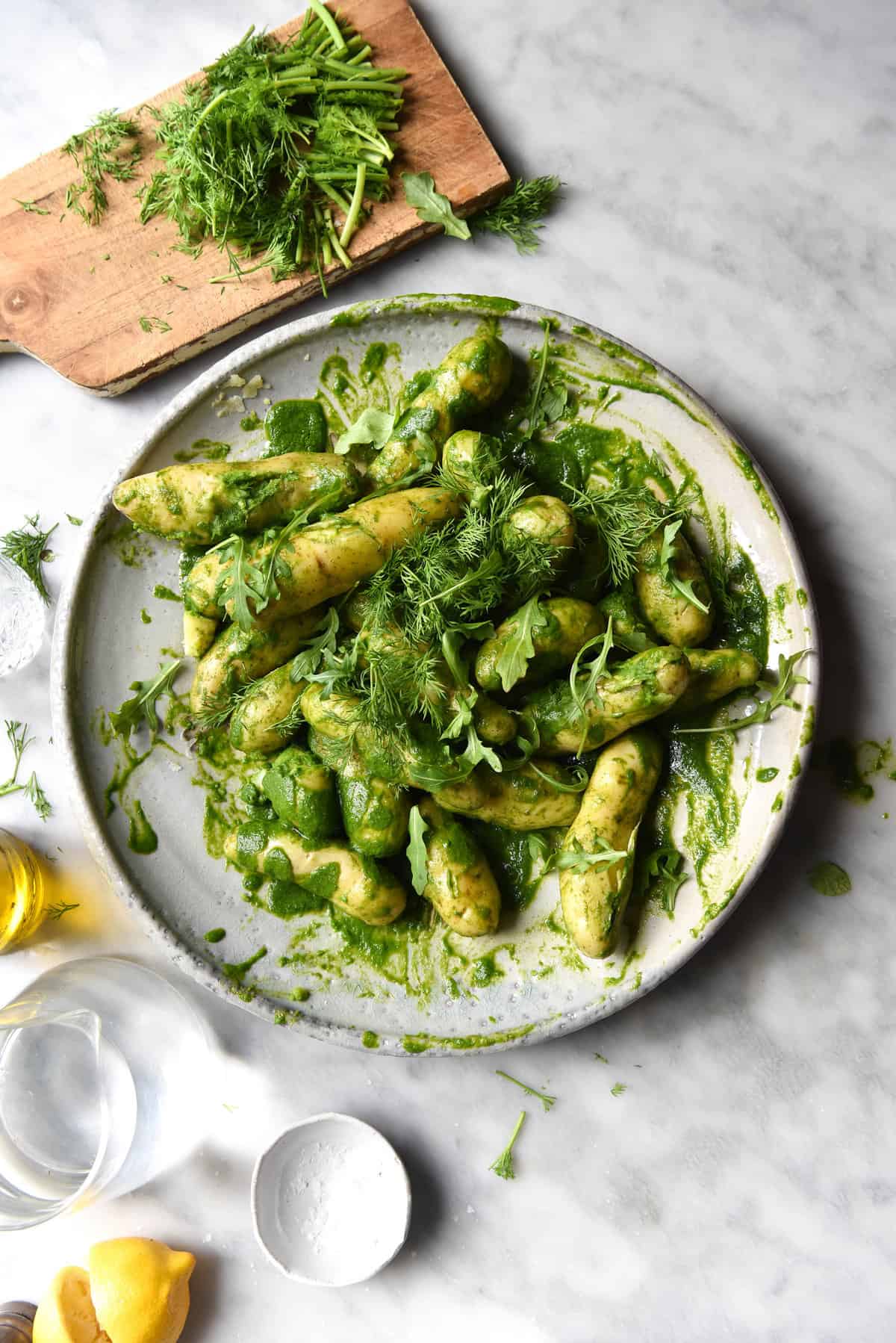 It is confirmed – the limit does not exist for how many potato recipes one can produce. We have the cacio e pepe potatoes, the crispy potatoes, and today, this easy FODMAP friendly potato salad.
Easy FODMAP friendly potato salad
At it's core, this easy potato salad requires naught but 5 ingredients – potatoes, a green or herb, an acid (lemon juice, vinegar) an oil and seasoning. The salad begins as a vegan, FODMAP friendly and nut free one. From there, as the 'choose your own adventure' in the title suggests, you're free to customise as you wish. I have written up a bunch of suggested additions below. Design it as you fancy it or use whatever is in the bottom of the fridge. This easy potato salad could not be easier.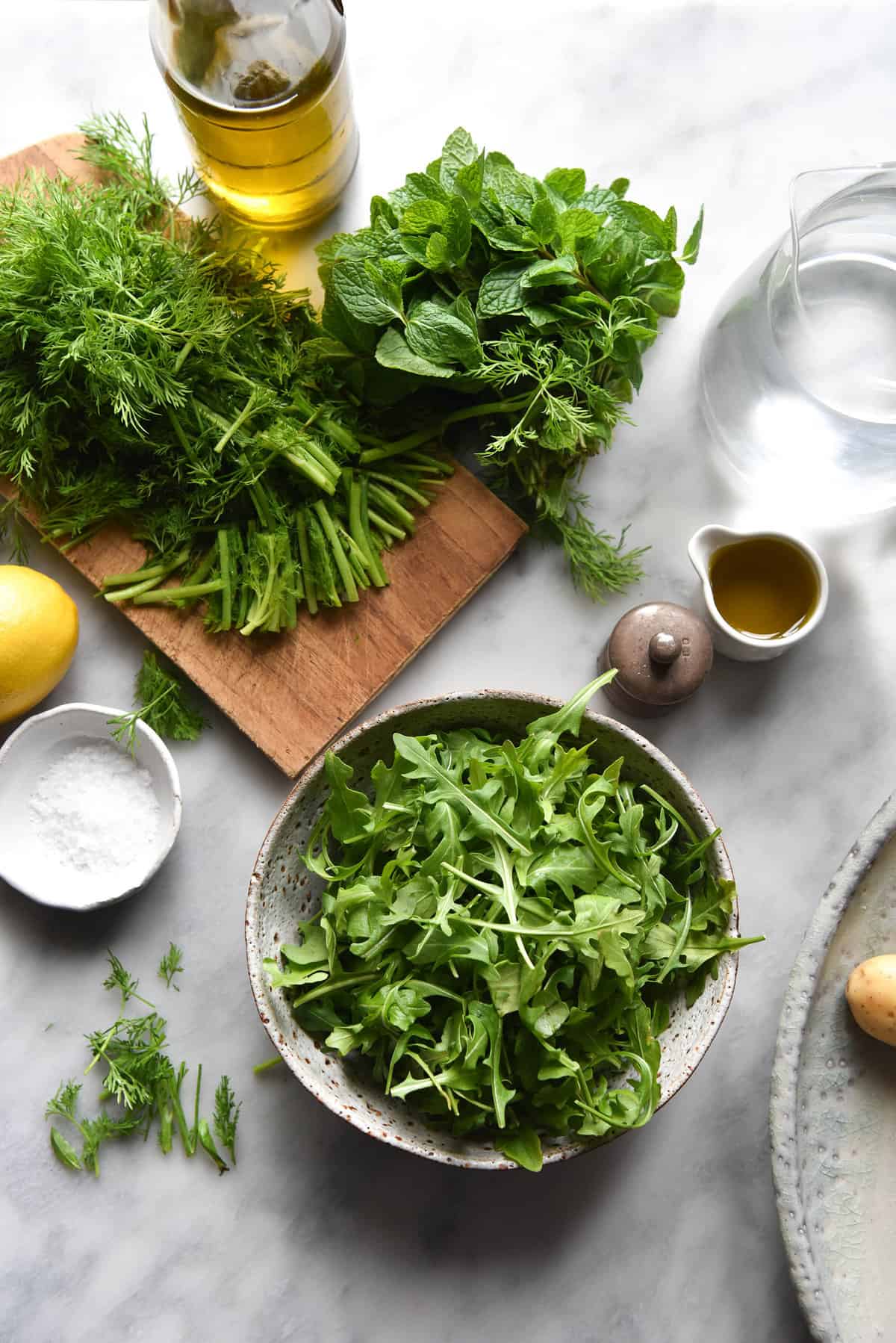 Suggestions for your easy FODMAP friendly potato salad
Nuts, cheese and dairy
If you're not catering to a nut free dinner party, they're a great way to bulk up the sauce and/or add a bit of textural interest. You can add a handful to the blender sauce, or scatter some on top of the salad, or both. I used walnuts, but any FODMAP friendly nut (pine nuts spring to mind) would be amazing.
Other FODMAP friendly notes include some toasted and chopped almonds (10 almonds per person is considered FODMAP friendly) toasted hazelnuts (in the same serving size as almonds) or pecans. You could also use pepitas or sunflower seeds, although I'd suggest sprinkling them over as opposed to putting them in the sauce.
Cheese! Always an important addition. You can add some pecorino or parmesan to the sauce (I'd recommend between 50-100g of freshly grated) or sprinkle some cheese on top. I used some Greek Feta. Keep in mind that harder cheeses are very low lactose.
You could blend the sauce with some mayo (vegan or regular) and/or some sour cream for a Green Goddess type vibe. Vegenaise is delicious.
If you'd like a creamier sauce on a vegan plate, put half an avocado in the blender. I use it in my vegan pasta sauce and can confirm it works a treat. Avo is FODMAP friendly in 1/4 serve per person, so you could even chuck a whole one in. This is a big salad.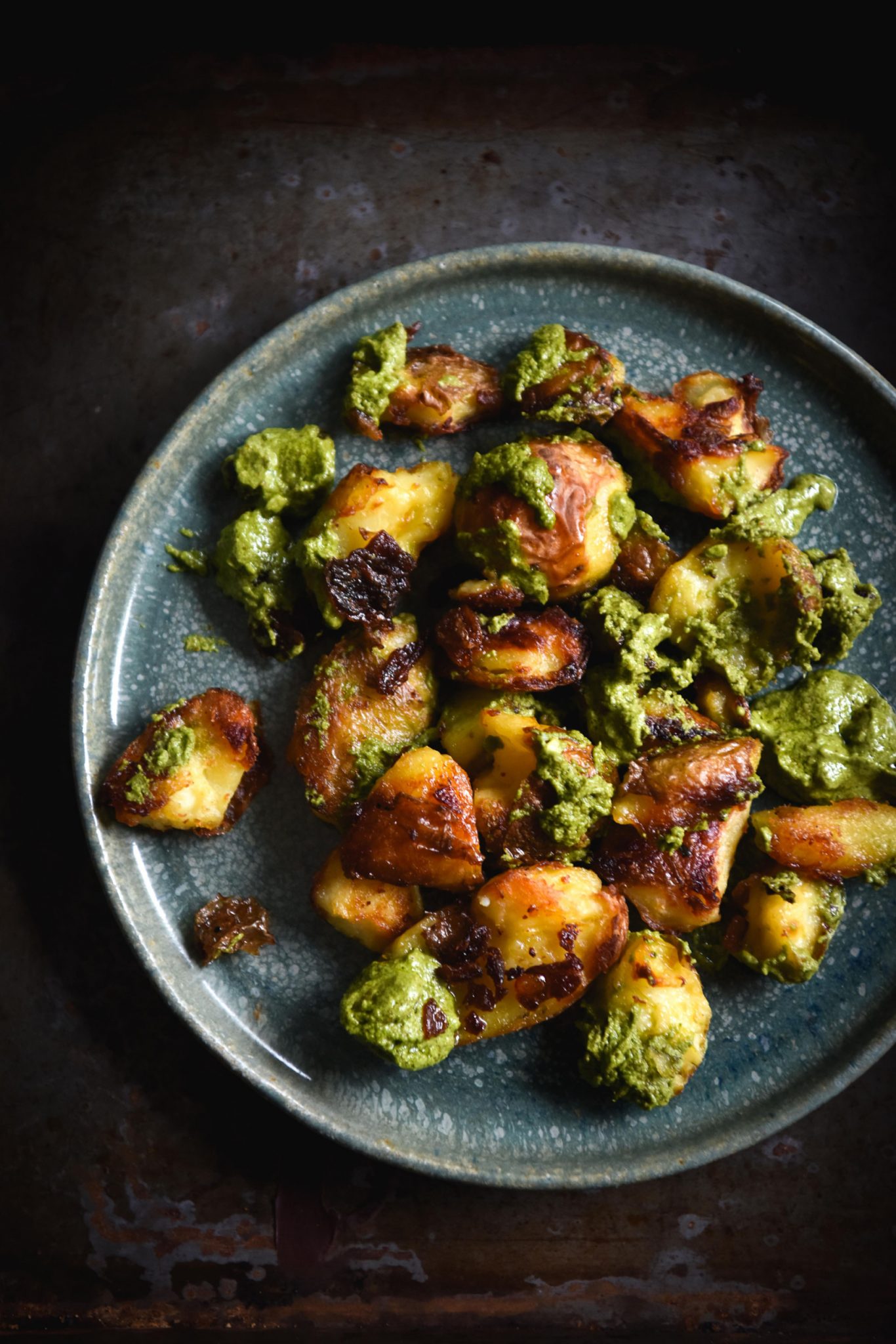 Greens
In terms of herbs, I used dill and mint for this recipe because those are what I had. Whatever soft herbs you have on hand, provided they're not a weird combo (basil and coriander I'm looking at you) are perfect for the job.
If you want a little herb combo inspiration, here's my preserved lemon and herb sauce on FODMAP friendly zucchini hummus with roasted carrots. This one has more of a Middle Eastern inspired bent.
That said, you can also make the sauce using soft greens as opposed to herbs. I added two large handfuls of rocket (arugula) to my sauce, and I often make 100% rocket pesto because it's cheaper than basil.
You could probably also add a little kale to the sauce, if you're into that sort of thing. Really anything that tastes pleasant, is soft and green and will blend into a sauce.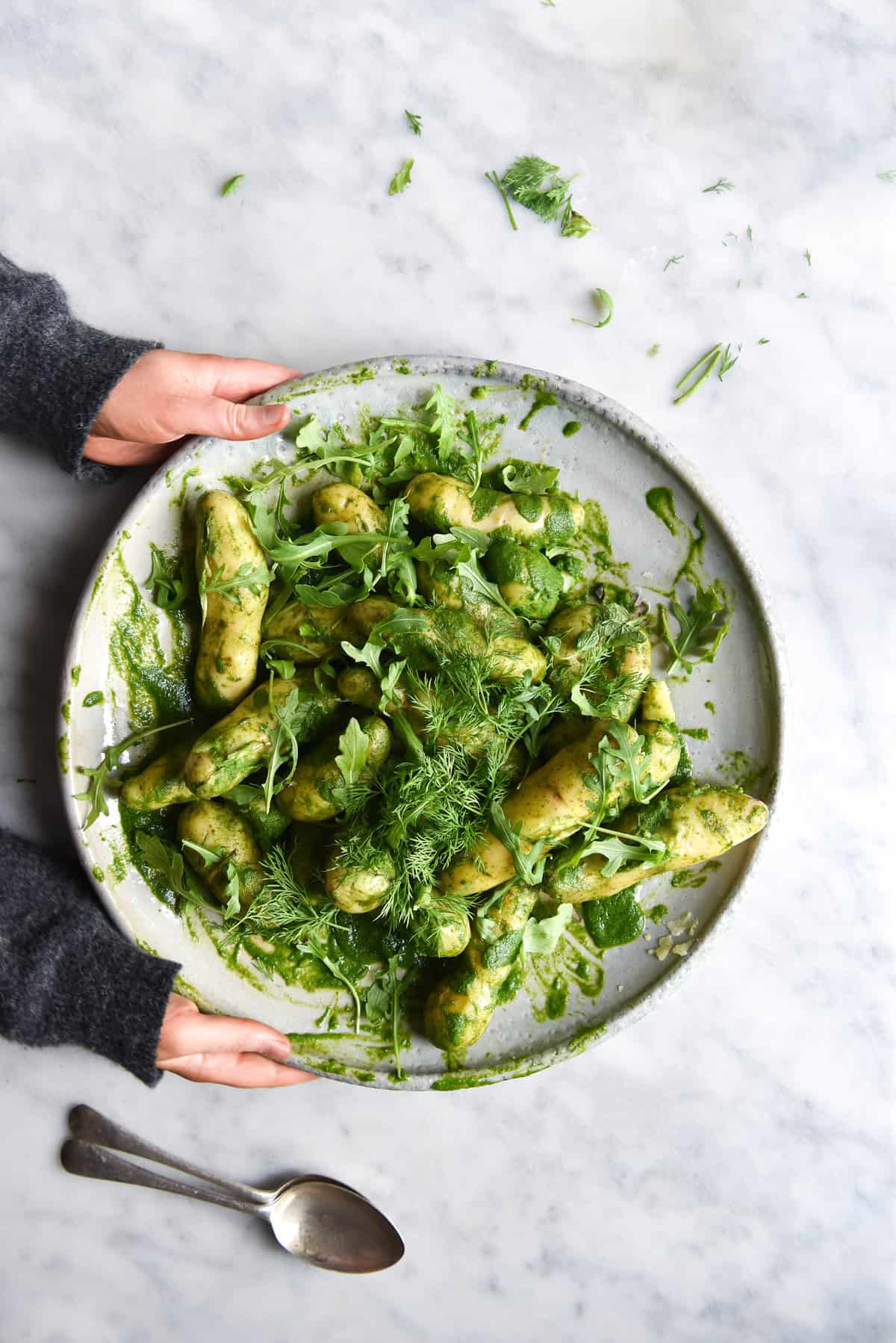 Flavourings
A piece or two of preserved lemon makes a delightful addition to a sauce like this. I use it all the name, namely on the OG carrot halloumi salad. I recommend pairing it with mint or coriander as the herb of choice.
Lemon zest! This goes with any and all flavour combinations, and makes a super bright addition. I recommend zesting your lemon before juicing it – it's far easier. The zest of half a lemon on a microplane is a good place to start.
Flavoured oils. You could use garlic oil for a garlic hit, chilli oil or truffle oil. Garlic and chilli work with all flavour combinations, whereas truffle lends to more of a classic basil pesto type sauce.
Mustard. Much like other ingredients, mustard pairs well with most flavour profiles. I use Dijon but you can use whatever you have.
Chilli. A little kick of chilli can bolster this salad right up. Add a few pinches of flakes or a squirt of (FODMAP friendly) chilli sauce to the blender and adjust to your taste.
Olives, capers or pickles are all a welcome addition. Unless I'm a total hoarder, we've all got a couple of rogue olives and capers at the back of the fridge.
Salt and pepper. Your two best friends in ensuring a basic potato salad tastes delicious.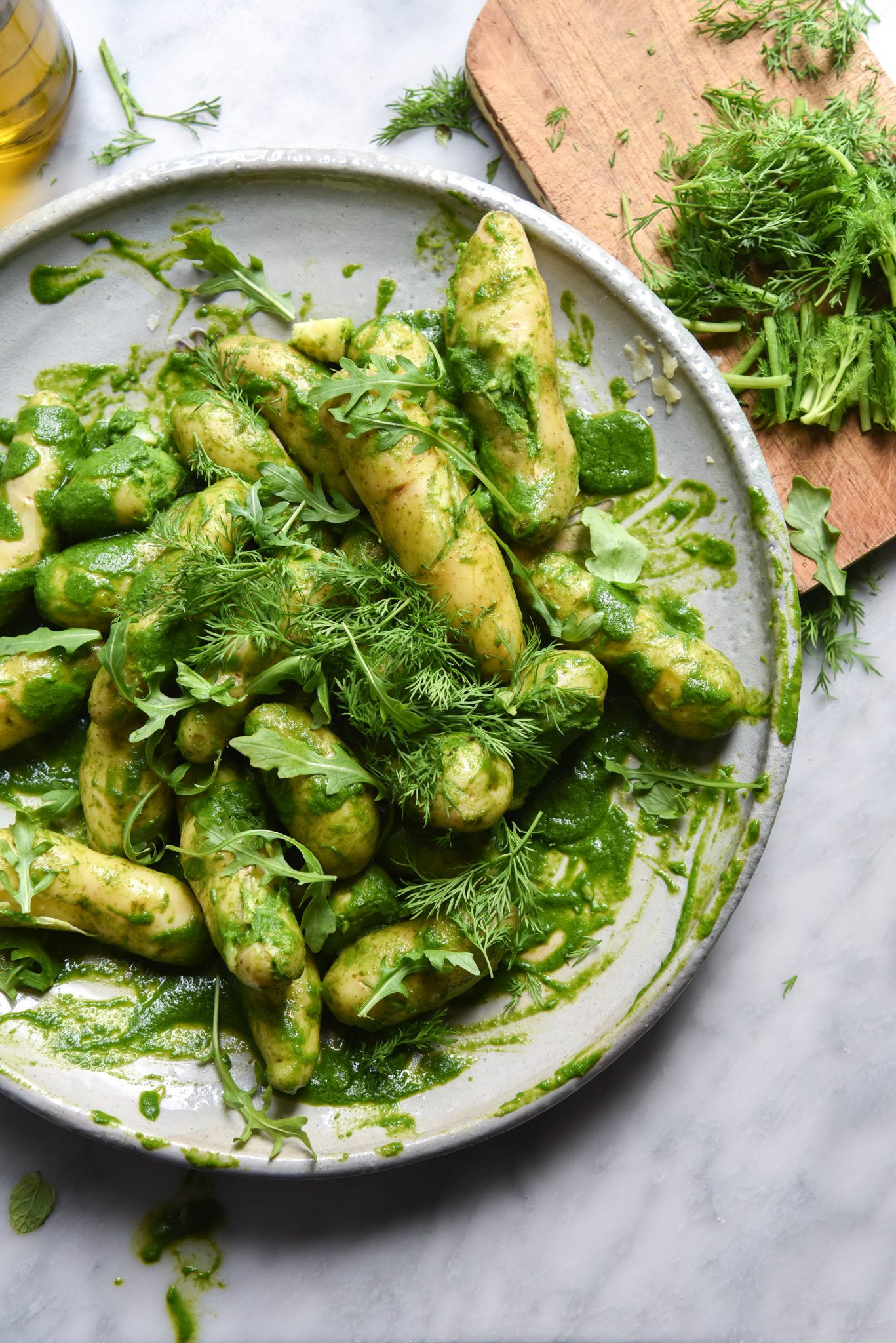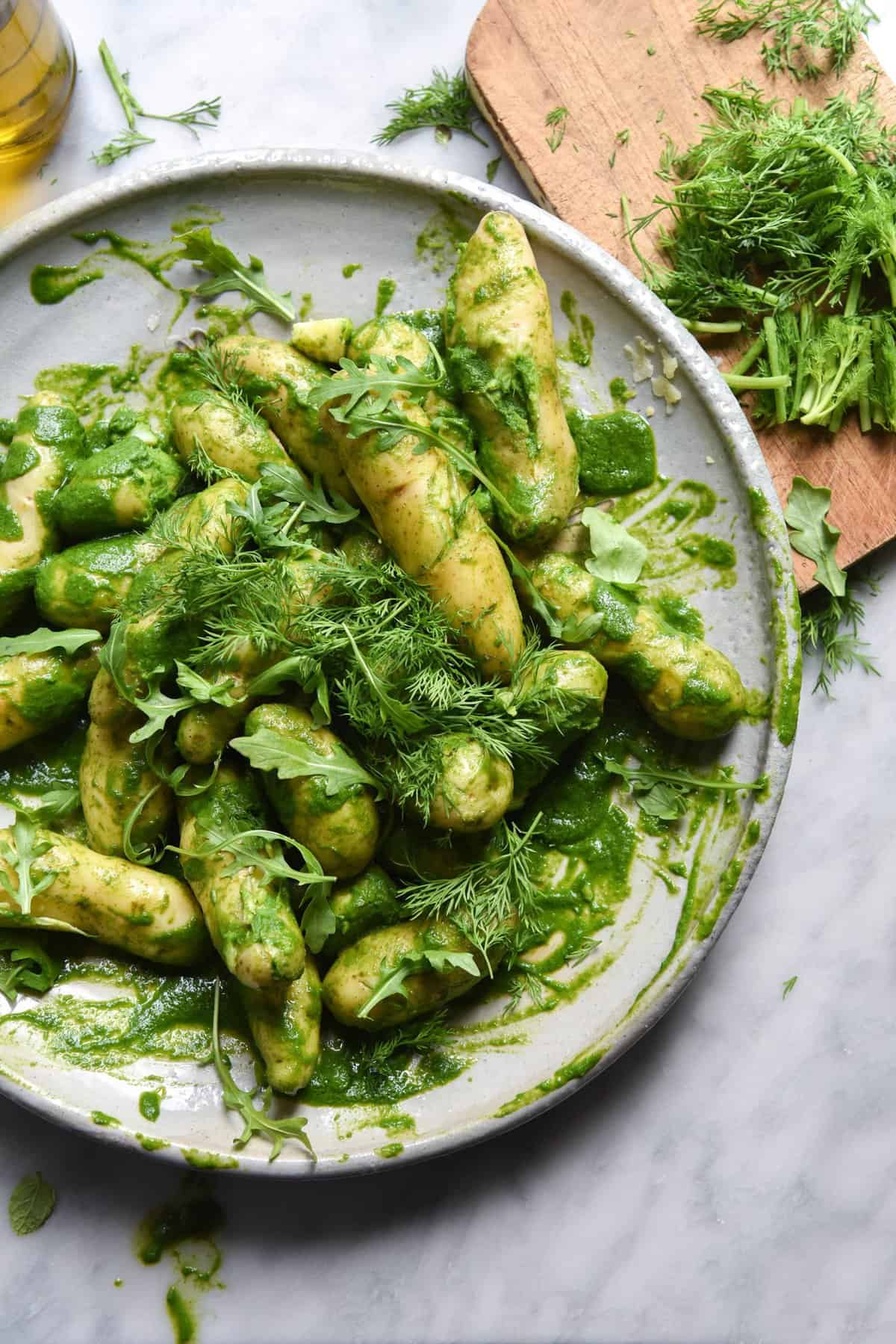 Which variety of potato should I use?
Yes! You've even got potato choices. Here's a quick refresher on my crispy oven chip post of the potato variety spectrum. Here's a link to a rundown of the best varieties of potato for salad purposes. Personally I don't peel them, but you do you.
I used Kipfler in this recipe because it's what I happened to have on hand. Although a waxy variety is generally recommended for potato salad, you can use whatever you have at home.
That said, consider pivoting the recipe to adapt to your potatoes. If you have a starchy variety such as Russets, Colibans or King Edwards, consider gently par boiling and then roasting them. This way they won't fall apart into mush as starchy varieties have a tendency to do when completely boiled.
If you're going down the roasting route, I have instructions here in my crispy potatoes with pesto post.
More low FODMAP potato recipes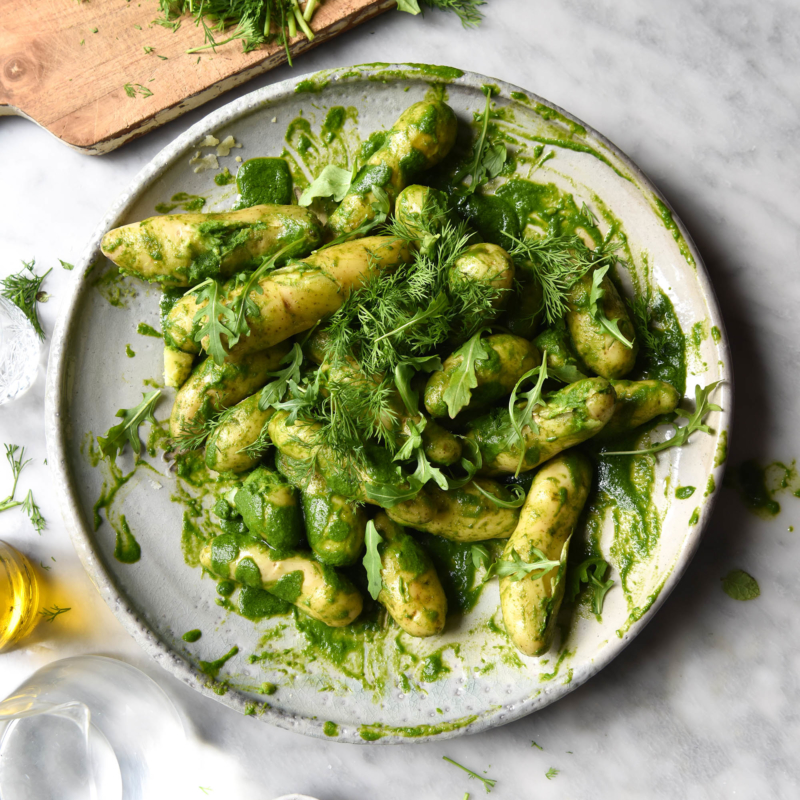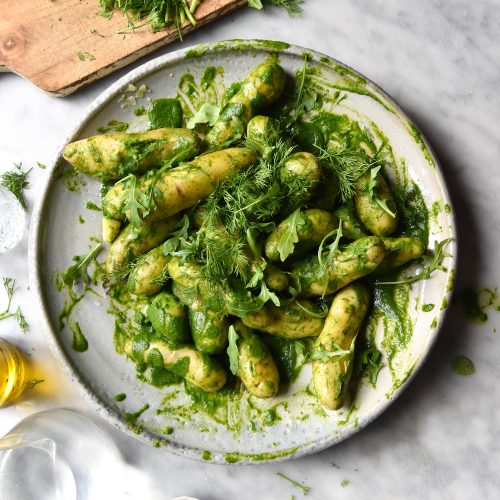 Easy FODMAP friendly potato salad
Vegan, dairy free, nut free
Serves 6-8 people as a side
Ingredients
For the base potato salad:
2

kg

potatoes of choice

I used Kipfler, see the potato section for options

1/2 – 3/4

cup

(125-180ml) olive or vegetable oil

see the oil section

2

bunches of herbs

2

large handfuls of greens

Juice of 1 lemon

to taste

Salt and pepper

to taste
Instructions
Choose a method for your potatoes. If you've got starchy potatoes, see the 'potatoes' section for a method to oven roast crispy potatoes. If you have all rounder or waxy potatoes, put them into a large pot of well salted water. Place the pot on a medium high heat and boil just until a knife cuts right through a potato. It helps to gently move the potatoes around so that the bottom potatoes don't cook before the top ones and becomes mushy.

Drain the potatoes and allow to steam dry.

To make the dressing, blend all the remaining ingredients in a high speed processor and process until smooth. Adjust for taste and add optional additions as you wish.

Place the cooked potatoes on a very large serving platter and decant the green dressing onto the platter. Gently mix to cover the potatoes in dressing. Top with any additional extras you're using and serve.