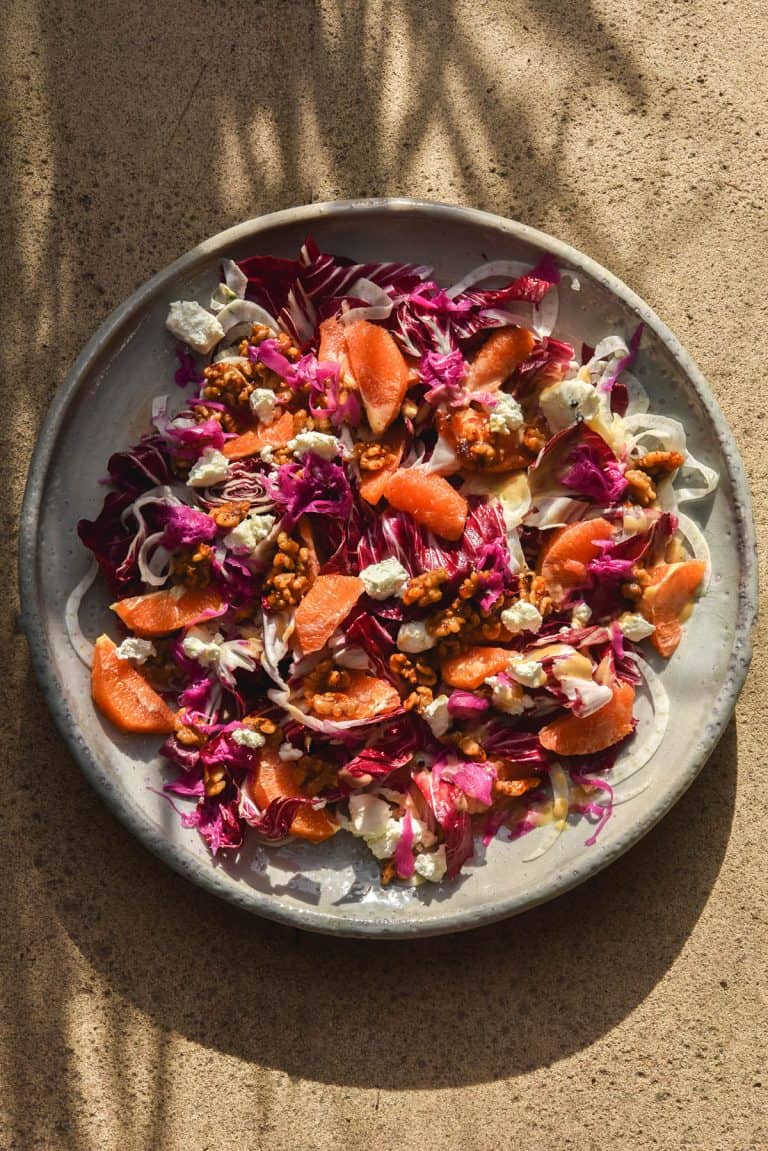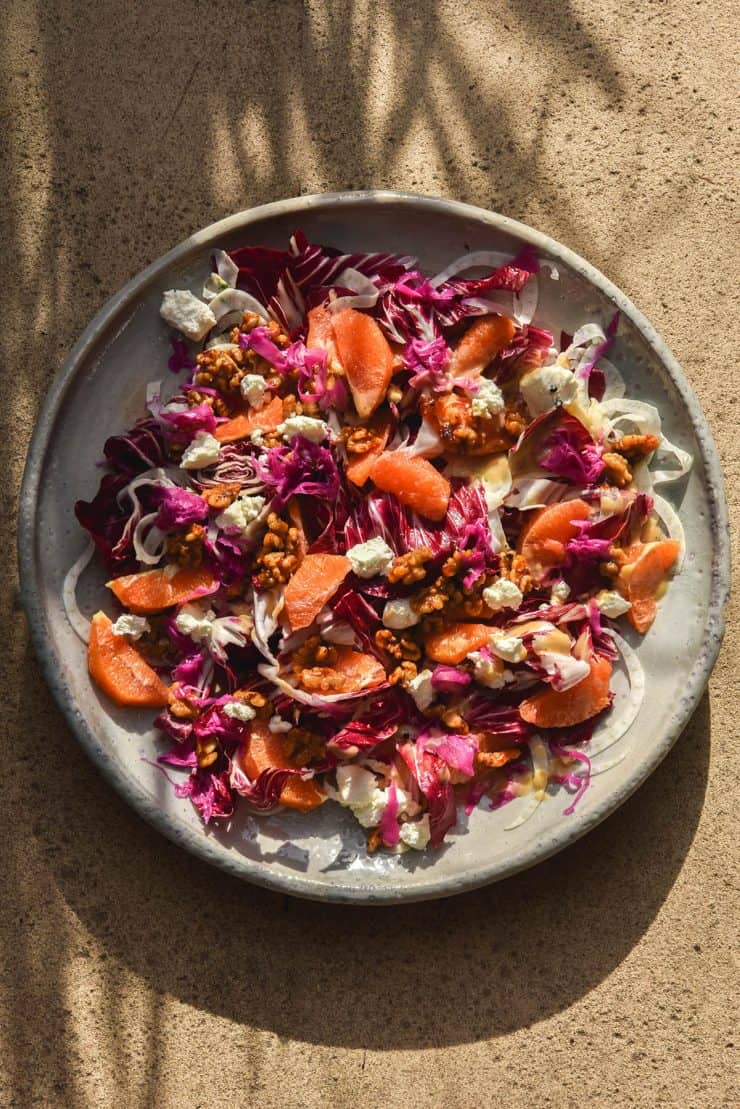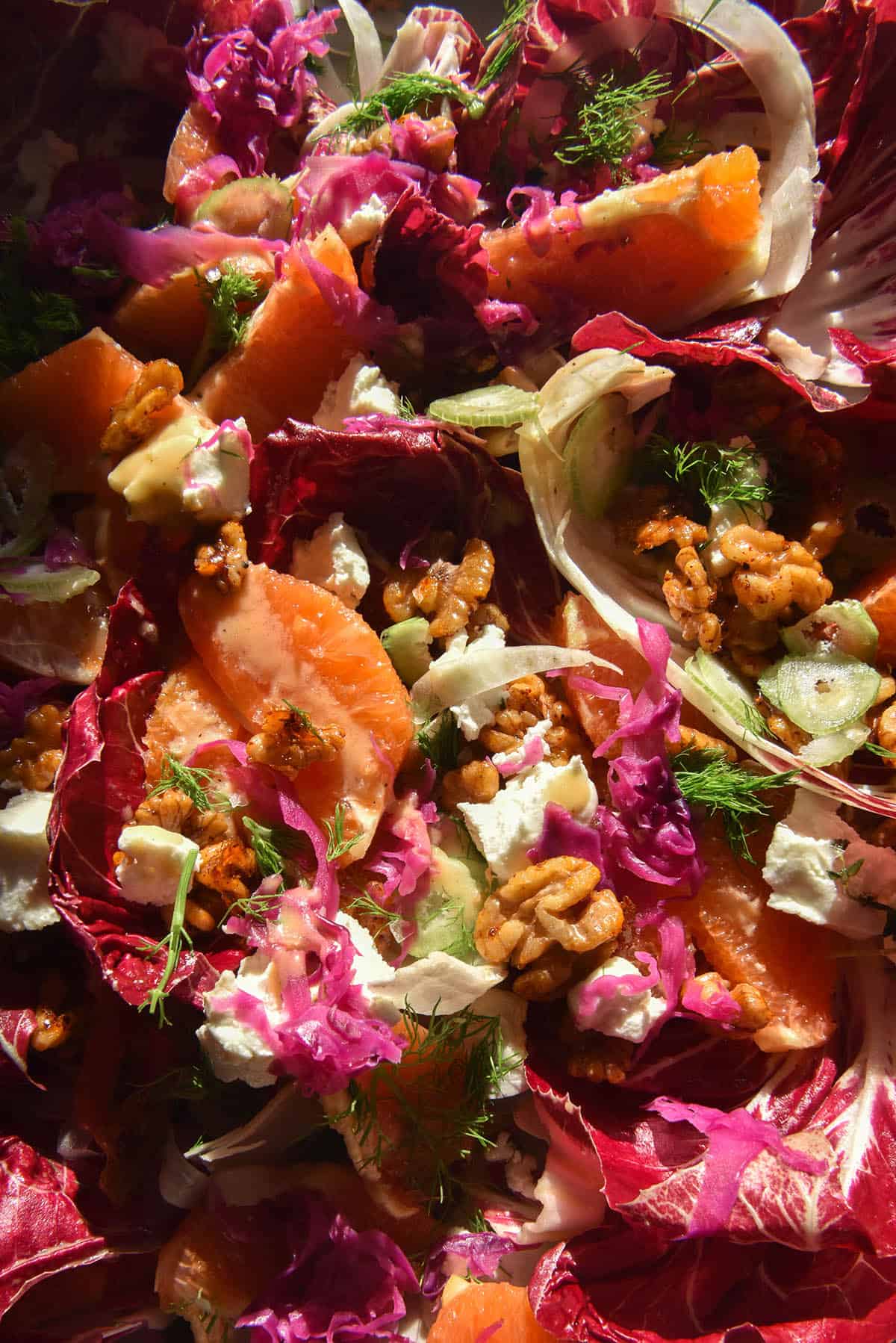 My love of radicchio is well documented. Today's recipe, I suppose, is a bit of a variation on a theme. That theme is radicchio orange salad. I've made one before, I'll make one again, but this one is easy, seasonal and absolutely gorgeous. Low fuss, high reward.
Radicchio orange salad
This salad uses beautiful vibrant radicchio and sweet orange segments as the main ingredients. The contrast of bitter and sweet makes for a fresh and vibrant salad.
Goat's cheese, fennel and a tangy mustard maple dressing compliment the star ingredients, and the chilli maple walnuts finish the salad off with a crunch.
This radicchio orange salad is FODMAP friendly, gluten free and low lactose. It's a beautiful fall or winter salad that looks as good as it tastes.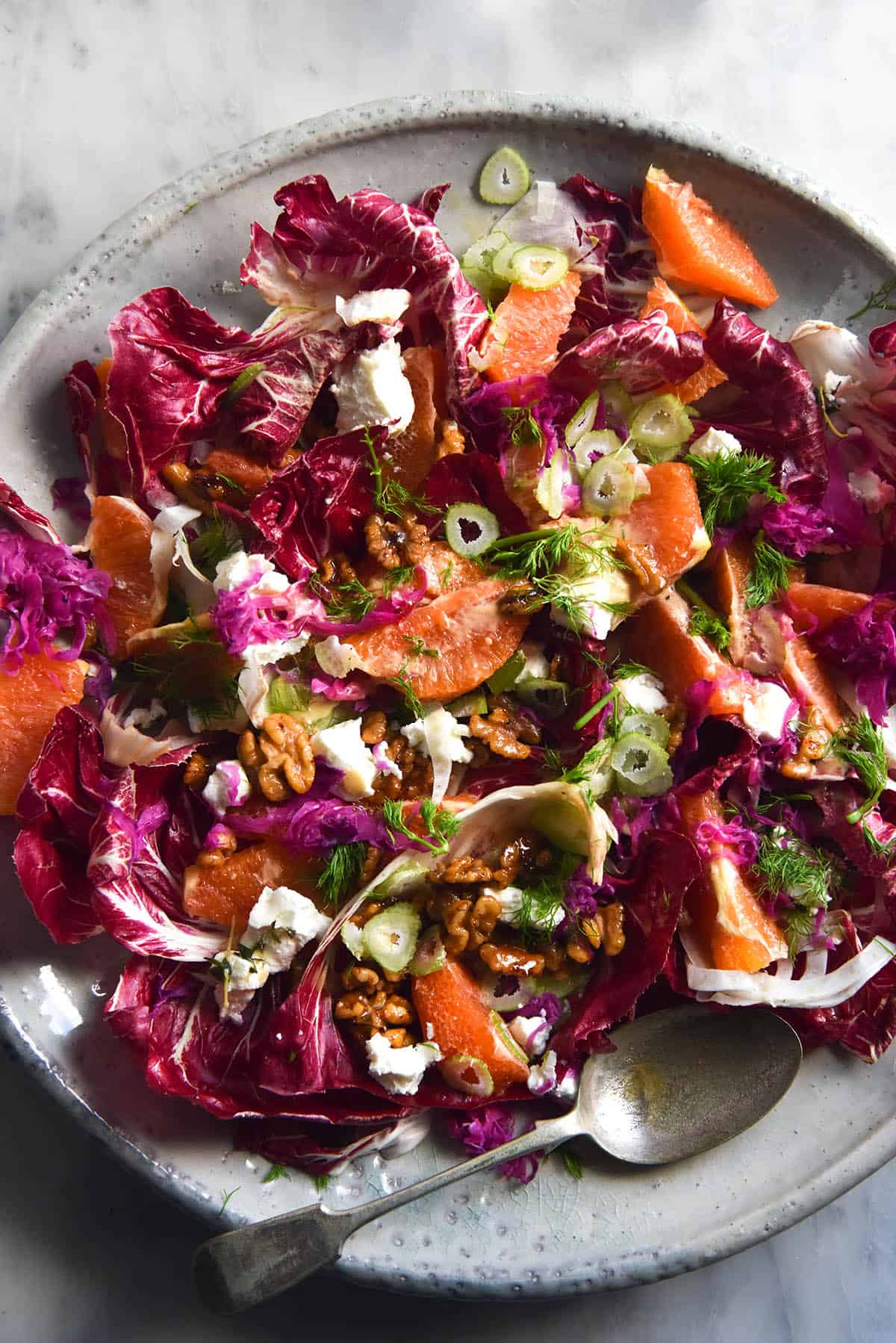 The FODMAP friendly salad dressing
The dressing recipe is an absolute favourite of mine and I use it all the time. Personally, I love a super mustardy dressing, but if you don't you can use 1-2 teaspoons less mustard.
Realistically any vinegar or acid will work here, but I recommend red wine vinegar, sherry vinegar or lemon juice.
Not all dressings use a sweetener, but I think it's super important here to balance everything out. Not only is the dressing punchy, but all the salad elements are, too. Adding maple syrup (or honey) balances the tang of the goat's cheese, radicchio and the citrusy bitter sweetness of the oranges.
Any plainer tasting oil works well here. If you're using Meredith marinated goat's cheese (which I hope you do!) I recommend using the oil from the jar to make the dressing. It uses it up and adds an extra layer of flavour to the radicchio orange salad.
I recommend making more dressing than might need (as reflected in the recipe card) so you can adjust according to your tastes. The dressing keeps well in the fridge and will spruce up anything it touches.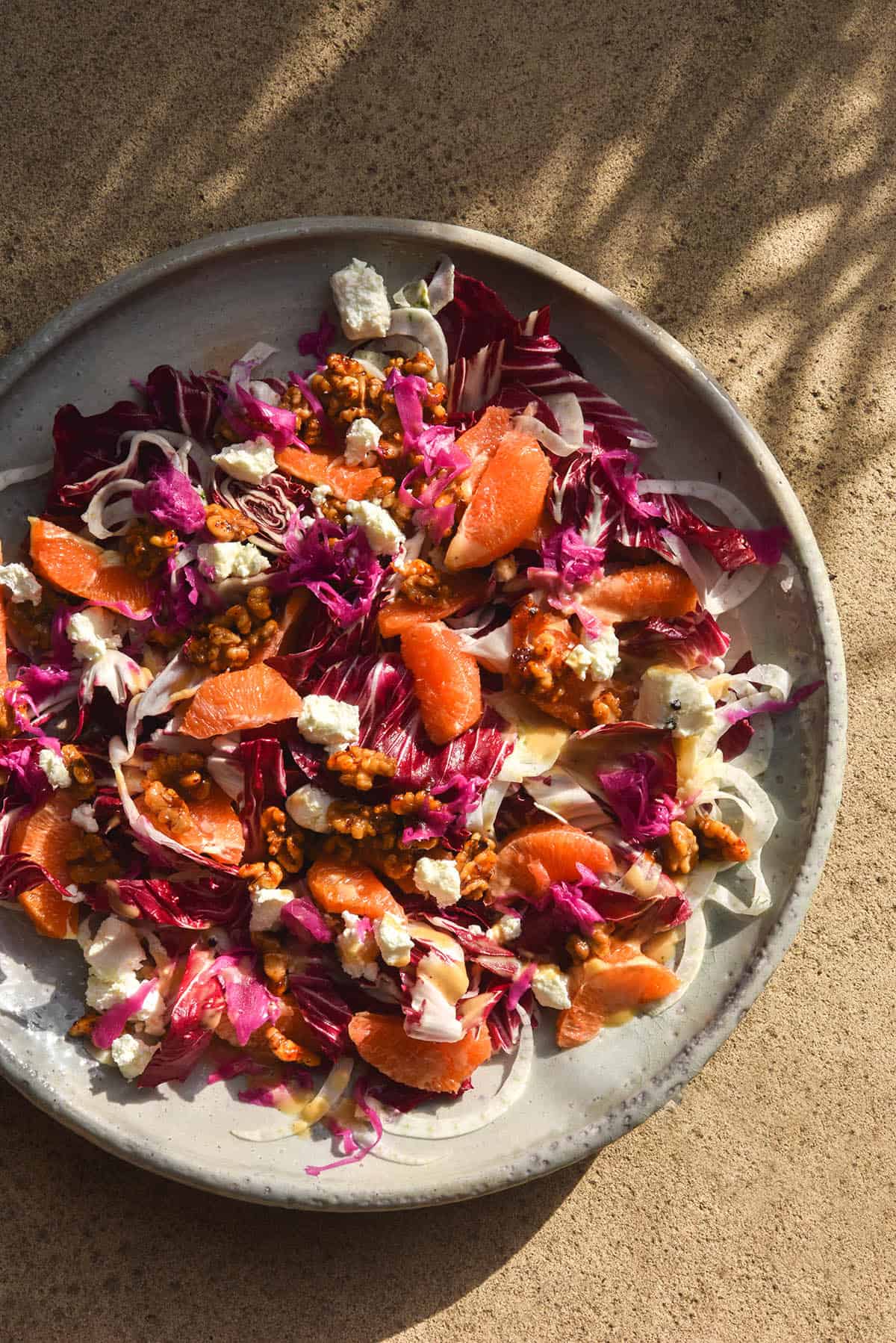 Radicchio orange salad
Not everyone likes radicchio, I know. If you are one of those people, you could also try making this with a sturdy variety of lettuce. Adding a handful of rocket/arugula to the mix would replace some of the bitterness of the radicchio.
Any orange works here! I really wanted to use blood oranges, but they're not in season here yet. Stay tuned for that one.
I added some FODMAP friendly faux pickled red onion for a bit of onion like flavour. It is definitely optional, but adds another layer of flavour and looks delightful.
Although I highly recommend Meredith marinated goat's cheese, you have options. Halloumi, regular goat's cheese or an alpine style cheese are all good replacement options.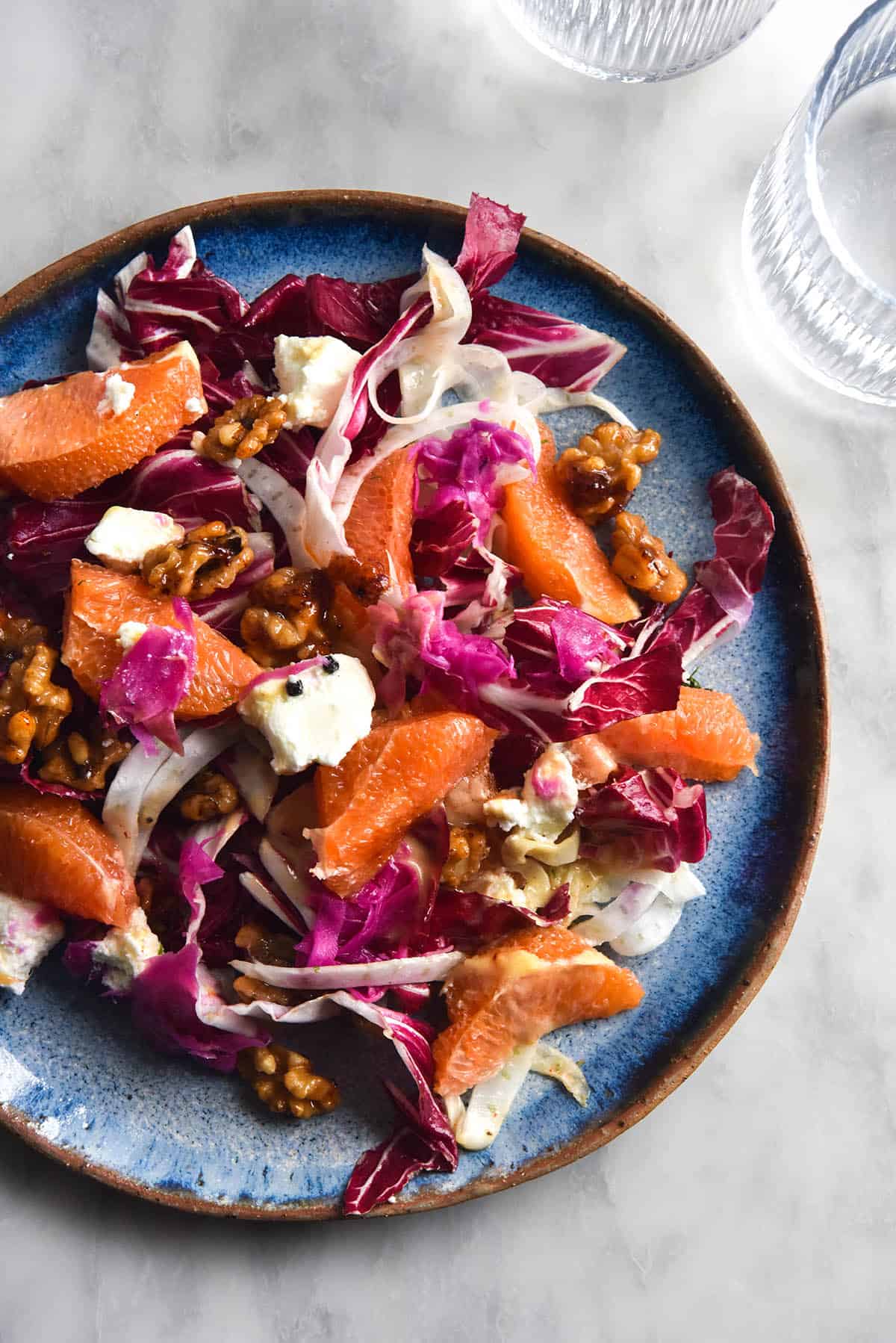 FODMAP notes for your radicchio orange salad
Radicchio is friendly in 75g (2 cup) servings per person
Fennel is friendly in 48g (1/2 cup) servings per person
Goat cheese is friendly in 40g (1 tablespoon) serves per person. I do recommend marinated Meredith Dairy, and it does technically contain garlic in the marination, but there as no full pieces in the oil (I never see any garlic). It works for me, but if it doesn't work for you, use the Meredith goat cheese that isn't marinated.
Walnuts are friendly in 30g (10 nut halve) servings per person.
More FODMAP friendly salad recipes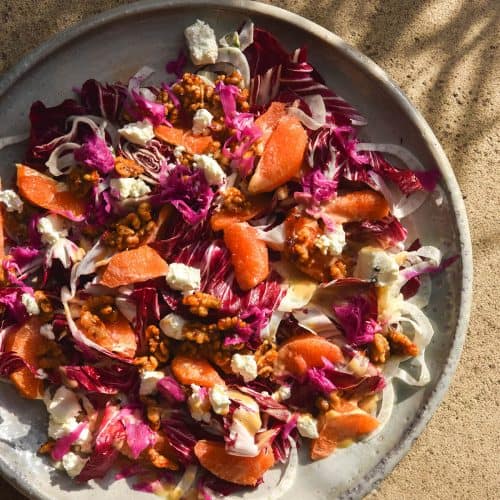 Radicchio orange salad with fennel, goats cheese and chilli maple walnuts
Ingredients
For the dressing
2

tablespoons

(40ml) olive oil (or oil from marinated goats cheese)

2

tablespoons

(40ml) red wine or sherry vinegar

1-2

tablespoons

dijon mustard

add to your tastes – I like it to be very mustardy

1-2

tablespoons

(20-40ml) maple syrup

add according to your taste and how much mustard you add

Seasoning, to taste
For the maple chilli walnuts
1/2

tablespoon

(10ml) olive oil

2

tablespoons

(40ml) maple syrup

chilli flakes, to taste (I used Korean for mild chilli flavour and vibrant colour)

seasoning, to taste

1/2 -3/4

cup

walnuts (see notes)
For the salad:
1

head

radicchio, washed and torn or chopped

2-3

large oranges

1/2

head

fennel, microplaned or finely sliced

I use the stems and greenery for colour as well as the bulb itself

Meredith Marinated goat's cheese, to taste

(see notes)

FODMAP friendly 'faux pickled onion', to taste

(optional, see notes)
Instructions
To make the dressing:
Add the ingredients to a small jar with a tight lid. Add mustard and maple syrup conservatively, and build up according to your tastes. Add the seasoning and shake to emulsify. Once you're happy with the flavour, set aside.
To make the chilli maple walnuts
Add the oil, maple syrup, chilli flakes and seasoning to a saucepan over a low-medium heat. Once the maple syrup is bubbling, add the walnuts and stir to combine and completely coat. Cook for 1-2 minutes or until the liquid is mostly thickened and attached to the walnuts. Transfer the walnuts onto baking paper (they candy as they cool, making them difficult to remove from the saucepan) and set aside.
To make the salad:
Add the radicchio and fennel to your serving platter. Dress them with the dressing, tasting as you go. Keep in mind that the dressing makes a generous amount and isn't necessarily to be totally used up. How much you need will depend on how big your radicchio is and your preferred level of dressing on a salad.

Once you're happy with how the salad is dressed, add the remaining ingredients. Marinated goats cheese doesn't love to be tossed, so don't mess around too much. If you feel it is necessary, you can add a bit more dressing on the oranges. Serve! Leftovers keep nicely for a day or two in an airtight container in the fridge.
Notes
Remember that the dressing makes more than you might need. Don't feel like you have to use it up – it keeps well in the fridge and jazzes up salads, roast vegetables, sandwiches – the lot.
Feel free to add as many walnuts as you like/can handle. I have no issues with walnuts, so I add the full 3/4 cup. If you do have issues, use less. You might also need to use less maple syrup to candy them, if you plan to use a significantly smaller amount
Similarly – use as much goats cheese as works for you. 
I love adding my FODMAP friendly faux pickled onions for a bit of extra flavour and colour. They are totally optional, of course, but a fun addition.