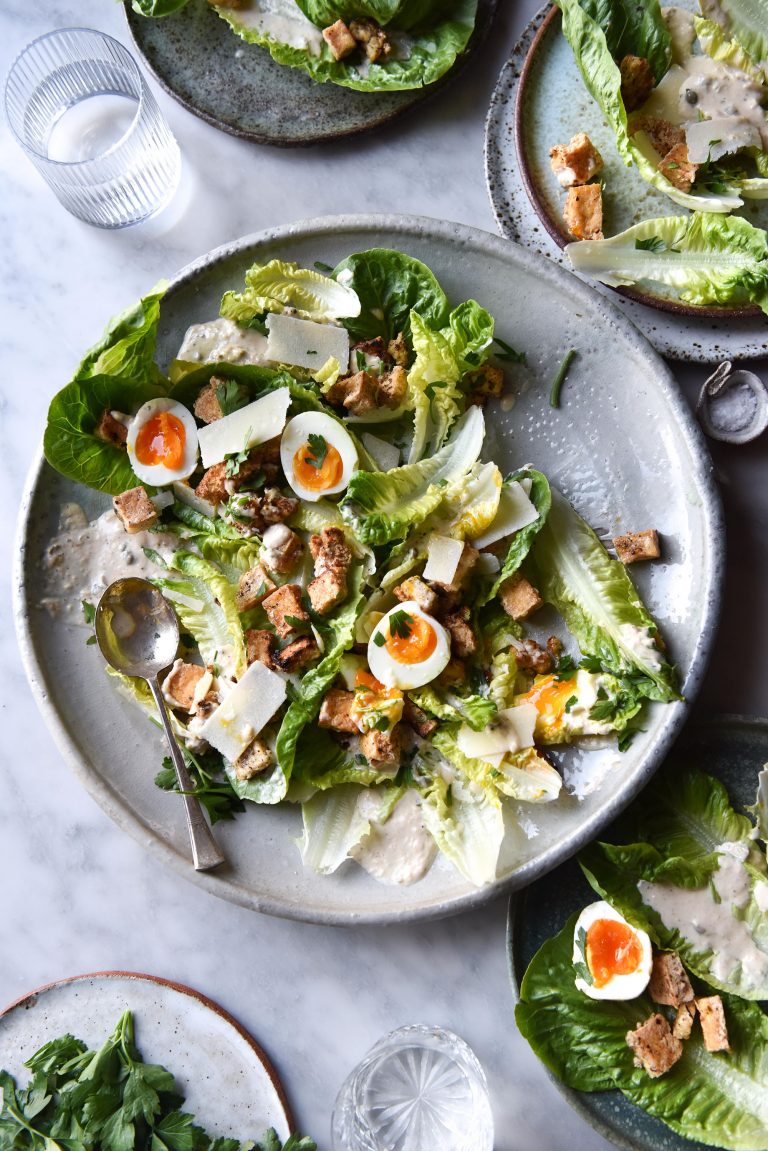 Of all the salads, I truly understand the fuss about caesar salad. That unctuous, tangy dressing? Those salty crunchy bits? Caesar salad is salad heaven! Naturally, due to my FODMAP constraints and vegetarian, I had to play around a little. So here we are with this vegetarian caesar salad.
Vegetarian Caesar salad (low FODMAP)
In order to make this vegetarian Caesar salad more of a weekday salad, I've used salt and pepper tofu cubes in place of the croutons. They're a little more filling, a little more protein based, and peak 'vegetarian messing with classics.' You've seen me do salt and pepper tofu before – namely in this salad, and this lengthy piece about creating the crispiest tofu possible. Today we'll be using a much less fussy technique, making this an easy weeknight salad.
That said, if you've got some spare and staling gluten free sourdough bread, you can absolutely make regular ol' croutons. I have in some of the photos here, along with the video below.. Just fry torn bread cubes in some olive oil, salt, pepper and lemon zest until golden.
So yeah, it's a vegetarian caesar salad that's gluten free, nut free, grain free (if you use tofu) and FODMAP friendly. See the notes below on how to make a vegan version, too.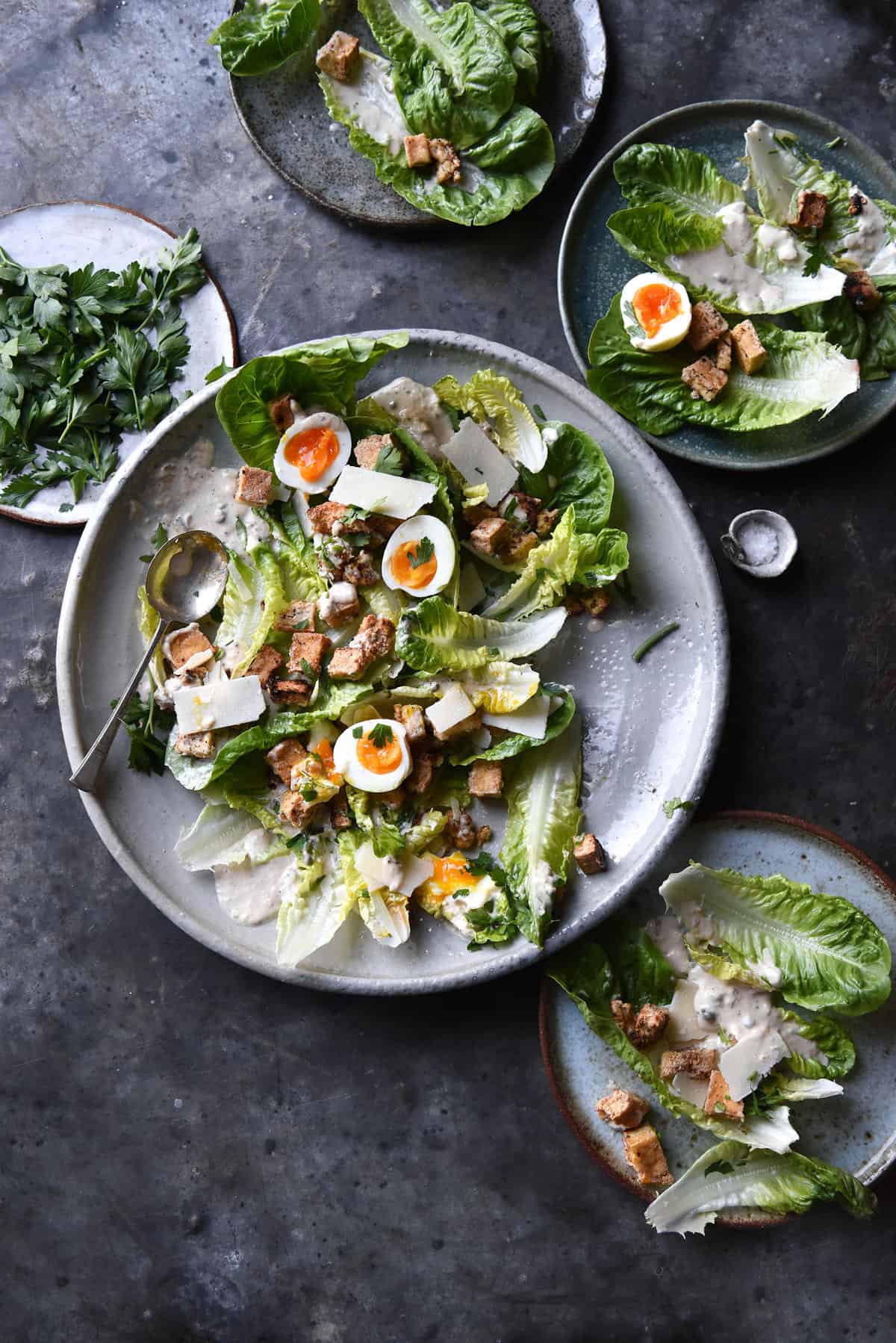 FODMAP notes for your vegetarian Caesar salad
Make sure the mayonnaise brand you choose doesn't contain any onion or garlic.
Some corn flours/starches are not gluten free – make sure yours is if it needs to be. You can also use potato starch.
The recipe contains 2 teaspoons of Worcestershire sauce, which has some higher FODMAP ingredients and isn't traditionally vegetarian nor FODMAP. I use Melrose brand in a pinch, which is vegetarian and contains only mild amounts of higher FODMAP ingredients. In this quantity it's no issue either way, but if you're concerned you can use my recipe for a homemade vegan and FODMAP version.
Is Caesar dressing gluten free?
Caesar dressing is often not gluten free because it contains Worcestershire sauce, which contains barley malt vinegar. This caesar salad recipe uses homemade dressing, ensuring it is gluten free. You can use my homemade gluten free worcestershire sauce recipe, or a gluten free brand like Melrose.
Is Caesar dressing dairy free?
Generally speaking, Caesar dressing is not dairy free. It contains parmesan and some packaged products might contain milk powder. I have a recipe for vegan/dairy free Caesar salad dressing here. It is also vegan and low FODMAP.
Recipe notes and substitutions
Using pre-made mayo is a nice shortcut for this recipe, one that I love. Personally, I actually really enjoy vegan mayonnaise – specifically, Vegenaise brand. I'm obsessed. You can use whichever variety you like (vegan or not) but check the ingredients for any unfriendly ingredients.
If you can, make the dressing ahead of time. It allows all the flavours to meld so nicely. Not compulsory, however, if you're short on time.
People who prefer a thinner dressing that evenly coats the leaves can add some extra liquid and thin it to their taste.
Yes, vegetarian parmesan exists, even though it isn't supposed to. Look for a brand with non animal rennet to keep this strictly vegetarian.
I really like this salad with radicchio or Tuscan kale as well as lettuce – you can mix it up. As far as the lettuce version goes – the more greens the merrier.
Choose a firm tofu for the salt and pepper tofu bits. You can freeze and defrost if you like, but using a block straight from the fridge is fine too. Just make sure you drain it first.
You can use regular croutons, if you prefer. I'm really enjoying using either this tofu or salty roasted potatoes, but you do you.
Another little protein hit I like to add? The smoky chickpeas from this kale salad. They're canned to keep the FODMAP content lower, and spread across 4-5 serves of salad.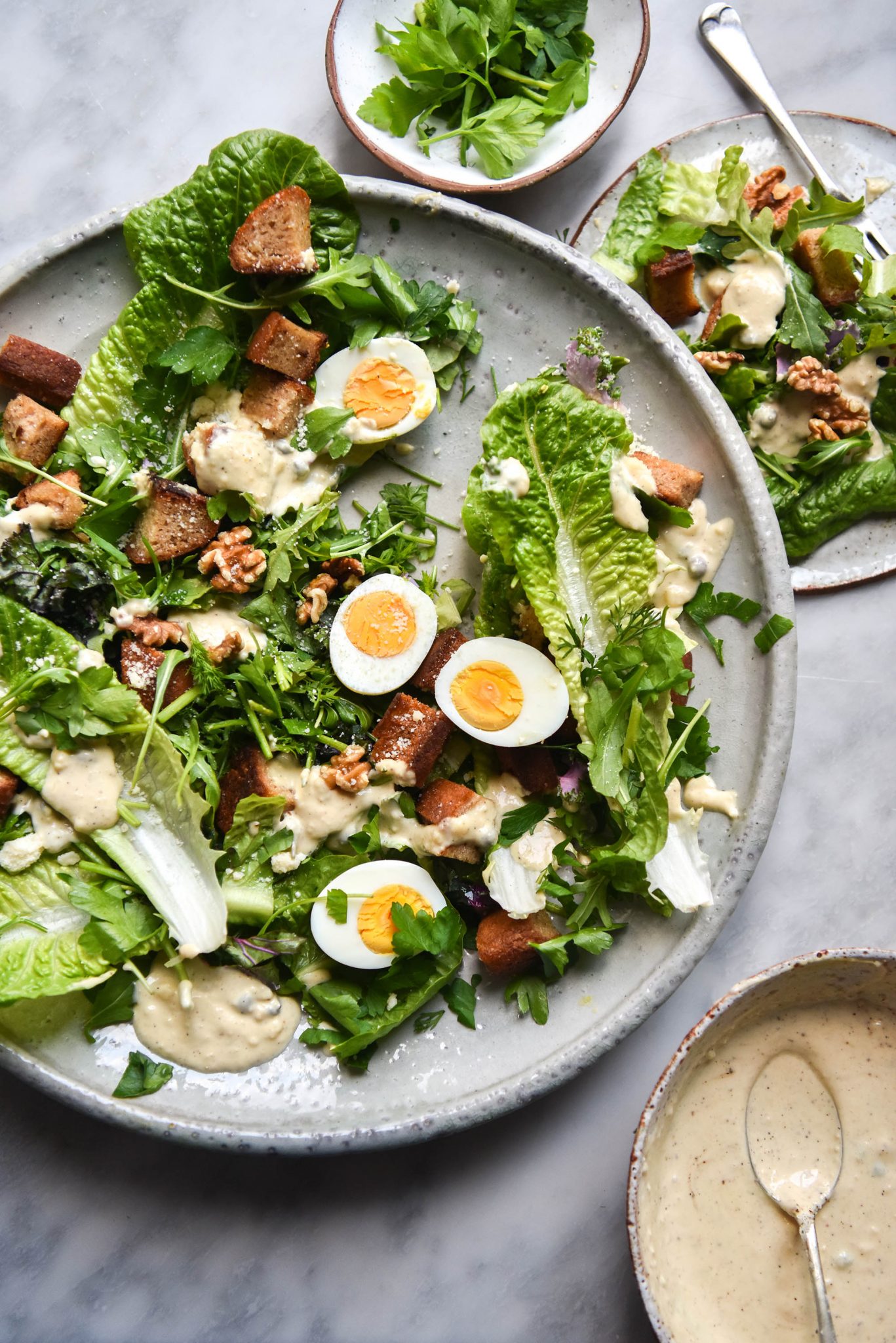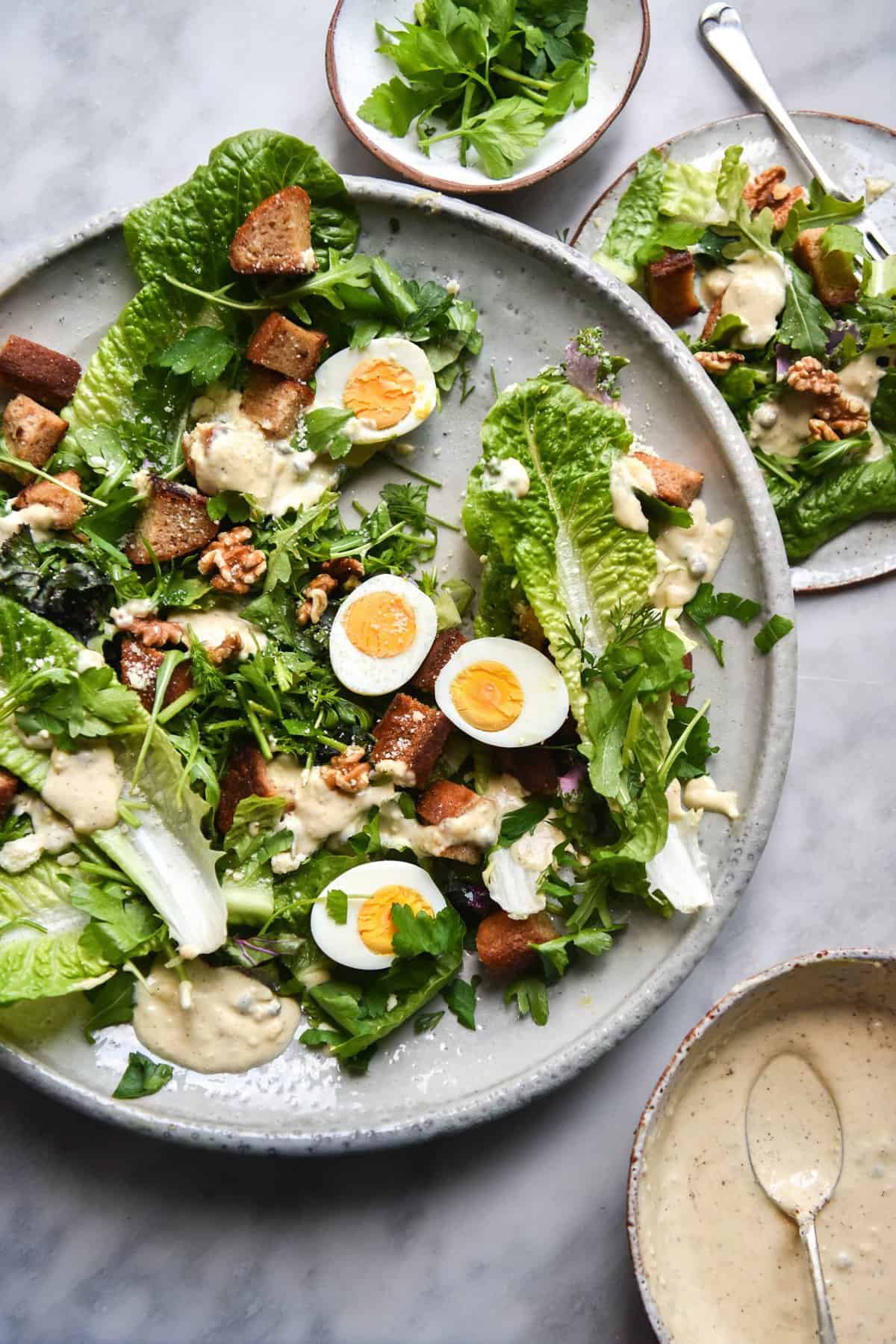 Handy Caesar salad links
To make a vegan, FODMAP friendly Caesar salad
Omit the eggs and Parmesan. Obviously.
See my recipe for vegan and FODMAP friendly Caesar salad dressing right here.
Proceed as usual.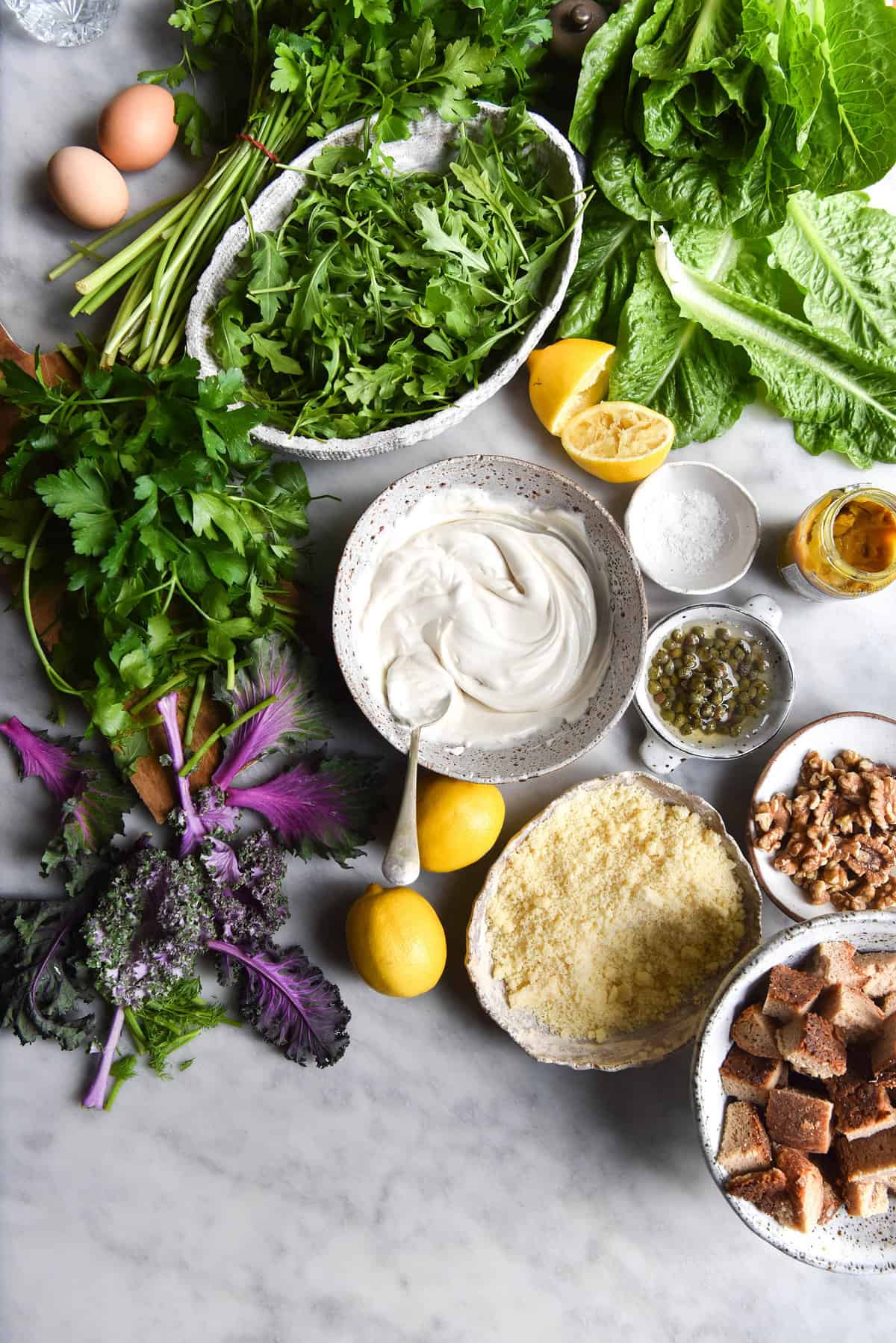 More low FODMAP vegetarian salad recipes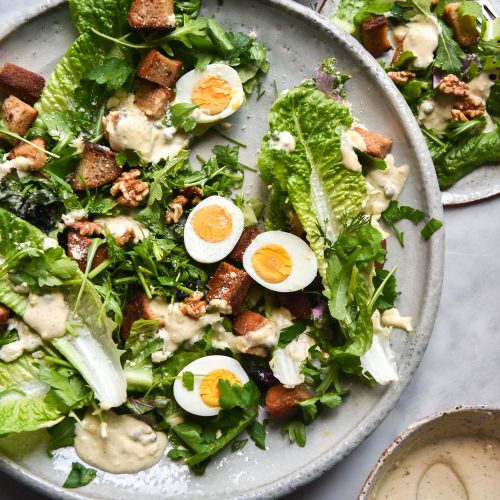 Vegetarian Caesar salad with salt and pepper tofu 'croutons'
FODMAP friendly Gluten free, grain free, vegan adaptable, nut free
Ingredients
For the dressing:
1

cup

mayonnaise

I use vegan because I prefer it

50

g

freshly and finely grated vegetarian parmesan

yes, it's a thing plus extra to finish

1 1/2

– 2 tablespoons lemon juice

1

teaspoon

dijon mustard

2

teaspoons

Worcestershire sauce

see notes

2

teaspoons

finely chopped capers

1

teaspoon

caper brine

lots and lots of freshly cracked pepper
For the salad and pepper tofu:
450-500

g

firm tofu

whatever size pack you have is fine, may as well use it all drained and gently squeezed to remove excess liquid

2

tablespoons

gluten free cornflour or potato starch

1/2

teaspoon

fine salt

Lots of freshly cracked pepper
To finish the salad:
1

soft boiled egg per person

2

large heads of cos lettuce or 1 head of radicchio

Handful of rocket/arugula

(optional)

Finely chopped continental parsley

optional

Fresh gratings of extra parmesan
Instructions
TO MAKE THE DRESSING:
Mix all the ingredients for the dressing together and set aside. Taste and adjust for seasoning (the more freshly cracked pepper, the better.) Use some plant based milk to thin it out to your taste.
TO MAKE THE SALT AND PEPPER TOFU:
In a large bowl, combine the cornflour, salt and pepper. Into the bowl, tear the tofu into bite sized crouton style chunks. Tearing it as opposed to cutting it gives it nice craggy edges that become crispy. You can do half torn and half cut if you prefer. Toss with your hands to thoroughly coat.

Heat a large heavy bottomed pan or skillet with some plain flavoured oil over a medium- high heat(vegetable, canola or peanut are good, except peanut adds nuts to the mix.)

Once the pan is hot, add the tofu in batches, cooking on all sides and until golden brown. Remove from the pan onto a plate once cooked and repeat until all the tofu is done.

Depending on the brand you've chosen, you might have some crumbly tofu bits leftover. Cook them at the end – they add delicious little chunks of crunchiness.
TO ASSEMBLE THE SALAD:
Arrange all the greens on a plate and top with the tofu croutons, any herbs you're using and the dressing. You can toss to coat, if that's your thing. Finish with the soft boiled eggs, sliced in half, some extra slices of Parmesan, extra herbs (optional) a crack of fresh black pepper and some sea salt flakes. Keeps well in the fridge for a few days.