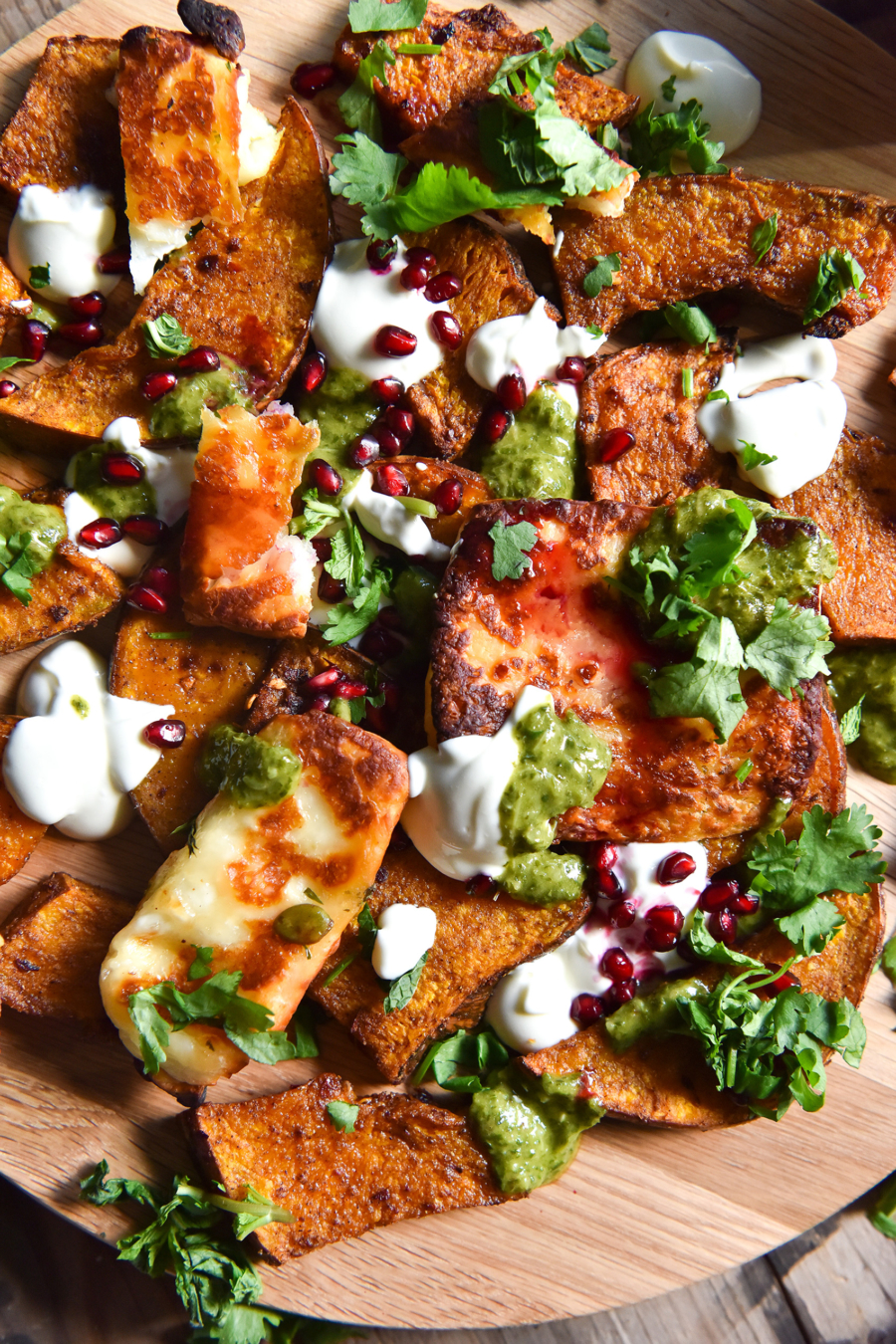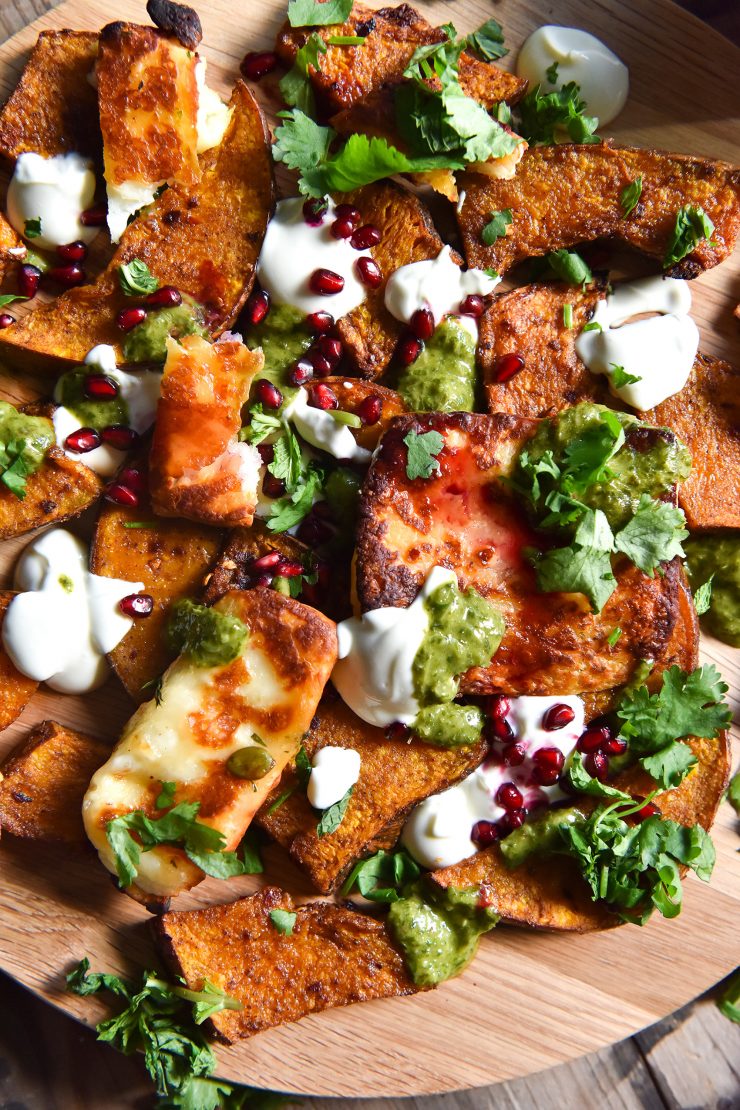 While I had every intention of creating this dish as an autumnal recipe, Melbourne seems to have skipped a season and gone straight into winter. Luckily for me, spice roasted pumpkin haloumi salad transcends seasonal boundaries, and most other things, really.
This dish is inherently gluten free, vegetarian, and free of onion and garlic. These labels only matter if you or your guests need them to, of course, otherwise it's just a delicious, warming meal, as visually appealing and abundant in halloumi as it is delicious.
I originally created this recipe for Country Road homewares. I enjoyed it so much, however, that I had to share it here.
PUMPKIN HALOUMI SALAD + FODMAPS
If you're catering to FODMAP friendly vegans, I have a recipe for a roasted pumpkin salad with FODMAP friendly hummus and pine nut mint sauce. Alternatively, If you're feeling an autumnal sweet tooth coming on, might I suggest the spiced pumpkin loaf with chocolate chai buttercream? 
A few tips and tricks to make this pumpkin haloumi salad as FODMAP friendly as can be:
Use Kent or Japanese pumpkin. They are lower in FODMAPs than the Butternut variety.
Haloumi is FODMAP friendly in servings of 2 slices per person. This recipe uses a packet, so the FODMAP content of haloumi isn't an issue unless you hog all of it.
Make sure you find a traditionally made Greek Yoghurt. It is lower in FODMAPs than 'Greek Style.' Alternatively, you could use a coconut yoghurt, but make sure it doesn't contain too many fillers or gums.
To make this pumpkin haloumi salad vegan, you could use a vegan haloumi and coconut yoghurt. Check the labels of the vegan haloumi though, as they are all made a little bit differently.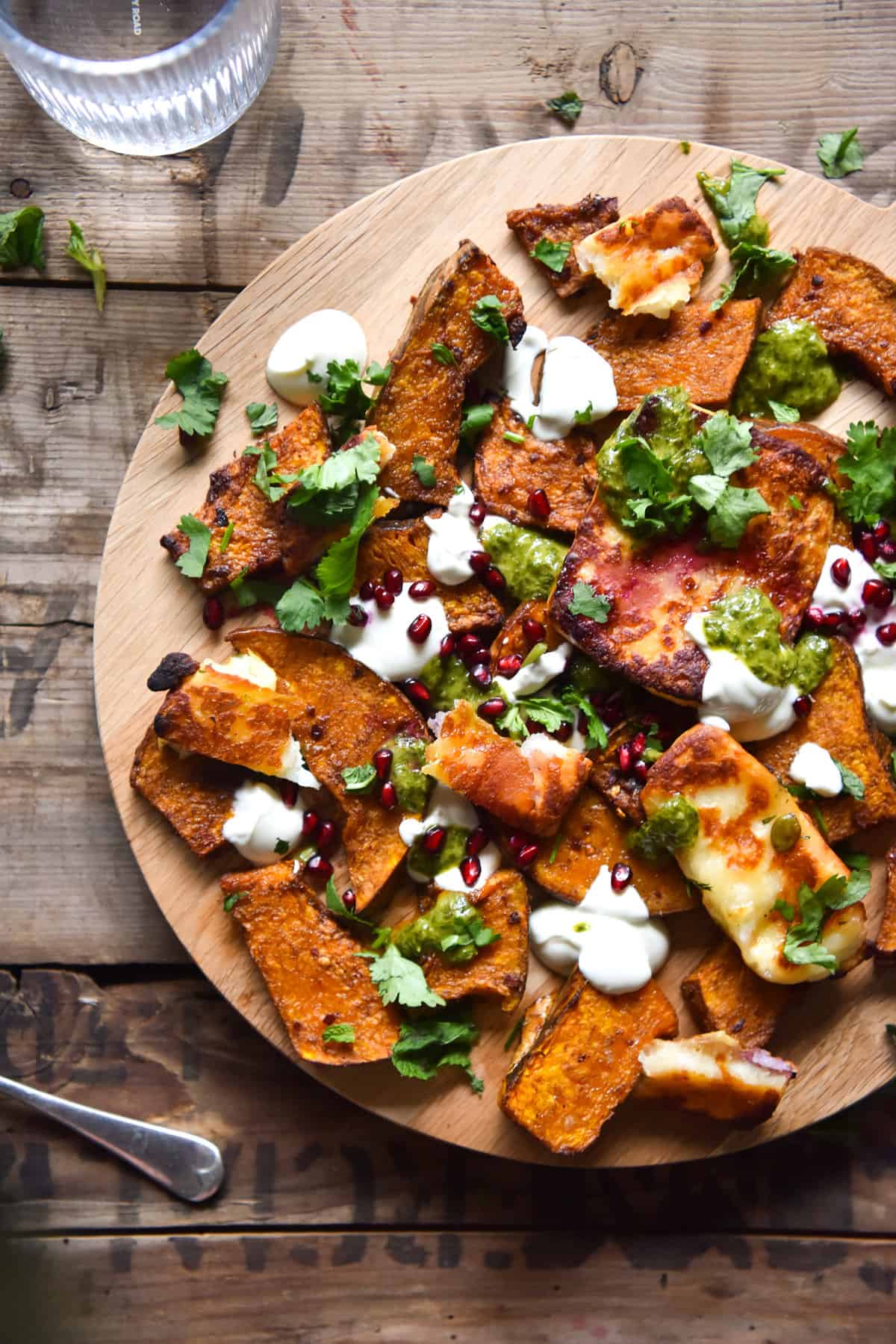 Spice roasted Pumpkin with preserved lemon herb sauce, pomegranate and haloumi
Gluten free, grain free, vegetarian
Ingredients
For the pumpkin:
Roughly 750g Kent pumpkin

skin on or off, according to your preference

2-3

tablespoons

olive oil

1

teaspoon

of each: cinnamon

ground cumin, garam masala, sea salt and brown sugar

1

piece

of preserved lemon

finely chopped (optional)

Dried chilli flakes

to your taste
For the preserved lemon and herb sauce (you will likely have some leftover):
1

large bunch of mint

reserve a few leaves for garnish

1

large bunch of coriander

or a large handful of greens like rocket for a more economical option

30

g

around 2 small pieces preserved lemon

Juice of 1 lemon or lime

rind reserved

1/2

cup

good quality olive oil

Pinch

of sea salt
To assemble:
1

packet of halloumi

in Australia, packets vary in size, but any amount will work

1/4-1/2

a pomegranate

arils removed

4-5

tablespoons

Greek yoghurt
Instructions
Method:
Preheat the oven to 180 degrees Celsius and line a baking tray. Chop the pumpkin to your liking – pieces slightly larger than bite size are ideal. Remove the skin if you intend to do so – I like to keep it on.

In a large mixing bowl, whisk together the oil with all the spices for the pumpkin, and add the preserved lemon, if you're using it. Add the pumpkin to the bowl, and use your hands to make sure the pumpkin is evenly coated in oil and spices.

Lay the pumpkin evenly on the baking tray, ensuring to leave space between the pieces. Failure to do so will result in soggy pumpkin.

Place the pumpkin into the oven for at least half an hour – this may be slightly shorter or longer, depending on how thick your pieces are.

Put all the ingredients for preserved lemon and herb oil into your food processor, and blitz until a smooth, green sauce forms. Decant from the blender and into a bowl, ready to drizzle.

Once the half hour is up or the pumpkin is soft, turn the grill on, and leave it for a couple of minutes to develop a bit of crunch.

While the pumpkin is under the grill, heat a nonstick saucepan to a high heat, and grease it with a tiny bit of oil. Slice your haloumi into whatever size you desire, and then place it onto the hot pan. It should sizzle upon contact. Cook the haloumi slices for a minute or so each side – enough to make them melty and develop a golden brown colour, but not enough to burn them. Immediately remove from the heat.

To assemble, lay the warm pumpkin on the serving platter, followed by the haloumi. Dot the Greek yoghurt and preserved lemon herb sauce on top, and finish with the pomegranate arils, any herbs leftover for garnish, and a zesting of microplaned lemon rind. You could also add a drizzle of balsamic vinegar or olive oil. Serve immediately.