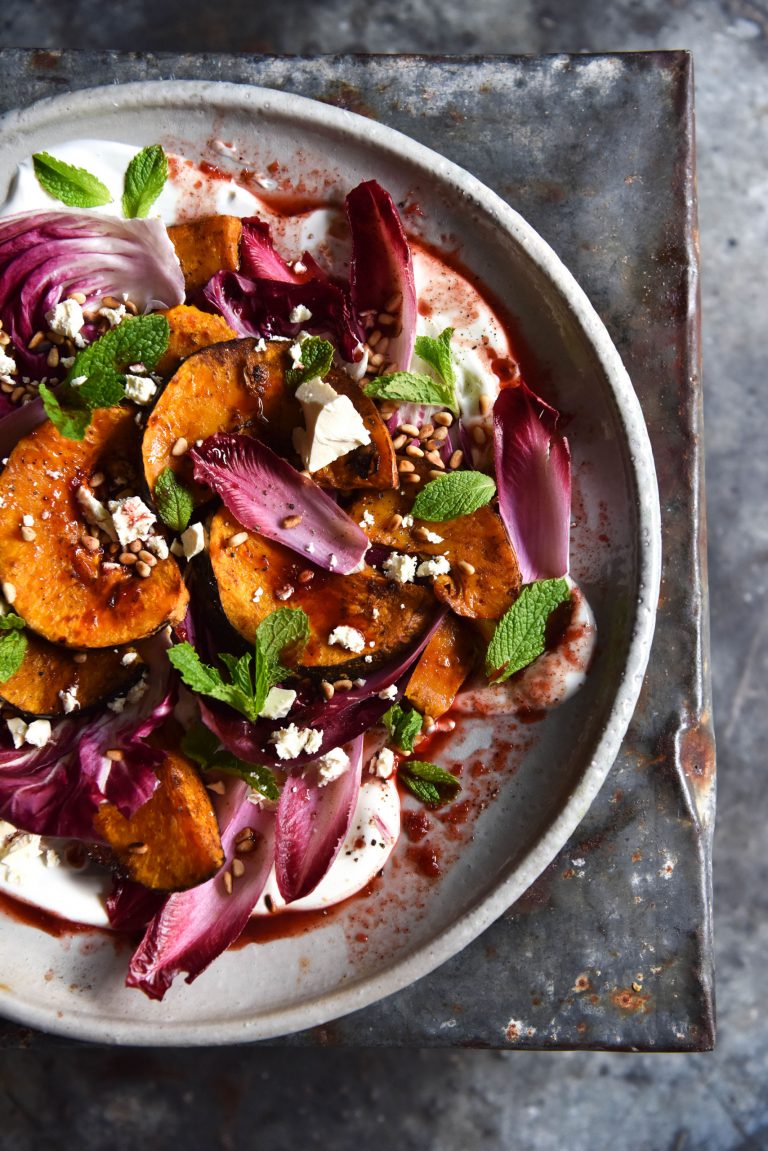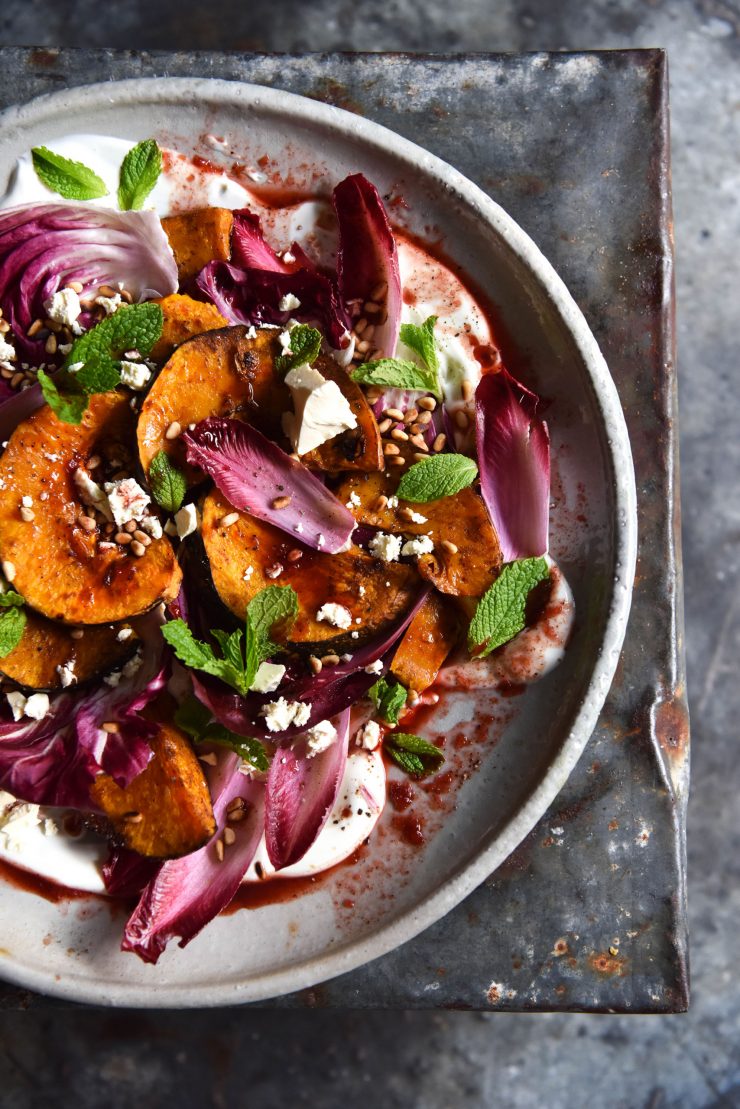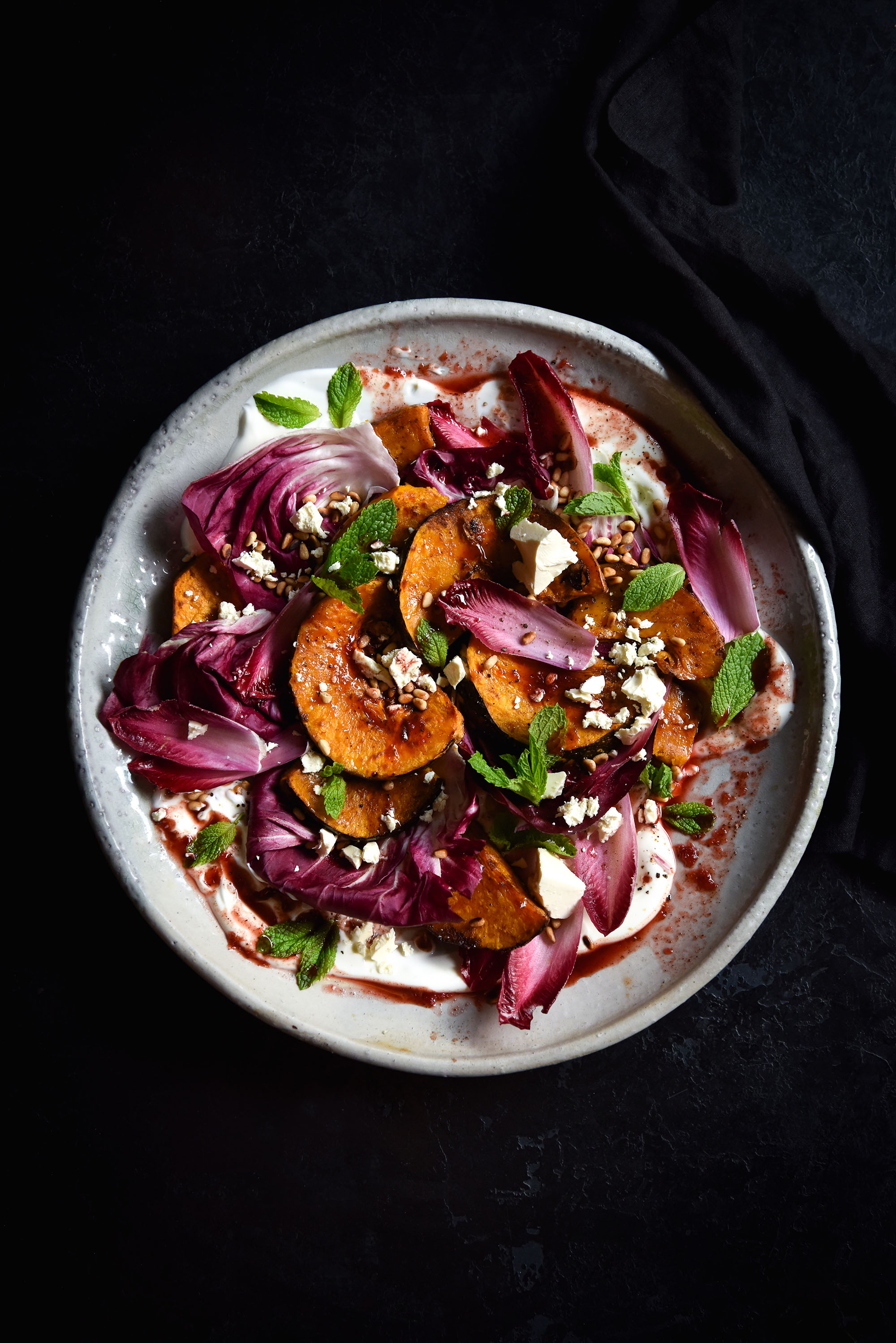 For me, Christmas isn't Christmas with heavy handed use of cinnamon, nutmeg and clove. The spice trio. The ultimate. My substitute for a human partner during the festive season.
Really though, these spices are quintessential festive season. They're in gingerbread (and conveniently, my vegan gingerbread recipe.) They are in mulled wine. Does anything else exist in December? The likelihood is that they're in 90% of my FODMAP friendly Christmas ideas, although I definitely have not checked.
With that in mind, I've created this spiced pumpkin salad with my favourite ingredients. Not only is it festive to look at, not only is the pumpkin spiced, but so too is the dressing! It's a Christmas miracle! Coupled with all that festivity is the fact that the salad is gluten free, grain free, FODMAP friendly and vegan adaptable. No onion or garlic, no strict demand for the nut topping, nothing for your family to complain about on Christmas day.
SPICED PUMPKIN SALAD AND FODMAP STUFF
As per always, I recommend using Kent or Japanese pumpkin as opposed to butternut. FODMAP friendlier, so you can load up on the FODMAPs later.
I used a lactose free yoghurt for this recipe. Depending on your dietaries, you can use anything from regular Greek yoghurt to plain coconut yoghurt.
Nuts are entirely optional. I have used pepitas before (not a nut at all) mainly because I need to use them up and I thought the green would look nice.
The dressing is made with citrus juice, sugar and spices. Nothing to lose, everything to gain.
RECIPE NOTES
To make the salad vegan, simply use a vegan yoghurt and a vegan feta.
You can substitute lightly toasted pepitas for the pine nuts to make this salad nut free.
If you'd prefer, you can omit one or the other of the yoghurt or feta. I like both together, but some people prefer not to double up on dairy. On the note of dairy, I used a lactose free yoghurt here, and I've noticed that Dodoni have started selling lactose free feta if you're into that.
You could probably use brown sugar or maple syrup in the dressing if you'd prefer. I haven't tried it, but I really can't see why not.
SPICED PUMPKIN SALAD WITH RADICCHIO, PINE NUTS, MINT, FETA AND A CHRISTMAS DRESSING
Gluten free, FODMAP friendly, adaptable to be nut free and/or vegan (see notes)
Ingredients
For the maple spiced pumpkin:
750

g

pumpkin (Kent or Japanese for lower FODMAP options)

1

tablespoon

olive oil

1

teaspoon

ground cinnamon

1/2

teaspoon

ground nutmeg

1/2

teaspoon

fine salt
For the Christmas dressing:
3

tablespoons

fresh lemon juice

3

tablespoons

fresh orange juice

3

tablespoons

caster sugar

1/4

teaspoon

ground nutmeg

1/4

teaspoon

ground cinnampm

1/4

teaspoon

ground clove
To assemble the salad:
1

head of radicchio

leaves pulled off

1

head of witlof

only if you can find it

Plain, Greek or coconut yoghurt (see notes)

for the base of the serving platter

Feta

for crumbling on the salad (I used Danish)

Handful of pine nuts

toasted

Handful of mint

chopped or whole
Instructions
To make the pumpkin:
Preheat the oven to 180 degrees Celsius or 356 degrees Fahrenheit. Line a large baking tray.

Cut the pumpkin into a size and shape of your choosing, noting that cooking times will vary depending on this. Place the pieces in a large bowl and coat with the olive oil, maple syrup, spices and salt. Use your hands to evenly coat.

Distribute the pumpkin evenly on the tray, and place in the oven for 30 minutes, or until it is completely cooked through. I like to pop the grill on after the pumpkin is cooked to get some crispy bits. Once cooked and browned to your liking, remove from the oven.
To make the Christmas dressing:
Place all the ingredients in a small saucepan and cook over a low heat until a syrup forms. Set aside.
To assemble:
Layer the yoghurt on the bottom of your serving platter, followed by the radicchio, pumpkin, mint, pine nuts and fetta. Finish with the Christmas dressing and a sprinkle of sea salt flakes and freshly cracked pepper. The salad can be served hot or cold, but I recommend assembling it immediately prior to serving. You could cook the pumpkin the night before if you need to maximise oven real estate.