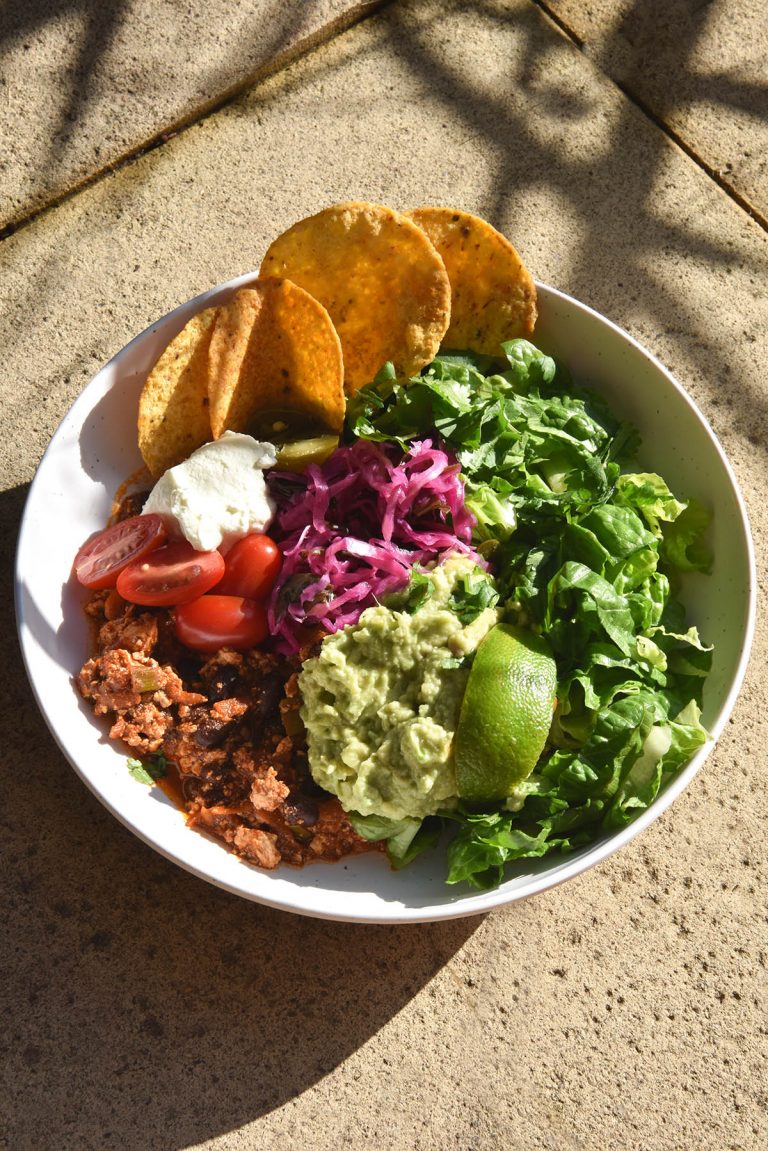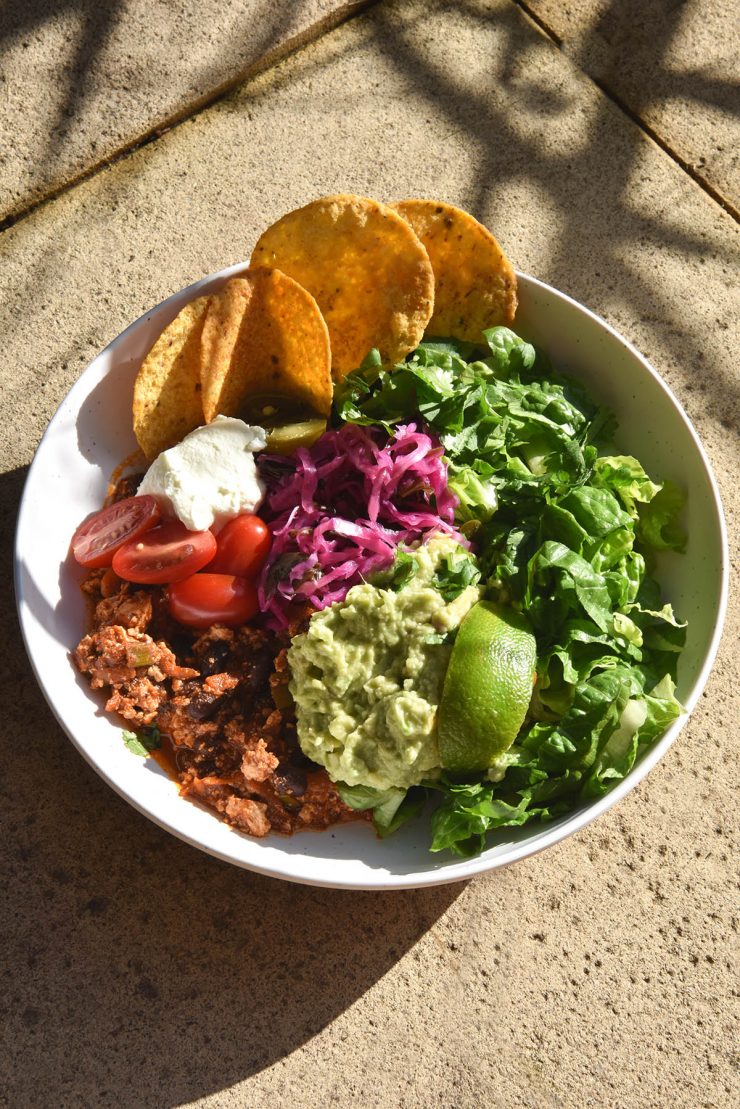 It can be hard enough to figure out what to have for lunch without adding dietary requirements into the mix. To give you a bit of help, I've decided to post this roundup of low FODMAP lunch recipes. These are some of my favourite low FODMAP and gluten free recipes on my site, and they just so happen to be perfect for lunches.
Low FODMAP lunch recipes
These low FODMAP lunch recipes are all gluten free and vegetarian or vegan. Where possible, I always try to give egg free, nut free and xanthan gum free options as well.
We've got all lunch bases covered: from gluten free sandwich bread to soup, chilli noodles to gluten free samosas. There is something for everyone, vegetarian or not.
More low FODMAP recipes
Low FODMAP lunch recipes
Gluten free bagels
These gluten free bagels are one of my favourite recipes to date. They're xanthan gum free, nut free and have a vegan option (omit the egg wash). Bagels make a delicious and filling lunch, particularly when paired with some lactose free cream cheese and my low FODMAP vegan lox.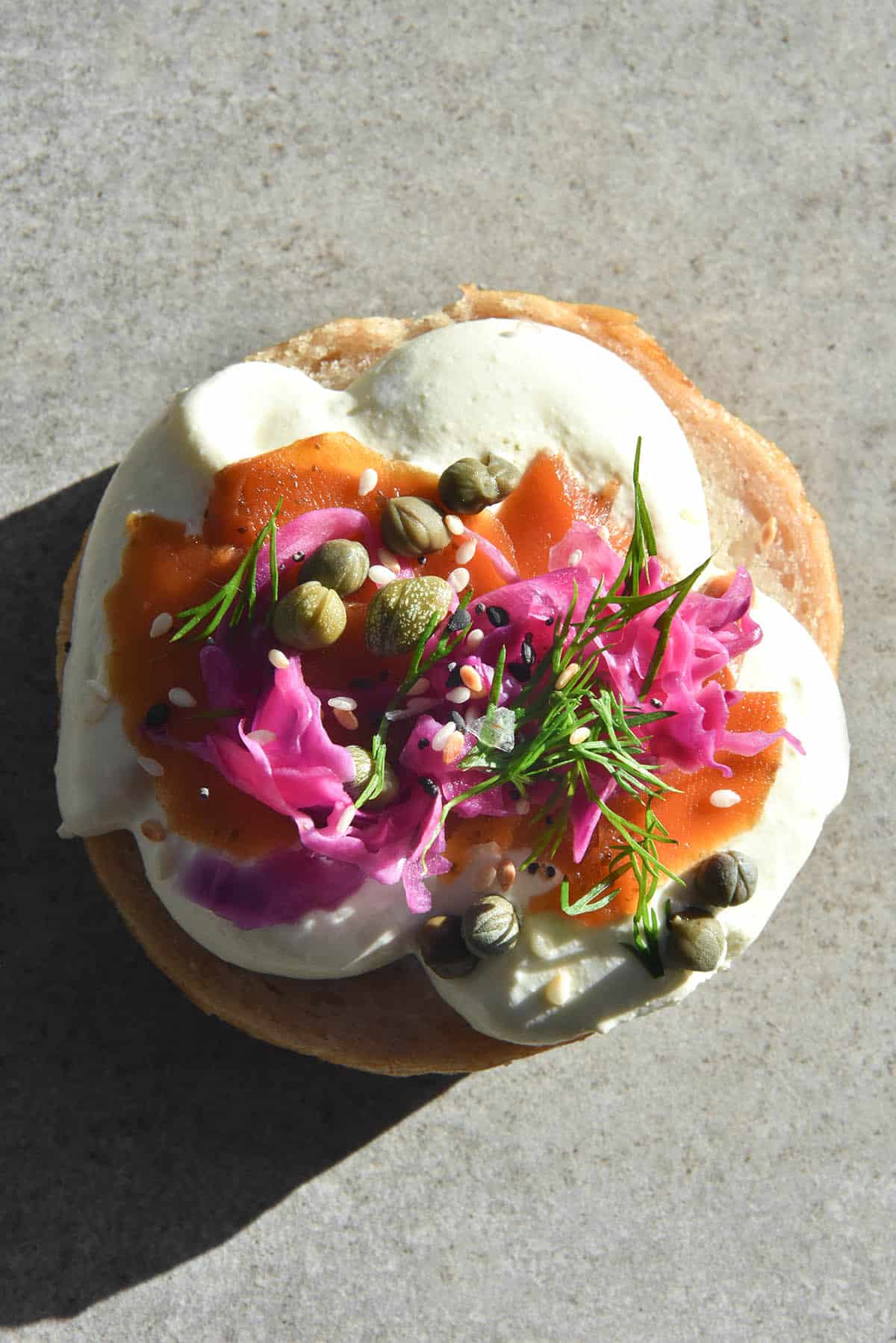 Low FODMAP bread roundup
It seemed easier to include a link to this roundup as opposed to all the low FODMAP breads individually. My personal favourites? The gluten free buckwheat bread and the gluten free sourdough bread.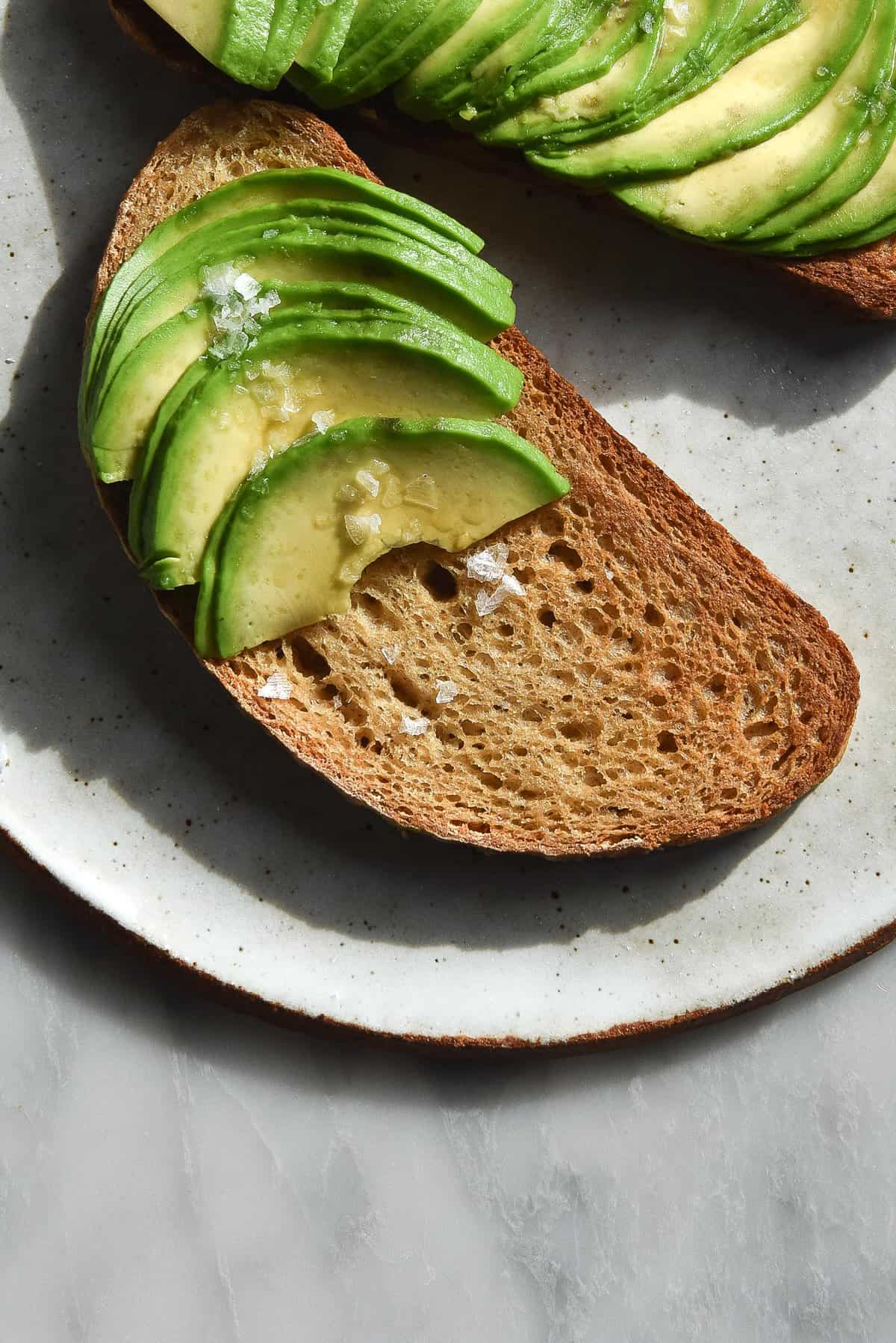 Gluten free spanakopita tart
This tart takes all of the delicious spanakopita flavours and turns them into a gluten free tart. I used yoghurt in the pastry for an easy and high protein tart from scratch.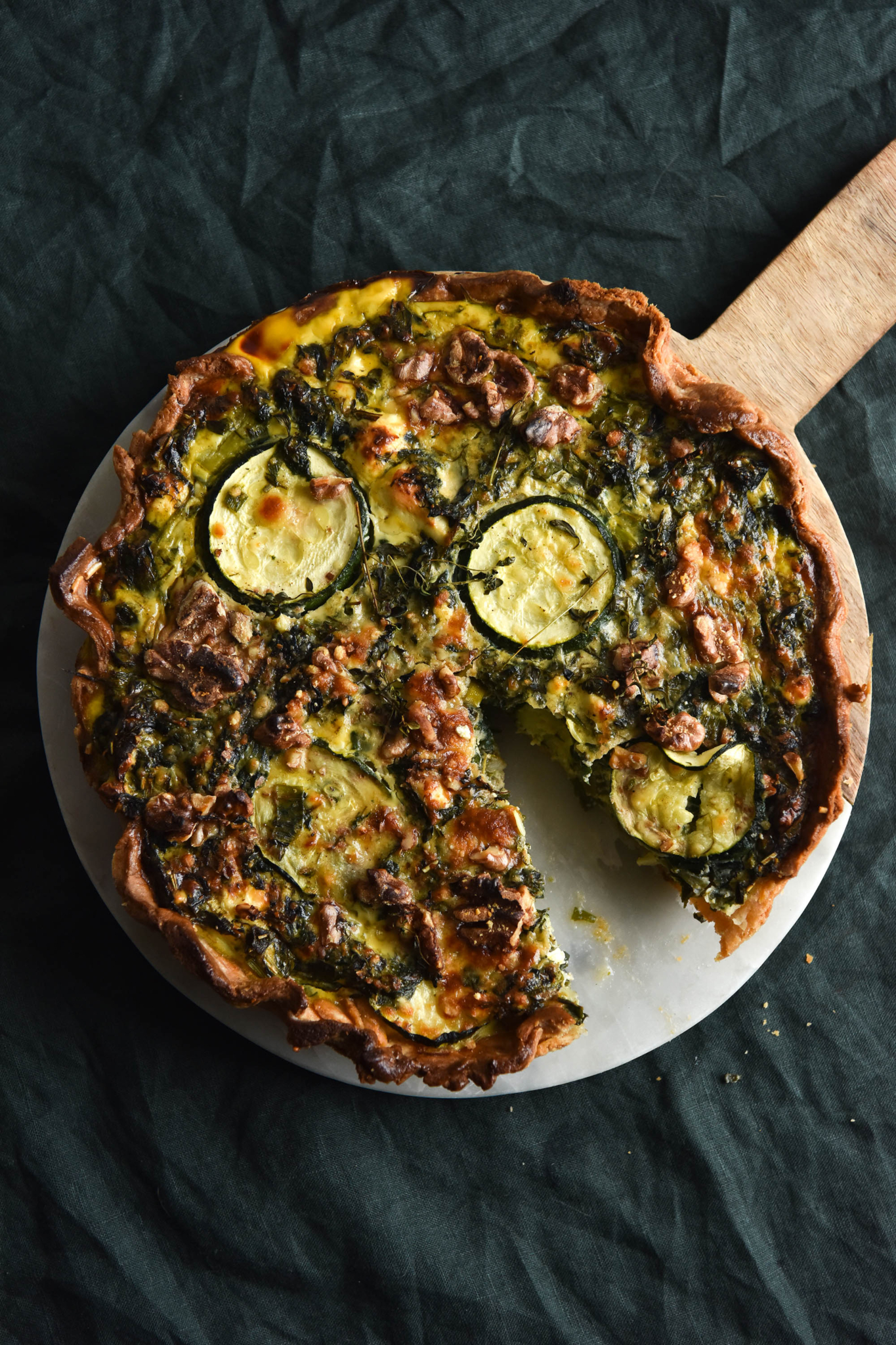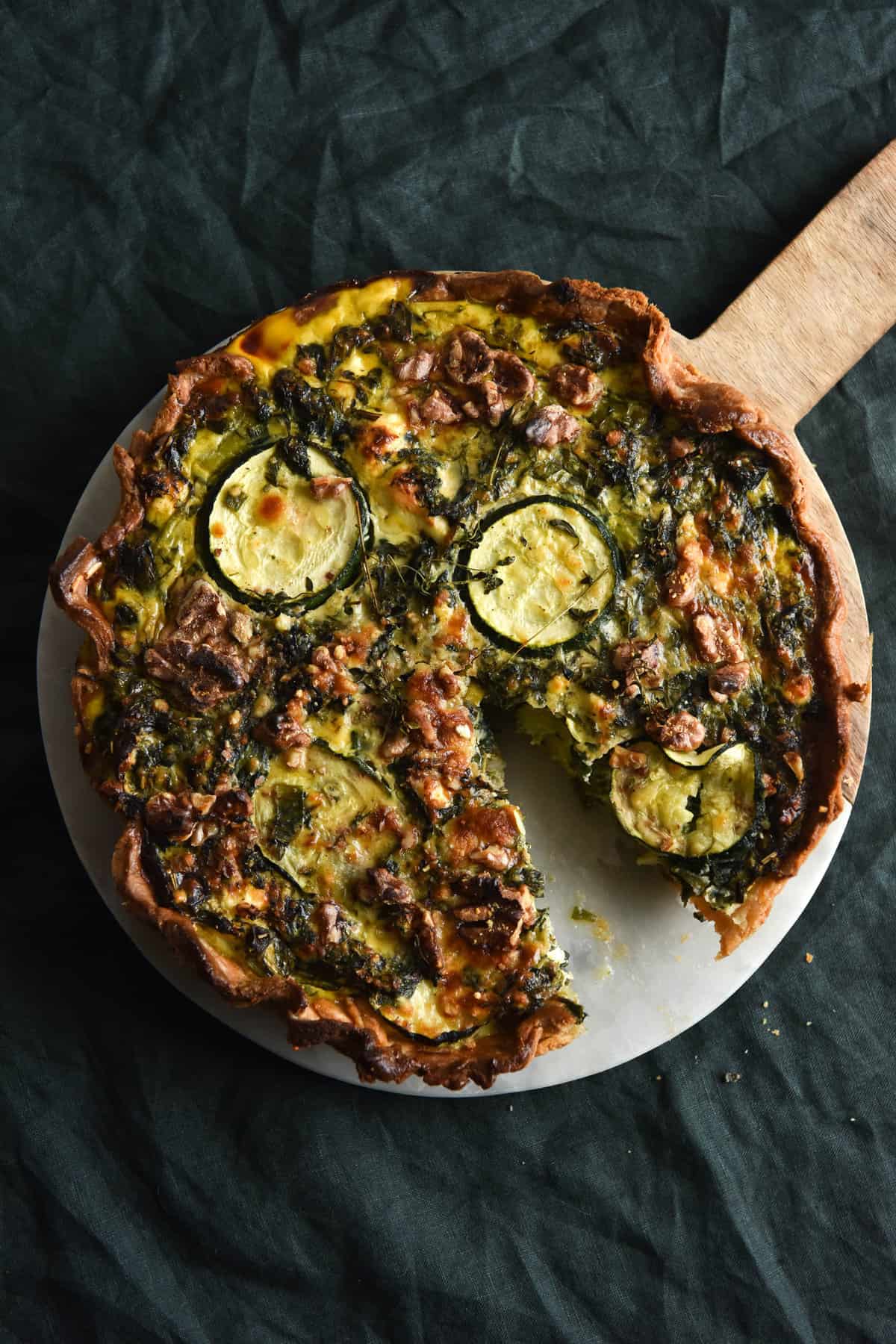 Kale, quinoa and roasted pumpkin salad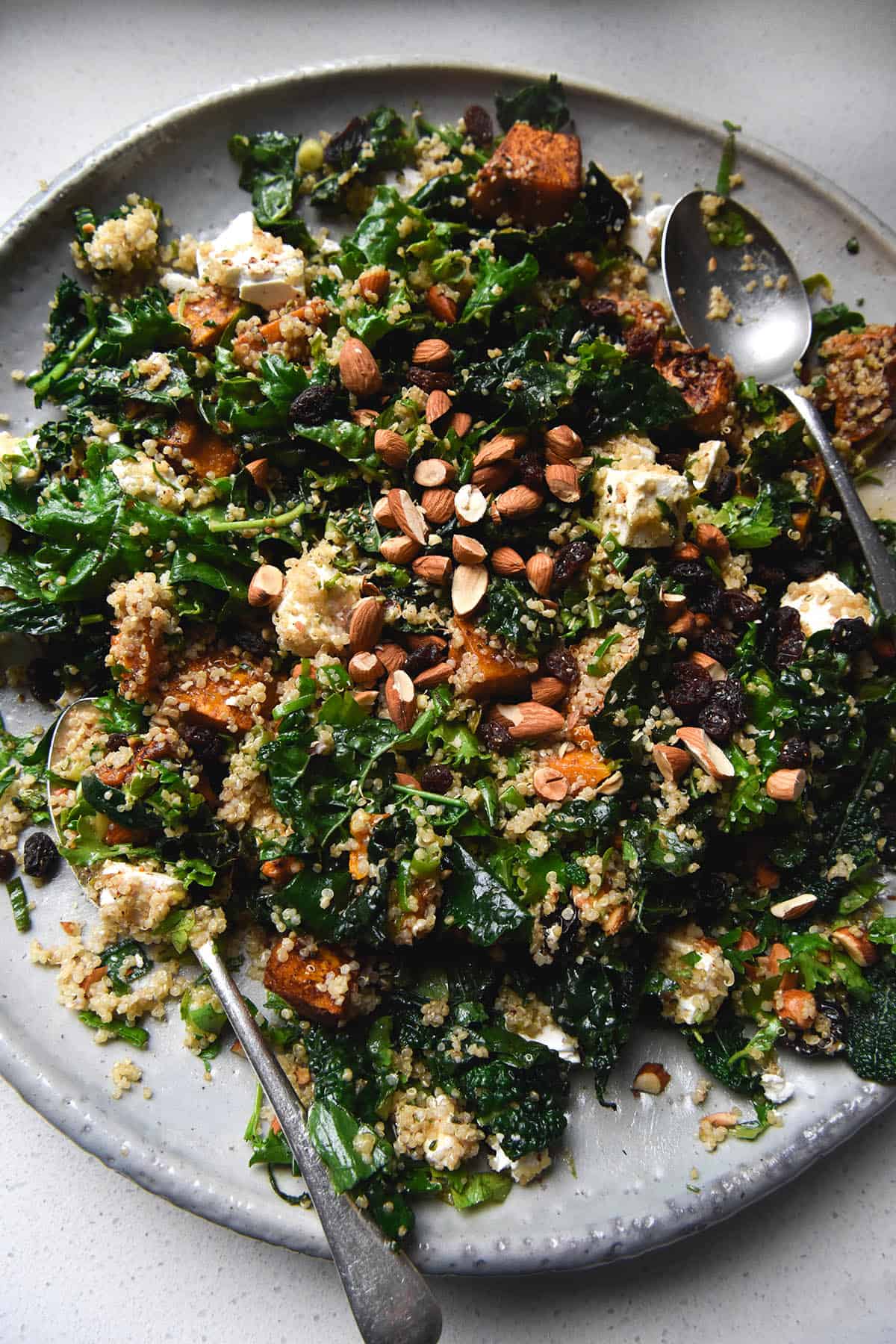 100% buckwheat bread
This 100% buckwheat bread is a recipe from my buckwheat flour e-book. It uses buckwheat flour and Greek yoghurt (or a vegan version) for a soft and fluffy bread. Because of the yoghurt, the bread has a bit of a protein boost, too, which is always helpful for lunch.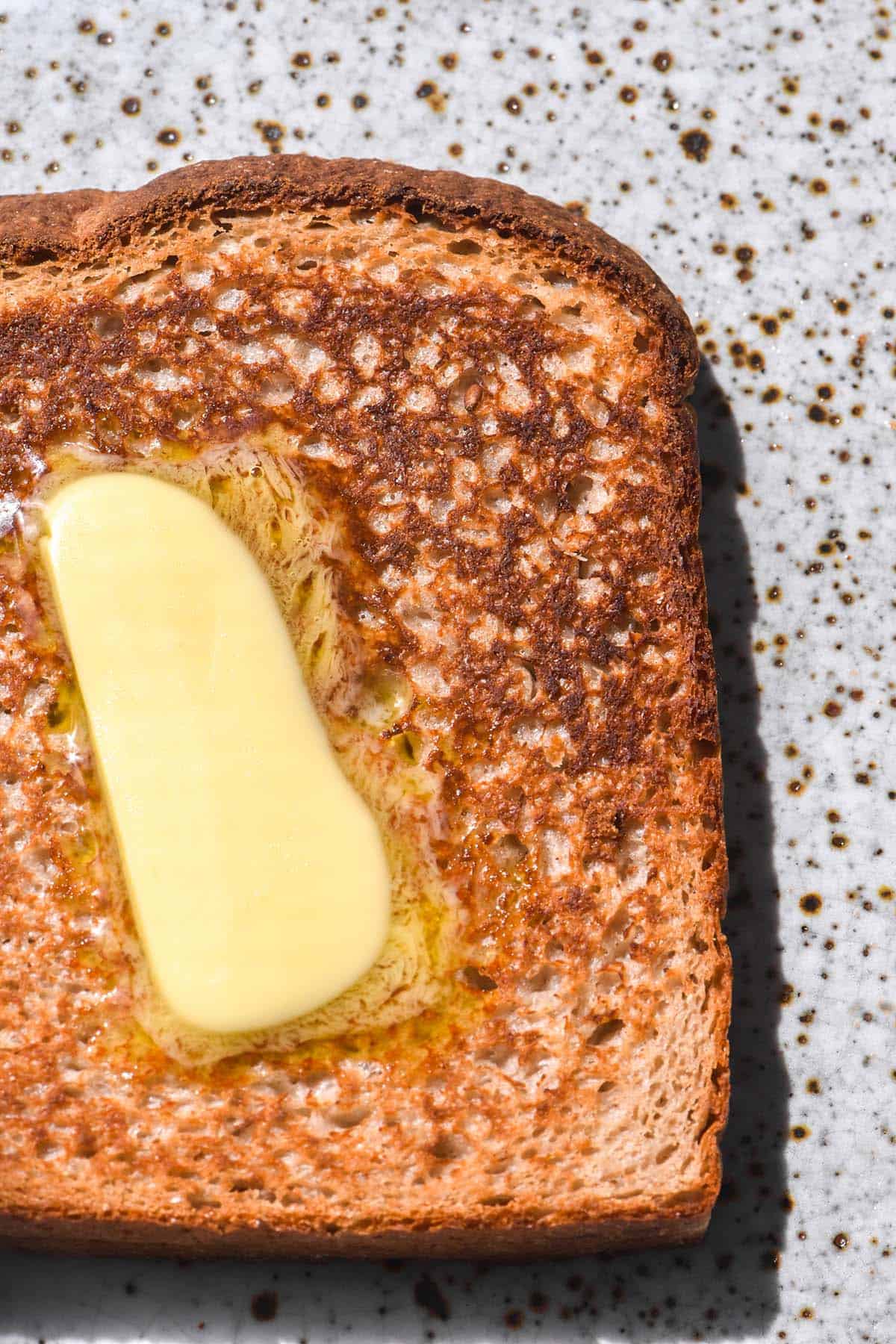 Gluten free samosas
These gluten free samosas are a recipe from my cookbook, Intolerance Friendly Kitchen. They use a low FODMAP potato and pea filling and a xanthan gum free pastry. They can be baked or fried, too.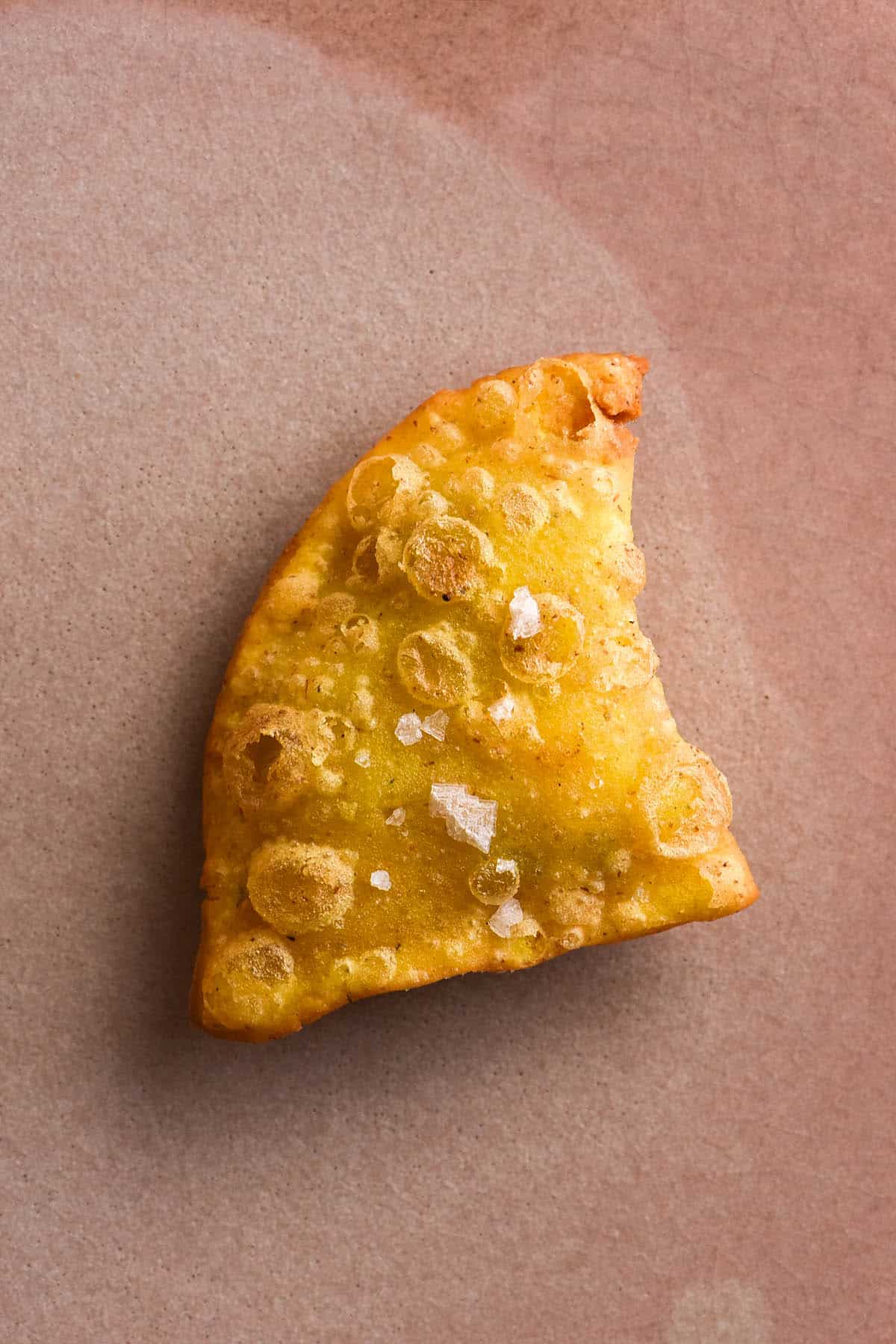 Gluten free corn fritters
Did you know that canned corn has a low FODMAP threshold? I didn't, but I'm here for it. These fritters use buckwheat flour (or cassava flour for a grain free option) and an egg for binding. They're quick and easy but still full of flavour.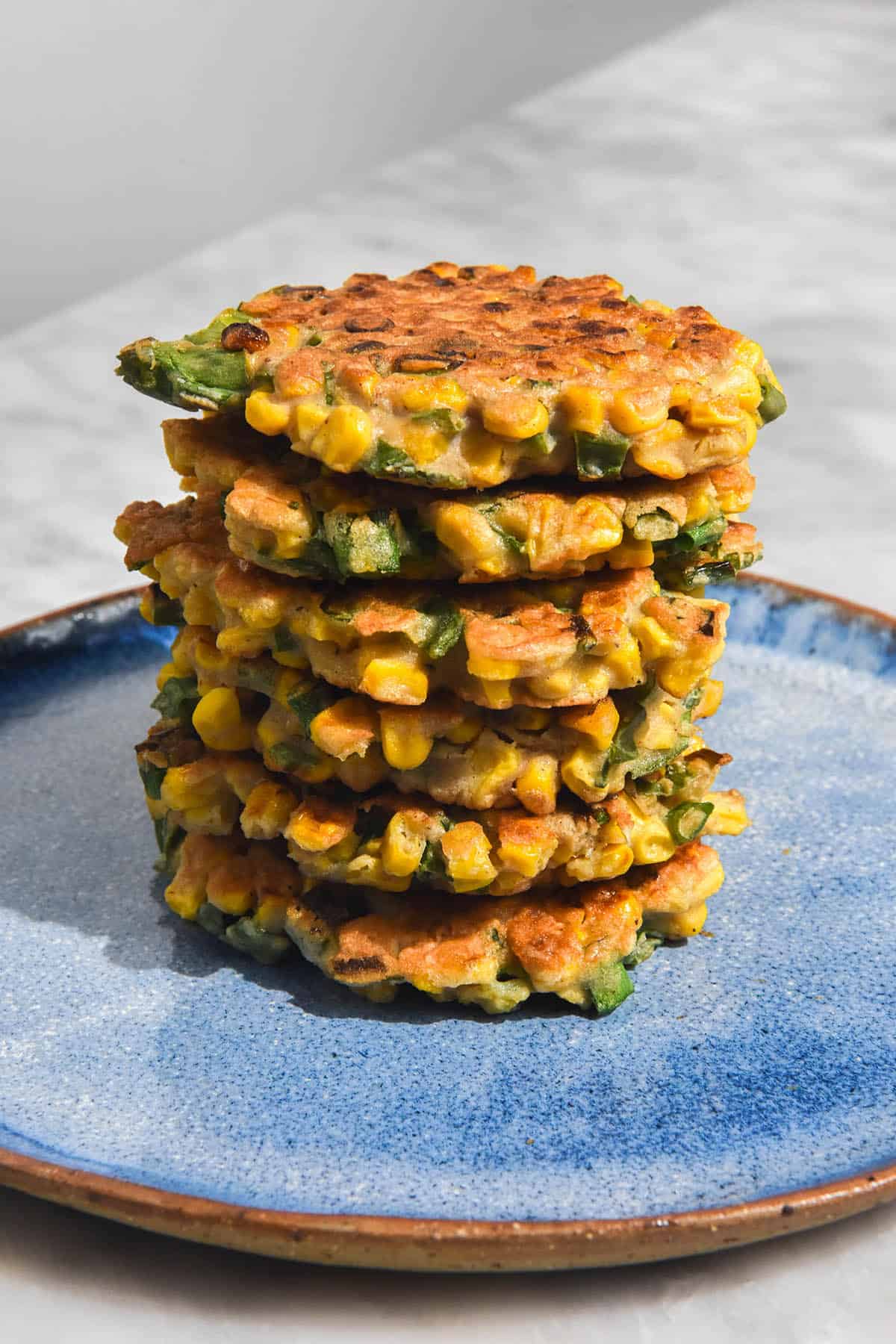 Low FODMAP vegetarian or vegan enchiladas
These enchiladas are a delicious low FODMAP make ahead meal that lasts in the fridge all week. They are easily made vegan with a vegan cheese on top, too.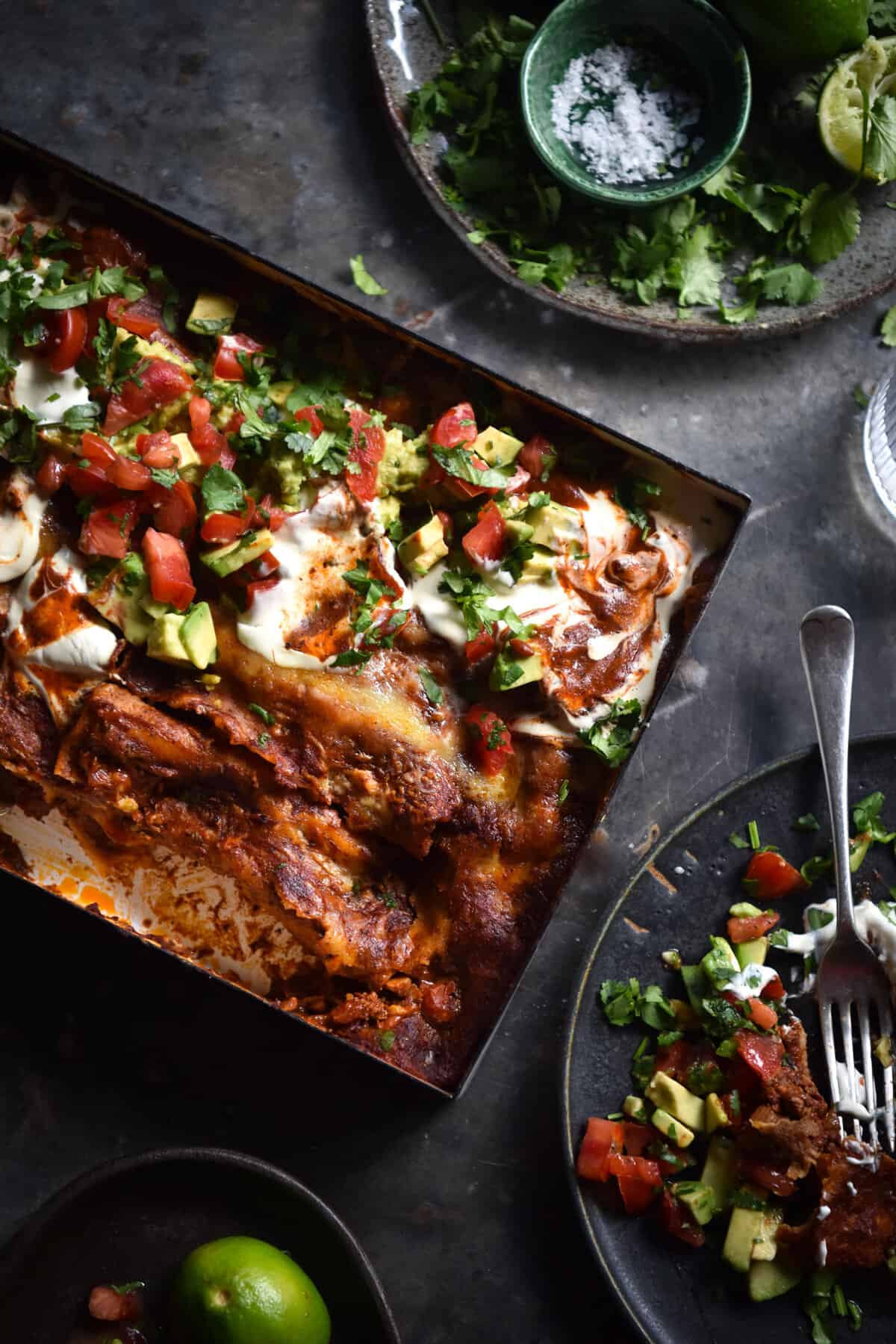 Tomato and cucumber salad with lemon oregano quinoa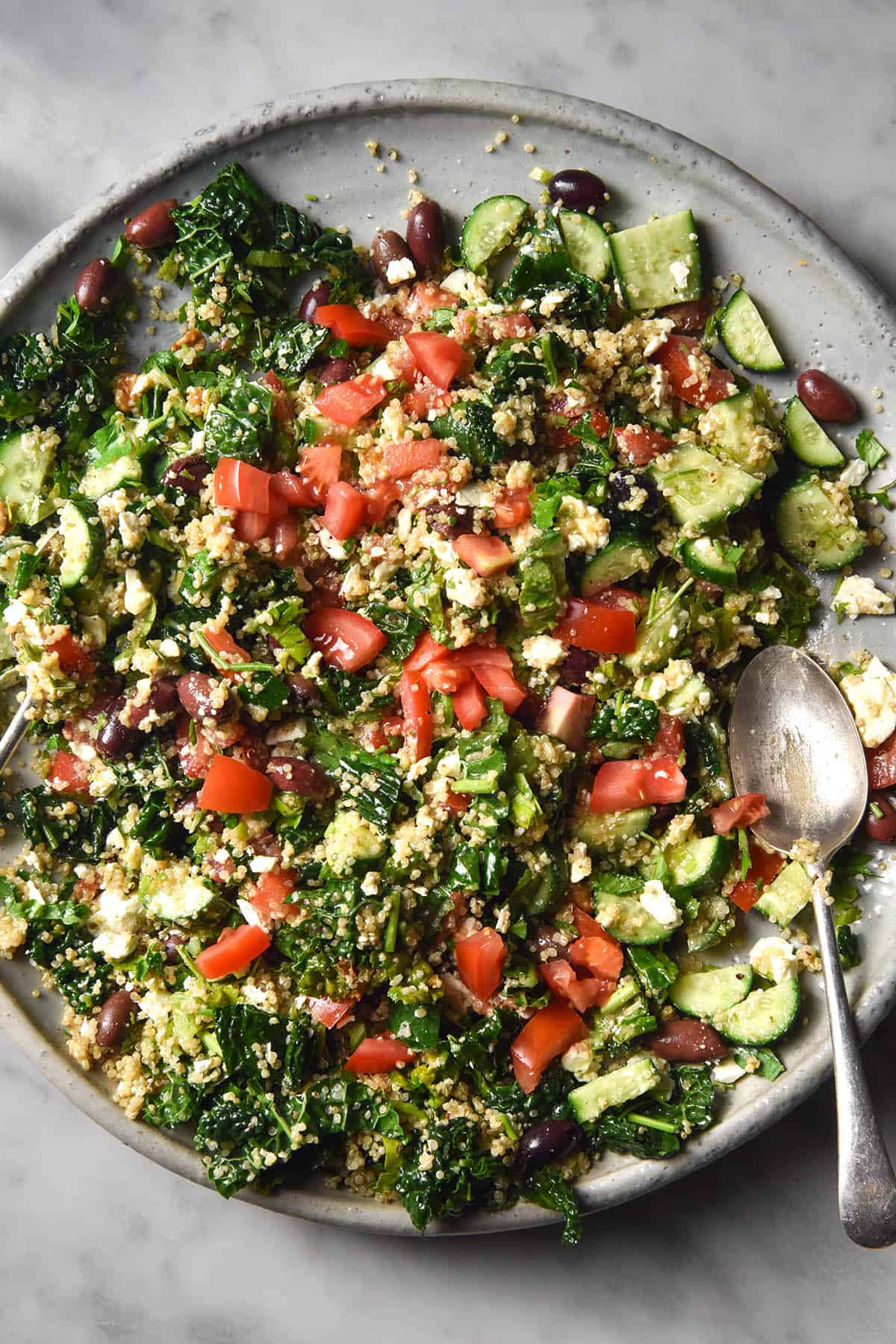 Low FODMAP chilli oil noodles
Quick, easy and with maximum flavour payout, these noodles are the perfect low FODMAP lunch recipe. The sauce is ready by the time the noodles have cooked, which we love. They're also vegan if you use spaghetti or a vegan noodle.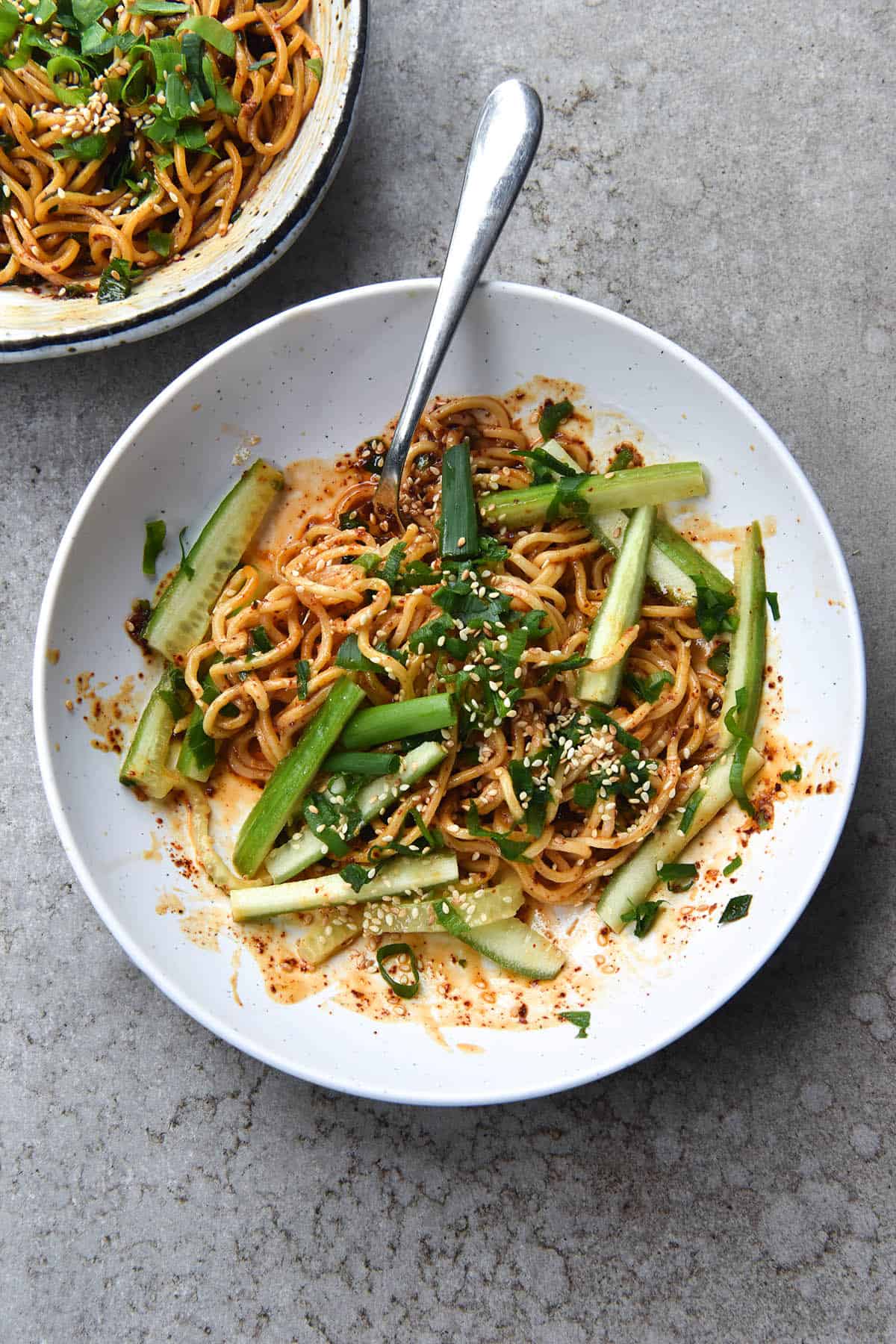 Low FODMAP pasta
This quick and easy low-FODMAP pasta is the perfect speedy lunch dish. It is vegetarian and full of flavour, using gluten free pasta and garlic infused oil to keep the FODMAP content down. Although it's delicious as is, you could add some kale or spinach and protein of choice to bulk it up.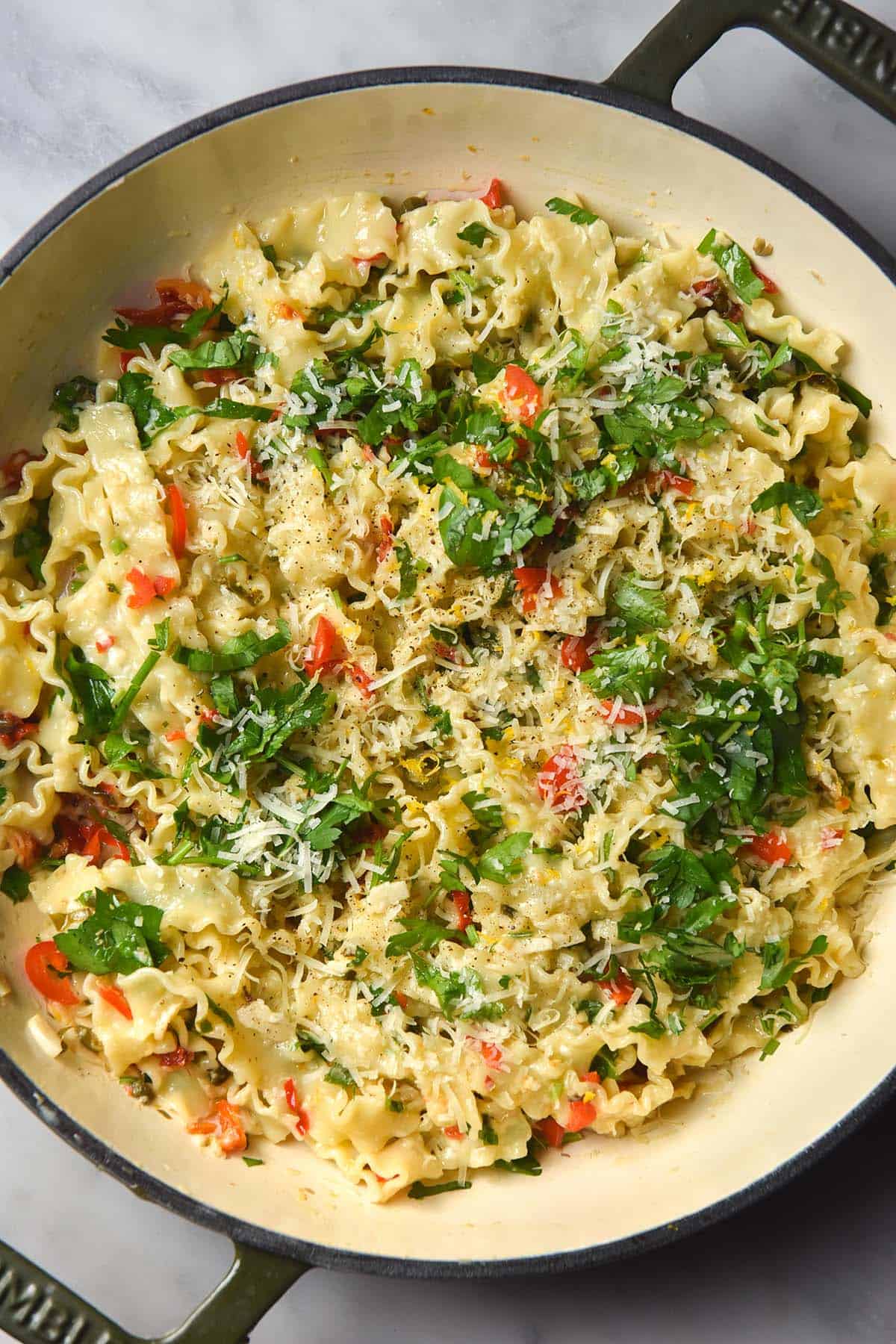 Gluten free chow mein
This delicious dish is another recipe from my cookbook, Intolerance Friendly Kitchen. Special shout out to the gluten free egg noodles in the book, too – they're SO GOOD.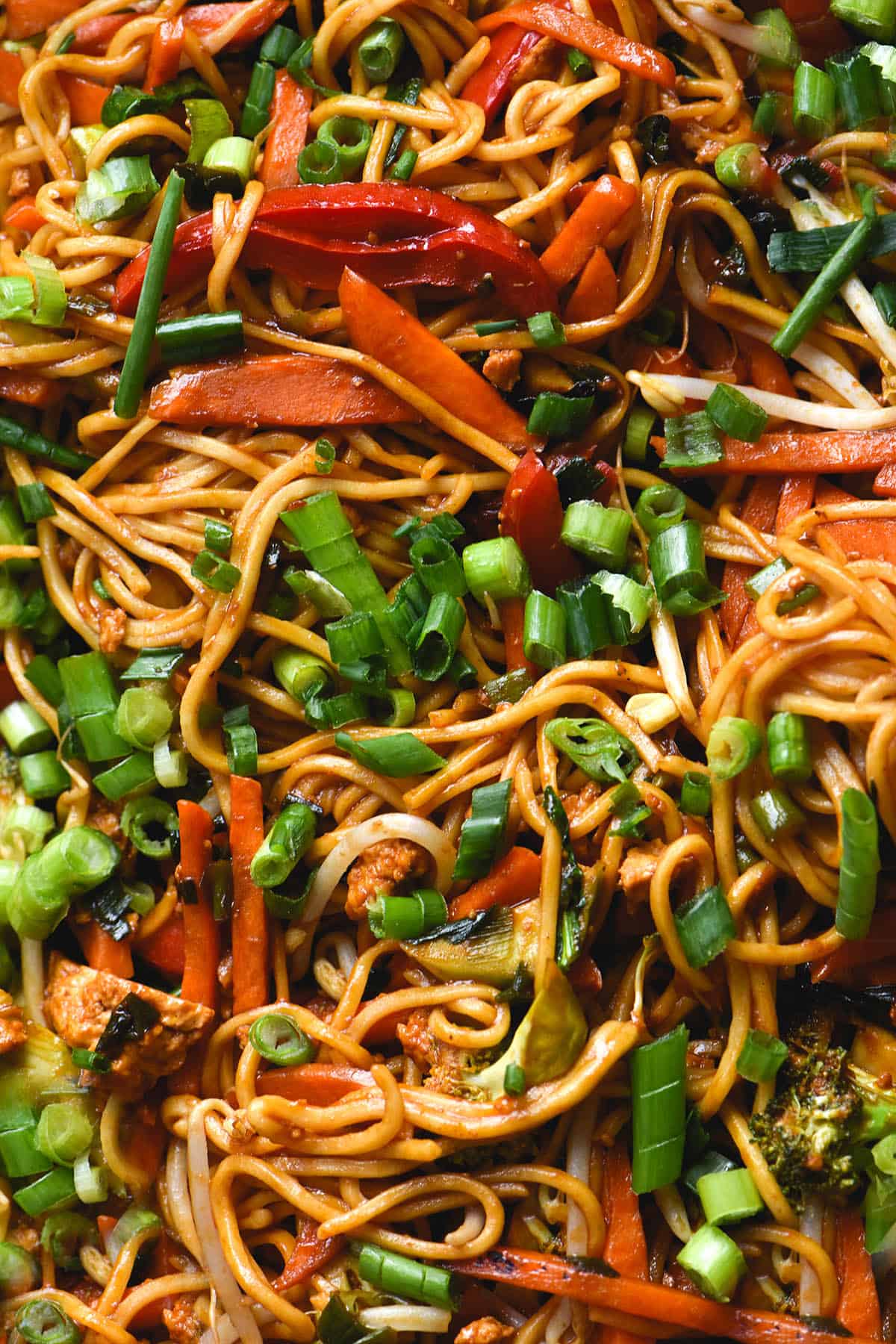 Sweet and sticky ginger tofu rice bowls
These sweet and sticky ginger tofu rice bowls are quick and easy to whip up, but still packed with flavour. They're vegan and nut free, too.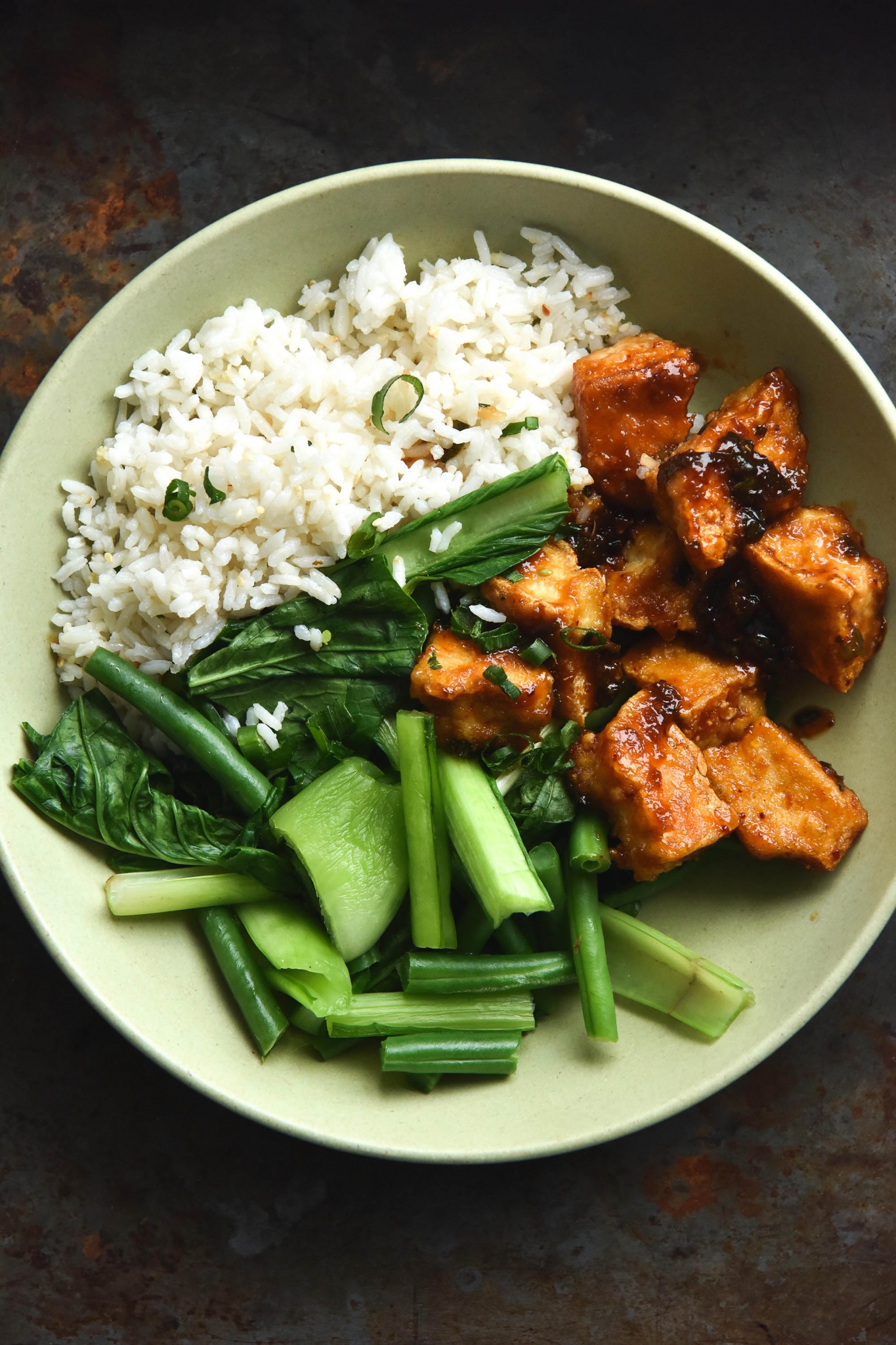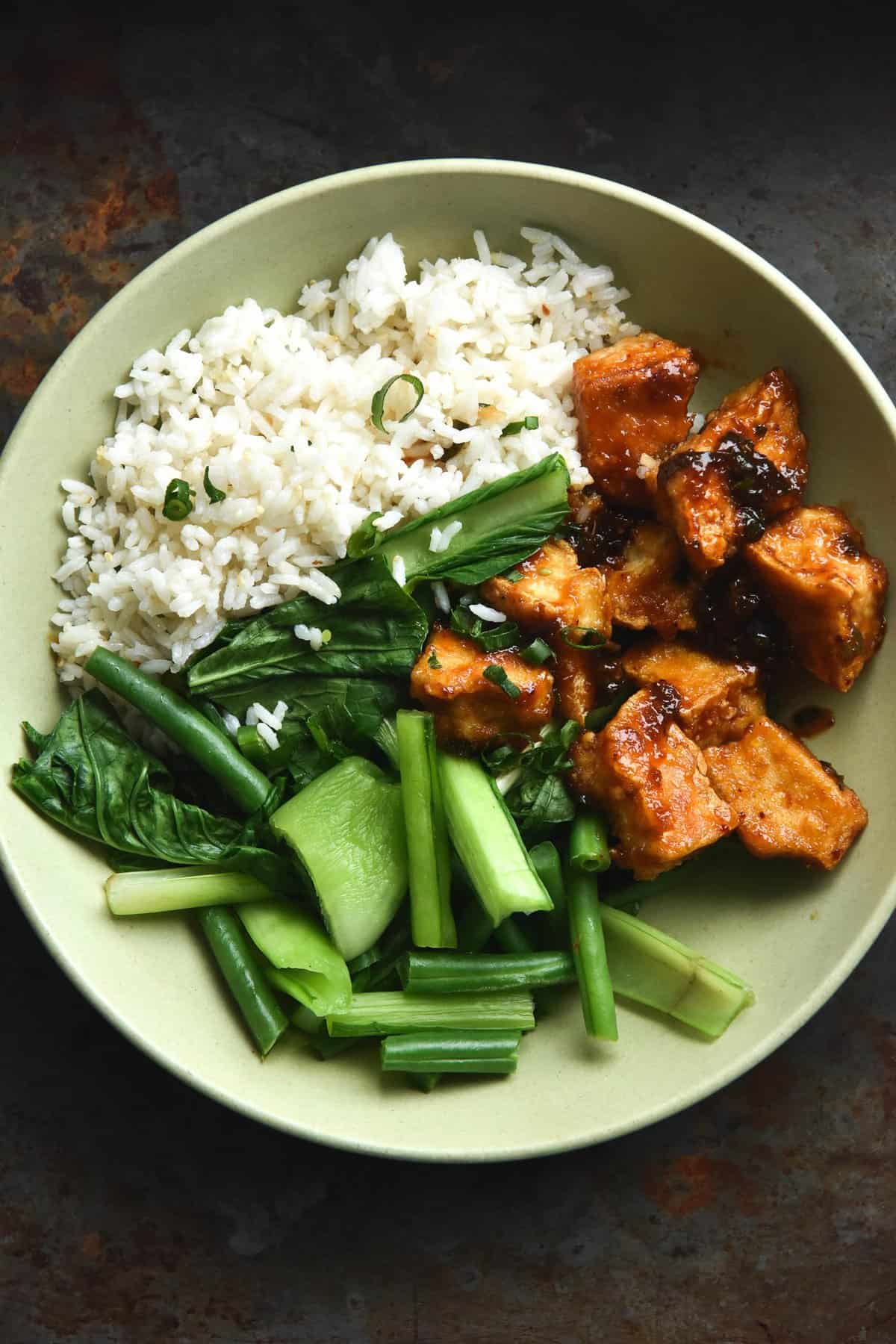 Vietnamese style coleslaw with crispy tofu
A fresh and summery low FODMAP salad that has it all: protein, crunch, freshness and a delicious dressing. As an added bonus, the vegetables all keep fresh and crunchy in the fridge, so you can say goodbye to soggy salad.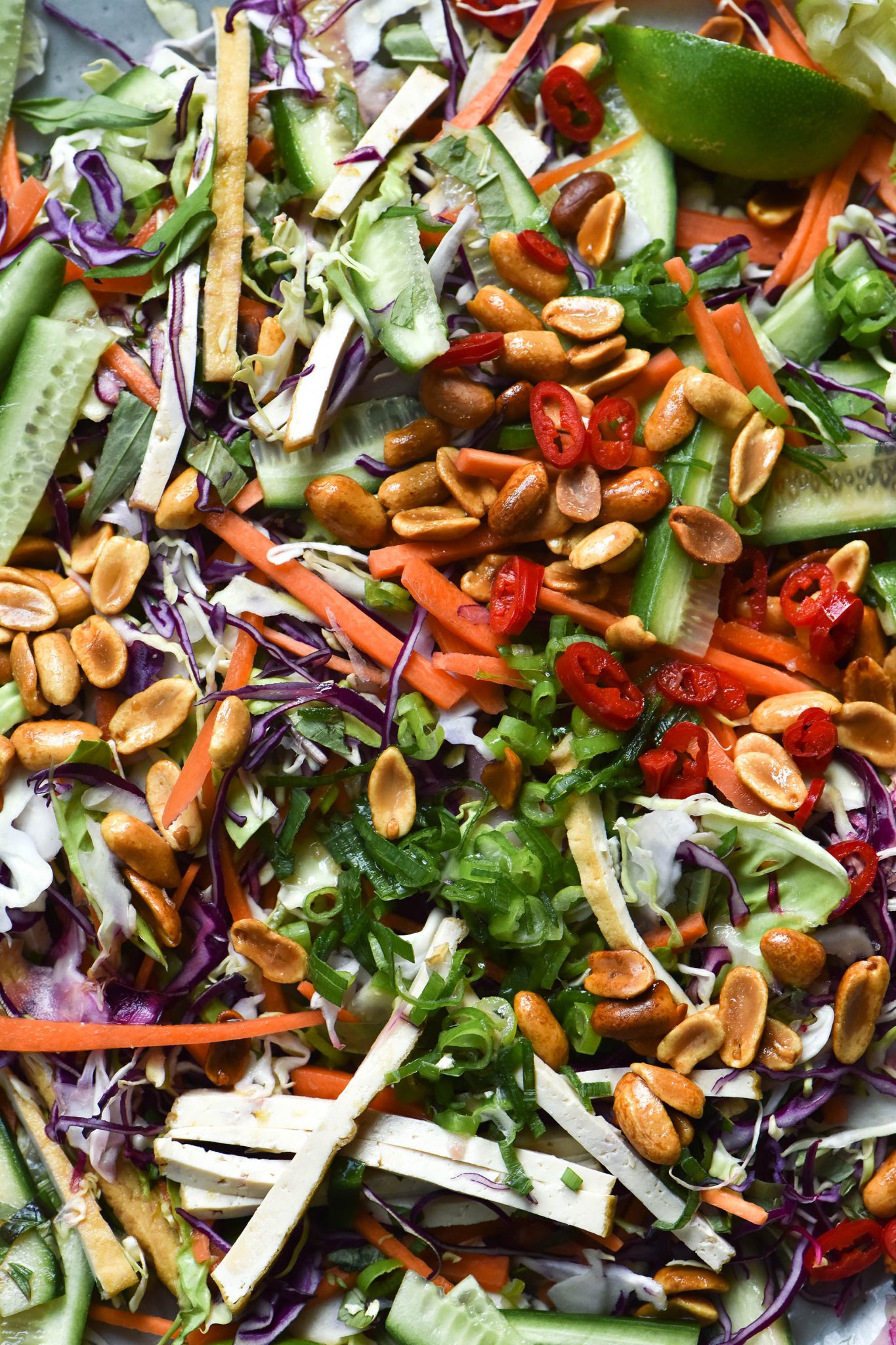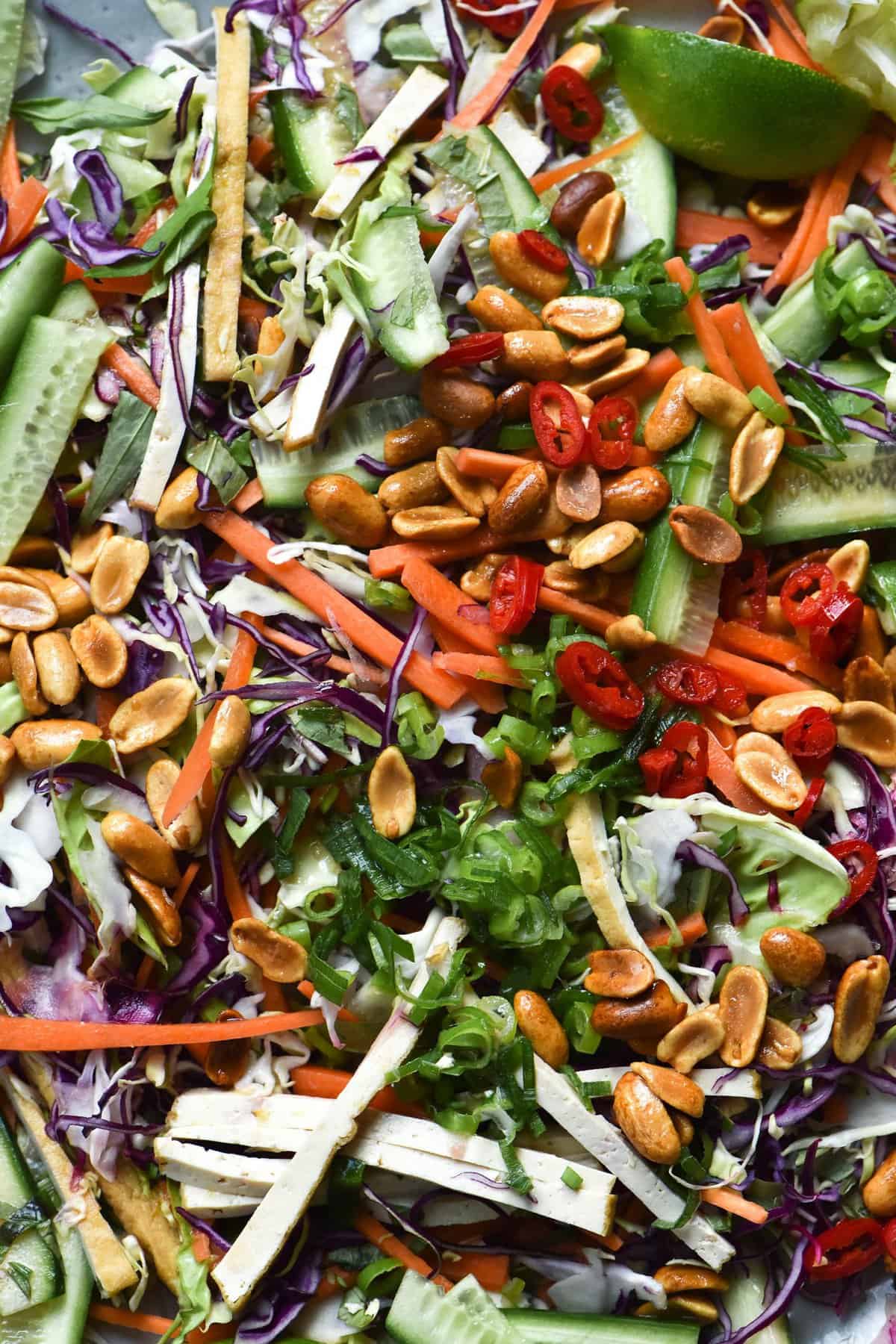 Gluten free, vegan sausages
I am obsessed with these sausages and I talk about them whenever I can. They are gluten and grain free, low FODMAP and contain no weird or hard to find ingredients. They use tofu as the protein, so they are a nice and filling vegan protein source. Serve them alongside a salad, or chop them up into a dish for extra protein and flavour.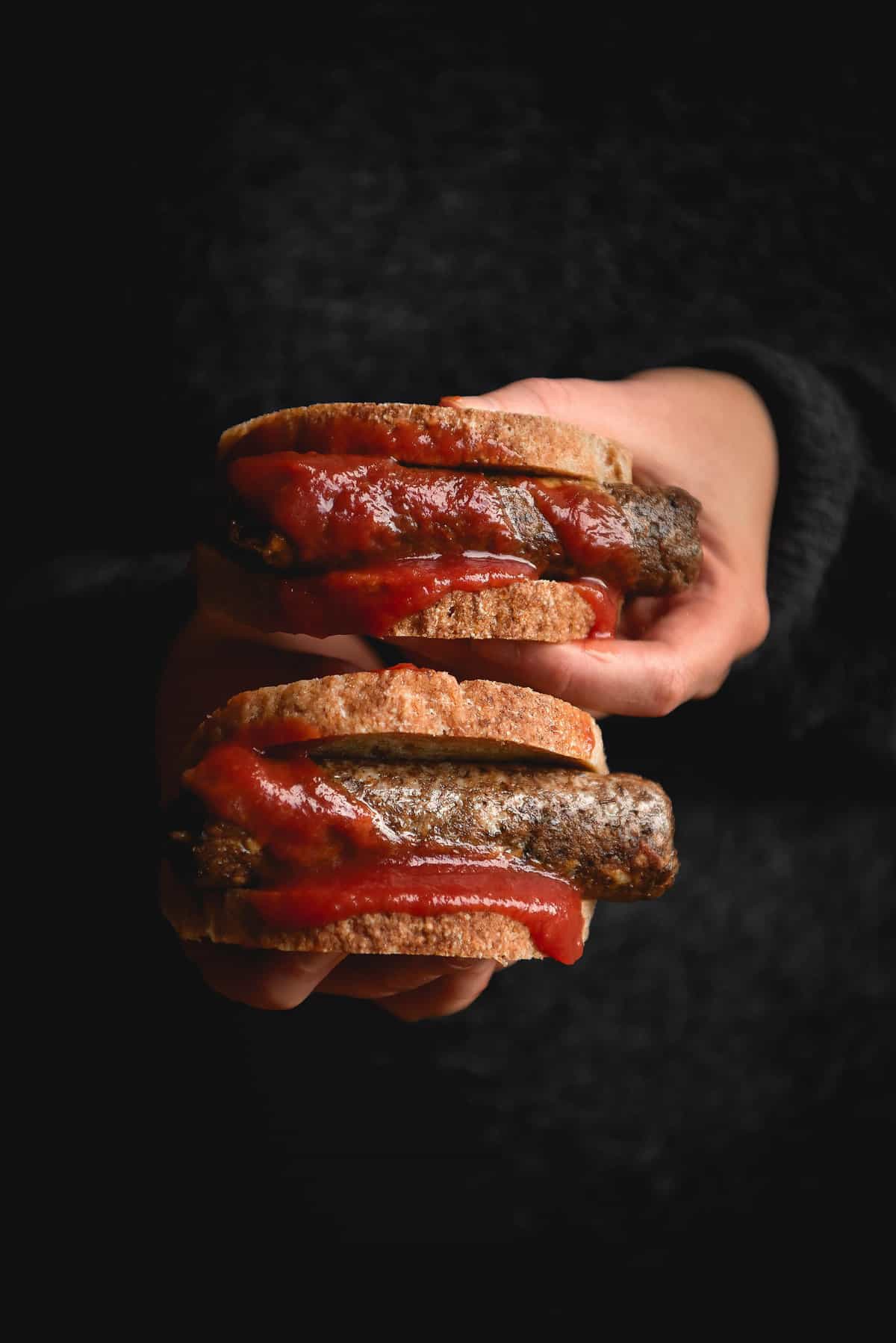 Chickpea vegetable rolls
Chickpeas tend to get a bad rap on the FODMAP diet, but it doesn't need to be that way. Canned chickpeas are low FODMAP in 42g or 1/4 cup serves, but moderate in GOS 84g or 1/2 cup serves. This suggests a little wiggle room in a low FODMAP serve, which is perfect when you want to eat extra chickpea rolls.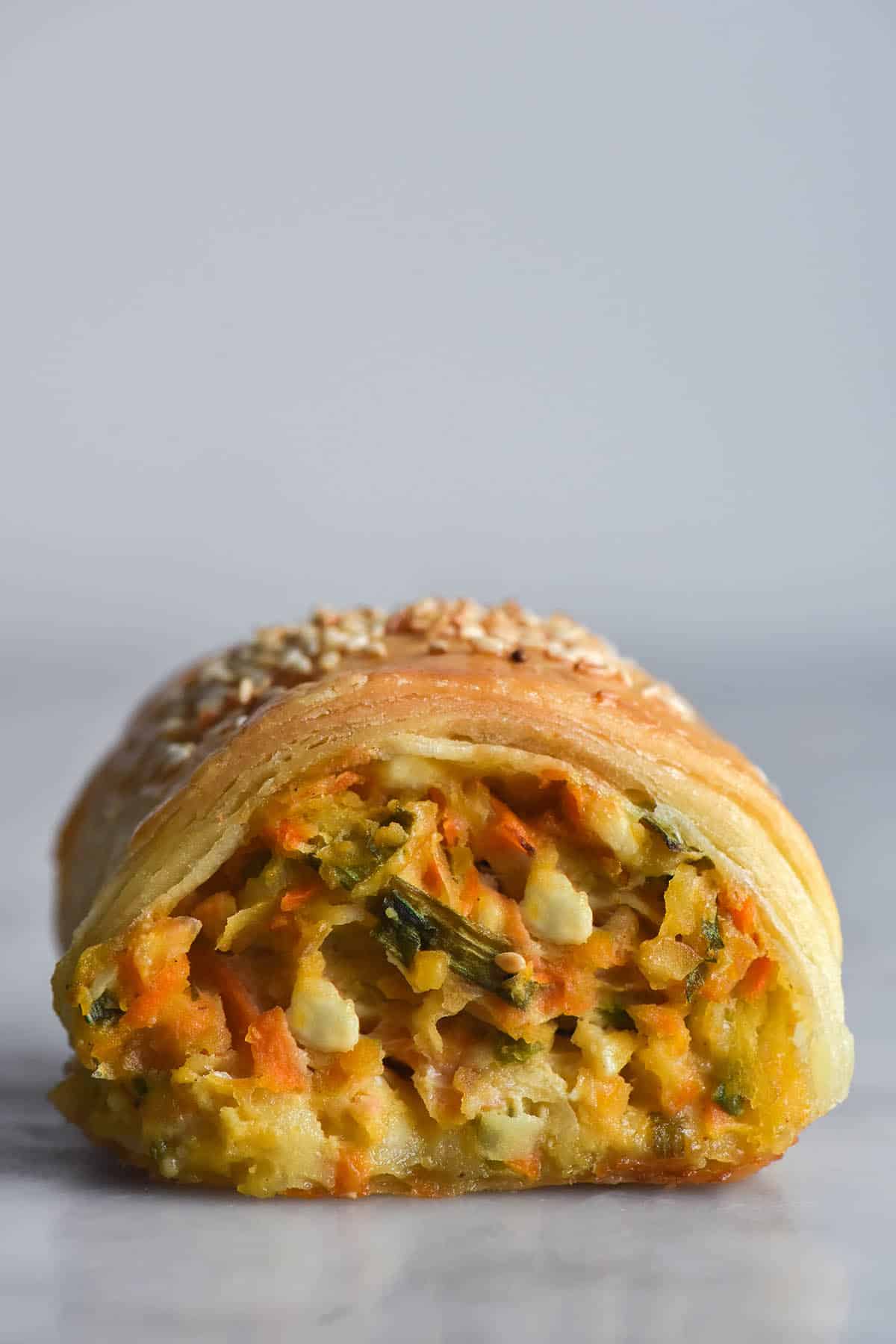 Gluten free vegetarian sausage rolls
Any Australian you talk to will have a healthy appreciation for a good sausage roll, whether or not they are vegetarian. These gluten free, low FODMAP and vegetarian ones are just as good as I remember. There's a vegan version in my cookbook, too.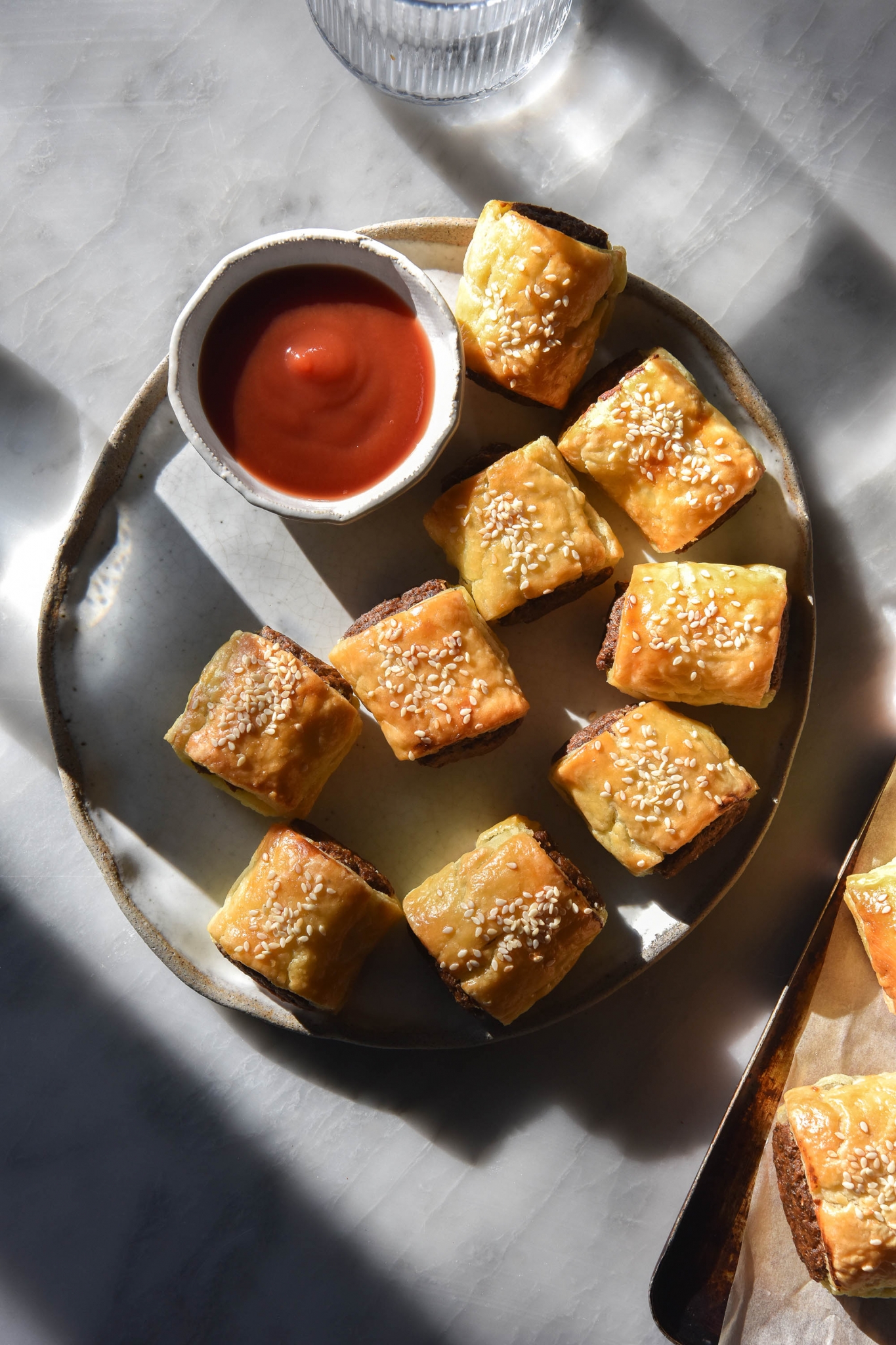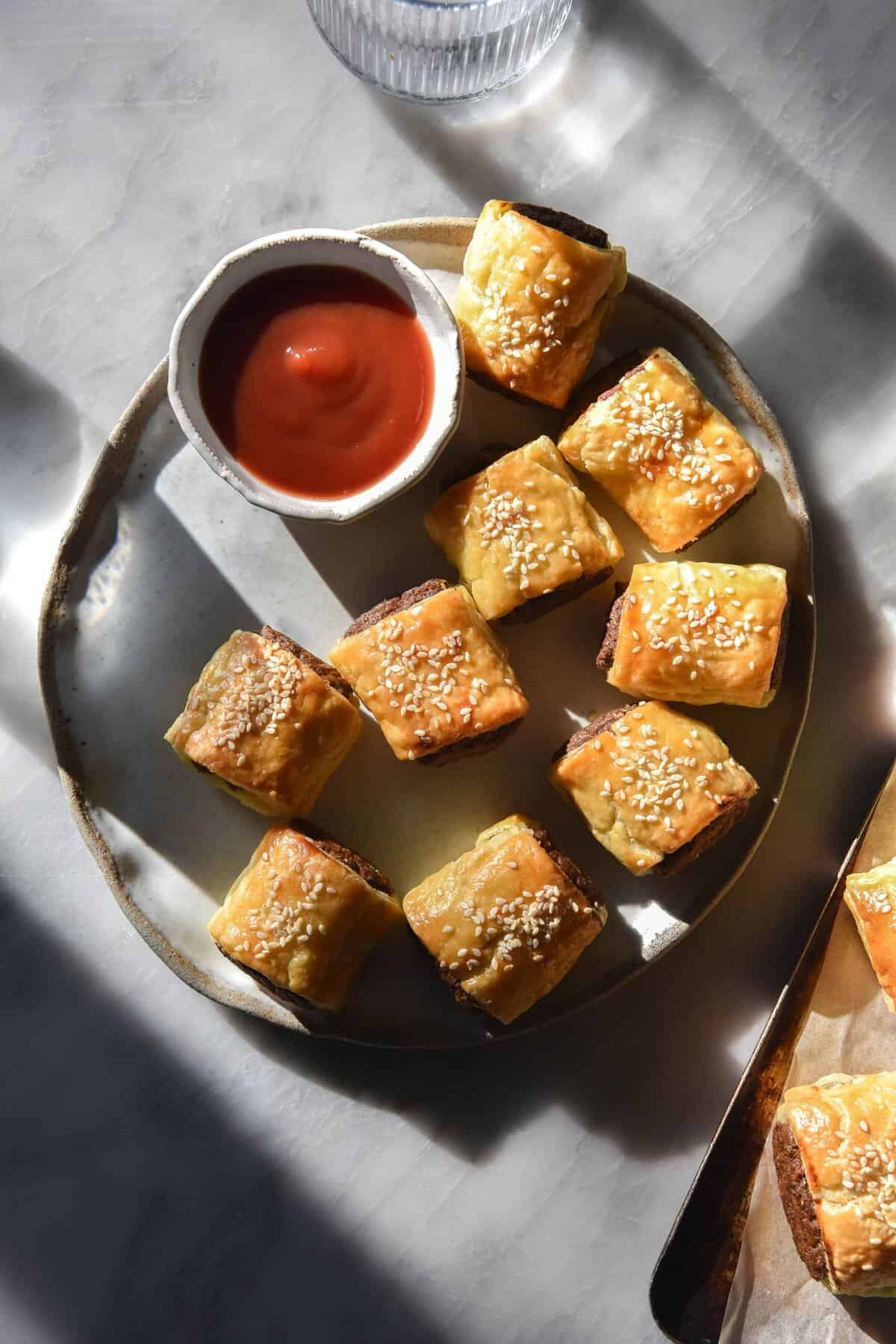 Gluten free spinach and feta rolls
Ok, we're nearly done with all the rolls, I promise. These gluten free spinach and feta rolls are an approximation of the feta and spinach triangles of my youth. They're vegetarian, low FODMAP, gluten free and packed full of flavour. Freeze a batch in servings and you've got delicious lunches for the week.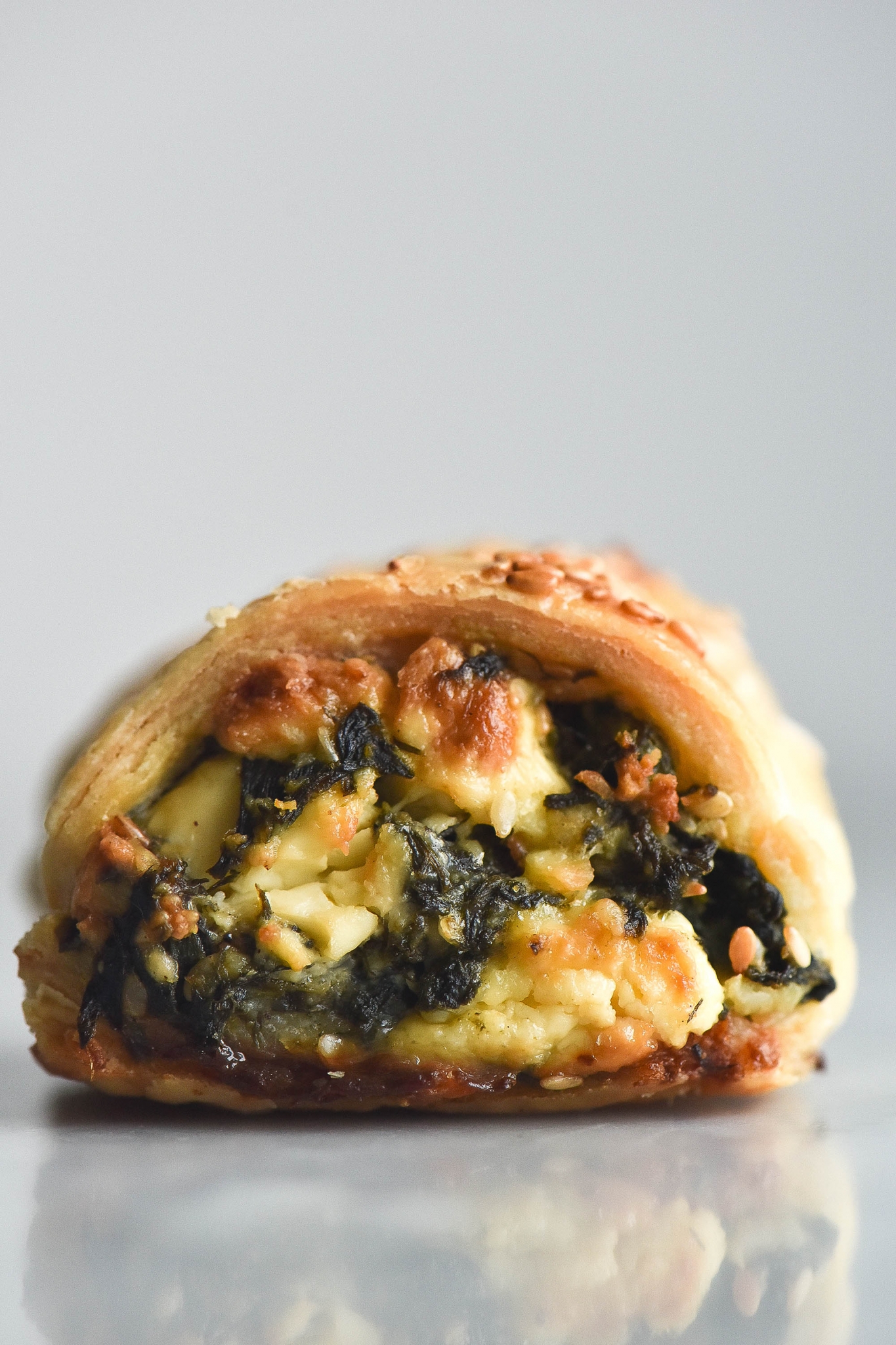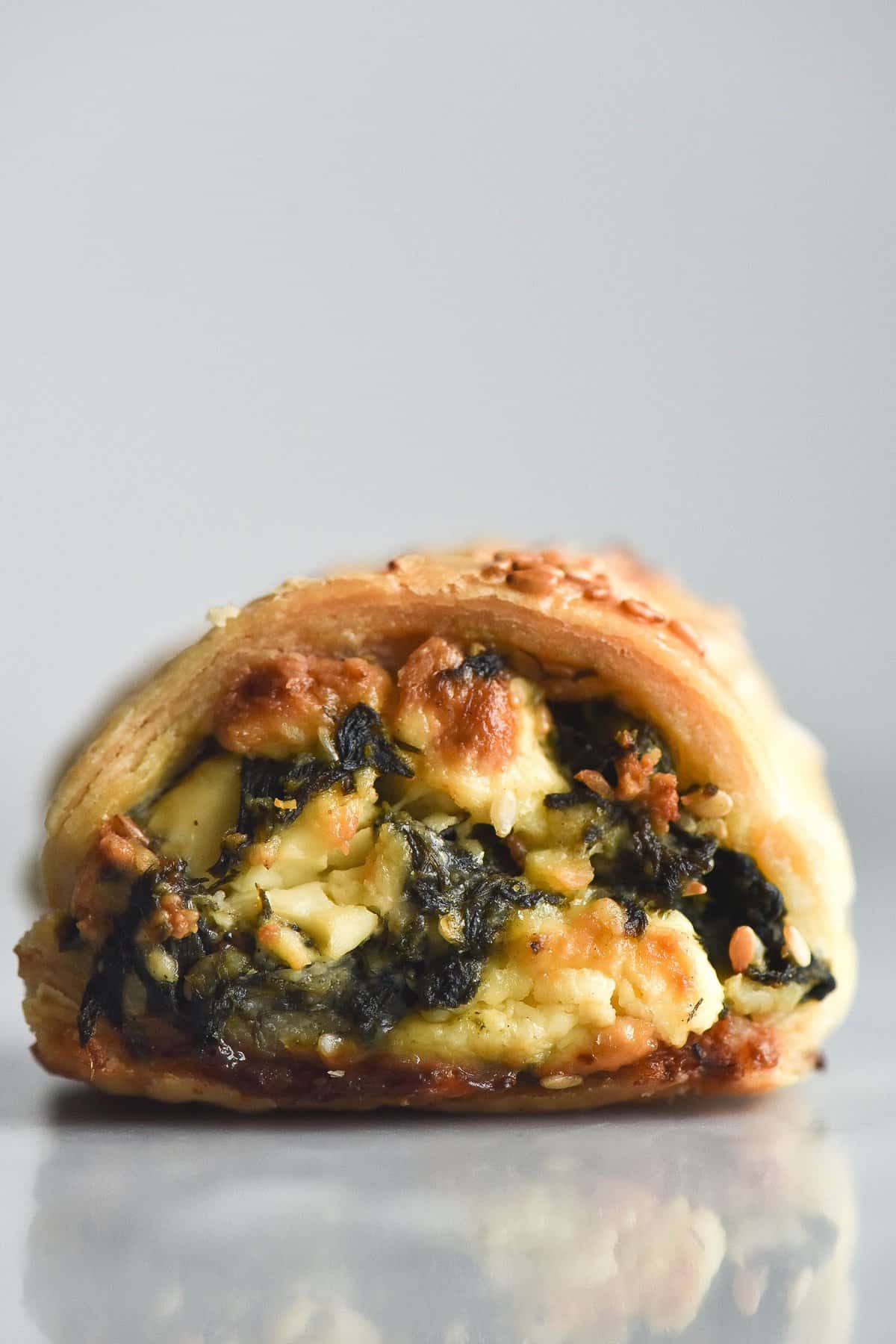 High protein, low FODMAP green spaghetti
Sometimes you just want pesto pasta for lunch, right? This version uses a higher protein green sauce to keep you full as well as happy.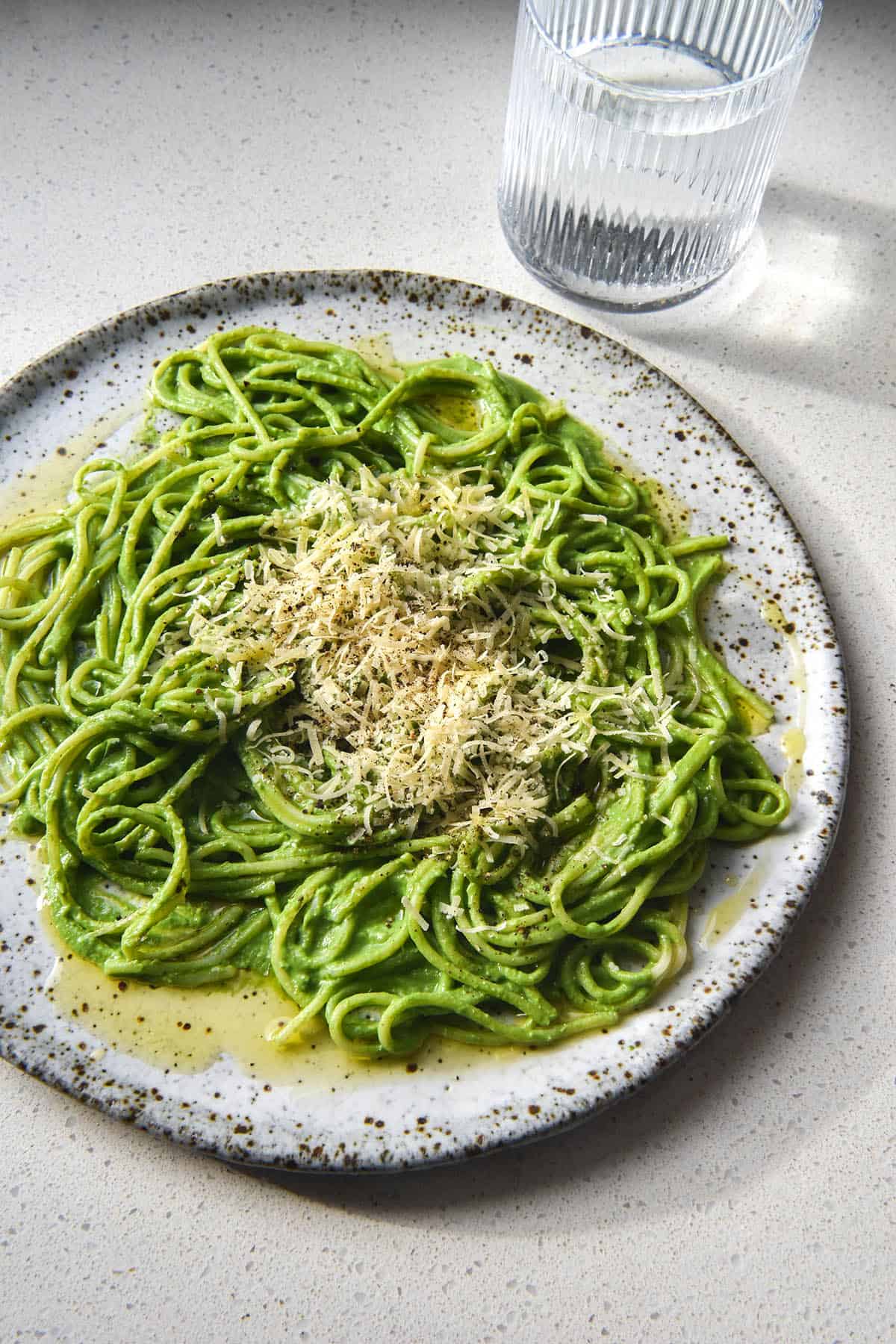 Gluten free curried vegetable pie
The thing I love most about this low FODMAP curried vegetable pie is that it doubles as a curry if you can't be bothered with the pastry. It's full of flavour without the FODMAP, and a big slice is the perfect comfort food lunch. The recipe is from my cookbook, Intolerance Friendly Kitchen.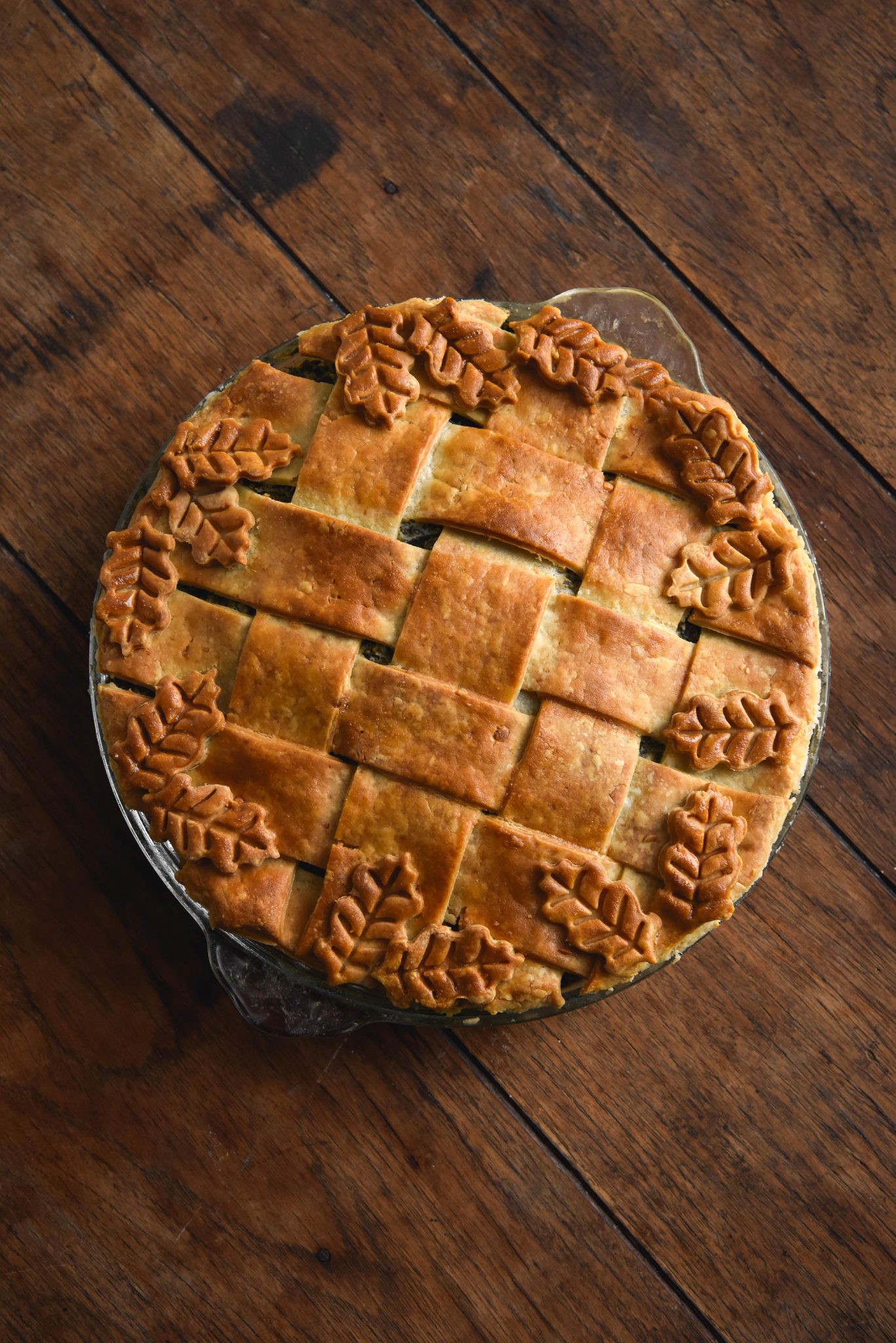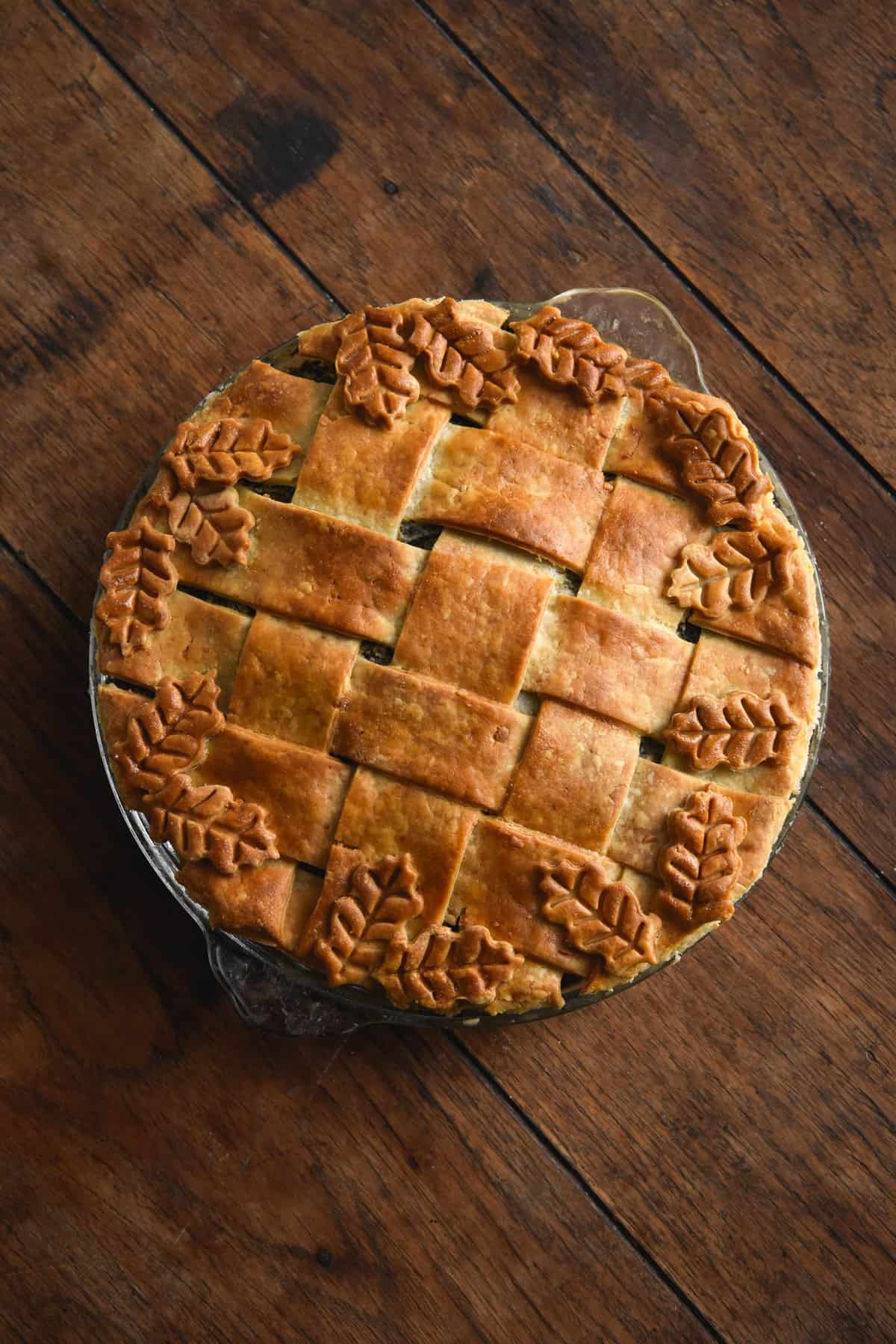 Vegan potato salad
My secret? That I prefer vegan mayonnaise to the traditional sort. This vegan potato salad utilises vegan mayo, as well as a whole host of low FODMAP flavours. Better yet? The flavours meld and build as it sits in the fridge.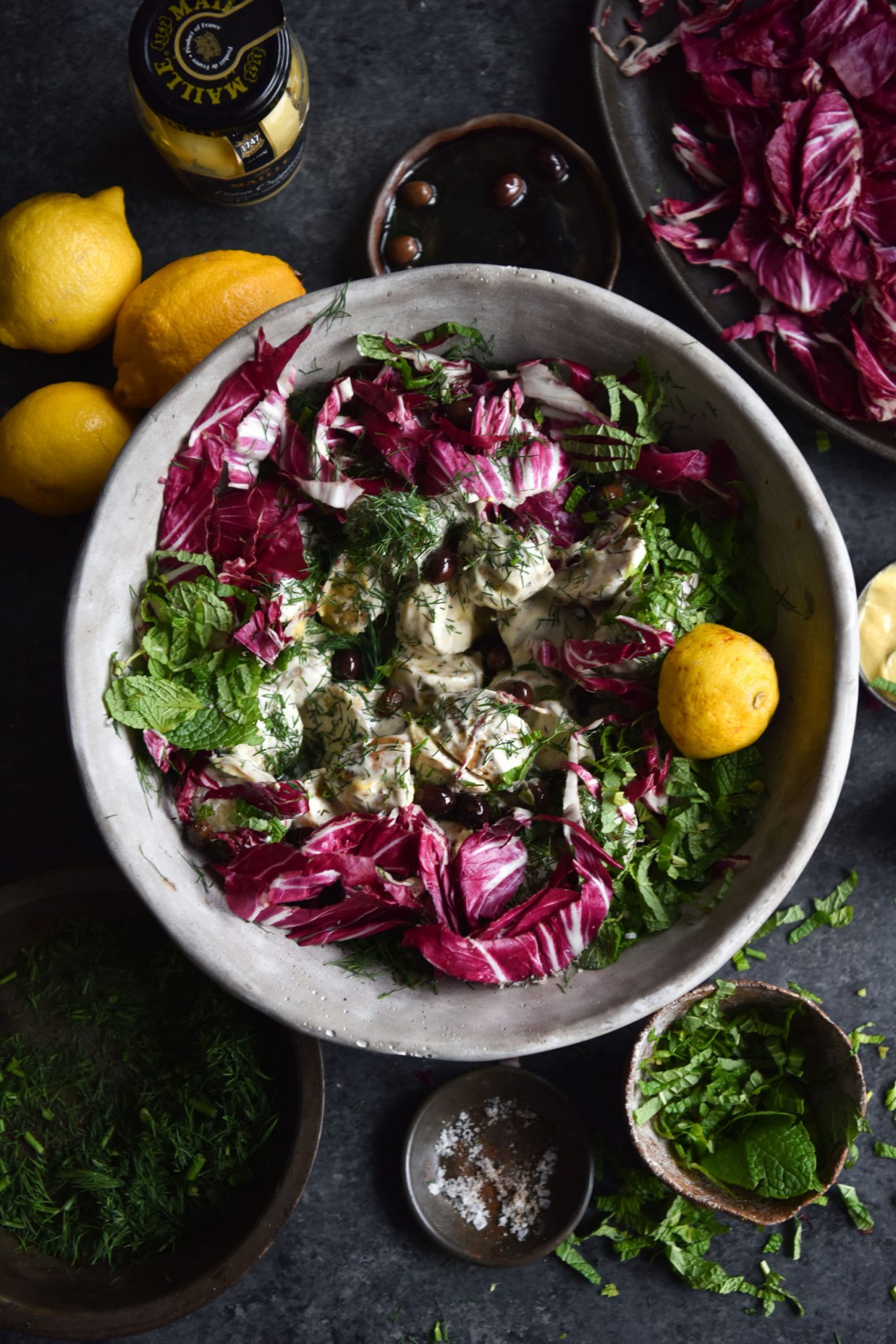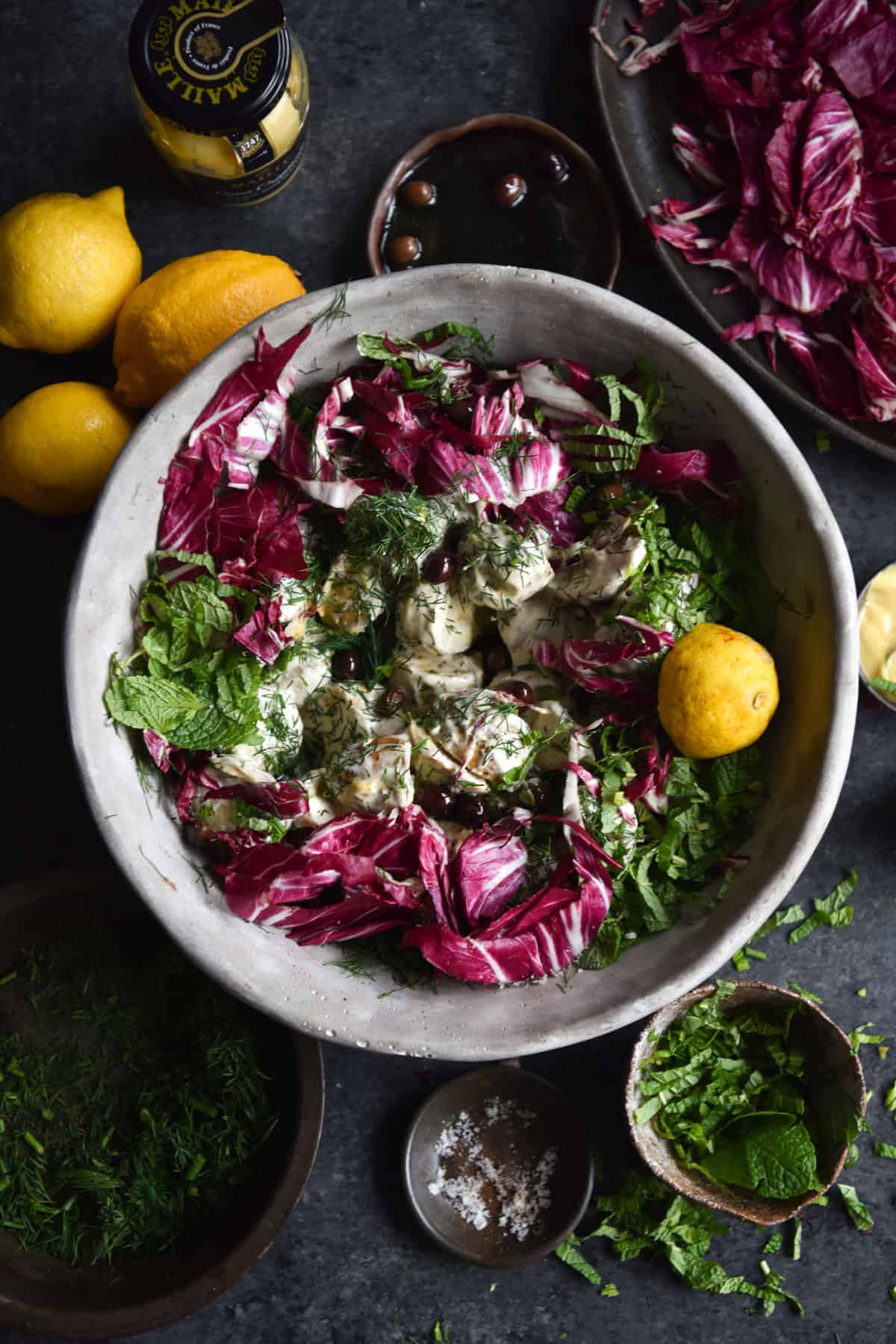 Peanut butter noodle stir fry
Sometimes the only way you can convince me to eat a stir fry is if it's smothered in peanut butter. And that's fine! Because this recipe is low FODMAP, vegan, gluten free and heavy on the PB.
Gluten free flatbreads
These flatbreads are a delicious gluten free carby addition to your lunchbox. You can roll them out thinly and use them as gluten free wraps, too (although the gluten free tortillas in my cookbook are my favourite for that).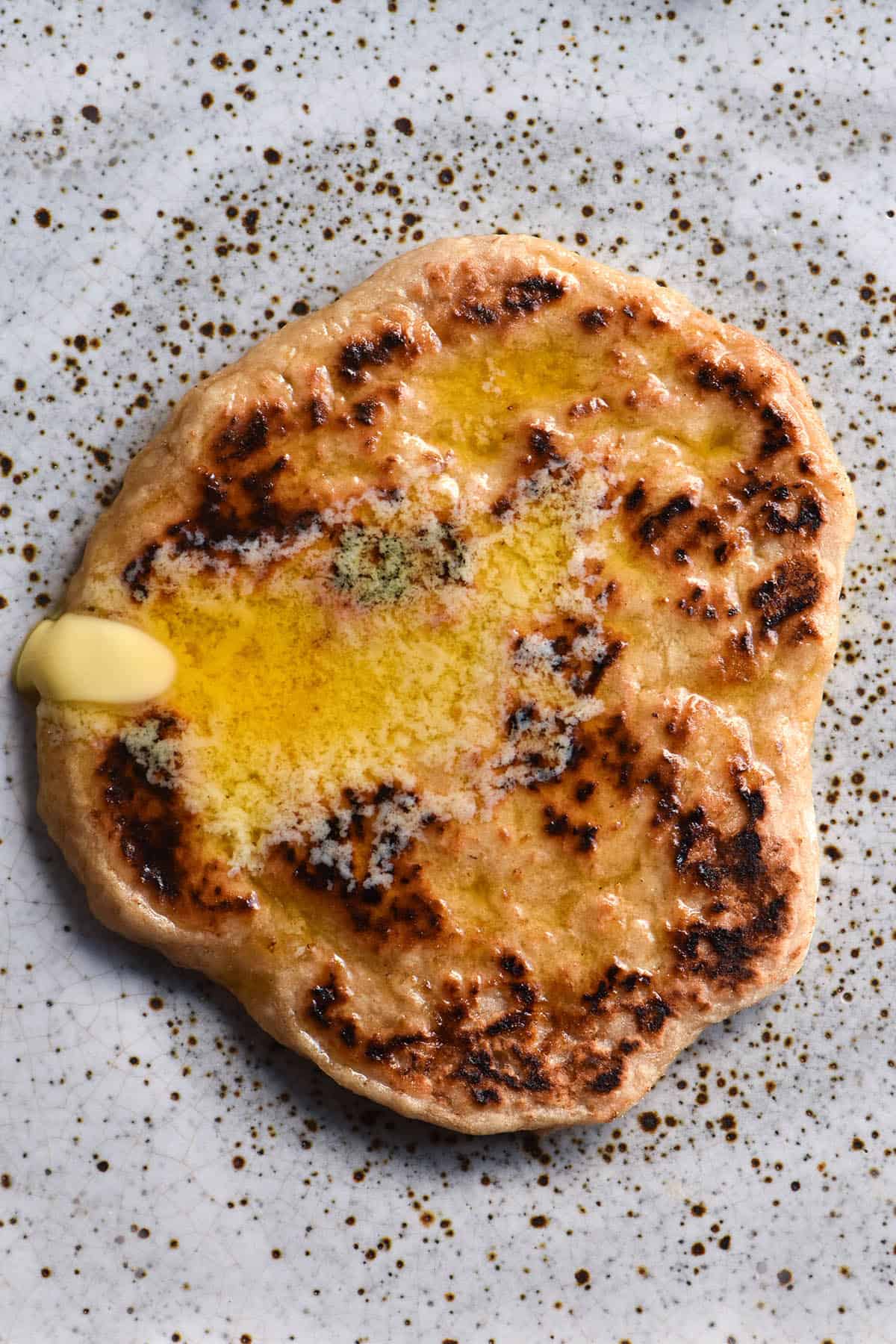 Low FODMAP Thai green curry with rice
This low FODMAP vegan Thai green curry is full of flavour without the FODMAPs. It uses tofu for protein and is perfect when paired with some fluffy white rice.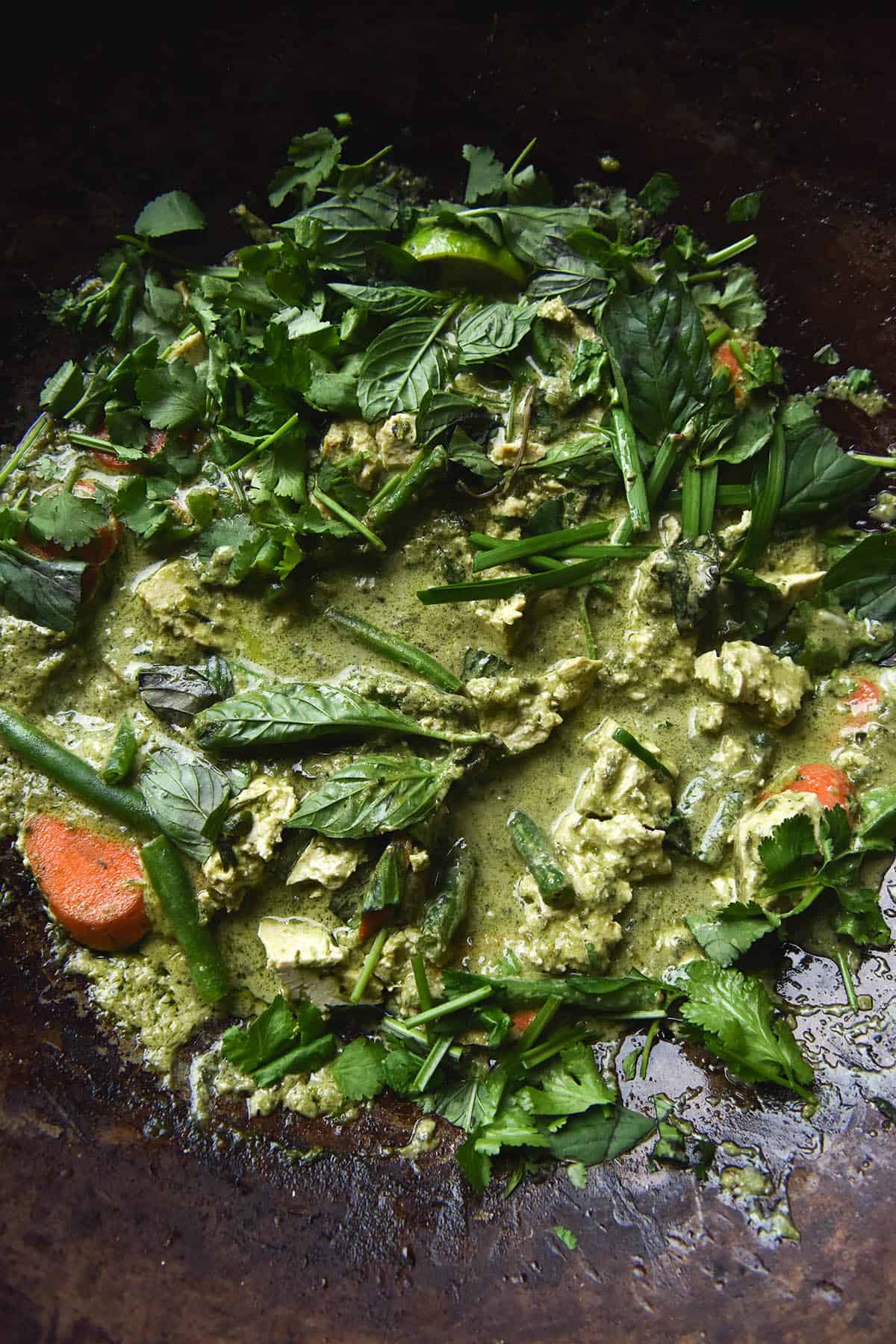 Vegan chilli bowls
This low FODMAP vegan chilli bowl can do it all. I developed the recipe so it can be eaten alone in a big bowl, but also with salad, rice or in taco format. Whatever style of lunch you prefer, this vegan chilli works perfectly for it.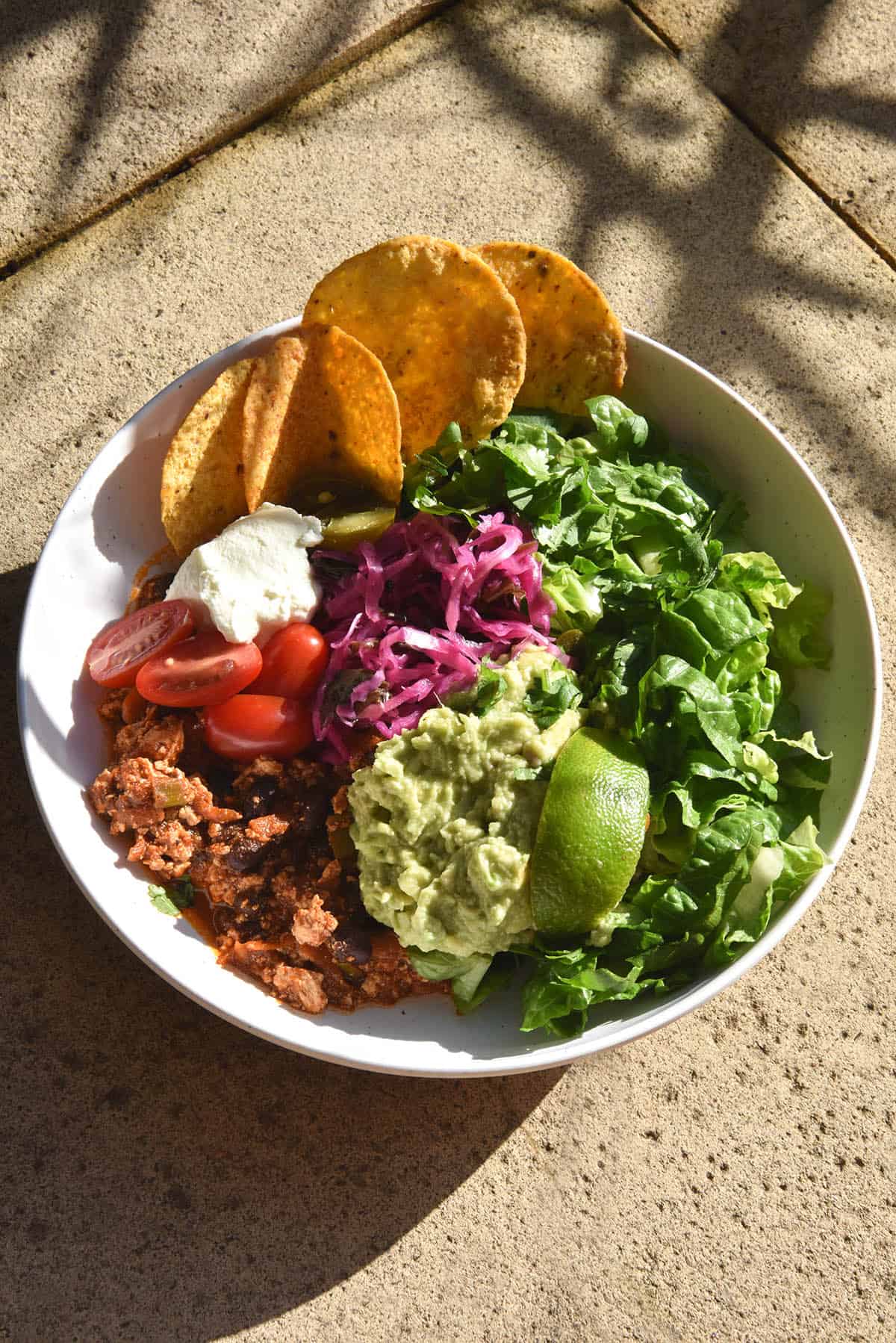 Vegan eggplant involtini with a 'sausage' filling
You've seen my obsession with vegan sausage further up this page, but allow me to introduce this low FODMAP vegan eggplant involtini with 'sausage' filling. It's a lovely hearty make ahead dish that keeps really well in the fridge and is very filling.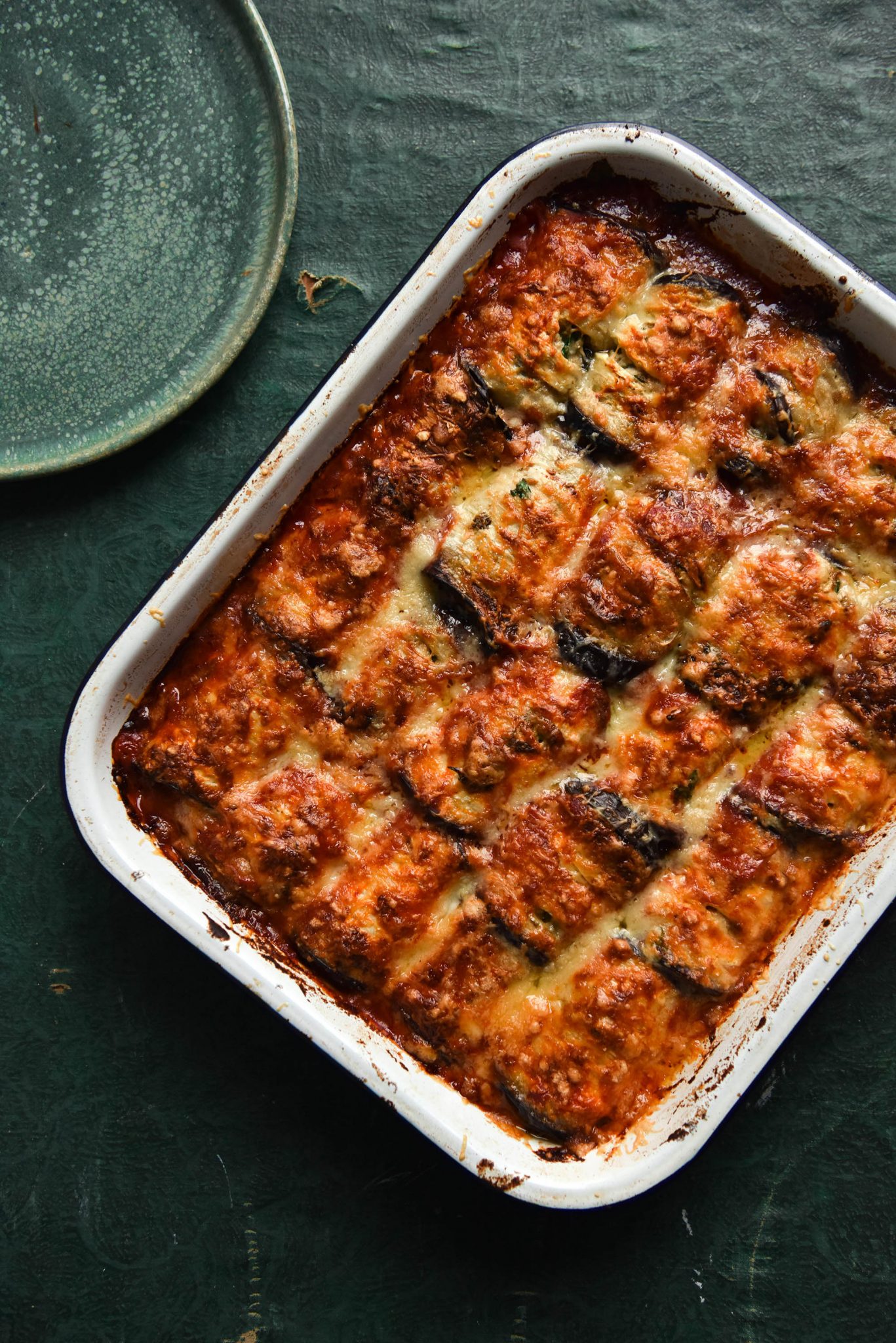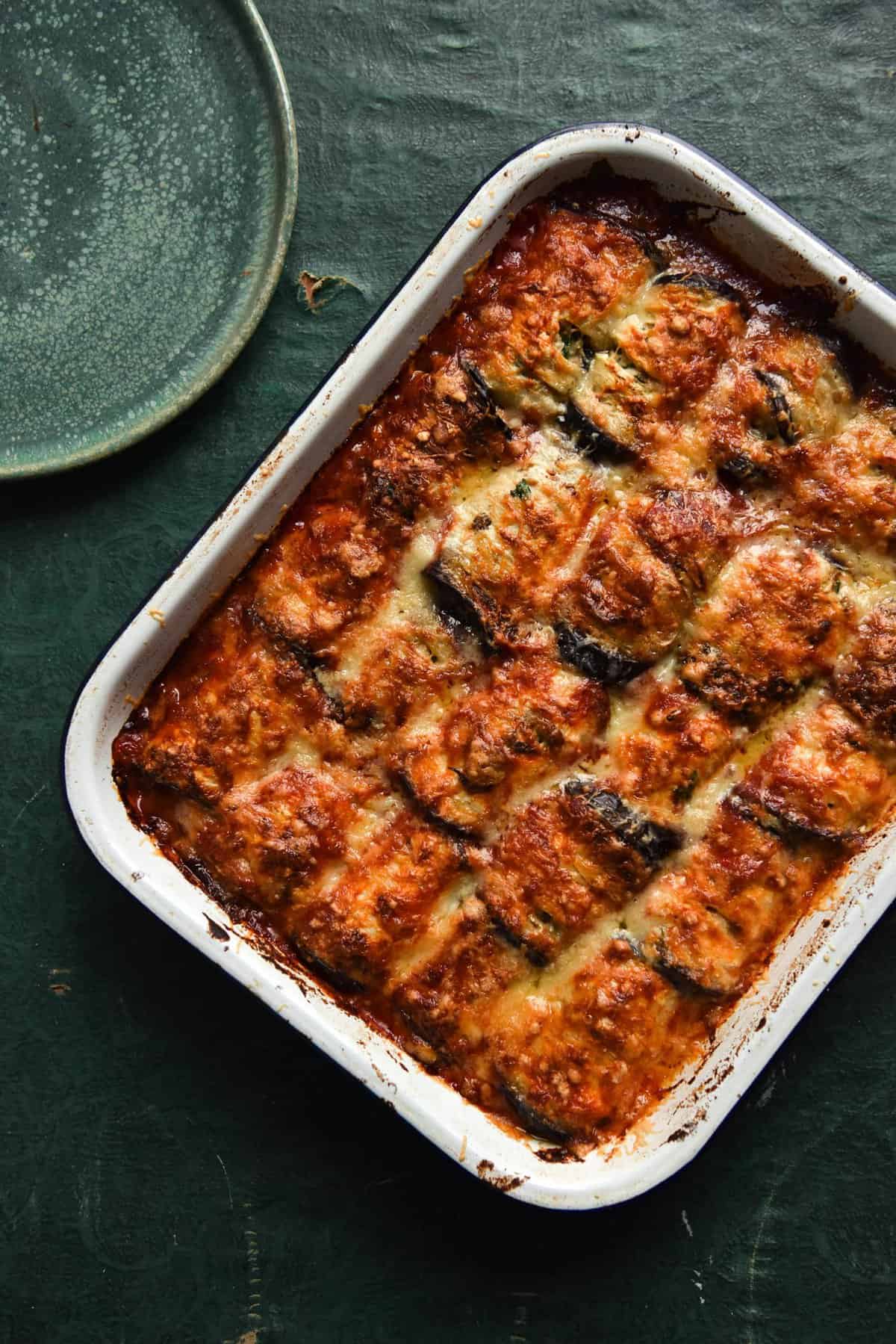 Low FODMAP minestrone
There's nothing better than a warming bowl of minestrone on a cold day. This version is low FODMAP, gluten free and vegan, yet full bodied and full of flavour. The best way to get your vegetables in this winter.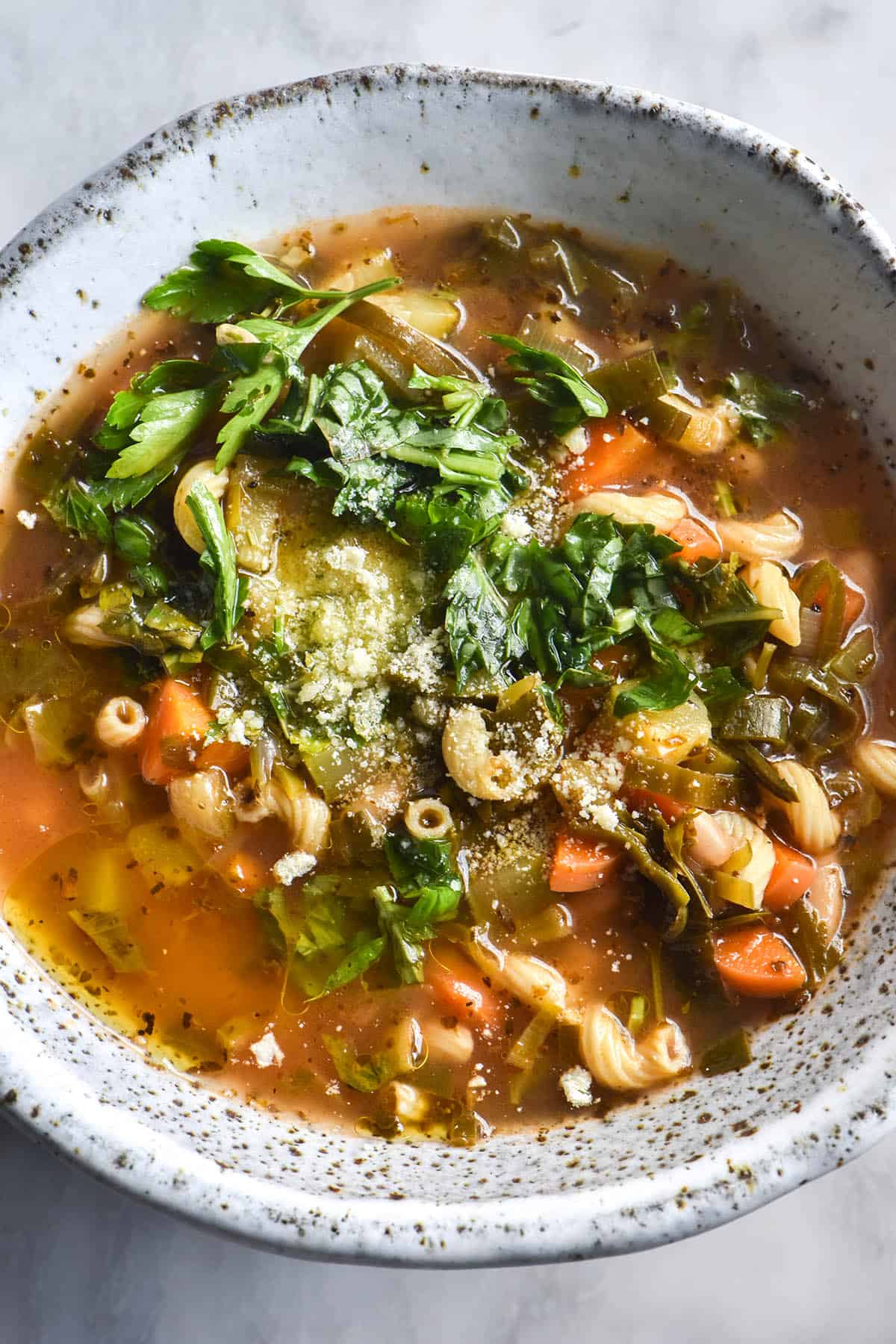 Low FODMAP vegetarian Dan Dan style noodles
A delicious vegetarian or vegan, low FODMAP version of a classic Sichuan dish, these Dan Dan noodles are a recipe from my cookbook, Intolerance Friendly Kitchen. You can use the egg noodles from the book, too, or gluten free noodles/spaghetti for a quick store bought alternative.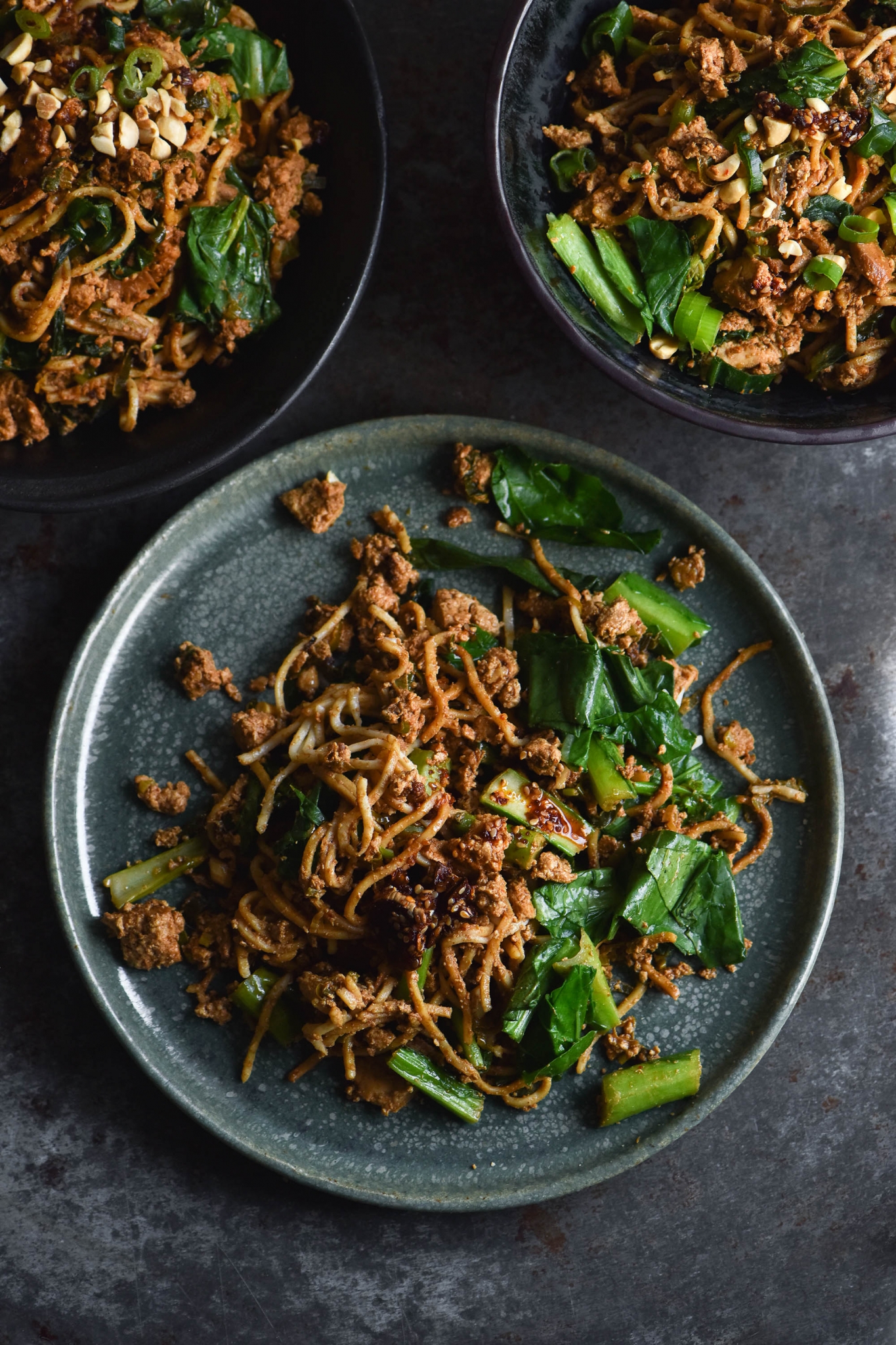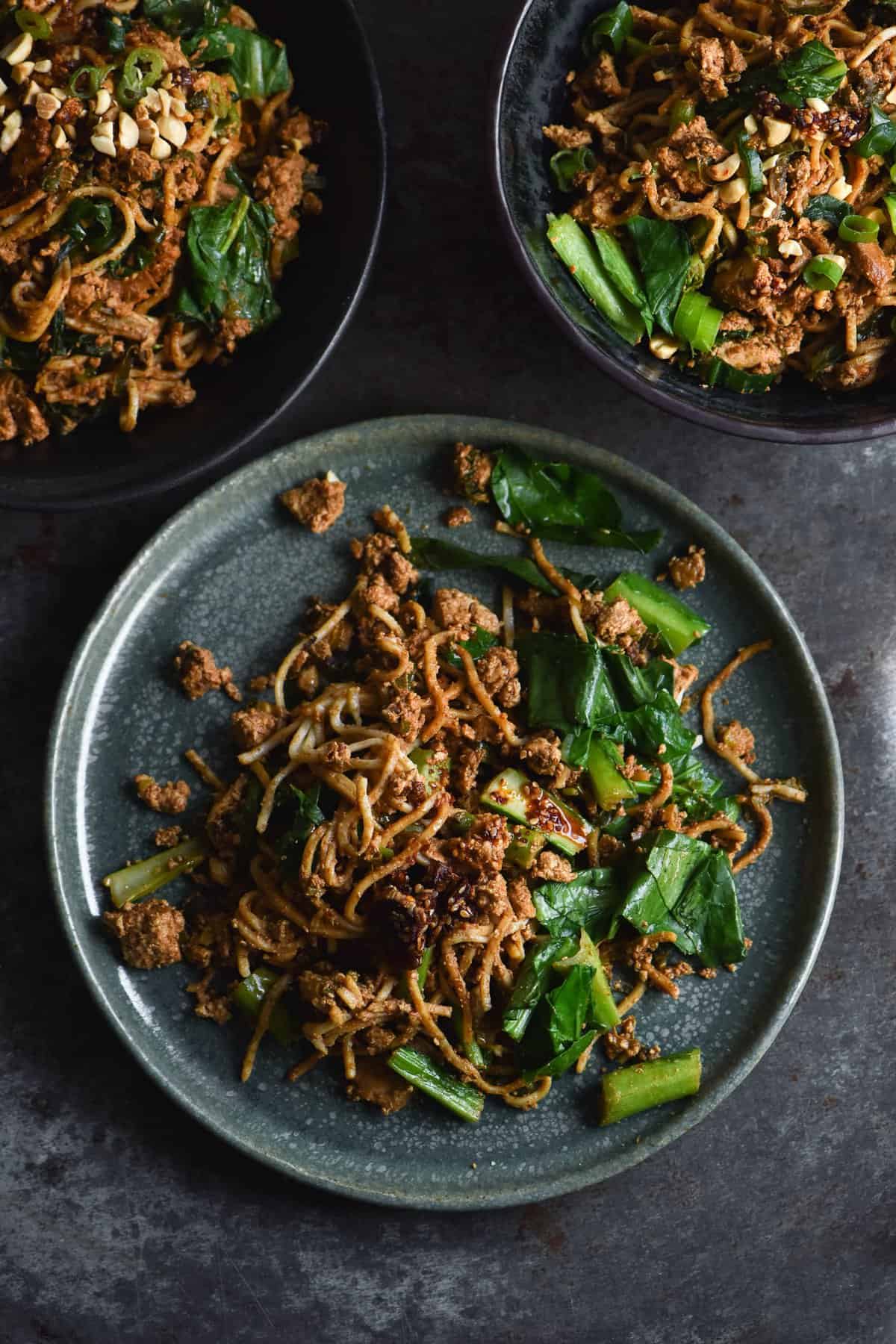 Chilli oil tofu
We've done chilli oil noodles, so chilli oil tofu seems the next logical step. Because the low FODMAP chilli oil is so packed with flavour, it makes the perfect topping for some firm tofu. Cook up some rice and Asian greens and you have yourself a low FODMAP lunch recipe that your deskmates will envy.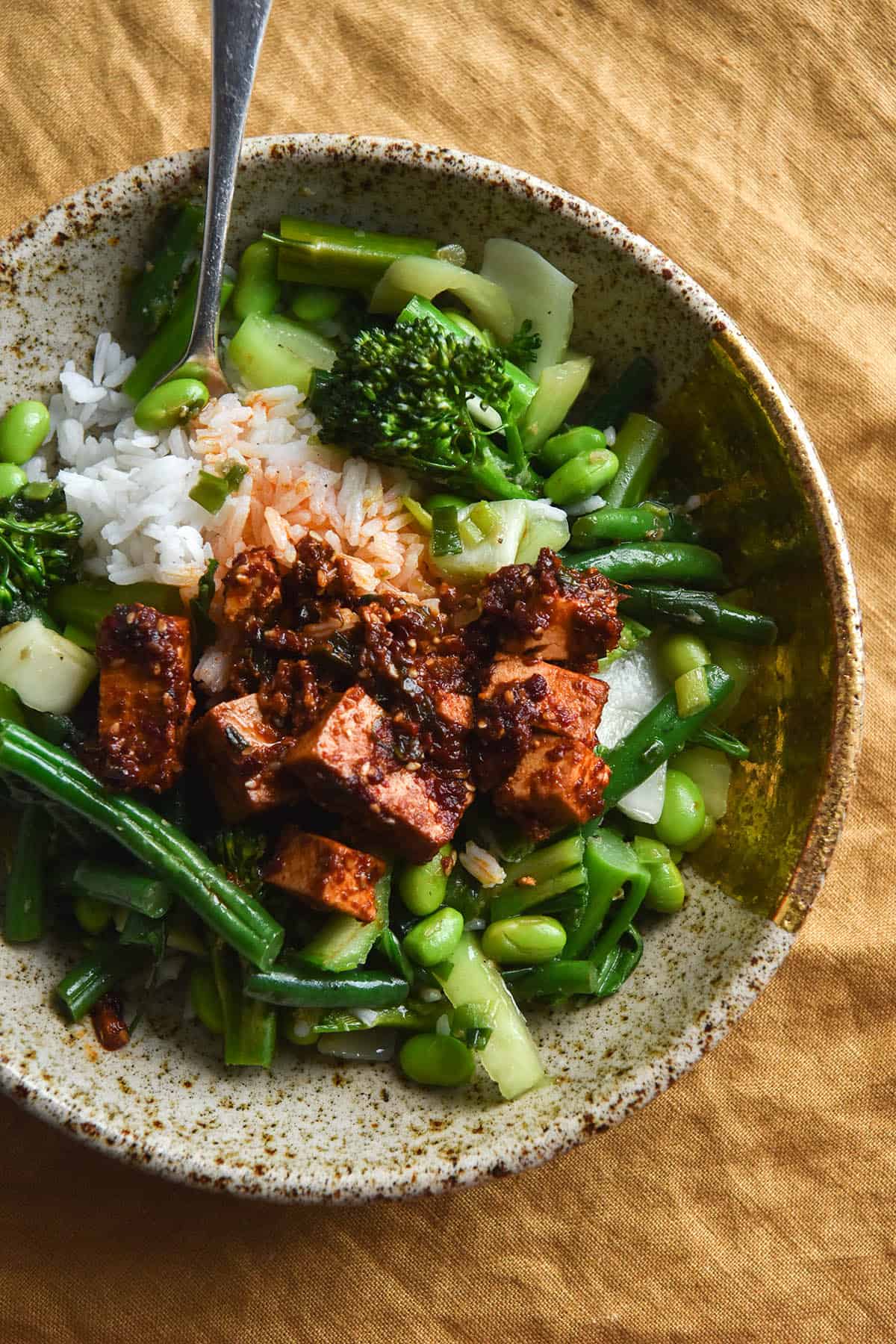 Low FODMAP leek and potato soup
Leek and potato soup is undoubtedly my favourite soup, so I knew I had to develop a low FODMAP version. Although it looks a little different (courtesy of using leek greens instead of whites) it packs a flavour punch. Every bit as good as the original, although I might be a little biased.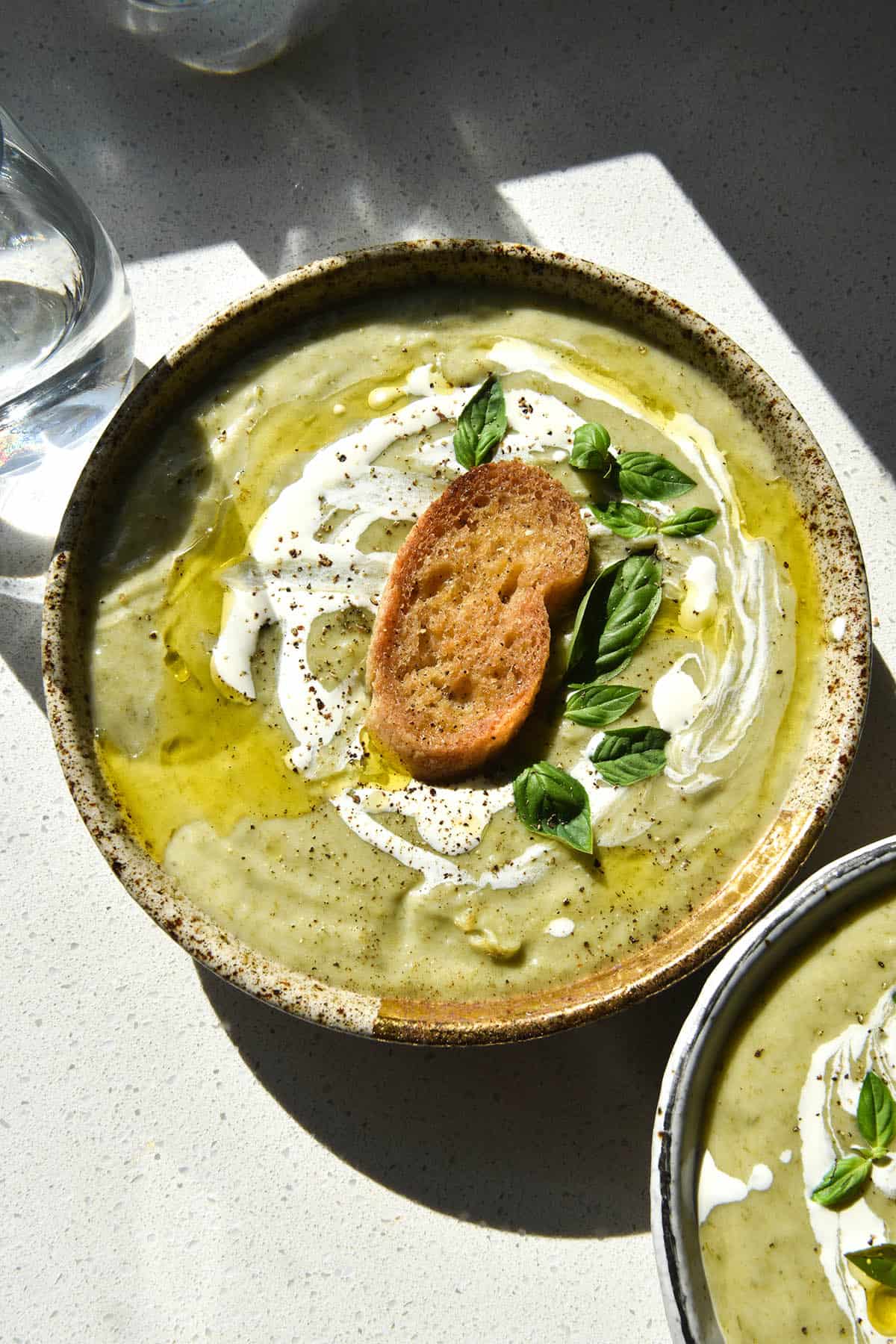 Gluten free pumpkin, leek green, sage and goat's cheese tart
This tart uses gluten free pastry and leek greens to keep the FODMAP content down. It's a deliciously autumnal flavoured pie that everyone will love, dietary requirements or not.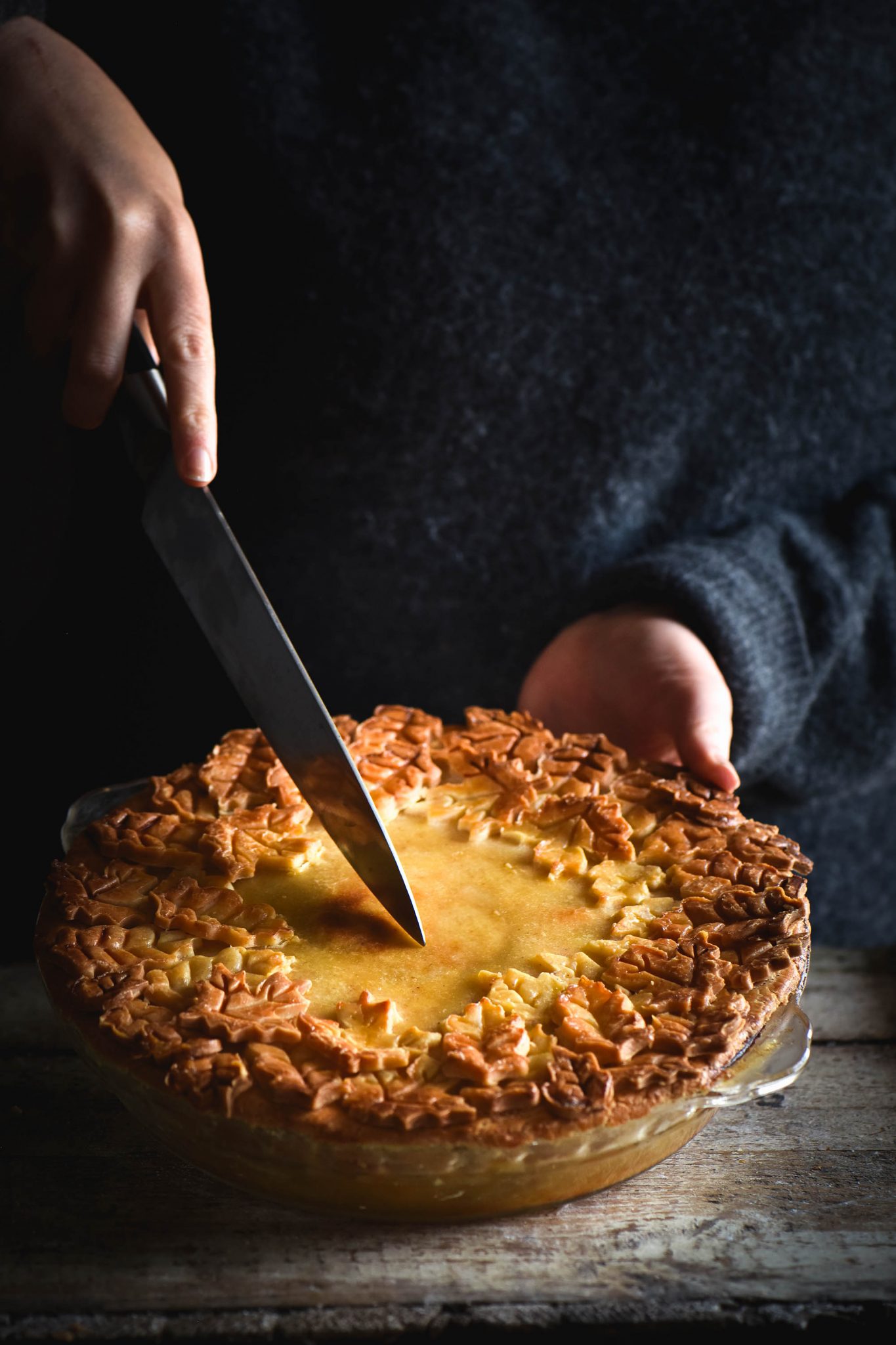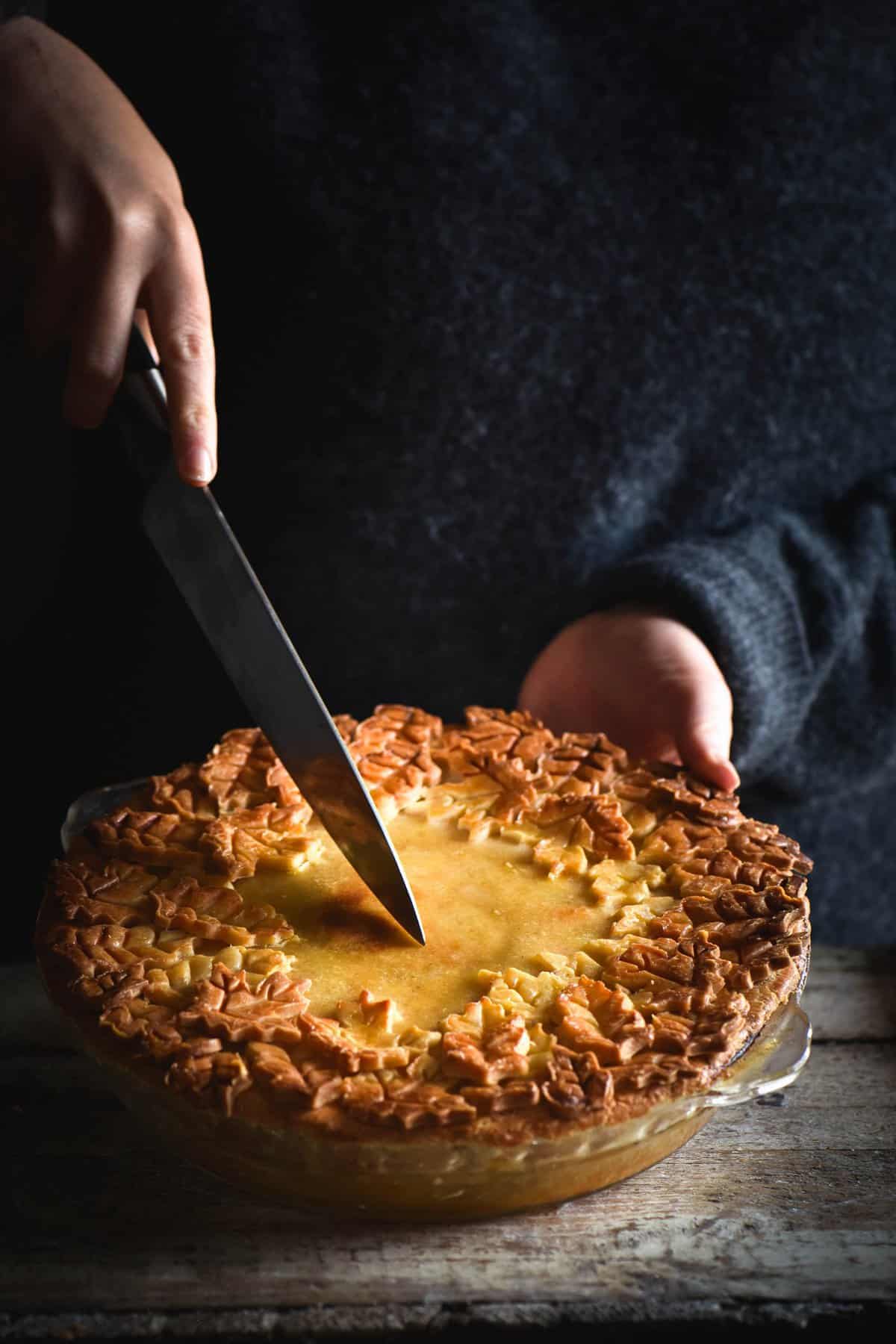 Low FODMAP spaghetti aglio e olio
Garlic, oil, pasta and parmesan: is there a more perfect combination? This low FODMAP aglio e olio uses garlic infused oil to keep the FODMAP content down. You can bulk it up with some leftover roasted vegetables or protein, too.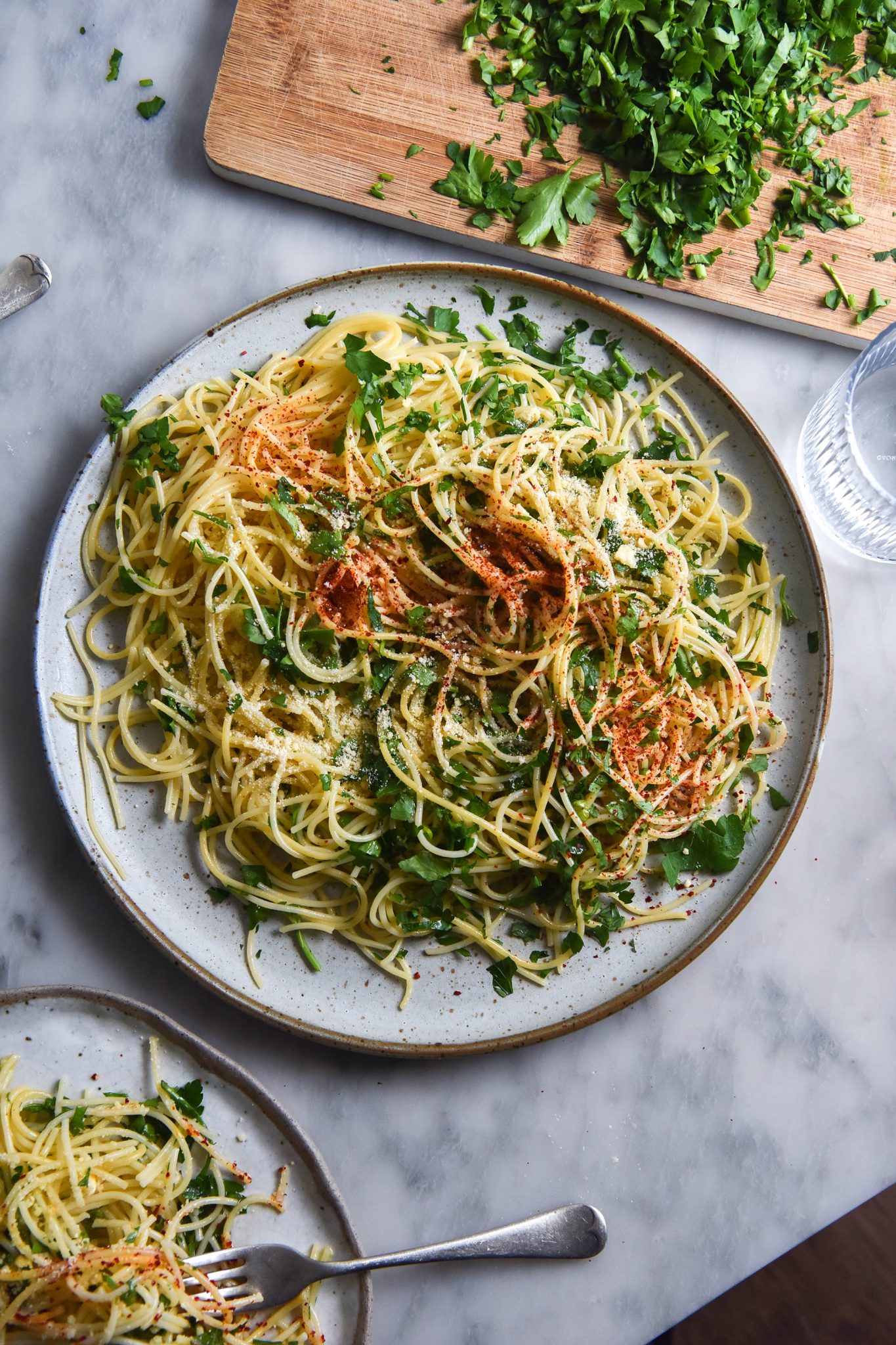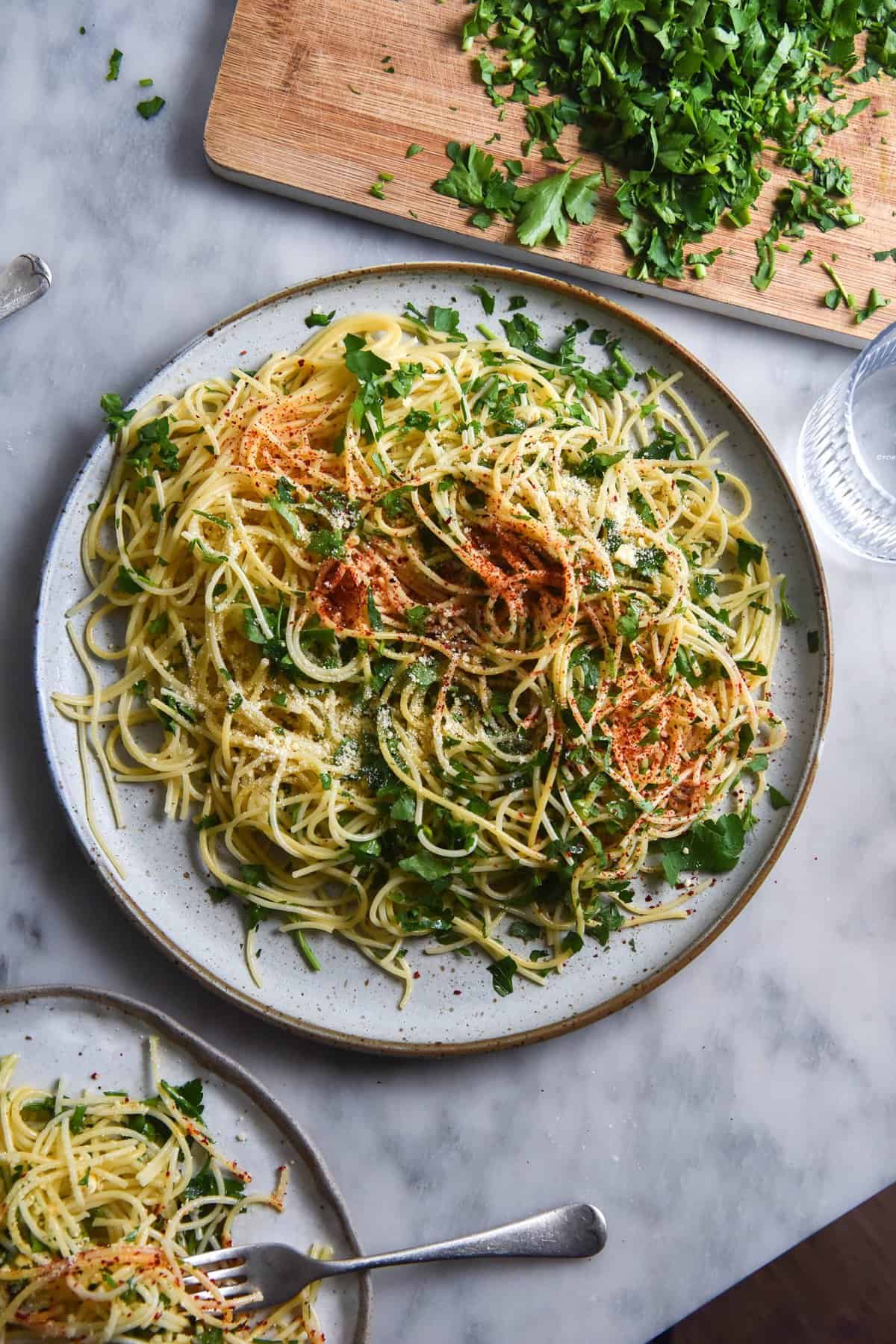 Gluten free corn and cheese empanadas
These gluten free empanadas (and the corn and cheese filling) are a recipe from my cookbook, Intolerance Friendly Kitchen. They are inspired by my trip to Buenos Aires a few years ago – I couldn't get the empanadas, so I developed these when I got home.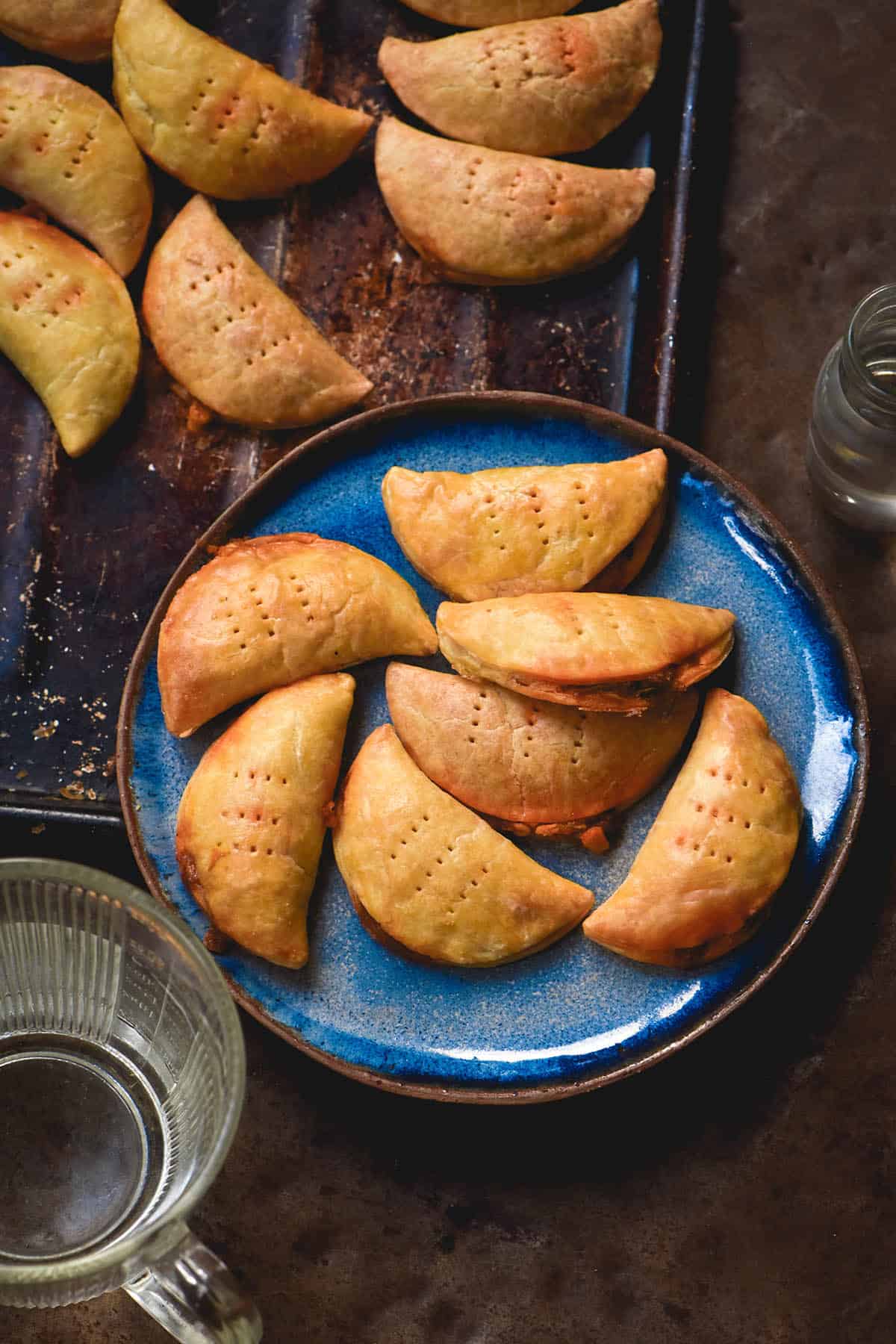 Low FODMAP vegetarian curry with rice
This low FODMAP vegetarian curry is made without garlic or onion, yet is still packed full of flavour. It's also cashew free to keep the FODMAP content down. I love pairing this with some freshly cooked rice for a filling and delicious low FODMAP lunch recipe.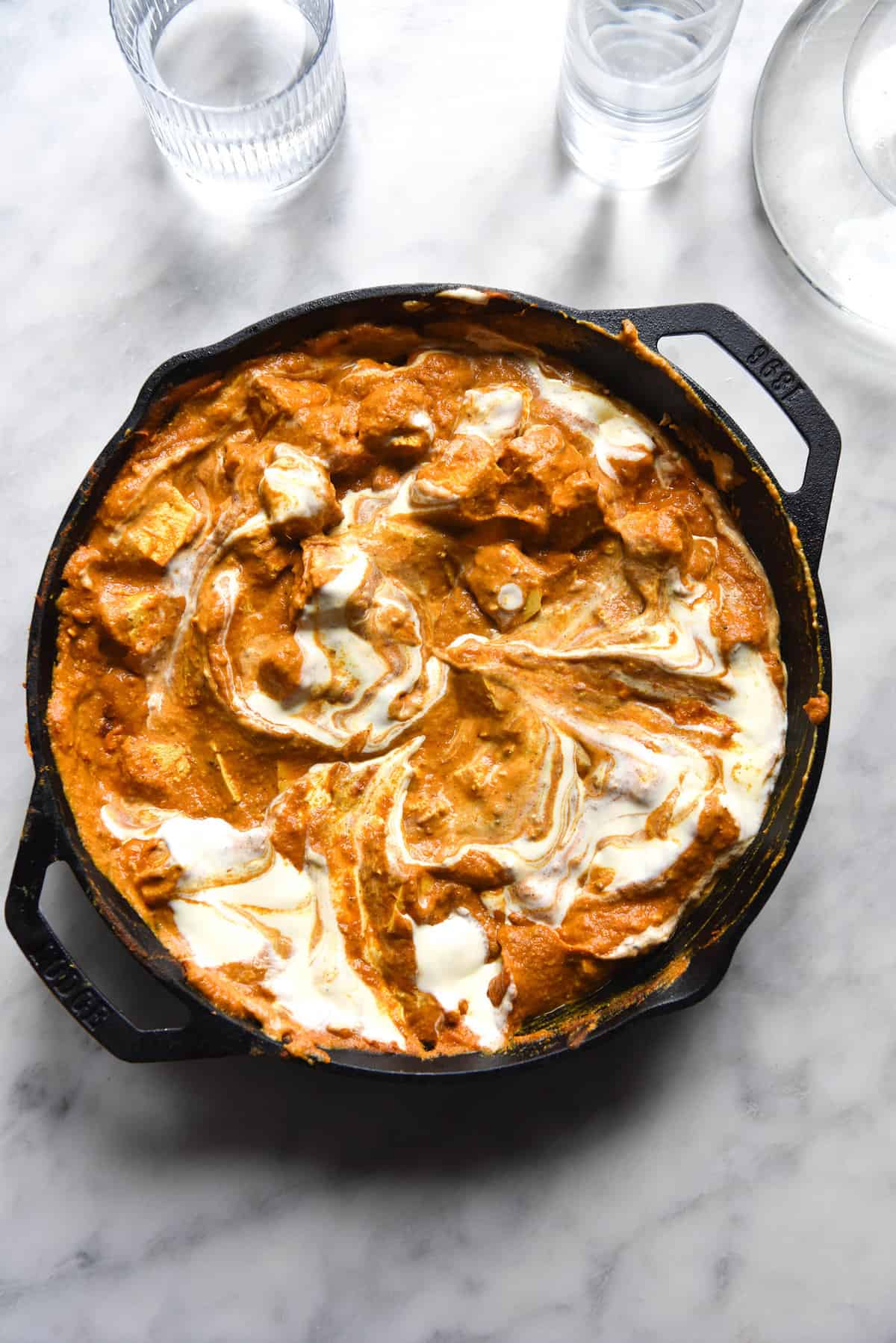 Vegetarian kind of Cobb salad
This salad is very much 'Cobb salad inspired' but I love it nonetheless. It uses smoky, salty tofu chunks to replace the chicken and bacon, and boy are they addictive.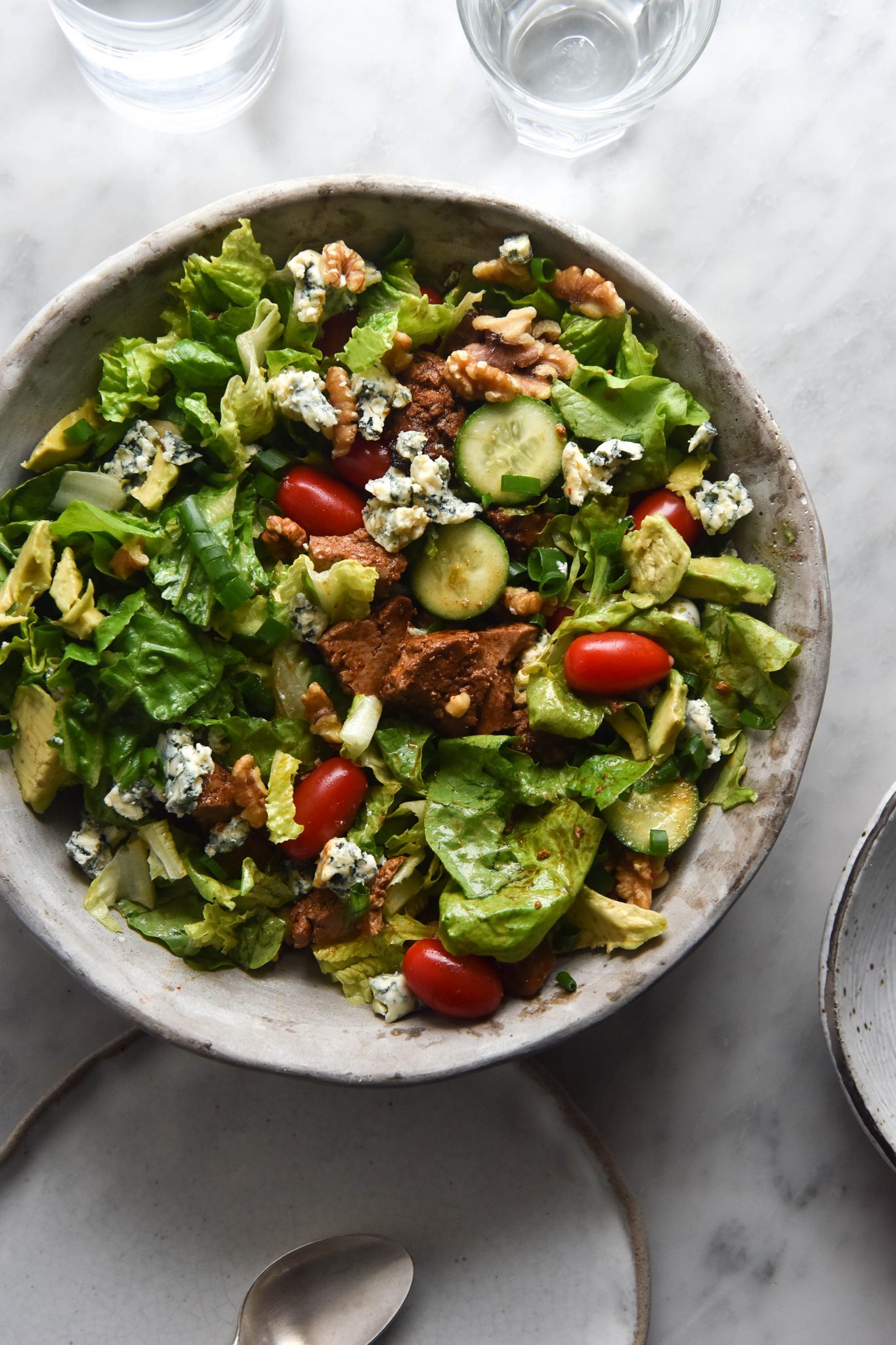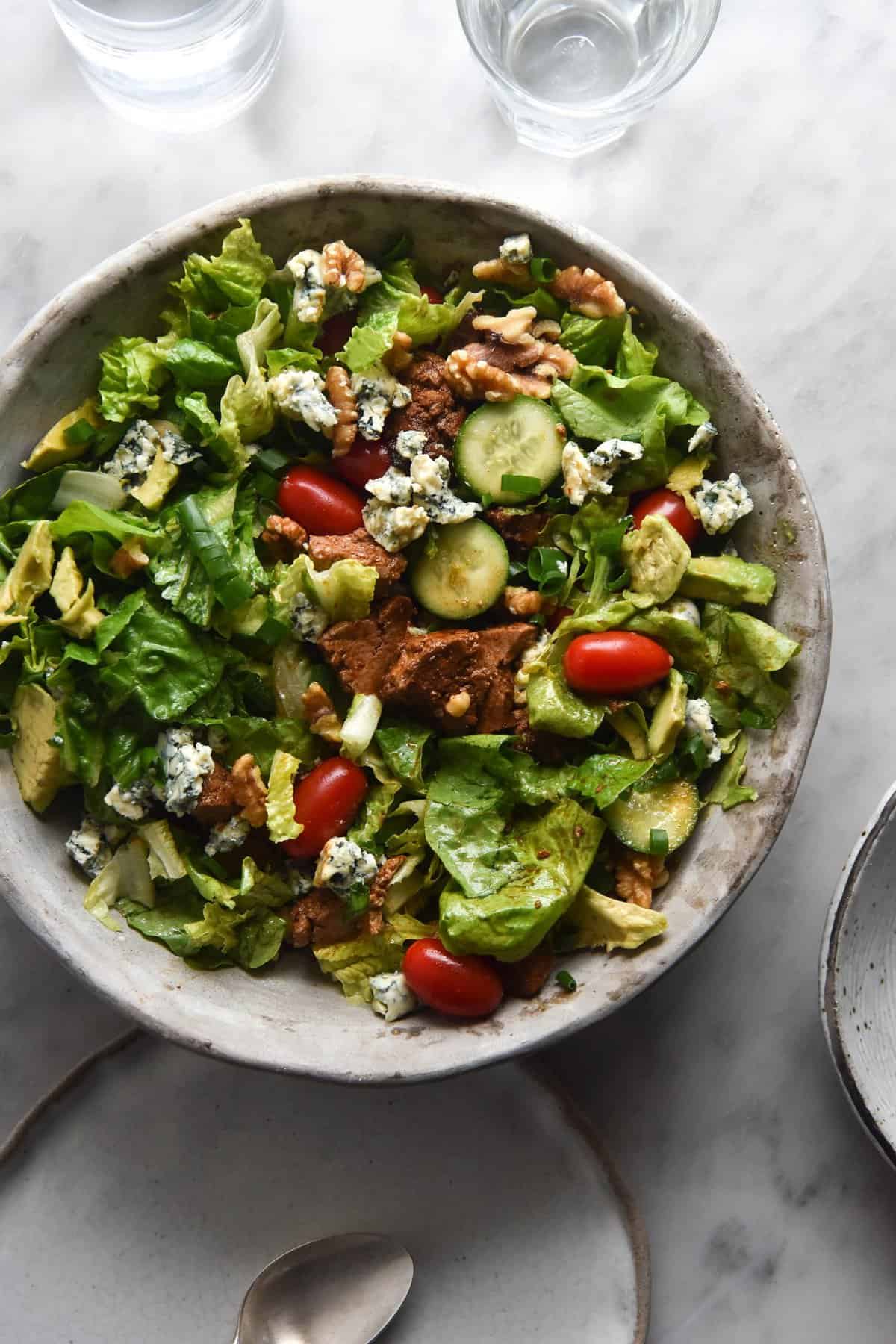 Gluten free buckwheat wraps
One of my favourite things to make and eat, these gluten free buckwheat wraps are gum free, egg free and easily vegan. Because they contain yoghurt and psyllium husk, they stay lovely and flexible the next day.