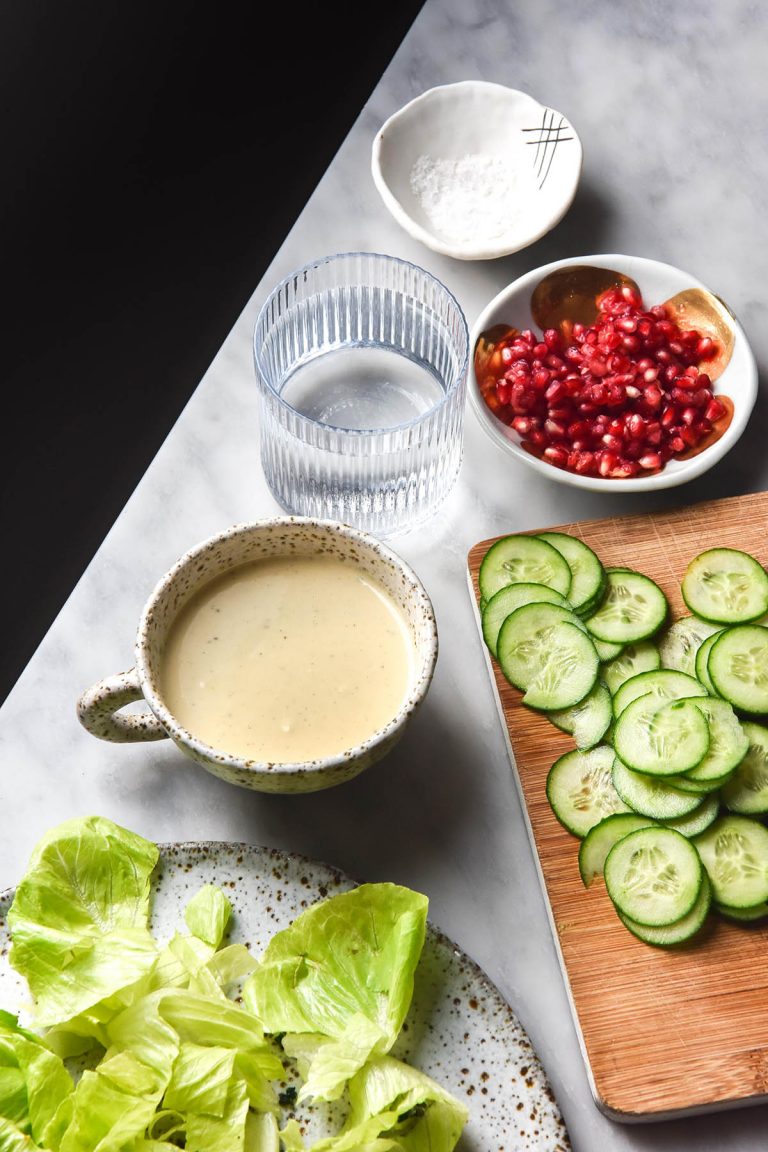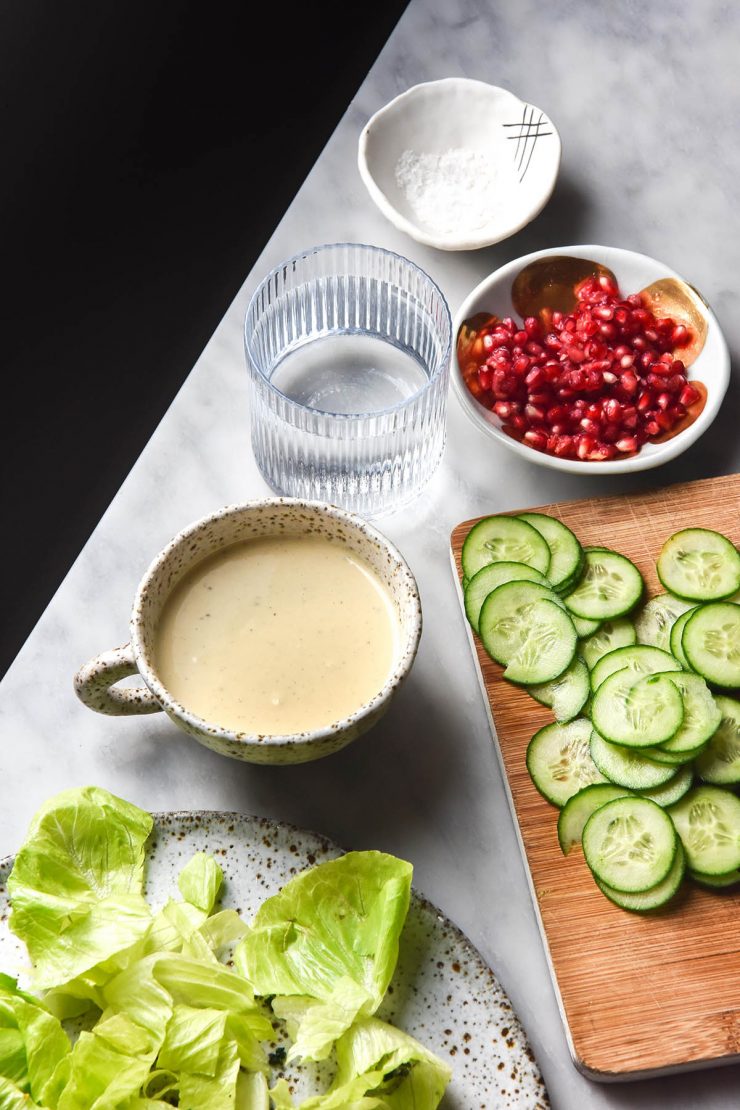 My mum recently made an Ottolenghi potato recipe that used a tahini dressing. It was so good that it reminded me how much I love tahini. The creamy, sesame flavoured heaven that is tahini feels criminally under represented in my recipes. Today that changes with this easy low FODMAP tahini salad dressing.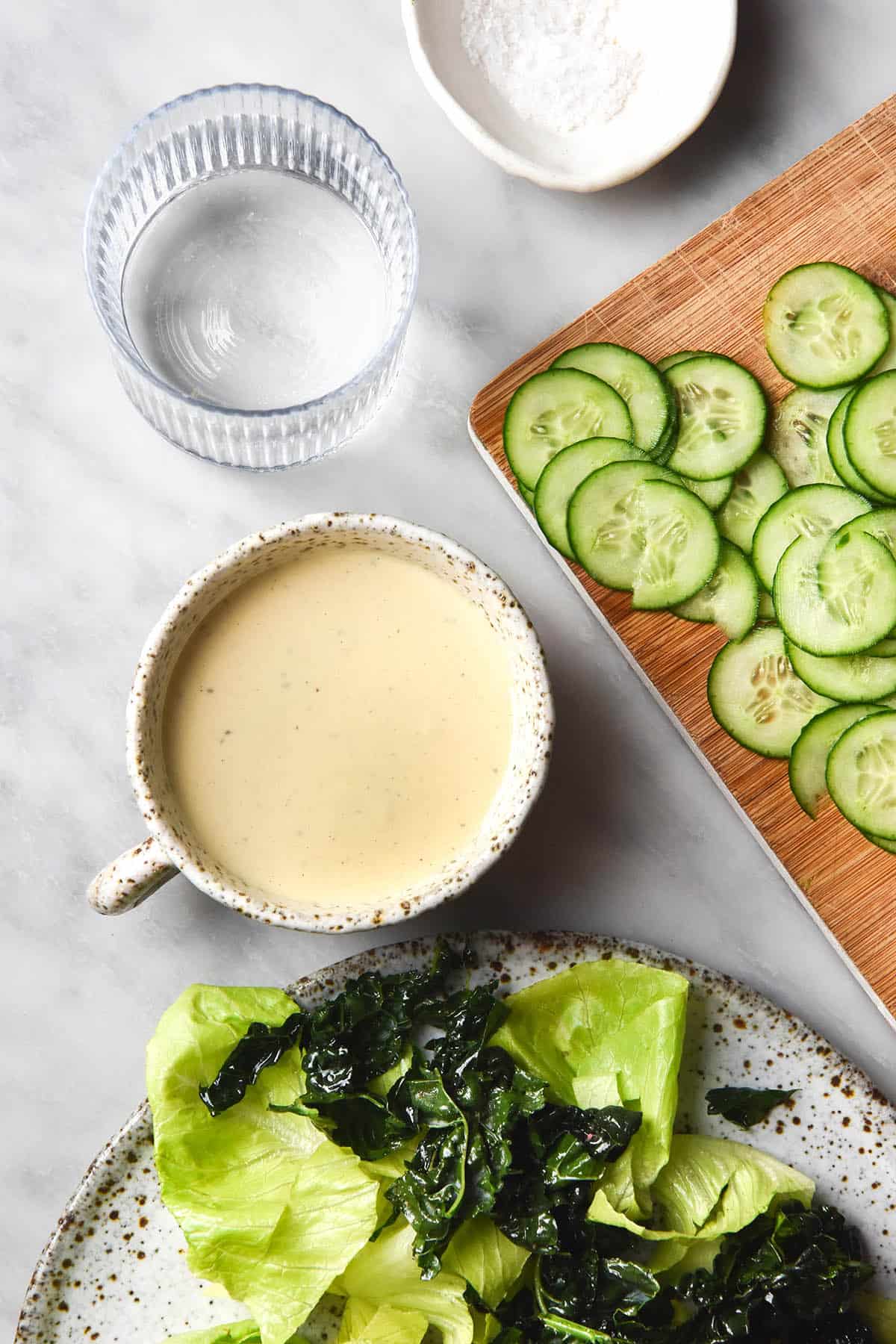 Low FODMAP tahini salad dressing
This salad dressing is a creamy and delicious, sesame flavoured number. It is vegan, gluten free and only uses a small amount of oil. There is no onion or garlic, which means people on a low FODMAP diet can enjoy it's creamy deliciousness too.
You can use this dressing for salad, but also on anything you'd like to jazz up. I love it on roasted potatoes (thanks Ottolenghi) but it also works on other roasted vegetables. With a little flavour profile tweaking (which we'll discuss below) it becomes a delicious addition to Asian greens or on noodles.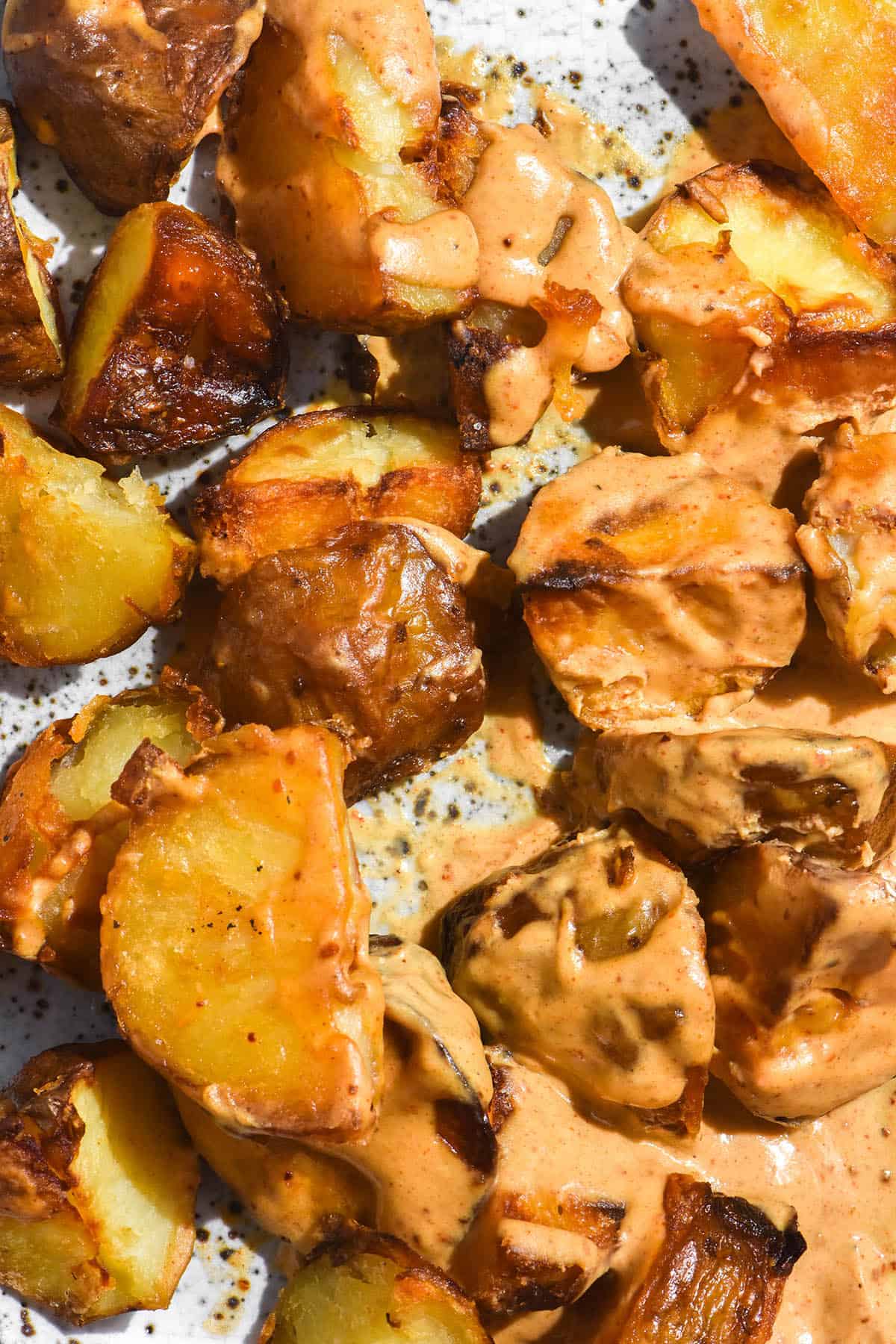 Is tahini low FODMAP?
Yes, tahini is low FODMAP. Both hulled and unhulled tahini are low FODMAP in 30g serves per person. However, a moderate FODMAP serve of hulled tahini is 185g, which suggests a low FODMAP serve is higher than 30g. Similarly, a moderate FODMAP of unhulled tahini is 110g.
This dressing uses 75g, which means it needs to serve just over 2 people to be within the Monash designation of a low FODMAP serve. As we've discussed, though, a low FODMAP serve is potentially higher, meaning you might even be able to eat a whole batch of this dressing. As always, assess your own tolerance and see what works for you.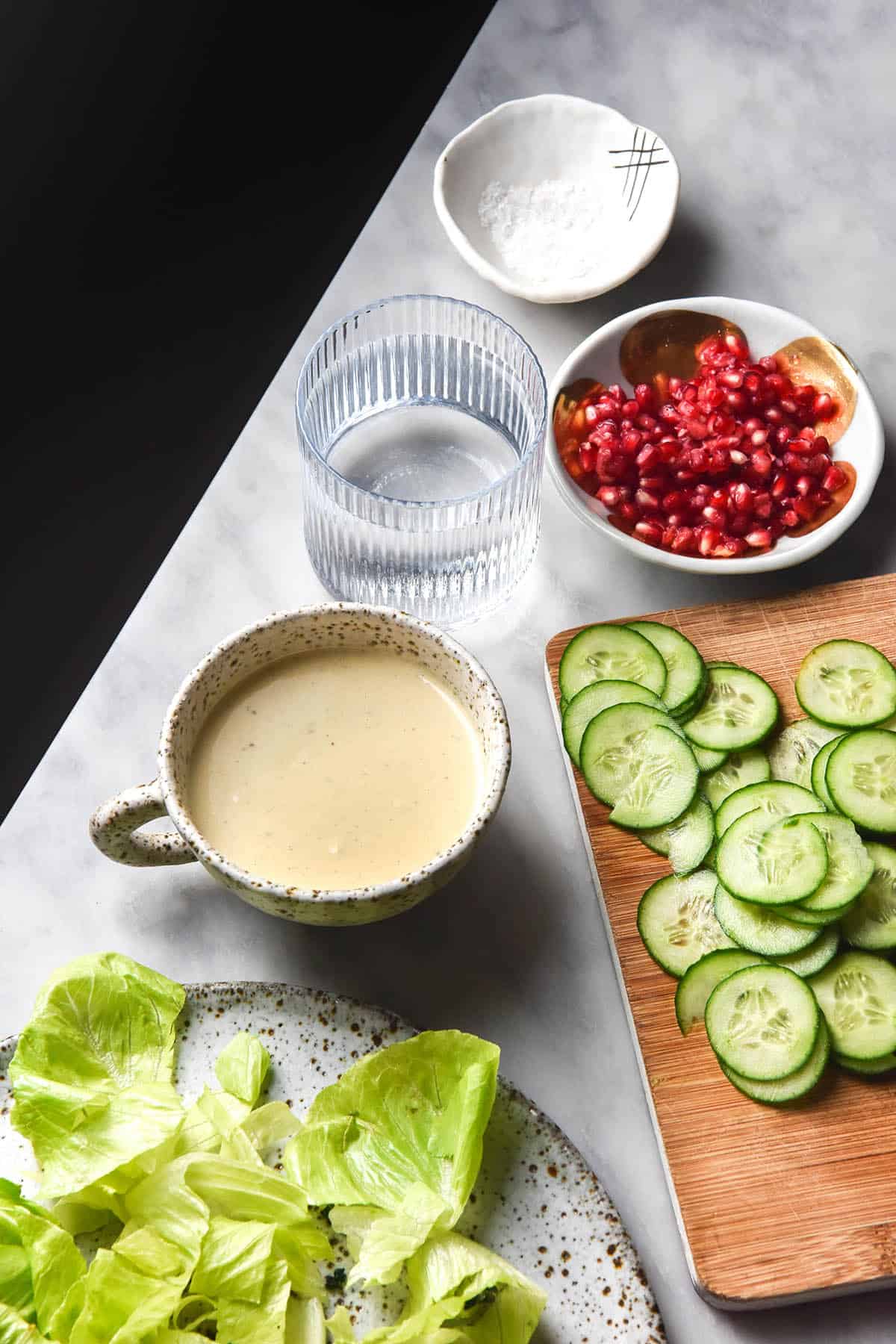 Tips for changing the flavour profile of this low FODMAP tahini salad dressing
Use lime juice in place of lemon, a splash of Tamari and some low FODMAP chilli oil in place of sesame oil for Asian leaning dishes. This could include sauteed Asian greens or a crunchy Asian style slaw. A grating of fresh ginger would also be delicious.
Add some zaatar for a Middle Eastern inspired flavour, or oregano (and honey, if you're not vegan – 1 tsp honey is a low FODMAP serve) for a Greek inspired dish. I'd drizzle this over my cucumber and tomato salad with the quinoa option.
For a garlic hit, use garlic infused oil instead of sesame oil.
Fresh dill and parsley would give this tahini dressing a ranch inspired flavour.
I have also used chopped chives for a garlic hit, and basil (because I had some on hand).
A teaspoon of smoked paprika and some chilli would add a Tex Mex flavour. I used this (plus some liquid smoke and chilli flakes) on the potatoes photographed for this post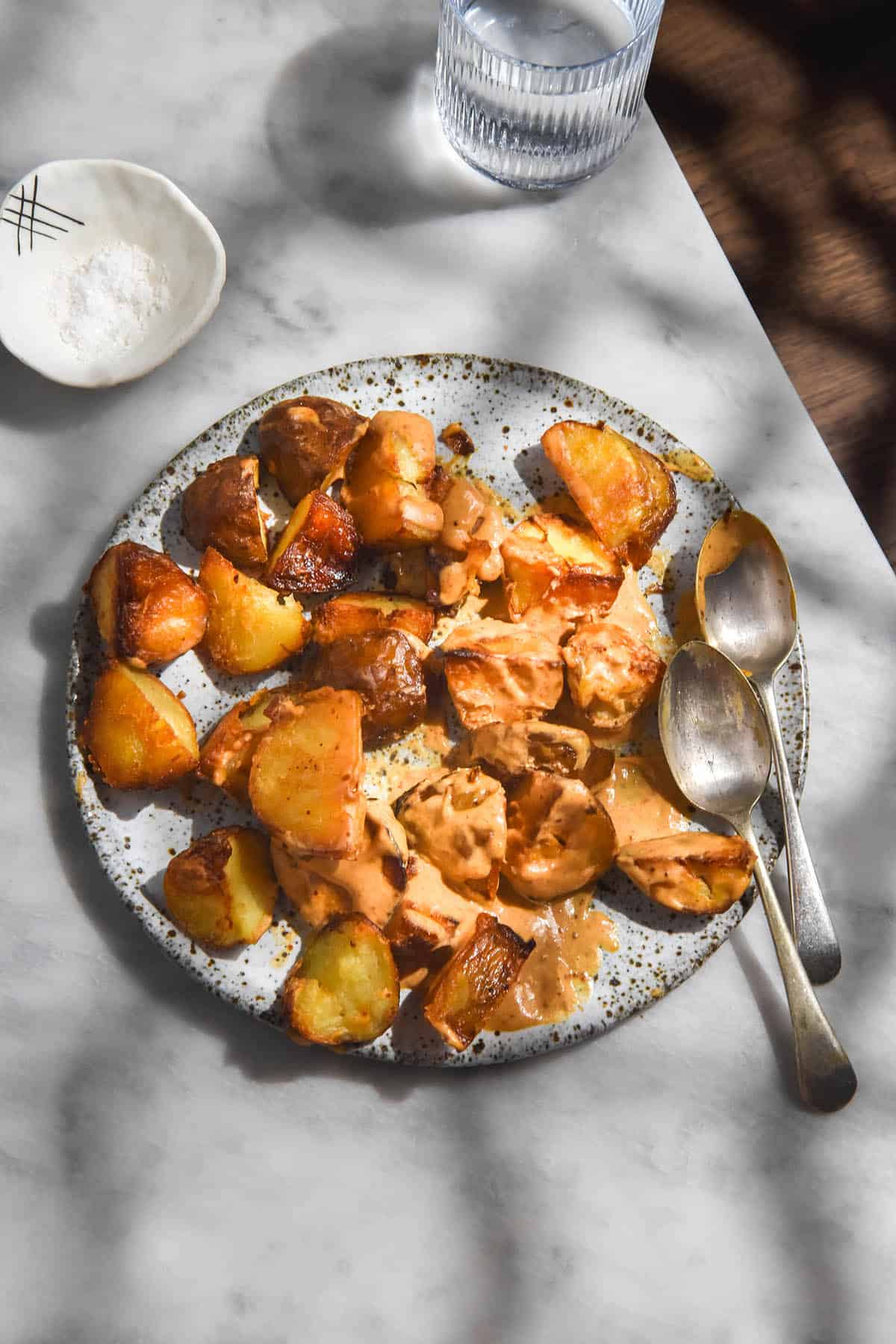 To make a kale salad with low FODMAP tahini dressing
Use 1/2 – 1 bunch of Tuscan kale that has been de-ribbed, chopped, washed and massaged with oil and salt. I like to use 1/2 bunch kale and 1/2 head lettuce.
Add some flavours – I used pomegranate seeds, goat's cheese, cucumber, parsley and some leftover chives. I also used a savoury granola I'm working on, but a nut like walnut would have been lovely.
Add the dressing!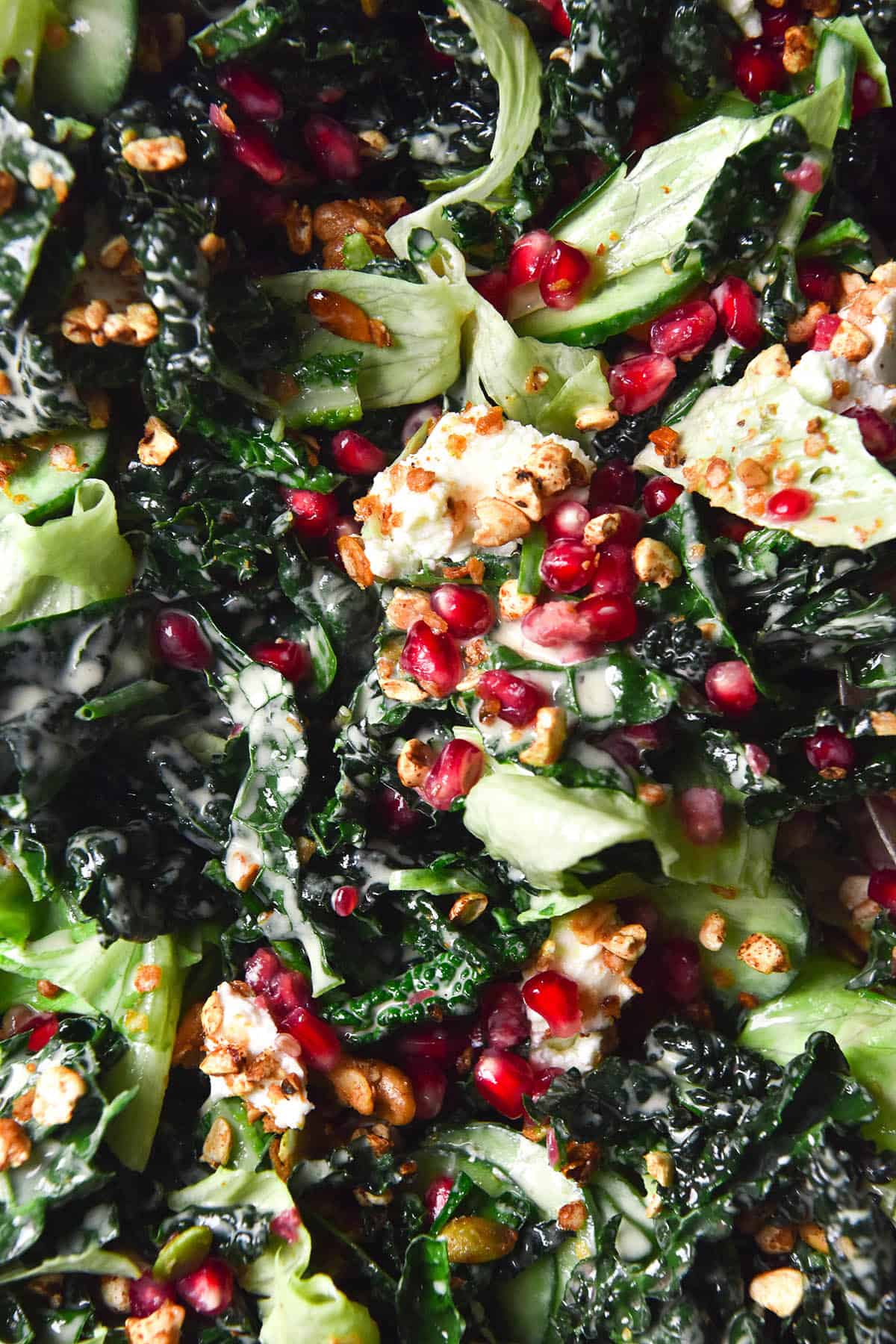 More low FODMAP tahini and sesame recipes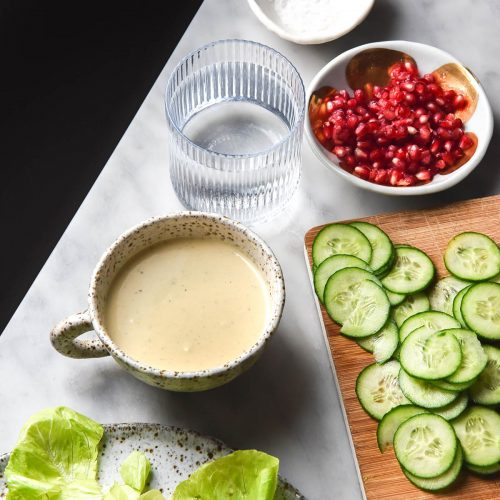 Low FODMAP tahini salad dressing
Vegan, gluten free, onion and garlic free
*Cups and measures are in Australian cups and measures. Use ml and gram weights for international accuracy.
Ingredients
75g

(1/4 cup)*

tahini (see notes)

40ml

(2 tablespoons)*

fresh lemon juice

20-40ml

(1-2 tablespoons)*

toasted sesame oil

10-20ml

(1/2 – 1 tablespoon)*

maple syrup

10-20g

(1/2 – 1 tablespoon)

Dijon mustard (check to see it doesn't contain garlic – Maile is garlic free in Australia)

Freshly cracked pepper and fine salt, to taste

20-60ml

(1-3 tablespoons) *

cold water, to reach your desired consistency
Instructions
Combine all ingredients except the seasoning and water in a mixing bowl. Add the lower amount of toasted sesame oil and maple syrup first, then assess the taste. If you want more of each, add more.

Once you're happy with the flavour balance, add the seasoning and repeat. Whisk in the water until you reach your desired consistency.

Serve over salad, roast potatoes or anything you'd like to jazz up. Store leftovers in an airtight container in the fridge and use within a week.