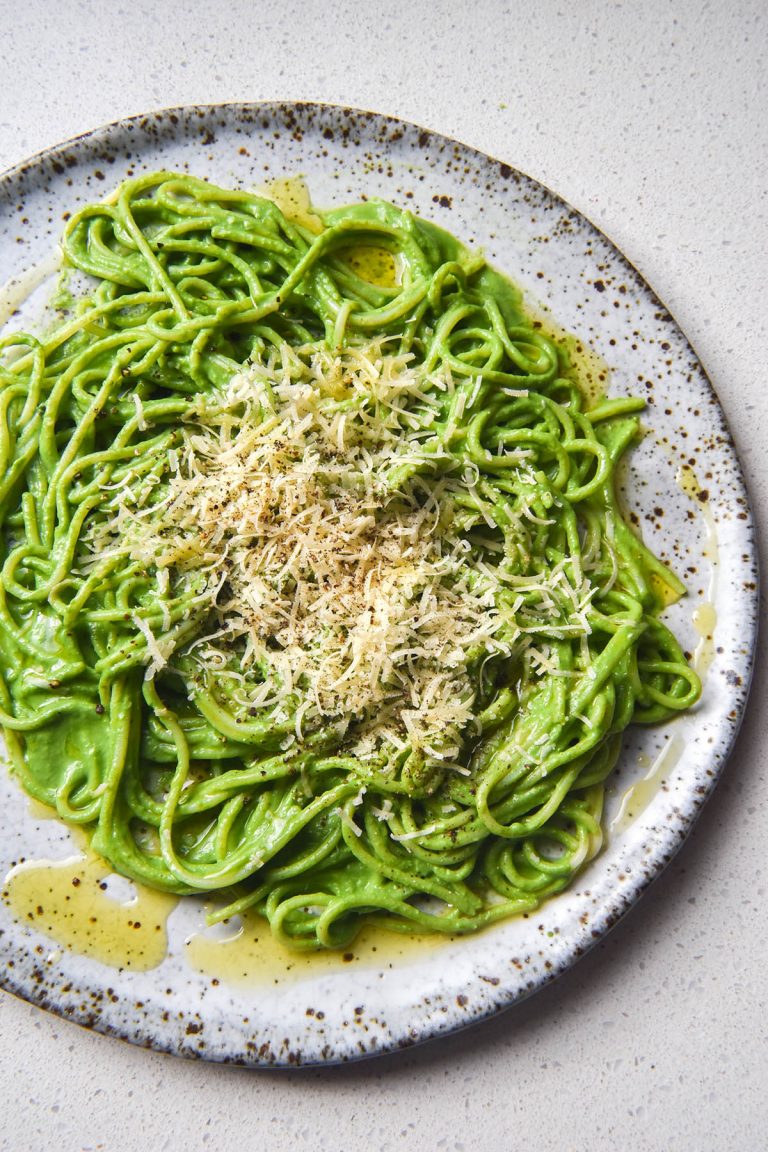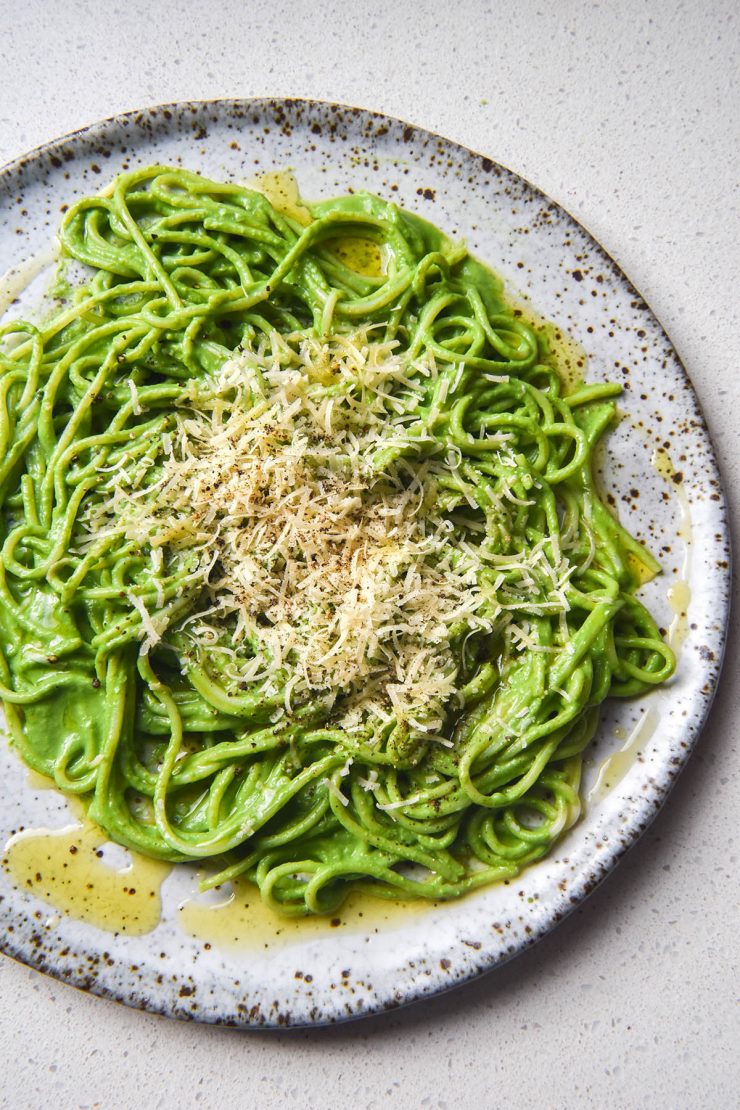 Green protein pasta sauce is the best name I could come up with. Sorry. I've seen the idea of adding some silken tofu to pasta sauces floating around on TikTok. Silken tofu doesn't tick too many FODMAP boxes, so I decided to play around with some lactose free cottage cheese and white beans. And here we are! A super quick, delicious and beautiful green protein pasta sauce.
Green protein pasta sauce without onion or garlic
Before we begin, I want to point out that 'protein' in the name is not some gym bro recipe idea. It's more about the fact that it can be harder to get protein into pasta dishes as a vegetarian. Sure, you can make vegan bolognese, but it's harder in a pesto based pasta sauce. That's why I developed this recipe. I'm not a nutritionist – just someone who wants to feel fuller for longer after a bowl of pasta.
This green protein pasta sauce is made without onion and garlic. It uses blanched kale and basil for the greens and flavour. Blanching kale helps set the gorgeous green colour, but it also removes the bitterness. Basil, in my eyes, is essential in anything that claims to be pesto.
The protein in the sauce comes from canned chickpeas and lactose free cottage cheese (which I have an easy recipe for).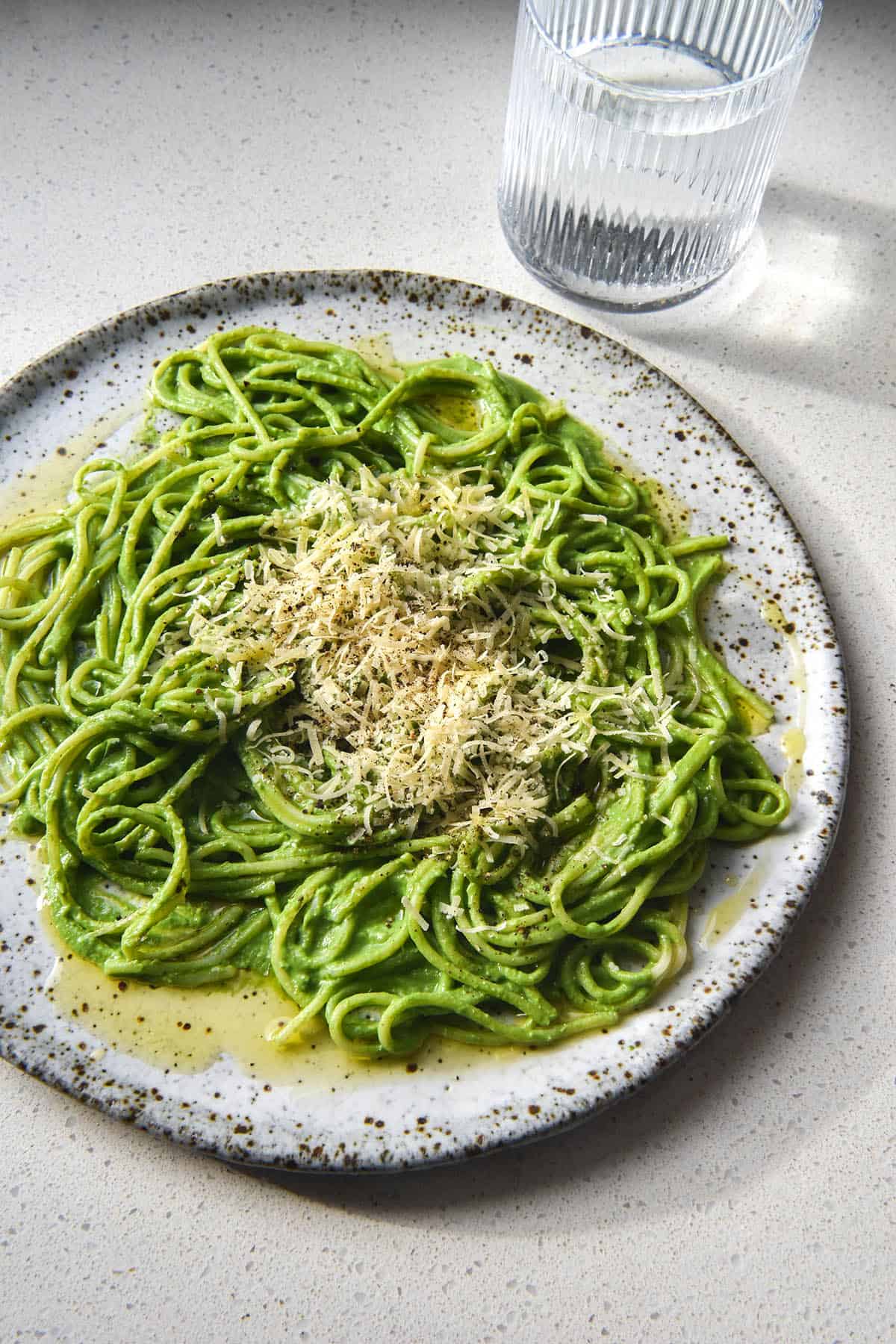 Green protein pasta sauce recipe notes
Blanching the kale really does give it a beautiful vibrant colour once finished. It also softens the flavour and makes the whole thing easier to blend.
This kale sauce doesn't contain oil. Why? Because I love finishing my pasta dishes with garlic infused oil. When you use the oil in cooking it tends to disappear into the other flavours. When you drizzle it over at the end, though, the flavour really shines/
If you need a vegetarian parmesan (yes, they exist) see this list for options in Australia.
Lactose free cottage cheese is available in Australia. It can be expensive and is often sold in small tubs, though, so I have developed a lactose free recipe here.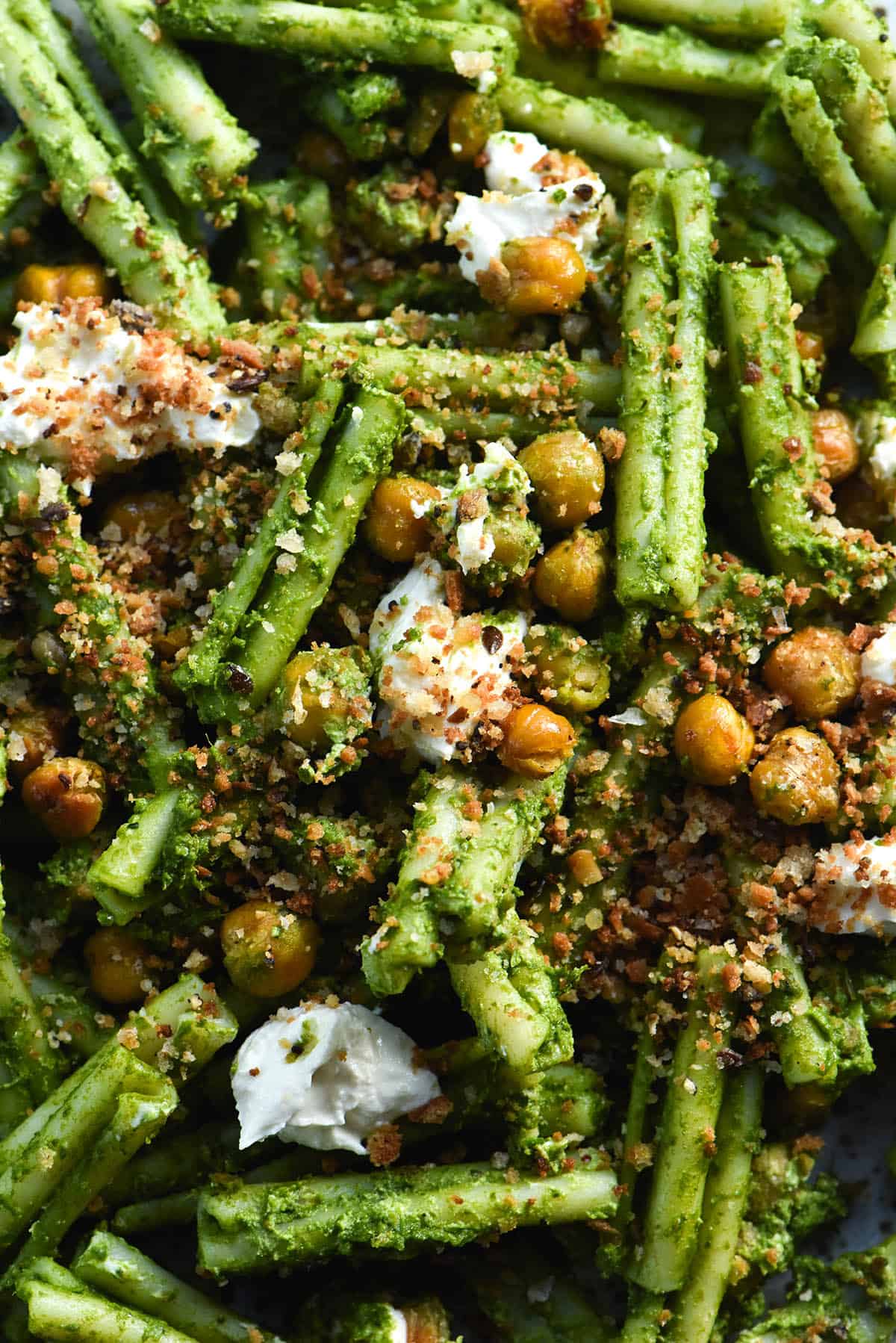 FODMAP notes for your green protein pasta sauce
First off, this wasn't necessarily designed to be an overtly FODMAP recipe. So, pretty please, make this if it only works for you. If not, see the links below for other pasta recipes.
Next up, let's address what you're probably here for. The beans. As I've mentioned, I am trying to incorporate more beans into my diet. As a digestively challenged pescatarian (who really only eats tuna right now) it can be hard to rely on eggs and tofu. My doctor persistently informs me that I don't get enough protein. I attribute this not to my vegetarianism, but to my constant obsession with testing cakes. Anyway, I digress.
I've chosen to use butter beans in this green protein pasta sauce. Butter beans are considered FODMAP friendly in 35g serves per person. A whole 400g can, once drained and rinsed, weighs approximately 250g. So! If you use a whole can of beans, as I do, you will need to spread the sauce out over seven servings.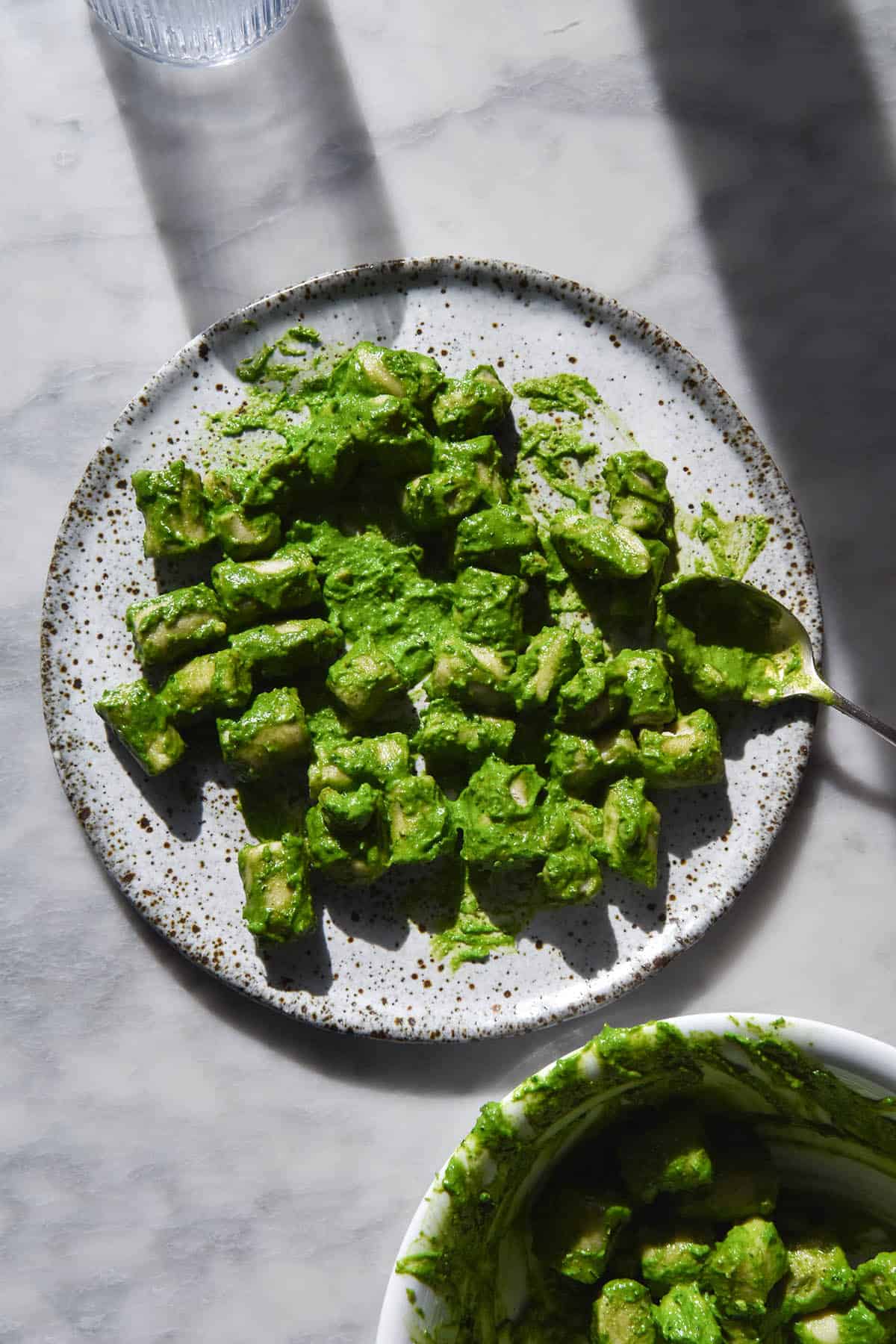 Notes on the FODMAP content of this protein pasta sauce
This pesto can easily serve 6-10, depending on how much you add and how much pasta water you thin it out with. You do have options beyond portions though. As follows:
Firstly, you can choose to use less beans in the sauce. Simply add the remaining beans, whole, to the plates of people in your household who can eat beans. No waste necessary.
Secondly, you can try using canned chickpeas (also called garbanzo beans) in place of the butter beans. Canned chickpeas have a higher FODMAP threshold of 42g per serve. This means the sauce will only need to divide between 6 portions.
This all goes without saying: if you can eat beans with reckless abandon, do so!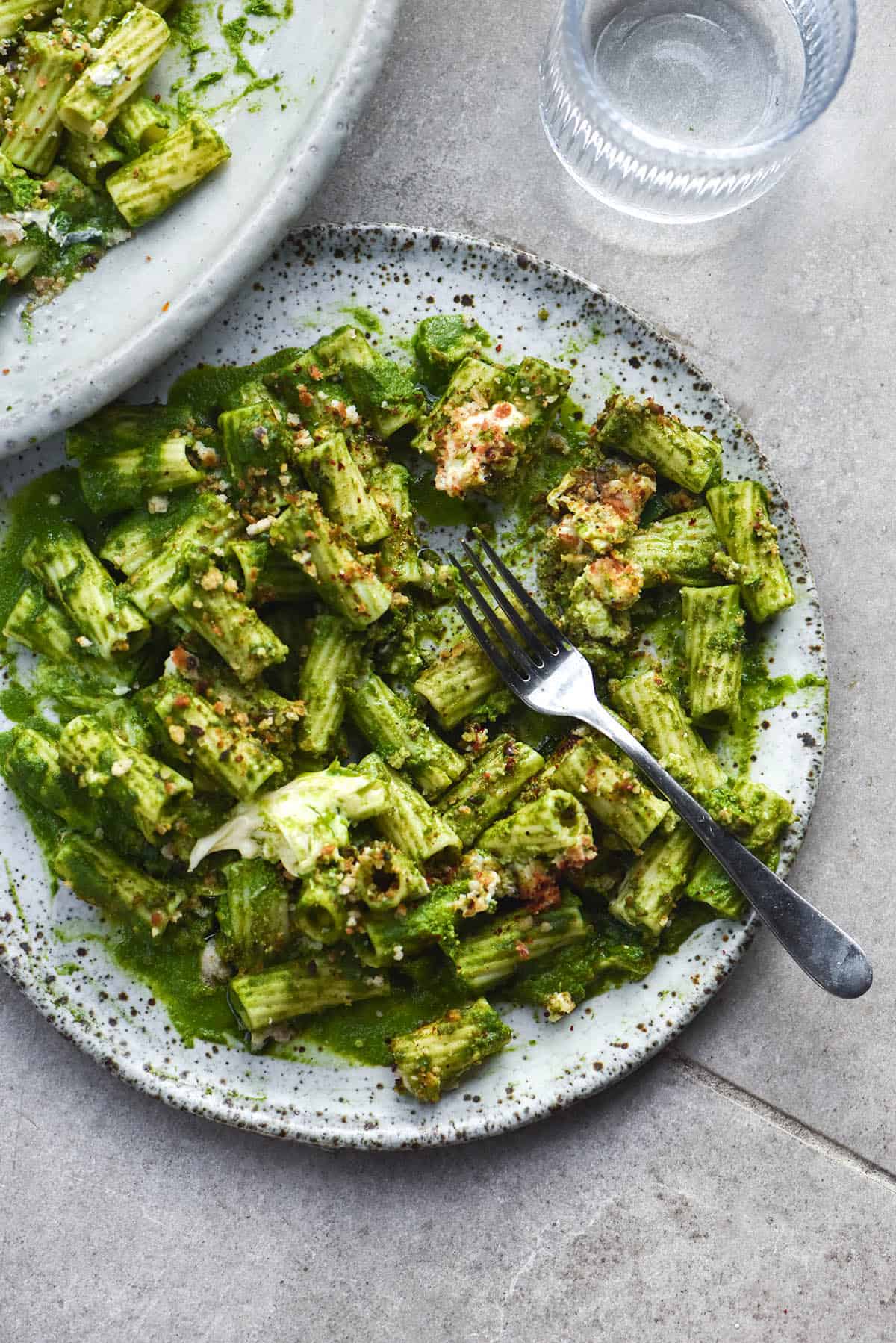 A note on the cottage cheese
Cottage cheese is available in regular, high protein and lactose free options at most supermarkets in Australia. These days, I find that lactose doesn't bother me too much, so I opt for the high protein option. That said, I know lactose is an issue for a lot of people.
I developed a lactose free ricotta recipe (which you can find here) so that people can access lactose free cottage cheese, whether or not their supermarket stocks it. I have very fond memories of eating the chive or pineapple flavours after school (Aussie 90's kids might relate) so I was keen to develop a recipe.
As always, pick whichever option works best for your digestive system! The cottage cheese adds a lot of the protein to this green protein pasta sauce, so I don't recommend omitting it.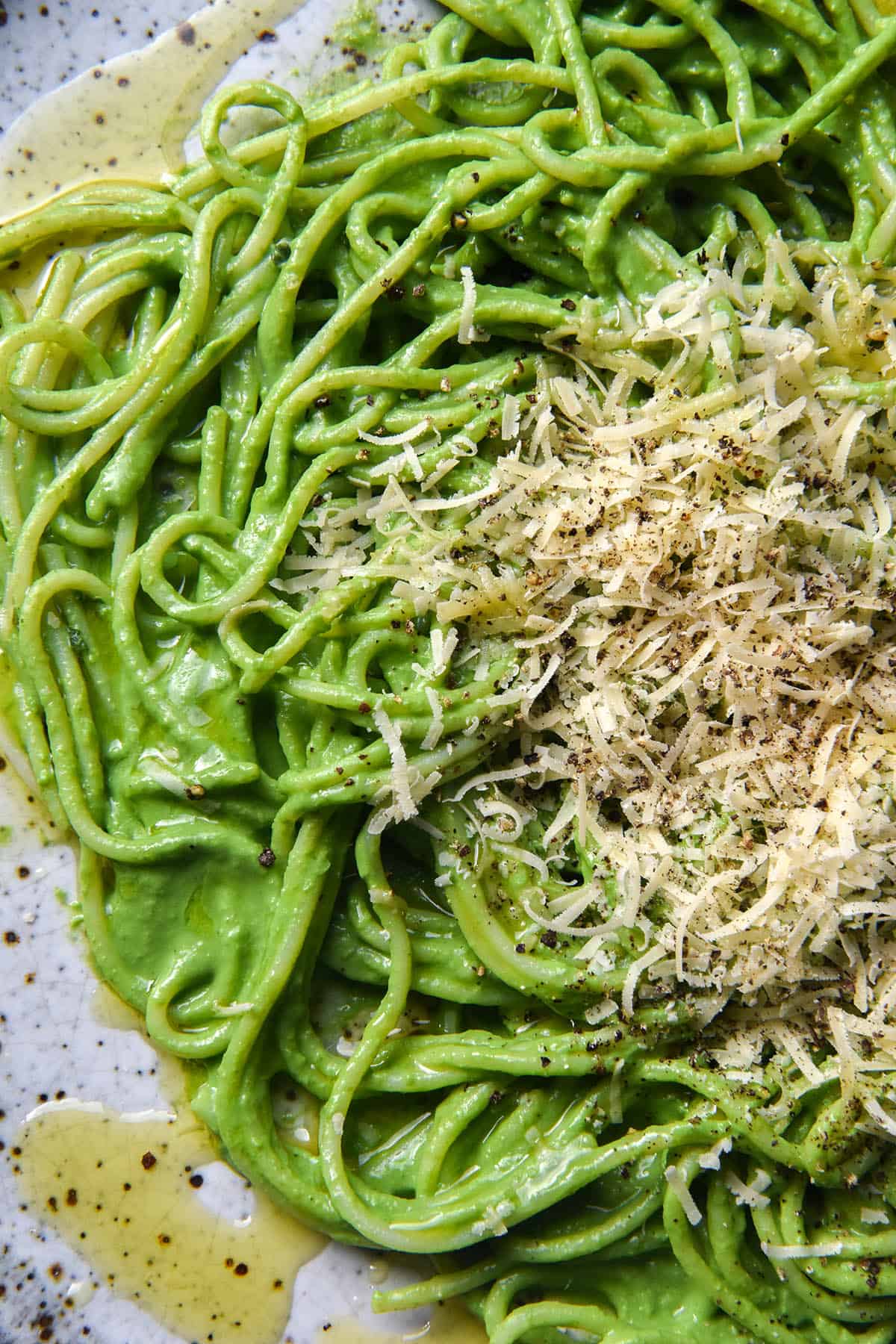 More FODMAP friendly pasta recipes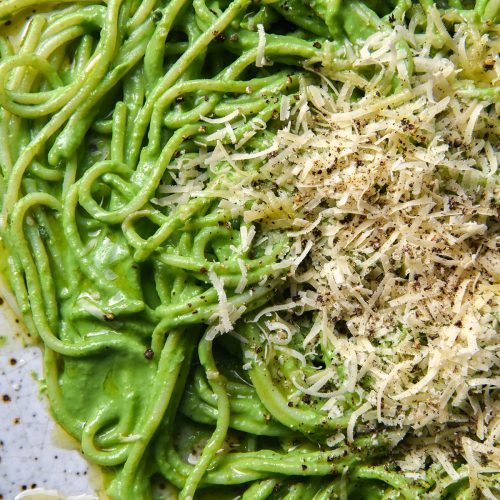 Green protein pasta sauce
Ingredients
1

large bunch Tuscan kale, de-stemmed

(about 150g)

1

large bunch basil, rough stems removed

1

x 400g can butter beans or chickpeas, drained and rinsed (approximately 250g of beans once drained)

(see notes)

1

cup

(250g) cottage cheese

(see notes)

100g

freshly and finely grated parmesan

(see notes)

1/2

cup

water (for blending, optional)

Seasoning, to taste

1-2

lemons
Instructions
Bring a medium pot of water to the boil. Blanch the de-stemmed kale for about 10-15 seconds until soft but still bright green. This sets the colour and helps mellow the strong kale flavour. Remove from the water, strain and immediately run the cold water to stop the kale cooking further. Wring out and add to the blender.

Add the remaining ingredients except for the lemon juice and seasoning. Blend well, using the water if you need it. If you have a Nutribullet, I recommend putting something heavy in first, like the beans. This will help press everything down into the blade when you invert the blender cup.

Blend until smooth, then add lemon juice and seasoning to taste. Spoon over pasta, vegetables, or anything that needs a delicious sauce. If you're making pasta, this pesto is enough for 400g worth of raw pasta with some leftover. Keep the FODMAP limits in mind when serving if need be, and read the notes carefully. Leftover pesto keeps well for a number of days but can also be frozen and defrosted.
Notes
Tuscan kale makes for a beautiful darker colour, but regular kale can also be used. I accidentally used it for the spaghetti photo batch and it makes for a more pale green colour.
See the notes section on the beans if you need this to be FODMAP friendly. I cover all the possible options for the beans in that section.
You can use regular, high protein or lactose free cottage cheese. I have developed a recipe for homemade lactose free cottage cheese which you can find here. 
Vegetarian parmesan does exist, whether or not it should. For a list of Australian brands, follow this link. 
I highly recommend drizzling this green pesto pasta sauce with homemade garlic infused oil, for my fellow garlic adverse gals. You get all the garlic flavour with none of the fructans.