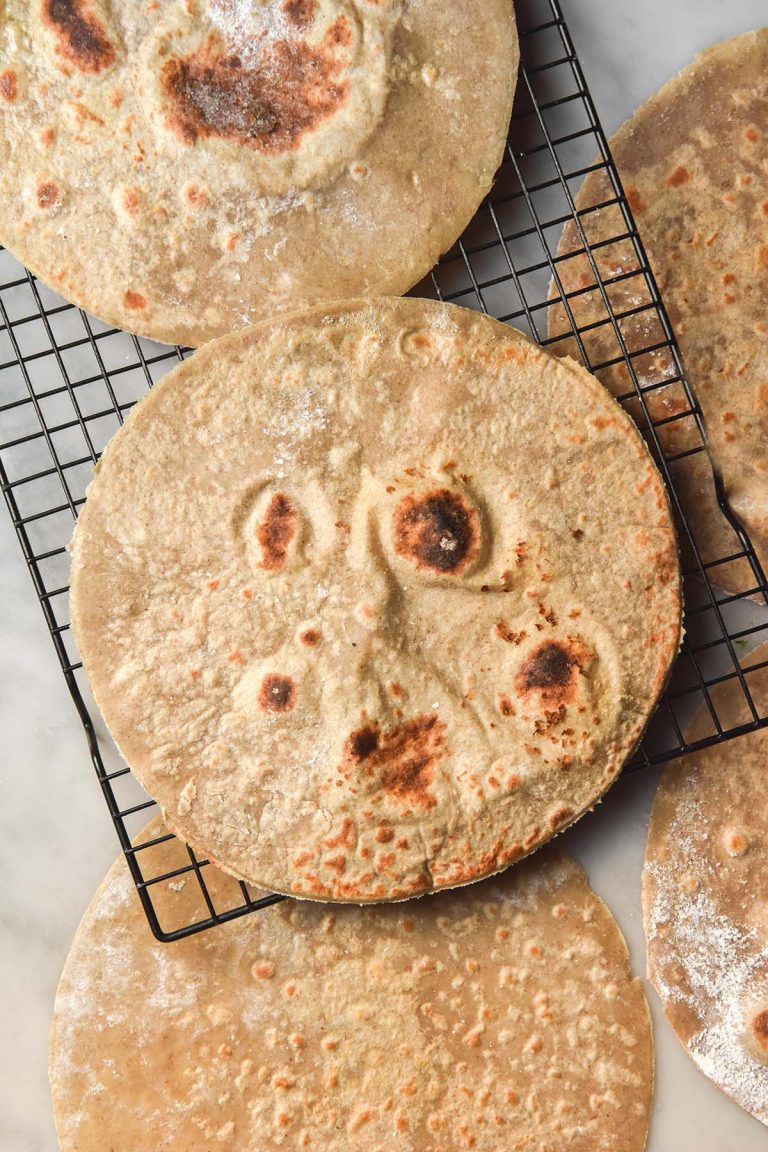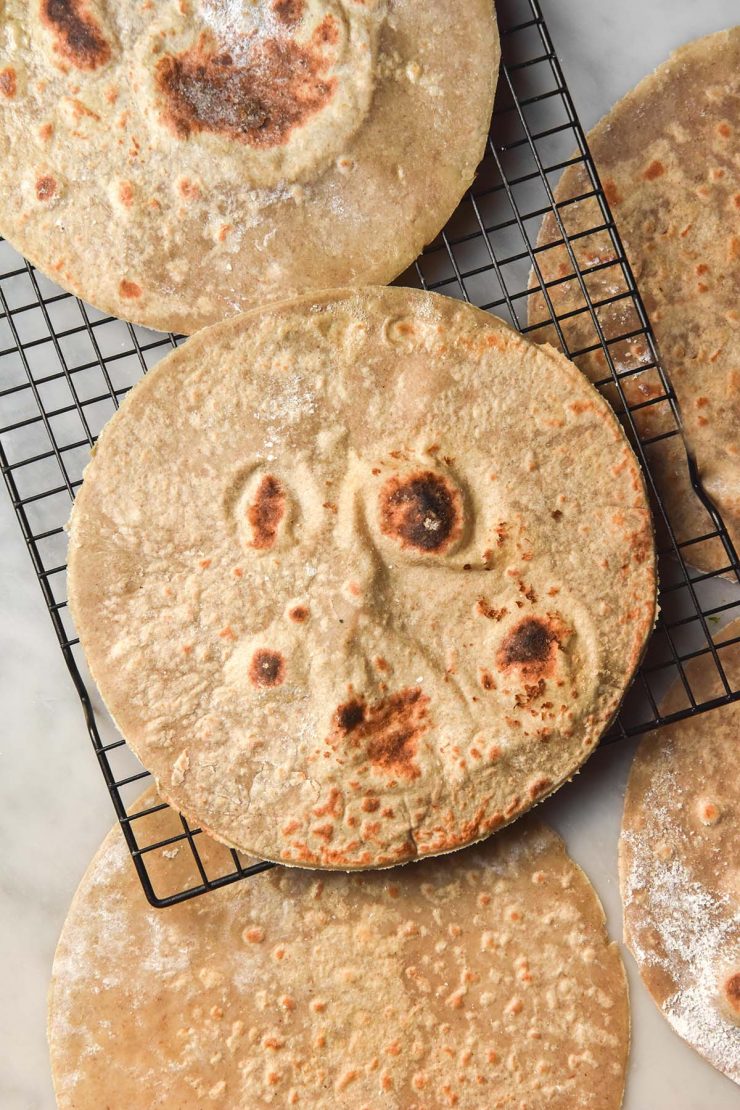 These buckwheat wraps were inspired by my recent recipe for gluten free wraps. I had tried buckwheat wraps using the method for my gluten free tortillas in my cookbook, to no avail. Although it sort of worked, the wraps cracked easily and weren't suitable to fold. With the help of yoghurt, though, these buckwheat wraps are pliable, wrappable, and delicious.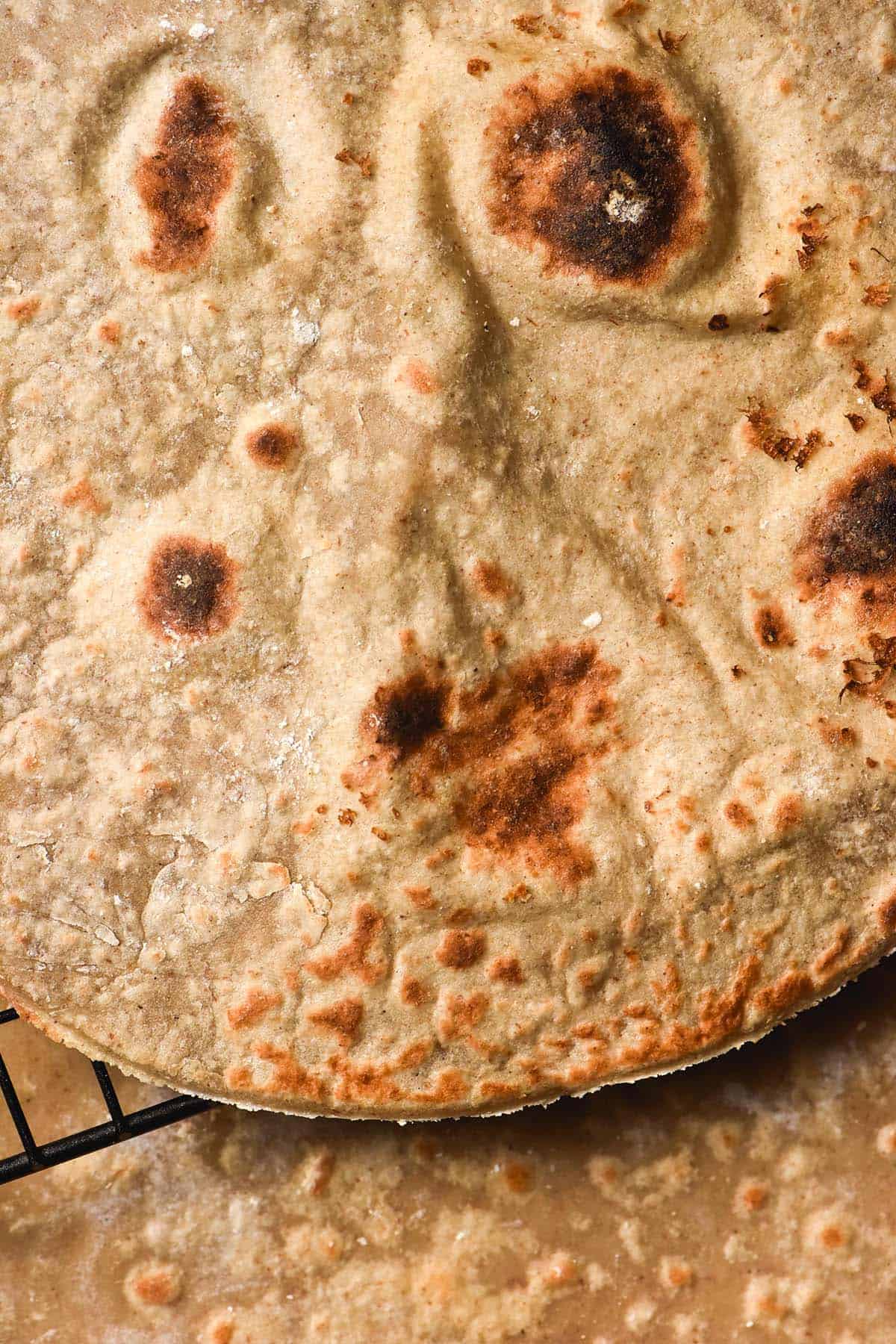 Buckwheat wraps (gluten free)
These wraps are gluten free, egg free, nut free and xanthan gum free. They use 100% buckwheat flour – no other flours or starches (although I like to use tapioca flour to roll them out). They're quick and easy to make and freeze exceptionally well. I love using them to make those viral Tiktok egg wraps, but they're perfect for any sort of wrap.
The ingredients list for these buckwheat wraps is minimal. Buckwheat flour is the only flour we need here (except for some tapioca flour to roll them out). I use light buckwheat flour, as that is all that's available in Australia.
Light buckwheat flour is hulled while dark buckwheat flour is unhulled, making it courser and more fibrous. I have not tried it here (or ever) so I can't say whether it will work or taste good. I would probably recommend light buckwheat flour for these wraps if you can find it.
Next, we need psyllium husk powder to help hold the wraps together. This is complemented by yoghurt and boiling water, which scalds the flour to make it more elastic.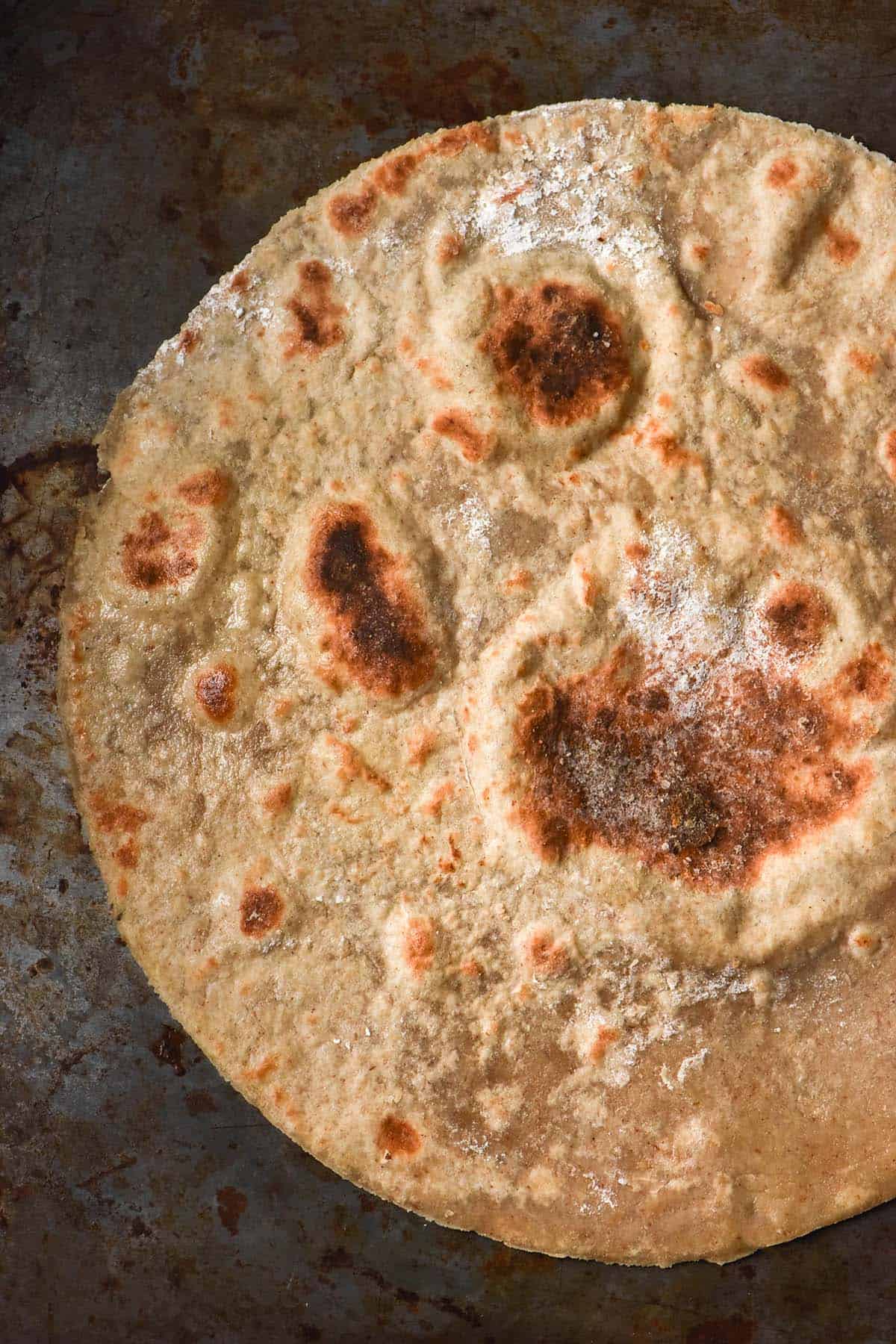 What is a scald and what does it do in gluten free baking?
A scald is simply flour that has boiling water added to it. Although simple to make, a scald provides a whole host of benefits in gluten free baking (and baking generally).
First and foremost, a scald gelatinises the starches in the flour. This creates elasticity and flexibility, which is much needed in gluten free baking.
Secondly, it enables you to add more water to the dough than you could ordinarily, without it becoming too moist. This is very handy in gluten free baking, which has a history of being overly dry.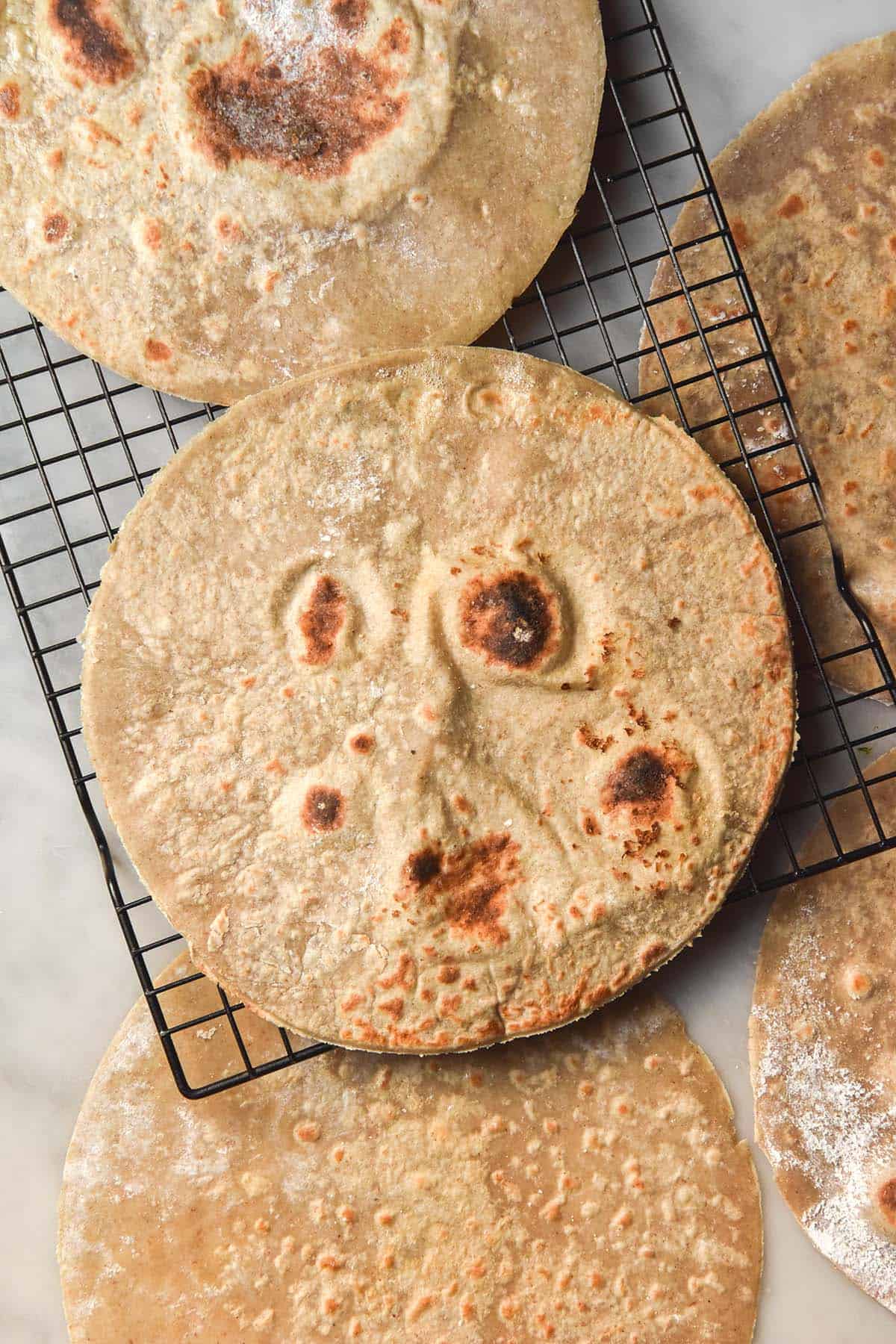 Tips for these buckwheat wraps
My number one tip for these wraps is to roll them THINLY. I can't overstate how important this is for a wrap that is flexible and can be rolled up without cracking. A thick wrap will equate to a cracked wrap that isn't actually that pleasant to eat. It will likely be gummy inside and just generally not a good time. One batch of this dough should make 5 wraps that are around 20-25cm in diameter. If you're getting less, roll them thinner. I promise they can take it.
To this end, make sure you add water conservatively. The dough needs to be moist but firm. If it's too wet, you won't be able to roll them out. I always recommend adding less water to start with, and then adding it bit by bit if necessary.
To roll your wraps nice and thinly, you'll need to make sure you have plenty of flour on hand to stop them sticking. You may not need loads and that's great, but it's better to have it on hand just in case.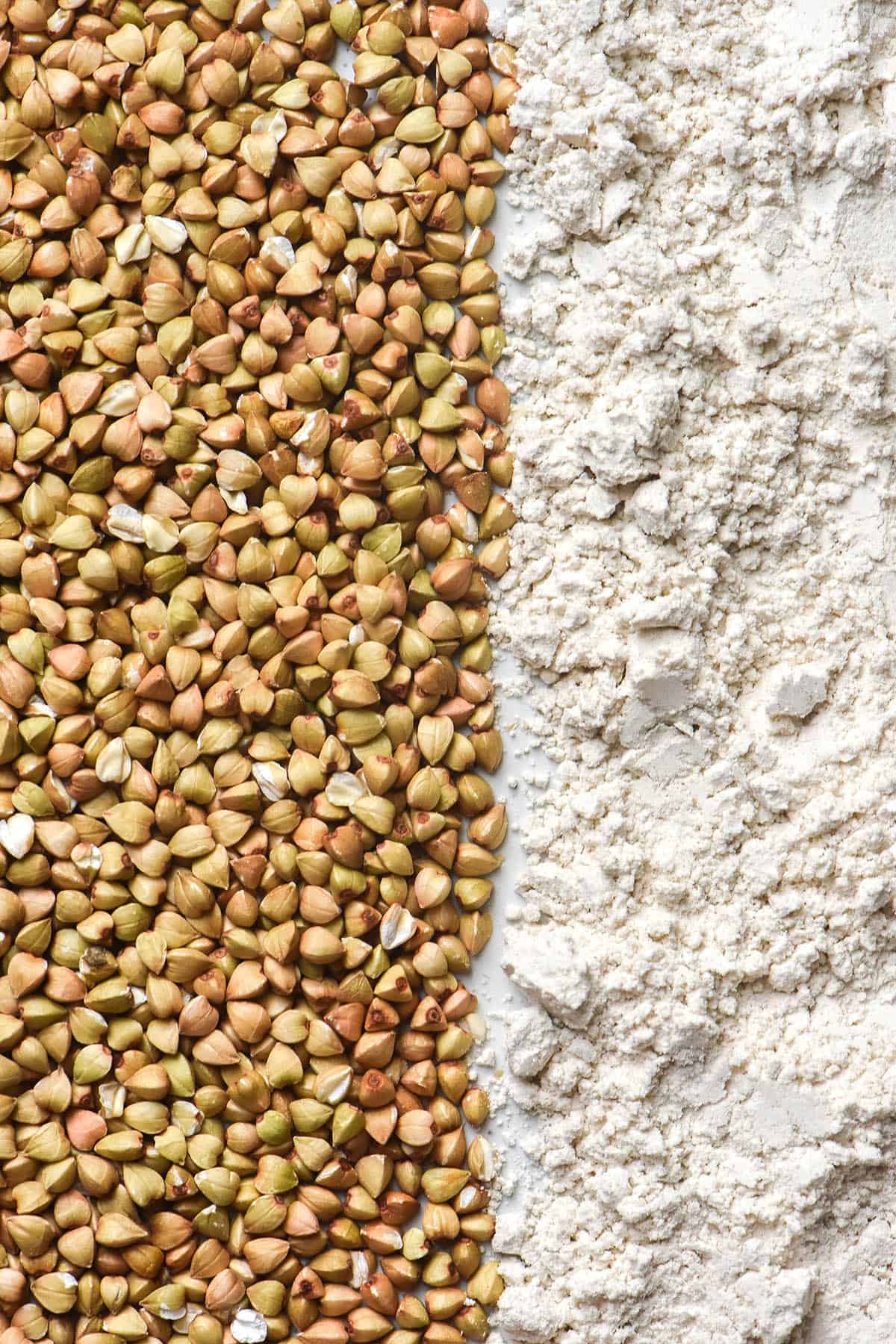 Tips for buying psyllium husk powder
I'm not sure if this is an Australian thing, but it is something that has happened to me and others. I have found that store bought psyllium husk powder tends to create purple/grey coloured baked goods. As of yet I haven't figured out whether it's a certain sort of psyllium, or whether the psyllium changes chemically after sitting ground up in a bag for a while.
It's not a food safety issue but it is an aesthetic issue, particularly if you have fussy kids or a food Instagram.
These days, I prefer to buy whole psyllium flakes and grind them in my spice grinder. This saves me from having purple wraps, so it's worth the extra effort for me.
However, the purple wraps still taste just as good and it doesn't affect their flexibility. Just something to keep in mind.
Can I use vegan yoghurt to make these gluten free buckwheat wraps?
Yes, you can. I have tested these wraps with a coconut yoghurt, and a reader has tested them with soy yoghurt. I used Naked Planet (an Australian brand). It has no xanthan gum and uses coconut cream, where most brands seem to use coconut milk. When choosing your own vegan yoghurt, it's important to keep a few things in mind.
Firstly, the yoghurt needs to be nice and thick. Vegan yoghurts tend to be thinner, which might affect the outcome of the wraps. Try to choose a lovely thick variety.
Secondly, ensure you get a yoghurt without any flavourings or sweetener. Often even the plain varieties of vegan yoghurt have sugar in them, so make sure you check the label.
Finally, the amount of boiling water needed will likely be different to the recipe card due to the yoghurt. Add it conservatively and to suit. I have noticed that xanthan gum and guar gum (which are often in vegan yoghurts) tend to result in a dough that needs less liquid. Keep this in mind.
Can I double this recipe?
Yes, easily! I like to double the recipe and store wraps in the freezer for breakfast egg wraps. I simply microwave the wrap in the morning (you could also heat it in a pan with a splash of water and a lid) before use.
To double, I recommend doubling everything but adding only 170ml (2/3 cup) of boiling water to start. You can always add more, but it's more annoying to fix an over hydrated dough. With that in mind, I recommend keeping a little extra buckwheat flour on hand, just in case.
Big fan of 100% buckwheat flour recipes?
Introducing my new e-book with 10 specialty 100% buckwheat flour recipes. The recipes are gluten free, nut free, xanthan gum free and have lots of vegan or dairy free options/alterations.
Recipes include buckwheat flour puff pastry (without xanthan gum or psyllium husk) and buckwheat flour dumpling wrappers, as well as egg free choc chip cookies. Find the e-book here.
More gluten free wrap, tortilla and bread recipes without xanthan gum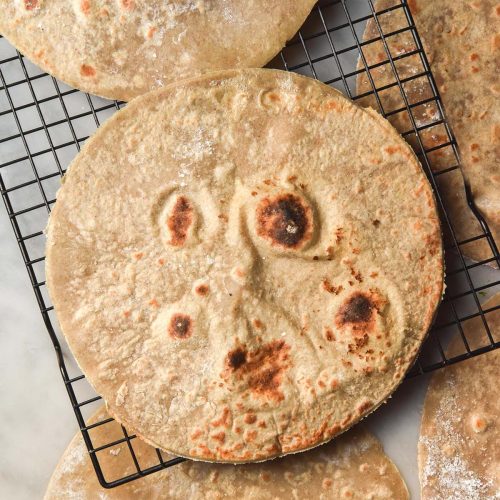 Buckwheat wraps (gluten free)
Makes 5-6 wraps
*Cups and measures are in Australian cups and measures. Use gram weights for international accuracy.
Equipment
1 x 22cm diameter cutter, bowl with thin lip or spring form cake tin with the base removed, for cutting out the wraps
Ingredients
220

g

(1 1/2 cups)* light buckwheat flour

15

g

psyllium husk powder

not flakes

5-7.5

g

fine salt

20

ml

(1 tablespoon)* neutral oil

100

g

plain yoghurt

I used full fat lactose free Greek yoghurt(see notes)

125

ml

(1/2 cup)* boiling water (see notes)

extra tapioca flour

for rolling the wraps

ghee or oil

for cooking the wraps (optional)
Instructions
Whisk together all the dry ingredients in a large bowl.

Add the oil, yoghurt and boiling water and use a spoon to quickly stir the dough together. Quite quickly, it should become a moist but cohesive dough that you can pick up (be careful though, it will be hot!). Add the boiling water conservatively and add more if needed to form a dough that is moist but not overly soft or wet but perfectly smooth once kneaded.

Allow the dough to sit for a minute or so, then place onto a dry clean benchtop. Knead for a minute or just until it forms a smooth, moist ball of dough. Cover with the bowl you mixed it in for 2-3 minutes.

Flour a bench top with tapioca flour. Divide the dough into however many wraps you want to make. These wraps are best when made really thin – they are more flexible and less doughy. The dough makes 5-6 wraps

Take the first piece of dough and roll it out as thin and wide as you can. Use a large mixing bowl with a sharp lid or a spring form cake tin edge (22cm diameter) to cut a circular wrap out of your dough. Make sure the dough is larger than the bowl before you cut. Press down and wriggle gently to ensure a clean cut.

Gather the scraps back into the dough and repeat with the remaining dough until you have all your wraps.

Preheat a large skillet or fry pan over a medium heat. Once hot, add a scant amount of ghee or oil if you're using it. Add the first wrap and cook for 1-2 minutes before flipping to cook on the other side. The wrap should look cooked and perhaps have some lightly browned spots. Repeat with the remaining wraps.

Store leftovers in an airtight container in the fridge. To use, simply microwave or heat in a steamy oven to restore their flexibility. You can also freeze and defrost the wraps in the microwave or in a warm pan with a splash of water for steam.
Notes
It's very important to roll these wraps thinly. Thick dough will remain uncooked and be unpleasant to eat. It also will not be able to roll up like thin dough. This batch of dough should make 5-6 22cm diameter wraps that are only 2-3mm thin.
I have successfully used Naked Planet vegan yoghurt. Choose a nice thick unflavoured variety for best results.