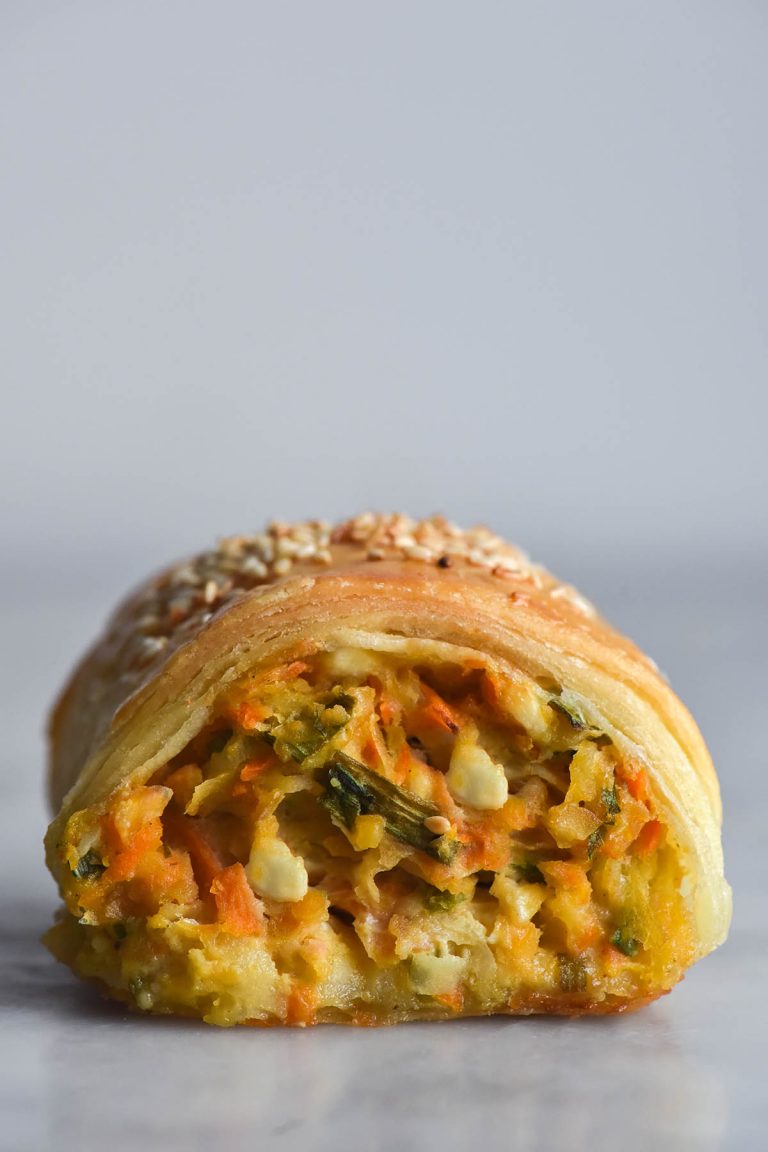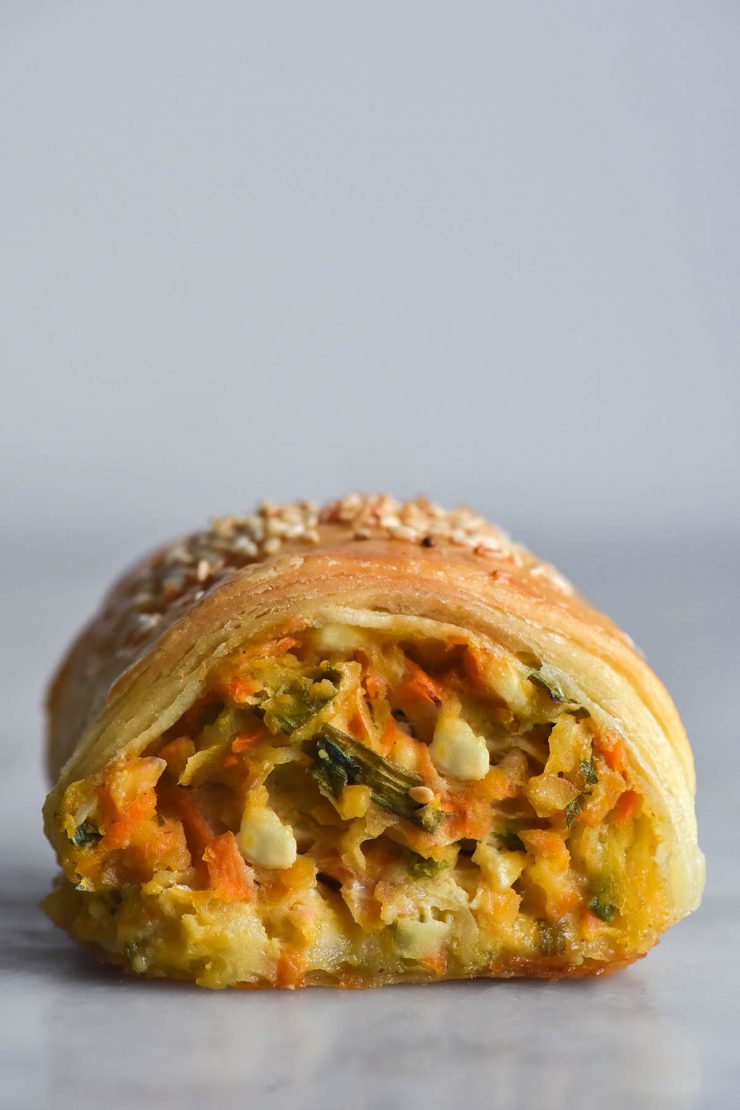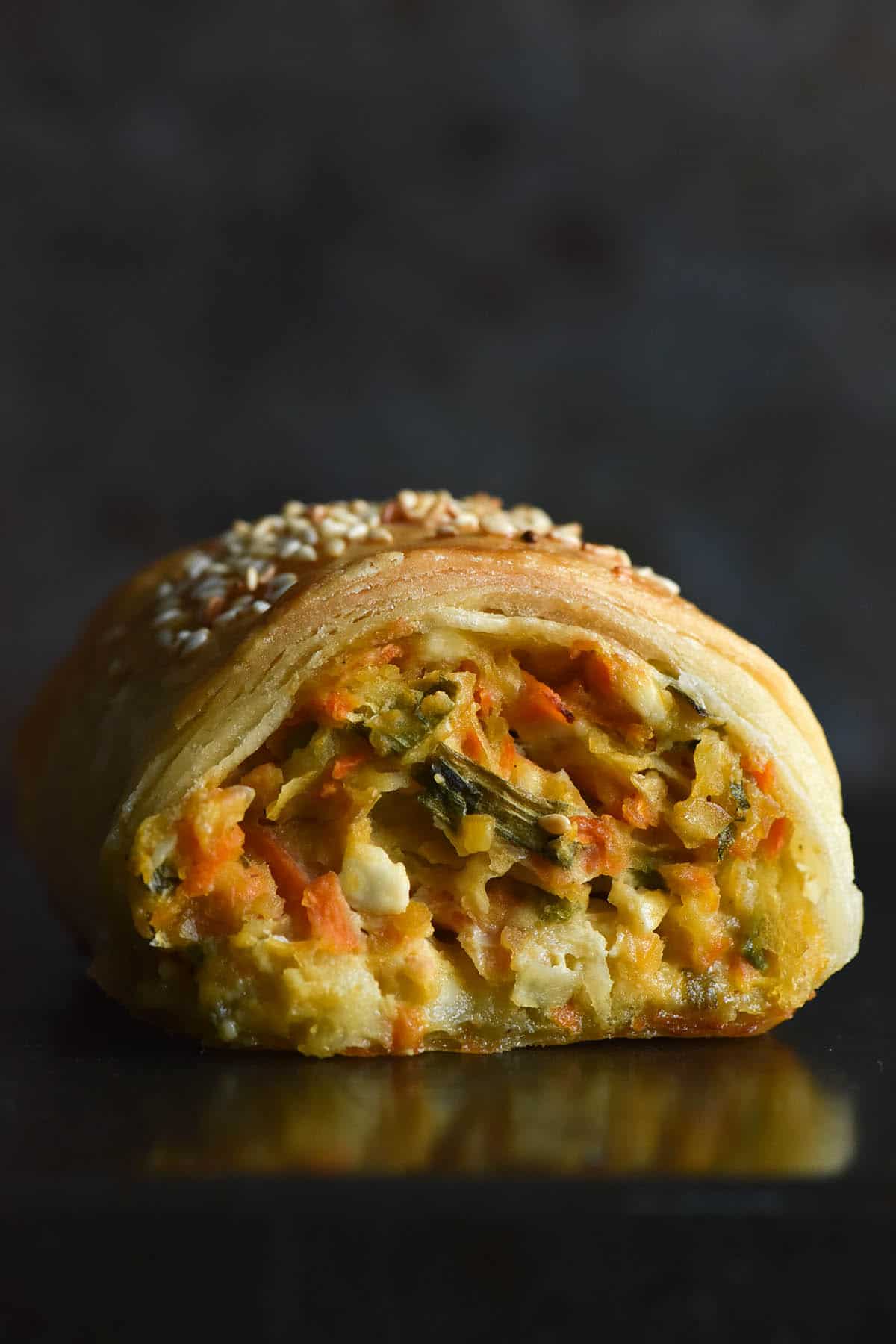 I am a bit of a sausage roll fiend. I have previously posted these vegetarian sausage rolls and a spinach and feta version. Now that my cookbook (and thus, my gluten free puff pastry recipe) is out, I wanted to go further. There's a vegan sausage roll filling in the book, but I have been asked a few times for a soy free recipe. So, may I present: these veggie chickpea sausage rolls, using chickpeas instead of tofu.
Veggie chickpea sausage rolls (that are gluten free)
These veggie chickpea sausage rolls tasted super nostalgic to me. They're simple in terms of ingredients but tasty and inexpensive to make. It was pointed out to me that they taste akin to a vegetarian Cornish pastry ('a good one, though!' My mum said), hence the nostalgia. They're nut free, tofu free, onion and garlic free and have a FODMAP friendly option.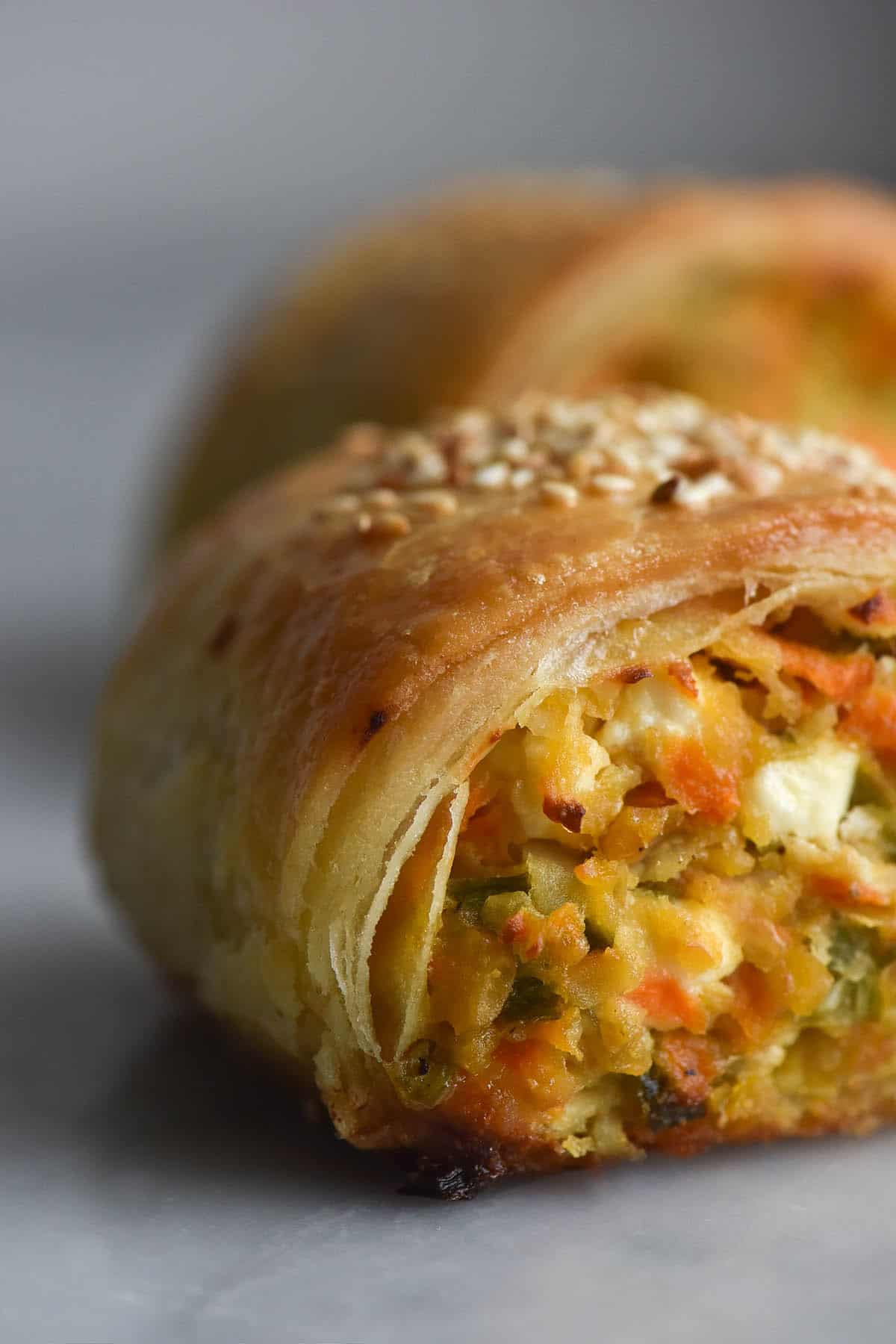 FODMAP notes for the veggie chickpea sausage rolls
As I've discussed in a previous post, I have decided to broaden the remit of the recipes I develop. There are so many dietary requirements beyond FODMAP, and so many requirements within it. I want these recipes to be helpful to as many people as people. So, when I get asked to develop recipes without tofu, I do it.
That said, I will always give a FODMAP option. I won't be developing any recipes with onion and garlic, but I will explore more legumes and perhaps fruits. Back to the issue at hand, though: today we're talking chickpeas.
This recipe uses a 400g can of chickpeas, which totals 240g once drained. Monash says that canned chickpeas are within a FODMAP limit at 42g per person. Canned chickpeas leech their GOS into the canning water, which means they are more FODMAP friendly. As such, I always used canned. Two of these veggie chickpea sausage rolls contain an average of 48g chickpeas, which makes them a little over the FODMAP limit. Of course, if you have no issues with chickpeas then you have no issue! If you do, I have a suggestion.
That's right: tofu. My old pal, my go-to. Everything from vegetarian bolognese to a vegan zucchini tart uses tofu at my house. You can use half tofu and half chickpeas, or whatever balance of ingredients you like to get yourself under that FODMAP threshold. Simply tear up the tofu into small chunks and blend with the chickpeas.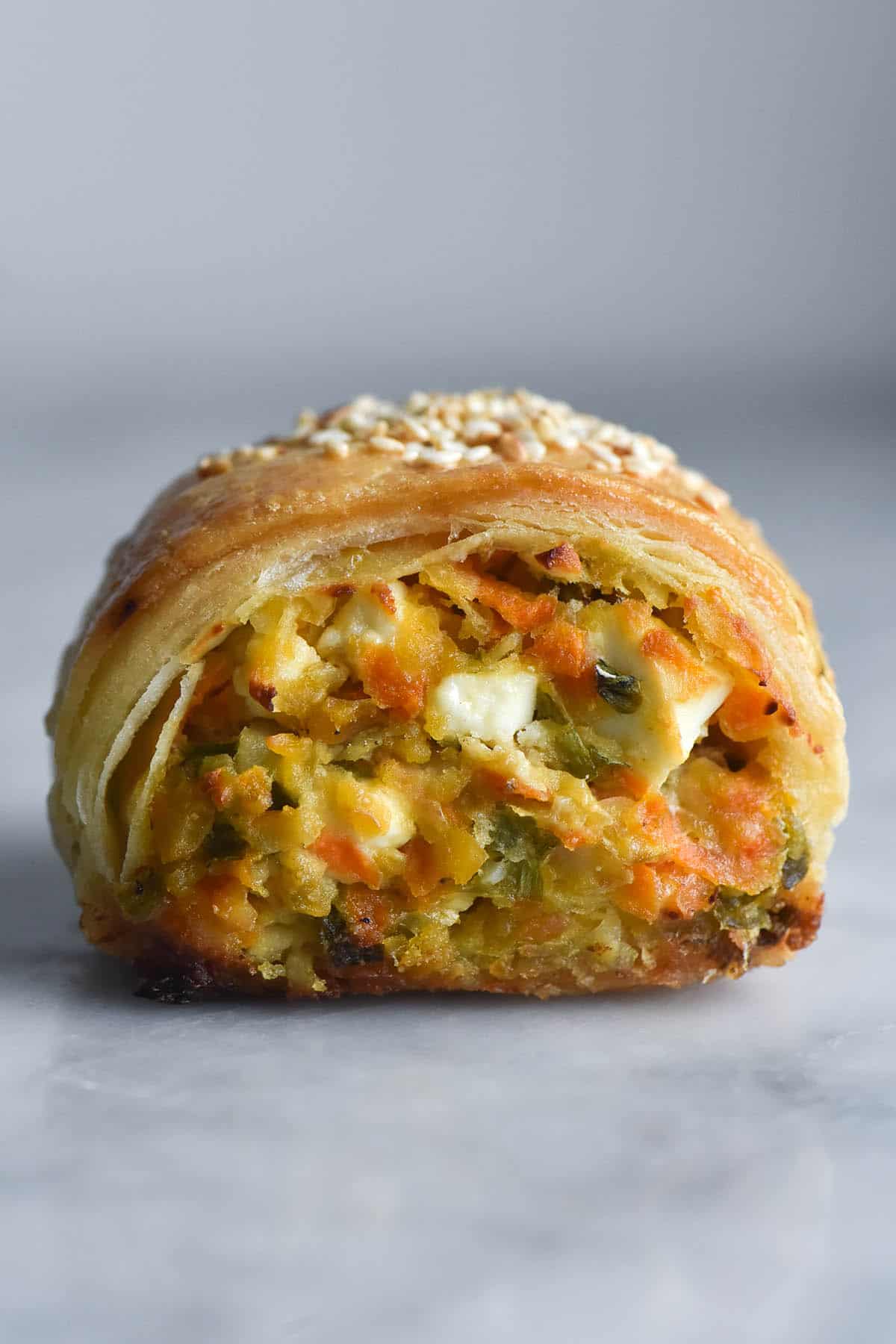 Substitution options for your veggie sausage rolls
I have used a simple mix of grated carrot, grated potato and spring onions here. I have also added some spinach that I processed to a fine mix to avoid big chunky bits.
I haven't tested other varieties of vegetables in these veggie chickpea sausage rolls just yet. Only so many hours in a day! If you do try, please let me know in the comments.
I personally would like a bit of finely chopped basil or flat leaf parsley in these rolls.
Feta was my cheese of choice for the simplicity of it and the salty, briny result. I used 200g which is a standard packet size in Australia. If you use more or less, you will probably need to adjust the salt levels to suit.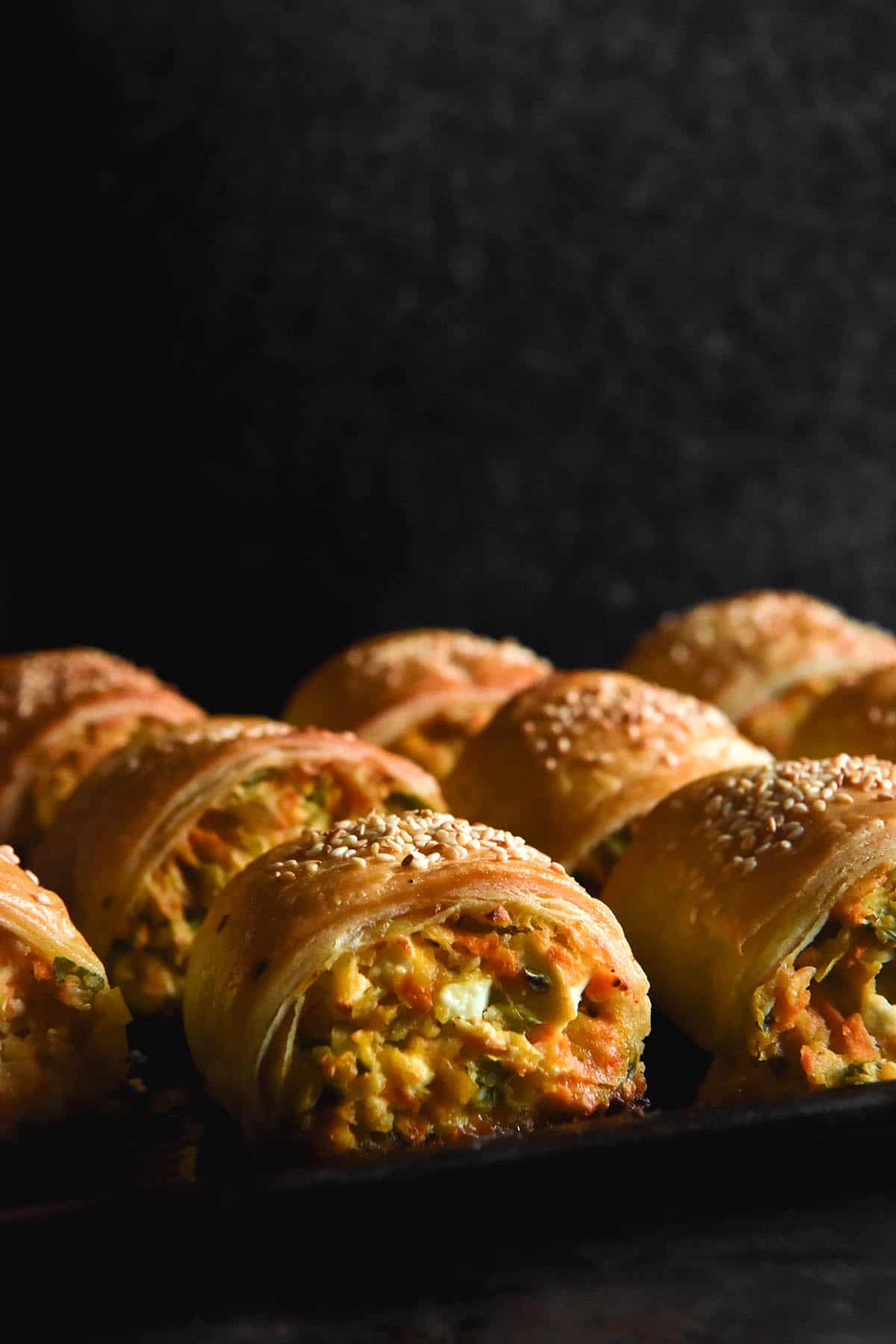 Tips for your veggie rolls
Without meat, breadcrumbs or much egg, these veggie chickpea sausage rolls have a few requirements. Namely: you need to pulse the chickpeas in the food processor until it forms a paste. The carrots and potato needed to be grated AND THEN finely chopped. Why? Without binders, a super chunky filling will fall out of the roll as you slice it and as it bakes. It also makes for a roll that is hard to eat without wearing it. Make sure the filling is like sausage in texture and consistency for the best results.
Tasting the saltiness and punchiness of the filling BEFORE adding the egg is important. I found that some feta brands were dull and resulted in a boring tasting roll if extra salt wasn't added to compensate.
Pastry always welcomes time in the fridge to set. This is relevant all year round, but particularly in summer. The butter in the pastry is what puffs up in the oven, so melted butter means flat and dry pastry. I like to put my veggie rolls back into the fridge after rolling them into logs, and then again after slicing and egg-washing them. This helps the butter stay cold so the pastry is delightful and flaky.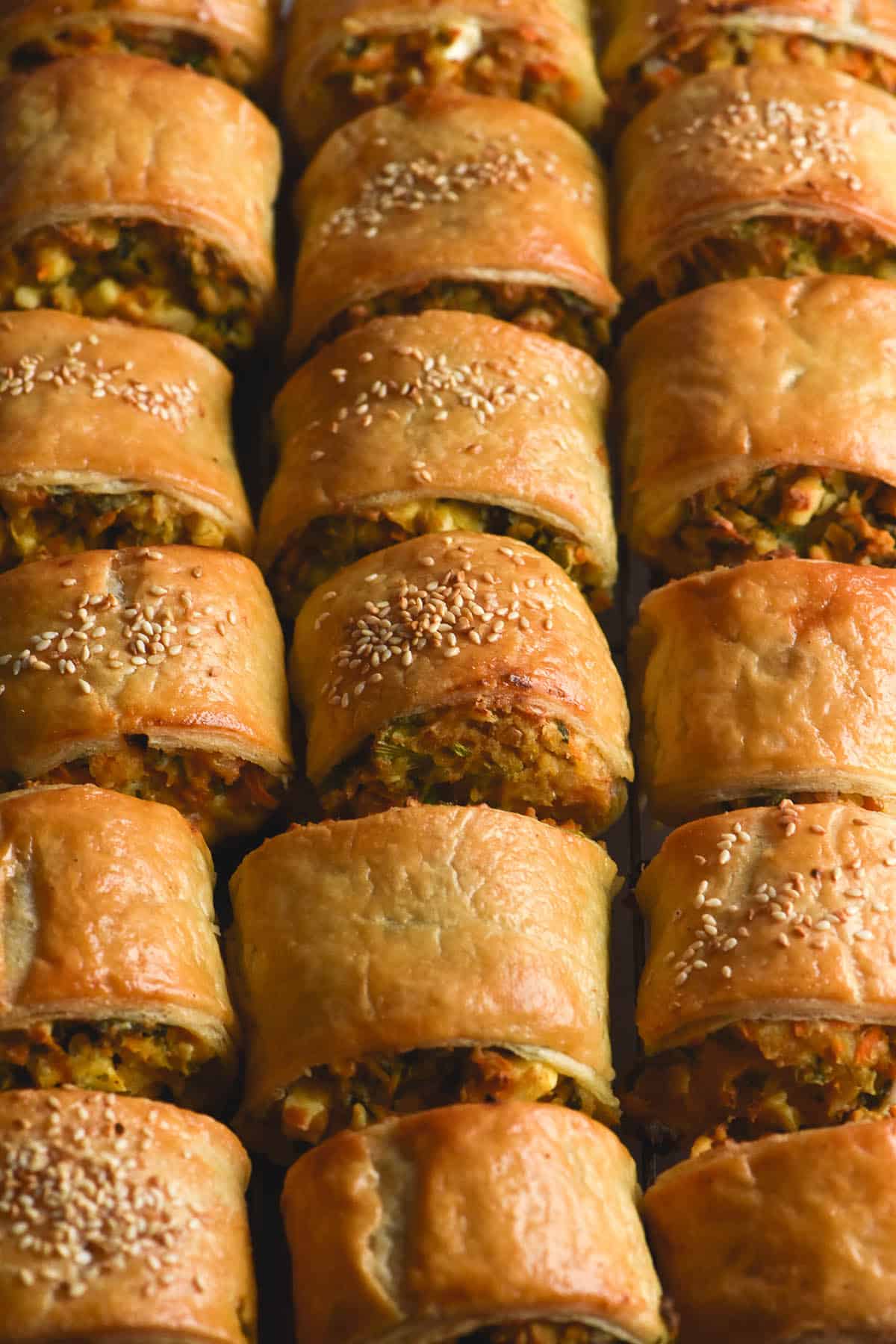 Gluten free puff pastry
Now that I have developed my gluten free puff pastry recipe (available in my cookbook) I can't go back to store bought. There's less weird ingredients, it's far less expensive, and the process of making it is cathartic. There are brands that sell gluten free puff pastry, though, so you can use store bought if you need to.
I have also recently published a grain free rough puff pastry recipe and a gluten free rough puff recipe. There is a xanthan gum free, psyllium husk free buckwheat puff pastry recipe in my buckwheat e-book.
Obviously, there is also the option of using regular pastry if you don't need it to be gluten free. I have also seen Careme sell spelt puff pastry, if you can tolerate spelt.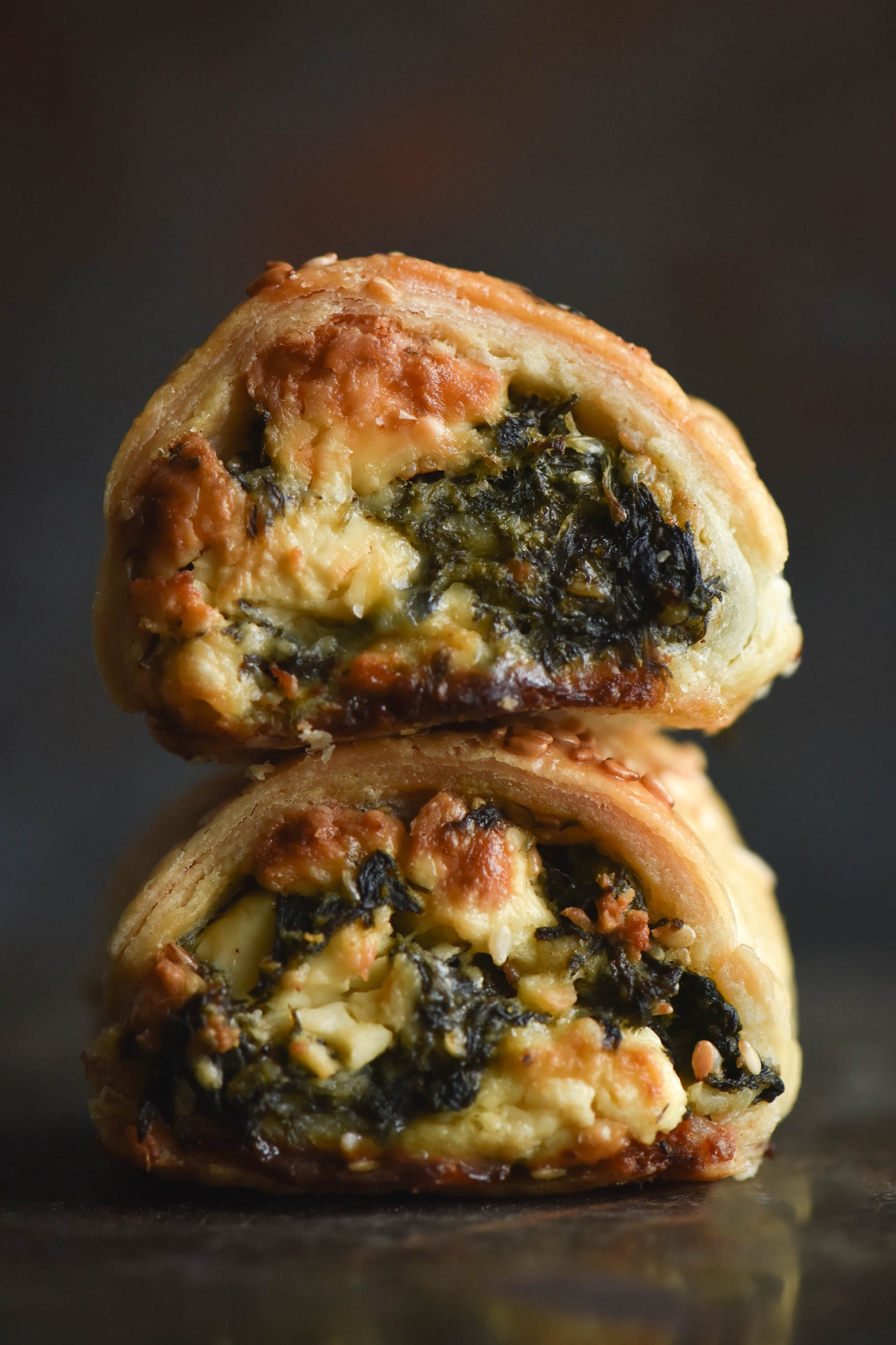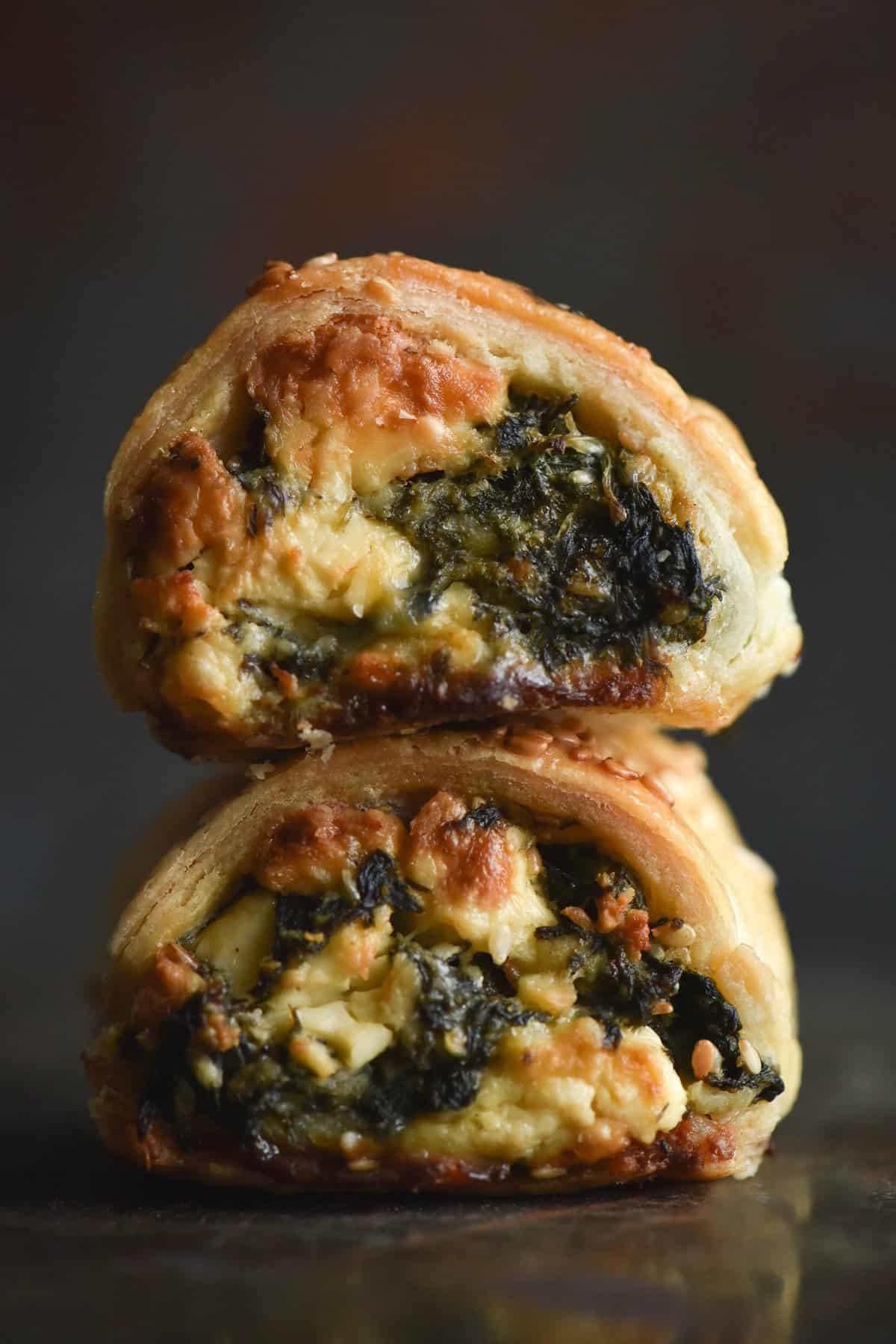 More gluten free pastry recipes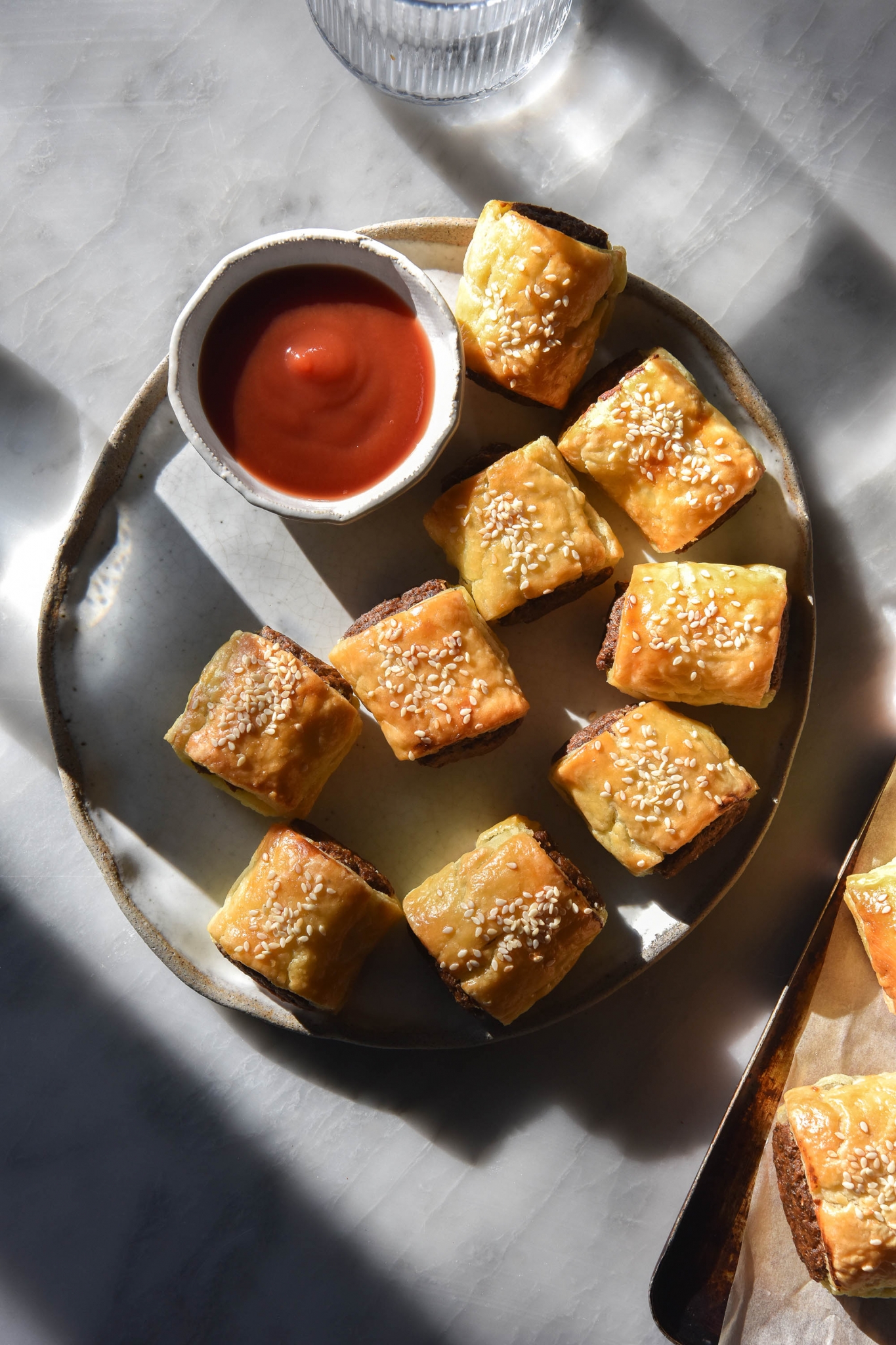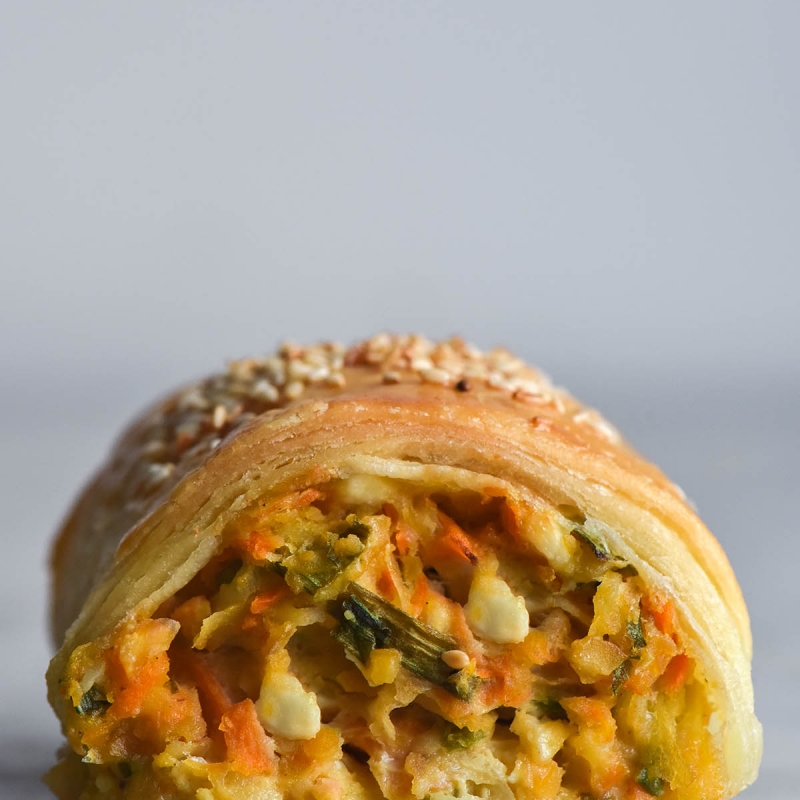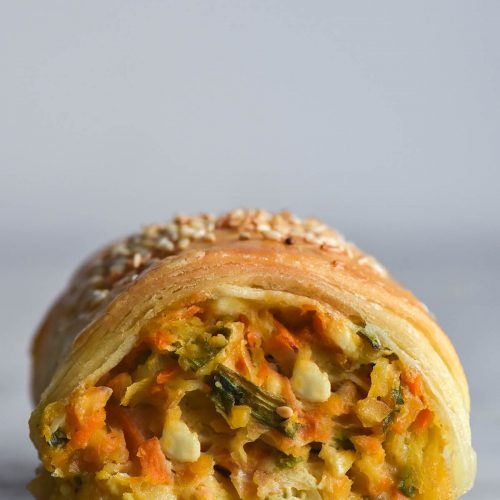 Veggie, chickpea and feta sausage rolls
Ingredients
For the filling:
1 X 400

g

can of chickpeas

drained (chickpeas should weigh approx. 240g once drained)

1

bunch spring onion greens

chopped

100-200

g

grated and chopped carrot

100-200

g

grated and chopped potato

I used Sebago which is an all rounder

2-3

teaspoons

Dijon mustard

1-2

teaspoons

maple syrup

Plenty of freshly cracked pepper and fine salt to taste

200

g

sharp feta

I quite like using Danish here, but Greek also works

Fresh or dried herbs

to your taste (I have used fresh finely chopped basil or a good pinch of dried oregano)

1

extra-large egg
To finish:
1

batch gluten free puff pastry from Intolerance Friendly Kitchen

laminated, sliced into two and rolled out (or two store bought sheets of gluten free puff pastry)

1

egg

for egg-wash (you can also use milk)

Toasted sesame seeds

to sprinkle on top (optional)
Instructions
To make the filling:
Combine all the ingredients except for the egg in a large mixing bowl. Taste and adjust according to your preferences. When you are happy, add the egg and set aside.
To finish:
Preheat the oven to 200C/400F. If you're working with the puff pastry in hot weather, you will need some fridge breaks so the butter in the pastry doesn't melt. Regardless, it's always good to budget in extra chilling time for the flakiest possible pastry.

Lay out the pastry sheets on a large floured sheet of baking paper. I use tapioca flour. If at any time the pastry starts to stick, whip a tray underneath it and place it into the fridge to set. Decide on the size rolls you'd like, and cut the pastry accordingly. I wanted medium rolls, so I cut the pastry sheet into two equal sized rectangles. If you want smaller rolls, slice the pastry intro three. Imagine slicing a horizontal A4 piece of paper into two or three long pieces.

Use a spoon to evenly portion out the mixture between the pastry rectangles. Create a long, reasonably thick line of mixture aligned to one side of each pastry, leaving a centimetre or so to help seal the roll. This filling recipe is exactly enough to work with one batch of puff pastry from Intolerance Friendly Kitchen. Leave enough room that you can seal the rolls at the end.

Brush the seal side with egg wash, then roll it up over the filling. Figure out where the bottom seal will be (you might need to trim off extra pastry) and then brush that seal with egg wash too. Keep rolling until you have formed a tight log and trim off any excess pastry if necessary. Make sure the log sits on top of the pastry seam or it might unfurl in the oven. Repeat with the remaining pastry and filling. If the pastry is still firm, slice the log into roughly equal sized rolls. If it feels soft and melty (or even if it doesn't) pop it in the fridge for 15-20 minutes before slicing. This will help create a nice clean cut so you can see the pastry lamination and puff after baking.

Gently place the rolls on a large lined baking tray. Use a pastry brush to brush the egg wash lightly onto each sausage roll. Sprinkle the sesame eggs on the wet egg, so they stick to the rolls.

Place the rolls into the oven for 25 minutes or until golden brown, puffy and cooked through. Serve warm, or allow to cool completely before freezing in an airtight container. Leftovers keep well in the fridge for a number of days.