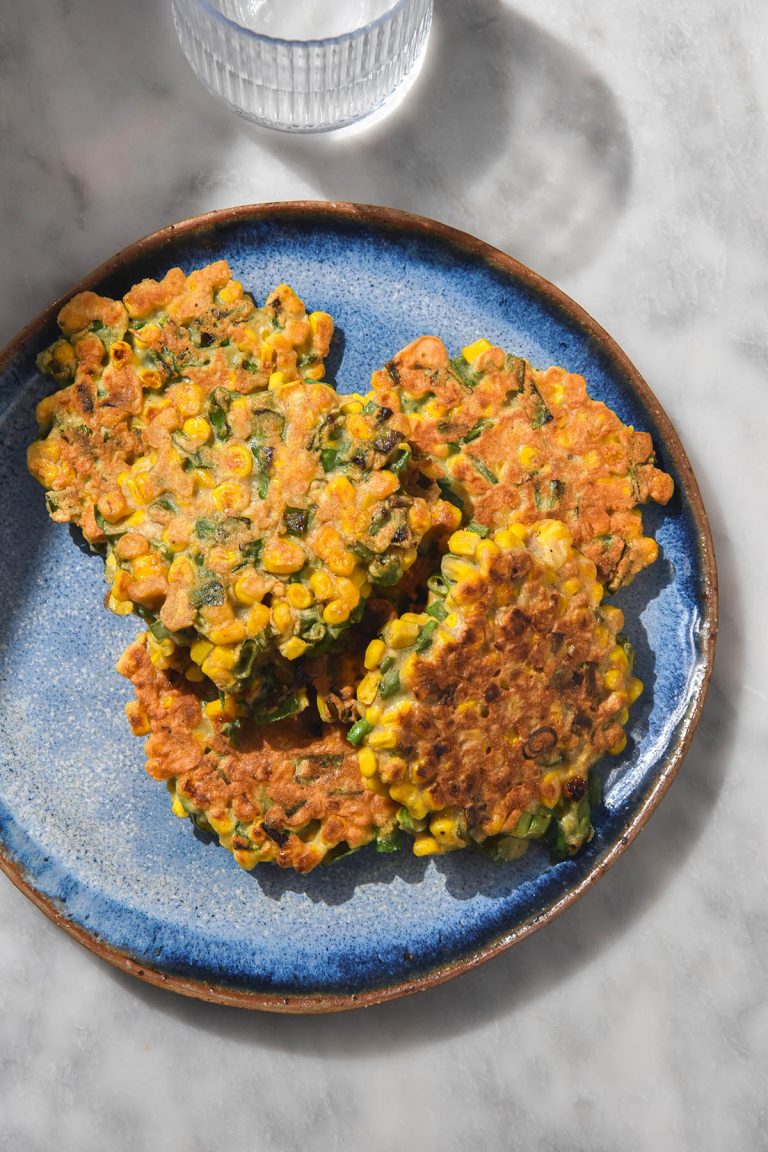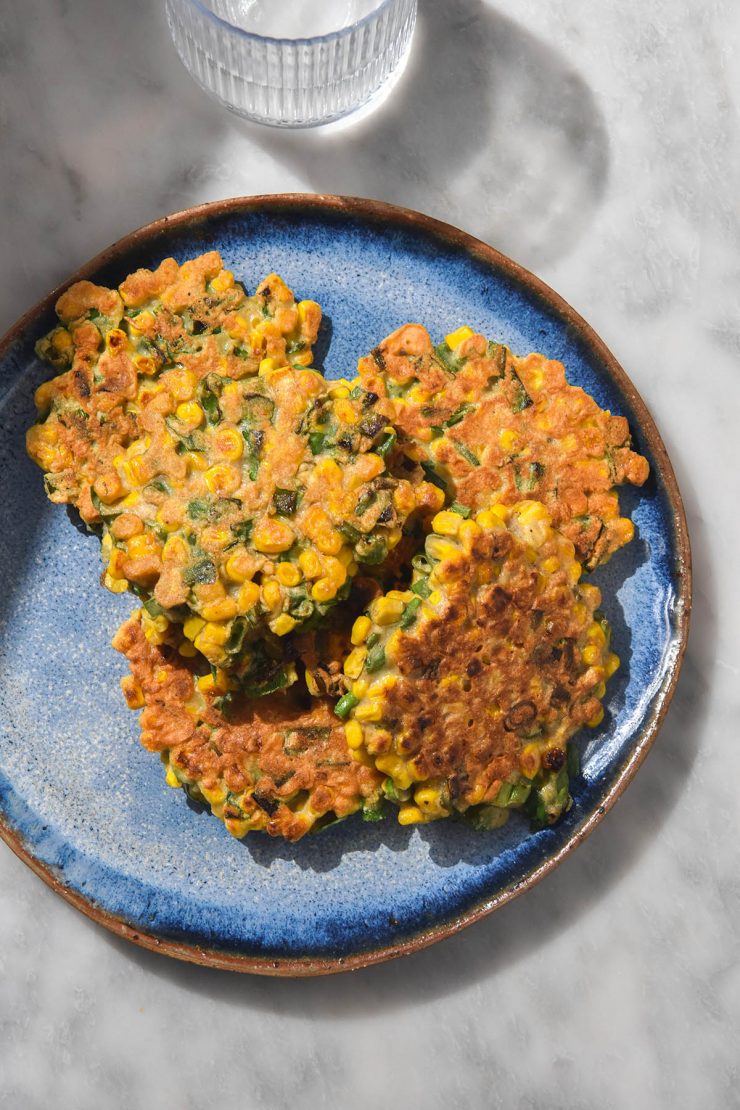 I'm in a fritter mood after my gluten free recent zucchini fritters. As such, today's recipe is for gluten free corn fritters. It might come as a surprise to you (as it did to me) but these corn fritters are low FODMAP. Yes, corn has a low FODMAP threshold! Hurrah!
Gluten free corn fritters
These corn fritters are gluten free, nut free and xanthan gum free. They use a single flour: buckwheat flour. As such, they are starch based flour free/
These fritters use tinned corn to keep the FODMAP threshold down. They're flavoured with spring onion greens, which are a low FODMAP alternative to onions or spring onion whites.
Is corn low FODMAP?
Yes, corn has low FODMAP thresholds. At the time of writing, canned corn is low FODMAP in 75g serves, which is roughly 1 cup.
Canned baby corn is also low FODMAP in 75g serves per person.
Creamed corn is low FODMAP in 60g (1/4 cup) serves per person. Not sure what the cup discrepancy is between canned and creamed corn, but this is what the Monash app says.
Fresh corn is low FODMAP in 38g serves, considerably less than canned corn. This is generally because FODMAPs leech out in canning liquid, as they do for legumes.
There is no entry for frozen corn on the Monash app, but logic dictates it would be similar or the same as fresh corn.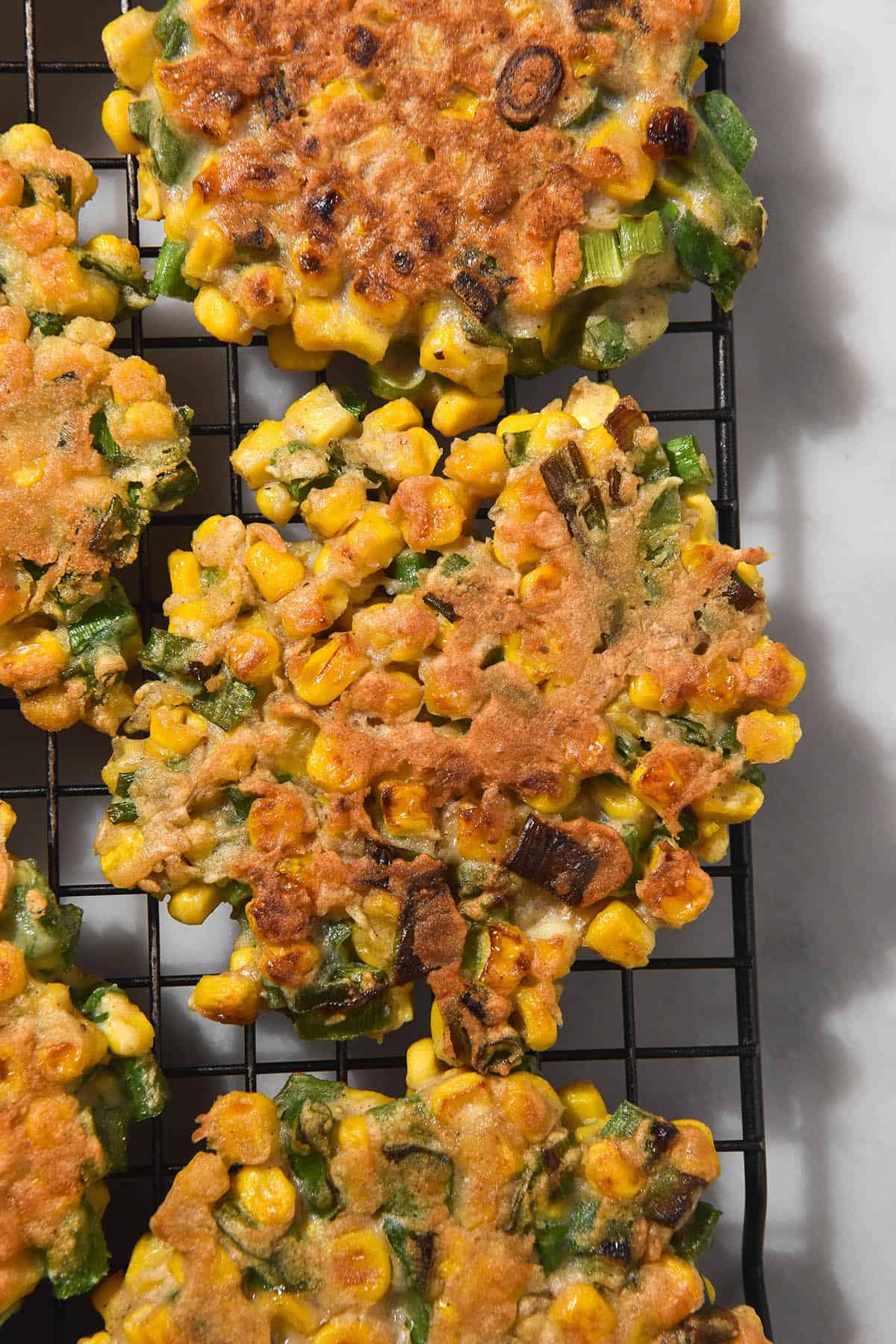 Can I make these corn fritters grain free?
Yes, you can. To make grain free corn fritters, use cassava flour in place of buckwheat flour. Cassava flour is a grain free, nut free flour that is related to tapioca flour. Unlike tapioca flour, which uses the tapioca starch, cassava flour uses both the grain and the starch. It has great elasticity and has a mild, sweet taste.
Keep in mind that cassava flour is higher FODMAP than buckwheat flour. If you need these fritters to be low FODMAP, I recommend using buckwheat flour.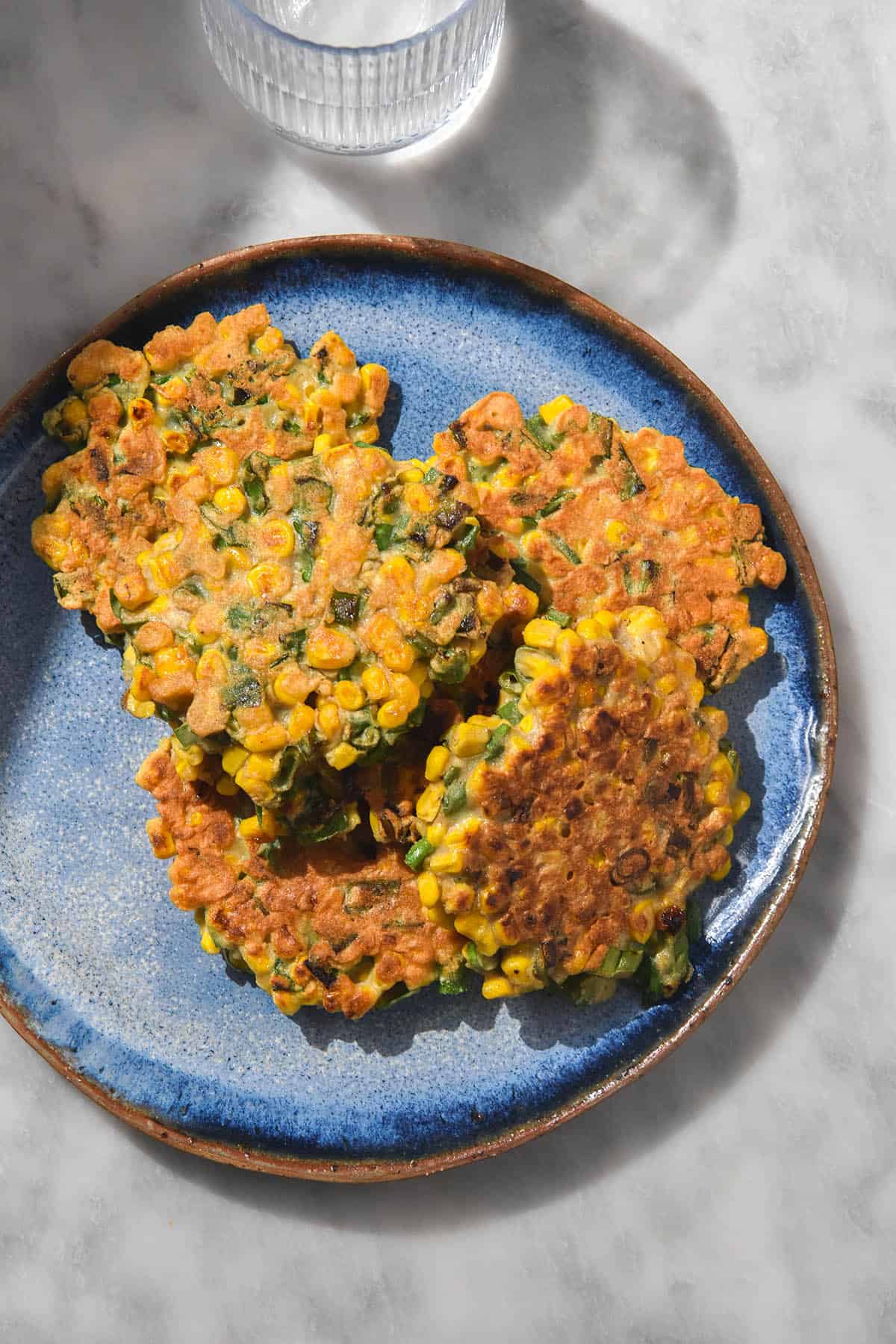 FODMAP notes for your gluten free corn fritters
Most people (myself included) assume that corn is a high FODMAP food. However, there is a low FODMAP threshold for corn, as discussed above.
To keep the FODMAP content down, we are using canned corn for these fritters. One 400g tin of corn contains approximately 240g of corn kernels once drained.
This recipe makes 4 large or 5 medium fritters. If you make 4 large fritters, 1 fritter will be a low FODMAP serve.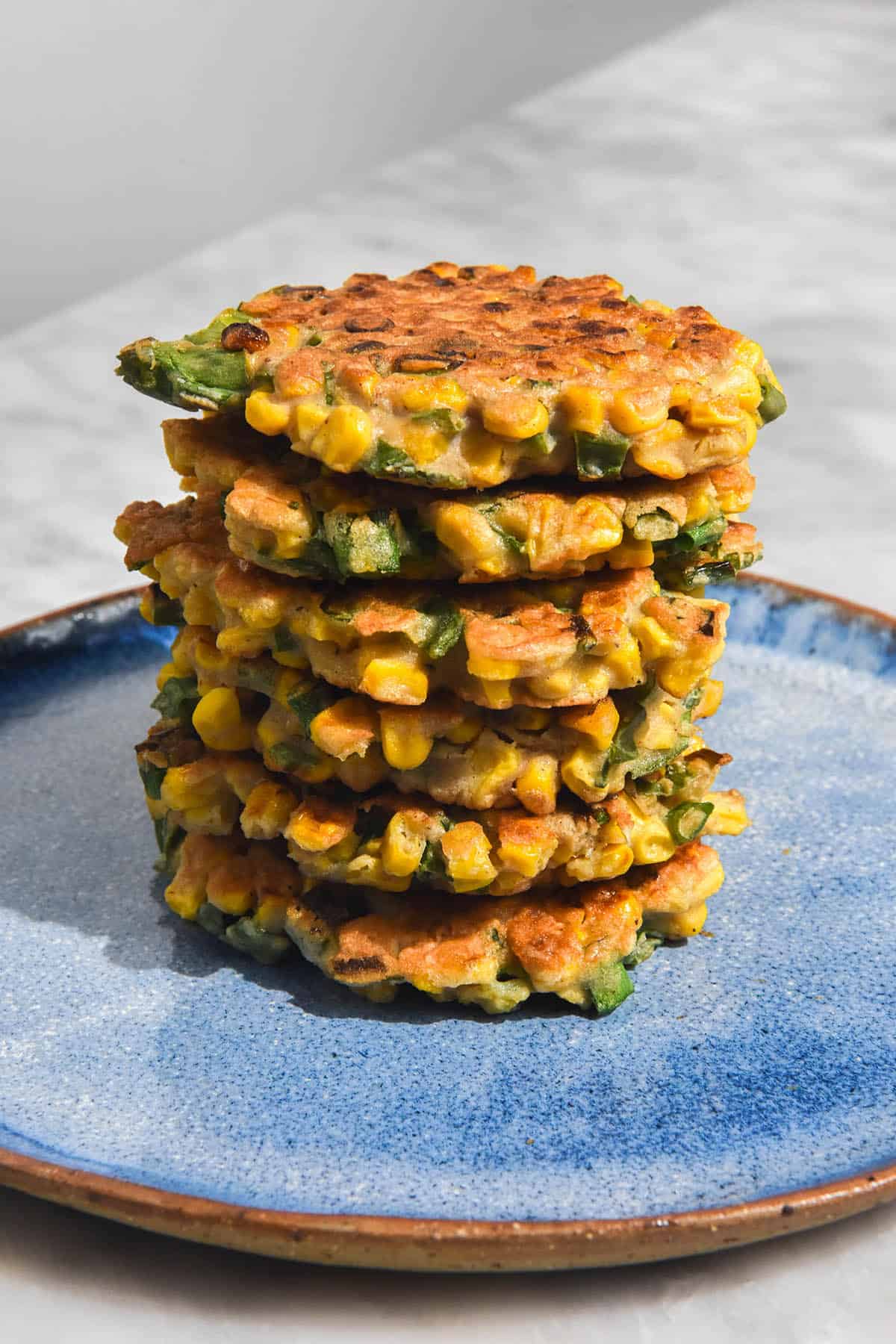 More gluten free vegetarian recipes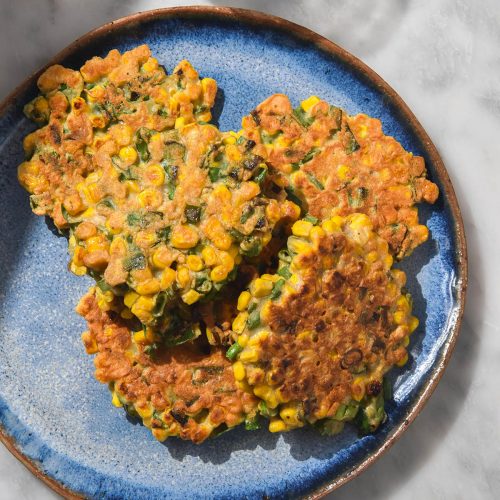 Gluten free corn fritters
Xanthan gum free, nut free
Makes 4 large or 5 medium fritters
Ingredients
1 X

400g

can corn kernels, drained and rinsed (around 250g once drained)

1/2

bunch

(50g) spring onion greens, chopped

80-100g

buckwheat flour or cassava flour (see notes)

1/2 – 3/4

tsp

fine salt, according to your tastes

freshly cracked pepper, to your tastes

2

extra large eggs (45-55g per egg, weighed out of shell)

Oil, for cooking the fritters
Instructions
Combine all the ingredients in a medium mixing bowl and stir until a batter forms.

Thoroughly preheat a pan on a medium heat. Once warmed, add the oil and heat until shimmering.

Spoon around 1/4 or 1/5th of the batter in to form the first fritter. Cook for a minute or two before flipping. Press down on the fritter to flatten it to your desired thickness. Cook each fritter for 3-5 minutes or until cooked through and golden brown.

Repeat with the remaining batter and fritters. Store leftovers in an airtight container. The fritters also freeze really well.
Notes
Cassava flour is a grain free, nut free flour. Whole cassava has a FODMAP threshold of 75g. If you don't need these fritters to be low FODMAP, cassava flour works really well and tastes great. If you do need them to be low FODMAP, I recommend using the buckwheat flour option.