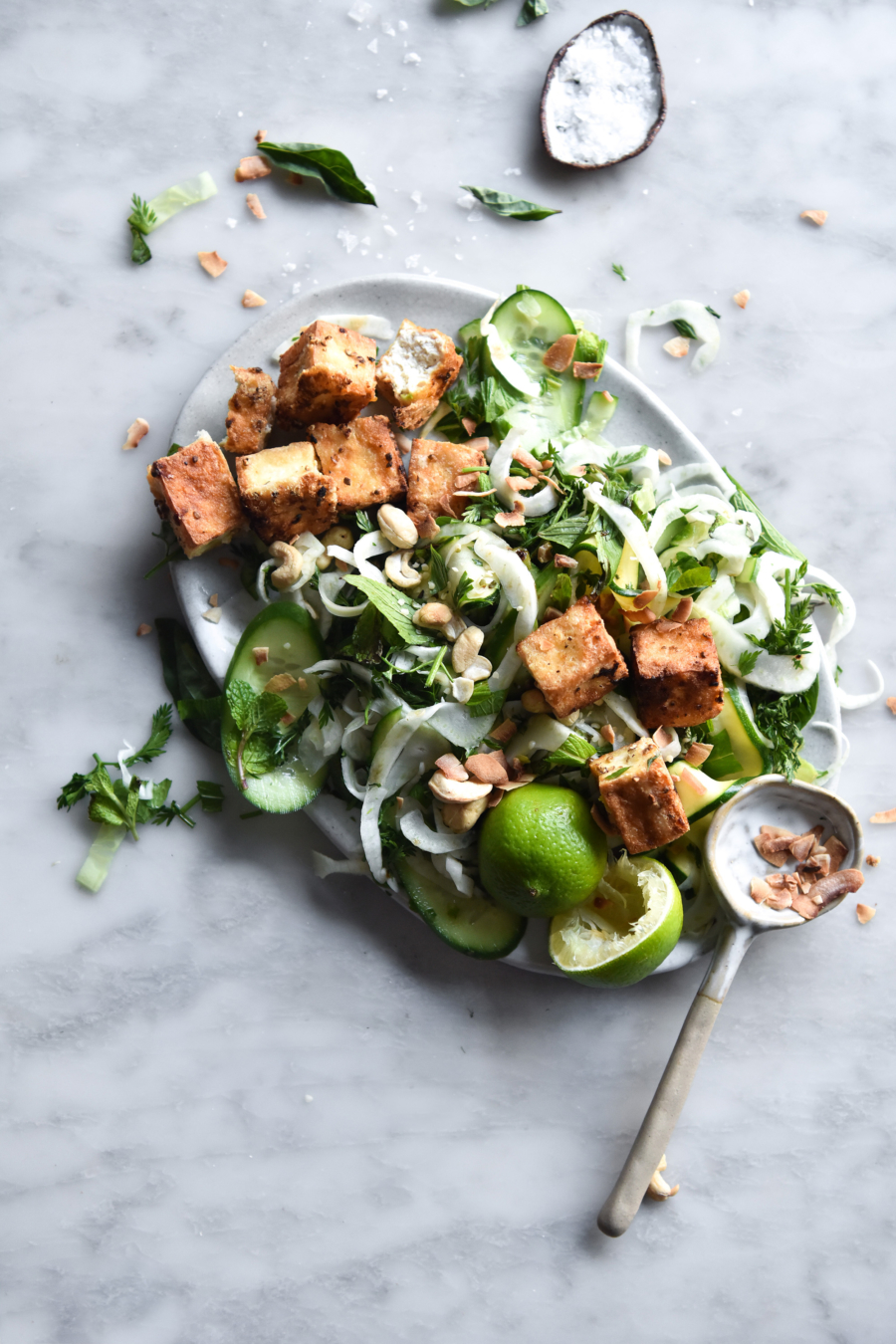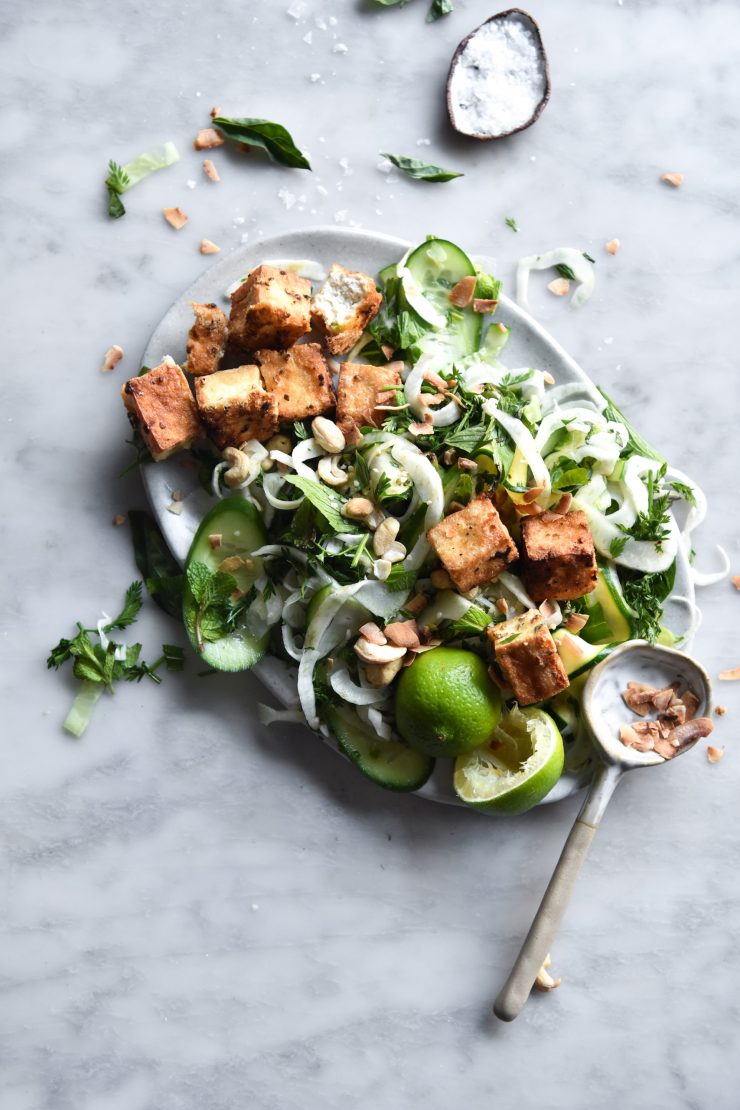 Writing an article on low FODMAP tofu recipes feels like my time to shine. I have been putting tofu into every possible dish for years now, so it makes sense to round up my tofu recipes into one convenient place.
Low FODMAP tofu recipes
These low FODMAP tofu recipes are some of my absolute favourite recipes I have written. Vegan bolognese to chilli and 'chicken' noodle soup, we've got it all!
These recipes are all vegetarian or vegan, as well as gluten free. Where possible, I try to exclude ingredients like xanthan gum and nuts, or give substitutions where possible. There are plenty of recipes (if not all) without eggs, for any egg allergies. Within this list, I hope there is something for everyone.
If you're after more vegetarian and vegan recipes and tips, try: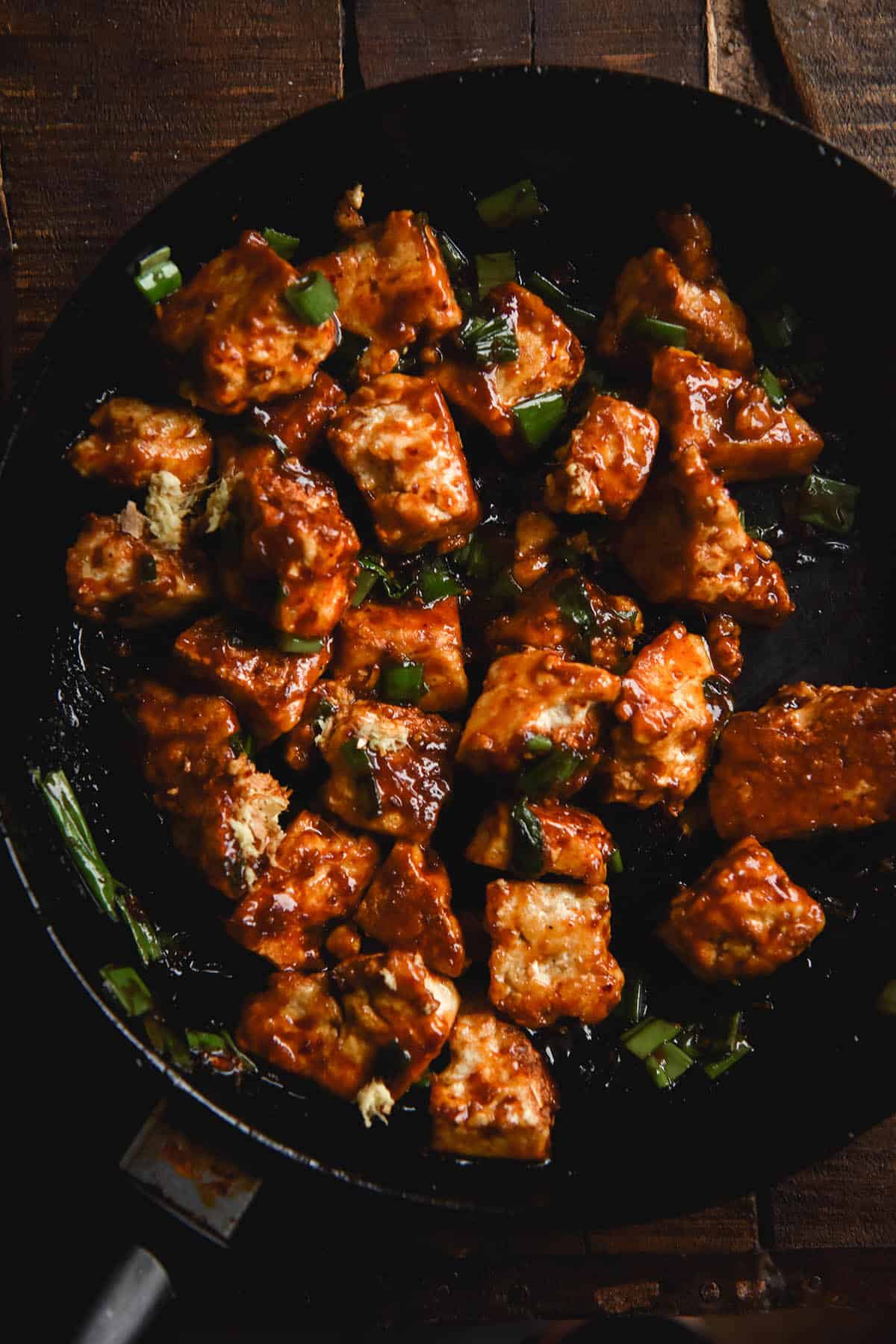 Is tofu low FODMAP?
Yes! That said, different varieties of tofu have different FODMAP contents. At the time of writing, Monash says that 170g of firm tofu is a low FODMAP serve per person. Silken tofu, on the other hand, is low FODMAP in a 39g serve per person.
Why the difference? Silken tofu isn't drained and pressed like firm tofu. A lot of the FODMAP content, as with canned legumes, is in the liquid that is pressed from the tofu, or the liquid it sits in. As such, silken tofu retains more FODMAPs than firm tofu.
Low FODMAP recipes that use tofu
Vegan bolognese
Of course, I had to start with one of my favourite low FODMAP tofu recipes of all time. This bolognese will satisfy any meat eaters, without onion or garlic OR meat. It's hearty, filling and works in any number of applications.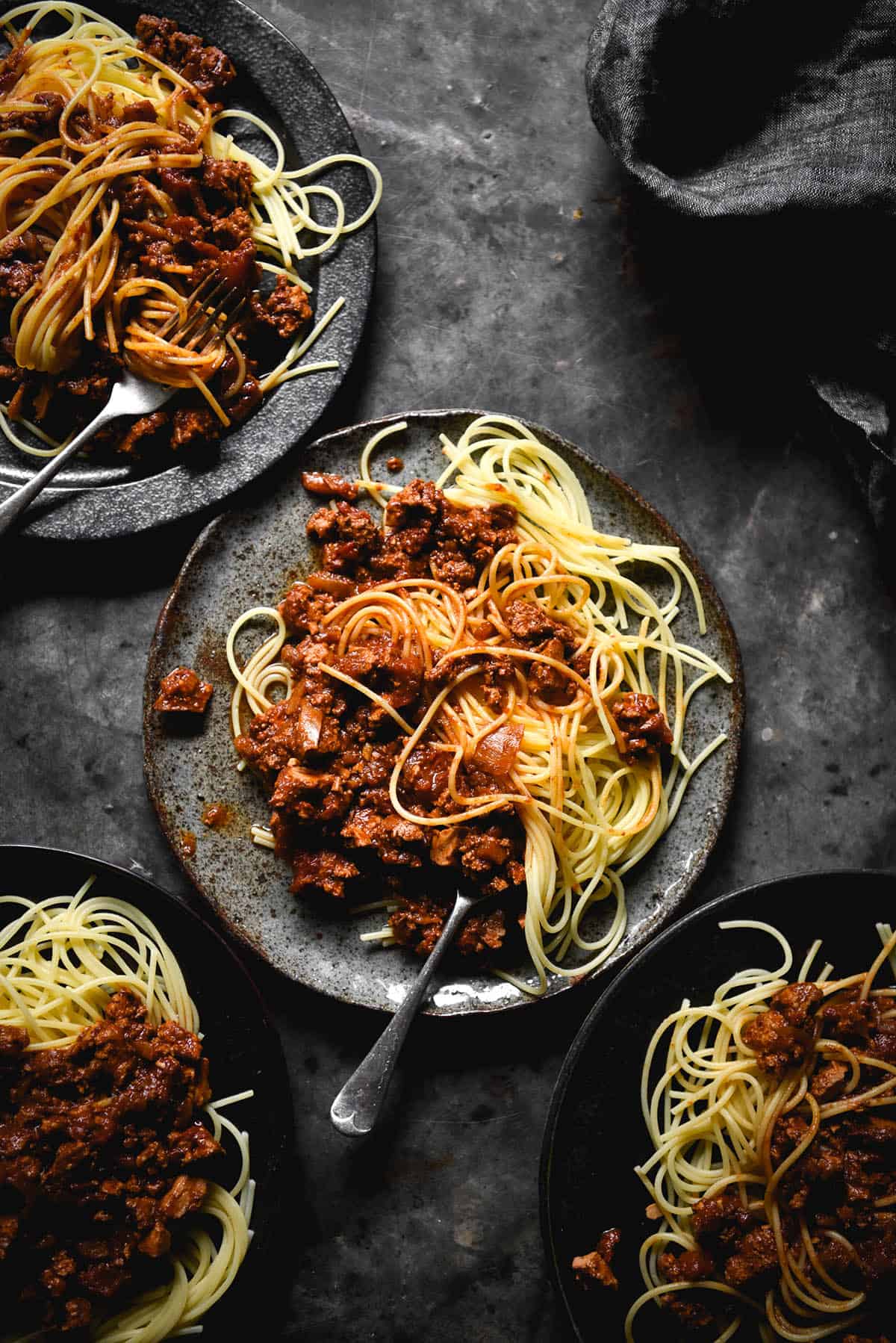 Vegan, gluten free lasagne
Which brings us to: vegan, gluten free and low FODMAP lasagne. This lasagne aims to cater to as many dietaries in one dish. It uses the vegan bolognese for a filling protein 'mince meat' layer, as well as vegan bechamel and gluten free lasagne.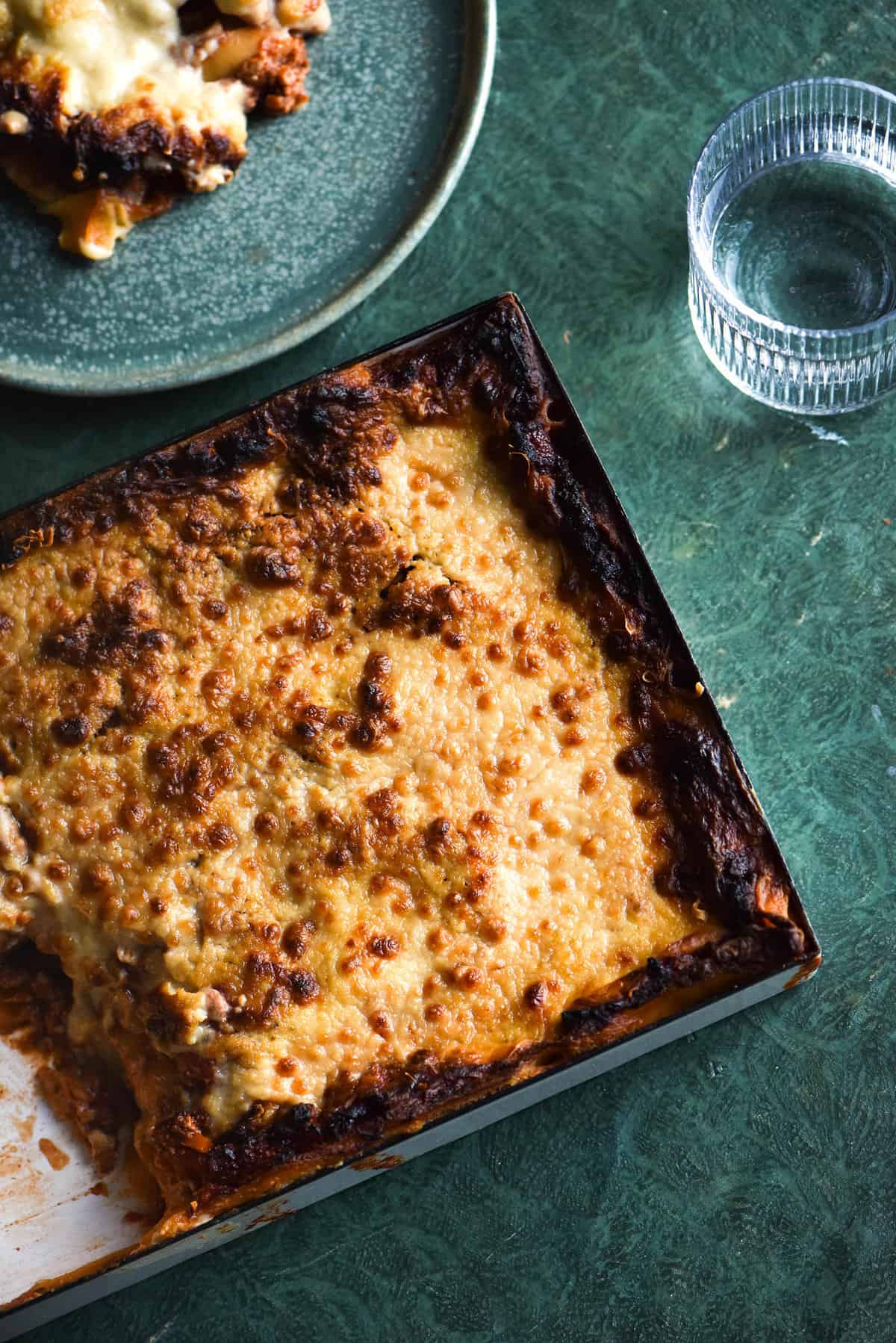 Sweet and sticky ginger tofu
A quick and easy vegan weeknight dinner that packs a punch on flavour without FODMAPs. I like to serve mine with rice and some Asian greens.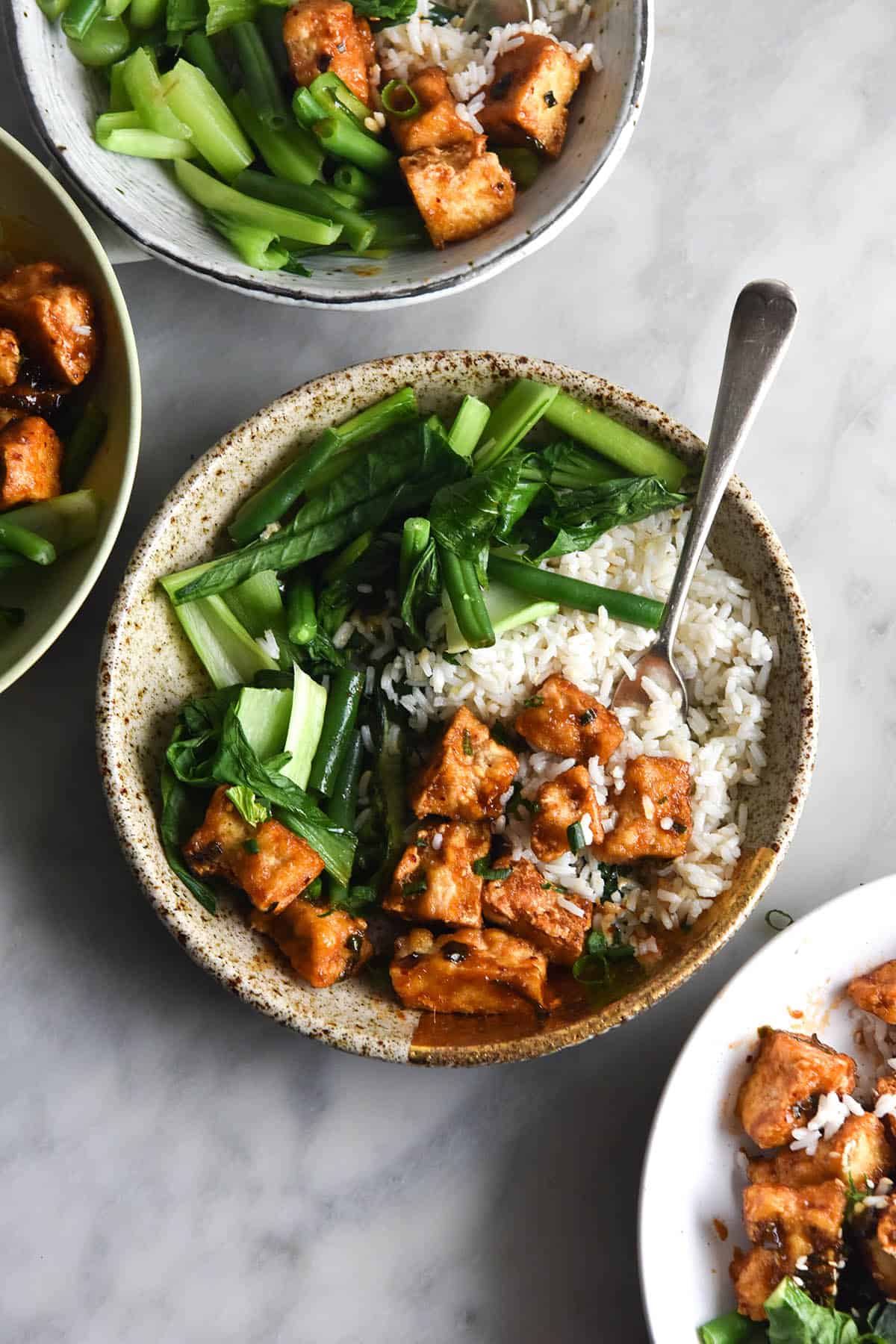 Vegan Larb
Zingy and fresh yet filling, this vegan laarb has bold flavours without onion or garlic. It's a fun dish to serve on a hot summer night.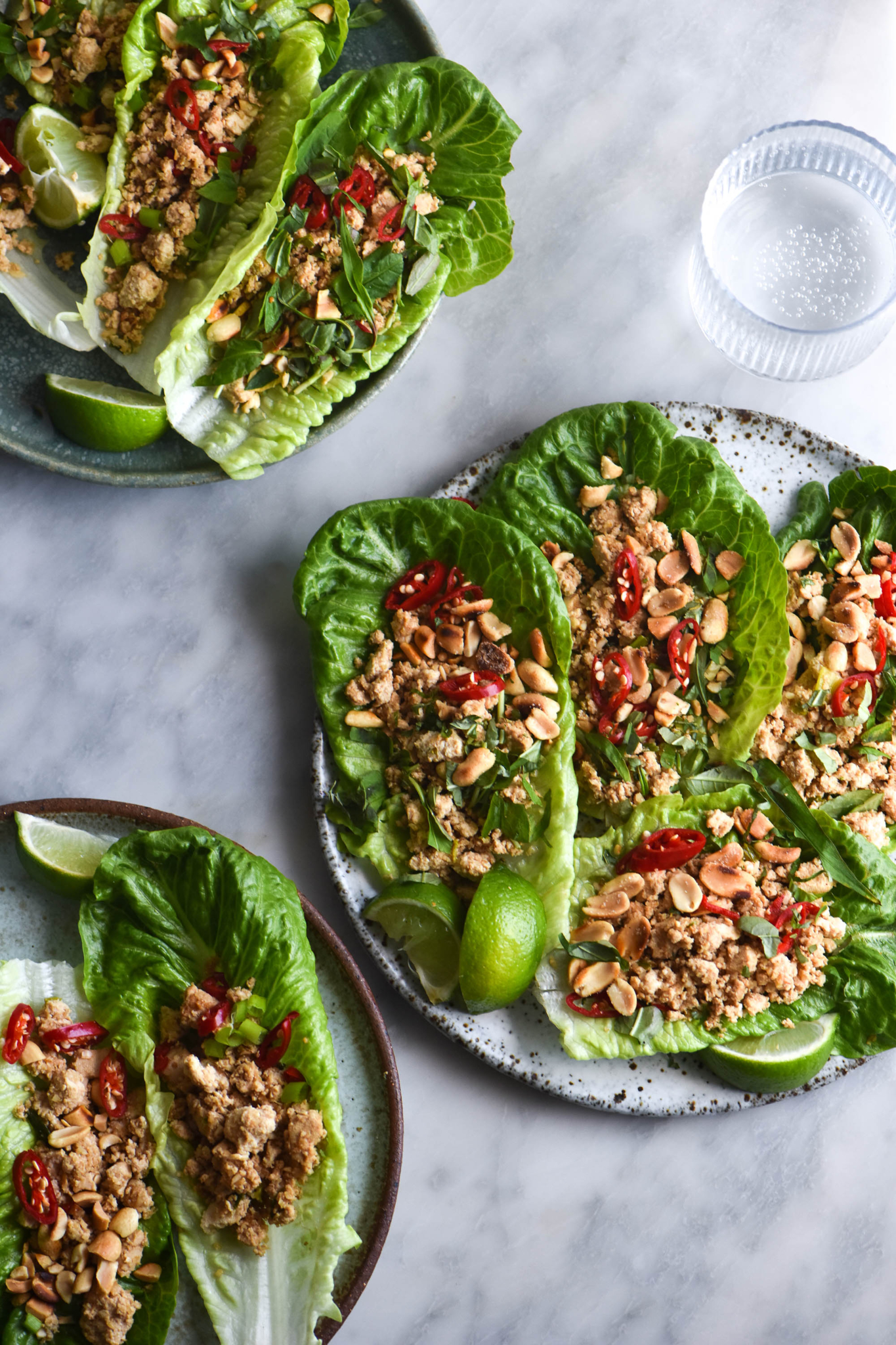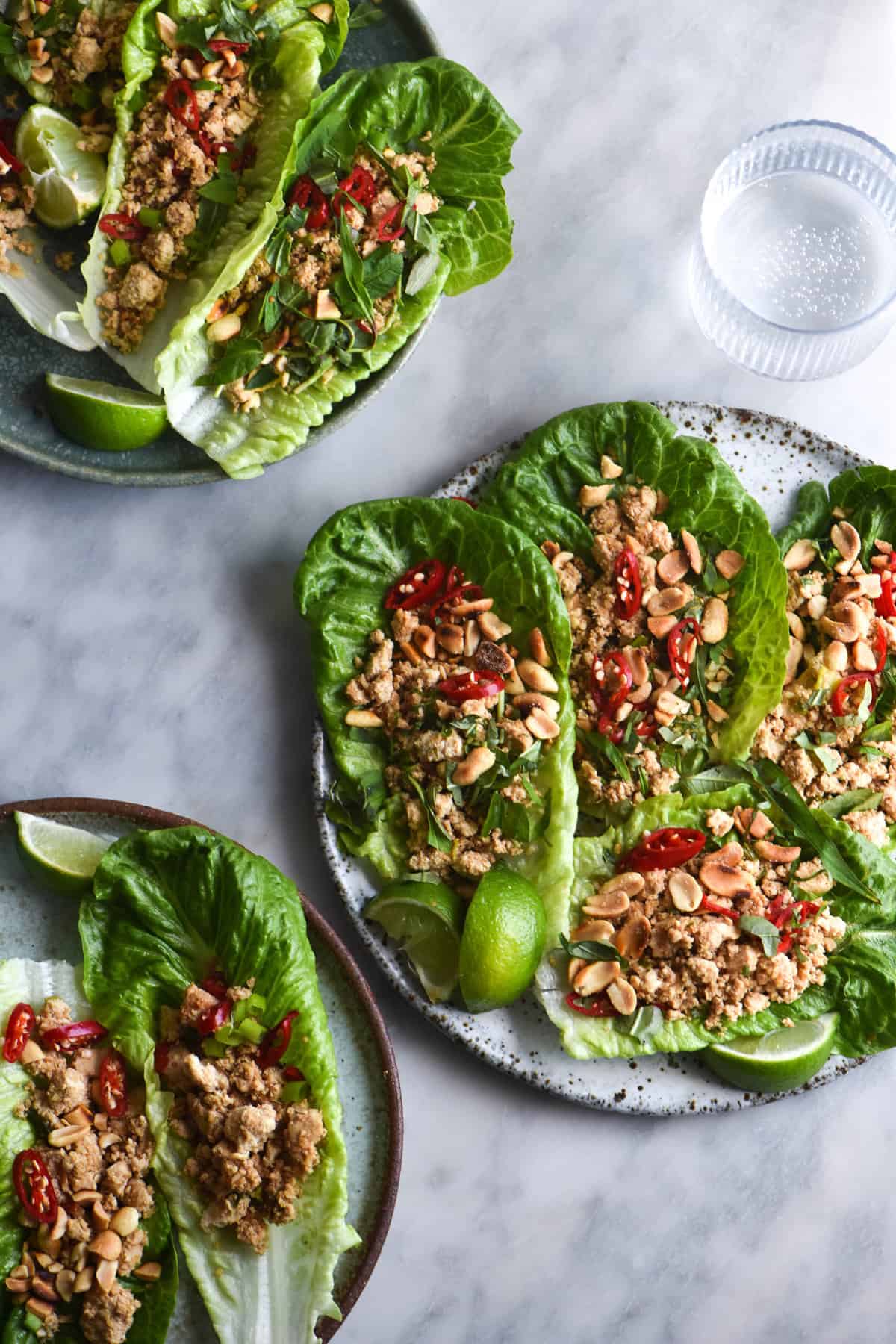 Gluten free Tantanmen style ramen
This ramen is a recipe from my cookbook, Intolerance Friendly Kitchen. It's a sesame based ramen that uses the gluten free egg noodles from the book too. Rich, creamy and delicious, smoked tofu adds the finishing touch.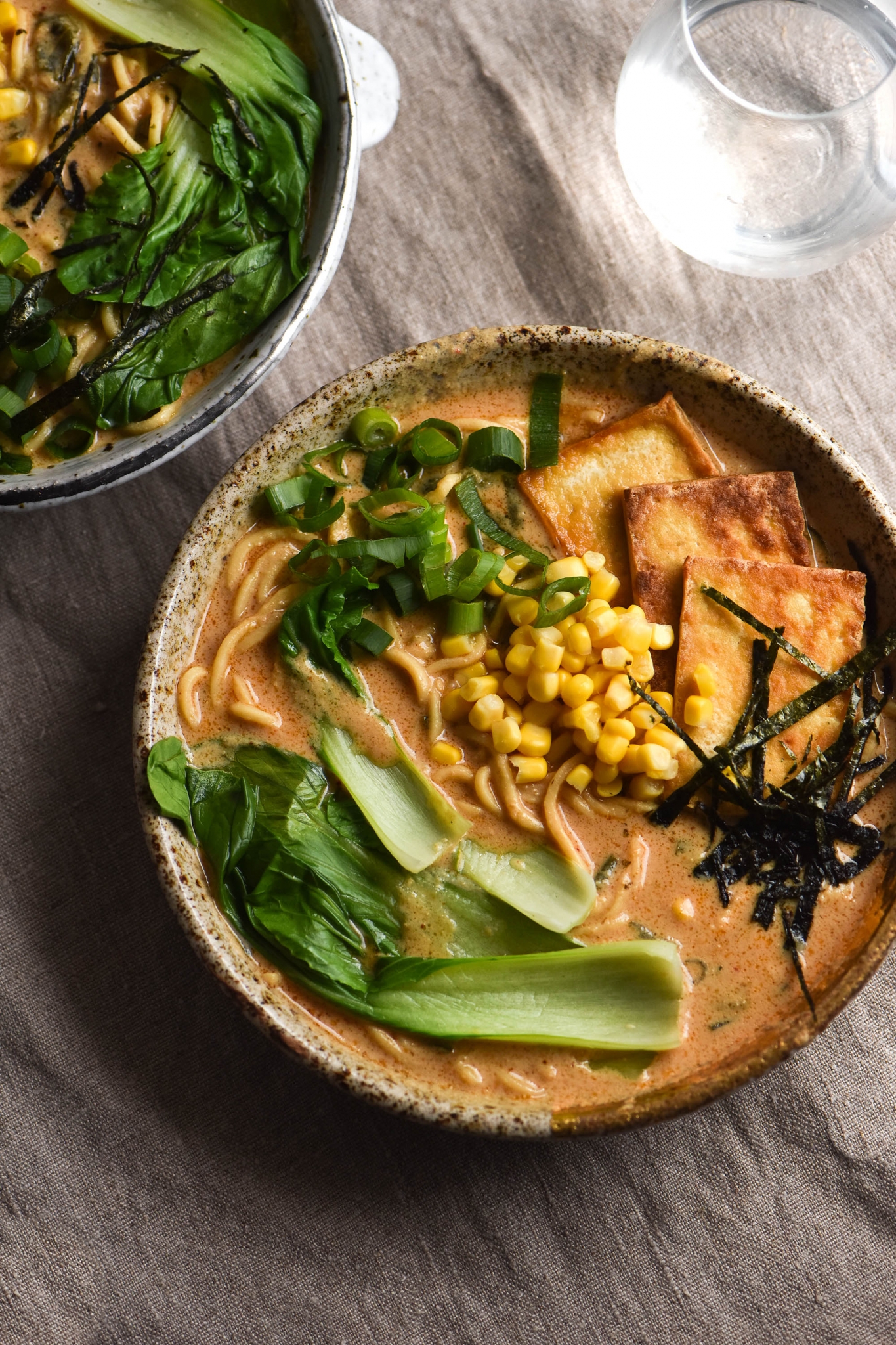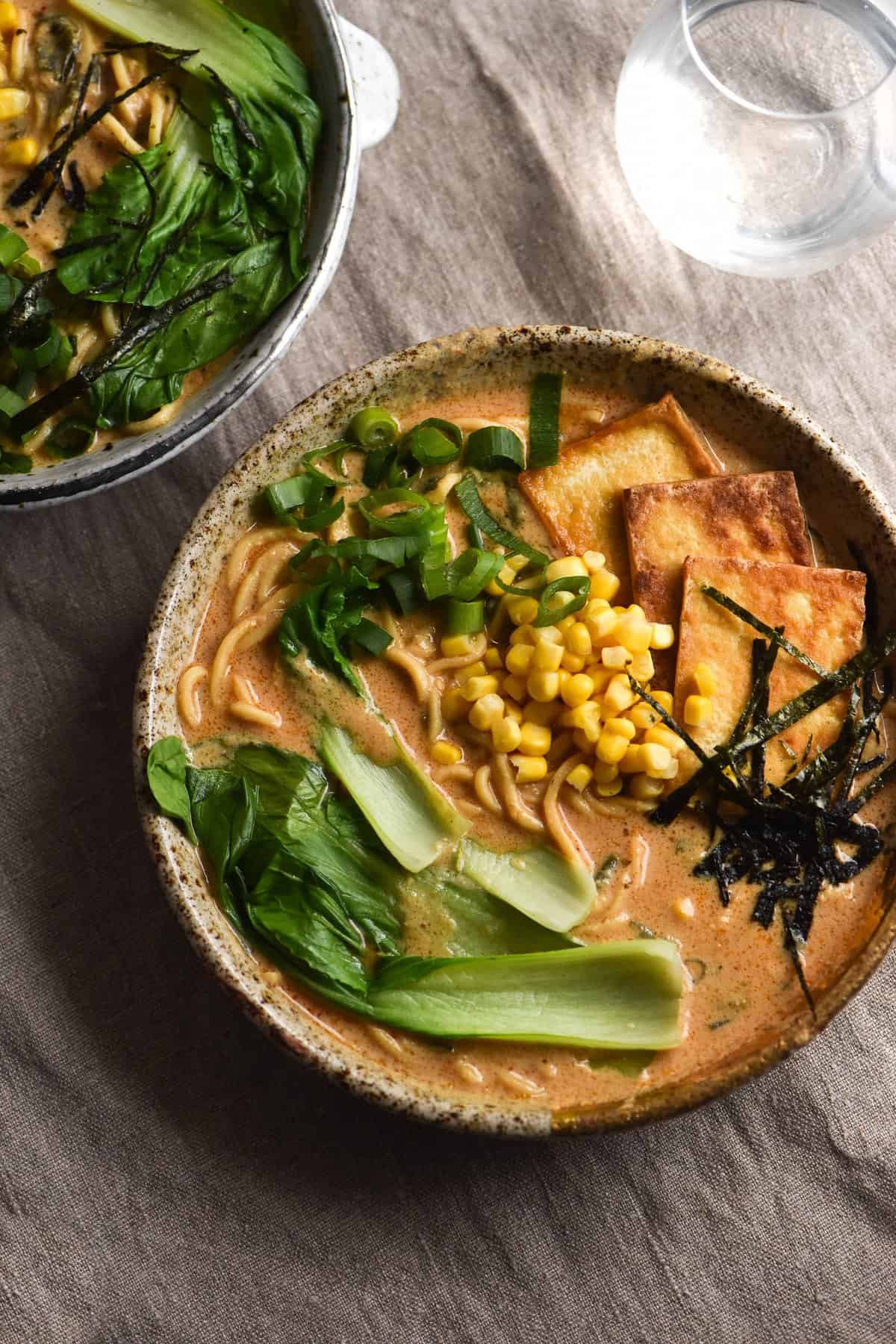 Vegan laksa
A rich and creamy yet aromatic laksa broth made without any onion or garlic. Finished with some crispy tofu and zoodles (or regular noodles) this laksa is the perfect winter meal.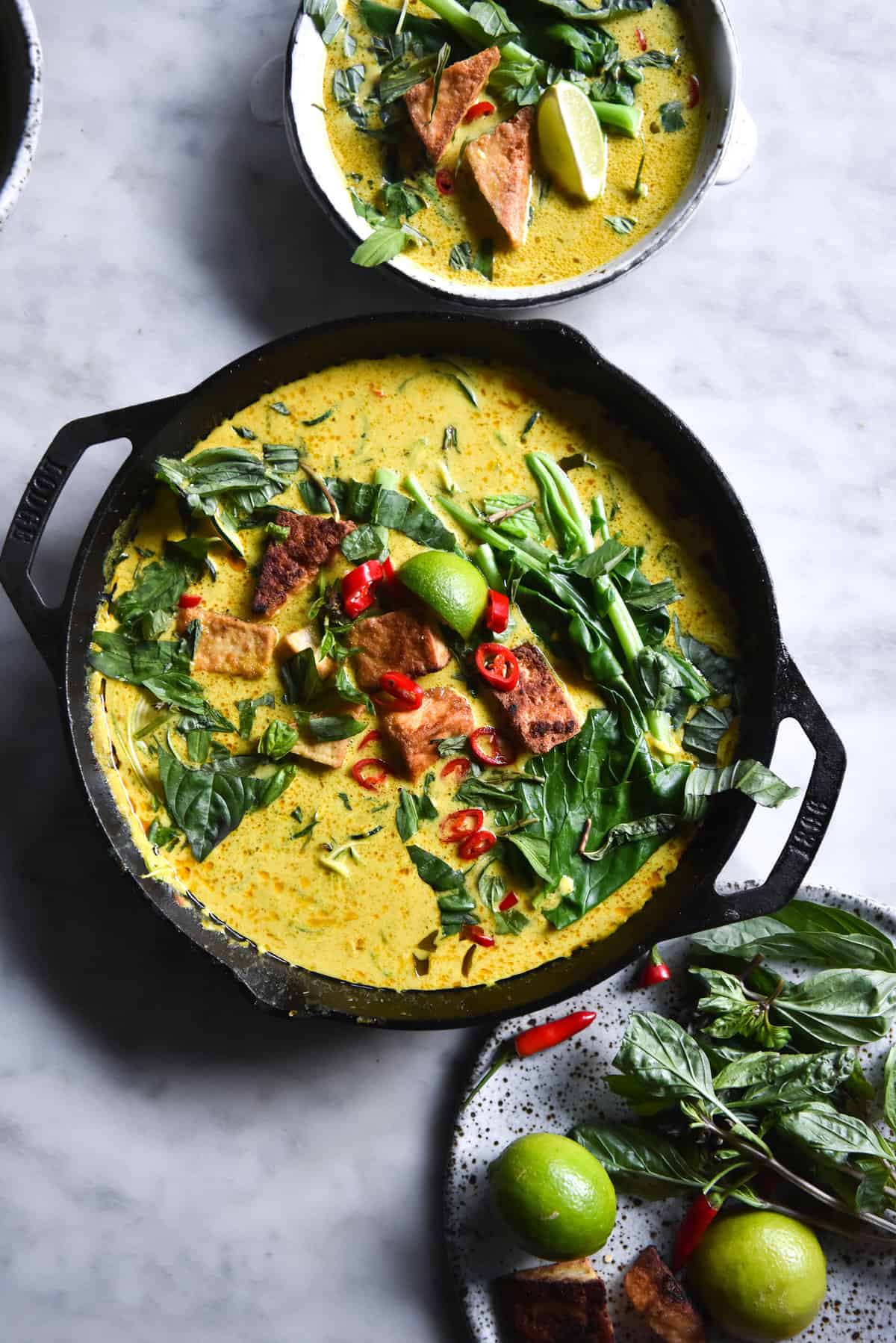 Vegetarian, gluten free sausage rolls
These vegetarian sausage rolls use tofu, walnuts and cottage cheese (I have a homemade lactose free version here) to pack a protein punch.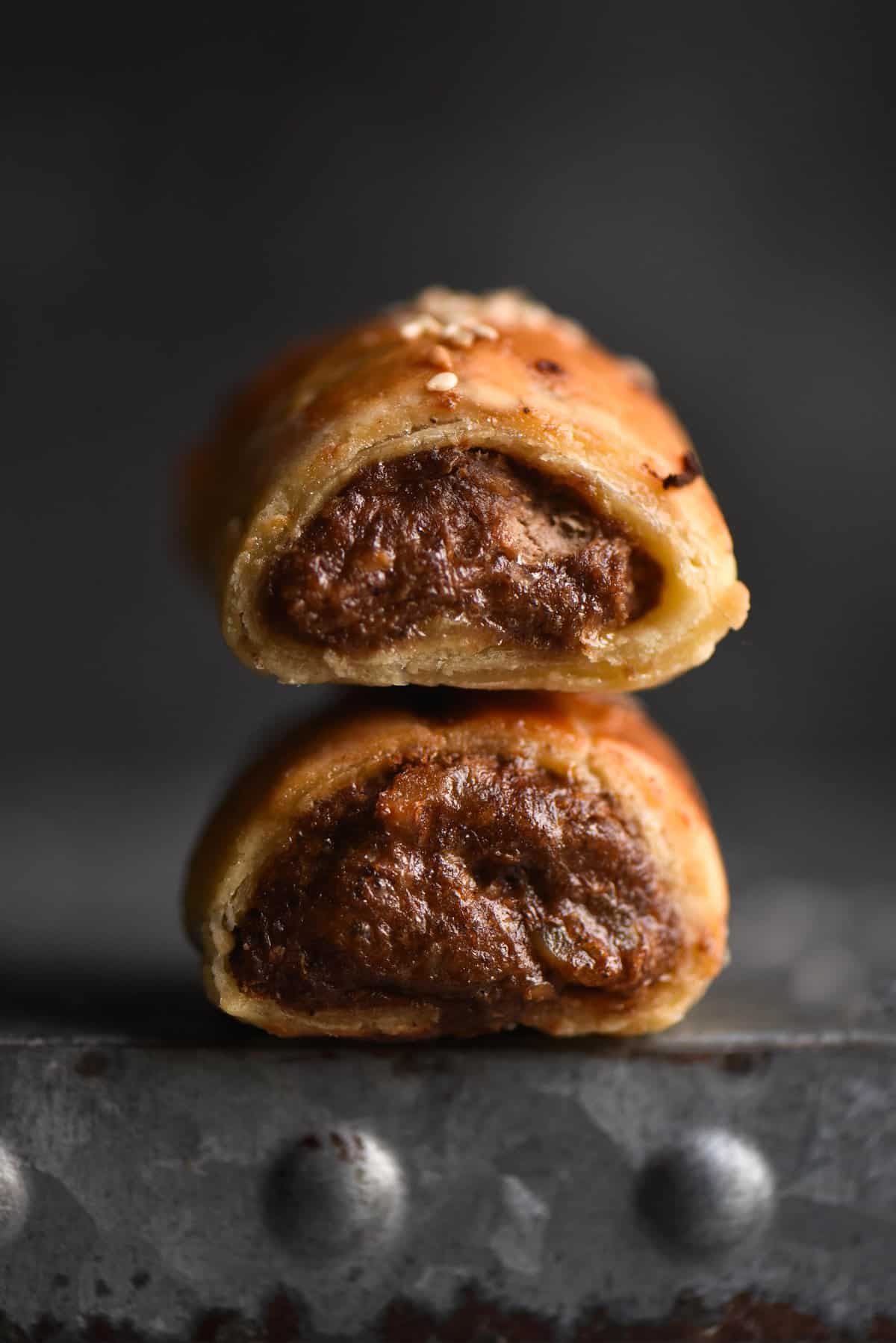 Vegan sausage rolls
I got questions about a vegan option for my vegetarian sausage rolls, so I made one! These vegan and gluten free sausage rolls are from my cookbook, Intolerance Friendly Kitchen.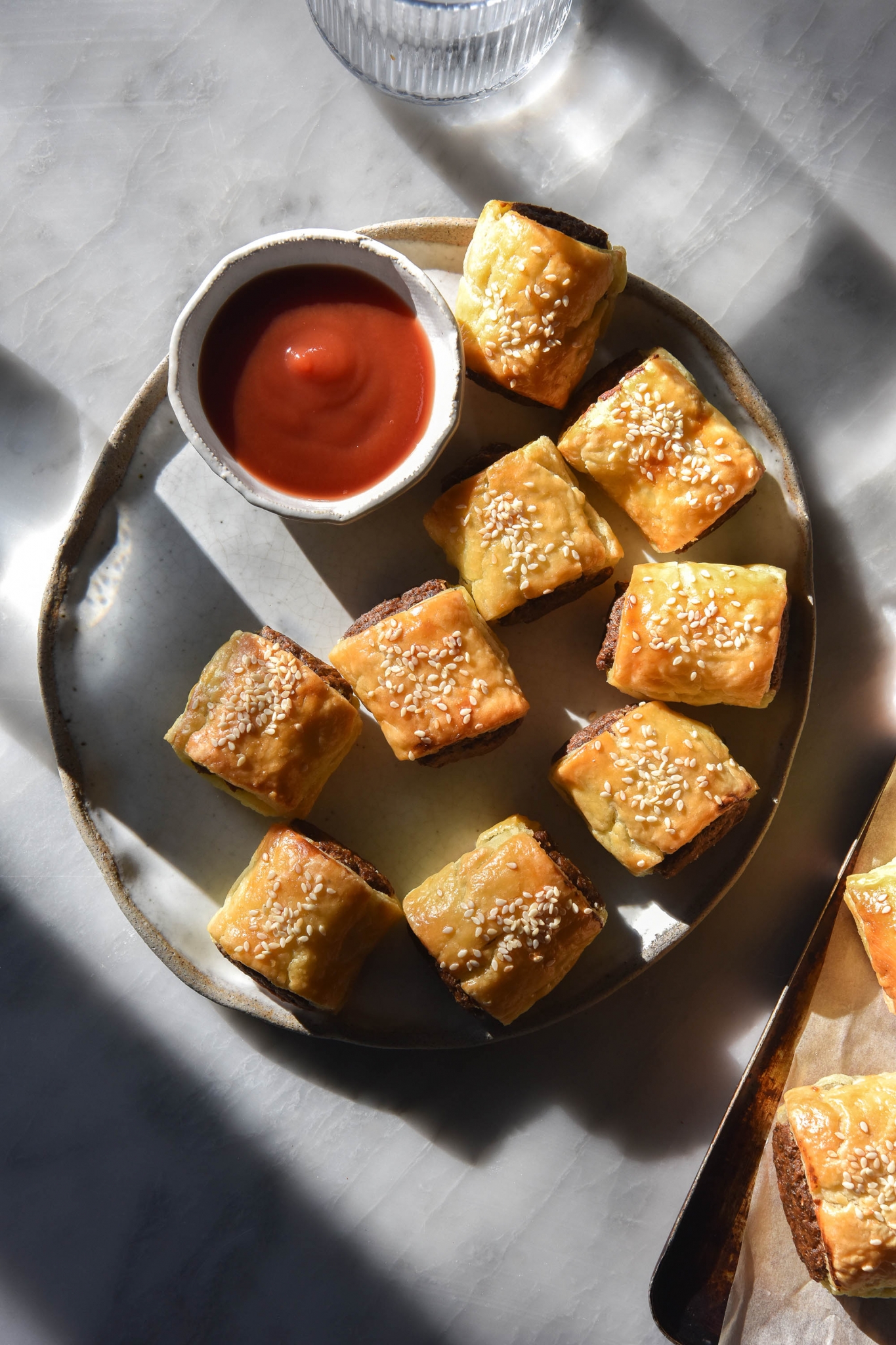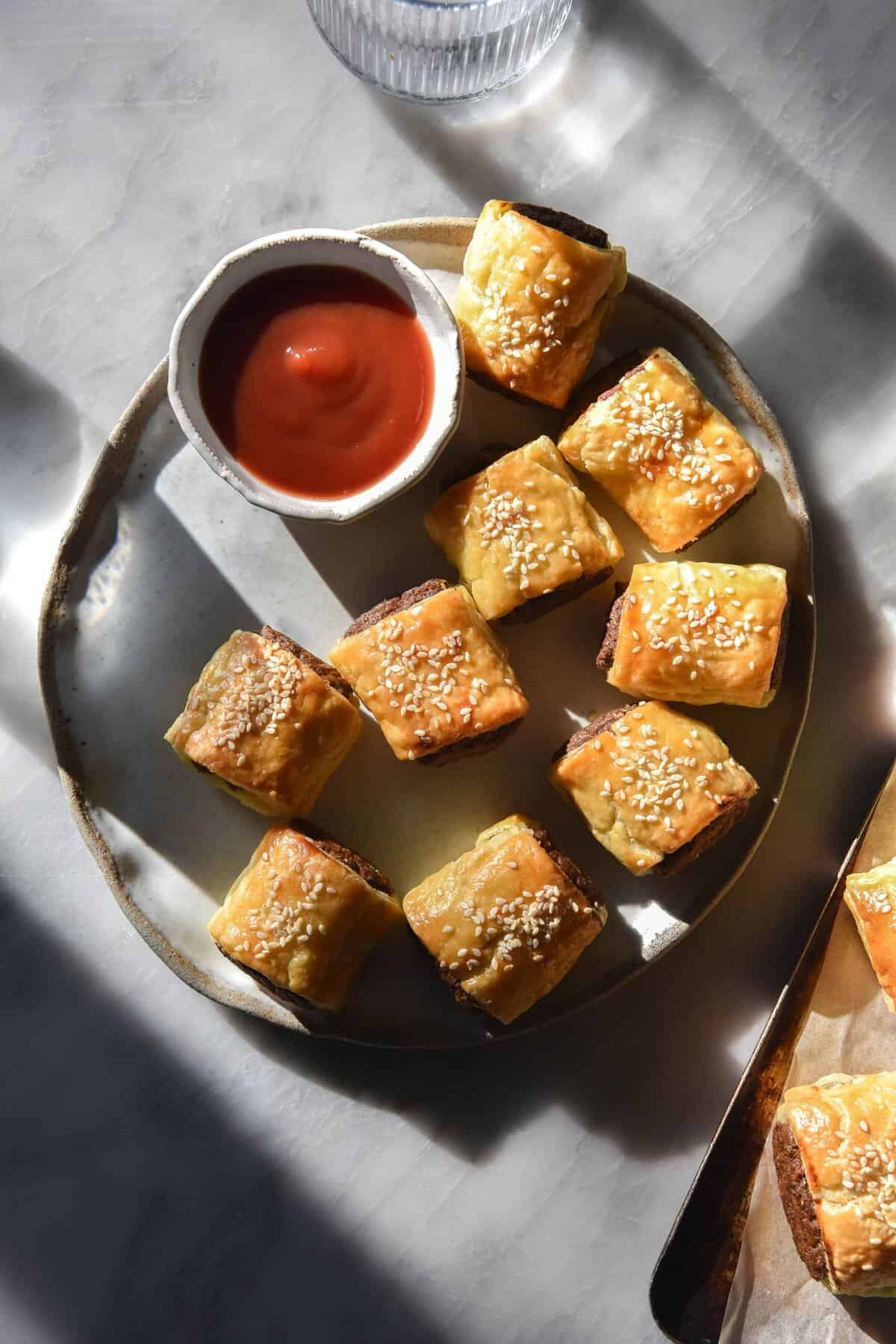 Low FODMAP peanut butter stir fry
Sometimes I need a bit of encouragement to make a stir fry. Peanut butter sauce is a foolproof method of doing just that. This stir fry is vegan and uses our pal tofu as the protein component of the dish.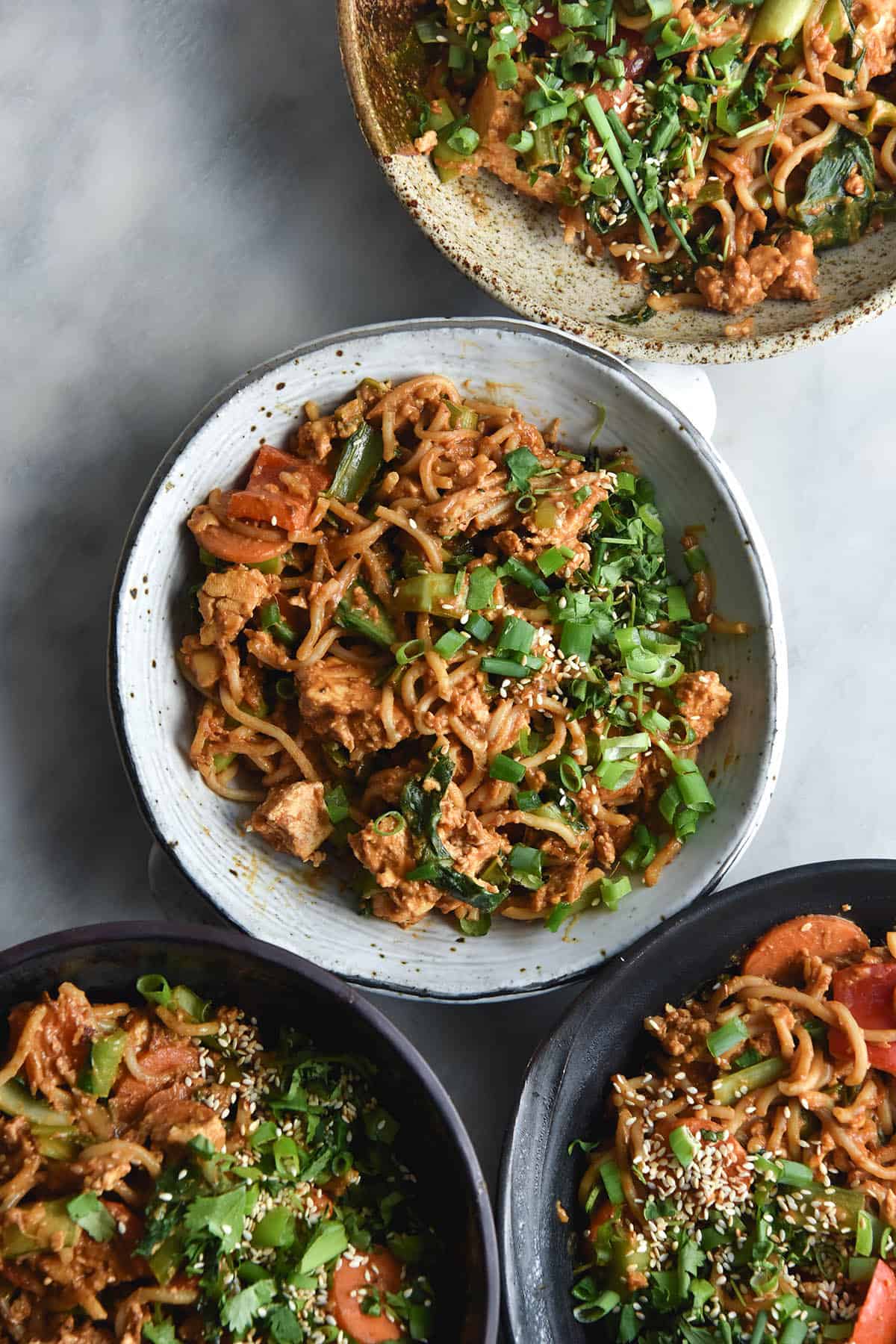 Crispy tofu with fennel salad and ginger satay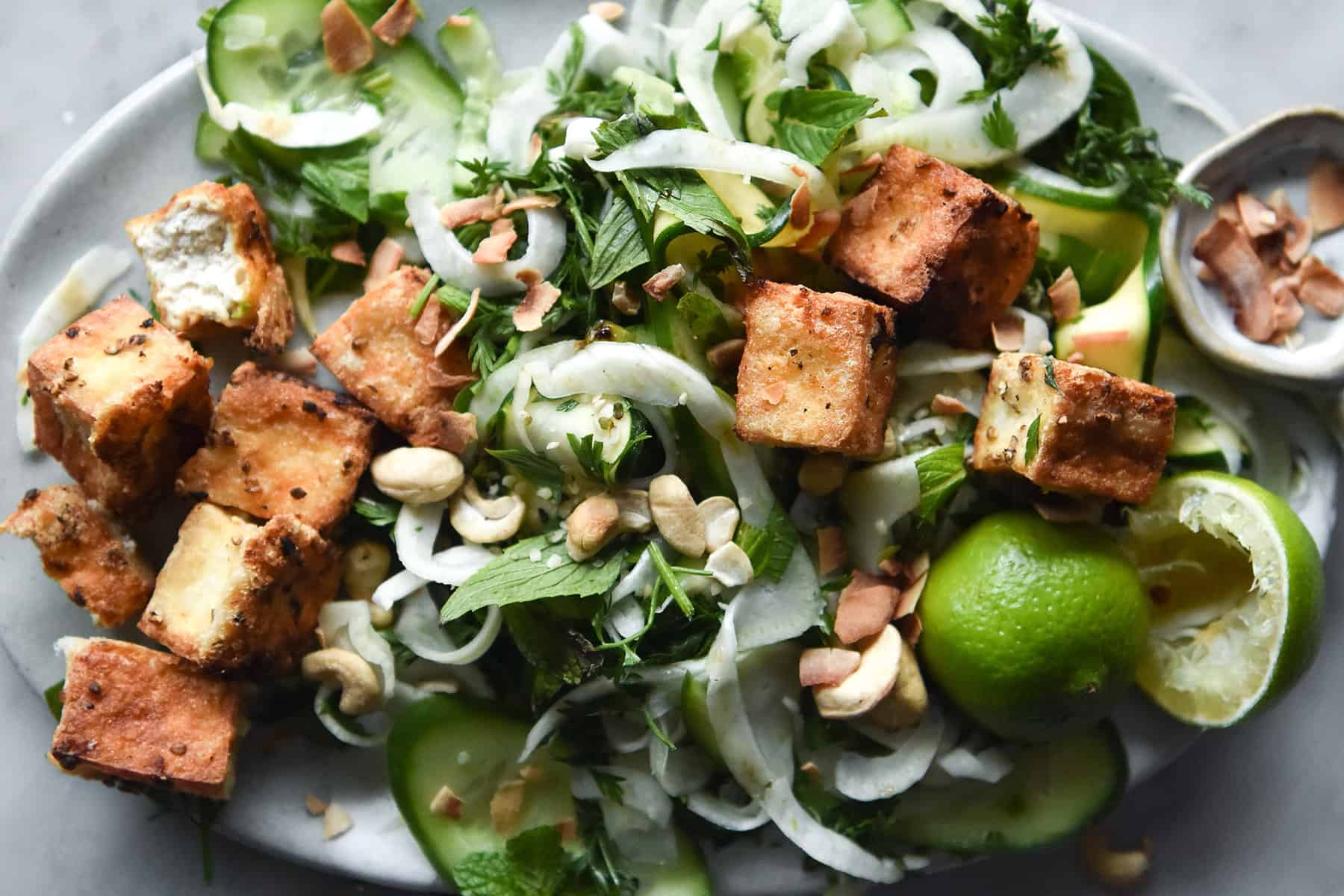 Vegan sausages
These grain free vegan sausages are another one of my favourite low FODMAP tofu recipes. They taste meaty and use no wheat flour or weird ingredients to achieve the result. Tofu, as always, is the hero of the day.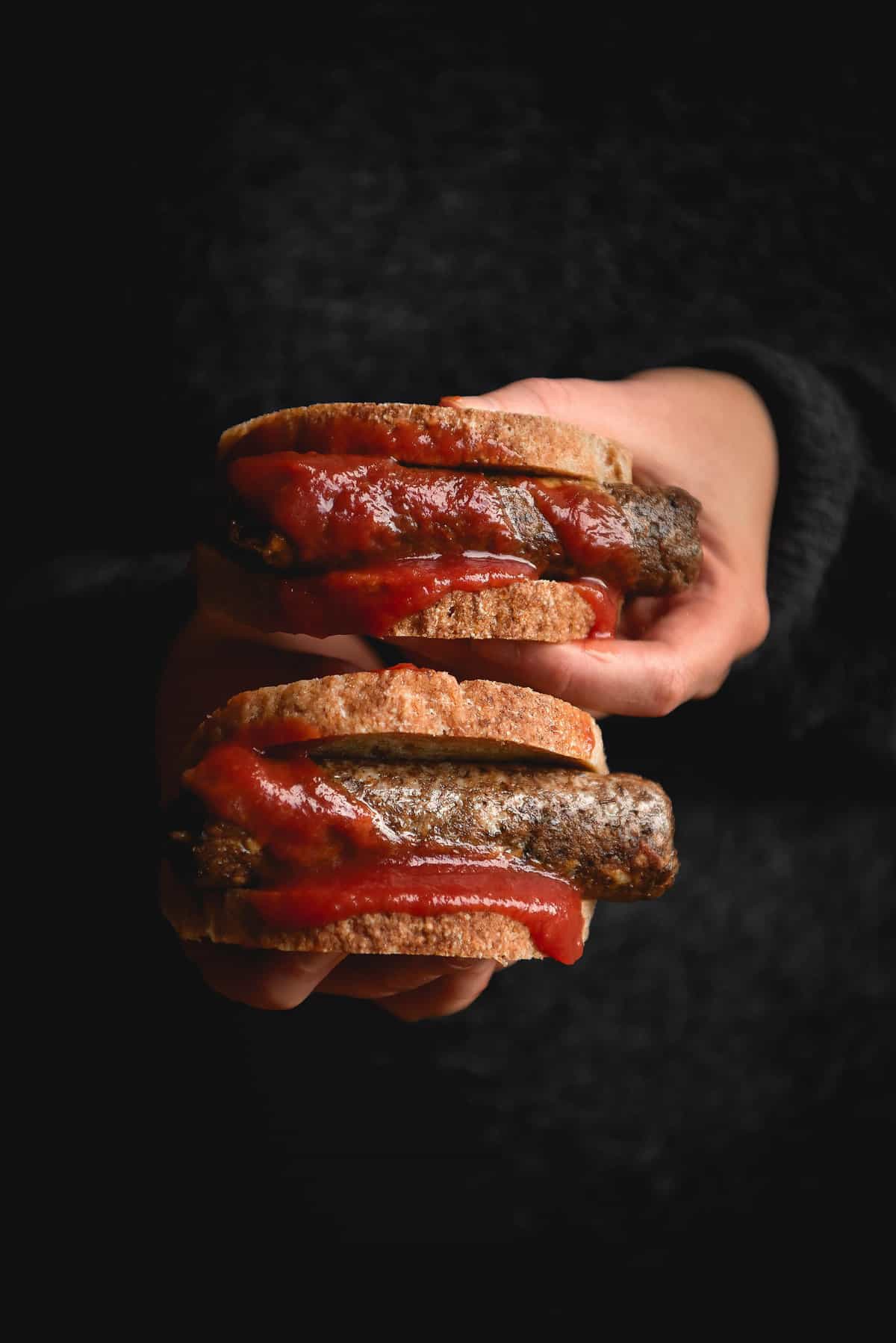 Vegetarian meatballs
Inspired by my sausages, I decided some vegan and gluten free meatballs were in order. An excellent protein hit to keep in the fridge or freezer for a quick weeknight meal.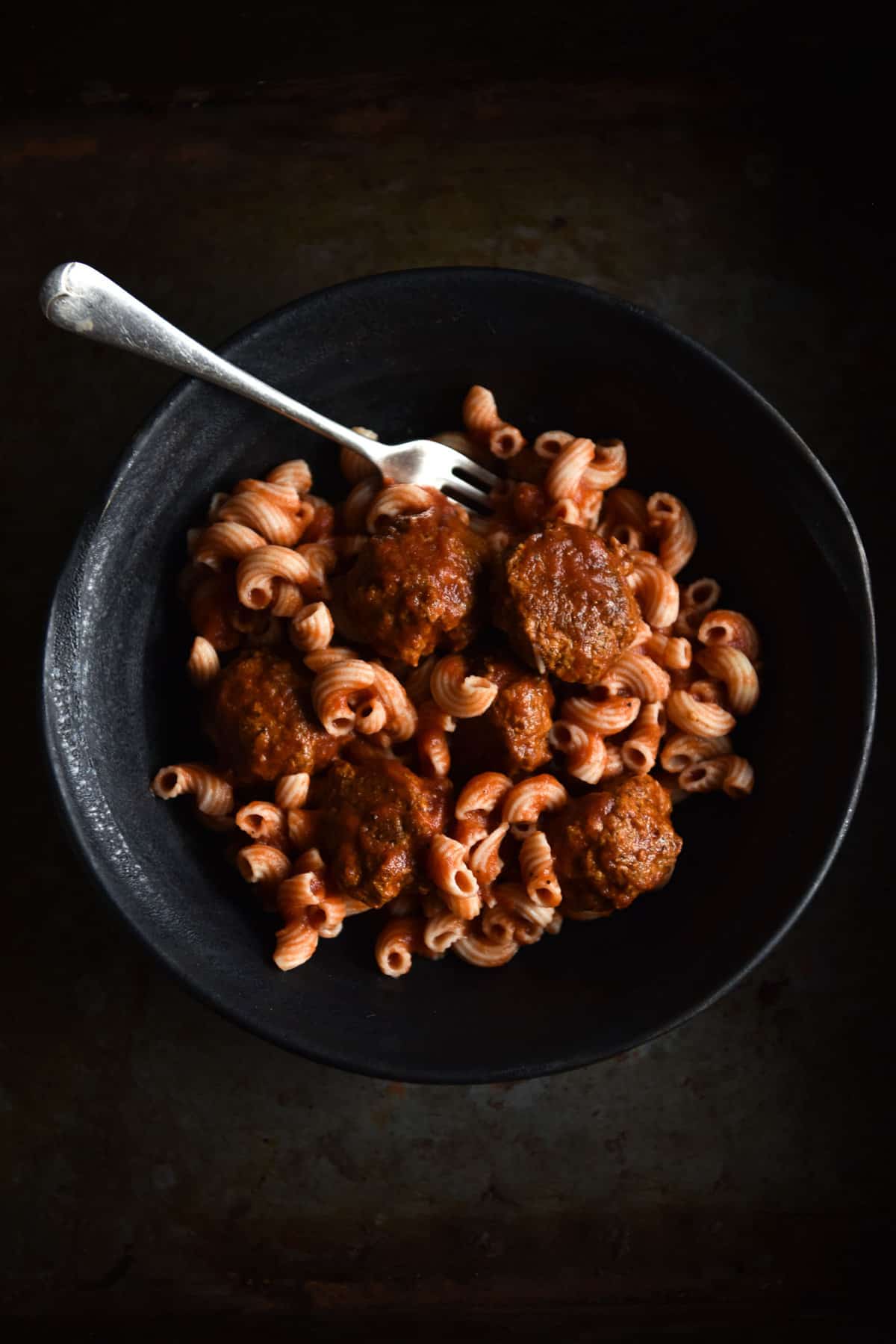 Sweet and sticky buckwheat noodles
These buckwheat noodles are a quick and delicious weeknight dish. You can throw any vegetable or protein you like into them, but I always recommend the humble tofu.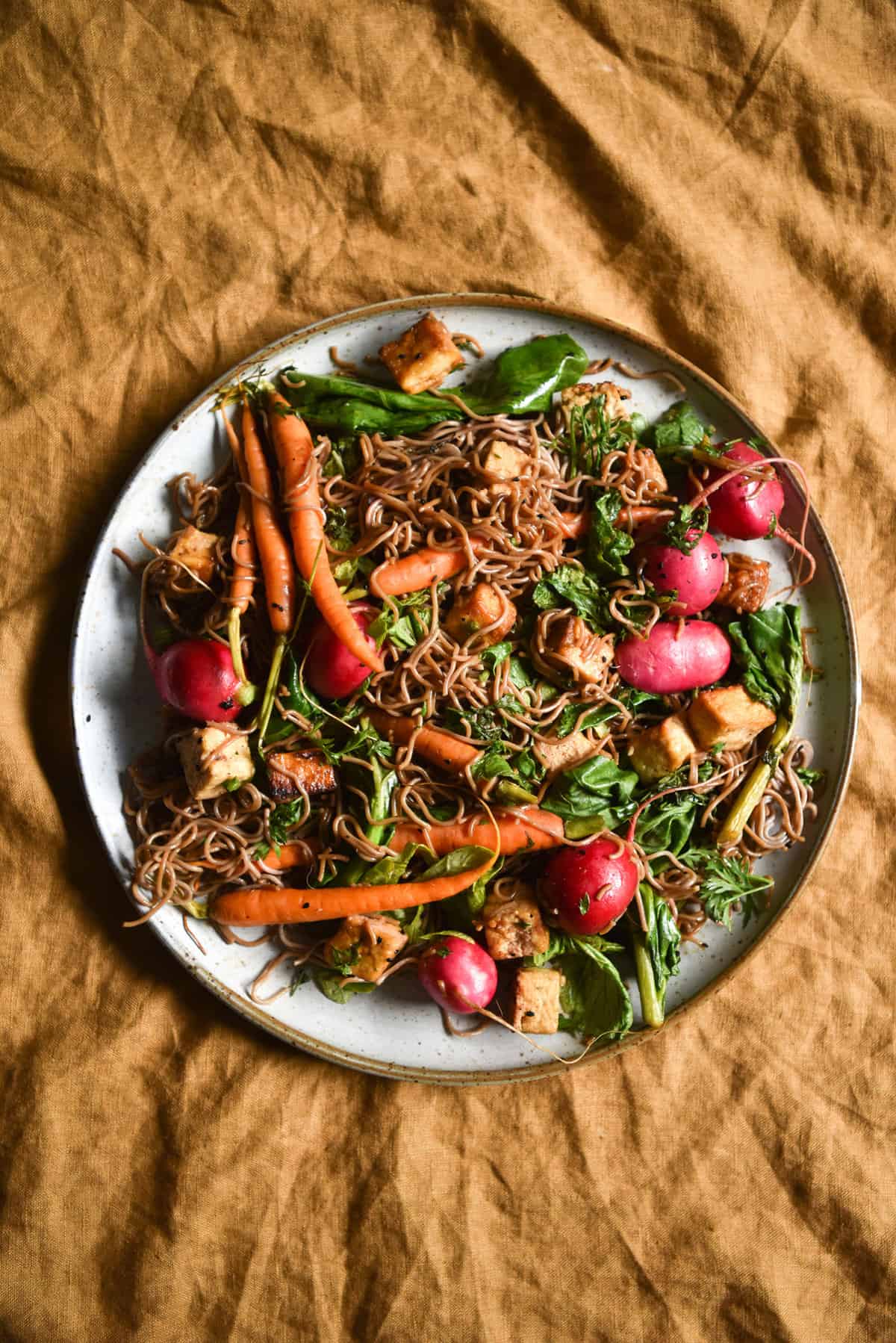 Vegetarian or vegan chilli
I could eat this chilli every week and not get sick of it. It has an option for a bean only protein source, a tofu only protein source, or both. Something for everyone!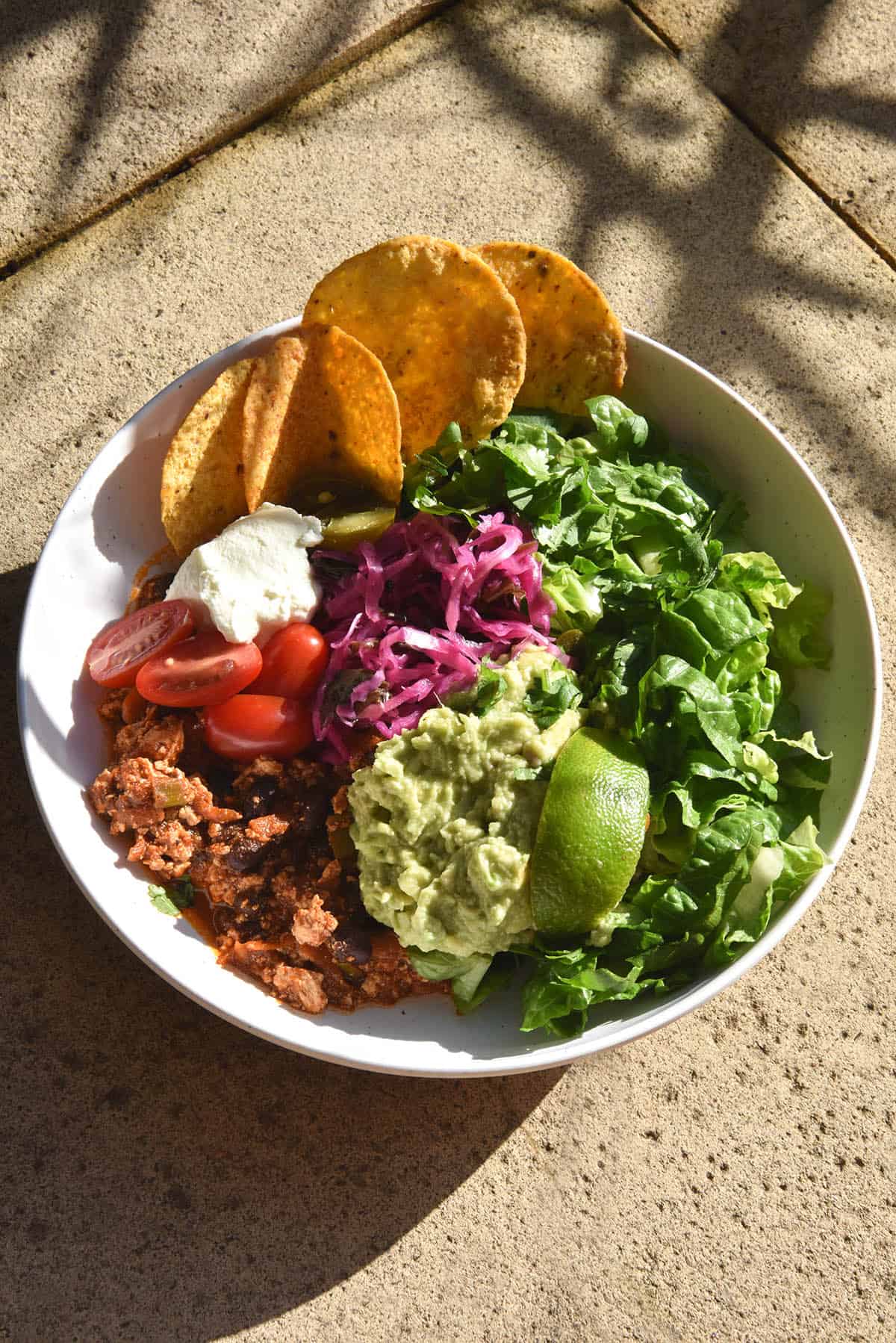 Vietnamese coleslaw with salt and pepper tofu
One of my favourite dishes to eat out is Vietnamese coleslaw. When I ask for no onion, it's a delicious and fresh dish that doesn't make me feel sick afterwards. This version pays homage to that, and is complete with a hefty hit of homemade salt and pepper tofu.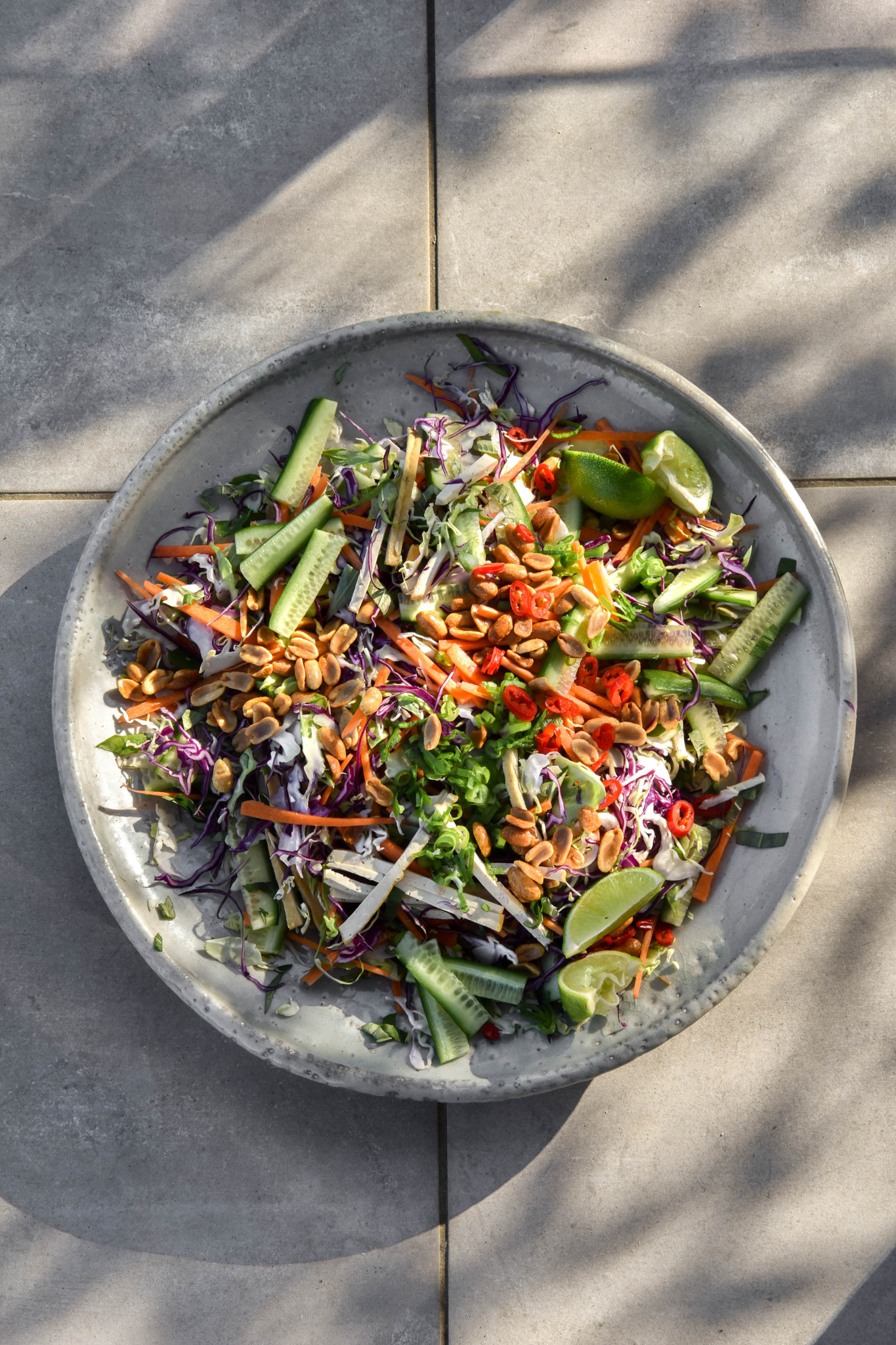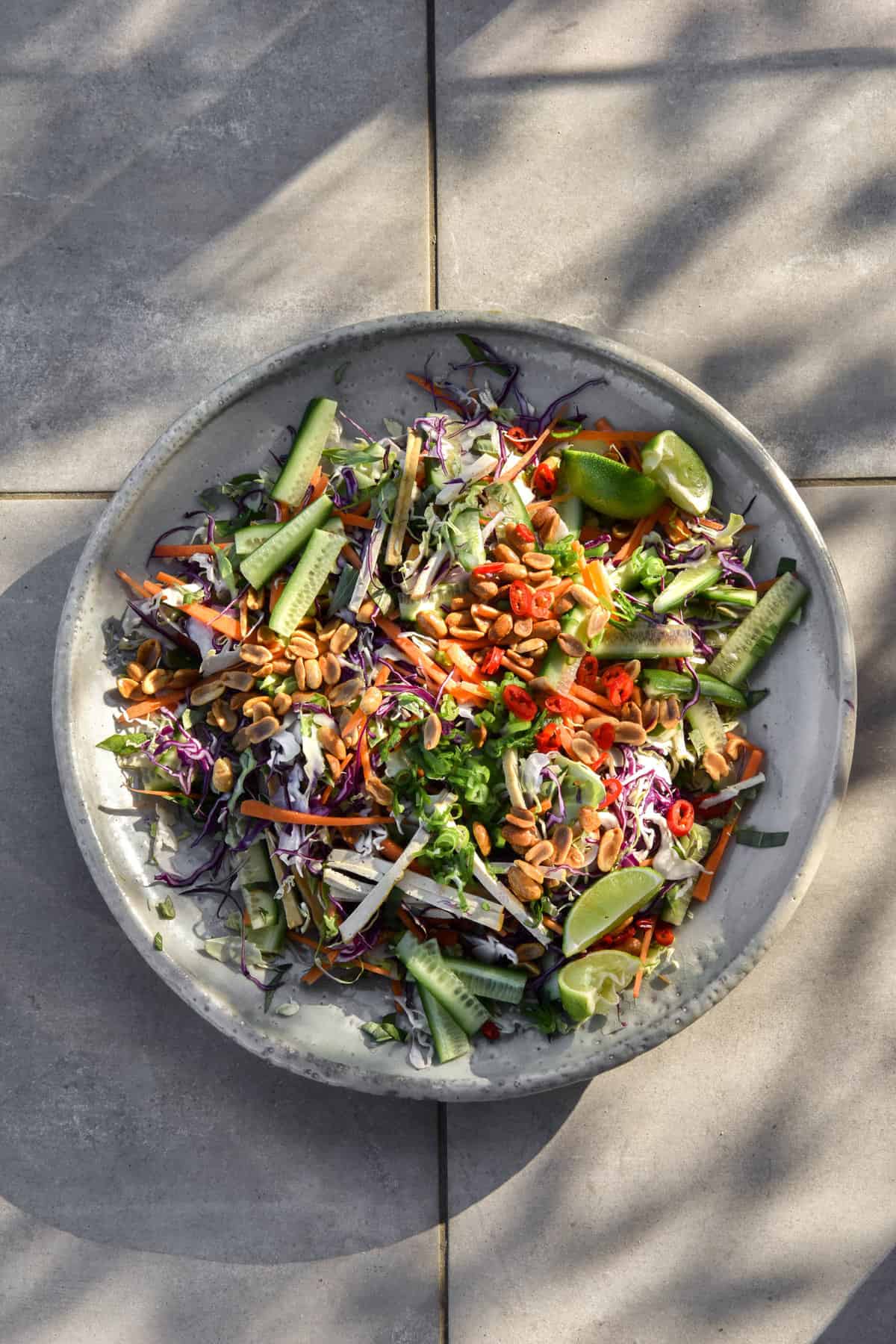 Shepherd's Pie
Tofu mince meat strikes again with this vegetarian or vegan Shepherd's Pie. There is the option to use tater tots as a quick and easy topping, or a creamy, cheesy mashed potato for a more traditional take. 10/10 delicious any way you make it.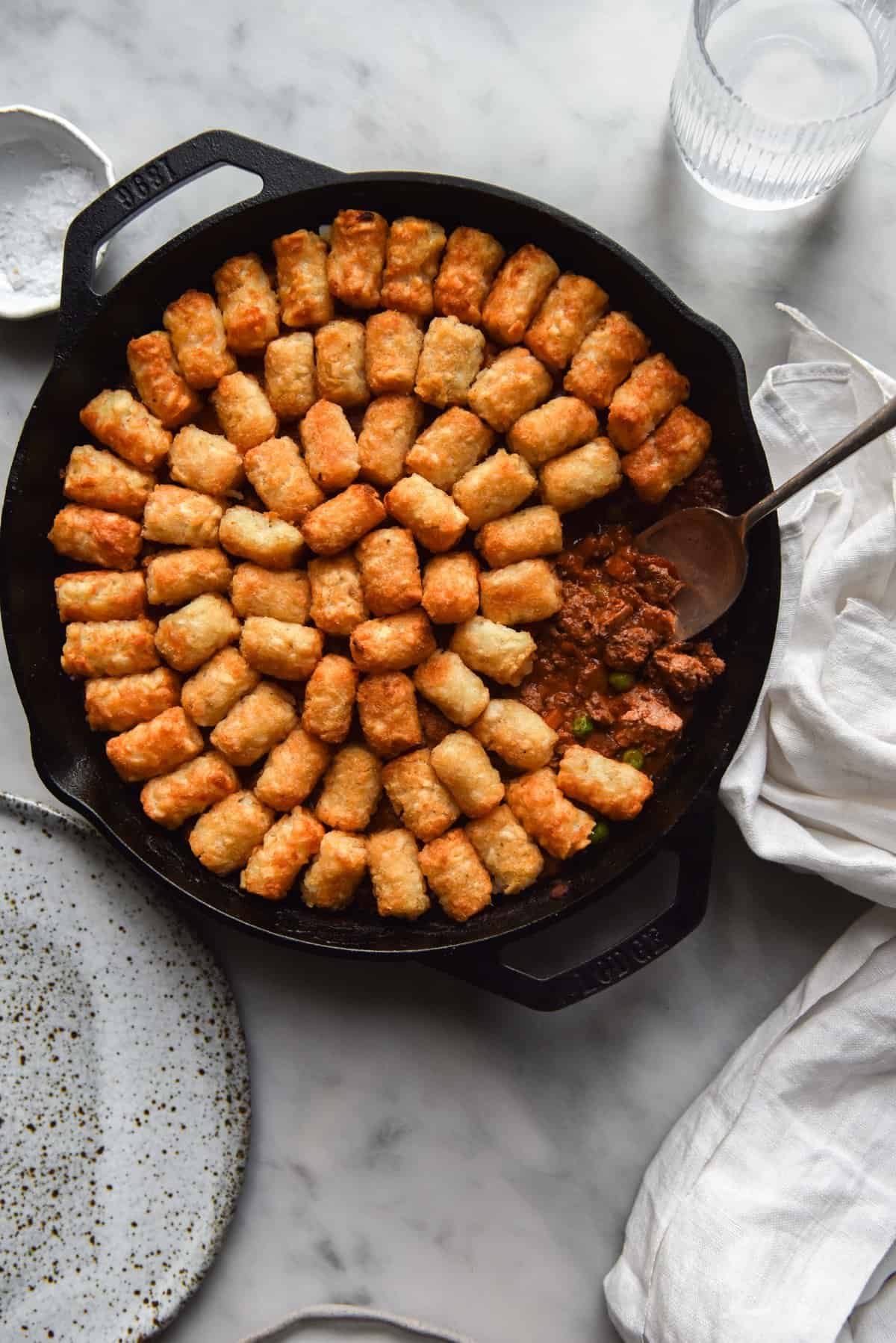 Vegan zucchini and 'ricotta' tart
My swirly zucchini tart caught many eyes back in the day, so I decided to make a vegan version as well. This one uses tofu instead of ricotta for a creamy and herby tart filling.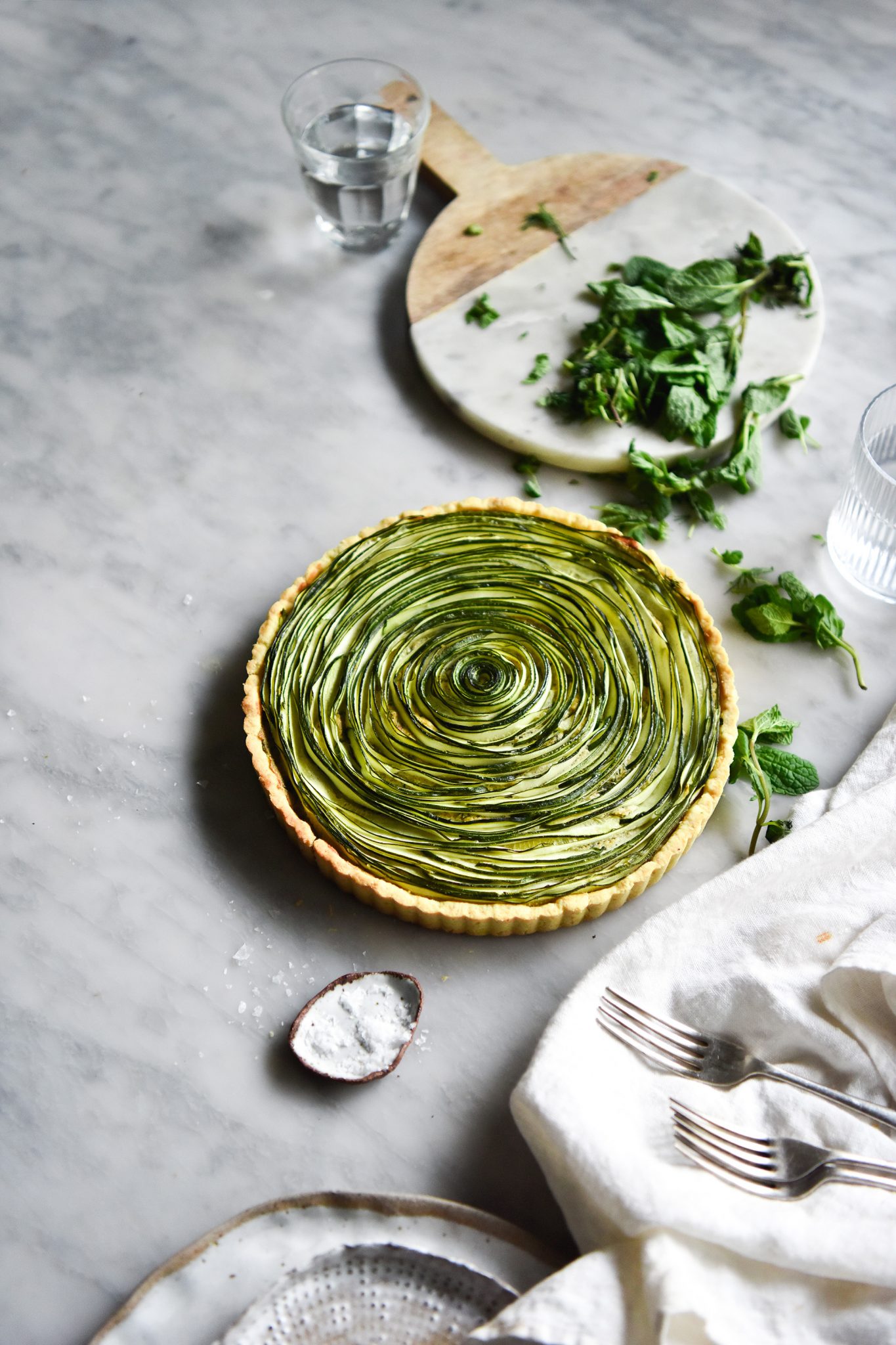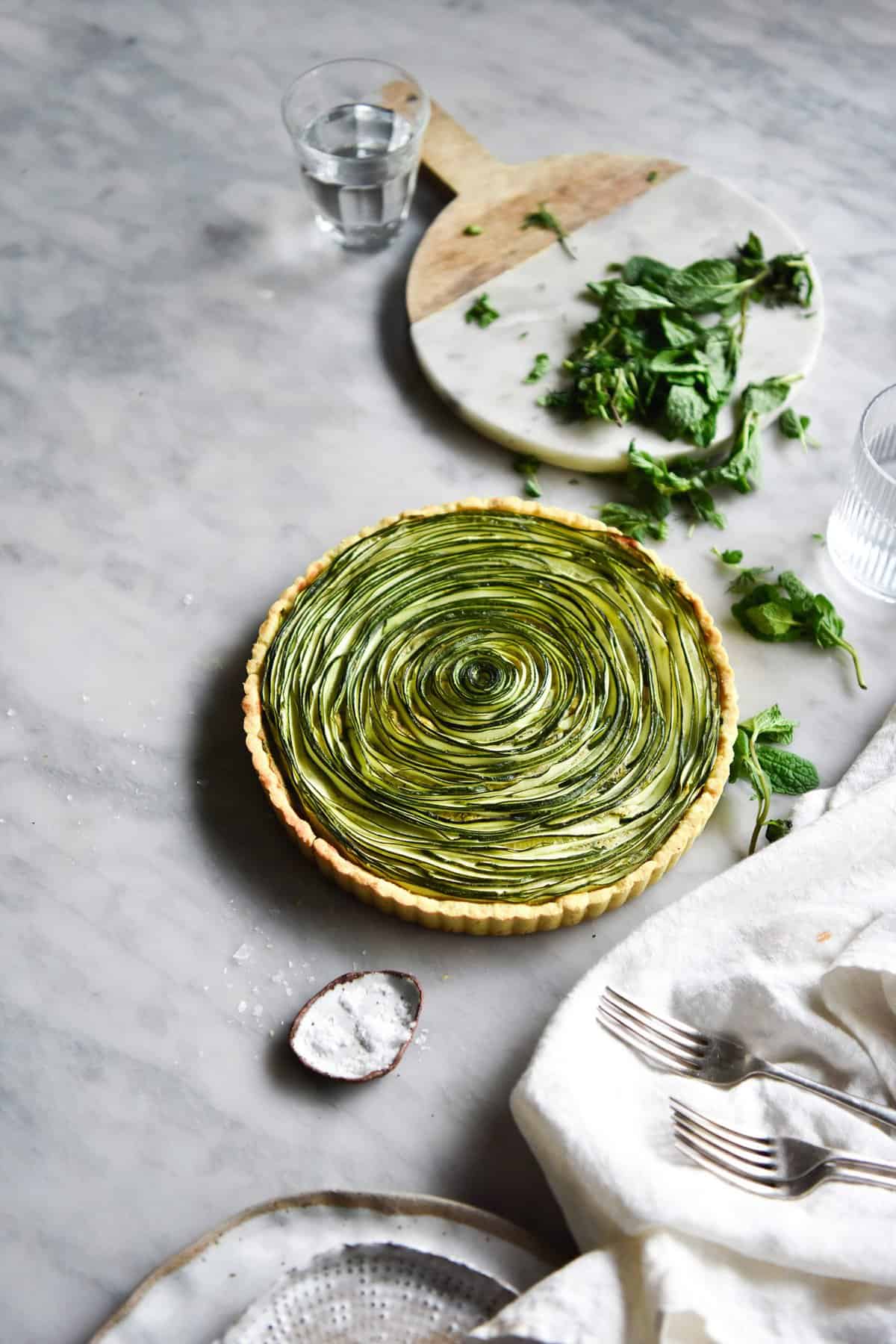 Vegetarian Caesar salad with tofu 'croutons'
Let's be honest: the best part of Caesar salad is the dressing. The second best part? The crispy tofu 'croutons' I used to make this salad gluten free.
Hamburger Helper
Did you think I was done with the tofu bolognese content? Think again! This Hamburger helper is part tofu bolognese, part gluten free mac and cheese, all delicious. Side note: the mac and cheese uses low lactose cheeses, just in case you're side eyeing me right now.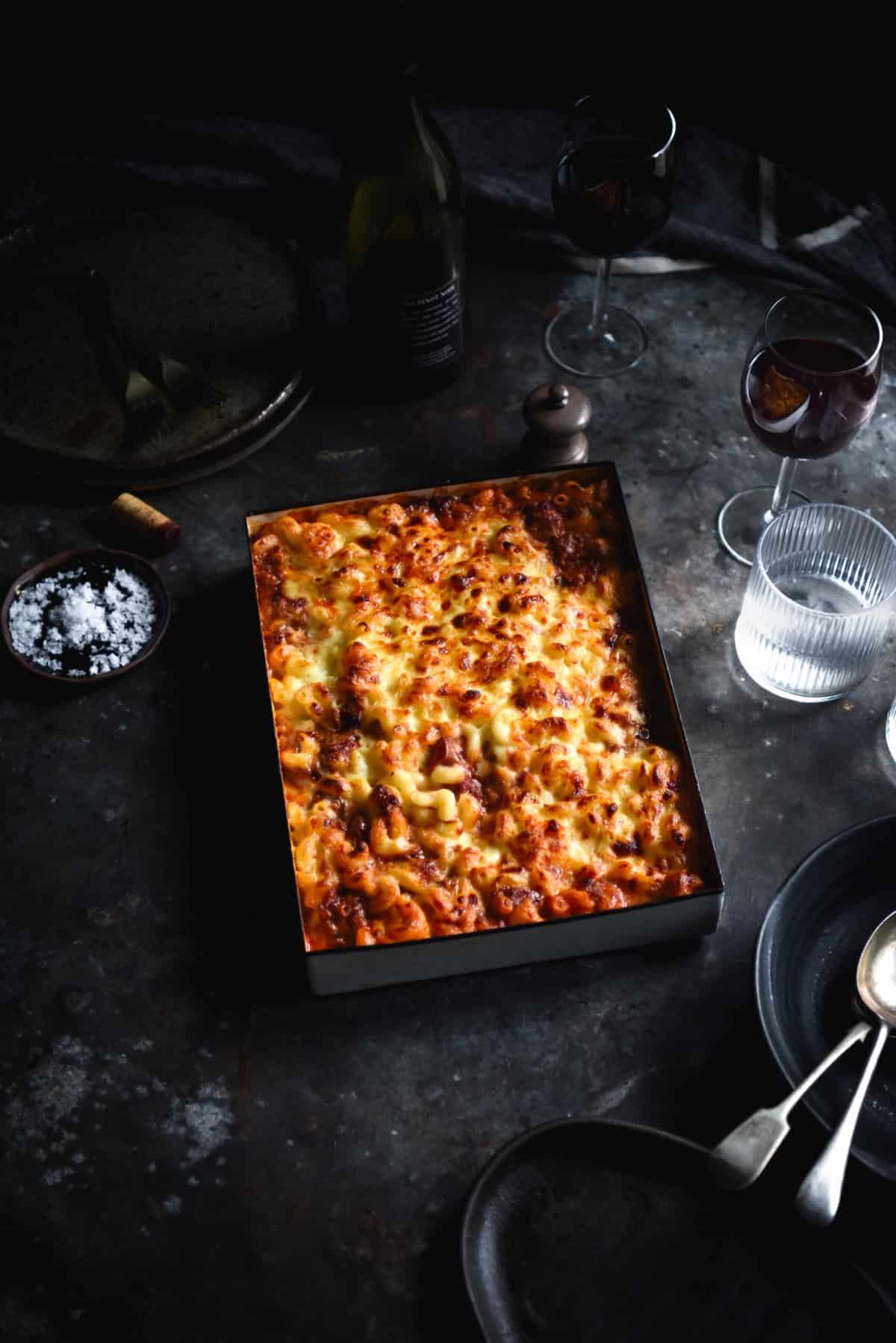 Low FODMAP Pad Thai
If I had to eat the same meal every night forever, it would be Pad Thai. I love it so much that I spent years (on and off) developing a recipe that was reminiscent of the Pad Thai I ate in Thailand. This version is low FODMAP and vegetarian or vegan, but it ticks all the boxes.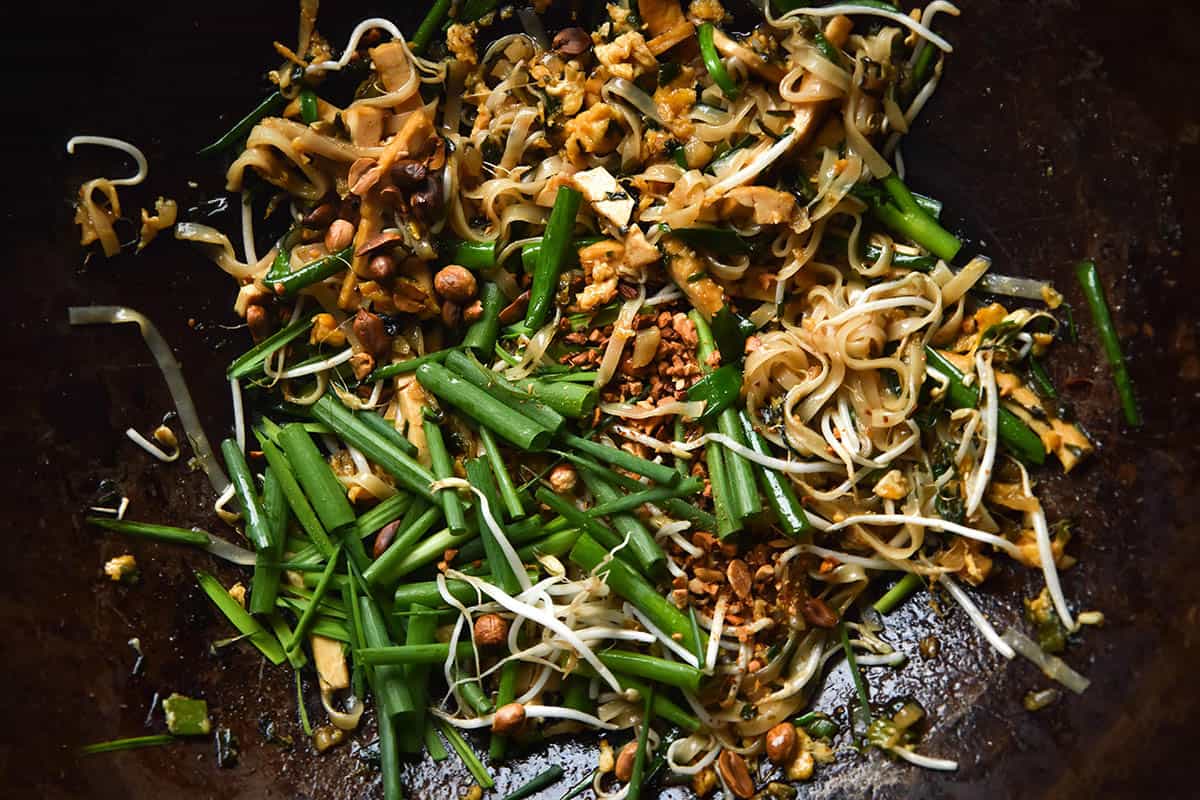 Gluten free and vegan dumplings
So I know that I keep excessively complimenting my own recipes, but these dumplings are another all time favourite. The dumpling wrappers are vegan and xanthan gum free. The filling is a delicious gingery tofu and vegetable one that I could eat by the spoon. There's also chilli oil and dipping sauce recipes to accompany them – all recipes in my cookbook Intolerance Friendly Kitchen.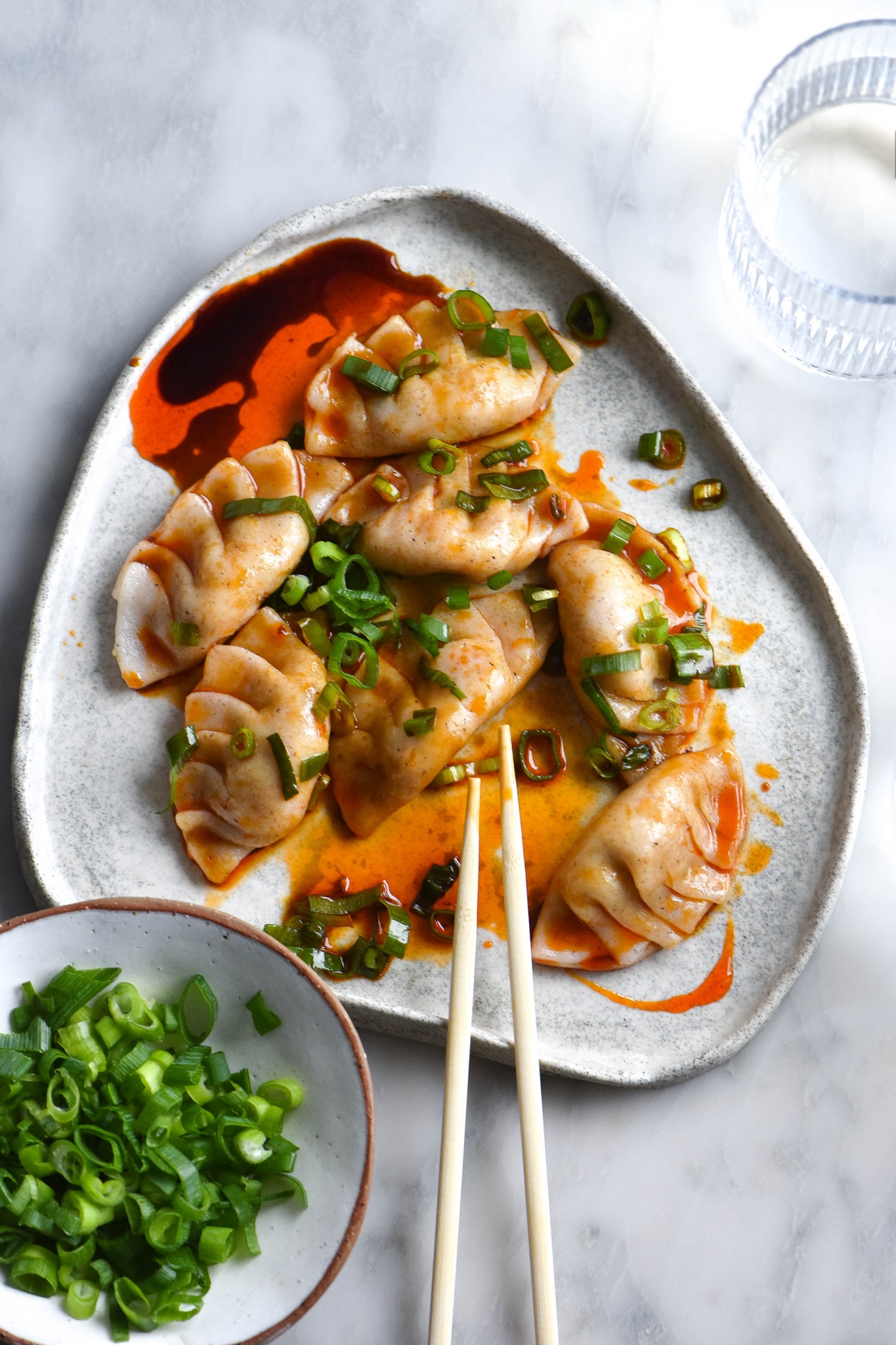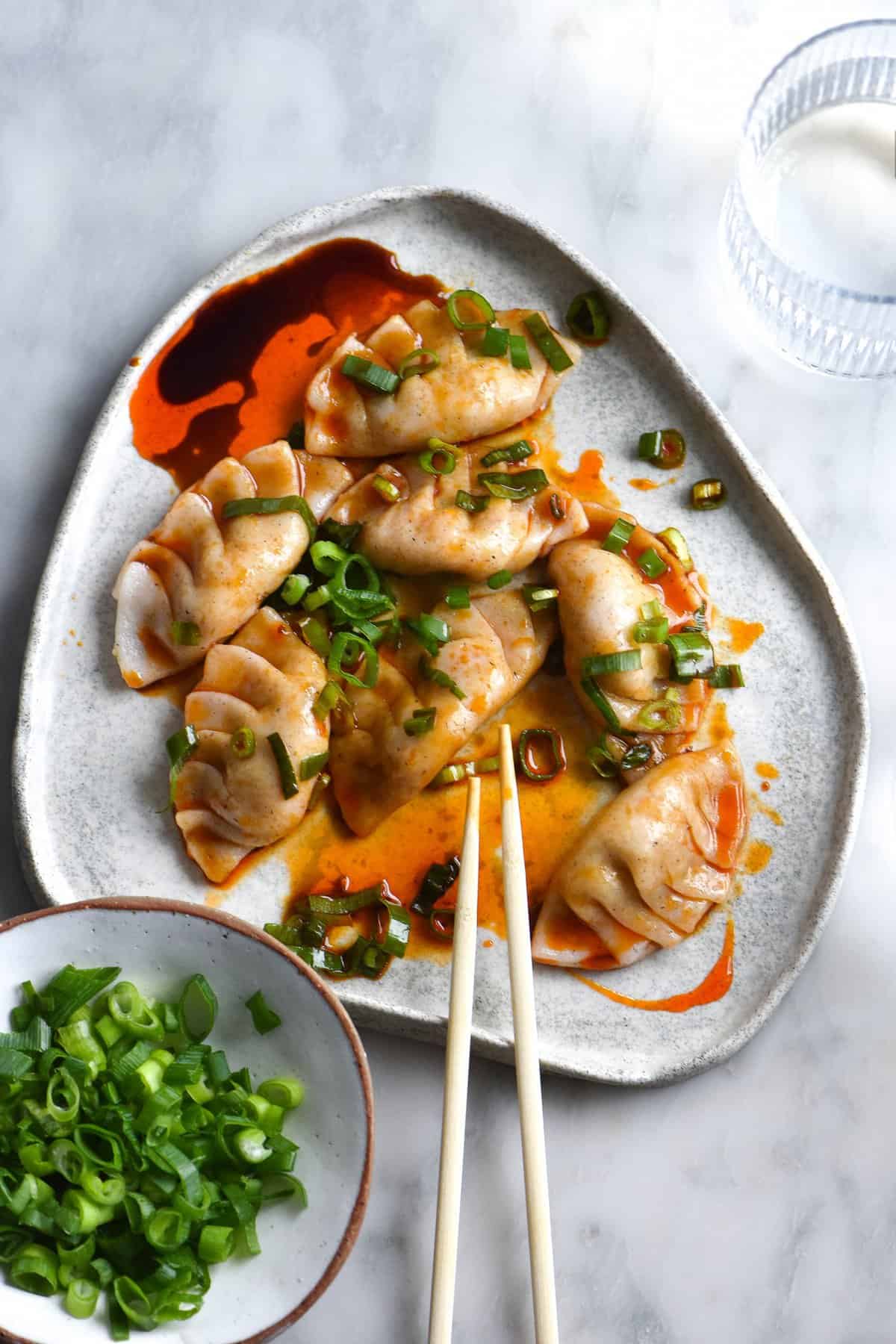 Crispy fried miso tofu rice bowls
Crispy fried tofu is coated with a miso dressing, then served with broccolini, furikake and rice. A delicious and filling vegan dinner that ticks all the boxes.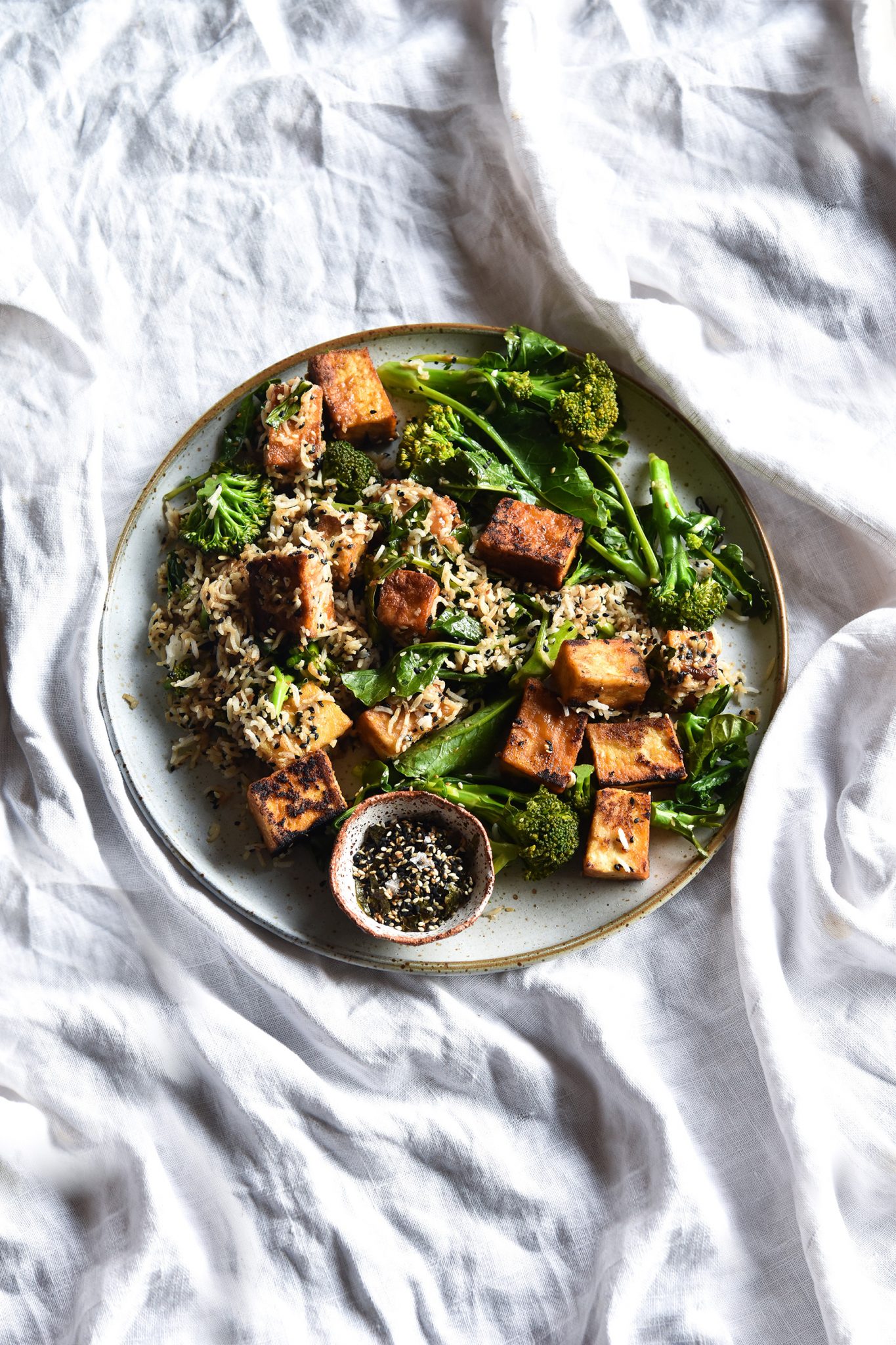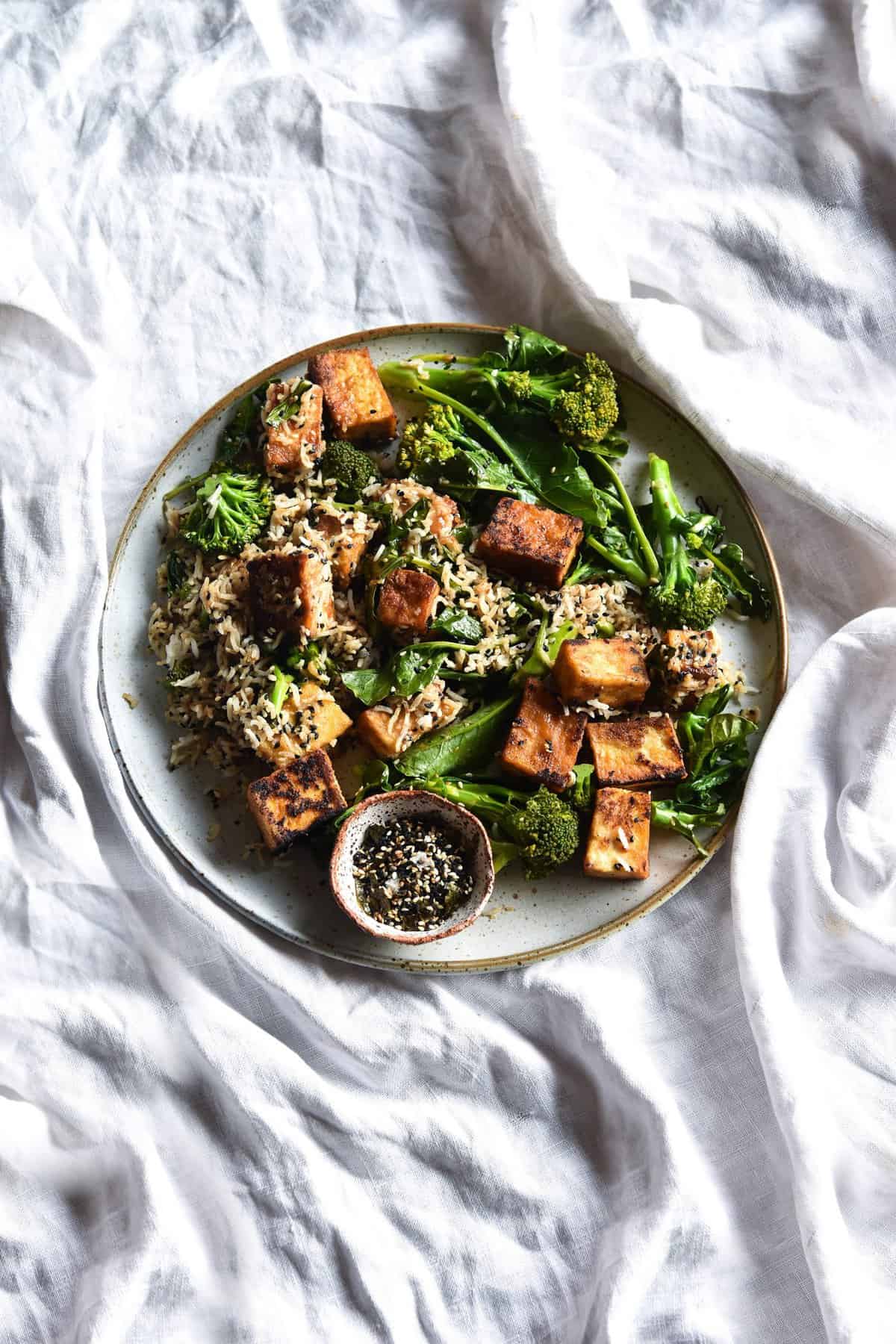 Vegan chicken noodle soup
This vegan 'chicken' noodle soup uses small chunks of tofu and low FODMAP vegan chicken stock to replace the real thing. It's brothy and light yet super comforting and filling.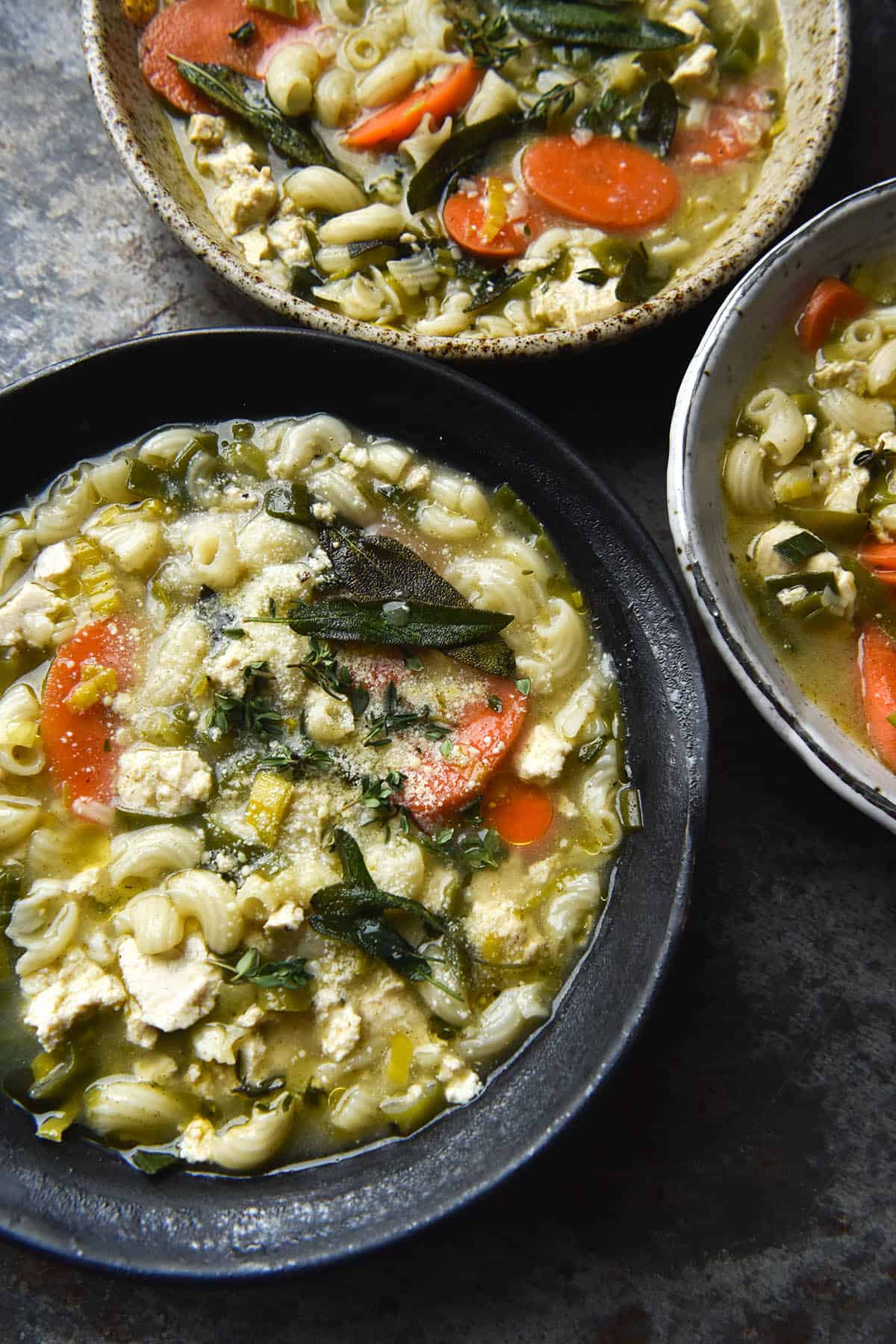 Low FODMAP shahi paneer
Ok so this shahi paneer doesn't explicitly use tofu. However, if you're planning to make a vegan version of it, tofu is your pal.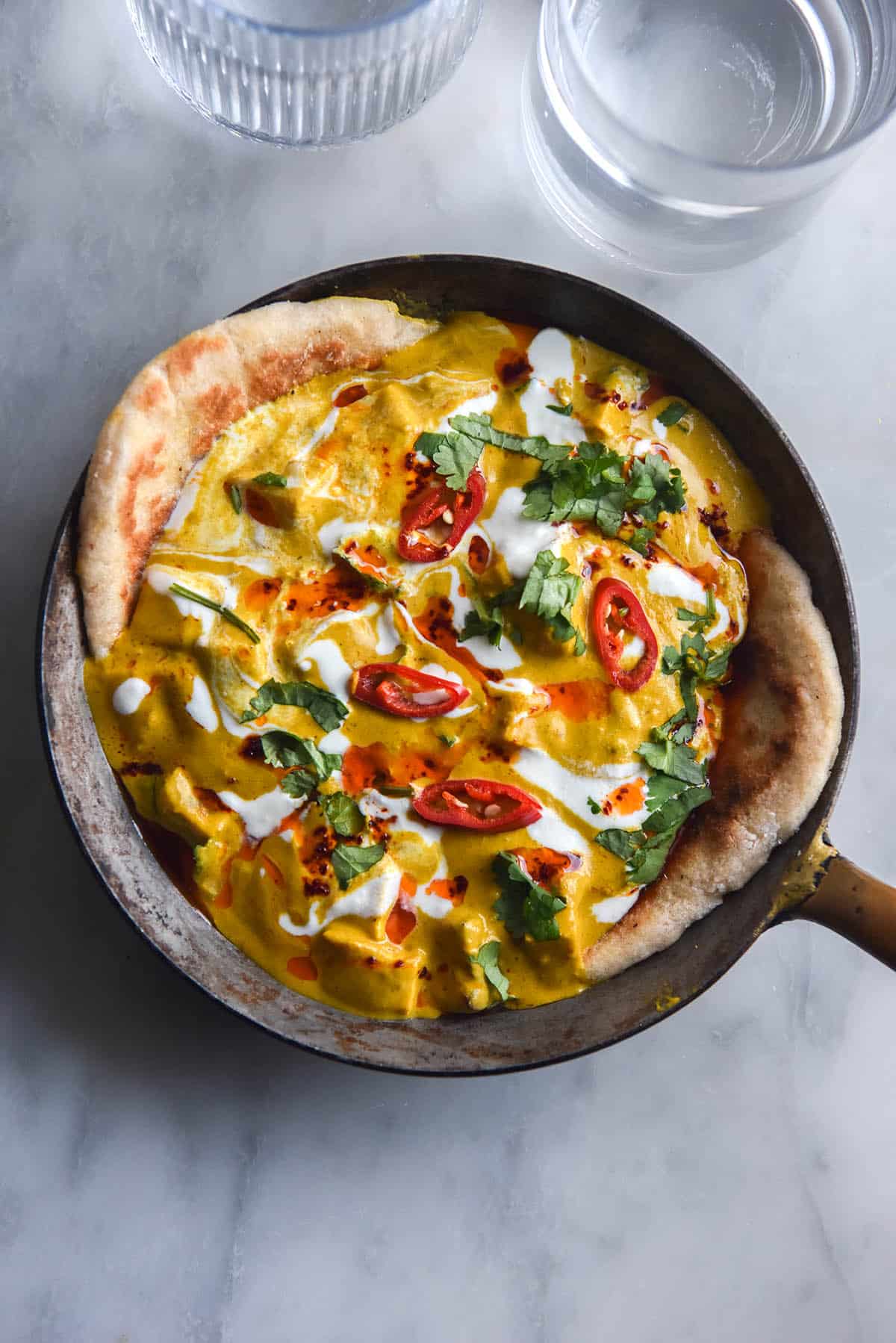 Vegetarian nachos with queso
What is a listicle without some nachos, I ask you?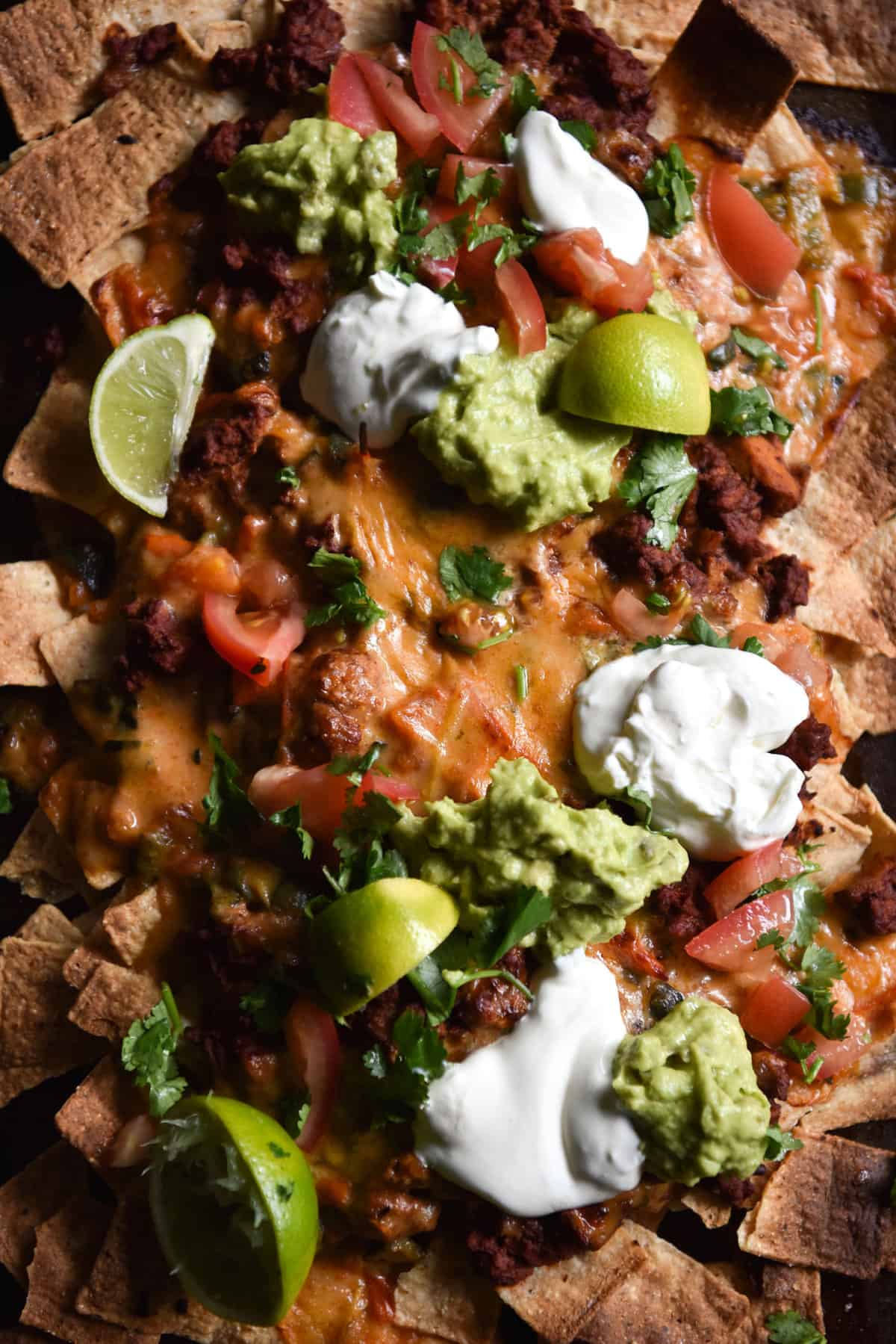 Enchiladas
These enchiladas are a delicious gluten free recipe that is vegetarian but easily vegan with vegan cheese. They keep well in the fridge for weeknight meals, and can be frozen into little packs, too.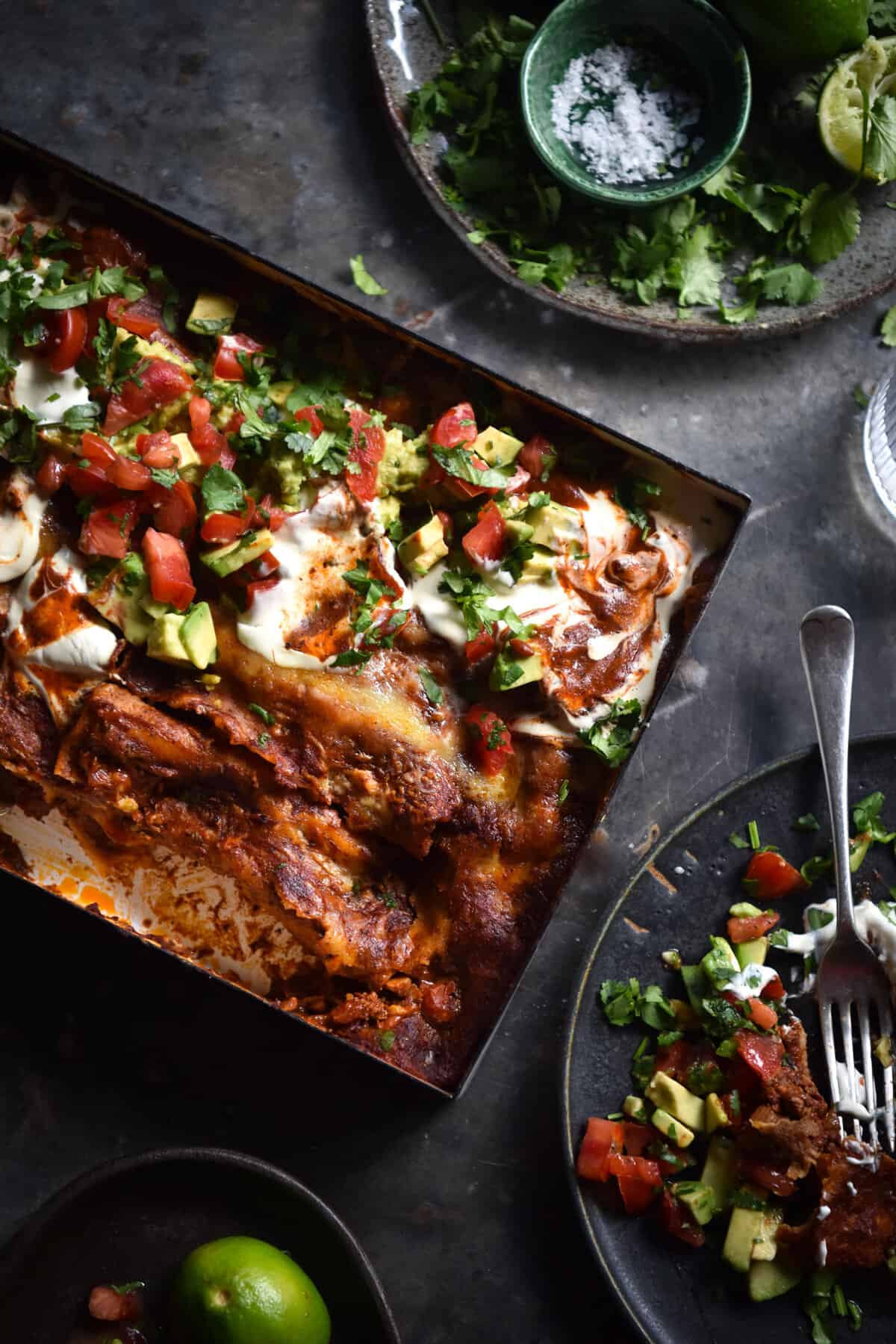 Low FODMAP vegetarian or vegan curry
This curry uses a mix of spices and veg to create a curry base without onion or garlic. I use tofu as the protein for a vegetarian or vegan curry, but you can also use whatever works best for you.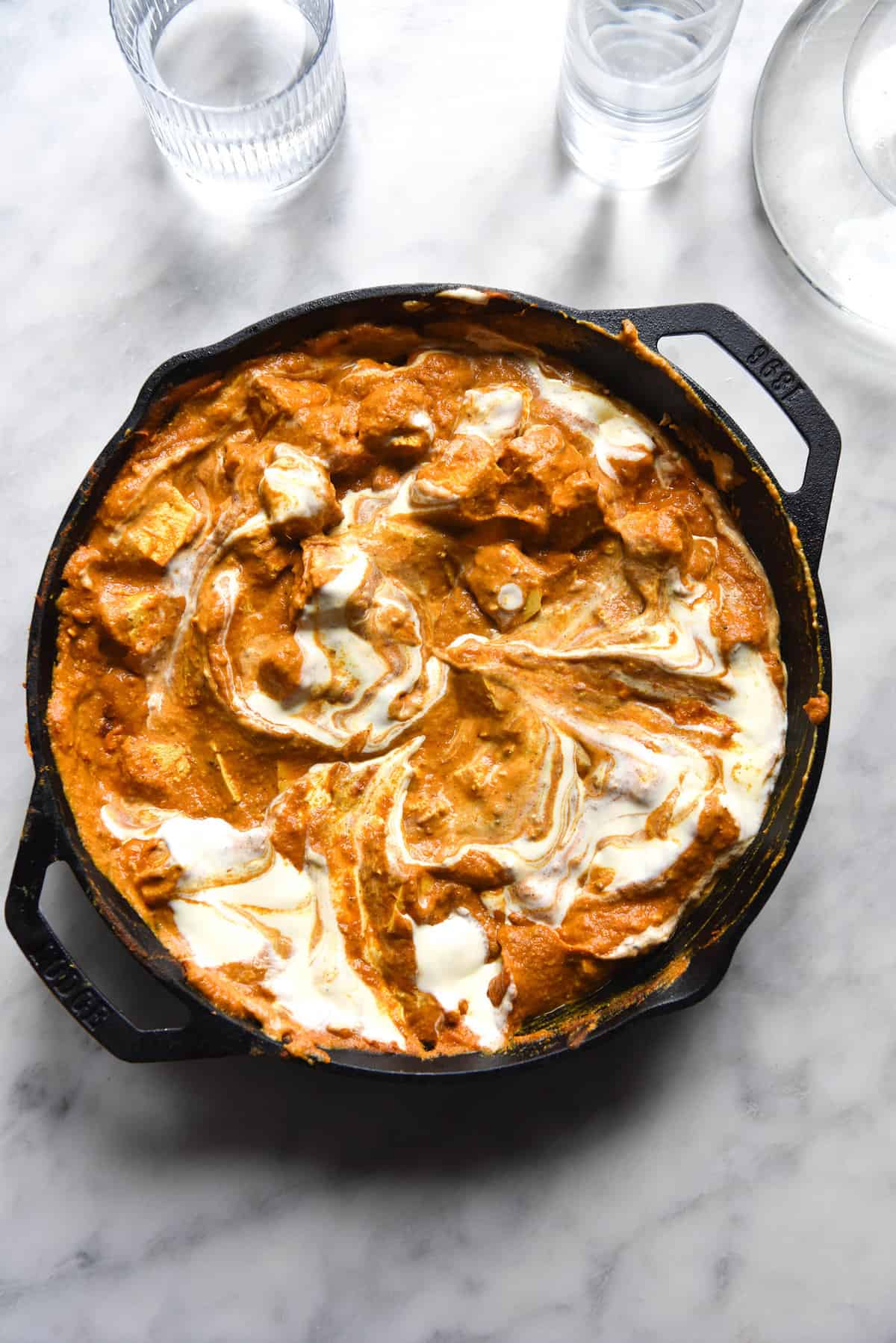 Vegetarian Cobb salad (or kind of Cobb salad)
Liquid smoke is my hero in this recipe! It creates a deeply smoky, bacon like flavoured tofu that works perfectly with creamy blue cheese. A salad I could easily eat every day.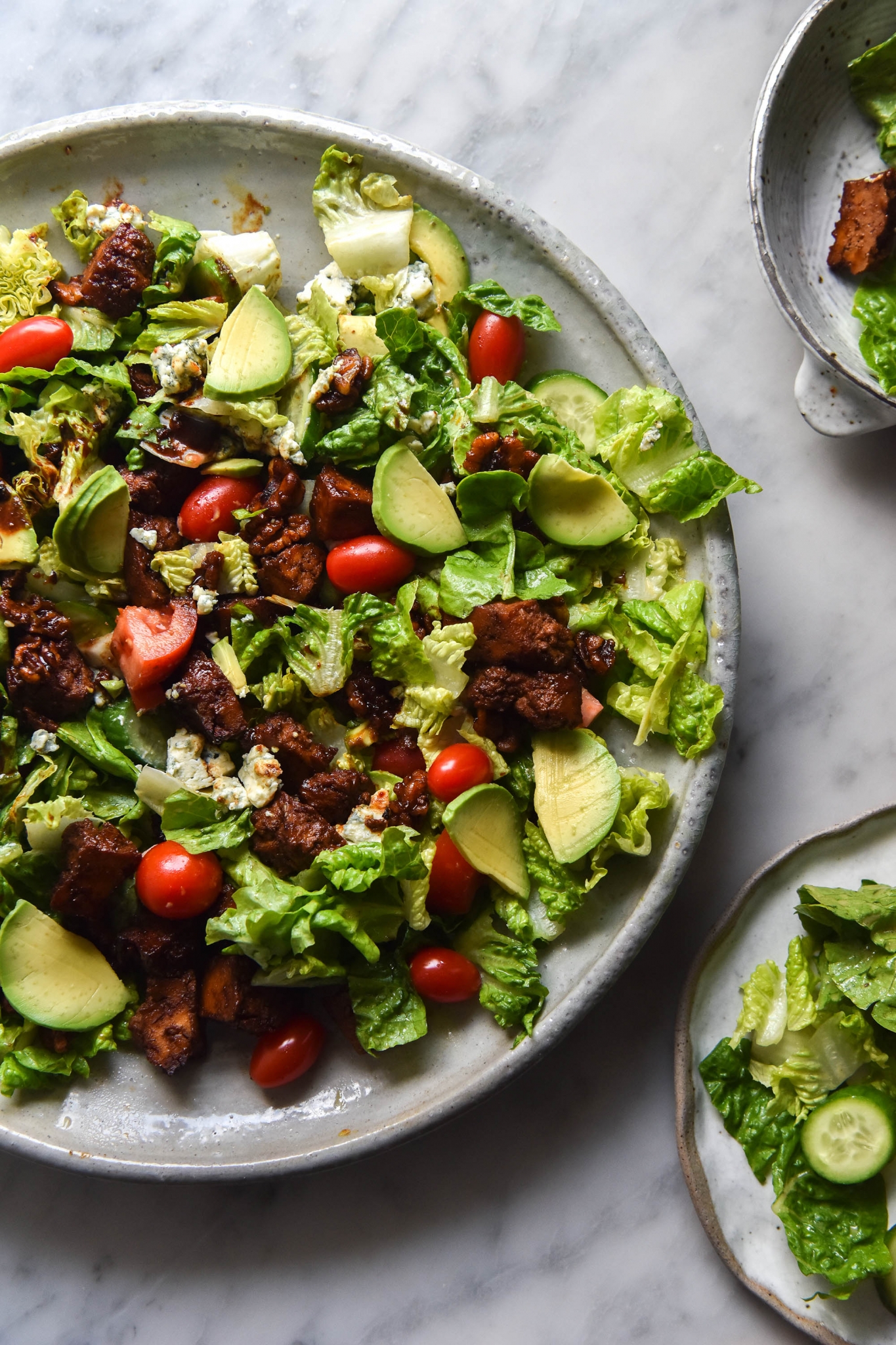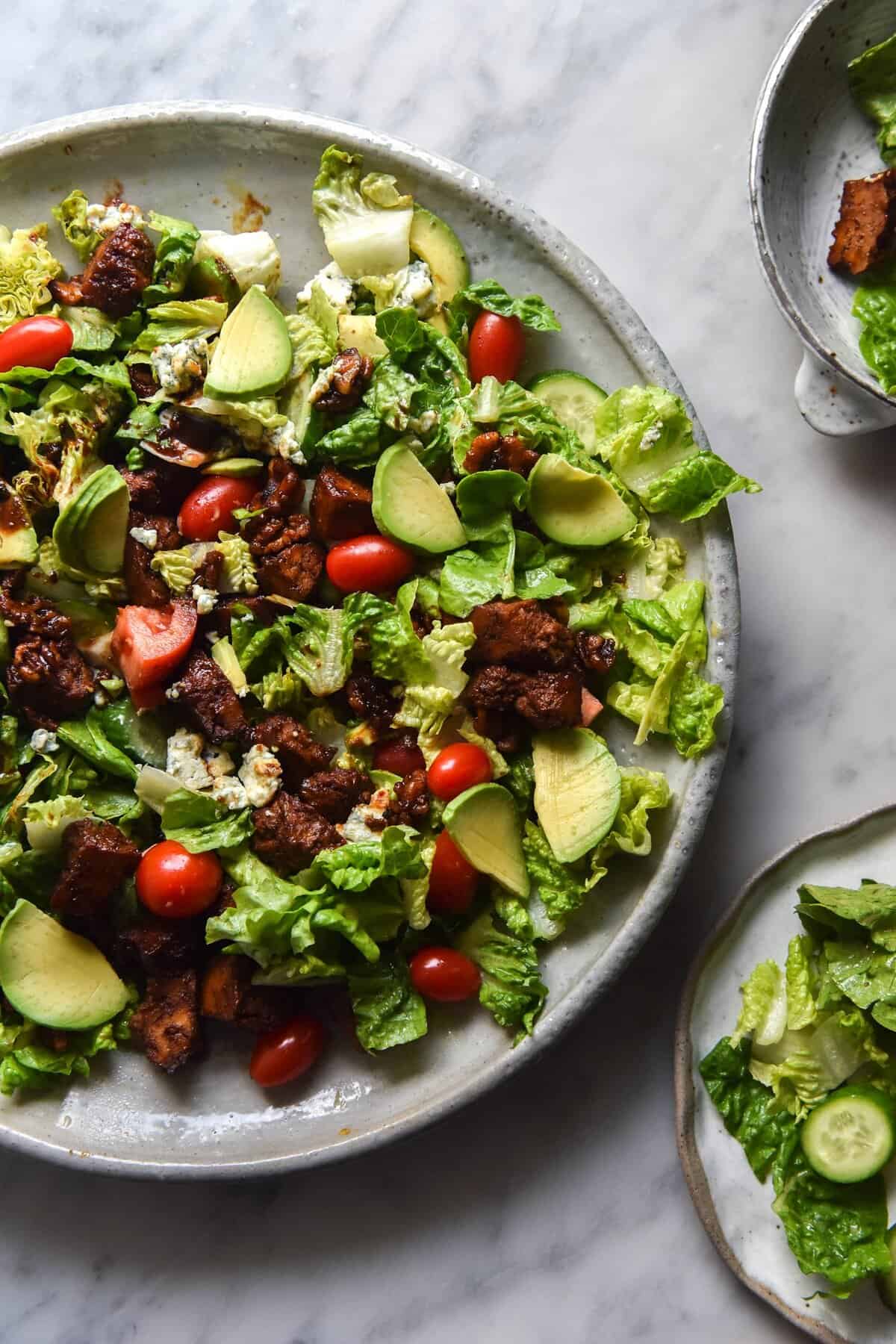 Vegan Thai green curry
This vegan Thai green curry was inspired by my trip to Thailand last year. It's fragrant, complex and delicious but uses no onion or garlic in the process.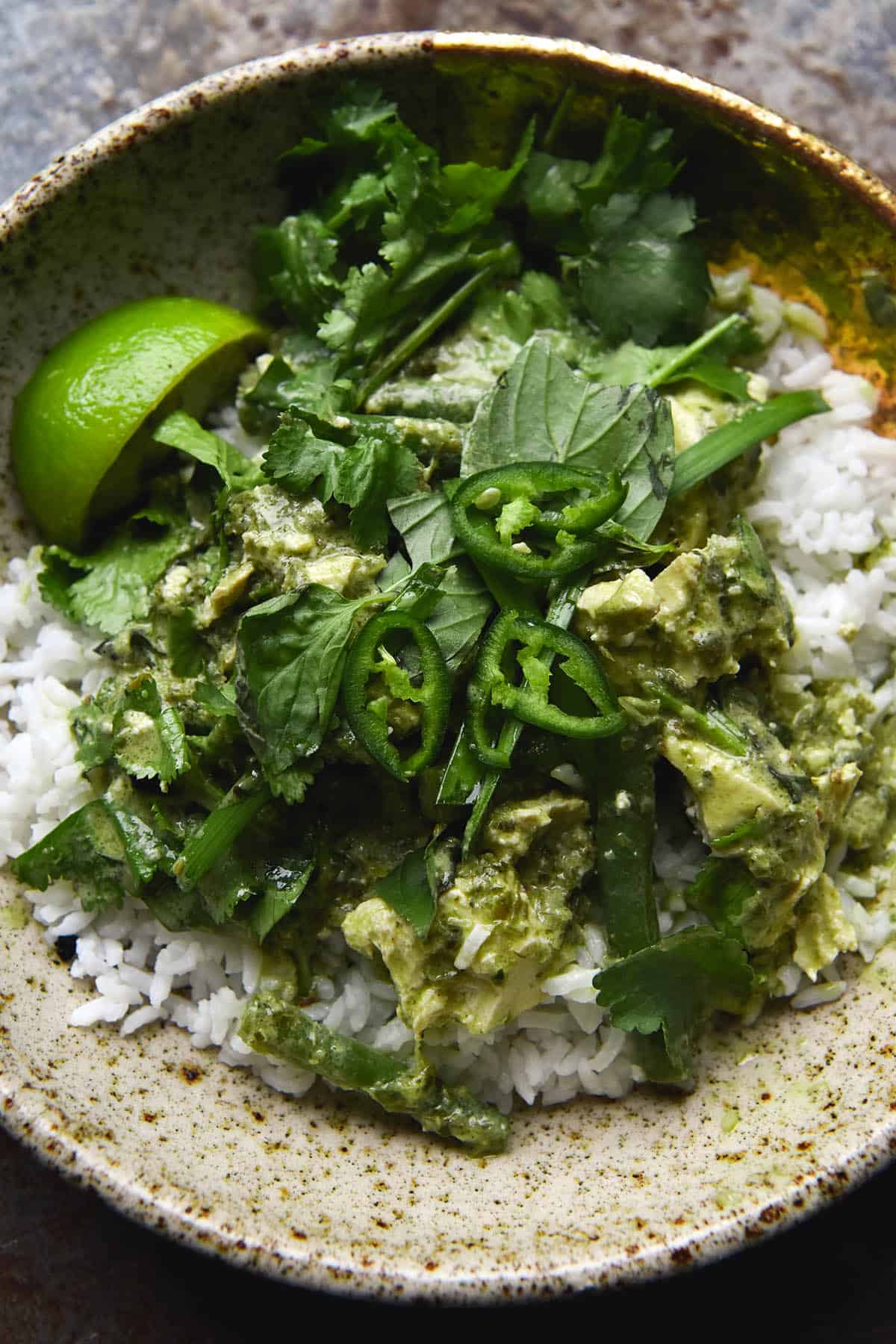 Hummus
Who needs chickpeas?! Firm tofu is blended with tahini and oil to create a deliciously creamy hummus sans FODMAPs. I like to use garlic infused oil to mimic that classic garlicky hummus flavour.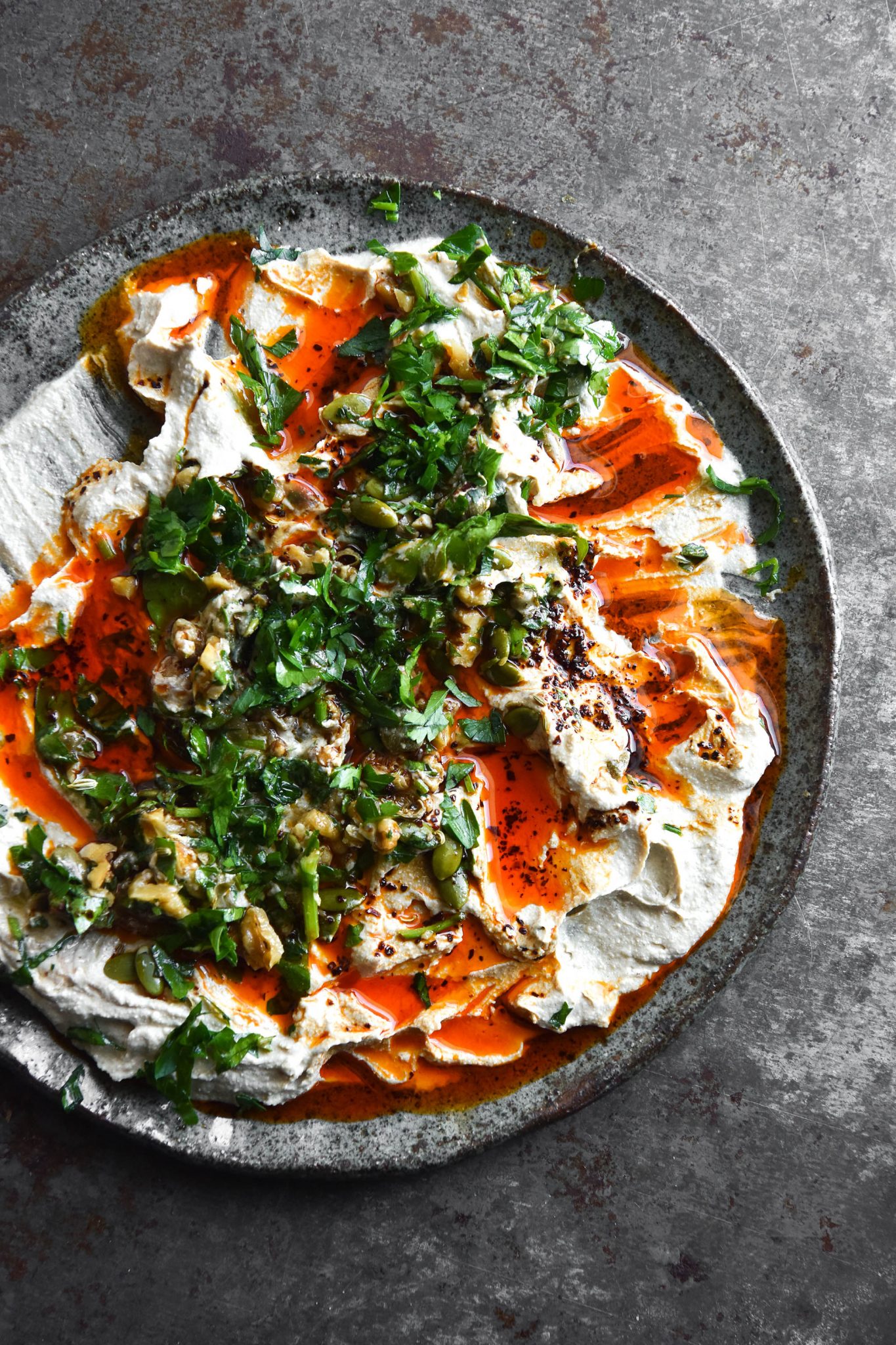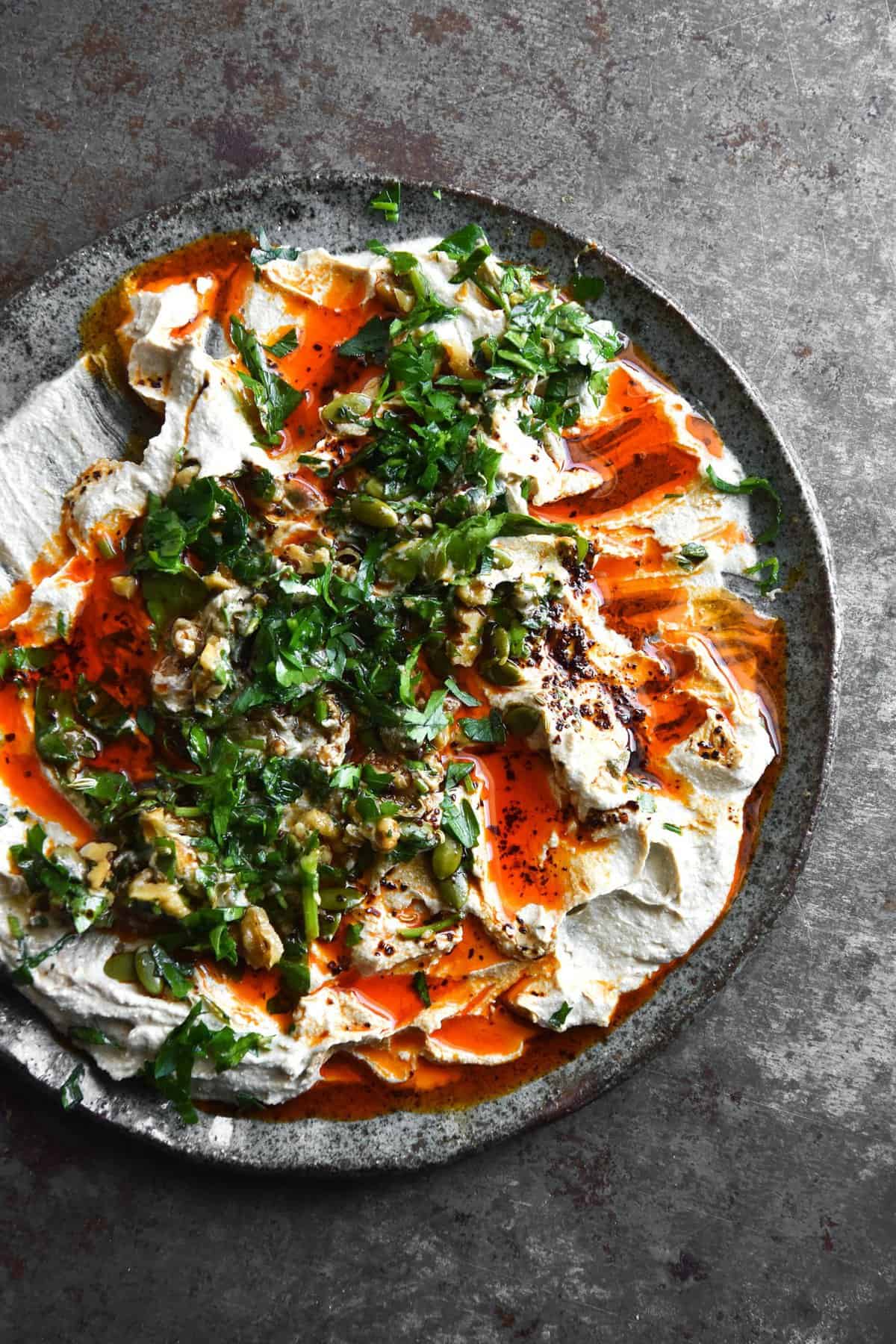 Vegetarian moussaka
Finishing strong with two more tofu bolognese recipes, naturally! This moussaka uses vegetarian mince, layers of roasted vegetables and a creamy bechamel for a hugely satisfying and comforting end result.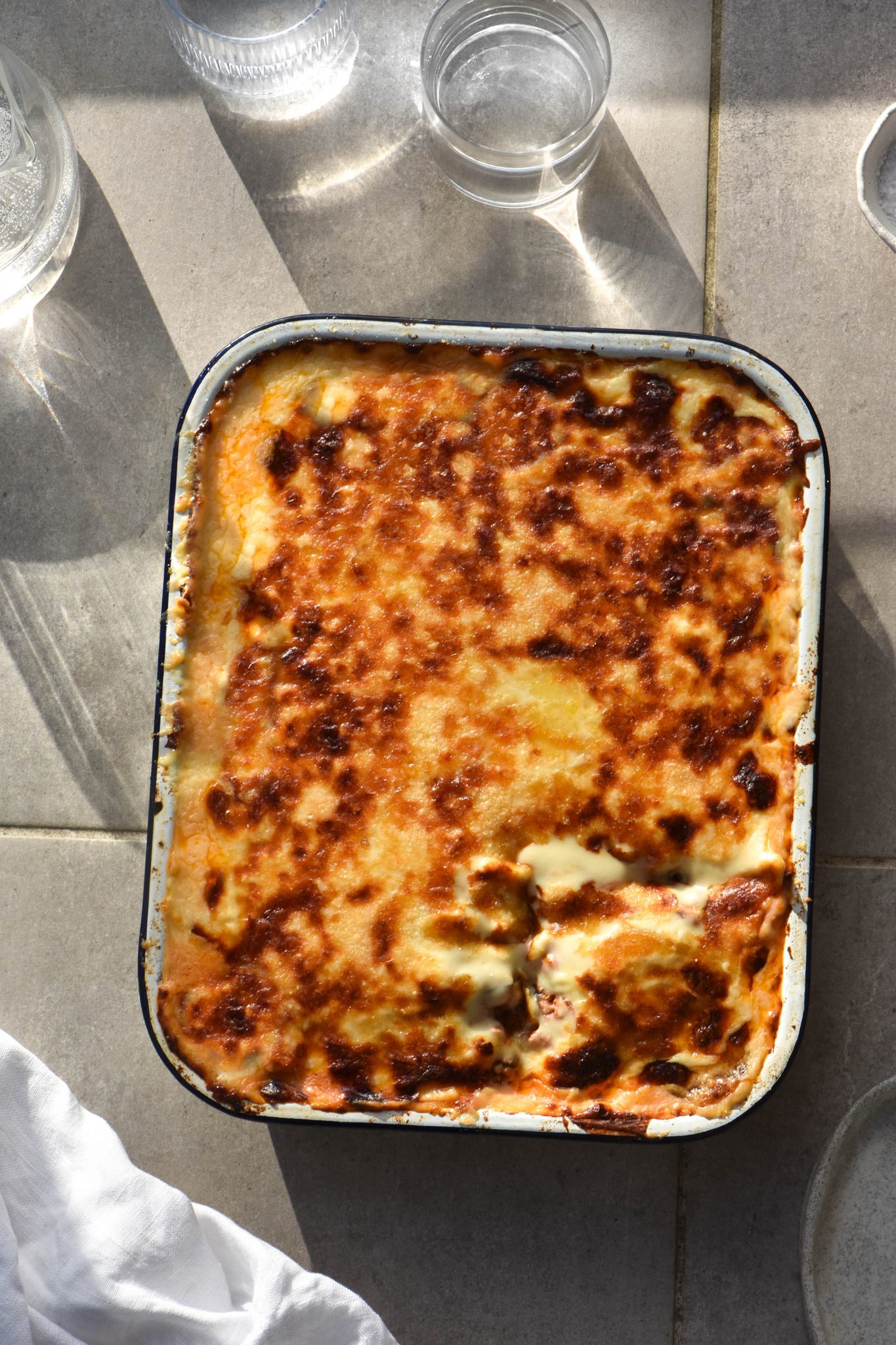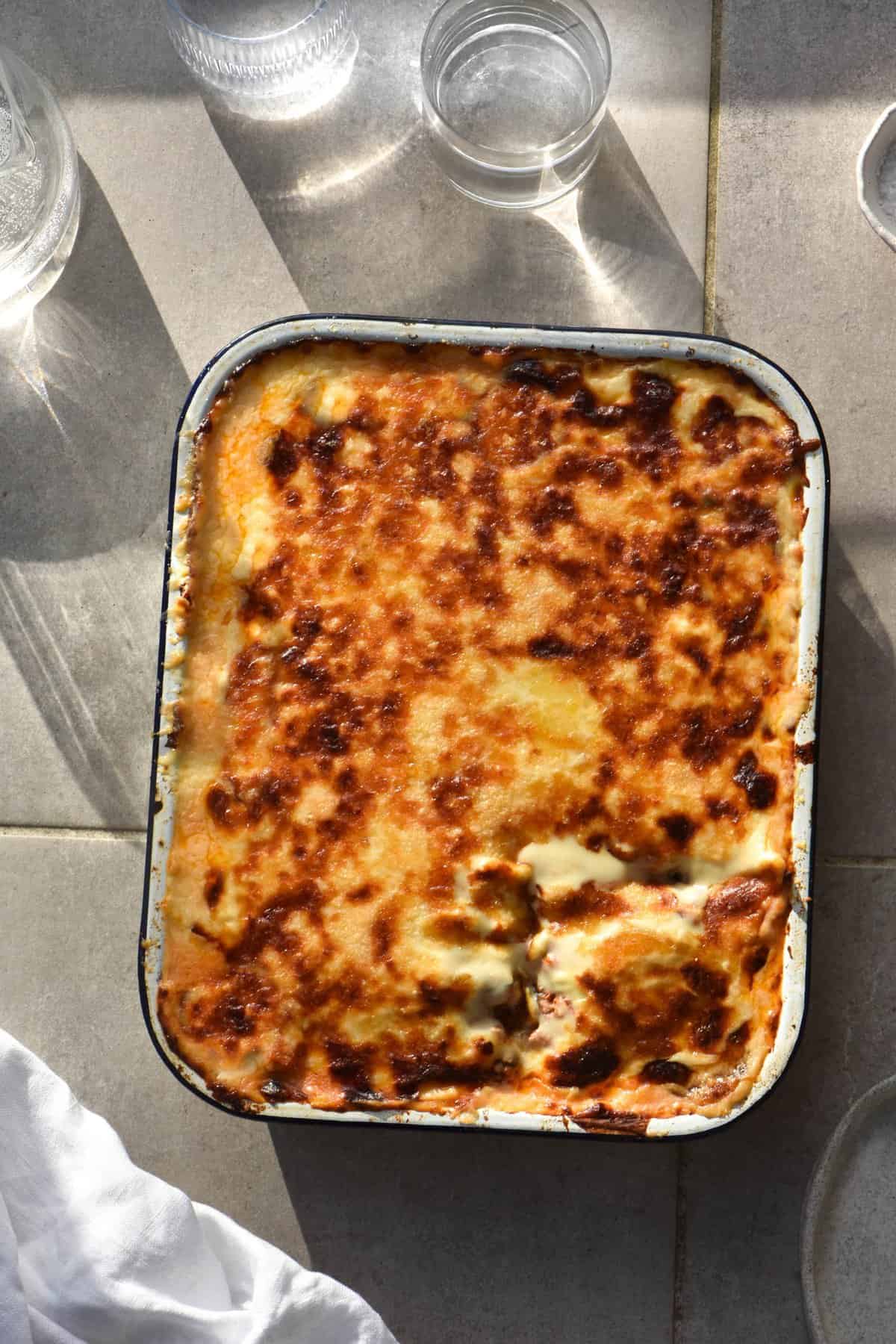 Vegetarian Lasagne
Lasagne + tofu bolognese + creamy bechamel + roasted vegetables + low FODMAP pesto = an excellent time.