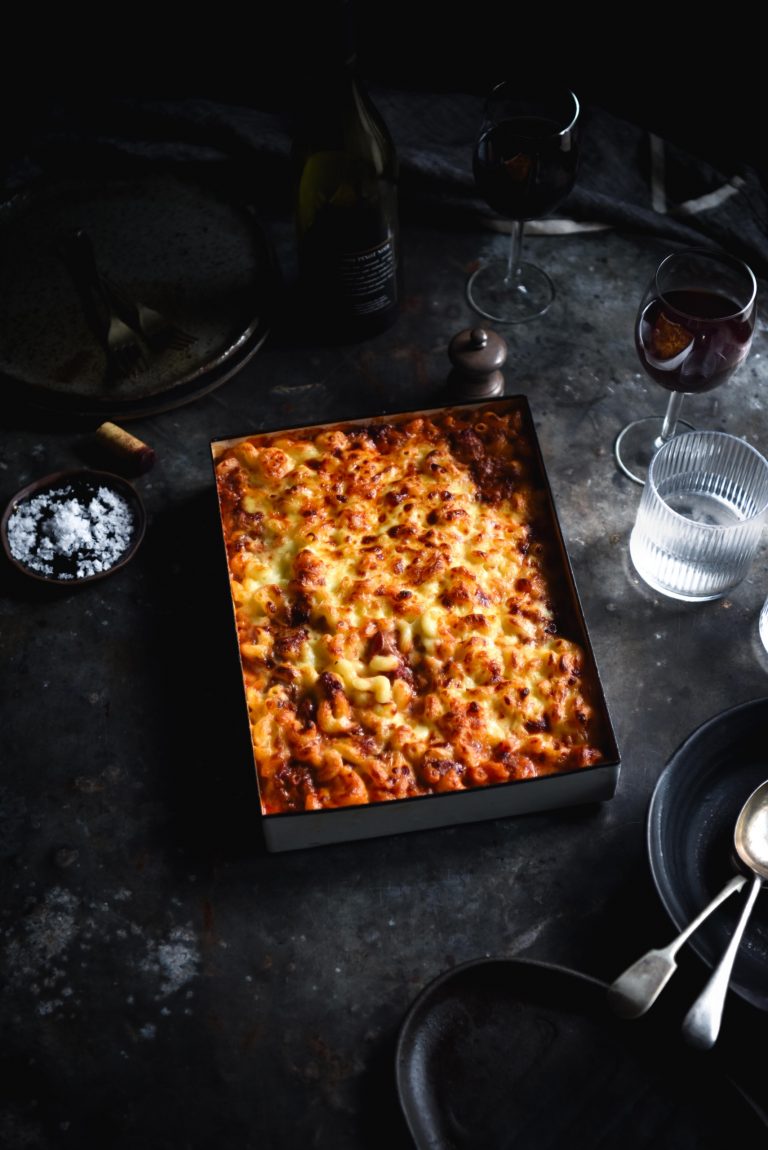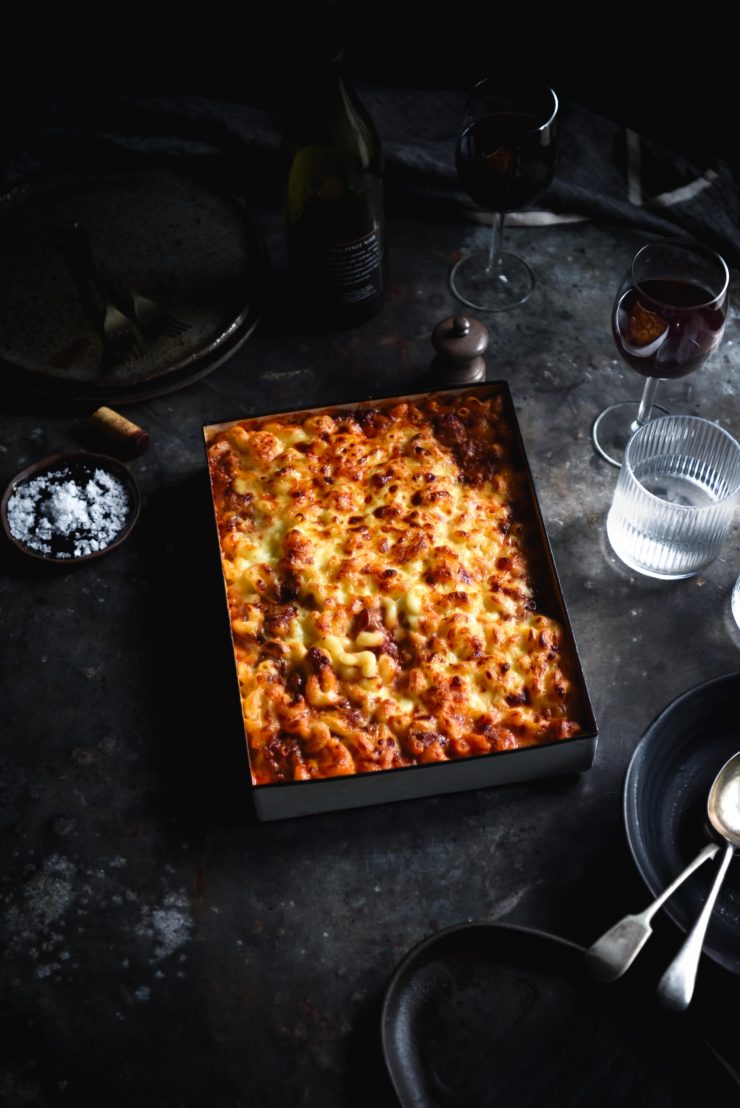 Vegetarian bolognese, mac and cheese bake. Get on board. I'm going to be using my vegan bolognese base increasingly over the next few weeks, with good reason. For now though, lets focus on the important things. Aka the vegetarian bolognese mac and cheese bake.
FODMAP friendly vegetarian hamburger helper
This version is a riff on the original vegan bolognese recipe. Because there are a few steps involved in making the monstrous beauty that is this bake, I eliminated some from the first version for ease. It is combined with a gluten free, FODMAP friendly mac and cheese that is really a basic standalone recipe. Think of it as a FODMAP friendly vegetarian hamburger helper, of sorts.
As I have already created a recipe for a vegan mac and cheese, so I decided to make this version with cheese. That said, I see no reason (save for the size of your baking tin) why you couldn't combine the two.
So! This recipe is gluten free, vegetarian, FODMAP friendly, low in lactose and straight up HEAVEN. It can also be adapted to be completely vegan, using the mac and cheese link above.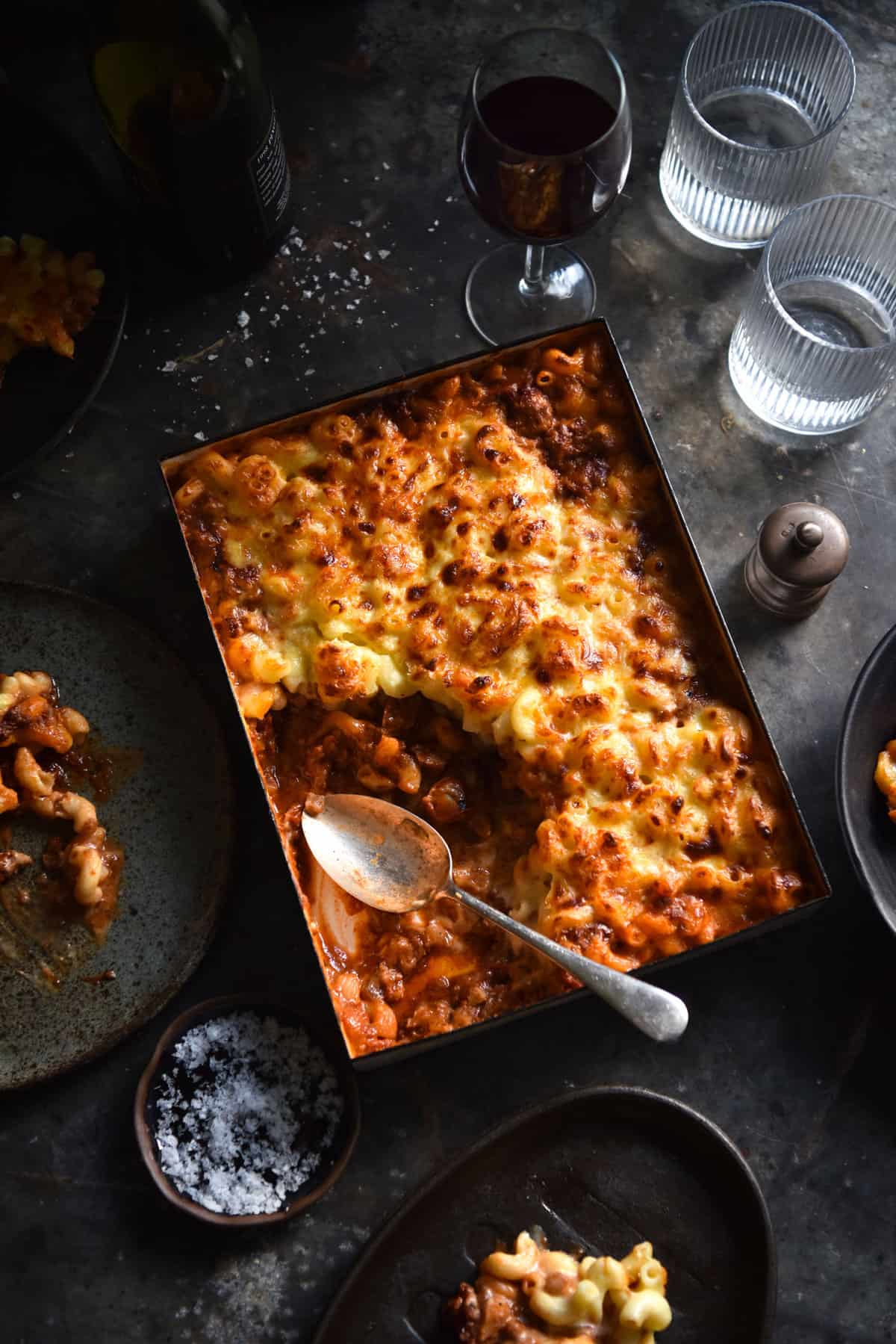 Vegetarian bolognese notes
The fennel in this bolognese adds flavour and acts as an aromatic base. It doesn't taste like fennel, but adds a texture reminiscent of caramelised onion. You can also use chopped carrots.
I have used 1 cup (250ml) of red wine in this recipe. It adds a deep, rich umami flavour that is reminiscent of meat, so it adds a great flavour to a vegetarian bolognese. You can substitute (if you really must) with water or a FODMAP friendly vegetarian stock. Make sure to adjust the seasoning if you use a stock.
Freezing the tofu makes SO MUCH difference to the texture. I buy a couple of blocks and keep them in the freezer (as you would mince) for when inspiration strikes. A quick reminder of the freezing tofu benefits is written up nicely here.
If you'd like to make this a ~slightly~ more nutritious dish, you could add a little extra veg to the bolognese. Think finely chopped spinach, zucchini or grated pumpkin. Keep in mind that you might need to separate it into two dishes if the bolognese swells in size significantly.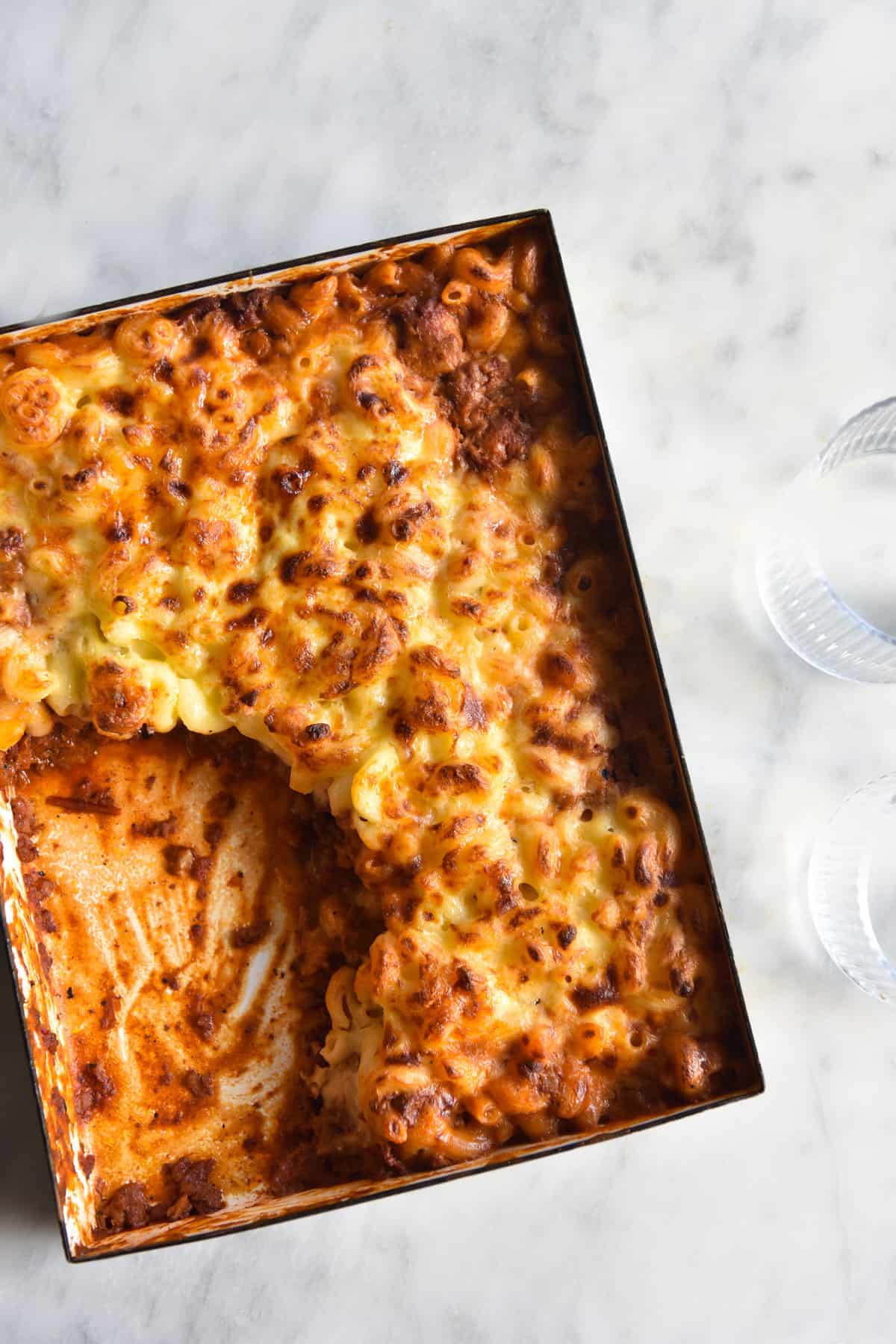 Gluten free mac and cheese notes
I have used a combination of good vintage cheddar, gruyere and vegetarian parmesan for this recipe. Cheddar provides flavour, gruyere provides meltiness and parmesan brings a sharp piquant finish. If you'd prefer to use only 2 cheeses, I would suggest a good vintage cheddar and parmesan.
Because the flavour of the cheese is so integral to the taste of this part of the dish, I would recommend buying the best quality cheese you can afford. An excellent sharp vintage cheddar and a good quality parmesan will make a world of difference.
Yes, vegetarian parmesan is possible to find. Yes, I know that technically it can only be called parmesan if it contains animal rennet. I didn't make the parmesan, I just know it exists. Generally, it's the cheapo brands that use plant enzymes, and they will say so on the packet.
I used Casalare brand macaroni twists for this dish, which worked really well. I bought it at my local health food store.
Make sure your cornflour/constarch is gluten free, if it needs to be.
I used lactose free full cream milk for this recipe. You could potentially go down the path of a plant based milk, although combining it with cheese might be a bit confusing. If you want to avoid lactose entirely, try the vegan version.
Hard cheeses are actually very low in lactose, contrary to belief. Unless you have a dairy allergy rather than an intolerance, cheese is OK on a FODMAP basis. Obviously you know your body best, just a friendly FYI in case you're wondering why cheese is in a FODMAP friendly mac and cheese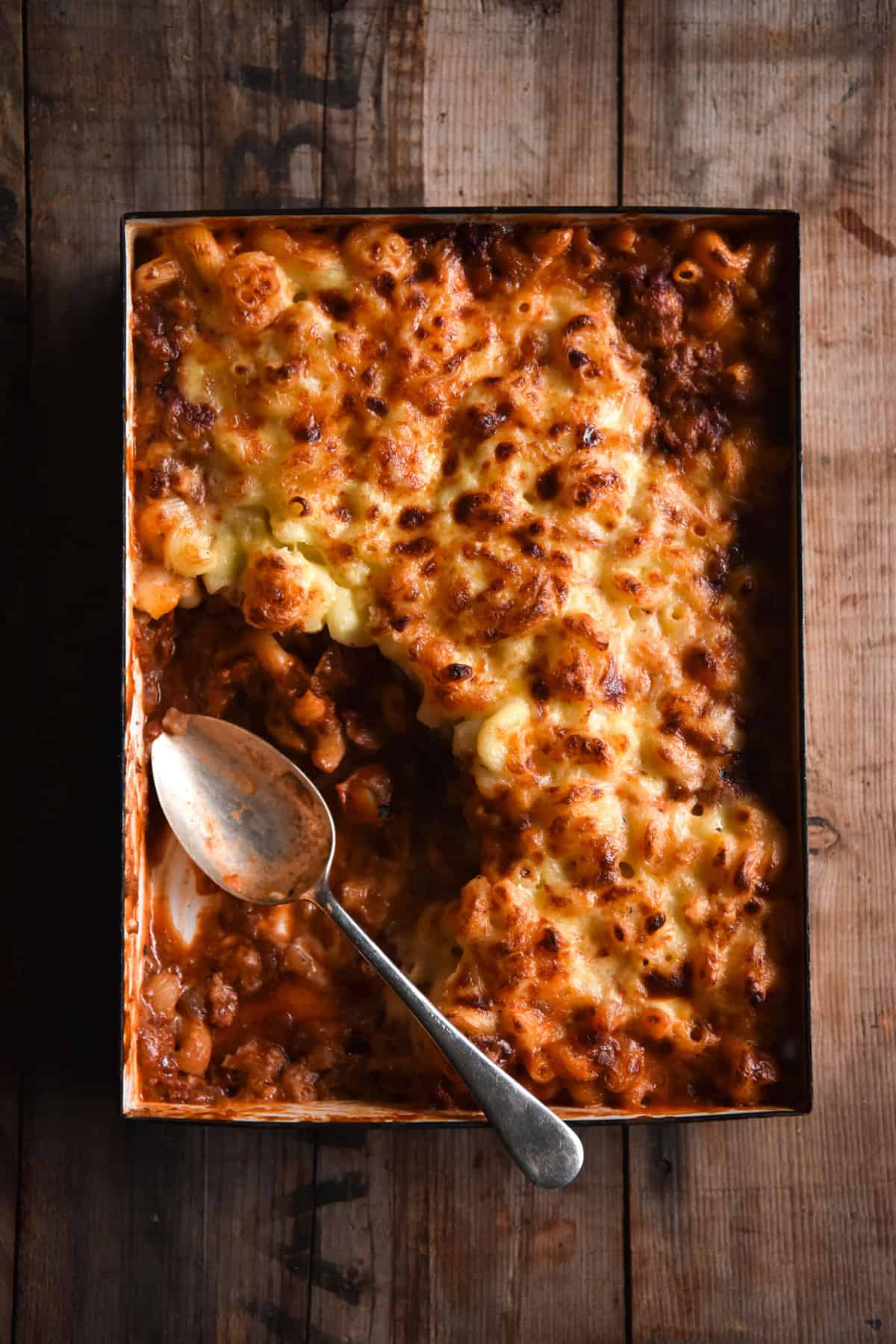 More hearty vegetarian recipes without onion and garlic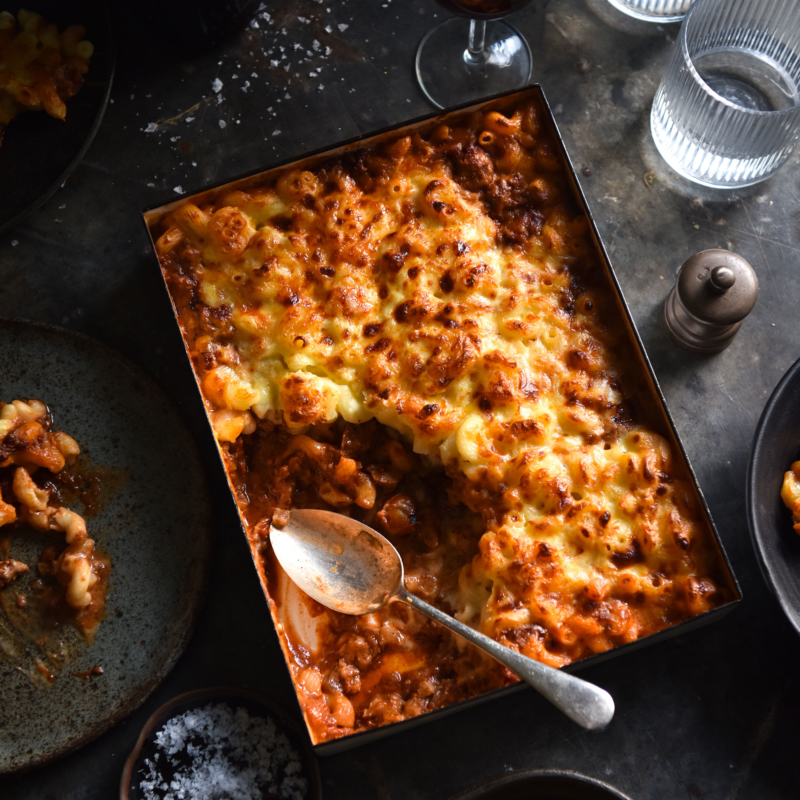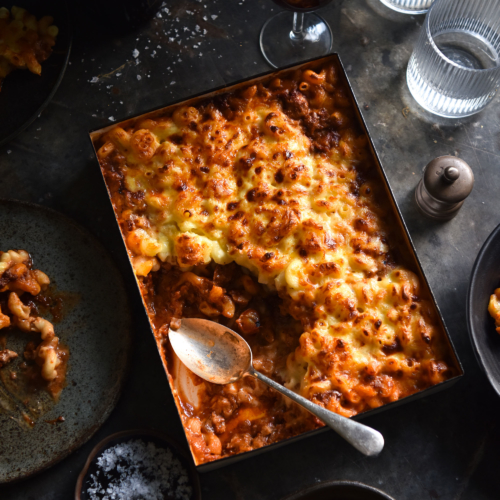 Vegetarian bolognese mac and cheese bake
Vegetarian, gluten free, FODMAP friendly, adaptable to be vegan
Serves 6-8 people
Equipment
1 31cm L x 23cm W x 5cm H rectangular baking dish
Ingredients
For the vegetarian bolognese
1 X 450-500

g

packet firm tofu

frozen the night before

3

tablespoons

(60ml) olive oil

1

medium fennel bulb or 2 medium carrots

finely chopped

2

tablespoons

(40ml) balsamic vinegar

2 1/2

tablespoons

(50ml) tamari

2

tablespoons

brown sugar

2

tablespoons

tomato paste

1/2

teaspoon

cinnamon and allspice

1

cup

(250ml) red wine

2

x 400g

tins of plain tomatoes (see notes)
For the gluten free mac and cheese
75

g

(3 tablespoons) butter

3

tablespoons

gluten free cornflour

3

cups

(750ml) lactose free milk

plant milk would probably work too

100

g

sharp aged cheddar

freshly grated

50

g

freshly grated gruyere

or another cheese that is good for melting

75

g

finely and freshly grated vegetarian parmesan

Seasoning

to taste

Pinch of nutmeg, optional

250-300

g

packet gluten free macaroni, cooked al dente
TO FINISH:
Additional cheese

for the top (I like a combination of cheddar and gruyere)
Instructions
To make the vegetarian bolognese
Defrost your tofu using your preferred method. You can unpack it and steam it, let it sit on the bench as you would mince, or put it, package still on, in warm water. Once it has defrosted it, squeeze the excess moisture from the tofu and tear into fine, mince like pieces. Set aside.

Add the olive oil to a large skillet or pot over a low-medium heat. Sautee the finely chopped fennel in the oil for 15 or so minutes, until it is golden brown. It should resemble caramelised onion.

Add the apple cider vinegar, balsamic vinegar, Tamari, brown sugar, spices and tomato paste. Stirring thoroughly, allow to reduce in volume until a dark brown paste consistency forms. Add the red wine or water, and continue to cook until that reduces by about half.

Add the tinned tomatoes and stir to combine. Add the torn tofu and make sure it is completely coated in sauce. Allow to cook for another 5-10 minutes for the tofu to absorb the flavour of the sauce.
To make the mac and cheese
Melt the butter in a medium – large pot over a low-medium heat. Once it has completely melted, add the cornflour, and use a whisk to combine. Allow the mixture to cook for a minute or so, before adding the milk. I read that the best bechamel is made with cold milk, so that's something to keep in mind.

Whisk the sauce intermittently for around 10 minutes, depending on the heat level. Don't panic if it's taking a while – it will get there with some patience. Once the sauce is sufficiently thick (it should easily coat the back of a spoon) and add the grated cheese. I like to add it in a few lots, just to make sure it is evenly incorporated. Season to taste (you might need a little salt, and a little freshly cracked pepper/nutmeg is nice) Remove from the heat.

Add the cooked gluten free pasta to the sauce, and stir combine.
To assemble
Preheat the oven to 180 degrees or 356 degrees Fahrenheit. Spread the Bolognese evenly in a 31 x 23 cm rectangular baking dish. Mine is 5cm in height which proved the perfect capacity, but you could always divide the bake into 2 if you only have smaller dishes. Top this with the macaroni mixture, and finish with a fine grating of cheese. I like to use a combination of cheddar and gruyere for flavour and meltiness.

Place the bake into the oven for around 20 or so minutes, until the cheese has melted and the dish is bubbling. Turn the oven to grill, and brown the top of the bake for 5-10 minutes, making sure you keep an eye on it.

Once the top has browned to your liking, remove from the oven and serve.
Notes
You can also use my low FODMAP Nomato sauce recipe to replace some or all of the tinned tomato. One batch of Nomato sauce makes approximately 1.2kg, which is equivalent to 3 x 400g cans of tinned tomato.