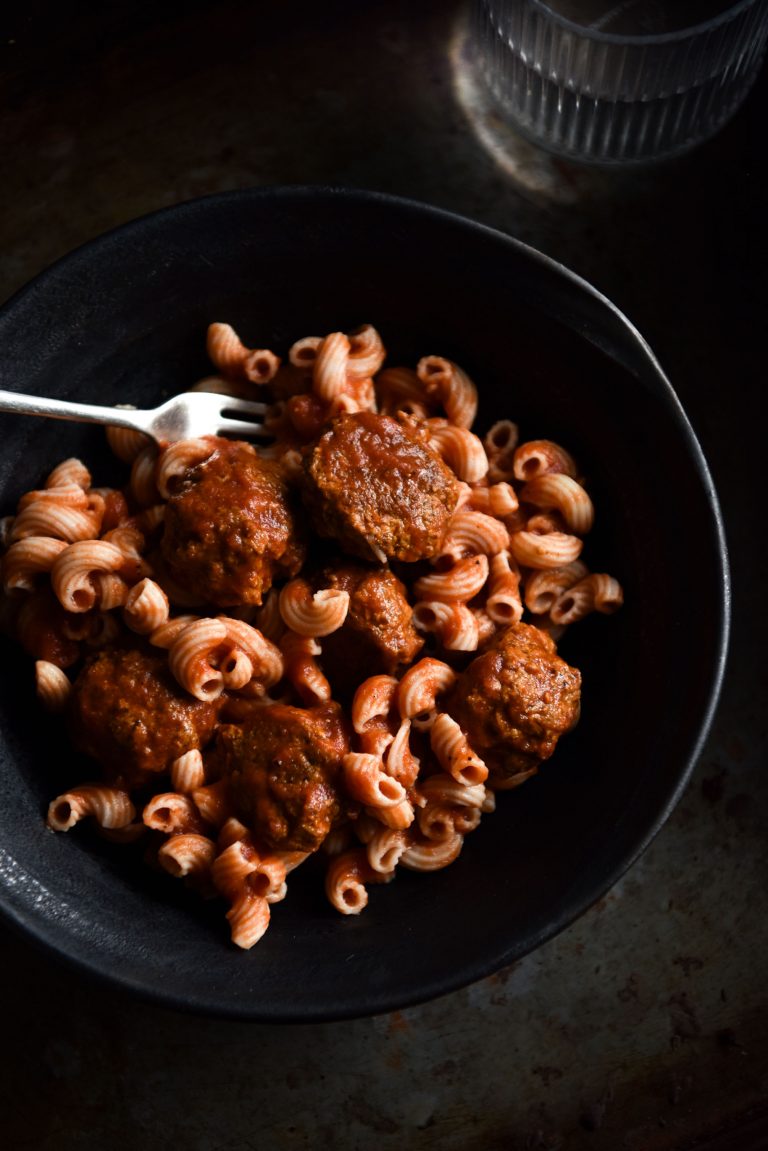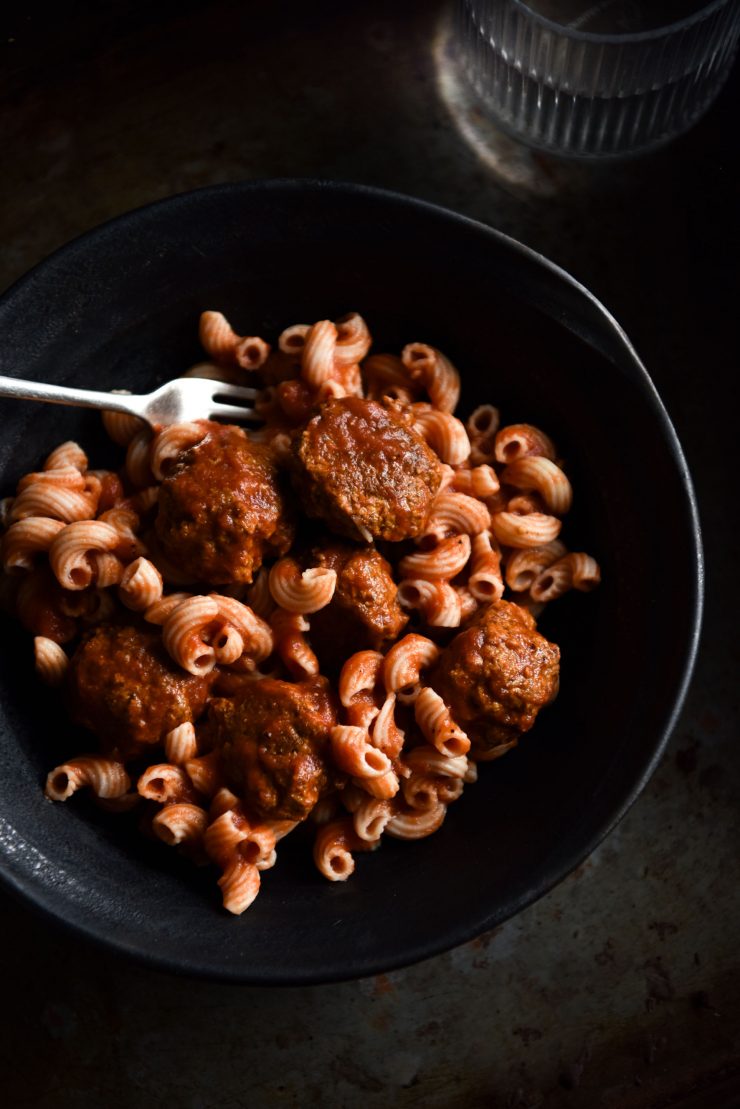 Did I not say I was going to ride this vegan tofu train until the end of time? Last week I made a vegetarian polpette bake. The polpette bake took inspiration from the vegan bolognese recipe, which spawned the vegan lasagne. Although the vegetarian polpette are a delight, I realised they had not followed suite on the tofu train, because they were not vegan.
So! As much as I love the vegetarian version, let me introduce these vegan, FODMAP friendly meatballs. They follow roughly the same pattern as the vegetarian variety, except for a few little twists and turns. If you're vegan or are a whiz with a vegan pantry, the ingredients will all be familiar to you. Nutritional yeast, anyone?
I'm not vegan, but I do love pushing the boundary of what can be achieved without animal ingredients. For the carnivorous amongst us, save this one for Meatless (meatball) Monday. For the vegan FODMAPpers amongst us, A) I salute you and B) I hope these become an easy meal prep protein source for you.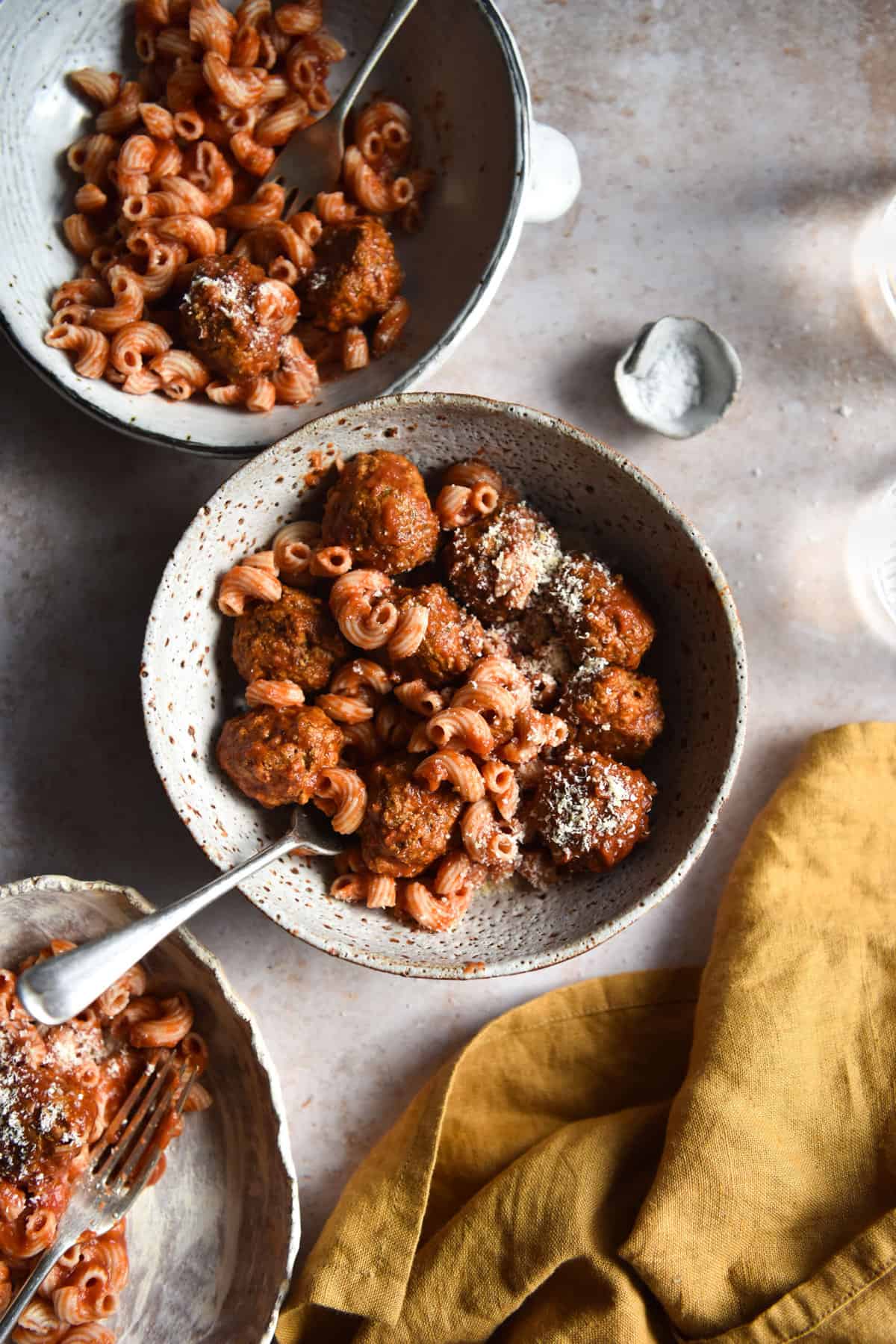 Recipe notes for your vegan low FODMAP meatballs
The freezing and defrosting of the tofu creates a meaty texture and drains the tofu of excess liquid. A little more info here.
I don't have a substitute for nutritional yeast in this recipe. It gives a cheesy taste and melts away into not much, so there's not really a substitute. In Australia, I have seen it at the main supermarkets in the health food section. You can also buy it at your local health food store.
Don't fret when the zucchini puree comes out vibrant green. The colour will disappear once the meatballs are cooked.
Vegan, FODMAP friendly meatballs are delicate beings. They need to be oven cooked, and allowed to rest for a while once cooked. Unlike the vegetarian variety, there is not much binding them together.
The extra Tamari and nutmeg, as compared to the vegetarian version, are to compensate for the lack of pecorino. I find nutmeg gives that same piquant taste in the back of your mouth as Pecorino. You can use a little less, if you're not a nutmeg fan.
I haven't tried using flax or chia in this recipe. My go-to has always been psyllium.
These meatballs don't contain the caramelised fennel base. I chose to omit it because I figured they are much more delicate, and might not hold up to the chunks of fennel. If you'd like to veg them out a bit, you could add a bit of grated carrot.
If you want your meatballs to be grain free, use the almond meal option. If you want them to be gluten and nut free, use the gluten free breadcrumb option.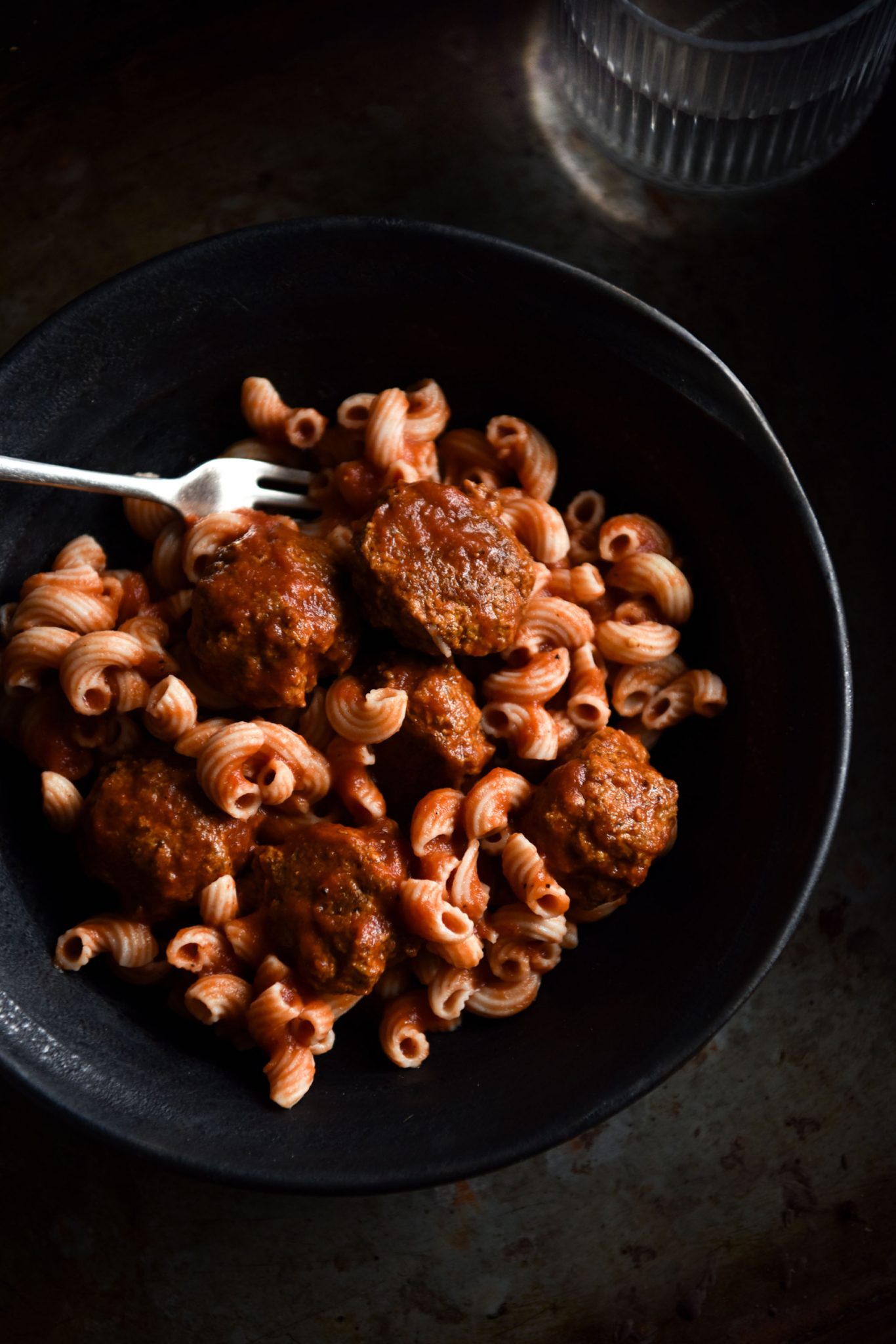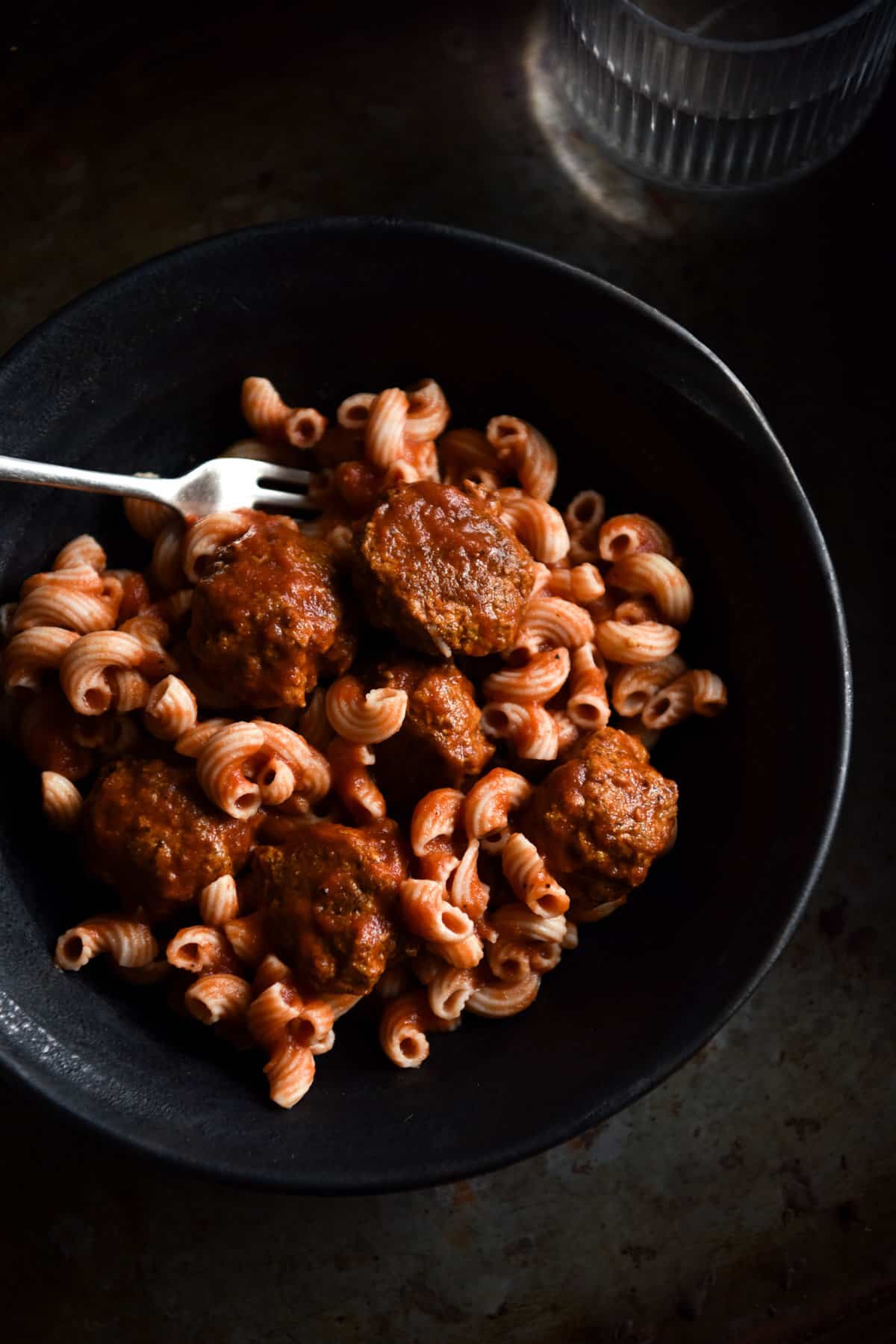 FODMAP notes
These meatballs are probably lower FODMAP than the vegetarian variety, without the fennel and the cheese. I will, as always, point out that Pecorino is essentially lactose free, but we're not here to discuss that. I'm obviously just defensive of cheese.
Tofu is considered FODMAP friendly in servings of 160g per person. We're using 500g total in this recipe, and it makes around 24 meatballs. In essence, according to my (terrible) maths, you'd need to eat roughly 8 meatballs in one go to suffer any ill effects. I should note that the Monash app doesn't say what happens in excess of 160g, so it might not even be an issue.
There are 4 tablespoons of balsamic vinegar in this recipe. Balsamic vinegar can contain moderate amounts of fructose, but only in servings in excess of 1 tablespoon. Unless you eat half the meatballs, you'll be fine.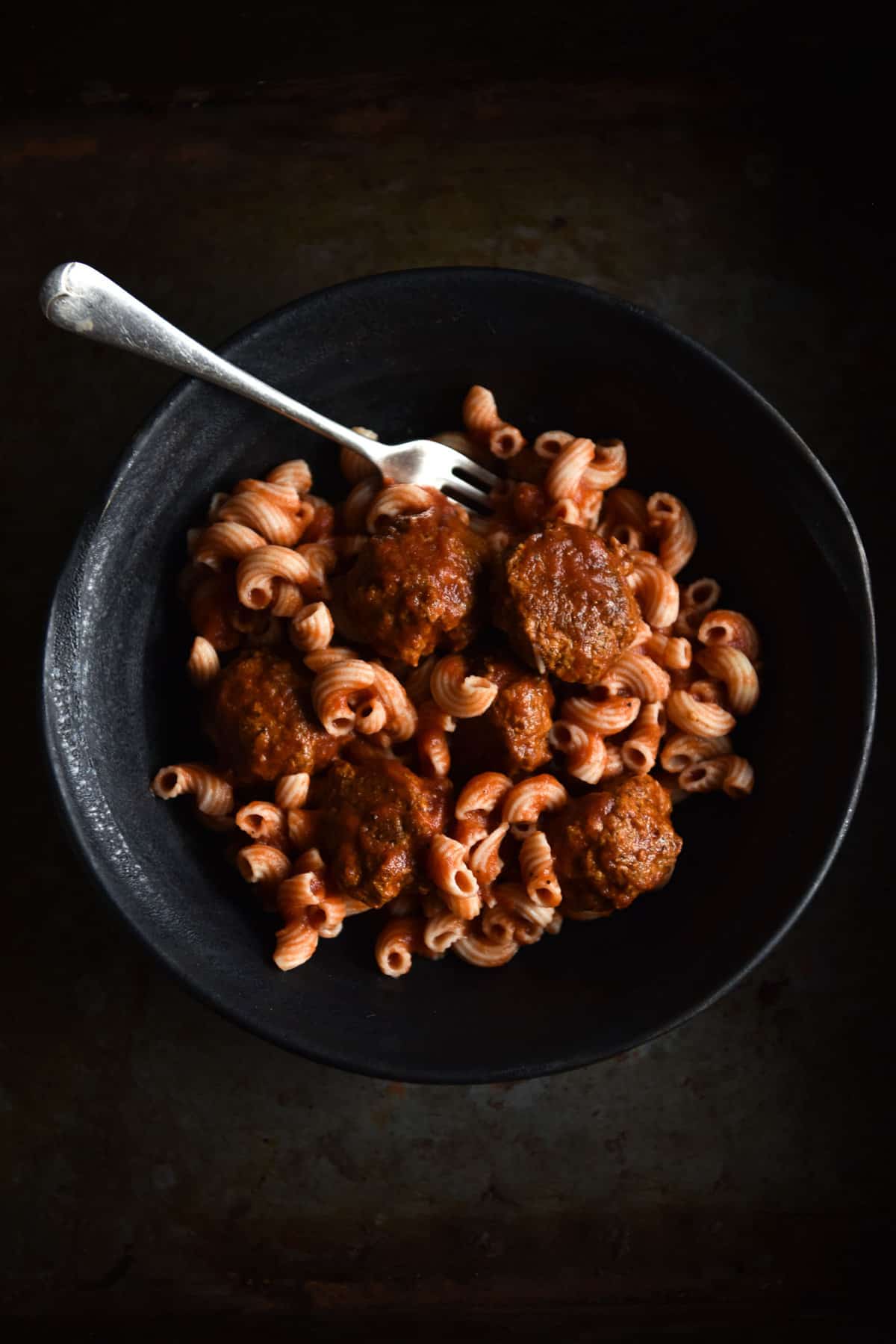 More low FODMAP vegan dinner recipes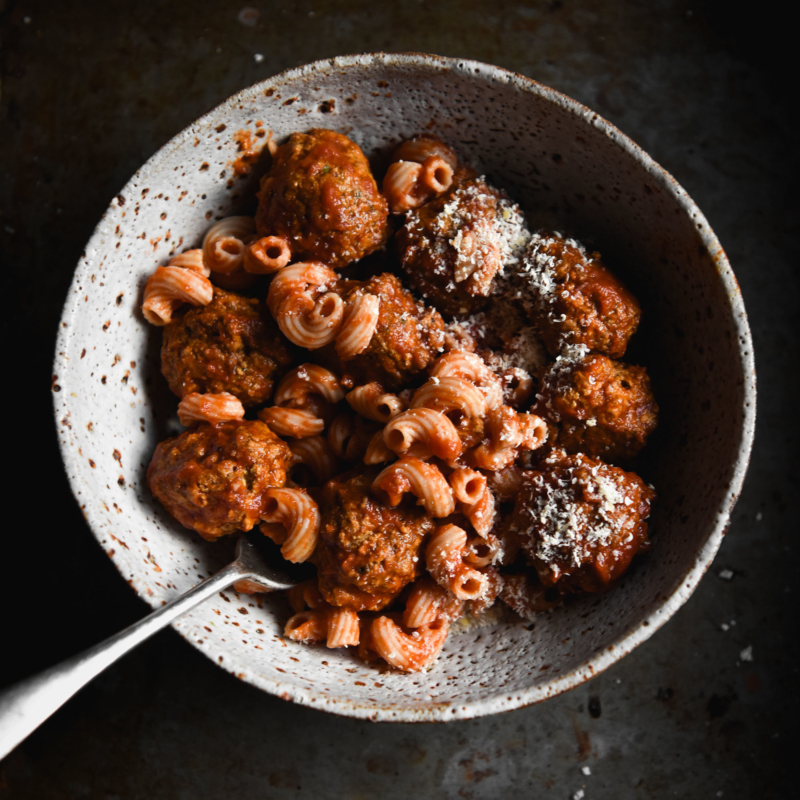 Vegan low FODMAP meatballs
Vegan, gluten or grain free, can be nut free, dairy free, FODMAP friendly
Ingredients
FOR THE 'MEATBALL' BASE
1 X 500

g

packet of firm tofu

placed in the freezer the night before

80ml (4

tablespoons)

balsamic vinegar

20ml (1

tablespoon)

apple cider vinegar

1 1/2

tablespoons

brown sugar

40ml (2

tablespoons)

Tamari

1

tablespoon

light miso paste

gluten free if it needs to be

2

teaspoons

nutmeg

40ml (2

tablespoons

Passata from a 400g container)

we'll use the rest later

1/2-1

teaspoon

dried oregano

Generous freshly cracked pepper

Salt

to taste (do this at the end and only if necessary)

1/4

cup

nutritional yeast
FOR THE ZUCCHINI BINDER
200

g

raw zucchini

about 1 medium, but weigh it

60ml (1/4

cup)

olive oil

1/4

cup

nutritional yeast

40ml (2

tablespoons)

passata

1/2

tablespoon

psyllium husk
TO FINISH
3

tablespoons

almond meal or gluten free breadcrumbs

Freshly chopped continental parsley

to taste (optional)
Instructions
To make the meatball base:
Preheat the oven to 180 degrees Celsius or 356 degrees Fahrenheit.

Remove the tofu from the freezer and packaging, and place it in a metal sieve over a pot of water on a high heat. Allow it to steam and thaw the tofu. I like to (carefulltear off the tofu bits that have already thawed, squeeze most of the liquid out of them, and then tear them into a bowl. If you're worried about burning your hands, you can use gloves, or do most of the tearing work once the tofu block has completely thawed. Freezing tofu gives it a mince meat like texture, to tear it up nice and good, and make sure you get most of the moisture out, too. Continue this process until all the tofu is drained and torn up into small, mince meat like bits.

Add all the ingredients for the meatballs except the tofu and nutritional yeast to a skillet over a medium heat. Cook and stir occasionally until the mixture has started to thicken and bubble. Once it has, add the tofu chunks and nutritional yeast, and stir to combine. All the tofu should be coated in the liquid. Allow the tofu to cook and develop some brown bits, about 5-10 minutes, stirring every so often. Once it has cooked to your liking, allow it to cool.
To make the zucchini binder:
Place all the ingredients for the binder except the psyllium husk into a small, high powered blender. Blend on high until a smooth, green paste/liquid forms. Add the psyllium husk, mix through, and allow to sit and thicken for 5 or so minutes.

While you're waiting, transfer the tofu to a mixing bowl, and line a baking tray with baking paper.

Add the zucchini binder to the meatball mix, along with the almond meal or gluten free breadcrumbs and parsley if you're using it. Mix thoroughly and taste for seasoning (it's vegan so it's fine!)

Use your hands to mould the mixture into small meatball shaped pieces, and space them evenly on the baking tray. Cook for 20 minutes, and allow them to sit before touching them – they are delicate as they come out of the oven, but firm up as they cool.

Serve them with some gluten free pasta and the remaining passata, or store them in the fridge/freezer for an easy weeknight protein hit.