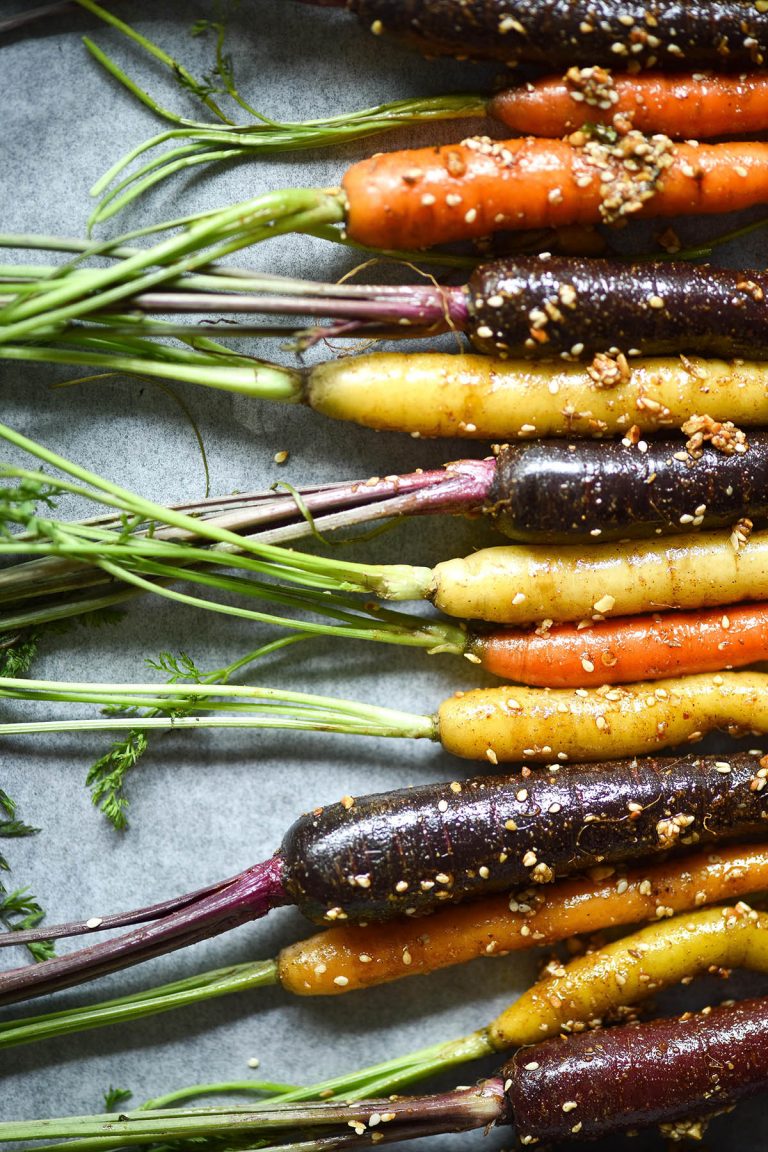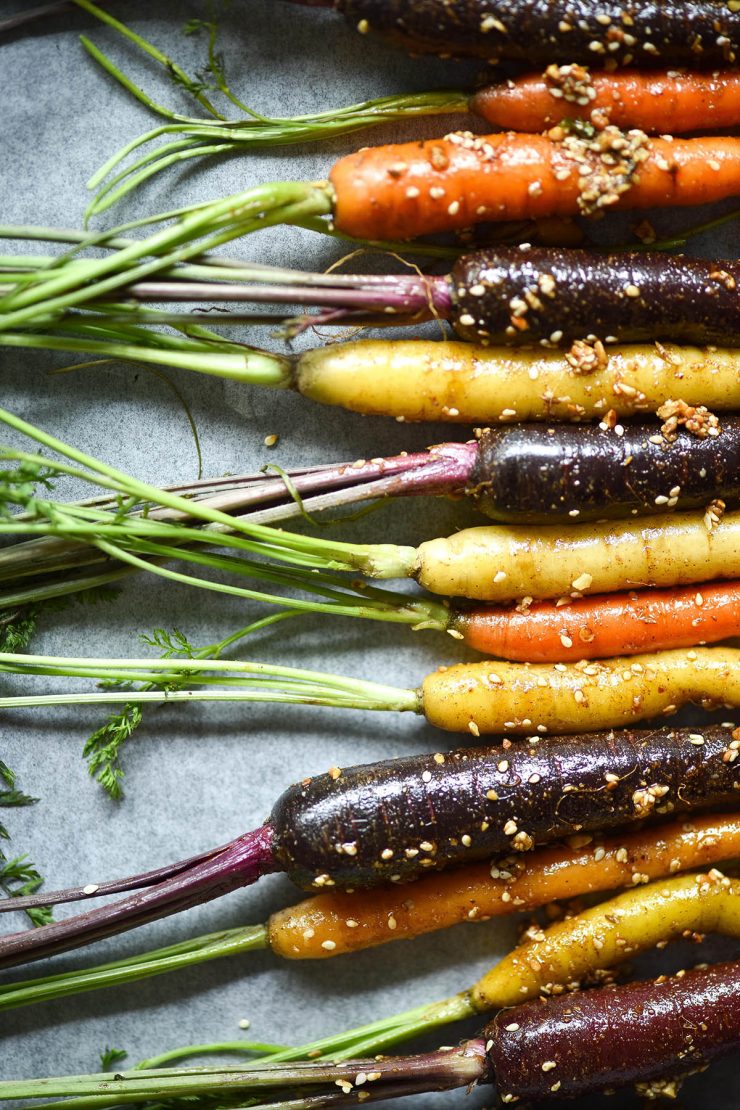 Sometimes it's hard to know which fruits and vegetables are low FODMAP when you first start on the diet. So today we're asking the question: are carrots low FODMAP?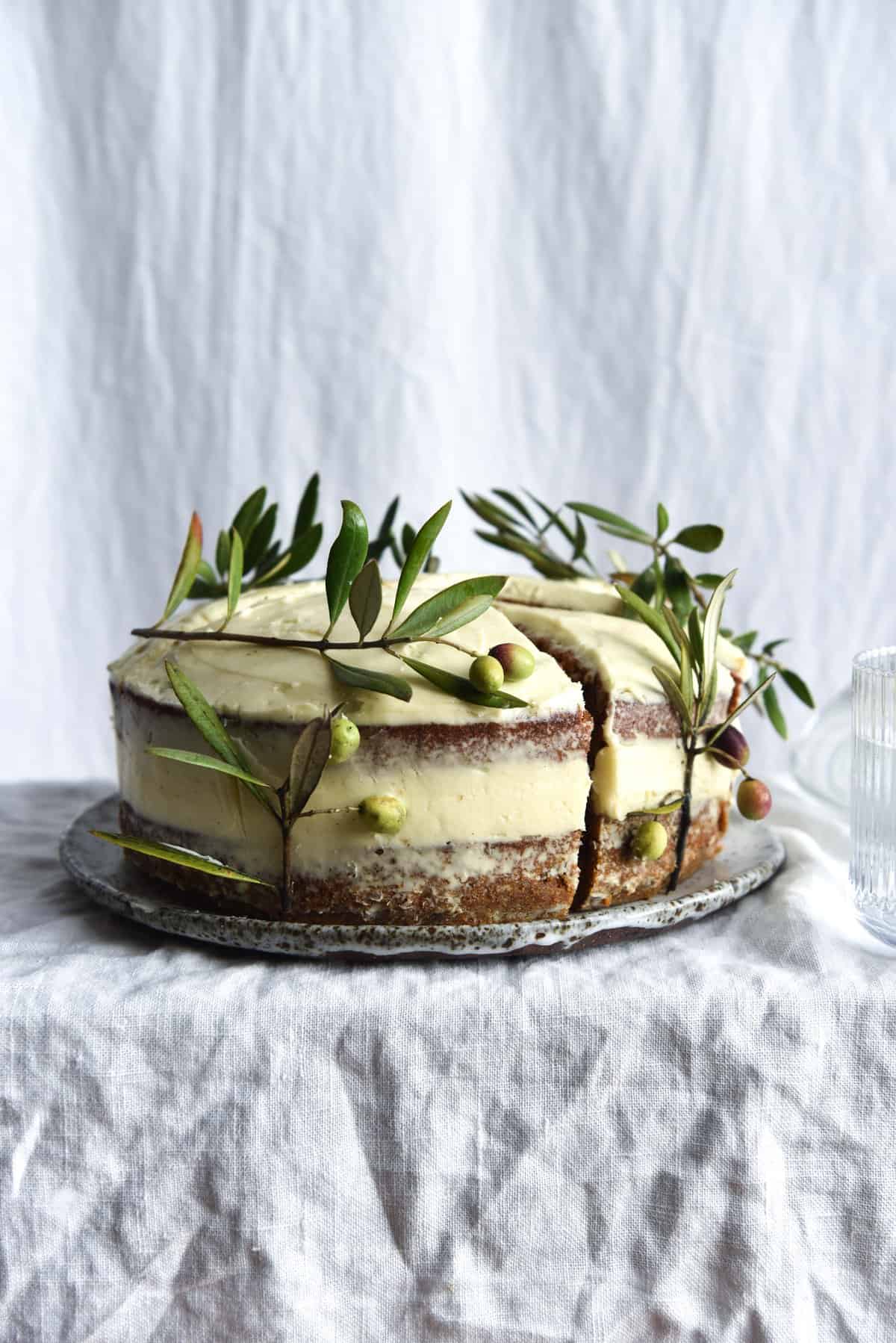 Are carrots low FODMAP?
Yes, carrots are low FODMAP. At the time of writing, Monash lists carrots as low FODMAP in servings of up to 500g carrot per person. This makes carrots an excellent vegetable to include in your diet.
I use carrots a lot in my low FODMAP cooking. Traditionally, they are used in a soffrito or mirepoux, which is a flavour base of onion, celery and carrot. Obviously the former two ingredients are off limits on a FODMAP diet, but carrot remains! Combined with spring onion greens, carrots provide flavour, a little sweetness and bulk to a low FODMAP dish.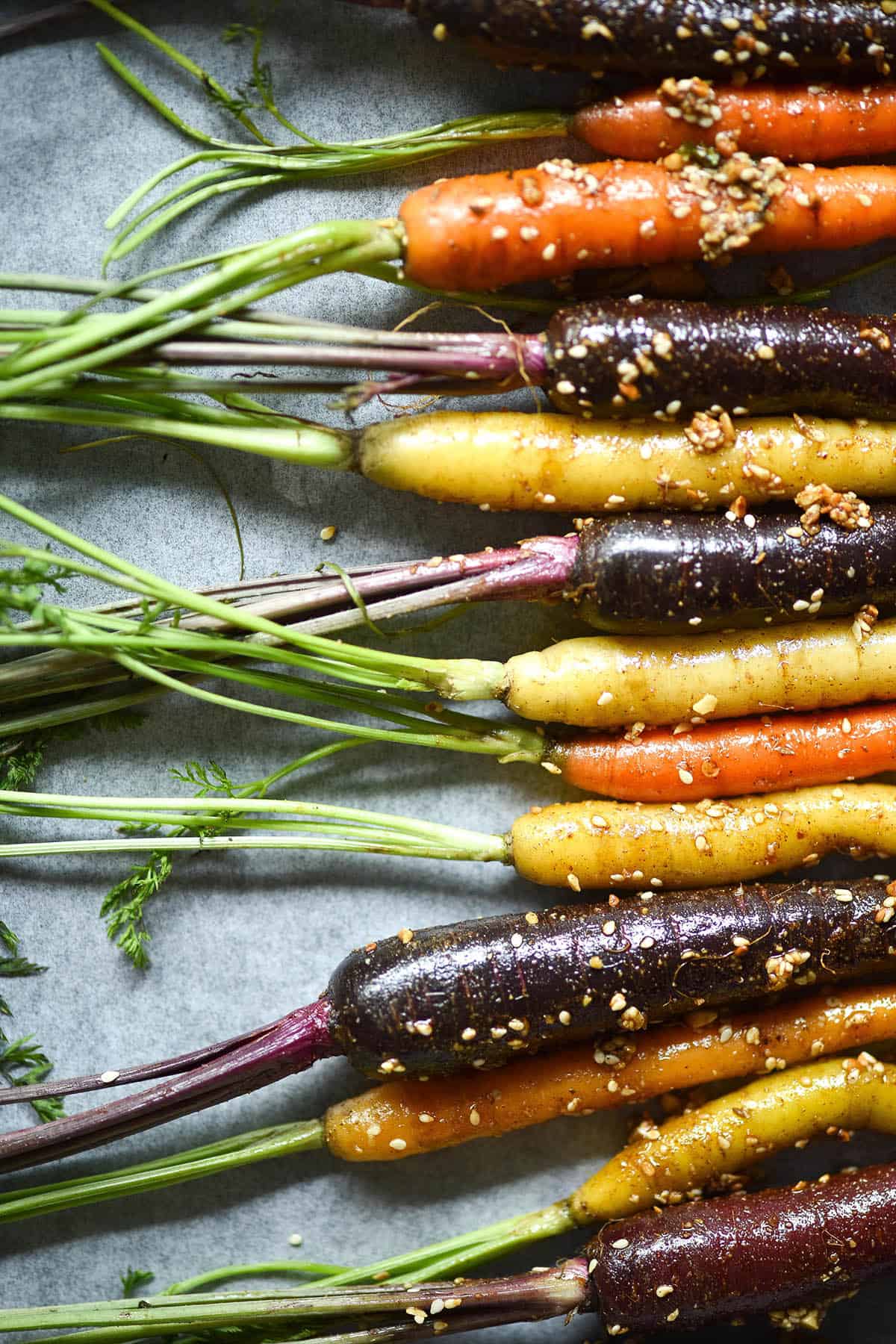 Low FODMAP recipes that use carrots
Carrots can be used in all sorts of low FODMAP dishes. They can be the star of the show or disguised in a sauce, providing bulk that is missing without onions. They are such a great vegetable to use in low FODMAP cooking, so let's get into some recipes!
Low FODMAP kind of daal
This daal uses a wealth of extra vegetables to bulk out the red lentils to an appropriate FODMAP serving. I wanted to ensure the daal could be eaten by the bowl, instead of small serves with lots of rice.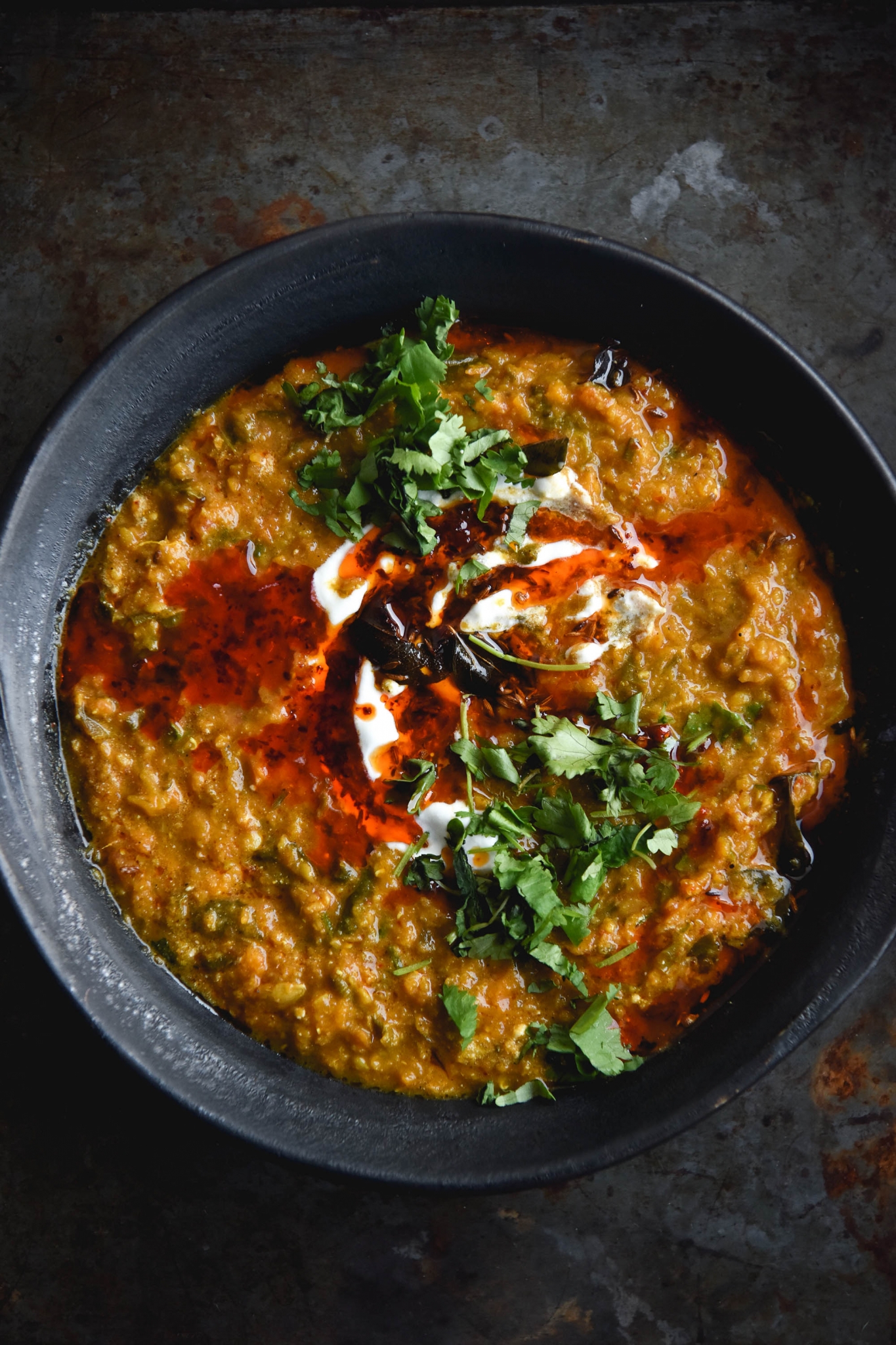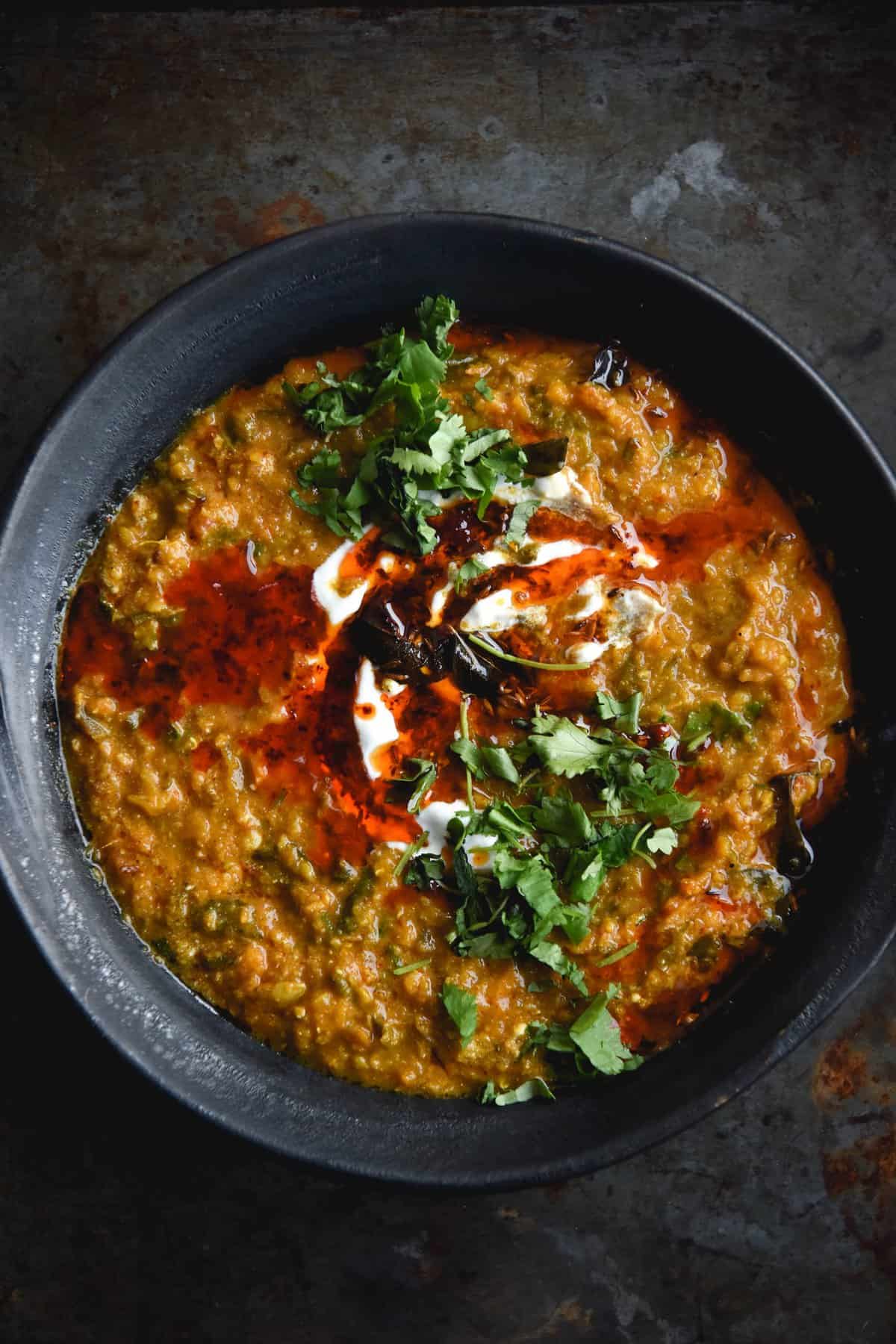 Dukkah roasted carrot salad with herbed tahini sauce and zucchini hummus
This beautiful carrot side dish is an easy and delicious way to make the most of Dutch baby carrots. It also works really well with my low FODMAP tofu hummus, for a more protein packed base.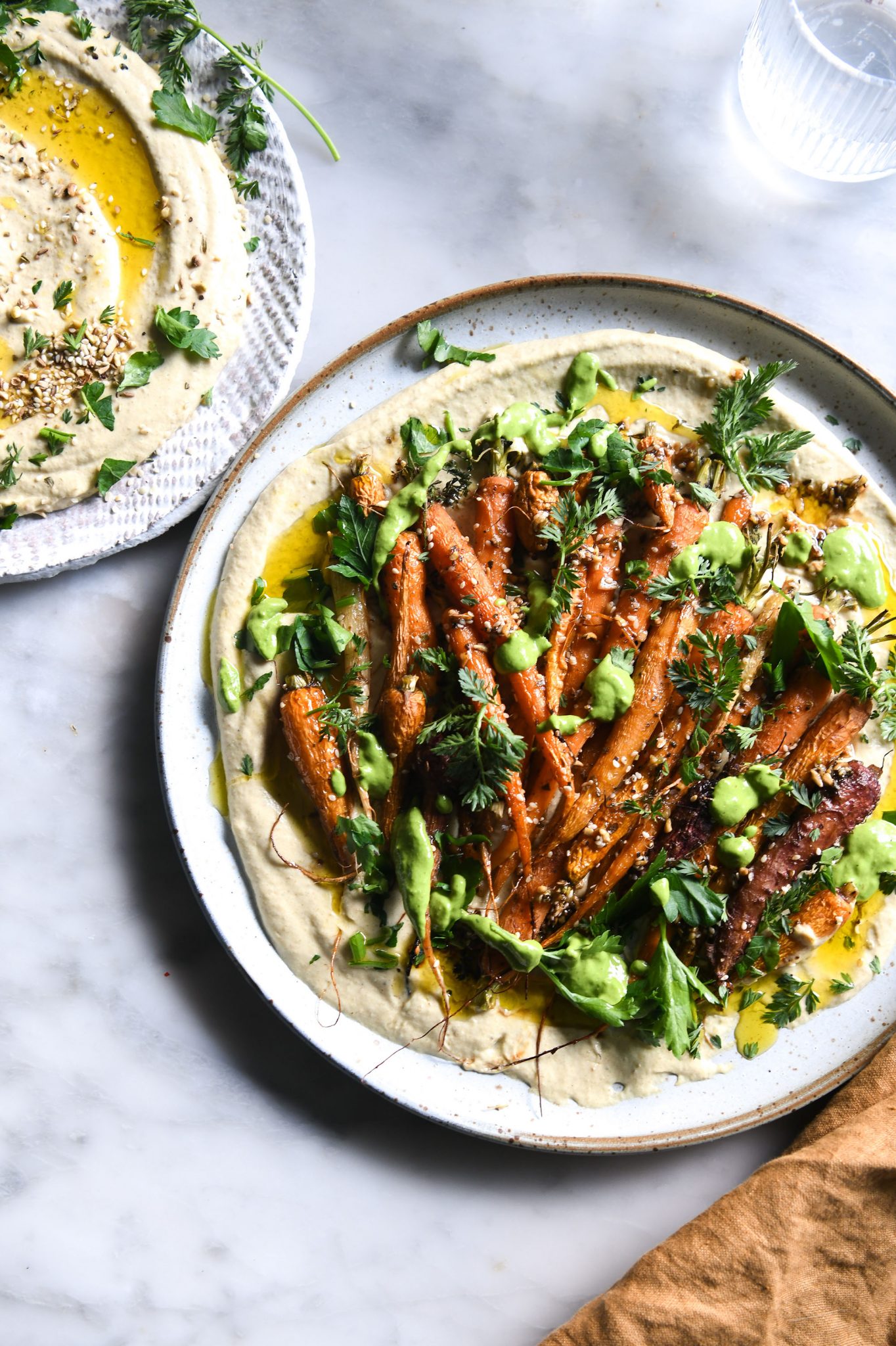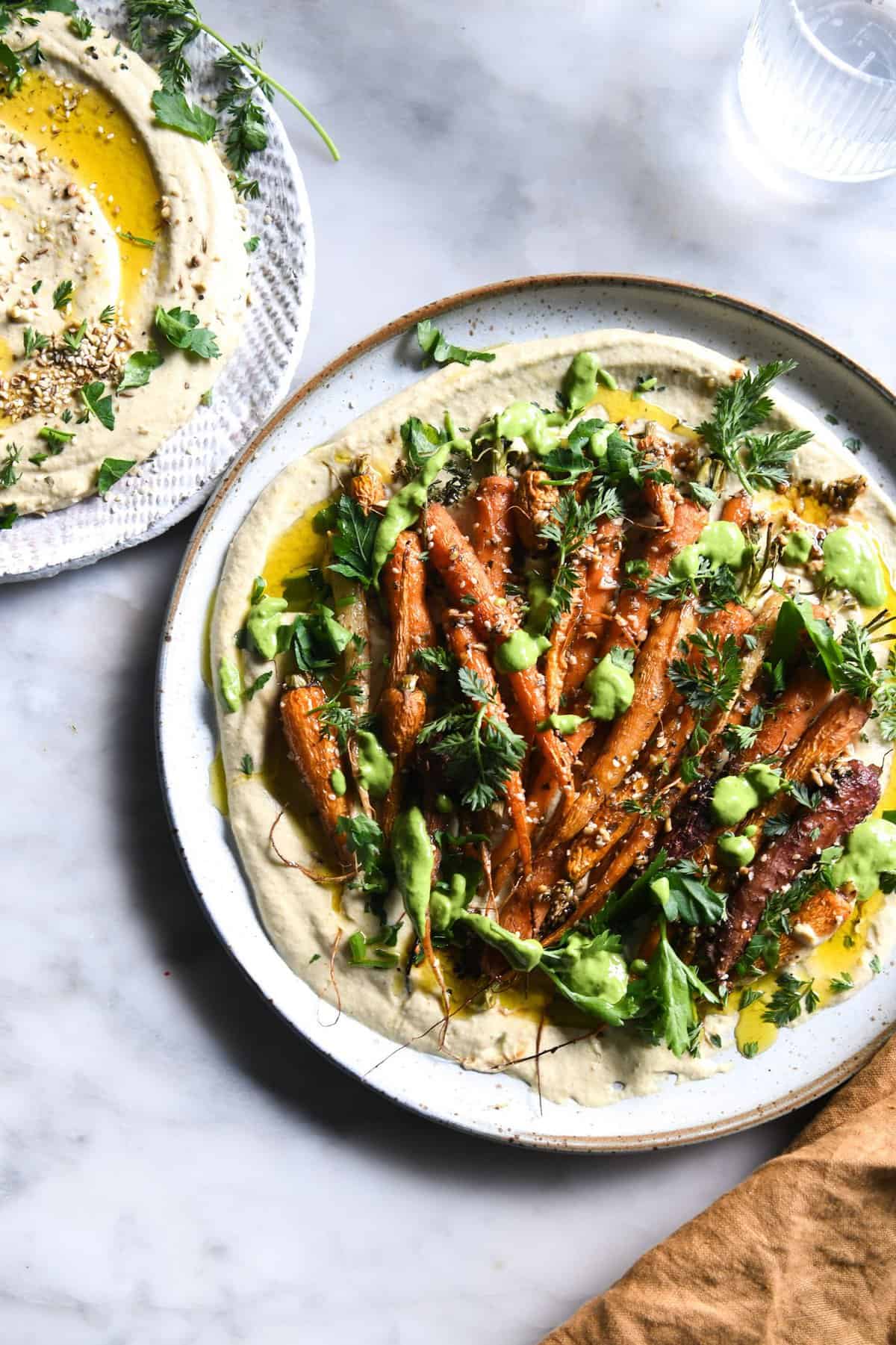 Gluten free carrot cake
This carrot cake is a gluten free and xanthan gum free number that is finished with a lactose free cream cheese icing. If you're into wholegrain (starchy flour free) recipes, there's a wholegrain carrot cake in my cookbook, Intolerance Friendly Kitchen.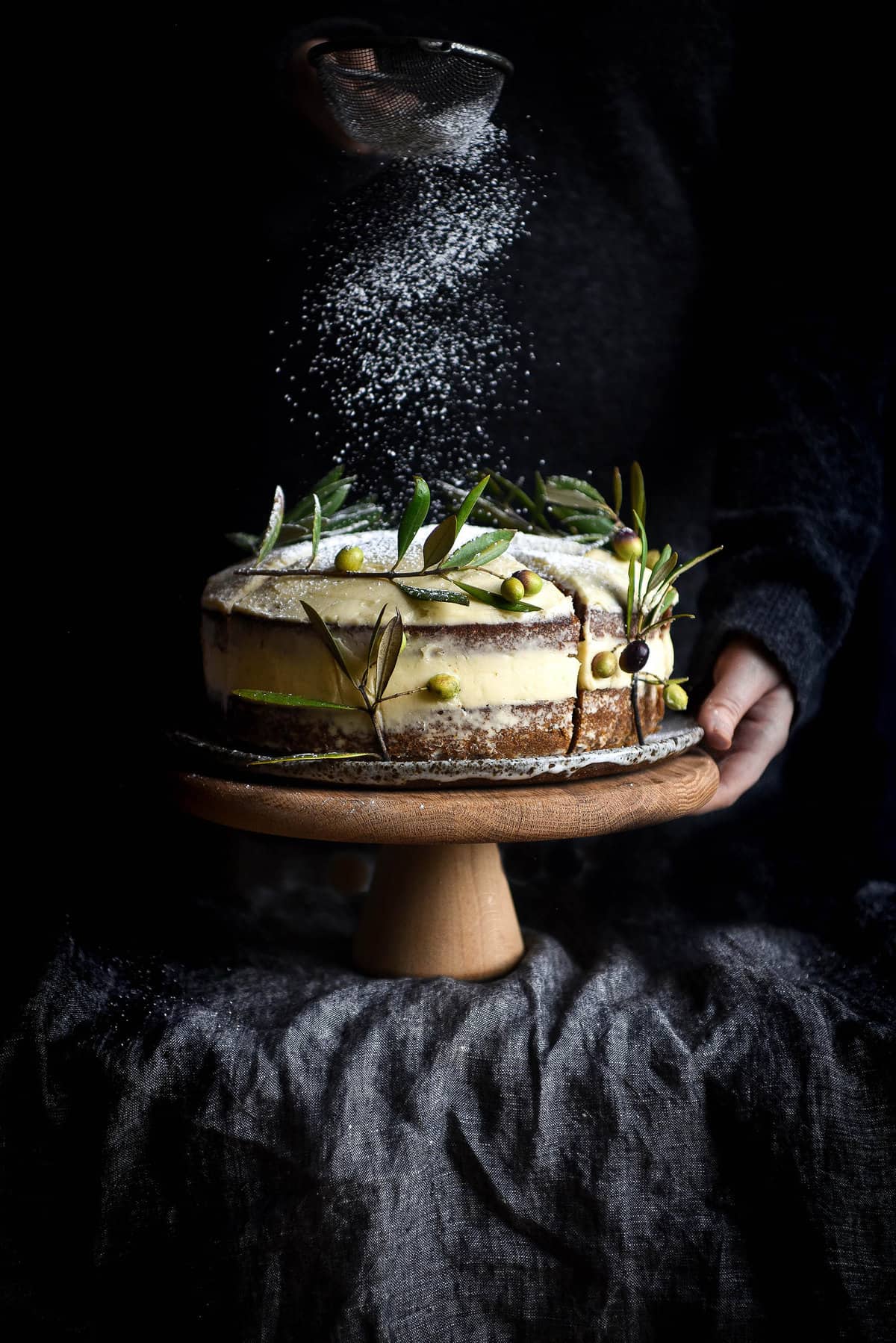 Low FODMAP vegan bolognese
This low FODMAP bolognese is one of my all time favourite recipes. It's rich and delicious and undetectably vegan, all without onion and garlic!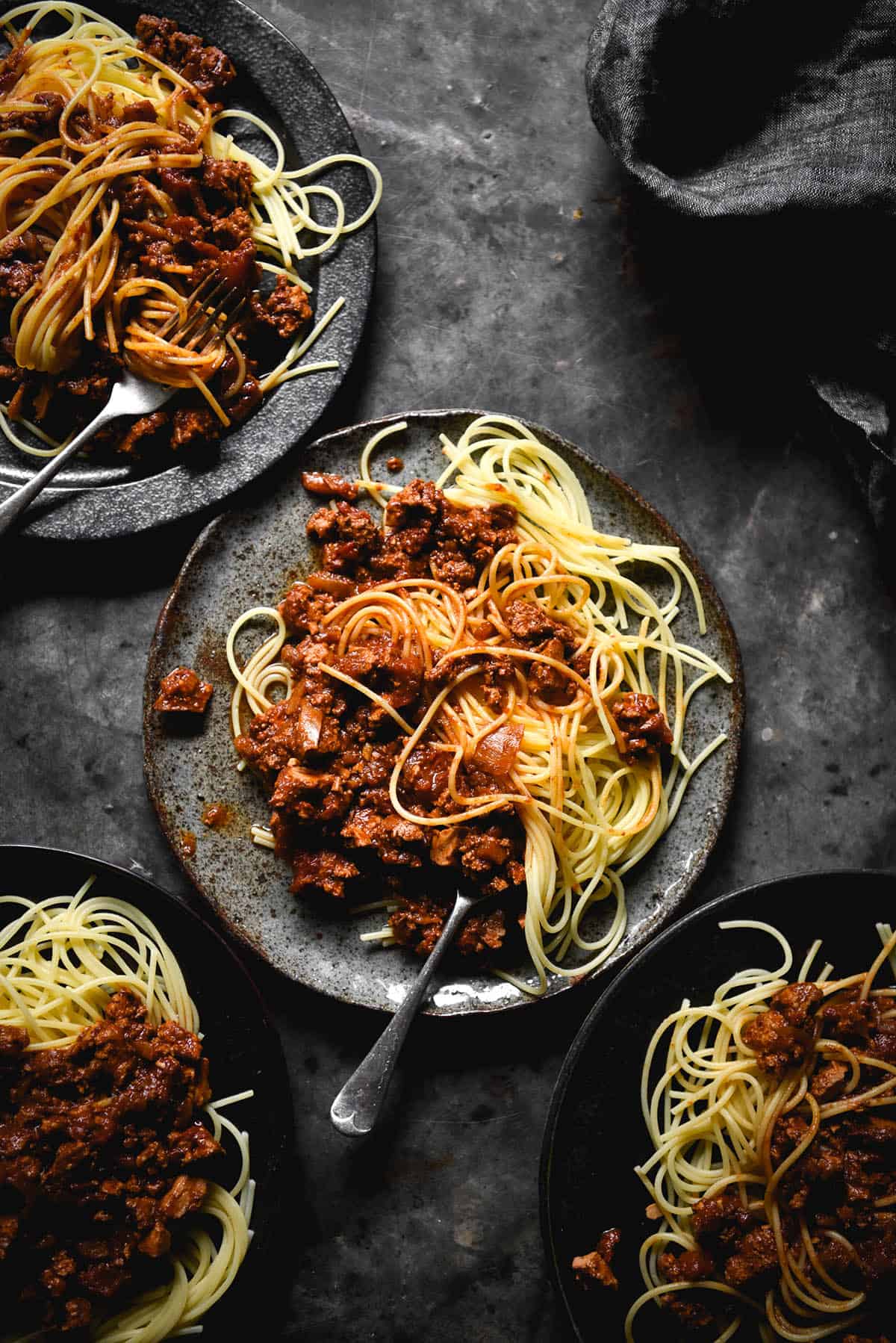 Easy vegan carrot lox
This easy vegan carrot lox is an accompanying recipe to my gluten free bagels. There's a vegan version of that bagel recipe, too, for an all vegan, gluten free and low FODMAP bagel experience. Bonus points for adding the low FODMAP everything bagel season.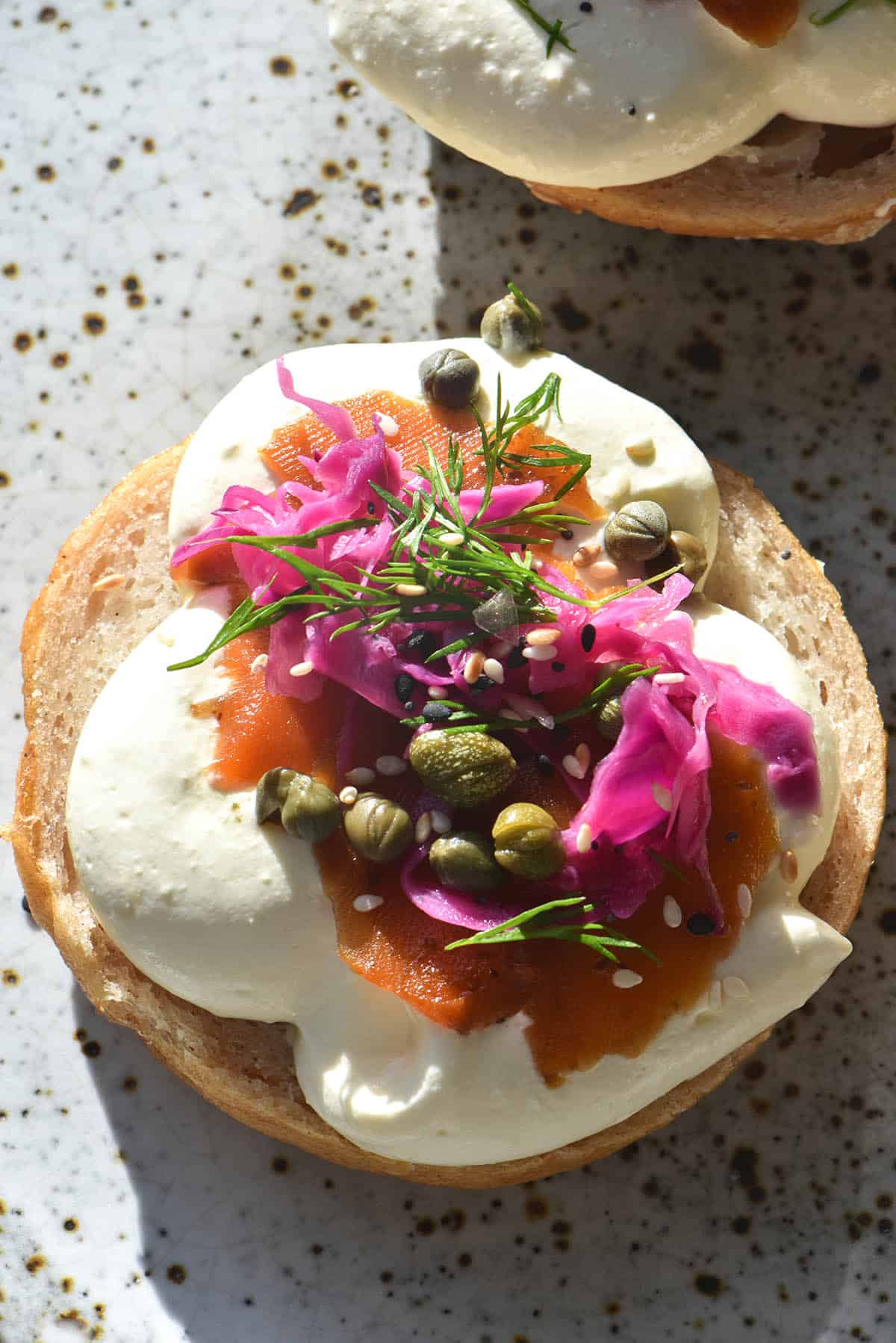 Carrot soup with Thai inspired flavours
This carrot soup contains both the original version of the recipe (not FODMAP friendly) and the low FODMAP version. It's creamy, rich and delicious.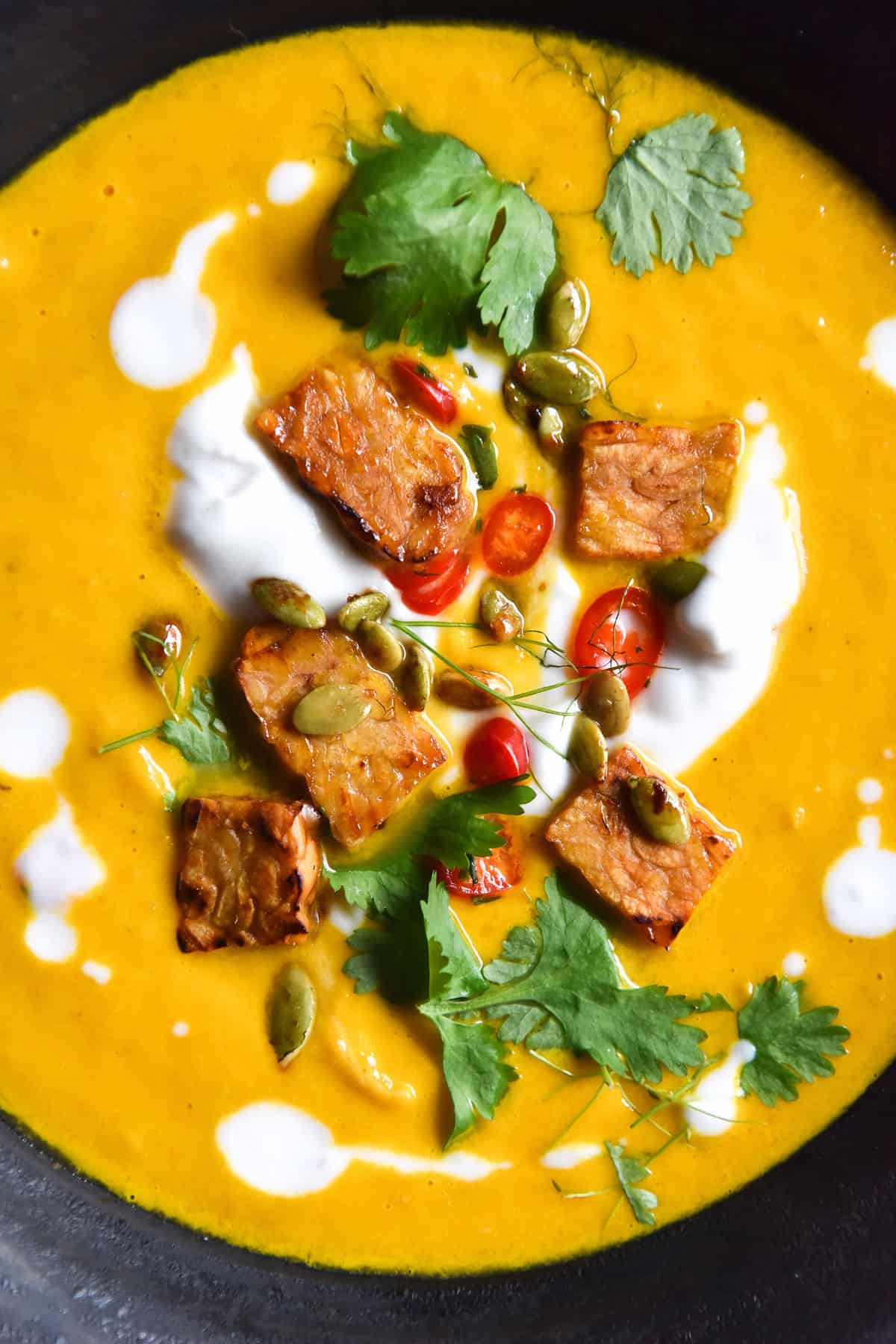 Shahi paneer
My favourite thing to order from my favourite Indian restaurant, this is my low FODMAP take on shahi paneer. Use my lactose free paneer recipe for a lactose free option.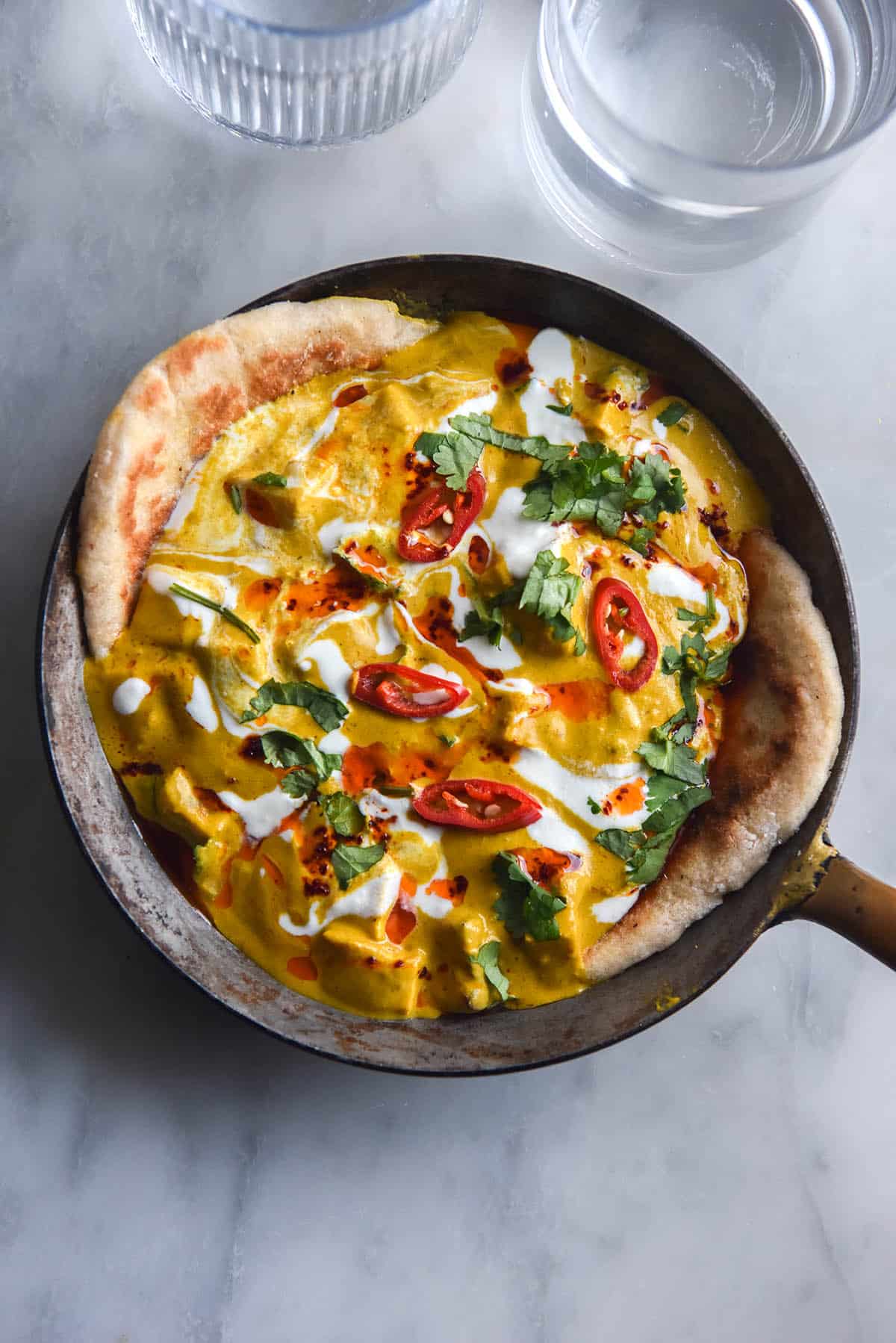 Low FODMAP vegetarian or vegan curry
This curry sauce base is so well of flavour without any onion or garlic. The curry itself is vegetarian or vegan, but you can add in whatever protein works for you.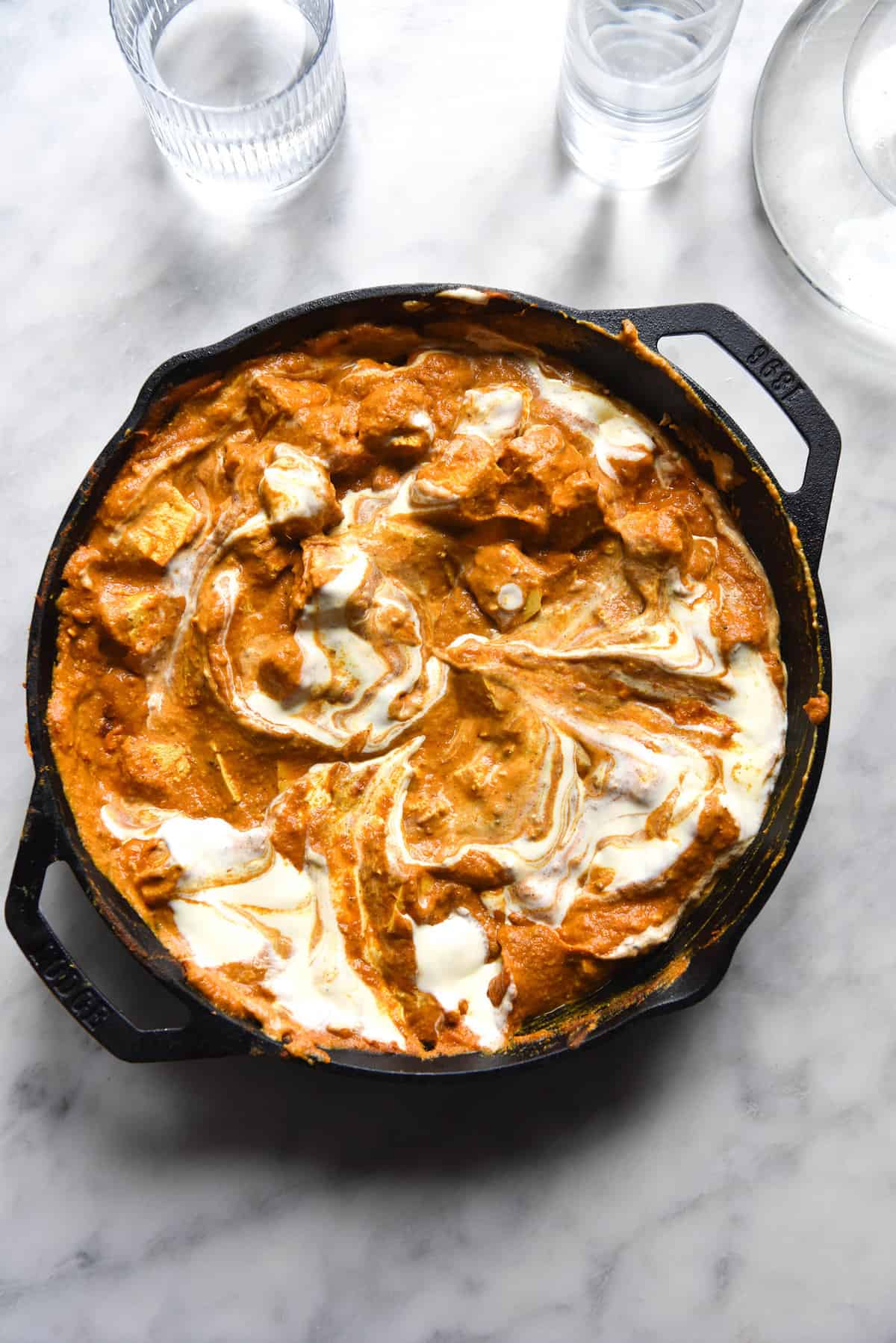 Honey and butter roasted carrot and haloumi herb salad
This honey butter roasted carrot salad was a recipe I developed in my prime haloumi days. It's a great low FODMAP carrot dish that's packed full of flavour. Haloumi is low lactose in 40g serves (or 2 slices per person).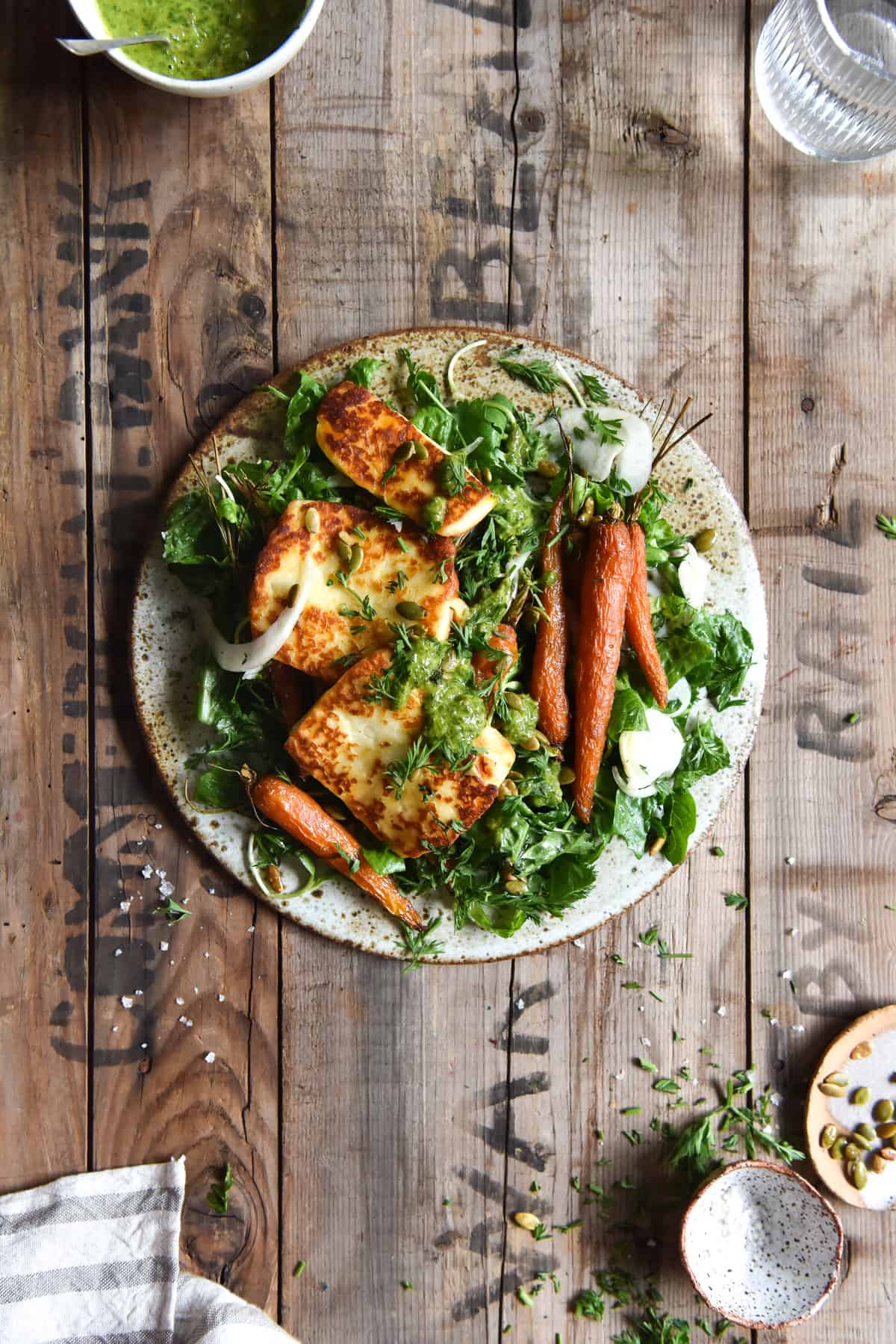 Low FODMAP minestrone
With winter approaching in Australia, now is the perfect time to get into this low FODMAP and gluten free minestrone. It's brothy yet rich, comforting yet bright. My ideal soup.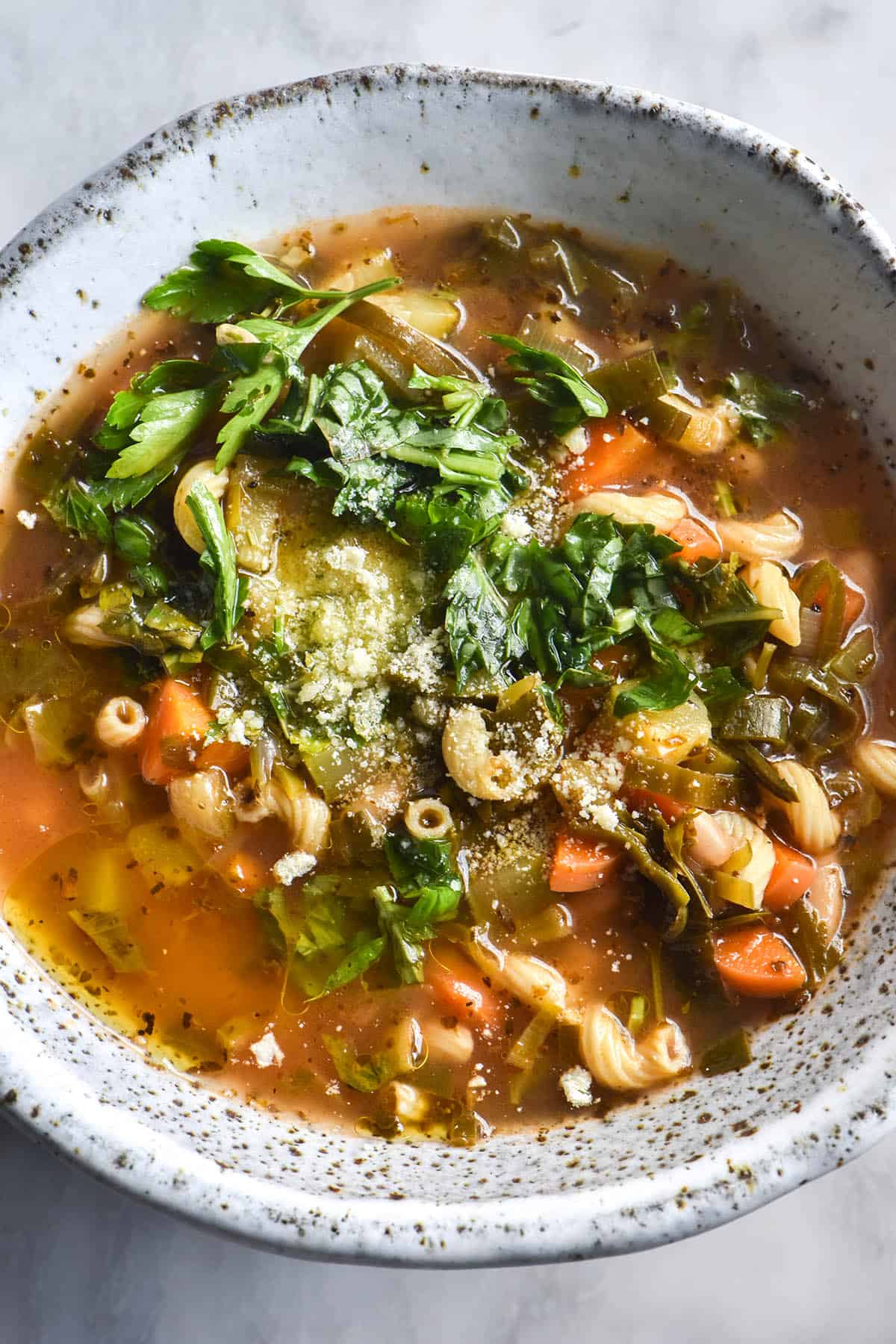 Vegetable tagine
This vegetable tagine might not have the razzle dazzle of thick haloumi slabs, but it is packed full of flavour and veggies to boot. Carrots help bulk out this tagine so that a low FODMAP serve of chickpeas can be included.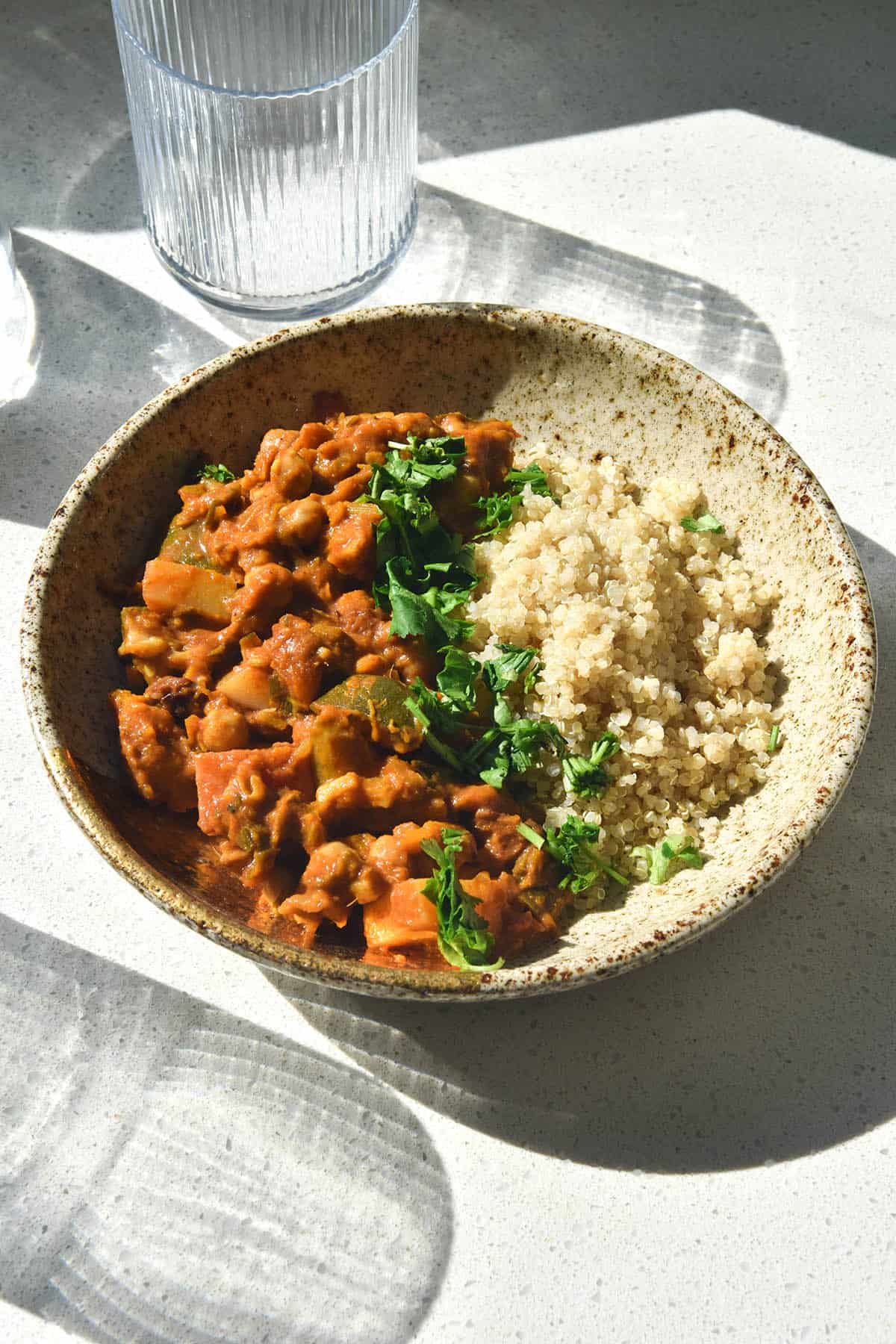 Low FODMAP Thai green curry
This low FODMAP Thai Green curry was the result of much experimentation after my trip to Thailand recently. I think it hits all the right flavour notes, all without high fructan ingredients like shallots and garlic.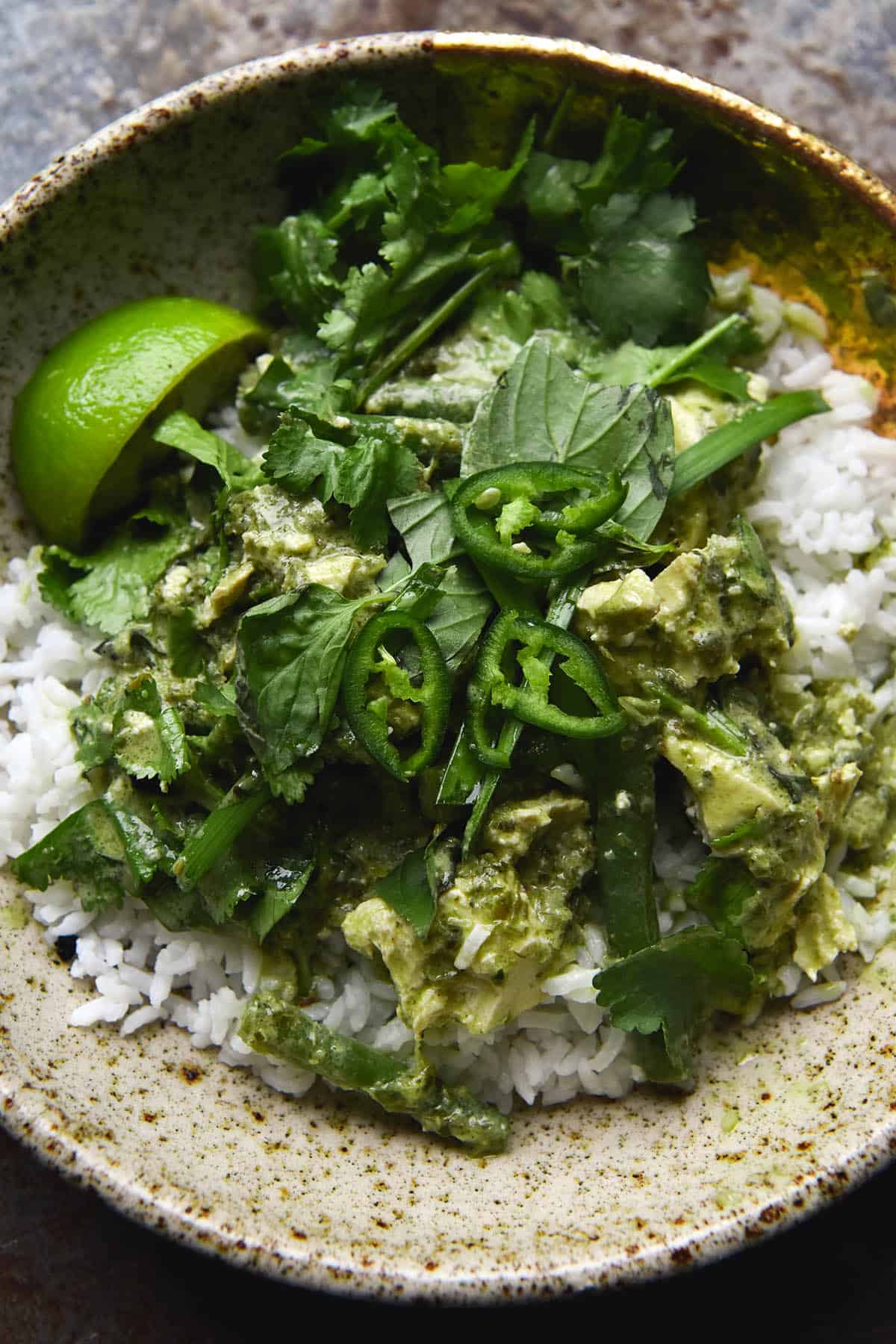 SIBO friendly curry
This curry is inspired by my other low FODMAP curries, but specially made for the SIBO bi-phasic diet. Carrots are both low FODMAP and SIBO friendly, so they really help bulk out this dish.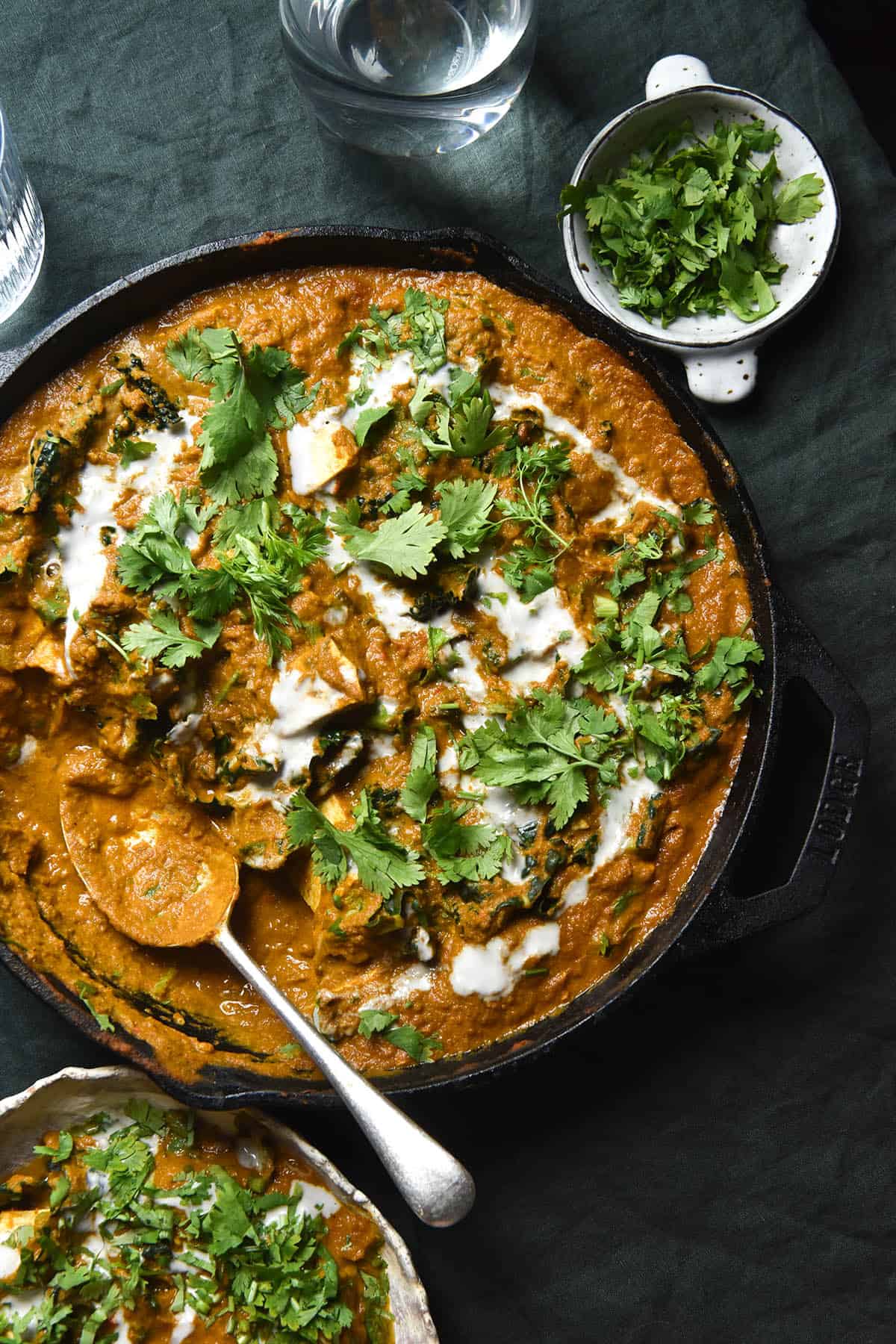 Vegan 'chicken' noodle soup
This 'chicken' noodle soup is a low FODMAP and gluten free take on the original. It uses torn chunks of tofu to replace the chicken. A great comfort meal made low FODMAP.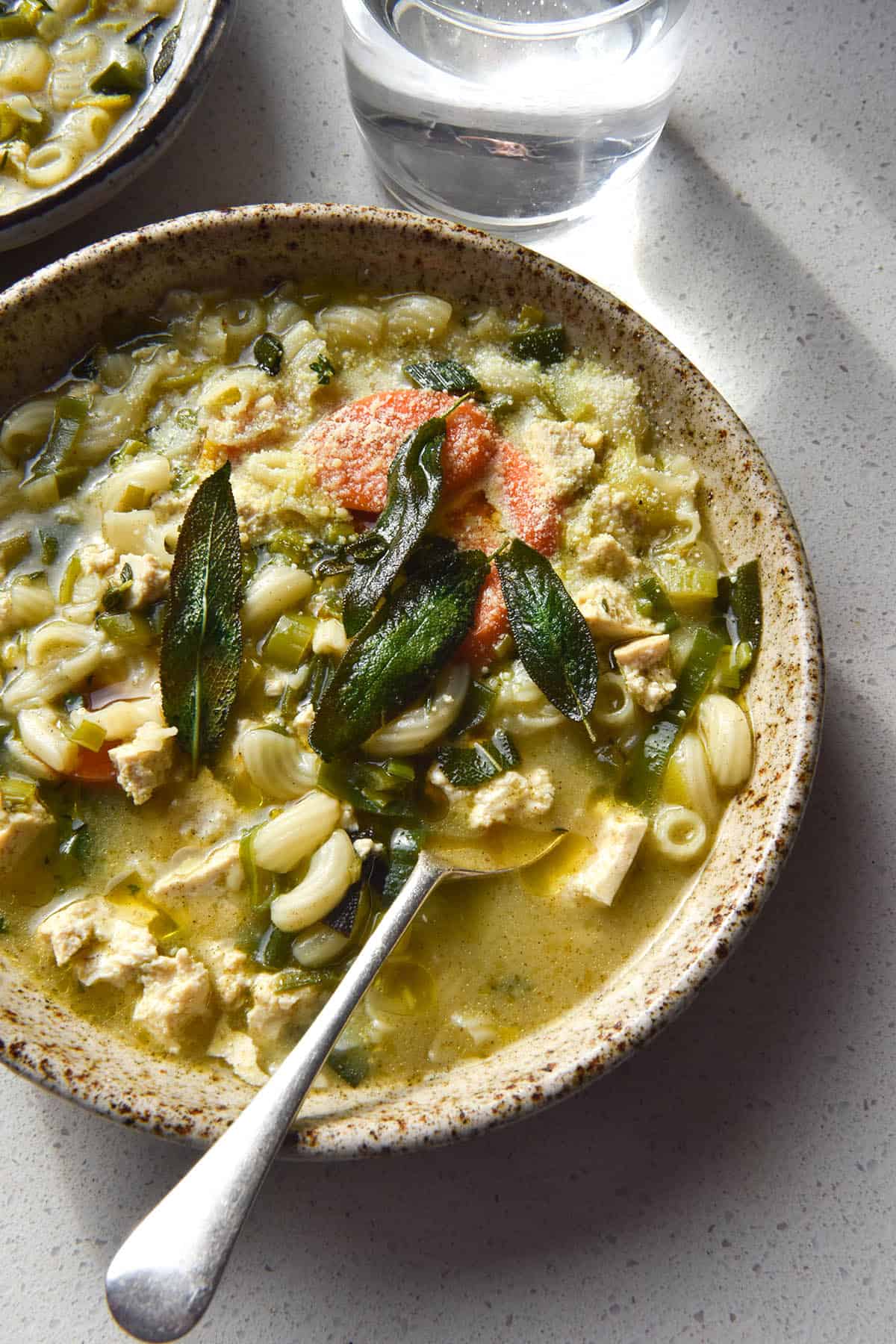 Vegan peanut butter stir fry
Sometimes a stir fry just needs a healthy dose of peanut butter, amirite? This one is vegan, gluten free and low FODMAP. It's also easy to whip up and makes a perfect weeknight dinner.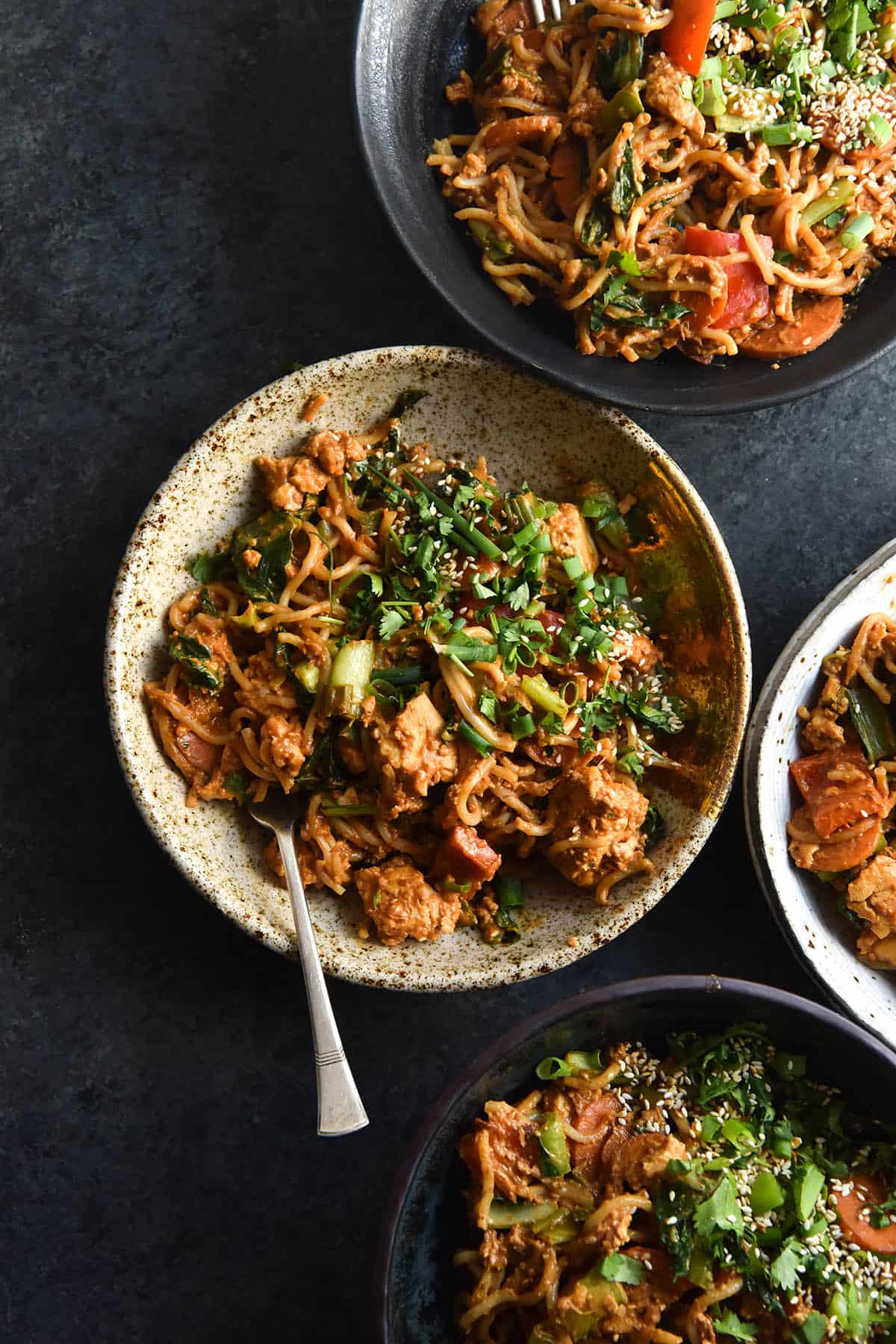 Low FODMAP lentil soup
It's nearly soup szn, and this low FODMAP lentil soup hits all the right notes. It uses tinned lentils to keep the FODMAP content down, making it a quick and easy weeknight dinner. Bonus points for serving it with my gluten free buckwheat bread.
Low FODMAP chickpea sausage rolls
These low FODMAP chickpea rolls remind me somewhat of a cornish pasty. They're simple to make and freeze brilliantly. I like to use the gluten free puff pastry recipe from Intolerance Friendly Kitchen.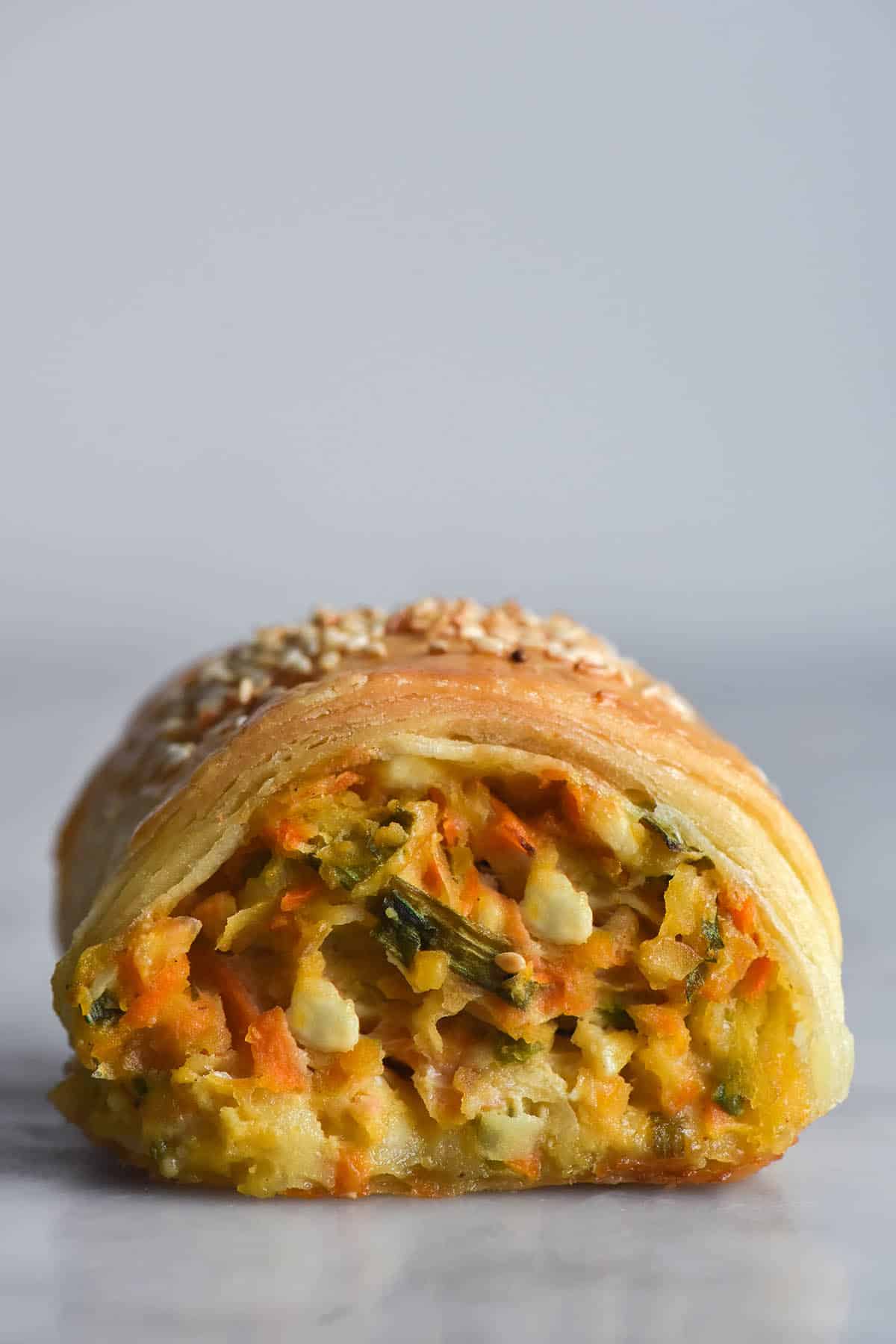 Paneer curry (with a vegan option)
A low FODMAP curry base and a recipe for lactose free paneer that's far better (and cheaper) than the supermarket stuff? You can't go wrong. Carrots help make the curry gravy filling yet still low FODMAP.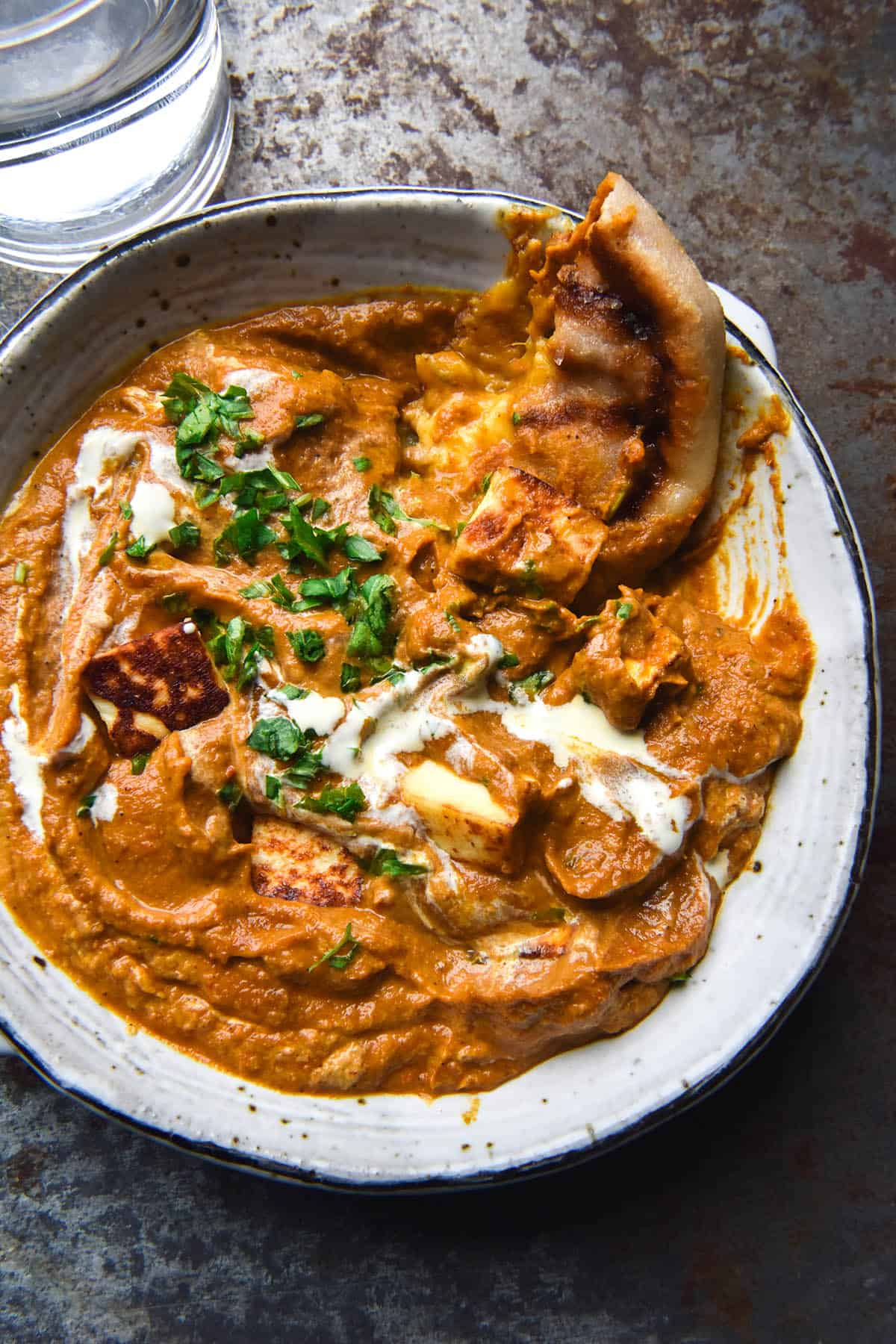 FODMAP friendly vegetarian chilli
This chilli is one of my favourite things to eat. It works as a standalone chilli, with rice, on nachos or on baked potatoes. There's options to use black beans, tofu or black beans and tofu.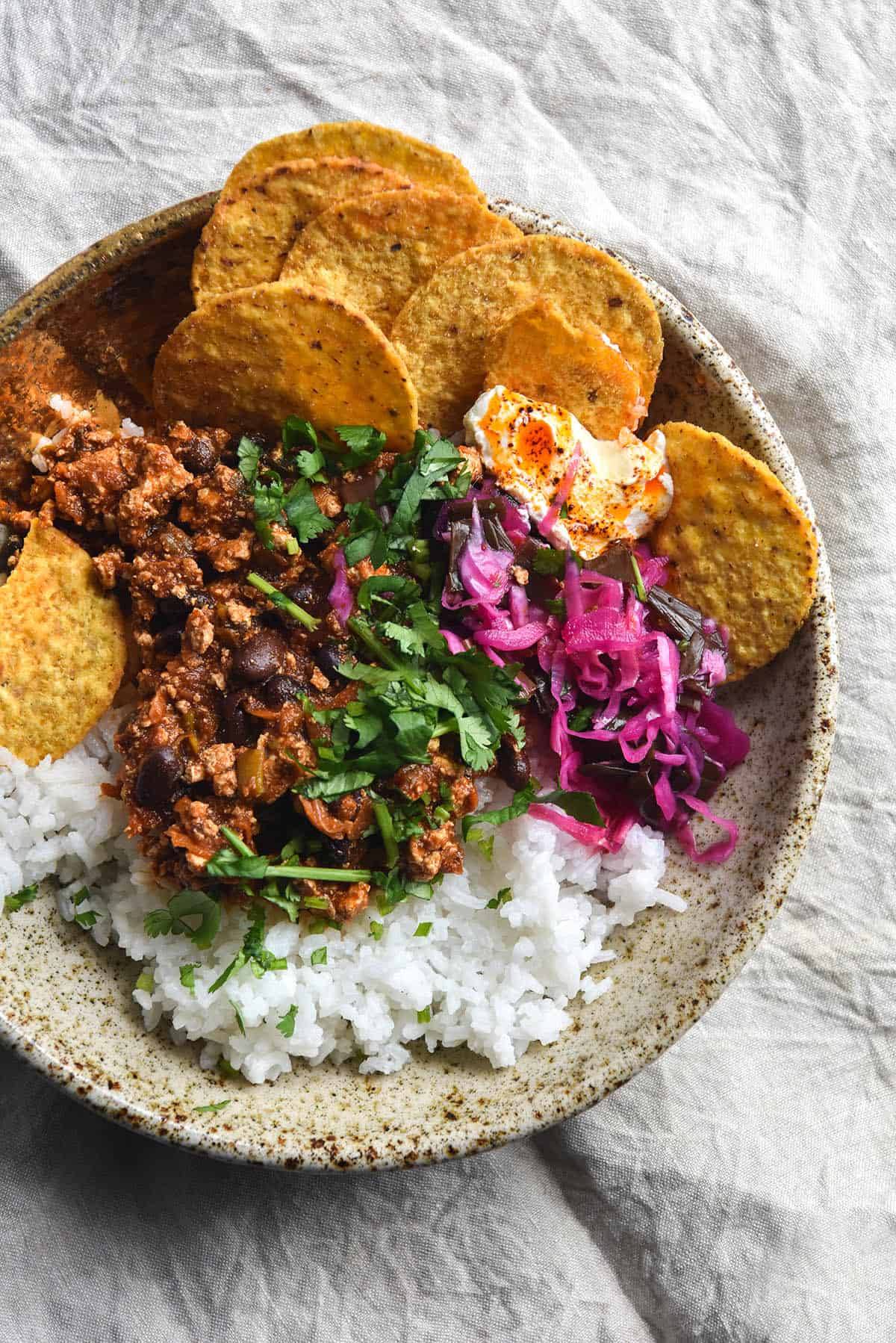 The bulked up version of my low FODMAP vegetarian Pad Thai (with a vegan option)
Traditionally Pad Thai doesn't contain carrots, but a low FODMAP vegetarian or vegan Pad Thai isn't exactly traditional. My recipe has one version that mirrors an authentic Pad Thai as much as possible, and a bulked out version with extra vegetables and tofu. Carrots add flavour and crunch to the latter version (which is my favourite!)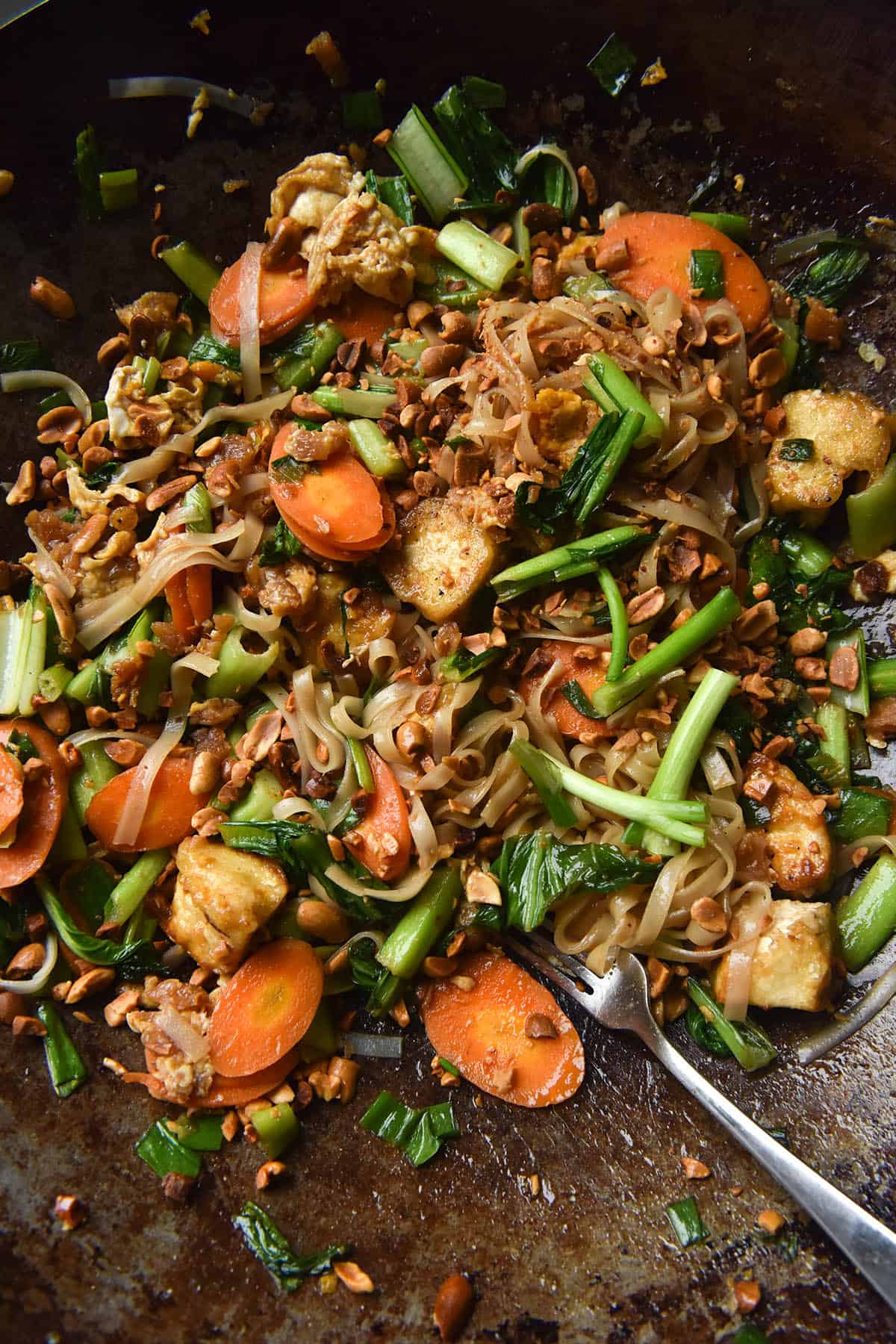 Gluten free, vegan and low FODMAP dumplings
I'm sure I've said this about some other recipe, but this dumpling recipe is my FAVOURITE savoury dish from my cookbook, Intolerance Friendly Kitchen. The dumpling wrappers are xanthan gum free, vegan and incredibly easy to make. And the Low FODMAP carrot, tofu and ginger filling? I eat it as a standalone dinner. SO GOOD.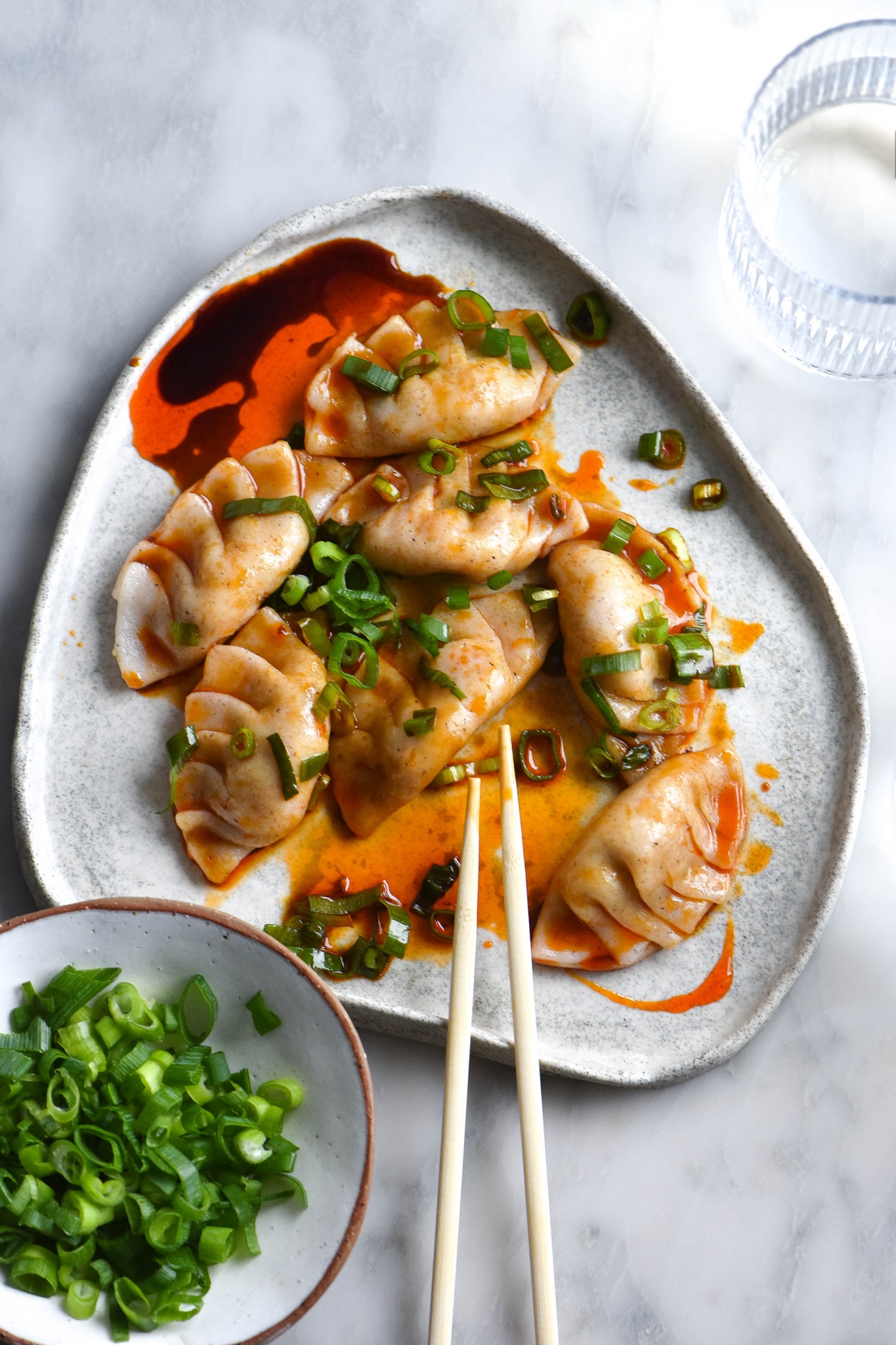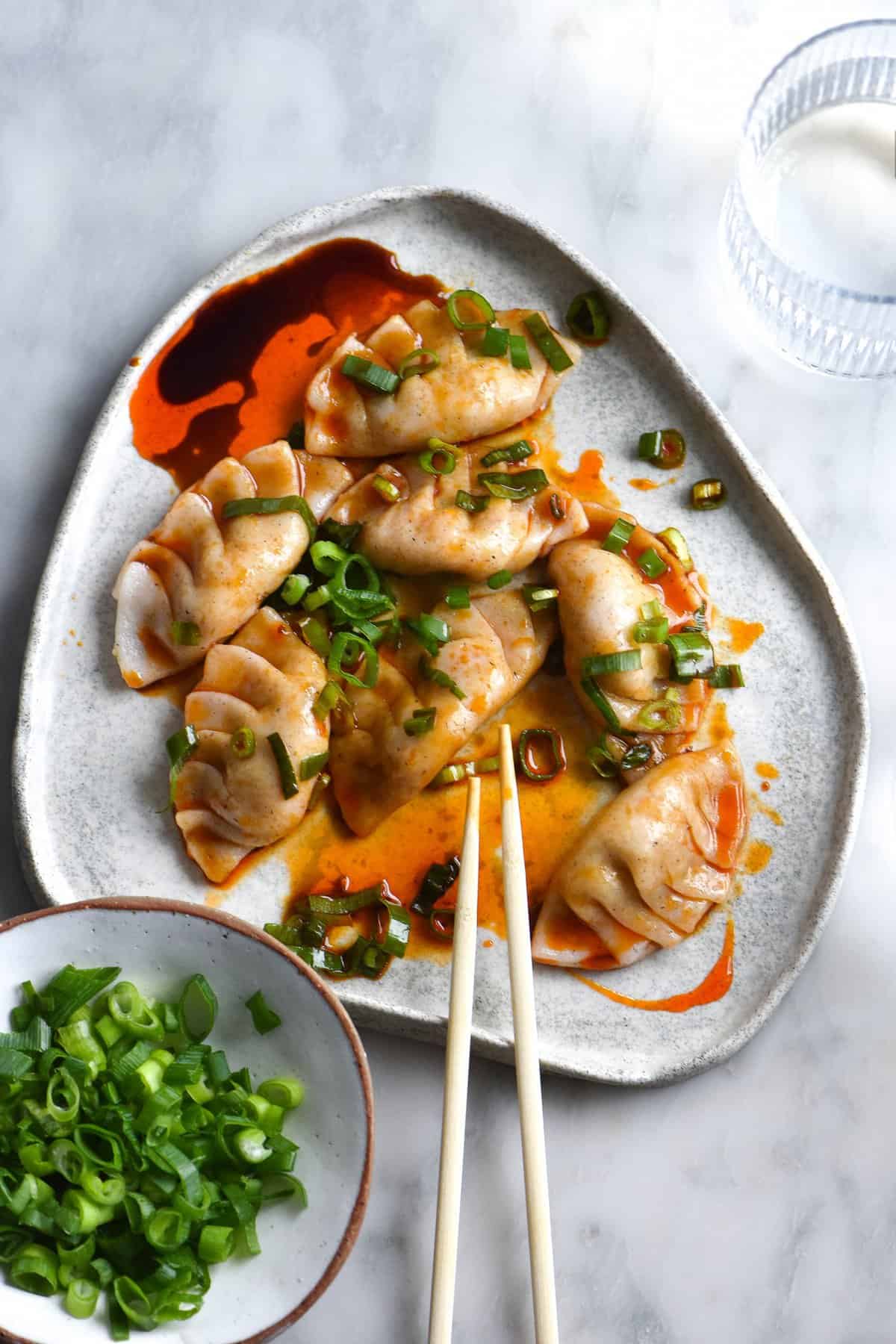 Low FODMAP vegetarian or vegan moussaka
What's a winter warmer dish if it's not smothered in cheese? This vegetarian (or vegan) moussaka uses carrots in the vegetarian/vegan mince component of the dish. The result? A moussaka that is every bit as filling as it's traditional counterpart.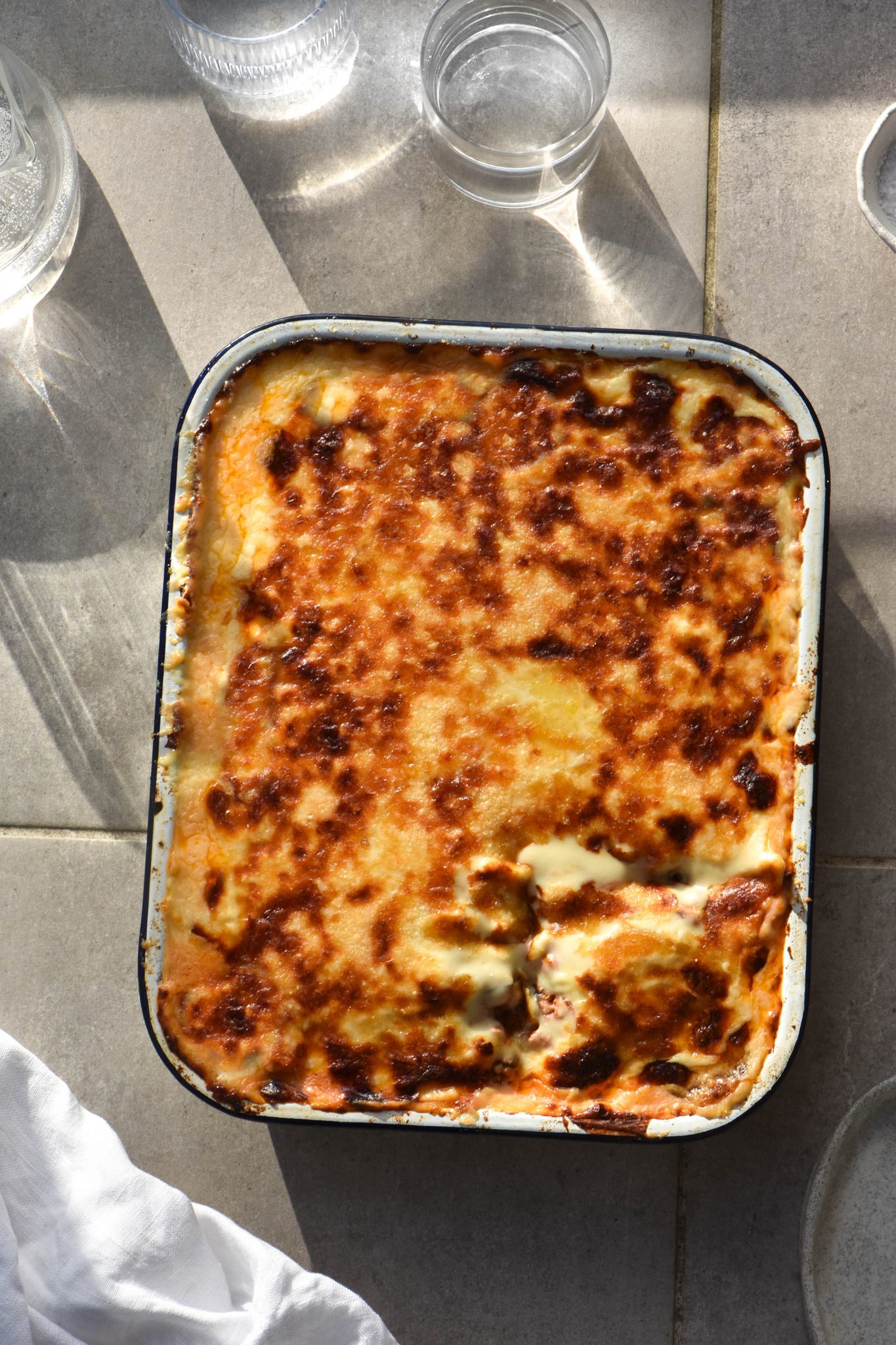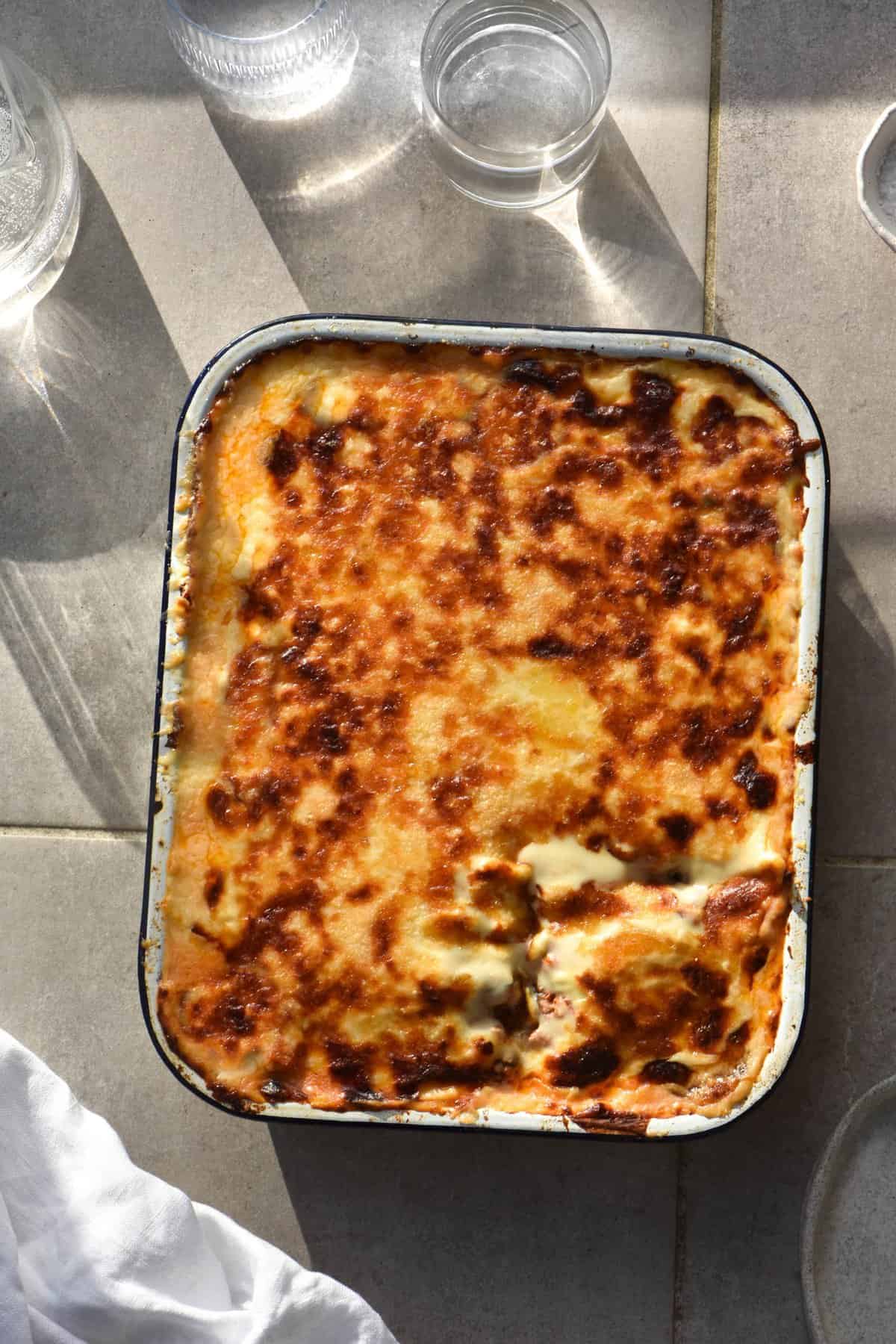 Dukkah roasted carrots with labneh, Aleppo chilli oil and lemon scented quinoa
These carrots make a delicious low FODMAP side dish that hits all the right notes. You can easily make your own labneh at home, and if you use a lactose free Greek yoghurt it will drop the lactose content even further. The lemon quinoa adds a protein and carb element to round the dish out and make it a meal.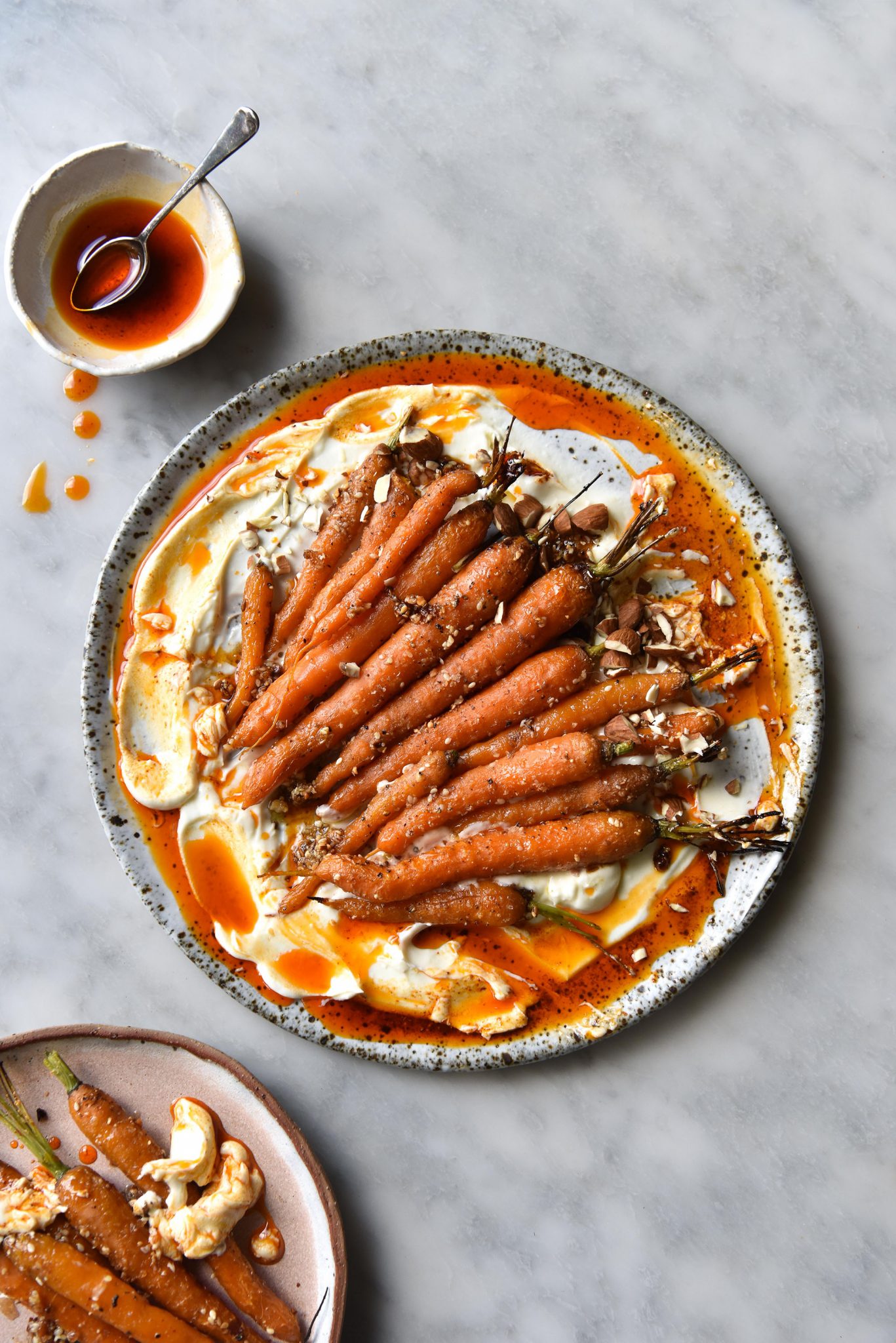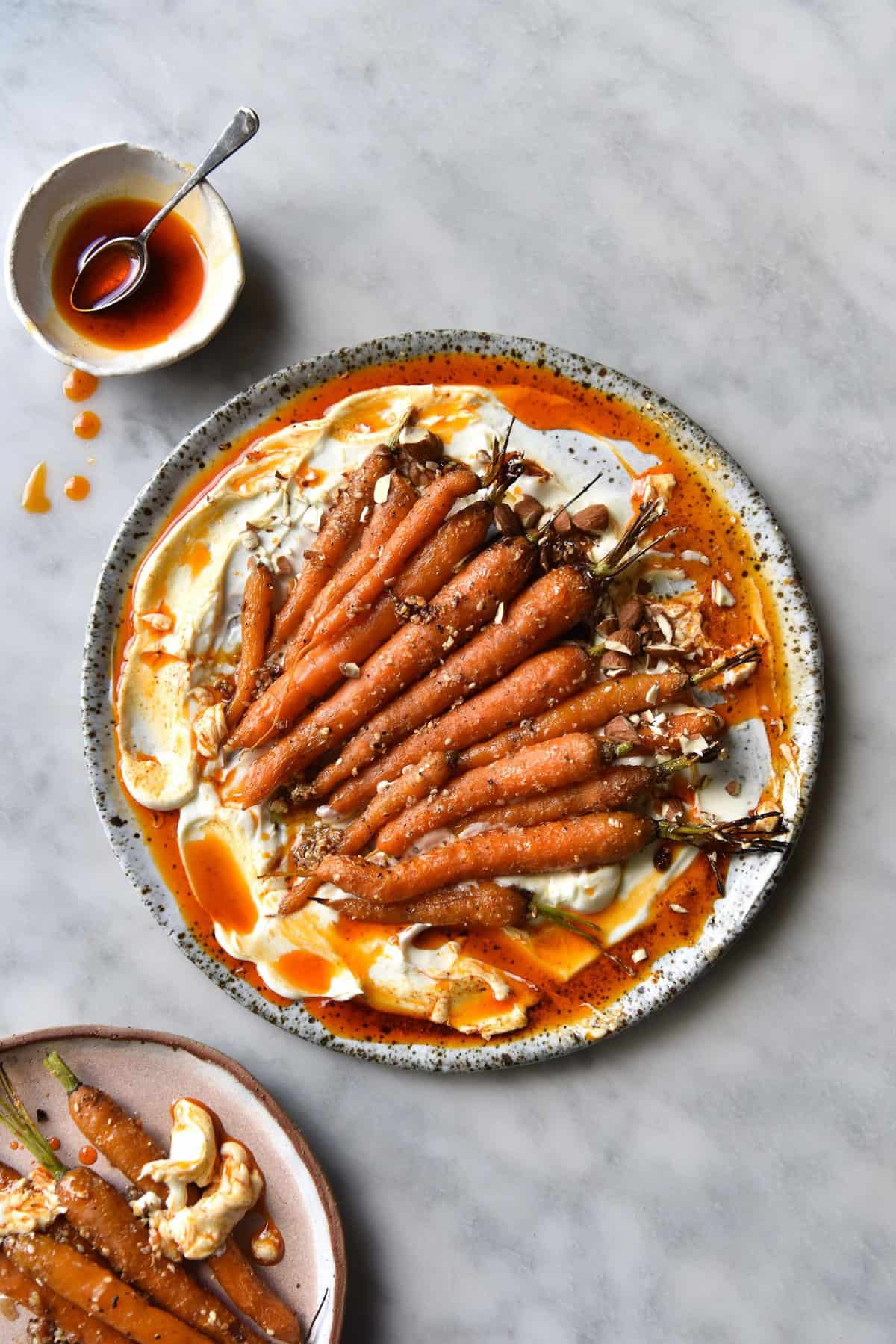 Low FODMAP vegetarian or vegan enchiladas
I don't mention this recipe enough, which is a shame because it's a really good one. These low FODMAP enchiladas are made with my favourite tofu mince, spiced up for the occasion. They use gluten free corn tortillas and a quick cheaty low FODMAP enchilada sauce. If you top them with vegan cheese before baking, they're also vegan.