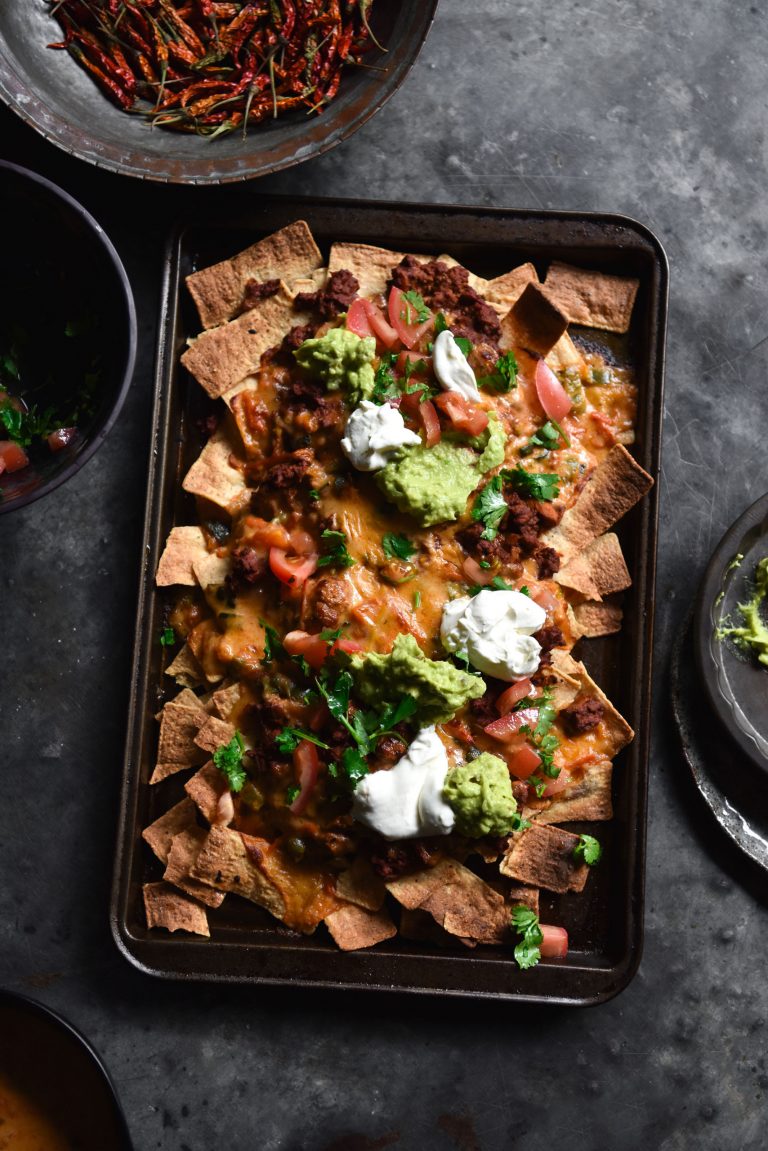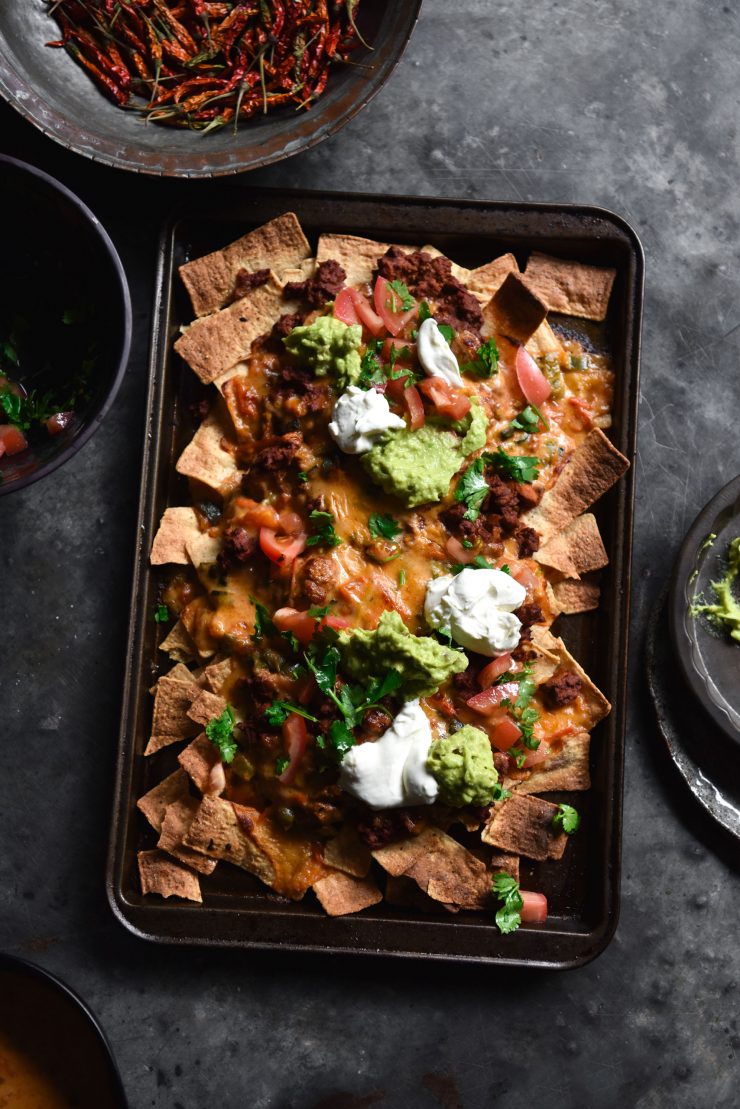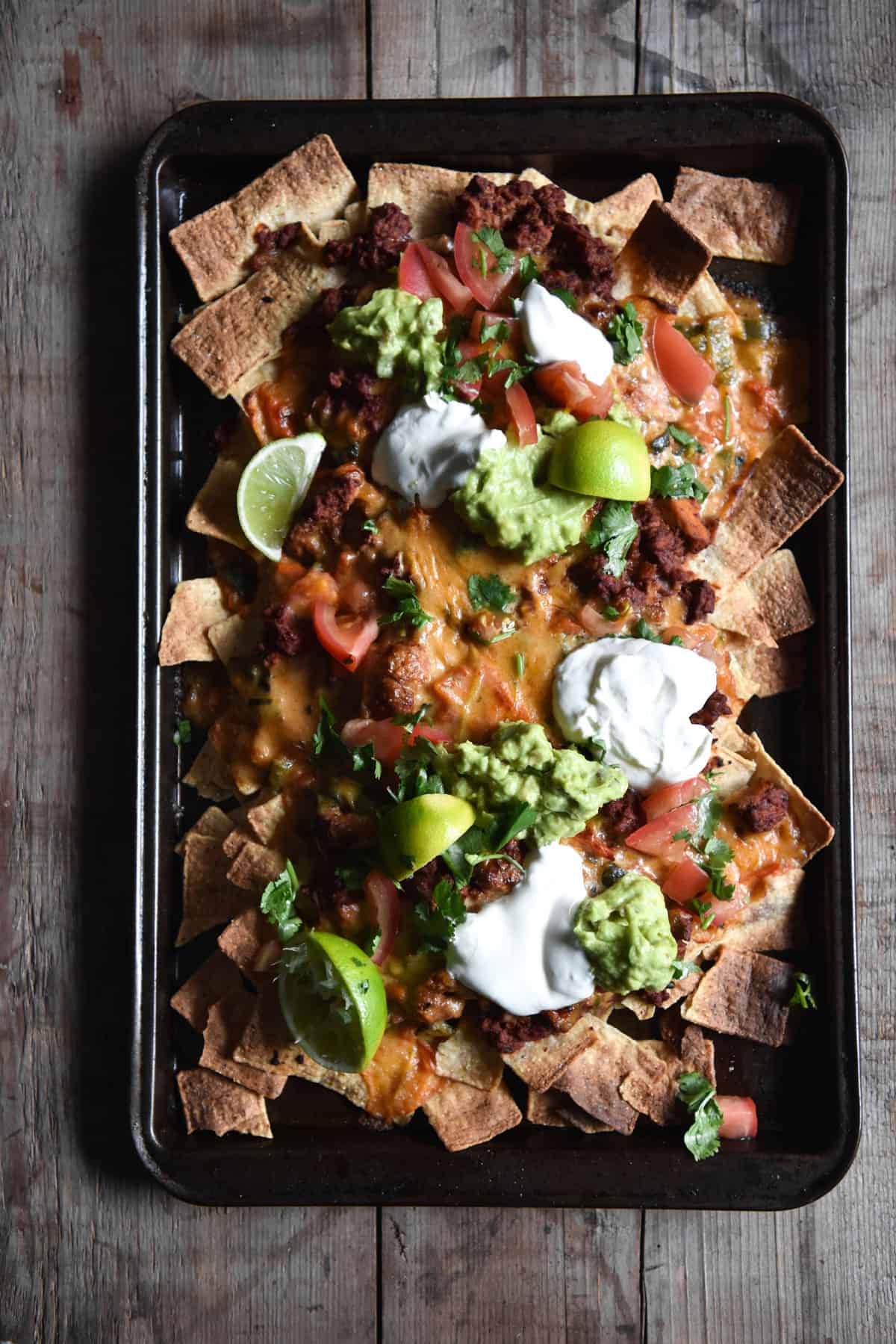 Valentine's Day is fast approaching and I seem to be reading about it with alarming regularity on Instagram. As someone who is perenially single, Valentine's Day has rarely been more than a Galentine's Day event, or my Dad getting his mates to send an anonymous text message as a morale booster. Truly. My Valentine highlight this year, as with most years, will be Vegetarian nachos with queso and guacamole.
A commercial event designed to romanticise gifts as an act of love is not really my jam. I don't really feel it necessary to 'celebrate' it, nor commiserate it. However, I will always accept an excuse to create a comforting and indulgent recipe for the digestively challenged. Further than that, though, it would be my dream to encourage people to express their love through delicious cooking, rather than through buying objects for the sake of it. With environmental circumstances as dire as they are, there has never been a more important time to examine the consumerist culture we live in, and to reduce our consumption.
So, rather than buying a cheap and nasty plastic bear this Valentine's Day, why not put some actual effort in? Why not make vegetarian nachos with Queso? Personally, I can't think of anything more romantic.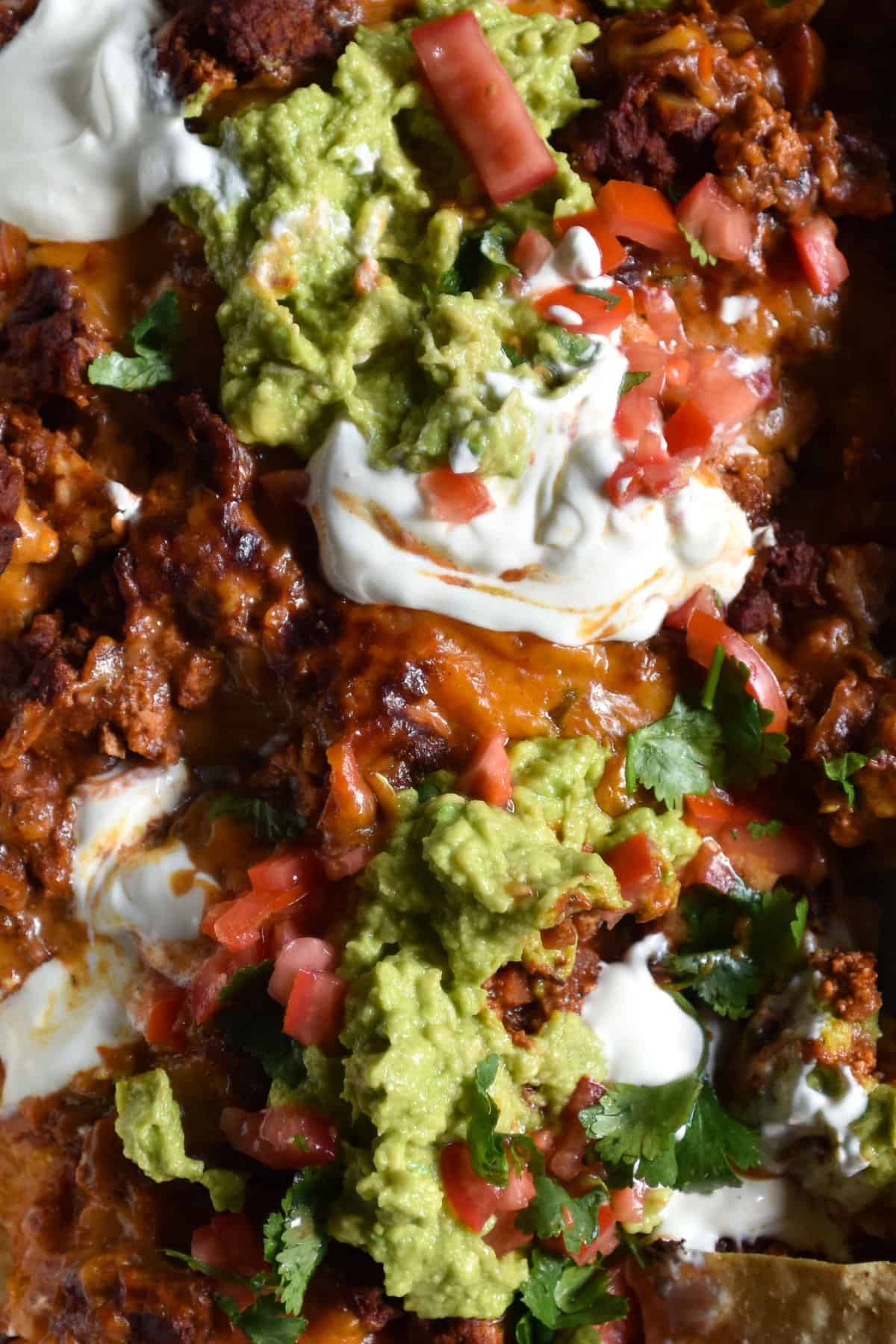 Low FODMAP vegetarian nachos (gluten free)
These vegetarian nachos with queso take their foundation from my vegan bolognese recipe. The mince is made from frozen and defrosted tofu, which has a wonderful meaty texture. The 'mince' uses fennel or carrot as an aromatic base, to emulate the texture of onion. It uses red wine, tinned tomatoes, vegan 'Worcestershire sauce' (recipe here) and a few other bits to create a super rich base. We're adding some extra spices here for a tex-mex twist.
The guacamole is FODMAP friendly in the appropriate serving sizes. You can have even more if you find that avocado is not a trigger for you. Because this recipe was getting enormous, I've published the (embarassingly simple) guac recipe separately.
As for the queso, the cheeses in question are low in lactose and fine for consumption in these amounts. I'm working on a FODMAP friendly vegan alternative, so stay tuned for that too. It's what I'll be doing for myself, after all.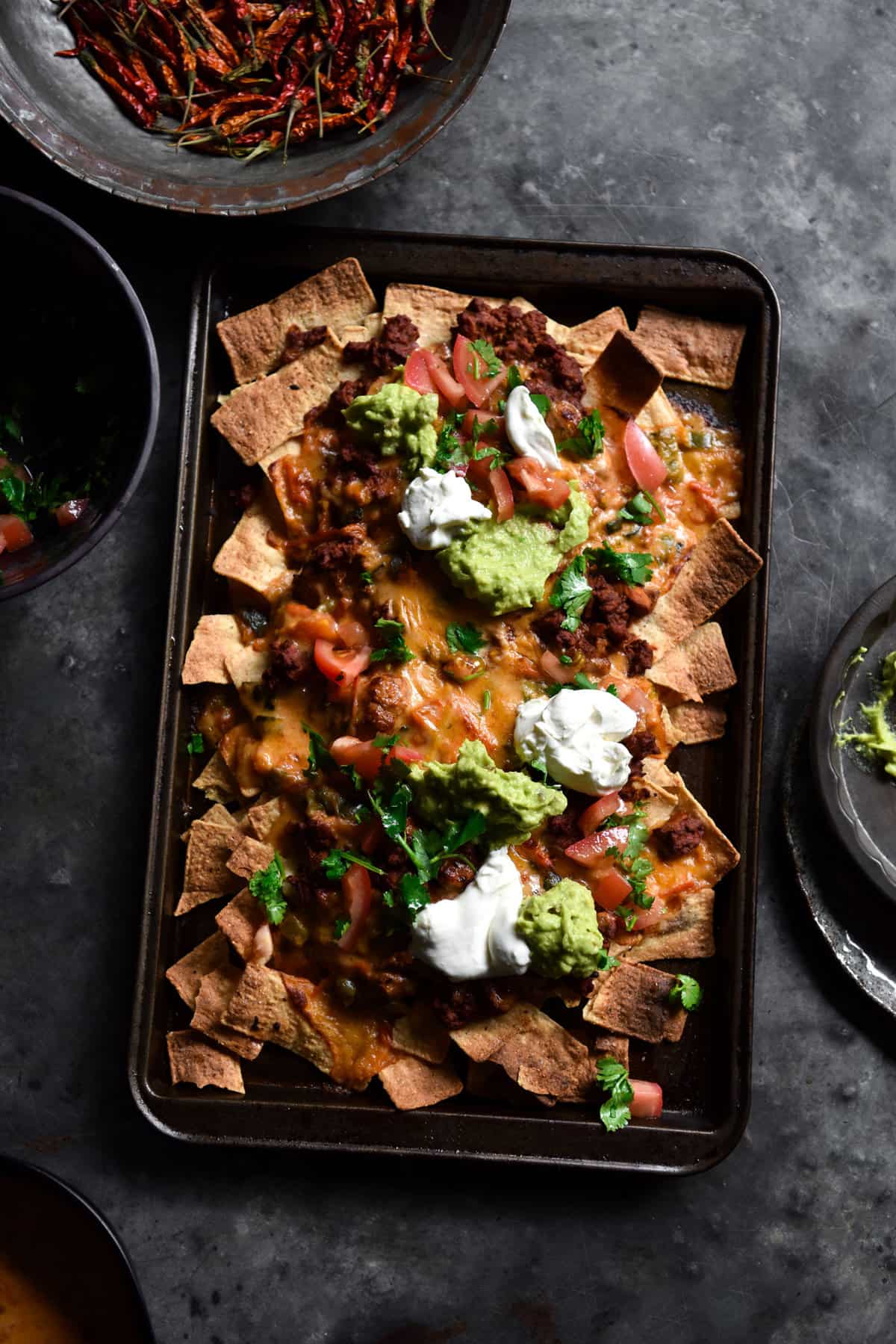 Queso dip notes
Queso dip is a Tex-Mex style dip made with melty cheeses, chilli and spices. A lot of articles suggest that American cheese (of which the closest Australian equivalent is Kraft Singles) or 'Velveeta' are the best 'cheese' choices. They melt really well, but they're also not really cheese.
I have no attachment to the use of these cheeses in a queso dip, so I decided not to use them. They often contain a slew of 'not cheese' ingredients, including gelatin which is not vegetarian. I generally find that there's always a sneaky high FODMAP element of an artificial version of something, which is another reason I decided not to go down that path. If you really want a traditional queso dip, this look ones highly regarded.
This article suggests that queso dip does need to contain one of these 'cheeses' to be authentic. Conversely, this New Yorker article suggests that a bit of cheese creativity can go a long way.
That all said, queso dip seems to be a dip that you can adjust to your tastes and the melty cheeses that are available to you. If you need some help on deciding which melty cheese to use, this article gives a great run down. It is written by Martha Stewart who is obviously in America, but basically all those varieties of cheeses are available here in Australia too. I can't say which cheeses would substitute directly for which given they all have different qualities. However, I'm sure you won't mind experimenting with making cheese dip.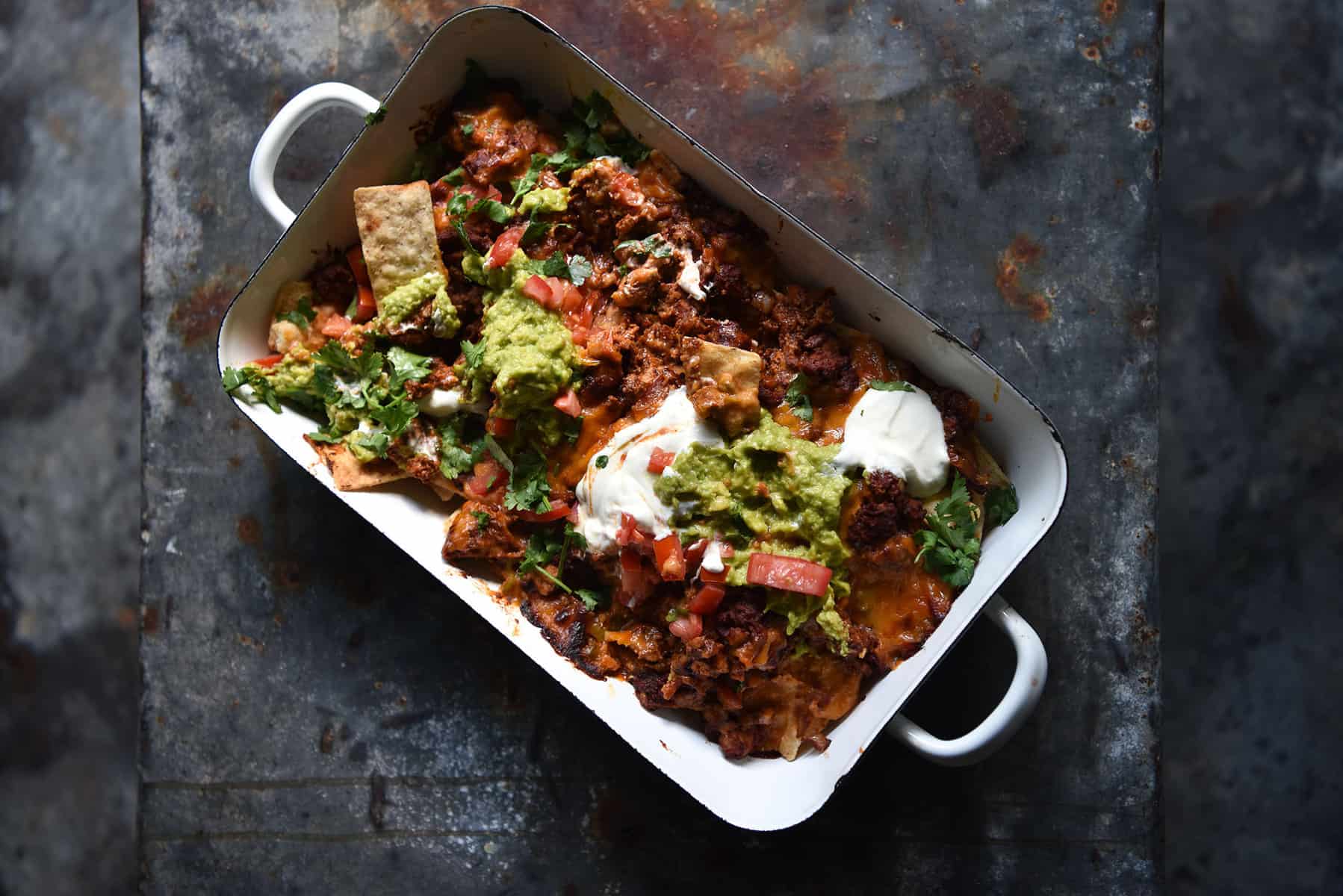 Queso dip tips
Always use a block of cheese rather than the pre-grated variety. Pre-grated cheese contains clumping agents which will prevent your cheese from melting properly, creating a lumpy queso.
Hard cheeses are generally lower in lactose than softer varieties, such as mozzarella.
Traditional queso contains onion, which is not FODMAP friendly. You can add it if you don't need the dip to be FODMAP. It can also contain onion and garlic powder, which I didn't include. You could consider substituting the butter for garlic infused oil, if you really want to.
Jalapenõs are normally quite easily purchased at Australian supermarkets, although other chillis are much harder to find. I managed to find Poblano chilli at a large local supermarket, but just use jalapenõ if they're all you can find.
Traditional queso is made to be dipped into cornchips, not poured over them. I'll eventually write up a dipping recipe but I'm tired (a constantly relevant statement)
I'm working on a FODMAP friendly vegan queso, should all dairy (not lactose specifically) be an issue for you.
A lot of articles suggested that Velveeta and Rotel tomatoes in a microwave are the backbone of queso. I don't recommend a microwave for my recipe (nor do I own one)
Charring the chillies can add an (optional) delicious depth of flavour to the queso. If you don't have gas cooking or a BBQ, you can try the oven grill, or just go without grilling.
Adjust the recipe to your liking and make it your own. Apparently that is the true secret of a good queso.
You can make the mince ahead, but only make the queso immediately prior to serving. It can harden and jam up, losing that silky smooth queso-ness.
More low FODMAP vegetarian recipes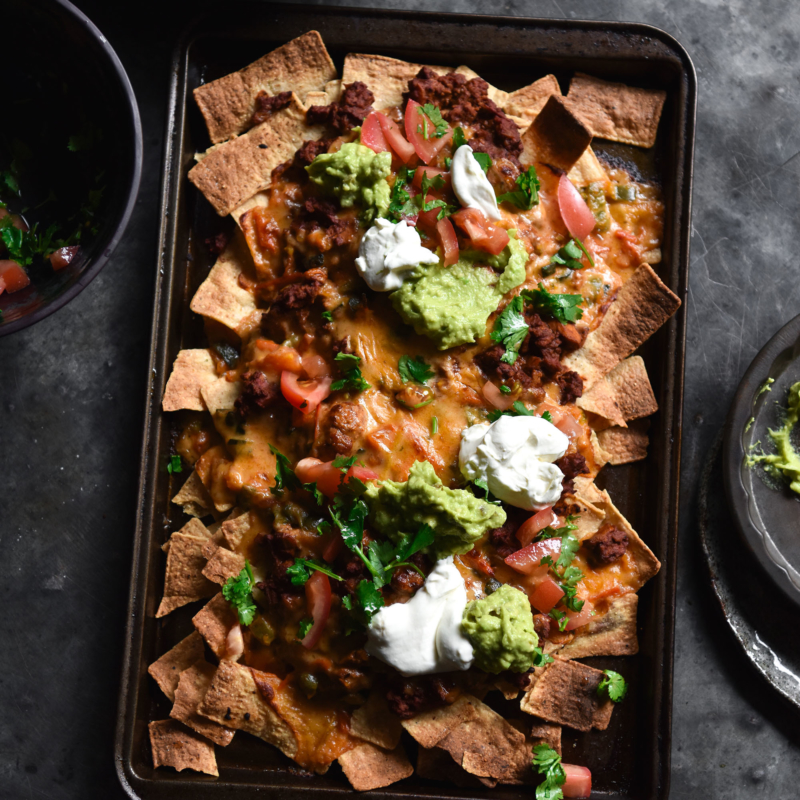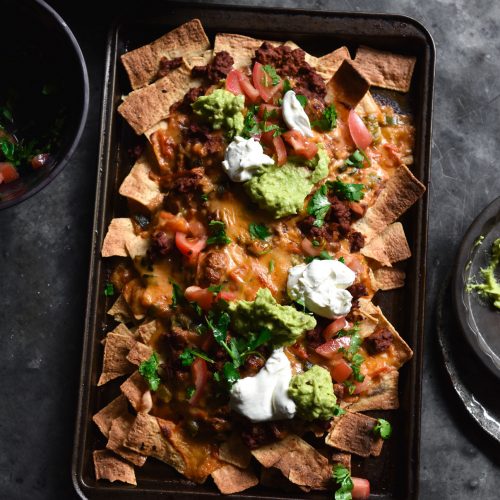 Low FODMAP vegetarian nachos (gluten free)
Gluten free, vegetarian, FODMAP friendly
Ingredients
For the chilli:
450

g

tofu

frozen and defrosted

60ml (3

tablespoons)

olive oil

1

fennel bulb or two medium carrots

1

jalapeno

seeded and chopped

1

green chilli

seeded and chopped

3

teaspoons

cumin seeds

3

teaspoons

smoked paprika

3

teaspoons

ground cumin

1

teaspoon

cinnamon

Generous cracked pepper

2

tablespoons

tomato paste

2

X 400g

tins plain chopped tomatoes

(see notes)

1

tablespoon

miso paste

gluten free

1/2 – 1

tablespoon

Tamari

2

tablespoons

lime juice

1

tablespoon

brown sugar

25-50

g

70% chocolate

or 2 teaspoons of cacao/cocoa powder

125ml (1/2

cup)

FODMAP friendly stock or water
Optional extras:
Chilli flakes

to taste

Coriander

to taste

1-2

tablespoons

of mezcal or tequila
For the queso:
2

tablespoons

butter

4

jalapenos

seeded and chopped

1

teaspoon

cumin

1

teaspoon

smoked paprika

1

teaspoon

white vinegar

1

teaspoon

brown sugar

2

large tomatoes

chopped

2

tablespoons

cornflour

make sure it's gluten free

180-250ml (3/4 – 1

cup)

lactose free milk

depending on how thick you like your dip

200

g

Gouda or melty cheese like Swiss or Gruyere

I couldn't find Monterey Jack here

150

g

sharp cheddar

preferably not aged as it doesn't melt as well
To finish:
1

large bag gluten free cornchips

Limes

to squeeze over
Instructions
To make the chilli:
Defrost your tofu using your preferred method (click the Bolognese recipe in the intro for some options.) The quickest I have discovered is to heat it in a heatproof sieve over a pot of water, double boiler style. Squeeze as much excess liquid out as possible once you can handle it, and set aside.

Place a heavy bottomed saucepan over a medium heat. Once warmed, add the olive oil and allow to heat up. Add the finely chopped fennel, chillies, carrot and spices, and continue to cook over a medium heat until they begin to brown and shrivel. If any point you're concerned about them sticking, lower the heat and add a splash of water.

Add the tinned tomatoes and stir well to combine. Allow to cook for a few minutes before adding the remaining ingredients, 1 at a time. Stir after each addition, and continue until all wet ingredients are added.

Finish by crumbling the tofu into the mixture, creating 'mince meat' sized pieces. Stir well to combine, and allow to cook for 15-20 minutes. You can add extra stock or water if you prefer a thinner chilli.
To make the queso:
Add the butter to a medium – large pot over a medium heat. Allow to melt before adding the jalapenos, fennel (if you're using it) spices, vinegar and sugar. Stir to combine, and cook for 5-10 minutes, until the jalapenos are well cooked.

Add the finely chopped tomato, and continue to cook for another 5-10 minutes, or until the liquid thickens and appears a yellow orange.

Whisk in the cornflour, and allow the paste to cook for 10 or so seconds. Whisk as it cooks. Add the milk, starting with 3/4 cup. Whisk to combine, and cook until thickened.

Add the grated cheeses, and gently whisk until a smooth cheese sauce forms. Season generously with salt as necessary, and add freshly cracked pepper if you like.

Add the extra cup of milk only if you want a runnier queso.

Allow to cool slightly before serving.
To finish:
Arrange the cornchips in a baking dish or on a plate, depending on if you're grilling the nachos.

Top with as much chilli as you'd like. You may very well have some leftover, depending on how many nachos you make.

Top with as much queso dip as you'd like. Again, you might have leftovers.

If you're cooking the nachos, place them in the oven for 15-20 minutes on grill. Add the guacamole, sour cream (if you're using it) and an optional salsa made of 1-2 large tomatoes, coriander, a squeeze of lime juice and sea salt flakes.
Notes
Plain tinned tomatoes are considered FODMAP friendly in 100g serves per person. This recipe uses 800g tinned tomatoes (2 tins) and serves 8 people, which puts it within an acceptable FODMAP limit. 
Regular tomatoes have recently been updated to lower their FODMAP friendly threshold. 1/2 a common tomato is now considered a FODMAP friendly serve. Adjust the tomato content of the queso according to how much of it you intend to eat.