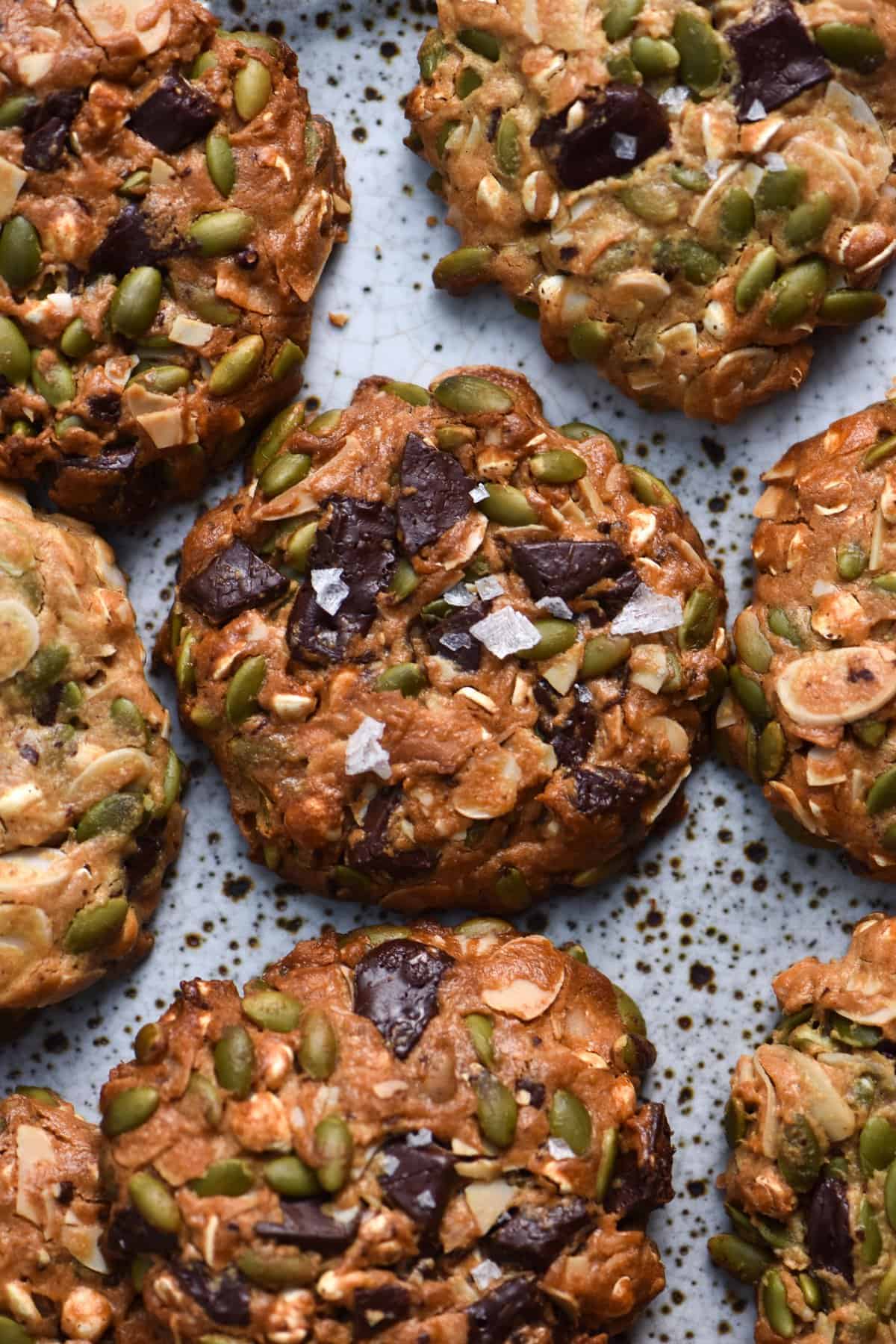 One of the hardest meals of the day to cater for on the low FODMAP diet is the humble snack. Most of the packaged snacks out there seem to contain high fructose or fructan ingredients that preclude us digestively challenged folk from purchasing them. So today I wanted to create a roundup of the best low FODMAP snack recipes and ideas from my site.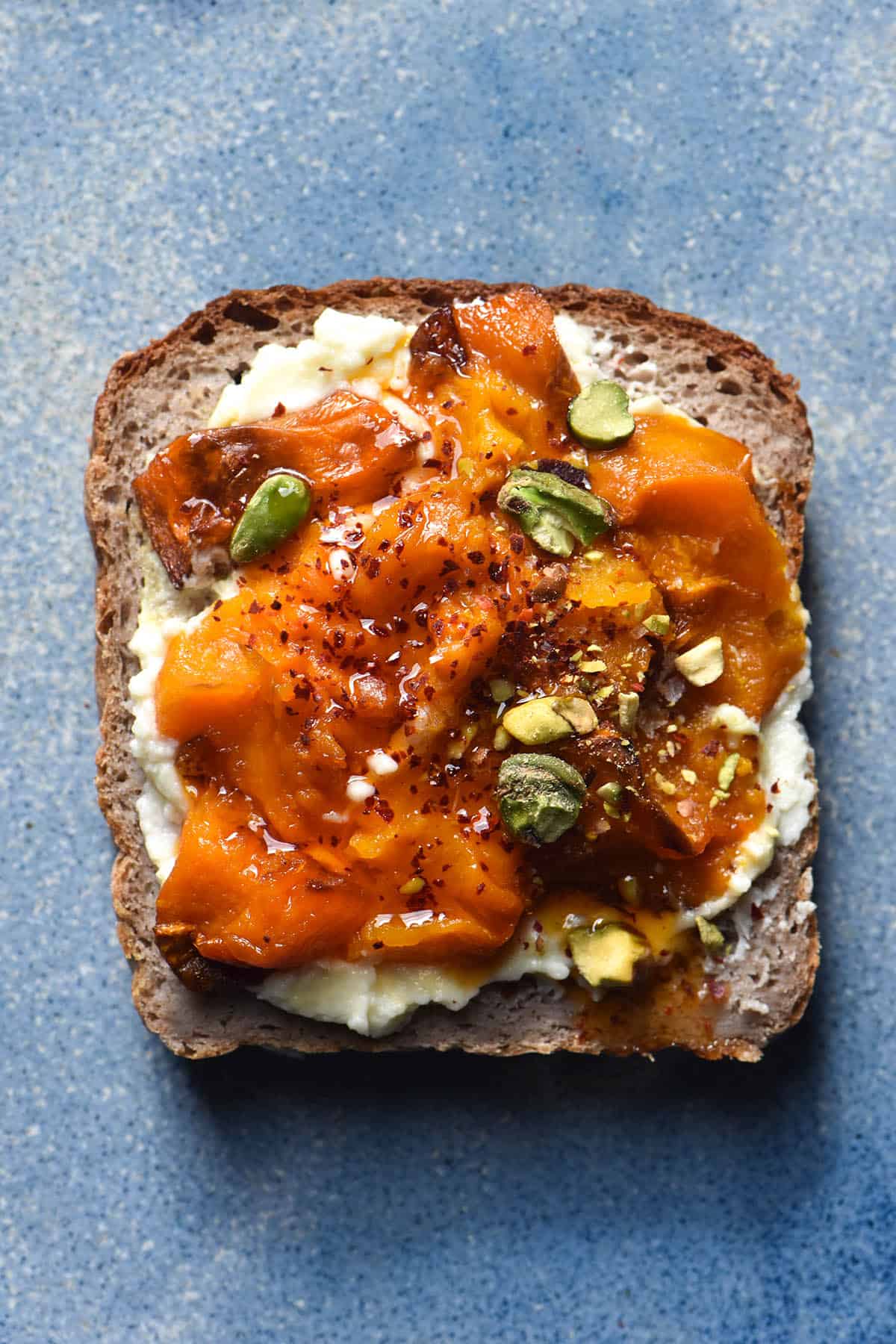 Low FODMAP snack recipes and ideas
These snack recipes are all low FODMAP and gluten free, as well as vegetarian or vegan. The low FODMAP diet is obviously not a vegetarian diet, but I am a vegetarian. There are less low FODMAP vegetarian recipes on the internet, so my aim to help fill that void.
Where possible, I always try to include nut free and egg free alternatives for those who can't have them. Most of these recipes are xanthan gum free (the pastry based recipes being the exception). However, there are xanthan gum free pastry on my website.
More low FODMAP resources
Vegan, gluten free blueberry muffins
These vegan, gluten free blueberry muffins could not be easier to make. They use vegan yoghurt, a single flour and plenty of low FODMAP blueberries for a delicious and easy snack.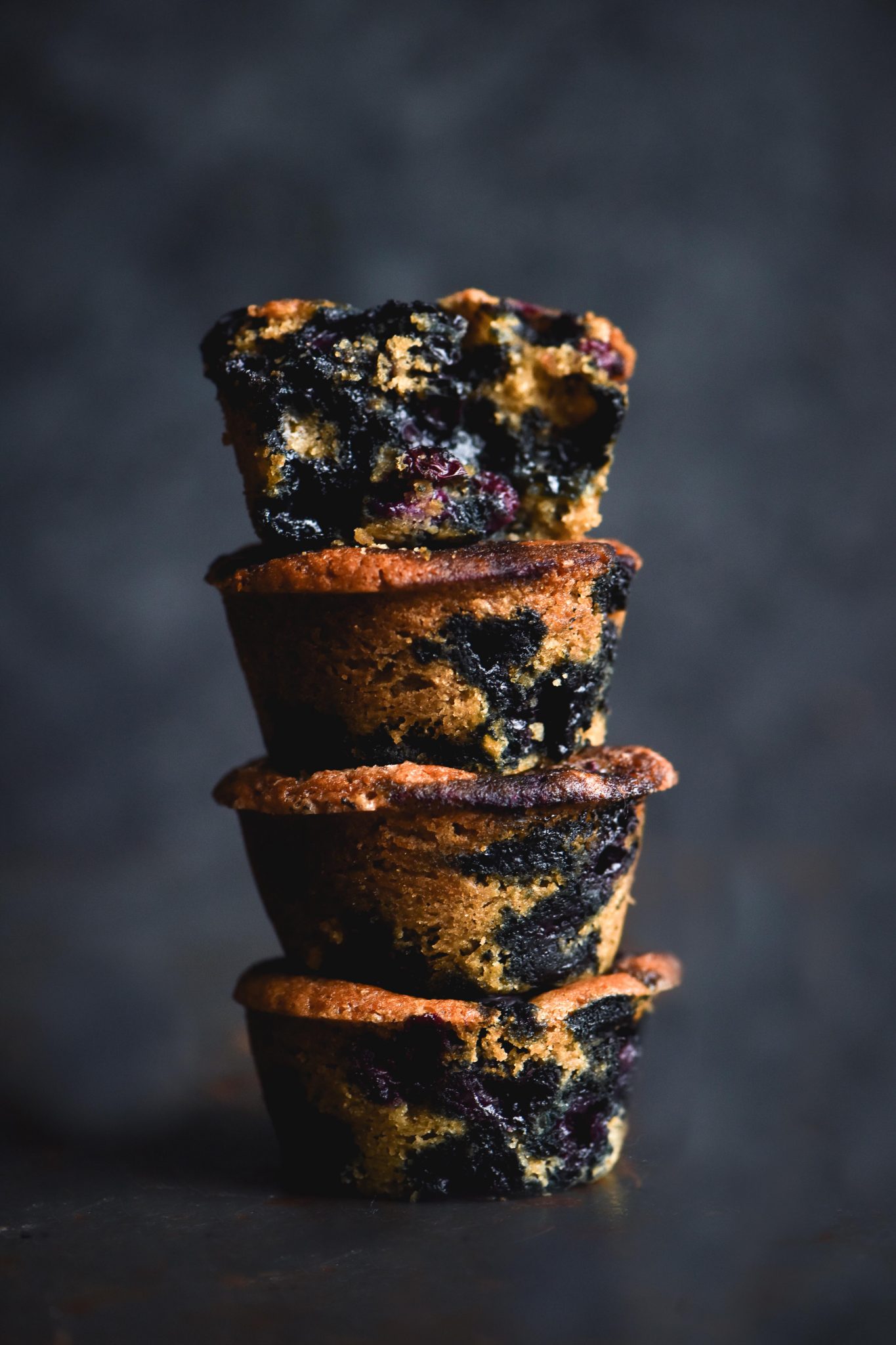 Tahini cookies
These tahini cookies are made from an incredibly simple mix of tahini, maple syrup and baking powder. You can add any sort of low FODMAP mix in you like – personally, I'm a dark chocolate gal.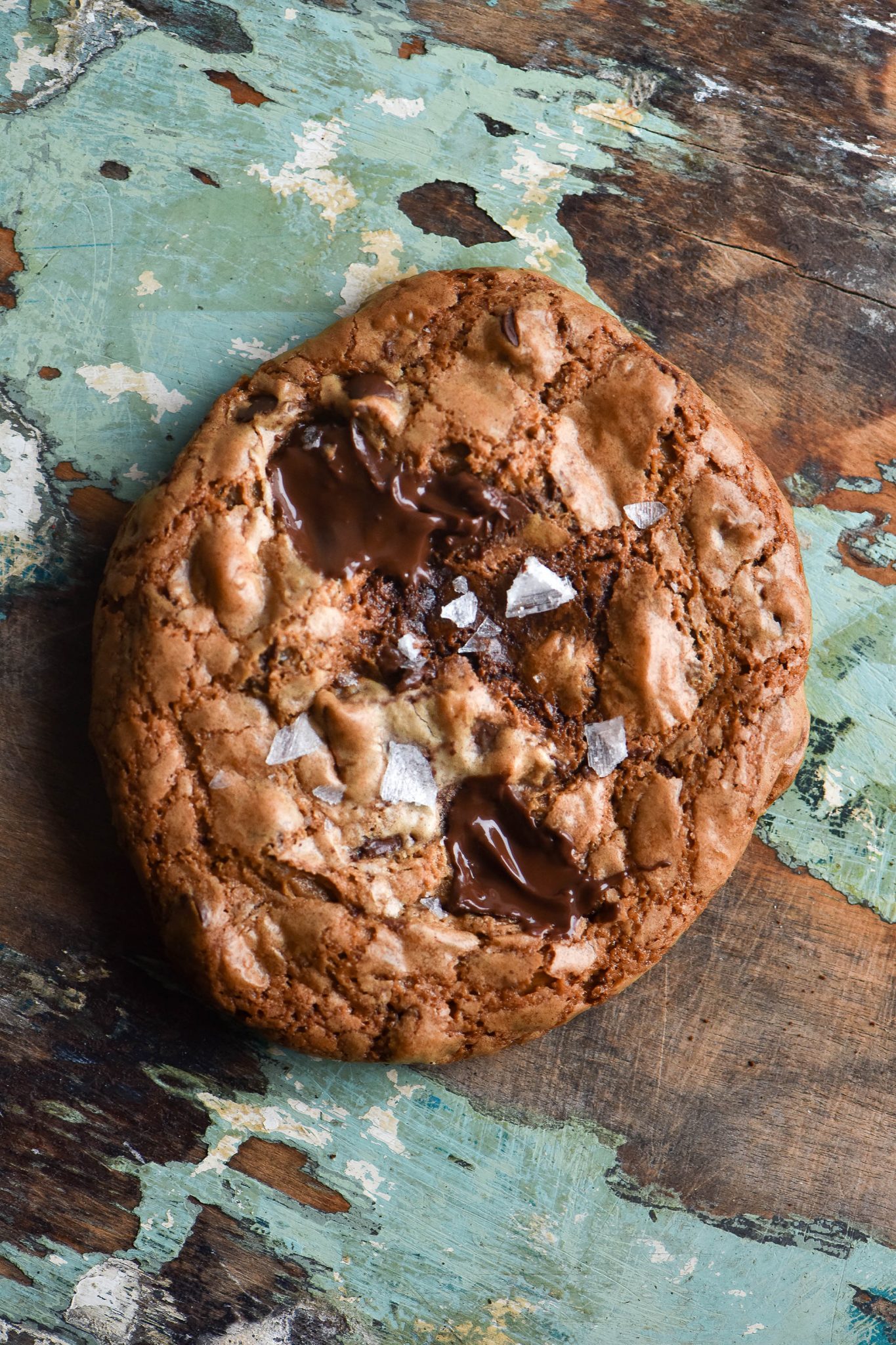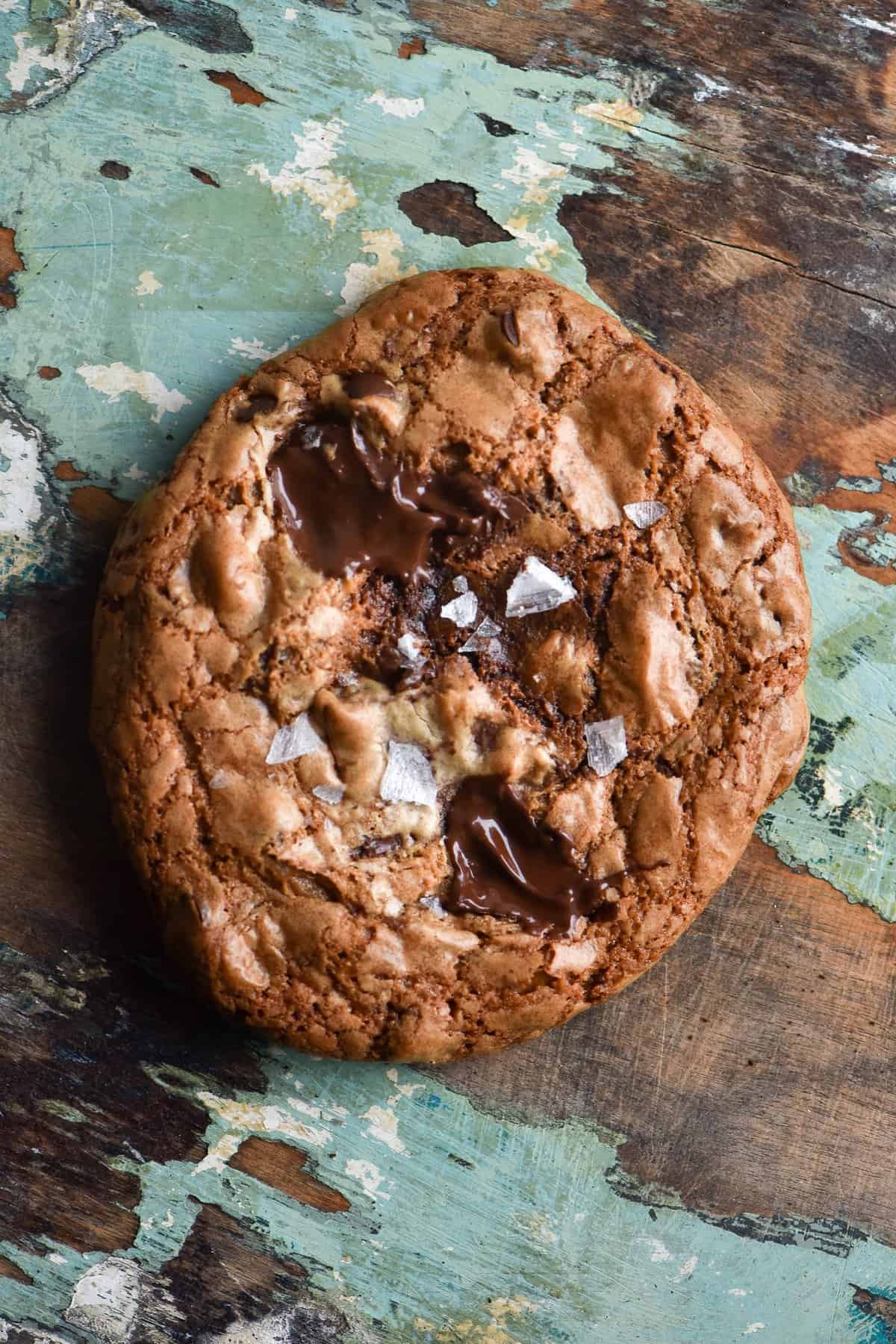 Vegetarian sausage rolls
These vegetarian sausage rolls use tofu, cottage cheese and walnuts (plus low FODMAP flavourings) to achieve a delicious meaty result. You can use store bought gluten free pastry, but there's also a recipe for easy gluten free puff pastry or rough puff pastry in Intolerance Friendly Kitchen. If you're vegan, there's a recipe for vegan sausage rolls in there as well.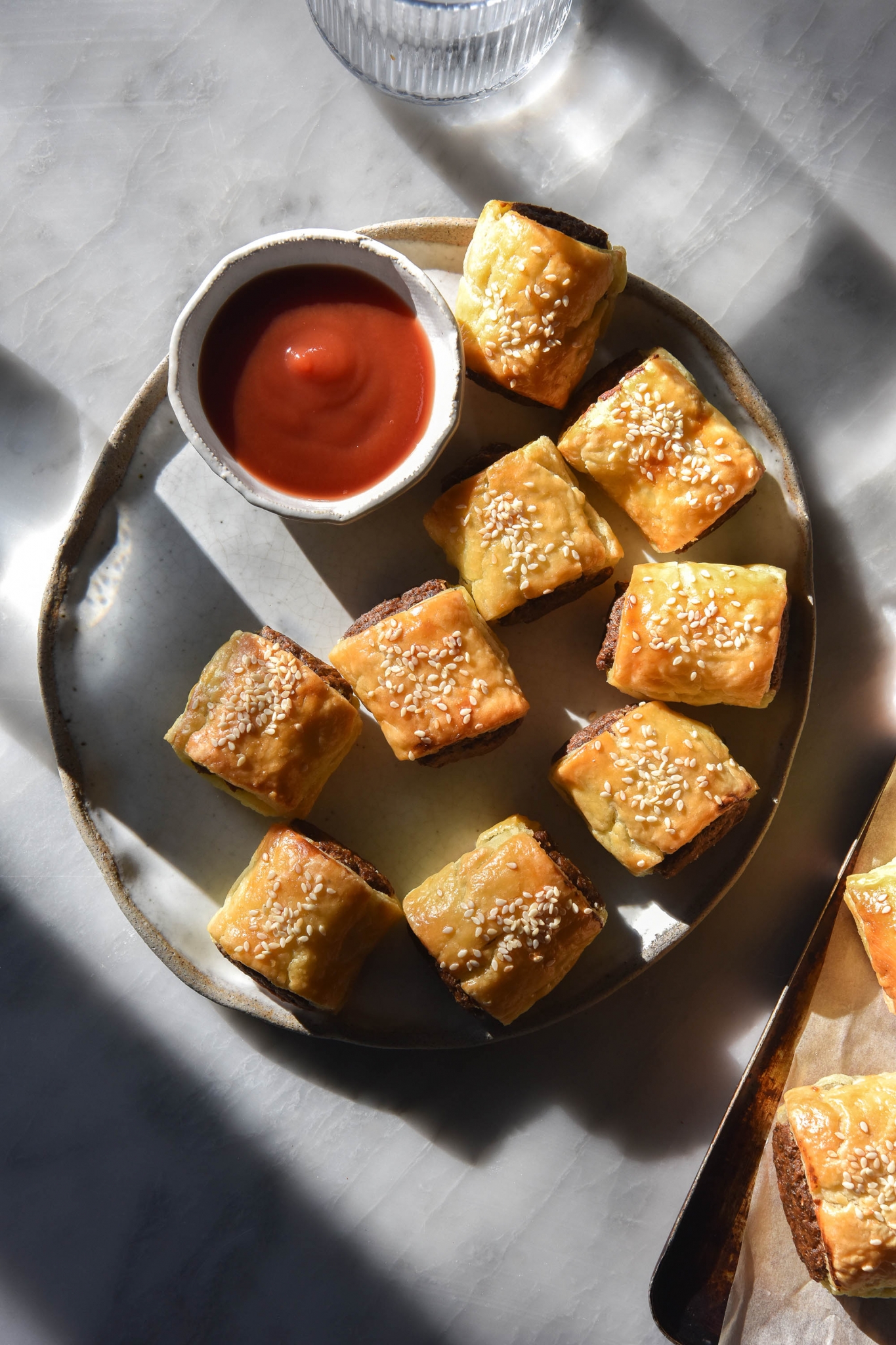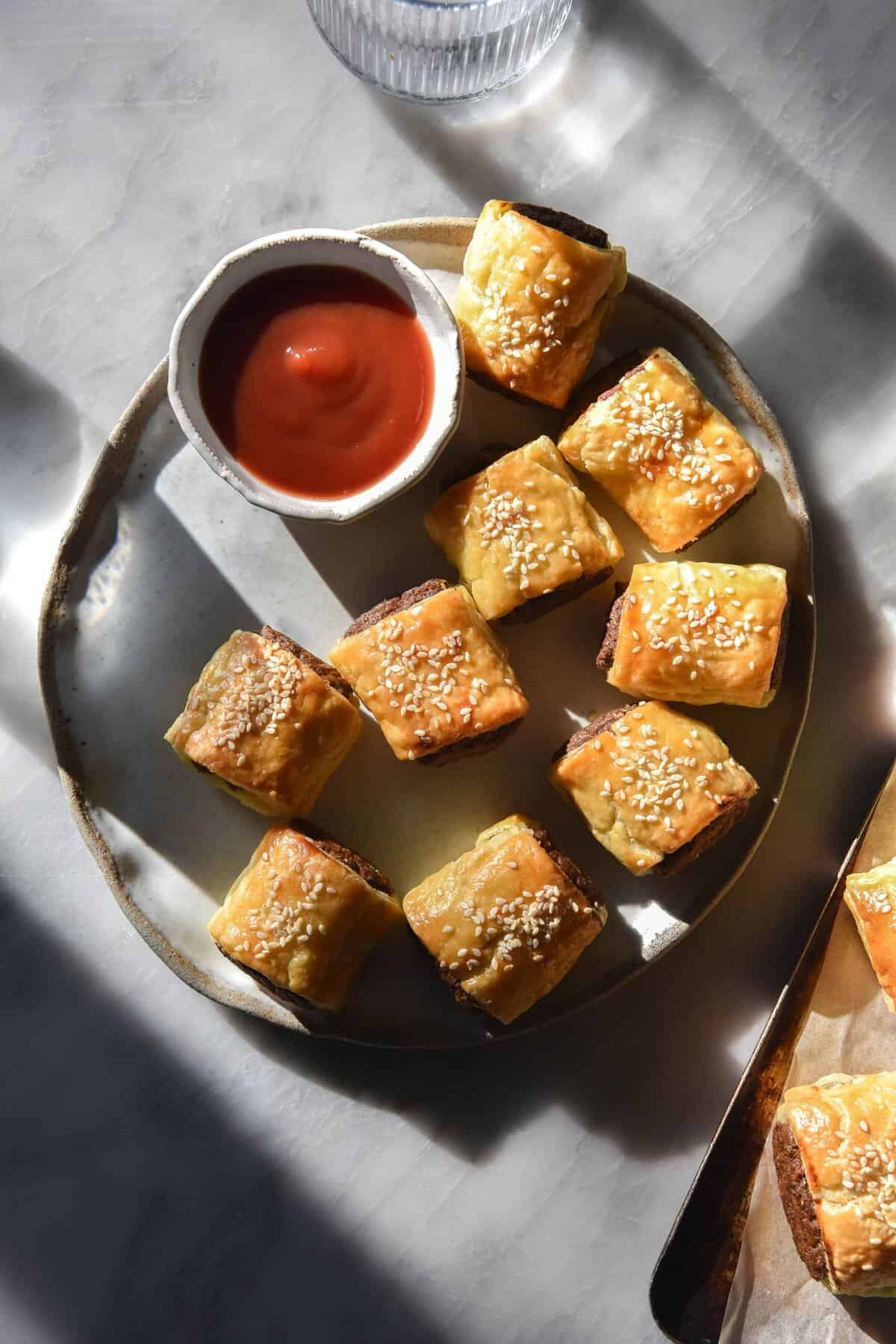 Gluten or grain free corn fritters
Did you know that canned corn has a low FODMAP threshold? Well, now you do. These gluten free corn fritters can be made with buckwheat flour for a gluten free option, or cassava flour for a grain free option. They make a great snack and freeze really well for future snacks.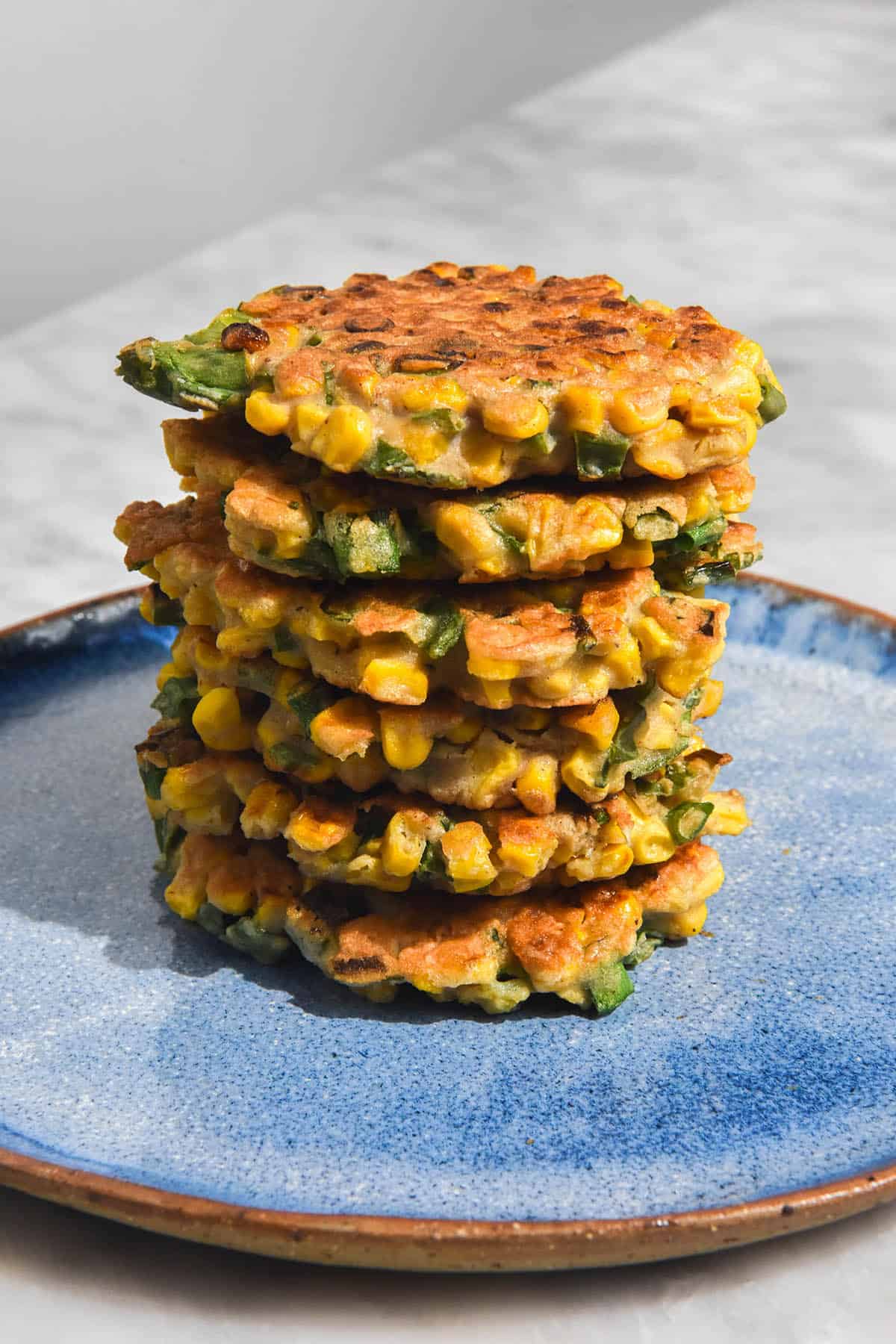 Gluten free bagel with lactose free cream cheese and carrot lox
Is there anything better than a bagel with cream cheese and lox? I think not. This bagel recipe is entirely gluten free, xanthan gum free and nut free. I use this low FODMAP everything bagel seasoning, lactose free cream cheese and this low FODMAP vegan carrot lox.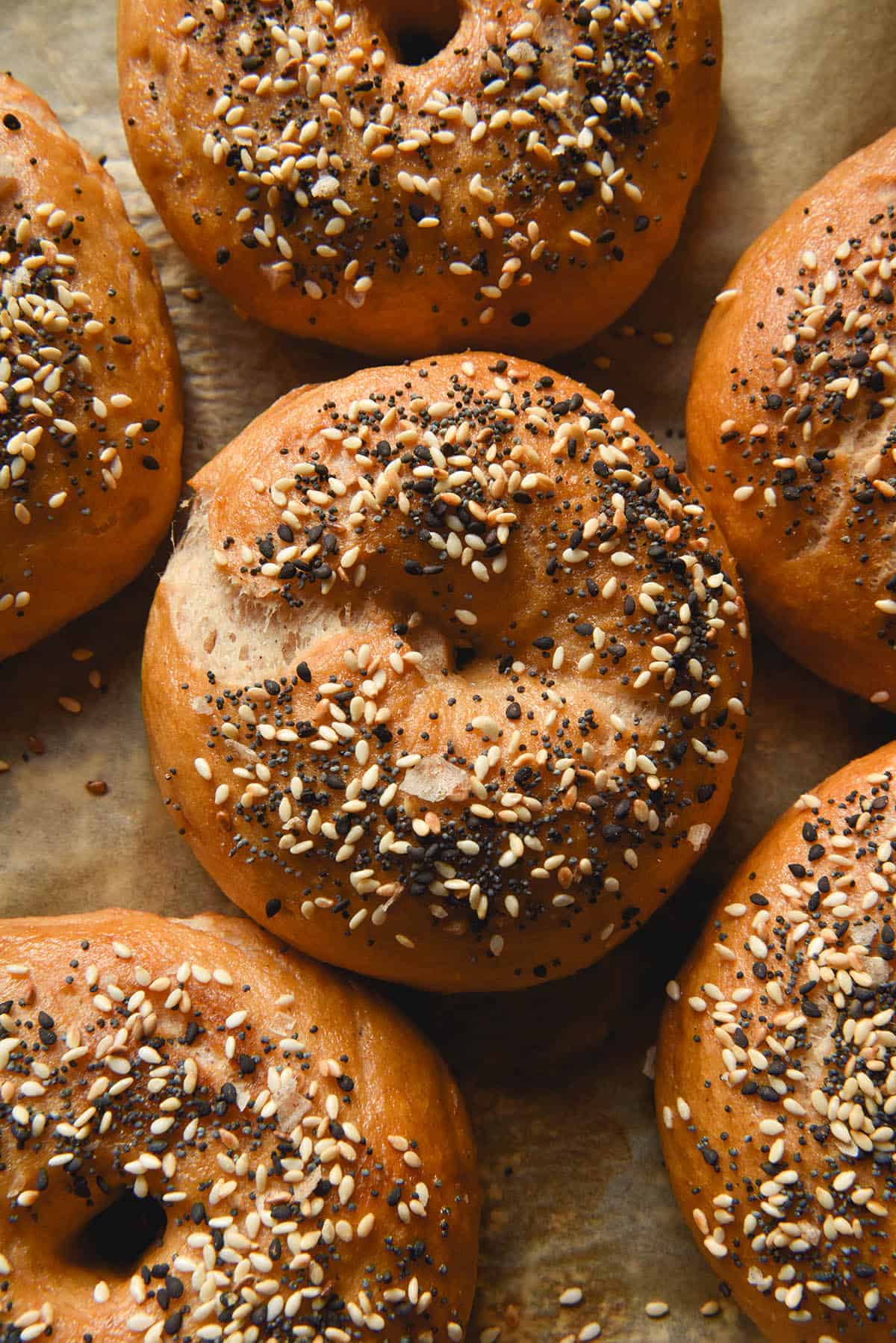 Veggie sticks with low FODMAP spring onion dip
This low FODMAP spring onion dip uses spring onion greens to keep the FODMAP content right down. It's quick to whip up, and gets better the longer it sits.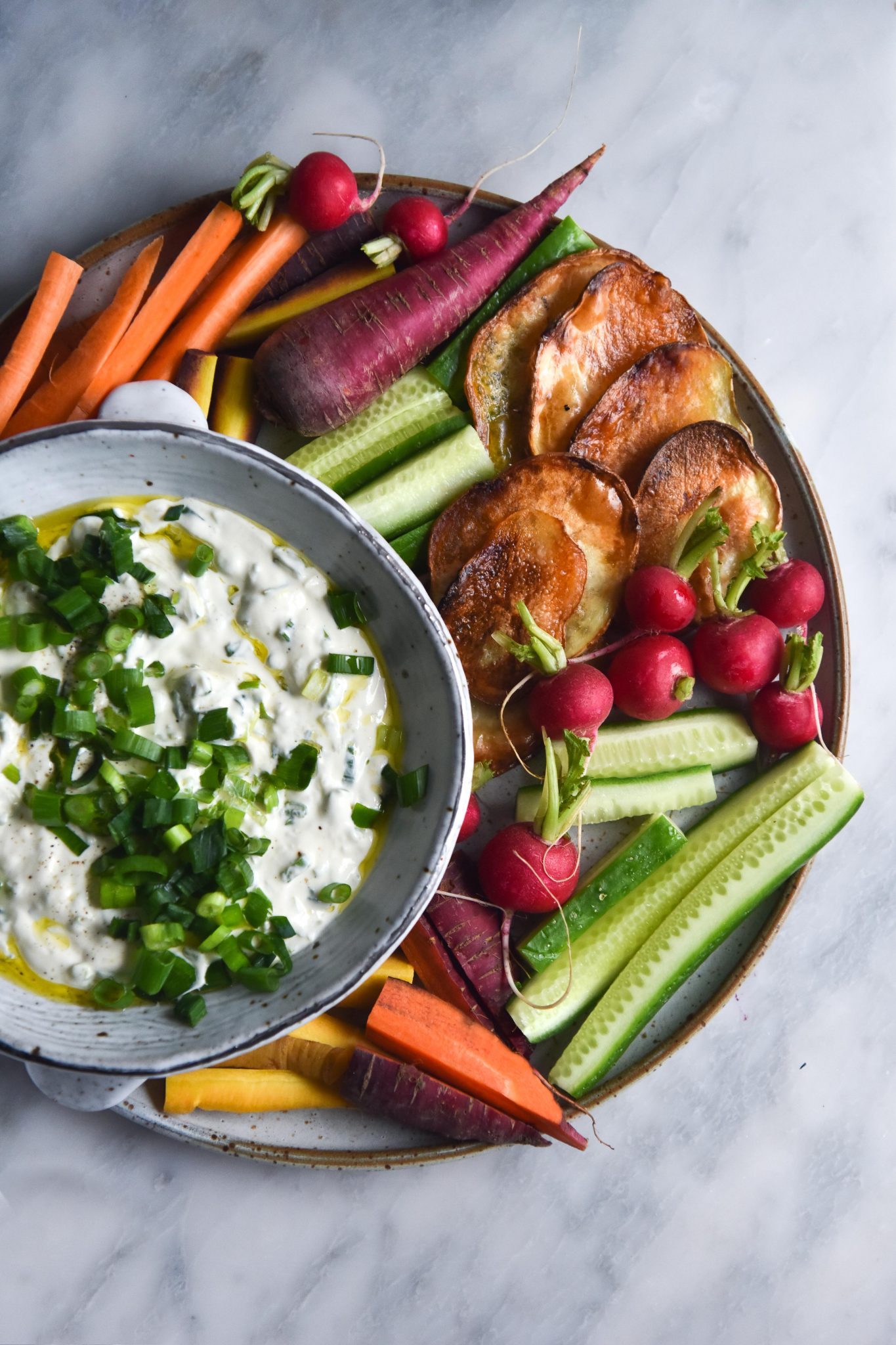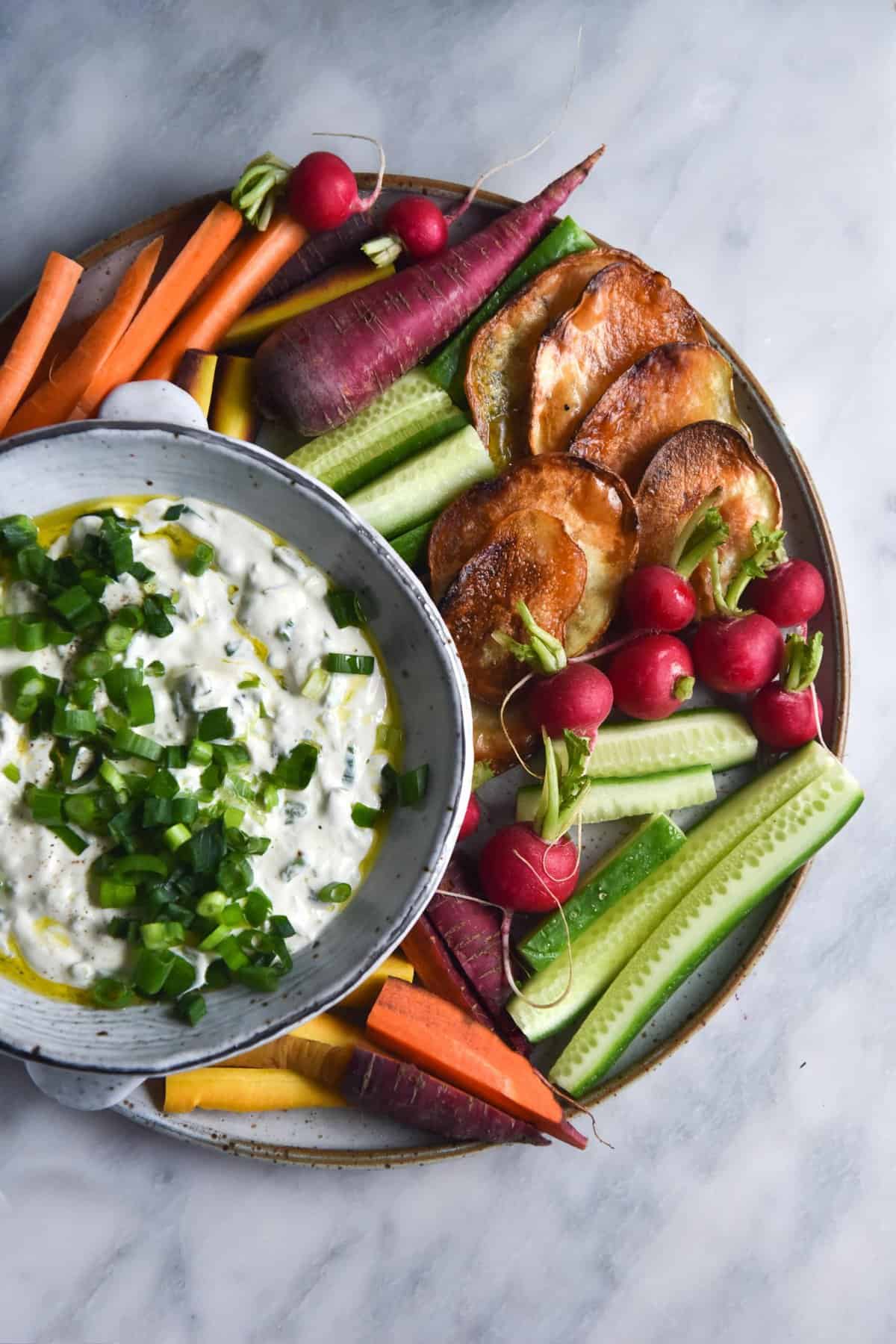 Peanut butter cookies with extra nuts and seeds
These peanut butter cookies make a delicious and simple vegan, low FODMAP snack. Made with peanut butter, maple syrup and baking powder, the base could not be simpler. I like to load mine up with some low FODMAP nuts and seeds to make them a more filling snack.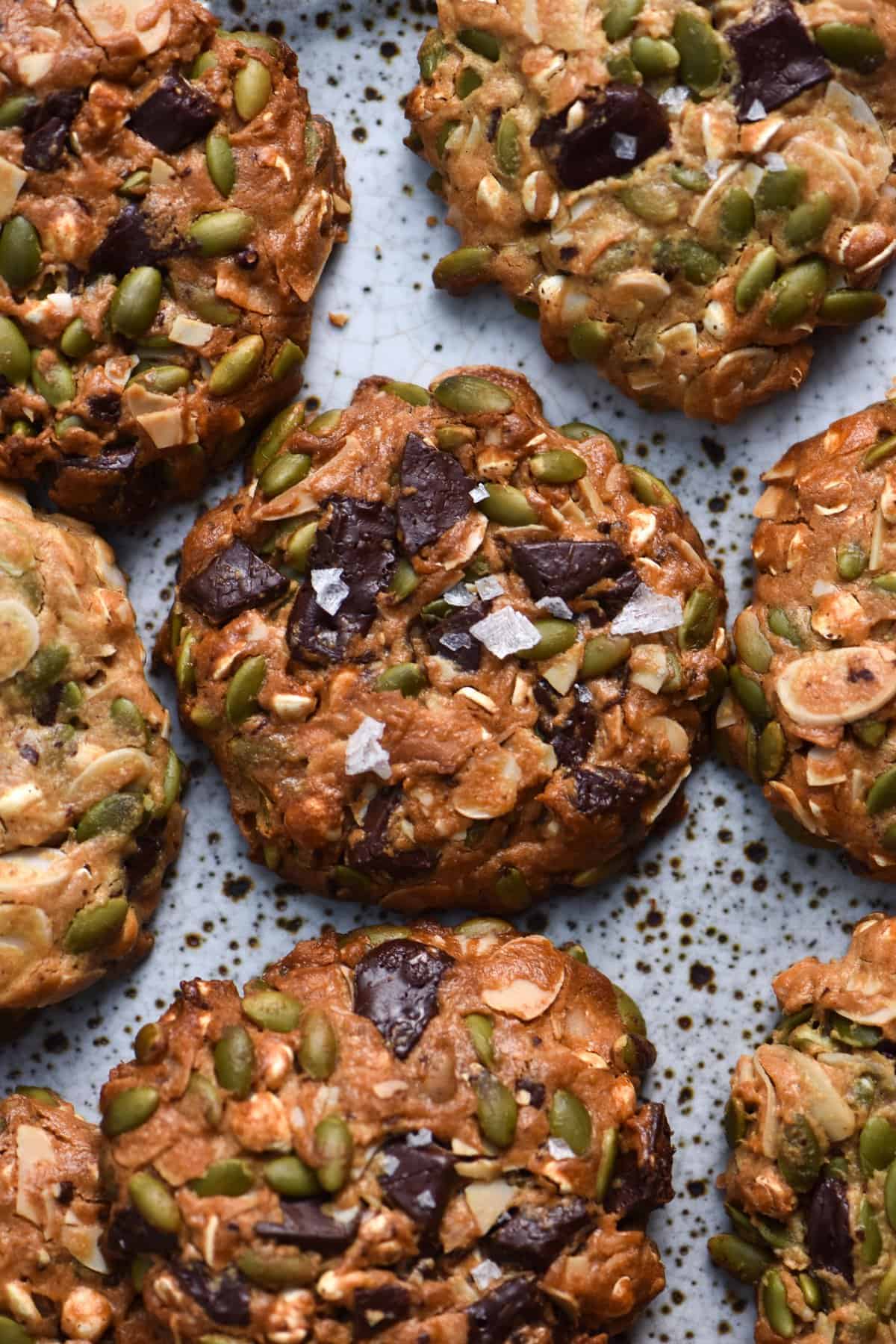 Low FODMAP stuffed Medjool date
In honour of Monash adding a low FODMAP threshold for Medjool dates (spoiler alert: it's 1 date) I made these peanut butter stuffed dates. They're covered in chocolate and make a delightful little sweet treat. I like to keep mine in the freezer for a chewy little pick me up.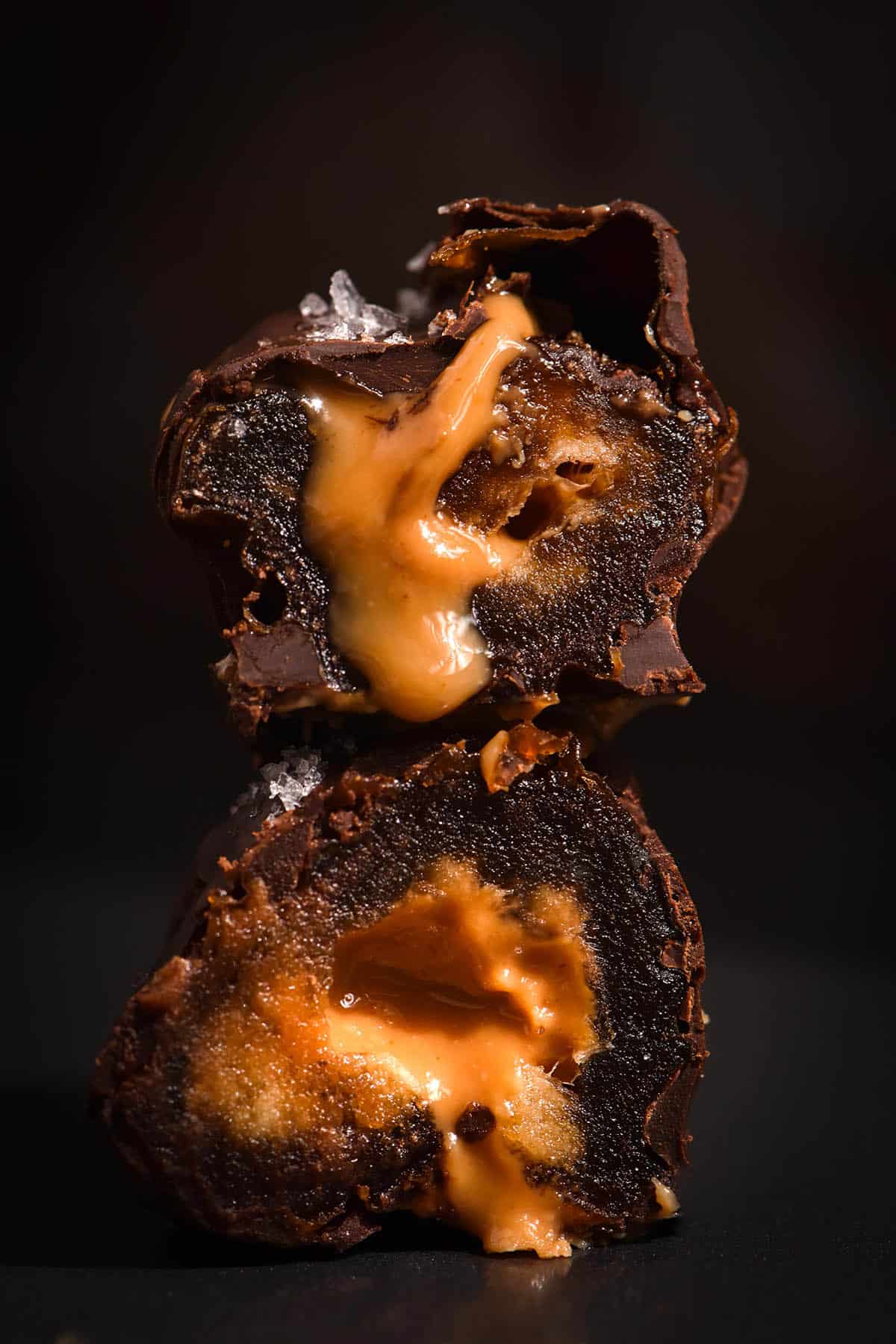 Vegan protein mug cake
This vegan protein mug cake is a delicious and filling snack if you have access to a microwave. I have also posted a dairy free protein mug cake (which uses an egg) and a whey protein mug cake (whey is thirstier than plant based proteins). The mug cake below uses pumpkin seed protein, which is what gives it that matcha green hue. I have tested lots of plant proteins, though, so there are plenty of options.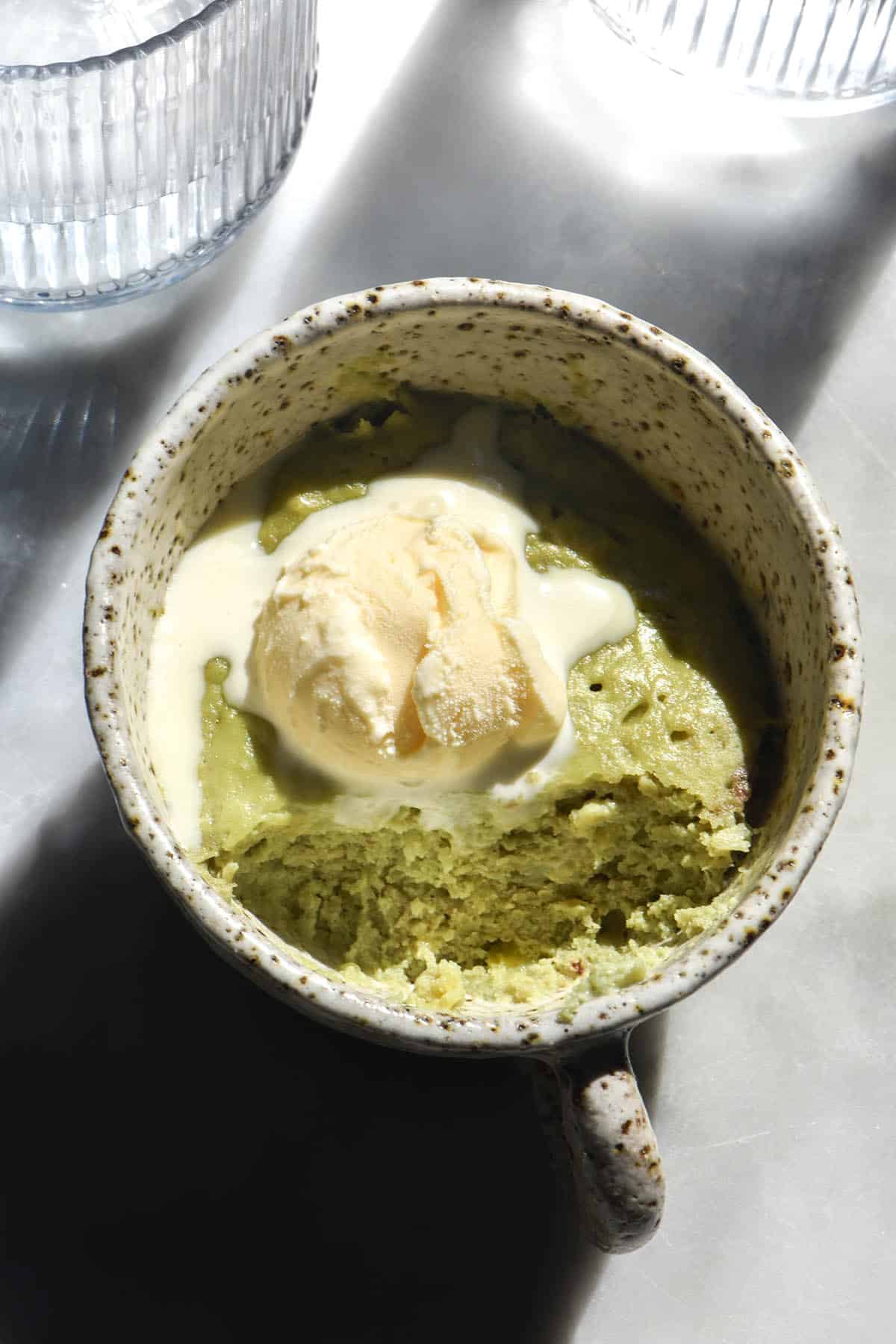 Gluten free banana protein pancakes
While we're on the subject of protein, how about these protein banana pancakes? They're single serve and very quick to make – perfect made the night before for some snacking the next day. I have also developed a vegan version, which is suitable for dairy free, egg free and vegan diets.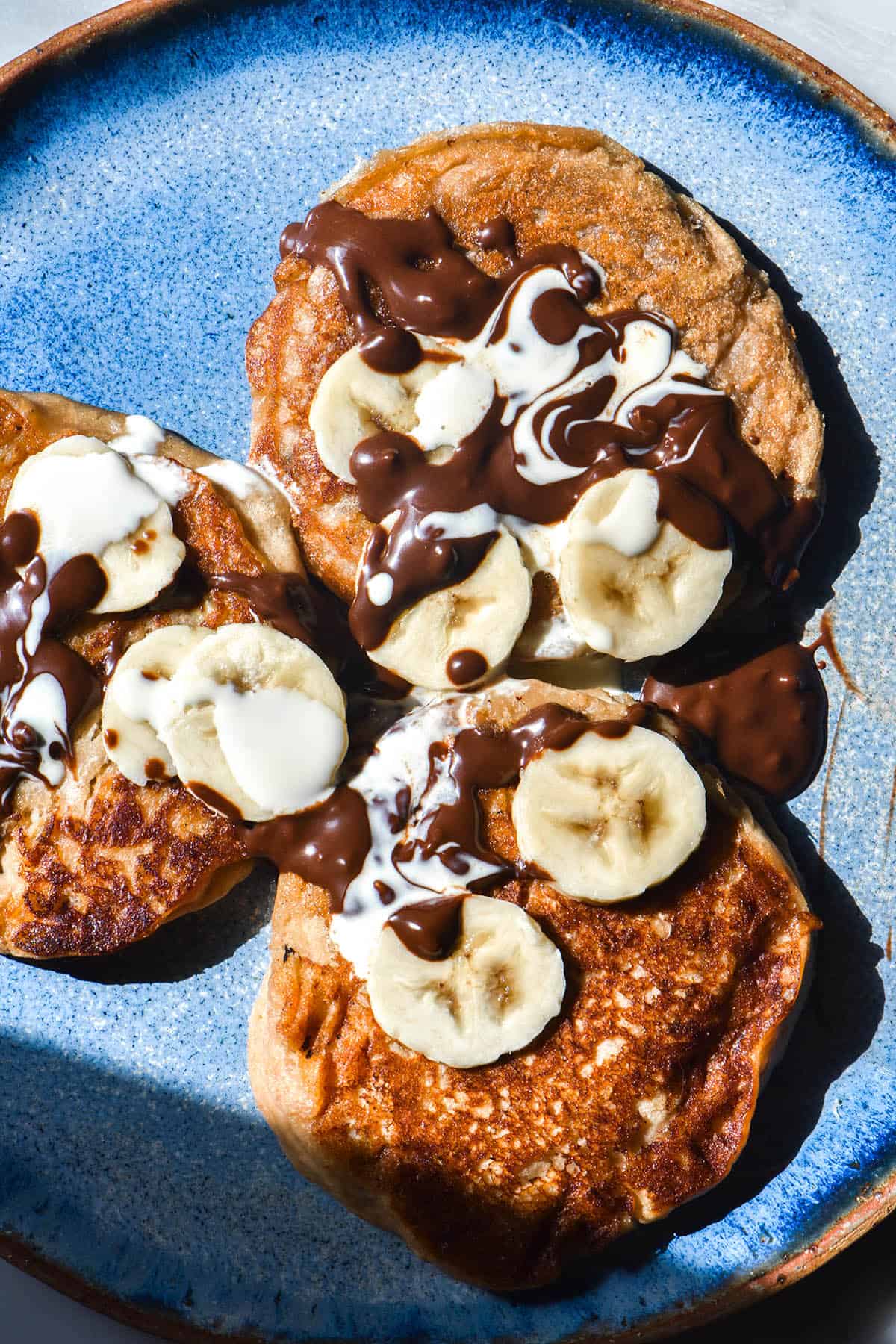 Homemade lactose free cottage cheese
Cottage cheese is having a real moment right now because of it's high protein content. Lactose free varieties are available at the shops here in Australia, but they're not always widely accessible. Enter: homemade lactose free cottage cheese! It uses lactose free milk and cream for a rich low FODMAP alternative.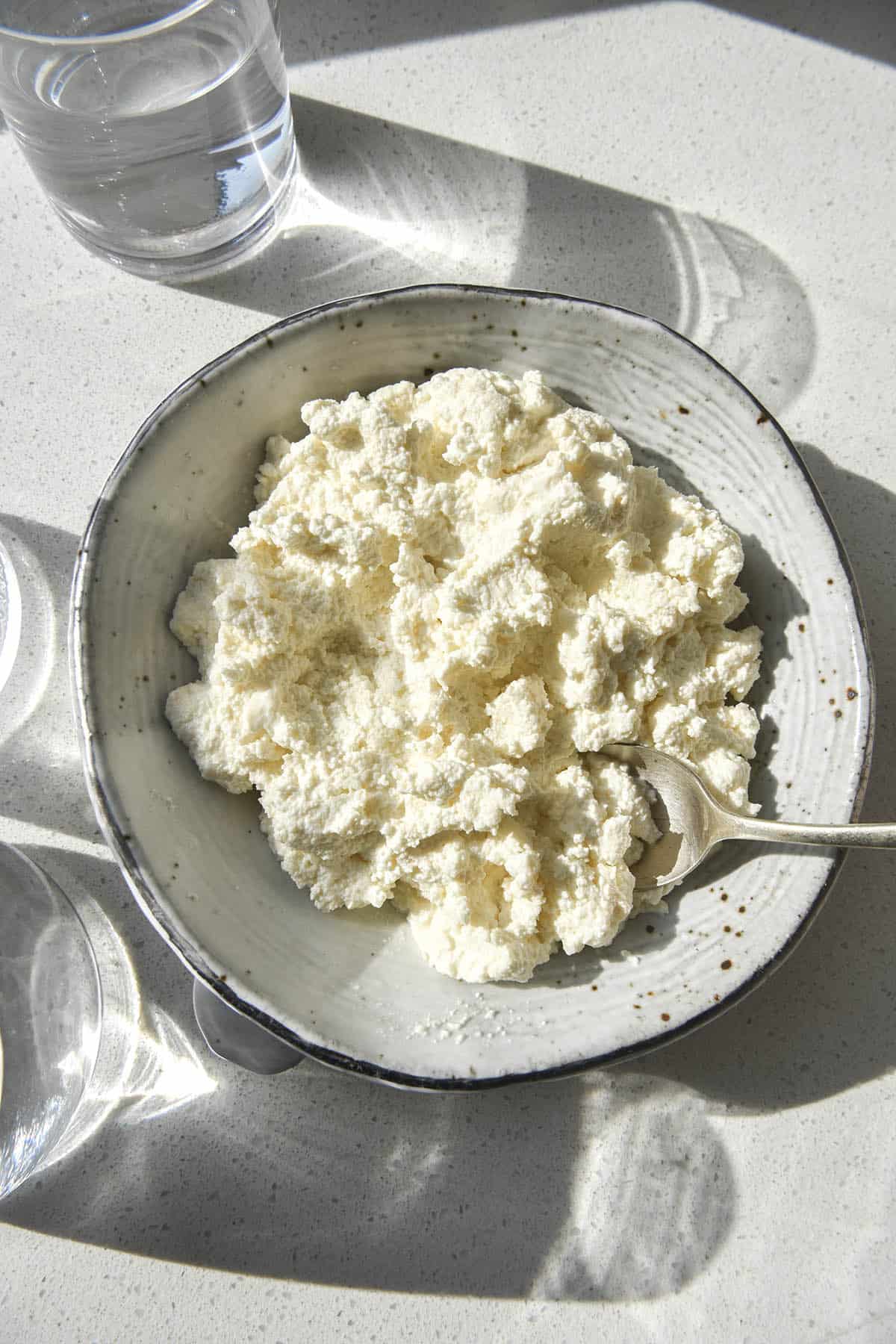 Homemade lactose free ricotta
While we're on the topic of lactose free dairy: my recipe for lactose free ricotta. It's super easy to make and can be used in so many applications – snacky toast included. I also like to mix it with some low FODMAP pesto and use it as a dip for veggie sticks.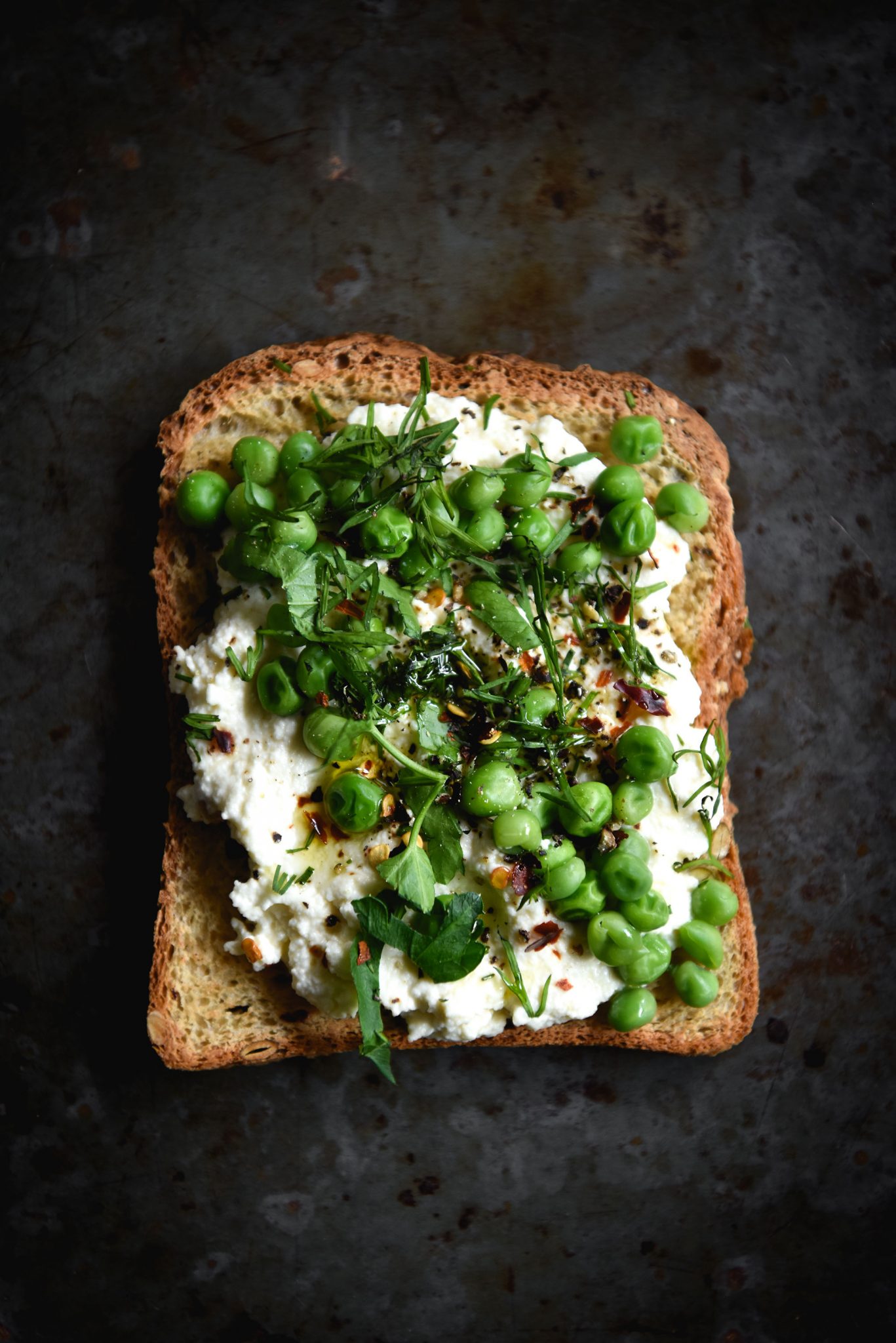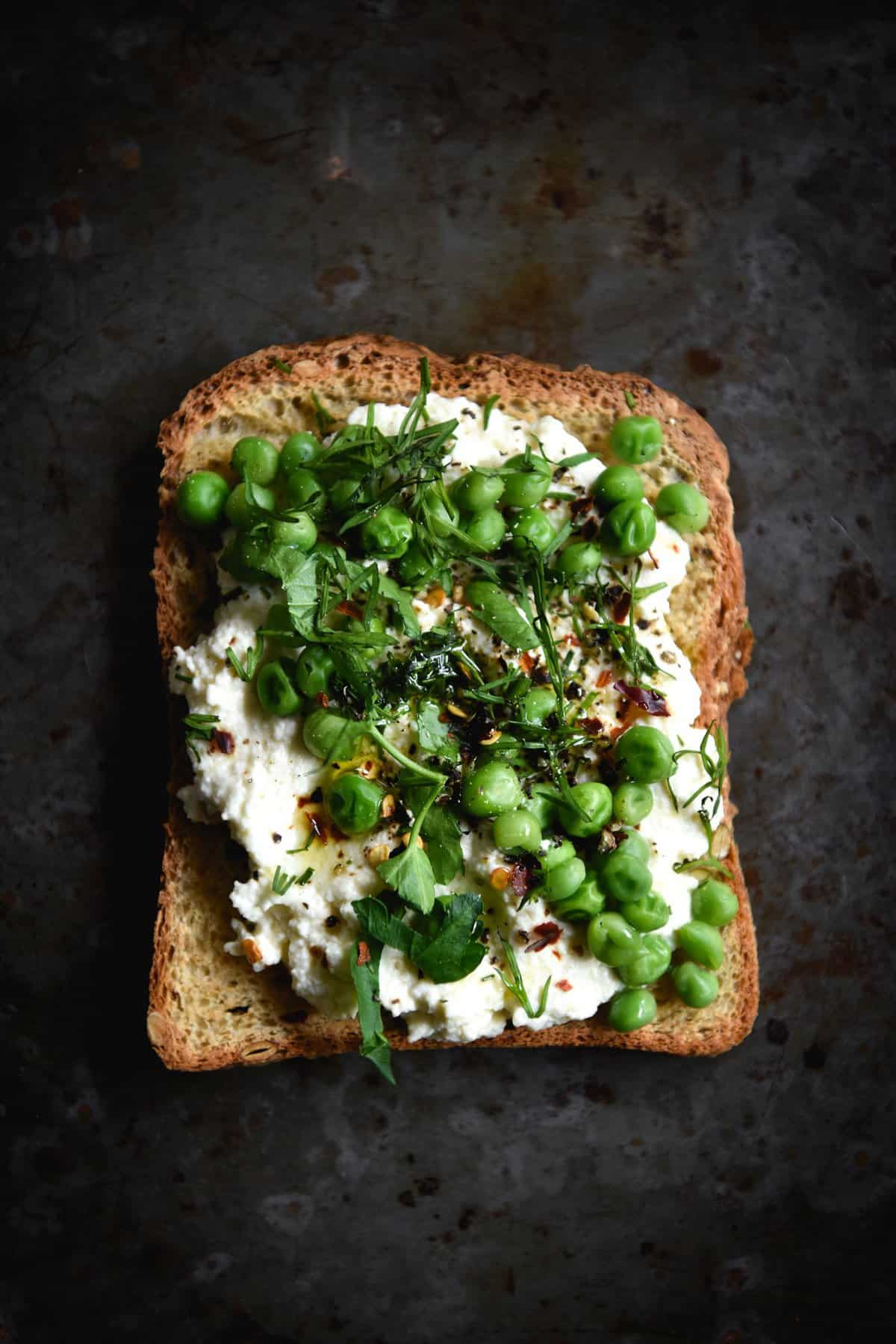 Low FODMAP vegan mozzarella
I LOVE this low FODMAP vegan mozzarella recipe. I'm so proud of how cheesy it is and how nicely it works in a caprese or on a snack plate. The mozzarella uses macadamias instead of cashews for a low FODMAP alternative. It's mild in flavour and has the perfect amount of chew – just as mozzarella should be.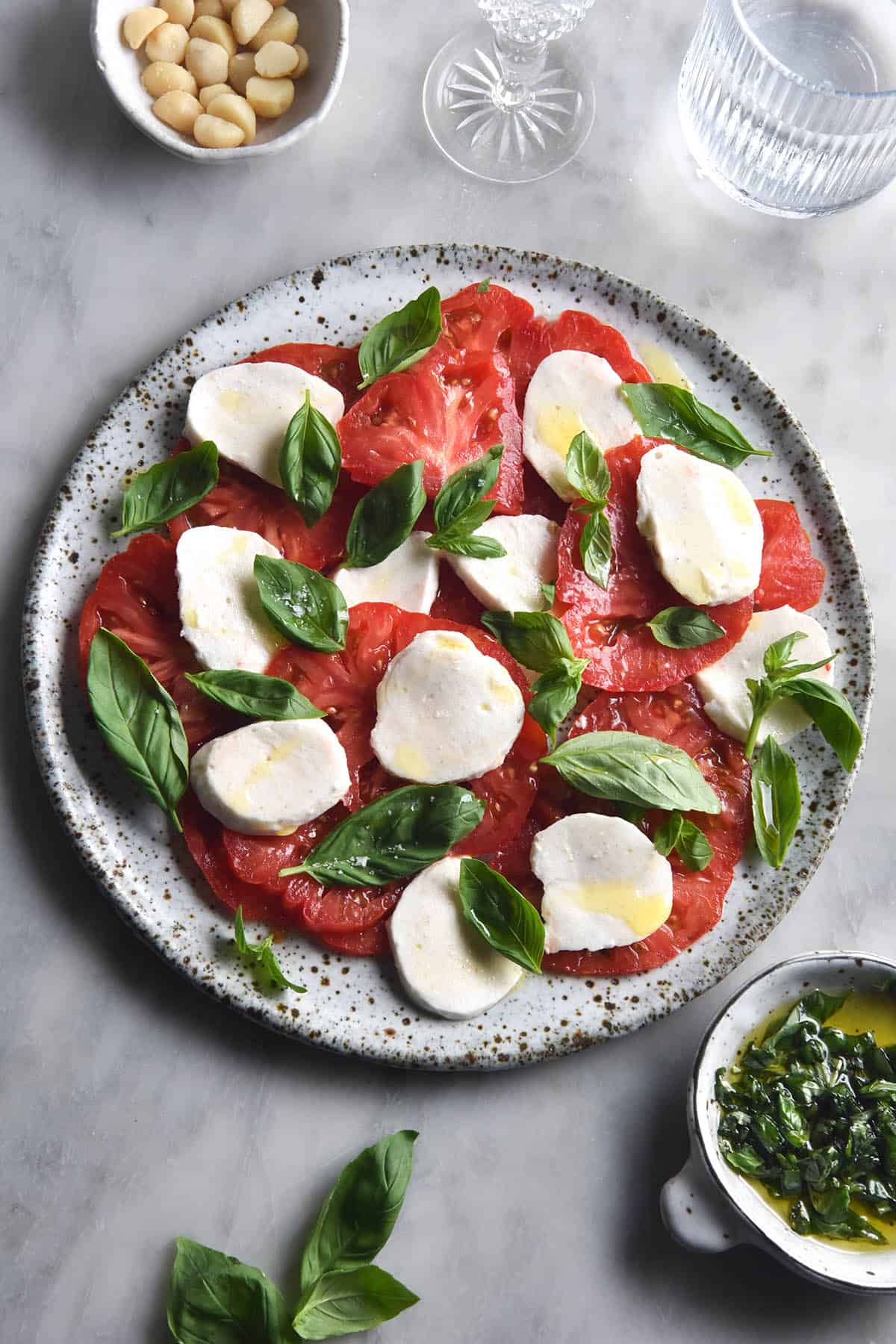 Vegan, gluten free sausages
I am OBSESSED with these gluten free vegan sausages, and you best believe I'll include them in every roundup I can. Because these sausages are made from tofu, they make a great protein based snack for vegetarians and vegans. I like to chop a few up and add them to a salad for extra oomph.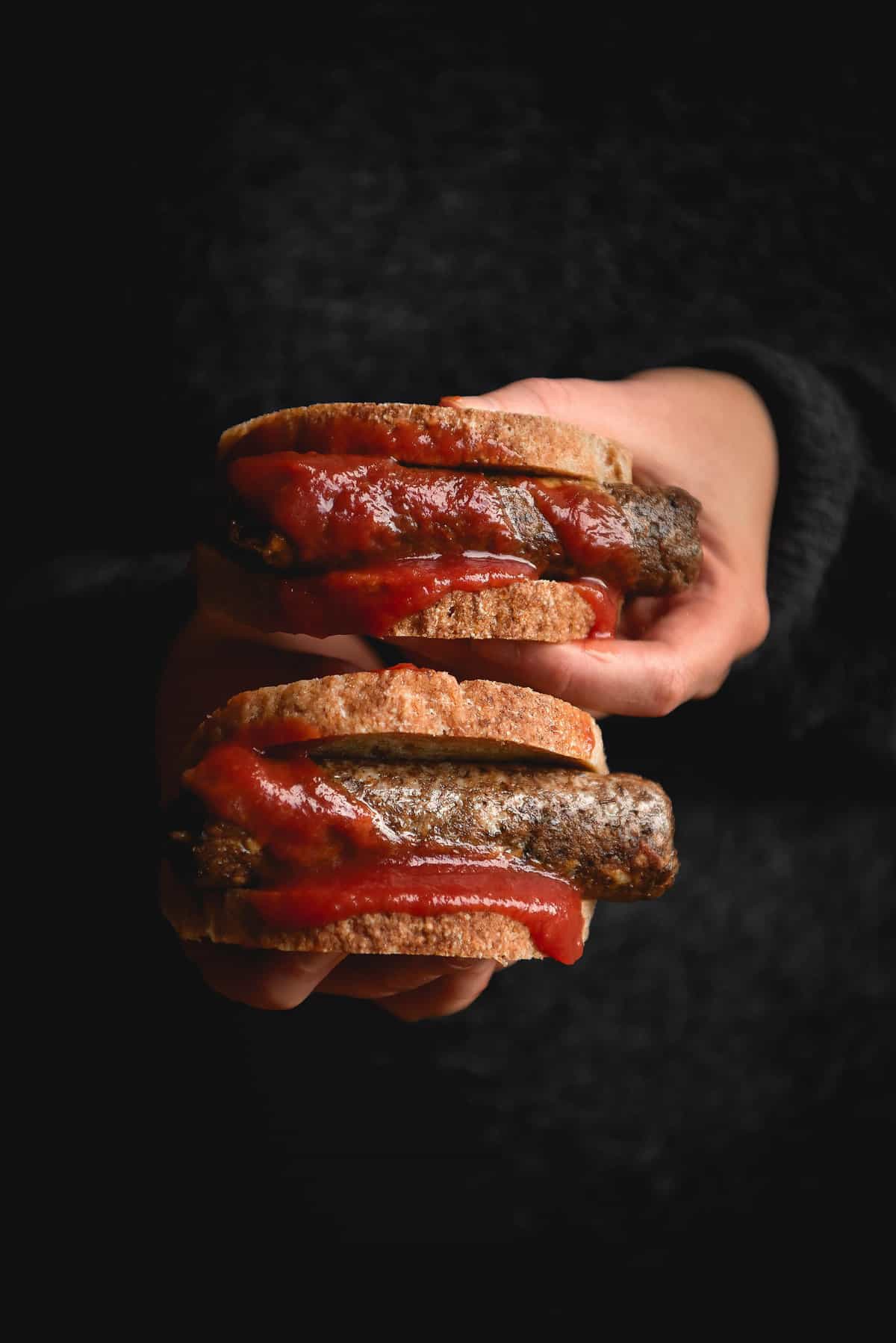 Spiced pumpkin mug cake
This spiced pumpkin mug cake is the perfect little sweet treat when you're at home and feeling peckish. It is gluten free, vegan and Low FODMAP, and is heaven with a little bit of maple syrup on top.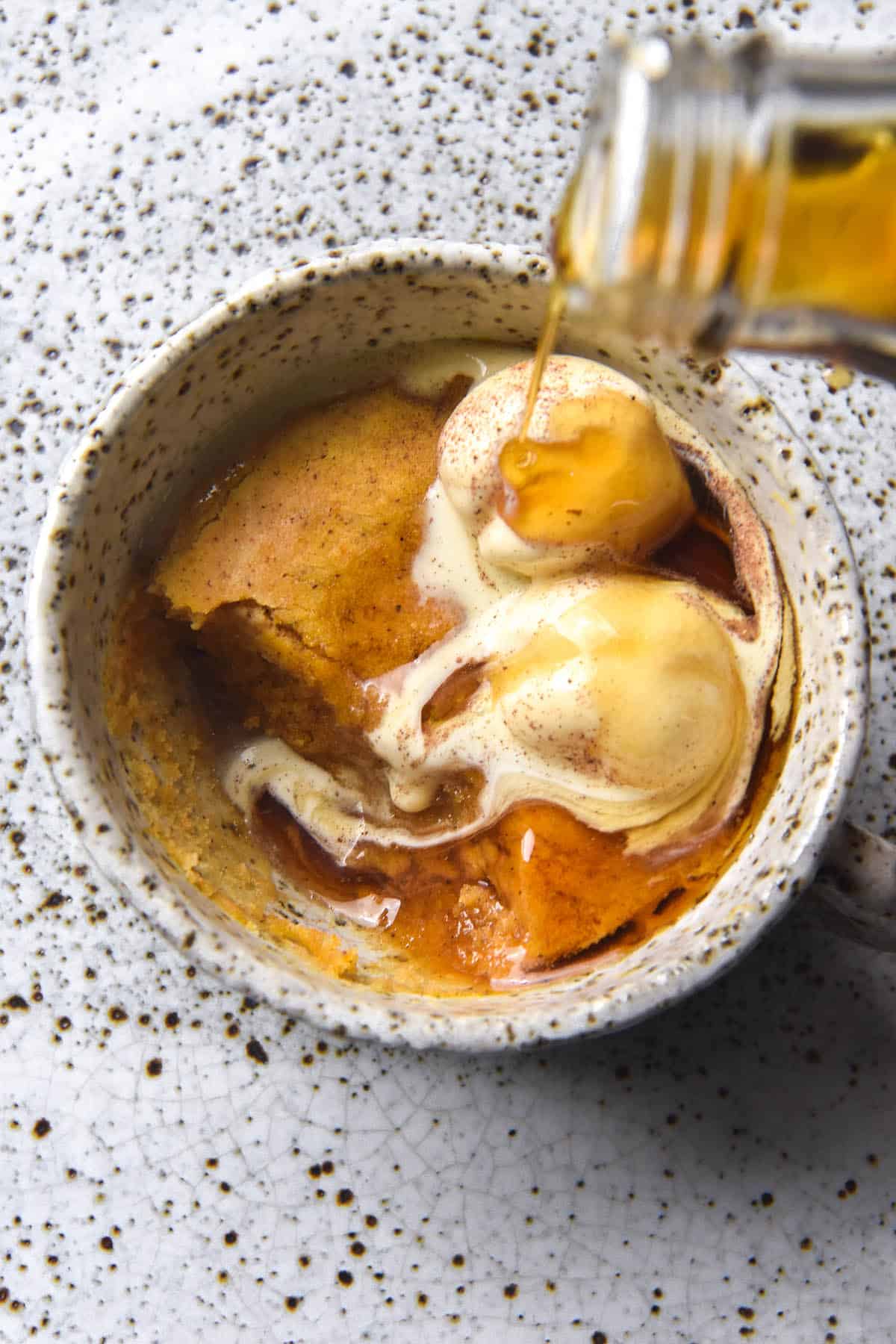 Gluten free tortillas with a salad filling
These gluten free tortillas are a recipe from my cookbook, Intolerance Friendly Kitchen. They work perfectly as wraps, using that Tiktok hack of putting a filling in each quarter before folding it up. You can use whatever works for you – I like cheese, vegan ham (I use a gluten free one with minimal ingredients called Meliora) lettuce and tomato with a mayo or your low FODMAP dip of choice.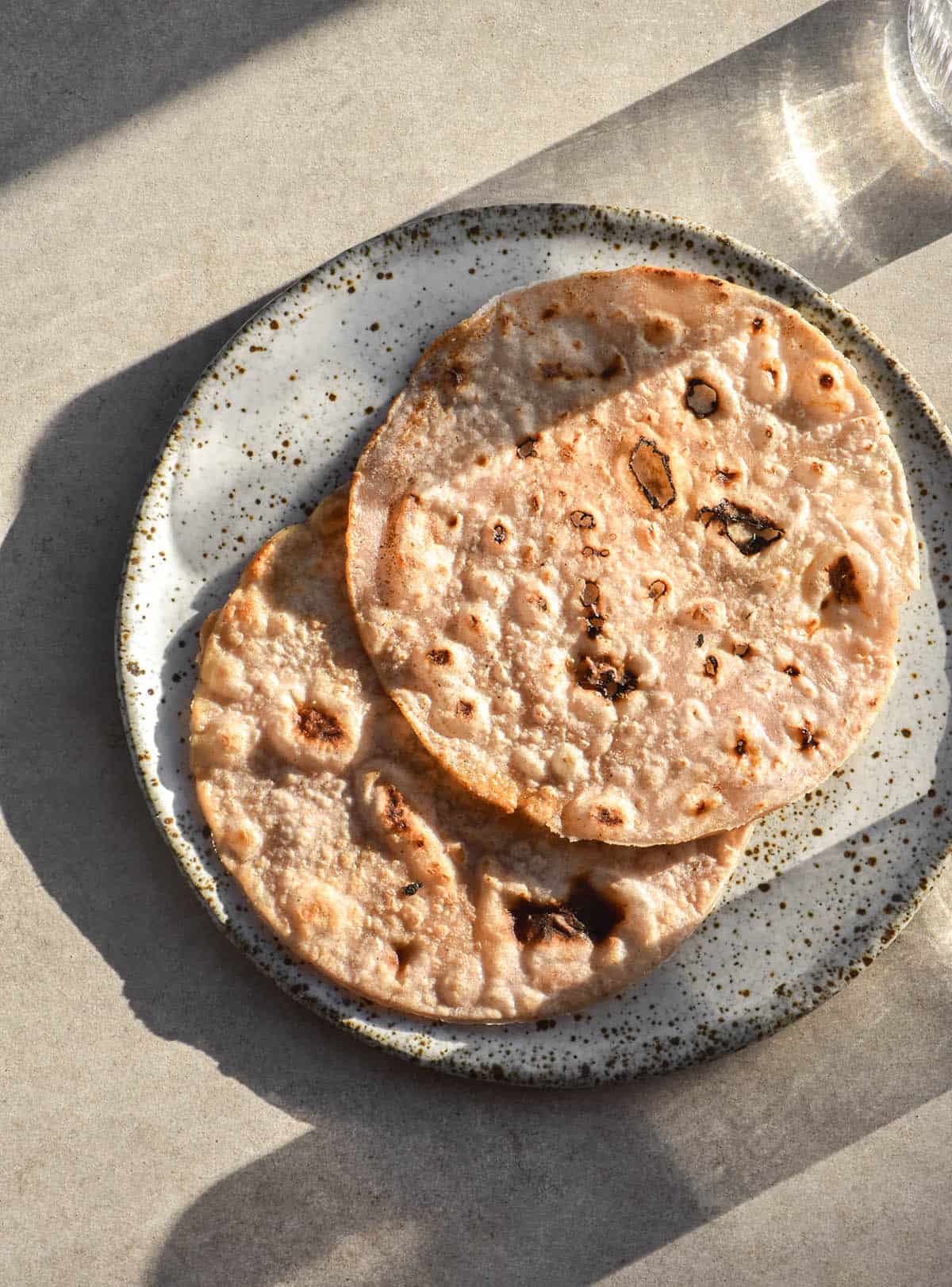 Single serve microwave Vegemite scroll
Sometimes you just want a single Vegemite scroll, you know? This one is gluten free, easily made vegan, yeast free and ready in 10 minutes. You can bake it in the oven if you don't have a microwave, too.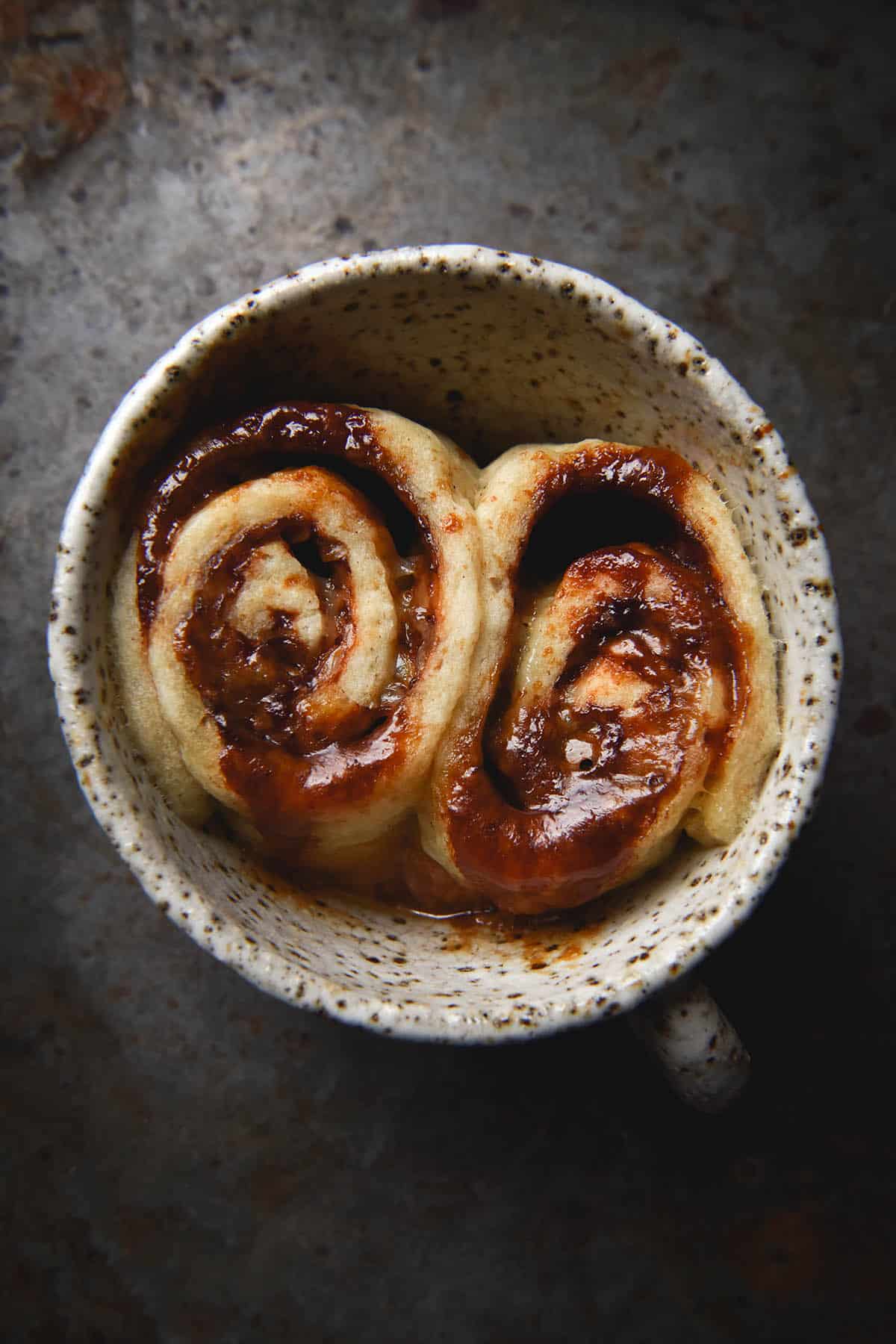 Gluten free Vegemite scrolls
Ok, but SOMETIMES you actually want a full batch of Vegemite scrolls. This is the recipe for those times.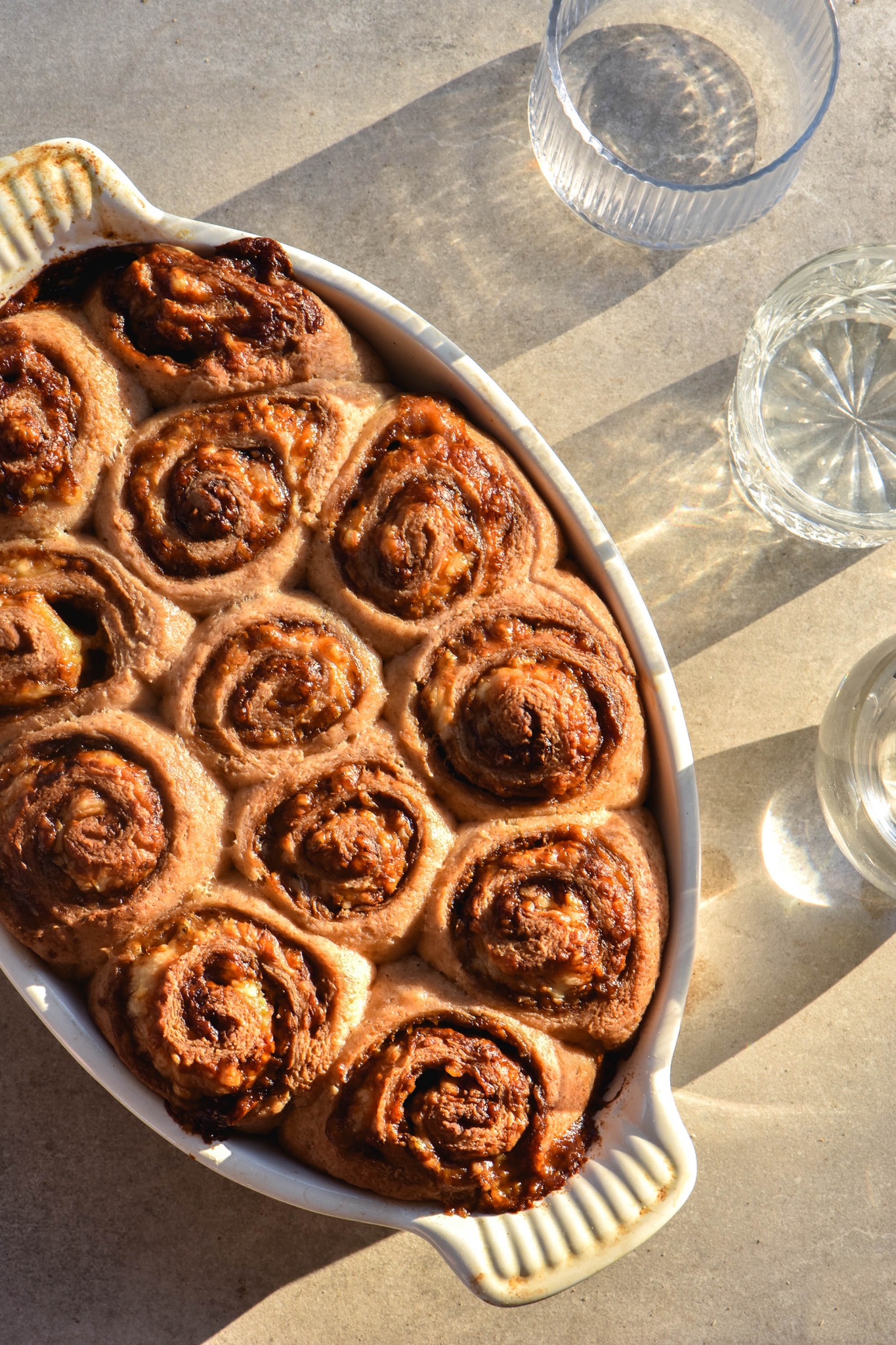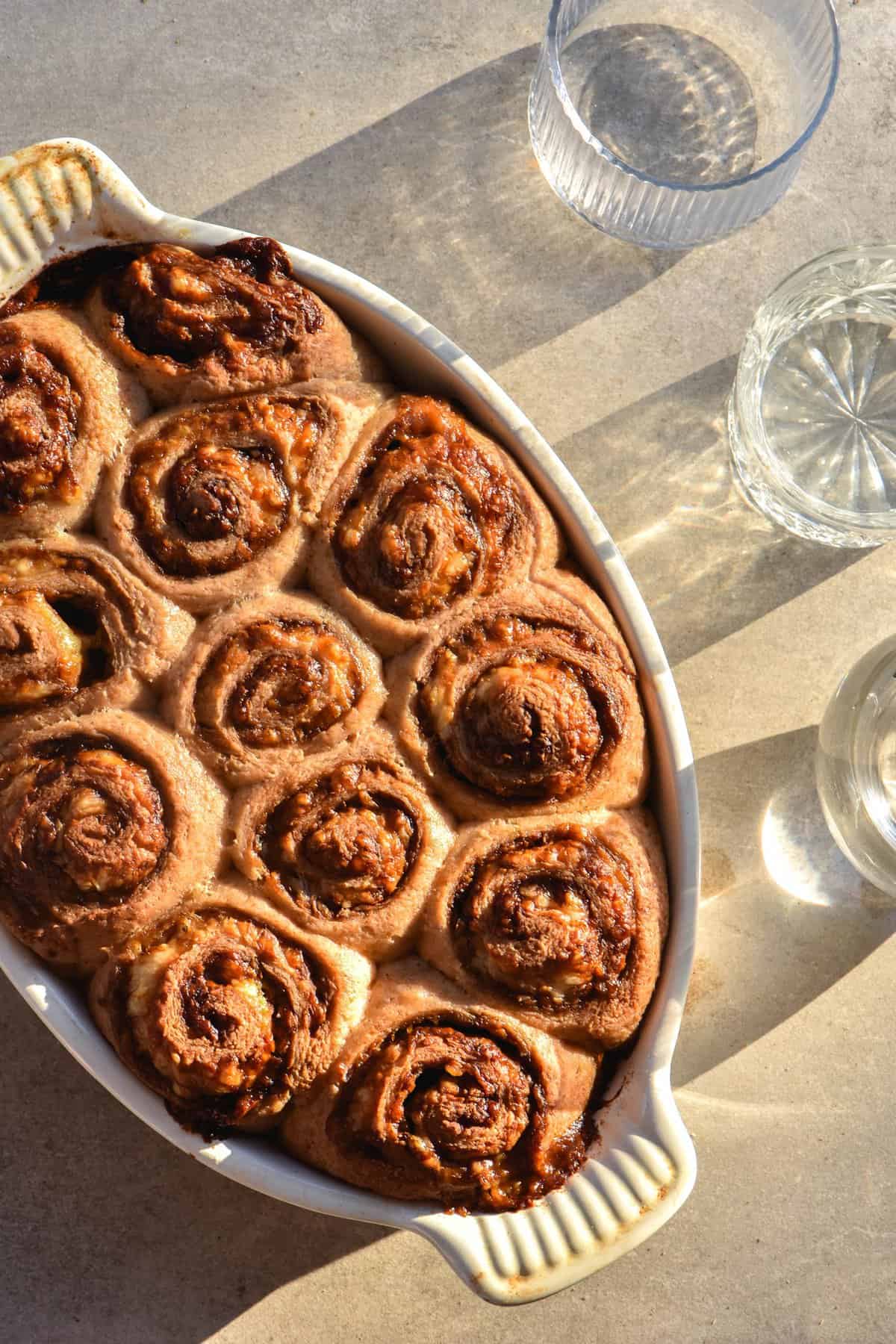 Peanut butter truffles
Sometimes you just need a sweet little pick me up snack, and these easy truffles are a recipe for those times. They use naught but natural peanut butter and maple syrup for the filling, and are then coated in chocolate. You can use any sort of chocolate you like. I like to use Lindt 70% when I want to keep them dairy free and vegan.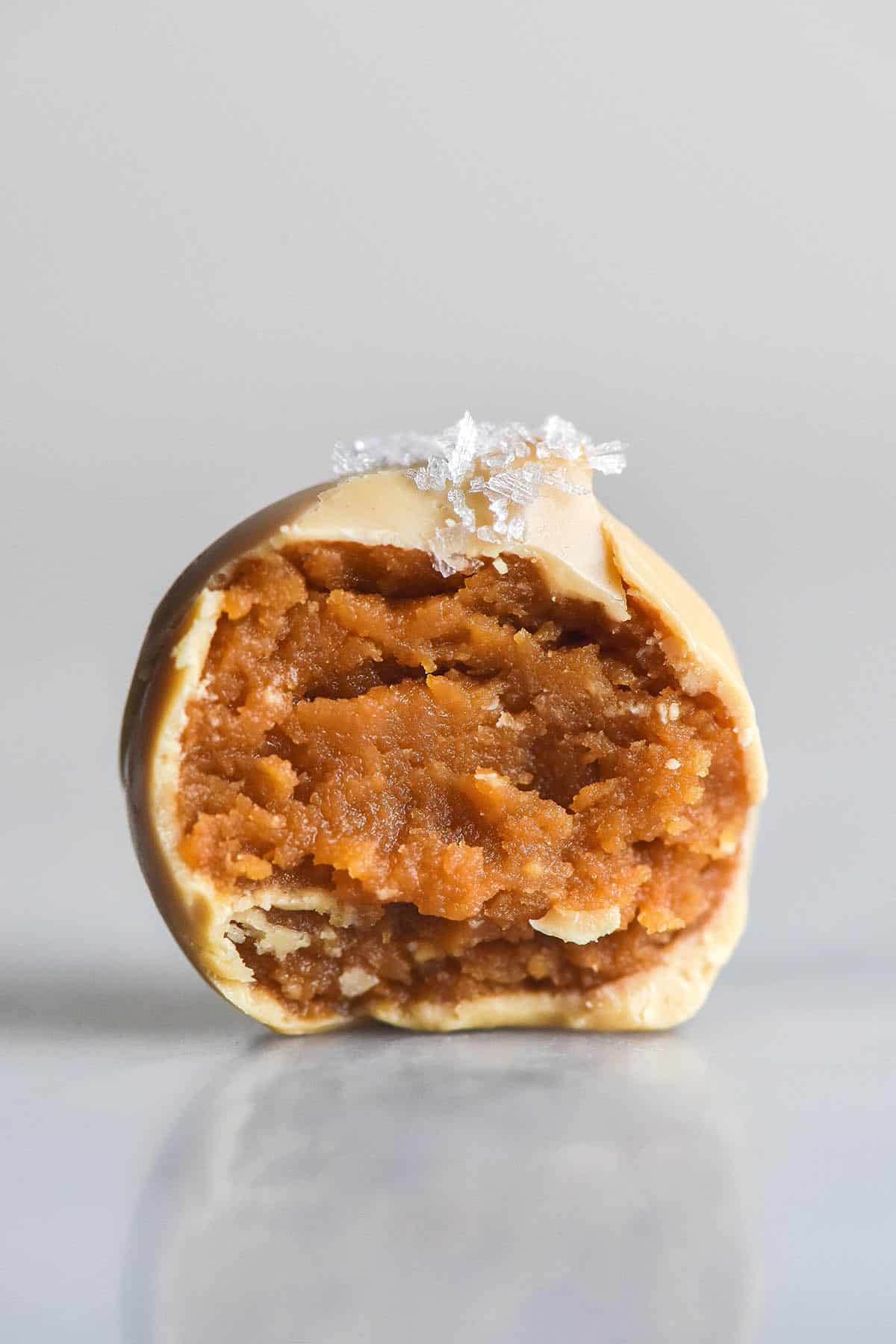 Gluten free sourdough discard crackers
If you have a gluten free sourdough starter, you'll know that you need to discard regularly. Why not turn that wastage into a delicious cheesy snack?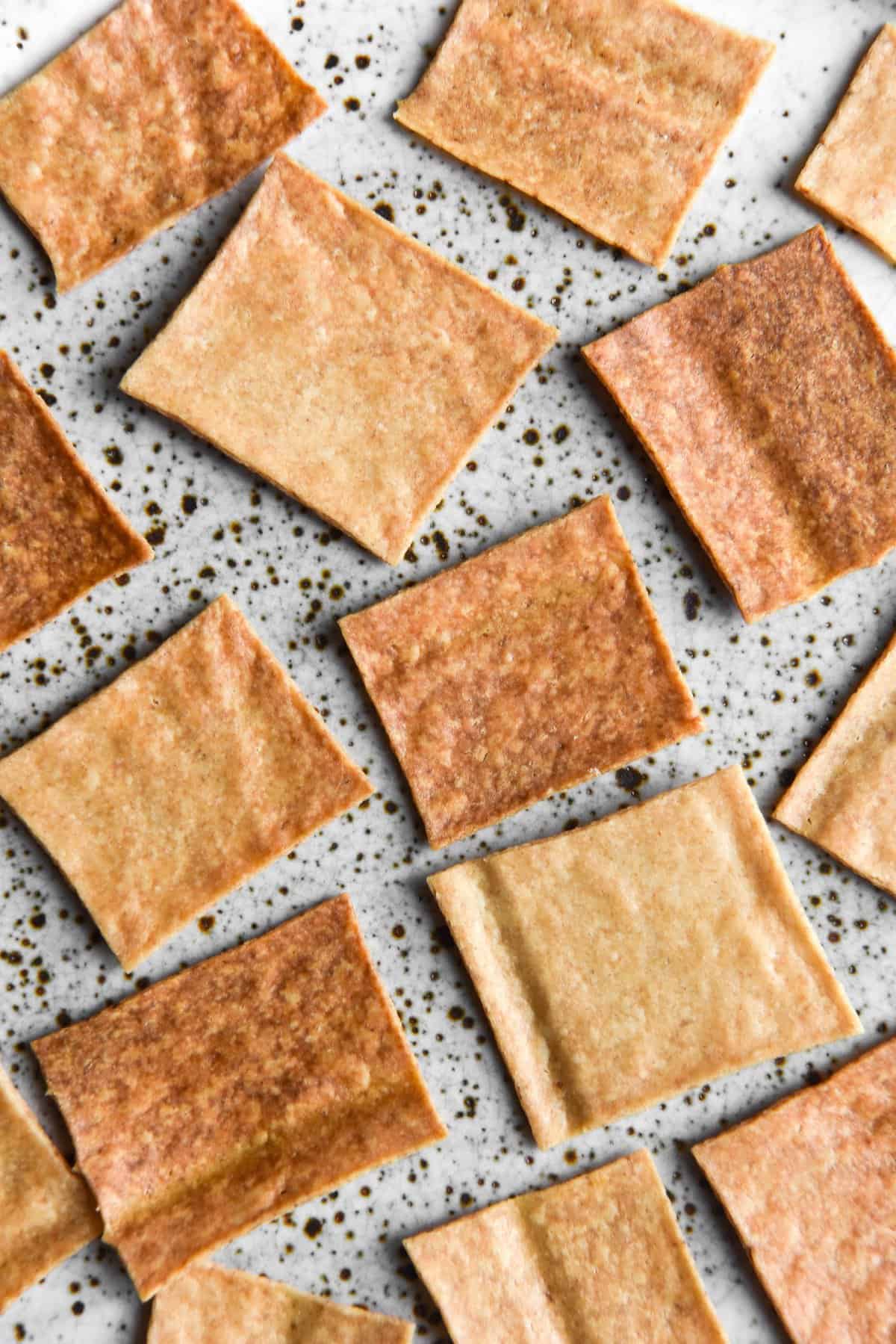 Low FODMAP spinach and feta rolls
These gluten free low FODMAP spinach and feta rolls are THE thing to have on hand when hunger strikes. They're delicious, filling and universally loved. I use the gluten free puff pastry from my cookbook, but you can use whatever pastry works best for you.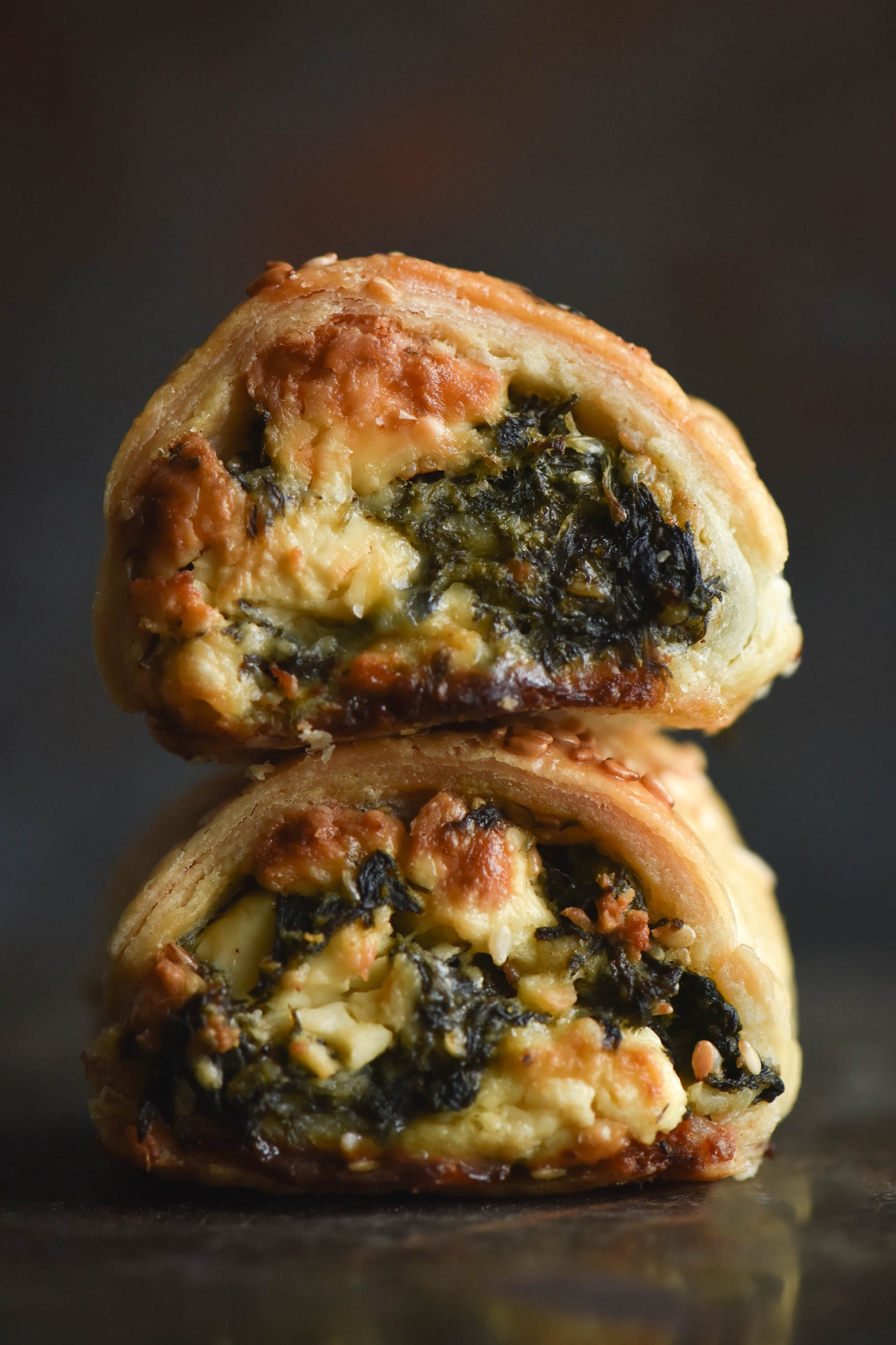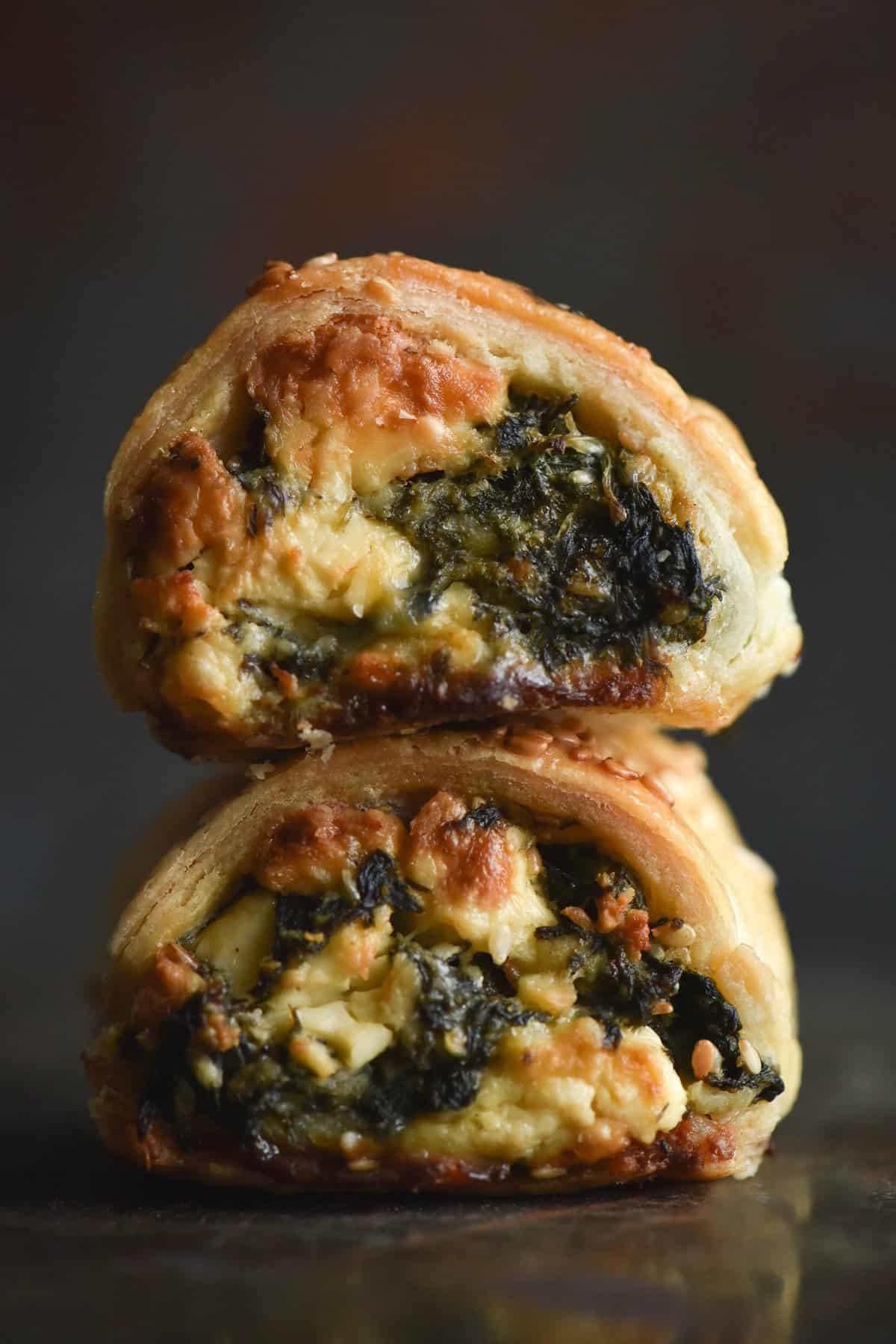 Chickpea-less hummus
This hummus uses firm tofu and garlic infused oil for a low FODMAP alternative to traditional hummus. It makes for a great snack with some low FODMAP vegetables or crackers.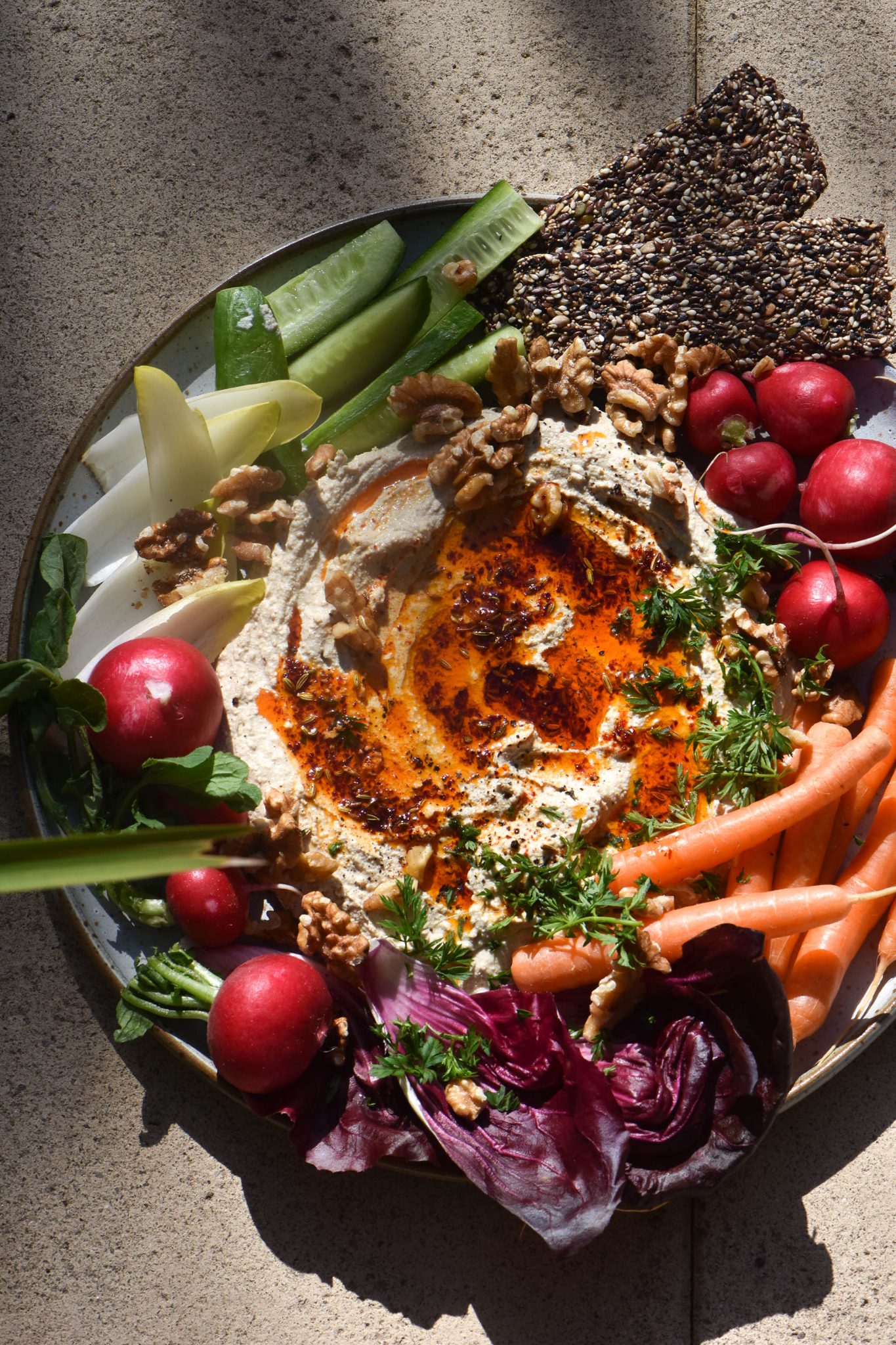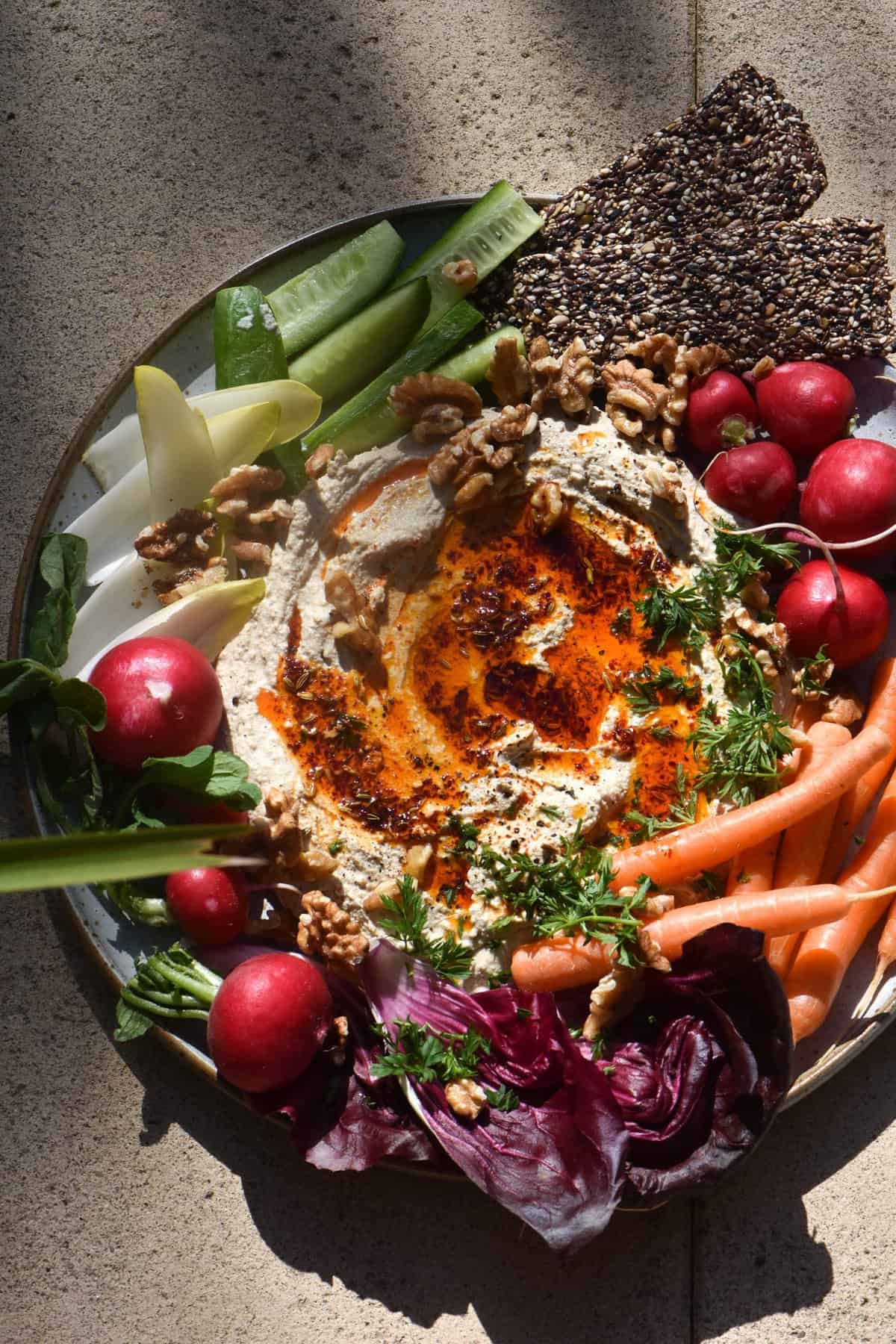 Gluten free carrot muffins
These gluten free carrot muffins are egg free and use wholegrain flours (with no xanthan gum). They use yoghurt for moisture, which means they're a delicious and filling little snack. If you omit the Eastery cream cheese icing, they are also vegan.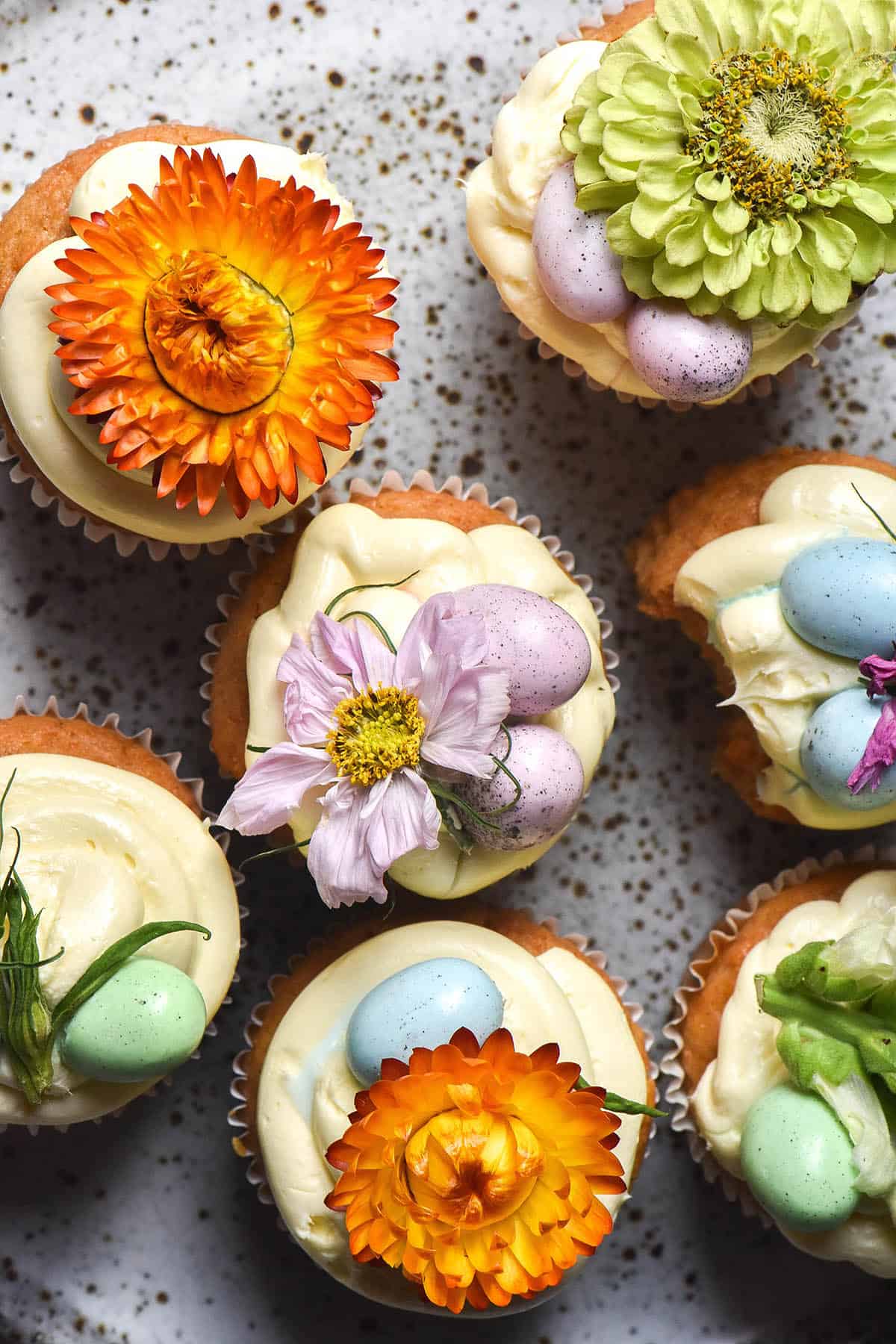 No bake seedy breakfast bars
One last recipe from my cookbook, Intolerance Friendly Kitchen. These no bake seedy breakfast bars are a favourite of mine for how delicious yet simple they are to make. They're vegan and refined sugar-less.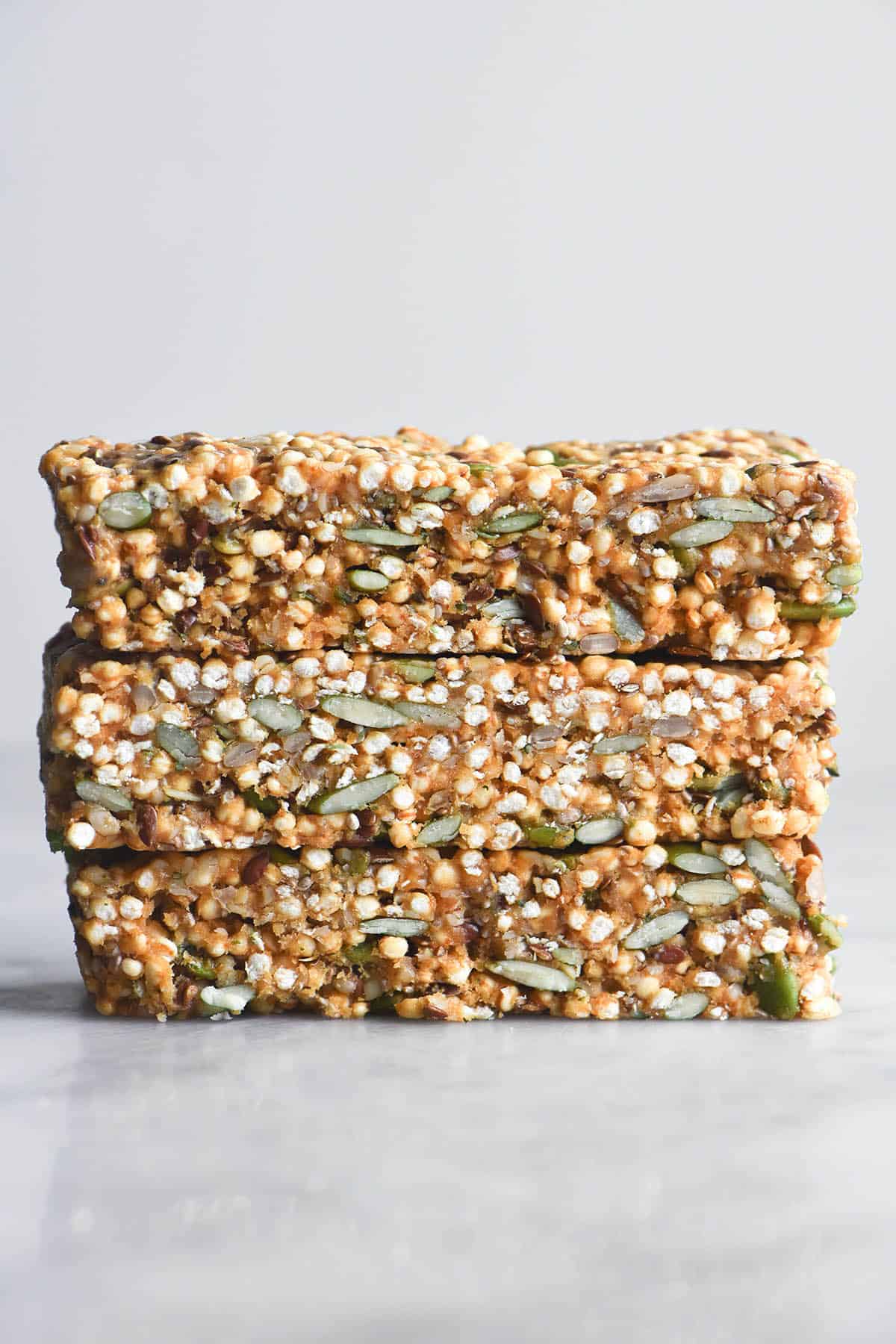 Low FODMAP snack ideas
Rice cakes with lactose free cream cheese, cucumber and seasoning
Jalna lactose free Greek yoghurt with blueberries. If you're vegan, Monash has plain coconut yoghurt listed is low FODMAP in 125g serves (make sure you read the label though).
Gluten free buckwheat bread toast with lactose free ricotta
A low FODMAP serving of nuts – see this post for low FODMAP thresholds of nuts and seeds.
A low FODMAP serving of fruit – see this post for low FODMAP thresholds of fuits.