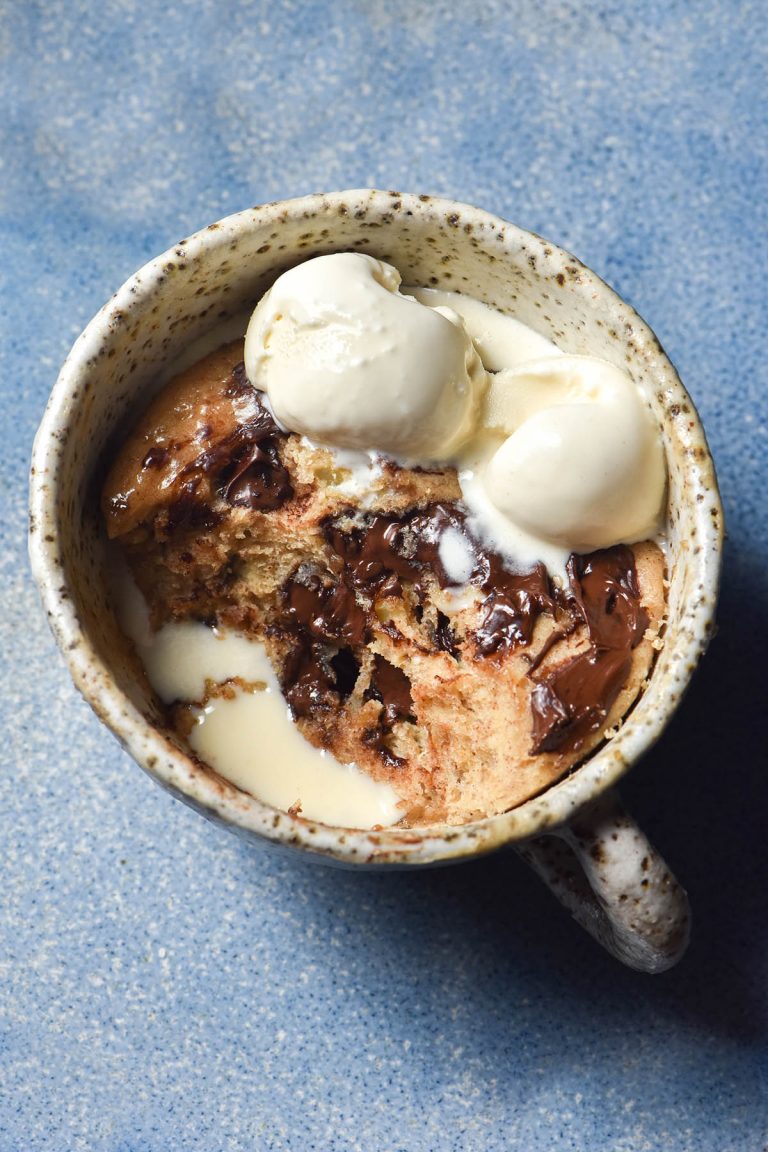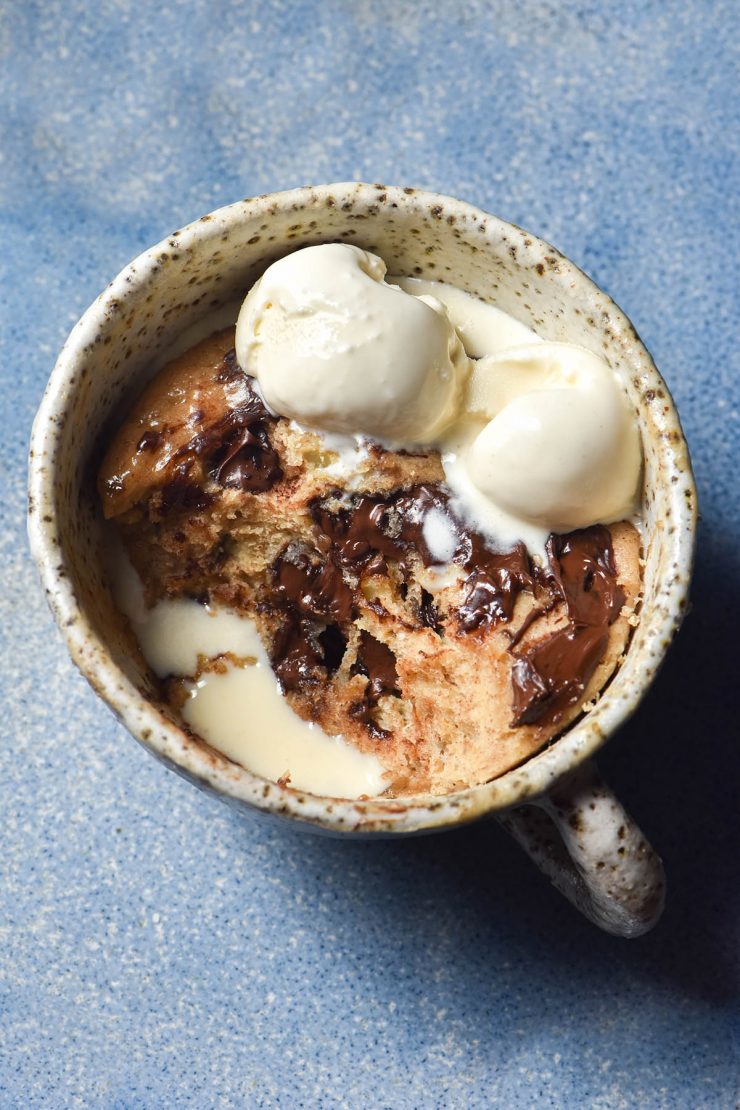 Because I'm currently on the SIBO bi-phasic diet, desserts are mostly out of the question. I've been relying quite heavily on SIBO friendly protein powder for a little sweet treat. Why not, I figured, make a protein powder dessert? Given my love affair with mug cakes, why not a whey protein mug cake?
A few notes, before we begin. I have not tried anything other than the recipe as outlined. I can only eat elimination diet approved foods right now, and I can only test (and eat) one mug cake a day. This means I have not tried any different sweeteners or protein powders. Once I finish the diet, I will be able to test more varieties.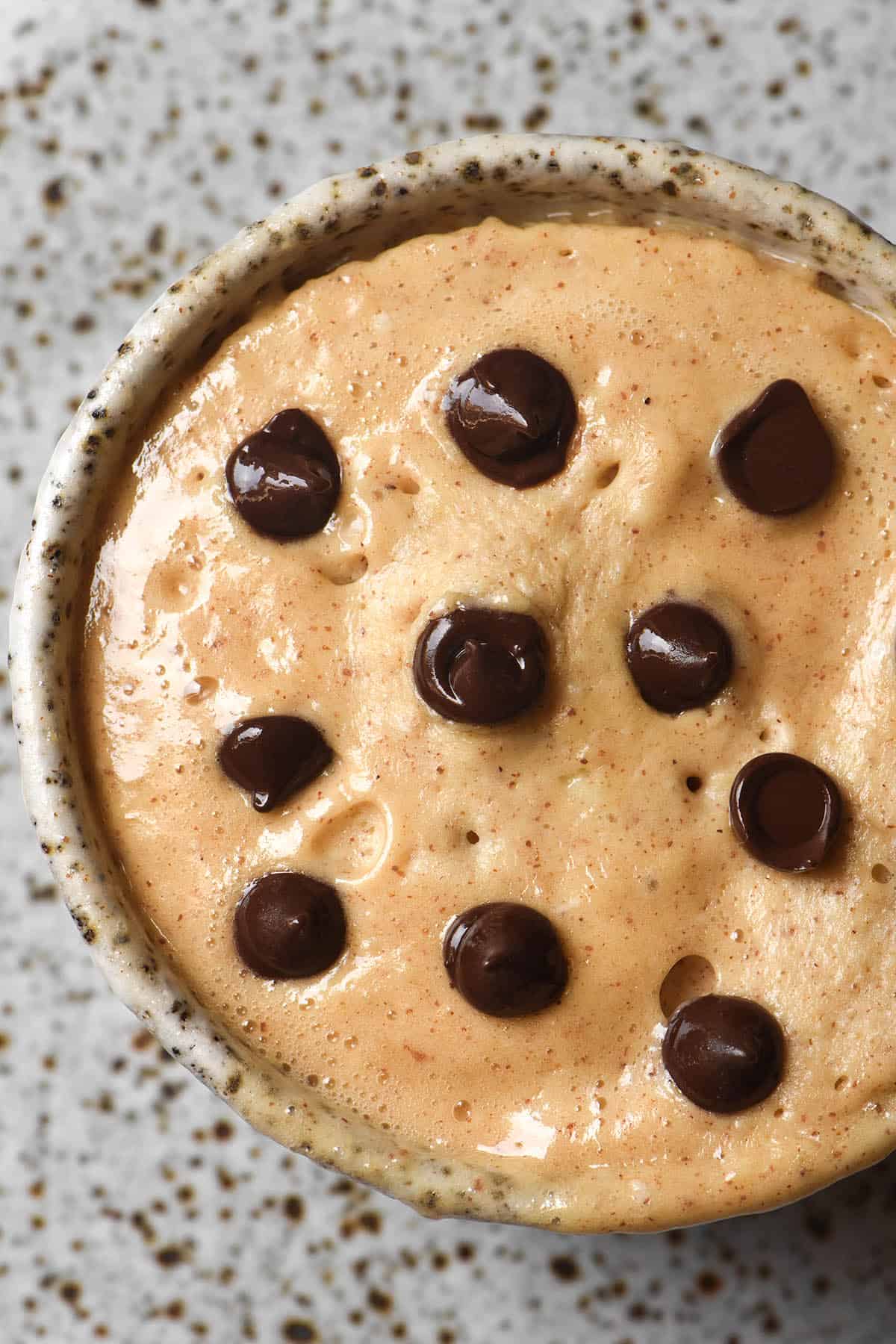 Whey protein mug cake (SIBO friendly)
This whey protein mug cake uses whey protein, almond butter, oil, an egg and half a banana to create a fluffy and filling mug cake that is packed with protein. It uses stevia as a sweetener. I am not a fan of stevia, but it's all I've got for the next six weeks. Once I can use more sweeteners, I will continue to test more varieties. Same goes for the protein powder – I will test more varieties when I can.
The mug cake is incredibly easy to make and ready within five minutes. It is an easy sweet treat and a nice little slice of normalcy during the SIBO diet.
You would think that an egg, banana, oil and nut butter would make for an oily mug cake. Not so! Whey protein powder is very lean, so these ingredients help even out the fat content. I find that they're also critical in ensuring the egg doesn't overcook and become spongy.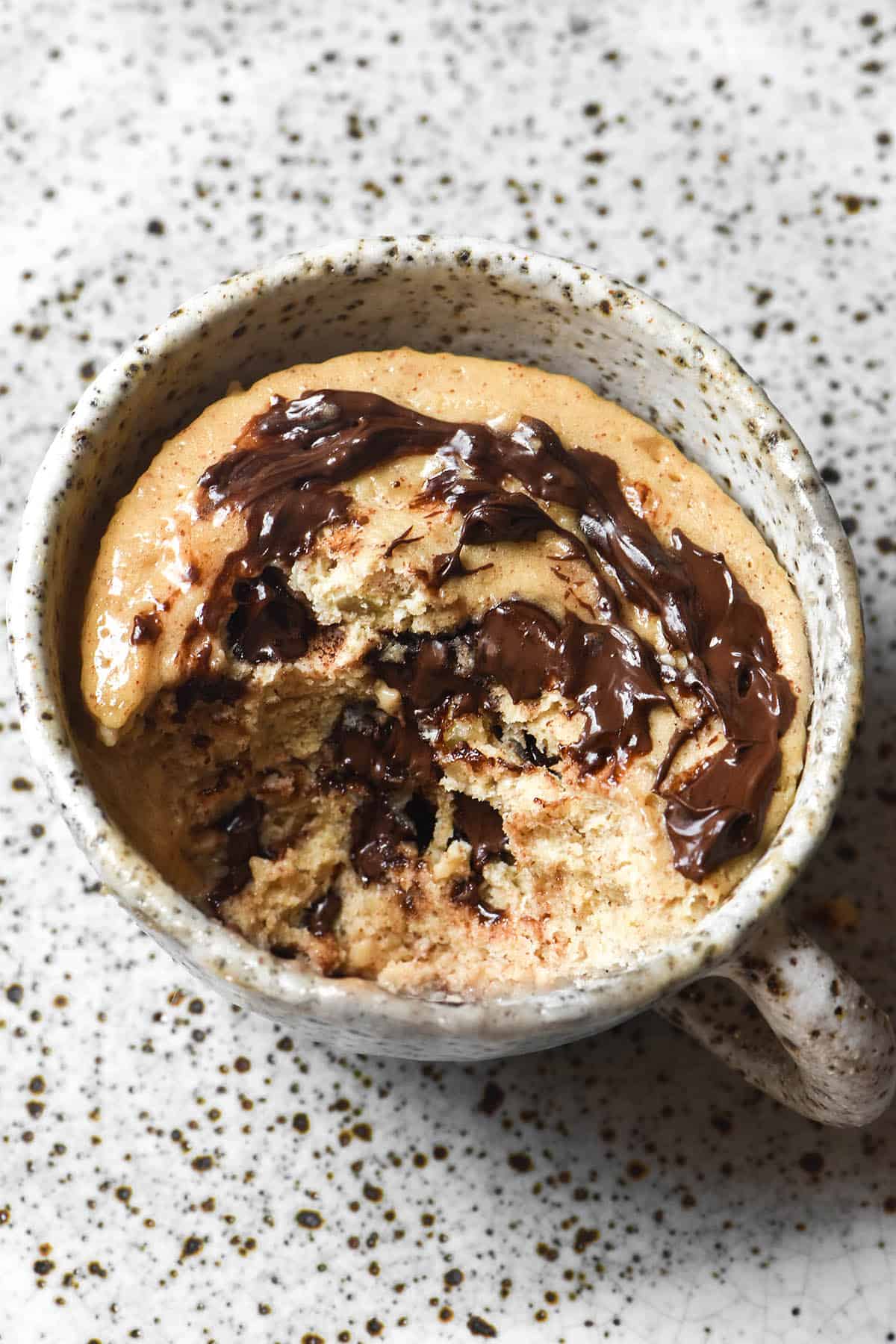 Notes for your whey protein mug cake
To reiterate, I have not tested any other types of protein or sweetener. I haven't tested this recipe without banana or egg. As I do, I will update the post.
I PROMISE I will test a vegan version, too. If anyone has any leads on a yummy tasting vegan protein powder that's SIBO friendly, let me know!
This recipe works for a modified version of stage 1 or for stage 2. From early on, I started adding in the optional 1 piece of fruit a day (modified from the no fruit baseline) in stage 1. As a pescetarian who doesn't really like fish (I eat it out of necessity because of my limited protein options) and someone who loves cheese, I needed this. I would have really lost patience with the diet if I didn't have little bits of sweetness. SO, this whey protein mug cake contains banana. I have no substitution options at this time.
Personally, I think this mug cake is best with a slightly gooey, pudding like top. It's still cooked through (which it needs to be, because of the egg) but there's a self saucing top that I really like.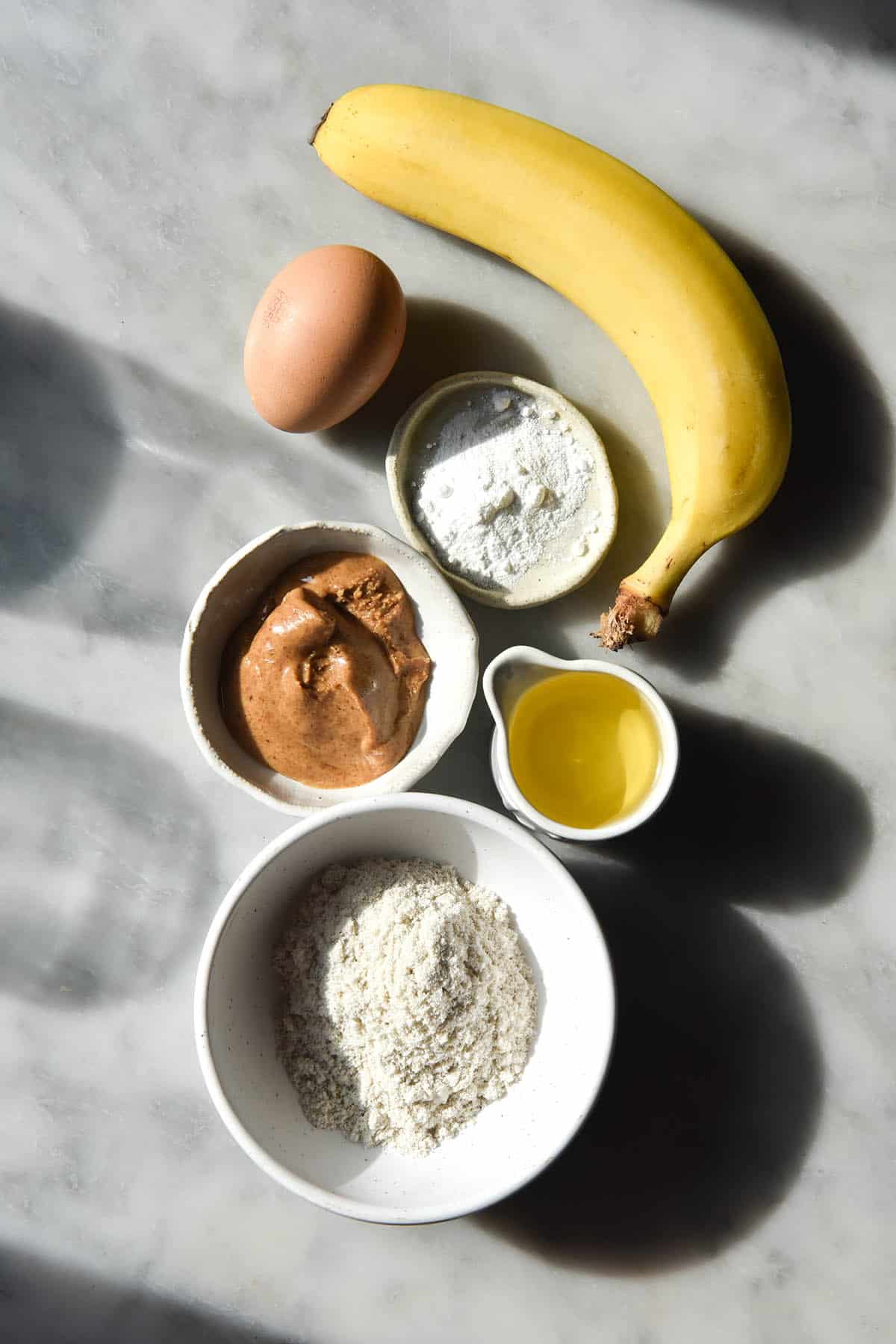 Notes on the whey protein (WPI)
If you follow me on Instagram, you'd know that I had a LOT of trouble perfecting this mug cake. There are lots of recipes online that say 'use any protein powder you like' but I didn't find this advice to be true or helpful.
Every whey protein is different, and a lot of the more flavoured brands have added xanthan gum, guar gum or carageenan. These are binding ingredients. The protein powders I use (and prefer) contain none of these things. I have tested this recipe with pure 100% whey protein isolate (more on that below) and Bare Blends vanilla WPI, which contains whey, vanilla bean powder and stevia.
Without gums, fibres, psyllium husks or powders in the protein blend, it can be harder to make a mug cake work (but it agrees with my system much more).
So, this is all to say: this recipe has been tested with pure WPI and minimal ingredient WPI only. I daresay brands with any fillers, gums or binders will work differently here.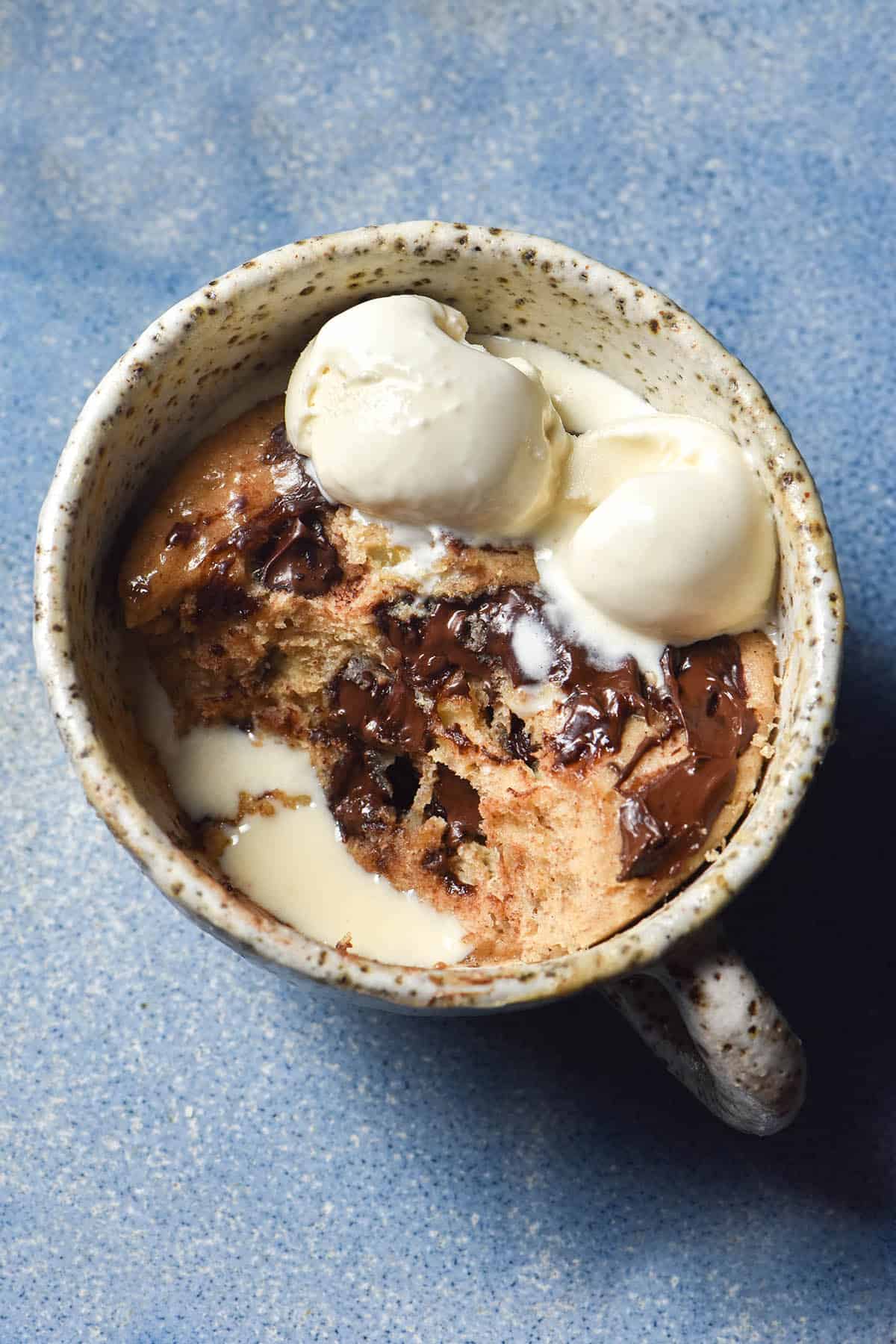 What is WPI? Is it FODMAP friendly?
WPI (or whey protein isolate) is a filtered protein made from milk. It goes through more filtration when compared to WPC (whey protein concentrate) so most of the lactose, fat and carbohydrates are removed. Because of this, WPI is a low lactose option, while WPC is not low lactose.
This means that WPI is a FODMAP friendly option (extra ingredients dependent). I have used WPI for a long time and absolutely love it. That said, extra ingredients to look out for include things like inulin, chicory or any sort of filler. Always read the ingredients list before you buy to double check if the ingredients work for you.
Can I use a plant based protein?
I have successfully tested 100% hemp protein instead of whey protein in this mug cake. I may have actually slightly preferred it! As for plant proteins of other varieties, I haven't tried them yet. I also haven't tried any protein powders with added fibre, psyllium husk, inulin, xanthan gum or guar gum. Because these are emulsifiers and binders, they can potentially change the result of the mug cake.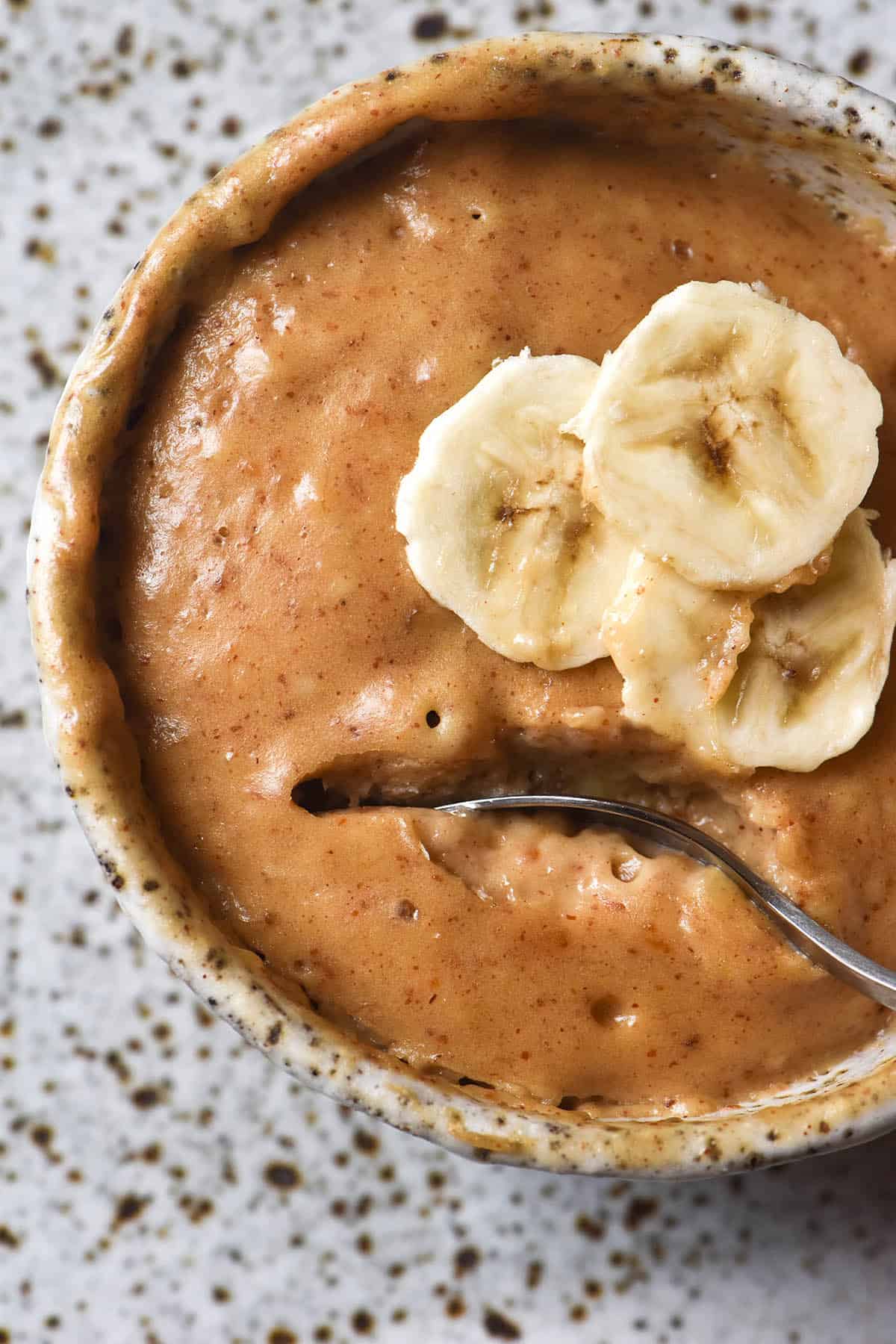 Troubleshooting your whey protein mug cake
I have had a number of issues developing a protein mug cake. Firstly, mug cakes without sufficient binders easily overflow and never form a cake. Secondly, the mug cake can easily become dry and incredibly spongy, with almost a fake meat texture inside.
That is why the recipe contains what it does. Eggs and banana are binders (and banana provides sweetness in the absence of other sweetener) while nut butter and oil provide fat. Oil (specifically, 40ml of oil) is also crucial to stopping the egg from becoming too spongy and dry. I find it's very easy to overcook a mug cake and end up with a funky, wrung out sponge sort of texture. Oil helps stop this from happening.
If your mug cake is still spongy, you have likely overcooked it. Microwaves vary wildly in power, so you really have to watch it. I recommend cooking the mug cake in 30 second increments to help avoid this. I have also found that whey protein is far more likely to create this spongy texture than plant based protein.
One last thing I found to be helpful was to cook the mug in a small, round microwave safe bowl. The wider surface area allows the cake to cook more evenly without becoming chewy in the middle.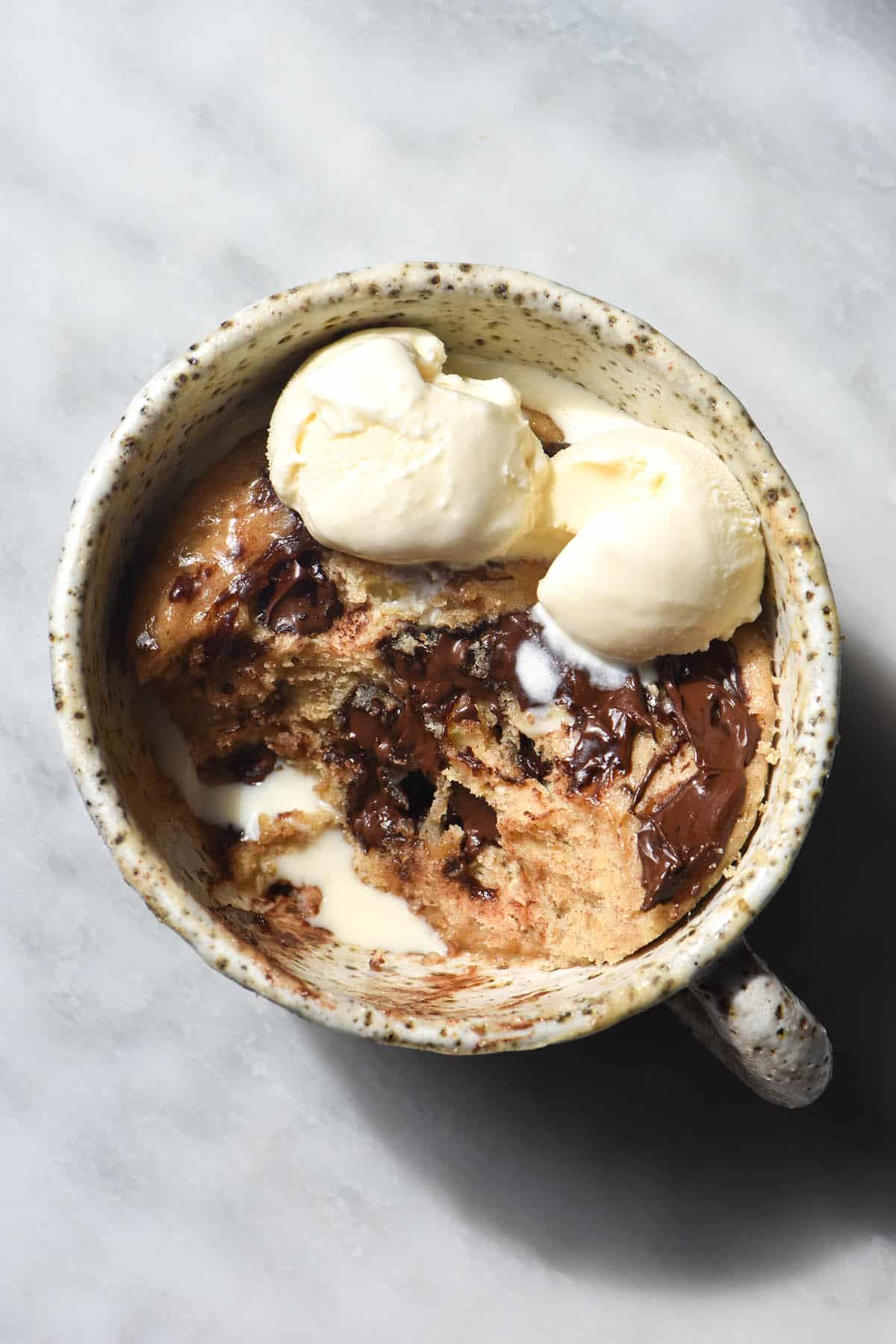 More gluten free mug cake recipes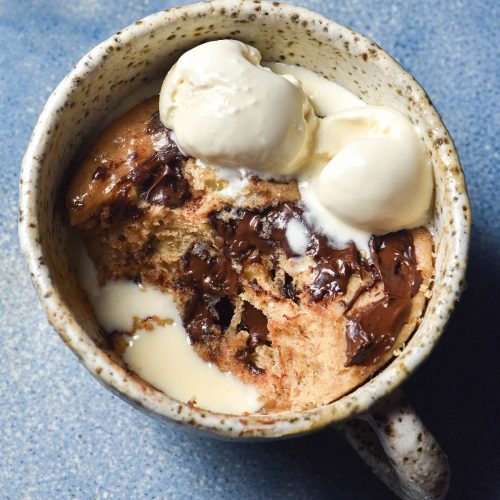 Whey protein mug cake (gluten free)
* 1 Australian tablespoon = 4 American teaspoons
* This recipe uses Australian measurements. Use ml measures for international accuracy
Ingredients
75g

(1/2 large) banana, mashed

20

g

whey protein isolate

I use Bare Blends vanilla WPI (see notes)

1/4

teaspoon

baking powder

1

extra large egg

2

tablespoons*

(40ml) vegetable oil or other neutral oil

25g

(1 tablespoon)

natural nut butter (I used almond)
Instructions
Whisk all the ingredients together in a small bowl until a batter forms. Ensure you have all the lumps of nut butter are completely gone.

Pour the batter into a microwave safe mug or small round bowl. Microwave for 30 seconds, then assess. Continue cooking in 15-30 second increments until just cooked through. An overcooked mug cake will be chewy and dense, so don't overdo it.

Allow to cool for a few minutes before eating.
Notes
* Tablespoon measures are in Australian measures. 1 Australian tablespoon is 20ml, so you need to use an extra 1/2 tablespoon oil to convert to American measures. 
To make this mug cake low FODMAP, use an unripe banana, a just ripe banana, a sugar banana (ladyfinger) or replace with pumpkin puree.
This mug cake doesn't use sweetener to account for SIBO. If you'd like to use sweetener, I recommend 1/2 tablespoon maple syrup. 
If you don't intend to use a sweetener, make sure you use a sweetened protein powder or add some stevia. Ripe banana also helps here.
For SIBO bi-phasic diet, use a WPI sweetened with stevia or thaumatin with no other additives other than WPI and natural flavour. Check label for fillers or fibres.
I have successfully tried using 100% hemp protein in place of the whey protein. I haven't tried any other varieties of protein powder.