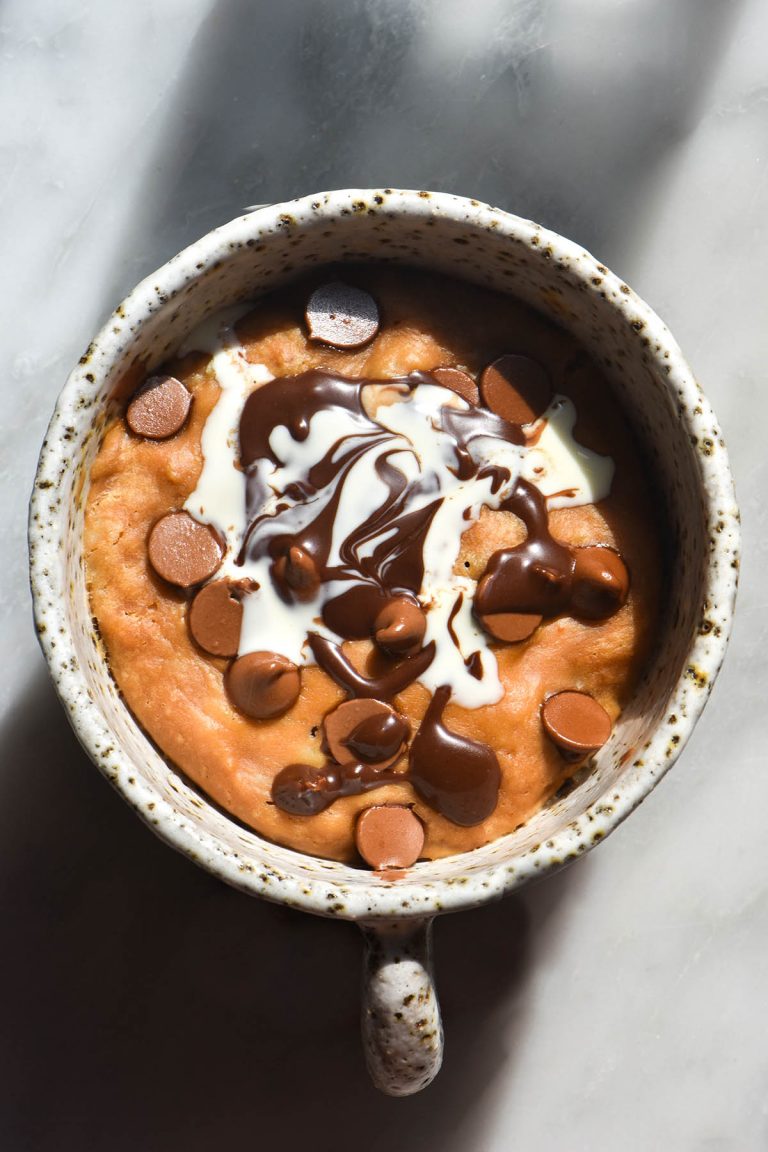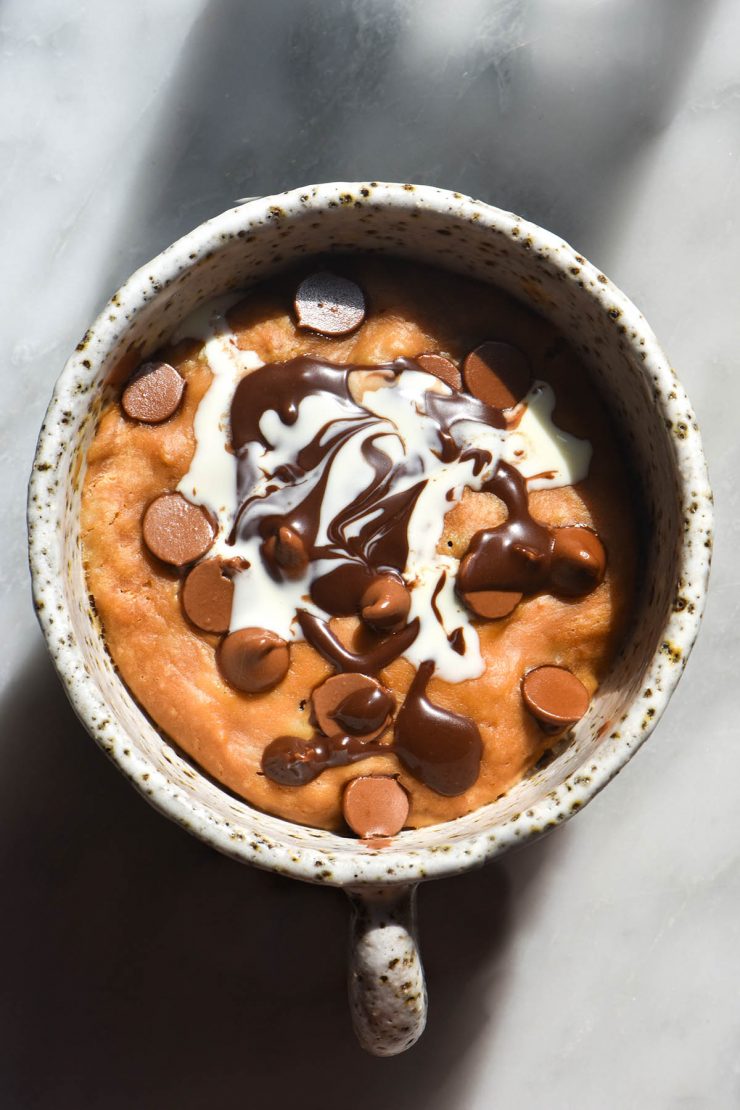 With all the protein powder recipes fresh on my website, it felt only fair to post this vegan protein mug cake too. Based on my dairy free mug cake, this is a completely flourless vegan protein hit.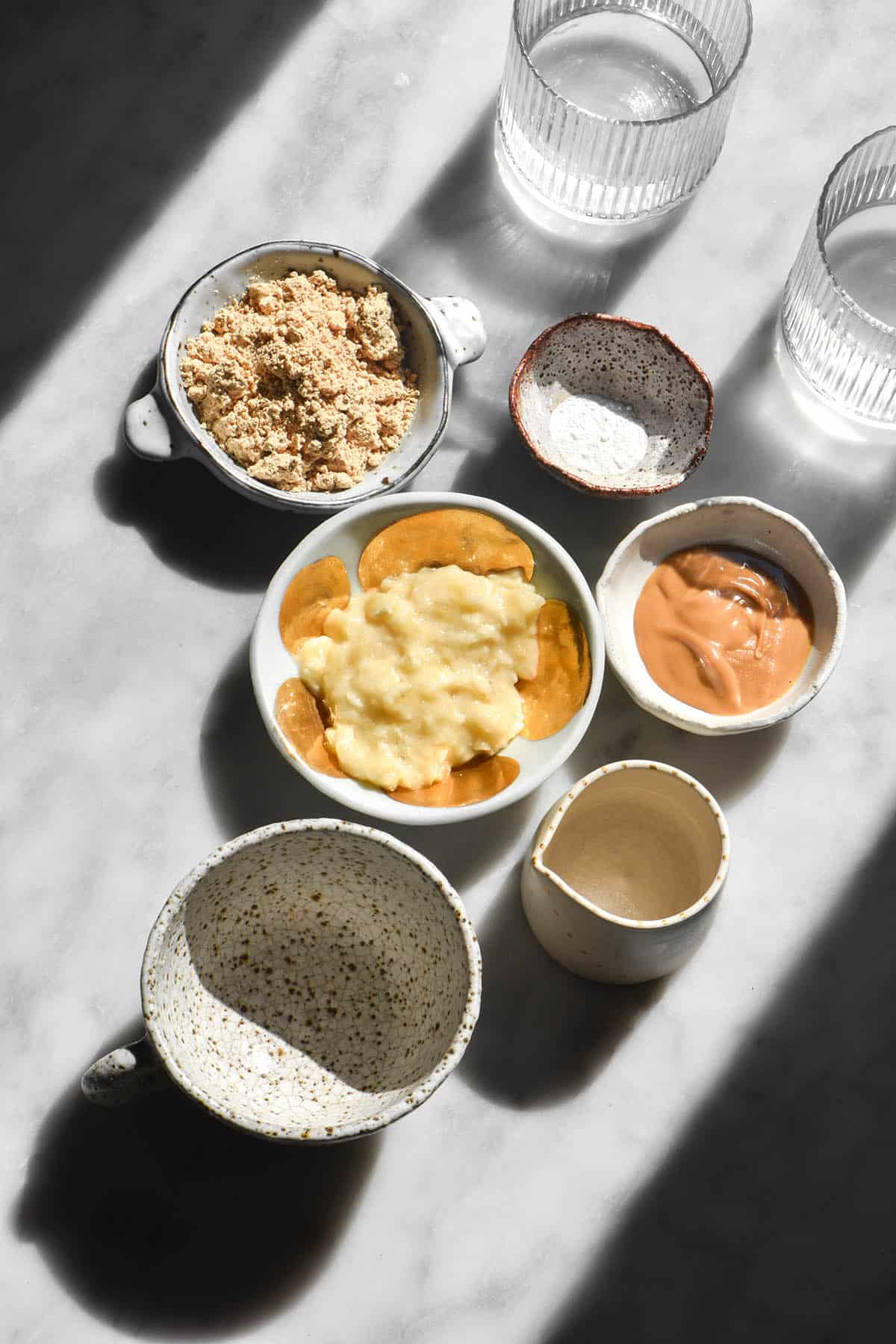 Vegan protein mug cake
This mug cake is egg free and dairy free (obviously!) However, it is also refined sugar free (protein dependent) and totally flourless. As such, we can at grain free to the list, too. It is made from a simple mix of plant based protein powder, banana, nut butter, baking powder and milk. It tastes a minute to mix up and a minute to cook.
One of the things I love about vegan mug cakes is that you don't need to worry about cooking an egg properly. This means you can slightly undercook it, leaving a saucy top and cakey innards. The perfect combination.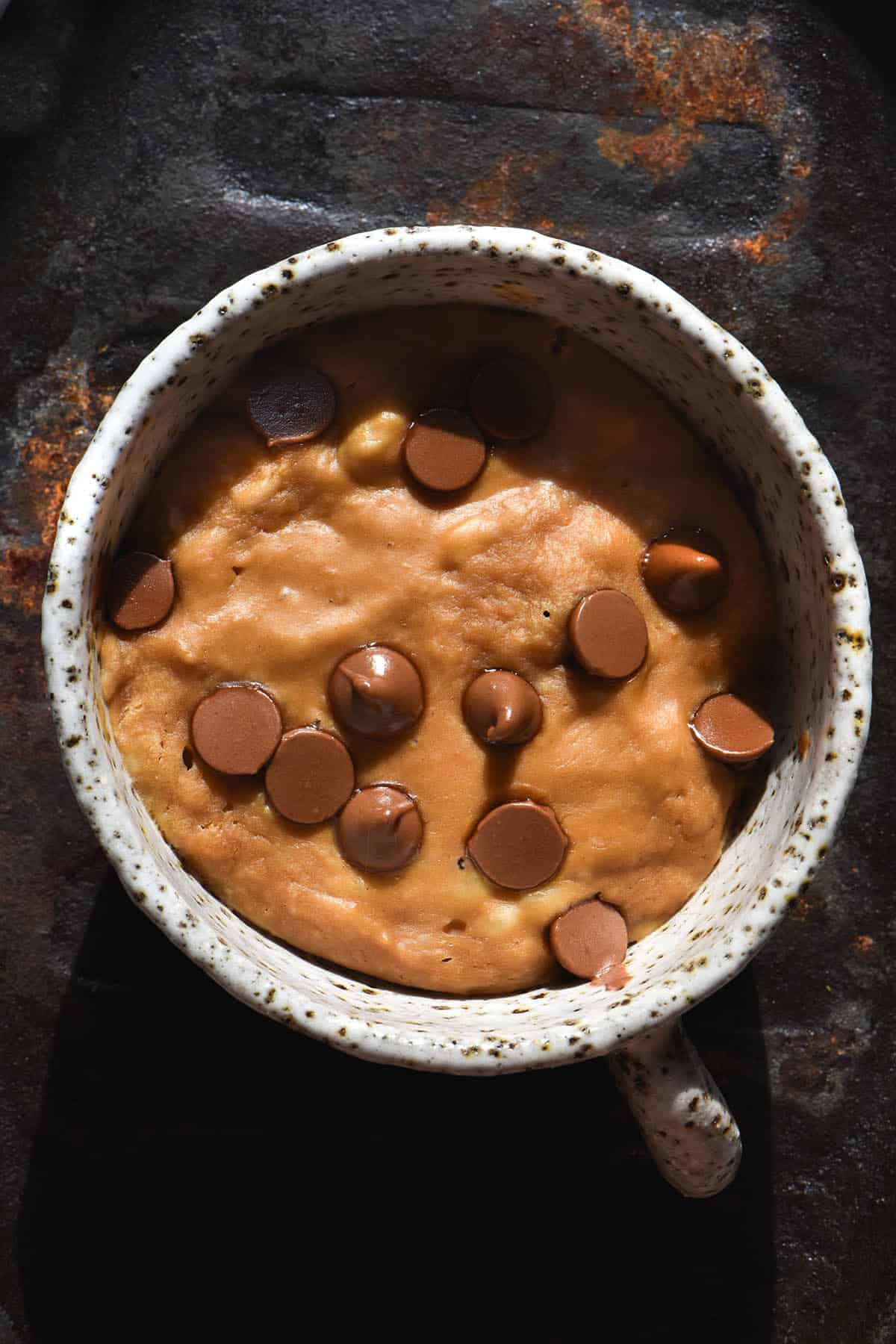 Which vegan protein powder can I use in this recipe?
As with all of my protein powder recipes, I have attempted to try as many different types as I can here. Protein powders, like gluten free flours, vary wildly in their absorbency and binding qualities. Some are a lot more dry than others.
Another factor is that a lot of commercial blends use xanthan gum, guar gum, inulin or fibres. These ingredients all change the way a protein powder performs in a baked good.
Because I prefer not to use those ingredients where possible, I generally use pure proteins. That means a vegan protein with nothing else added – no sweetener, gums, vitamins, anything.
The following is a list of the plant proteins I have tested:
Peanut protein
Hemp protein
Macro Mike almond
Pumpkin seed protein
Almond protein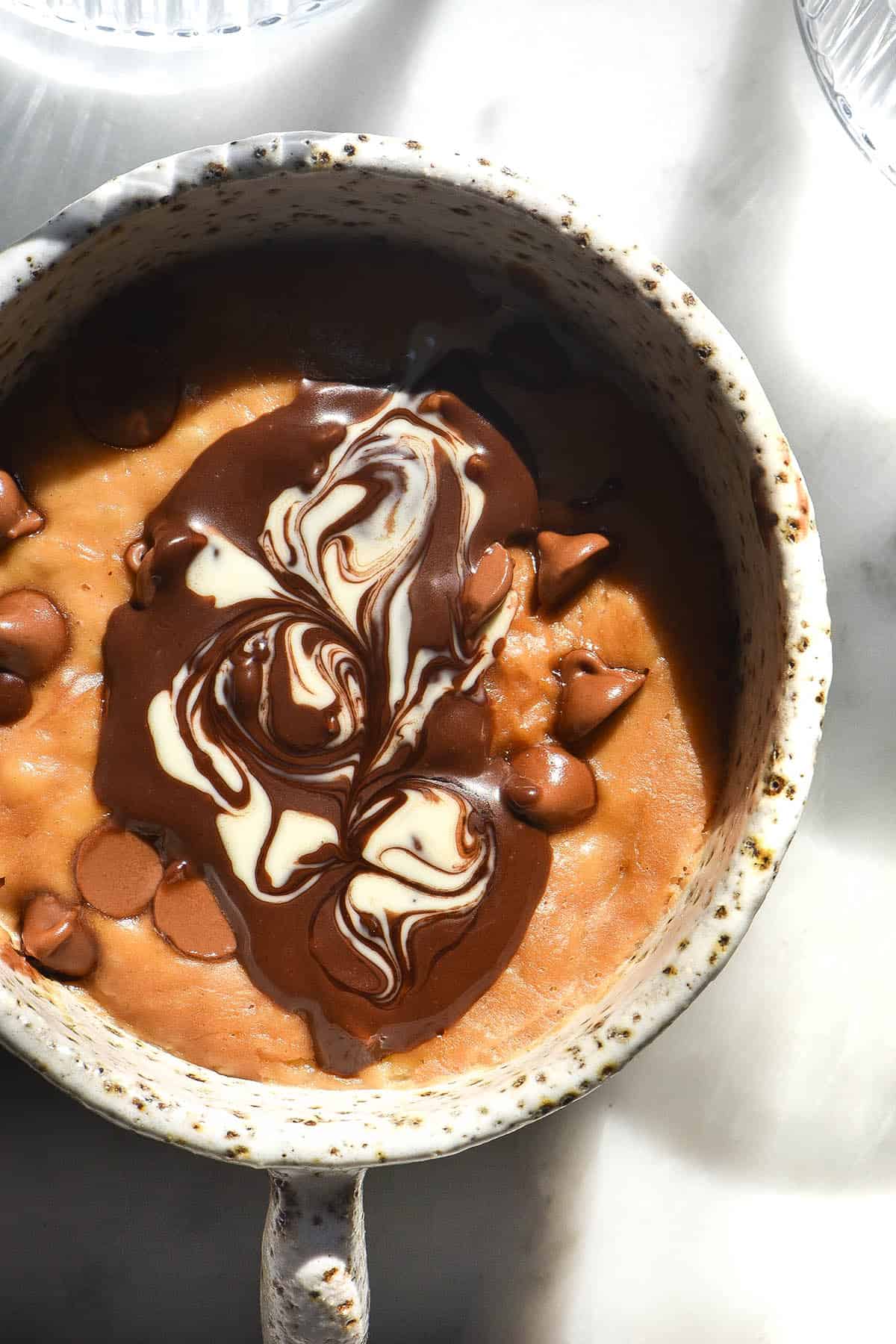 Recipe notes for your vegan protein mug cake
The banana acts as the sweetener in this recipe. There is no added sweetener per se.
That said, protein powders with added stevia or sweetener will contribute to the sweetness.
I recommend using a ripe or just ripe banana to ensure your mug cake is sweet enough. More on the FODMAP notes below.
If you're using an unsweetened protein and like things sweet, use 2-3 tsp maple syrup and less milk.
You can use whichever plant based milk you'd prefer in this vegan protein mug cake.
In terms of the nut butter, anything goes. I have used peanut and almond, as well as tahini.
Options for a nut free mug cake include tahini, pumpkin seed butter, sunflower seed butter or coconut butter (not coconut oil).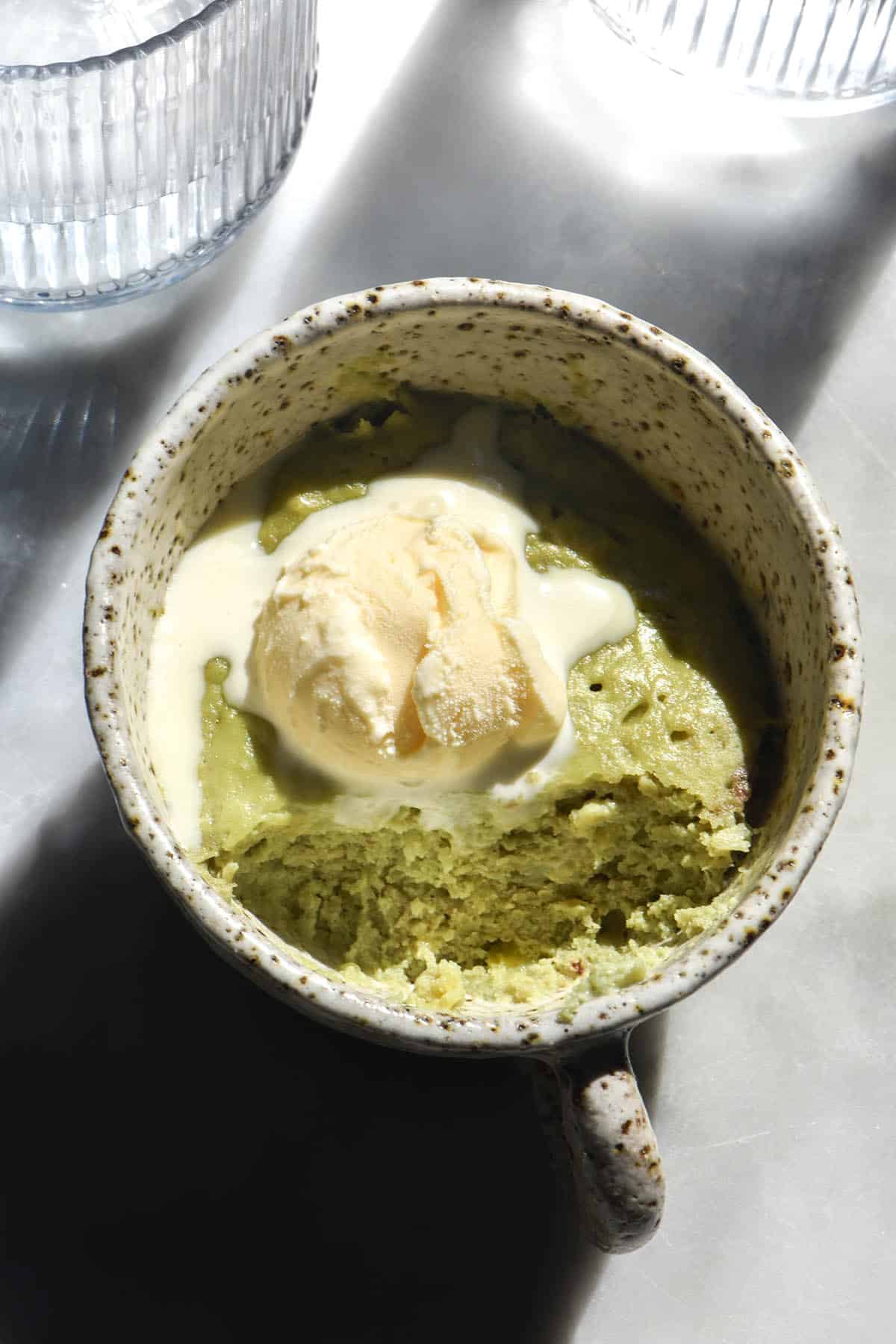 More gluten free protein recipes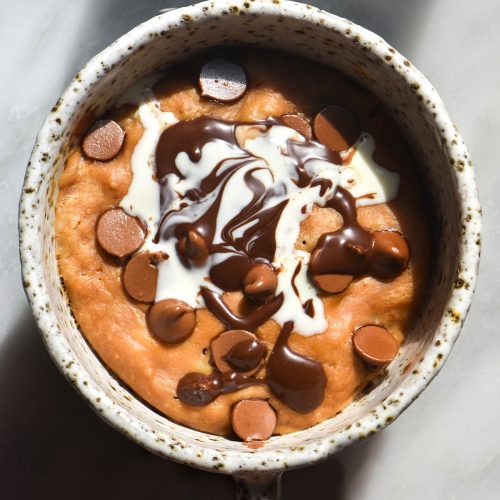 Vegan protein mug cake (gluten free)
Grain free, egg free, nut free option
Cups and measures are in Australian cups and measures. Use gram weights for international accuracy.
1 Australian tablespoon = 4 American, Canadian and New Zealand teaspoons.
1 Australian tablespoon = 3 1/2 British teaspoons
Ingredients
75g

(1/2 large)

ripe banana (see notes)

20g

vegan plant protein (see body of post for what I have tried)

25g

nut or seed butter of choice

1g

(1/4 tsp)

baking powder

1-3

tablespoons*

plant based milk of choice or water

1

teaspoon

neutral oil (optional, use for the drier proteins)
Instructions
Whisk all the ingredients except for the milk in a small mixing bowl to form a thick batter. Add the milk according to the thickness of the batter. It should be a pourable cake batter consistency. Keep in mind that how much moisture the protein will absorb depends on the protein powder. See body of post for tips.

Microwave for 60-90 seconds or until the cake looks cooked in the middle. Allow to cool for 2-3 minutes before serving.