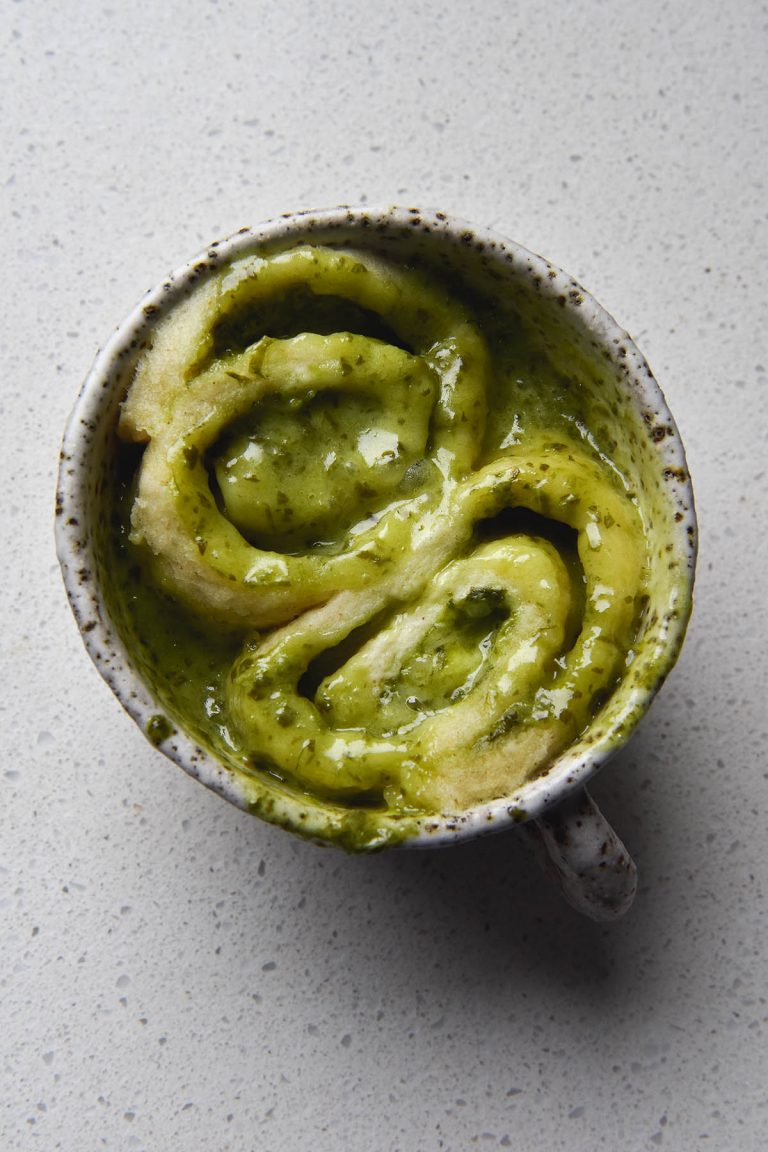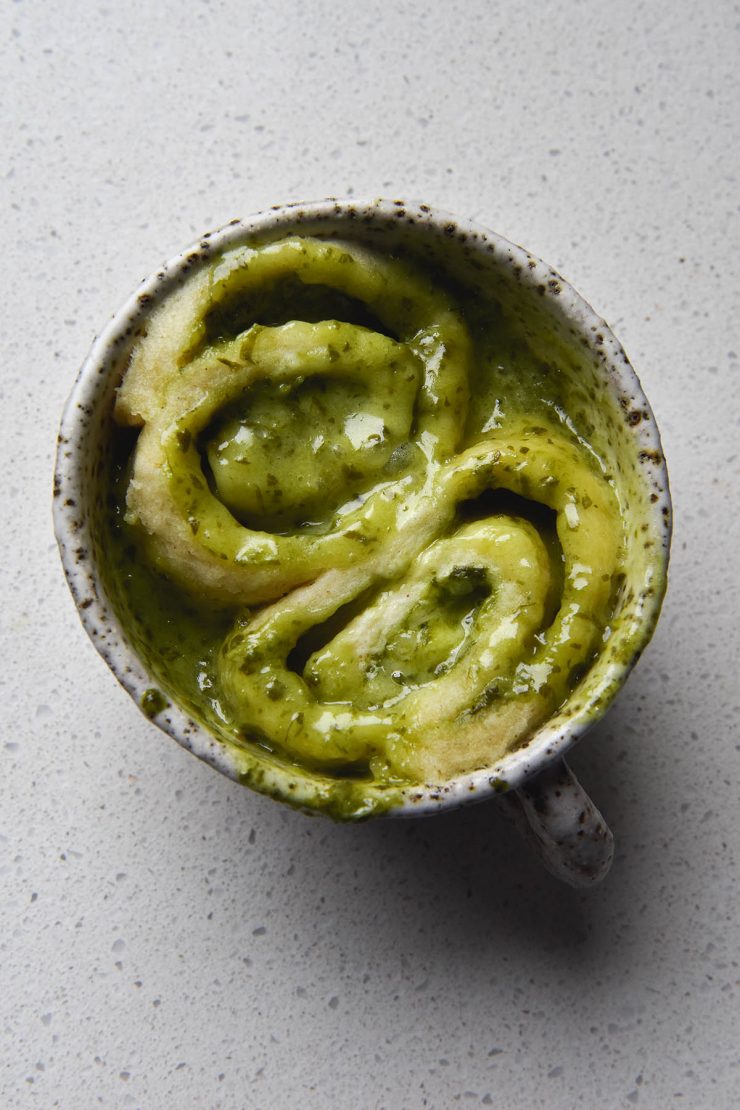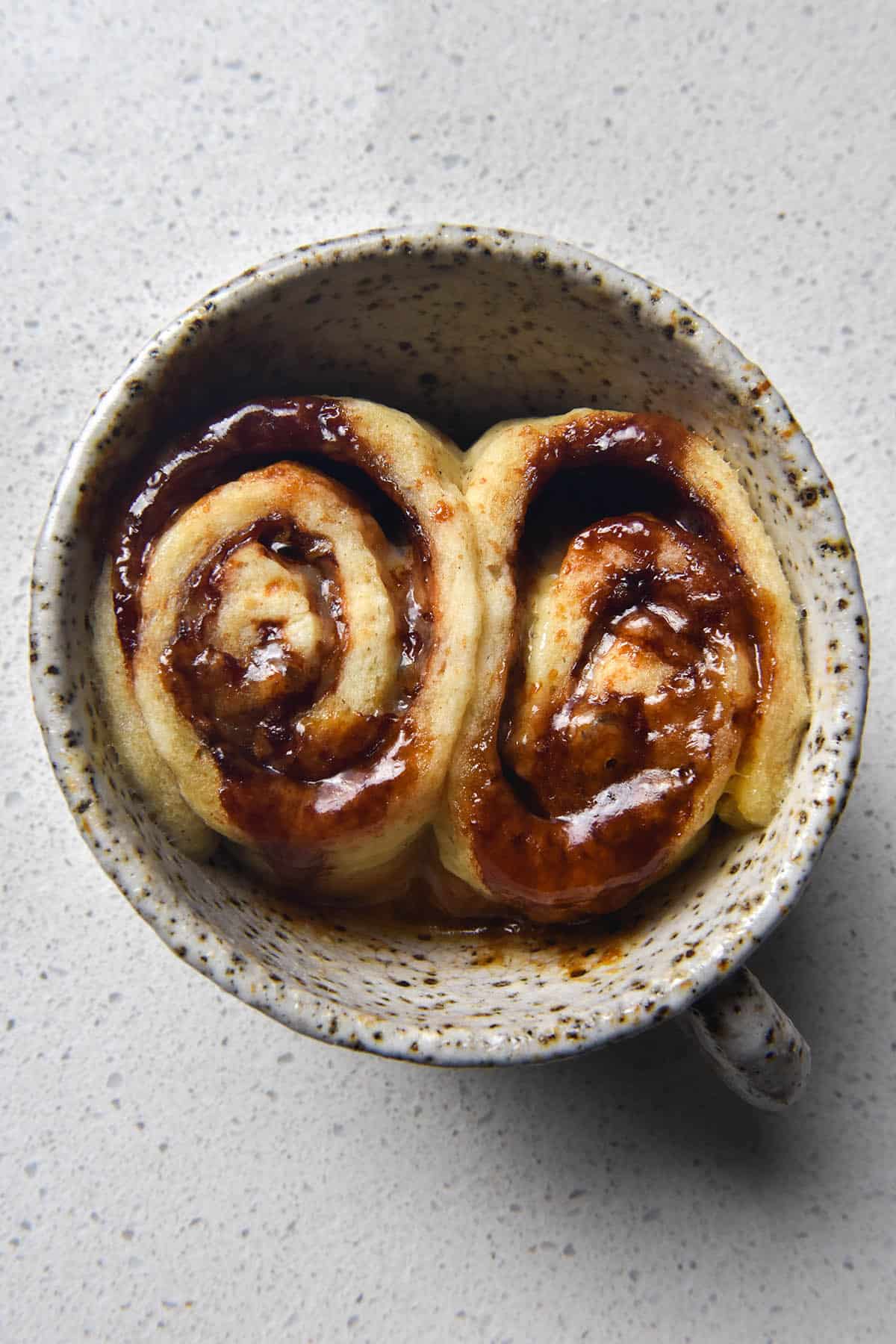 Today I'm sharing a recipe for a gluten-free microwave Vegemite scroll. On the back of the gluten-free, vegan microwave cinnamon scroll recipe, I decided that more quick and easy baked goods were in order. I've also gotten very into yeast free versions, so stay tuned for some sweet and savoury yeast free scrolls.
Gluten-free microwave Vegemite scroll
But first, let's talk about this gluten-free microwave Vegemite scroll. It is easily made vegan with vegan cheese. Moreover, it is FODMAP friendly, gluten free, free of added nuts and made without xanthan gum. The dough is made with a simple blend of white rice flour and tapioca flour with a psyllium husk binder. There's also a starch free option, if that's what you need.
The scroll is quick to make and satisfies a cheesy Vegemite craving. If Vegemite isn't your thing, though, it can also be made with pesto or pizza sauce.

Tips for your gluten free microwave Vegemite scroll
Every microwave is different. What takes 1 minute 30 seconds in mine might take more or less time in yours, so keep an eye on it and adjust accordingly.
I find that the steam from microwave baking adds moisture and perhaps even a bit of elasticity to gluten free mug cake. For this reason, I find you can get away with using all wholegrain flour. In the oven, I find these cinnamon scrolls need the starch.
Every gluten free flour has a different consistency and absorbency. If you attempt to substitute in different flours, you will need to adjust the liquid content to suit. I have no suggestions here – you will need to experiment. I will update the post as I try different flour combinations.
Personally, I am a fiend for Vegemite. They make a gluten free version which is available at supermarkets across Australia. If you aren't, try using a little less than the recipe specifies. Alternatively, see below for more flavour options.
I always find it helpful to use a larger mug or to pop a plate underneath in case of spillage.
You can use a microwave safe ramekin or mug here.
If you don't have a microwave, see below on how to bake these small-batch gluten-free cinnamon scrolls in the oven.

Ingredient notes for your scroll
I have not tried any other flour combinations yet. Please bear with me, there are only so many mug cakes I can eat!
A really fresh and good quality rice flour is important here. You will easily taste a stale or gritty one, as it doesn't have much to hide behind, as it would in say, a chocolate mug cake. For this reason, I recommend buying from a bulk food store, if you can.
I'm sure somebody will ask: yes, Vegemite now make a gluten free version. It is available at most supermarkets in Australia, and likely also online.
Psyllium husk powder has a different absorbency than psyllium husk flakes. I haven't tried substituting and at this stage I don't intend to. You can buy psyllium husk powder or grind the flakes into powder using a spice grinder.
I used Nuttelex Cook and Bake or Nuttelex Buttery for all my tests. It's easily accessible at Australian supermarkets and a fairly predictable product.
This gluten-free microwave savoury scroll contains more baking powder than the cinnamon version. This is because I found that a puffier dough helps keep the melty cheese in place. The dough with less baking powder came out of the microwave looking a little like the cheese had seeped out (see below). Obviously the cheese has nowhere to go but it does impact the visual a little.
To keep this recipe vegan, you need to use vegan cheese. I didn't, because I find regular cheese works better for my digestive system.

How much liquid to add to your gluten free scroll
If you always read my posts (A: you deserve a medal) but B: you'll know that I always talk about flour variations. Different flours (brand to brand, country to country) absorb liquid differently, which is why you can follow a recipe and still end up with a dry result.
Added to this is the variation that different brands and styles of vegan milk and butter can bring.
If you have a high risk tolerance, you can add up to a 1/3 cup (80ml) of milk to this gluten-free vegan microwave cinnamon scroll (when you use the wholegrain option). It might be slightly more difficult to roll, but it will lead to a lovely moist scroll, which is better than a dry one.
If you use the tapioca flour option, I recommend capping the hydration at 1/4 cup (60ml). Of course, this might be different for your flour, but I found adding too much liquid to tapioca made for a gummy scroll.

Substitutions and flavour suggestions
Vegemite is a very Australian thing, I know. People don't seem to 'get' Vegemite overseas, and although I think that is a travesty, I have some suggestions.
FODMAP friendly pesto. I personally like to use a cheese and nut free style in these scrolls, as they're quite heavy going.
Pizza flavour. This is my dream for a hungover Sunday. As I mention below, I recommend using tomato paste concentrate so as not to waterlog the scroll.
If you're not vegan or even vegetarian, you could experiment with any number of things. Ham, salami, whatever people do these days. Note that I find you need to use less dairy product in the dough when compared to vegan alternatives. If you'd like to use regular dairy, I would cap the liquid at 1/4 cup (60ml).
Make the dough with garlic infused ghee. I haven't tried it yet, but I'd like to think it infuses the mug cake with a little extra somethin'.

How to bake this gluten free Vegemite scroll in the oven
Fear not! This gluten-free microwave Vegemite scroll doesn't need to be made in a microwave. It can also be made in the oven. Although it takes a little bit longer, it is still a far quicker process than making a traditional scroll. Quick and easy steps below:
Preheat the oven to 180C/356F.
Prepare the dough as per the instructions and place it in an ovenproof ramekin. Place the ramekin on a baking tray in case any cheese overflows.
Bake for 15 minutes or until the scroll feels springy but cooked.
Some important notes:
I find that the wholegrain version needs 1/3 cup (80ml)of milk (ie: more milk) when baked in the oven. A dough with more liquid definitely a little harder to work with as you roll it out, but with an oiled piece of baking paper on your side it will all be OK. It also helps to leave the binder to firm up a while, if you have the time and patience.
The version with tapioca flour becomes quite gluey when too much liquid is added, so I recommend using 1/4 cup (60ml) for both the oven and microwave version.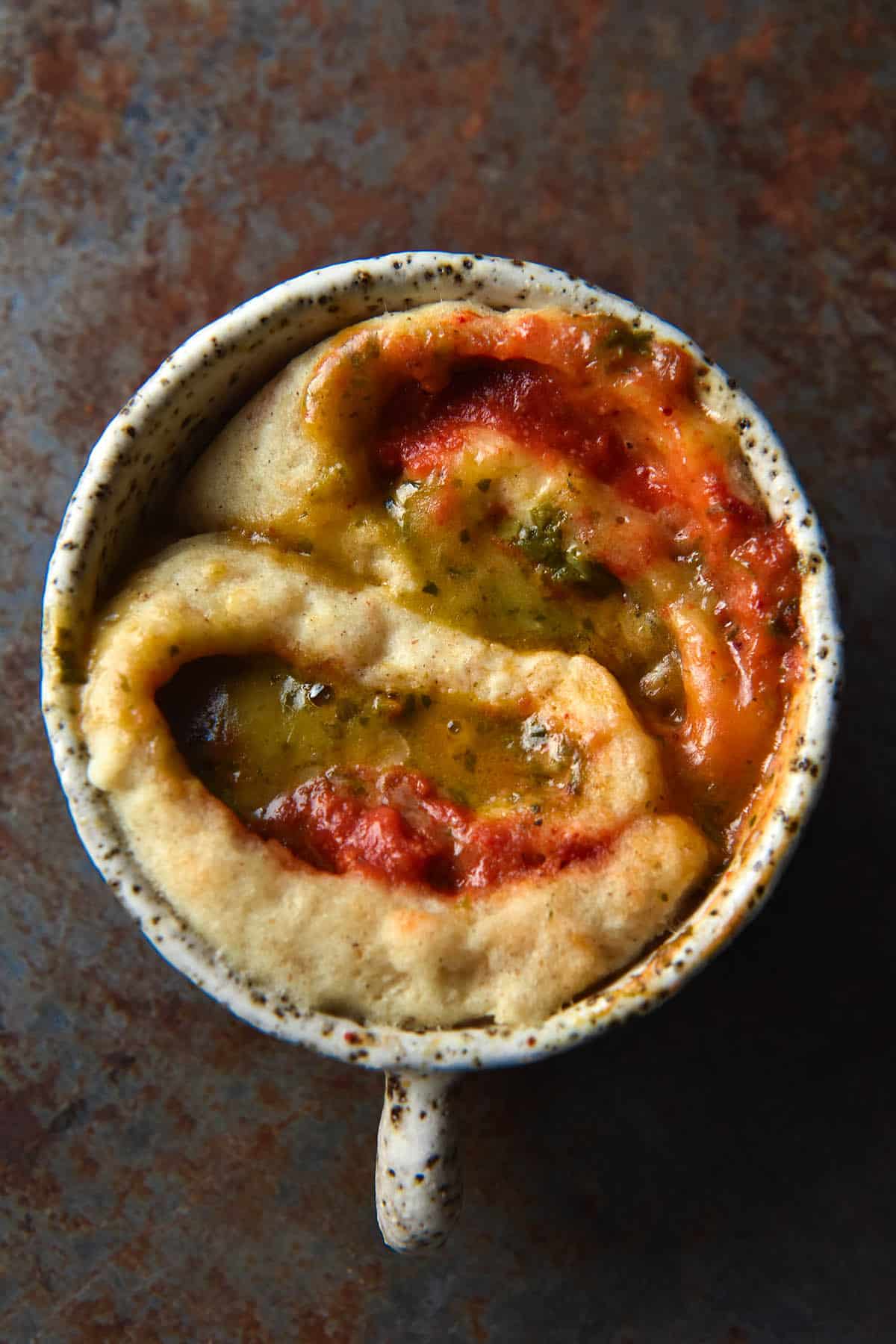 Troubleshooting your scroll
Cake too gummy? Check that you weighed the ingredients and used what is specified. If you did, it could be that your milk and butter are markedly different to mine, or that your flour is less absorbent. Use a little less milk next time.
As I've mentioned, I find that the tapioca version becomes particularly gummy if too much liquid is added. Try adding less or using the wholegrain option next time.

Last minute tips to ensure your scroll is delicious
The more 'wet' ingredients you add to your scroll, the longer it will take to fully cook. This means that if you add lots of pesto and cheese, you will need to cook it for longer. I found the pizza flavoured scrolls took the longest. I recommend using tomato paste (concentrate, not tinned tomatoes) for the pizza flavour, thinned with just enough water to get it to spread. I tried a scroll with pizza sauce and I found it was too wet to cook properly.
If you intend to stuff your scroll to the brim (looking at you, pizza flavour) I recommend adding 1/4 teaspoon baking powder instead of 1/2. This way you've got more space in the mug as everything expands. If you're using a snug mug, this is particularly important.
Needless to say, if you take a chunk out of your mug cake and find it is undercooked inside, just pop it back in. If you find this happens consistently, add less filling and cook for longer. Remember, all microwaves are different.
More gluten free small batch recipes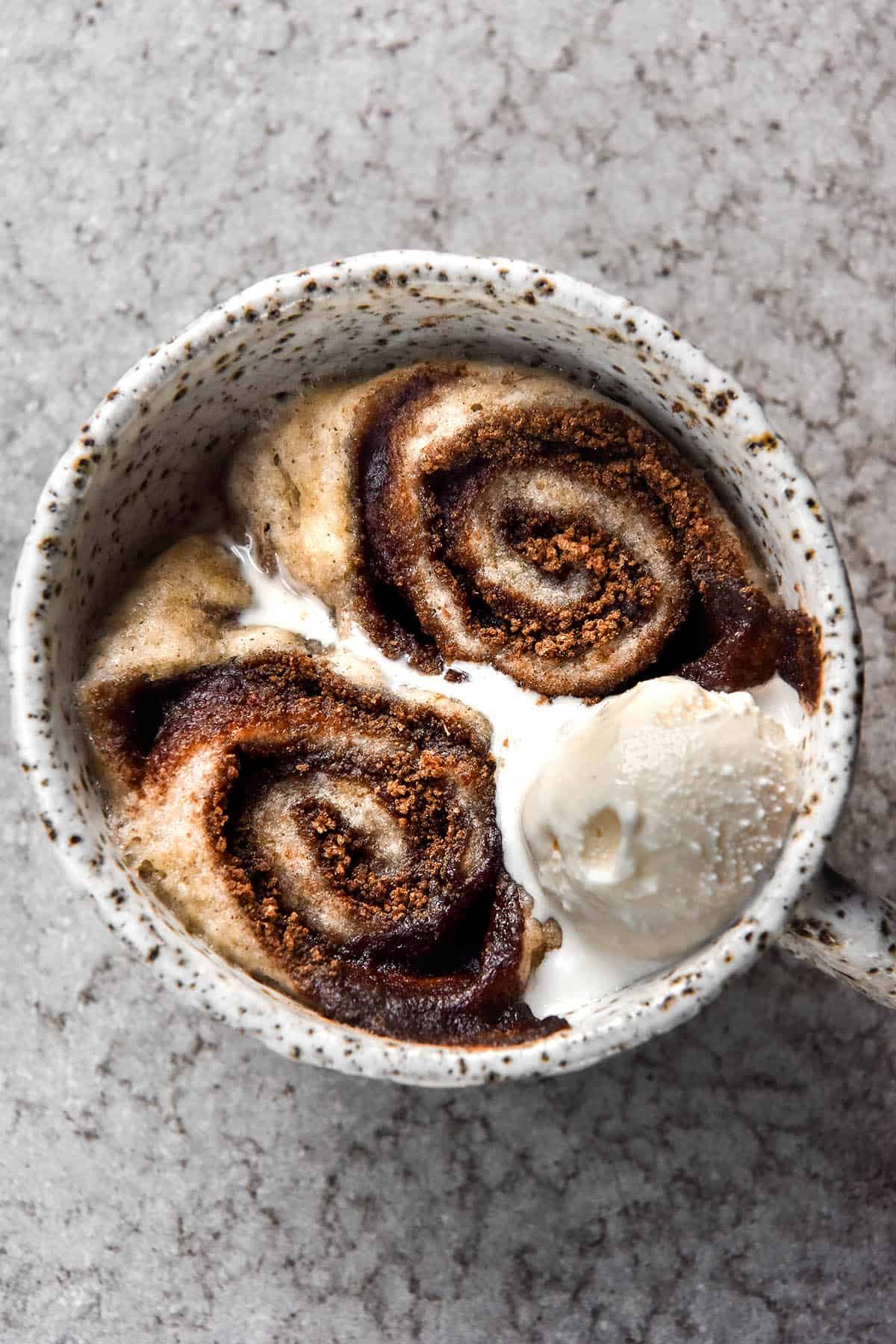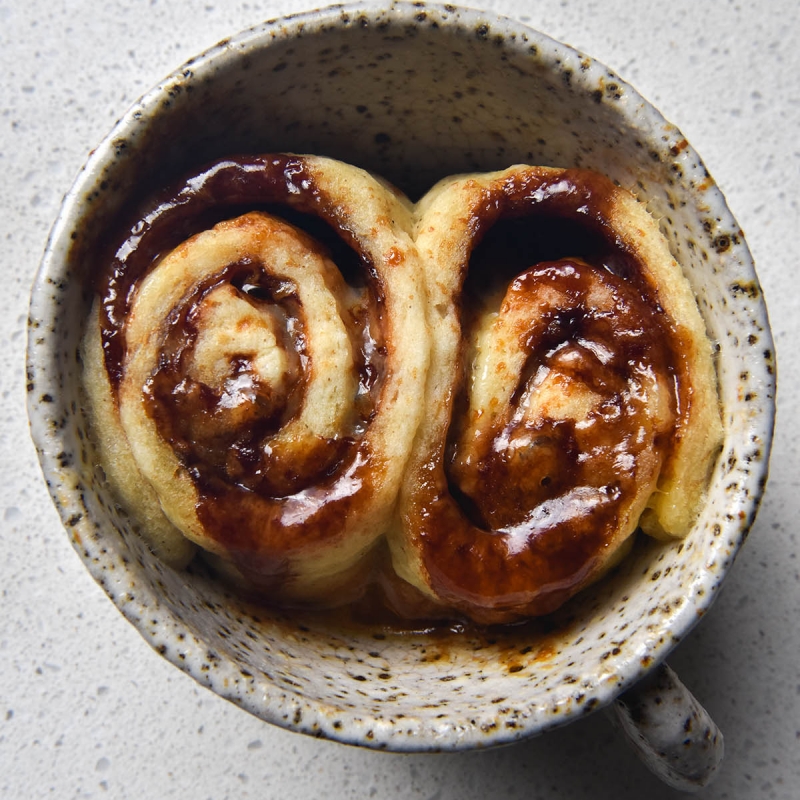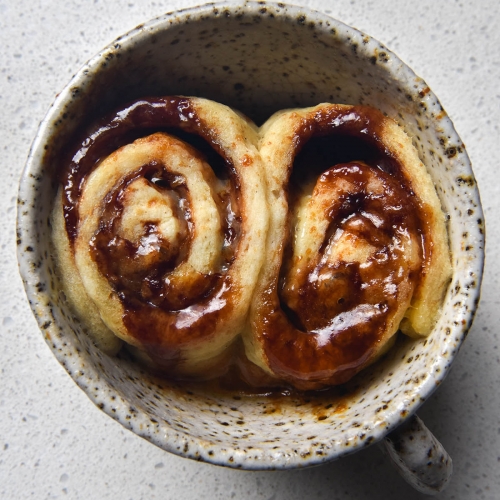 Single serve microwave vegan and gluten free Vegemite scroll
gum free, starch free, egg free, yeast free
Ingredients
For the binder:
1/3

cup

(80ml) hot milk of choice, see notes (I used soy)

25

g

vegan butter

melted

3

g

(1 teaspoon) psyllium husk powder
For the dough:
35

g

fine white rice flour

15

g

tapioca flour

1/2

teaspoon

baking powder

1/4 – 1/2

teaspoon fine salt

see notes

Pinch

of fine salt
For the filling:
1-2 1/2

teaspoons

Vegemite (gluten free if it needs to be)

see body of post for alternatives

hot water, just to form a paste

25-50

g

freshly grated cheese of choice

use a good melting vegan brand to keep the scroll vegan
Instructions
Whisk together the wet ingredients for the binder in a medium sized mixing bowl. Sprinkle over the psyllium husk powder, then whisk vigorously until it is fully incorporated and no clumps remain. Set aside to form a gel while you mix up the dry ingredients. The longer you leave it, the easier the scroll will be to roll up.

In a small/medium bowl, combine the flours, baking powder and salt in a small bowl. Add the psyllium husk gel to this bowl when it's ready, then stir or use your hands to squelch the binder through the dough until it forms a cohesive ball. There should be no flour left in the bowl – just a ropey but moist, juicy dough.

Grease a small long piece of baking paper, with a scant amount of oil. Place the scroll dough on the paper. Lightly oil your rolling pin or use your hands to press and roll the dough out into a skinny, long rectangle. This dough has a bit of elasticity and tends to spring back a little, so take your time.

Make sure the dough is reasonably thin (roughly ½–1 cm) but without any holes. Spoon over the Vegemite mixture, then add the grated cheese.

Beginning on the short side, use your fingers to fold the 1cm border of the dough up onto itself. You want to create a tight roll, so try and make this first notch as small as possible. Continue folding the dough up until you have a tight, pert log. Shunt it in at the edges to make it round and perky.

Take a piece of thread or non-flavoured tooth floss and thread it underneath the log of dough in the middle of the log. Hold one end of the string in each hand and pull in opposing directions to slice through the log. Gently flip each scroll upright and use your hands to gently cup and mould them. Press them down a little so each has a solid base, then place into the microwave safe baking dish or mug, side by side.

Microwave for 1 minute 30 seconds or until your dough is springy but firm to the touch. If you are using a lot of filling, I recommend 2+ minutes cooking time. See the body of the post for how to cook it in the oven.
Notes
See the body of the post for flavour suggestions
If you make the scroll with Vegemite (or another particularly salty ingredient) use 1/4 teaspoon salt. If you use pesto or a less salty addition, add 1/2 teaspoon salt.