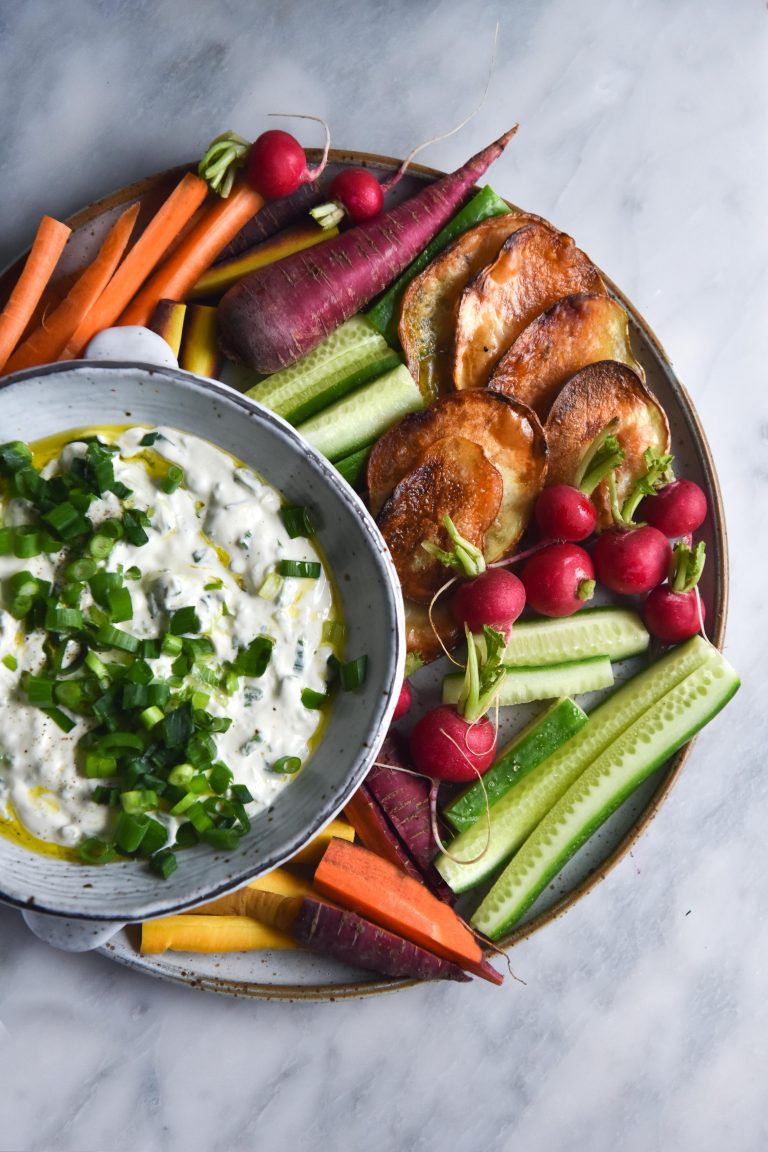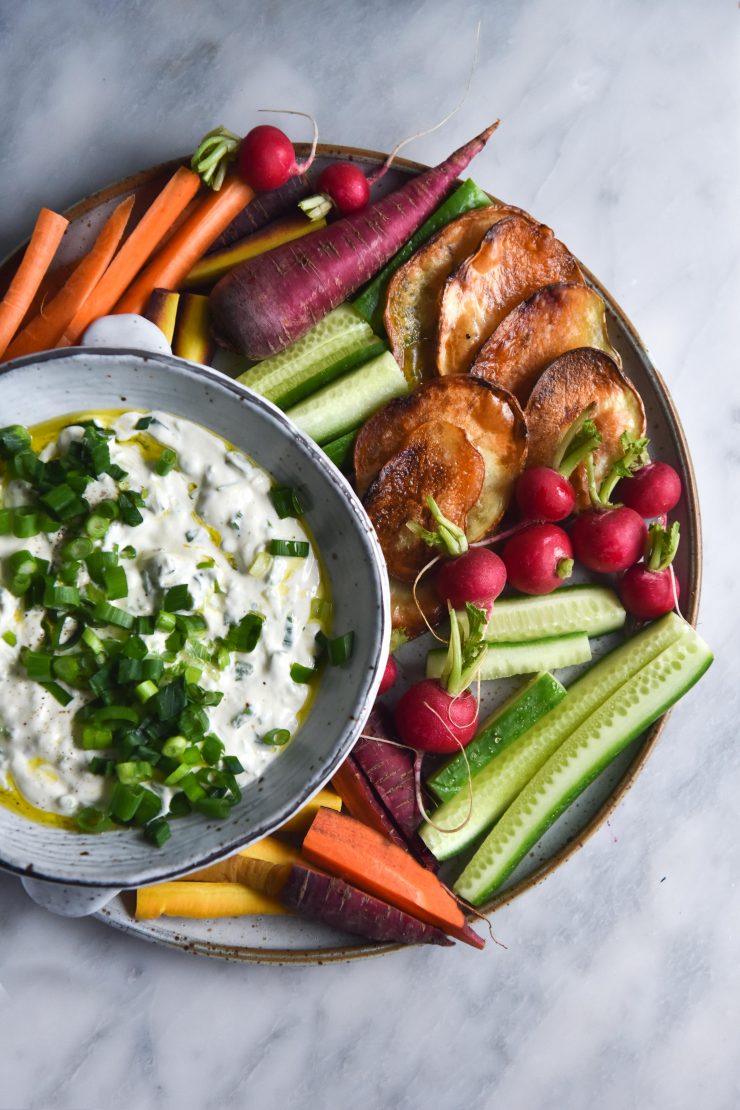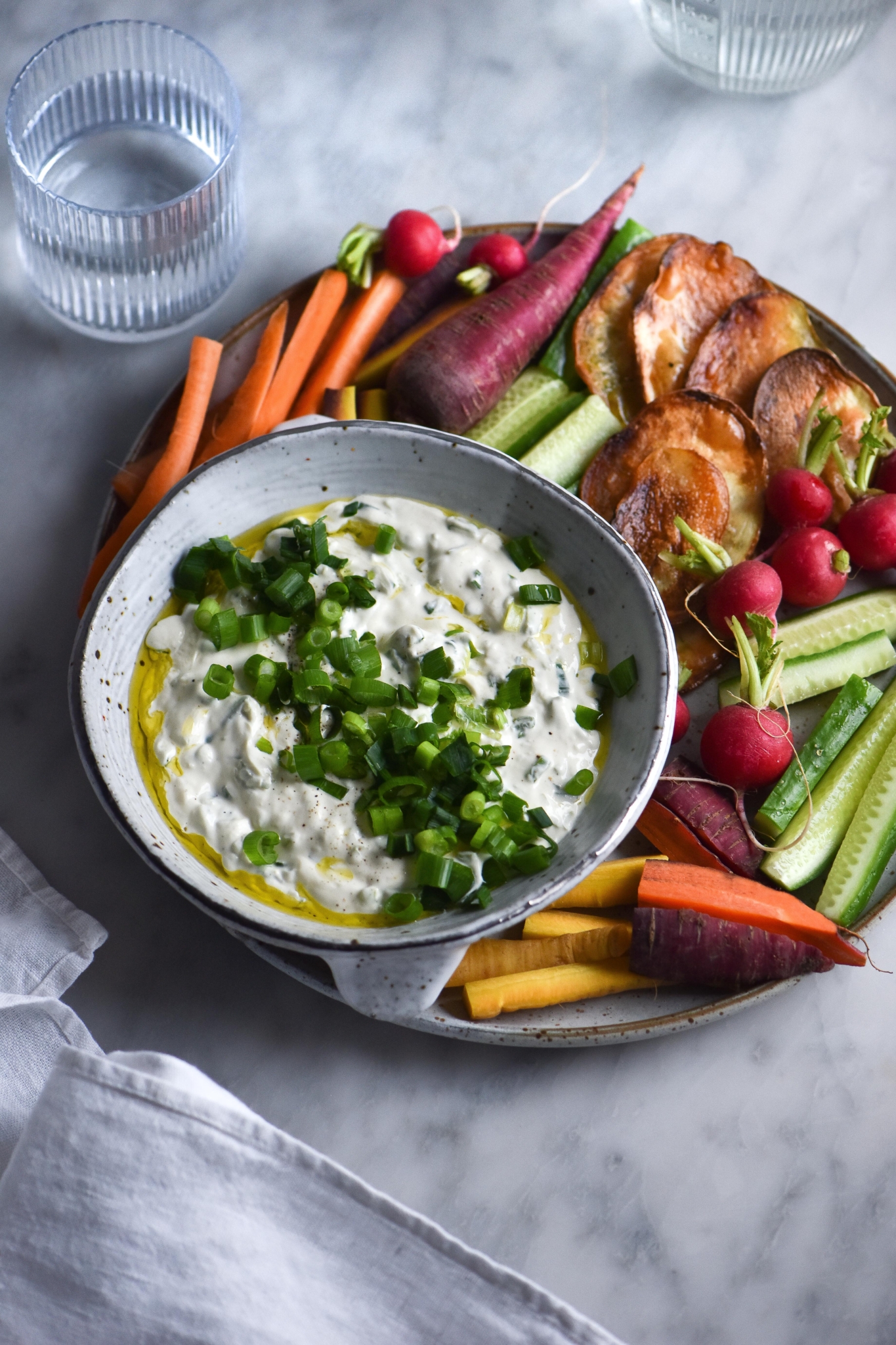 Given how much I enjoy them, I don't develop nearly enough dip recipes. With crudites, on roast vegetables, inhaled from the container; there's not much dip cannot do. This FODMAP-friendly spring onion dip is no exception. In fact, it might just be my favourite homemade dip to date. Whip it up the night before to allow the flavours to meld and you have yourself a delightfully oniony dip. Without all the associated FODMAP ills, naturally.
This dip is based on two important ingredients: lactose free cream cheese and lactose free sour cream. I've been told that there aren't as readily available in other countries as they are in Australia. Annoying, but not insurmountable. We'll go into that below.
The third ingredient, of course, is spring onion greens. The greens (not the whites!) are considered negligible FODMAP wise by Monash. As a result, you can really eat as many as you fancy. Great news for our dip. Speaking of, shall we dive straight into it?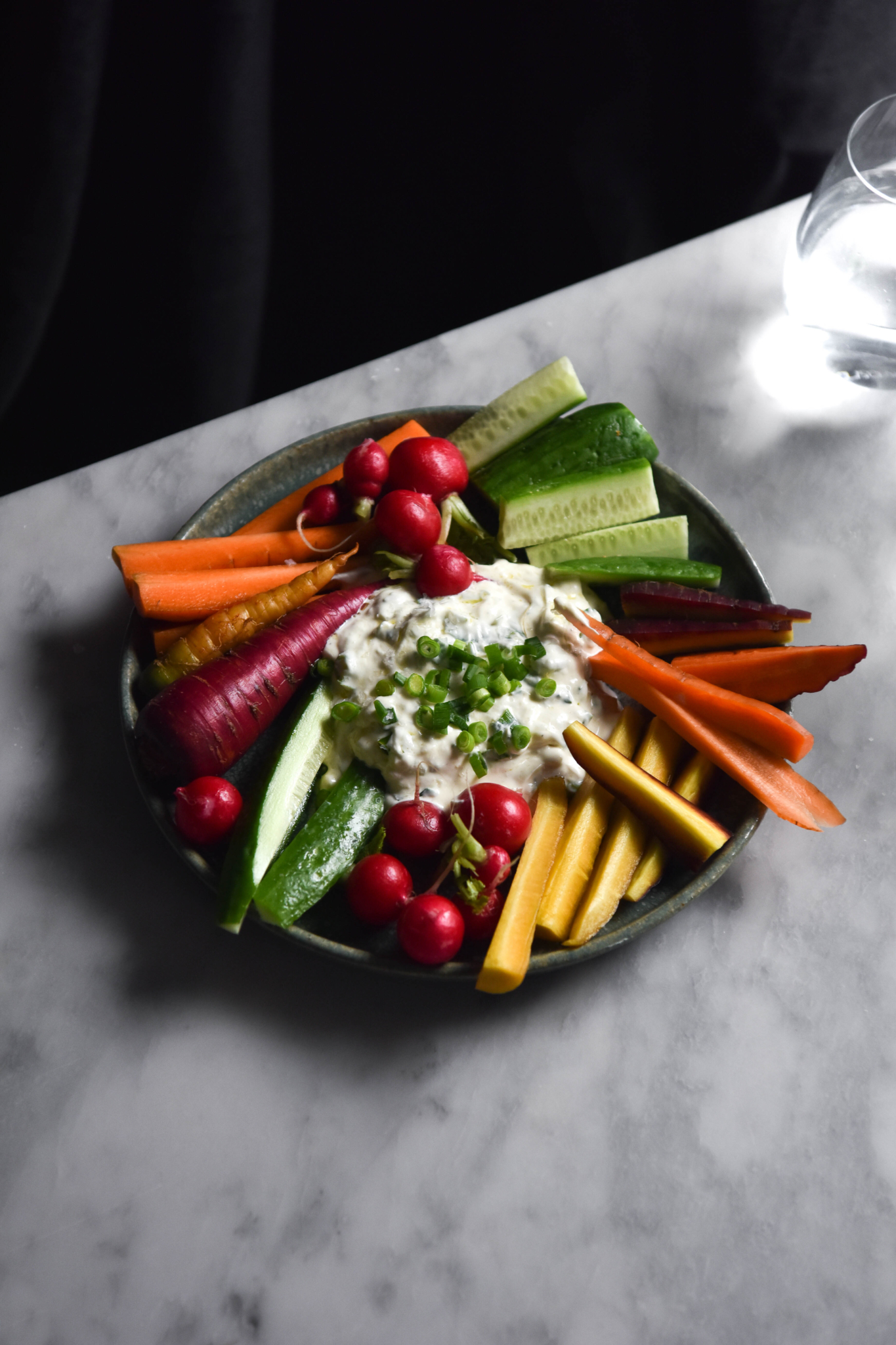 FODMAP-friendly spring onion dip notes
Spring onions might be called scallions where you live. They are the same thing. As we've discussed, only the green section is FODMAP approved. How much of the hybrid green and white section you use is up to you. I use A LITTLE BIT of it because I find I'm fine with a smol amount (despite being heinously impacted by onion). It's also worth noting that you can use the whites if onions/fructose are not an issue for you.
As we've discussed in the mini Basque cheesecake recipe, you can make your own lactose free dairy. This is an easy option if the lactose free products outlined are not available where you live. Basically, you add lactase to the dairy products and allow it to do it's thing the night before using them. Simple and effective for someone with serious lactose issues. If lactose isn't your issue or you won't be eating enough of the dip to cause harm, use regular dairy.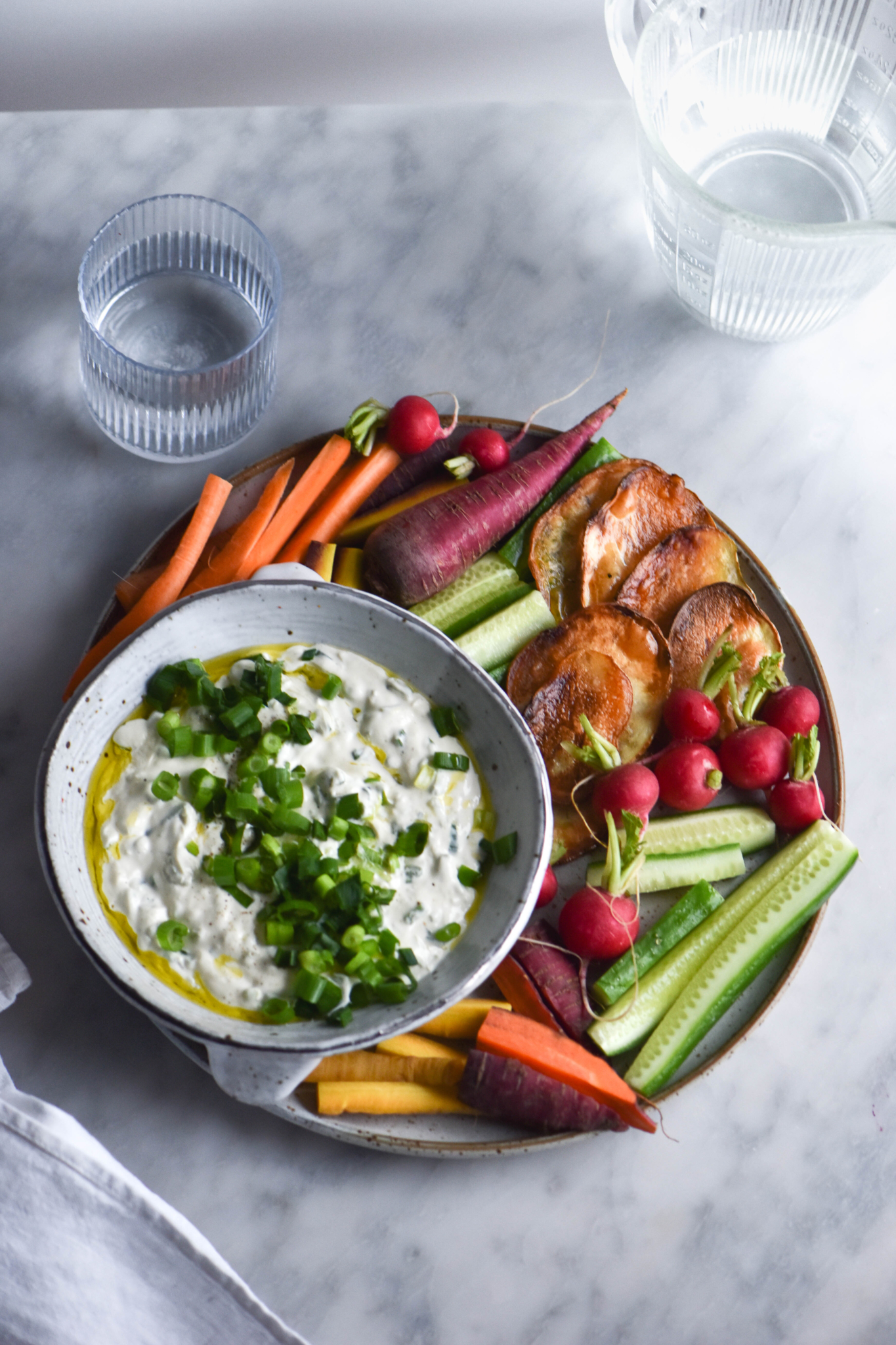 More low FODMAP spring onion recipes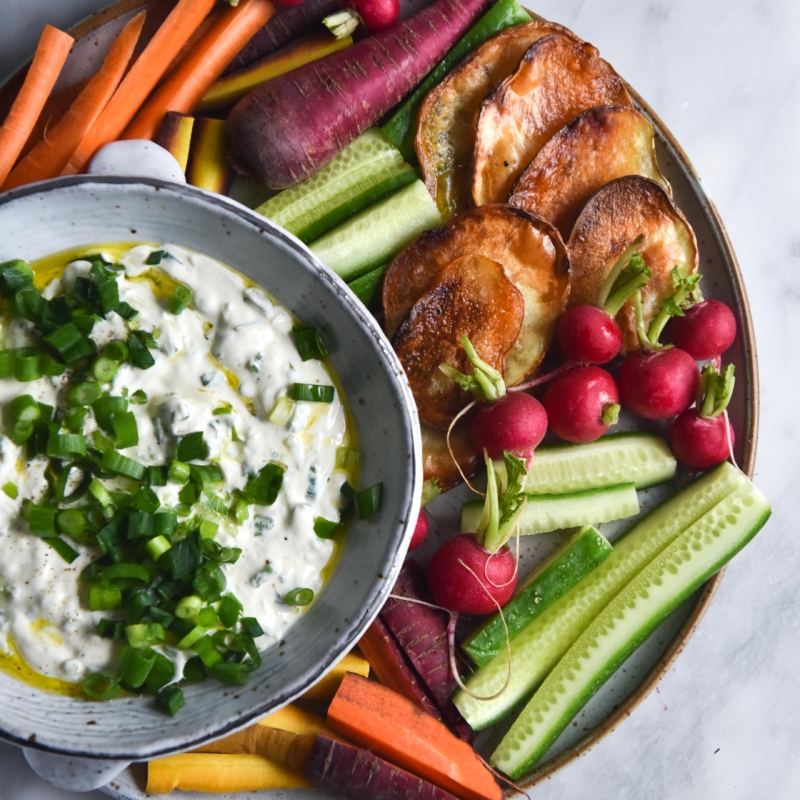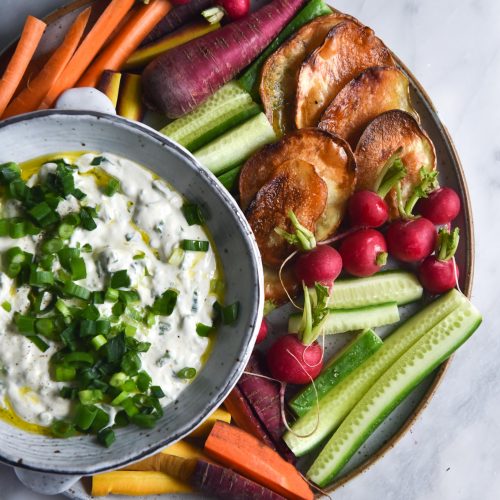 FODMAP friendly spring onion dip
FODMAP friendly, lactose free, gluten free
Ingredients
250g

lactose free full cream cream cheese, room temperature

200g

(just over 3/4 cup)

lactose free sour cream

1

tsp

maple syrup or other liquid sweetener

5-6

spring onion greens (not whites) chopped

Zest and juice of a lemon, to taste

Seasoning, to taste
Instructions
The night before, use a hand beater to beat the cream cheese until it is smooth. Add the sour cream and continue beating until the mixture is smooth and combined

Add the remaining ingredients and use a spoon to combine. Taste and adjust for seasoning and lemon. Place in the fridge overnight to allow the spring onion flavour to permeate the cream cheese. Serve with cruditès and crackers or use anywhere you would traditionally use dip. Keeps well in the fridge in an airtight container for a number of days.