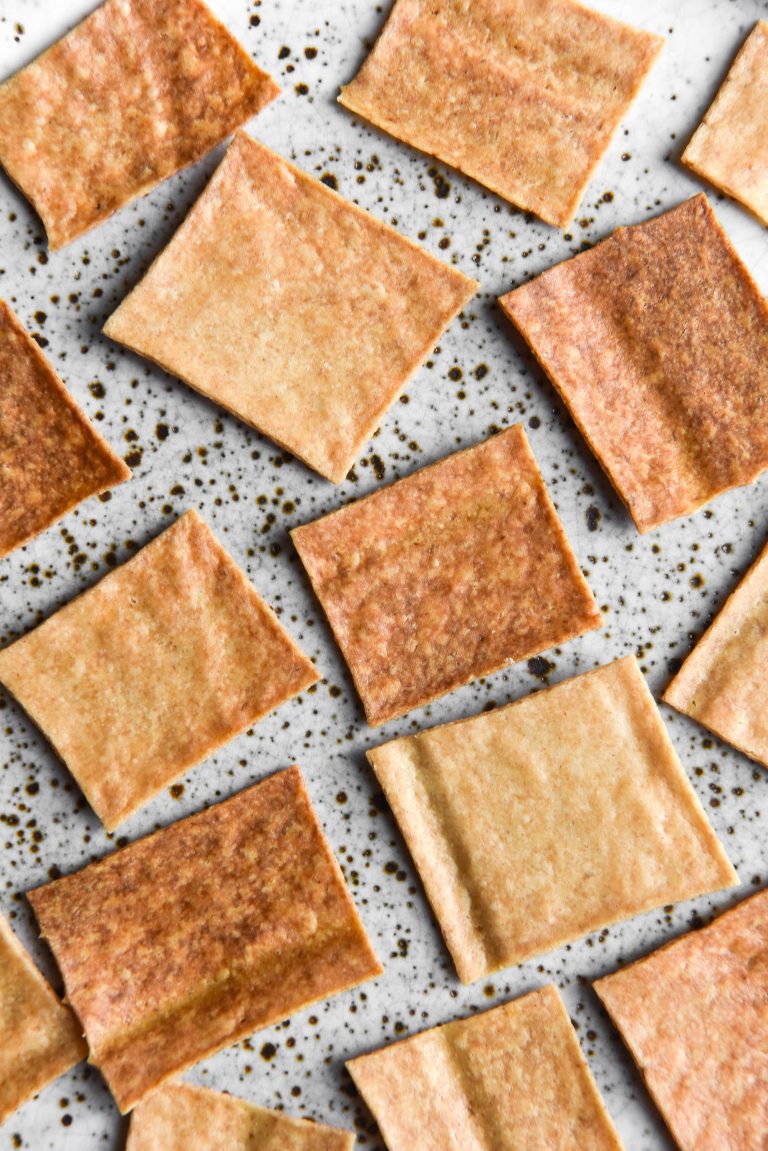 A lot has happened on the sourdough front over the last few weeks. While I published my guide to gluten free sourdough starter last year, I had planned to tinker with the gluten free sourdough recipe at my own pace. Needless to say, 2020 threw those plans out the window. The gluten free amongst us need bread (and a time consuming activity) too, you know. However, my only personal gripe with sourdough is the wastefulness of the discard process, particularly when flour is scarce. Enter: gluten free sourdough starter crackers.
These gluten free sourdough crackers are the PERFECT no-waste solution. They're outrageously delicious and offensively easy to make. I'm going to say it: I almost enjoy them more than the bread itself.
Gluten free sourdough crackers
The crackers are gluten free, nut free, FODMAP friendly and made with (gluten free person) pantry basics. They can be made vegan (see notes) and can have endless flavour varieties, depending both on the flours used in your starter and the ingredients you add.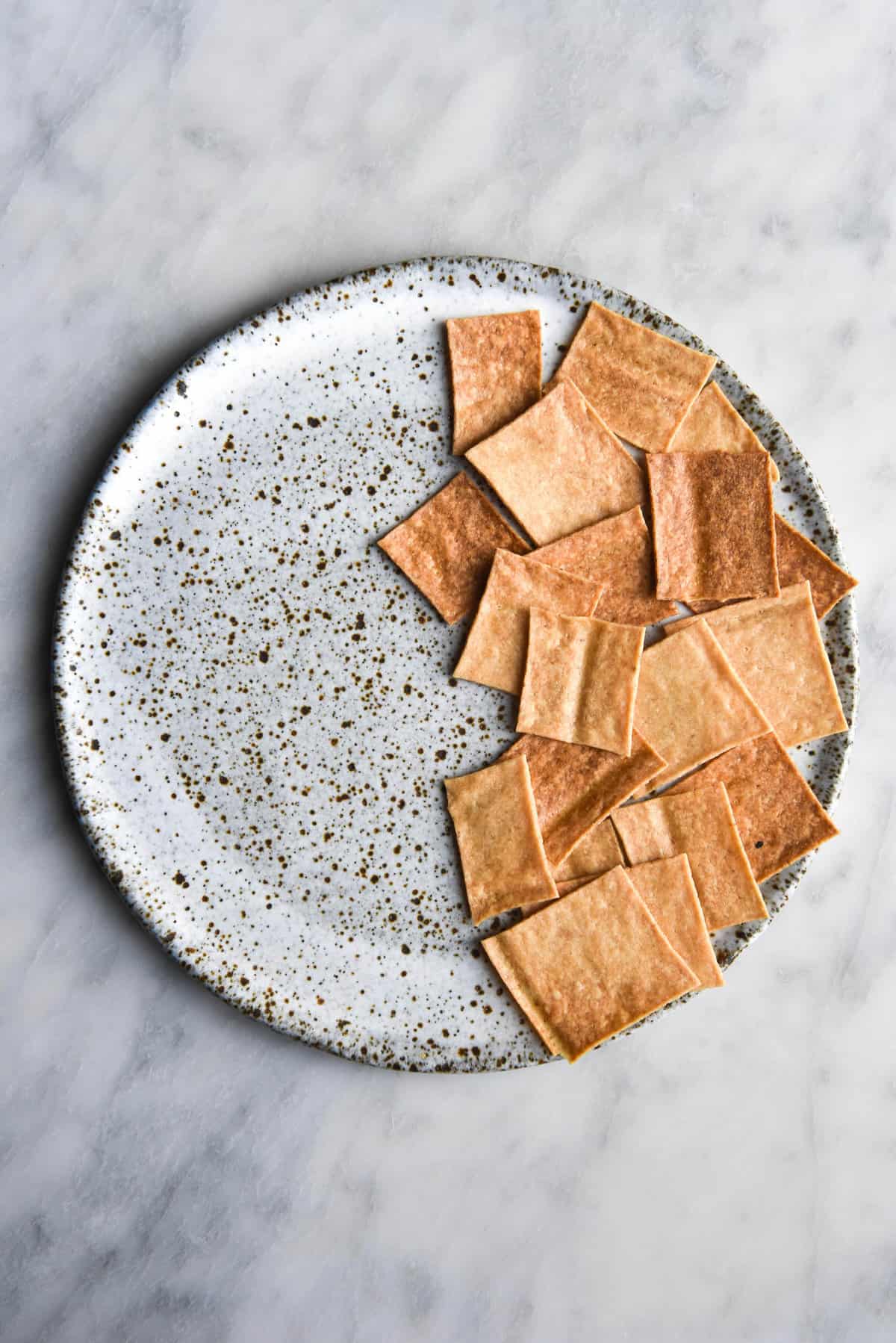 Tips for your gluten free sourdough crackers
You can use a starter for crackers whether it has been fed recently or not. The only difference between the two (considering we don't need the gas) is how sour the crackers will taste. Using a starter that hasn't been fed recently will result in a more tangy and pronounced flavour. Personally, I prefer it this way – they taste kind of cheesy. Plus, there's no real point wasting a fresh feed on it (but you do you).
On the note of starter, I'd recommend using one once there's some bubble action for a more pronounced taste. However, you can probably get away with a starter that isn't quite ready for bread yet, as long as it's thick enough.
I have read that a lot of people 'save up' their sourdough discard in a container in the fridge. This is an option if you'd like to make a lot of crackers, but don't want to deplete your starter. Personally I like to whip up some crackers every time I have some errant discard. They're a delightful little snack.
The ideal consistency of the starter, as mentioned in the sourdough starter guide, is a thick paste without a crunchy looking top. If your starter is runny you might need to add a bit extra psyllium husk.
Although I haven't tried it, you could experiment with using a vegan butter for this recipe. I'd recommend cutting the gram weight by about 10g (to account for the browning process). I would also suggest using a good quality vegan butter with as high fat content as possible.
You can flavour them with anything you want! I like the plain version, but literally anything would work. Poppy seeds, sesame seeds, oregano, paprika – the world is your oyster.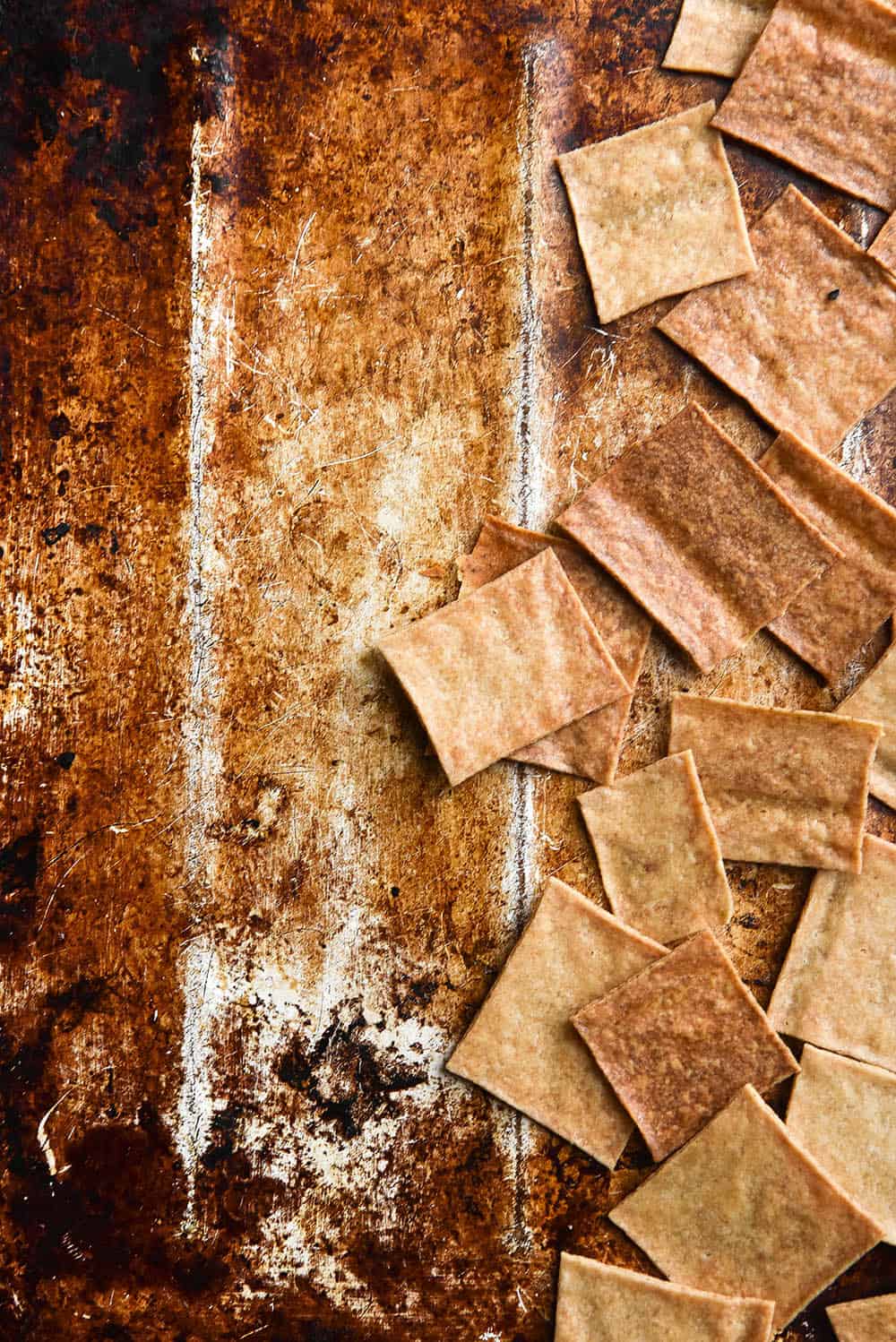 More gluten free sourdough recipes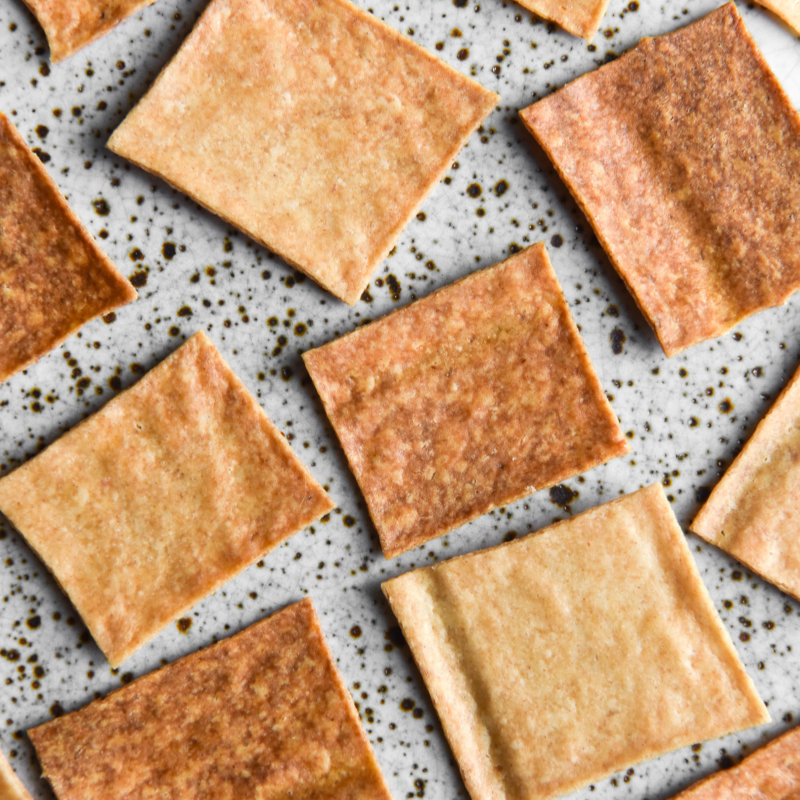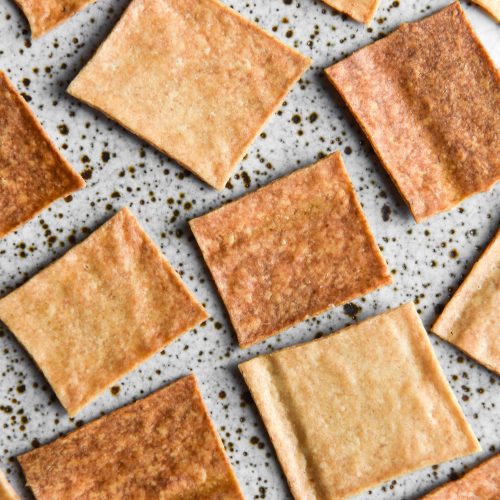 Gluten free sourdough starter discard crackers
Gluten free, FODMAP friendly, nut free
Makes about 15-20 thin crackers
Ingredients
130

g

(1/2 cup) thick sourdough discard, used before feeding (mine is 110% hydration white rice flour starter)

25

g

butter

dark browned

1 1/2

tablespoons

tapioca flour

1

tablespoon

water

1/2

teaspoon

psyllium husk

1/2

teaspoon

fine salt

I use table

Flavourings of your choice

see notes
Instructions
Preheat the oven to 180 degrees Celsius or 356 degrees Fahrenheit. Line a large rectangular baking tray with baking paper.

To brown the butter, place it in a small saucepan over a low heat and allow to cook until nutty in fragrance and dark brown in colour.

Whisk together all the ingredients until smooth and set aside to thicken for 5 minutes.

Once thickened slightly (the consistency of a thick crepe batter) pour onto the lined baking tray. Use an offset spatula or a flat knife to spread the batter across the baking paper. How thin you want to go is up to you – I normally just spread it enough to cover the majority of the sheet.

Place the baking tray in the oven. If you'd like to score the crackers, set the timer for 5 minutes before using a pizza cutter to slice. They'll contract and split from each other so you don't need to worry about getting right to the edges. If you'd prefer to snap them (makes for more rustic crackers) just leave them in the oven for 20-30 minutes or until completely cooked through and lightly browned.

Store in an airtight container.