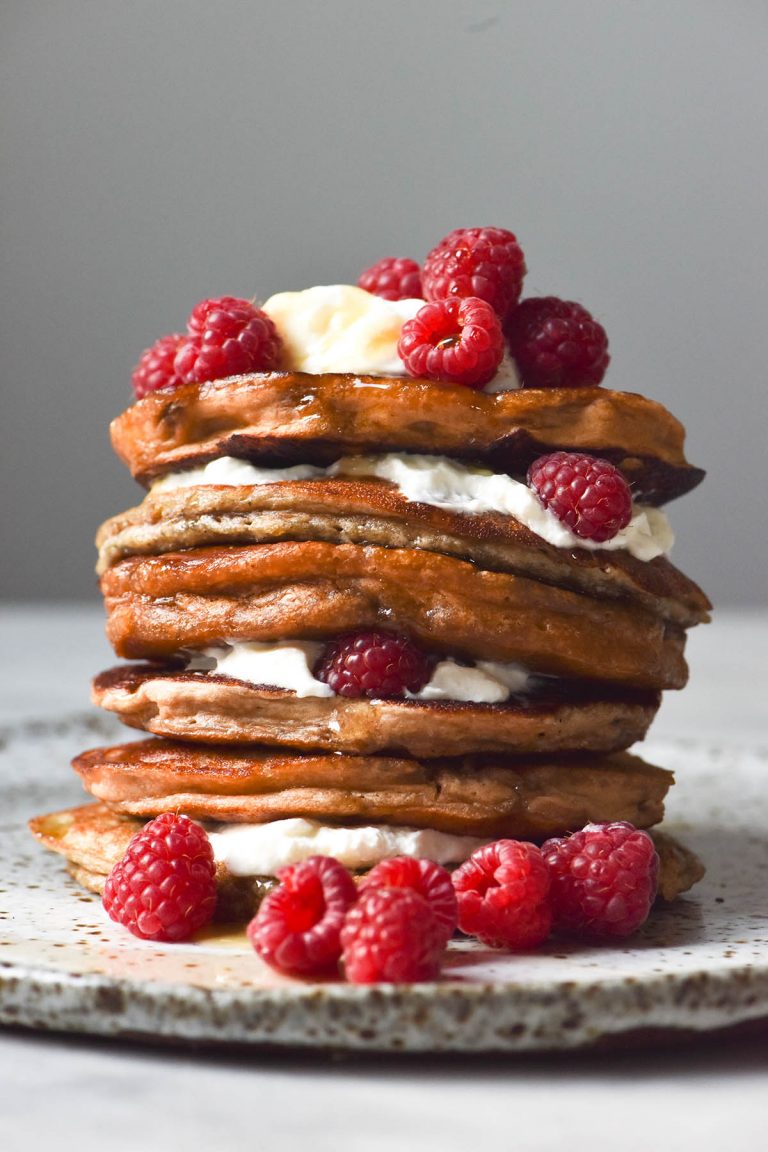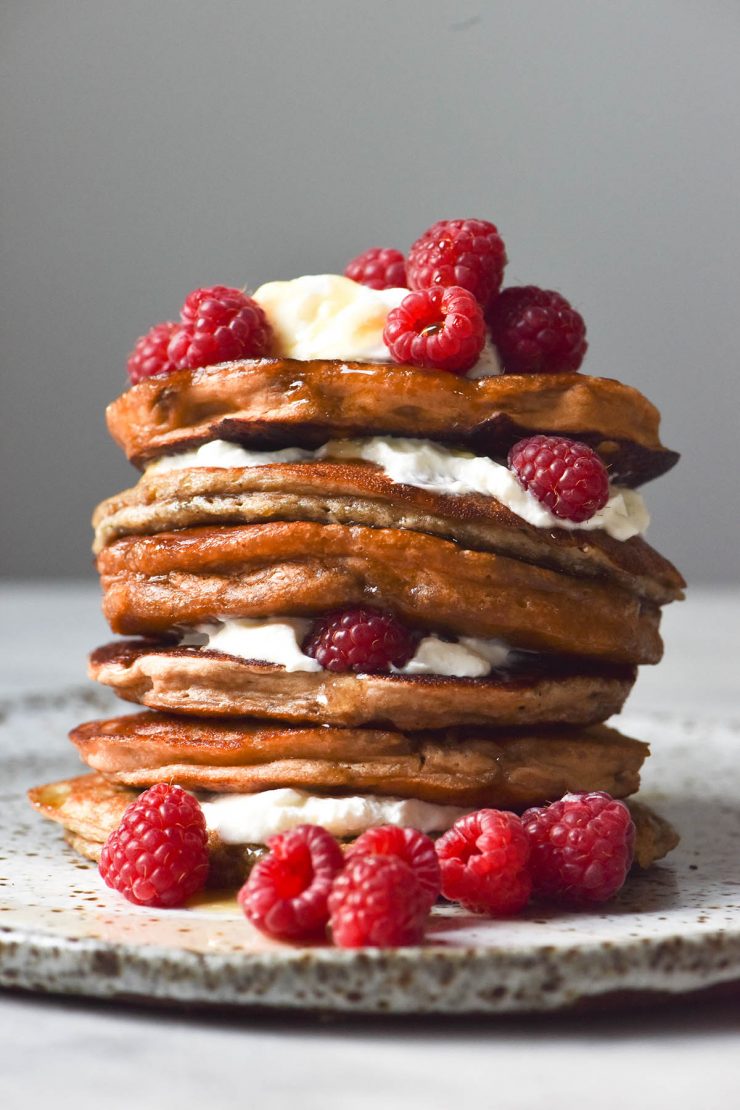 These vegan protein pancakes were the inevitable next step for my new protein powder recipe obsession. I have developed a gluten free vegan protein mug cake, as well as dairy free protein pancakes, but I wanted to complete the collection. Enter: these delicious and easy gluten free vegan protein pancakes, sweetened with a hint of maple syrup.
Vegan protein pancakes that are gluten free
These pancakes are single serve, and use 30g of vegan protein powder. How much protein that amounts to will depend on the powder you use. I have gone into the sorts I have used below.
The pancakes are bound together with banana, a small amount of buckwheat flour and plant based milk. They are leavened with baking soda and vinegar, which I find gives the fluffiest results in protein pancakes like these.
In all, the pancakes are egg and dairy free (obviously!) They are nut free depending on the protein powder you use. Similarly, they are xanthan gum and guar gum free, protein powder dependent.
These pancakes are a quick and easy protein packed breakfast that's ready in 10 minutes.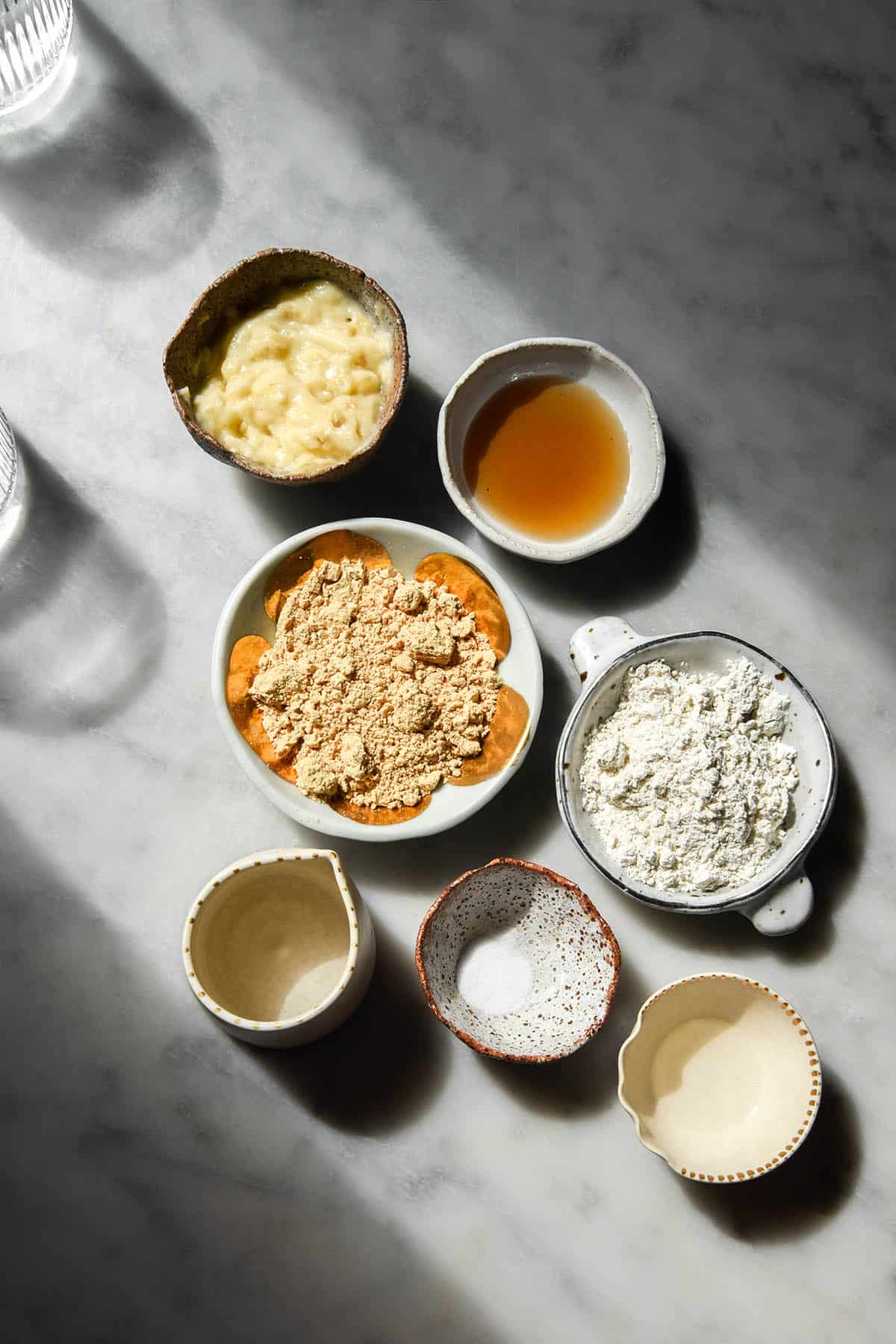 Which vegan protein powders can I use in this recipe?
Much like gluten free flours, vegan protein powders vary wildly in their properties and absorbency when it comes to baking. There are differences in the pure proteins (ie 100% hemp, 100% pumpkin seed) but to add more complications, the blends with additives differ again. A protein with added xanthan gum or guar gum behaves very differently to one without.
Personally, I prefer not to have xanthan gum in my protein powders. It doesn't agree with me and I don't think it's necessary. As such, I have tested a number of pure proteins in this recipe, but only one blend.
Because each protein has a different absorbency, how much milk is needed will vary. Use your intuition and add milk to achieve a medium thickness pancake batter.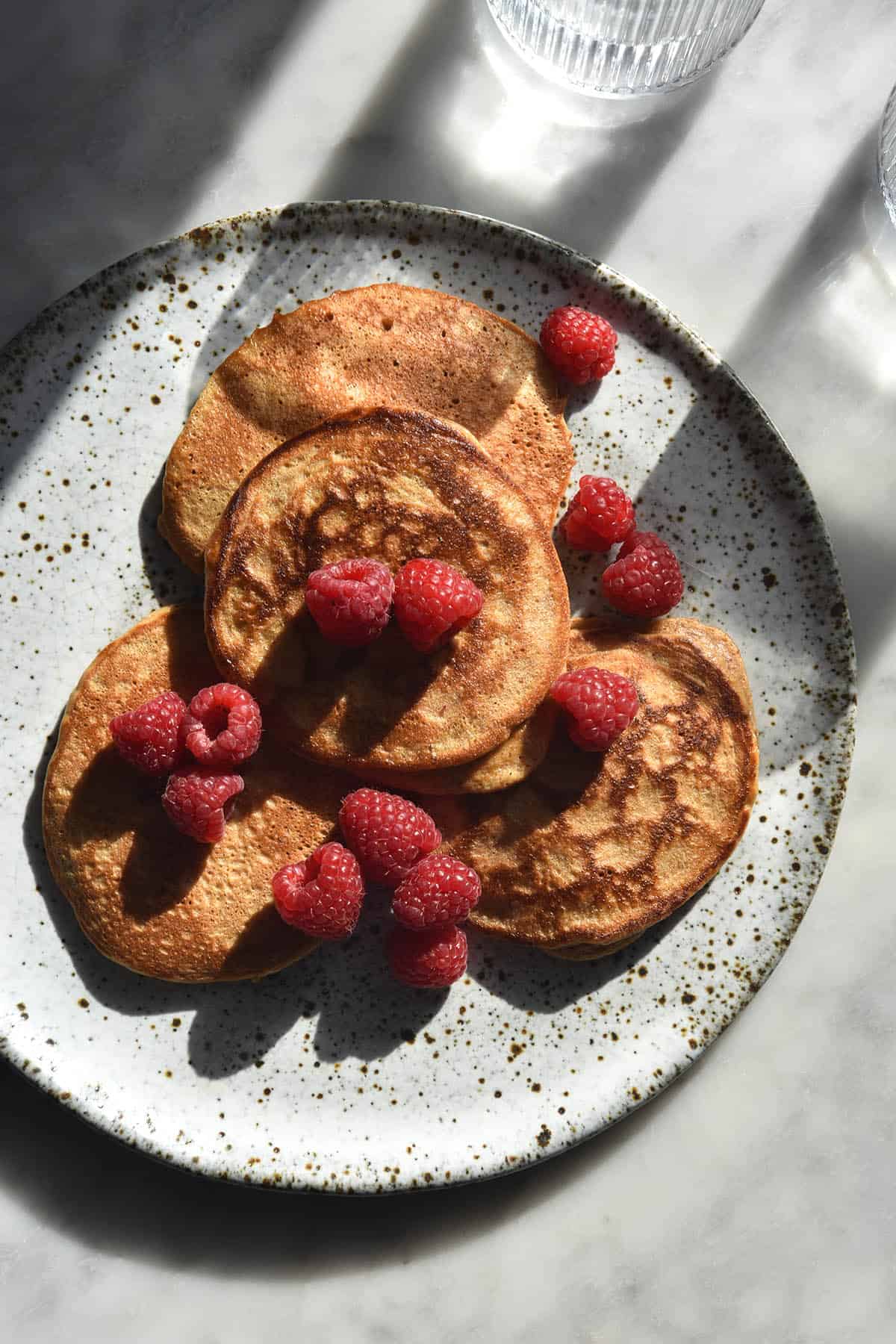 Vegan proteins I have tried in these vegan protein pancakes
Peanut protein
Pumpkin seed protein (this results in green pancakes, but a cool matcha sort of green)
Macro Mike almond protein (this contains xanthan gum and fibres)
Hemp seed protein
Almond protein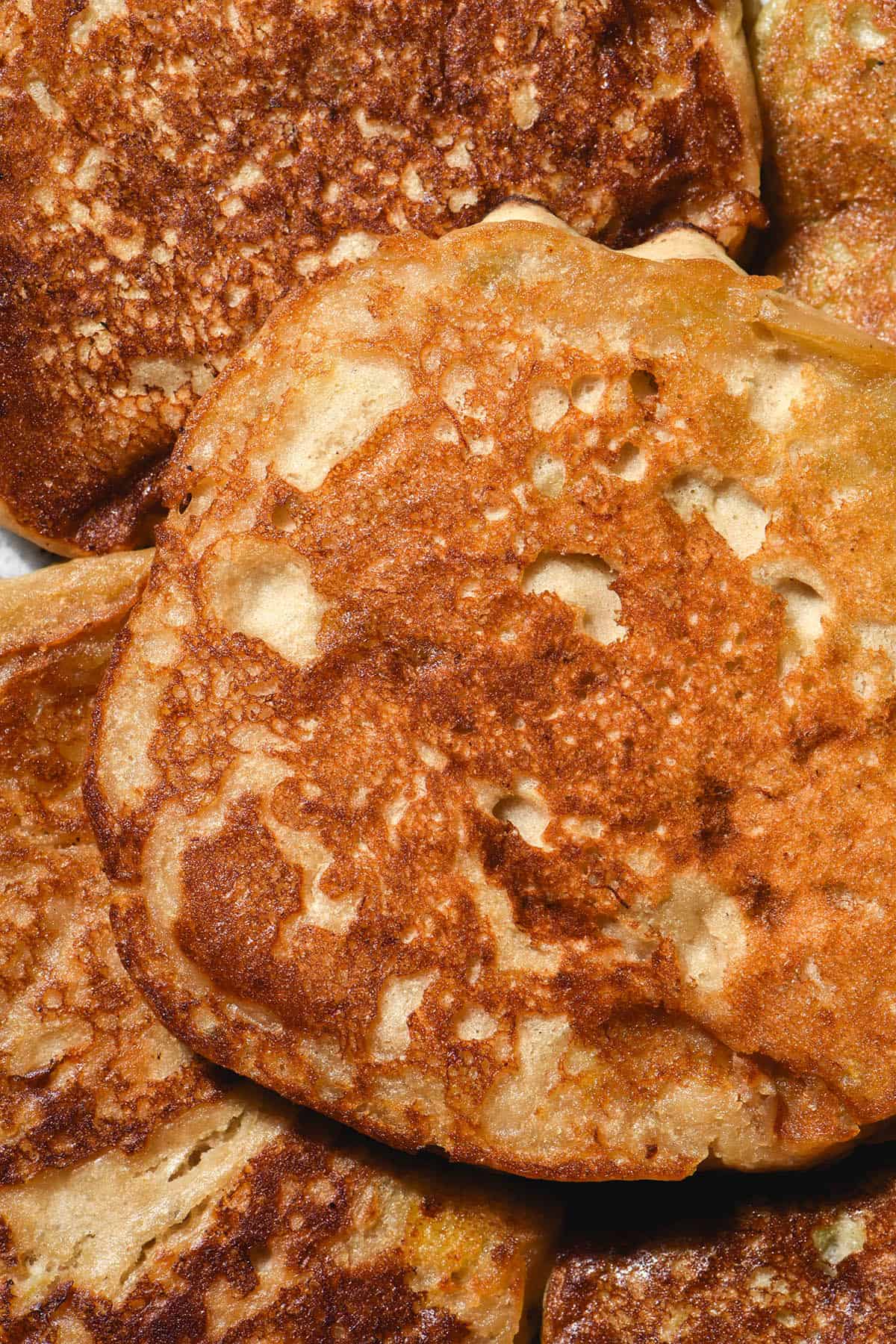 Can I use something other than buckwheat flour?
Buckwheat flour is great in these vegan protein pancakes for a few reasons. Firstly, it's gluten free. In Australia, oats are not considered gluten free, so it was important to me to provide an alternative to the plethora of oat based recipes.
Secondly, unlike most gluten free flours, buckwheat flour has a binding quality. Other flours like cassava flour also have this quality, but I found that cassava produced excessively chewy pancakes.
If you'd like to use something other than buckwheat flour, I recommend using half wholegrain (white rice, sorghum, millet) and half starch (tapioca, glutinous rice flour). I have not tested this, but I imagine it should work. Let me know if you try it.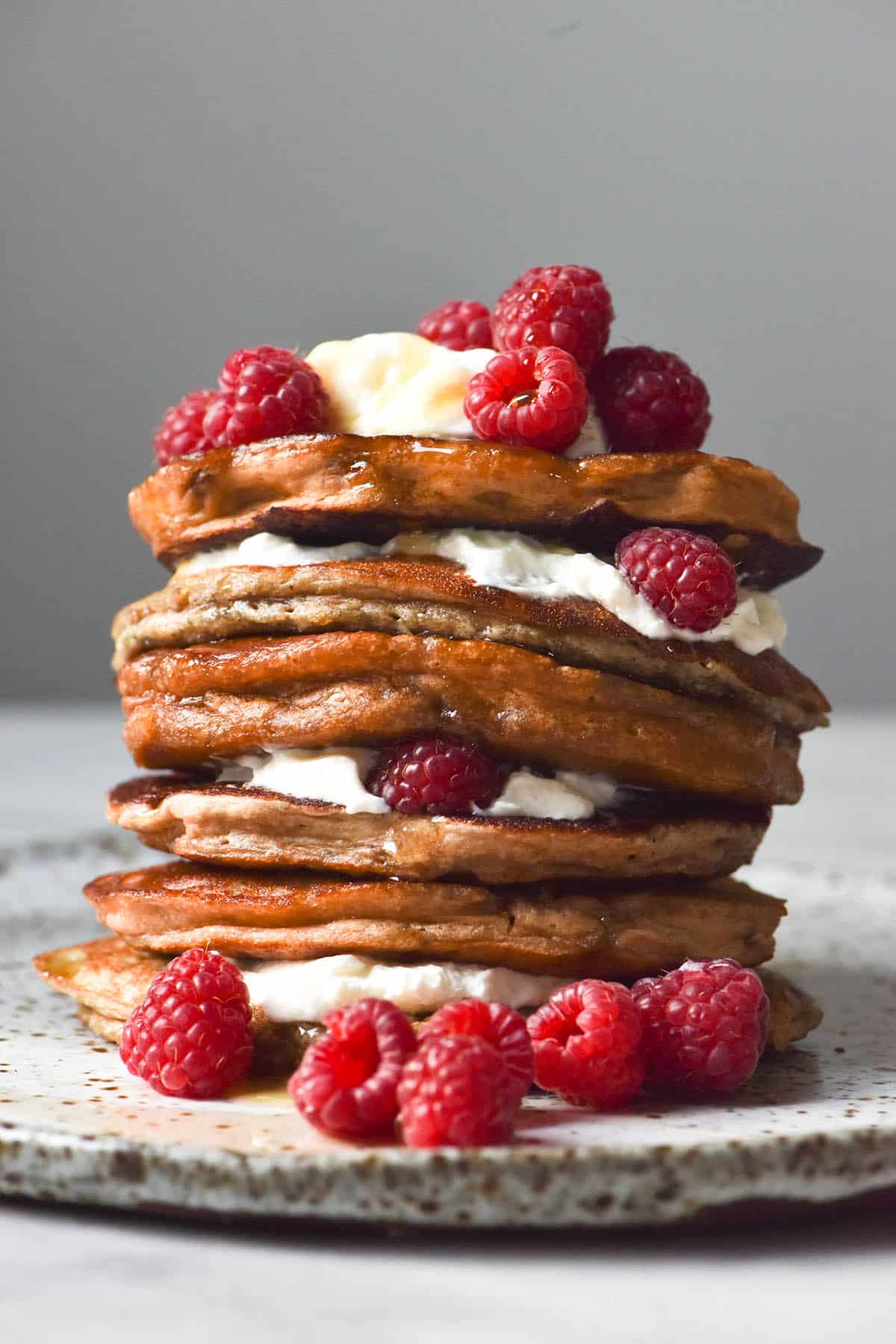 Recipe notes and tips
These pancakes are only lightly sweetened. This is because some proteins already have sweetener, so I wanted to accomodate that. It's also because I like to top my pancakes with maple syrup, so I don't want them to be too sweet to begin with.
I find that ripe banana and 1 tablespoon of maple syrup is the level of sweetness I like. If you enjoy a sweeter pancake, use 2 tablespoons of maple, but use less milk to compensate.
The thinner the batter, the thinner the pancake. I find with these pancakes there is a happy balance between thick pancakes that will be undercooked inside, and very thin pancakes that will burn easily.
If you don't strictly need these pancakes to be vegan, butter works well for the pan as long as it's kept to a medium low temp. If these pancakes need to be vegan, I'd stick to oil and top with a little vegan butter at the end.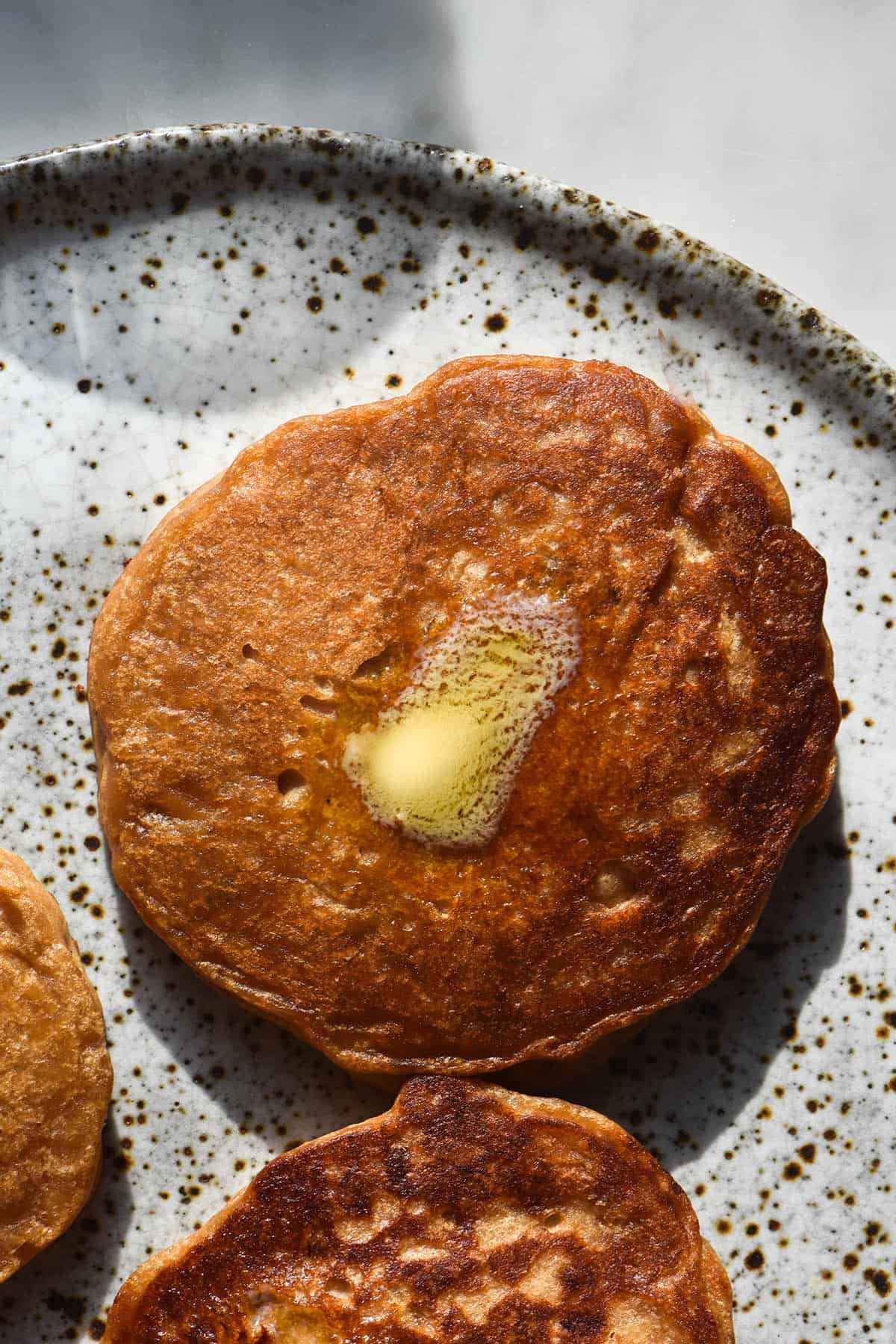 FODMAP notes
Bananas are the only ingredient of FODMAP concern in these vegan protein pancakes. I intend to develop a vegan protein pancake recipe without bananas at some point.
Ripe common bananas are considered low FODMAP in 35g serves at the time of writing. Unripe common bananas are low FODMAP in 100g serves.
Sugar bananas (little baby bananas) are low FODMAP in 112g serves ripe or firm, so they are a great option if you have fructose concerns.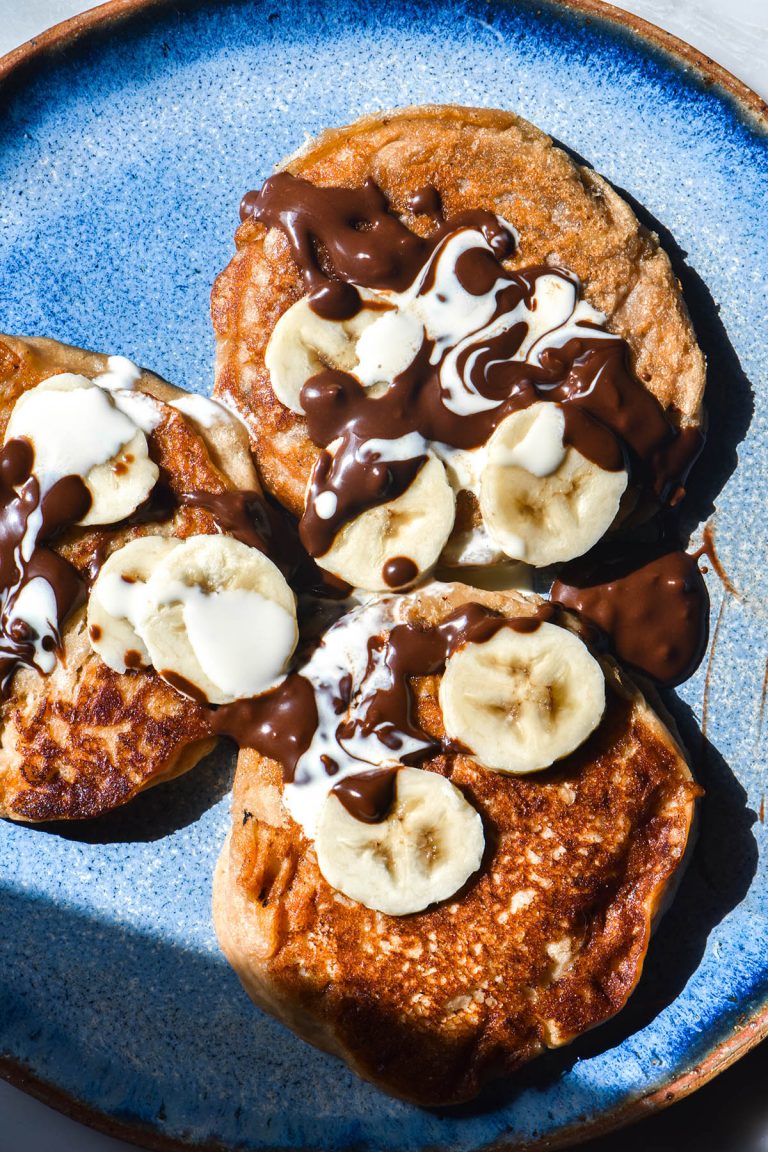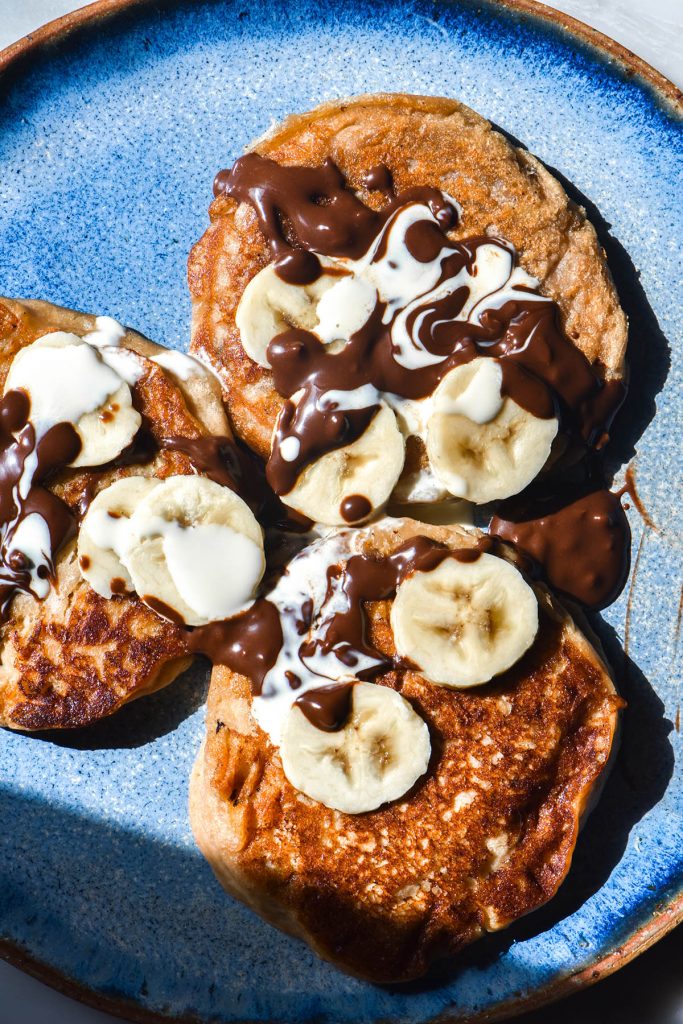 What should I top my vegan protein pancakes with?
In terms of vegan options, I have topped mine with vegan yoghurt, berries, extra banana, Vego spread (vegan hazelnut chocolate spread) and coconut cream. Maple syrup is always a given, too.
On the non vegan side, I have topped some pancakes with a pat of butter, regular yoghurt and honey. You could stud some chocolate chips in the pancakes for a chocolate hit, or drizzle some over the top. Really, anything goes.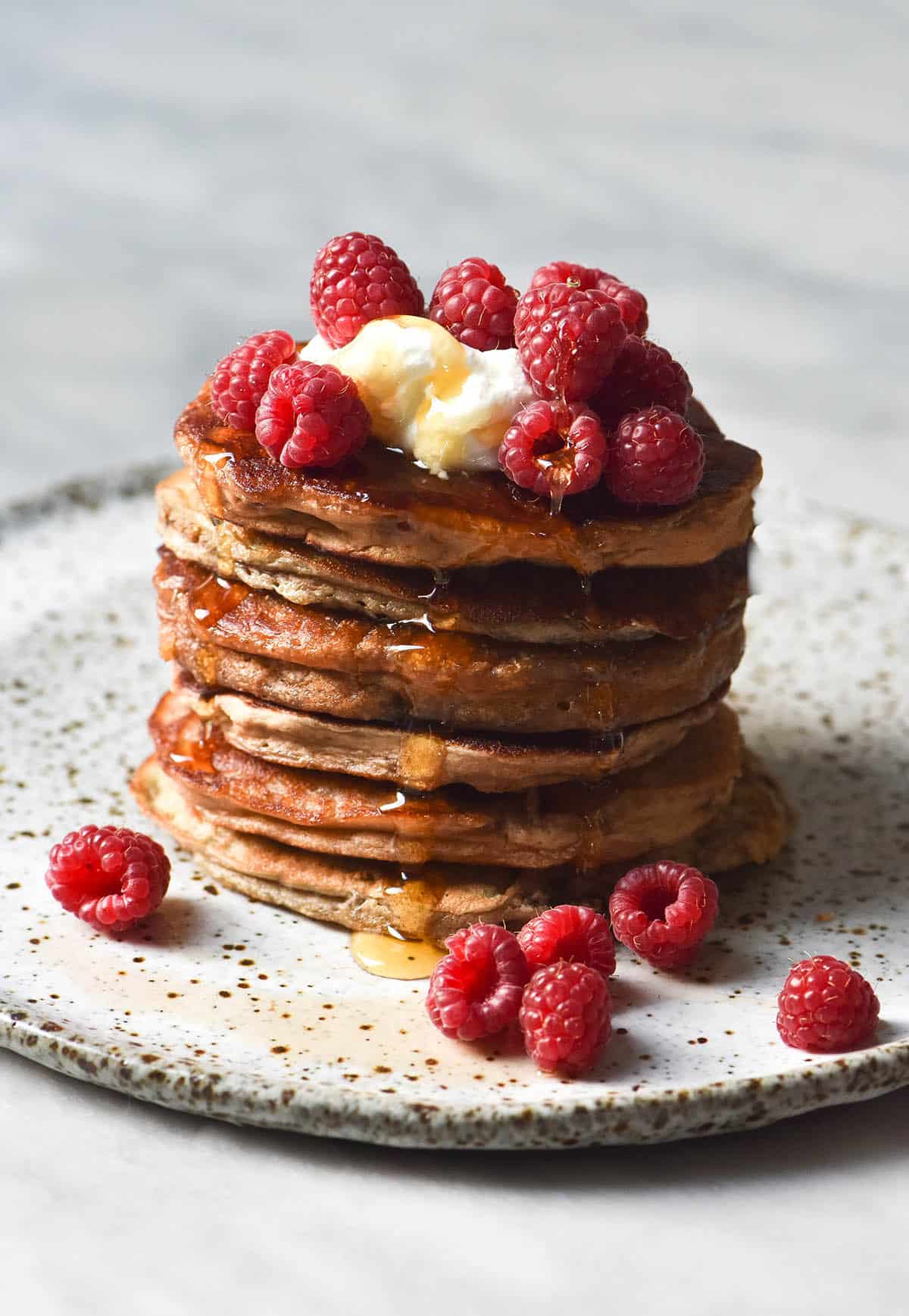 More gluten free protein powder recipes
Vegan protein pancakes (gluten free)
Gluten free, xanthan gum free, nut free (protein dependent)
Cups and measures are in Australian cups and measures. Use gram weights for international accuracy.
*1 Australian tablespoon = 4 American, Canadian and New Zealand teaspoons.
*1 Australian tablespoon = 3 1/2 British teaspoons
Ingredients
30g

vegan protein powder (see body of post for what I have tried)

30g

buckwheat flour (see notes)

75g

ripe banana (see body of post for FODMAP notes)

20-40ml

(1-2 tablespoons*)

maple syrup

20-80ml

(1-4 tablespoons *)

plant based milk of choice

1/4

tsp

baking soda

1

tsp

white vinegar, apple cider vinegar or lemon juice
Instructions
Combine all ingredients except for the milk and vinegar or lemon juice in a small mixing bowl. Whisk to combine, then add the milk to reach a medium thickness pancake batter. How much milk you need to add depends heavily on the vegan protein you use.

Once you're happy with the consistency, start preheating your pan without oil.

Add the vinegar or lemon juice to the pancake batter and whisk to combine. The mixture should subtly bubble up and feel aerated under the spoon.

Grease your pan lightly, turn the heat to low medium and add 1-2 tablespoons of batter per pancake. I find it easier to make this batter into 3-5 smaller pancakes as opposed to large ones. Cook for a minute or two until bubbles appear on the surface and the edges of the pancake look browned. Flip and cook on the other side for a minute or so, heat dependent. Adjust the heat as often as necessary.

Repeat with the remaining pancake batter and serve. I like to finish mine with extra maple syrup, some fruit and maybe some vegan yoghurt.
Notes
In Australia, we only have access to light buckwheat flour. It's pale in colour and doesn't react to baking soda. I know from reading comments that some people only have access to dark buckwheat flour, or a buckwheat flour that reacts with baking soda. I haven't tried dark buckwheat flour in this recipe. 
The more maple syrup you add, the less milk you need. The batter needs to be a medium thickness pancake batter, so add the liquids accordingly.