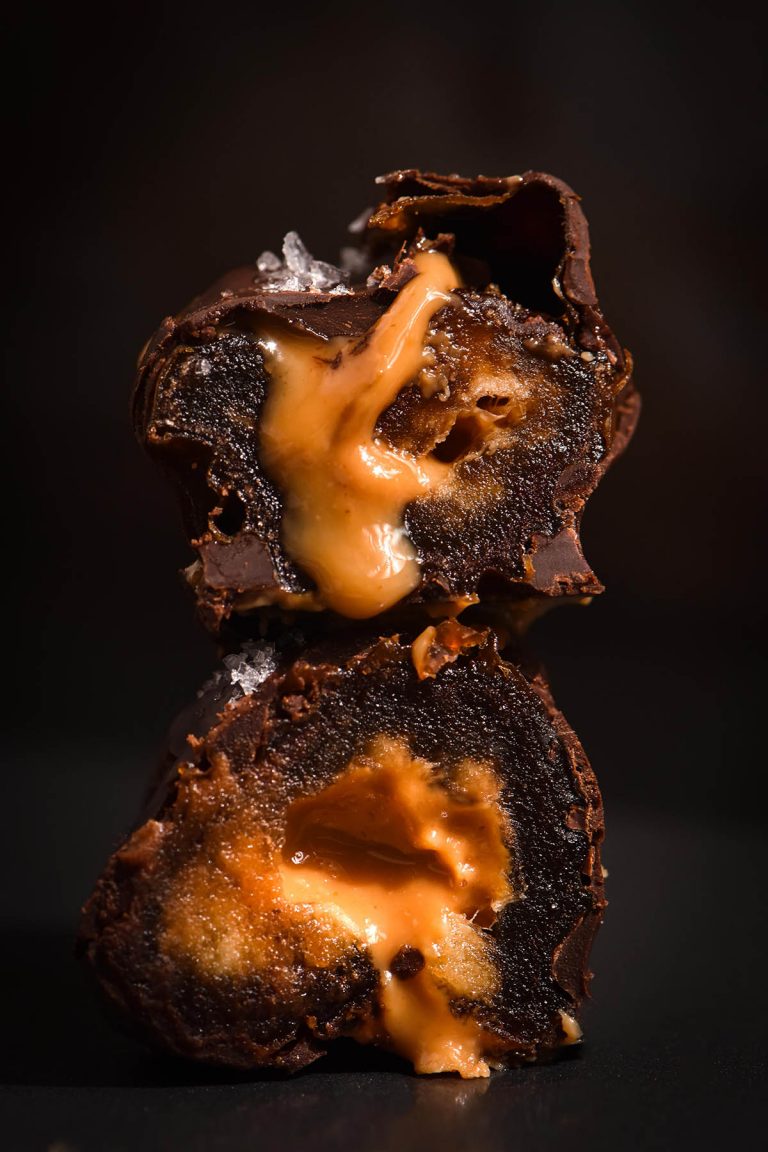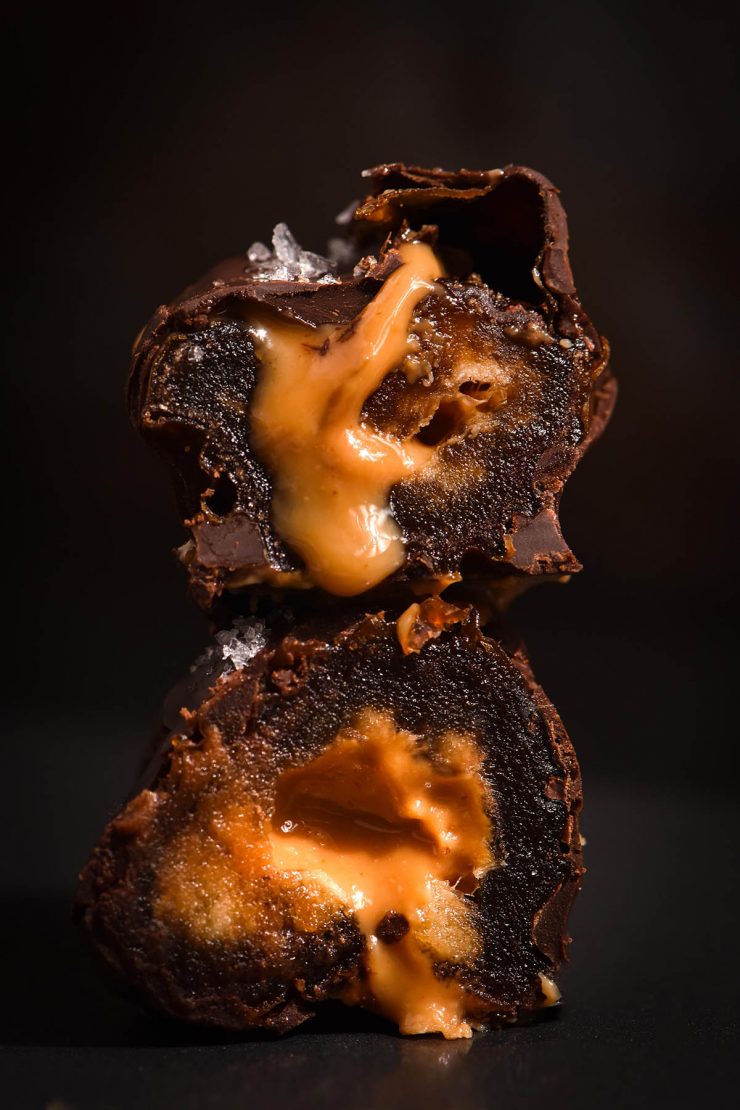 Low FODMAP stuffed Medjool dates
These low FODMAP stuffed Medjool dates are a delicious treat to enjoy on the low FODMAP diet. They are vegan, gluten free and grain free. They can be nut free, too, if you use a seed butter or coconut butter in the middle.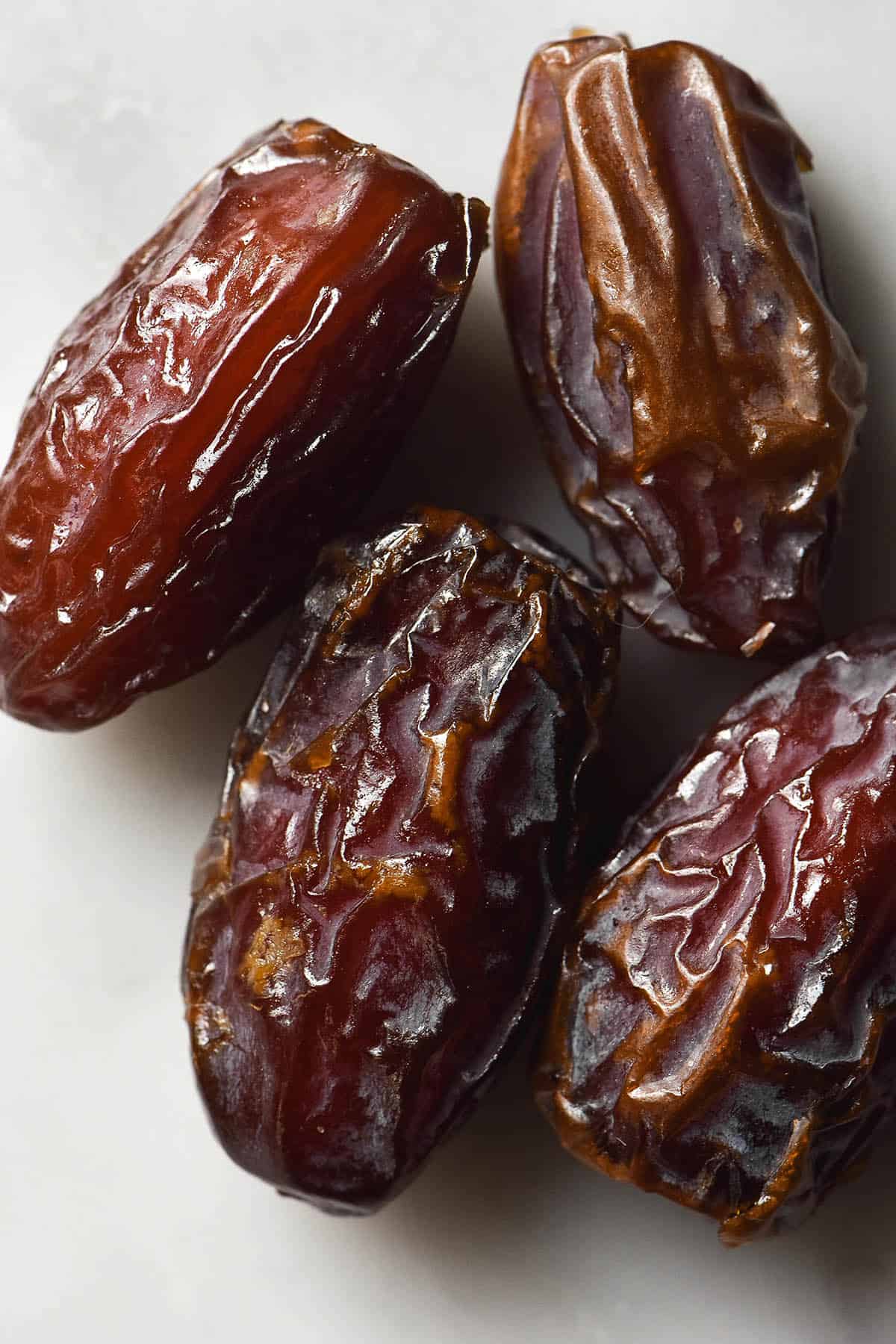 Are Medjool dates low FODMAP?
There is a low FODMAP threshold for Medjool dates. Monash recently added them to the Monash app, with a low FODMAP threshold of 20g or 1 date. In 40g servings (approximately 2 dates) they contain moderate amounts of sorbitol and fructans. In 61g servings, they contain high amounts of sorbitol and moderate amounts of fructans.
So yes, there is a low FODMAP serve of Medjool dates. The gap between a low serve (20g) and a moderate serve (40g) suggests there might be a small amount of wiggle room. So if your date weighs 23g, you likely don't need to stress too much.
As always, though, assess your own tolerance. You might be OK with more, and you might need to eat less. It is all individual.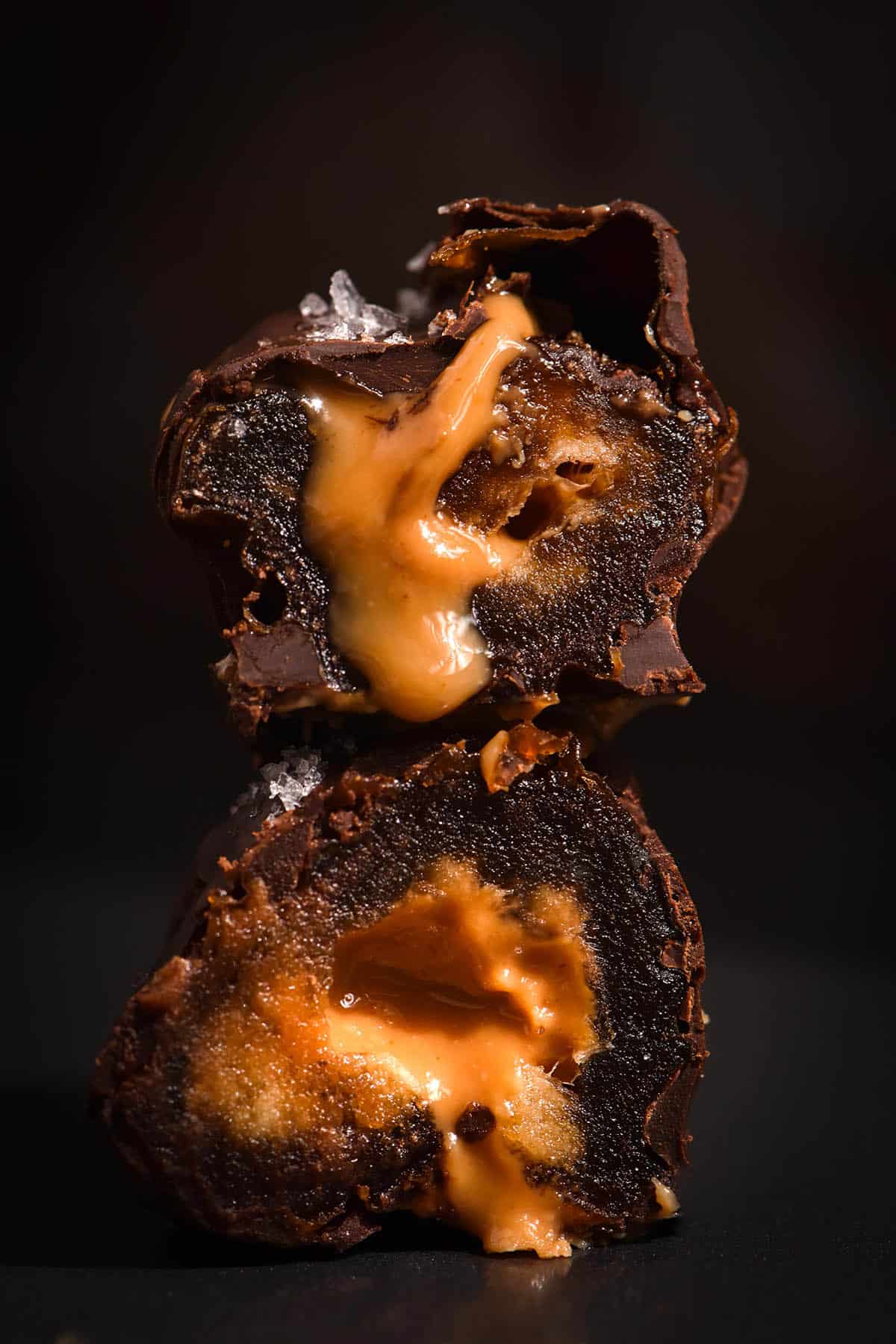 Are regular dates low FODMAP?
Regular dates are low FODMAP in 30g serves, which is approximately 5 dates. In 46g serves (approximately 7.5g dates) they contain moderate amounts of sorbitol and fructans. In 61g serves, they contain moderate amounts of sorbitol and high amounts of fructans (the inverse of Medjool dates).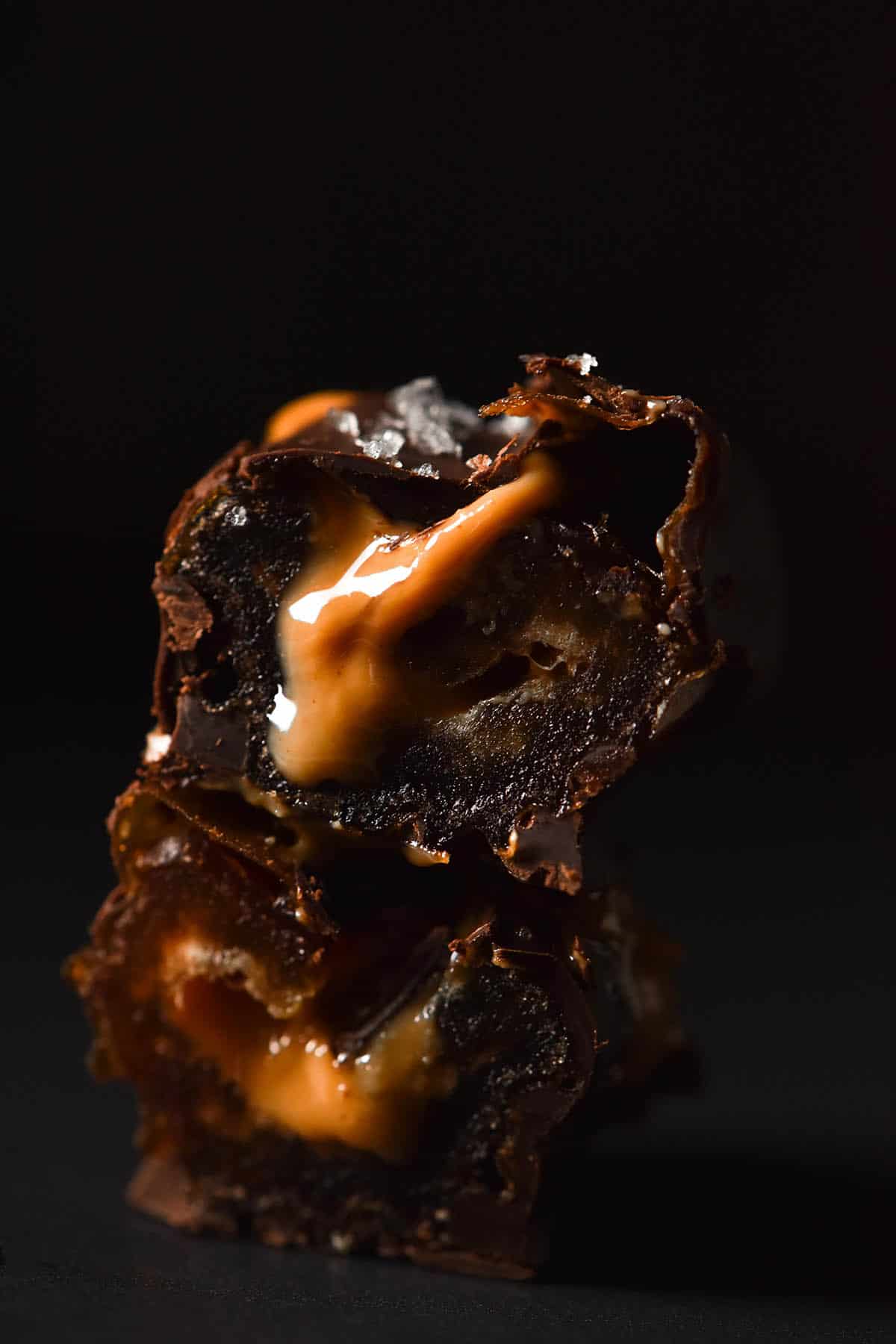 Which nut butters are low FODMAP?
I have written a guide to low FODMAP nuts and seeds, but it's worth quickly mentioning them here. You'll only be eating 1/2 – 1 teaspoon per serve, but it's worth having the information handy so you can choose what is right for you.
Almond butter is low FODMAP in 20g or 1 tablespoon serves. In 32g serves it is moderate for GOS and fructans. Fructans are already in dates, so watch out for stacking.
Peanut butter is low FODMAP in 50g (2 tablespoon) serves in Australia (and maybe other countries?) but only 32g in the USA. Why this is the case, Monash doesn't specify.
There is no entry for coconut butter on the Monash app. However, 30g of shredded dried coconut is low FODMAP, so 1 teaspoon of coconut butter is potentially low FODMAP.
There is also no entry for pumpkin seed butter, but pepitas are low FODMAP in 23g or 2 tablespoons. 1 teaspoon of pumpkin seed butter has the potential to be a low FODMAP nut free alternative to nut butters.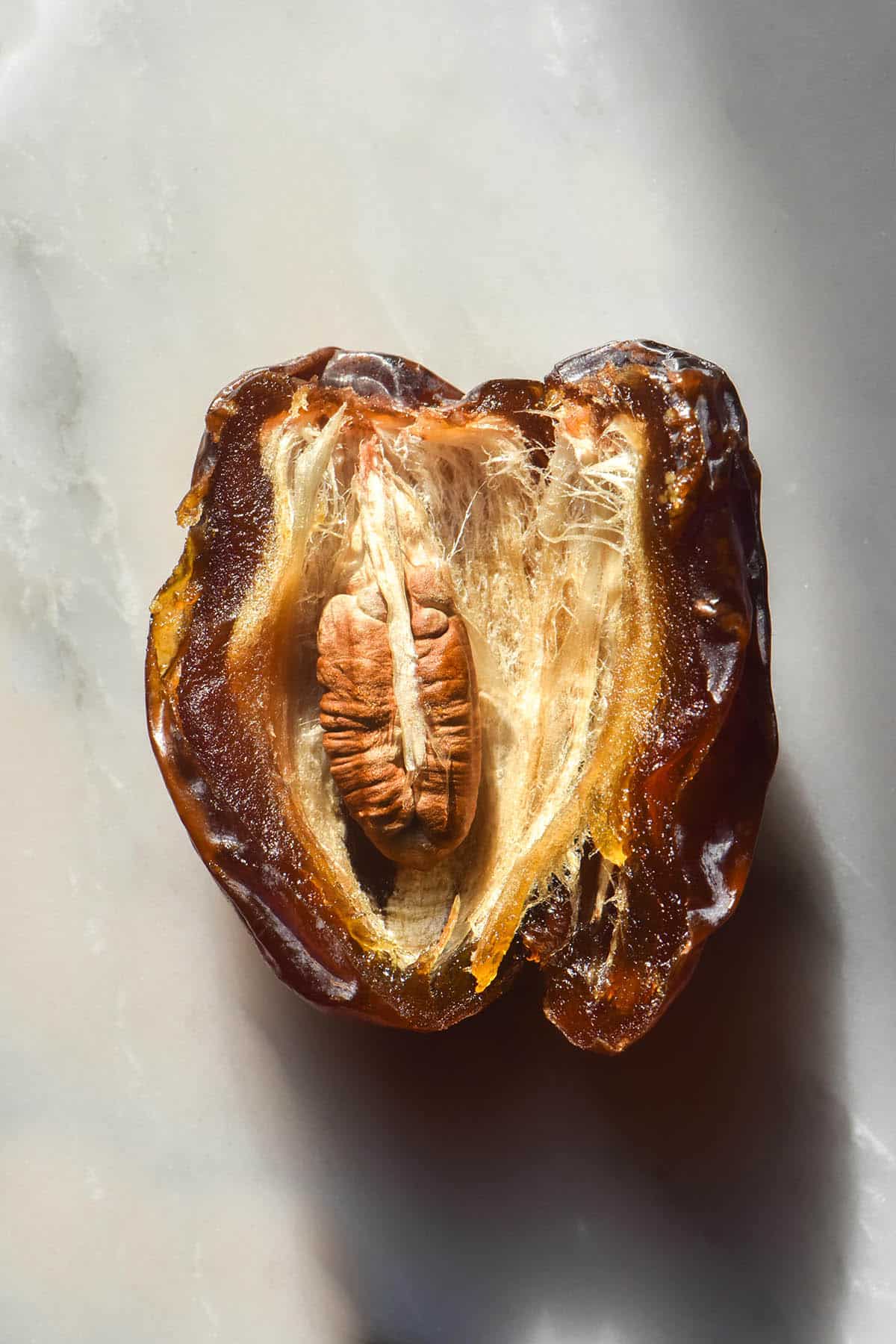 Which varieties of vegan chocolate are low FODMAP?
Firstly, I recommend using a dark chocolate here. The deep richness contrasts beautifully with the natural sweetness of the date. Personally, I think milk chocolate would be too sweet for these low FODMAP stuffed Medjool dates. It would also increase the FODMAP content, as milk chocolate is higher in lactose.
Secondly, not all vegan chocolate is created equal. Some varieties of vegan chocolate are simply 70% chocolate that is inherently vegan. Others are made with coconut oil and potentially with coconut sugar.
This would be fine, except for the fact that coconut sugar is high FODMAP even in small amounts. Because of this, it is best to choose a variety of vegan chocolate that is made in the traditional way. My recommendations in Australia are:
Lindt 70% dark chocolate
Whittakers 72% Dark Ghana
Not a very long list! But I will update it as I try more.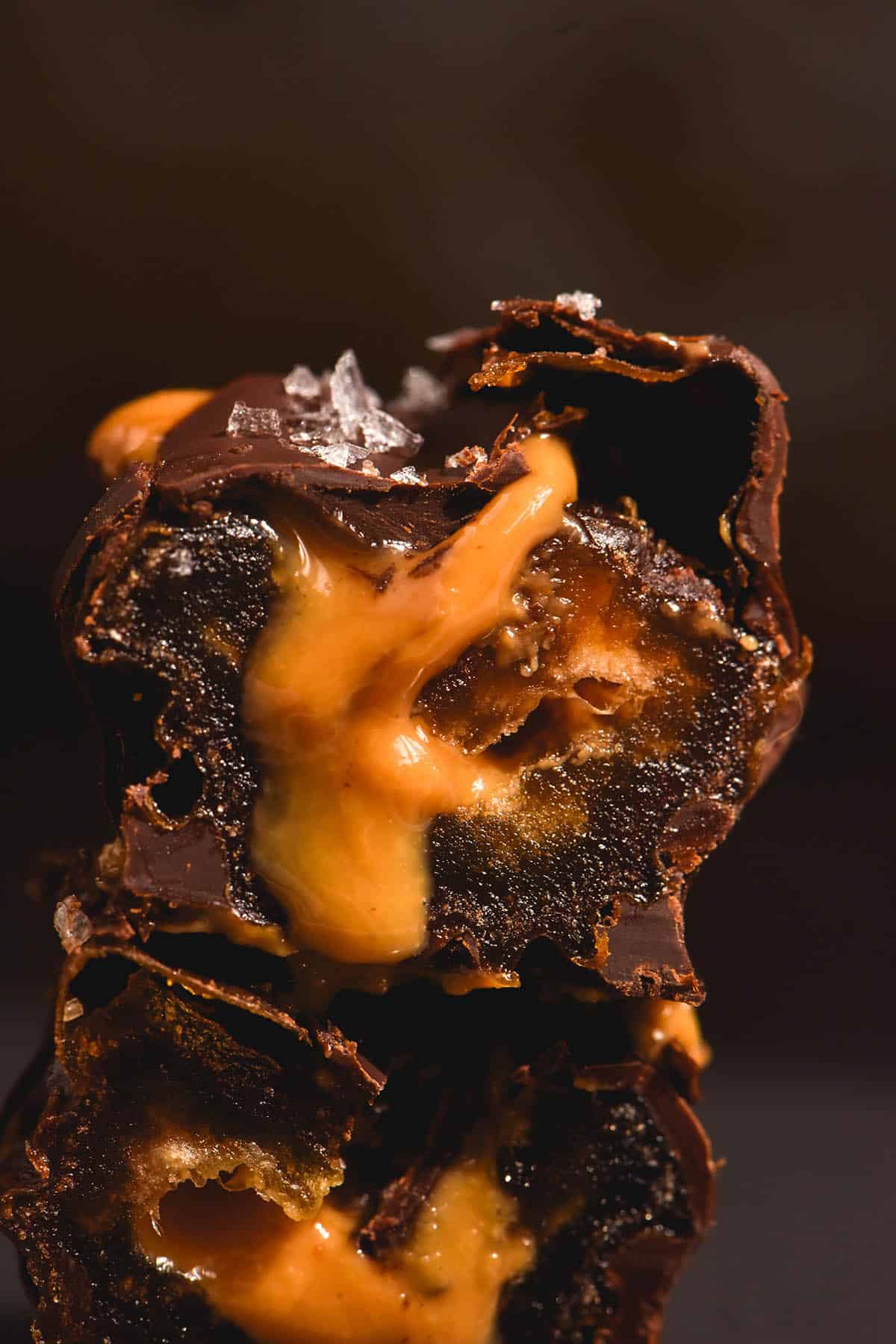 Tips
Use a plain nut butter that contains just nuts and salt. That said, a thick and less drippy peanut butter works well as it stays put in the date.
We're not tempering the chocolate, so the chocolate coating will melt as you hold it. The perfect excuse to shove it straight in your mouth.
Sea salt on chocolate tends to melt over time. If you plan for your dates to last the whole week, maybe leave off the sea salt. You can simply sprinkle a little over as you eat it.
These dates can also be frozen for a chewy and delicious summer treat.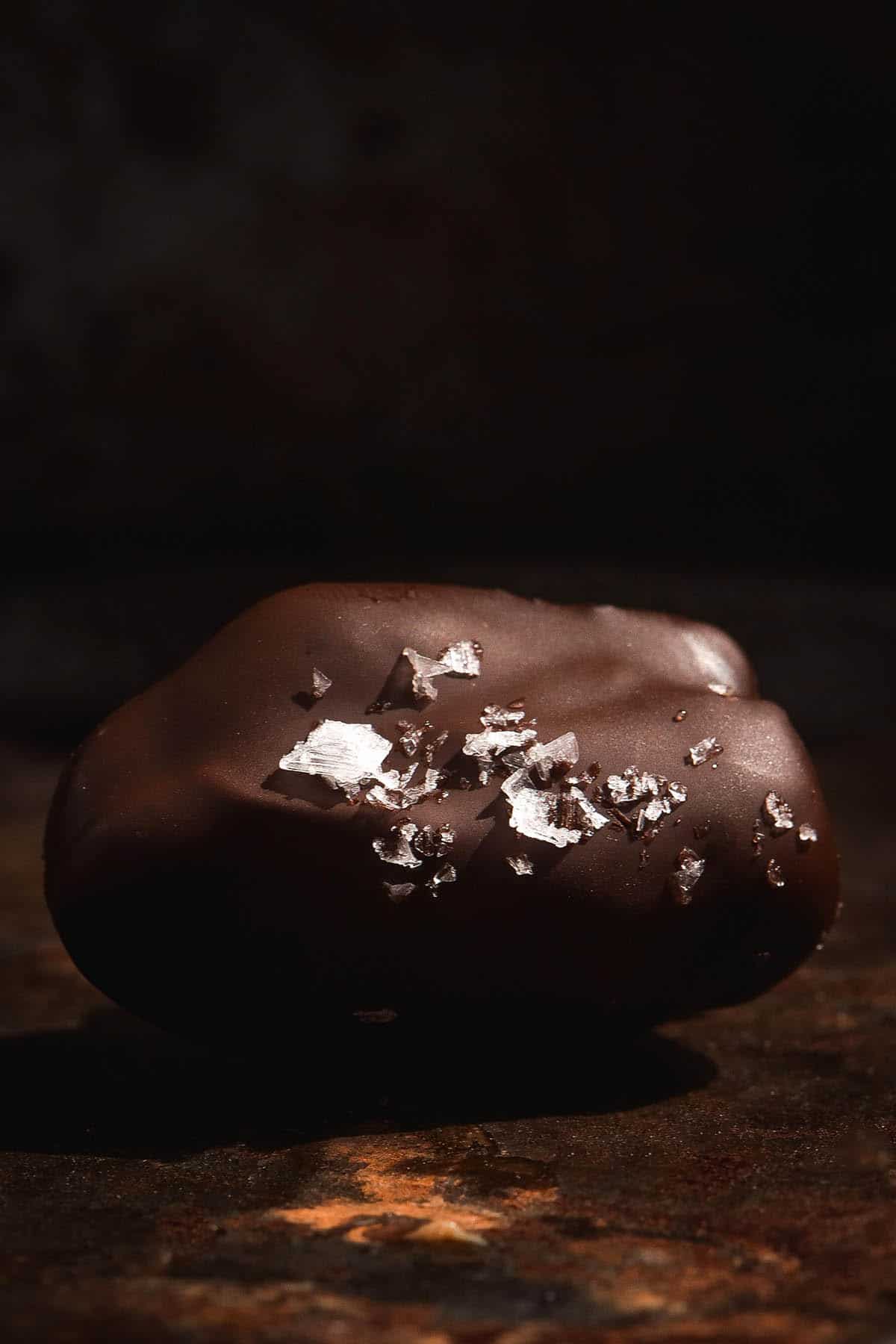 More low FODMAP dessert recipes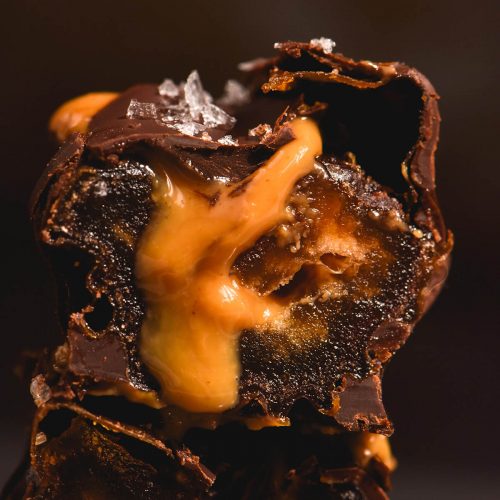 Low FODMAP stuffed Medjool dates
Vegan, gluten free
1 serve = 1 date
Ingredients
5

Medjool dates, around 20g each with the seed removed

5

teaspoons low FODMAP nut butter of choice (see body of post)

50g

vegan dark chocolate (see body of post for tips)

5g

cacao butter

Pinch of sea salt flakes, to finish (optional)
Instructions
Slice the dates open like a book to remove the seed. Stuff each date with 1/2 – 1 teaspoon nut butter (or as much as they will fit). Close the dates and place them on a small lined plate and into the freezer.

Melt the chocolate and cacao butter in a small bowl. You can do this as a double boiler or in increments in the microwave.

Once the chocolate is melted and smooth, use two forks to dip each date into the chocolate and coat is completely. Rest the date on one fork to allow excess chocolate to drip off. Repeat with the remaining dates – you will have just enough chocolate for one coating on each date (no waste here!)

The dates should start to set quite quickly. As they do, sprinkle over a pinch of sea salt, if you're using it. You could also use some crushed nuts.

Place the dates in the fridge to set. I recommend keeping them in the fridge in an airtight container – the chocolate isn't tempered, so it will melt as it warms.
Notes
See the body of the post for low FODMAP nut butters. 
See the body of the post for recommended vegan chocolate brands.