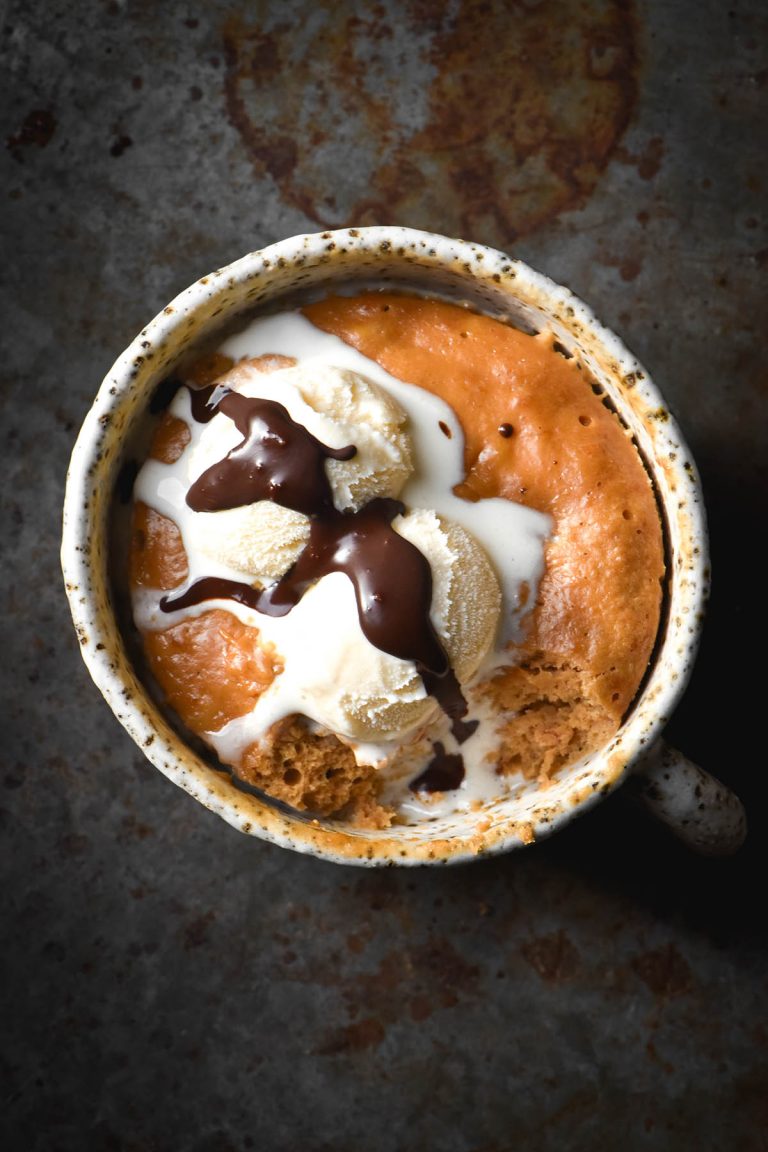 This protein mug cake is a follow on recipe from my whey protein mug cake. While the original recipe is designed to be made with WPI, this mug cake uses a plant protein. Why? Firstly, because WPI is a quite a thirsty protein that needs a specially designed recipe. Secondly, variety! Not everybody can have dairy, so I wanted to develop a protein mug cake that works for dairy free people.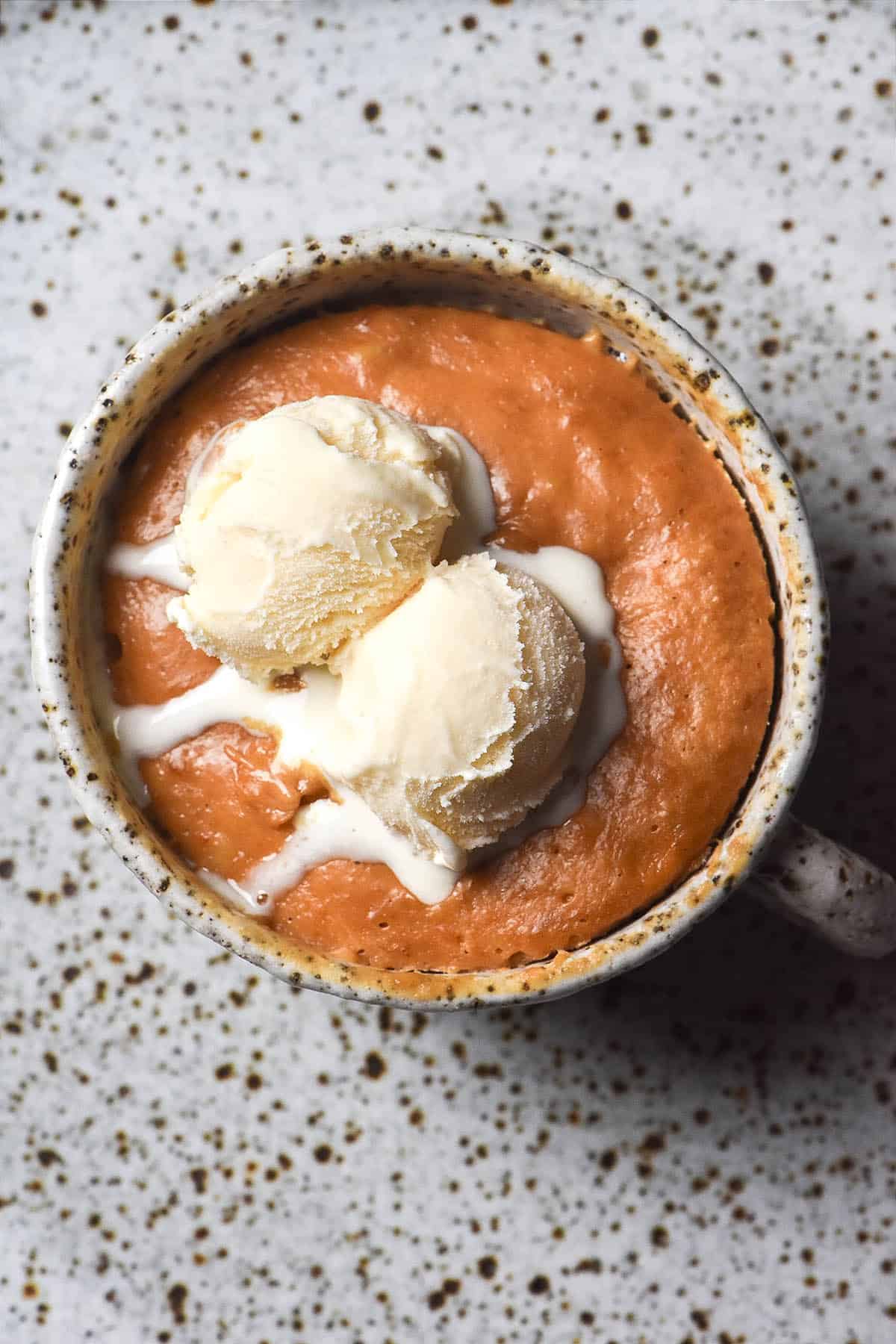 Protein mug cake (dairy free)
This mug cake uses a plant protein, an egg, nut or seed butter, a little bit of oil and banana. It uses baking soda and vinegar or lemon juice for leavening. The mug cake is moist and ready in 5 minutes. It is naturally sweetened using the banana (and potentially your protein powder).
The mug cake is filling and quick to make. I have tested it with a number of plant proteins, which I will go into below. It contains no added sugar (protein dependent) but has plenty of sweetness from the banana. Depending on the protein you use, it tastes like a high protein banana bread.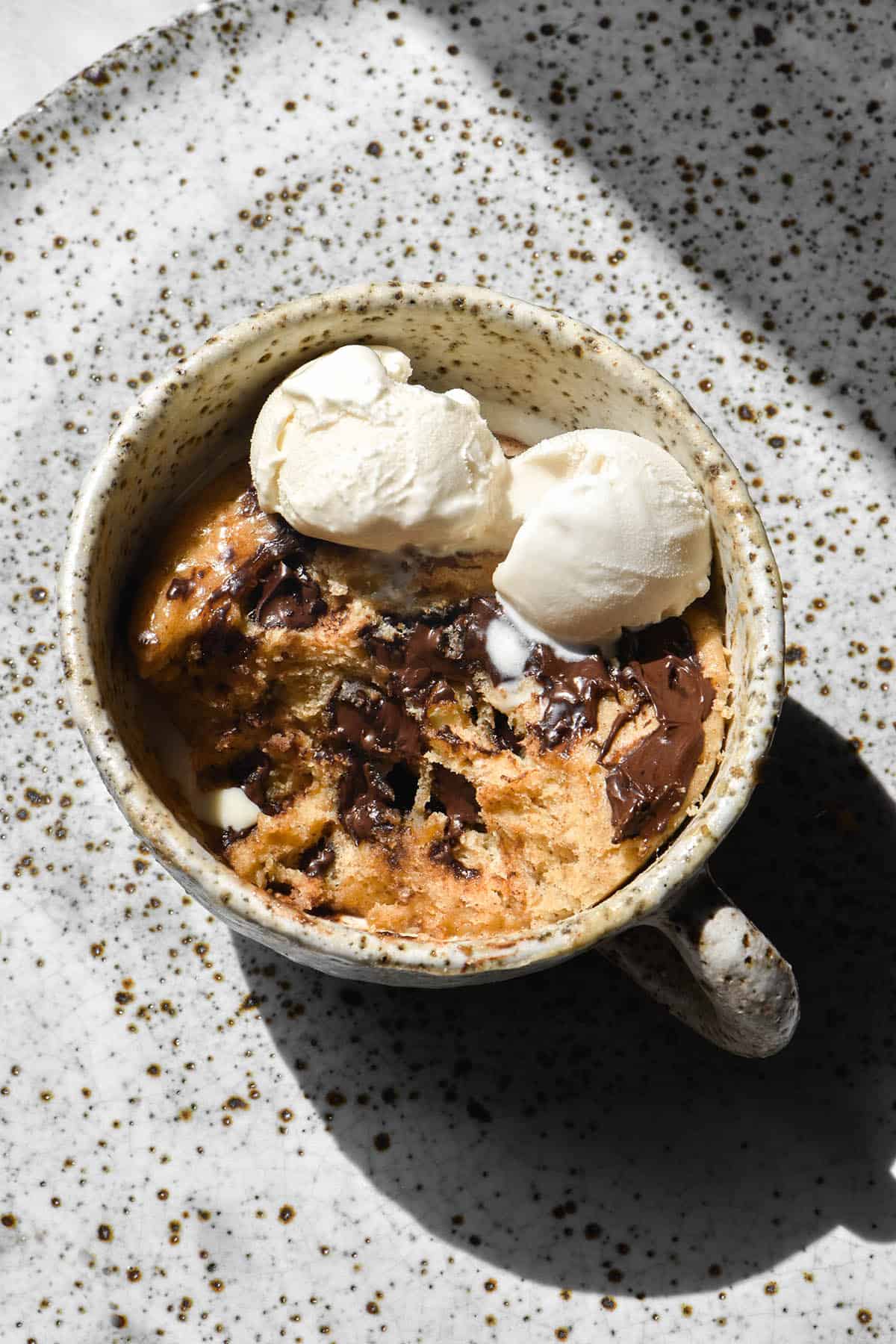 Can I use whey protein isolate in this protein mug cake?
In my testing, I found that WPI and egg together easily make for a spongy mug cake with a weird texture. This is particularly the case with WPI that doesn't use xanthan gum, inulin or any fibres or binders. I choose to use a plain WPI because of my sensitive digestive system – I don't want or need those extra gums.
If you'd like to use WPI, I recommend using my recipe for a whey protein mug cake specifically. I developed the recipe using pure WPI (with no additives) so it should also work with WPI containing additives.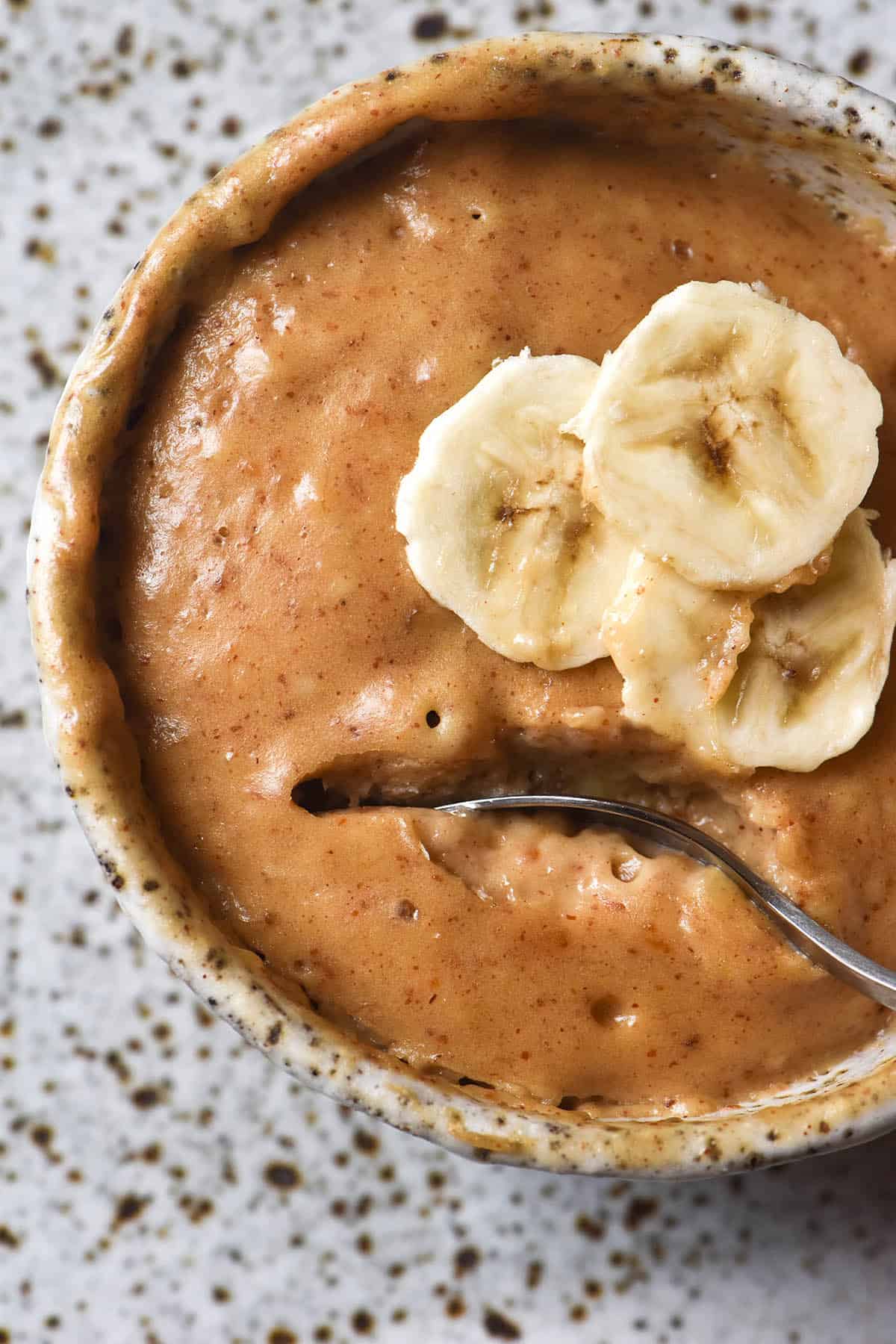 Which plant proteins work in this recipe?
I have tried 100% hemp protein, sunflower seed protein, soy protein and Macro Mike in this recipe. I didn't love the sunflower seed or soy protein options, but they do work.
From experience, it's easier to use a protein with binders than it is a pure protein. As such, I developed this recipe to work with a pure protein, because then it works with everything!
One thing I have noticed is that different proteins vary dramatically in how dry they bake up. As a general rule, those with gums and inulin or other additives bake up a little less dry than the pure blends.
I have found hemp seed protein to need far less liquid than soy protein. Sunflower seed protein sits in the middle, but it can turn green when it reacts with baking soda.
Peanut protein is on the drier side, although less dry than WPI. A mug cake with peanut protein or soy protein benefits from the optional 1-2 teaspoons of neutral oil.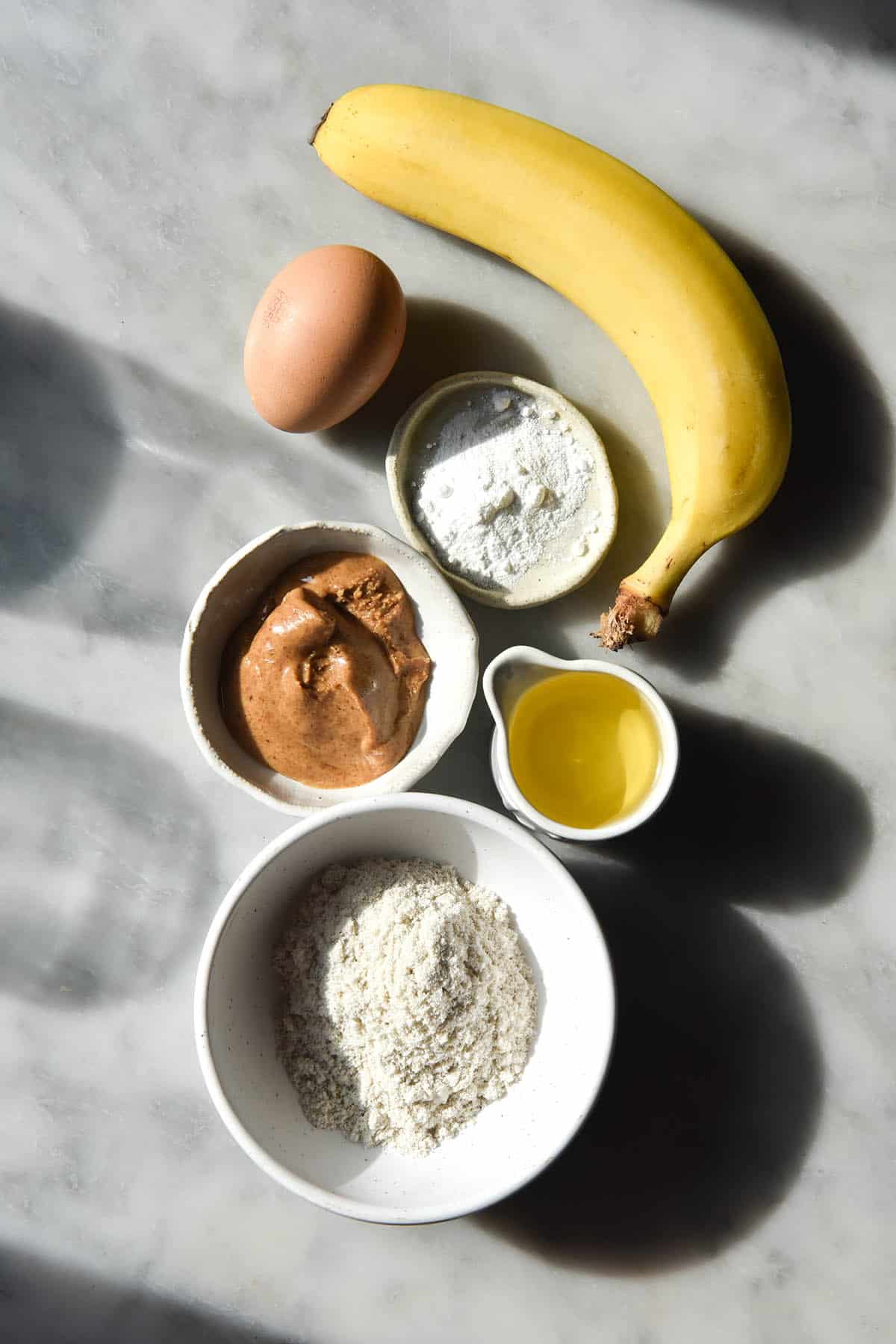 Can I omit the banana?
Not at this stage, no. As I test more mug cakes I will be sure to update the post with more options. You could try replacing the banana with pumpkin puree, but I haven't tried that myself.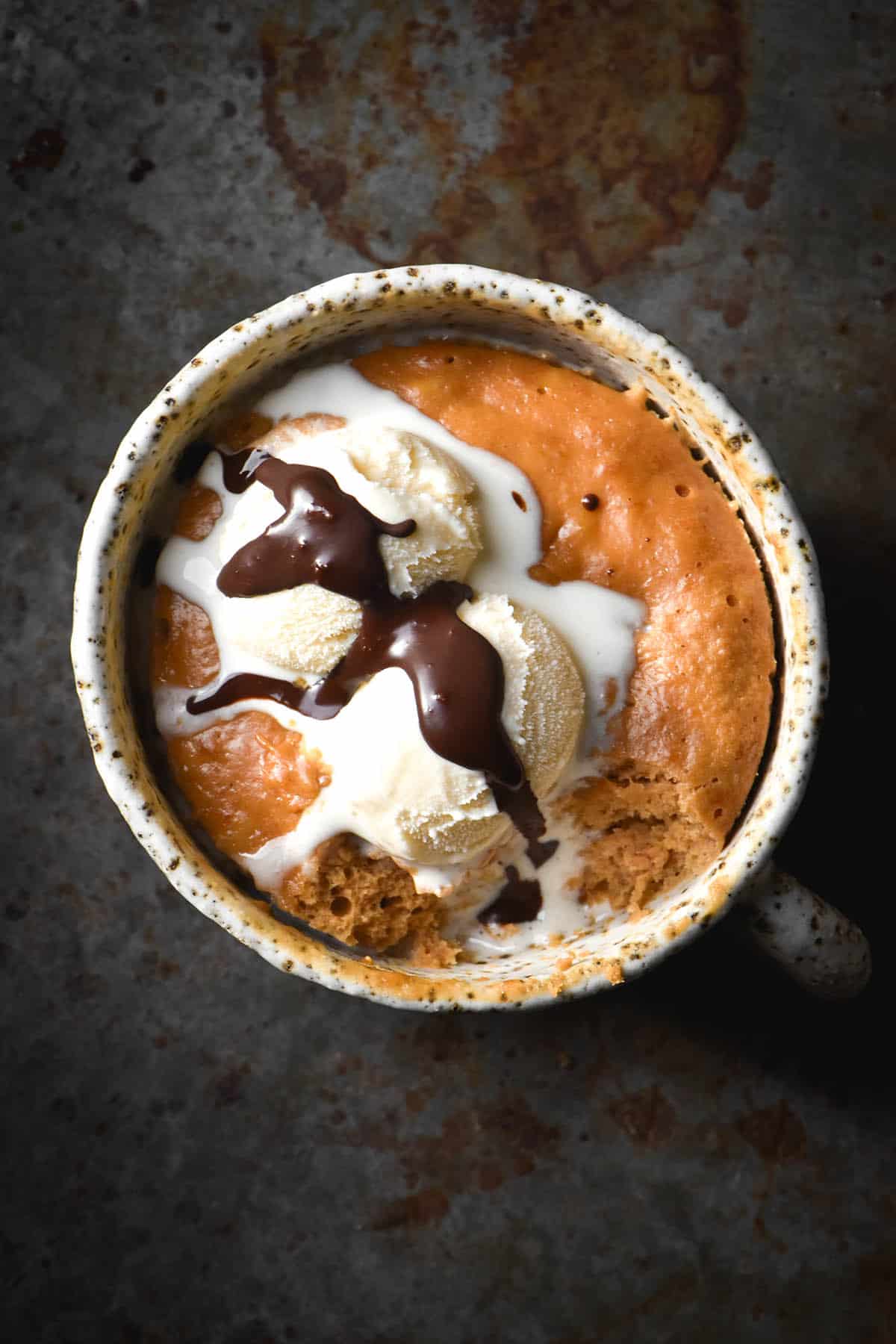 Tips for your protein mug cake
Every microwave works differently, so it's best to undercook your mug cake slightly and check it as you go. Luckily, plant proteins don't tend to create the same spongy texture as over-cooked whey mug cakes, but over cooked eggs do.
Some proteins don't need any oil, and some do. Just like gluten free flours, they have varying levels of dryness and texture once baked. I've provided a bit more information in the protein section, noting that I have tested mostly pure proteins rather than blends.
Sunflower seed protein and nut butter can turn green when combined with baking soda. Nothing harmful, just something to be aware of!
I currently have not tested substitutes for the banana or the egg. I am working on both, I promise.
You can add chocolate chips, berries, a nut butter centre, some Nutella, or anything you like. If you don't need the mug cake to be gluten free, you could also use Biscoff spread.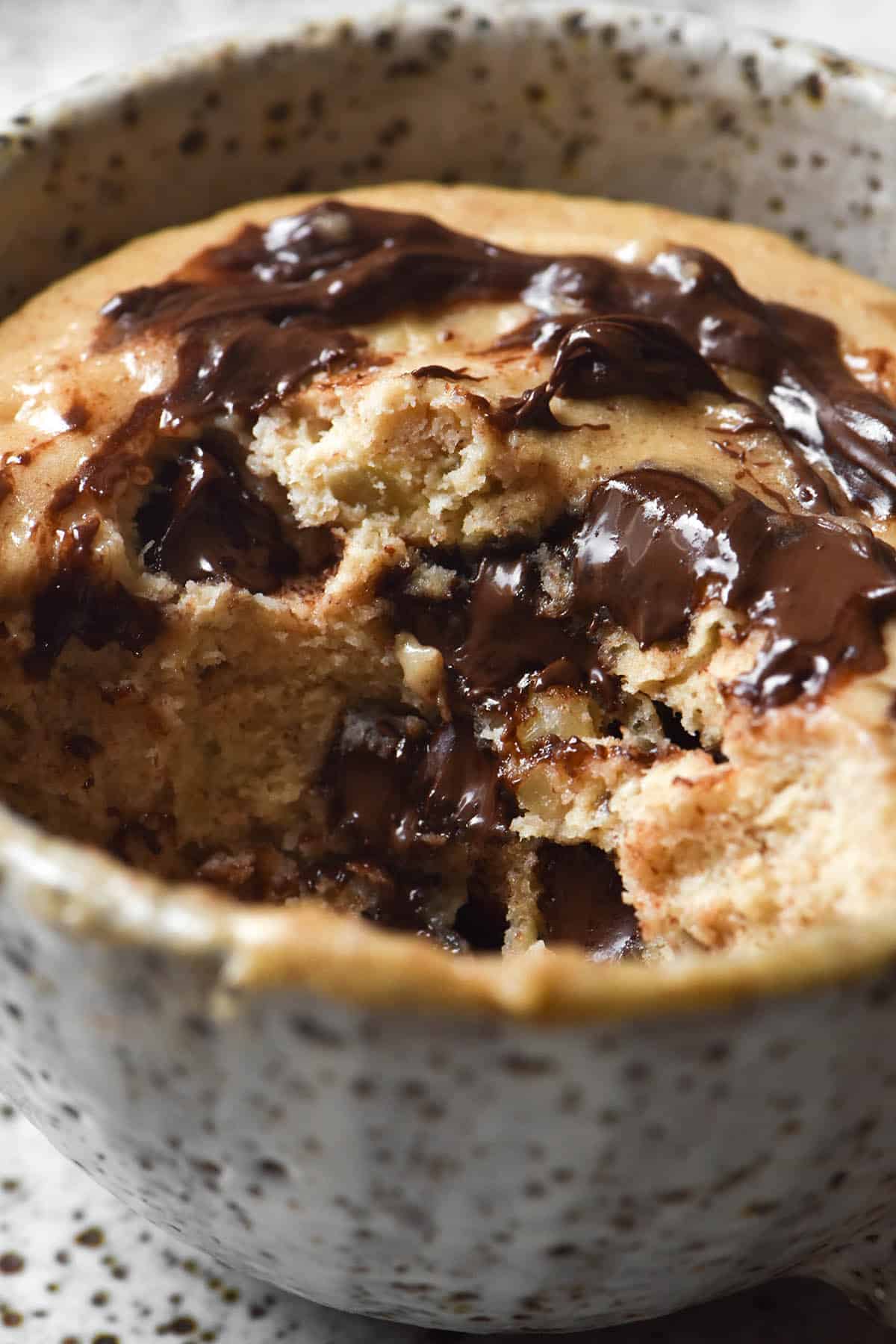 More gluten free protein recipes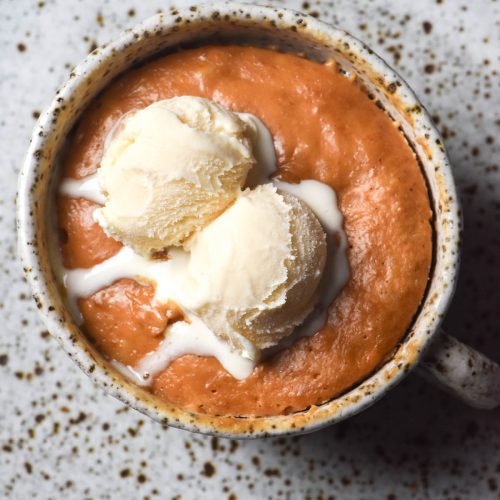 Protein mug cake (dairy free)
Gluten free, grain free, low FODMAP option, dairy free
*1 Australian tablespoon = 4 American, Canadian and New Zealand teaspoons
1 Australian tablespoon = 3 1/2 British teaspoons
Ingredients
75g

(1/2 1 large)

ripe or just ripe banana, mashed

30g

plant protein (see body of post for tips)

1

extra large egg (45-55g weighed out of shell)

25g

nut or seed butter of choice (see notes)

1/8

tsp

baking soda

1-2

tsp

vegetable or neutral oil (see body of post)

1

tsp

vinegar or lemon juice

20-40

ml (1-2 Australian tablespoons)*

plant milk of choice
Instructions
Whisk all the ingredients except for the milk together in a small mixing bowl. Once a smooth batter has formed and there are no clumps of protein or nut butter remaining, assess the batter. It should be pourable, about the consistency of a medium consistency yoghurt. If it's thicker than that, add the milk to reach the desired consistency.

Decant the mixture into a large microwave safe mug. Microwave for 40-60 seconds or until the mug cake is mostly cooked. A bit of saucy mixture on top is what I aim for as I like the mix of textures, but you do you. Keep in mind that overcooked eggs take on a funky texture, so don't go overboard with cooking. Also keep in mind that all microwaves are different, and yours might need more or less time.

Once cooked, serve with whatever you like. If you prefer a set texture, allow the cake to cool and keep cooking for 3-5 minutes.
Notes
Different proteins need different levels of milk and oil. I have written about what I have tested in the body of the post. The texture of the batter should be that of a medium thickness yoghurt.
Sunflower seed butter and protein react with baking soda and can result in a green tinged mug cake. Nothing dangerous, just something to be aware of.