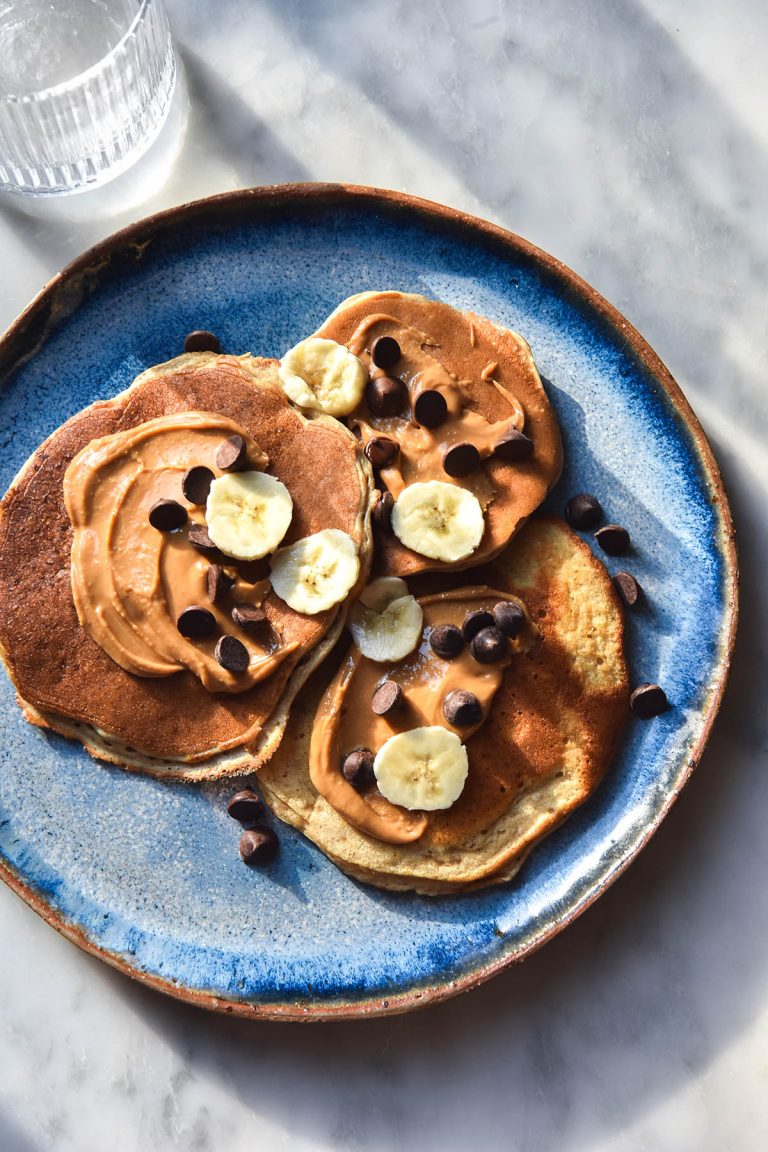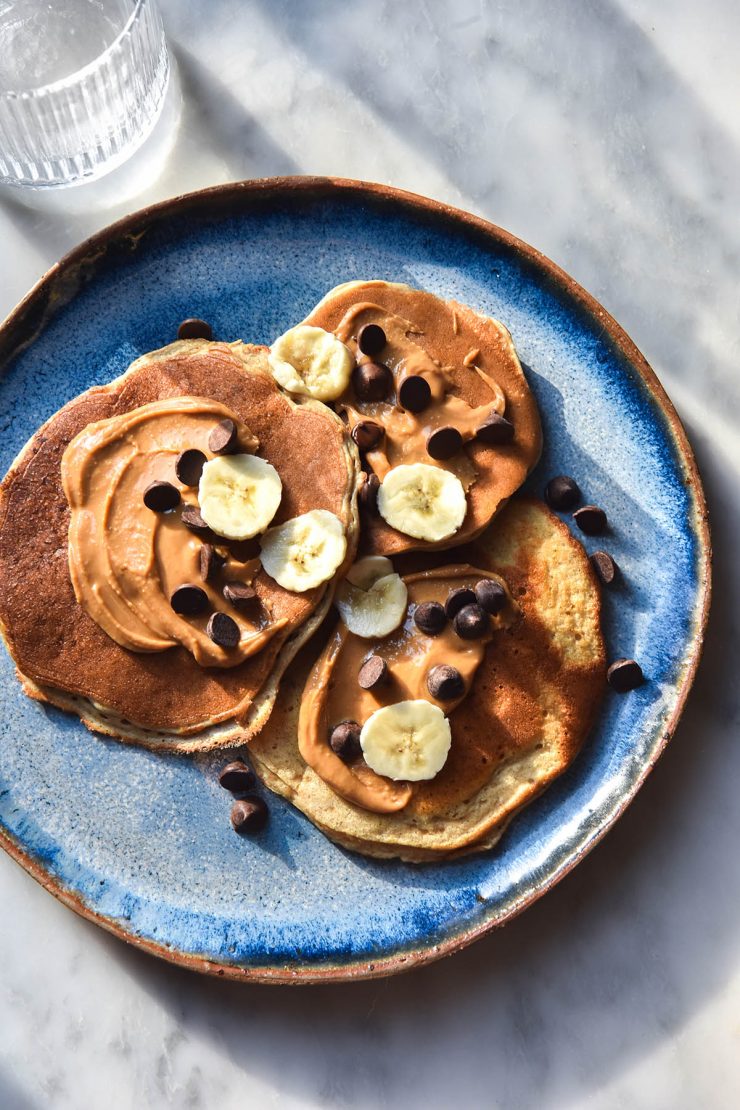 These banana protein pancakes are the direct descendent of my (as yet unpublished) gluten free protein mug cake. After having trouble getting the texture right in the microwave, I figured I would try a pancake version. Et viola! Turns out that pancakes are much more forgiving. So, today we're making protein pancakes. Tomorrow, we'll perfect the mug cake.
A quick note, before we progress: these are not thick and fluffy pancakes. They're on the thinner side, which isn't a surprise given that they are protein powder based and totally flourless. These are quick, protein packed and sugar free pancakes – not a fluffy dream. If a fluffy, protein-powder-less dream is what you're looking for, try these cassava flour pancakes.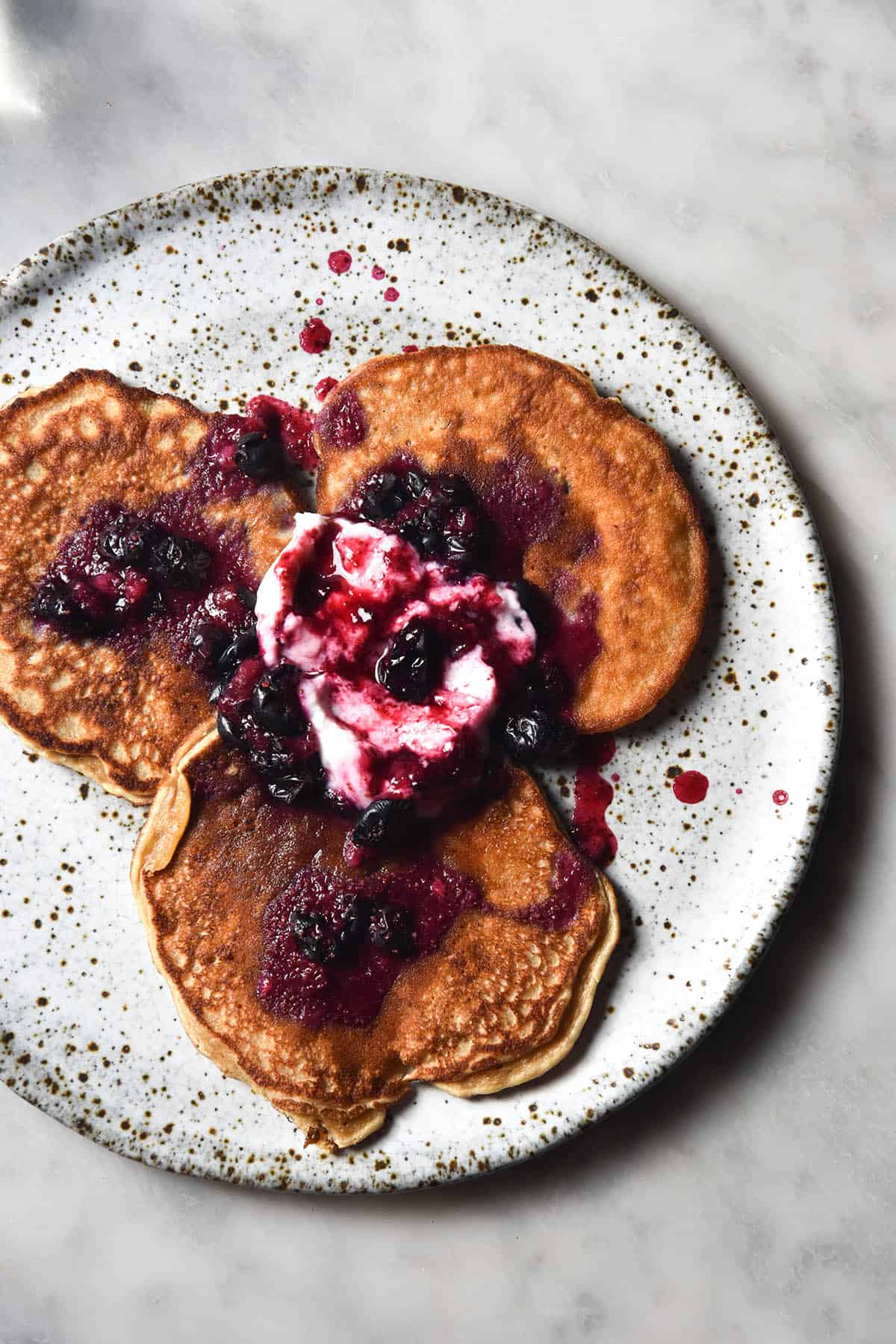 Banana protein pancakes that are grain free and SIBO friendly
This recipe for banana protein pancakes serves one. The batter can be made as one giant pancake or in 3-4 smaller ones. It might not look like a lot of batter, but the pancakes puff up as they cook. Do keep in mind, though, that these are thinner than a traditional pancake. They are entirely flourless and made with protein powder, which needs considerable moisture.
These pancakes are made with whey protein isolate (or WPI) nut butter, half a banana, an egg and some oil. They don't use any sweetener, for a couple of reasons. Firstly, it's assumed that your WPI will contain some sort of sweetening. Secondly, these pancakes are SIBO friendly, so I didn't want to include a sweetener. If you like things a little sweeter, drizzle the pancakes with some maple syrup at the end.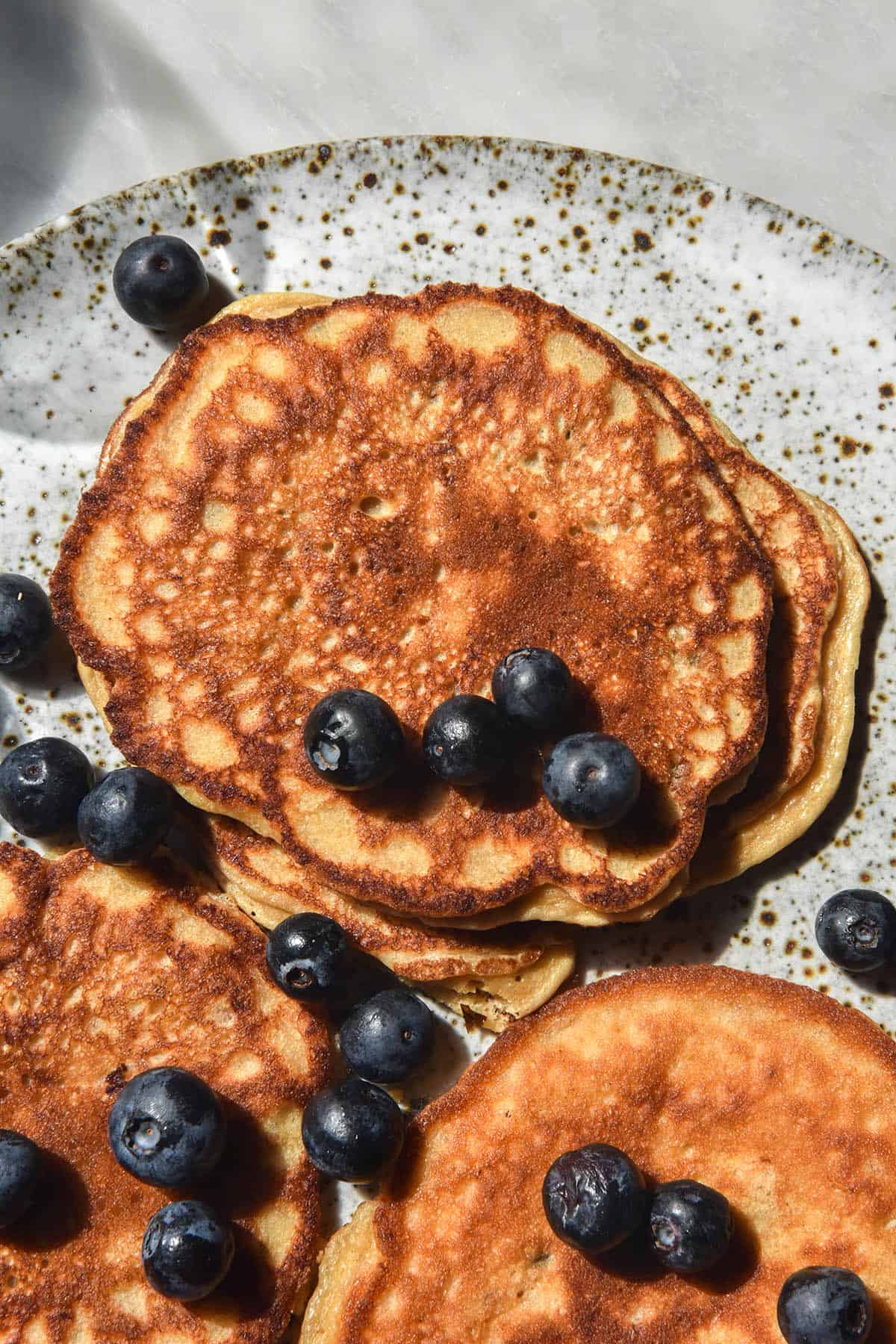 What is whey protein isolate?
Whey protein isolate is protein powder derived from milk. Unlike it's cousin, whey protein concentrate, WPI goes through additional filtration. This removes most of the lactose, carb and fat content that remains in WPC. This means that WPI is a better protein for people with lactose concerns.
I use WPI because I tolerate it really well. A lot of brands out there have different additives such as xanthan gum, guar gum, fibres, psyllium husk and fats like MCT oil. In my mug cake testing, I found that these types of protein powders work really differently in cooking than a pure, lean WPI. I use a pure WPI because a lot of the former ingredients don't work for me. All this to say: this recipe has only been tested with a pure, lean whey without any additives (aside from stevia and vanilla bean).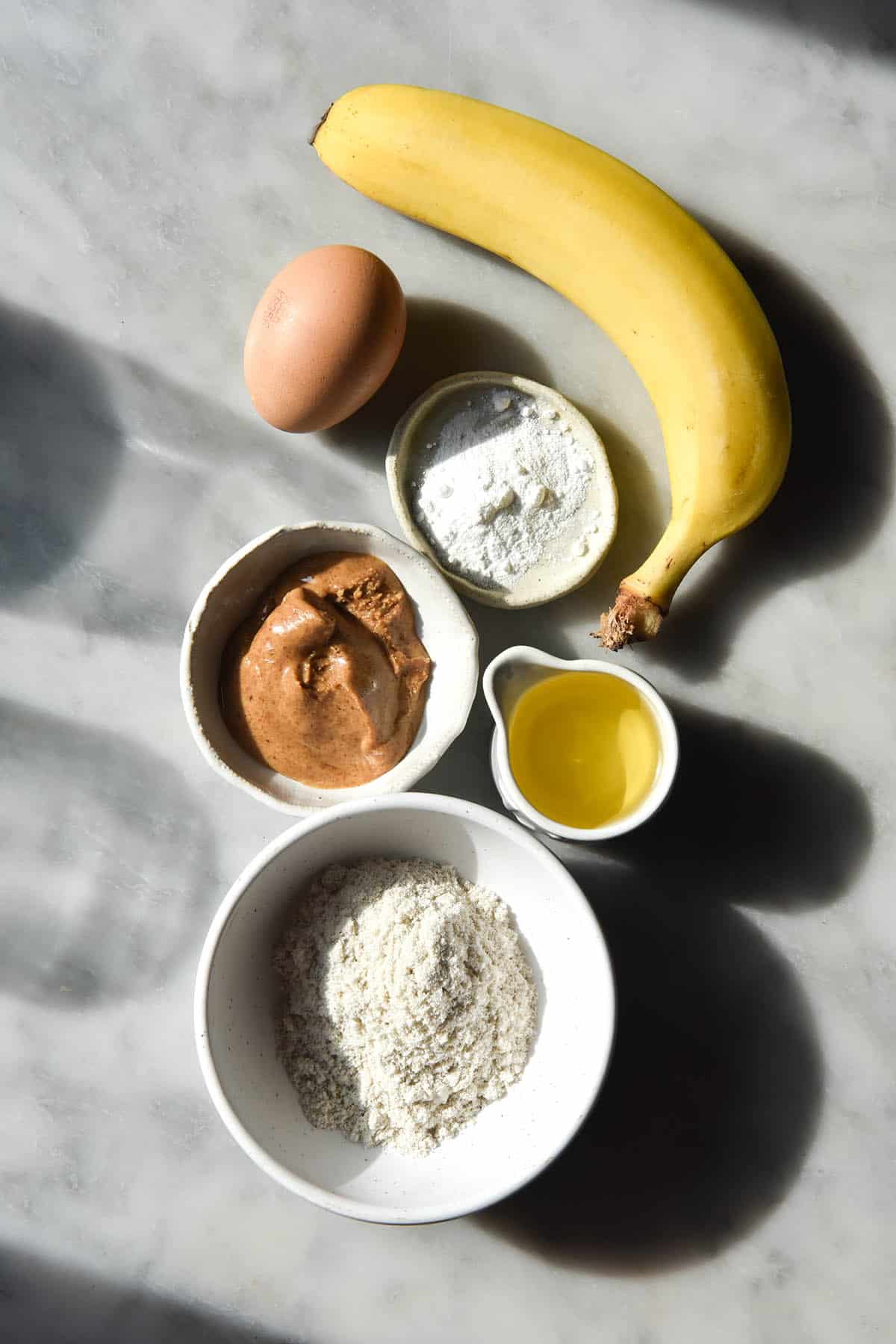 Can I use a different variety of protein powder?
Maybe! I haven't tried this yet. Because I am currently on the SIBO diet, there are only so many pancakes I can try in a day (I can only try one!). As such, I haven't tried more varieties of protein (namely, vegan protein) in this recipe. I will update the post as I do.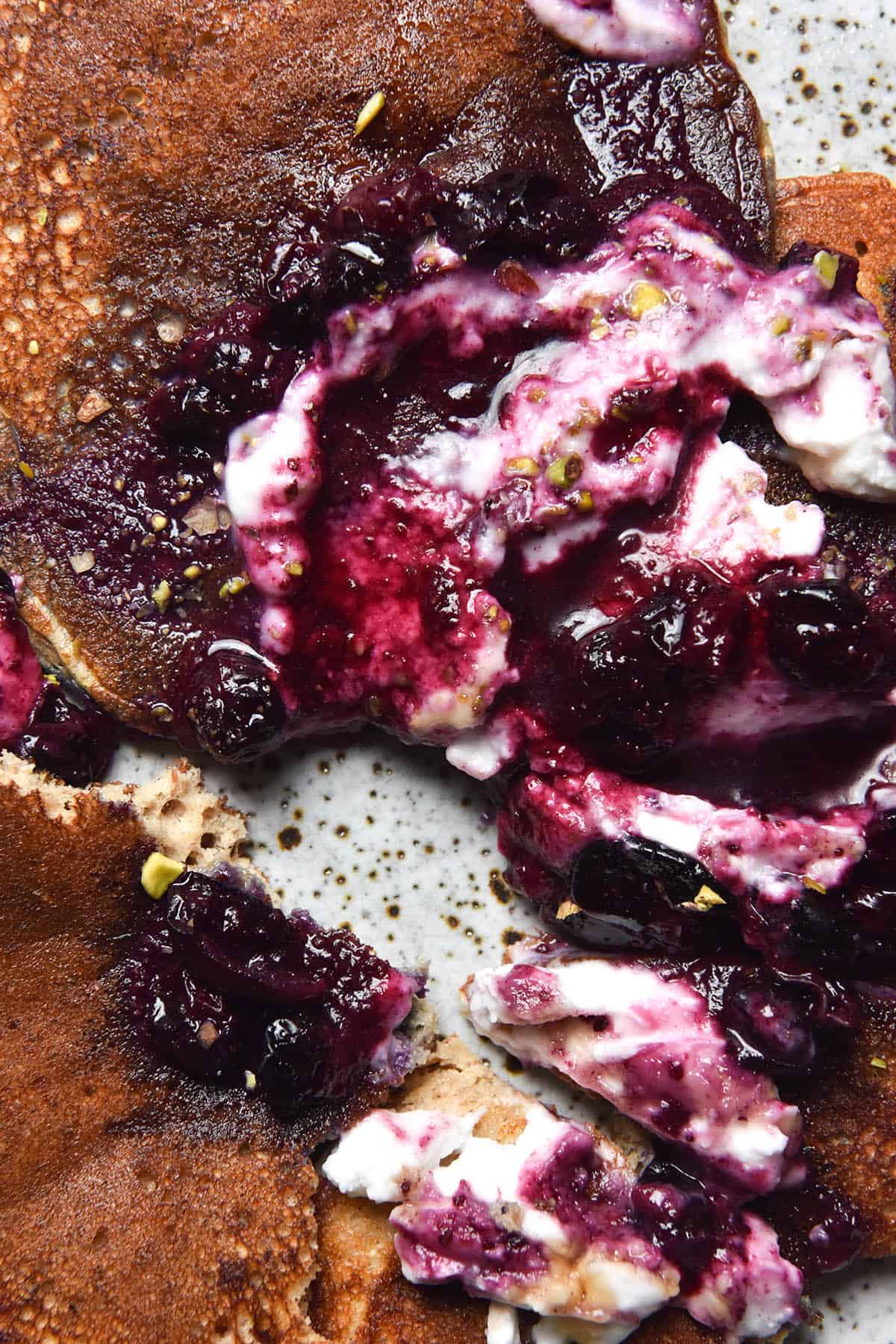 SIBO bi-phasic notes
If you're on the SIBO diet, make sure the protein you are using has no added sugar, cocoa, fibres or gums.
You can use almond butter, coconut butter (not oil) or macadamia butter.
These pancakes are suited to stage 1 adapted (to include the 1/2 banana) or stage 2.
Sadly, you can't use maple syrup to finish the pancakes. If you are on stage 2, you could use a little drizzle of honey.
For stage 2, you can also top the pancakes with 1/2 cup of berries, if you want to go all out and use up your fruit serves for the day.
Technically speaking, baking powder contains rice flour and isn't on the SIBO approved list. I would have pulled my hair out without some sweet treats, so I include a little bit. Whether you do is up to you. You can also try using 1/4 teaspoon baking soda and 1 teaspoon vinegar instead.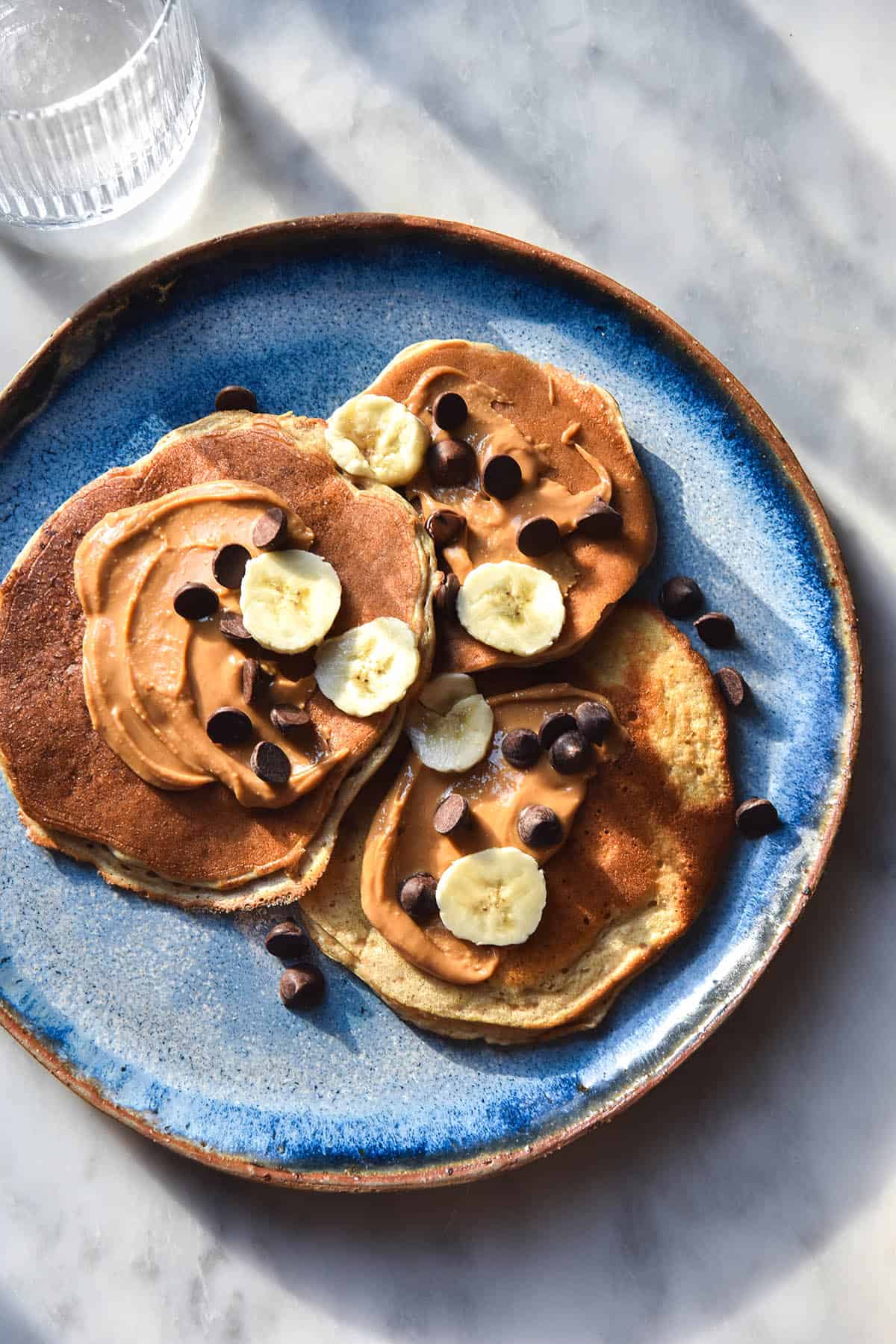 Recipe notes for your banana protein pancakes
Although I haven't tried it, sunflower butter might be a good nut free alternative to nut butter in these banana protein pancakes.
While I currently don't have a substitute for banana, I will be testing pumpkin puree at some point.
To ensure these pancakes are low FODMAP, use a just ripe banana or a ripe sugar (mini) banana.
Peanut butter is low FODMAP in 2 tablespoon serves, while almond is low FODMAP in 1 tablespoon serves. Macadamias are low FODMAP in 40g serves (20 nuts) which should be around 2 tablespoons of nut butter. I find macadamia butter hard to make and hard to buy, but it's worth persevering if you can.
I generally use vegetable oil, but you can use whatever sort you like. Coconut, avocado, olive – they will all work (although some will add more flavour than others).
As discussed, I have only tested this recipe with a pure WPI – no fillers, gums, fibres or coconut sugars. If you do, you'll be experimenting.
I promise, a vegan version will be developed eventually!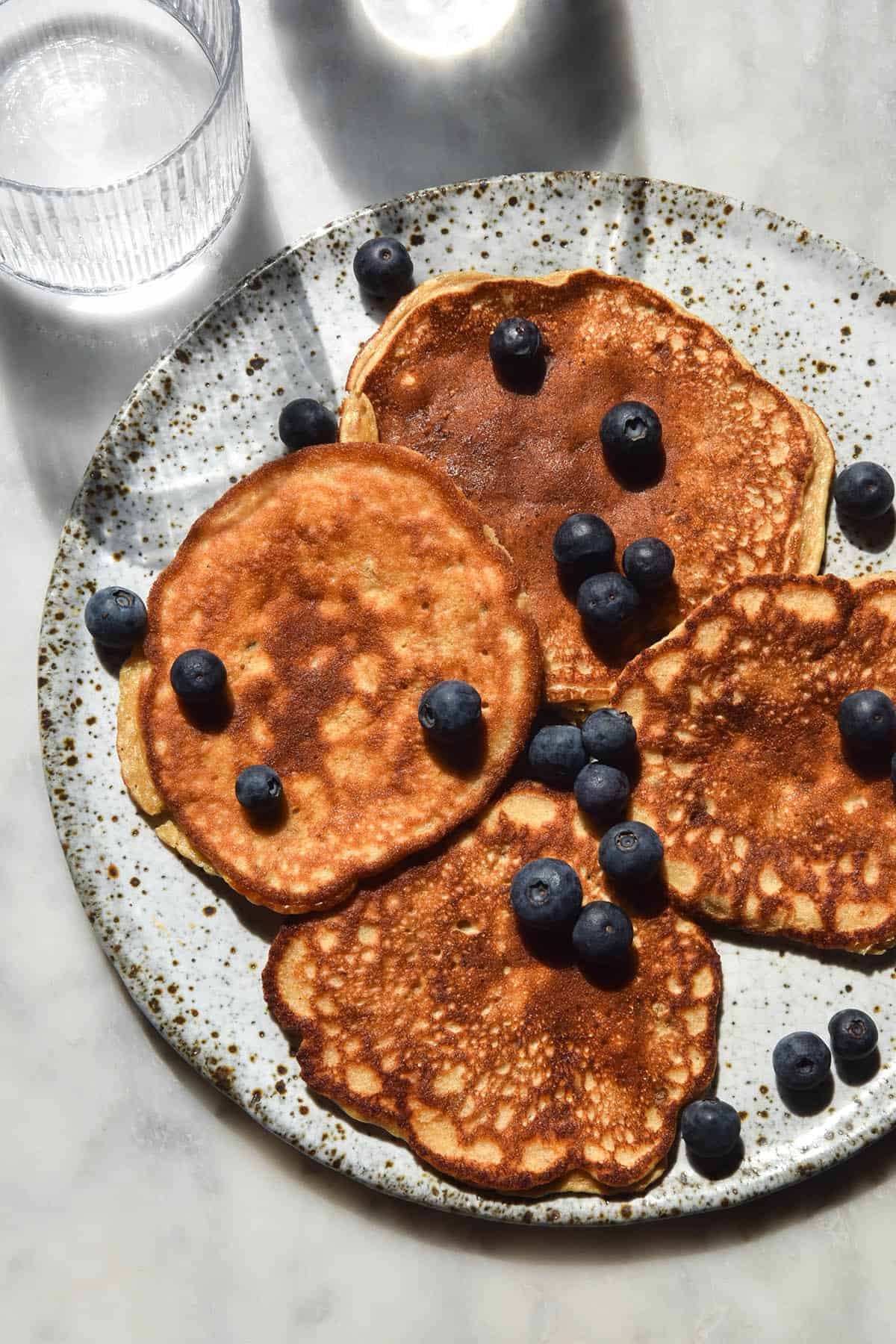 Tips for your banana protein pancakes
The batter for these pancakes should be on the runny side. It should be more like a thin yoghurt than a stick batter. WPI can be quite thirsty, so it's better to have a borderline runny batter than a dry pancake. If your batter looks particularly dry, add a tablespoon of water.
On that note: if you're trying a protein other than WPI, expect to adjust the liquid content to suit. Not all proteins are equal (in fact, they are all crazy different). Pea protein works a lot differently to whey, and powders with psyllium husk will absorb more liquid. For best results, I recommend a WPI with minimal added ingredients here.
That said, I'd love to hear if you used a different protein and it worked for you!
If your pancakes keep splitting in two as you flip them, they're not cooked enough on the bottom yet. Make sure you allow the bottom to thoroughly cook before flipping to avoid this.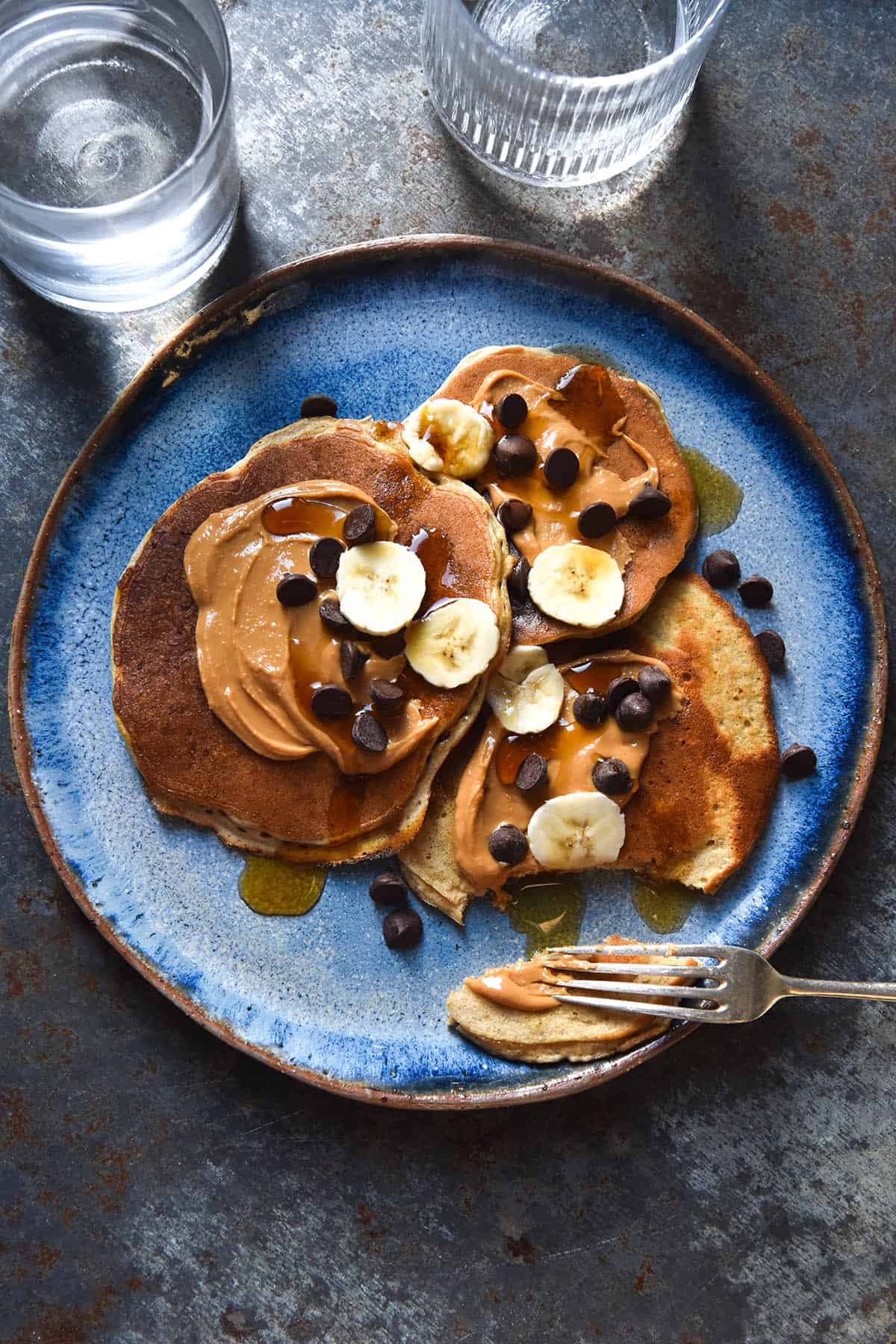 Topping ideas for your banana protein pancakes
For a SIBO friendly option, mix some lemon juice (preferably Meyer as they are sweeter) with a bit of stevia to taste, then drizzle over the pancakes. Finish with some ghee or (if you are on stage 2) some 24 hour yoghurt).
If not, go wild! Maple syrup, yoghurt, berries, seeds – whatever you like.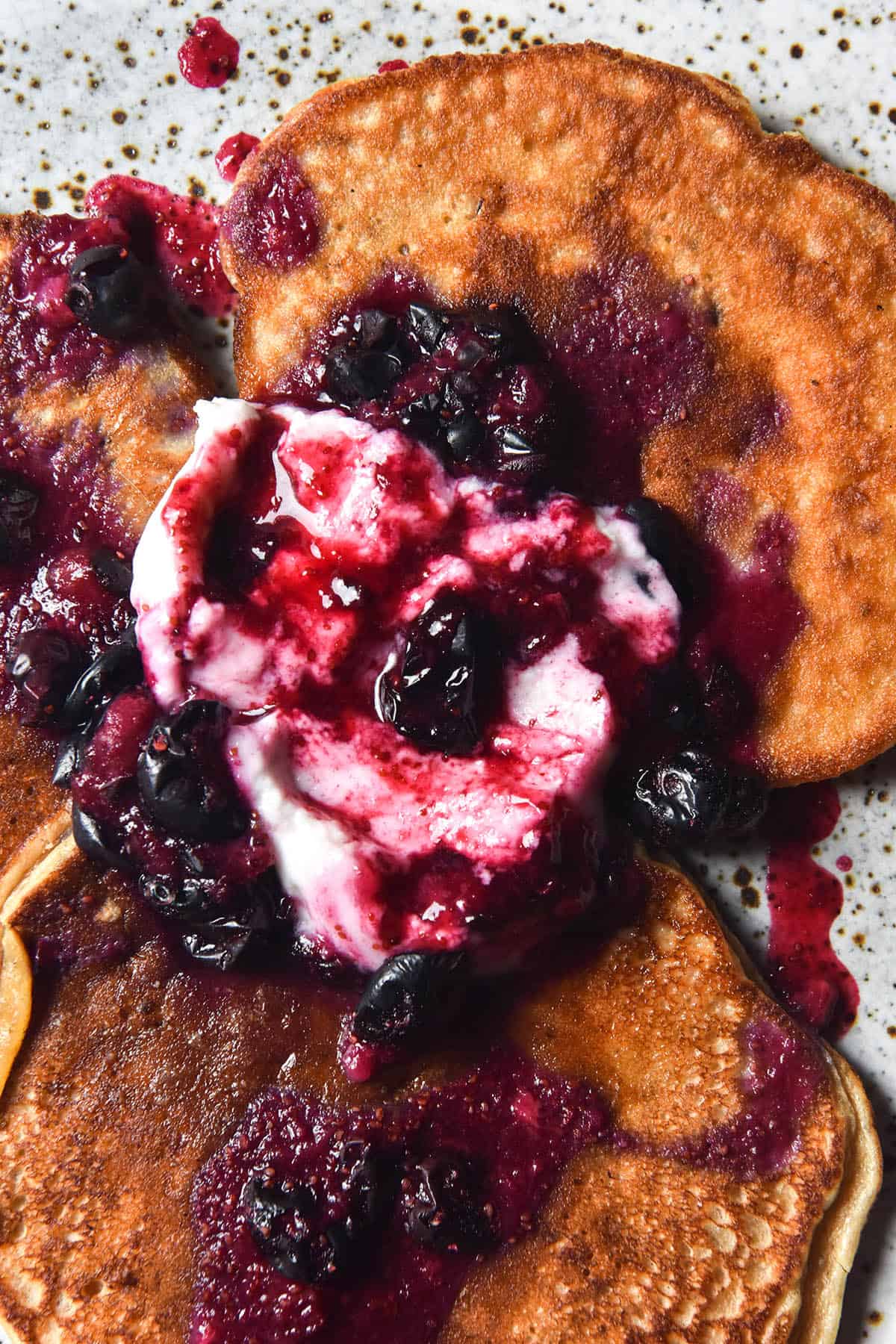 More nut butter recipes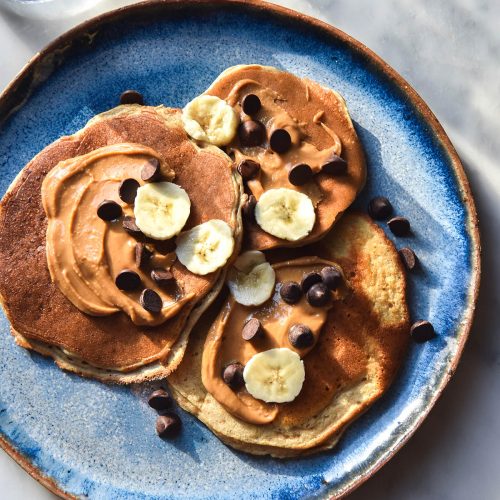 Banana protein pancakes
Gluten free, grain free, SIBO bi-phasic friendly, low FODMAP option
Recipe uses Australian cups and measures
Use gram weights and ml for international accuracy
Ingredients
For the pancakes
75g

(1/2 medium – large)

banana (see notes)

20g

whey protein isolate (see notes)

1.5g

(1/4 teaspoon)

baking soda

1

tablespoon

(25g) peanut butter, almond butter or coconut butter (not coconut oil)

1

tablespoons

(20ml) oil of choice

1

extra large

egg

1

teaspoon

white vinegar or lemon juice
To finish (optional)
maple syrup, for drizzling

blueberries, to top

yoghurt, to finish
Instructions
Combine all the ingredients except the vinegar in a small mixing bowl. Whisk until a batter forms. If the batter is very thick, add a tablespoon (20ml) of water or milk. The batter should be on the thin side, easily pourable but still a batter – like a thin custard.

Thoroughly heat a pan over a low-medium heat, then add the oil or butter. I make 4 medium pancakes from this volume of batter.

Cook each pancake for 1 or so minutes until the top has a few little bubbles. If you slip a spatula under the edge, the surface of the pancake should appear to have a skin. Flip the pancake and cook on the other side until cooked through, noting that you will probably need to adjust the heat. If your pancake splits as you flip it, cook it a little longer on the first side next time.

Repeat with the remaining pancakes and serve with the toppings of your choice. These pancakes are best eaten straight away as they tend to become dry as they cool.
Notes
To make these pancakes low FODMAP, use an unripe banana or a ripe sugar banana. Use gram measurements to ensure best results.
For a low FODMAP option, use peanut butter instead of almond butter. For a SIBO bi-phasic option, use almond, coconut or macadamia butter. 
For best results, use a pure WPI with no fillers, fibres or gums. I haven't tried this recipe with a vegan protein powder yet, but stay tuned.