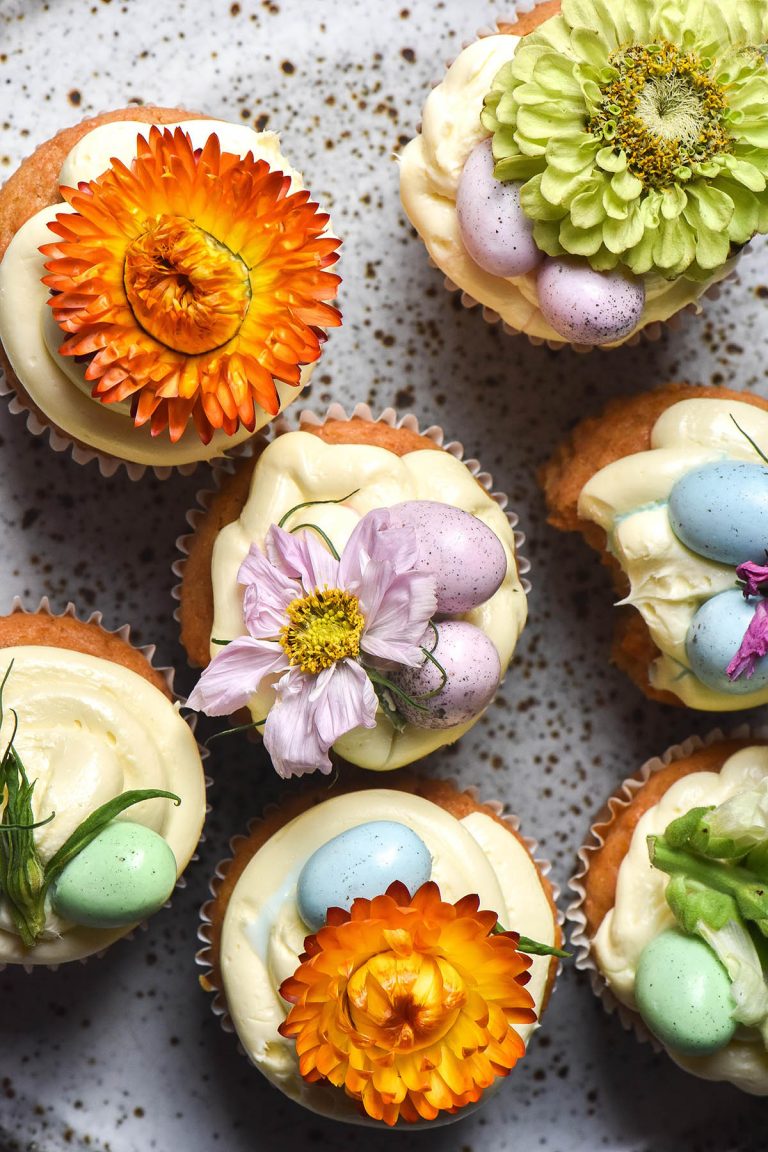 These gluten free carrot muffins are one of two recipes I have developed to celebrate Easter. They're incredibly easy to make and full of flavour, with a simple mix of flours. These muffins don't require a mixer or any fancy equipment.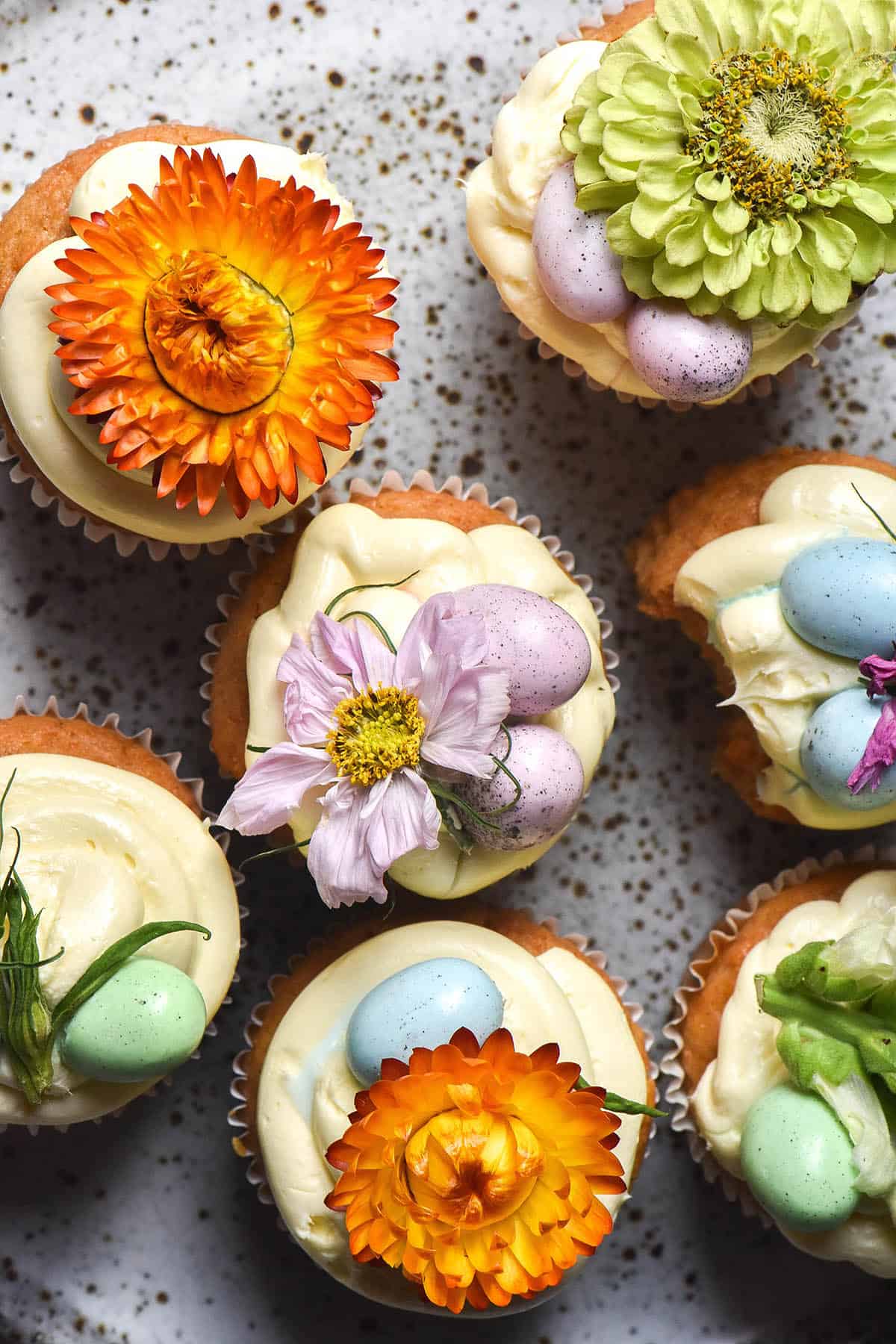 Gluten free carrot muffins (with a vegan option)
These gluten free carrot muffins are gluten free, xanthan gum free, nut free and egg free. They also have an easy dairy free/vegan option and an unrefined sugar option. The muffins are perfectly sweet without being overbearing. The spices compliment the carrot flavour for a carrot cake hit in muffin form.
The lactose free cream cheese icing is an option but delicious finish. I have also provided an option for a maple syrup sweetened cream cheese, if that's what you would prefer.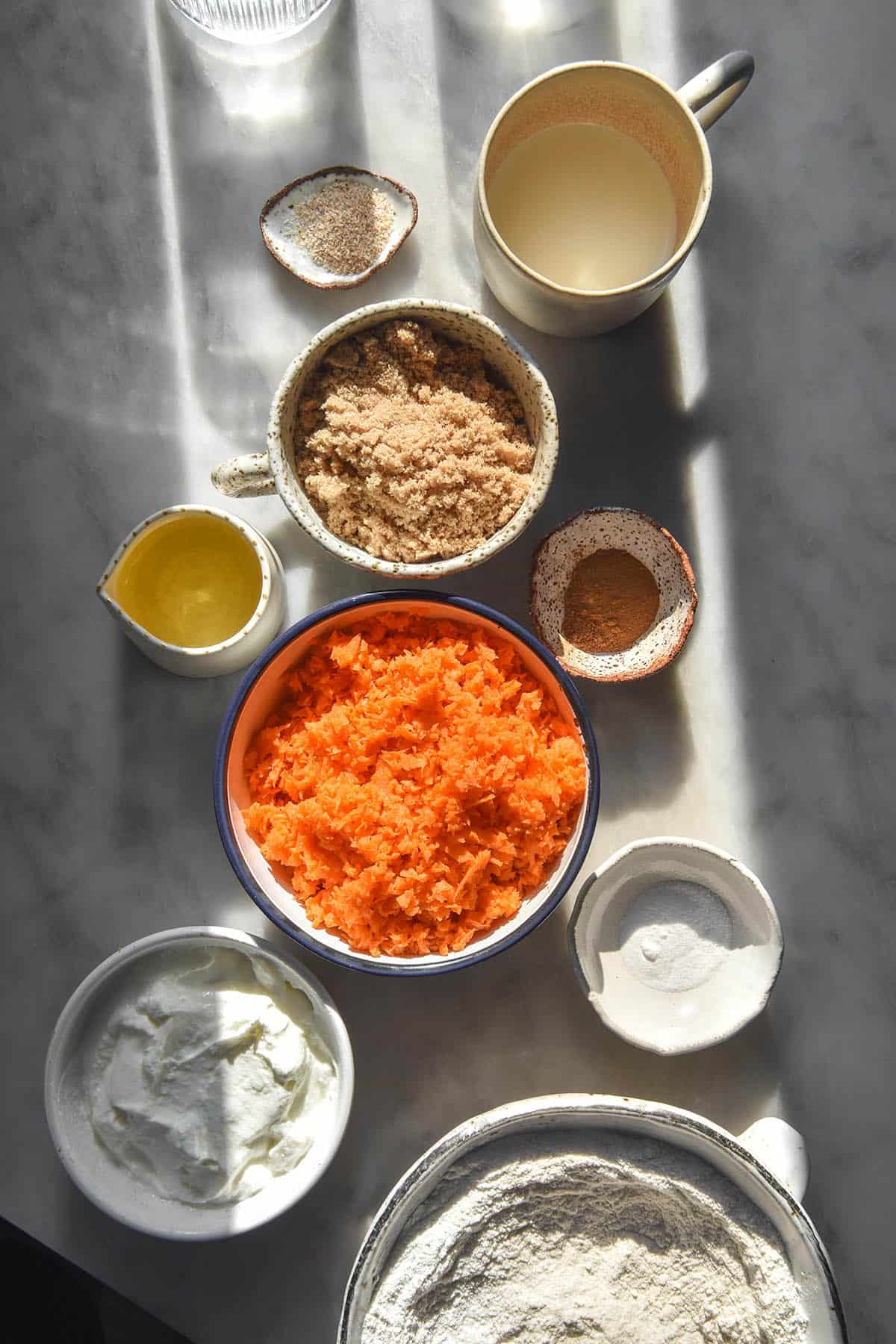 Tips for your carrot muffins
My number one tip for making good carrot muffins is to grate and process or chop the carrot. Using grated carrot without chopping it tends to leave uncooked streaks in the batter. It also gives the muffins a distinctly more 'vegetable' taste somehow. Stringy pieces of carrot in a muffin is not appealing, so I must insist you don't skip this step.
I have a mini Kitchenaid food processor, so I blitz my carrots in two batches for this muffins. It's a quick and easy way to ensure your muffins have great flavour and texture.
My second tip is in regards to the psyllium husk. It's an optional ingredient here, but I find it helps bind everything together for a lovely muffin with a little bit of chew. It's also helpful if you're not using muffin liners, because it will help hold everything together.
Which brings me to my final tip: muffin liners. I've been on a gluten free muffin bender recently, and I have noticed that muffins with muffin liners dome better. This might just be a gluten free thing, but the batches made with liners rarely spilled off to the side at an awkward angle like the others did. They're optional (I don't like the waste either) but they do help with doming.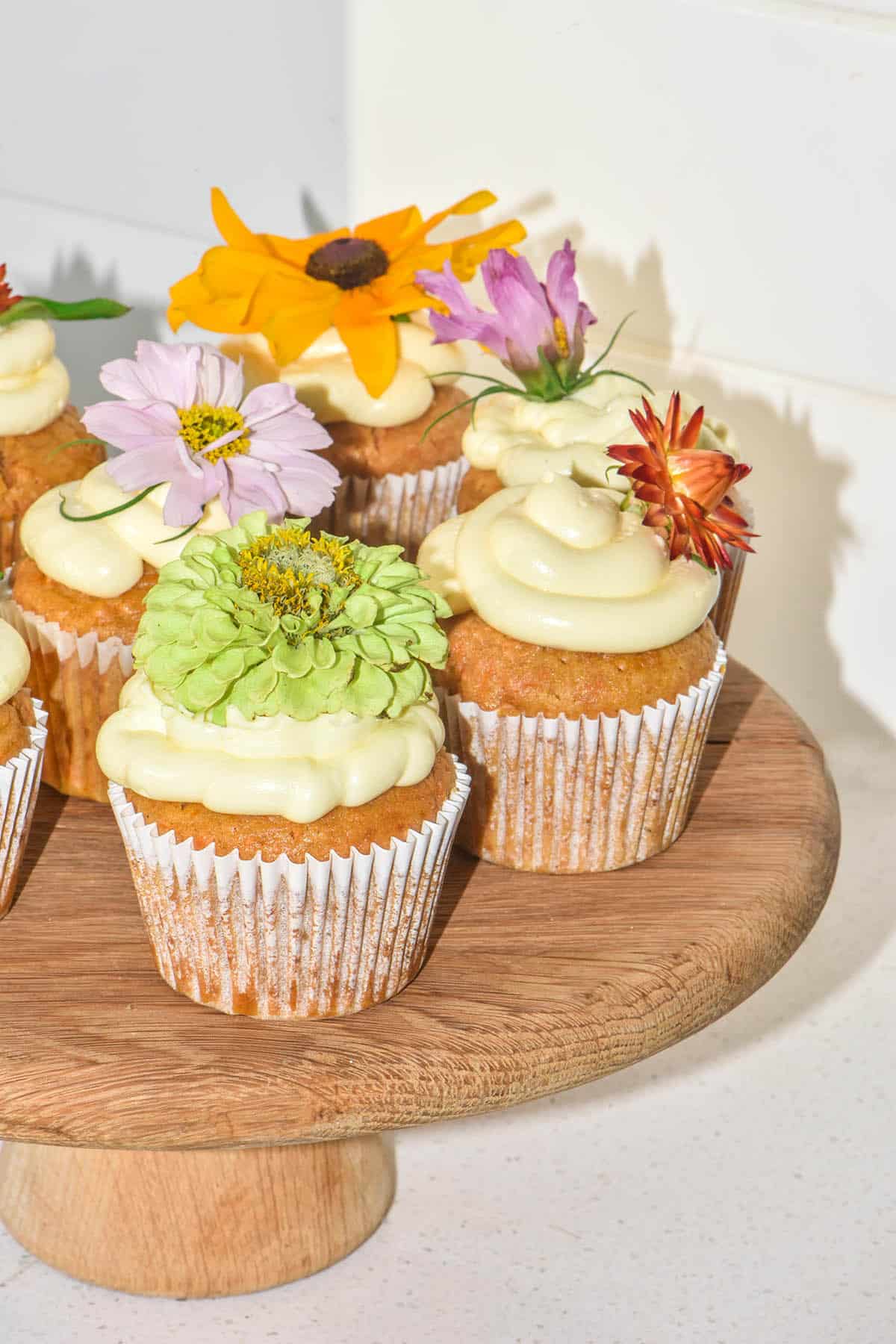 Can I make these gluten free carrot muffins vegan?
Yes, these muffins can be made vegan. To do so, simply use a thick plant based yoghurt (plain or vanilla flavoured) and a plant based milk. Keep in mind that plant milks are often made with nuts, so choose soy if you need them to be nut free.
Another thing to consider is that plant based yoghurts generally contain xanthan gum or guar gum, just in case you need to avoid them.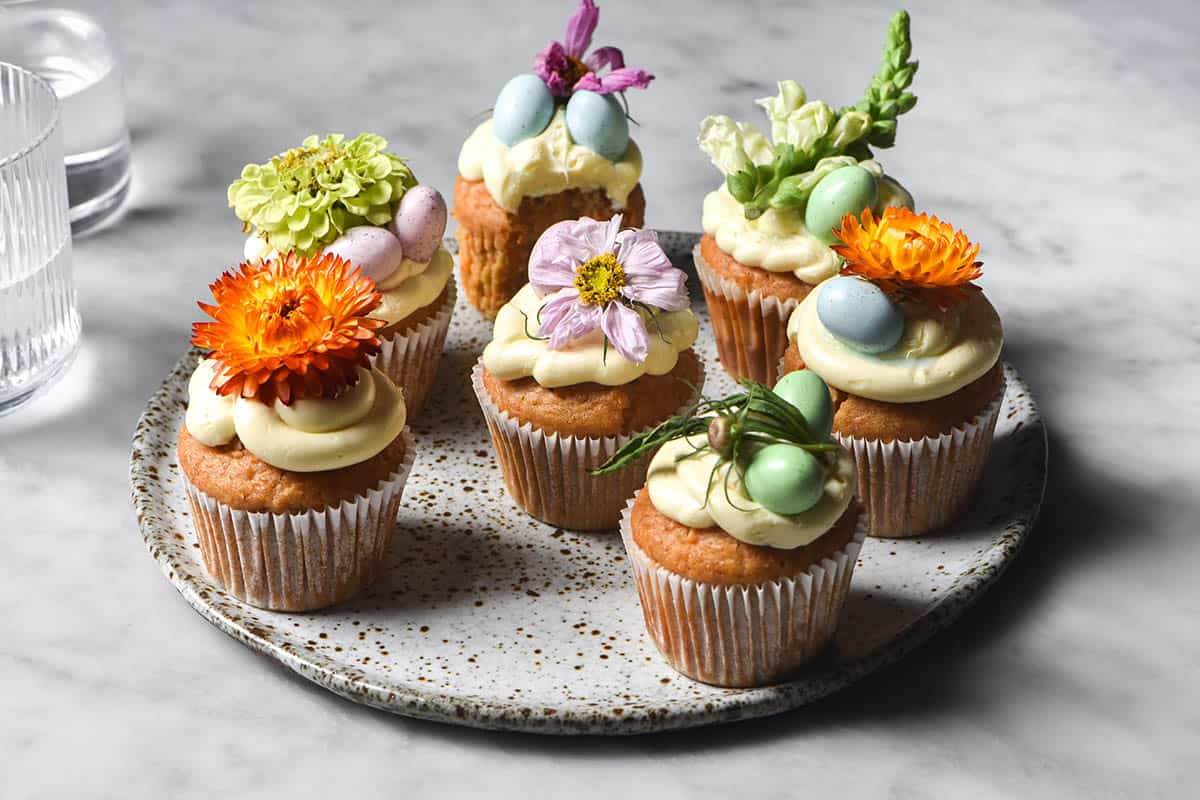 FODMAP notes
These muffins are low FODMAP, but there are a few things to keep in mind. Namely? The dairy products you choose. I always use Jalna lactose free Greek yoghurt in my baking. It's thick, naturally pot set and doesn't use any xanthan gum or unnecessary stuff for texture.
In terms of milk, I use lactose free full cream milk. Make sure you choose a low FODMAP yoghurt and milk if you need to keep the FODMAP content down.
Monash says that 125g of coconut yoghurt is a low FODMAP serve, so it make a suitable plant based substitution here.
In terms of milk, soy milk made with soy protein, rice milk, macadamia milk and hemp milk are all low FODMAP choices.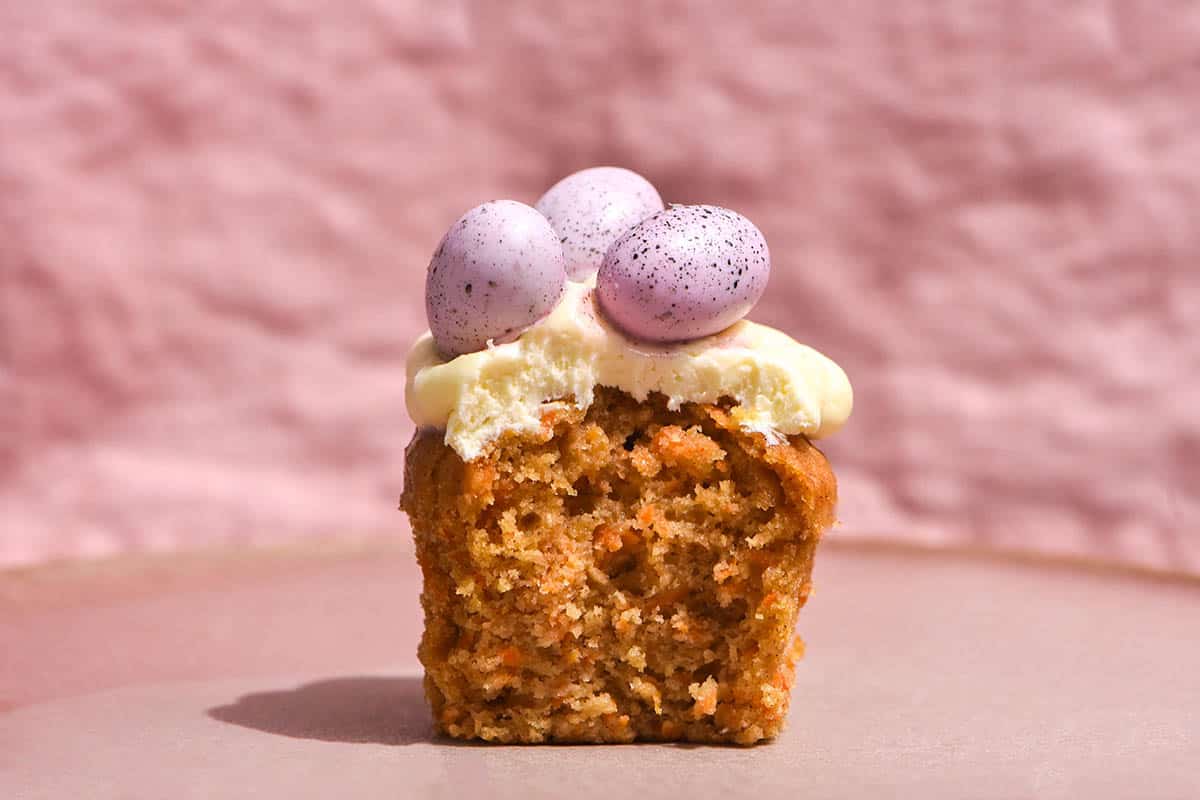 More gluten free muffin recipes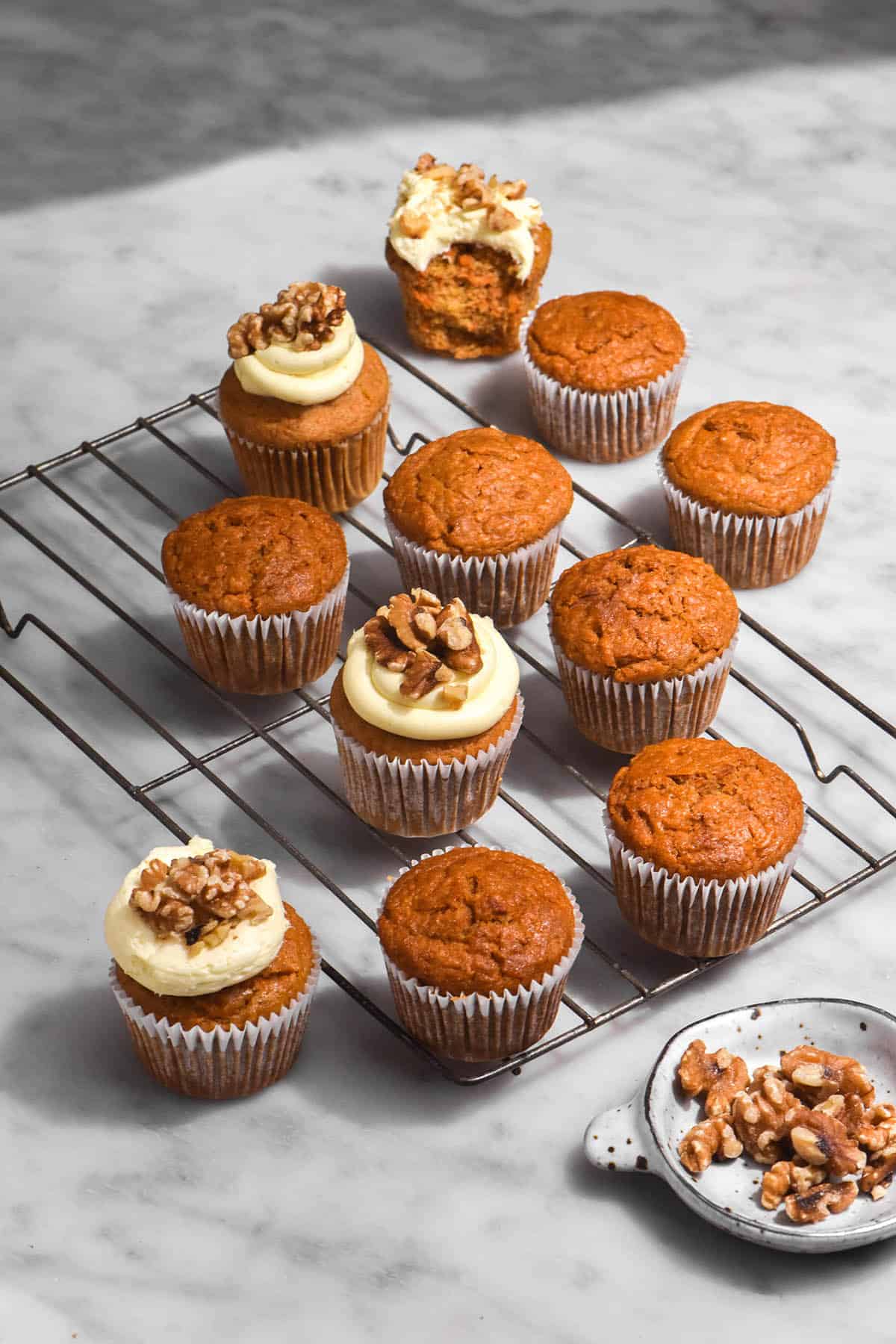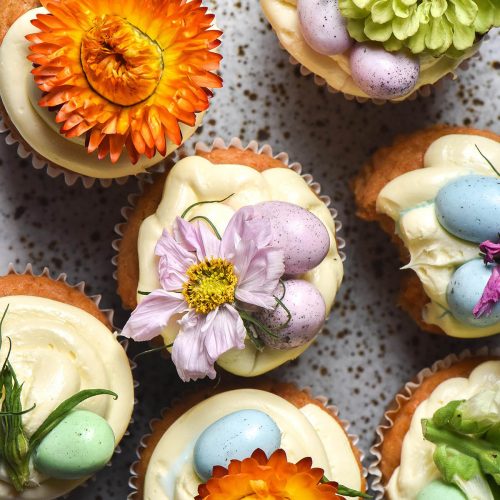 Gluten free carrot muffins
Nut free, xanthan gum free, dairy free option, vegan option
*Cups and measures are in Australian cups and measures. Use gram weights for international accuracy.
Equipment
12 hole muffin tin with 7cm (w) x 4cm (h) holes (roughly 80ml or 1/3 cup capacity)
Ingredients
For the carrot muffins:
160

g

(1 cup)* fine white rice flour

60

g

(1/2 cup)* buckwheat flour

4.5

g

(1/2 teaspoon) baking soda

1

teaspoon

ground cinnamon

1/4

teaspoon

ground nutmeg

to taste if grating fresh

1

g

(1/2 teaspoon) psyllium husk (optional, see notes)

pinch

of fine salt

250

g

carrot

skin on

200

g

thick plain yoghurt

I have tested Lactose free Greek yoghurt and coconut yoghurt

125

g

light brown sugar or rapadura sugar

80

ml

(1/3 cup)* neutral flavoured oil (I used vegetable oil)

125

ml

(1/2 cup)* milk of choice
For the cream cheese icing:
250

g

lactose free cream cheese

room temperature

25

g

butter

room temperature

25-50

g

sifted pure icing sugar or 20-40ml

1-2 tablespoons maple syrup, to taste

Pinch

of fine salt
Instructions
To make the muffins:
Preheat the oven to 180C/356F. Line 9 holes of a muffin tin with muffin liners or grease them well.

Whisk to combine the flours, baking soda, spices, optional psyllium husk and salt in a medium mixing bowl. Set aside.

Grate the carrots (Ieave the skin on) on the large side of your grater. Transfer the grated carrot to a food processor and process to chop into fine pieces. This ensures the batter cooks evenly and you don't end up with stringy bits of carrot in your muffins. If you don't have a food processor, you can chop the grated carrot finely.

Add the carrots and remaining ingredients to the bowl and whisk until a batter forms.

Spoon the mixture into the prepared muffin liners, right to the top. Once you've used all the batter, bake the muffins for 20-25 minutes or until domed and lightly golden. If you're making the cream cheese icing, allow them to cool completely before you ice them.
To make the icing and finish:
Use hand beaters to combine the room temperature butter and cream cheese. Add the sugar and beat until a smooth, pipeable consistency is formed. Taste and adjust for sweetness. A little lemon juice or zest or some vanilla extract is always a welcome addition.

When the muffins have cooled, pipe or spread the icing onto the muffins. Keep leftovers in an airtight container in the fridge.