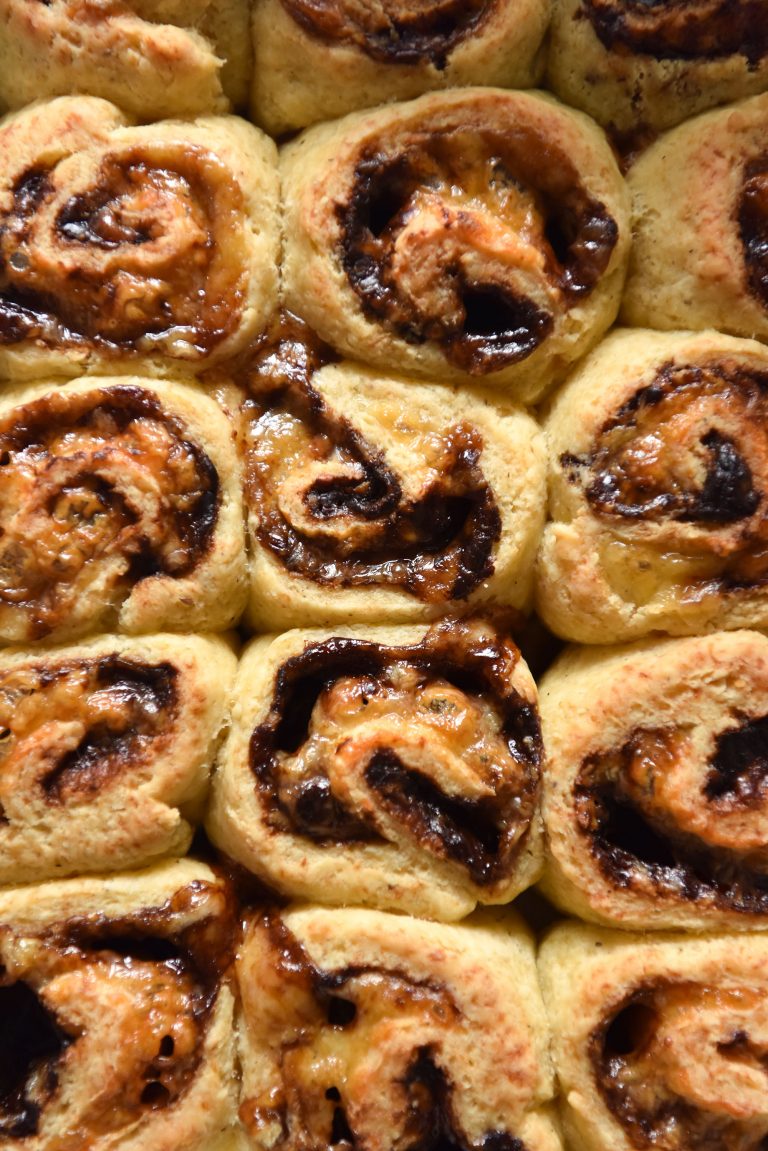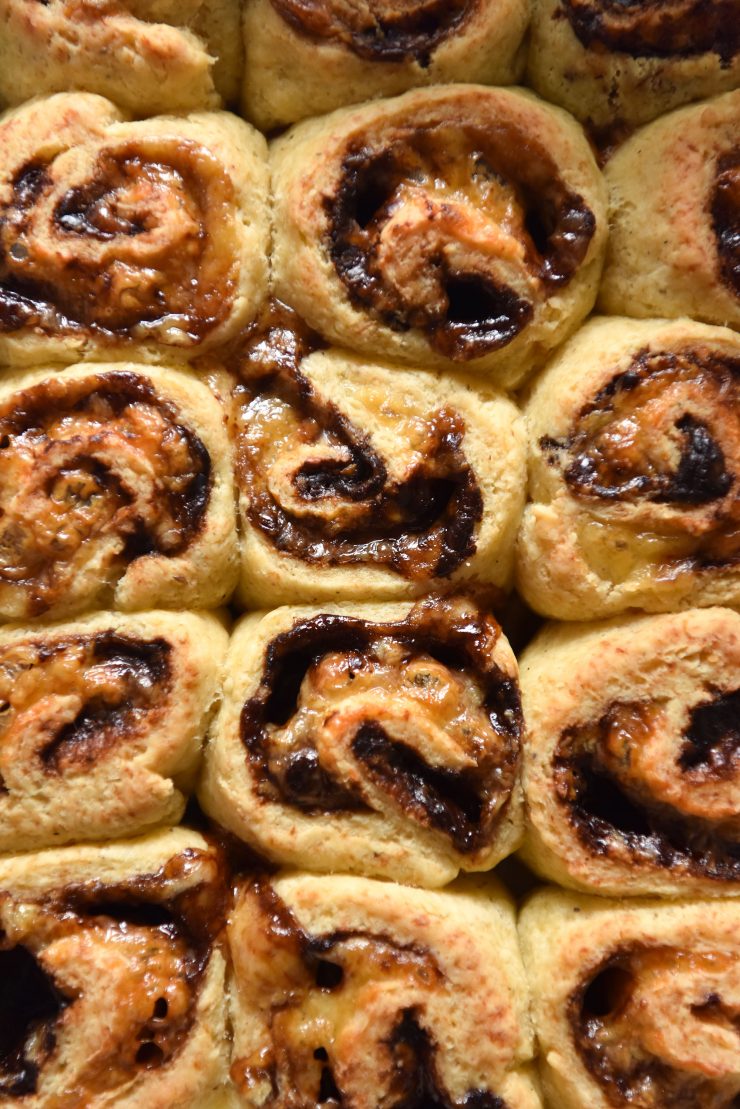 Gluten free Vegemite scrolls
GLUTEN FREE VEGEMITE SCROLLS, GUYS! I mean, I have only been pining for gluten free Vegemite since the day I went gluten free. 6 or 7 years on, it is finally here – Vegemite have released a gluten free version of their quintessentially 'strayan spread. Here is the insider's tip: it tastes exactly the same as I remember it.
For a long time, now, I have been substituting with Vegemite substitutes. They are doing their best, but they're not Vegemite. I dabbled with some scroll recipes, but without Vegemite, I had no motivation to get it done. When the new Vegemite arrived, and Vegemite kindly asked me to develop a recipe for them, I got it done in a matter of weeks. Must be all those Vegemite B vitamins amirite lol lol.
Having been gluten free for 6 or 7 years, I don't quite remember what the super fluffy, white bread-esque Vegemite scrolls taste like. Gluten free bread isn't exactly known for being particularly fluffy, after all. These scrolls are moist, delicious, crumby and dense but light. They're not so fluffy that you're unsure if you actually ingested anything, but not the little gluten free rock cakes you'll be familiar with if you are gluten free. These gluten free Vegemite scrolls are the perfect harmony.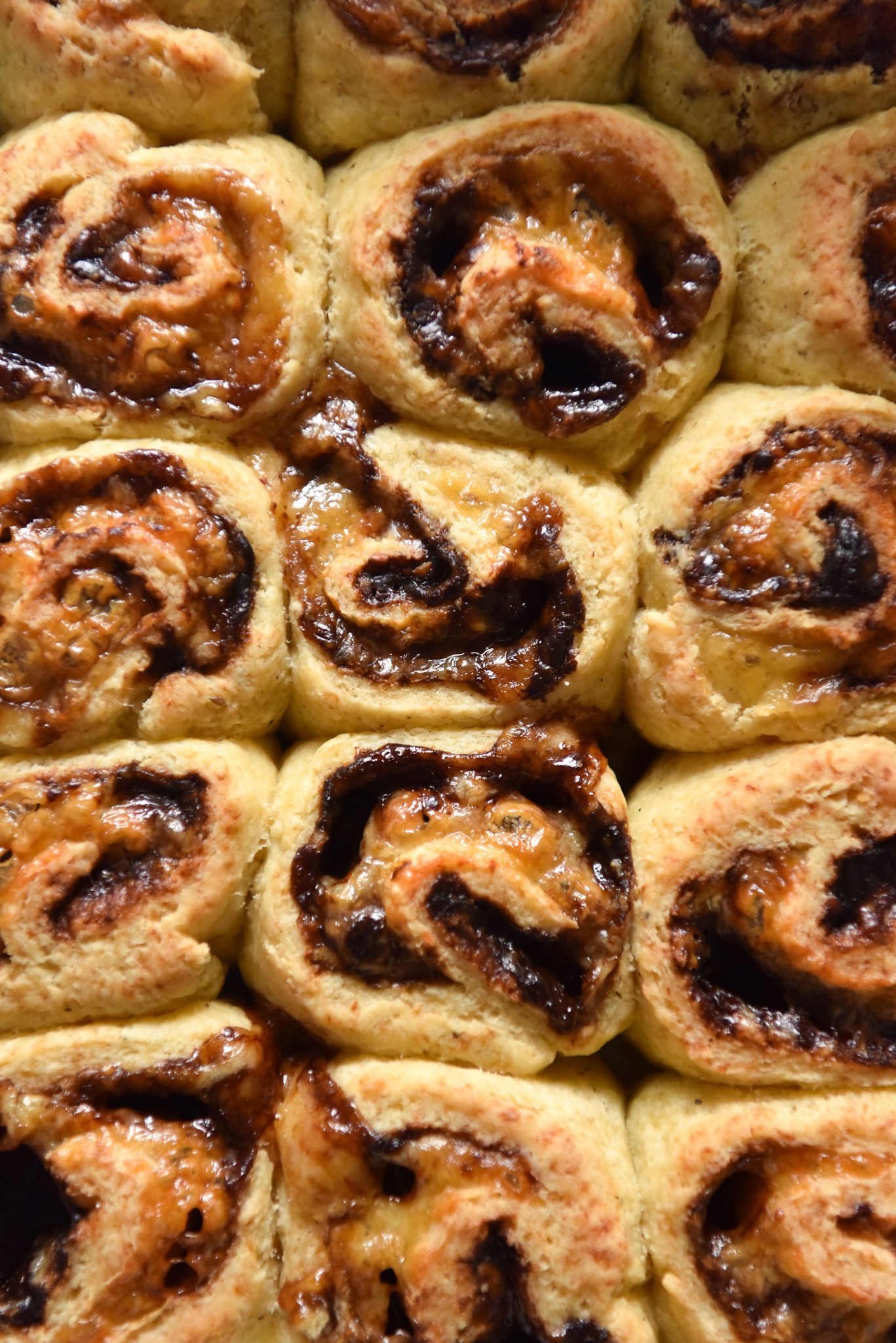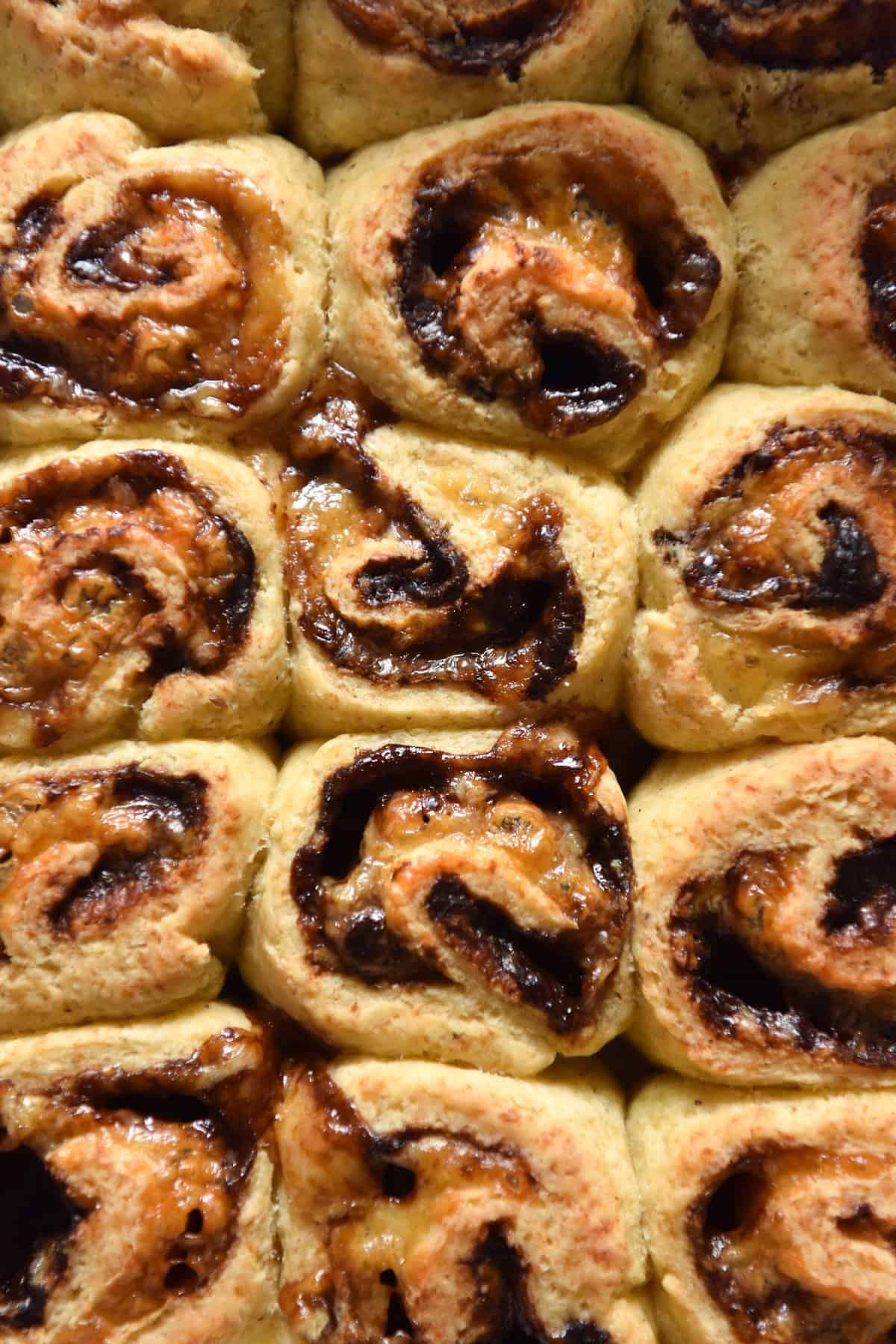 Gluten free Vegemite scroll FODMAP notes
Obligatory FODMAP talk time. Firstly, it should be noted that I choose not to use flour blends or gums in my baking. I don't like gluten free flour blends because I find it hard to believe that the results can be guaranteed when flour blends vary so wildly. They contain so many different flours, and some flours just aren't suited to certain types of baking. I once bought a bag of gluten free flour whose main ingredient, as it transpired, was chickpea flour. That was not a fun FODMAP time.
I don't use gums in my baking because I've read that a lot of people with digestive issues can struggle with guar and xanthan gum. I prefer to use psyllium, which is super natural and basic.
Obviously, I have used gluten free Vegemite in this recipe. I used a sharp, freshly grated cheddar (I NEVER recommend pre-grated) but you could also use a lactose free cheese brand. Monash posit that cheddar only has trace FODMAPs and dairy detected, but you do you boo.
I have used a soy milk derived from the protein, rather than the bean. You could also use lactose free dairy milk, or a thick, creamy plant milk of your choice.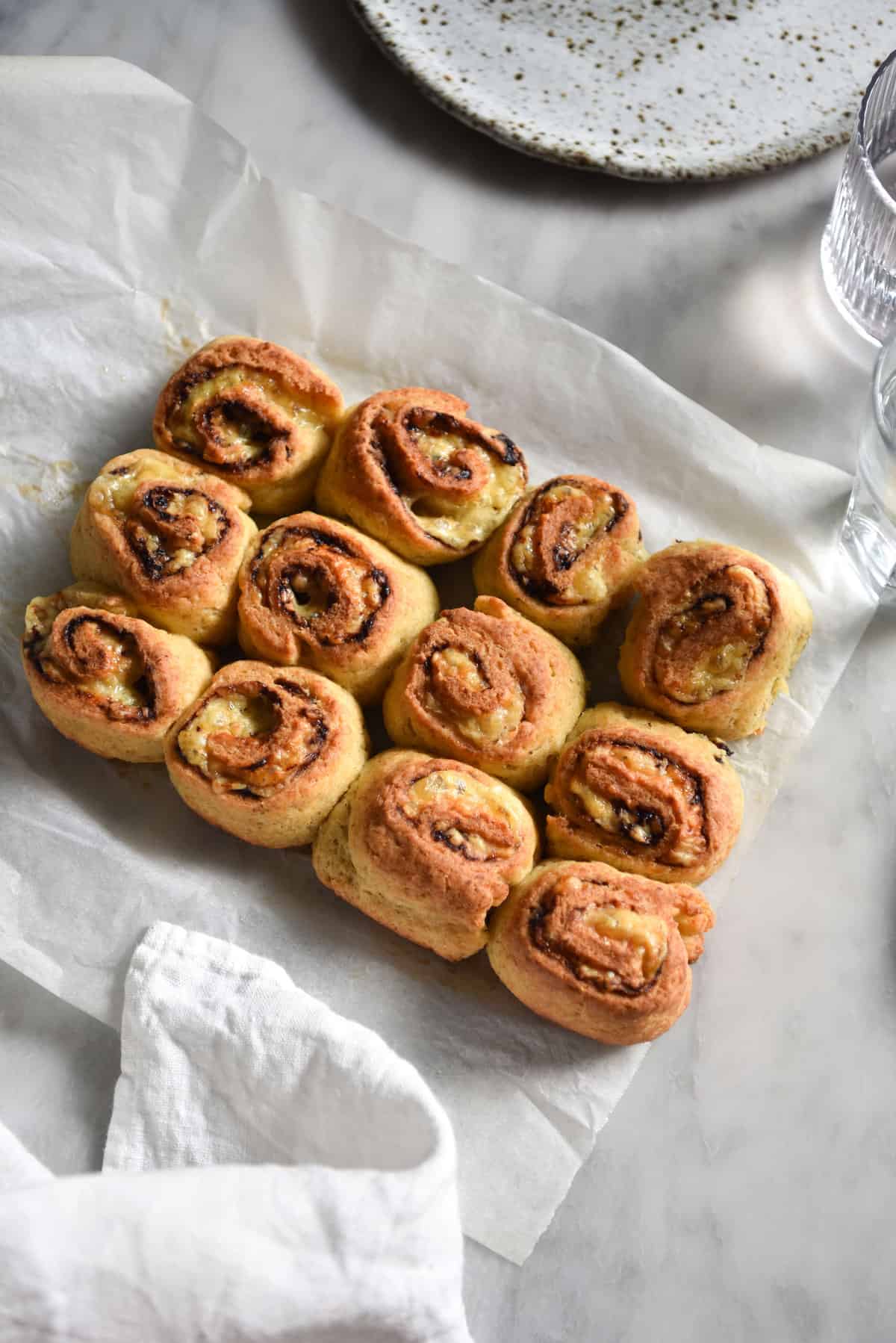 Recipe notes
Some tips to get you on your way to gluten free Vegemite scroll heaven:
The psyllium husk egg mixture looks very unappetising. Trust me, however, it works. By creating a binder filled with moisture lending ingredients, we create a gluten free dough that is dry enough to handle, but wet enough to create a delicious, moist scroll. The mixture also helps with dough elasticity, and mimics the structure of gluten.
I use tapioca starch and arrowroot flour interchangeably. I know they are slightly different, but I haven't found much difference in my home baking. See this post for a little more information on gluten free flours.
If you're baking for a coeliac, here are a few things to look out for: make sure the Vegemite is the gluten free variety, and make sure you've bought gluten free baking powder. I have seen some gluten containing ones on the market.
I have used butter in this recipe and haven't tested it with a butter substitute, but I don't see why you couldn't use one, if you'd like. Remember that butter is totally FODMAP friendly.
You can make 8-10 big ass scrolls with this dough, or 18-ish mini ones. This is very unlike me to say, but I actually prefer the mini ones. They are the perfect snack size.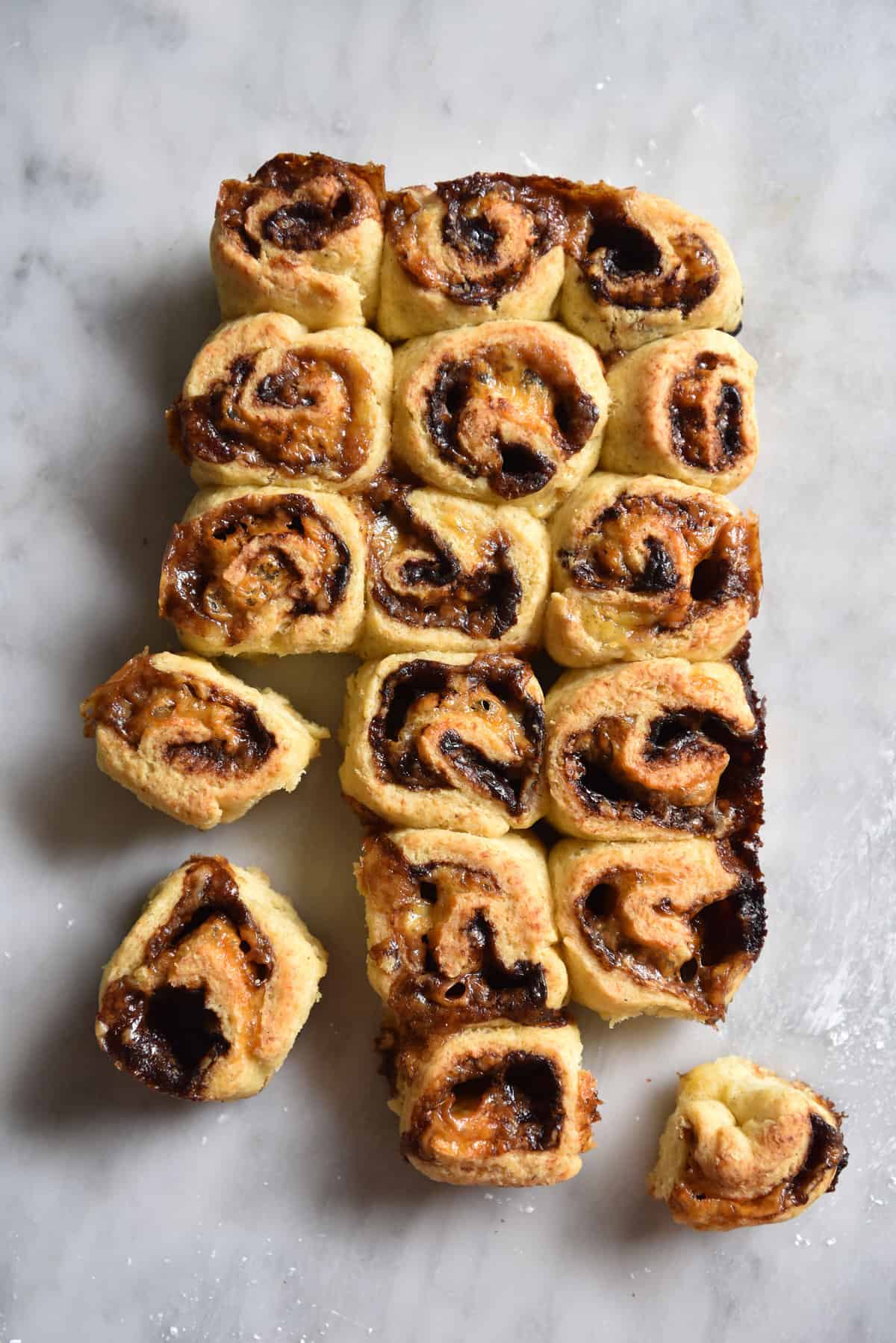 More gluten free baking recipes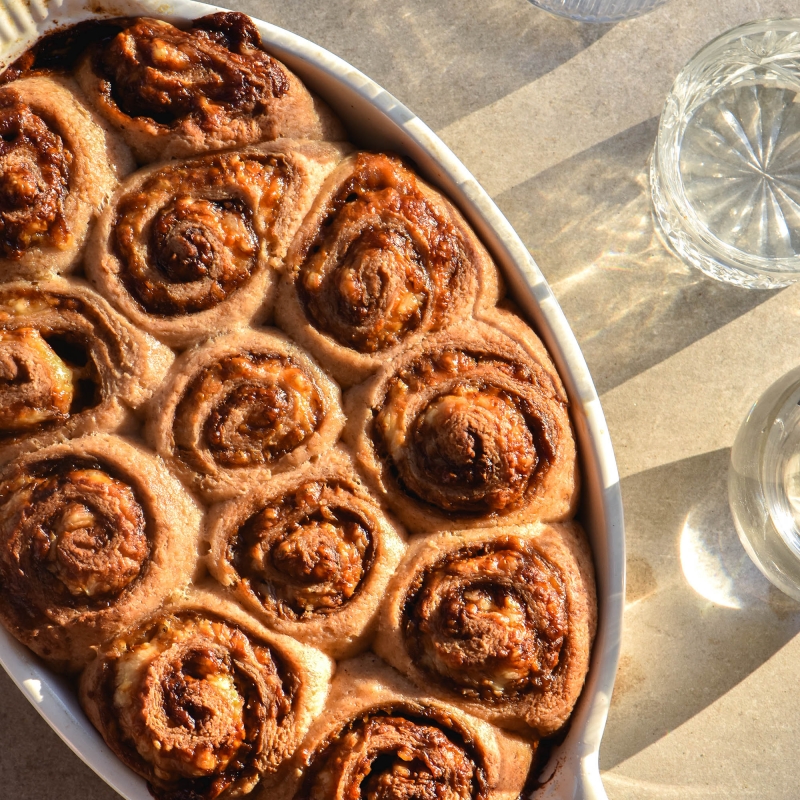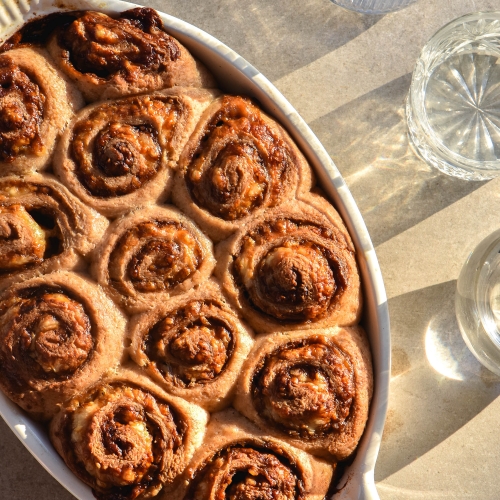 Gluten free, FODMAP friendly Vegemite scrolls
Gluten free, FODMAP friendly, nut free, low lactose Rising time: 1 hour Preparation time: 40 minutes Baking time: 20 minutes Makes: 8-9 jumbo or 18 mini scrolls
Ingredients
For the binder:
1/4

cup

psyllium husk

15g

125

g

butter

melted and cooled slightly

4

extra large eggs

45-55 per egg, weighed out of shell

40ml (2

tablespoons)

olive oil

60ml (1/4

cup)

warm water
For the yeast:
125ml (1/2

cup)

soy milk or milk of choice

see notes

1

sachet instant yeast

7.5g

2

teaspoons

white sugar
For the dough:
1 1/2

cups

tapioca starch

180g

1 1/2

cups

fine white rice flour

205g

2

teaspoons

baking powder

1

teaspoon

table salt
To make into Vegemite scrolls
3-4

tablespoons

gluten free Vegemite

depending on how much of a fiend you are

1

tablespoon

butter

200

g

freshly grated sharp cheddar cheese

pre-grated often contains fillers so it doesn't melt as effectively
Instructions
Melt the butter as per your preferred method, and set it aside to cool. While that is happening, whisk together the psyllium husk and eggs in a medium sized mixing bowl.

Once they are completely combined, add the cooled butter, warm water and oil. Continue to whisk until completely combined. Set the timer for 15 minutes, and allow to mixture to sit and set.

In a large bowl, combine the flours, baking powder and table salt. Remember that gluten free baking is quite precise and for best results it is important to weigh the flours.

Heat the soy milk to just hot (not scalding) and pour into a small bowl. Once you can comfortably put your finger in it, add the yeast and sugar. If the milk is too hot or cold, your yeast will either die (too hot) or not activate (too cold.) If the yeast hasn't bubbled up in 10-15 minutes, discard it and start again, as your yeast is inactive.

Once the yeast is bubbly, add both the yeast and psyllium husk mixture to the flour. Use a spoon to mix the dough most of the way, and then use your hands to combine the dough. Continue kneading it until all the flour has been picked up off the bottom of the bowl. Trust me, it will get there.

On a large bench space, lay out a large piece of cling film or a silicon mat. Divide the dough into 2 even sized balls, and place one on the cling film. Use your hands to roll it out into a thin layer in a rectangle shape. The long side should be facing you, and there should be a bit of cling film on the edge to help you roll the scrolls. If any holes appear in the dough, patch them up with your fingers.

In a small saucepan, melt the butter and the Vegemite together. Creating a thinner mixture will allow the Vegemite to be spread easily, and not break the dough. Once it is smooth and runny, pour half the mixture onto the rolled out dough, and spread it thinly, evenly and all across the dough with the back of a spoon. Top this with half the freshly grated cheese.

Fold the long side of the dough closest to you over, so it attaches to itself and starts the scroll. Now, using the cling film closest to you, begin rolling the dough over, forming the scroll. Once you near the end, take the cling film furthest away, and roll it back over the scroll. The seam should be facing up, and you can gently use your hands to secure it in place.

Gently cut into individual scrolls with a sharp knife. Cup each piece in your hands, and gently mould it into a circular shape. You can also press the scrolls down slightly to flatten them out a little.

10. Arrange the cut scrolls snugly in a lined baking tin, and repeat with the remaining dough. It tastes a lot less time than it sounds like, I promise!

11. Once all the scrolls are snugly in the baking tin, cover them and set them in a warm place to rise for 1 hour. Gluten free generally doesn't rise as much as regular, but you should see a tangible difference.

12. Once the scrolls are nearly ready for the oven, preheat it to 180 degrees Celsius or 356 degrees Fahrenheit. Once it is ready, place the scrolls in the oven for 20 minutes. You can brush them with a little butter, if you like.

13. They are delicious warm, but also keep well in an airtight container in the fridge for a couple of days.