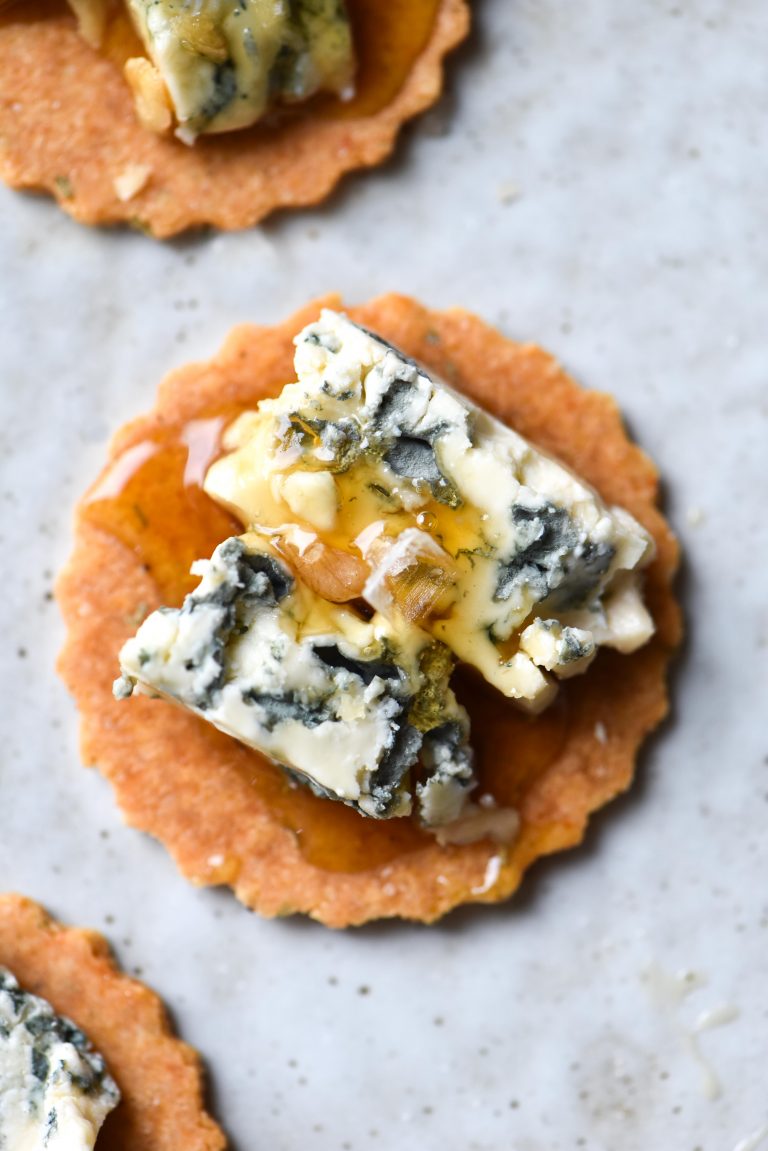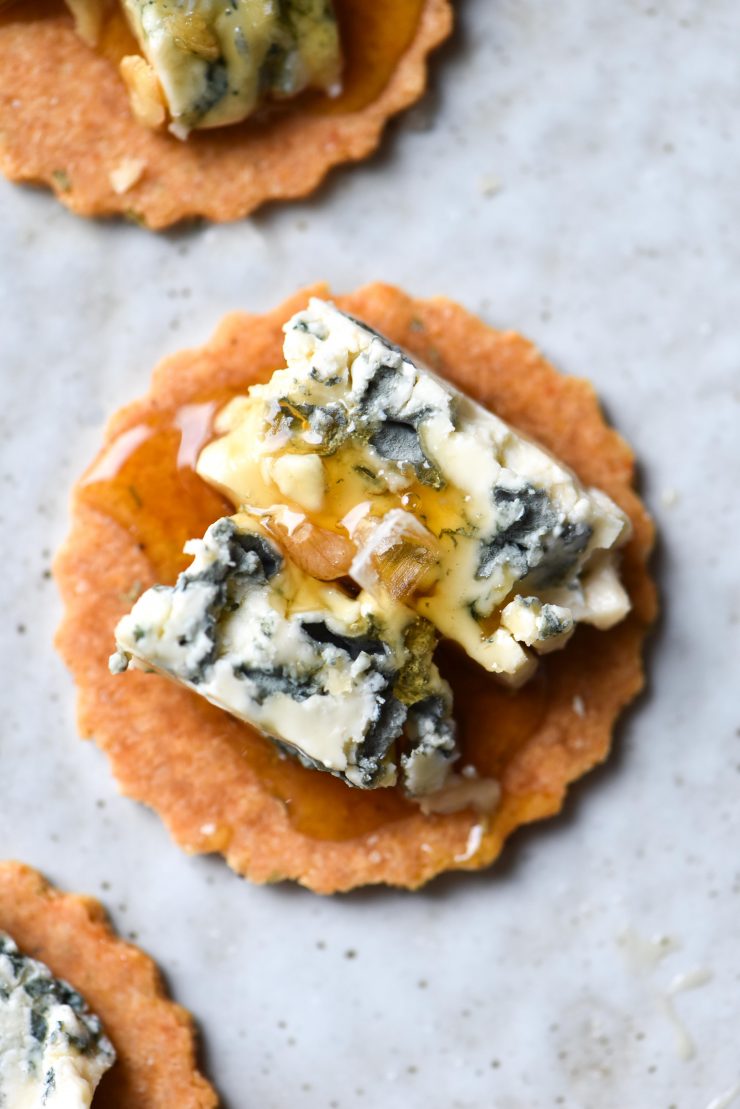 If you watch my Instagram stories, you might be aware that I've been following the SIBO bi-phasic diet after a round of elemental food. While I intend to write further about this, today I have something more important to share: grain free almond crackers that are SIBO bi-phasic friendly.
For those who have done the diet, you'll know that the first stage is pretty restrictive. What struck me was the absence of options for delicious little snacks. A girl cannot go without her snacks! As such, they were the first thing I wanted to develop.
Admittedly, you can really only have around 2 at a time if you're strictly following the SIBO bi-phasic diet. However, when you throw a slice of tomato on there (or some vegan spreadable feta, a recipe I'll share soon) it feels like a right treat.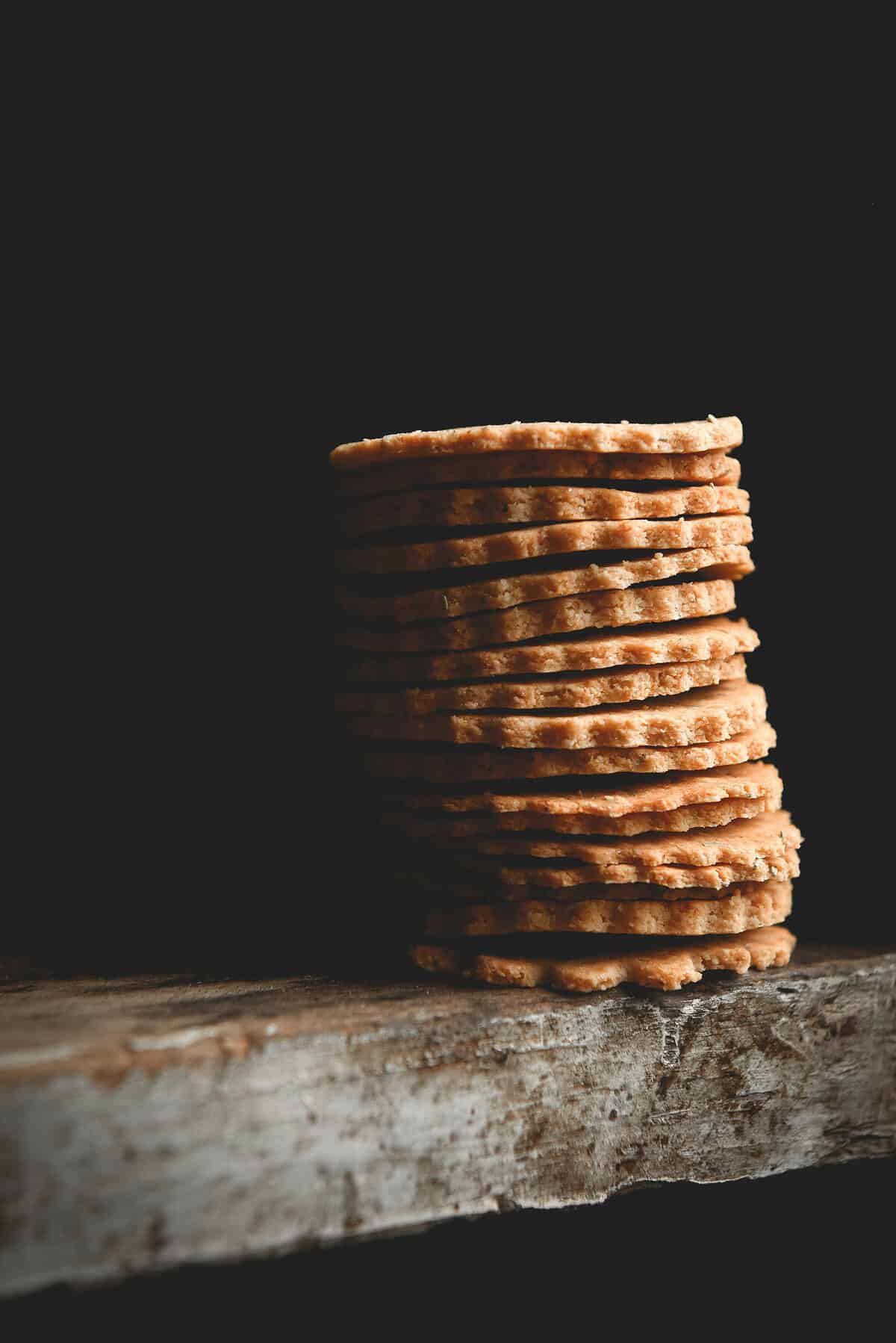 Grain free almond crackers that are paleo and FODMAP friendly
These crackers are grain free and starch free, made entirely with almond meal. They use an egg to bind them together, meaning they do not contain xanthan gum. They have a slightly cheesy, smoky flavour that is really simple yet addictive.
Recipe notes for the grain free almond crackers 
I prefer to use blanched almond meal (the lighter coloured one) for this recipe. Sometimes skins can be harder to digest, but it also just makes them a more uniform colour.
Because I can't eat vegan binders at the moment (psyllium husk, chia seeds) I don't have a vegan option for this recipe. When my diet opens up again I will definitely test a vegan alternative.
Personally, I think the combination of salt, paprika and rosemary is fail proof. It's a cheesy, slightly herbaceous flavour that goes with practically everything and tastes incredible. However, you could throw in any seasoning you like. I'll go into some flavour options below.
I've used table salt for this recipe. It's very common in Australia and fine enough to blend in to the mixture. Sea salt flakes tend to create little lumps which make the crackers harder to roll out nicely.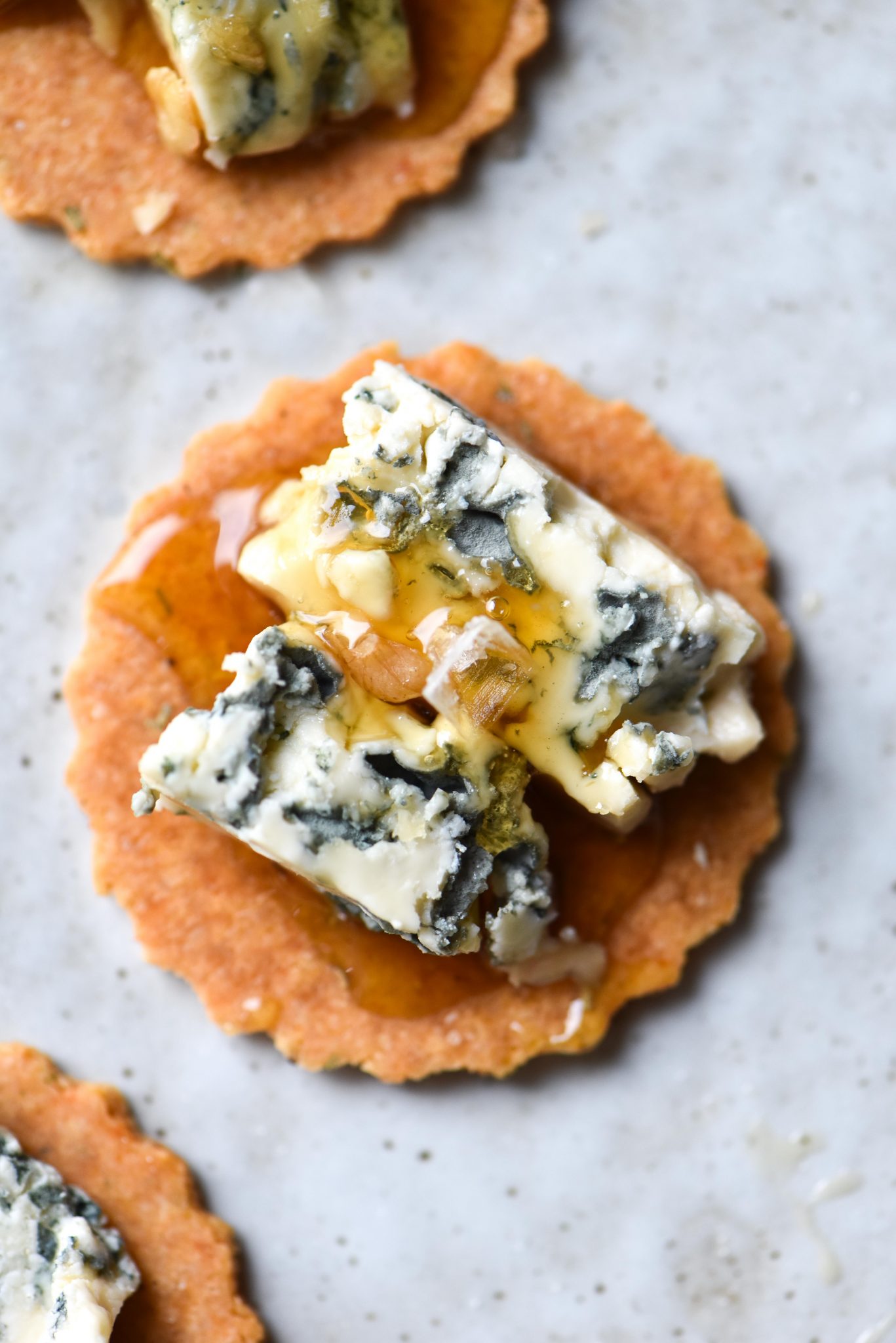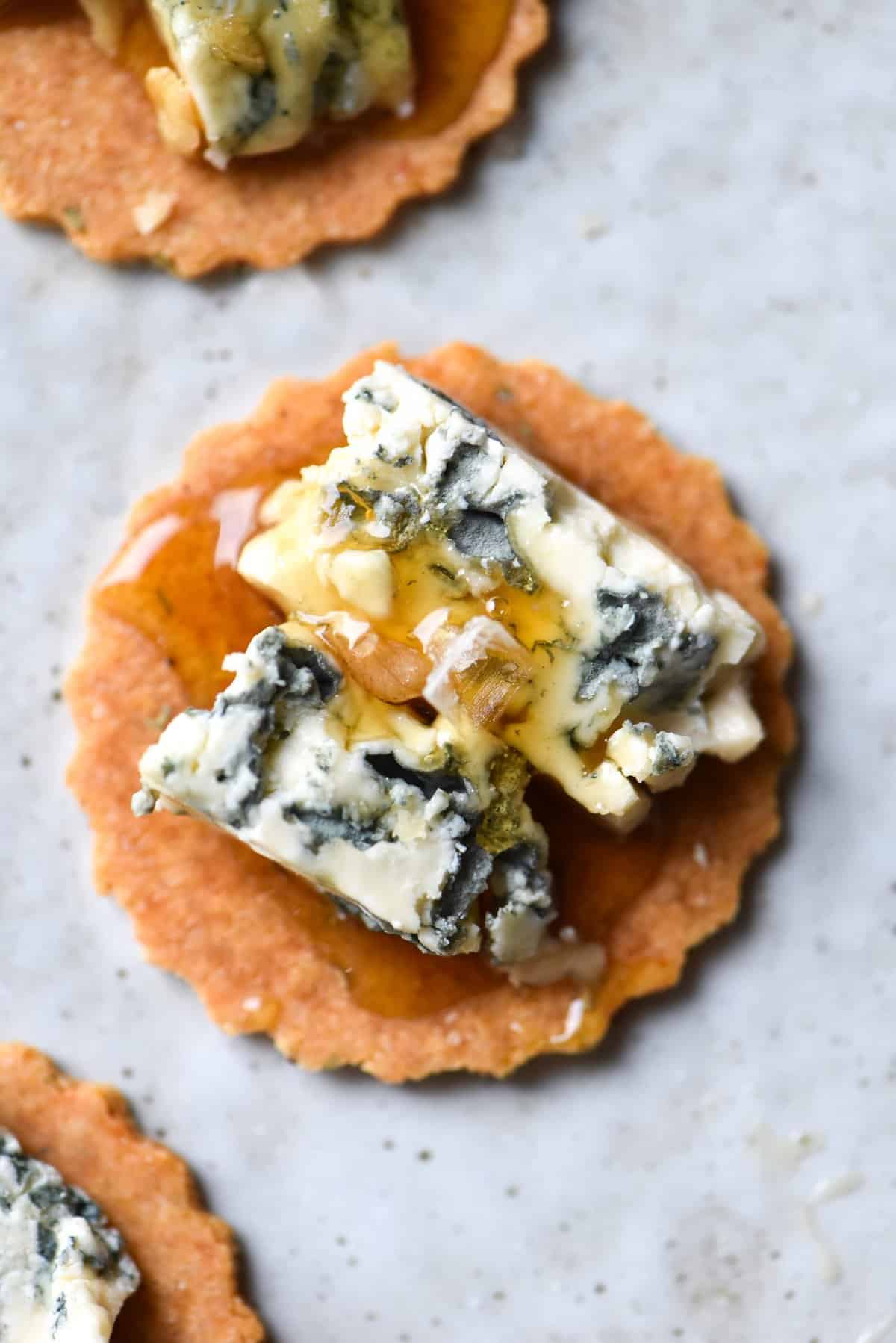 Flavour suggestions for your grain free almond crackers
This recipe is very much a base one, so you can play around with adding flavours you enjoy. One thing I would suggest is to keep the additions more finely ground in nature – anything particularly bulbous might make rolling the crackers out a bit tricky. Here are some of my favourite additions
Nutritional yeast can be added to make the crackers a little more cheesy. A teaspoon or two will add background flavour to any flavour profile you like.
Aleppo pepper is a smokey, vibrant chilli that has a mild heat level, so it's perfect for adding subtle flavour.
Does the combination of salt and freshly cracked pepper ever go amiss? I think not.
Italian herbs, dried sage or oregano all add a savoury twist.
If you're not on SIBO bi-phasic and have you have a spice blend you enjoy, go for it.
What to serve with your grain free almond crackers
Need some dietary niche friendly ideas for the crackers? Look no further.
Cheese, obviously. There's a guide to FODMAP friendly cheeseboards in my first cookbook, which was recently released in the US and Canada. 
The FODMAP friendly zucchini hummus never goes amiss.
Lactose free ricotta and a bit of garlic-less pesto – sign me right up.
Honestly, I really like these with just a fresh, seasonal tomato and some salt and pepper.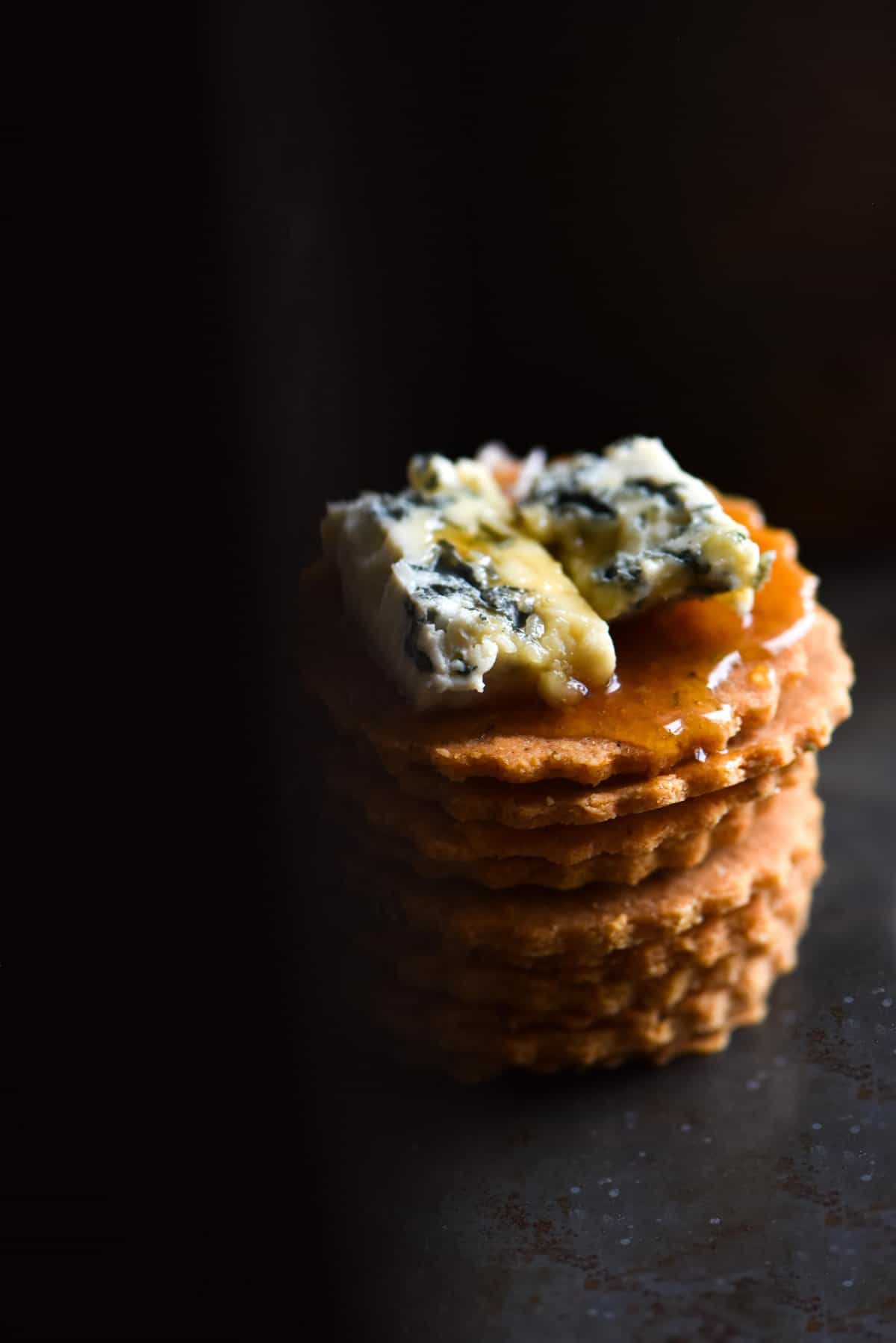 SIBO bi-phasic notes
The SIBO bi-phasic diet stipulates that you can have 2 tablespoons of almond meal per serve. This equates to around 20g, which is a tablespoon less than 1/4 cup in Australia.
So, if you get 20+ crackers from one batch, you're in the clear to have 2 crackers per sitting. Personally I find almond meal can sometimes give me grief, but in 2 crackers per serving I have no issues.
Yes, I know that two crackers per serves seems like a bit of a paltry prize. However, when you're on a diet as restrictive as this, delicious treats are always a win.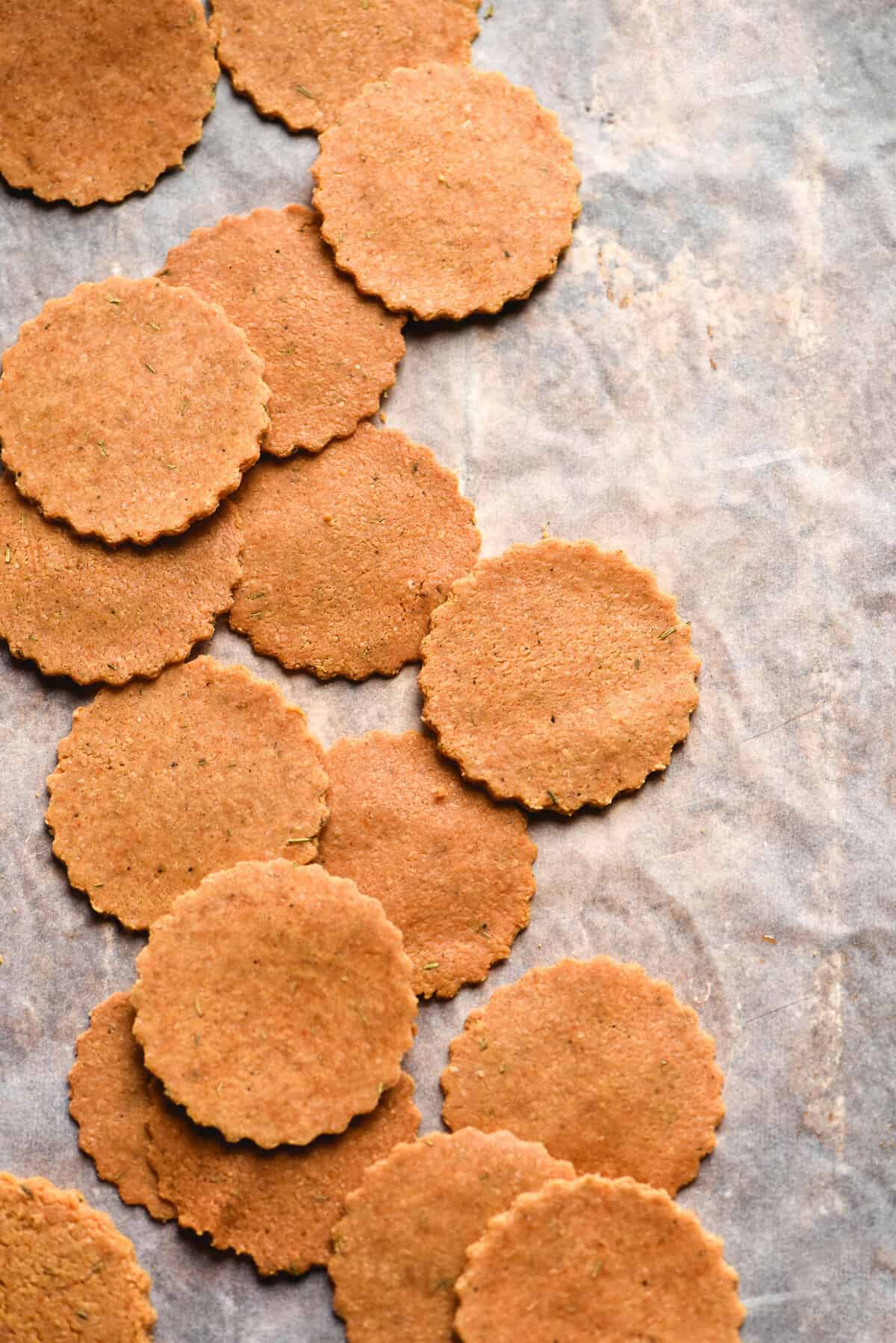 FODMAP notes
Almond meal is considered FODMAP friendly in servings of 1/4 cup or 24g. This means you can have an additional cracker per serve!! Wild. That said, if you find almonds/oligos are not an issue for you, feel free to eat with reckless abandon(ish). FODMAP isn't about restricting things for the sake of it, it's about restricting things that give you, personally, symptoms.
If you wanted to experiment with adding less almond meal, you could potentially try adding 1/4 cup or so tapioca in place of almond meal. You might need to add extra liquid to compensate (and note that I haven't tested this yet).
More grain free recipes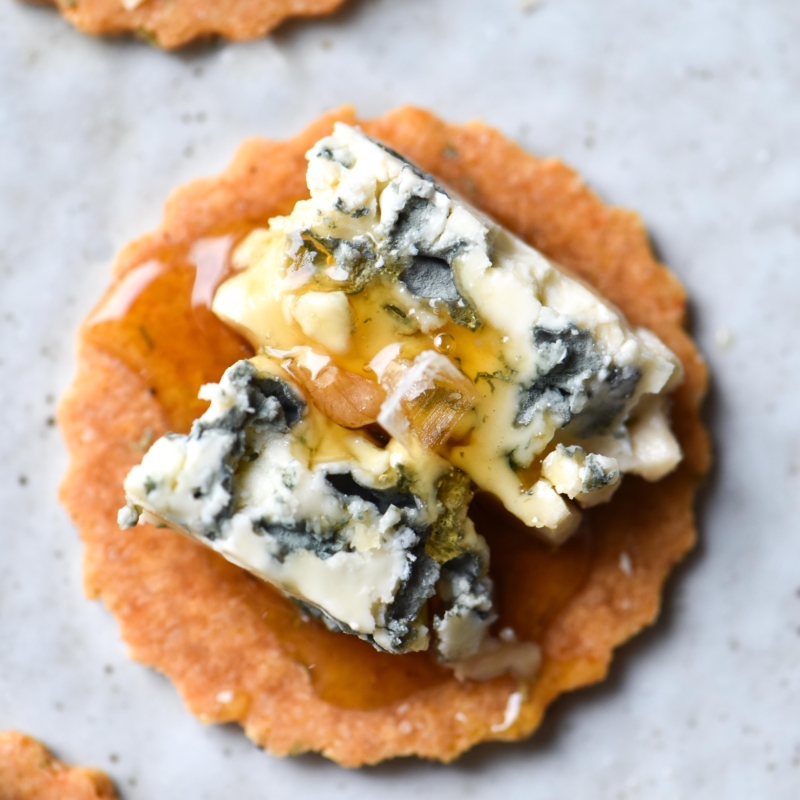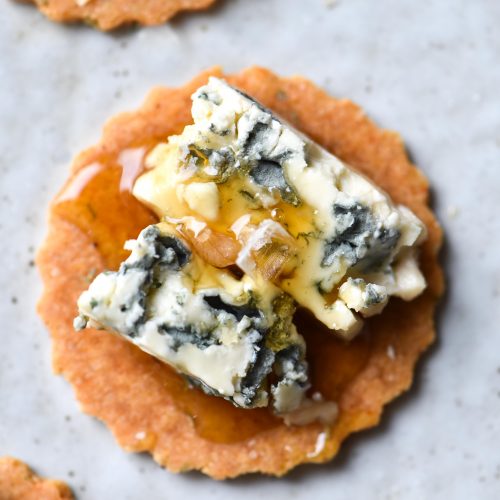 Grain free almond crackers (paleo, FODMAP friendly)
Grain free, gluten free, FODMAP friendly and SIBO bi-phasic friendly in small quantities
Ingredients
200g

(2 cups)

blanched almond meal

3/4

tsp

table salt (see notes)

1-2

tsp

paprika, smoked or sweet

1

tsp

dried rosemary

Freshly cracked pepper

1

extra large

egg

Splash of water, if necessary (1/2 teaspoon max)
Instructions
Preheat the oven to 180C or 365F. Line two baking trays with baking paper.

In a medium sized mixing bowl, whisk together all the dry ingredients. Add the egg and use a spoon to combine. Once it starts to look like chunky wet sand, get your hands in there to bring the dough together, adding a dash of water if there are some dry spots. Be careful not to add to much water or the crackers will be harder to roll out.

Place the ball of dough between two sheets of baking paper. Use a rolling pin or wine bottle to roll the dough out until it is very thin. The thinner the crackers are, the better they taste. You should get around 20-25 from each batch.

Use a circular cutter (I used a scone cutter) to cut out the crackers. The dough is very easy to work with and you can re-roll it as much as you like. It might start getting a little oily, but the end result will be the same.

Arrange the cut crackers on the baking tray. You don't need to leave space between them as they don't spread. Cook for 10-13 minutes or until they are lightly golden and fragrant. I prefer to cook one tray at a time (I have a tiny oven) but what you prefer is up to you.

Once cooked, allow the crackers to cool before storing them in an airtight container. They keep really well for at least a week.