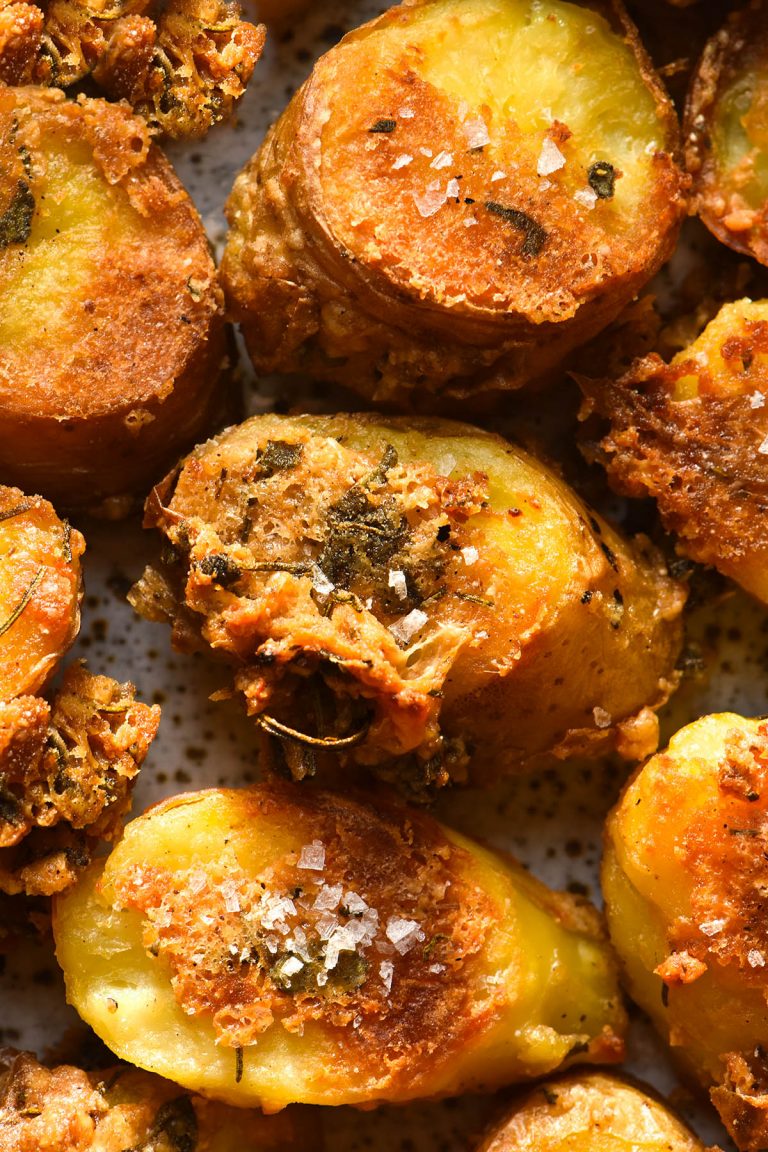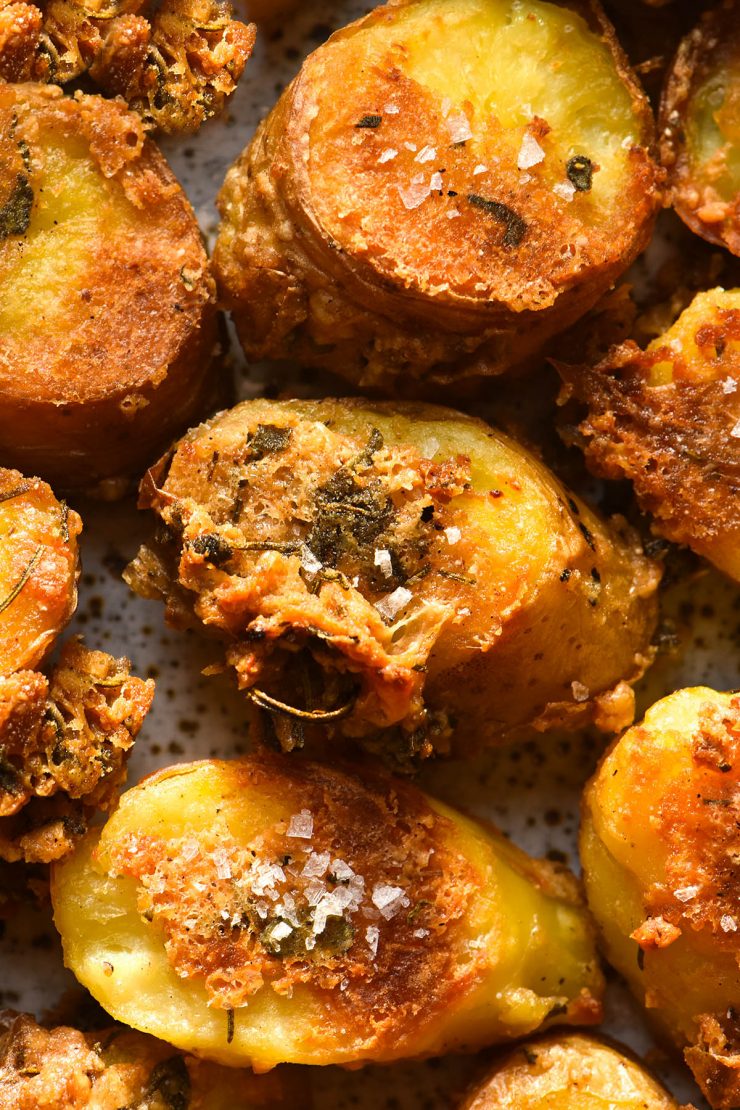 These roasted kipfler potatoes are loosely inspire by my original crispy kipfler recipe. It has a lot of 3-4 star votes, but there are no comments to say why? Personally, I still think it slaps, and I'll be proceeding with today's recipe as such.
To me, these potatoes taste like stuffing on a potato. The sage is strong, but absolutely delicious. The cheesy, floury crust is crunchy and packed with flavour.
Roasted kipfler potatoes with a parmesan herb crust
These roasted kipfler potatoes are gluten free, low FODMAP and easily vegetarian. They use white rice flour for a super crispy, gluten free crust, and parmesan for a cheesy, crispy hit.
Parmesan isn't supposed to be vegetarian, but there are some brands that are. If you are in Australia, see my list of vegetarian cheese brands. If not, look up vegetarian parmesan in your country. Gran Kinara is a style of cheese that is 100% vegetarian and tastes/performs exactly the same way as parmesan. It is essentially parmesan made with an artichoke coagulant instead of rennet.
The potatoes are finished with some finely chopped rosemary and sage for quintessentially warming and wintery flavours. The herbs are optional, but they do bring another dimension to the potatoes.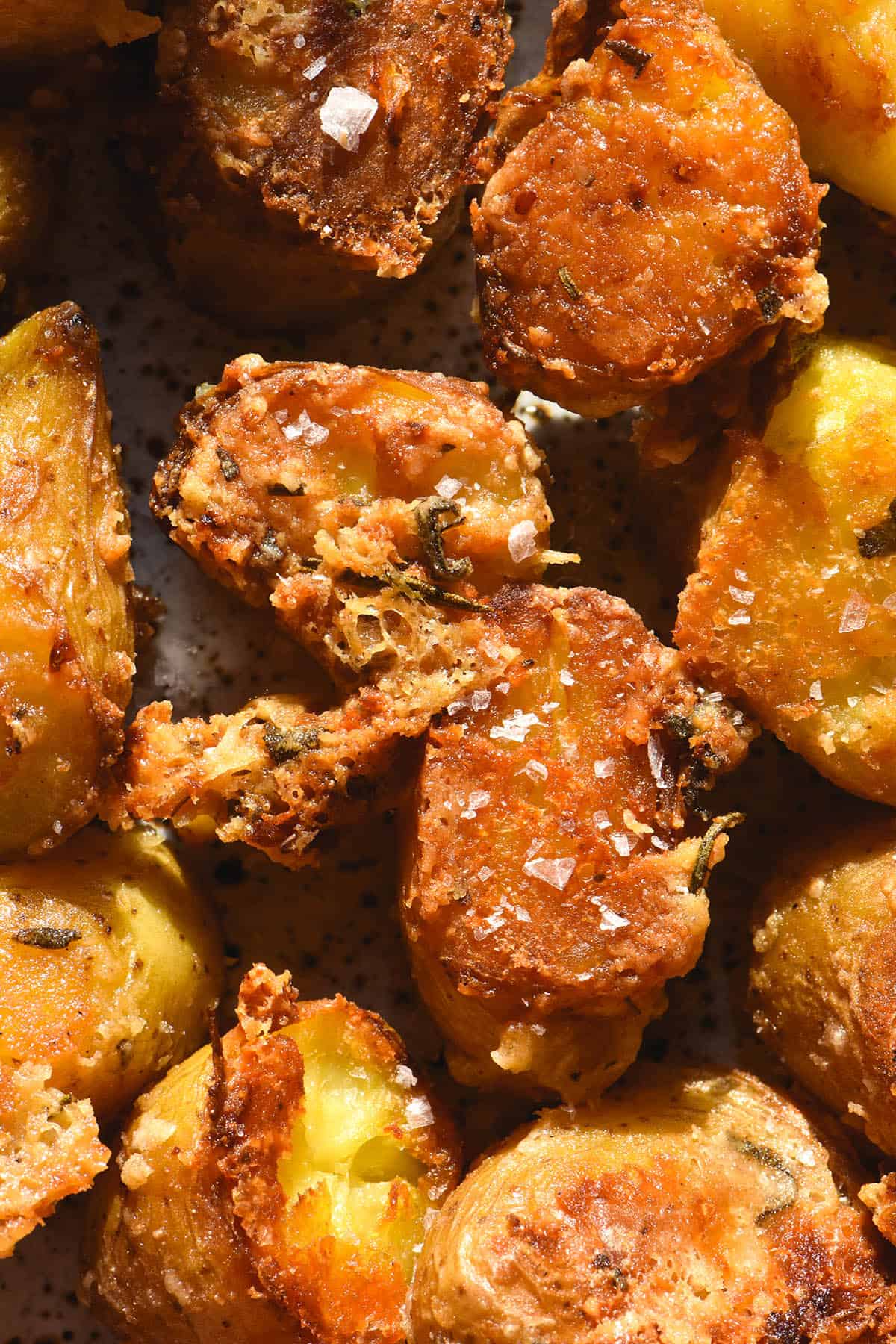 Why isn't parmesan vegetarian?
A lot of people don't realise that parmesan (and many other cheeses) use rennet to coagulate them. Rennet is often described in pretty airy fairy terms – 'an enzyme produced in young ruminants' on one website I looked it. Rennet is basically an ingredient taken from the stomach lining of baby cows.
So, rennet containing cheeses are not vegetarian. These days, a lot of cheeses are made with non animal rennet or a plant based alternative. Make sure you read the labels if this is important to your way of eating.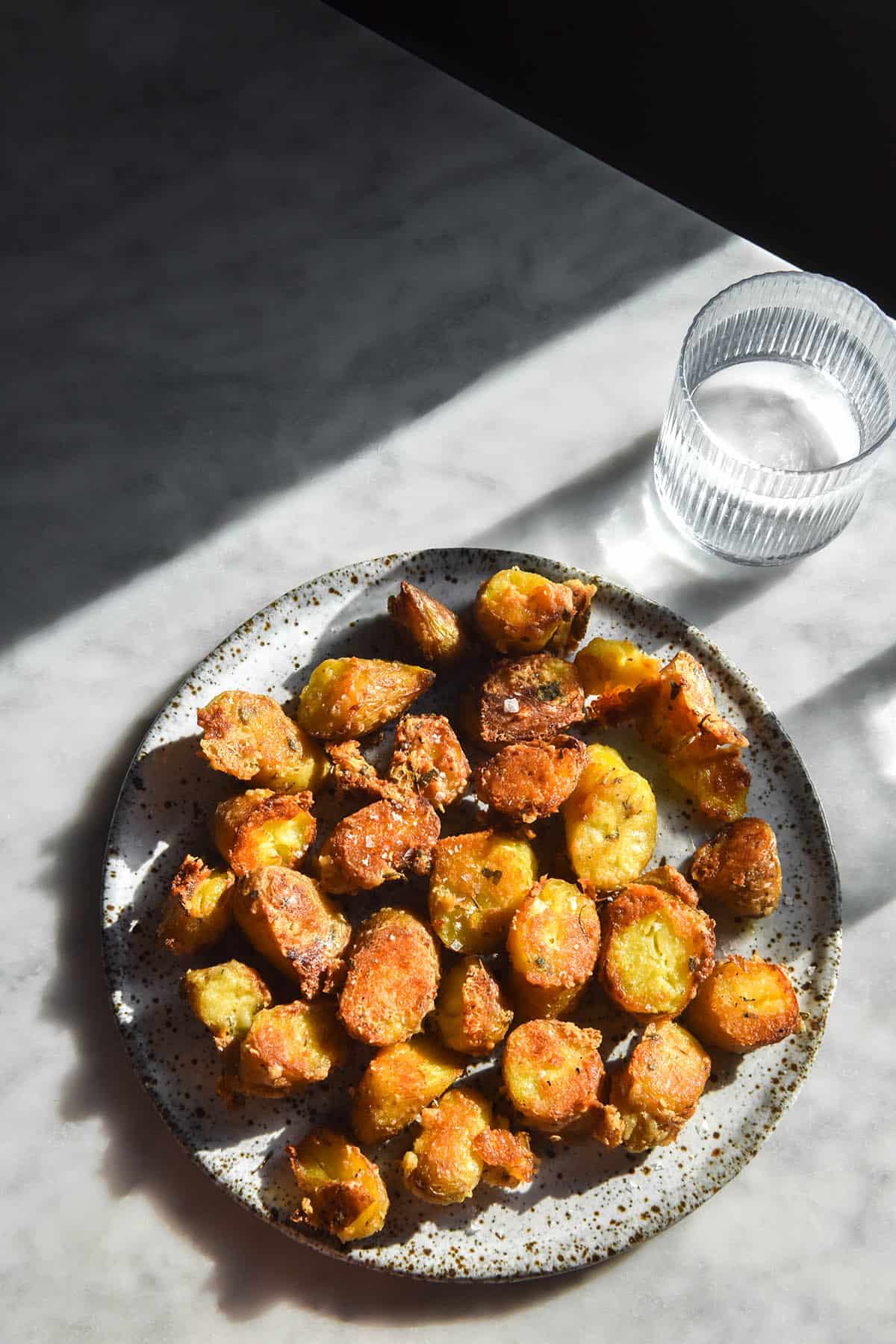 Do I need to use kipfler potatoes for this recipe?
No! Any good all rounder or roasting potato works for these roasted kipfler potatoes. I like using King Edwards, Sebago and Nicola's here in Australia. Internationally, I daresay Maris Pipers would also work.
Why do I need to boil the kipfler potatoes?
Most of my potato recipes involve boiling the potatoes before baking. This is for a few reasons. Firstly, it gives you the opportunity to season the potatoes from the inside out. Adding salt to boiling water will flavour the flesh, whereas baking them does not.
Secondly, adding baking soda to the boiling water creates craggy, starchy outsides and fluffy, light insides. The outer potato will crisp up perfectly in the oven, while the insides will stay light.
Thirdly, it ensures that the potato insides are perfectly cooked, which means you can focus on crisping the outsides while in the oven. Balancing baking a potato through with a perfectly crispy cheese shell is too much for my stress levels. Boiling potatoes takes the guesswork and the blind faith out of this recipe.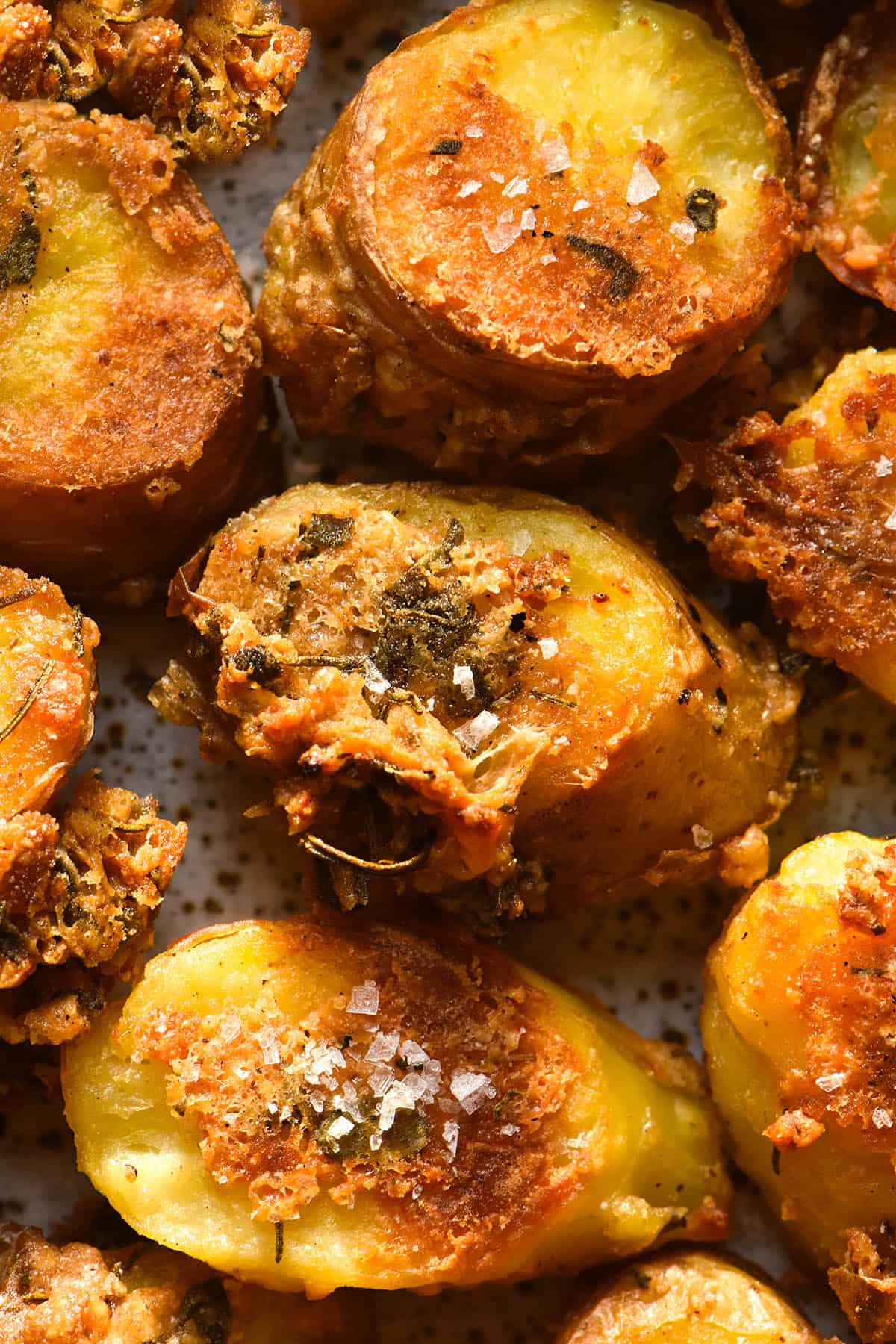 Tips for your roasted kipfler potatoes
Adding plenty of salt to the boiling water ensures that the potatoes are flavoured from the inside out. The salt permeates the potato flesh and brings out it's natural flavour.
My favourite new trick for potatoes is to add a teaspoon of baking soda to the boiling water. Baking soda alkalises the water, which breaks down some of the potato starch. Not only does it create a slurry-like coating of potato that crisps up like a dream, I find that it softens the inner potato flesh. Potatoes cooked in baking soda are soft and squishy even after they cool, not dry and floury. It's a miracle ingredient!
Hot potatoes really help the cheesy flour mixture adhere to the potatoes nicely. If you can, pop on some gloves and slice the potatoes straight after boiling. Adding a little tiny splash of the boiling potato water also aids in helping the mixture stick.
If you are finding it difficult to turn your potatoes at the half way mark, leave them. Once the cheese is fully cooked, it should release from the pan.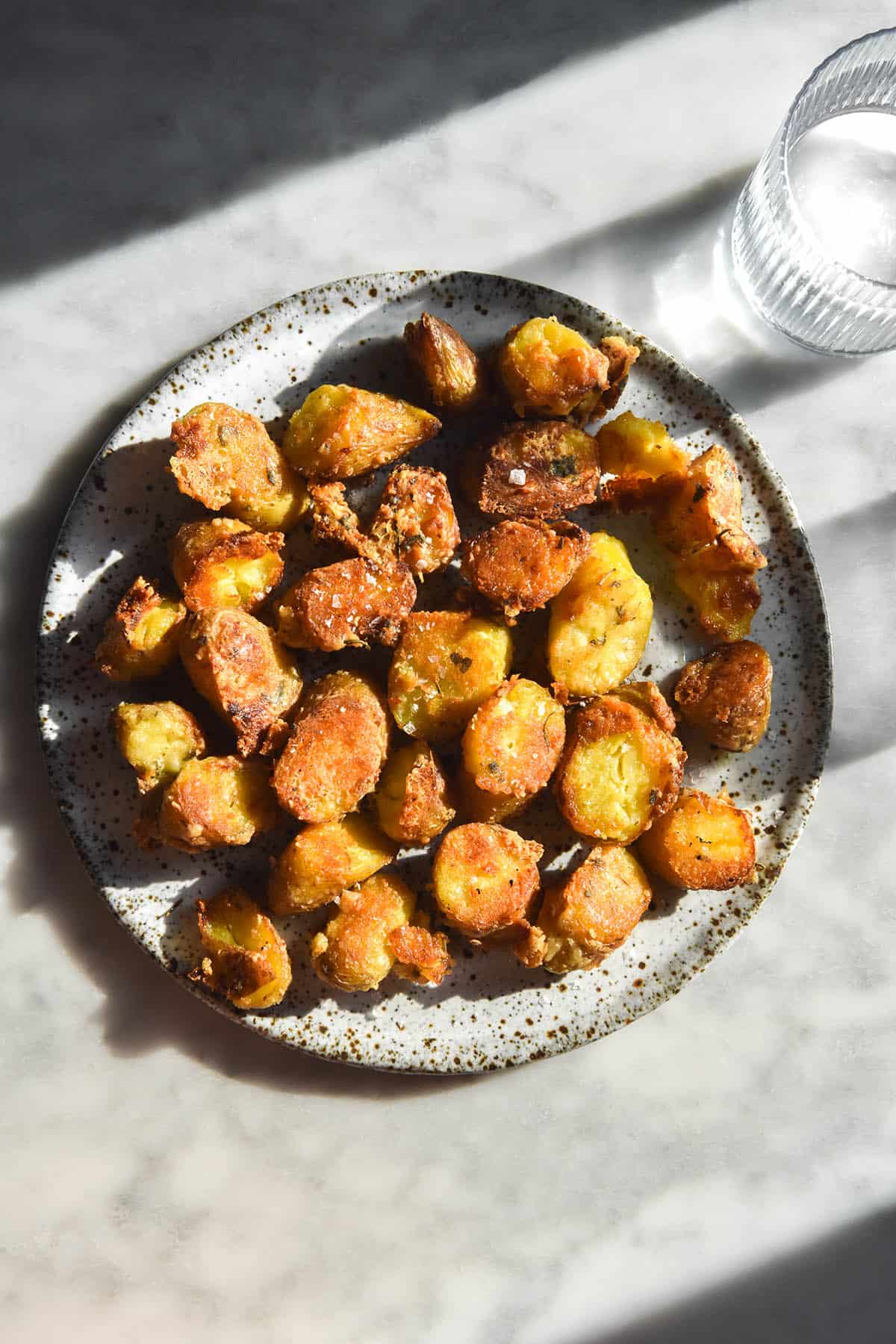 More potato recipes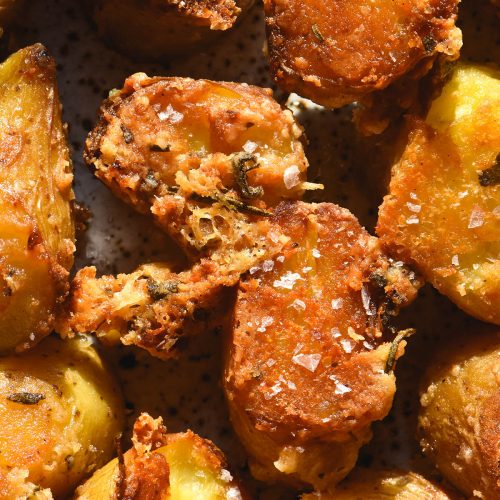 Roasted kipfler potatoes with parmesan herb crust
Gluten free, low lactose, vegetarian option (choose vegetarian parmesan), low FODMAP
Serves 4-6 as a side
Ingredients
For the potatoes
1 – 1.5

kg

kipfler potatoes, washed

liberal amount of salt, for boiling

1

tsp

baking soda, for boiling
For the herb crust:
30g

fine white rice flour

7.5-10g

fresh sage, finely chopped

3-5g

fresh rosemary, woody parts removed and finely chopped

1/4

tsp

ground nutmeg (optional)

1/2

tsp

fine salt

freshly cracked pepper

100

ml

vegetable oil (or other high smoke point oil)

100

g

parmesan, finely and freshly grated (see notes)
Instructions
Place the potatoes in a large pot of extremely well salted water. Add the baking soda, then cook until a knife slides through the largest potato. This could take 10-25 minutes, depending on the size of the potatoes.

While you're waiting, preheat the oven to 200C/400F.

In a large bowl, combine the dry ingredients for the herb crust. Add the oil and stir to combine. Add the parmesan and stir again.

Once the potatoes are cooked, drain them (setting a small amount of cooking liquid aside). Use gloves and work quickly to chop each potato into bit sized slices, then place it into the bowl. Heat and a bit of liquid will help the herb crust adhere to the potatoes.

Continue until all the potatoes are in the bowl, then toss to coat. You can cover the bowl with a large chopping board and shake them up a little, if you like.

Transfer the potatoes to a large baking tray and spread them out. If any herb crust isn't attached to a potato, plop it atop one. Bake for 20 minutes, then try to flip each potato if you can. If they're all stuck, leave them and return them to the oven. Bake for an additional 20 minutes or until golden brown.

Sprinkle with some extra salt and serve!
Notes
Pre-grated parmesan in a packet is not suitable for this recipe. It contains fillers that stop it melting properly. Buy a block of parmesan and grate it on the fine side of your grater. It won't take long, I promise.
Parmesan is often not vegetarian. Some vegetarian parmesan does exist, whether or not it technically should. See the body of the post for suggestions and brands in Australia.
Rice flour is used here because it's known for it's crispy capabilities. I haven't tried any other sort here.