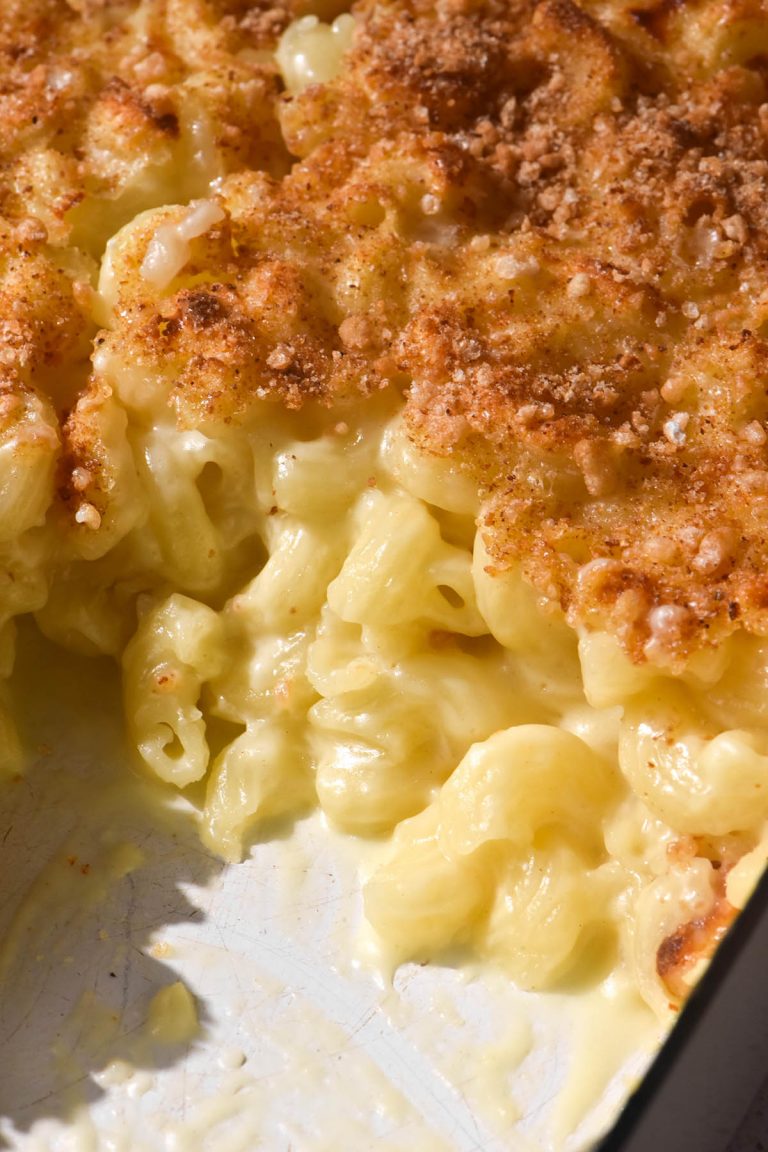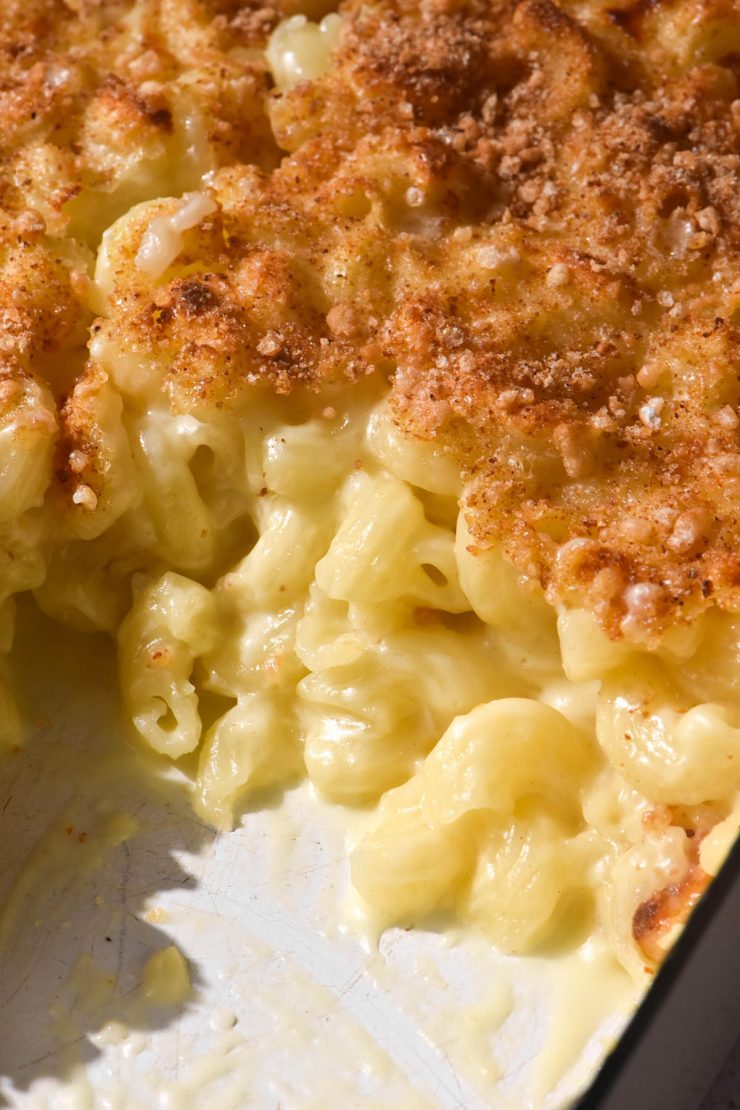 I have been wanting to make a low FODMAP mac and cheese, heavy on the cheese, for a long time now. I have made a FODMAP friendly vegan mac and cheese in the past, a recipe I love and use often. However, there are occasions where one really just wants to load up on cheese.
This FODMAP friendly mac and cheese is RICH. It is the sugar daddy of intolerance friendly mac and cheese recipes. If you'd like a somewhat less rich version, try my vegan one! Please!
Low FODMAP mac and cheese
This mac and cheese is gluten free and low lactose to keep the FODMAP content down.
With a twist of truffle oil and festive nutmeg, I have made this dish to be a dietary friendly, set and forget holiday meal option. I like to prepare the roux ahead of time, so that all I have to do is cook the pasta and stir it through. It is such a simple way to add a big splash to the Christmas table. It is my new entertaining MVP.
You can use any variety of cheeses for this mac and cheese. The idea, as the lady at the cheese shop eloquently said, is to layer the cheese flavours. If you're not using truffle oil or nutmeg, you can experiment even more with the flavours. I have it on good authority that smoked cheddar goes down a treat.
So, I used a very sharp Cheddar and a delicious Comte. Ideally you will use at least 2 different varieties of cheese, and you could even use three. Layer the flavours, you know.
The nutmeg in this FODMAP friendly mac and cheese gives it a little festive kick. You don't have to include it, but it does set the scene for you bringing mac and cheese to Christmas lunch.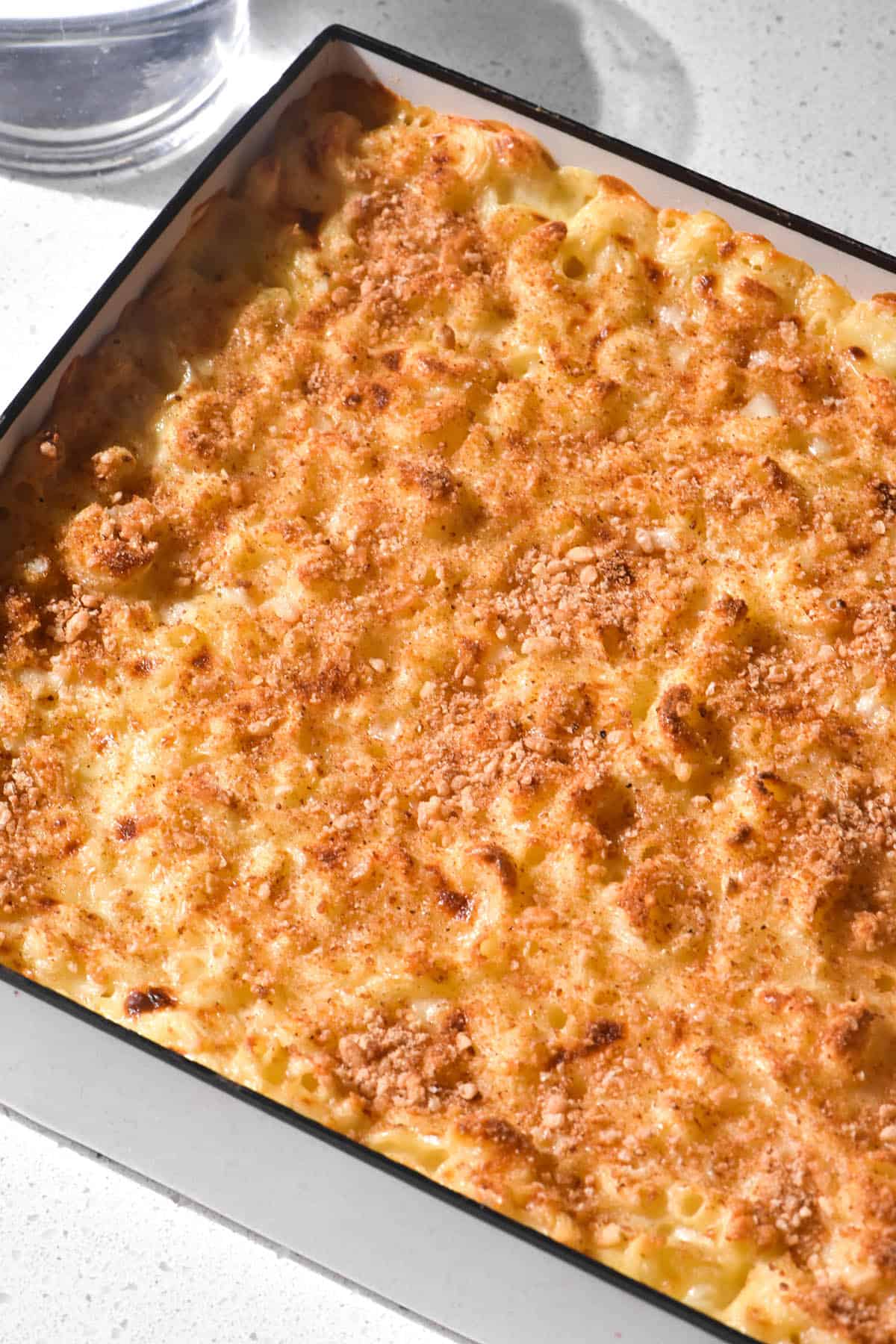 Is cheese low FODMAP?
There is a bit of confusion about FODMAPs and cheese. A lot of people seem to exclude dairy entirely, thinking that it is all high in lactose. Not so, my friends, not so. Monash classifies the wide majority of hard cheeses as low FODMAP. If you don't have the FODMAP app (which is HIGHLY recommend) have a look at this handy article. If you're definitely not into any dairy, I have a DELICIOUS recipe for a low FODMAP vegan mac and cheese here.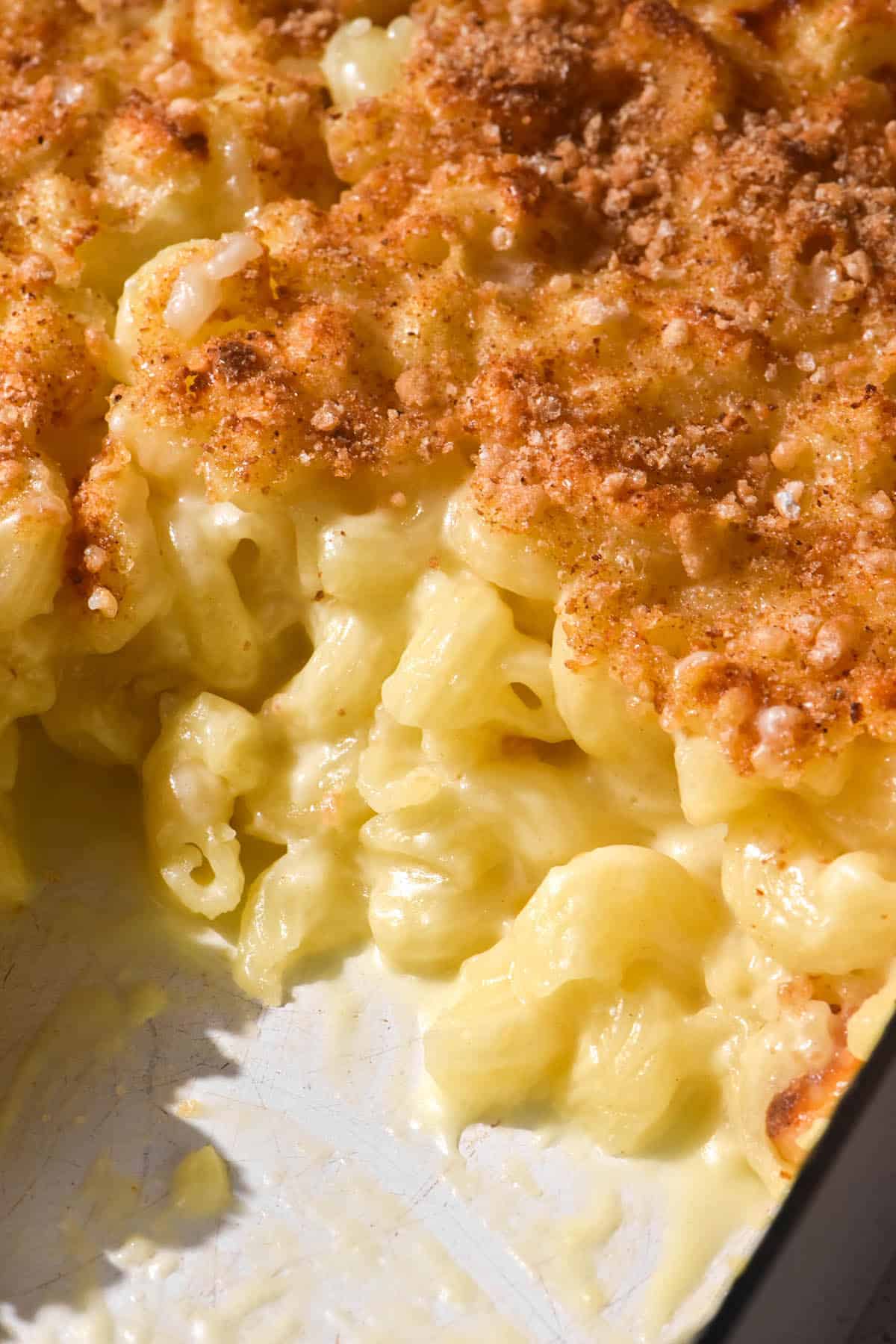 FODMAP notes
Butter, like hard cheeses, is virtually lactose free. If you'd like to avoid butter, you can substitute a butter alternative, or olive oil. Both work equally well.
In terms of dairy, I use lactose free full cream milk (also called whole milk in some places) for this recipe. If lactose free milk is not available where you live, you can make your own.
I use gluten free pasta for this recipe. While FODMAP doesn't call strictly for gluten free, gluten free pasta is lower FODMAP courtesy of the fructans in wheat. Choose a non-legume based gluten free pasta to keep the FODMAP content down.
On the note of gluten free, make sure your cornflour is certified gluten free, if you need it to be. Cornflour is actually a generic term and not always made of corn, so read the label.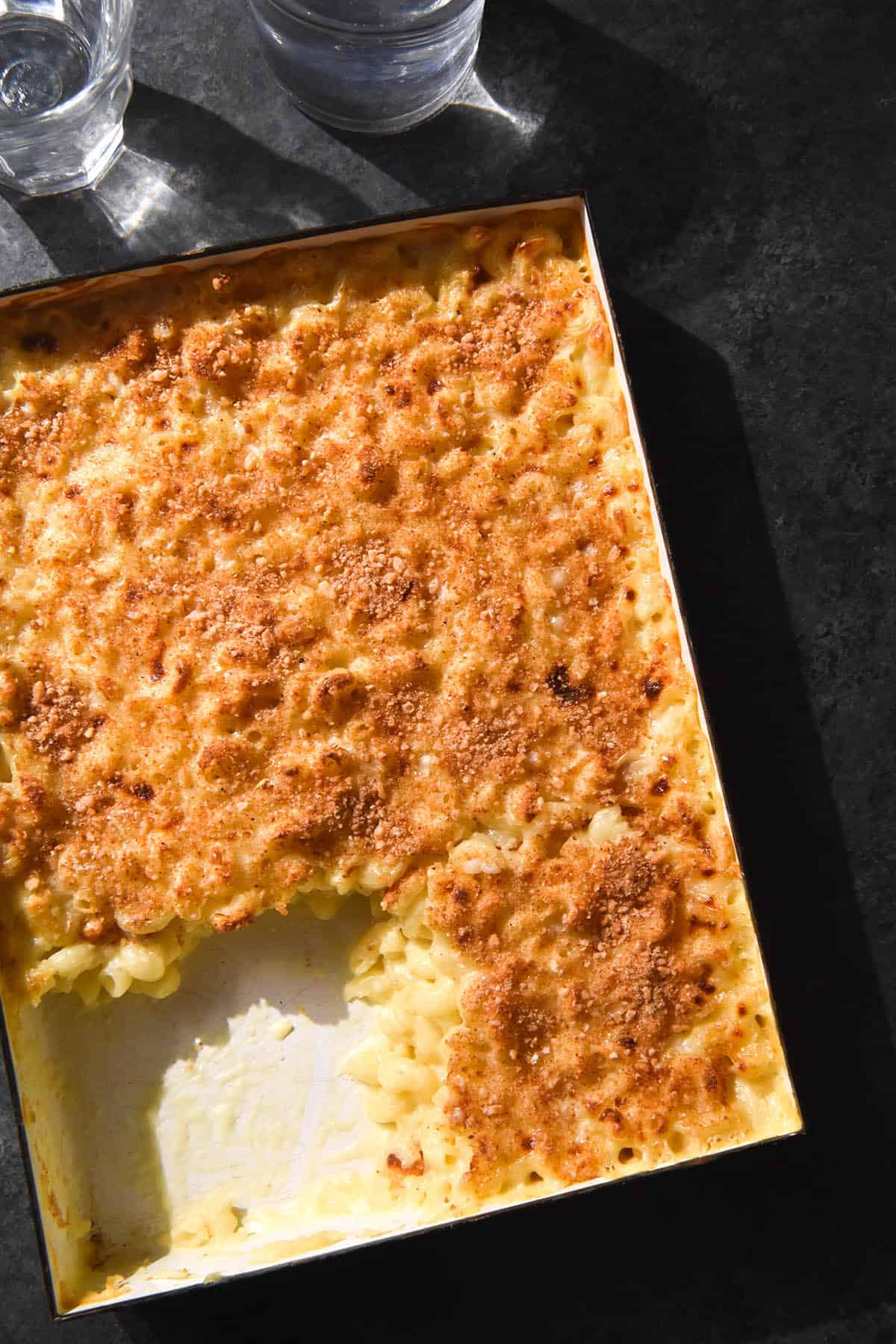 Which cheeses are best for mac and cheese?
There a million and one mac and cheese recipes out there, and they all seem to use different cheeses. This is good news, because it means you can work with what is accessible to you.
The most important things are to choose good quality aged cheeses for the tastiest result. Another great thing about aged cheese is that it is lower in lactose than other cheeses. Tasty and lower FODMAP: a win win.
The other non-negotiable is not to buy pre grated cheese. Pre grated cheeses contain fillers which prevent them from melting. This means that you will never get a smooth and delicious mac and cheese.
An aged vintage cheddar is a great easy cheese to use in mac and cheese. It melts nicely and adds great flavour.
Gruyere and gouda are great melting cheeses that add a lovely flavour to mac and cheese. I have found them in some Australian supermarkets in the specialty deli section.
Parmesan is another good cheese for a delicious mac and cheese. It adds a sharp flavour which is deliciously cheesy. Make sure you grate it yourself – you can do this in a Nutribullet to save time. Simply chop the block into relatively small cubes and blend.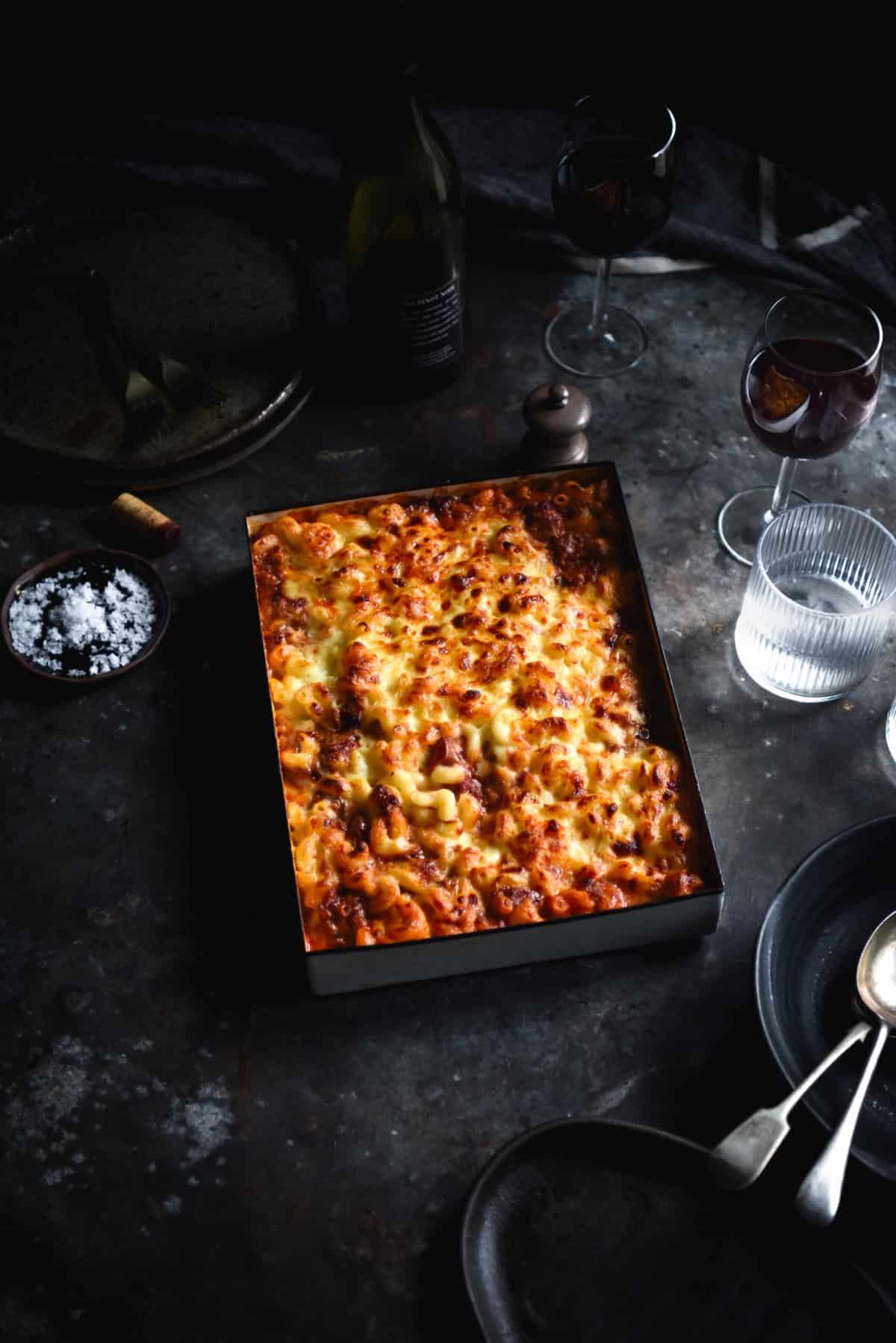 Is this low FODMAP mac and cheese vegetarian?
Yes, if you choose the right sort of cheese. I have a list of animal rennet free cheeses (including parmesan) available in Australia here.
More low FODMAP gluten free recipes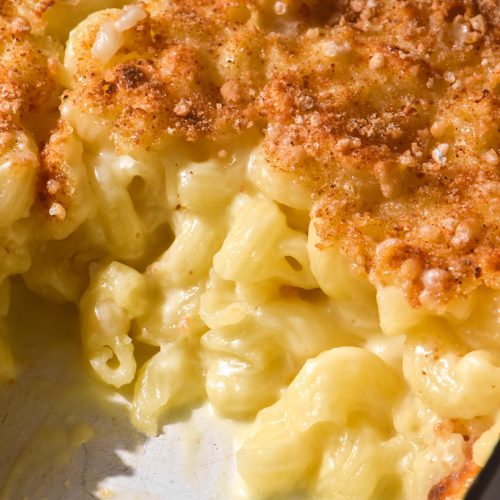 Low FODMAP mac and cheese (gluten free)
Gluten free, FODMAP friendly, vegetarian
Equipment
1 X 31cm length x 23cm width x5cm height baking dish
Ingredients
500g

gluten free macaroni pasta (see notes)

75

g

butter

75g

cornstarch (make sure it's gluten free)

1000ml

(1 litre)

full cream lactose free milk

150-250g

sharp cheddar, freshly grated

100-150g

Gruyere, comte or parmesan, freshly grated

salt, to taste

20-40

ml (1-2 tablespoons)

white vinegar

1-2

tsp

Dijon mustard (Maille brand is made without garlic)
Optional ingredients:
1/2

cup

crushed and toasted rice bubbles/rice crispies

truffle oil, to finish
Instructions
Measure out all your ingredients for the mac and cheese sauce and grate the cheeses.

Bring a large well salted pot of water to the boil. If you are baking your mac and cheese, preheat the oven to 180C/356F.

When the pasta waiting is boiling, cook the pasta al dente – about 2-3 minutes less than the package instructions. Reserve some pasta water as it cooks in case you need to thin out your bechamel.

Place the butter in a large pot over a medium heat. Once the butter is melted, add the cornflour whisk to combine. Allow the mixture to cook off before a minute or so before adding the milk. Whisk to combine and cook on a low heat for anywhere from 5-15 minutes or until the mixture has thickened and can coat the back of a spoon.

Once the sauce has thickened, remove it from the heat and gradually add in the melted cheese. Doing so gradually (and ensuring the roux is not too hot) will ensure your bechamel does not become grainy. Add the vinegar, mustard and extra salt to taste.

Pour the pasta into the sauce, adding pasta water as you see fit. Stir super well to combine. You can eat the mac and cheese as is or bake it.

If you're baking it, top the mac and cheese with the crushed and toasted rice bubbles/rice crispies.

Transfer the bake to the oven and cook for 20-30 minutes. You can turn the grill on to colour it up right at the end. Serve immediately, but leftovers keep very well. If you're feeling bougie, finish it with a drizzle of truffle oil or garlic infused oil.