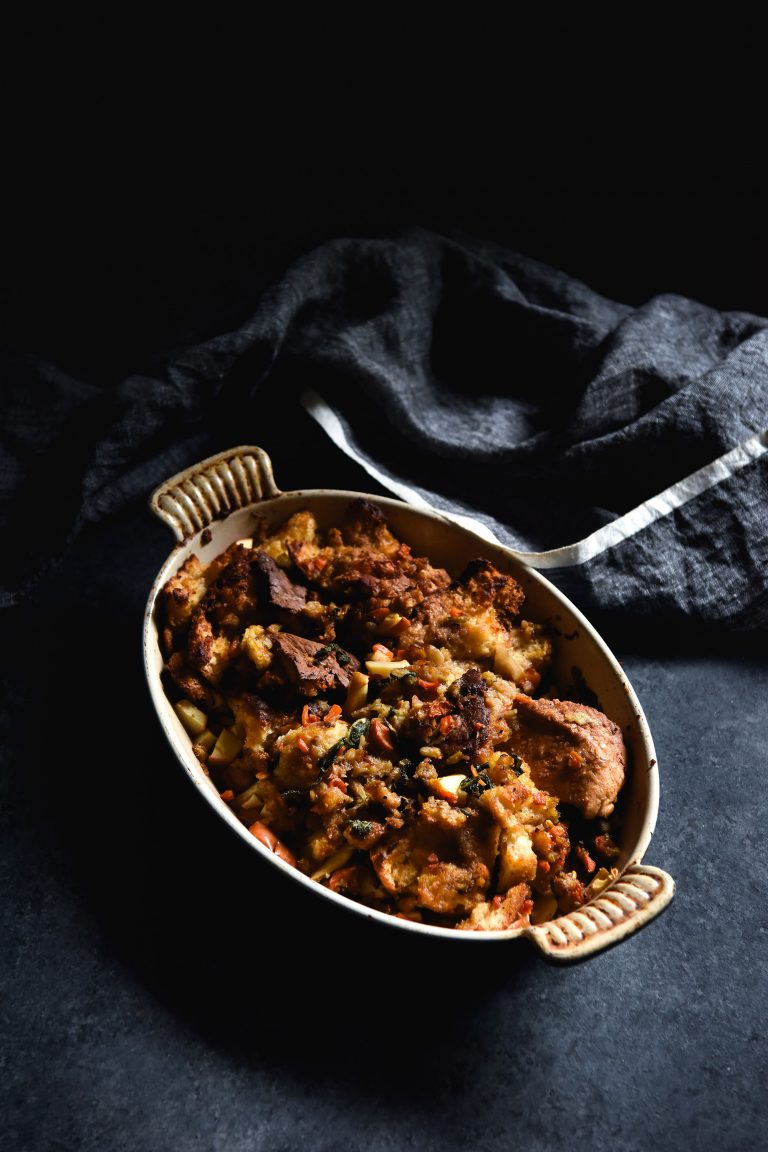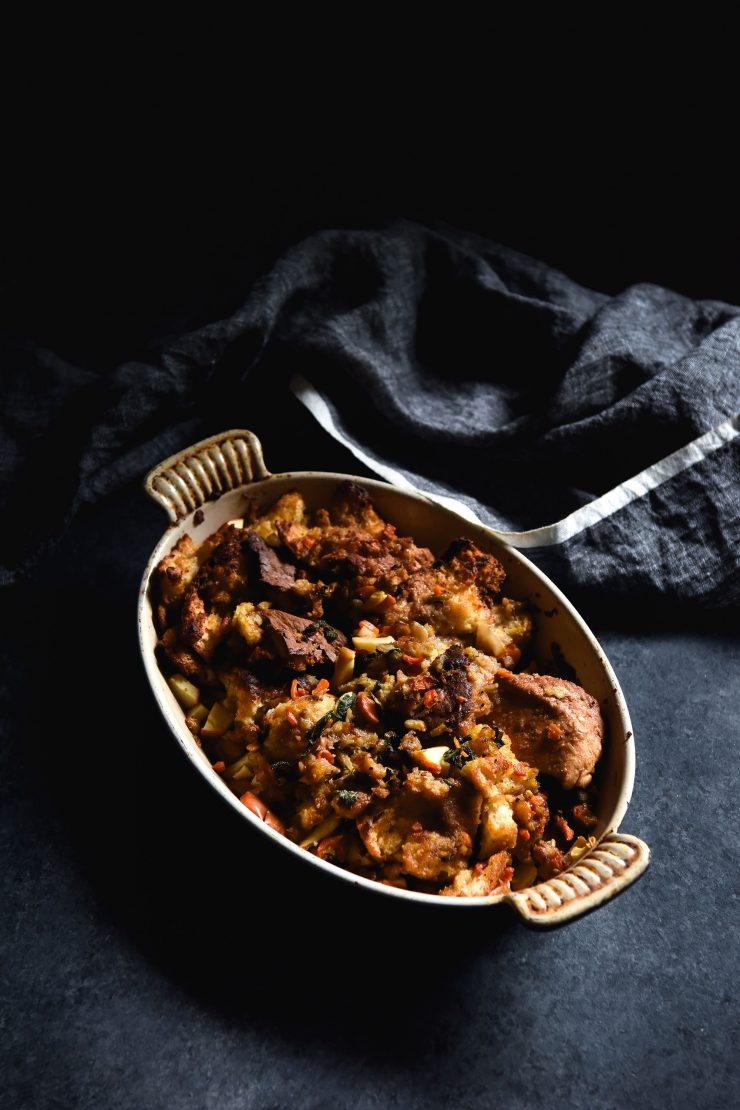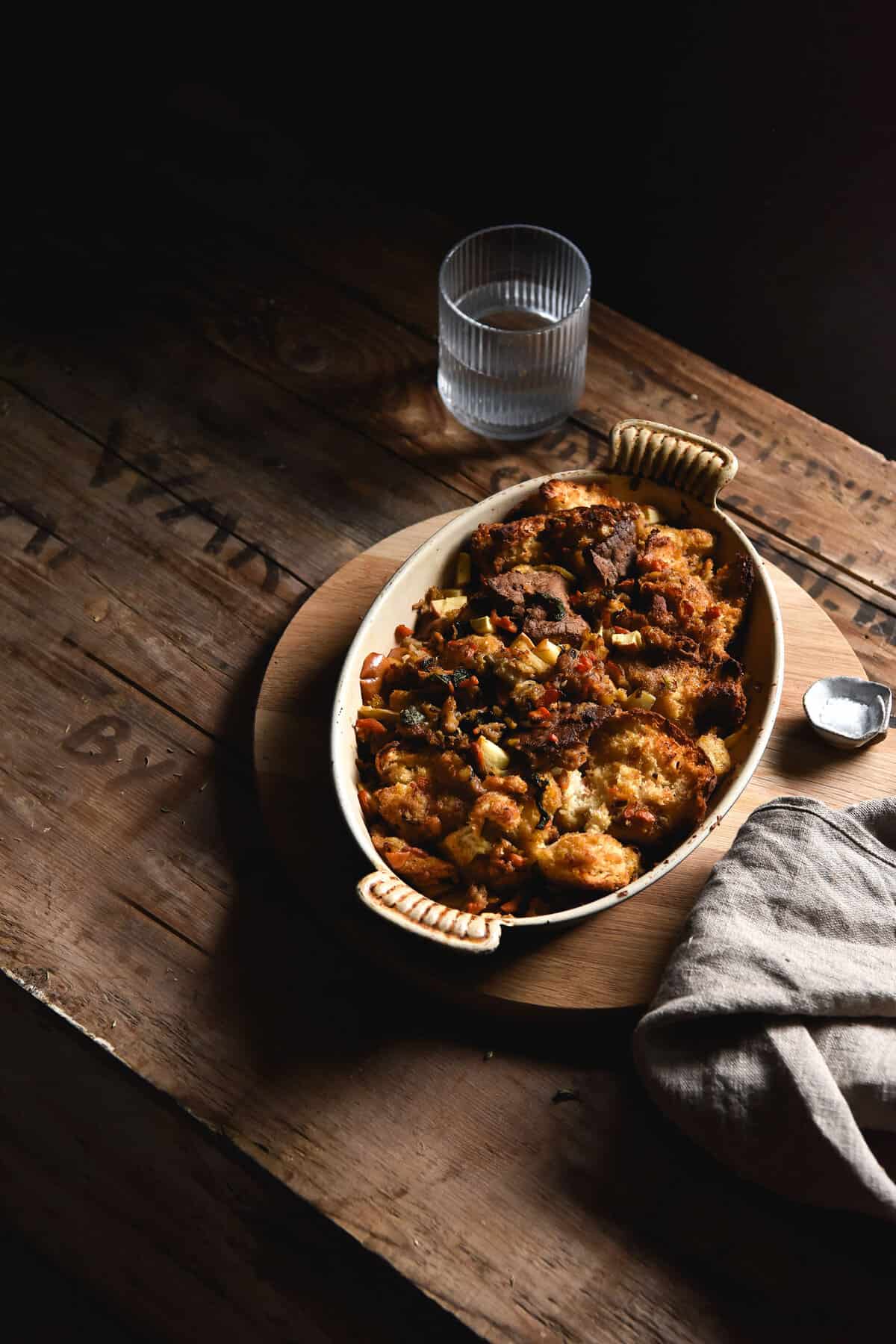 There are plenty of recipes for stuffing around, I know. I did debate whether to try adding to the pile. After some googling, however, I noticed that there was a lack of recipes that fitted my need for a FODMAP friendly, gluten free vegan stuffing. Plenty of vegan, plenty of gluten free, but none that fit the triad of dietary niches to which I wanted to adhere.
I've unpacked each element a little further down in the post, but it is worth mentioning that although I've designed this a standalone FODMAP friendly, gluten free vegan stuffing (hello keywords) you can do with it as you see fit. I wouldn't actually have any idea how to incorporate it into a meat dish (hello long term vegetarian) but you who do, you do you.
FODMAP FRIENDLY, GLUTEN FREE VEGAN STUFFING
Let's unpack a little, starting with FODMAP. Stuffing generally tends to be flavoured with onion, garlic and broth. Lots of recipes also call for dried cranberries and apple. This version uses fennel and carrot as the aromatic base, followed by a combination of Massel vegetable stock cubes and miso paste.
Massel cubes specifically are verified as FODMAP friendly by Monash, the creators of FODMAP. They contain no onion or garlic, are vegan, and certified 'IBS friendly' by their marketing team. I am generally not a stock cube person, but the sort of flavour they add to the stuffing in this case is vital. I haven't tried the recipe without the stock cubes, and I recommend you don't either.
Miso paste adds an umami kick to the recipe in addition to a virtuous adjective for the name. A win win, no?
Apples! Let's chat apples. I have tried the recipe both with and without a FODMAP friendly dose of apple (20g per person.) I myself am pretty partial to post apple bloat, but I do think they add a flavour dimension to the stuffing, if you're so inclined. Remember, this stuffing serves 6-8 as a side, so the amount of apple per person is well within a friendly limit.
GLUTEN FREE
Using a loaf of good quality gluten free bread is the best way to make this recipe as easy and quick as can be. I personally haven't tried the recipe using my homemade sourdough, because I think it would be a waste of the sourdough flavour I derive so much joy from as toast.
That said, choose a good quality gluten free loaf, because an average one will turn to mush. If in doubt, toast your bread chunks in a hot pan until crispy before using. Actually maybe even if you aren't in doubt. On the note of doubt, pay attention to how quickly your bread soaks up the flavoured liquid. If it soaks up immediately, add the higher amount of liquid. Gluten free bread varieties, and the flours they use, vary hugely.
If you're cooking for someone who is gluten free, make sure you check that your stock cubes are. Massel is certified gluten free, but other brands across the world may not be.
VEGAN
I'm not vegan, but I'm of the opinion that there are enough non-vegan foods on the table at family celebrations. A lot of stuffing recipes use sausage, which was obviously never going to happen. However, some also use butter, which I decided to omit. I think the dish is flavourful enough thanks to the stock, miso, aromats and sage. The richness of butter, in my opinion, is barely missed. Plus, what better time than a family celebration to start converting people to vegetarianism or veganism? Just kidding. Kind of.
If you are indeed using this stuffing to stuff something, feel free to use butter in place of olive oil, if you like.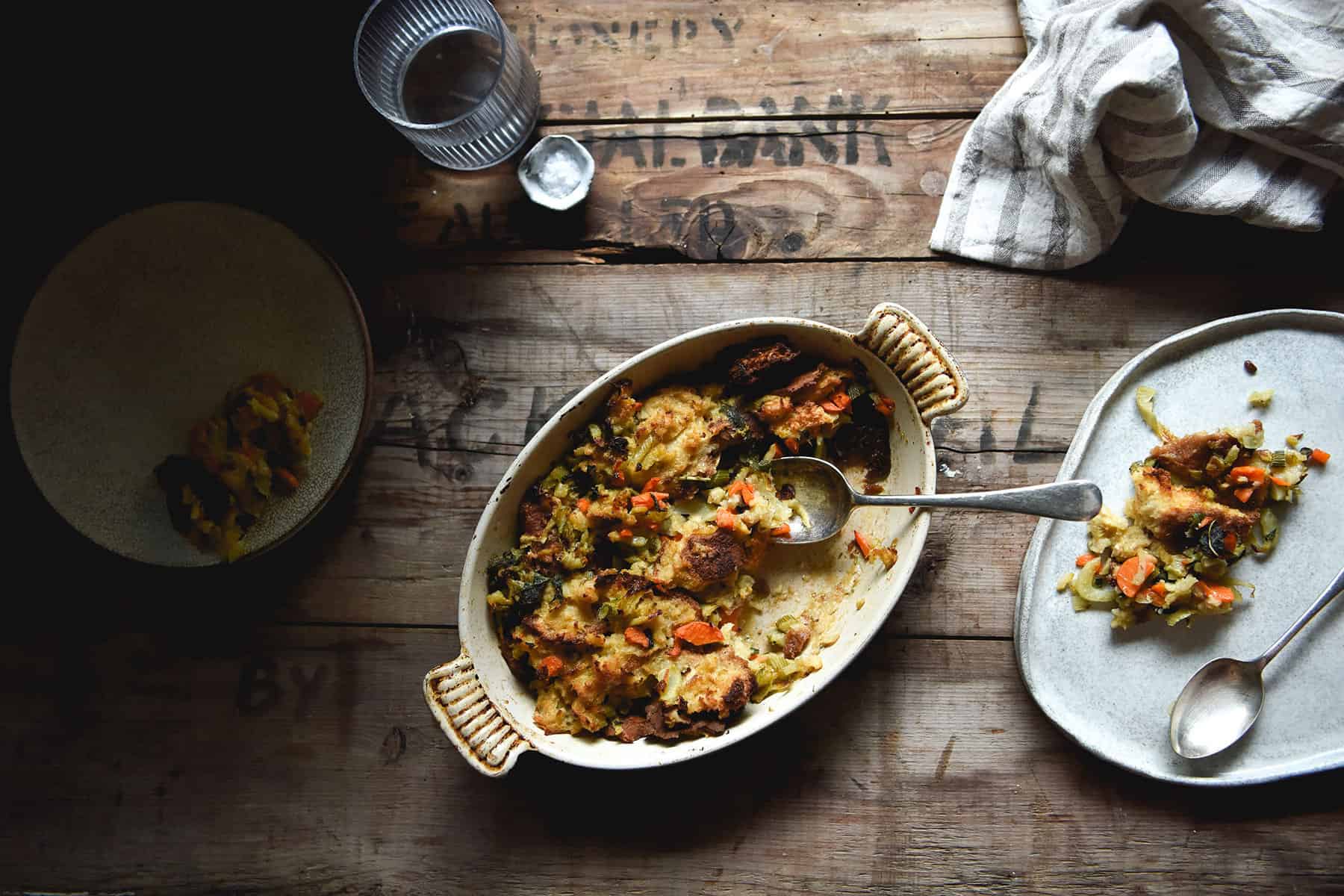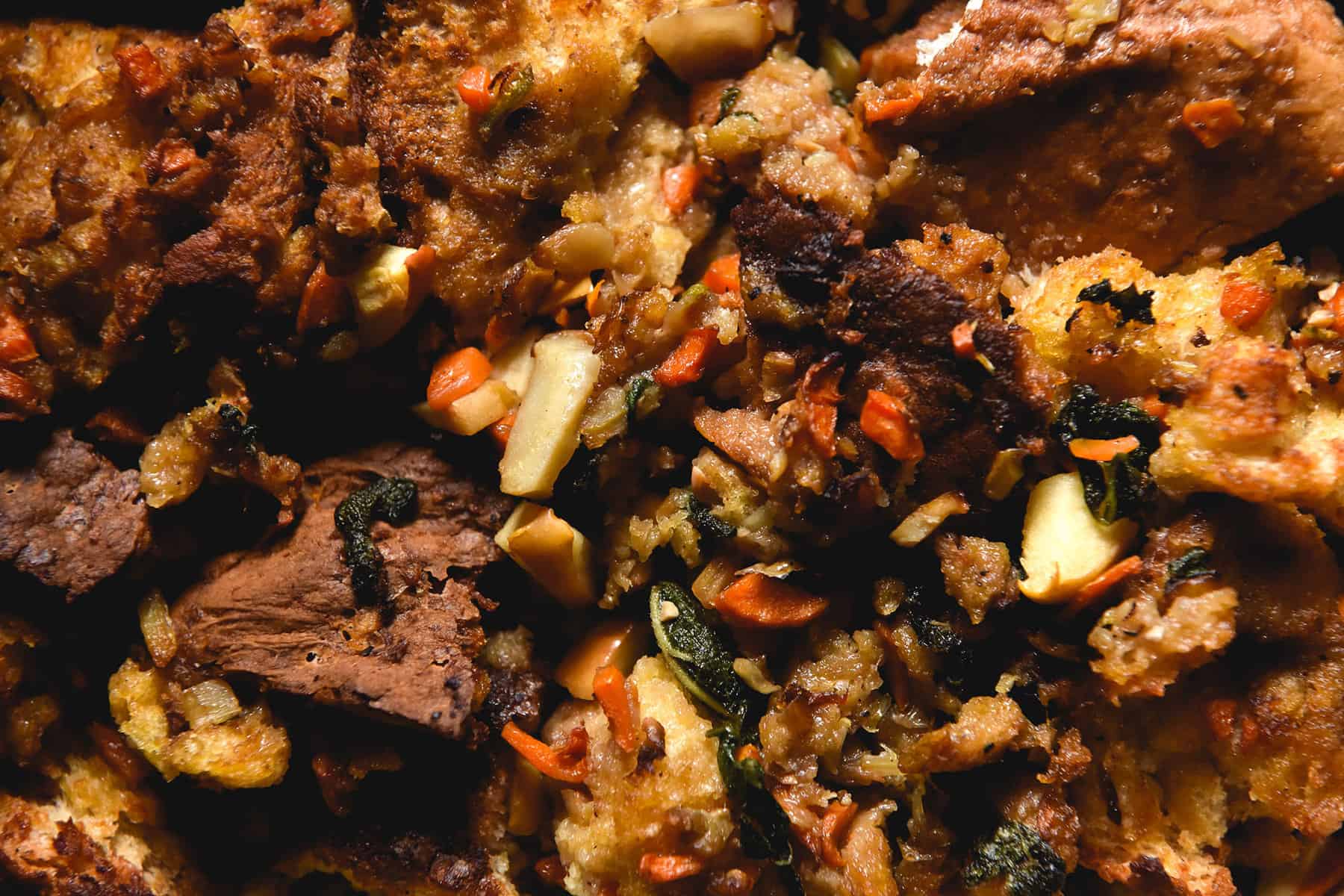 FODMAP friendly, gluten free vegan stuffing
Ingredients
4

tbsp

olive oil

200g

fennel, finely chopped

(1 medium bulb)

250g

carrot, finely chopped

(2 large carrots, roughly)

20g

sage, finely chopped

(1 bunch or 2 small packs)

2

Massel vegetable stock cubes

(or other FODMAP friendly vegan brand)

1

tbsp

nutritional yeast

2

tsp

miso paste

(ensure it's gluten free)

1 1/2 - 2

cups

boiling water

(gluten free bread dependent)

400g

day old gluten free bread, torn into pieces

(1 loaf)

100g

apple, finely chopped

(optional, see notes before you get mad at me)

pinch

ground nutmeg and clove

(optional)

pinch

dried thyme

(optional)
Instructions
Add the olive oil to a nonstick wok or extra large pan (you'll see why) over a medium high heat. Once warm, add the finely chopped fennel, carrot and sage and cook until the vegetables start to lose their form.

After about 15 minutes, the vegetables should be caramelised and small. They should have a golden brown colour. Once they do, boil the kettle.

Pour the boiling water over the stock cubes miso paste and nutritional yeast in a small bowl. Set aside to dissolve.

If you're using it, add the finely chopped apple, and cook for a couple of minutes to combine. Next, pour over the liquid mixture, scraping all the leftover flavouring into the pan.

Cook the liquid down for 3-5 minutes over a gentle heat, before adding the bread chunks. Cook just until all the bread is moist and covered in flavours.

Transfer the mixture to a baking pan, and cook for 20 minutes, or until golden.