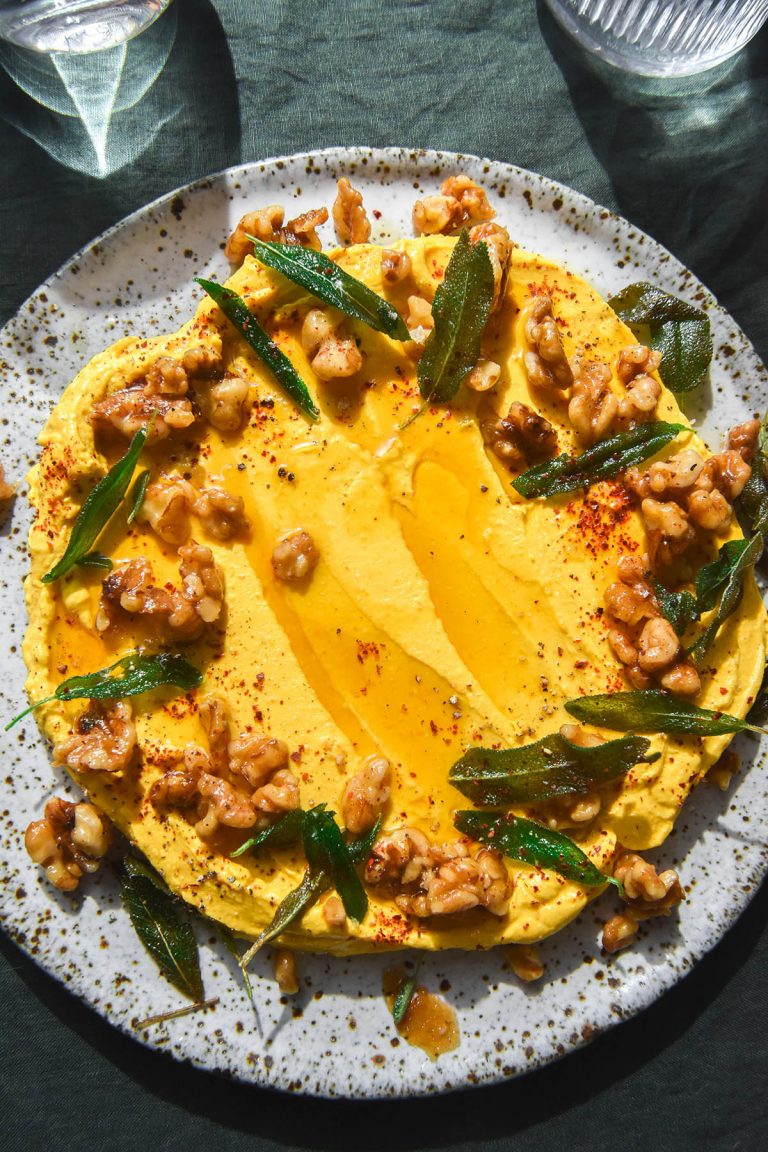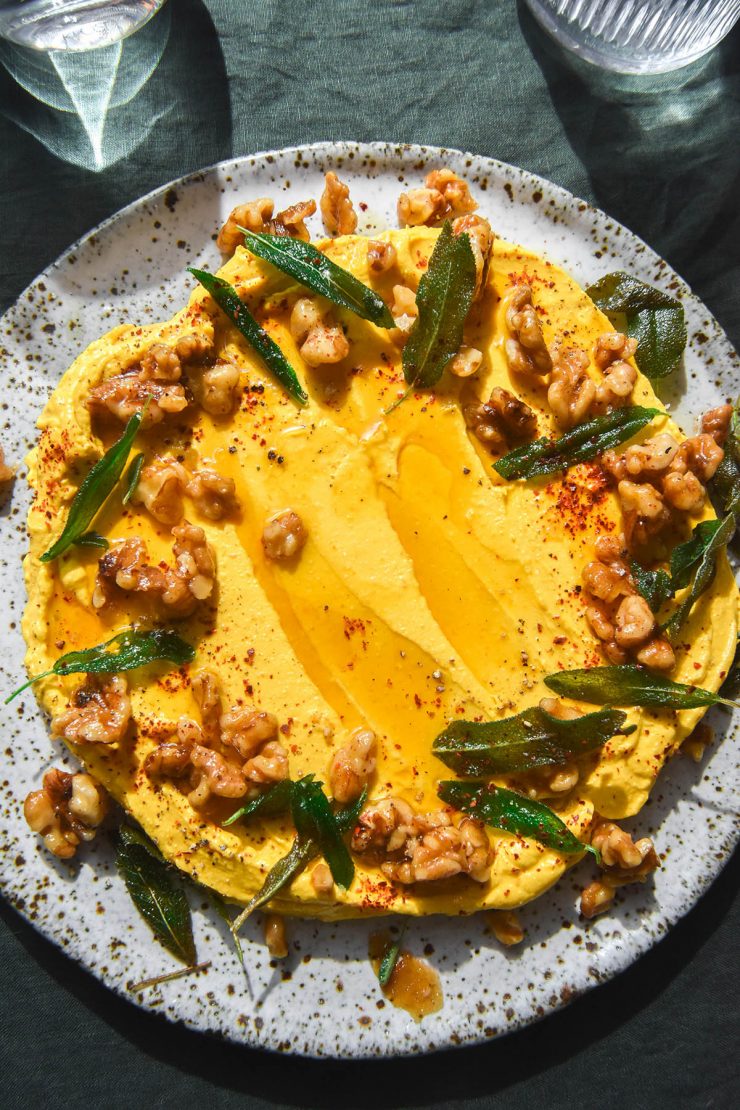 I don't post enough dip recipes on my website. When basically every dip on the market contains onion and garlic, this seems like a missed opportunity. Today I am righting this oversight with a new recipe for this low FODMAP pumpkin feta dip. It is almost embarrassingly simple to make yet tastes like it took you hours. What could be better than that?
Low FODMAP pumpkin feta dip
This dip recipe uses a very simple mix of pumpkin puree, Danish feta and garlic infused oil. You can add flourishes, of course, but this is the recipe core. I have to say, the recipe core is delicious as is, but I will go into some flavour options below.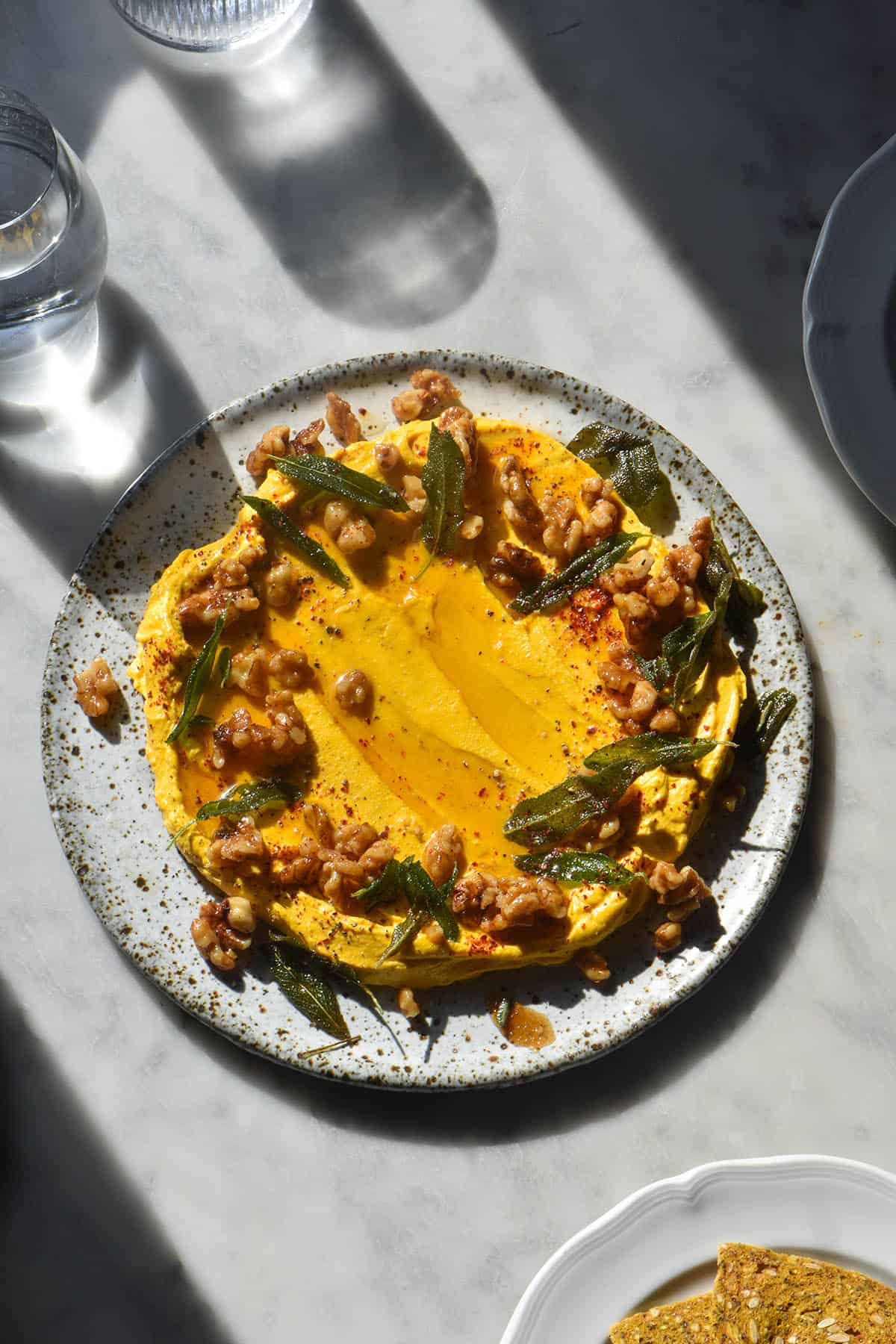 Tips for your low FODMAP pumpkin dip
I know I am going to lose some readers for this, but I have to say it: I don't think canned pumpkin puree is very good. I am Australian and I bought a can of Libbys for an exorbitant $12 Australian dollars recently.
While I can't deny the convenience of it, I was underwhelmed by the taste. To me, it was very savoury and had a tannin, tea like back note to it. It absolutely could be a matter of taste and what I'm used to, don't get me wrong. But I didn't feel like it was sweet enough to shine in this recipe.
If you can, I really do recommend making your own pumpkin puree. I will go into my simple method below – it takes 20 minutes max, and most of that is cooking time. Homemade pumpkin puree tastes sweeter, more well rounded and more like pumpkin. Because this is a pumpkin dip with so few ingredients, it really does shine through and make a difference.
However, I understand that life is busy! If you live somewhere where pumpkin puree is accessible and you enjoy it, feel free. I would recommend adding some sweetness to compensate – maple syrup would be perfect. Add it to your tastes.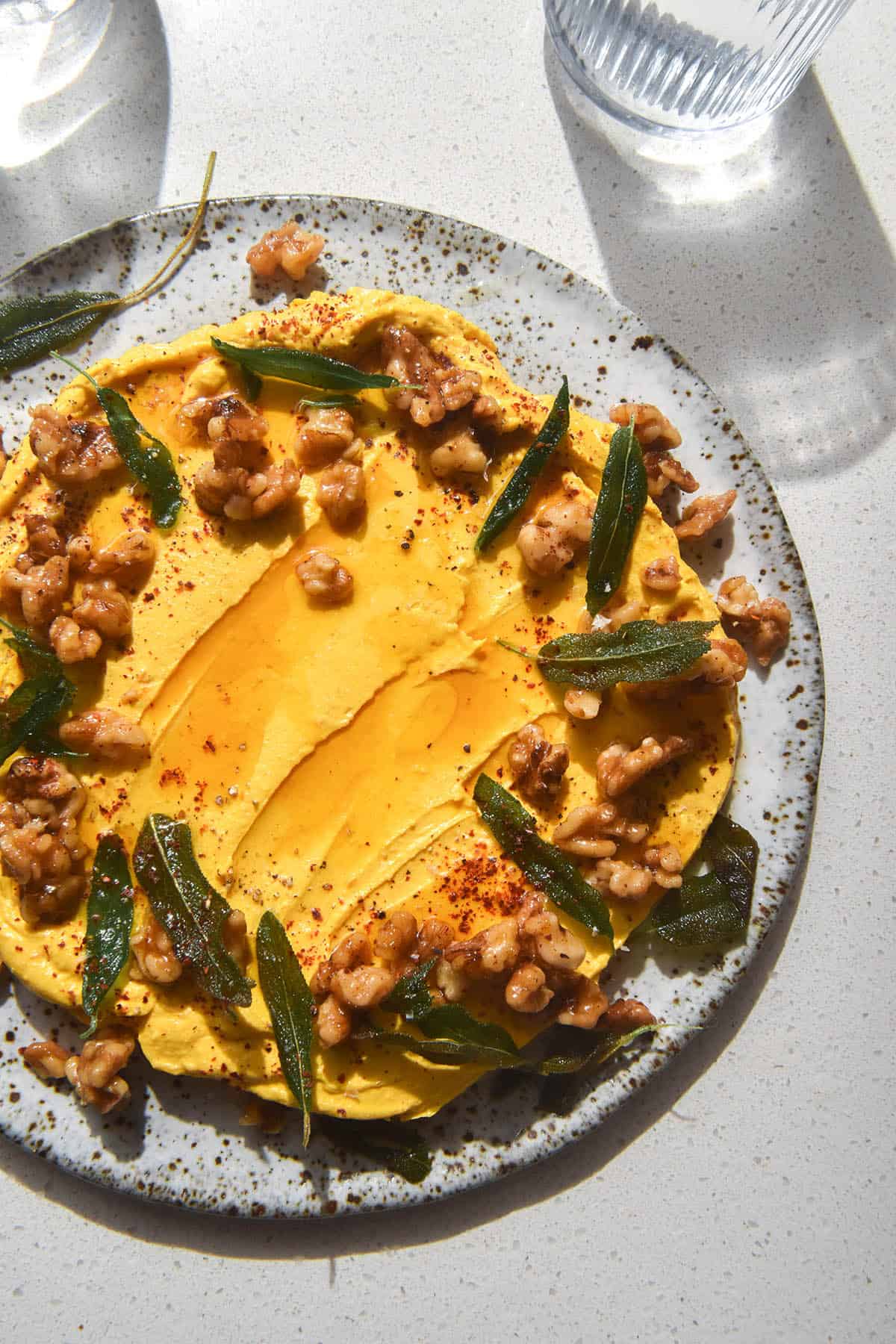 Ingredient notes
We have discussed the pumpkin puree above and below. TLDR: I recommend easy homemade puree over canned, but the choice is yours.
Danish feta has no substitute here. It's saltier, smoother and easier to blend into a smooth dip. If you want to try Greek feta, that choice is yours. I highly recommend Danish feta. It's easily accessible and inexpensive at all Australian supermarkets.
An important note on the feta: choose a good quality brand for a smooth dip. Cheaper brands seem to leave the dip a tiny bit chunky.
Garlic infused oil is my new favourite way to add flavour to low FODMAP dips. There is absolutely no comparison between homemade and store bought. It takes all of 5 minutes to make.
A note on garlic infused oil and food safety. Garlic and garlic infused products have a small but important risk of developing botulism. This is why I always recommend making garlic infused oil in small quantities, keeping it in the fridge and using it within a few days.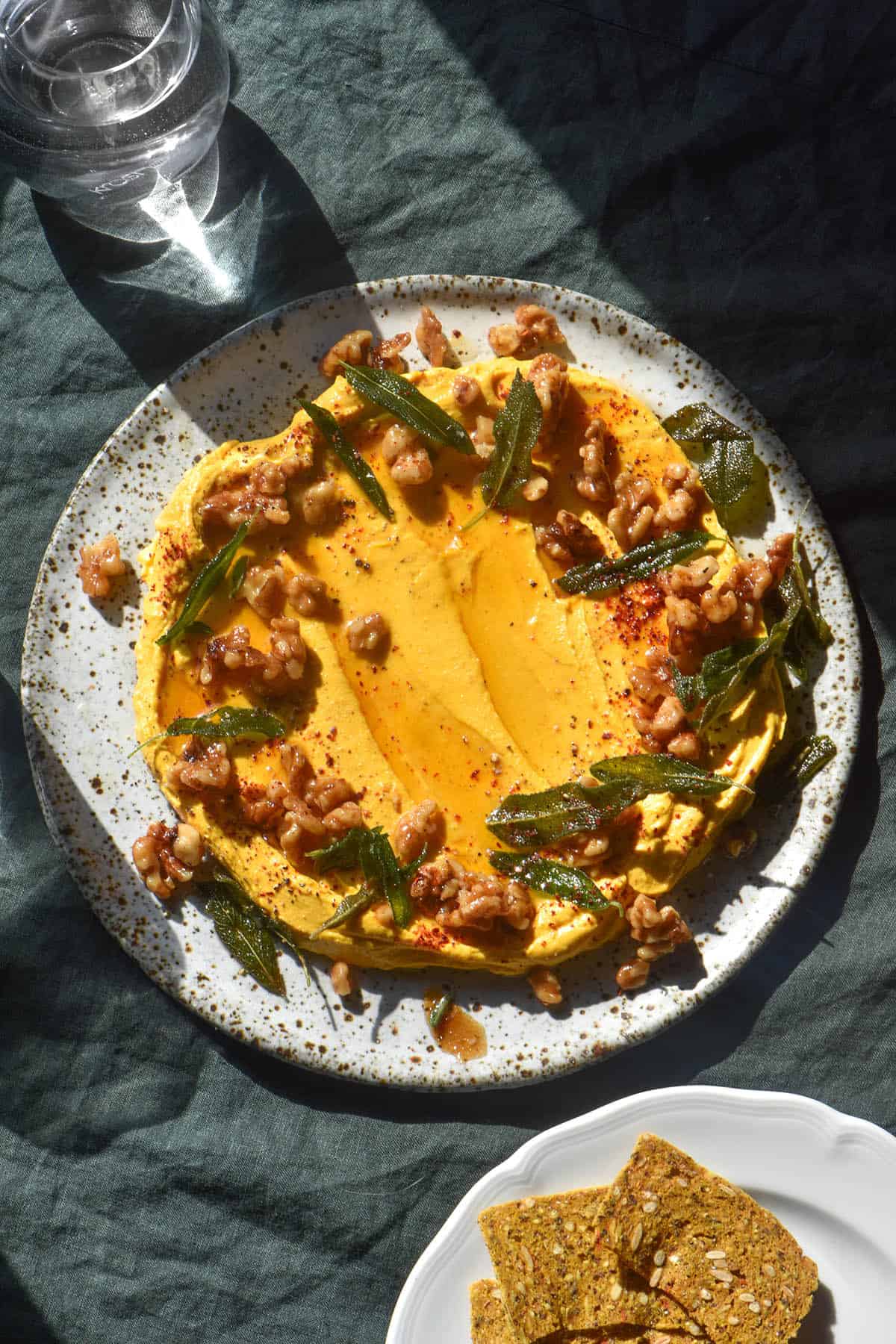 How to make your own pumpkin puree (the easy way)
Because I live in Australia and we don't really have canned pumpkin, I have been making my own puree forever. I have tested every method for doing it, and the microwave is my preferred way.
Why? Steaming pumpkin over boiling water can take ages if you don't have the right setup. Boiling pumpkin water adds unnecessary liquid that will throw off the ratio of the average pumpkin. This could mean you end up with a soggy cake, having inadvertently introduced too much water.
Baking pumpkin, although positive for flavour, has a few drawbacks. Firstly, it takes 30+ minutes. Secondly, it either adds oil into the mix or it runs the risk of leathery pumpkin skins once the pumpkin is cooked (if you don't hover over it). These then need to be sieved out, which adds to the time taken.
Microwaving avoids all of these pitfalls. It's also the quickest method of cooking pumpkin, which is why I like it.
Of course, this all goes without saying: use the pumpkin puree you want to use, made how you want to make it. This is just my way of making it.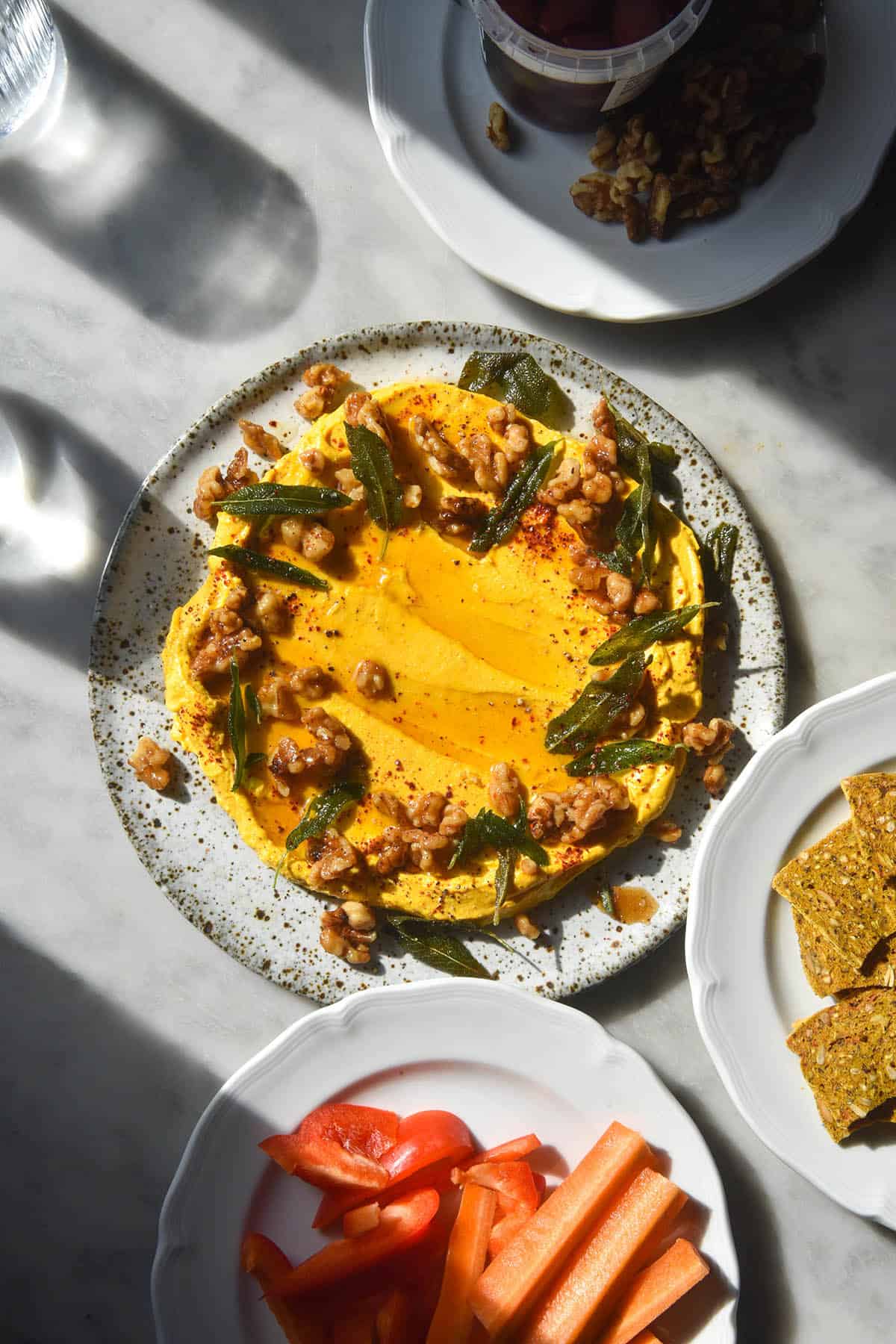 How to make pumpkin puree in the microwave
Remove the skin and seeds from your pumpkin and chop it into relatively small cubes, around 2cm x 2cm.
Place the cubes in a tall microwave safe bowl. A tall bowl as opposed to a flat, open bowl will help trap steam and steam the pumpkin pieces instead of making the skin leathery.
Microwave for 5 minutes. This will depend heavily on your microwave as they are all different wattage. Once you make it a few times you'll get a sense of how long it needs to cook.
After the 5 minutes, stir the pumpkin cubes up. Distribute the cubes that were on top to the bottom and vice versa. Return the bowl to the microwave and allow to sit in the steamy environment for around 5-10 minutes. This will also allow the bowl to cool a little to ensure it doesn't get too hot.
Repeat by cooking the pumpkin for another 5 minutes. Once the five minutes is up, stir and smash the pumpkin and return it to the steamy microwave. It should be easily mashable at this point.
Allow the pumpkin to cool a little before blending to a smooth consistency. If you're using a blender without a steam valve (like a Nutribullet) allow it to cool completely before blending.
You can pass the pumpkin puree through a sieve if you like, but I generally never do. It may be helpful for things like a pumpkin pie where texture is super important.
Store leftovers in an airtight container in the fridge and use within a few days. The puree can also be frozen and defrosted.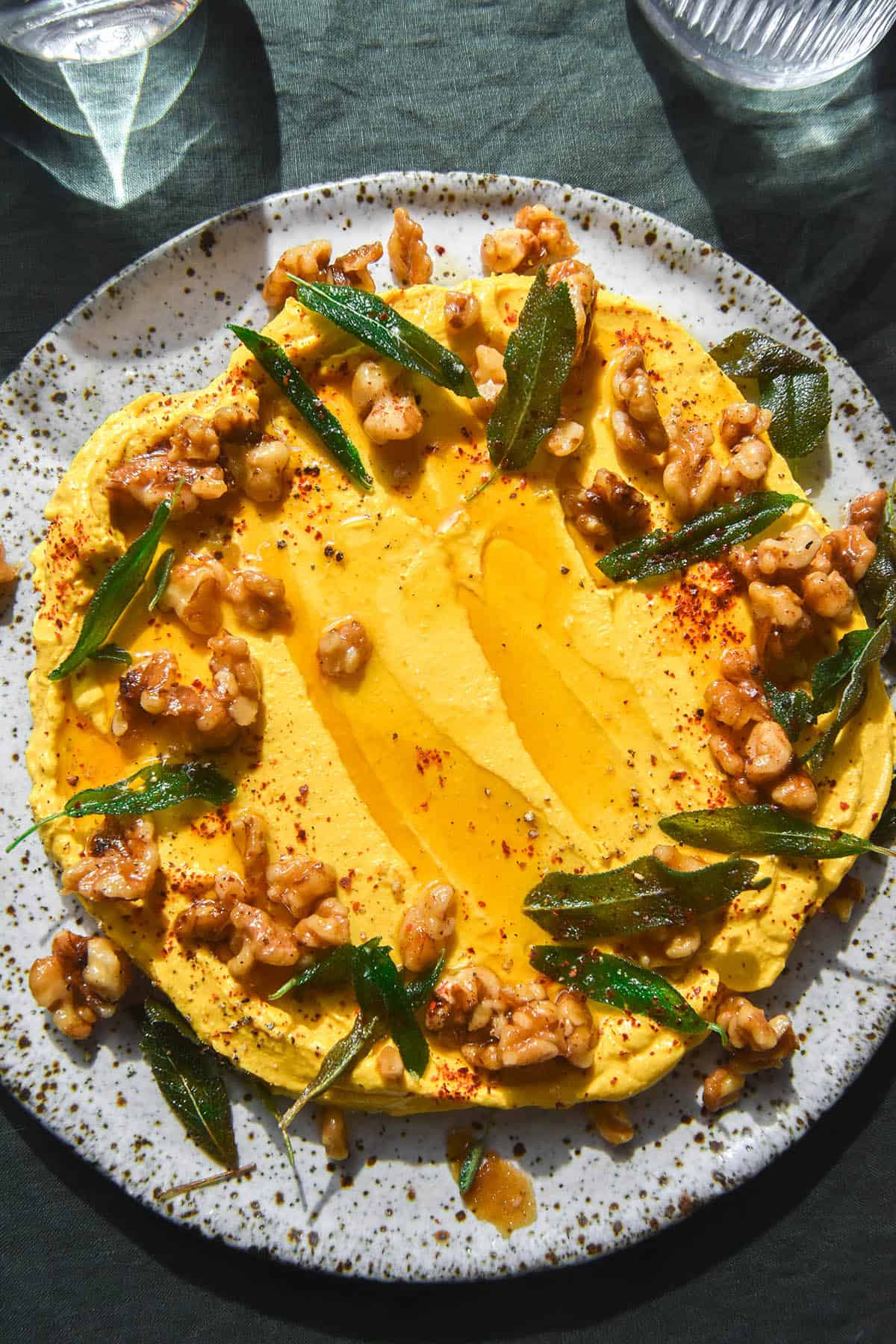 Flavour options for your low FODMAP pumpkin feta dip
I love this pumpkin feta dip as it is, but there are plenty of ways you can jazz it up.
A pinch of nutmeg or a grating or fresh nutmeg would be lovely. I imagine pumpkin spice would also add a festive touch (we don't have it here in Australia).
Some crispy sage leaves and a drizzle of maple syrup (or hot honey, if you tolerate honey).
Some chilli flakes or a chilli and garlic infused oil to drizzle over the dip.
Honeyed walnuts or pecans sprinkled over the top to serve.
Dukkah or another seed mix sprinkled over the top to serve.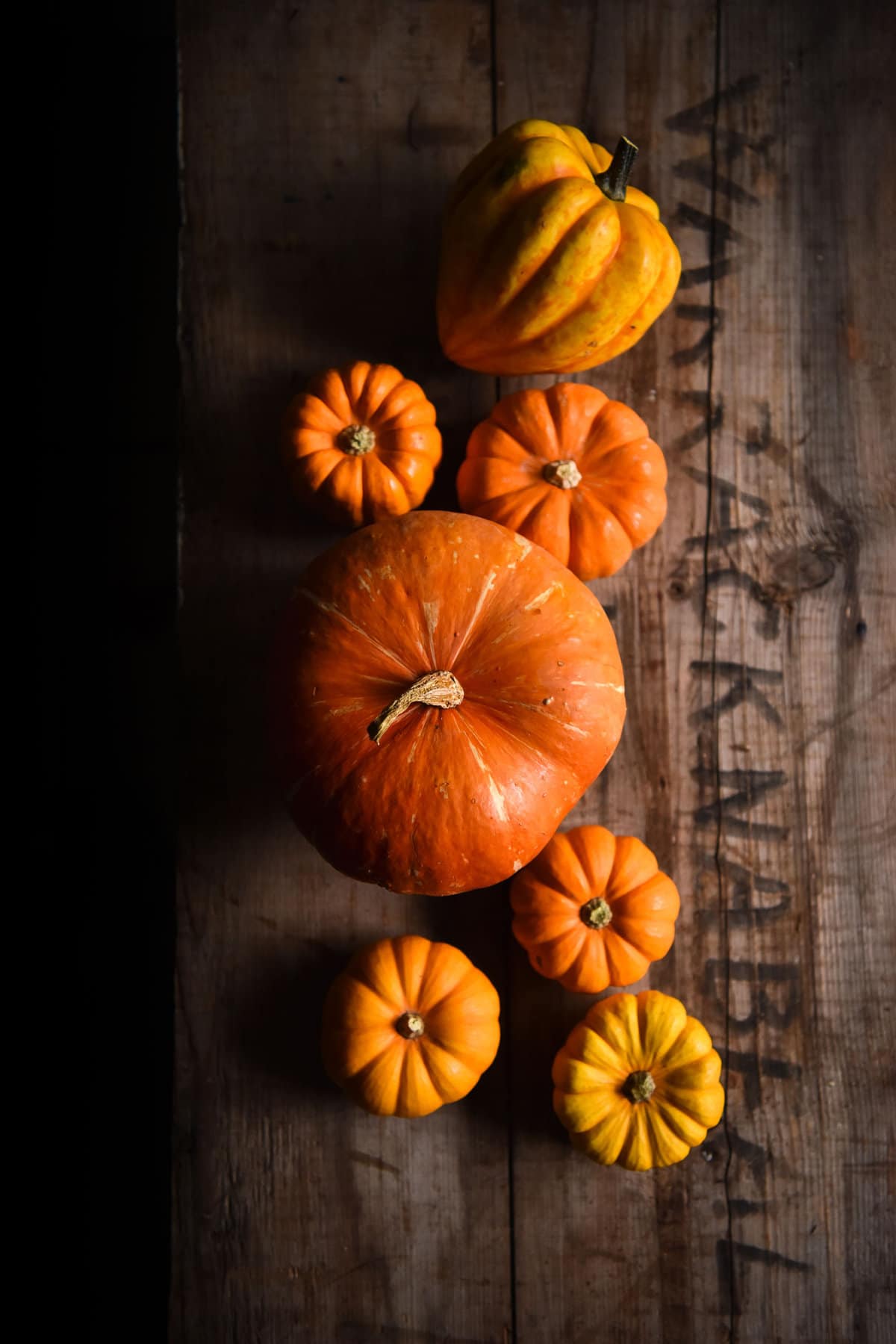 More low FODMAP pumpkin recipes
Low FODMAP pumpkin feta dip
Makes 500g
*Cups and measures are in Australian cups and measures. Use gram weights for international accuracy.
Ingredients
80

ml

(1/3 cup)* olive oil

3-4

garlic cloves

papery skin removed and sliced

250

g

pumpkin puree

see notes

200

g

good quality Danish feta

1-2

teaspoons

hot honey or maple syrup

Lemon juice

to taste

Seasoning

to taste
Instructions
Place the oil and garlic in a small pot over a low medium heat. Cook for 5 or so minutes or until the oil is fragrant and the garlic is just beginning to brown. Remove from the heat and set aside to cool.

Add the garlic oil, pumpkin puree and Danish feta to a food processor. If you're using a processor without a steam valve (ie a Nutribullet) make sure the garlic oil is completely cool first.

Blend the ingredients together until smooth. Taste, then add honey or maple syrup, lemon juice and seasoning accordingly.

Keep in mind that pumpkin puree will always differ slightly in liquid content, so you may need to refrigerate your dip to thicken it up. That is why I recommend making this dip the night before if you can.

You can serve it as is, or top it with some candied nuts and crispy sage leaves. Links and instructions are in the notes section.

Because of the homemade garlic oil, this is best consumed within 3-4 days and leftovers should be refrigerated. Leftovers make a delicious and easy pasta sauce.
Notes
All pumpkin puree will have a differing liquid content. Keep this in mind and add liquid ingredients accordingly. If you notice your pumpkin puree is particularly watery, you can strain it through cheesecloth or just add slightly less garlic infused oil. It tends to thicken up in the fridge, too.
To ensure this dip is low FODMAP, I recommend making your own pumpkin puree using Japanese or Kent pumpkin. I have a method for making your own pumpkin puree in the post or here.
I have tested a number of feta based dips now, and I have noticed that good quality Danish feta blends to a significantly smoother consistency than cheaper brands.
To decorate this dip, I used 1/2 cup of walnuts cooked on the stovetop in 1 teaspoon olive oil and 1 tablespoon maple syrup. Full instructions are in this recipe here.
To make crispy sage leaves, I simply cooked them in a small amount of hot oil until they begun to change colour.
Garlic oil is at a risk of developing botulism if left too long. This dip is best consumed within 2-4 days to be on the safe side. Leftovers should always be refrigerated.