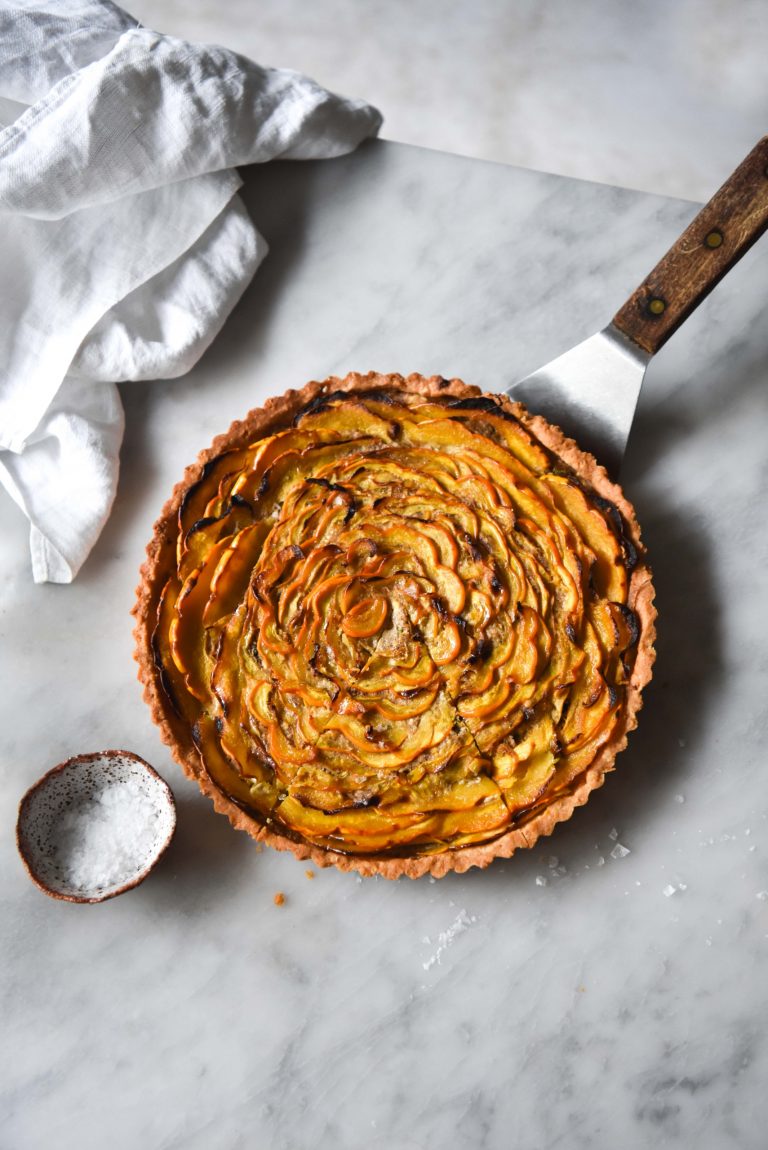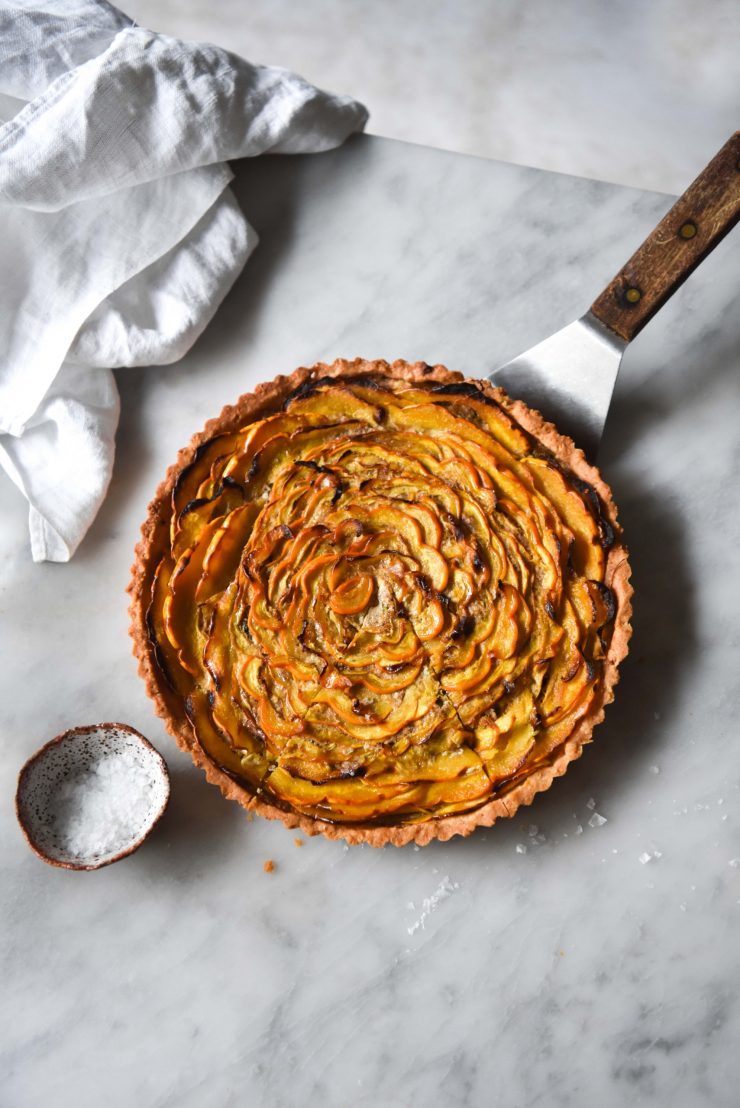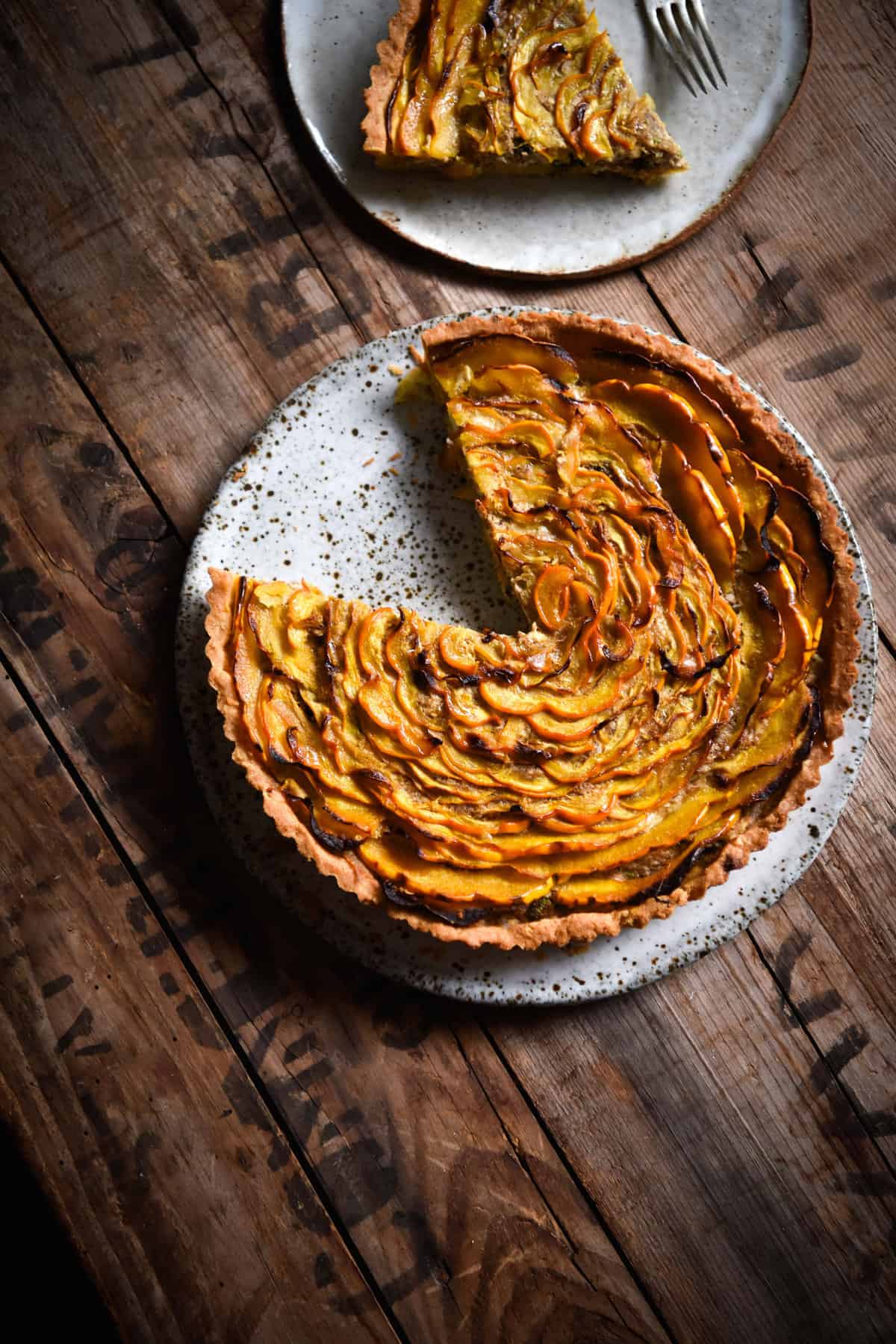 In honour of the fiddly tarts past (the zucchini ricotta tart and it's vegan counterpart) I'm here today with a fiddly festive option. That is, a gluten free savoury pumpkin tart filled with sage, ricotta and gruyere in an easy grain free tart base.
As with the originals, the tart has two filling components. Firstly, the ricotta flavoured with sage, gruyere, nutmeg and the gang. Secondly, the pumpkin/sweet potato mandoline topping/pure art.
This gluten free savoury pumpkin tart is grain free and FODMAP friendly. More importantly, however – it's not as hard it looks. Truly. Let's dive in.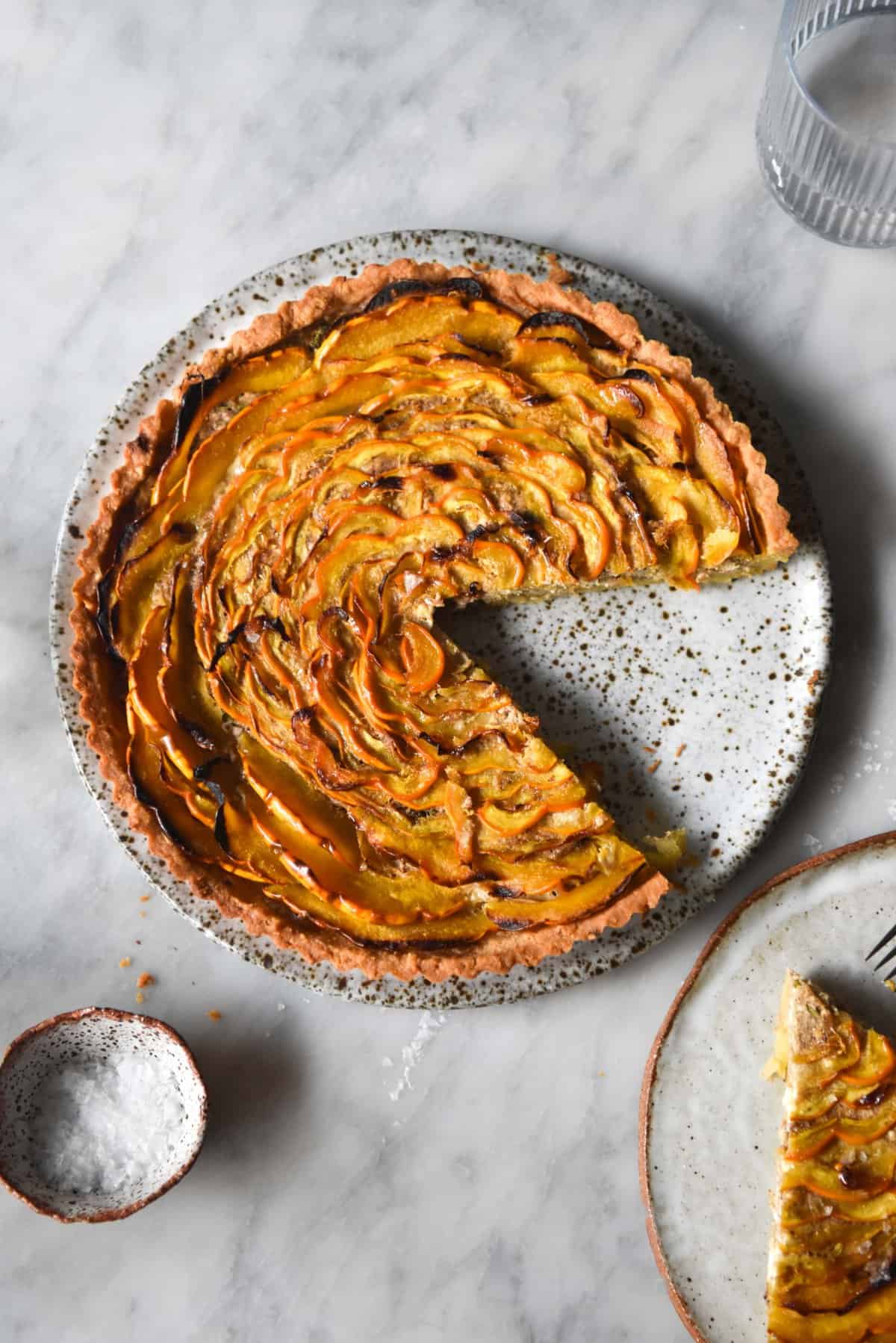 Gluten free savoury pumpkin tart
Firstly, I highly recommend a mandoline for this recipe. Although it is absolutely possible to create the topping without one, it is a little tricky to evenly cook all the pumpkin slices if they're of uneven size.
Secondly, if lactose isn't your thing, might I recommend A) making your own lactose free ricotta or B) making the tofu version? Equally as delicious but without any dairy. You can chop and change – use the regular base and the dairy free filling or vice versa. Unsure why you'd do the vice versa but I've already written it now.
For a completely, 100% lactose free tart, use the vegan recipe but with the fillings of this recipe. Easy.
Most of the recipes on my site use almond base for tarts. That's because A) I'm rather grain adverse and selfish, B) I'm saving the flour based recipe for a new exciting project and C) almond meal is DEAD EASY to use and tastes great as a tart base. You could absolutely use your tart base recipe of choice and fill it with this stuffing.
A hot tip when using sage – there is such a thing as too much of a good thing. If you use too much sage in a dish it will become incredibly bitter. So, if you happen upon an extra large bunch, use a bit of discretion.
Although my previous recipes start on the mandoline art at the centre, we're doing the opposite today. Pumpkin isn't nearly as flexible as zucchini, so it's much easier to create a loose pattern from the outside in.
If you can't find heirloom pumpkins, you could potentially use regular ones. They may, however, be a little watery for the purpose. You can also use sweet potato – I recommend peeling them in this instance because the skin gets quite leathery in the oven.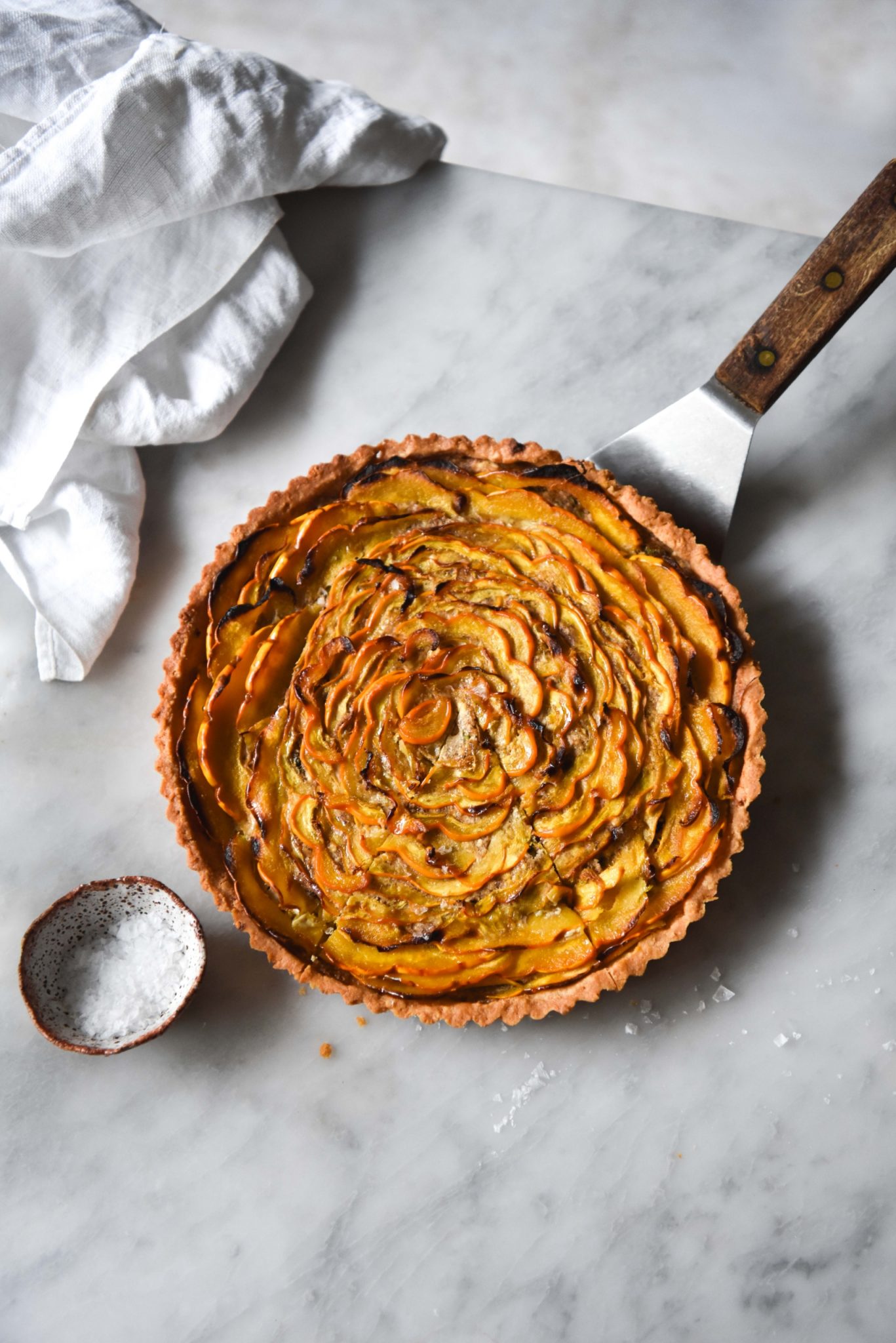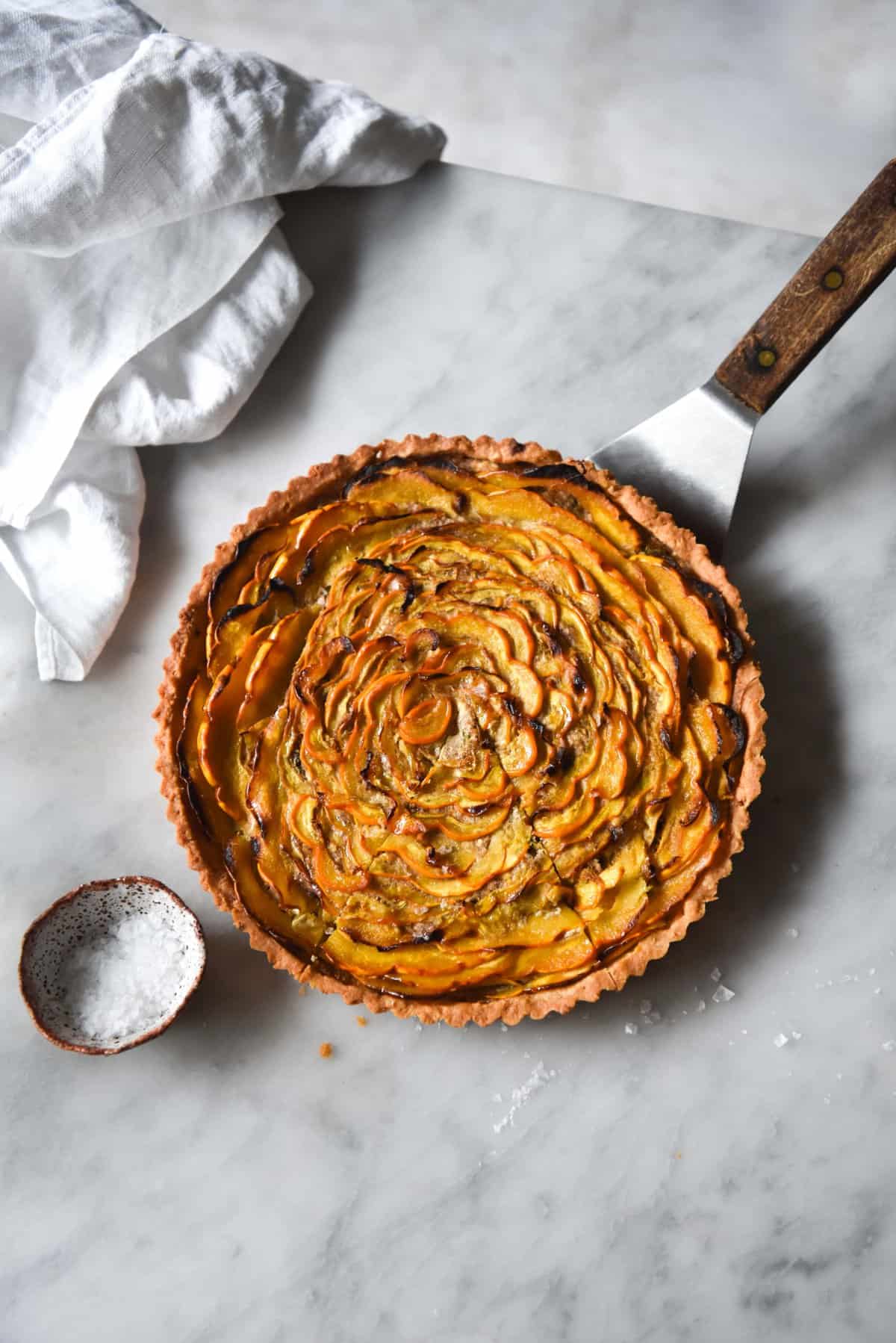 More pumpkin recipes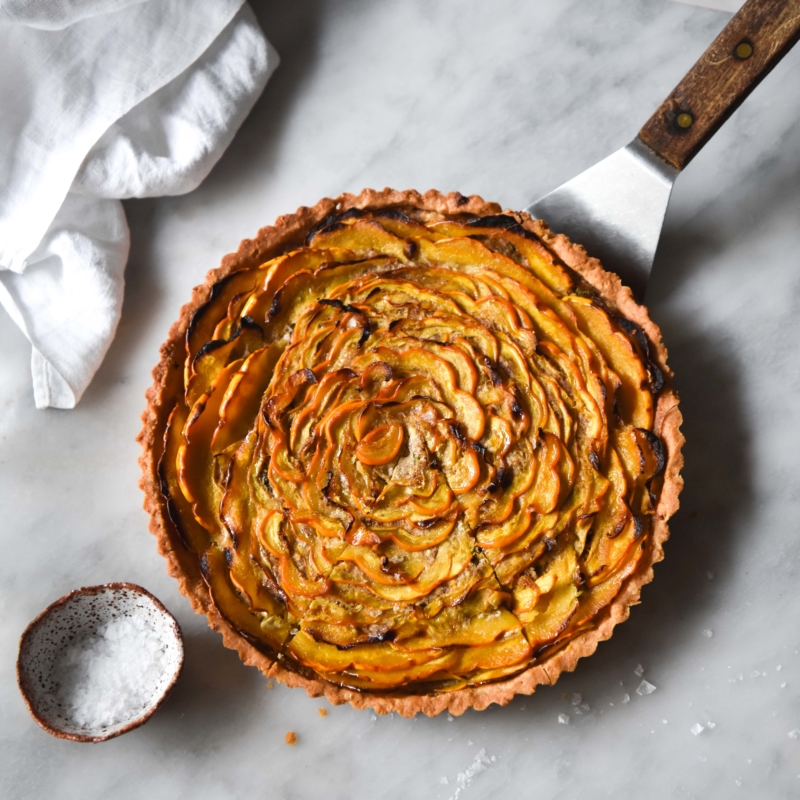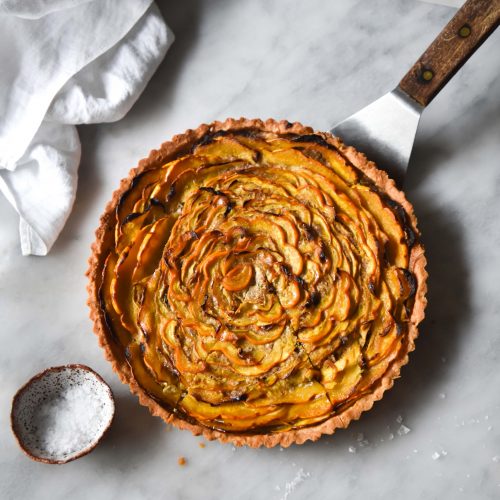 Gluten free savoury pumpkin tart
Fodmap friendly, gluten free, vegetarian
Equipment
A mandoline (not compulsory but very helpful)

A 24cm fluted tart tin
Ingredients
For the tart base:
1 1/2

cups

(150g) almond meal

1

cup

(100g) tapioca flour

50

g

finely and freshly grated gruyere

if you can't find gruyere you can use parmesan

1/2

teaspoon

salt

80

g

melted butter

2

extra large eggs
For the filling:
50

butter

1

bunch of sage

(see notes)

300

g

deli ricotta

(see notes for options)

2

extra large eggs

(whisked)

60ml

(1/4 cup)

water

50

g

grated gruyere

(use parmesan if you can't find gruyere)

Generous pepper

1/2

teaspoon

salt

1

teaspoons

nutmeg

1/2

teaspoon

clove
For the top:
2-3

medium heirloom pumpkins

(see notes for alternatives)
Instructions
To make the tart base:
Preheat the oven to 180 degrees Celsius.

Place the almond meal, tapioca flour, finely grated gruyere and salt in a large mixing bowl and stir to combine.

Pour the melted butter into the mixture and use a spoon or your hands to agitate and combine. It should have the appearance of wet sand.

Add the eggs and use a spoon to combine the mixture. It should come into a smooth-ish ball of dough. If it looks dry, add a splash of milk. If it's too sticky to handle, put it in the fridge to firm up for 10-15 minutes. Make sure you weighed the flours for the best results.

When you're ready, press the dough into a 24cm fluted tart tin. You don't want it to be too thick so remove any excess dough and bake it into cheese biscuits. Poke plenty of fork holes in the base and place into the oven for 20-25 minutes, or until it is nicely browned.

Once the tart base is ready, brush it with a bit of the whisked egg you'll use for the ricotta. This ensures that the crust base doesn't become soggy – it forms a barrier between the wet ricotta and the crust.
To make the ricotta mixture:
Place the butter in a small saucepan over a low-medium heat. Allow it to cook, stirring intermittently, until it begins to brown. You'll be able to smell the change – it's nutty and beautiful. Allow the butter to brown to a deep brown colour – it adds amazing flavour. NB: brown is not burnt! If you burn it, start again.

Once the butter is browned to your liking, remove it from the heat and stir in the chopped sage. It will sizzle and then relax. Stir it a little and then allow it to sit and steep a while.

Mix the ricotta with the milk or water, and mix until a lumpy batter forms. Add the remaining ingredients and stir to combine.

Adjust for seasoning, and then add the eggs. Stir thoroughly to combine
To assemble:
Spread the ricotta mixture evenly in the tart base. Place it on a baking tray so you don't crush the sides when attempting to get it out of the oven.

Starting on the outside, lay the larger pieces of pumpkin slanted upwards in a ring. Follow this with another ring inside, cutting pieces of pumpkin to fit as you go. This process doesn't need to be super precise – whatever you think looks pretty and whatever your sanity can deal with. Continue creating smaller and smaller rings of pumpkin until the tart is completely covered.

Brush the pumpkin pieces very liberally with olive oil (they dry out and/or burn very easily) and place the tart into the oven for 30 minutes.

If you'd like a little extra colour on the pumpkin, turn the grill on and watch it like a hawk. You could also brush on a little honey or maple syrup for an extra sheen and a bit of somethin' somethin'.