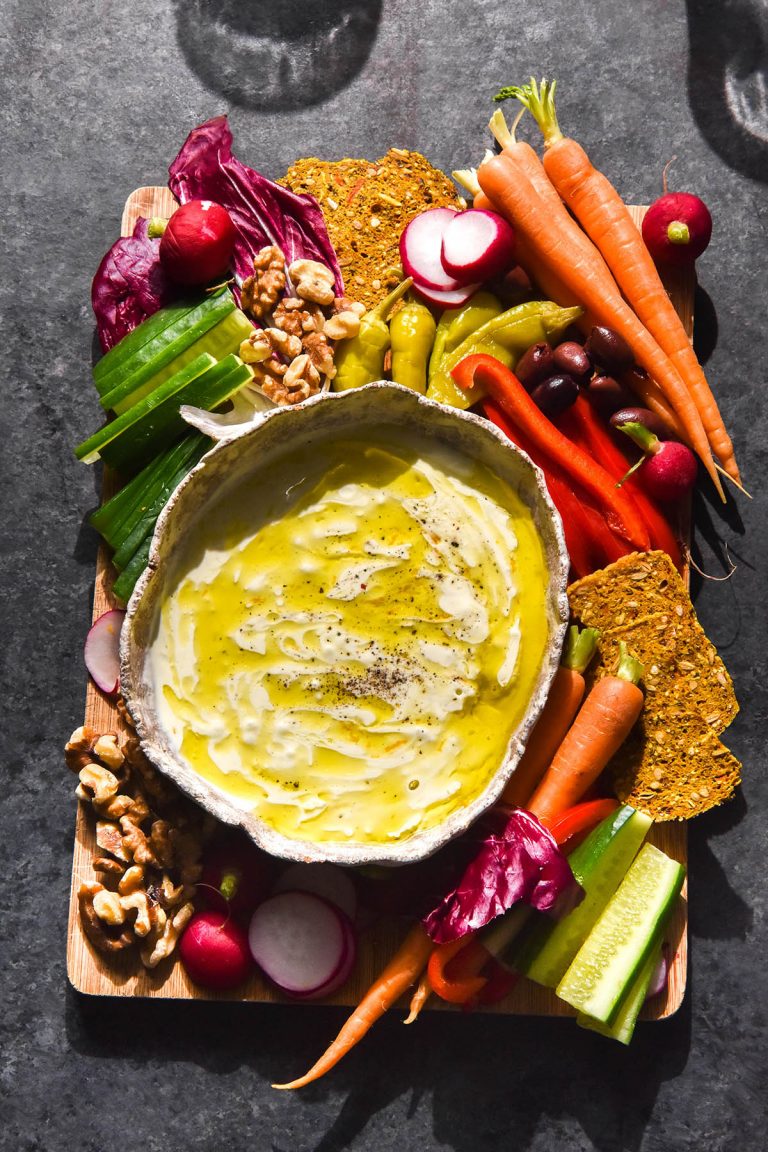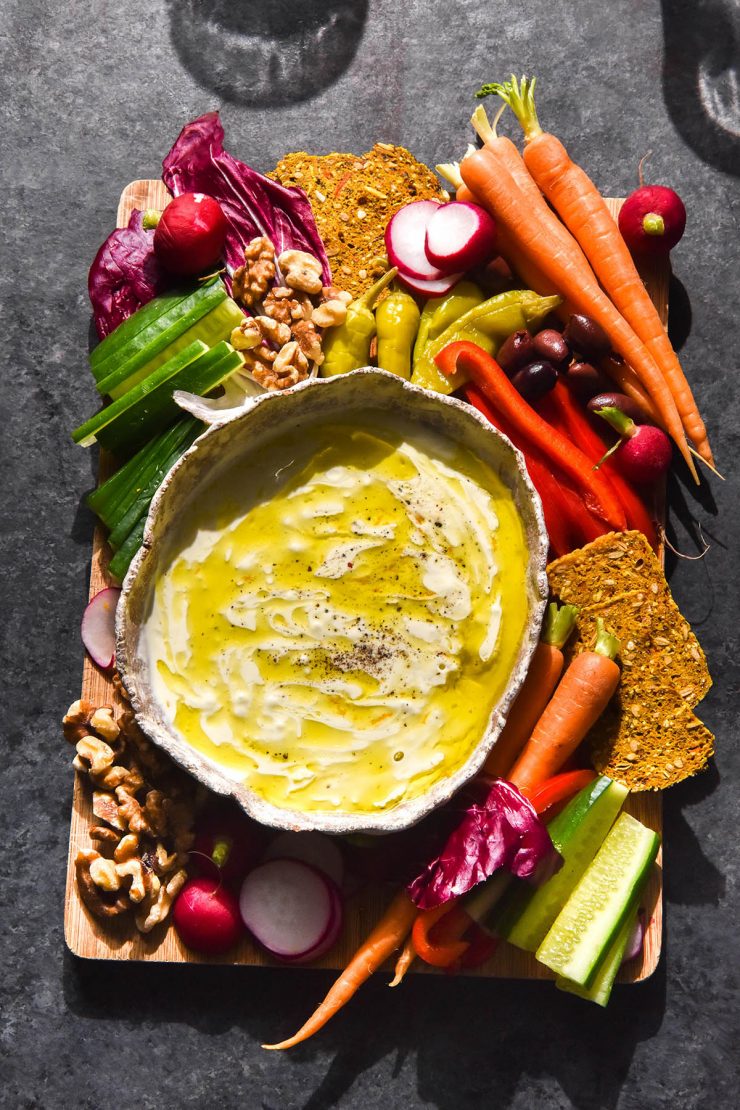 Since getting into homemade garlic infused oil, I've been trying to put it in everything. I made this easy low FODMAP pasta, this low FODMAP aglio e olio, and even made garlic infused ghee. Today I'm putting in an easy feta and yoghurt dip base to create this low FODMAP garlic dip.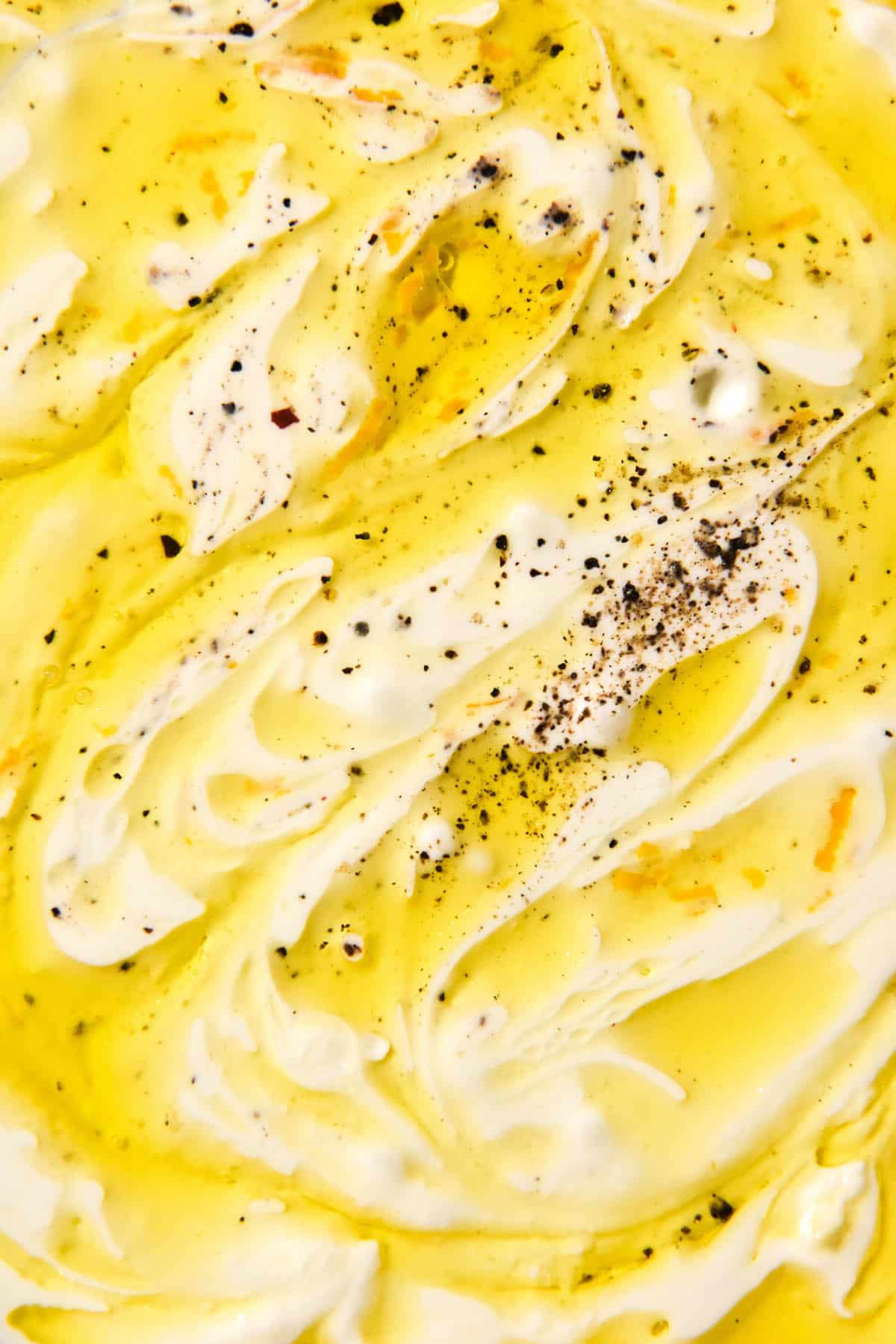 Low FODMAP garlic dip
This easy and delicious dip is made with a combination of very simple ingredients. First, fresh garlic is infused into a good quality olive oil. Once cooled, it is blended with a nice thick Greek yoghurt and smooth Danish feta. Seasoning, a hint of lemon zest and some (optional) pickled garlic finish off this garlicky, heavenly low FODMAP dip.
Is garlic infused oil low FODMAP?
Yes, it is. The fructan content of garlic is water soluble but not fat soluble. This means that if you were to use garlic cloves in a soup, the fructans would leech out. However, if you were to use them in 100% fat (for example, oil) the fructans cannot escape. The result is all of the flavour and none of the FODMAPs.
Making your own garlic infused oil results in a much stronger garlic flavour. Store bought garlic infused oil uses stabilisers to ensure the food safety of the product. This means that the flavour isn't as strong as homemade.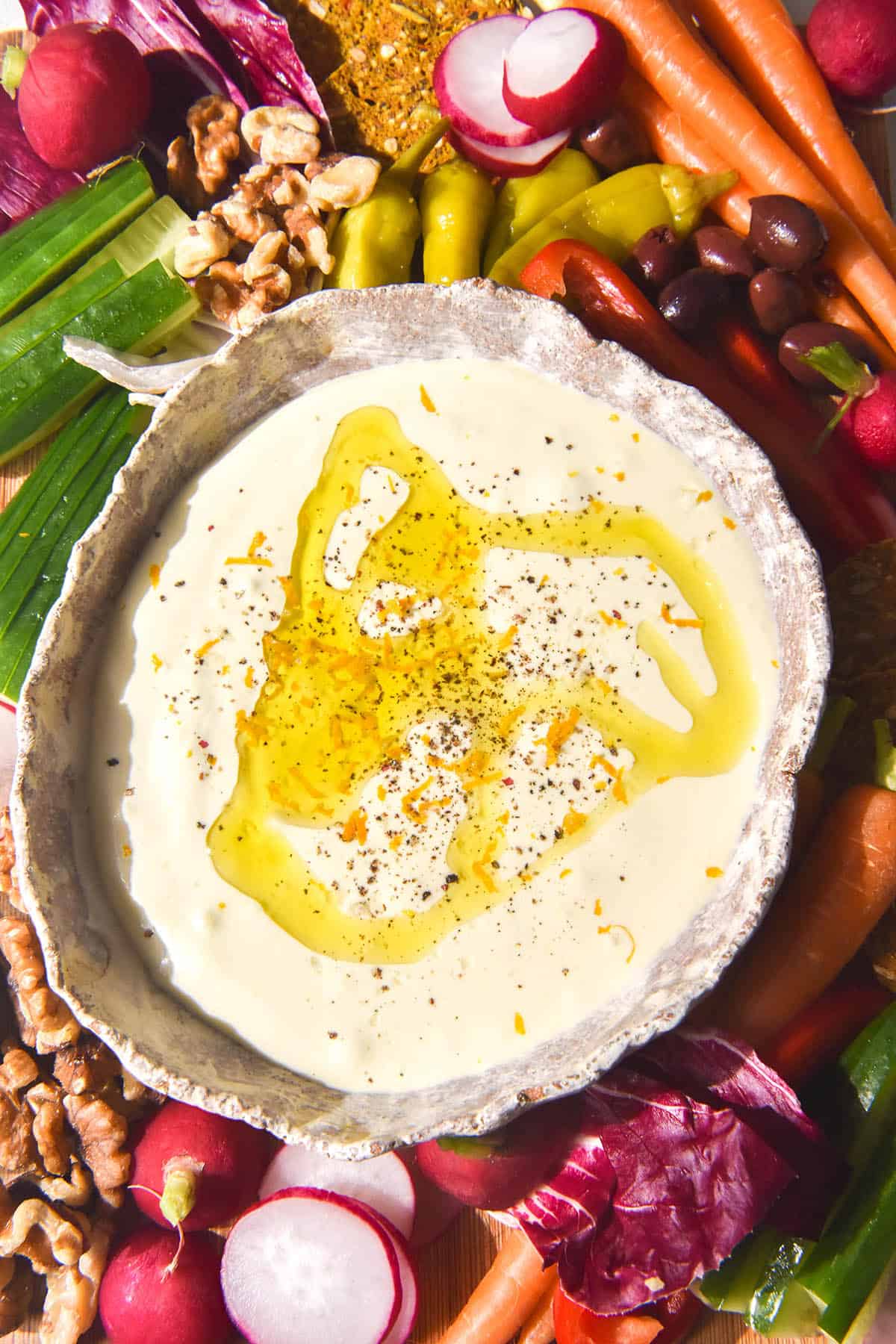 Is pickled garlic low FODMAP?
Yes, it is! Monash recently added pickled garlic (in vinegar) to their app, which is very exciting. 3g or 1 clove is considered a low FODMAP serve per person. However, pickled garlic becomes moderate for fructose at 30g per serve. This suggests there is significant wiggle room as to what constitutes a low FODMAP serve.
Where do I find pickled garlic?
Pickled garlic can be found at Mediterranean stores or in the Mediterranean section of some supermarkets. I have purchased some from Oasis in Melbourne, IGA and also in Coles in the Mediterranean section.
I don't have a recipe for pickled garlic yet as there are food safety considerations for pickled garlic. However, I do intend to fully research it and develop a recipe of my own, so stay tuned.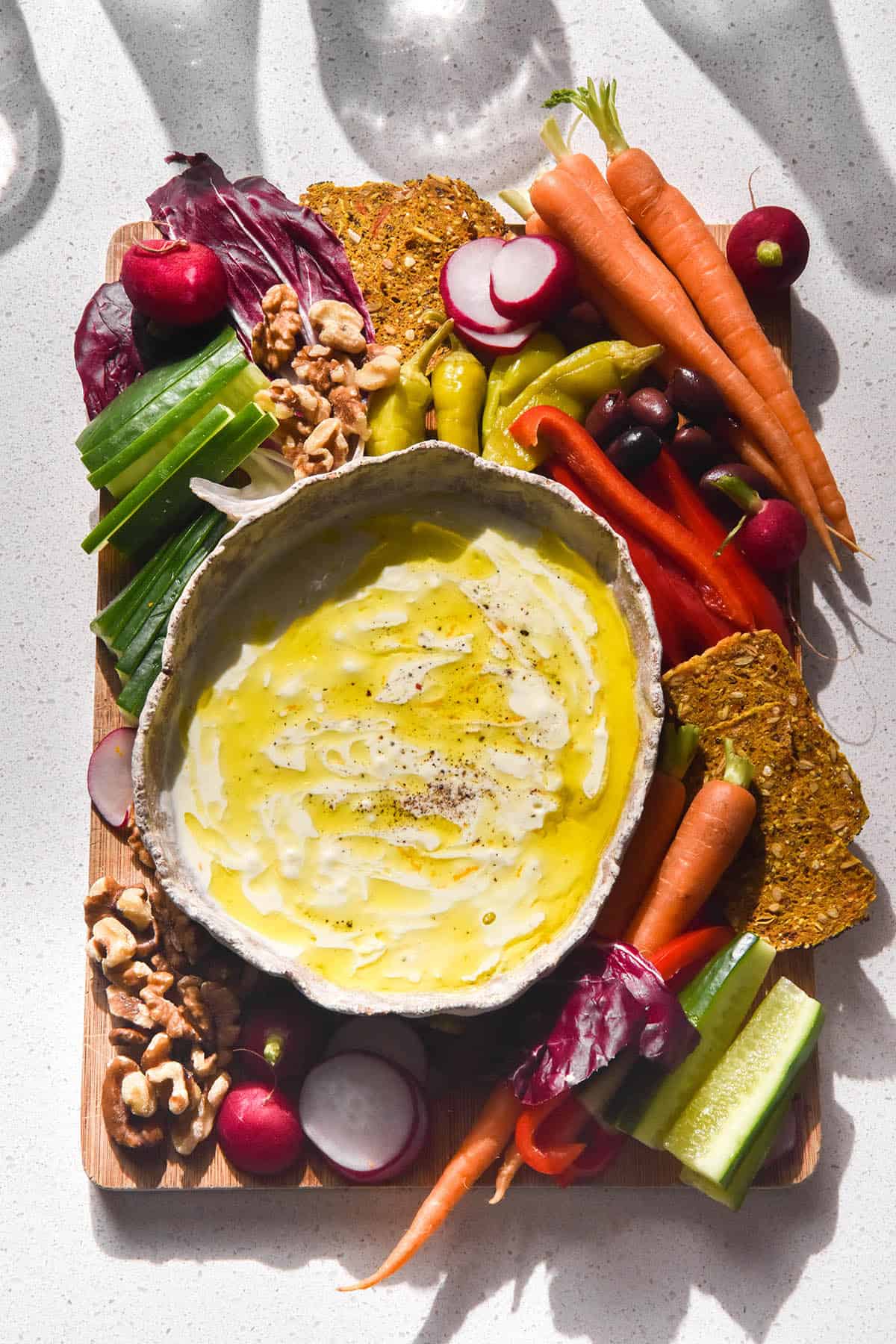 FODMAP notes
Use lactose free full cream Greek yoghurt to keep the lactose content low. I love and use Jalna lactose free Greek yoghurt, which is pot set. This means that it is nice and thick so it's a great base for dip. Other lactose free yoghurts are a lot thinner and will translate to a runny dip.
Feta is low FODMAP in 40g serving sizes, but remains low FODMAP in servings of up to 500g per person.
Recipe tips
Choose a good quality Danish feta for a smooth and creamy dip. I found the cheaper brands resulted in a slightly textured dip. With that said, this is fine if it's what you prefer.
I recommend making this dip the night before you need it. This gives the flavours a chance to meld, but it also helps thicken it up. It saves having to panic that your dip is runny right before guests arrive.
You can add flavourings and extra ingredients to this dip as you see fit. It makes a great dip alone, but could also be the base for a number of different flavours.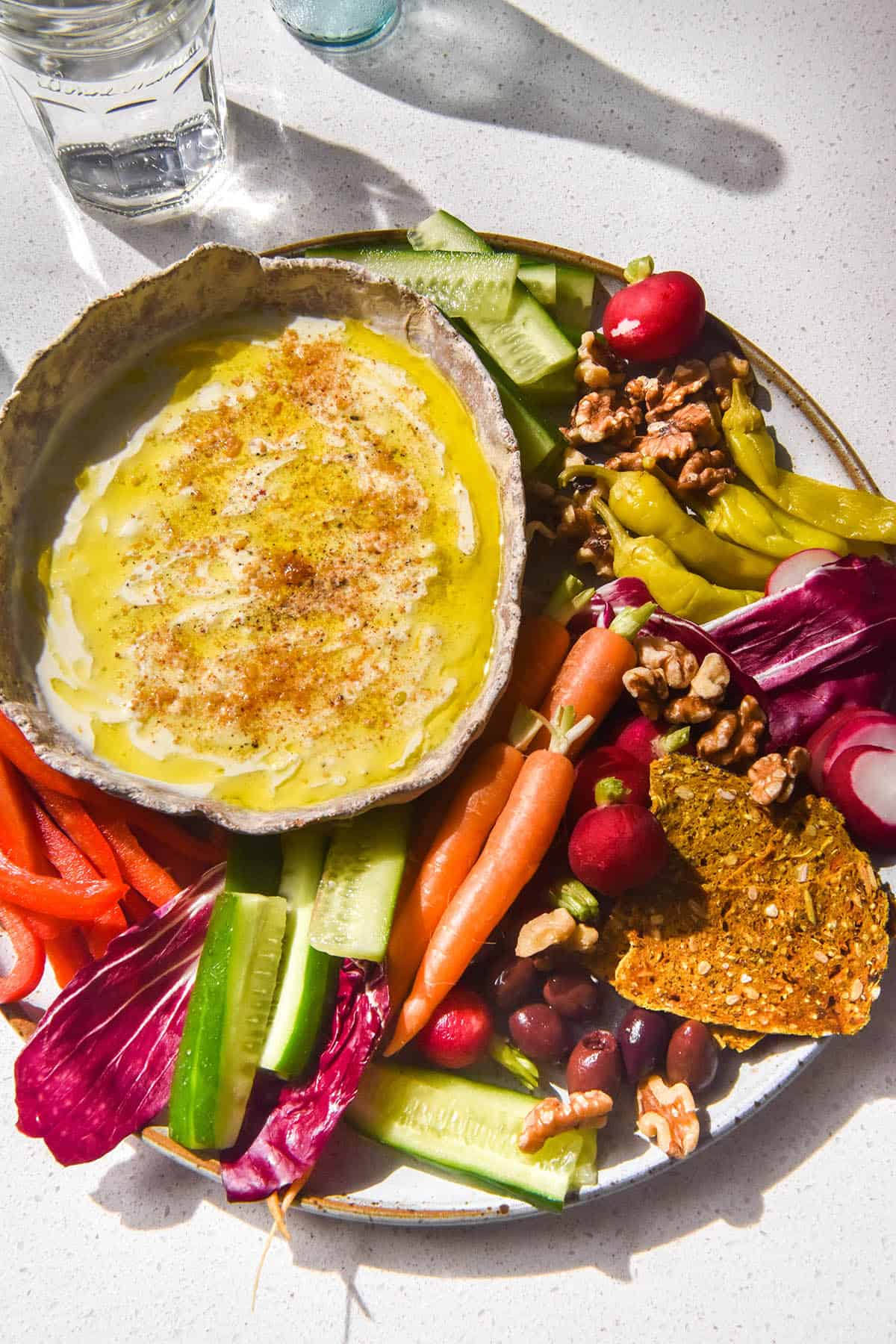 More low FODMAP entertaining recipes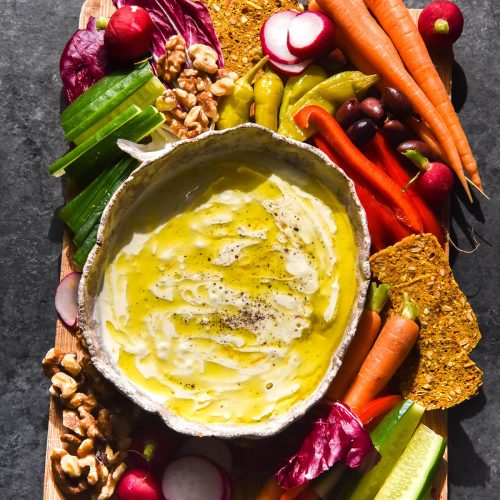 Low FODMAP garlic dip
*Cups and measures are in Australian cups and measures. Use gram weights for international accuracy.
Ingredients
80

ml

(1/3 cup)* Monini Delicato olive oil

6-10

fresh garlic cloves

paper skins removed and roughly sliced

200

g

thick Greek yoghurt

200

g

good quality Danish feta

1-2

pickled garlic cloves

optional

Lemon zest

optional

Seasoning

to taste
Instructions
Heat the olive oil in a small pot over a medium heat. Once warmed, add the chopped fresh garlic. Cook, stirring intermittently, until the oil is deeply fragrant and the garlic is golden. Strain the garlic oil and set the garlic aside for use in non-FODMAP dishes. Allow the oil to cool completely.

Once the oil has cooled, add 60-80ml of it to a food processor along with the remaining ingredients. I like to reserve 20ml to garnish the dip, but both options work.

Process the ingredients until a smooth, thick dip forms. If it's not as thick as you'd like, pop it in the fridge for an hour.

Serve topped with remaining garlic oil (or extra olive oil) and seasoning.

Leftovers keep well in the fridge for a couple of days.
Notes
Make sure you use a thick, pot set Greek yoghurt so that your dip isn't runny.
If you're not low FODMAP, you can use 2 or 3 cloves of garlic in the garlic oil, then add them to the food processor to be blended into the dip. You could also use the cooked pieces of garlic to garnish the dip.
Choose a soft variety of Danish feta to ensure a smooth dip.
A tiny drop of maple syrup and/or some Dijon mustard would make welcome additions to your dip.