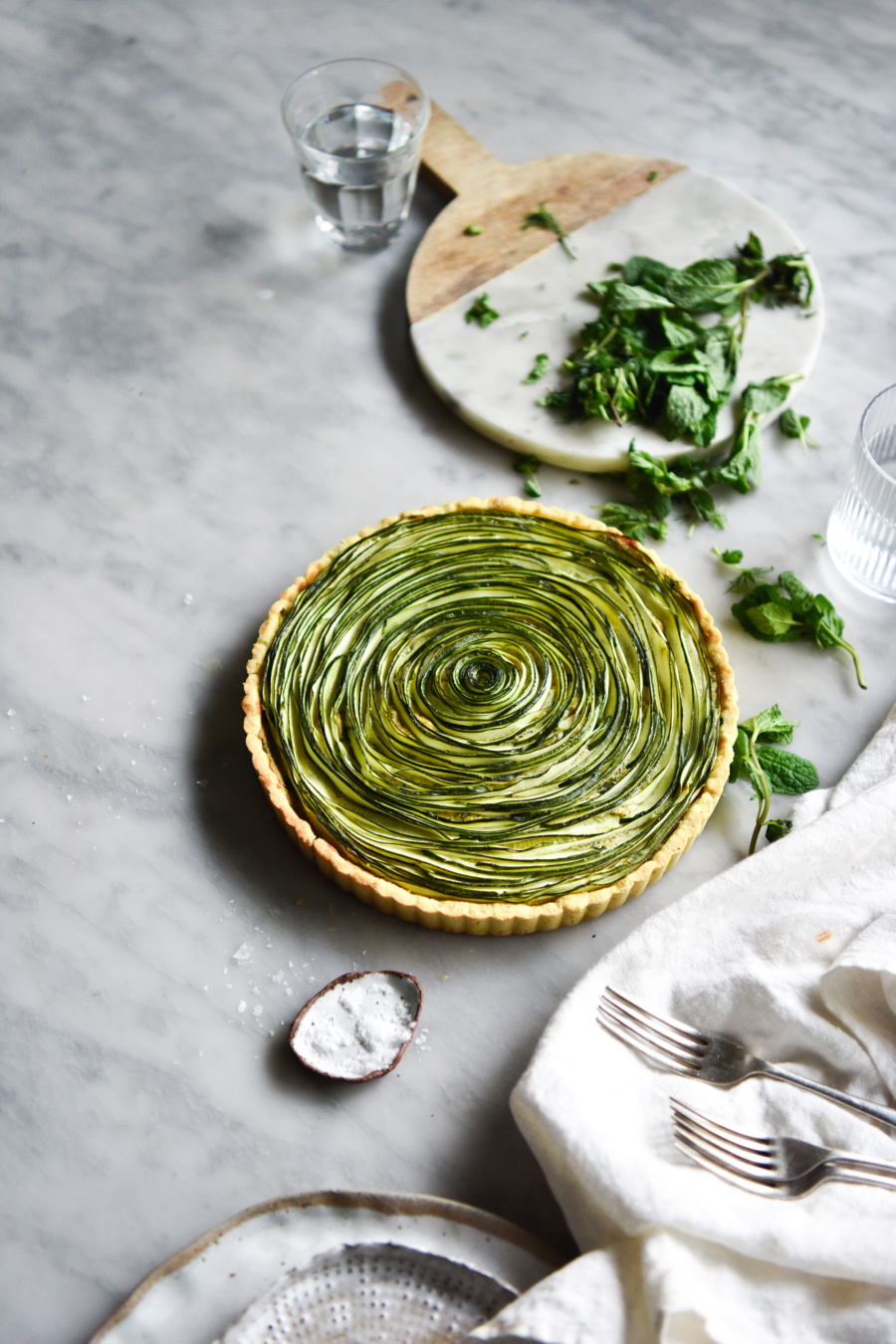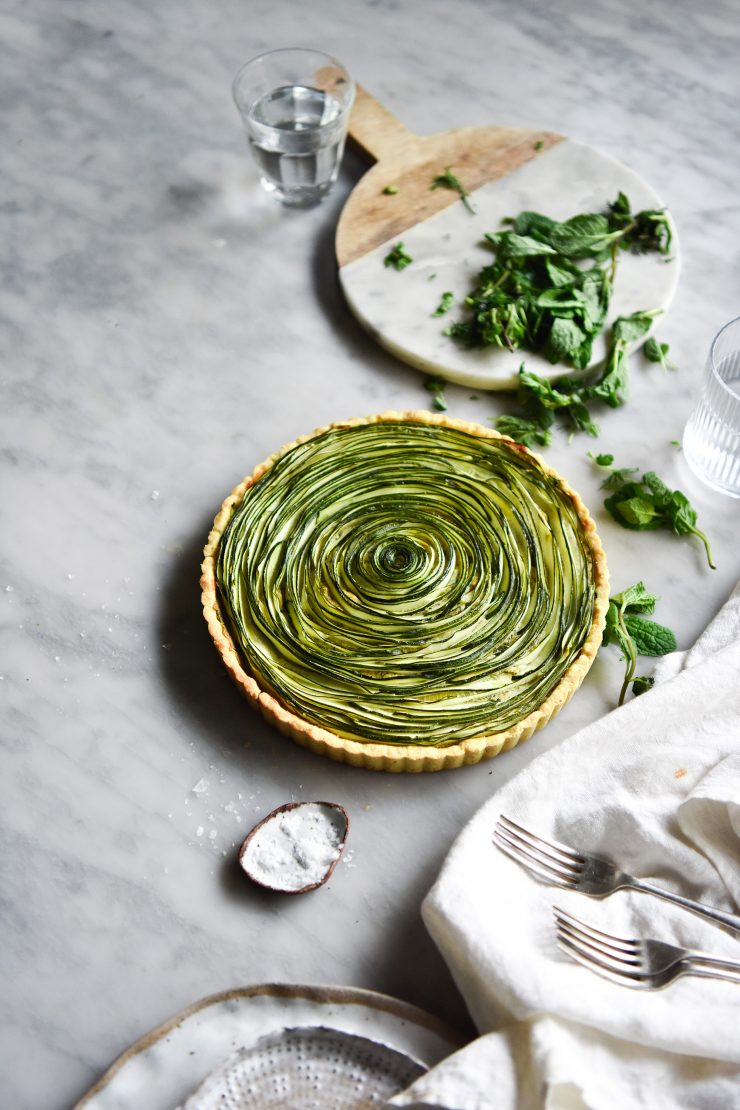 Yes, the humble but not remotely humble zucchini and herb tart is back. The original version, which nearly cost me a finger (thanks to some mandoline naivety) but gained me a whole bunch of Pinterest interest, was made with ricotta, butter and eggs. This vegan gluten free zucchini swirl tart? Tofu.
Vegan gluten free zucchini swirl tart
Before you rapidly click away, please! Let me explain! Let me start with the most important of my desperate excuses – tofu is essentially flavourless, vegan, FODMAP friendly, dairy free, and the perfect texture, give or take a few additions, to emulate ricotta. The consistency of it is arguably even easier to predict than a store bought ricotta (why is ricotta in a tub so runny?)
The tofu is then flavoured with herbs, nutritional yeast and capers for a stunningly similar result to my original version. It's an easy and delicious way to allow everyone to enjoy this tart.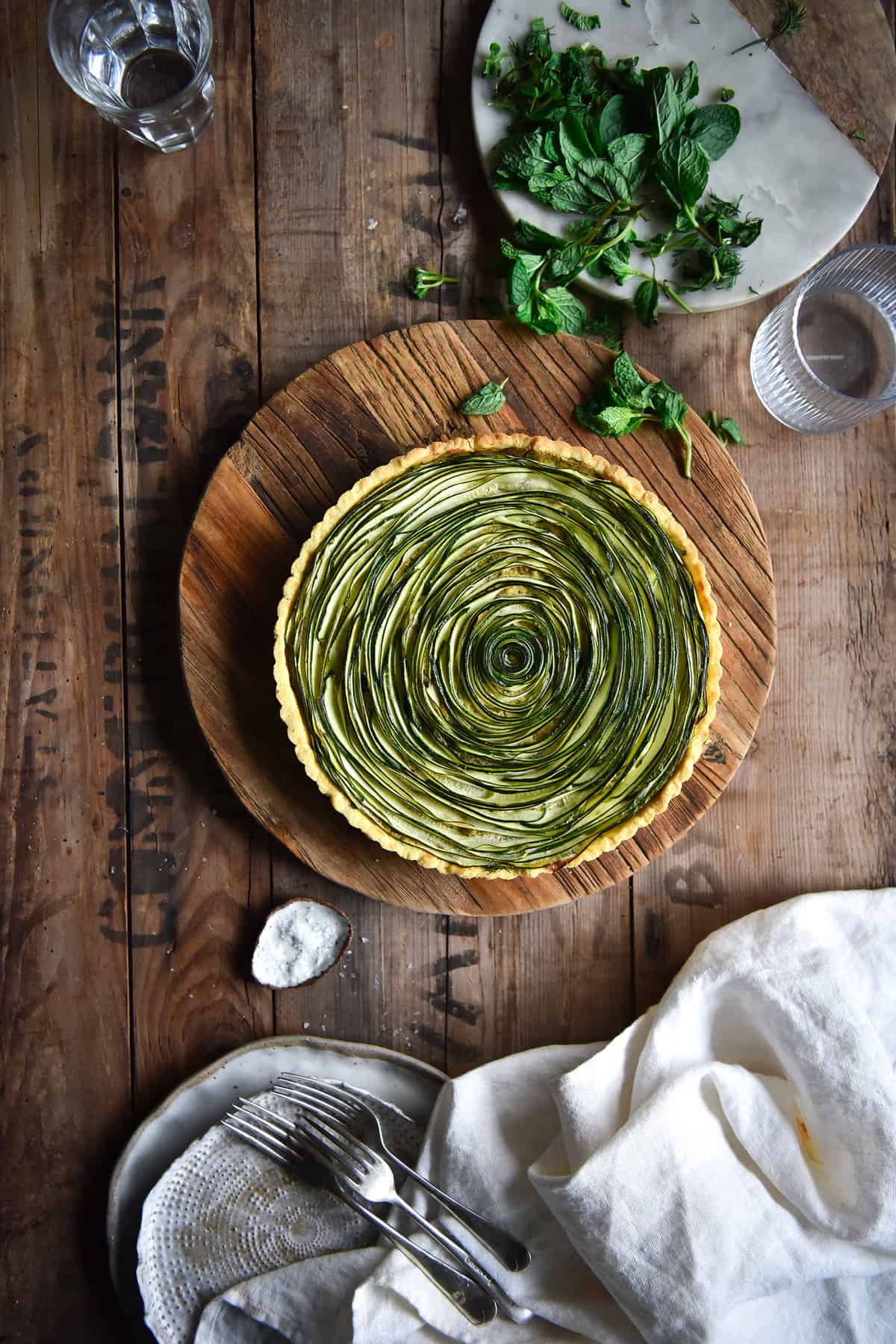 Gluten free pastry options
I developed this tart recipe way back in the day when I relied on almond meal for a lot of things. These days I like to use gluten free flours for a lower FODMAP, nut free pastry.
If you'd prefer to use a different pastry, see below for my gluten free pastry recipes. Keep in mind that you might have some leftover as most of my pastry recipes are for a tart base and lid. With that said, pastry is easily frozen and defrosted.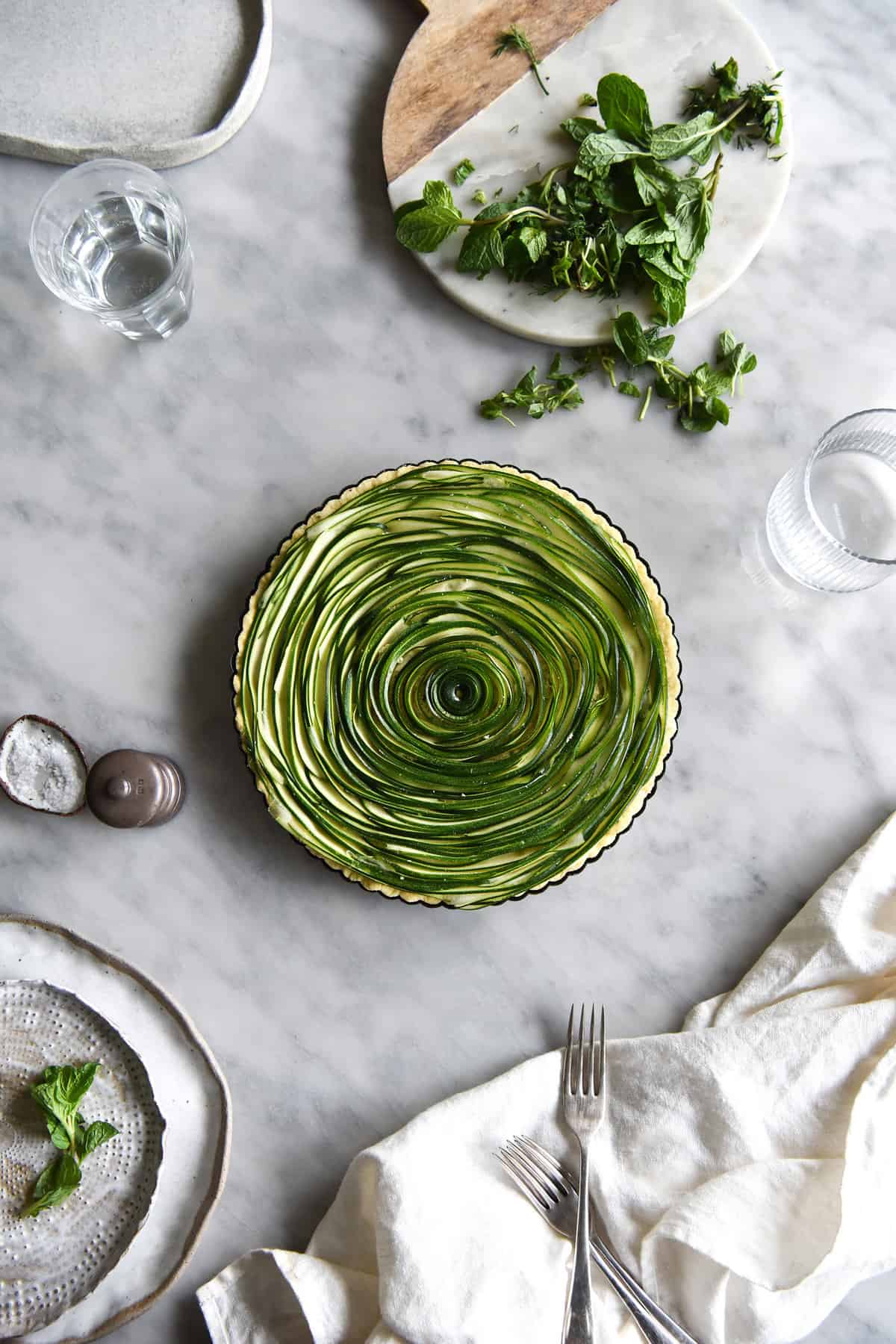 More gluten free tart and pie recipes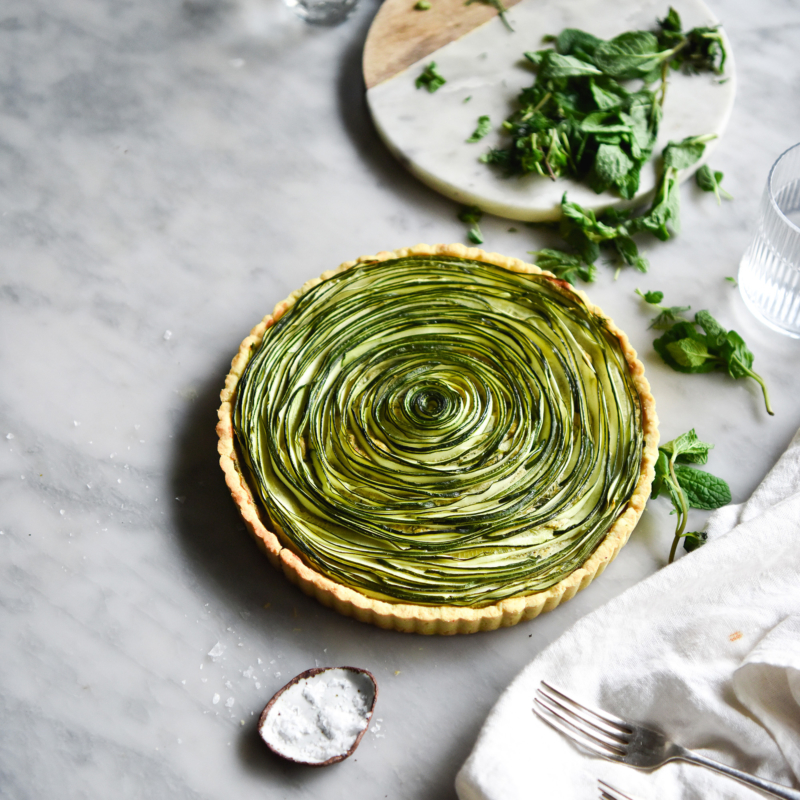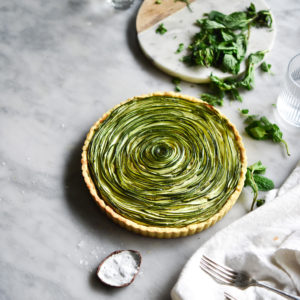 Vegan gluten free zucchini 'ricotta' tart
Ingredients
For the pastry:
200g (2

cups)

almond meal

200g

120g (1

cup)

tapioca flour

2

tablespoons

nutritional yeast

1/2 – 1

teaspoon

salt, to your tastes

4

tablespoons

vegan butter

I used Nuttelex Buttery

40

ml

(2 tablespoons) olive oil

Ice water

if you need it
For the filling:
300

g

firm tofu

4

tablespoons

nutritional yeast

80

ml

(4 tablespoons) plant milk of choice (I used soy milk)

60

ml

(3 tablespoons) olive oil

Ground nutmeg

to taste

Chilli flakes

to taste

1

teaspoon

sea salt

adjust to taste

A bunch of mint and a bunch of dill

20

g

capers

3-5

large zucchinis/courgettes

amount depending on how big they are (buy more than you think you'll need, I learnt that lesson for you) mandolined lengthways or extremely finely cut – a mandoline makes a world of difference here because the thinner the strips are, the bendier and easier to shape they are
Instructions
Preheat the oven to 180 degrees Celsius.

Combine all the ingredients for the crust in your food processor (EXCEPT for the ice water) and process until combined. The dough should be in little balls but easily able to be gathered up into your hand. If not, add a teaspoon at a time of ice water until it achieves that consistency.

Wrap it up and place it into the fridge to firm up.

Spray a 24cm in diameter springform fluted tart tin with olive oil, and gently press the tart dough into the tin. Repair any little tears with your hands, and don't worry if the dough doesn't come all the way up the edges of the tin – just press the edge tops flat so they look ~presentable~.

Prick lots of little holes in the base of the tart with a fork, to let the air escape.

Pop into the oven for 10 minutes.

While the base is cooking, throw everything for the 'ricotta' (except for the herbs and capers) into the food processor (no need to clean it after the crust really) and process it until it forms a thick, ricotta looking paste. Add the herbs and capers, and process a little more. Adjust for taste.

Gently spoon the tofu mixture into the tart base – I find it easiest to pat it down using my hands.

Chop your zucchini slices in half lengthways so they are short enough to be pressed into the tart. Originally I would begin from the centre and work out (see pictures here) but the last few times I've started laying the slices around the edges and working in. Begin pressing the zucchini slices, green side up, into the 'ricotta' and as tightly packed as you can. If you're having trouble getting the slices to sit well in the tart, either trim some of the white flesh off so they're shorter, or scoop out a little tofu and set aside for snacks. I promise it's delish.

Continue layering the zucchini in the tart until you have covered the entire tart.Give the top of the tart a generous spray with olive oil, and pop it back into the oven for 40 minutes, or until the zucchini is cooked.