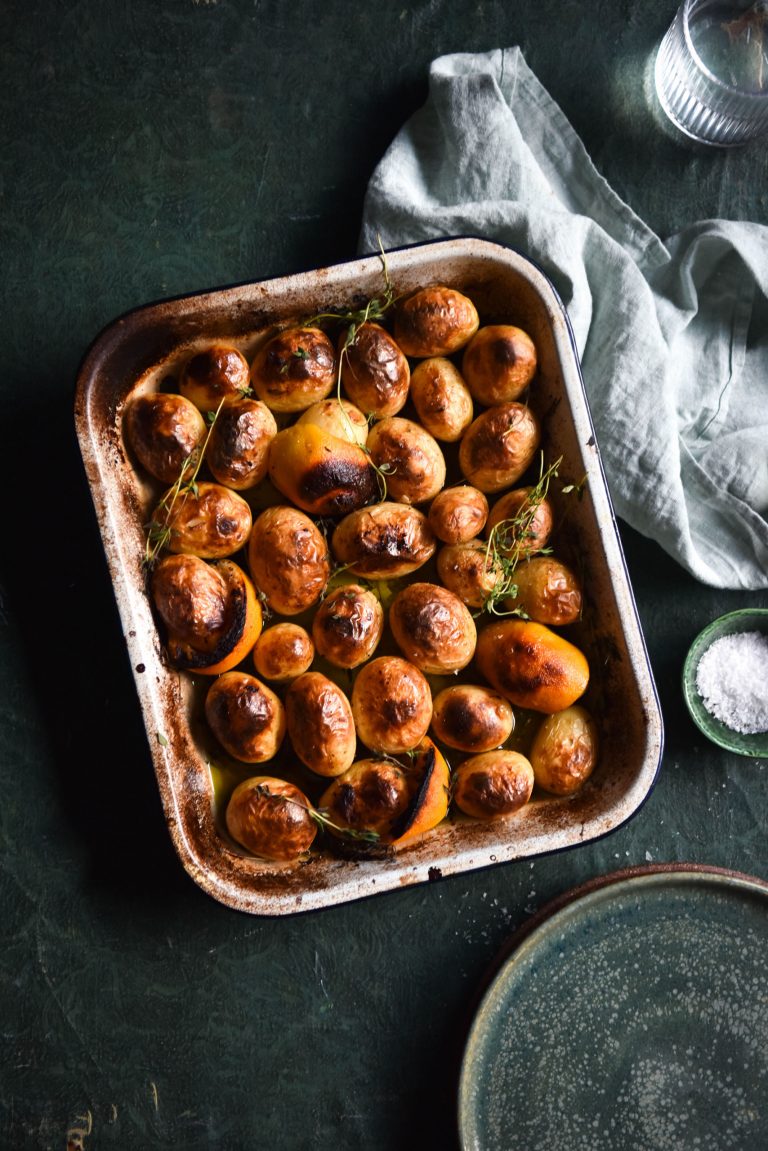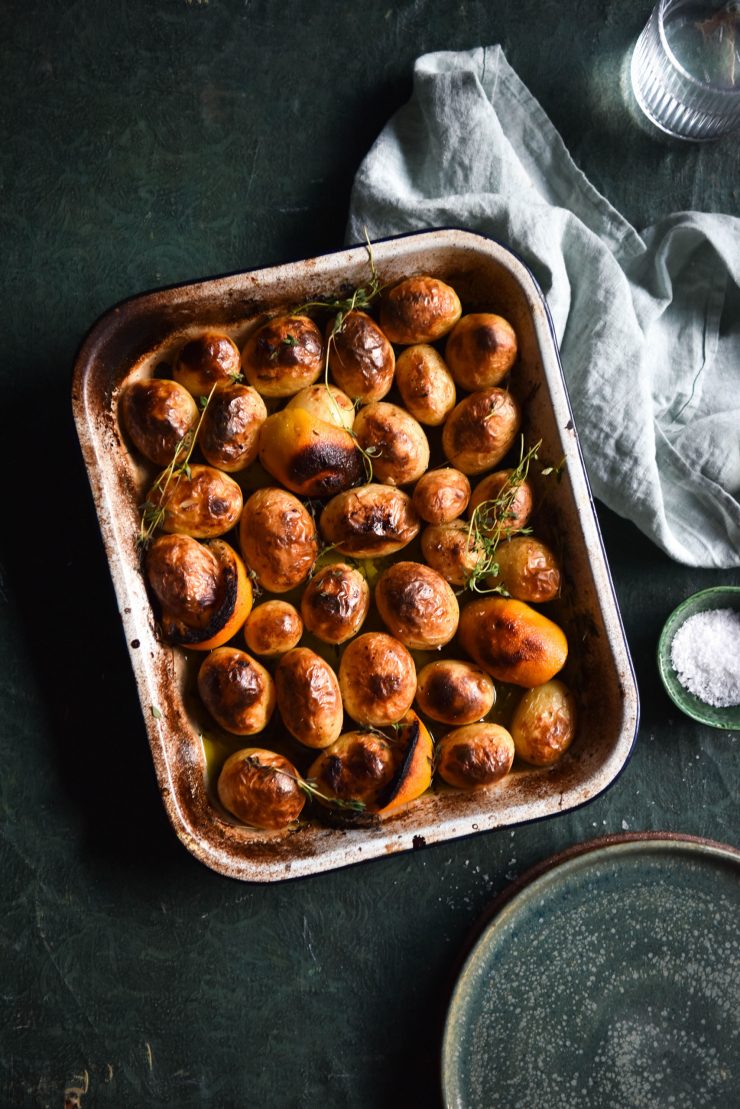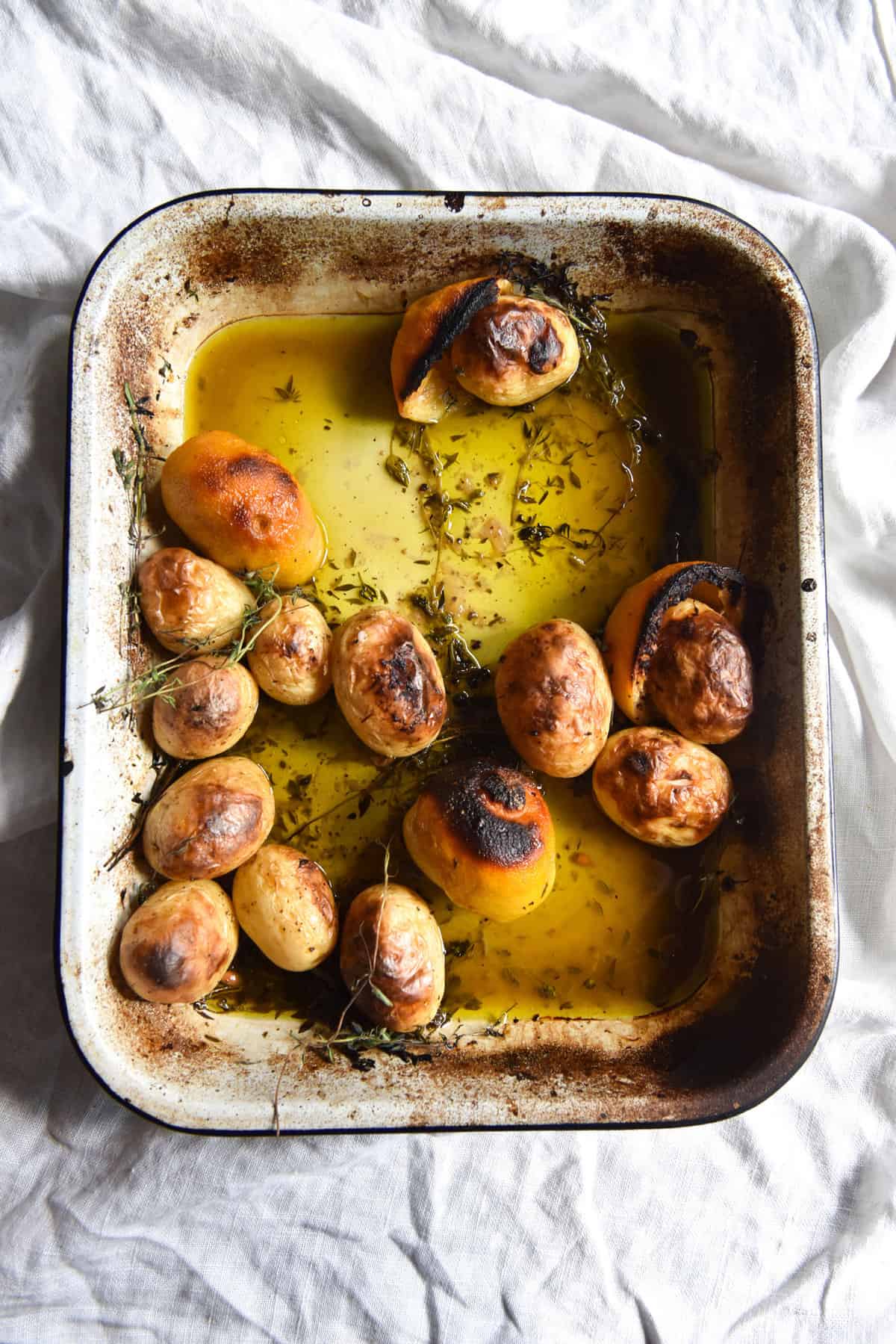 I have spoken extensively about my love of potatoes. Chips, mash, roasts – is there anything they can't do brilliantly? Up until recently, my favourite variety of potato has been these roasted salt and vinegar potatoes. However (don't tell salt and vinny) there is now a new favourite style of potatoes in town. These Greek lemon potatoes without garlic.
So what are Greek potatoes, you ask? Essentially, they're potatoes that are cooked with water, oil, oregano, seasoning, lemon and rosemary. By cooking the potatoes directly in this liquid (no par boiling required) you are left with a delicious, flavour packed spud. The best part? Once the liquid soaks into the potato, the edges become the crispy, golden icing on the cake.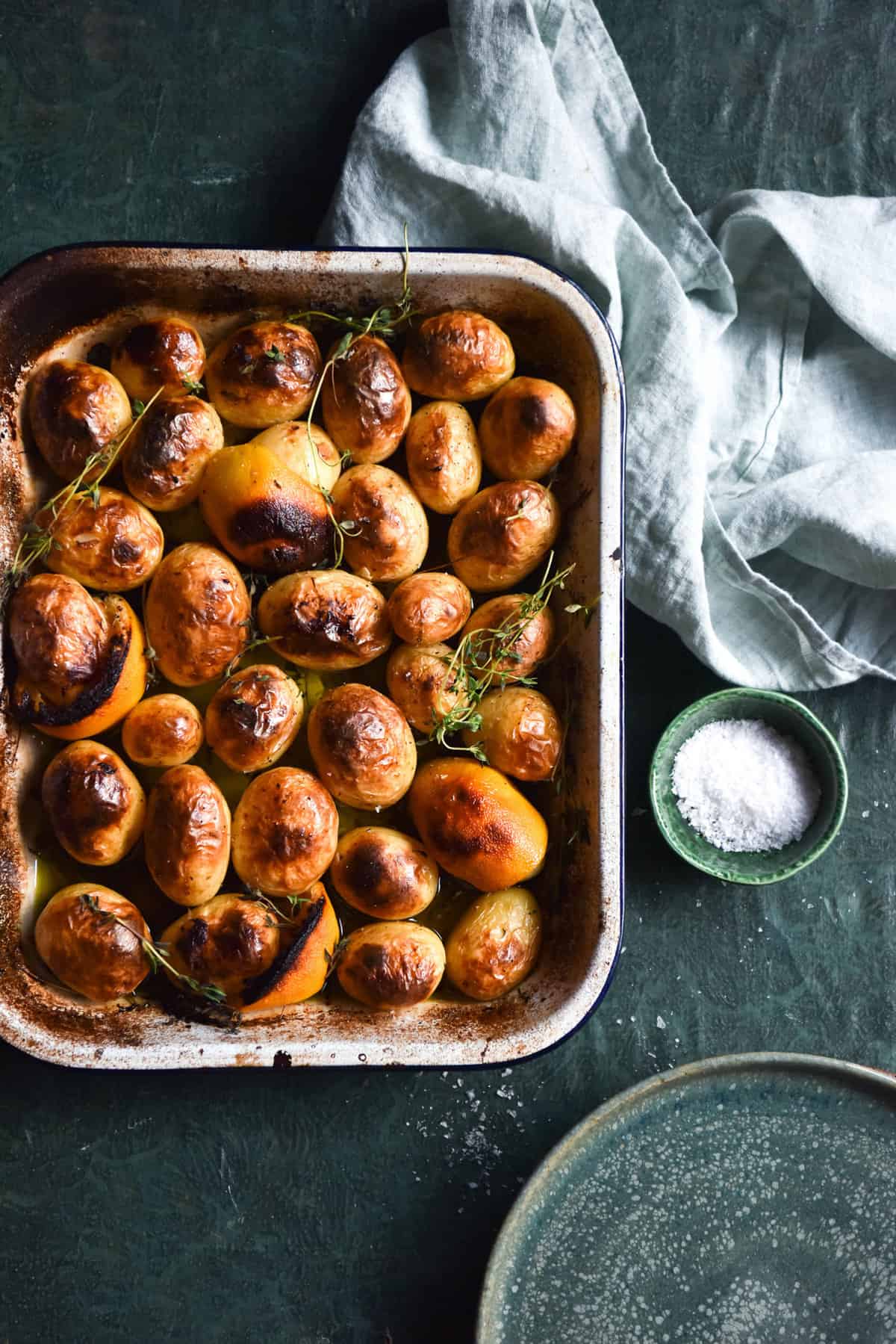 Greek lemon potatoes without garlic
These Greek roasted potatoes are low FODMAP, gluten and grain free, and can be dairy free/vegan. You can serve them as is, or mix in some leafy greens for a hearty side. They are easily reheated, and leftovers can be tossed through just about anything. I've even made a nice frittata.
These Greek lemon potatoes omit the traditional garlic, as it is high FODMAP. However, I strongly encourage the use of garlic infused oil to finish your potatoes. It will add some of that delicious garlic flavour back into this low fuss dish.
The beautiful lemony sauce is worth saving, if you happen to have some left over. It would make a great addition to salads or pasta (or anything, really!)
FODMAP notes for your Greek lemon potatoes
This one is essentially a home run! Potatoes, the main ingredient, have no FODMAPs detected. Oil, water and herbs? No drama!
Feta, according to Monash, has only trace amounts of FODMAPs detected. Cheeses, particularly hard ones, are often very low in lactose, contrary to popular belief.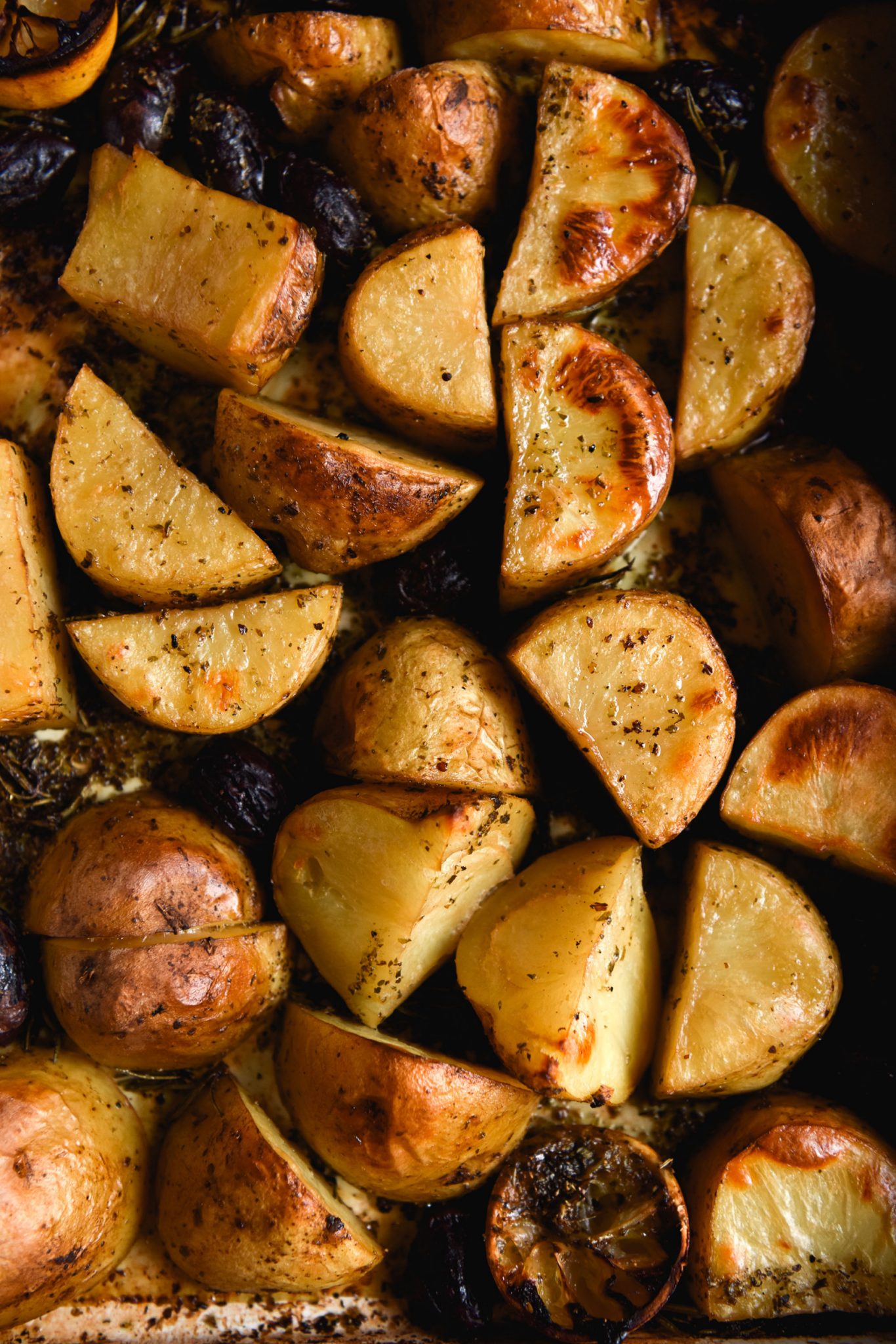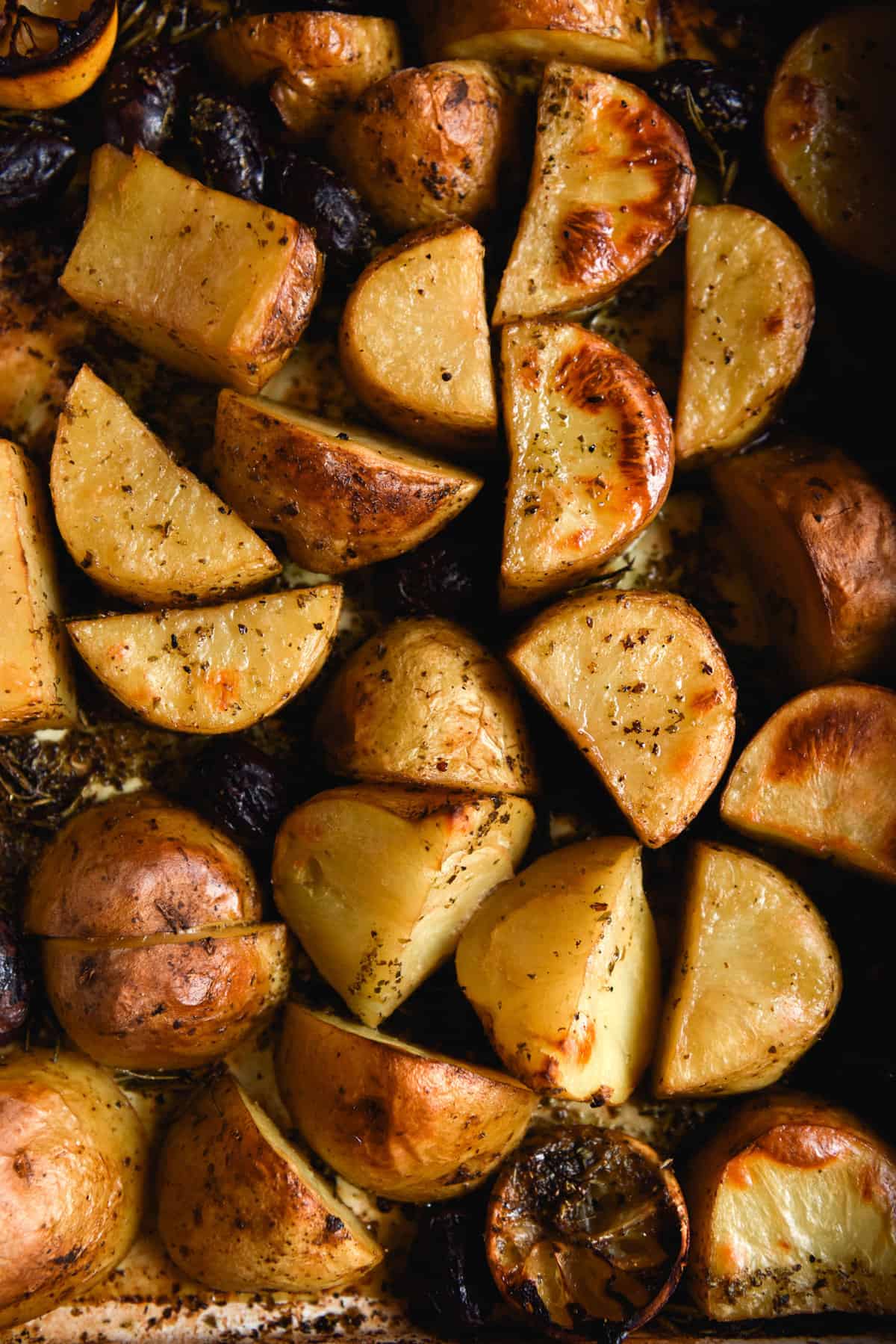 Recipe notes for your Greek lemon potatoes
'All rounders' and potatoes on the starchier side are the best varieties of potatoes for this recipe. They're halfway-ish on the spectrum between waxy and starchy potatoes. Waxy are good for things like potato scallop bake, because they hold their shape so well. Starchy are good for frying. All rounders, in this instance, hold their shape well enough as they are pushed around the baking tray, but also end up with fluffy interiors.
Potatoes I'd recommend for this recipe include Dutch Cream, Maris Piper (not too common in Australia) King Edward and Sebago. Those are my favourites to use generally, and I've tested a bunch of them for this recipe too. However, I have also used Kipflers to success.
You can play around with the herbs in this recipe. Oregano and rosemary were my favourites, but thyme, lemon thyme and tarragon might also be interesting (although perhaps inauthentic). It might also be nice to dress the potatoes with some freshly chopped dill.
I added some olives to one of the batches of these potatoes. They were a welcome addition, but make sure you don't oversalt.
Feta is optional, and can be left out or substituted to keep the recipe vegan.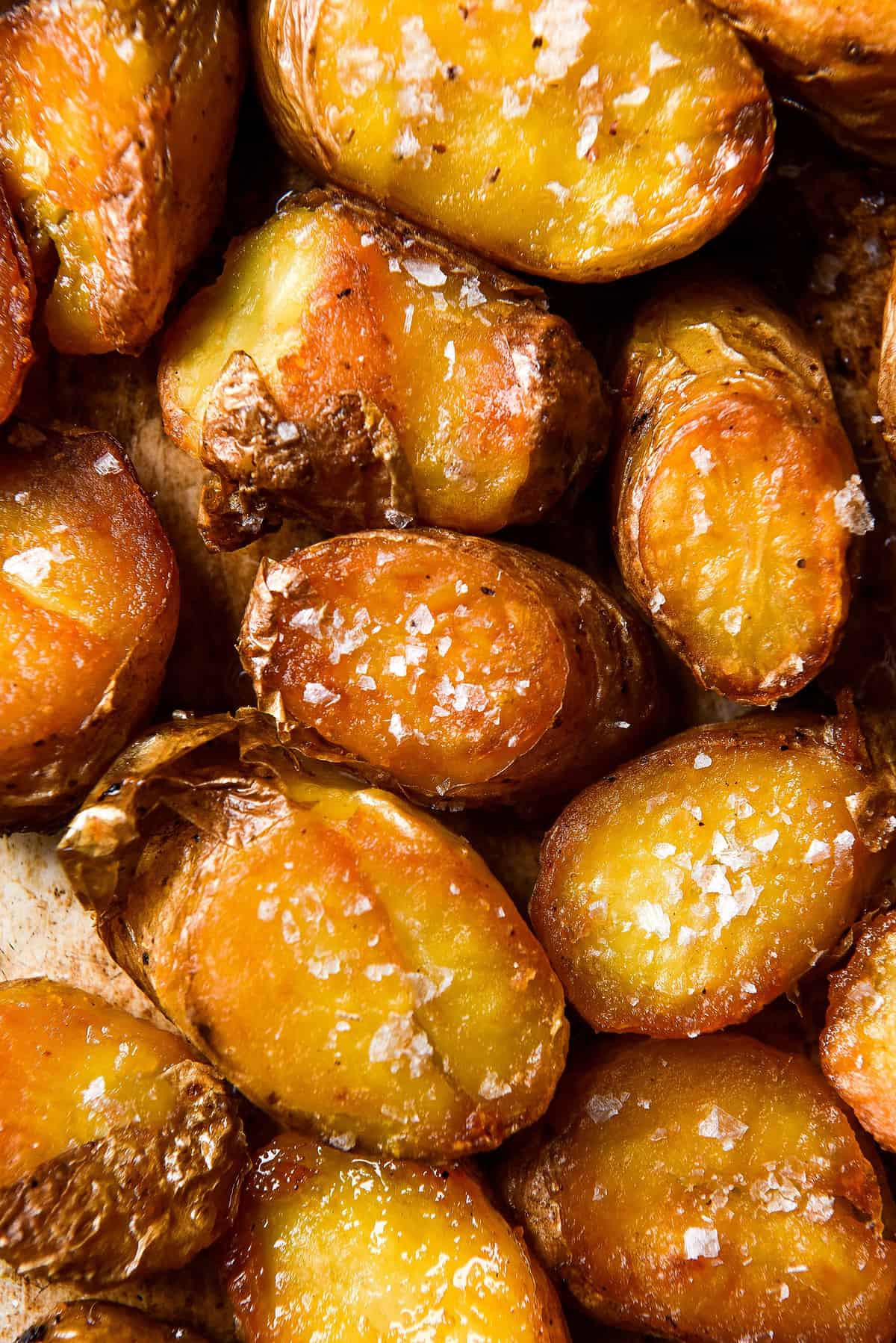 More low FODMAP potato recipes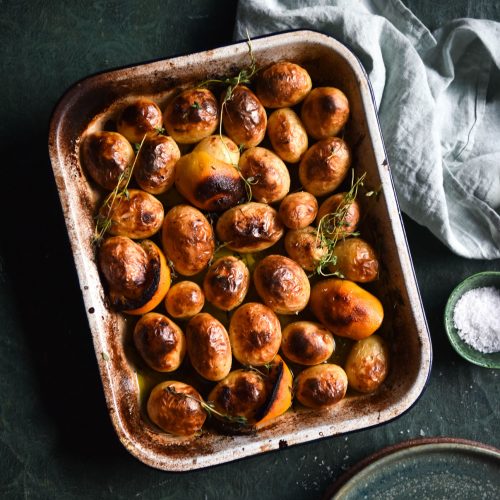 Greek lemon potatoes without garlic
FODMAP friendly, gluten free, vegetarian or vegan, nut free
Serves 4-6 people as a side
Equipment
1 large baking dish

(I have used a 28cm Le Creuset stoneware dish for 1kg potatoes and a L31cm x W23cm x H5cm baking dish for 1.5kg potatoes)
Ingredients
For the potatoes:
250ml

(1 cup)

water

see notes

80ml-125ml

(1/3 – 1/2 cup)

olive oil (see notes)

2

medium lemons, juice and rind

2-3

large rosemary sprigs or fresh oregano

Generous freshly cracked pepper

1 – 1.5

kg

potatoes, washed

see recipe notes
To finish:
Greek feta, crumble

Seasoning, to taste

Garlic infused olive oil, to finish (optional)

Extra oregano leaves, for garnish (optional)
Instructions
Preheat the oven to 180C or 350F.

Add the water, oil, herbs, lemon juice, lemon halves and seasoning to your baking dish. Mix them a little to combine.

Arrange the potatoes in the tray, and place into the oven for 40 minutes.

Once the 40 minutes is up, remove the potatoes from the oven to flip them over. A good portion of the liquid should have been absorbed by now, and your house should smell divine.

Return potatoes to the oven for an additional 40 minutes. After this time, turn the grill on and continue cooking, checking often, until the tops are golden brown. Remove from the oven, season and serve hot, scattered with feta (if you're using it) plus seasoning and extra herbs.
Notes
If the potatoes are large, chop them into smaller pieces. If they're already small, leave them whole. 
Use more olive oil for 1.5kg potatoes and less for 1kg potatoes.
I recommend finishing the potatoes with homemade garlic infused oil