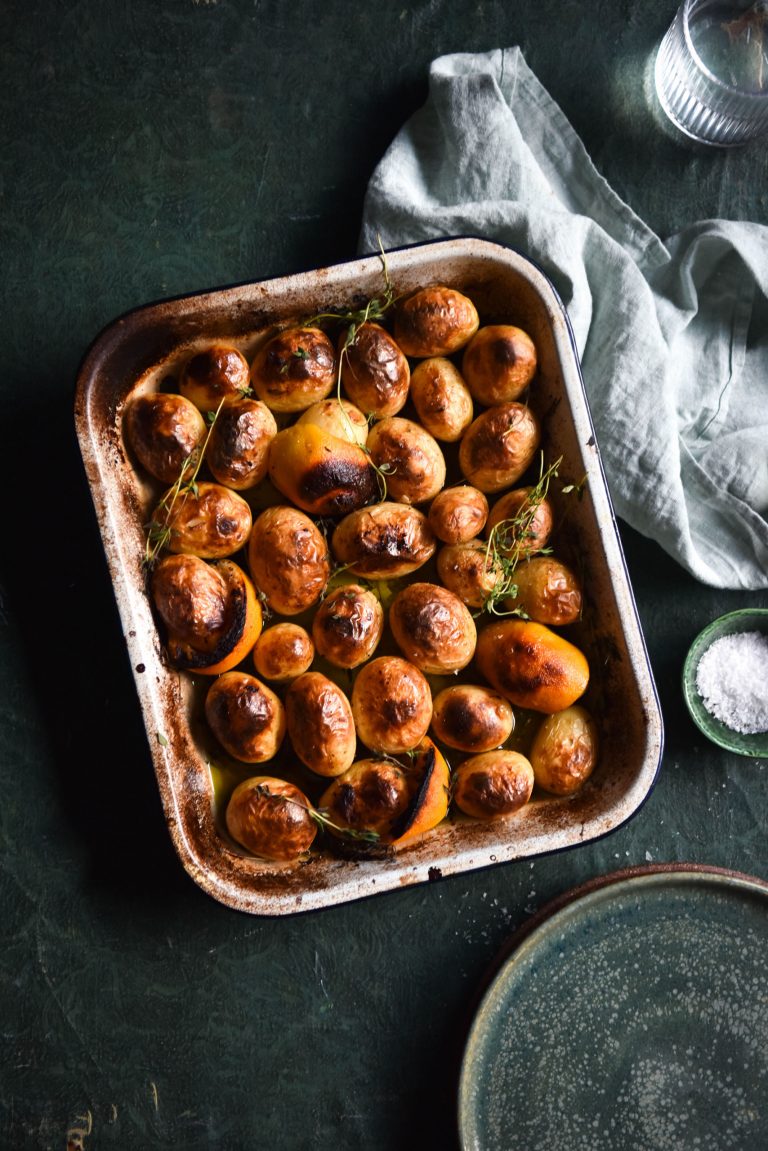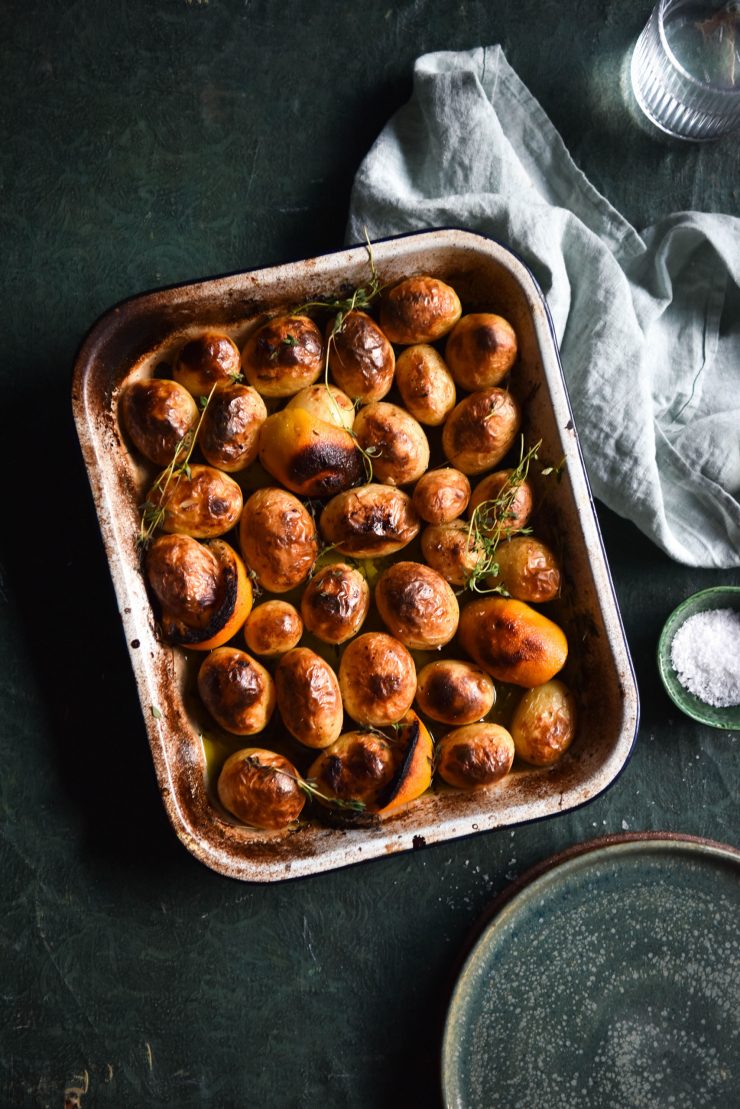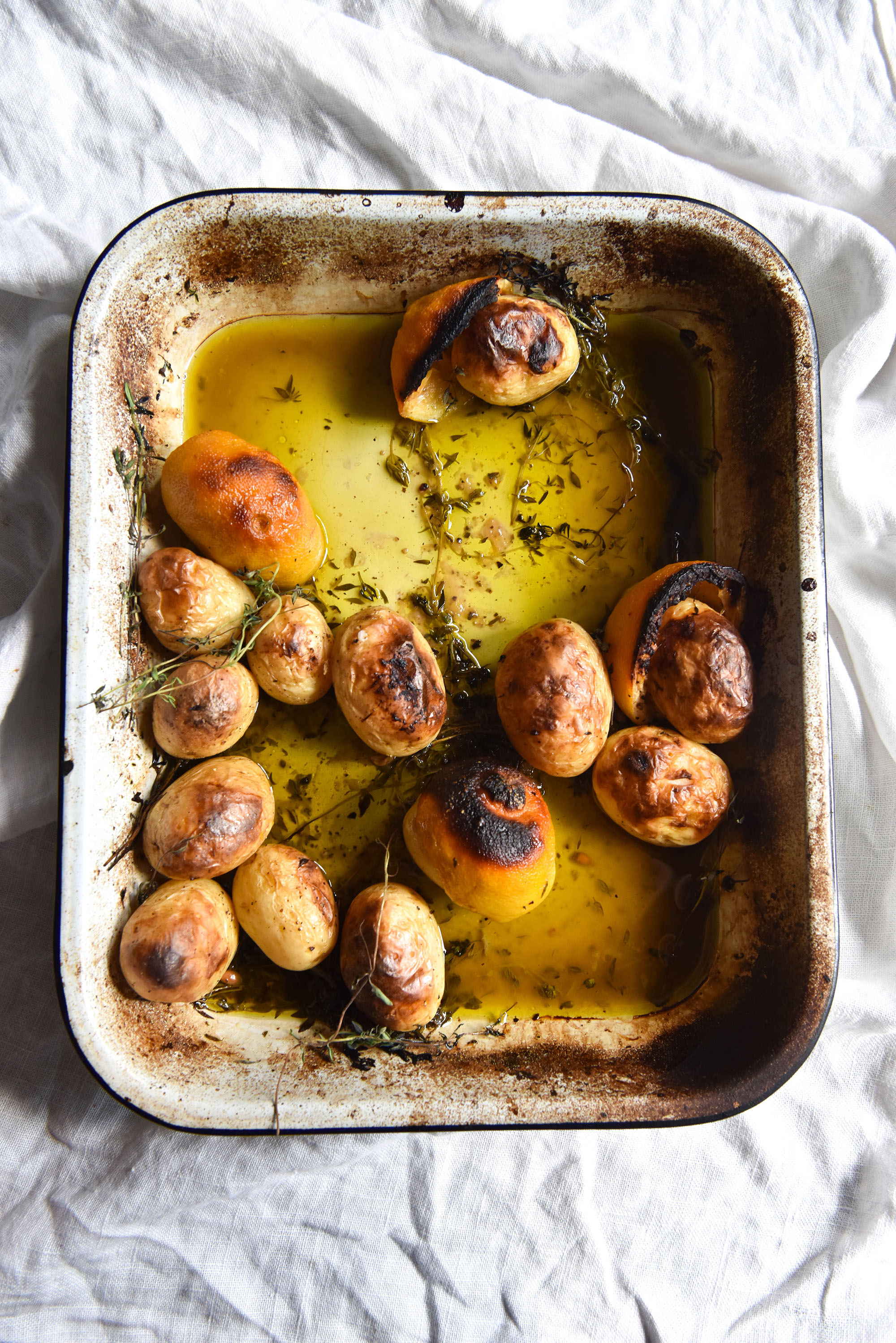 Best ever gets thrown around a lot. I know. I myself have thrown it around a few times (I stand by the claim for these brownies and I always will.) Please know that when I say best ever, I mean it. And I really mean it today with these best ever lemon roasted potatoes.
The thing about this technique of roasting vegetables is that you can use it on any vegetable. You can jazz up the basic ingredients to suit your needs, or you can keep it plain and simple. And while these aren't the crispiest vegetables you'll ever have (see the salt and vin potatoes for that) they are SO DAMN GOOD. Weeknight cooking just got exciting.
The basic premise of the recipe is this. By roasting the potatoes (or miscellaneous veg) in a mixture of water, olive oil, freshly squeezed lemon juice and lemon rinds, they are transformed. Bright, flavoursome and ready to go. You can use potatoes, or whatever rag-tag group of vegetables you have in the bottom of your fridge. Spices, other herbs and flavourings of any description are encouraged.
So yeah, these lemon roasted potatoes are essentially Greek potatoes. That said, I was unsure if I could claim the moniker given the Greek love affair with garlic and this recipe's distinct lack thereof. So, lemon potatoes it is.
LEMON ROASTED POTATO SUGGESTIONS
Because this is very much a 'choose your own adventure' recipe, It'd be rude of me not to include some suggestions.
Adding a couple of sprigs of rosemary to the oven tray makes for a delightful cosy dish. Thyme or lemon thyme are also delightful, but you can use whatever you have on hand.
This method also works extremely well with cabbage – I recommend cutting it up roughly beforehand and  moving it around regularly. Also recommended?Allowing the cabbage to cook until crispy edges form.
Other vegetables I've used? Fennel bulbs, tomatoes and pumpkin. Anything goes! However, if you're planning to cook a more watery vegetable (zucchini, I'm looking at you) add a little less water at the start.
Dried oregano makes a really great addition, as does some smoked paprika. Depending on the mood, you could also add some cinnamon, nutmeg or even garam masala.
If you have extra lemon roasting liquid at the end, save it! It can be used as a salad dressing, mixed into mayo or just about anywhere flavour is required.
If you have leftover potatoes, mix mayo with aforementioned roasting liquid et voila! The potato salad of your dreams.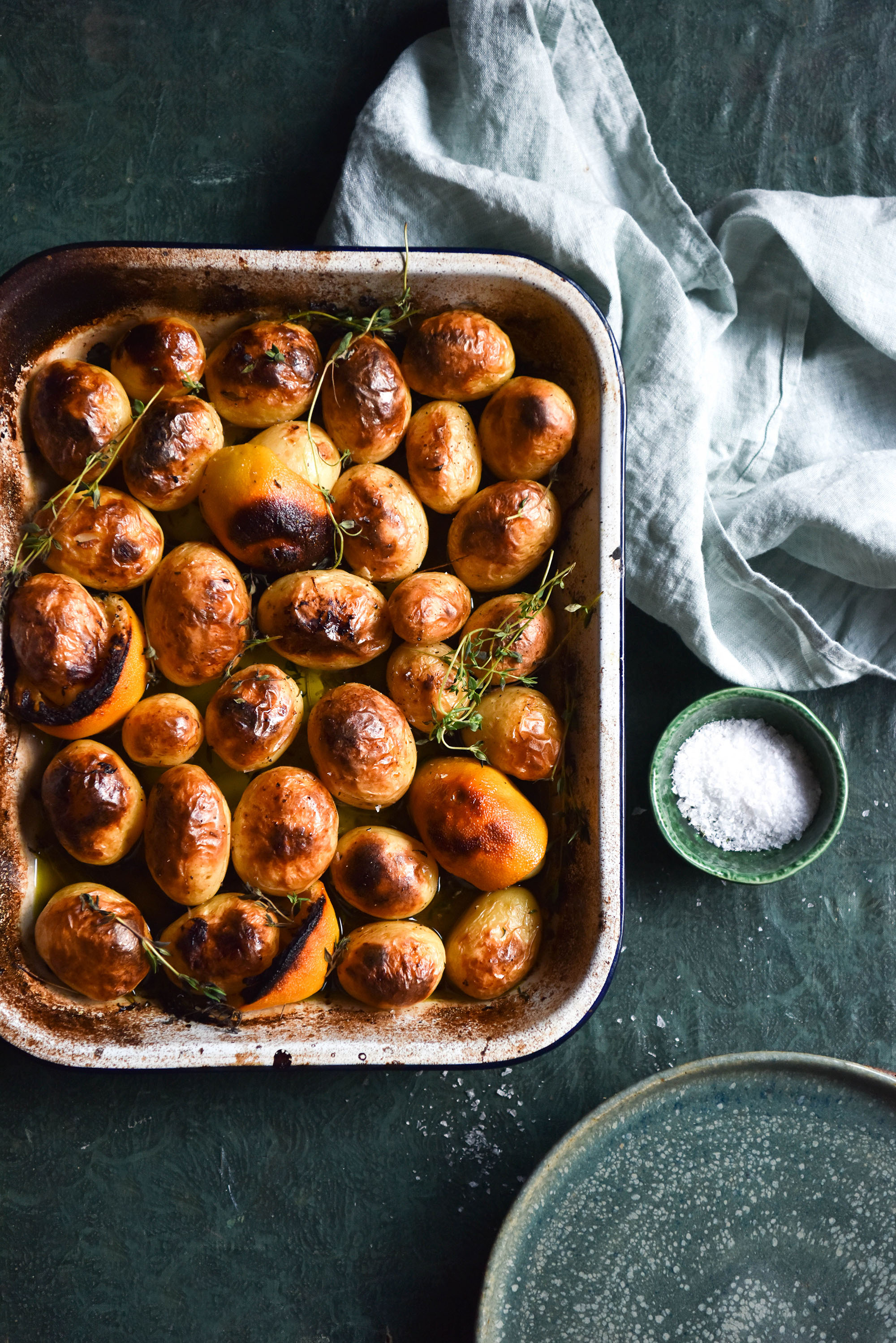 LEMON ROASTED POTATOES
FODMAP friendly, gluten free, vegetarian or vegan, nut free
Ingredients
1

cup

water or FODMAP friendly vegetable stock

see notes

1/2

cup

olive oil

2

large lemons

1

tablespoon

dried oregano

optional

2-3

large rosemary sprigs

optional

Generous freshly cracked pepper

1-1.5

kg

potatoes

see recipe notes
Instructions
Preheat the oven to 180 degrees or 350 degrees Fahrenheit. Scrub your potatoes, if they're covered in dirt. Dirty ones are the best – they last a lot longer. Try and get them from your local farmers market.

Add the water, oil, herbs, lemon juice and seasoning to a large baking dish. Mix them a little to combine. Add the whole lemons (after juicing them) and pull 1 or 2 of the rosemary sprigs apart, so as to spread the leaves around the dish.

Arrange the chopped potatoes in the tray, and place into the oven for 30 minutes.

Once the 30 minutes is up, remove the potatoes from the oven to flip them over. A reasonable portion of the liquid should have been absorbed by now, and your house should smell divine. Note that whole potatoes will absorb less liquid than cut ones.

Return potatoes to the oven for an additional 30 minutes. After this time, turn the grill on and continue cooking, checking often, until the tops are golden brown. Remove from the oven, season and serve hot. If you want to reheat the potatoes, you can place them back in the tray with some water to soften them up.