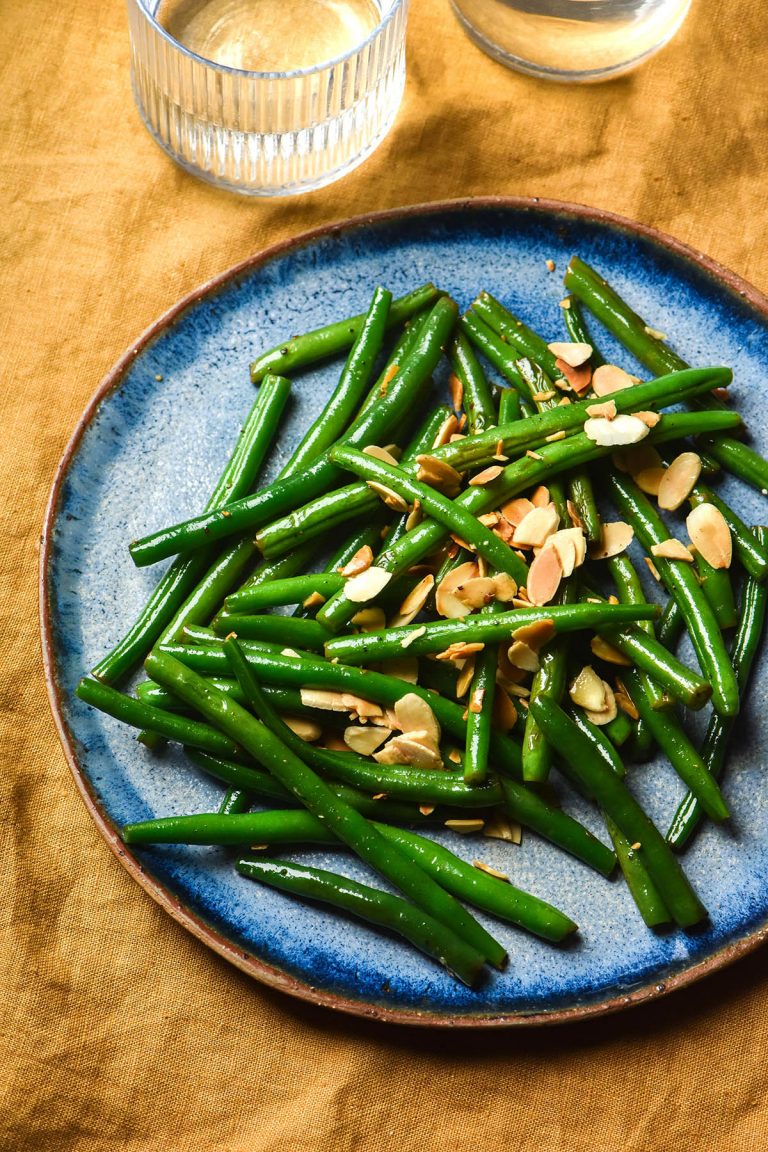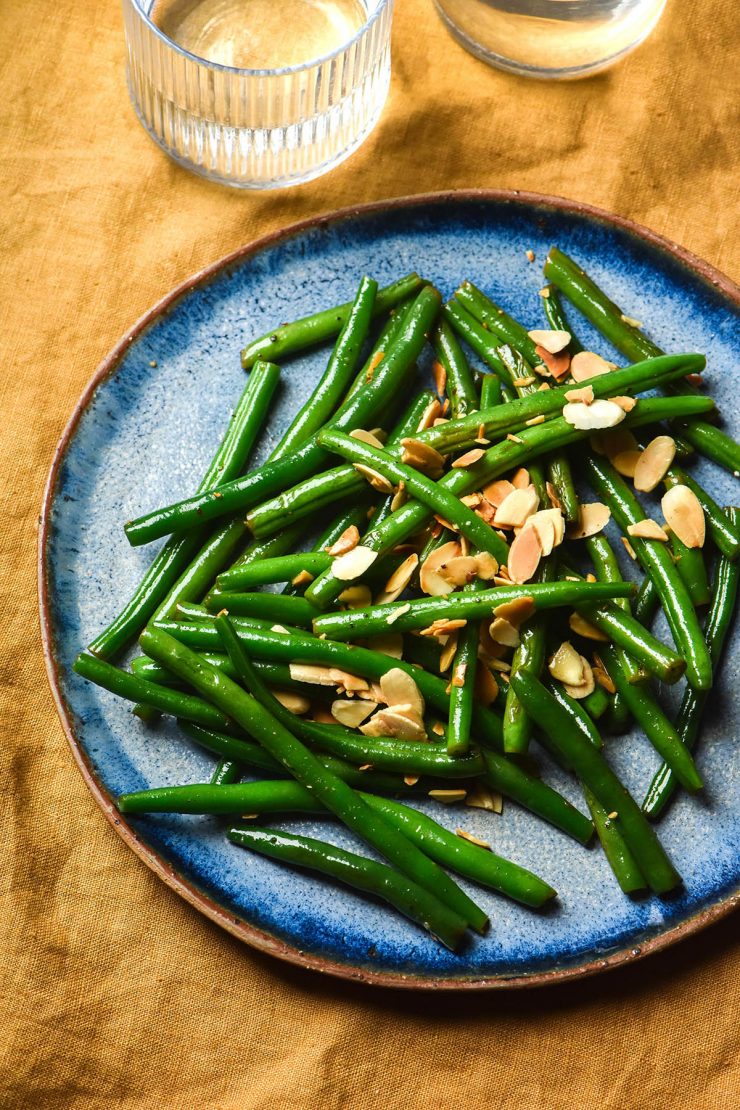 I don't post nearly enough side dishes, so today I want to rectify that with these low FODMAP green beans. They're a quick and easy recipe that uses my garlic infused ghee for a delicious, addictive low FODMAP garlic hit. They are perfect side dish for a Low FODMAP thanksgiving, but fit in just as well at a weeknight dinner.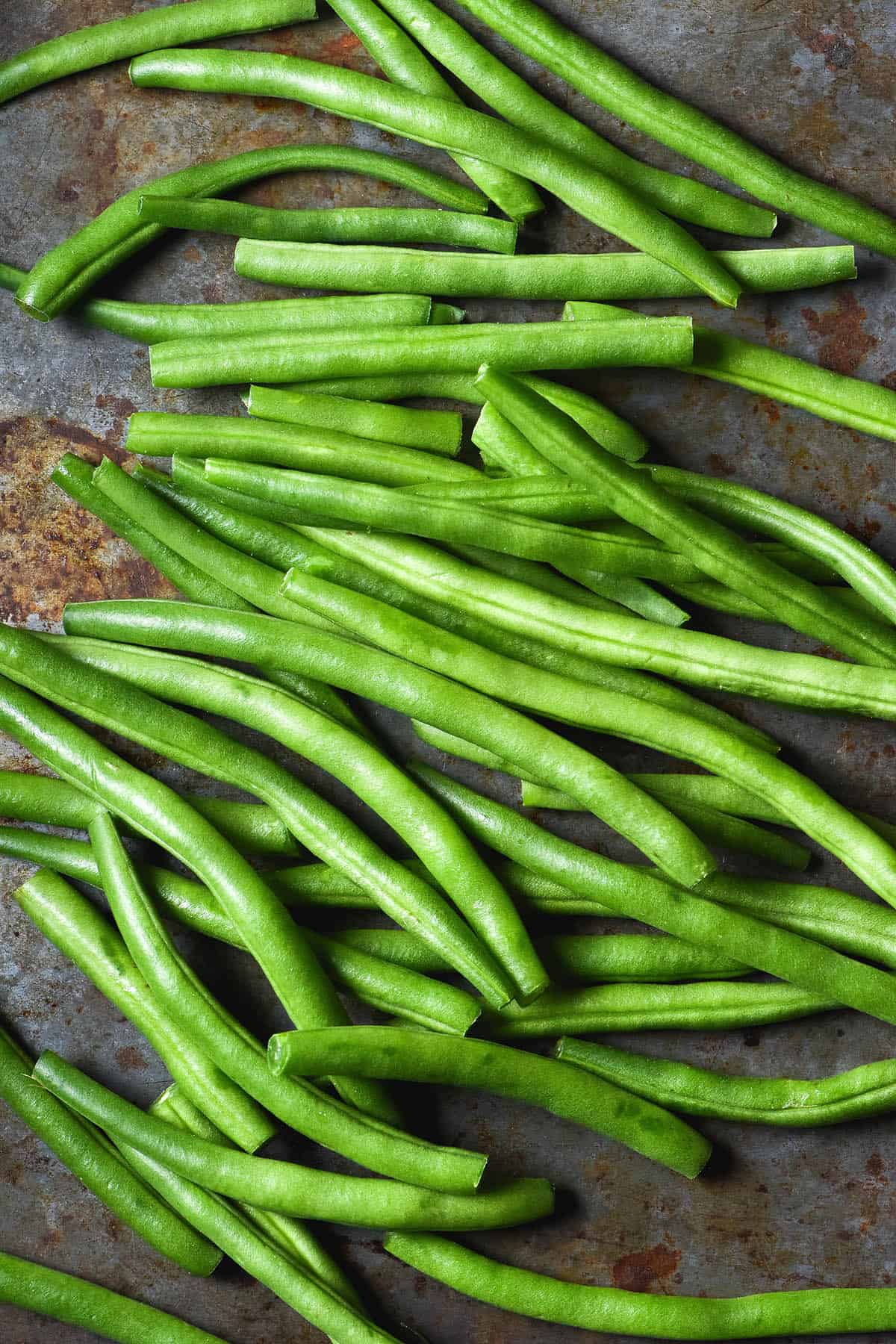 Low FODMAP green beans
These low FODMAP green beans are made with a few simple ingredients. Firstly, the green beans are blanched in salted water briefly. This flavours the beans and cooks them slightly. Next, the beans are cooked in a small amount of garlic infused ghee, which is a lower FODMAP alternative to garlic butter.
The pan is deglazed with a splash of lemon juice, and finished with some salt and freshly cracked pepper. To serve, the beans are topped with a small amount of crispy roasted slithered almonds. A simple low FODMAP side dish that is gluten free, low FODMAP and easily made vegan.
Are green beans low FODMAP?
Green beans are low FODMAP in servings of 75g or approximately 15 beans. In servings of 120g or approximately 25 beans, they become moderate for sorbitol. This suggests that there is a small amount of wiggle room with a low FODMAP threshold.
See the image below for a photo of 75g of green beans. Hopefully this helps you visualise what a single serve should look like.
Is garlic infused ghee low FODMAP?
The fructans in garlic are water soluble, but not fat soluble. This is why garlic infused oil is a low FODMAP way to get some garlic flavour into your dishes.
But what about ghee? Ghee is made by clarifying butter, or slowly cooking off the liquid. If made properly, ghee is about 99% fat and 1% water. Infusing garlic into ghee is a way to get that garlic butter flavour with only a very small amount of fructans remaining.
For most people, a tiny amount of fructan (divided between 6 serves, no less) is well tolerated. If the potential makes you uncomfortable, use garlic infused oil instead.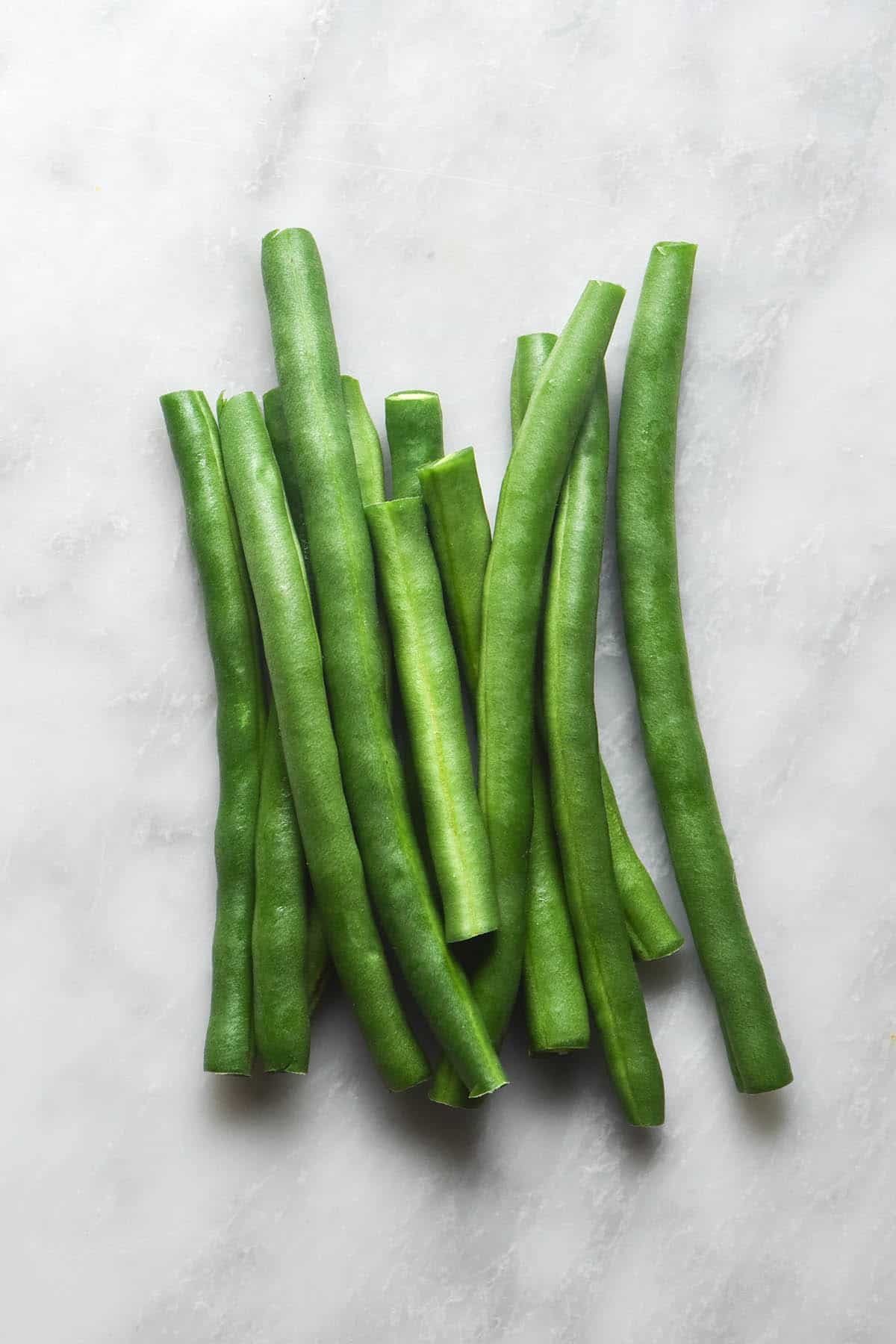 Are almonds low FODMAP?
Almonds are low FODMAP in 12g serves, which is approximately 10 whole nuts. Because we are using slivered almonds as opposed to whole almonds, we go by weight. 12g of slivered almonds per person is a low FODMAP serve.
Of course, if you'd rather not use them, you can omit the almond topping. Another option is to use some chopped pumpkin seeds for a bit of crunch.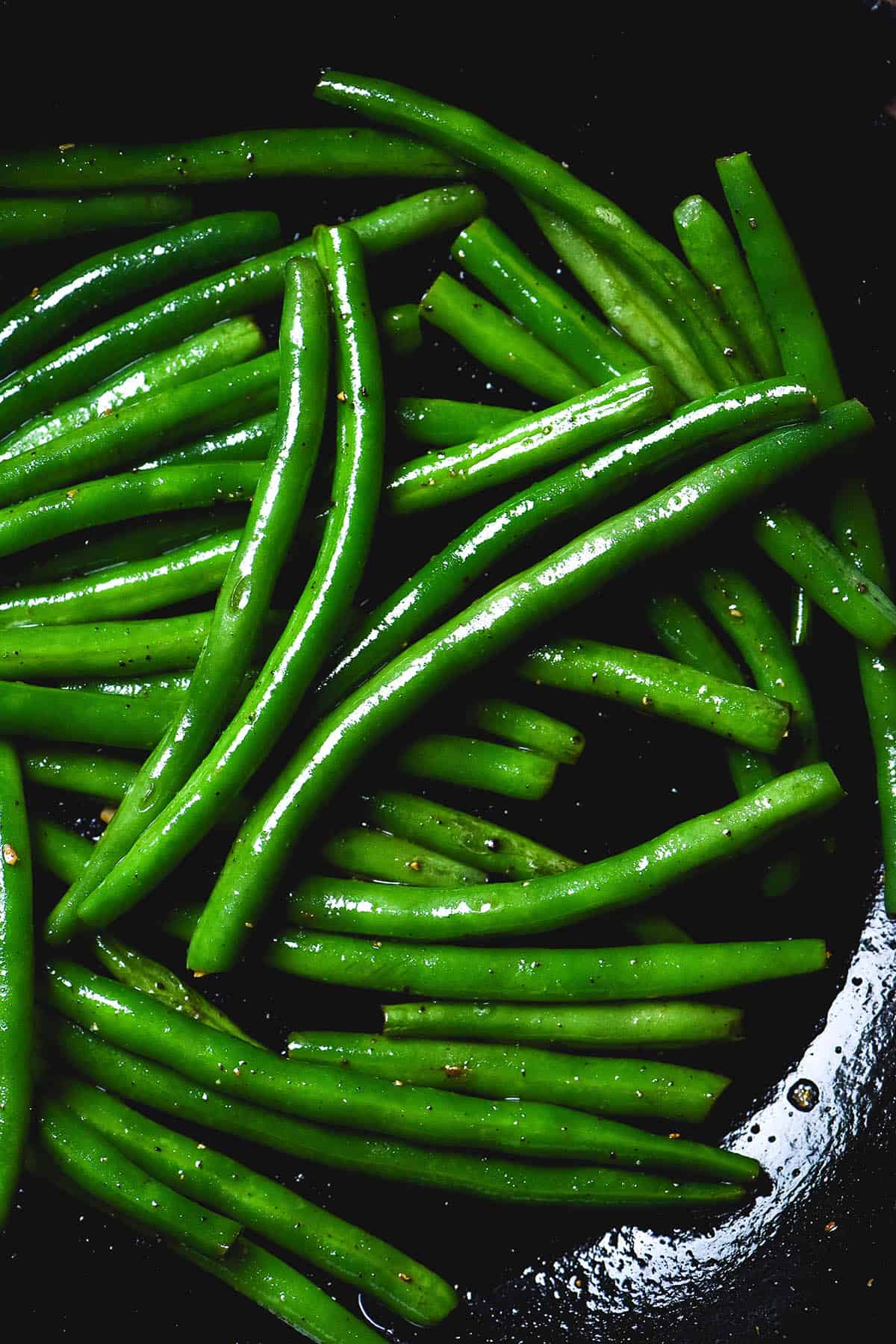 Tips for your Low FODMAP green greens
It's easy to eat a lot of green beans, so make sure you remember the threshold of 75g or approximately 15 greens per serve. This recipe serves 4 people. Beans have moderate amounts of sorbitol in 120g or 25 bean serves. In 180g serves or around 35 beans, they are high in sorbitol an moderate in mannitol
To allow for a low FODMAP experience, try to avoid eating green beans with higher sorbitol or mannitol foods, particularly if you plan on pushing the threshold a little.
Higher mannitol foods include button mushrooms, celery, snow peas, butternut squash and sweet potato. Something to wary of around Thanksgiving season.
Higher sorbitol foods include avocado, apples, blackberries and cherries.
If you want to make the beans vegan, use garlic infused oil instead.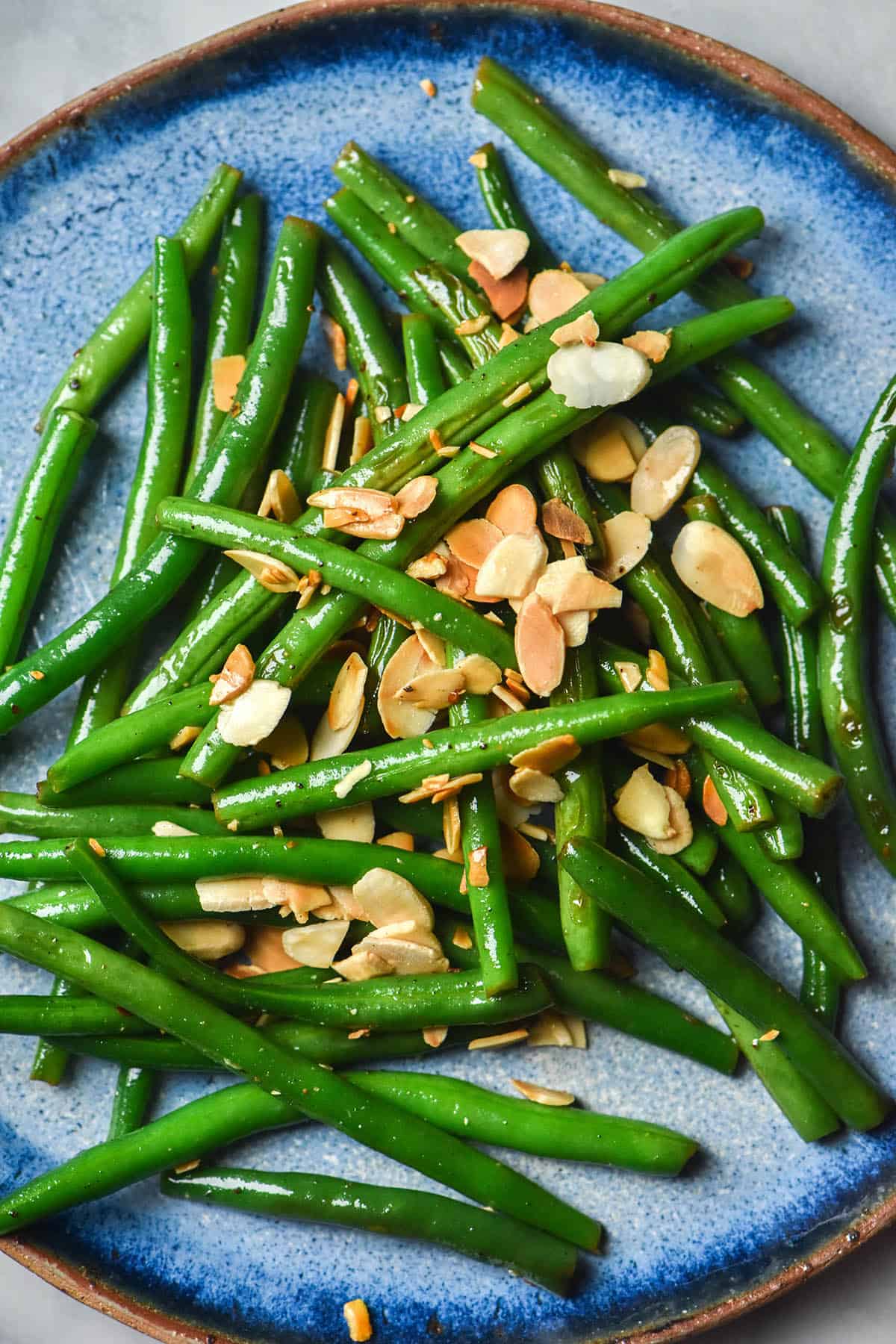 More low FODMAP vegetarian recipes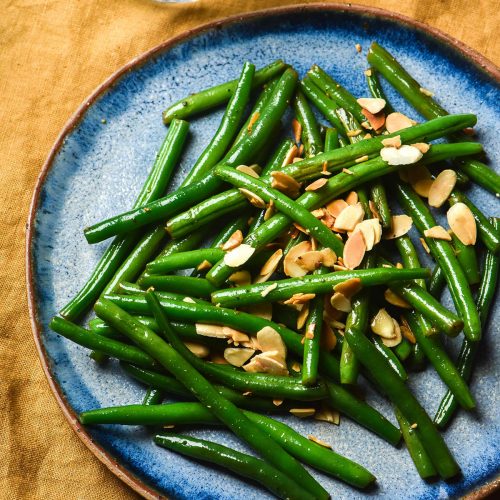 Low FODMAP green beans
Ingredients
300g

green beans, weighed after trimming

15g

(3 tsp)

garlic infused ghee or oil (recipes are linked in notes below)

Freshly cracked pepper, to taste

Lemon juice, to taste

Fine salt, to taste

25g

toasted slivered almonds
Instructions
Bring a well salted medium pot of water to a simmer over a medium heat.

Once simmering, add the beans and cook for two minutes. They should be just softened but still bright green. Drain then run under cold water to stop the cooking. Drain again and gently pat dry.

Place a pan over a medium heat and add the garlic infused ghee. Once it it warmed through and shimmery, grind pepper straight into the ghee. It should sizzle and cook, softening the pepper flavour like in cacio e pepe.

Add the beans to the pan and toss to coat. Add more ghee if you think it's necessary, but keep in mind that ghee is nearly 100% fat so it has a richer mouthfeel than butter.

Once the ghee has mostly adhered to the beans, add a splash of lemon juice to taste. Add a pinch of salt and stir to coat.

Transfer the beans to a serving platter and top with the toasted almonds. Serve warm. Reheat any leftovers to melt the ghee again.