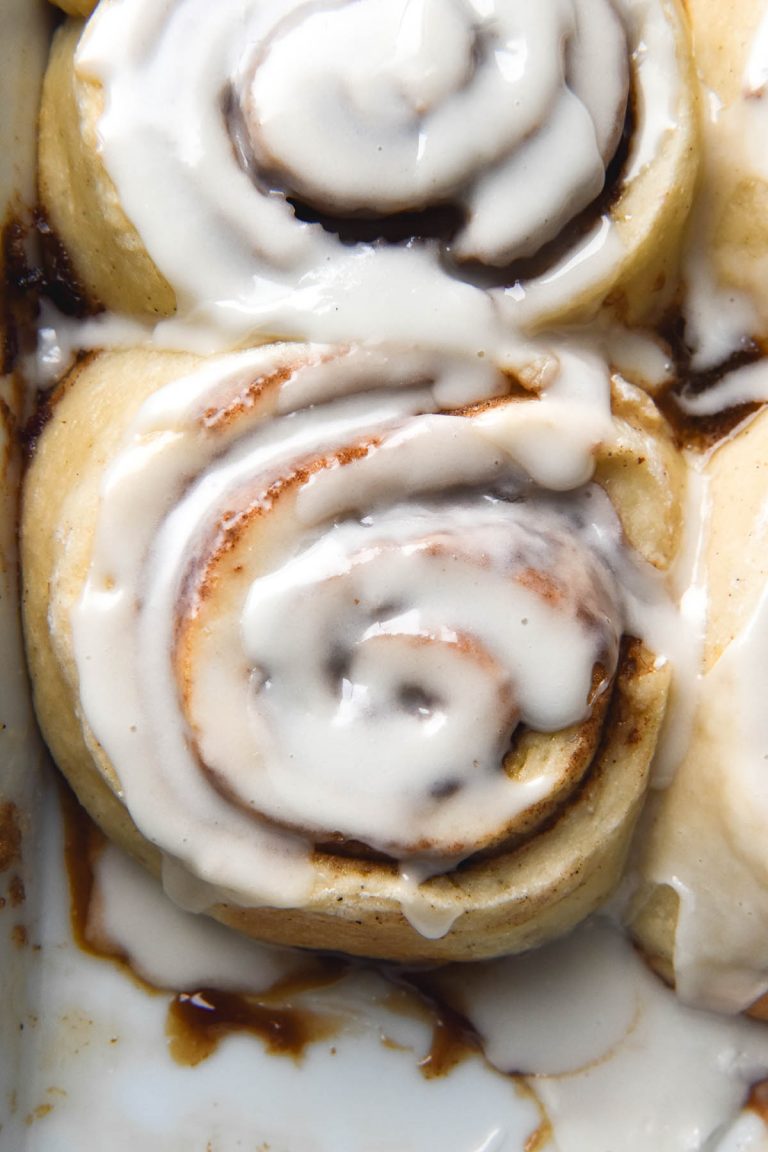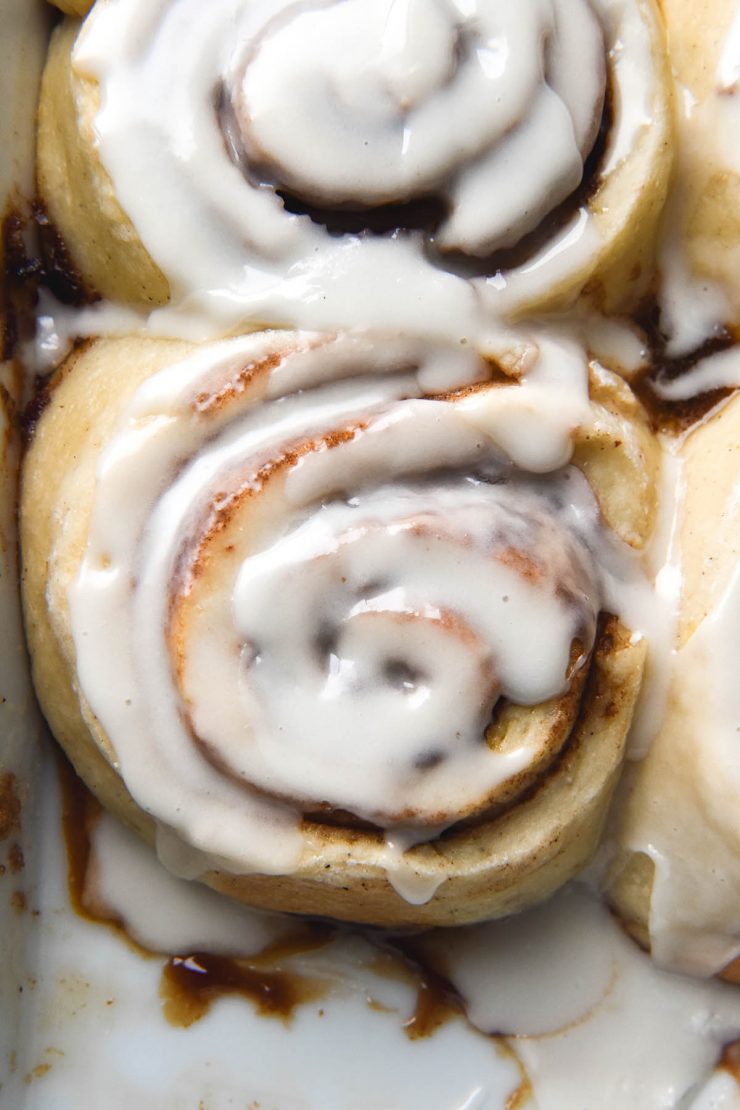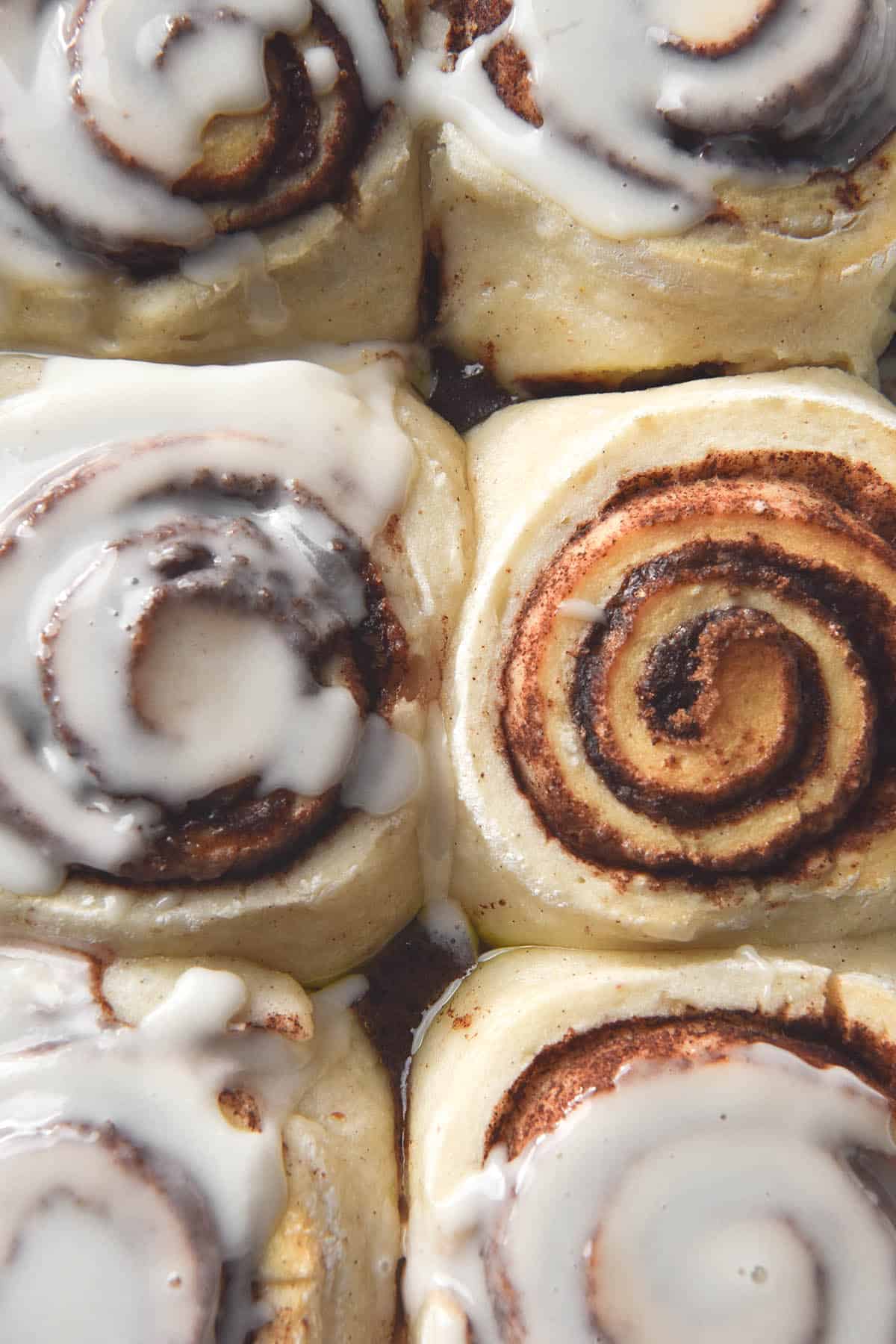 Vegan gluten-free cinnamon rolls without yeast or xanthan gum
All this introduction really needs to say is: vegan, gluten-free cinnamon rolls. Made without yeast. I mean, this is the final frontier, in my eyes. No added xanthan gum, nuts, or flour blends that are hard to find. No eggs, no dairy, no yeast.
This is the recipe for people who don't have the patience to wait for yeast. For people who can't eat yeast, and for people who just fancy a baked good on a whim. And while I don't know whether to call these cinnamon scrolls or cinnamon rolls, what I do know is that they are very good.
I was bombarded with messages when I shared this on my Instagram stories, so I put a rush on getting the recipe up. These scrolls are based on my recipe for vegan, gluten free cinnamon rolls. If you're on the market for a non-vegan recipe, here is my original one. There's also a sourdough cinnamon scroll recipe in my cookbook, Intolerance Friendly Kitchen.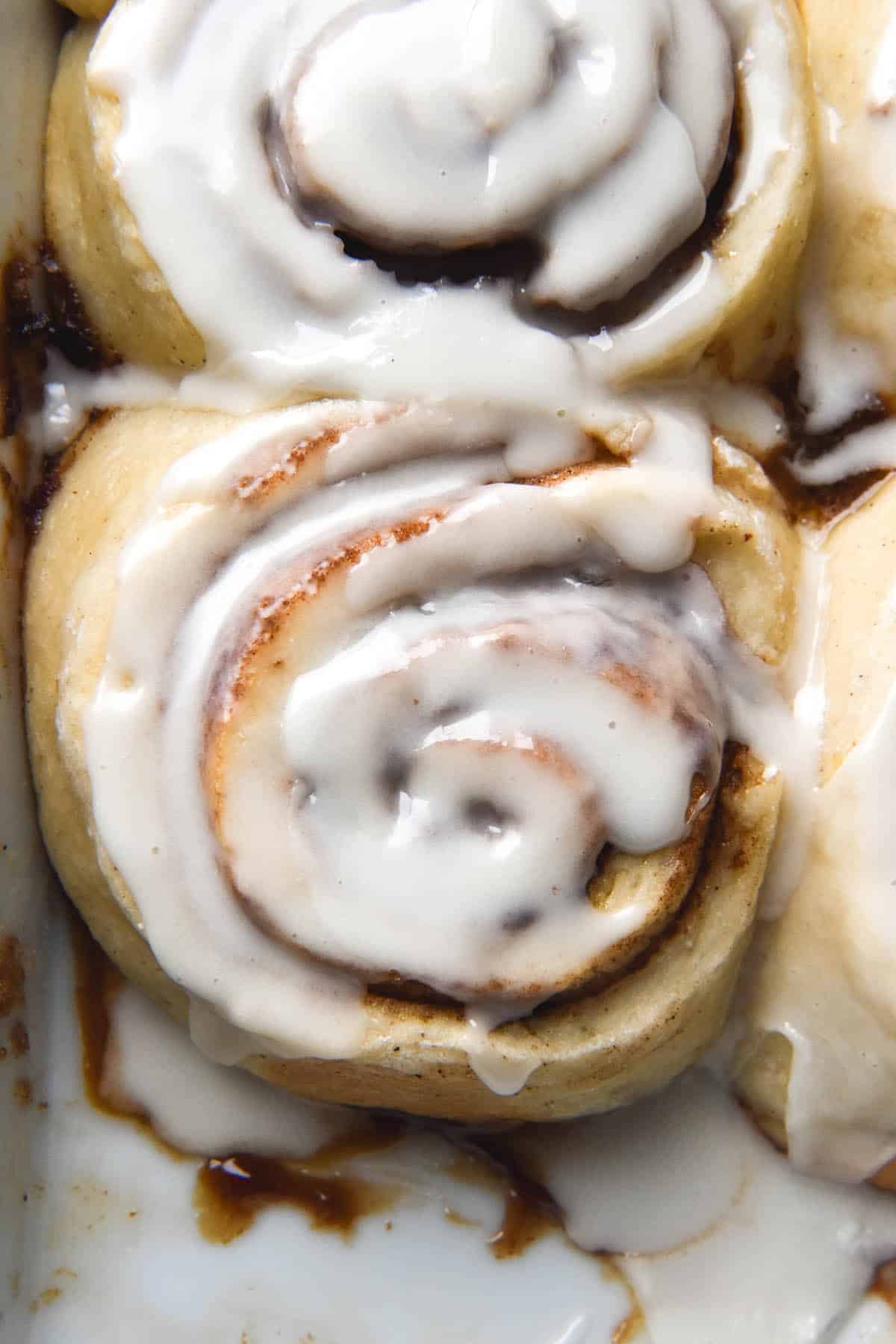 Vegan, gluten free cinnamon roll notes
These rolls utilise a couple of different binding methods to keep everything together. Firstly, there's the psyllium husk gel made with milk and butter. I find that psyllium husk binds with hot liquid more quickly and efficiently than cold liquid. I also find that adding a fat (vegan butter, in this case) helps prevent the psyllium from clumping up as it hits the liquid.
Secondly, the cinnamon rolls use a starch. Both glutinous rice flour (sometimes known as sweet rice flour or sticky rice flour) and tapioca flour work here. Starch helps provide lightness in the crumb, but also a bit of much needed elasticity and binding.
Finally, the rolls use a scald. Scalding flour is simply a process of pouring boiling water over the flour, which gelatinises. This helps create a soft and pliable dough that is easily rolled into lovely vegan, gluten-free cinnamon rolls.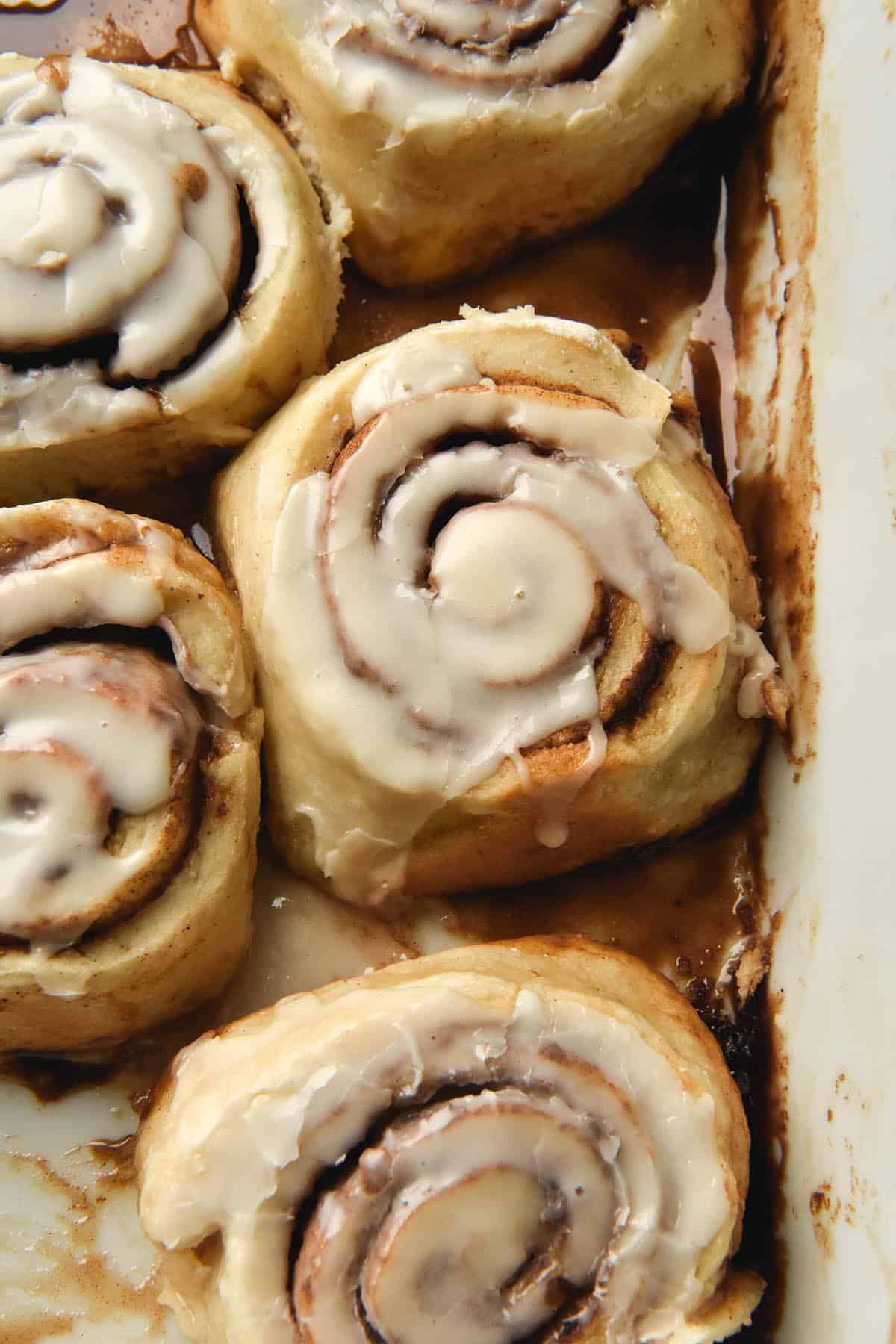 Tips for your vegan, gluten free cinnamon scrolls
I find this recipe infinitely easier with a stand mixer. You need to ensure each element (the psyllium binder and the scald) is well incorporated into the flour, so it really helps to have a bit of machine power.
I like to flour the baking paper and all sides of the dough before I begin. It also helps to flip the dough gently after it is half rolled out to ensure nothing is sticking.
Every gluten free flour has a different consistency and absorbency. If you attempt to substitute in different flours, you will need to adjust the liquid content to suit. I have no suggestions here – you will need to experiment. I will update the post as I try different flour combinations.
Further to that, flours vary in absorbency from country to country. If you find your buns are too dry or too moist when baking these vegan, gluten free cinnamon scrolls, adjust the liquid next time.
Personally, I am a fiend for cinnamon. If you aren't, try using a little less than the recipe specifies.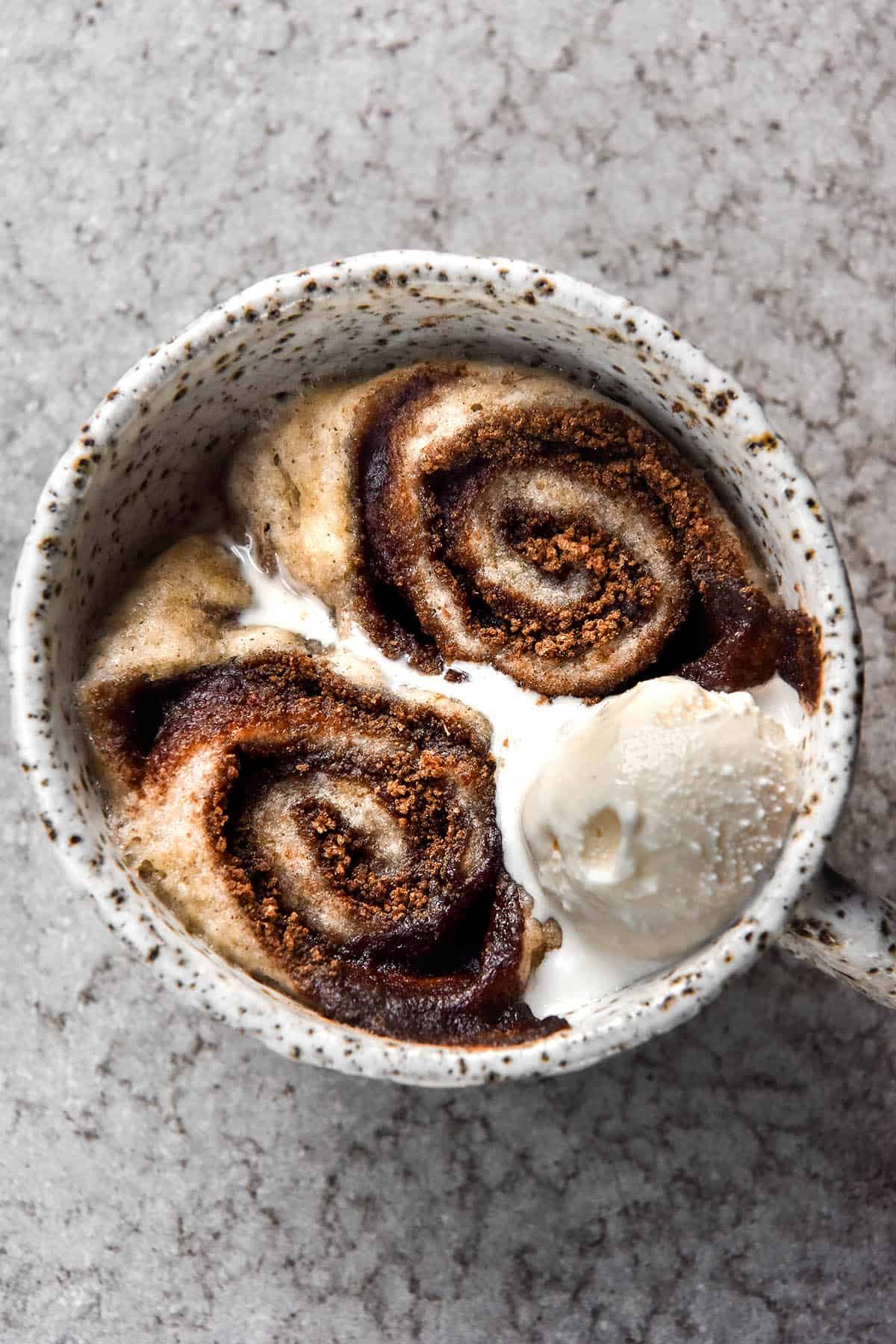 Ingredient notes
I have not tried any other flour combinations yet. Please bear with me, there are only so many cinnamon rolls I can eat!
A really fresh and good quality rice flour is important here. You will easily taste a stale or gritty one, as it doesn't have much to hide behind, as it would in say, a chocolate mug cake. For this reason, I recommend buying from a bulk food store, if you can.
Nor do I currently have any refined sugar free suggestions. You could potentially use panela sugar in the scroll filling, but I suggest enjoying it as is. A cinnamon scroll needs to taste like a cinnamon scroll.
Psyllium husk powder has a different absorbency than psyllium husk flakes. I haven't tried substituting and at this stage I don't intend to. You can buy psyllium husk powder or grind the flakes into powder using a spice grinder.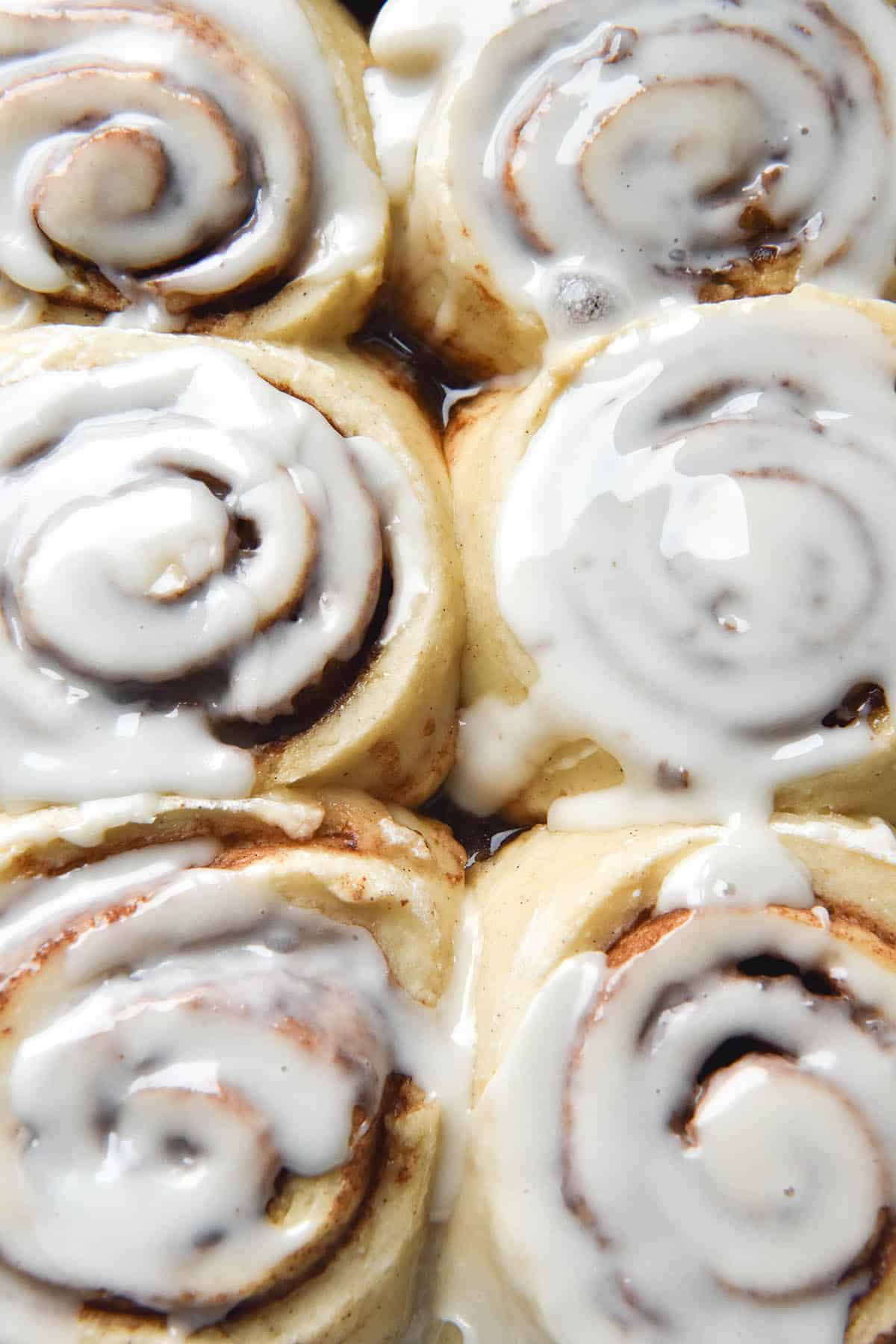 More vegan, gluten free dessert recipes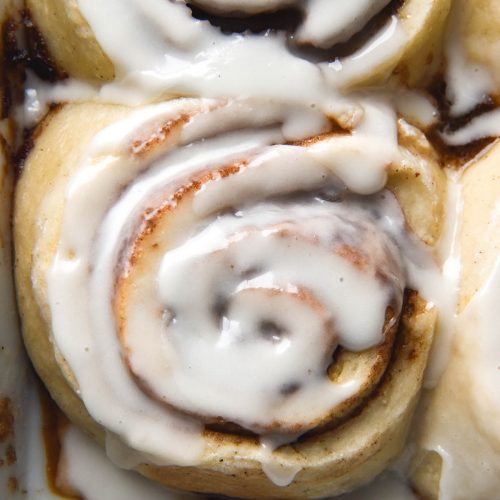 Vegan, gluten-free cinnamon scrolls without yeast
Gum free, no added nuts, egg free, vegan, yeast free
Makes 6-7 large rolls
Ingredients
For the binder:
1- 1 1/2

cups

(250-375ml) hot milk of choice, see notes (I used soy)

50

g

vegan butter melted

20

g

psyllium husk powder
For the scald:
80

g

(1/2 cup) fine white rice flour or sorghum flour

100-125

g/ml

(1/2 cup) boiling water
For the dough:
160

g

(1 cup) fine white rice flour

120

g

(1 cup) glutinous rice flour or tapioca flour

150

g

caster sugar

3

teaspoons

gluten free baking powder

1/4

teaspoon

baking soda for browning

optional
For the cinnamon filling:
100

g

light brown sugar

1

tablespoon

cinnamon

1

tablespoons

extra milk
For the glaze:
160

g

(1 cup) pure icing sugar

1/2- 1

tablespoon

vegan butter melted (optional)

Milk to make your ideal icing consistency

Vanilla bean paste to taste

optional
Instructions
Preheat the oven to 180C/356F.

Whisk together the wet ingredients for the binder in a medium sized mixing bowl. Sprinkle over the psyllium husk powder, then whisk vigorously until it is fully incorporated and no clumps remain. Set aside for 10-15 minutes to form a gel.

Next, make the scald by whisking the flour and boiling water together. They should form a paste like consistency quite quickly. Set aside to cool a little.

Combine the ingredients for the dough in the bowl of your stand mixer. Use the paddle attachment to combine everything on a medium speed for 1-2 minutes or until the scald has 'dissolved' into the flour.

Add the binder, turn the mixer up and beat until completely combined into a smooth dough. There should be no flour left on the bottom of the bowl. The dough might be too wet to handle. If it is, place the bowl into the fridge for 15 minutes to firm up. The psyllium husk should work magic in that time.

Before we roll out the dough, we need our filling ready to go. Combine the cinnamon and sugar in a medium bowl. We'll use the milk later to adhere the sugar to the dough.

Flour a large piece of baking paper, roughly 40 cm long, with tapioca flour or a light starch. Place the scroll dough on the paper and flour any sticky parts, then roll the dough out into a long, thin rectangle about the size of the baking paper.

The size of the rectangle isn't super important, though. The longer and wider you roll it, the more 'rings' your scroll will have. Make sure the dough is reasonably thin (roughly ½–1 cm) but without any holes.

Splash a very small of milk onto the surface of the dough, just to moisten it. Evenly sprinkle the cinnamon sugar across the dough.

Beginning on the long side, use your fingers to fold the 1cm border of the dough up onto itself. You want to create a tight roll, so try and make this first notch as small as possible. For large scrolls, start the rolling on the short side of the dough. Continue folding the dough up until you can begin to use the baking paper to roll the dough onto itself. Take it about 80% of the way, then take the far side of the dough and bring it up over the log. You should have a log of dough with the seam facing upwards.

Line your baking dish with baking paper or grease it with vegan butter. Gently thread your piece of string underneath the log. Eyeball about one ninth of the dough log and think of the string as your knife. Holding one end of the string in each hand, pull in opposing directions to slice through one-eighth of the dough. Gently flip that first cinnamon scroll upright and use your hands to gently cup and mould it. Press it down a little so that it has a solid base, then place it into the prepared baking dish. Repeat with the remaining dough and scrolls.

Place a baking dish filled with boiling water at the bottom of the oven to create a steamy environment. This will help keep them nice and moist during baking.

Bake the scrolls for 30 minutes or until they feel firm to the touch and are lightly golden on top.

Whisk the ingredients for the icing together. I recommend adding a teaspoon or two of milk at a time until you reach your desired consistency – icing sugar needs less liquid than you might think. You can ice the scrolls warm or slightly cooled – it will melt into them if warm, or sit on top a little more if cooled. Store leftovers in an airtight container, and gently microwave leftovers to restore them to their former glory.
Notes
The absorbency of gluten free flours varies greatly from brand to brand, country to country. If you find your buns are too dry/wet, adjust the liquid to suit and make a note.
Anecdotally, I found that the scald can make the buns taste a little 'rice floury'. It's a distinct taste that gluten free people will probably be aware of. I found that the cooled buns lose that taste, though. 
I used Nuttelex Buttery for my butter substitute. It is an inexpensive and easy butter replacement in Australia.