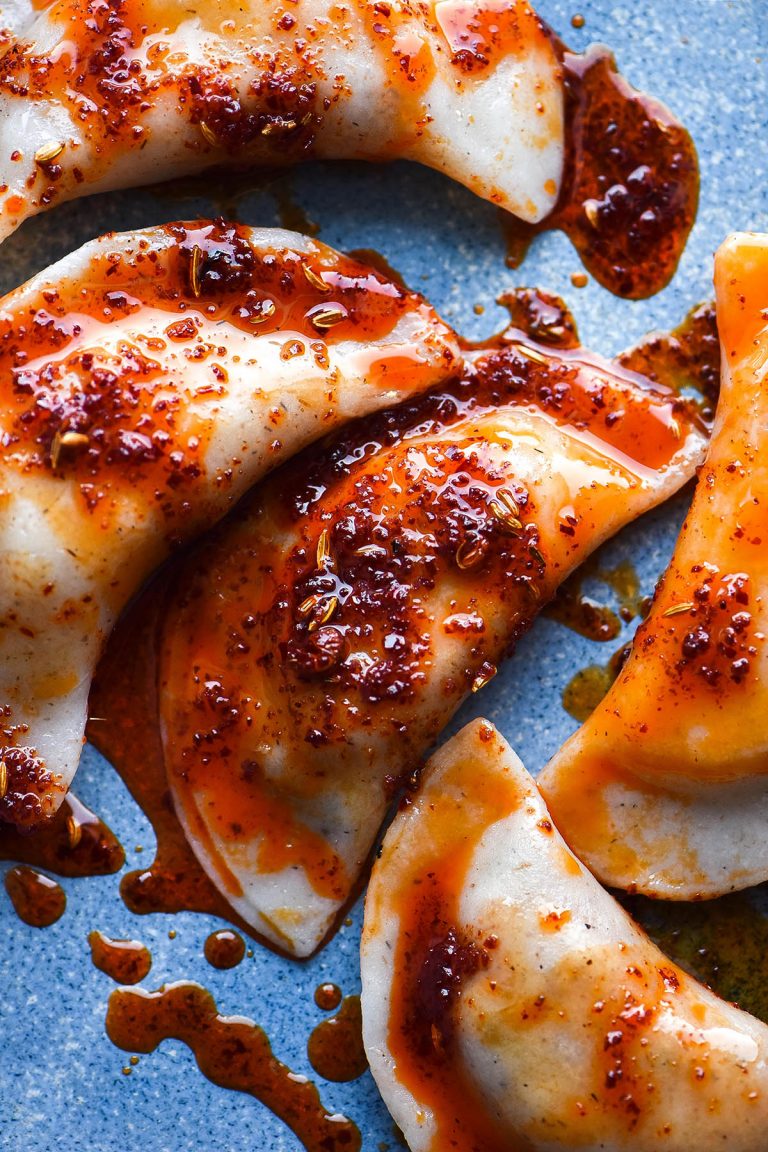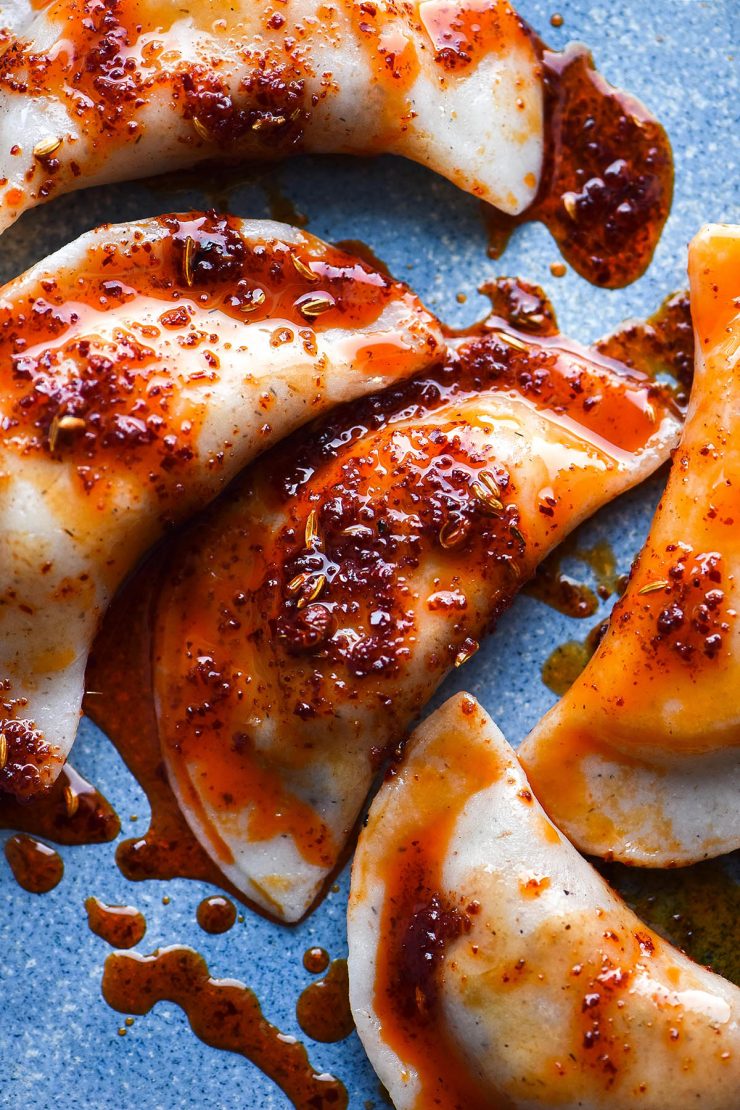 The low FODMAP diet becomes even tricker again if you're vegetarian or vegan. Meat, fish and poultry are all low or no FODMAP, so the diet is simpler if you're an omnivore. Fear not, however! Today I am rounding up all of my favourite low FODMAP gluten free recipes that are vegetarian or vegan. There's truly something for everyone.
Low FODMAP gluten free recipes (vegetarian or vegan)
These gluten free low FODMAP recipes are all vegetarian or vegan. They're my favourites from each category – breakfast, lunch, dinner, dessert and snacks.
I always try to include lots of nut free and egg free recipes in my roundups. This is because I know a lot of people are dealing with multiple allergies and intolerances at once. By the same token, I try to exclude xanthan gum from as many of my recipes as I reasonably can.
Low FODMAP gluten free breakfasts
Vegan, gluten free bagels
These gluten free bagels are vegan, xanthan gum free and low FODMAP. They're also delicious paired with my low FODMAP everything bagel seasoning and some whipped lactose free mascarpone.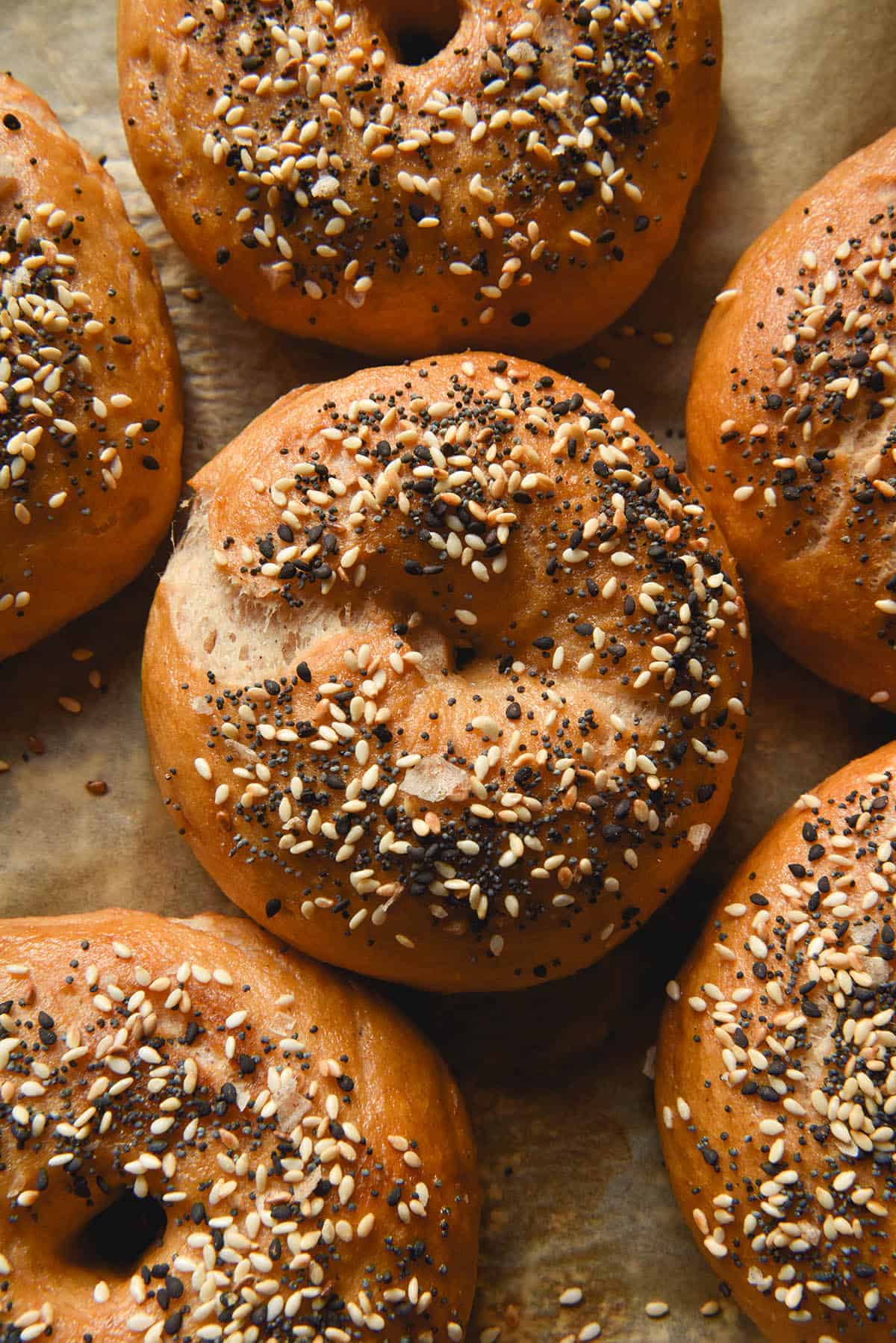 Gluten free porridge
One of the things I really miss on a cold morning is a good bowl of porridge. Oats aren't considered gluten free in Australia (and they don't agree with me) so this rice flake porridge saves the day.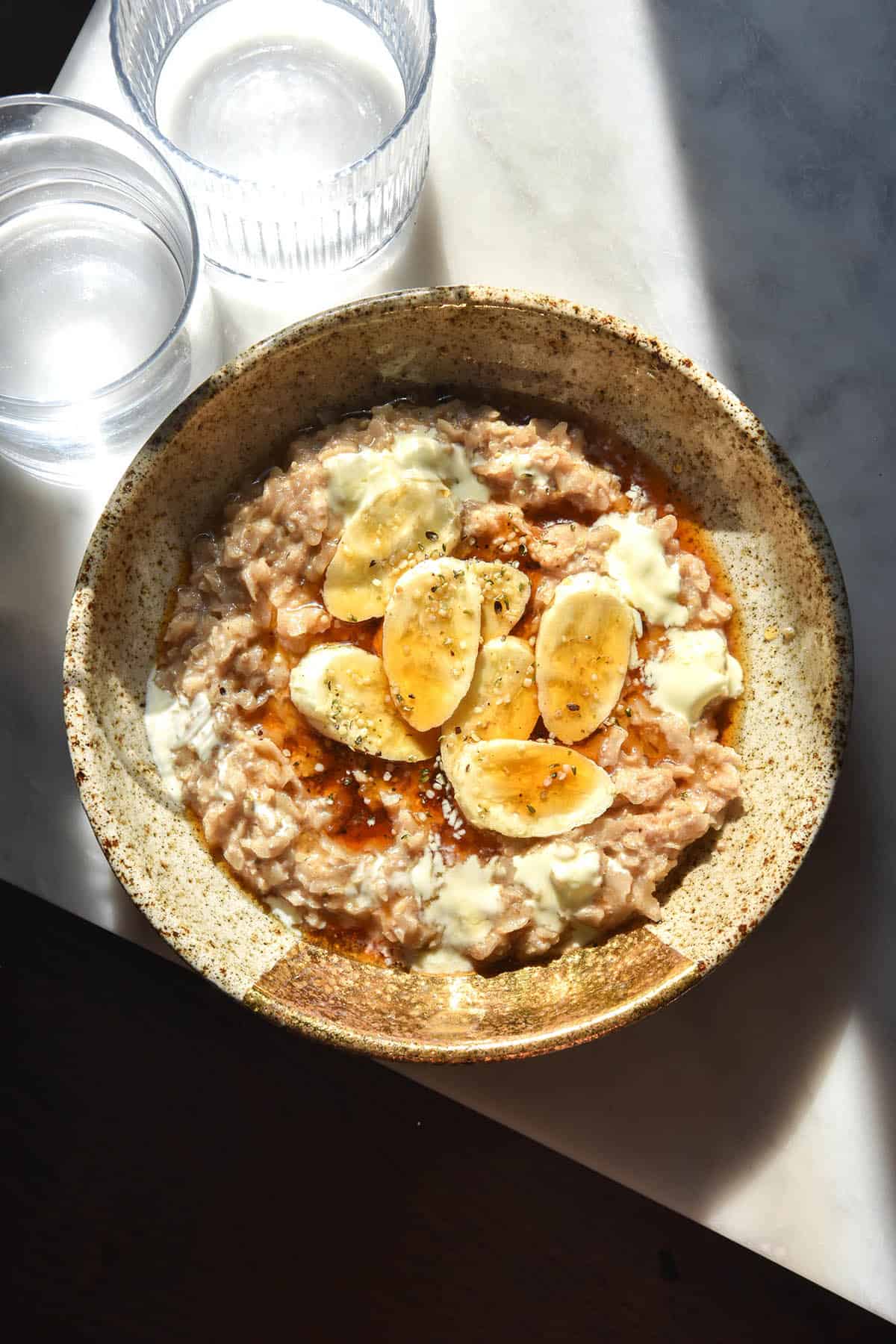 Gluten free sourdough bread
Is there a better breakfast than toast? I doubt it. This gluten free sourdough recipe is the first one I published on my site and is still one of my favourites. If you don't have a gluten free sourdough starter (make one!) or see this roundup of gluten free low FODMAP bread recipes.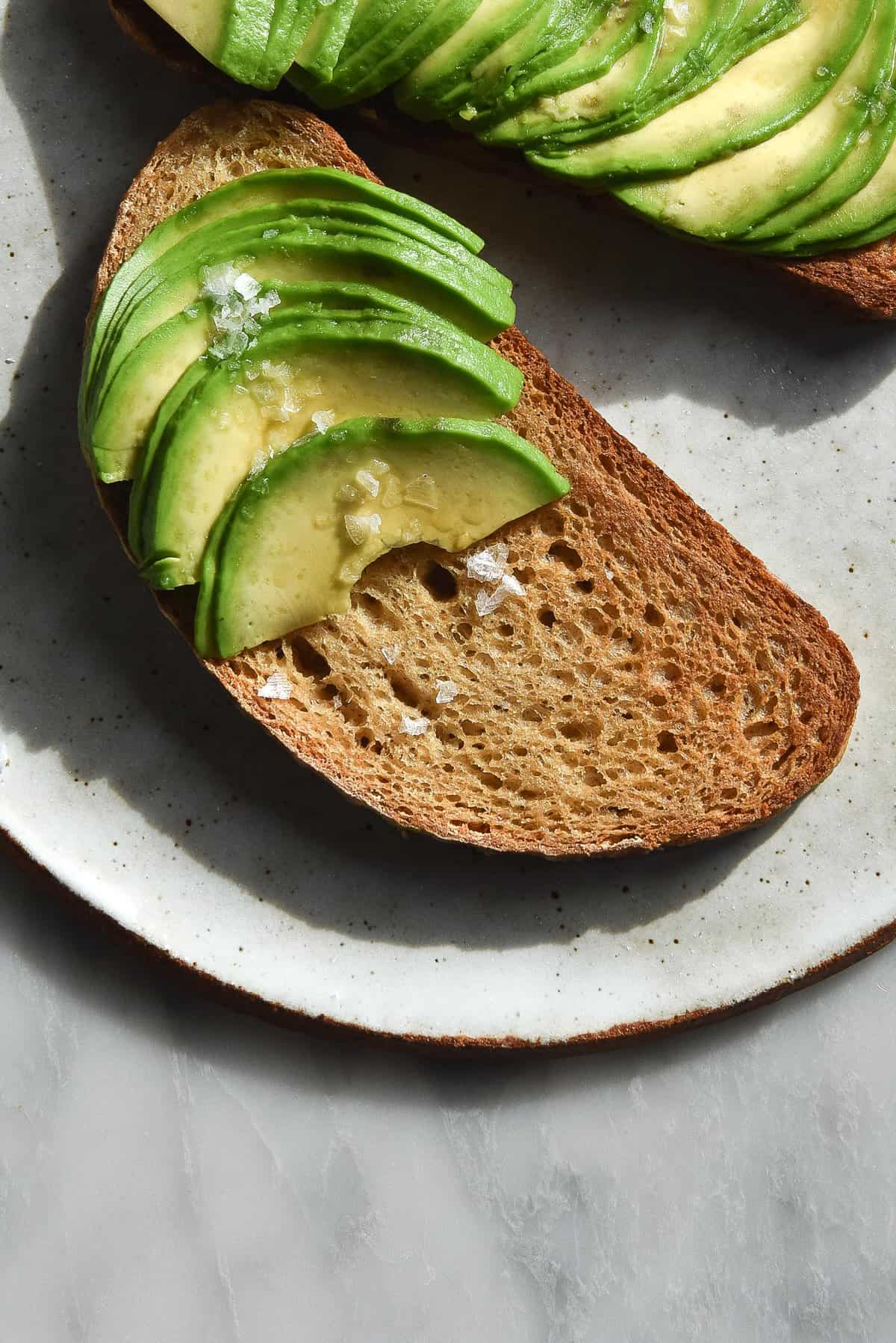 Gluten free buckwheat bread
This bread is made with majority buckwheat flour for an earthy and delicious loaf. It's vegan, xanthan gum free and nut free and freezes beautifully.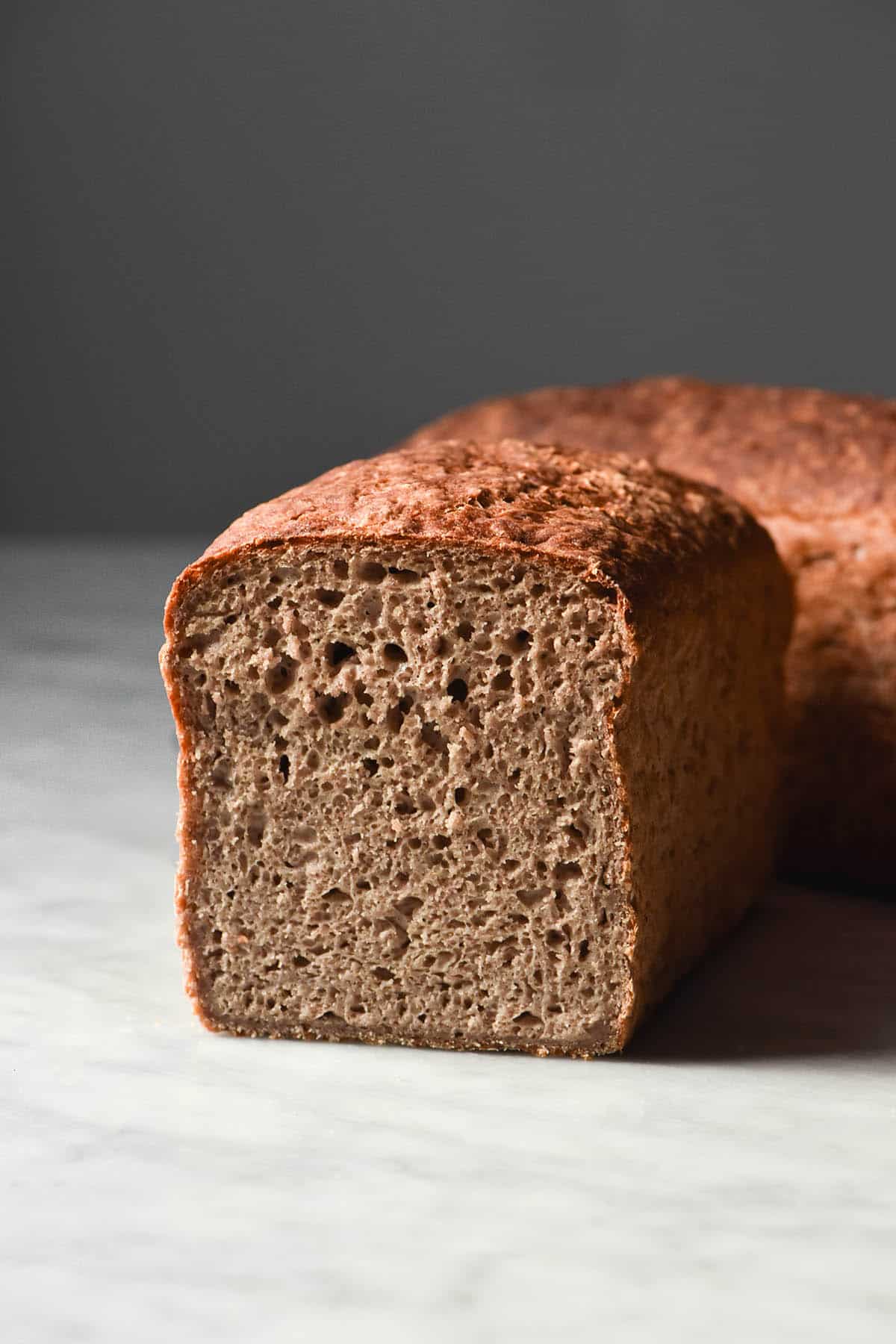 Vegan, gluten free protein pancakes
During my most recent round up of the SIBO bi-phasic diet, I started working on protein powder recipes to keep me fuller for longer. These vegan protein pancakes use a low FODMAP quantity of banana, protein powder and some buckwheat flour for a filling and delicious breakfast.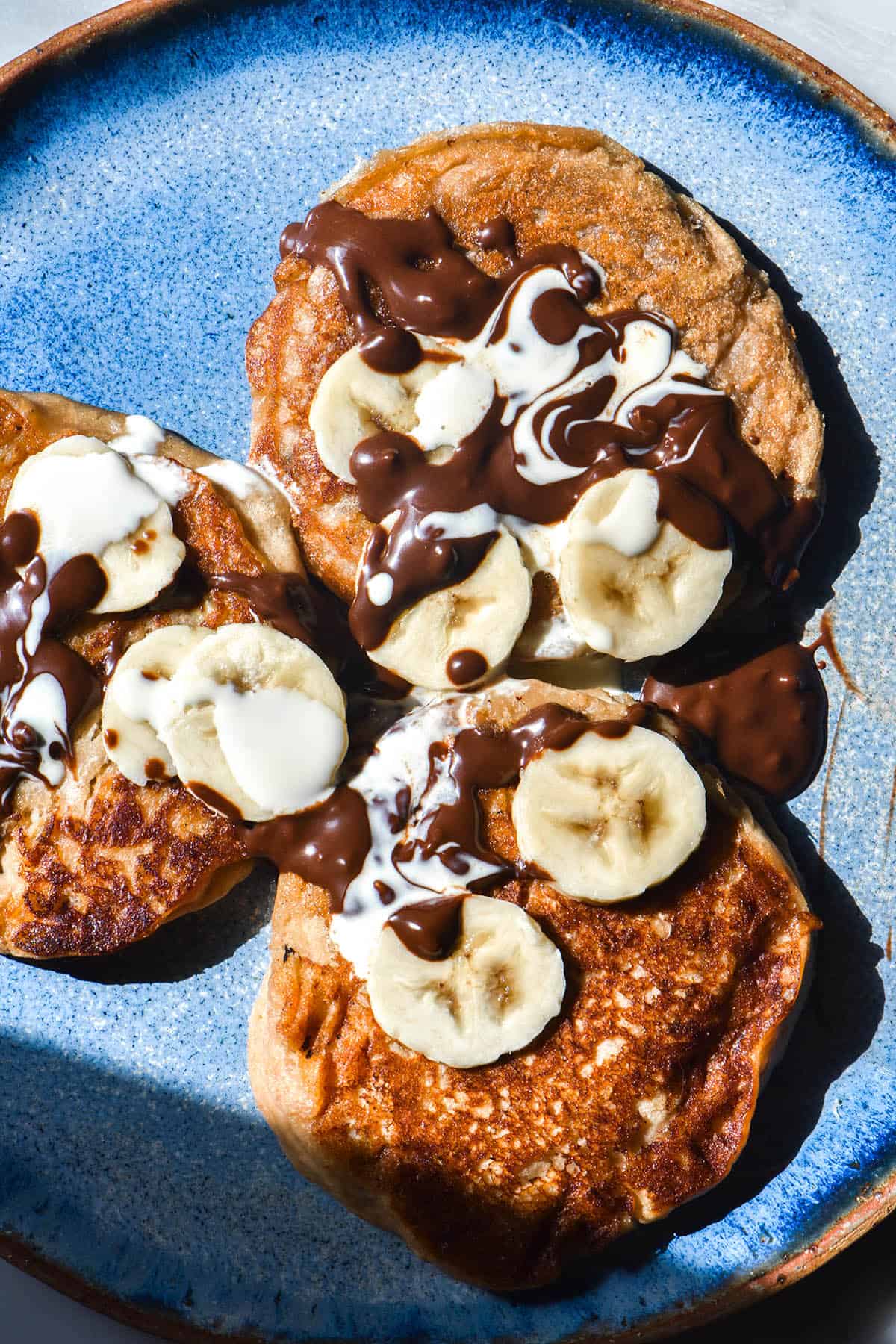 Buckwheat flour pancakes
These buckwheat flour pancakes are an easy and delicious breakfast that requires no whipped egg whites or anything complicated. I use Jalna lactose free Greek yoghurt to keep the FODMAP content low, but you can also use a dairy free yoghurt.
Low FODMAP gluten free lunches
Kale, quinoa and roasted pumpkin salad
This hearty vegetarian salad is a great low FODMAP gluten free lunch option. It has protein and carbs from the quinoa, plus plenty of veg to keep you full.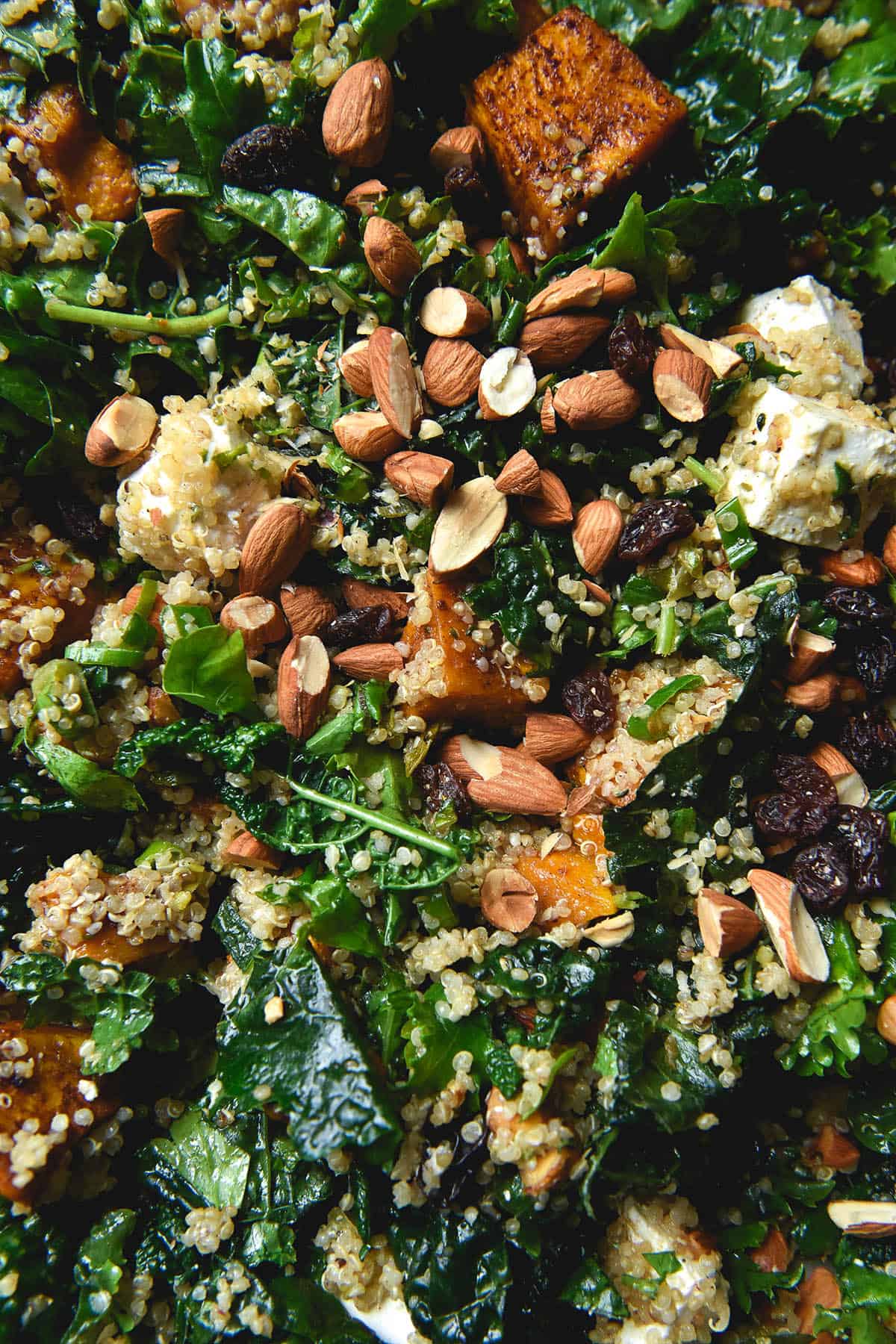 Green protein pasta
This green protein pasta uses a low FODMAP quantity of canned beans, lactose free cottage cheese, kale and basil for a deliciously pesto like sauce that will keep you feeling full.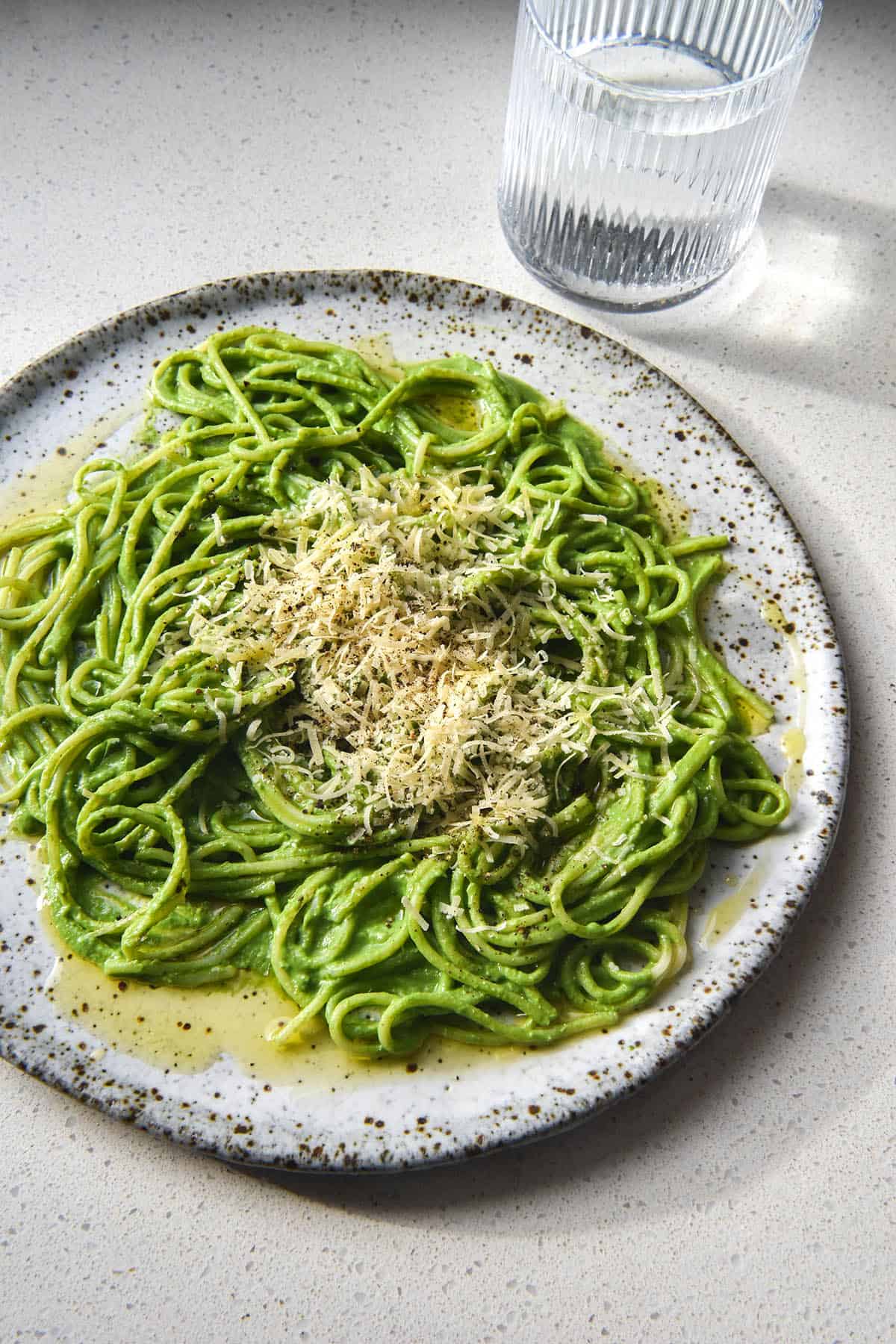 Vegetarian sausage rolls
I am OBSESSED with these low FODMAP vegetarian sausage rolls. They taste legit and have a number of vegetarian protein sources to help fill you up. There's also a vegan version (and a recipe for gluten free puff pastry) in my cookbook Intolerance Friendly Kitchen.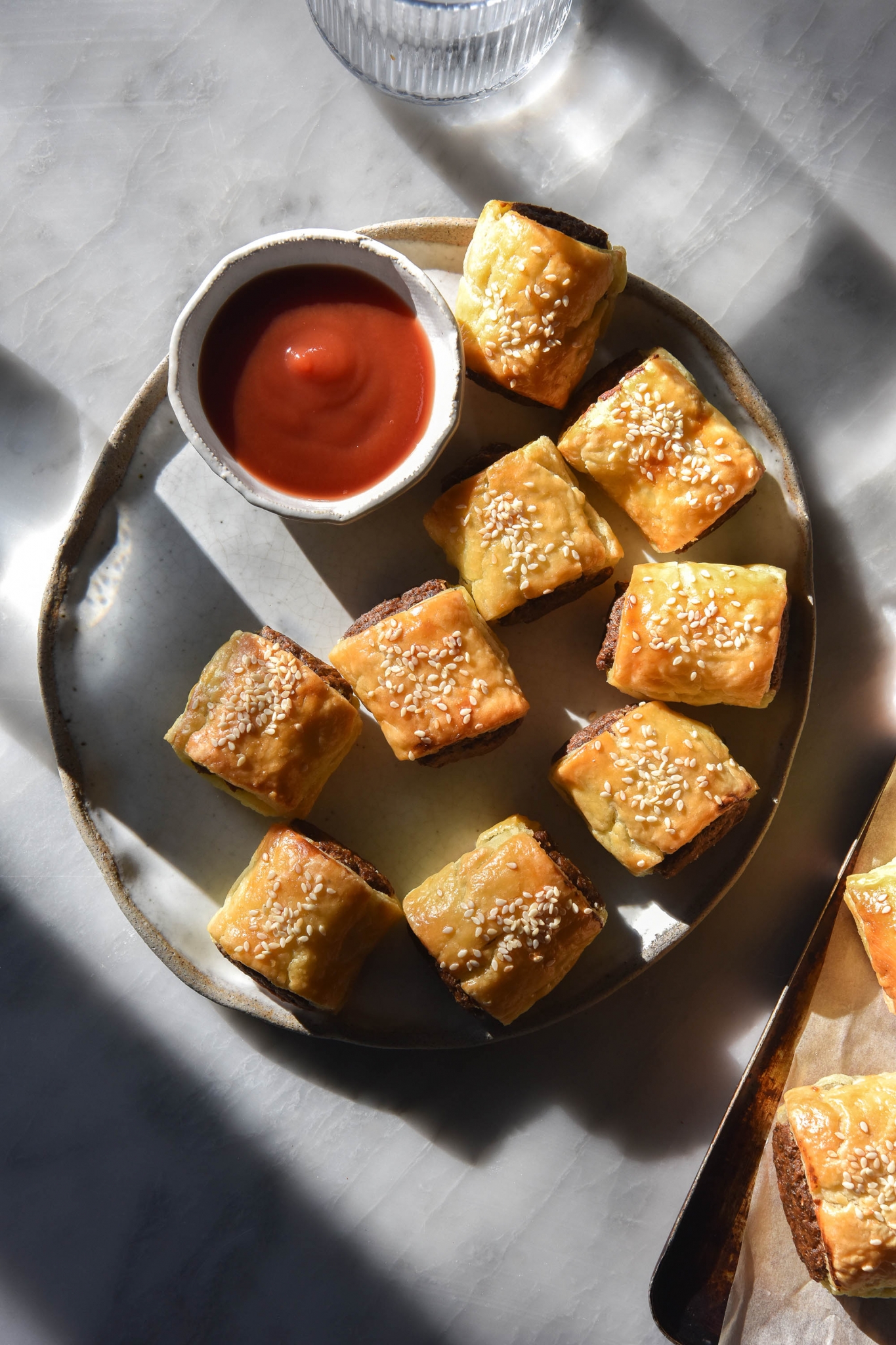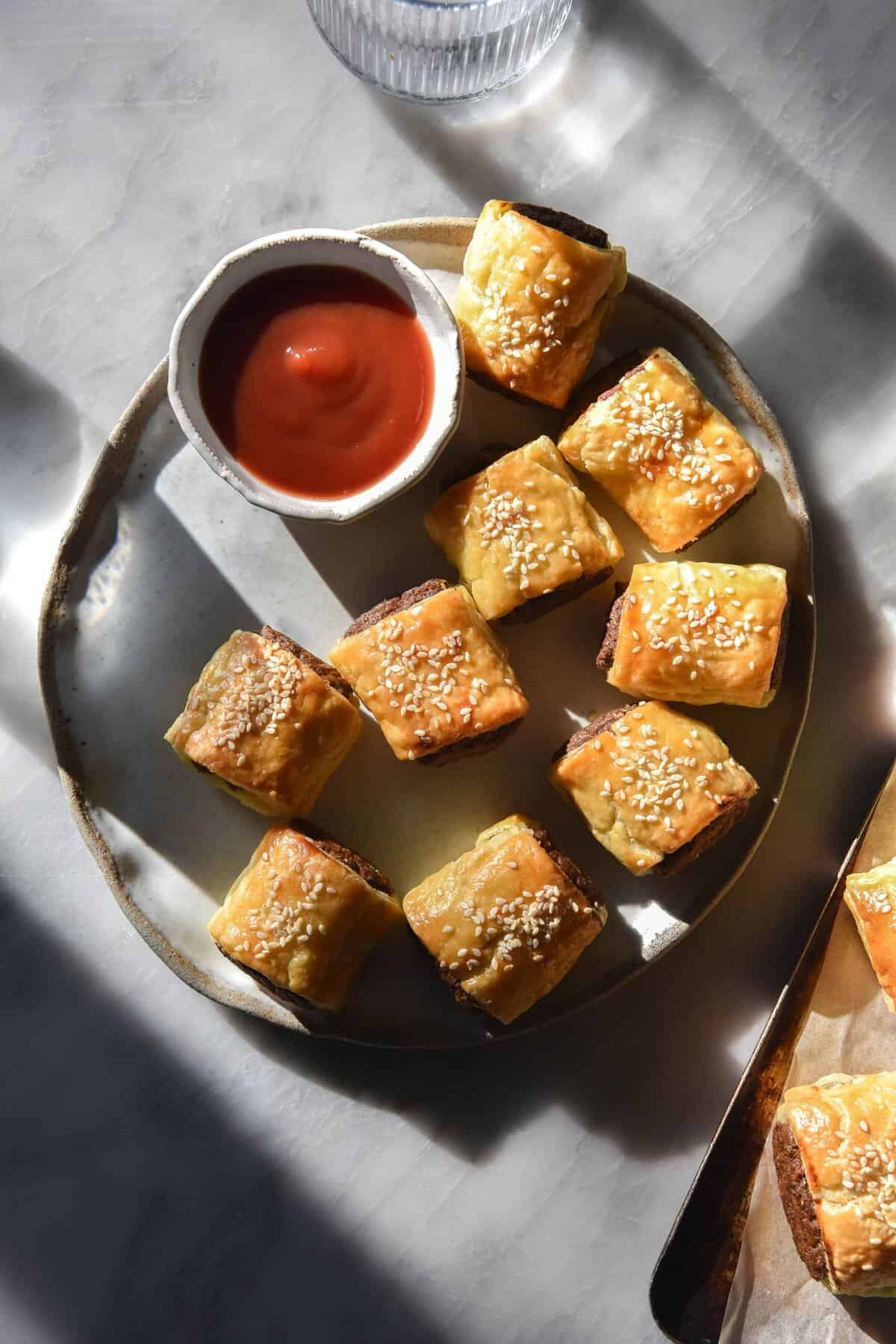 Low FODMAP vegan chilli oil noodles
There's nothing better than a speedy lunch, and these noodles fit the bill. They're vegan, low FODMAP and ready in 10 minutes. You can use store bought gluten free noodles, the noodle recipe in my cookbook, or plain old gluten free spaghetti.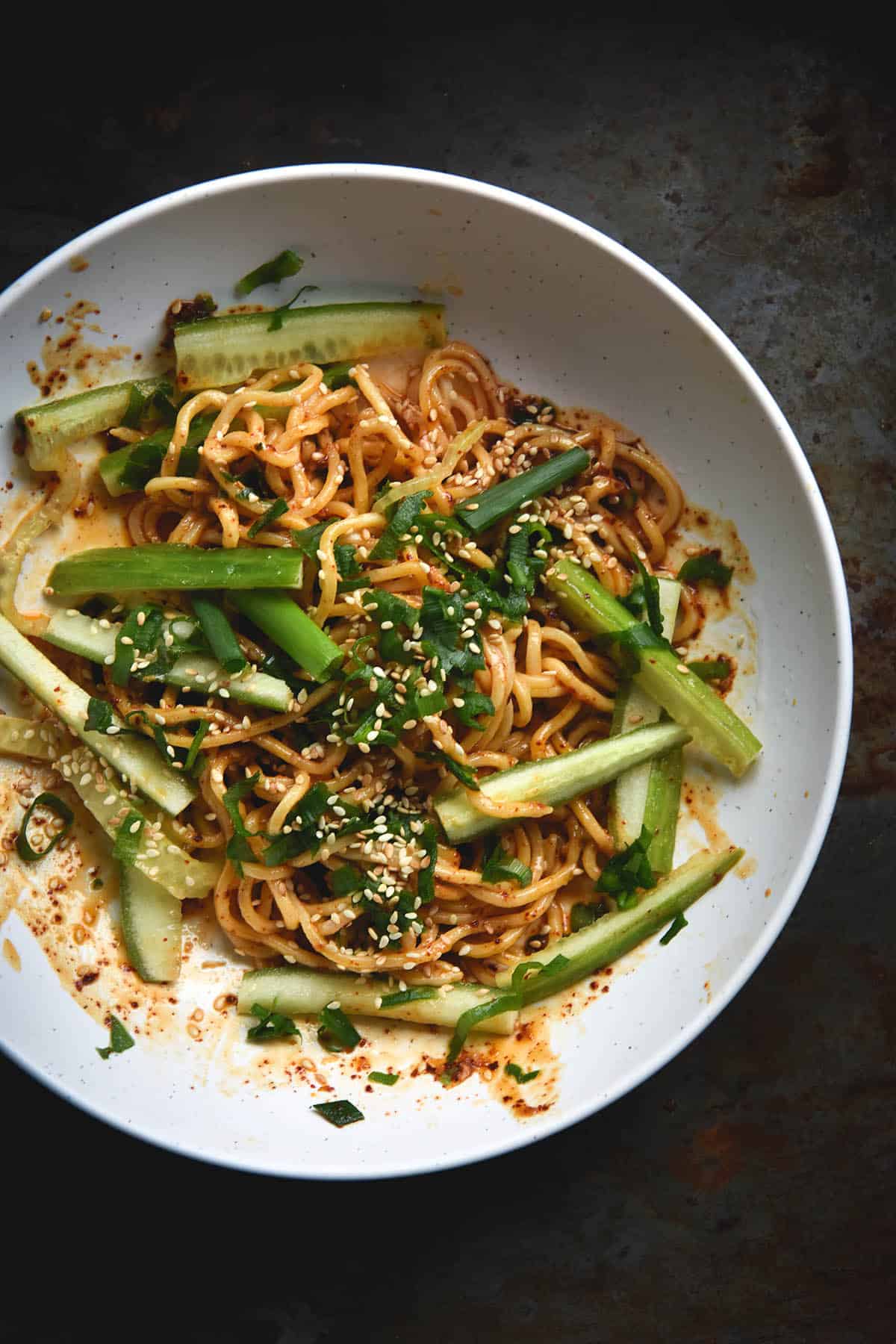 Gluten free empanadas
These empanadas are a recipe from my cookbook, Intolerance Friendly Kitchen. There's a recipe for a low FODMAP cheesy corn filling, too, but you can fill them with whatever you like. They freeze really well and make for a crispy and delicious lunch.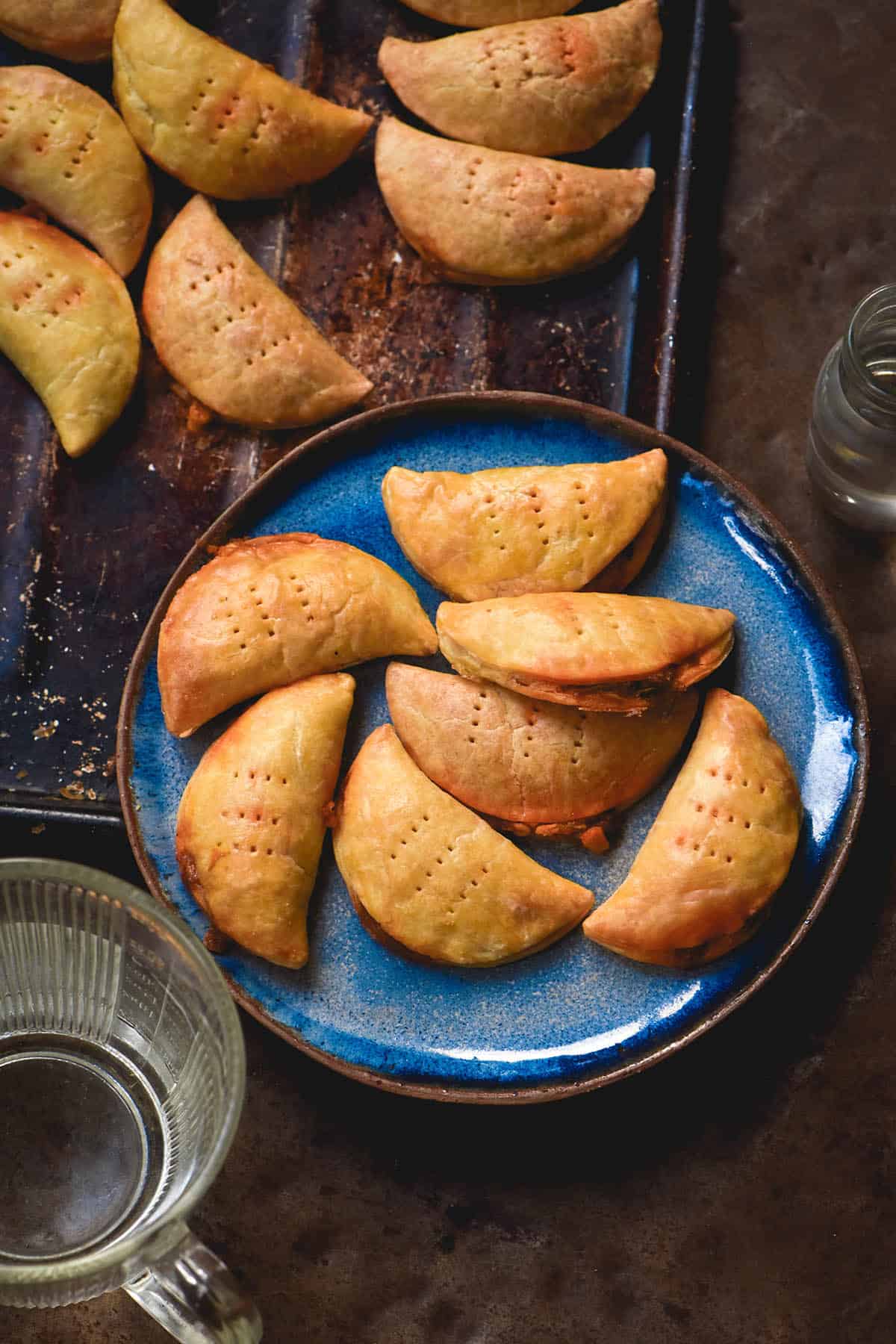 Low FODMAP gluten free dinners
Gluten free vegan lasagne
This gluten free, vegan and low FODMAP lasagne is a recipe that everyone can enjoy. It uses my low FODMAP tofu mince and an easy vegan bechamel along with gluten free lasagne sheets. For a lower FODMAP and lower histamine option, you can also use my low FODMAP nomato sauce to replace some or all of the tinned tomato.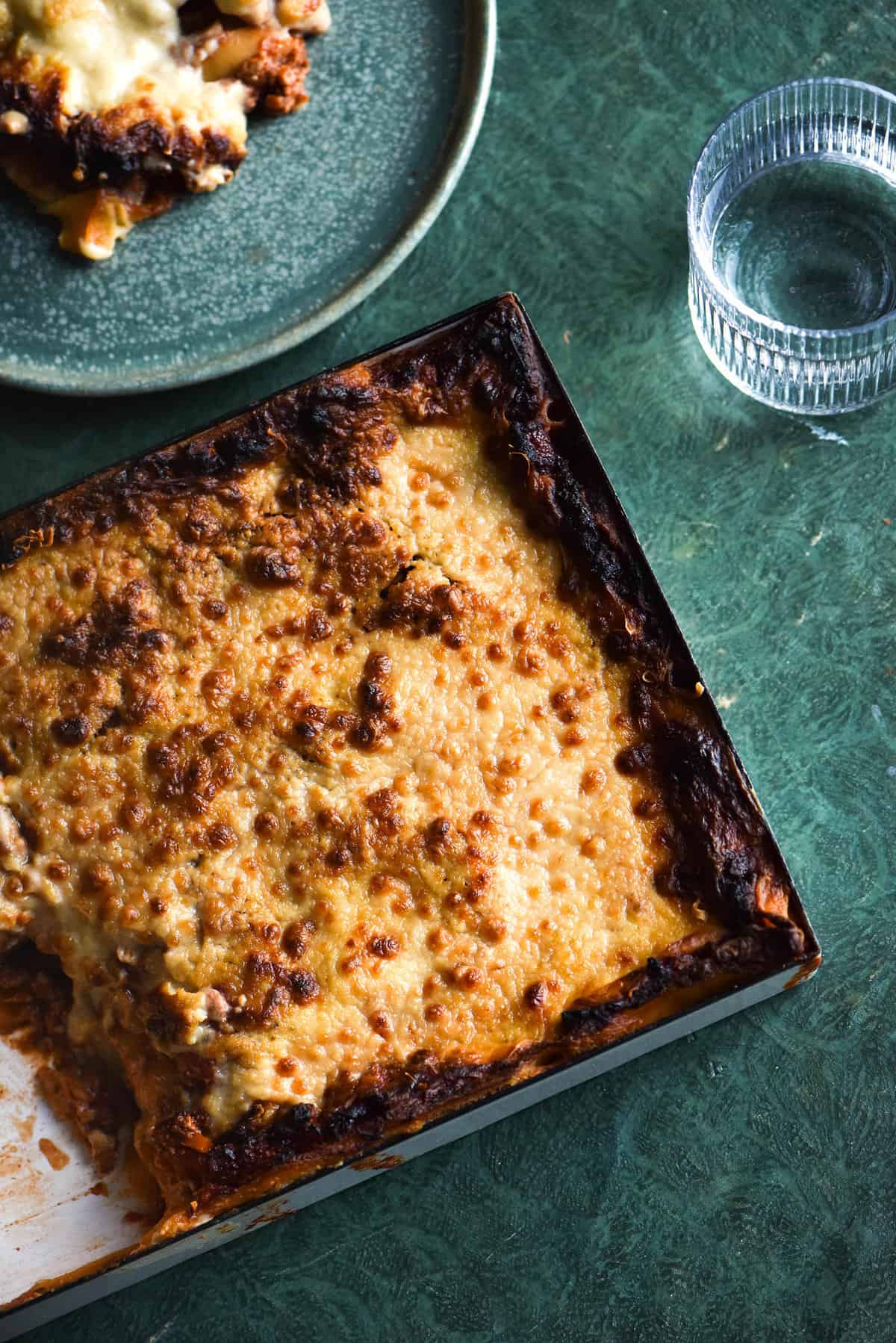 Low FODMAP vegan bolognese
While we're chatting about tofu mince recipes, how about this low FODMAP vegan bolognese? It's meaty, rich and delicious and uses tofu for a low FODMAP vegan protein. As with the lasagne, you can experiment with my low FODMAP nomato sauce for a lower FODMAP/histamine option.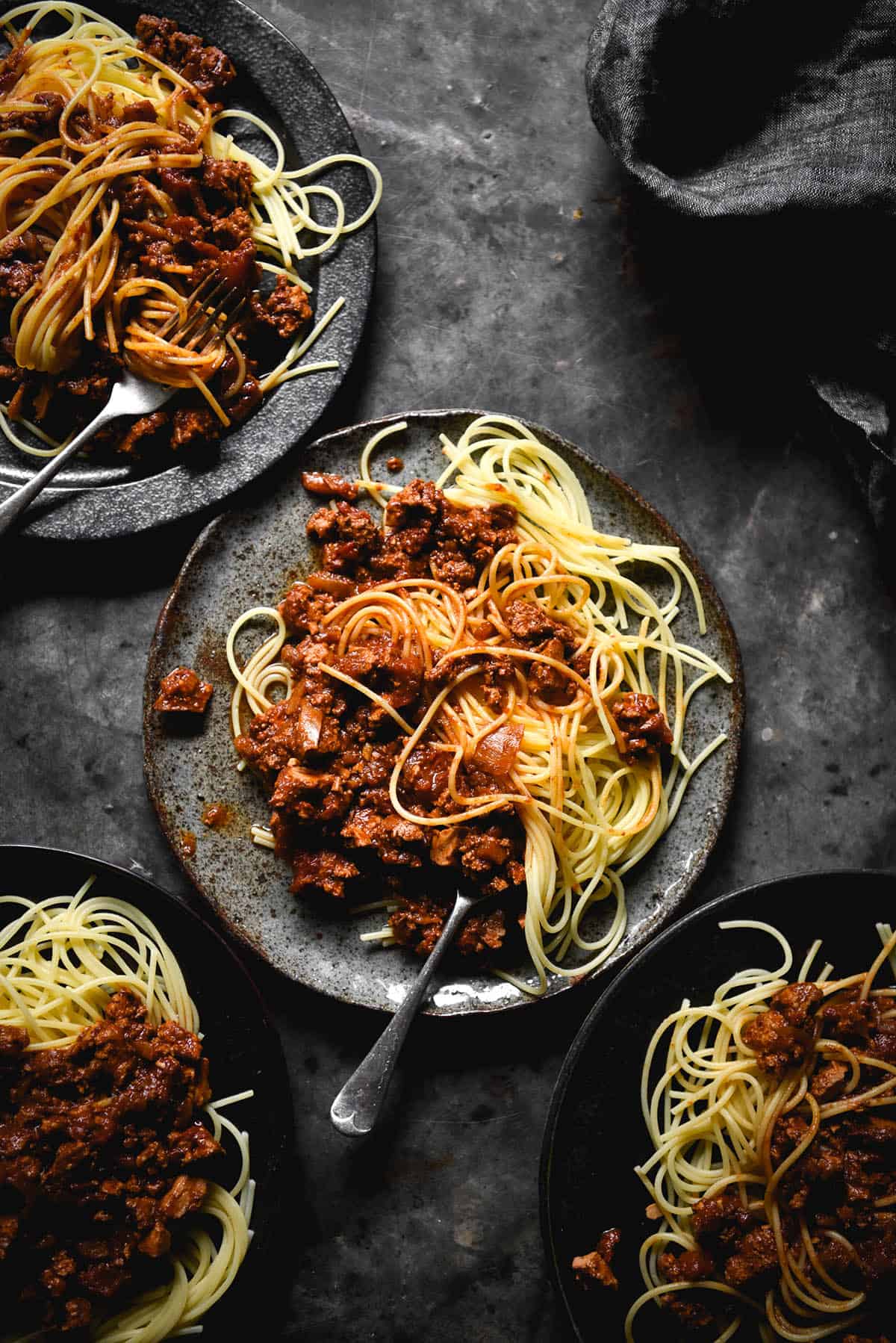 Low FODMAP minestrone
I haven't always been a fan of minestrone soup, but this recipe is the perfect balance of brothy yet rich and tomato-y. It's gluten free, low FODMAP and vegan, yet packed full of flavour and comforting winter warmth.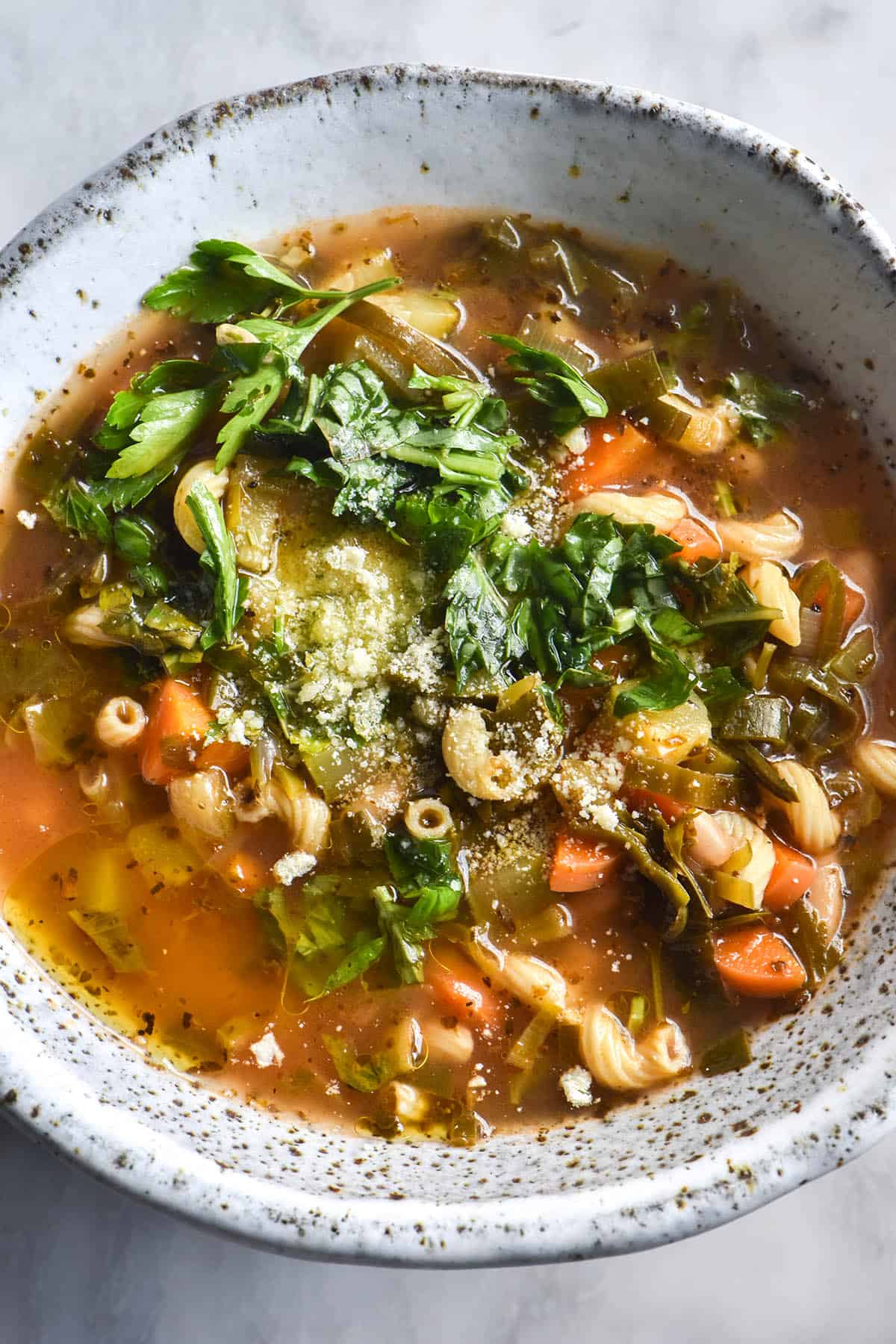 Gluten free vegan dumplings
I LOVE these dumplings and I always will. The dumpling wrappers are gluten free, vegan and low FODMAP (as well as xanthan gum free). They are a recipe from my cookbook, Intolerance Friendly Kitchen. The book also has two low FODMAP dumpling filling recipes: ginger tofu and spinach water chestnut.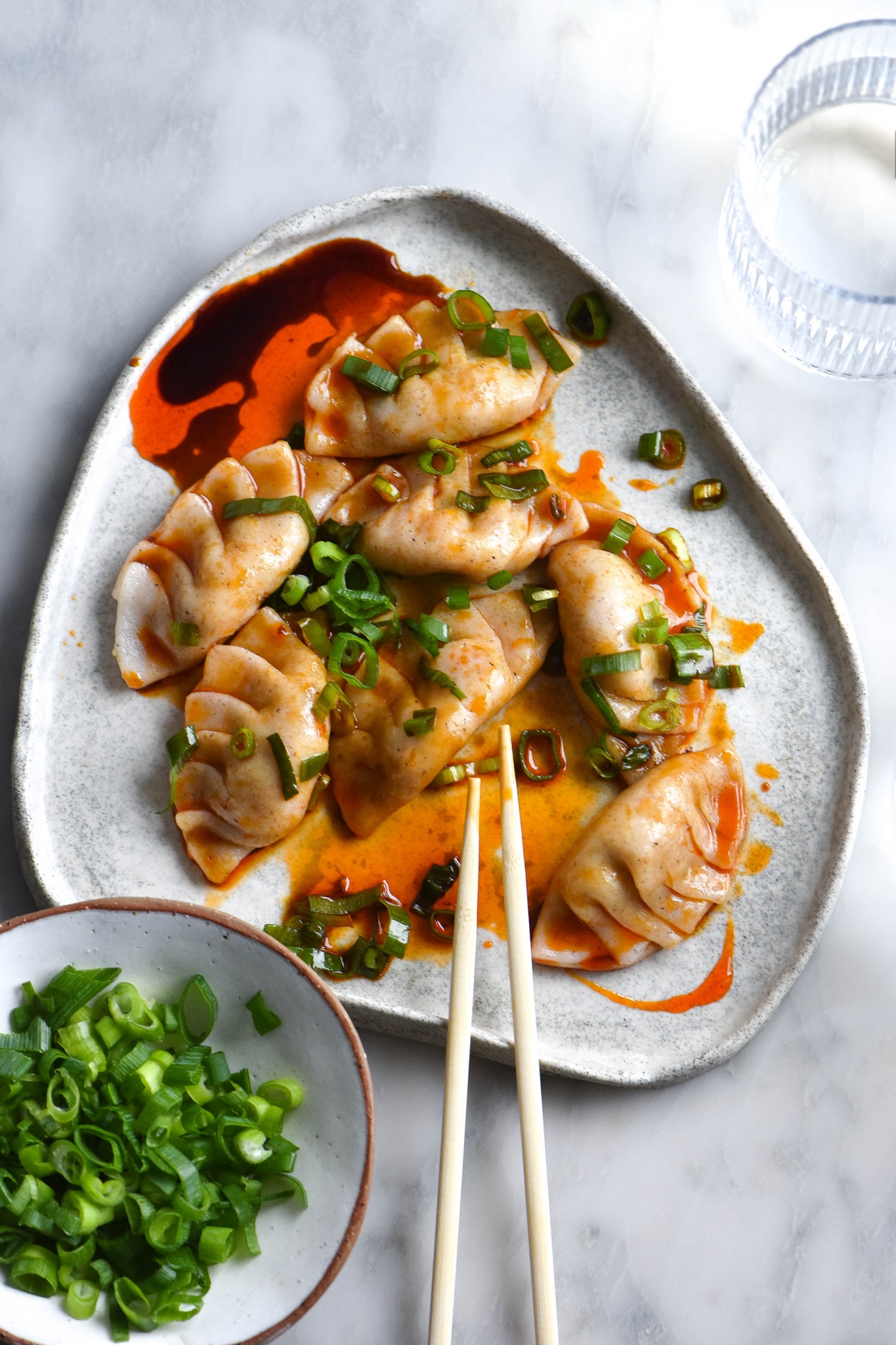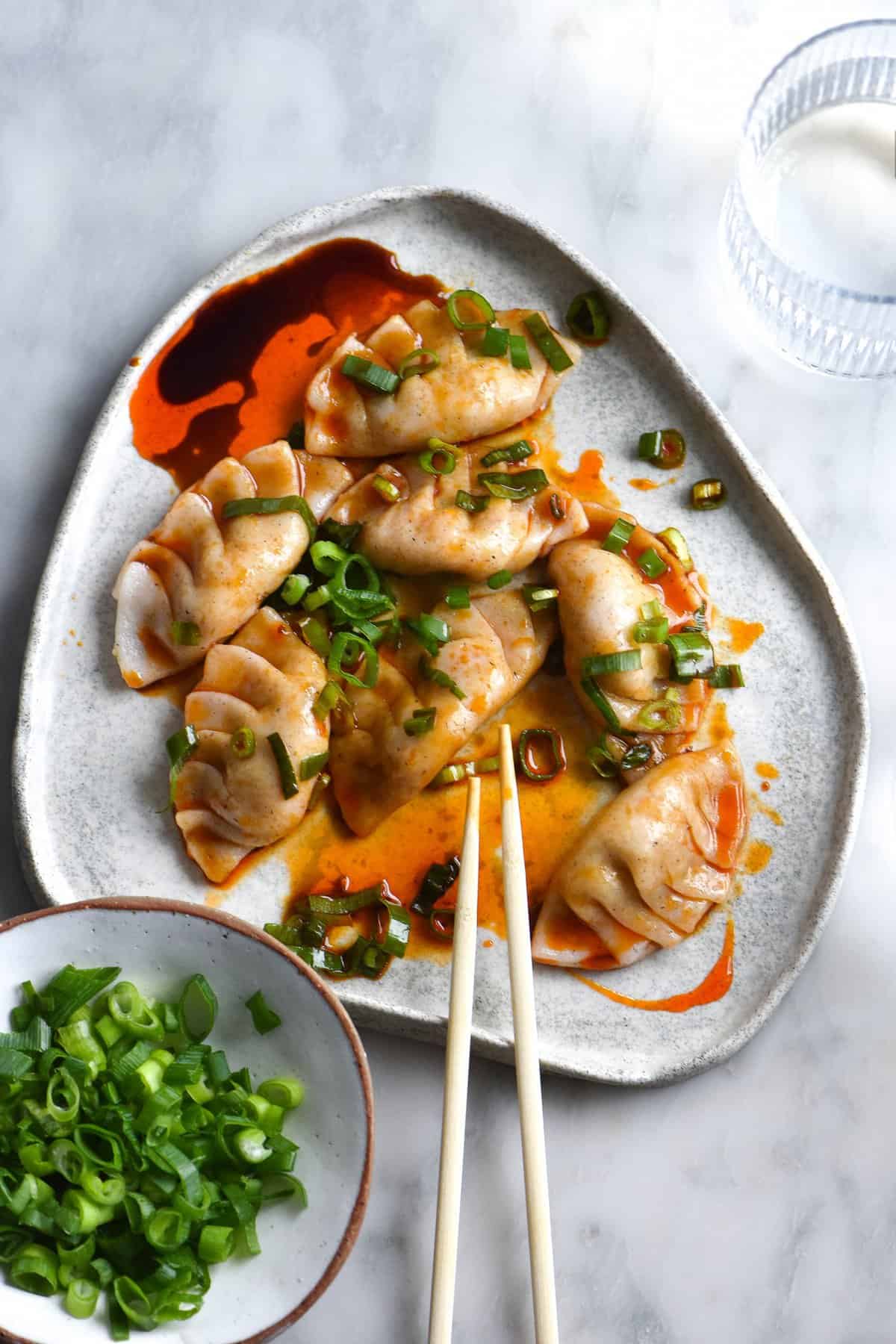 Low FODMAP vegan chilli
Is there anything a bowl of chilli can't do? This one is vegan, gluten free and low FODMAP. It has an option for a soy free protein or a legume free protein (or you can use both!). It's full of flavour, hearty and works in tacos, enchiladas, nachos or even just alone in a bowl.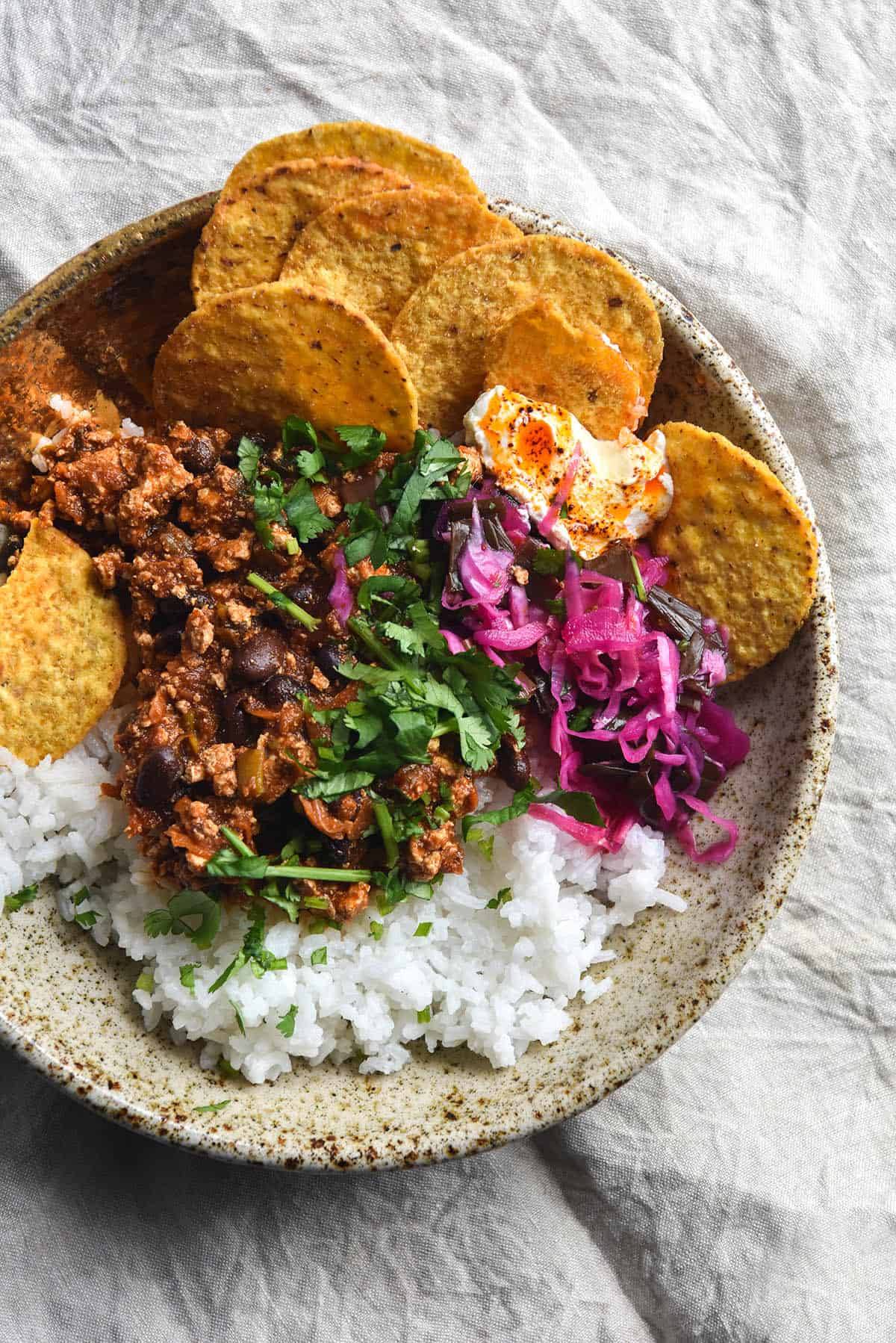 Gluten free low FODMAP desserts
Easy gluten free chocolate cake
This easy gluten free chocolate cake uses a single flour (no nuts) for a rich and delicious end result. It is xanthan gum free, easily dairy free, and tastes as good as any regular chocolate cake.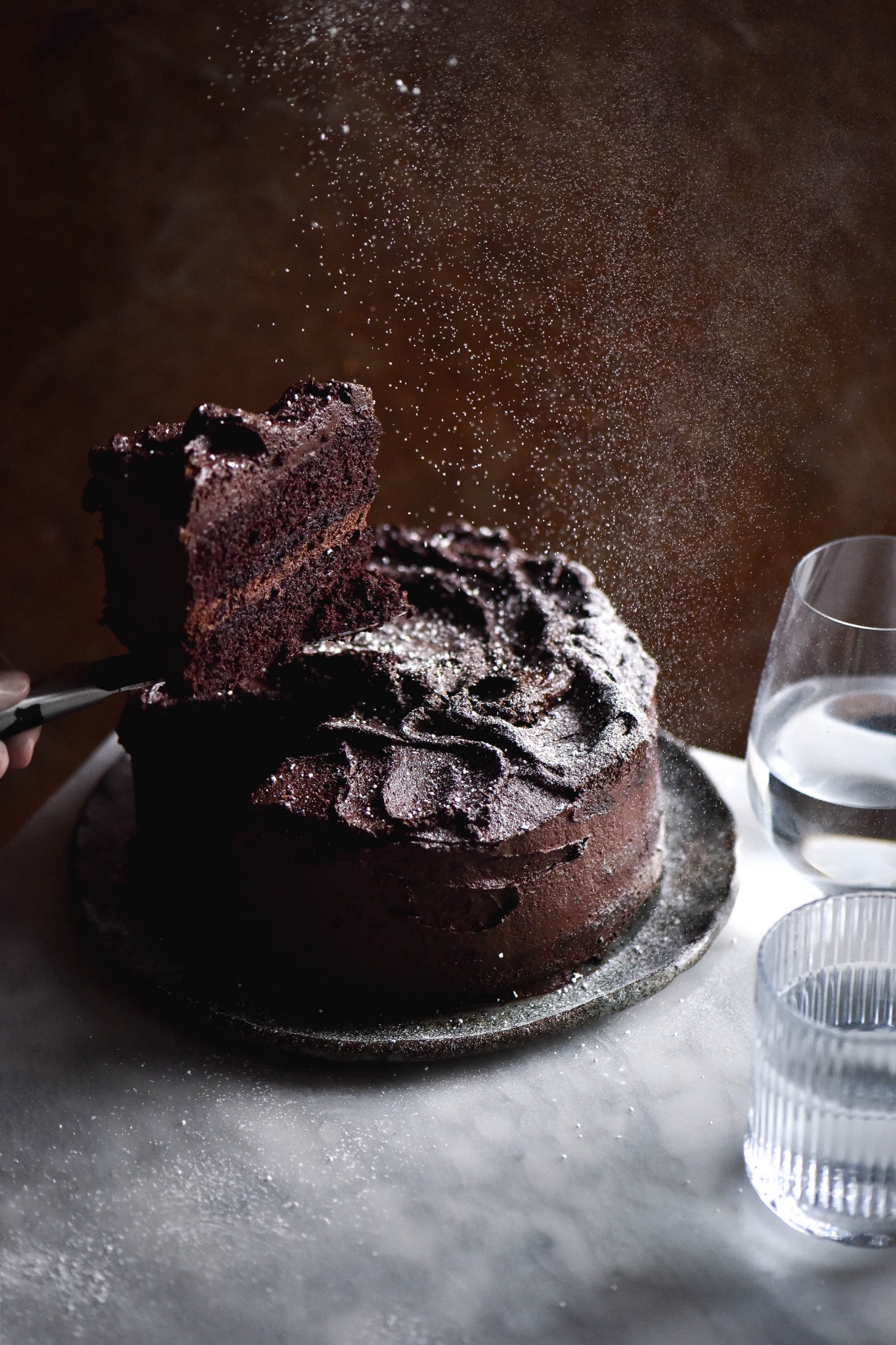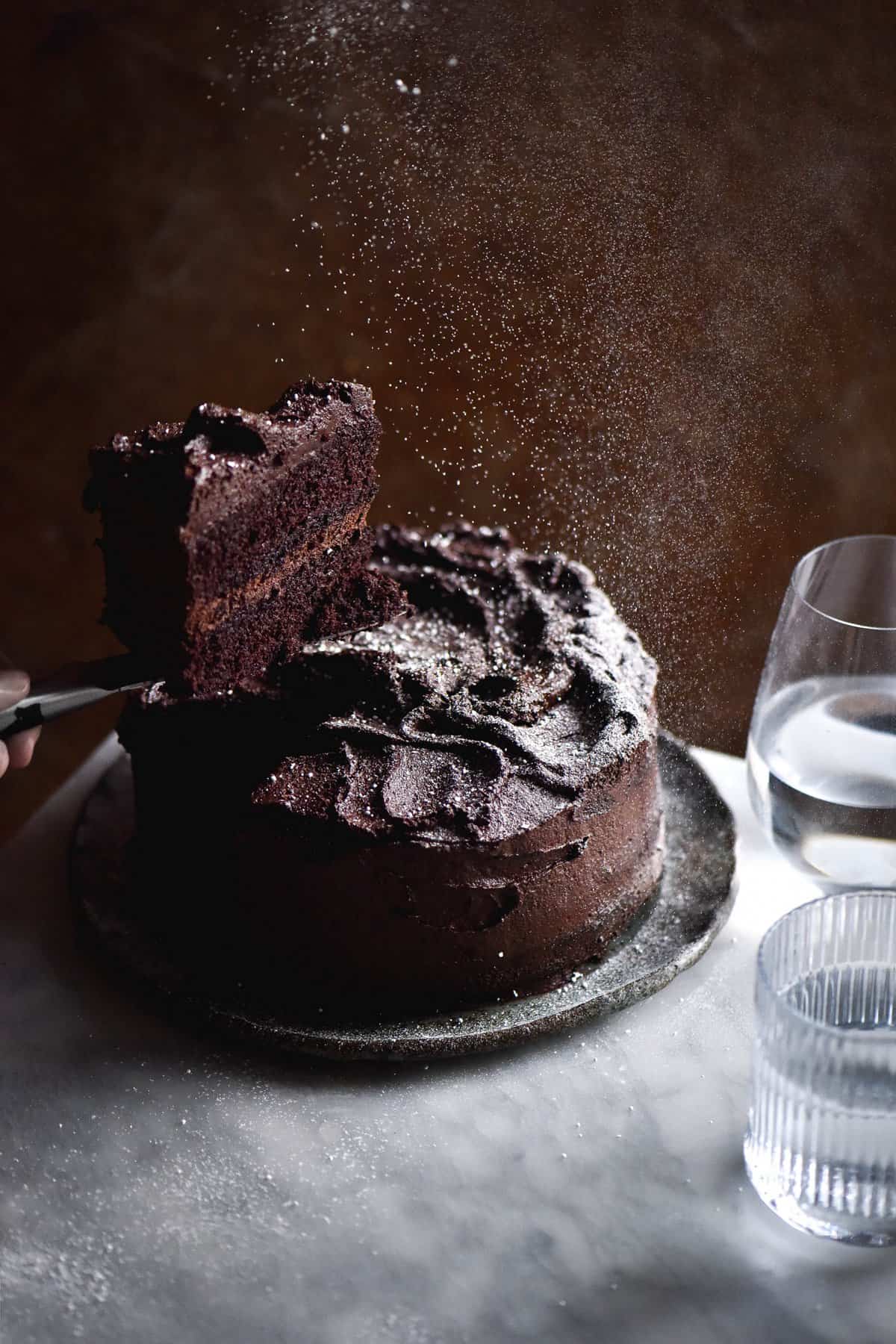 Lactose free creme caramel
This creme caramel uses lactose free full cream/whole milk for an undetectably lactose free creme caramel. It is every bit as rich and delicious as the original, without the lactose concerns.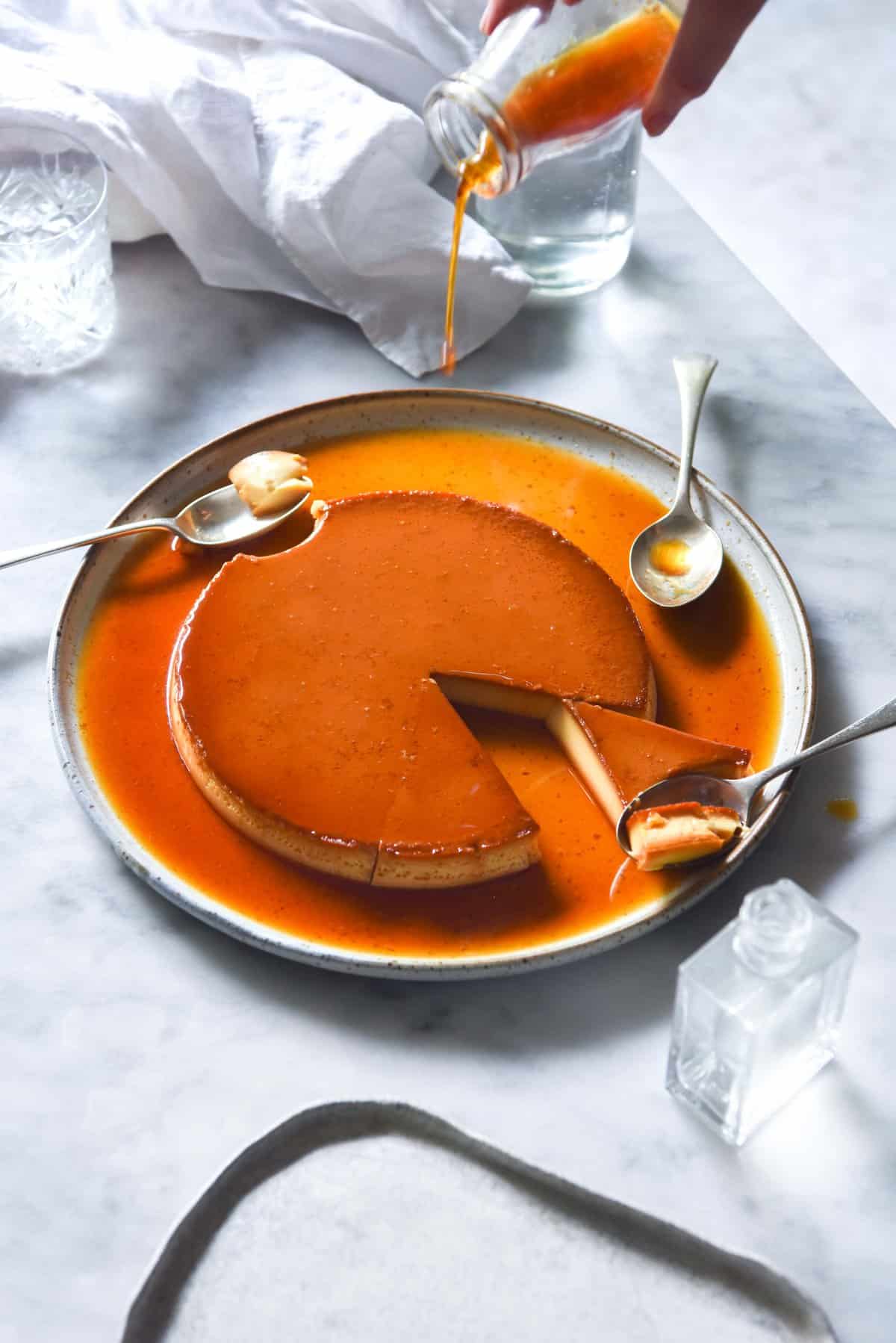 Vegan, gluten free brownie cookies
These gluten free brownie cookies are one of my favourite cookie recipes on my website. They also happen to be gluten free, vegan, nut free and xanthan gum free. They're rich, deeply chocolatey and even your friends without dietary requirements will enjoy them.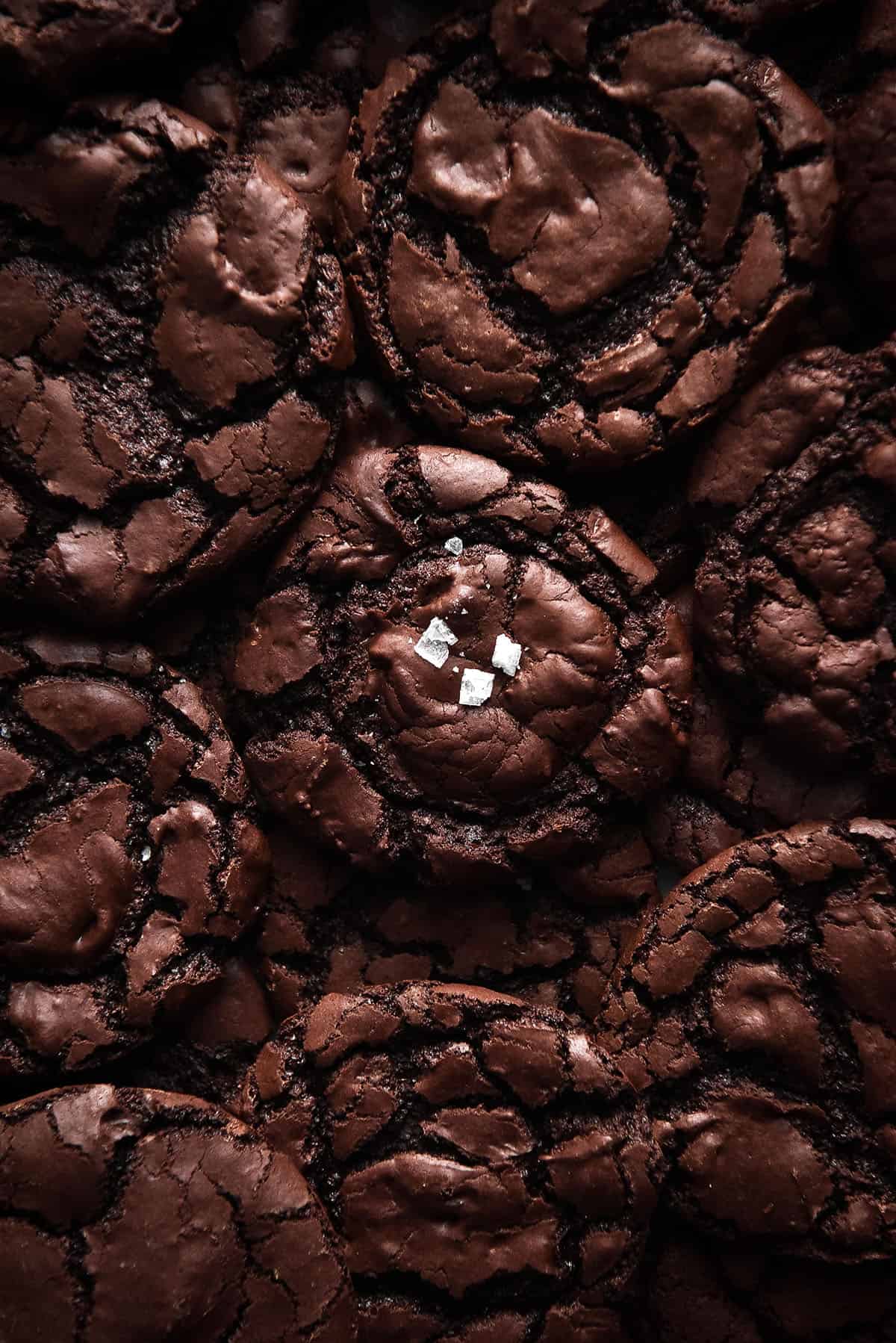 Gluten free blueberry cobbler
This cobbler is a delicious way to use up those beautiful summer blueberries. The cobbler topping is rich, buttery and crumbly, as it should be. The dessert is also xanthan gum free and nut free, so it caters to multiple dietary requirements at once.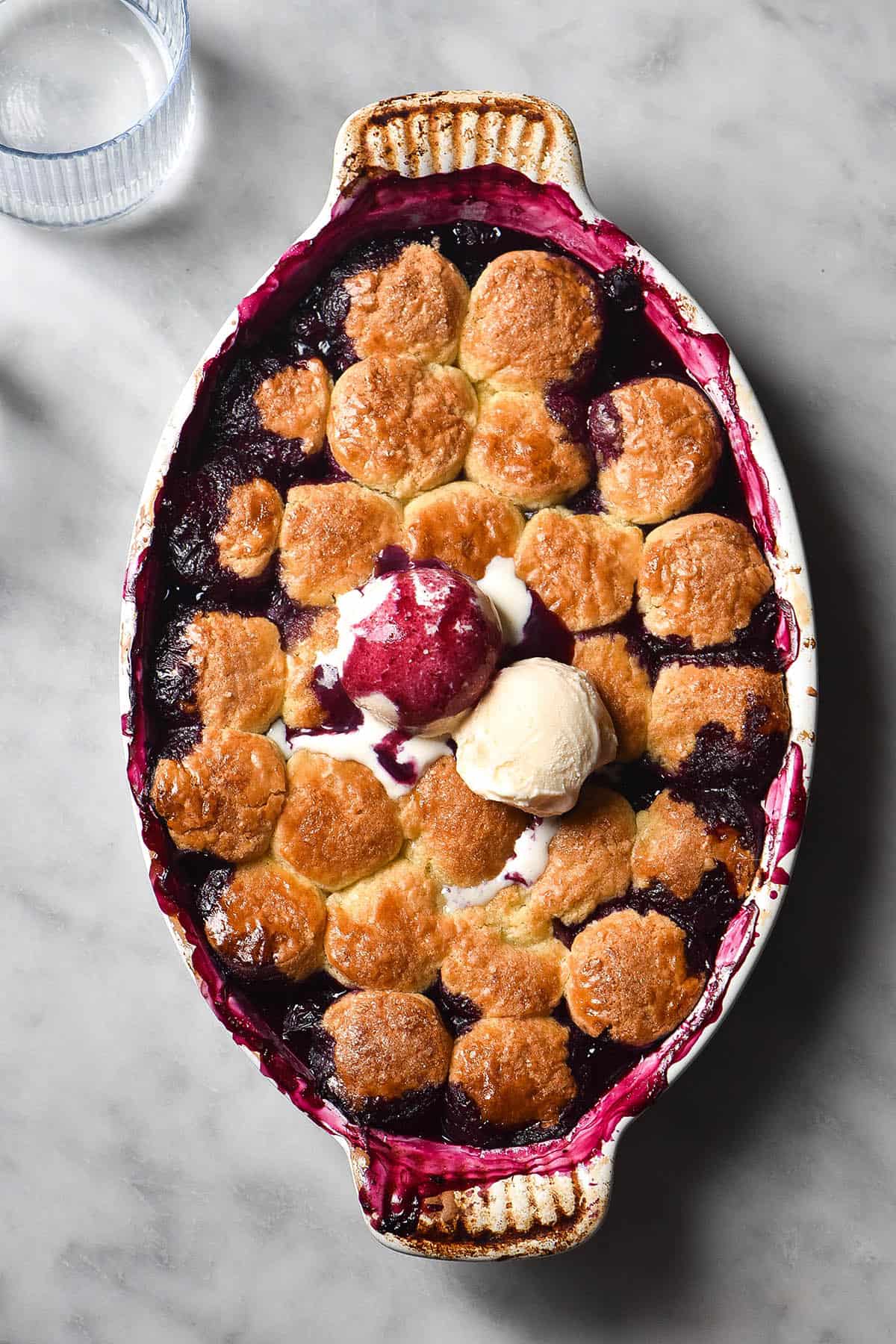 Vegan, gluten free chocolate mug cake
Ah yes, the humble mug cake. One of the easiest desserts I have come across, these are the perfect option for smaller households or a quick treat to satisfy a craving. This chocolate version is gluten free, vegan and nut free.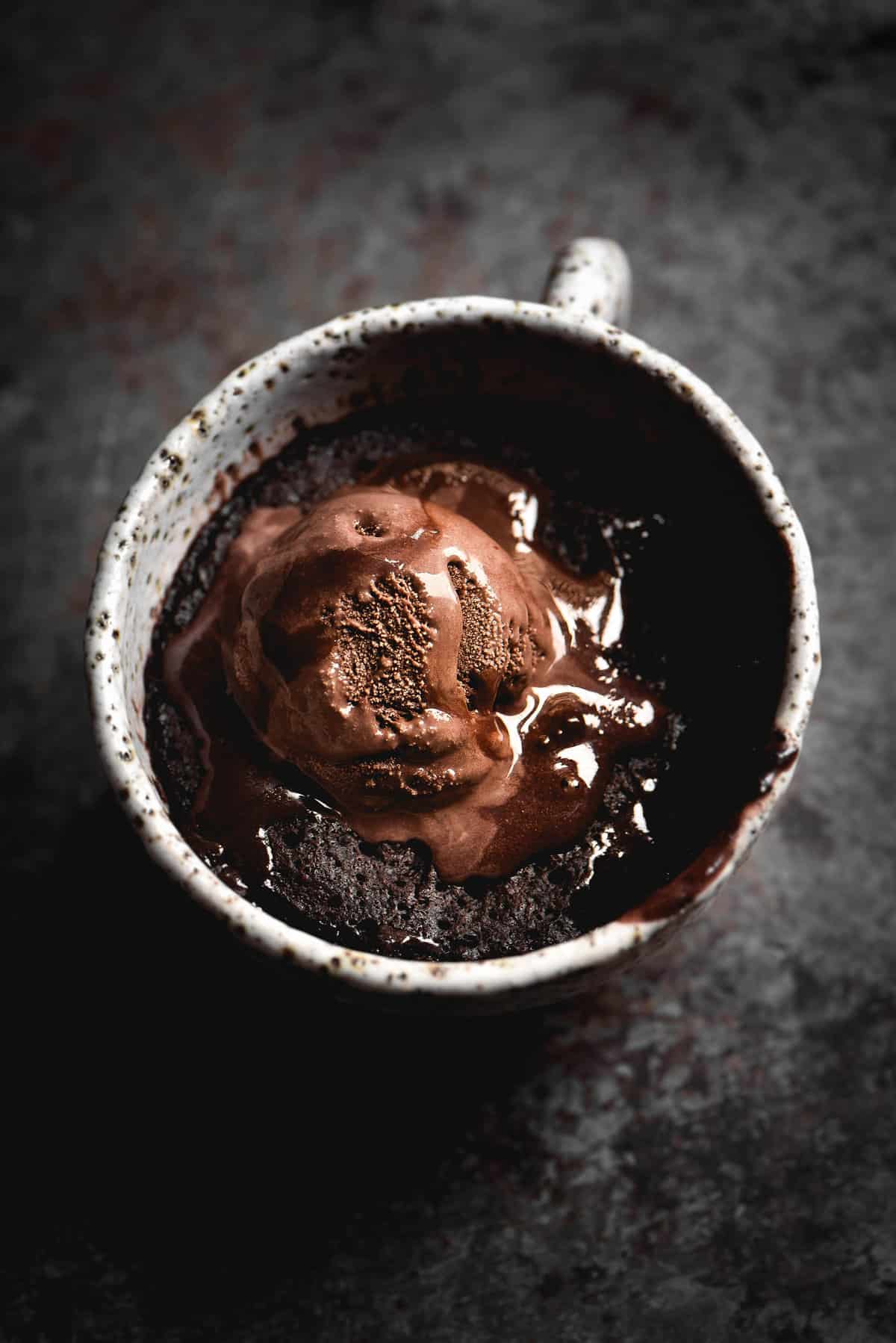 Gluten free low FODMAP snacks
Spinach and feta rolls
Spana kopita flavours rolled into some gluten free pastry? Sign me right up. These rolls are the perfect snack on the go that happen to be low FODMAP. You can use whatever gluten free pastry you like – I use the puff pastry from my cookbook, Intolerance Friendly Kitchen.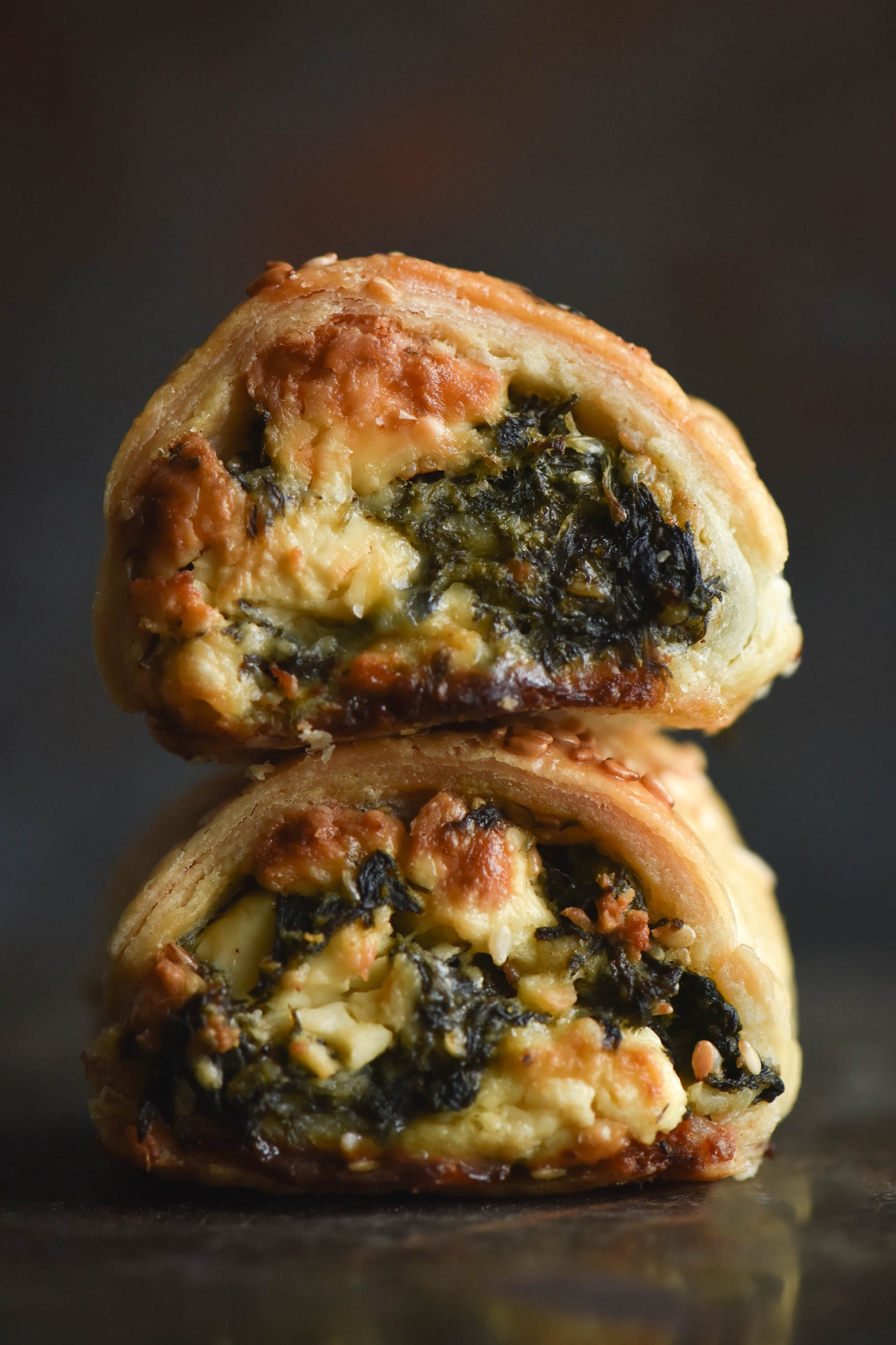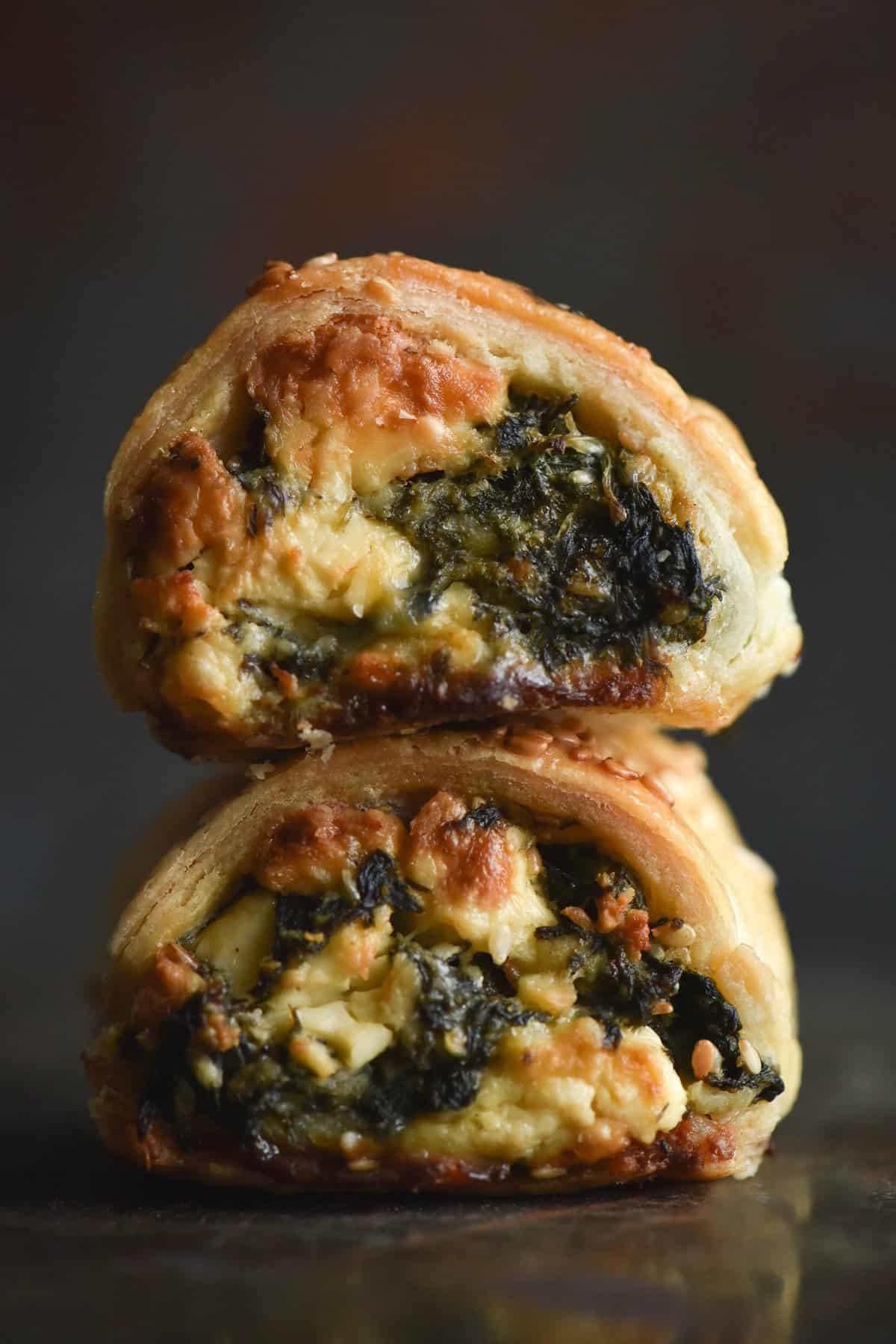 Peanut butter stuffed Medjool dates
I was overjoyed when Monash added a low FODMAP threshold for Medjool dates to the app. My celebration was writing up these easy and delicious peanut butter stuffed medjool dates, of course.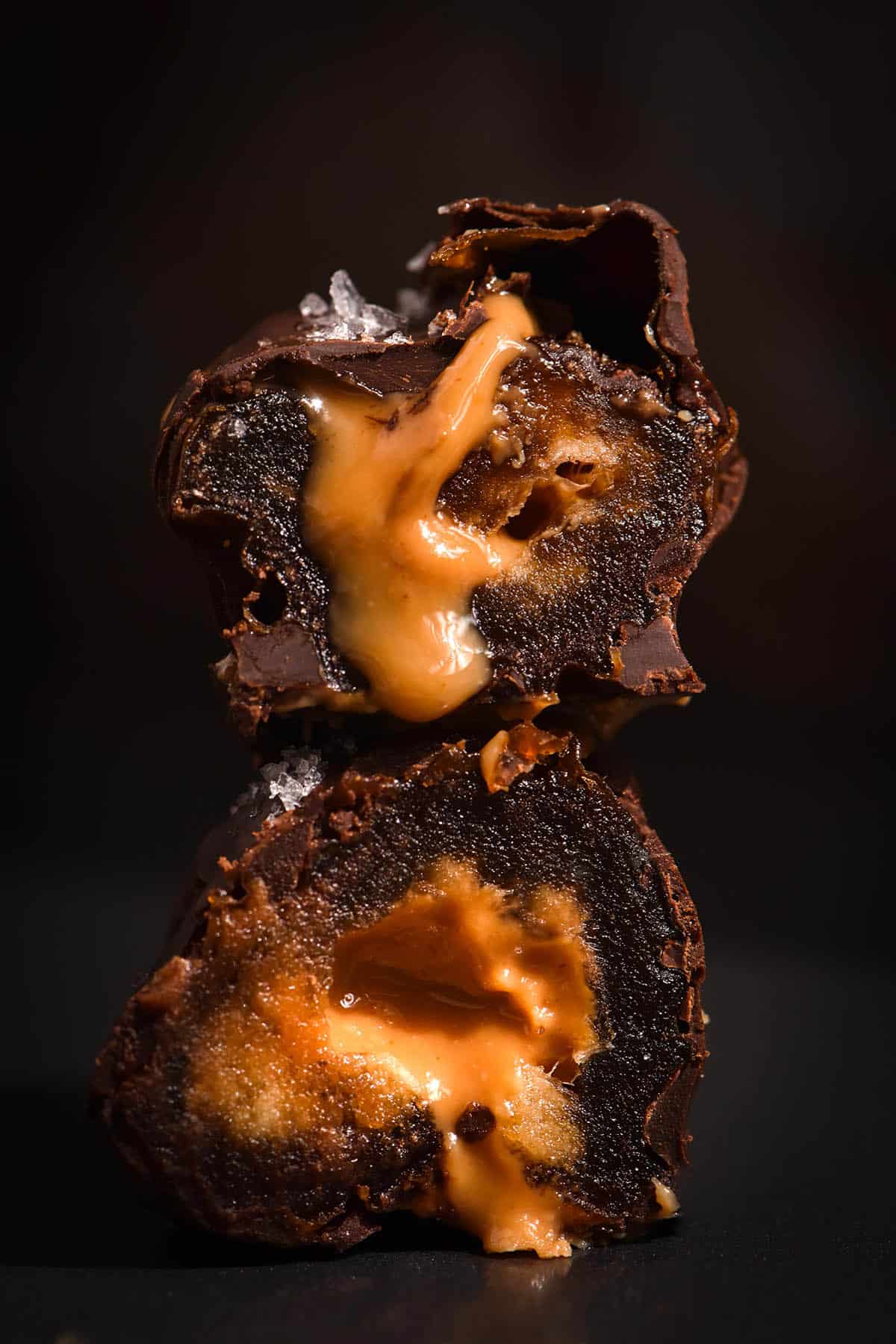 Gluten free protein mug cake
While I was doing my SIBO diet, I developed a number of different protein mug cake recipes. They're all low sugar and gluten free. This one is vegan, but I have developed a dairy free (which contains egg) and a whey protein (egg and why protein) version as well.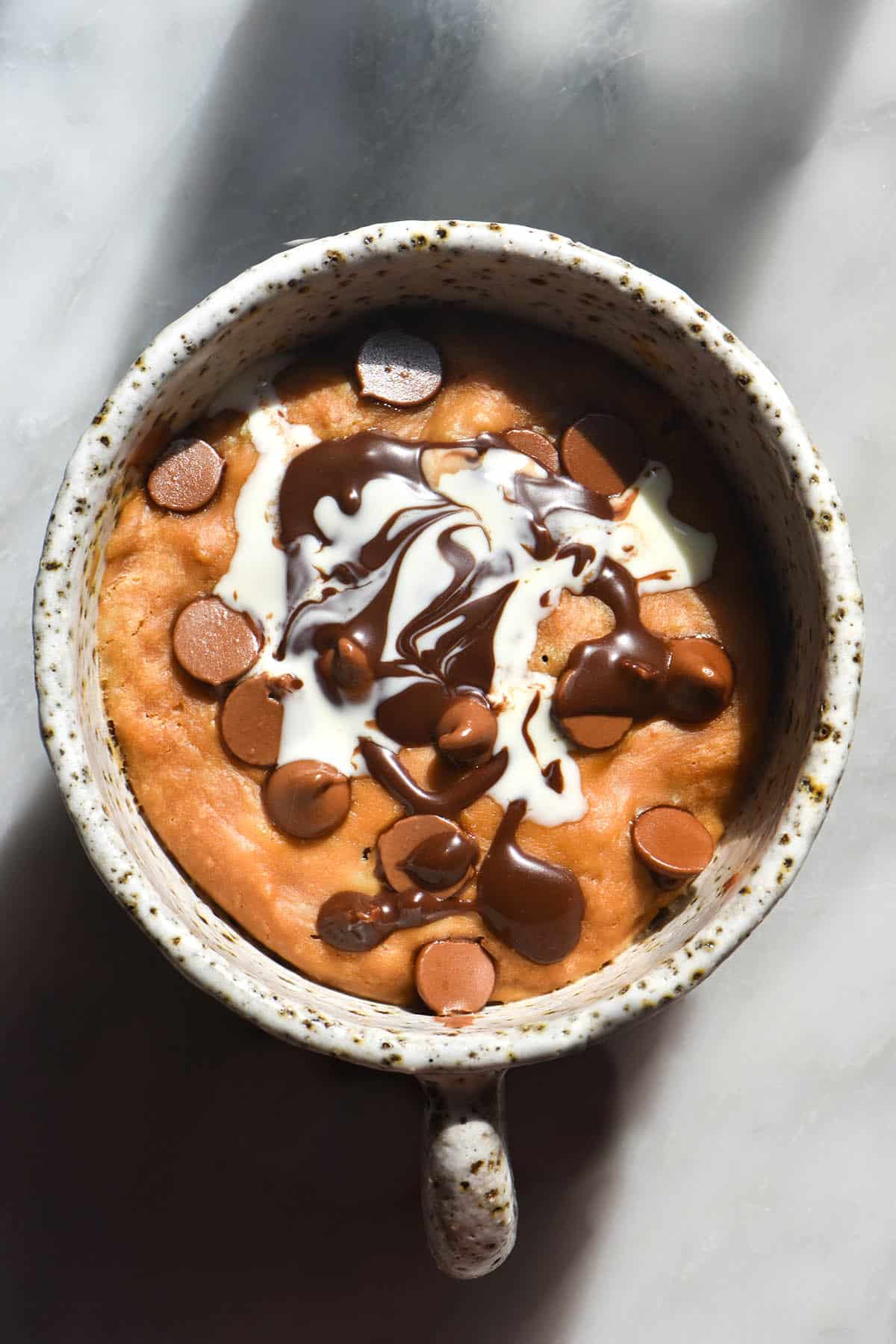 Gluten free vegan blueberry muffins
If there's a better snack than a blueberry muffin, I'm yet to hear of it. This recipe is nut free, xanthan gum free and vegan, and it uses a single flour (no starches or blends). The muffins couldn't be easier and the result is truly delicious.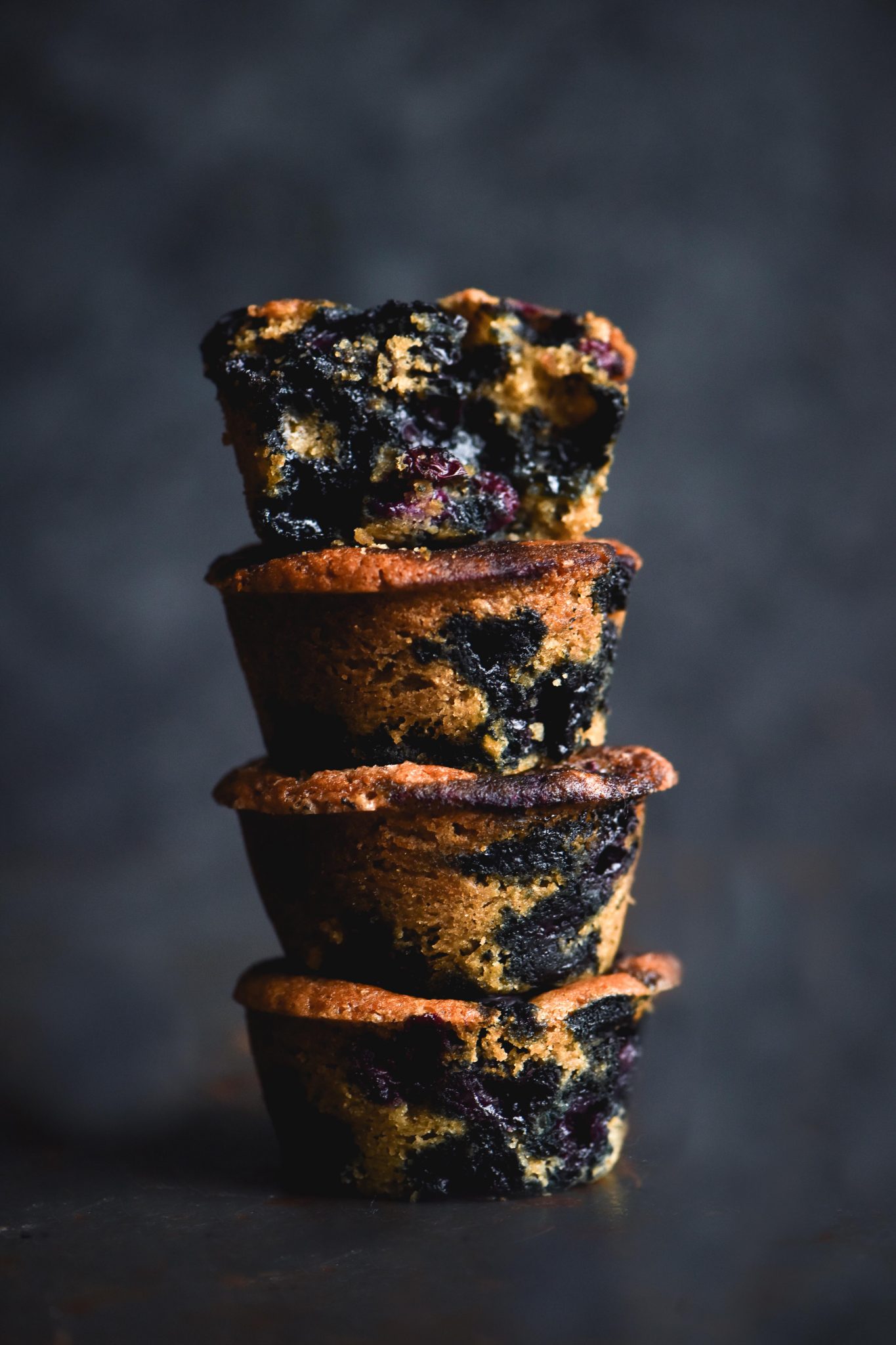 Gluten free low FODMAP corn fritters
Fritters are such a great snack for their ability to pack everything in to a portable little package. These corn fritters use a low FODMAP quantity of canned corn and spring onion greens to keep the FODMAP content down. They can also be made grain free with my new best friend, cassava flour.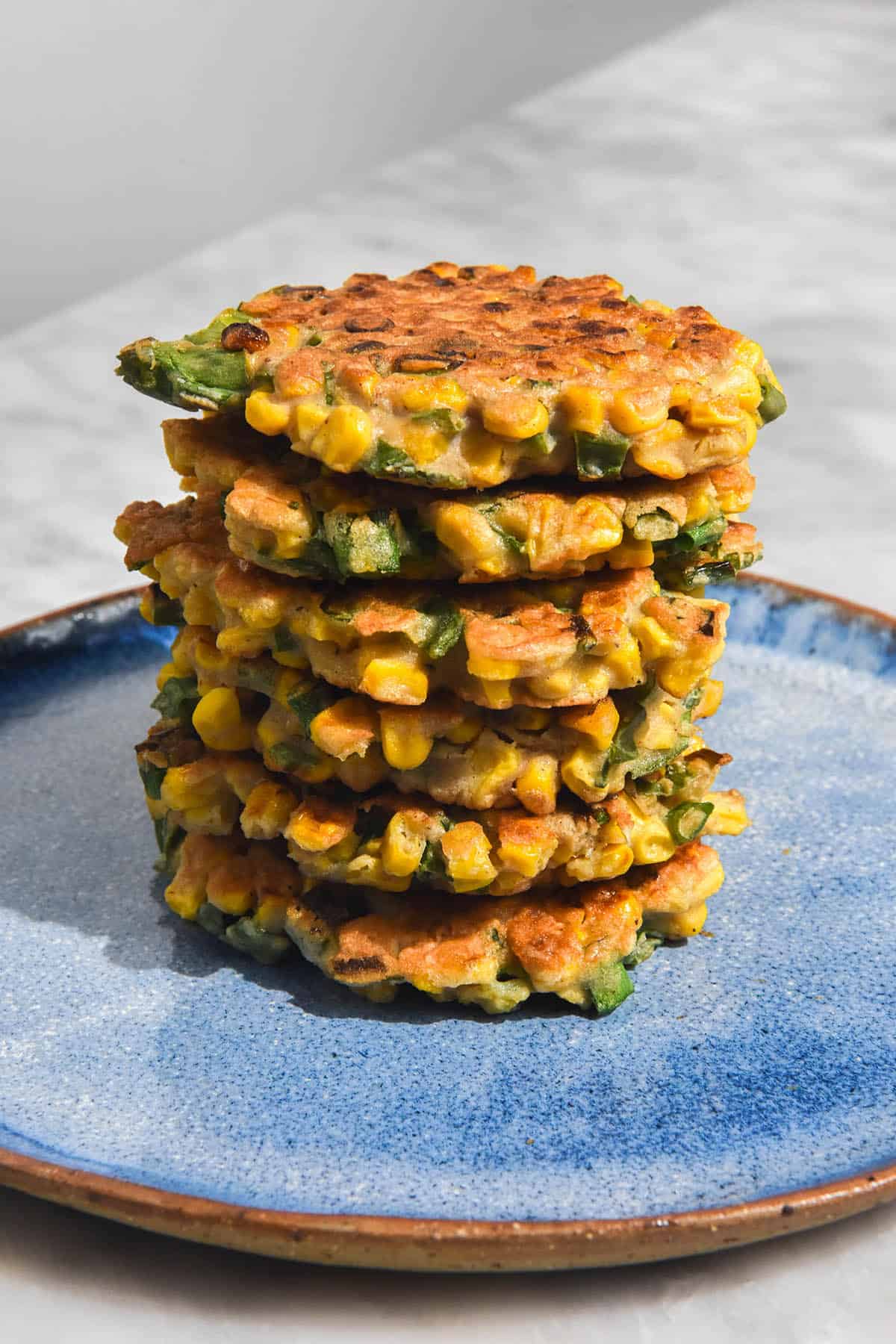 More low FODMAP gluten free resources